How to make a DIY Christmas Tree Shelf Decor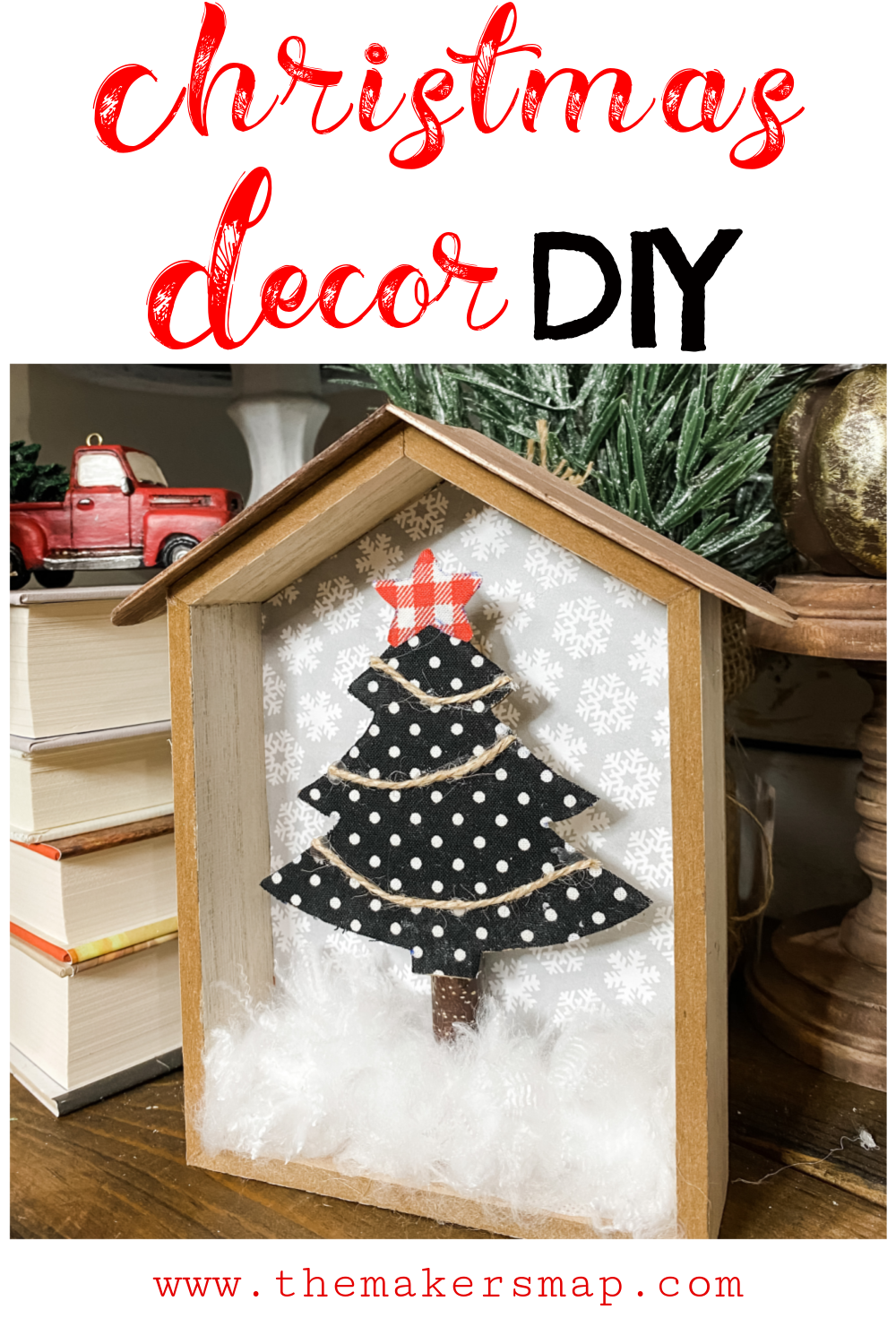 I absolutely LOVE how this DIY craft turned out, so I just had to share with you How to Make a DIY Christmas Tree Shelf Decor!
A great thing about this easy craft is that it was made with Dollar Tree products, so you get an amazing decoration for your home without breaking the bank!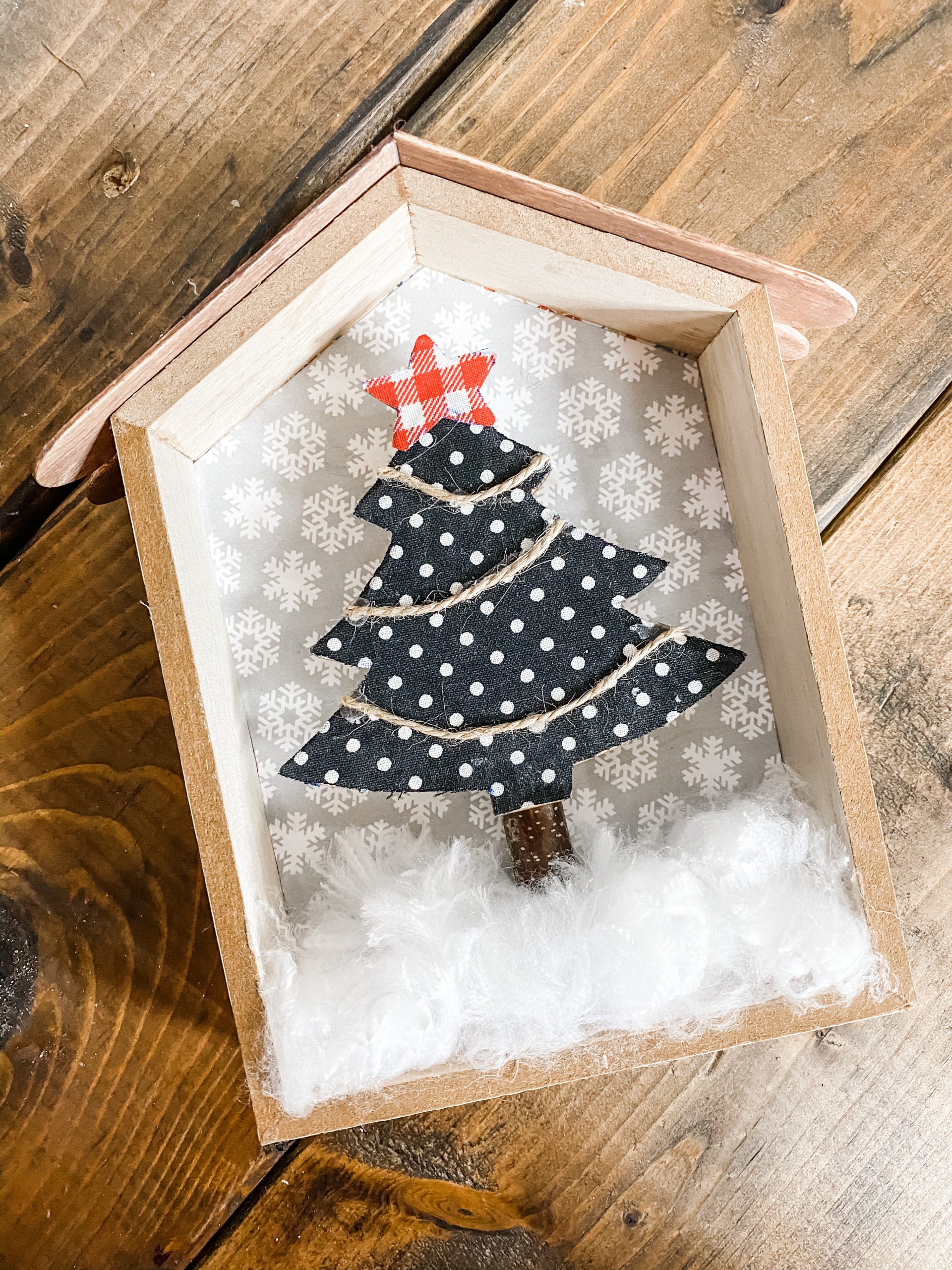 Watch the replay
If you don't know, I am always going LIVE on my Facebook page. I love making unique crafts while my #craftycrew follows along.
I am able to answer questions, give my own tips and advice, and just chit-chat with my online friends. This Christmas tree shelf decor was made in a LIVE video on my Facebook page, but you can catch the replay!
For this project, I will be using these items but you can substitute where you want.
"As an Amazon Associate, I earn from qualifying purchases."
Dollar Tree Wood house
Dollar Tree mini Christmas tree ornament pack
Scrapbook paper
Jute Twine
Dollar Tree pack of twigs
Glue Gun and Glue Sticks
Chippy brush 1-inch
2 ribbon patterns
Scissors
Crafter's Square wood blocks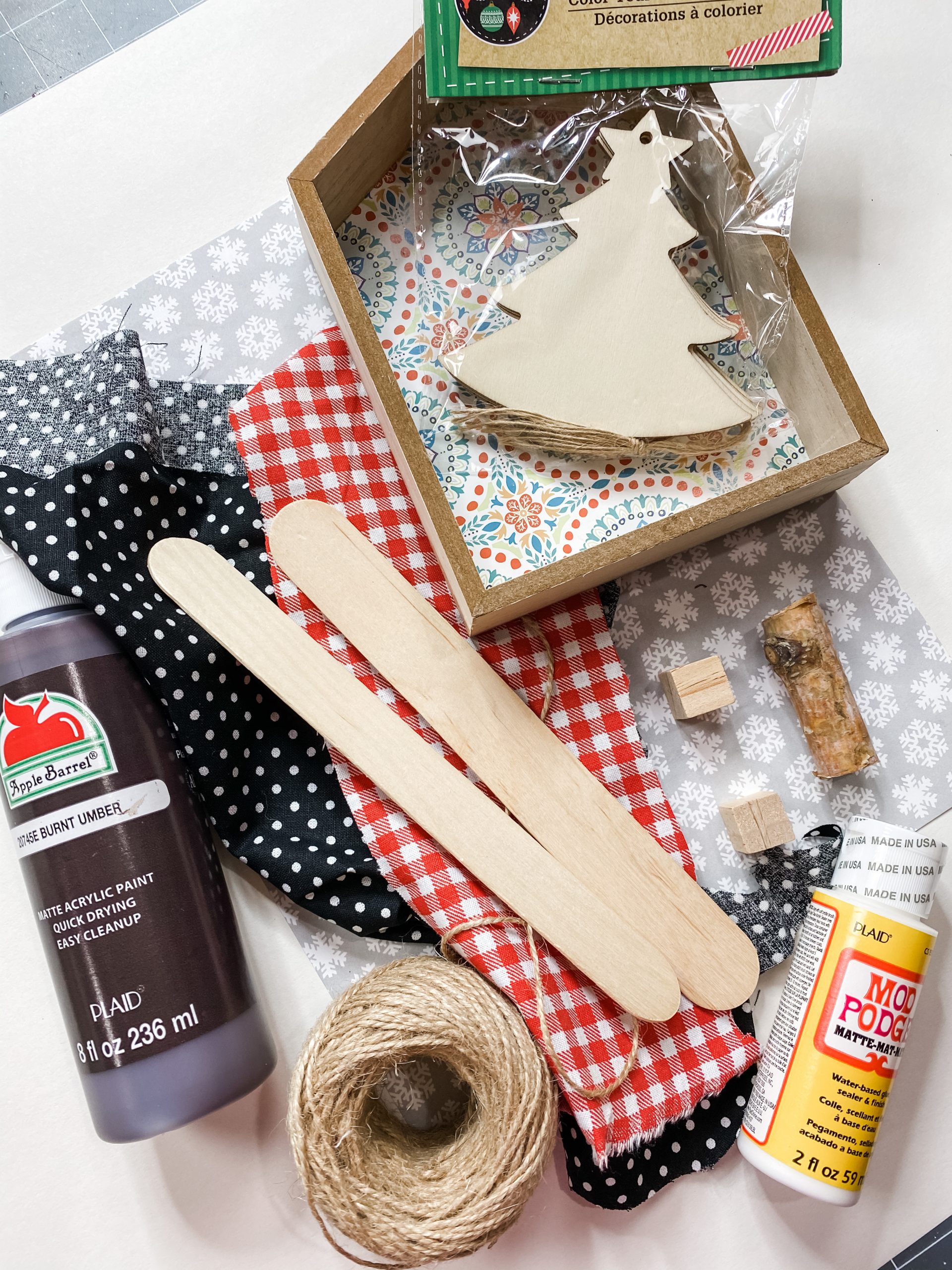 Let's get started!
The first step of making this DIY Christmas Tree Shelf Decor is to cut the scrapbook paper to fit inside of the Dollar Tree wood house.
It is better to cut it too large and not too small because you can always trim a little bit off if you have to.
Next, you're going to coat the back of the scrapbook paper with your Mod Podge and apply it to the inside of the wood house.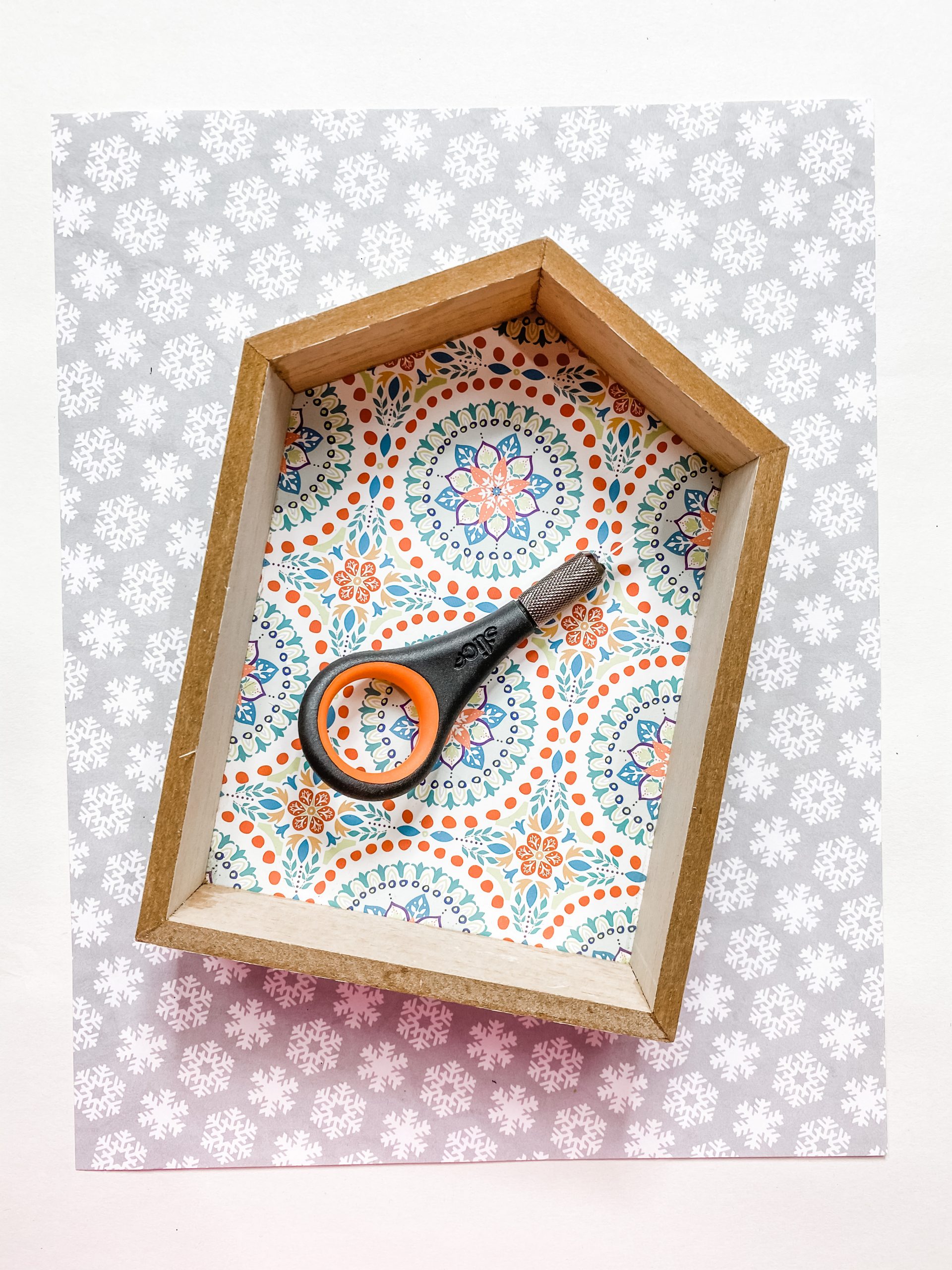 Decorate the Christmas Tree
Pick one of your fabrics for your Christmas tree. I used a black with white polka dots pattern for my Christmas tree, but you could use whatever pattern you like!
Again, cut the fabric to the shape of the tree, but make sure you don't cut it too small.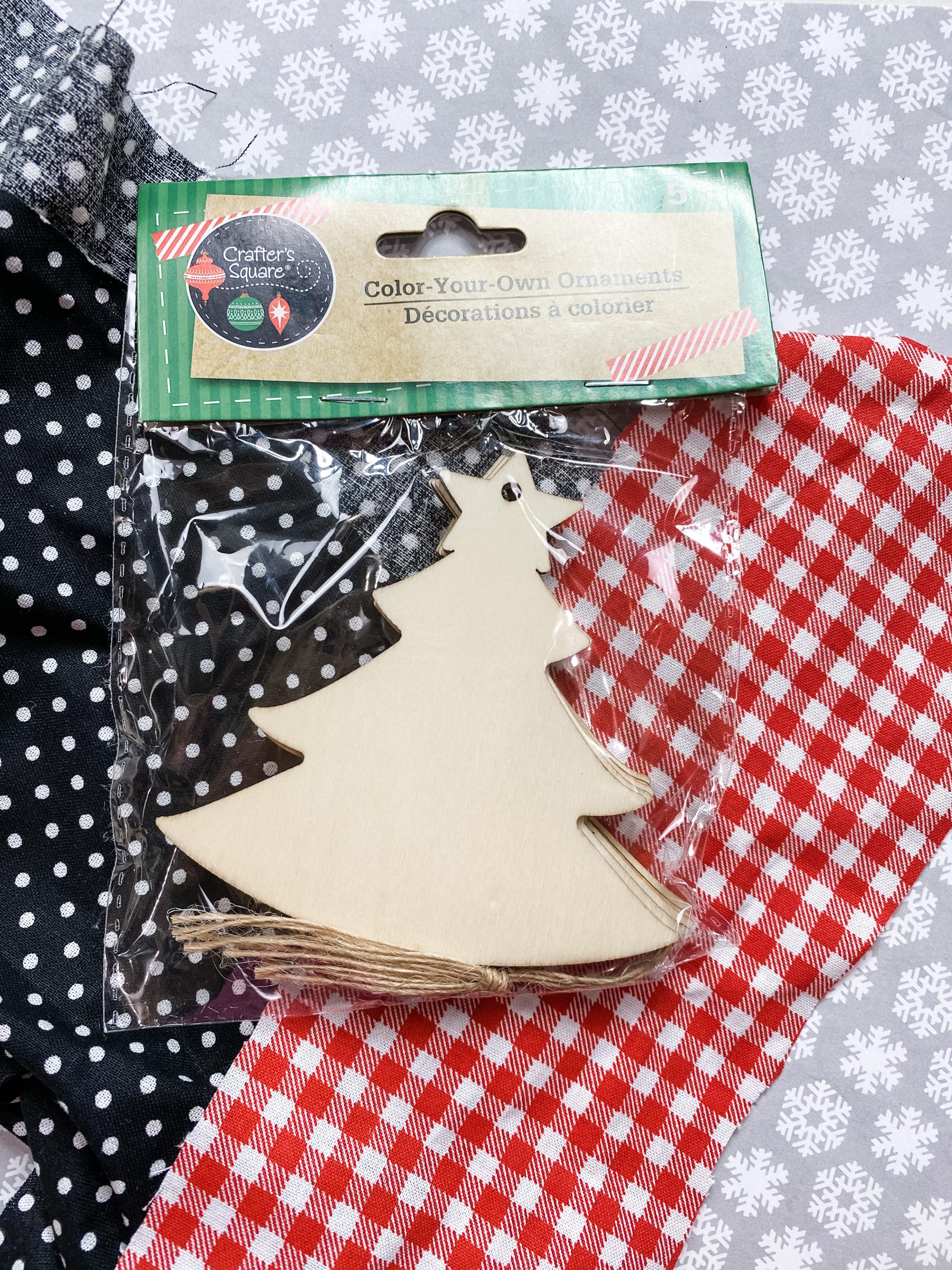 Coat the wood Christmas tree with Mod Podge and apply the fabric. You can use a credit card to smooth out any bubbles or wrinkles in the fabric.
I used the second pattern to be the star at the top of the tree. So, trace out the shape of the star at the top of the tree and cut it out of the fabric.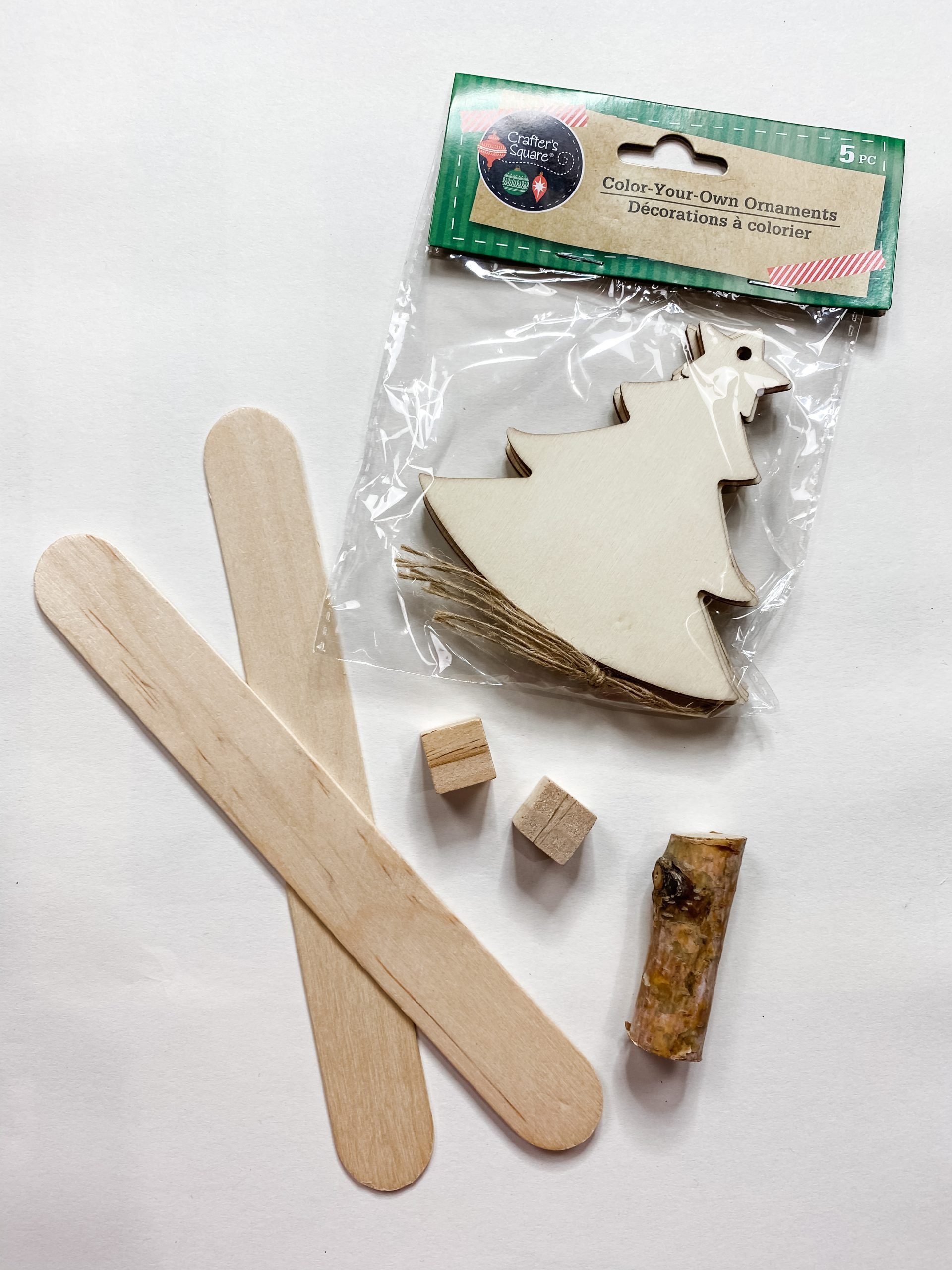 Add a roof
The Dollar Tree wood house is adorable, but I wanted it to have a little roof too. So, I took 4 popsicle sticks and cut one end off of each. Next, I stained them with the Burnt Umber Apple Barrel paint.
I always spray my wood with water before I stain it because it helps the wood absorb the paint and actually stain it rather than just coat the wood.
Then, I glued them to the top of the house with the flat sides at the center of the top of the wooden house.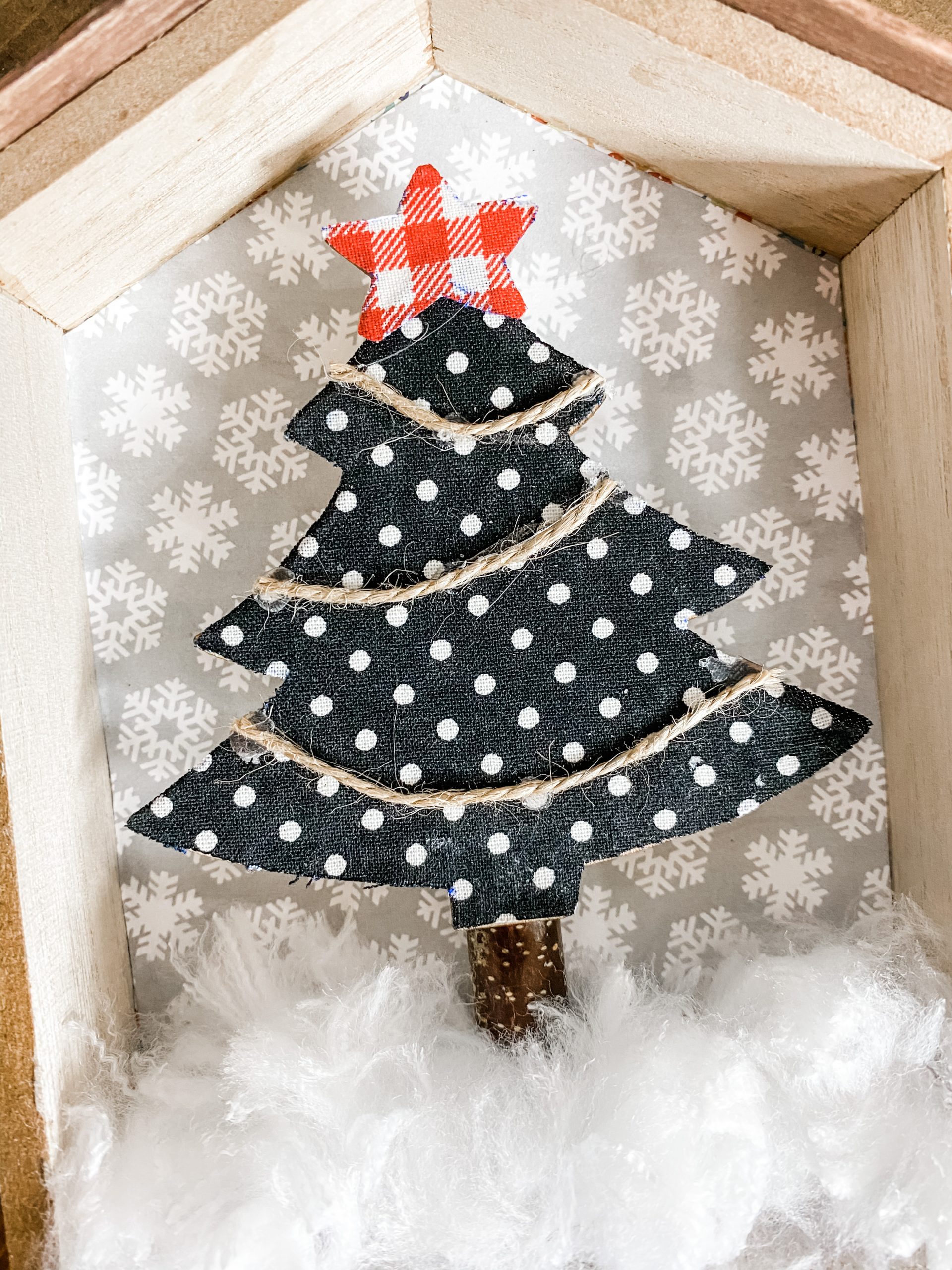 Add some garland
To add more detail to my Christmas tree, I used some jute twine as garland and hot glued it onto the Christmas tree. If you wanted, you could add little bells or lights to the twine!
The finishing touches
I used the Crafter's Square wood blocks and glued them to the back of the Christmas tree. I wanted it raised up to give this a bit more dimension.
Next, I glued down one of the Dollar Tree twigs as the truck of my Christmas tree. Finally, I glued down pieces of the Dollar Tree Duster as fake snow.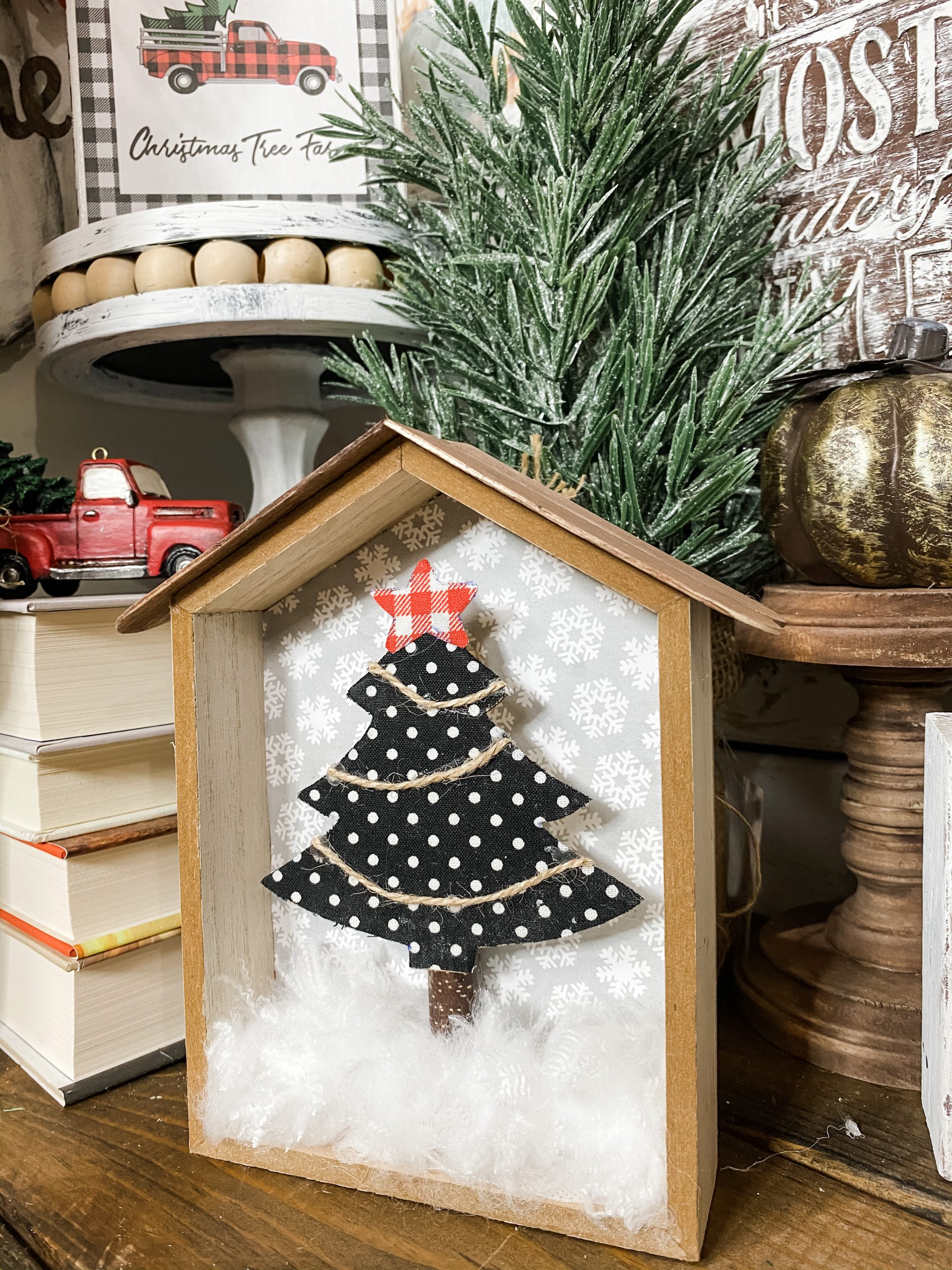 How cute is this!?
I hope you've enjoyed learning how to make a DIY Christmas Tree Shelf Decor and decide to make this amazing craft for yourself!
Thanks for stopping by! XOXO Amber
You can also shop my ENTIRE AMAZON Favorites shop just click here! It's packed full of all the things I use and love.
Here is the supply list I highly recommend every creative have on hand!! Would you also pin my blog for later and get on my newsletter alerts? I would love to have you join my #craftycrew.

Join my free "ON A BUDGET CRAFTS" Facebook group!
PIN THIS POST FOR LATER!