Easy Dollar Tree Christmas Loot Bag DIY Decor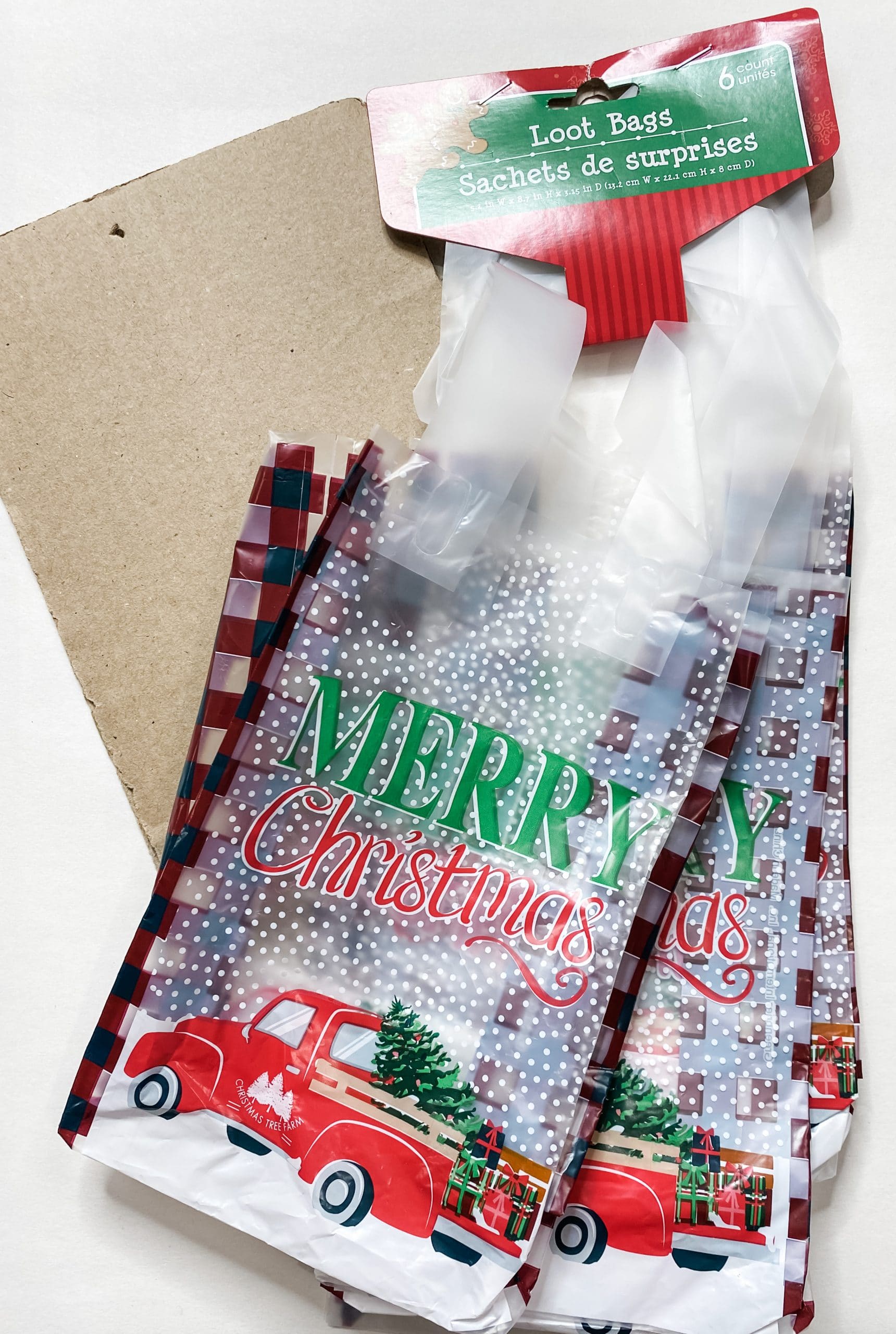 I am always trying to make affordable but adorable DIY decorations, but I really challenged myself to make something that costs less than $5. I think I succeeded with this Easy Dollar Tree Christmas Loot Bag DIY Decor!
Not only is this a super affordable Dollar Tree DIY Christmas craft, but it is also so simple to make! And I have a long list of Dollar Tree Christmas crafts right here on my blog you can check out.
Watch the tutorial
This Dollar Tree DIY Christmas Sign Decor is so quick and easy, I made a quick video that is less than 4 minutes long showing you how to make this super cute Christmas DIY!
You can check it out on my Facebook page if you want to see the step-by-step process! You will also find a bunch more Christmas DIY room decor ideas if you look through my blog!
For this project, I will be using these items but you can substitute where you want.
"As an Amazon Associate, I earn from qualifying purchases."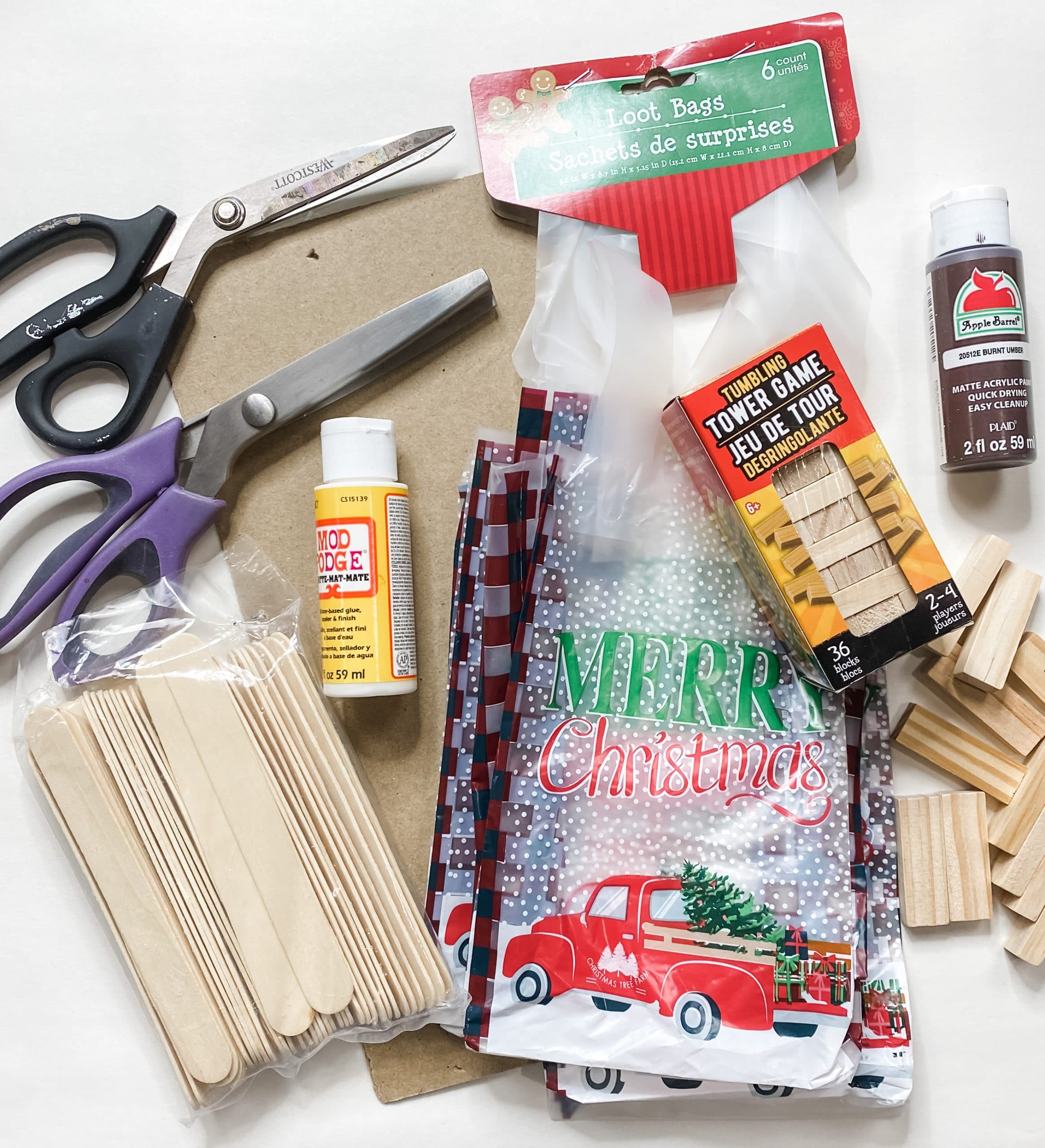 Let's get started
Okay, the first thing you're going to do is cut the Dollar Tree loot bag or Dollar Tree Christmas gift bag so that you only have the front piece of plastic bag.
Next, apply a coat of Mod Podge onto the cardboard and carefully place the red truck merry Christmas part of the Dollar Tree plastic loot bag onto the cardboard. You are able to decoupage plastic! And it is really easy to do.
I am absolutely in love with these Dollar Tree Merry Christmas Red Truck bags! I am going to show you how to make a Dollar Tree Red Truck Christmas Sign or shelf sitter.
If you can not find one of these Dollar Tree Christmas gift bags, you can also use one of my Christmas Crafts printable here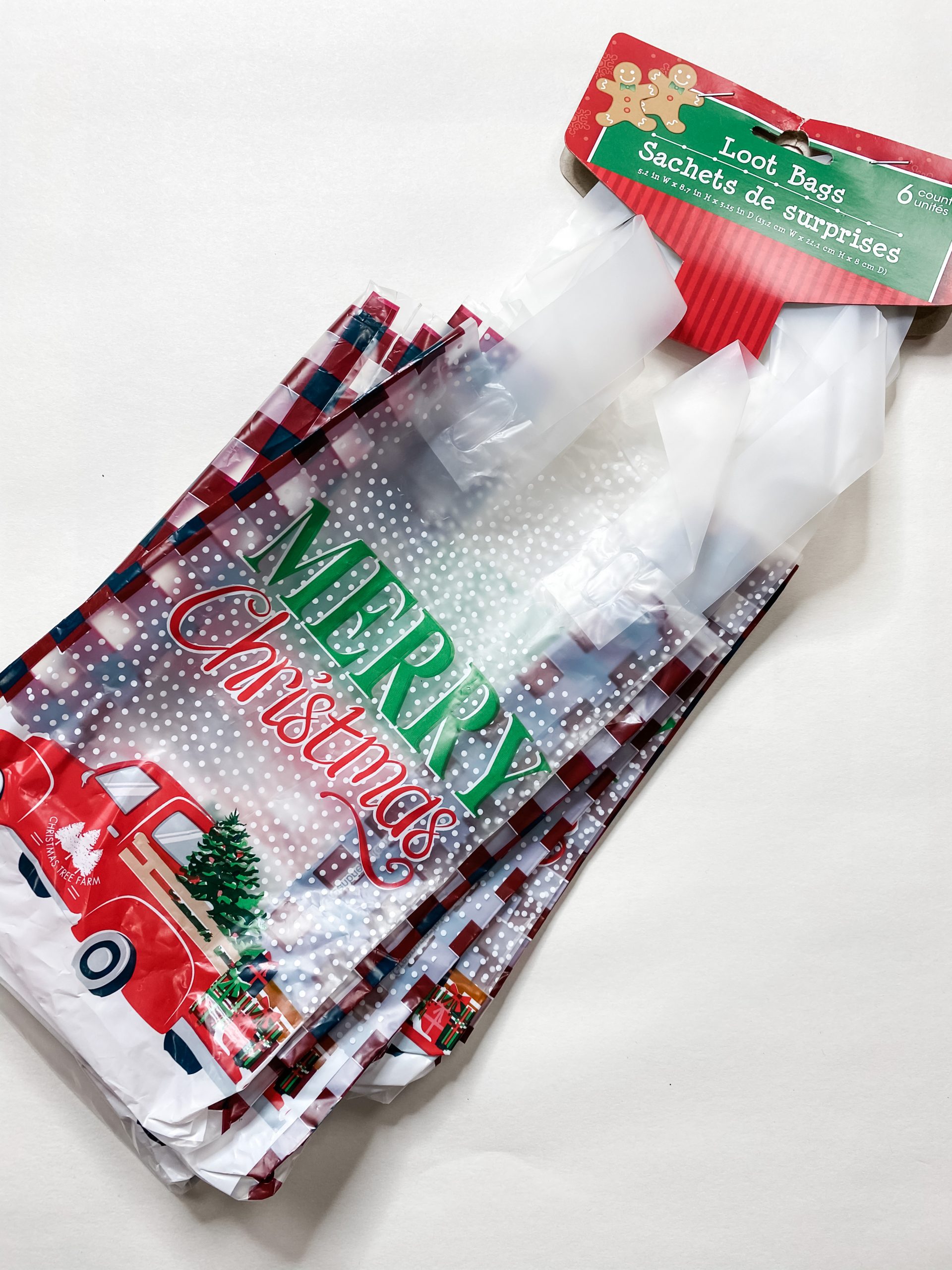 Another thing, I like to use a debit card to smooth out wrinkles and creases, but you could use your fingers for this craft since the plastic isn't easily breakable.
By the way, if you happen to have the Modpodge brayer you can use that as well. Pro Tip: Sometimes I like to use saran wrap to help me smooth out what I am decoupaging. Try it sometime!
Check out more of my Christmas DIY Decor over on my Pinterest too! I would love for you to follow me there and pin this super cute and easy Christmas decor DIY!
Once the Mod Podge was dry, I used the pinking shears to trim the edges of the cardboard. You could use regular scissors if you want, but I really like the detail of having the zig-zag edges from the pinking shears.
I think they really dress up cardboard crafts. Did you know you can also make an easy cardboard Christmas Tree the same way?
Reinforce it
We all know that cardboard isn't the sturdiest surface, so I used the Dollar Tree craft sticks to reinforce the back of the cardboard.
If we are going to make DIY Dollar Tree Christmas decorations we might as well make them sturdy!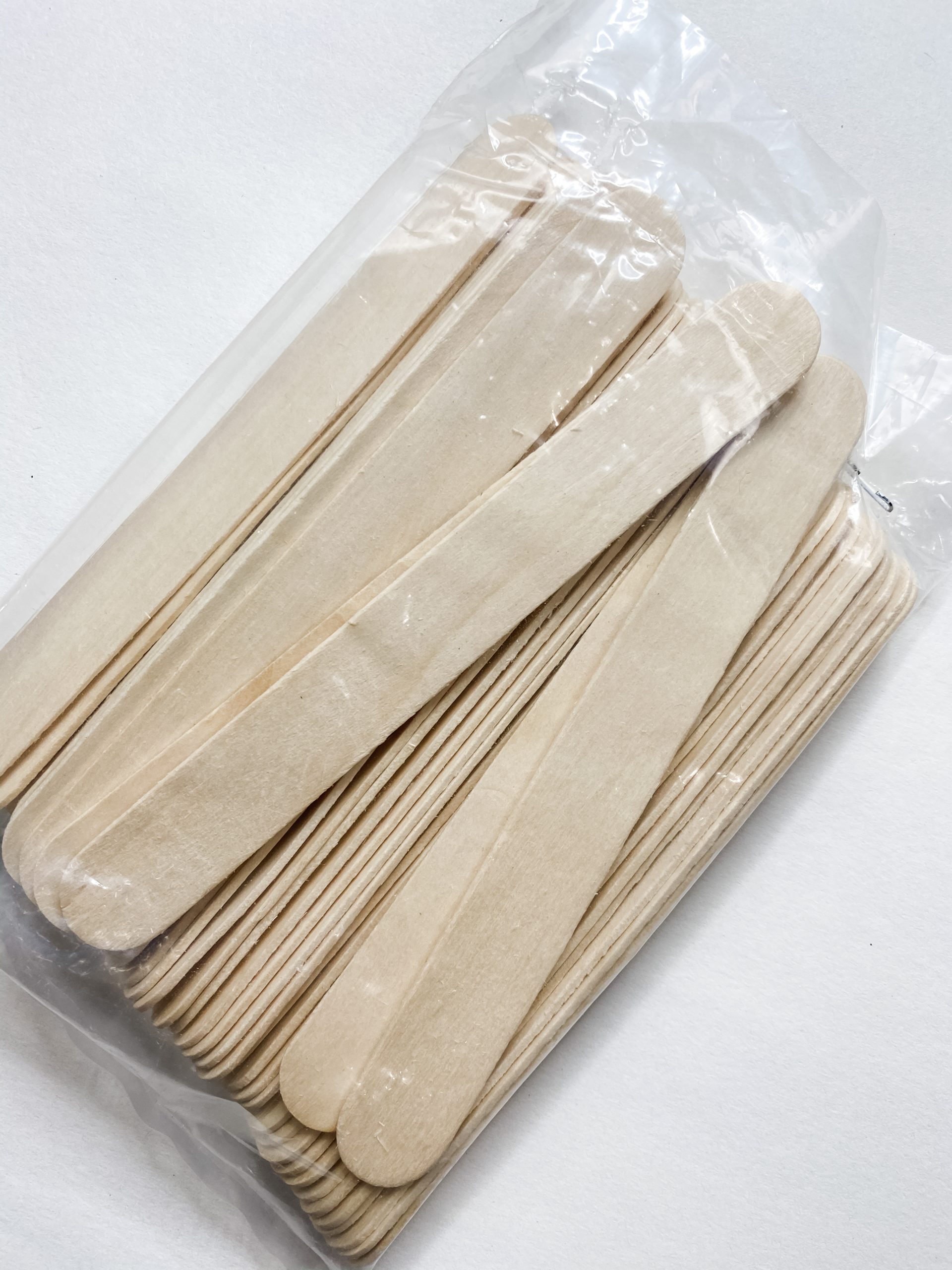 I hot glued 3 of the craft sticks in an "N" formation, then trimmed two more craft sticks and hot glued them to the top and bottom of the "N" formation.
Stain the blocks
For the cardboard Christmas craft base, I used Dollar Tree Tumbling Tower blocks, but you could easily use Jenga blocks if you already have some of those!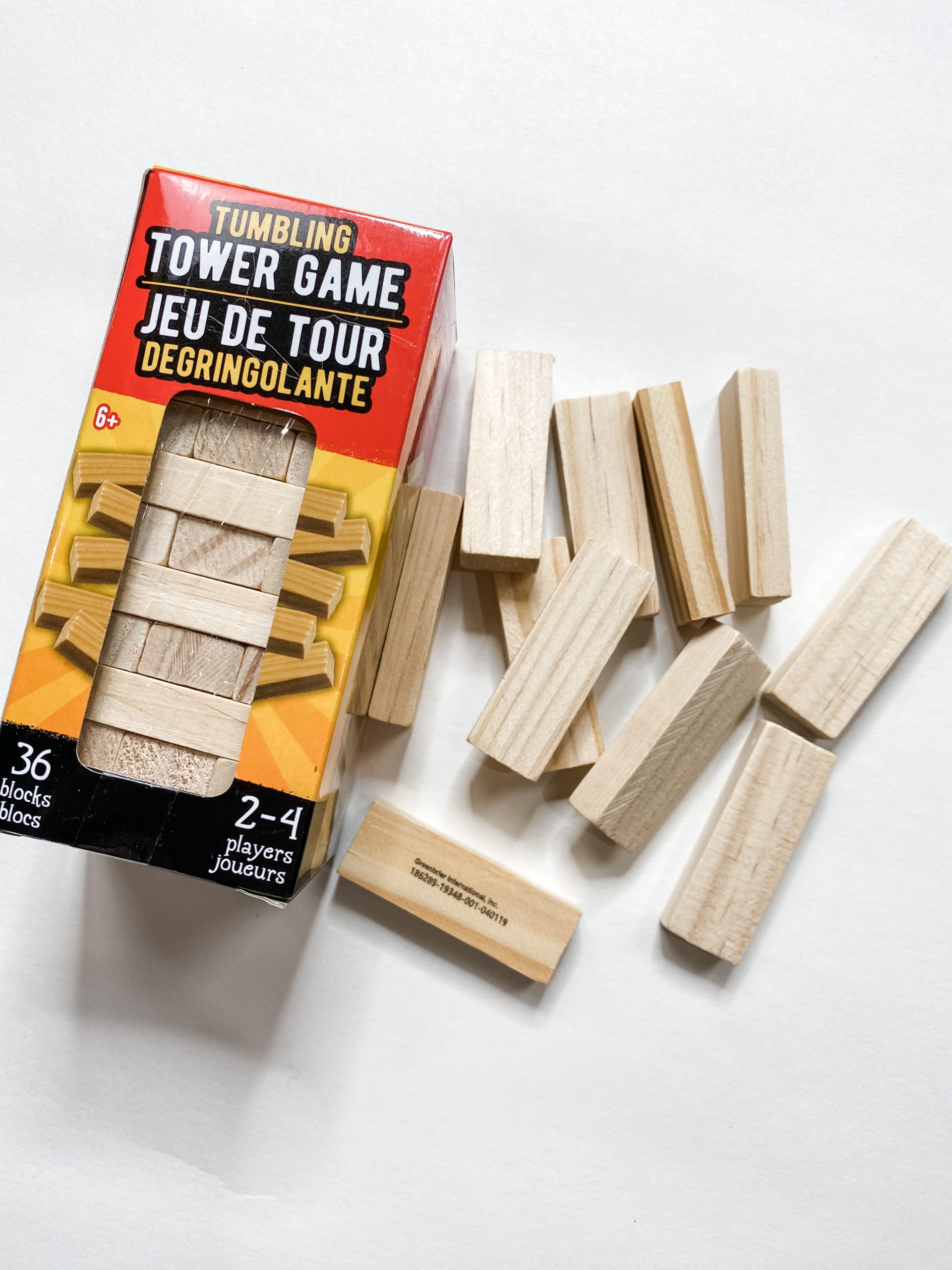 To stain them, I mixed some water with the Apple Barrel Burnt Umber Acrylic paint and spread it onto the blocks with a baby wipe.
Adding the water helps the wood absorb the color and gives it a stained finish.
Make the base
I used 16 of the Tumbling Tower blocks (Jenga Blocks) and hot glued them together in groups of 4. I hot glued the bottom of the cardboard between 2 strips of connected blocks. Then, I hot glued those to the other two strips.
One of the easiest Dollar Tree Christmas Decor Projects
That's it! I told you this was a super easy DIY to make! It doesn't require any difficult techniques or expensive special tools, but it is still so cute!
Don't you just love these dollar tree Christmas craft ideas? Some might say this Cardboard Christmas craft is cheap and why would anyone want to make a cheap one-sided cardboard craft or even display it in their home.
The truth is simple. crafting is crafting. Either you love to craft, or you craft because you are on a budget and still want to create a beautiful home, or you just like to make your own home decor.
There is no wrong answer to crafting! Christmas is the best time to just make crafts for fun.
I hope you enjoyed learning how to make this Easy Dollar Tree Christmas Loot Bag DIY Decor as much as I did and decide to make it for yourself!
I would love to see how yours turns out! You should totally join my FREE Facebook group called On A Budget Crafts! It is a judgment-free community for DIY crafters to show off their projects and ideas.
Thanks for stopping by! XOXO Amber
You can also shop my ENTIRE AMAZON Favorites shop just click here! It's packed full of all the things I use and love.
Here is the supply list I highly recommend every creative have on hand!! Would you also pin my blog for later and get on my newsletter alerts? I would love to have you join my #craftycrew.

Join my free "ON A BUDGET CRAFTS" Facebook group!
PIN THIS POST FOR LATER!