29 Easy DIY Christmas Decor Ideas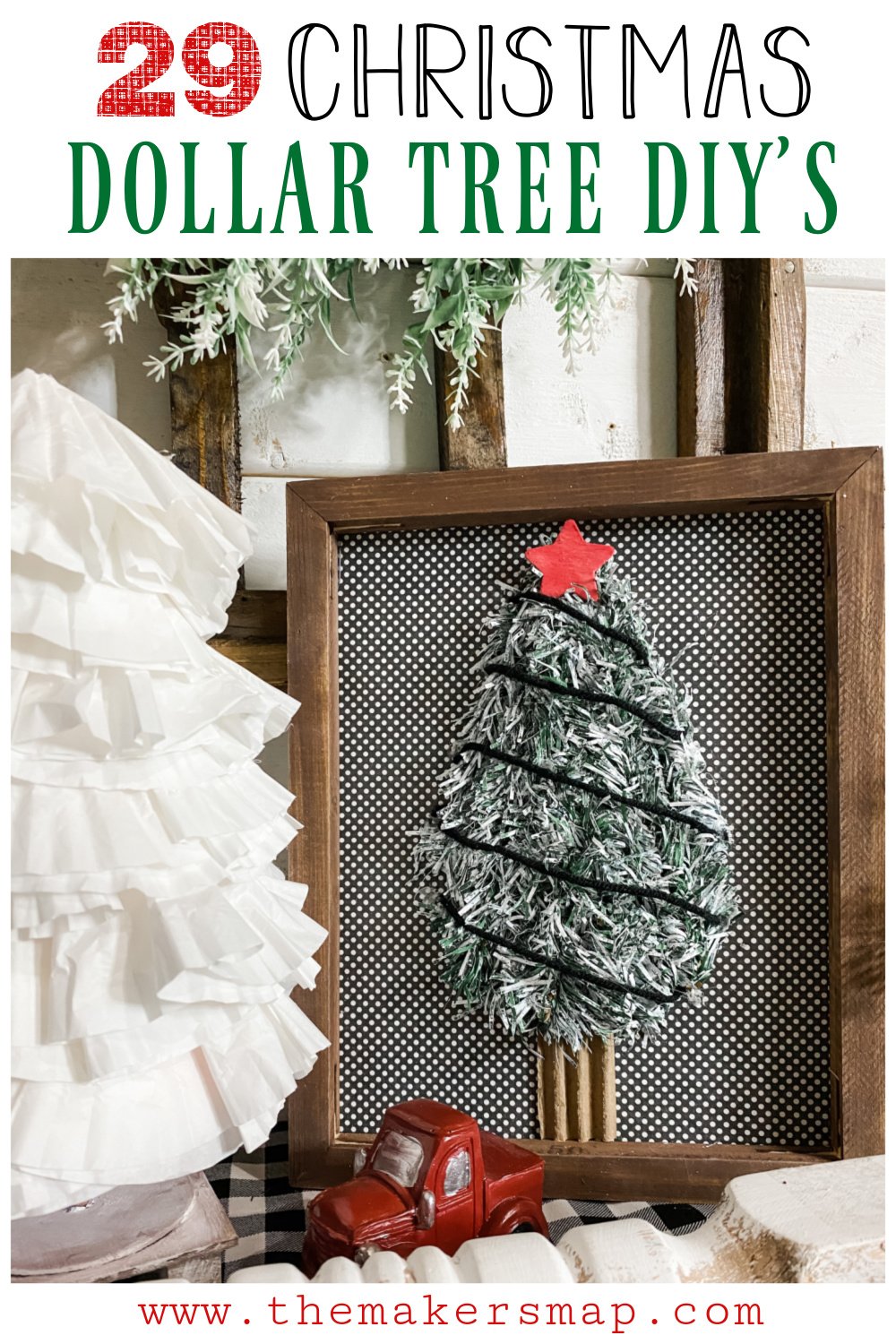 Have you been looking for some Christmas DIY inspiration?? It's that time of year, and I can't lie, my house is already decorated! I've shared so many easy Christmas DIY craft projects over on my Facebook page, and I am working hard on getting all of them here on the blog. I wanted to go ahead and share with you my favorite 29 Easy DIY Christmas Decor Ideas that I've made!
Each Christmas DIY idea on this list has its own blog post with a supply list, step-by-step instructions, and a tutorial video!
Let's get to the good stuff!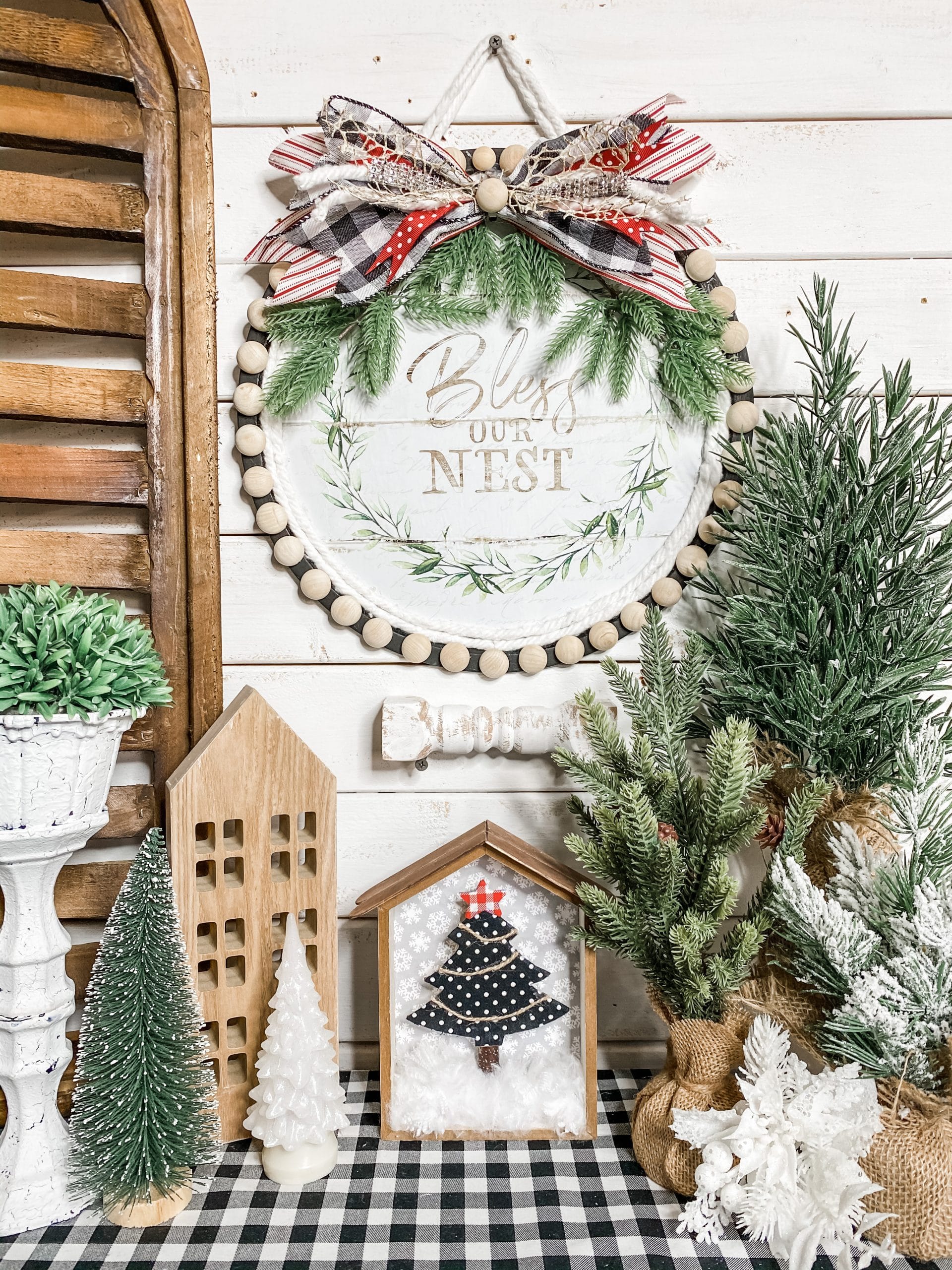 First up is this adorable Dollar Tree pizza pan DIY! I used a Dollar Tree Simply Blessed 2021 Calendar and decoupaged one of the calendar prints onto the front of a Dollar Tree pizza pan.
Add some half wood beads and a super cute ribbon x bow, and you're ready for the holidays!
I actually made this project before with a different Dollar Tree calendar print, but it was so cute that I just had to make it again! (Check out number 26!)
If you're looking for a super easy and kid-friendly Christmas DIY, then #2 of my 29 Easy DIY Christmas Decor Ideas is for you!
These adorable salt and pepper shaker Christmas ornaments are so easy to make, that your children or grandchildren could do them!
Just grab some Dollar Tree salt and pepper shakers, mini Christmas Trees, faux snow, some ribbon, and your hot glue gun!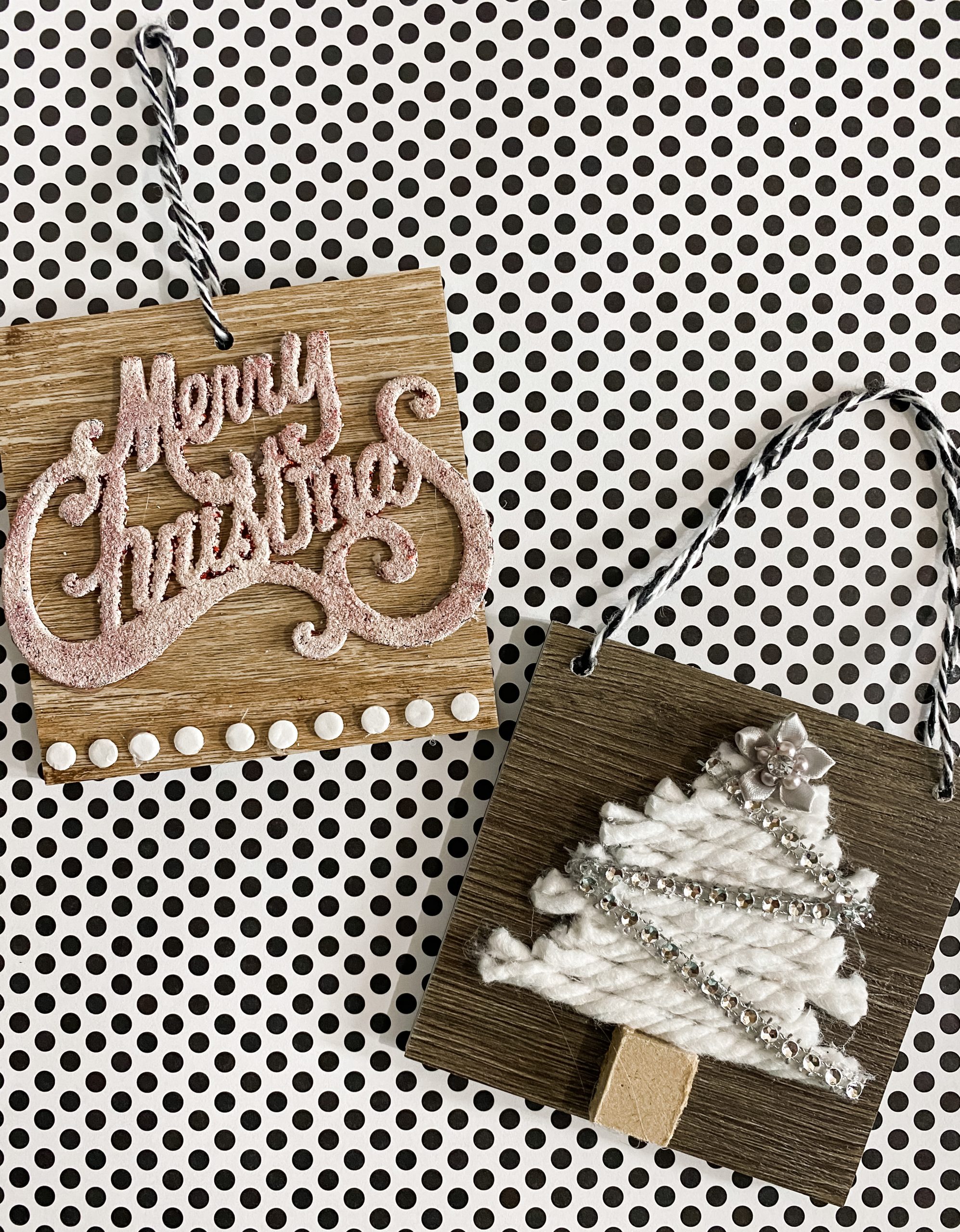 Y'all, I got so much feedback when I made these DIY ornaments from Home Depot's free flooring samples. If you know me, you know that I am always looking for creative ways to repurpose and refurbish unwanted items.
I mean, I owned an entire brick-and-mortar store centered around the idea of taking something old and making it new! That was my thought process with these easy floor sample DIY Christmas ornaments.
All you need is a free flooring sample from Home Depot, Dollar Tree mophead strings, baker's twine, a Dollar Tree Merry Christmas ornament, and some ribbon!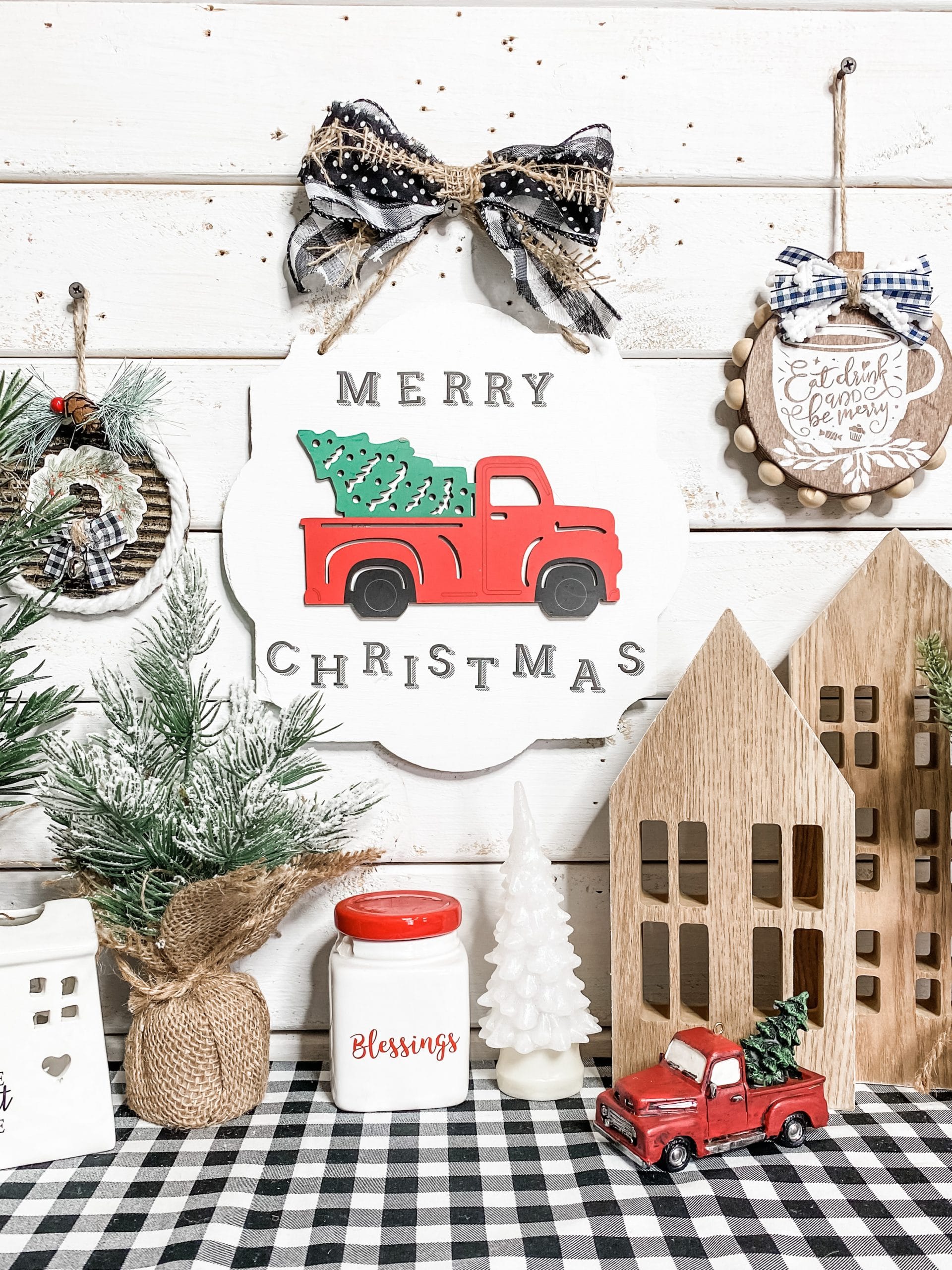 Is it okay to admit that I am OBSESSED with red Christmas trucks? I mean, I just absolutely love them! If you're wanting a DIY craft that has very few steps but is more than just gluing pieces in place, this Christmas Truck DIY Decor is perfect for you!
With just a few Dollar Tree items and a bit of creativity, you can make this easy DIY hanging Christmas sign!
If you really like Christmas Truck decor, you need to see #22 of these 29 Easy DIY Christmas Decor Ideas.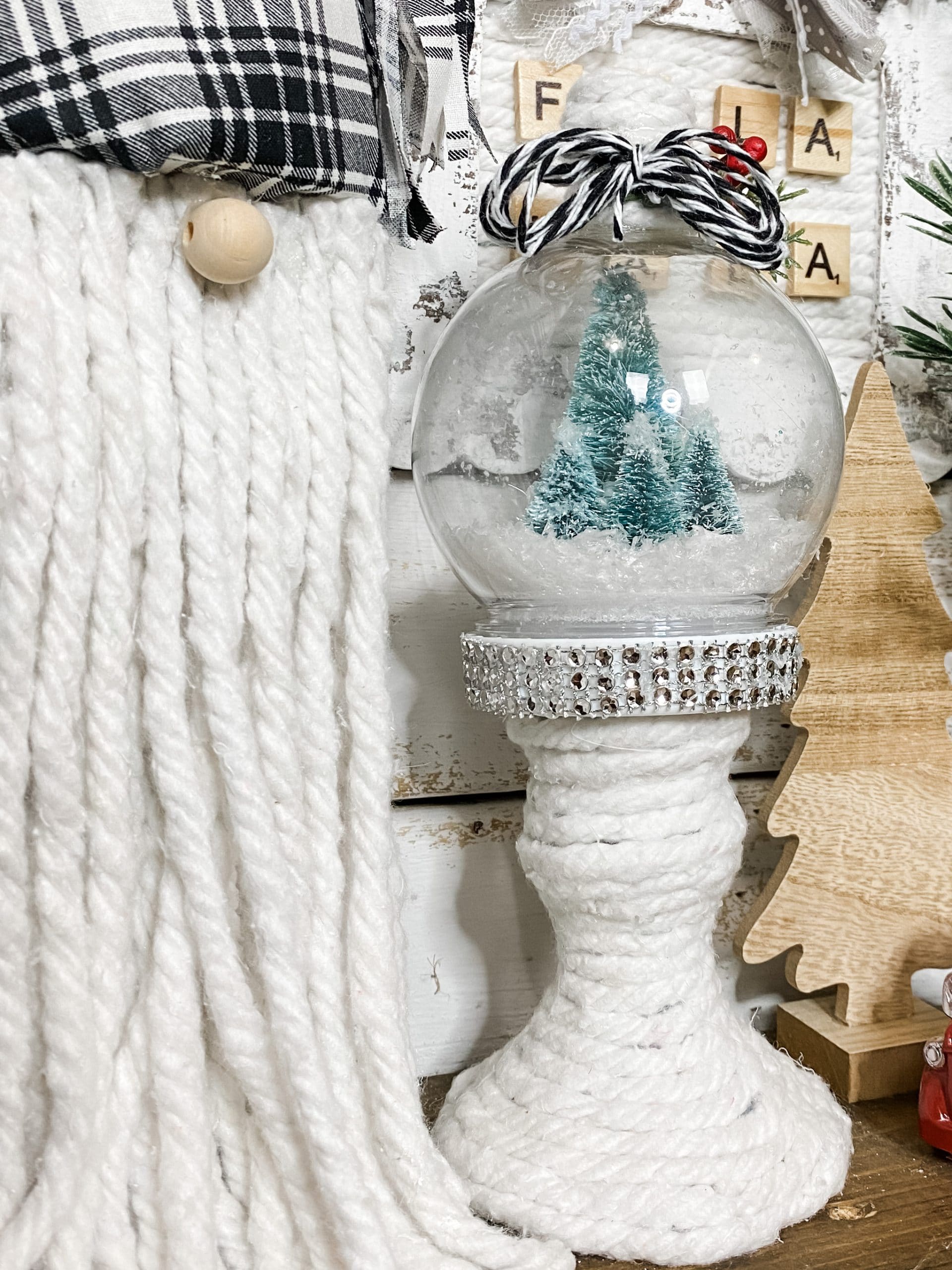 I am always trying to think of unique, out-of-the-box DIY ideas, and I think I hit the nail on the head with this Dollar Tree candle holder DIY snow globe! This water-free snowglobe is so easy to make but is so different than my usual DIY crafts.
If you've read my blog or see my Facebook videos, you'll see that I make a lot of hanging signs or surface board designs.
I really stepped out of my comfort zone to make this winter globe, but boy did it pay off!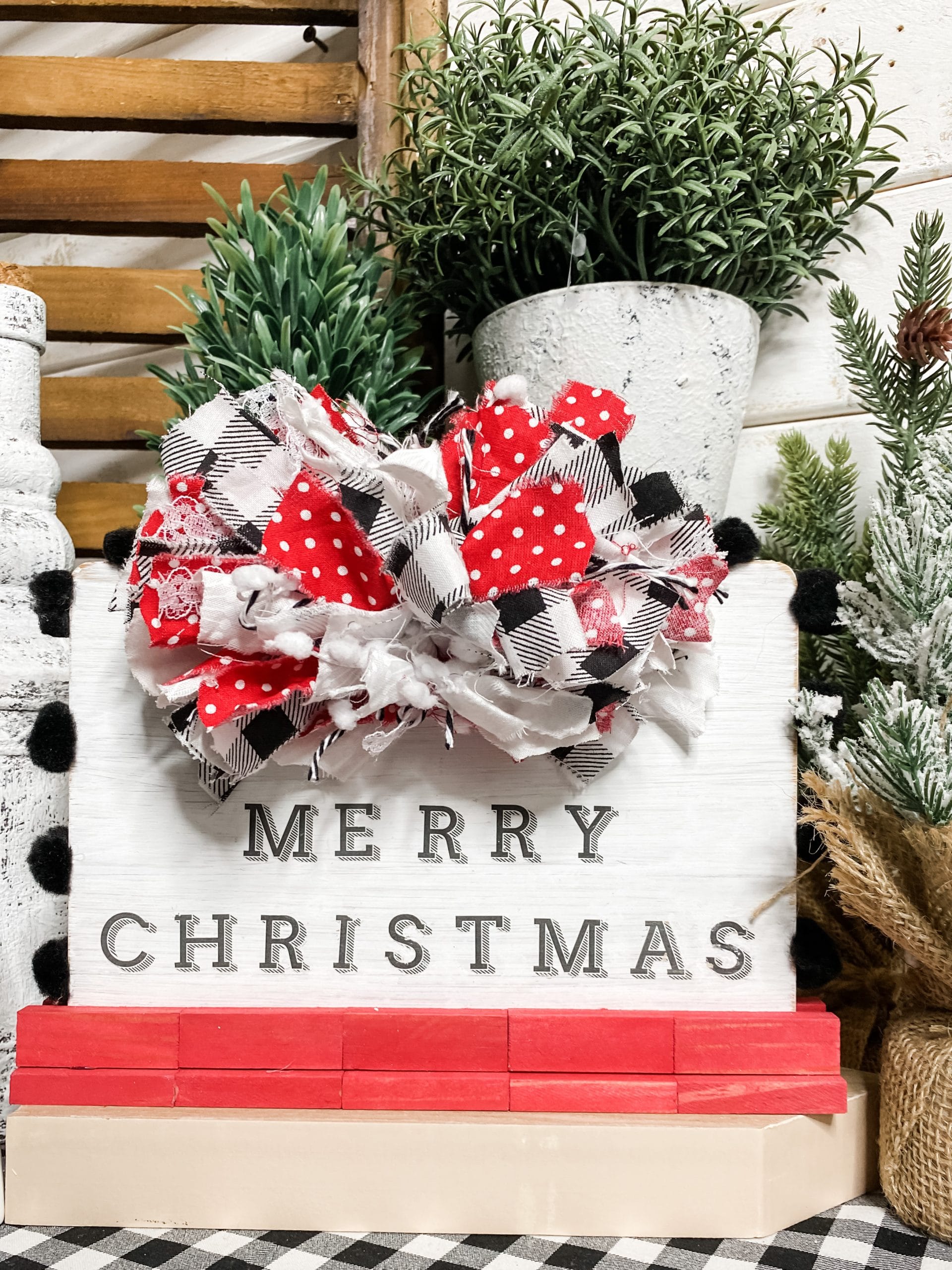 Just like the DIY snowglobe above, I stepped out of my comfort zone with this Dollar Tree cutting board Christmas sign. I've used Dollar Tree Tumbling Tower blocks (just like Jenga blocks) before, but I usually stain them brown.
I stepped out on a limb with this Christmas decor and stained the blocks bright red to match the messy bow!
What do you think? Will you keep the blocks red or decide to stain them brown?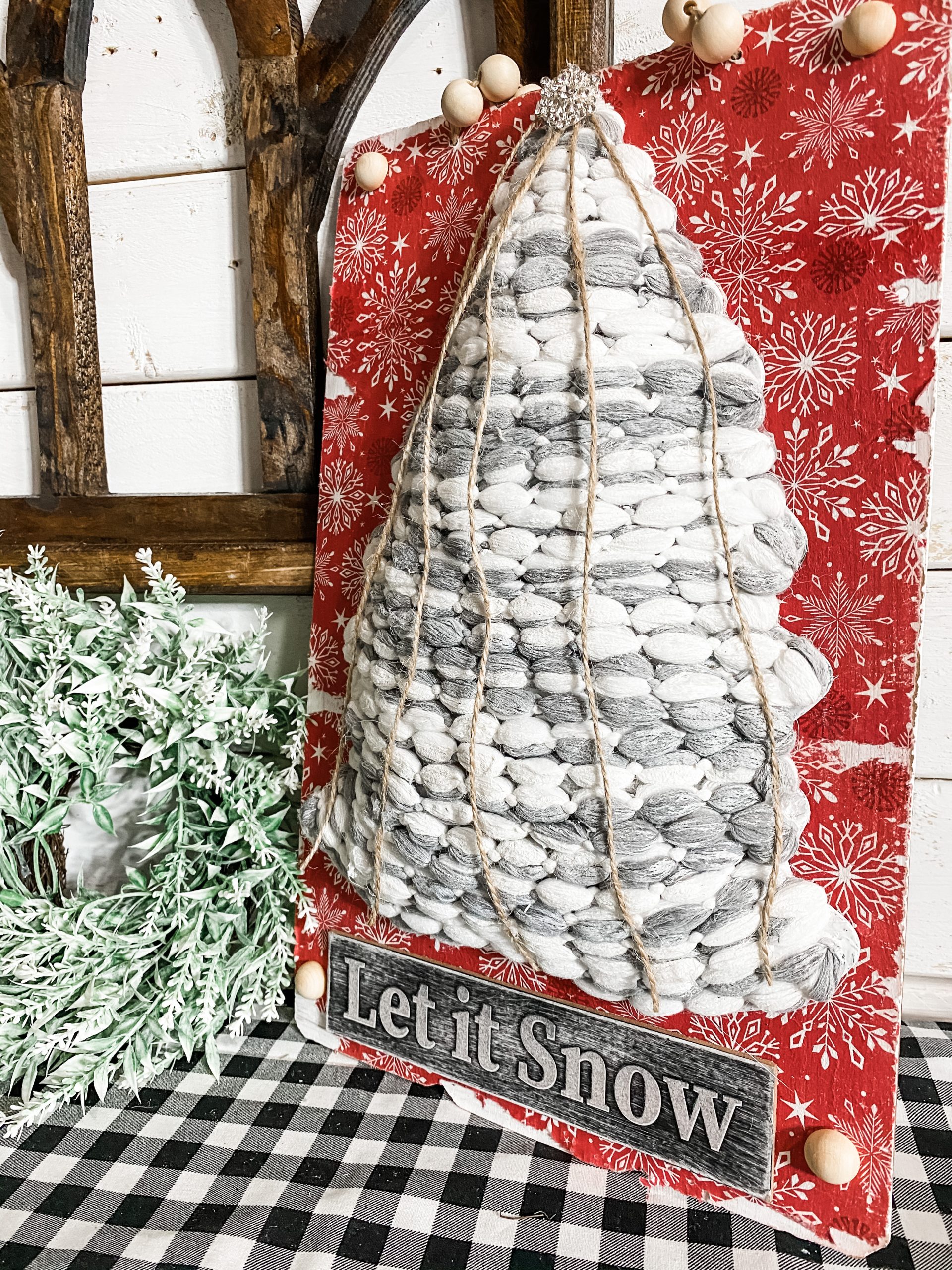 Can you guess the hidden item in this Dollar Tree mop head Christmas tree sign? I'll give you a hint: it came from Dollar Tree!
This Christmas DIY was so much fun to make, but I wasn't sure how it would out. Let this DIY project be a reminder not to doubt yourself and just go with your gut because it is so stinking cute!
I honestly love this DIY Christmas sign because of how easy it was to make. It really doesn't require you to have any special skills or crafting experience!
Have I told you how much I love to decoupage?? It might be one of my favorite things to do when I am crafting!
For this super cute Christmas DIY shelf sitter, I decoupaged a napkin onto a Dollar Tree sign box and created a triangle roof out of corrugated cardboard scrapbook paper!
You could easily substitute the corrugated scrapbook with paper and it would still be just as cute! I actually have made several of these DIY Christmas Decor ideas with cardboard, like the ornament just below!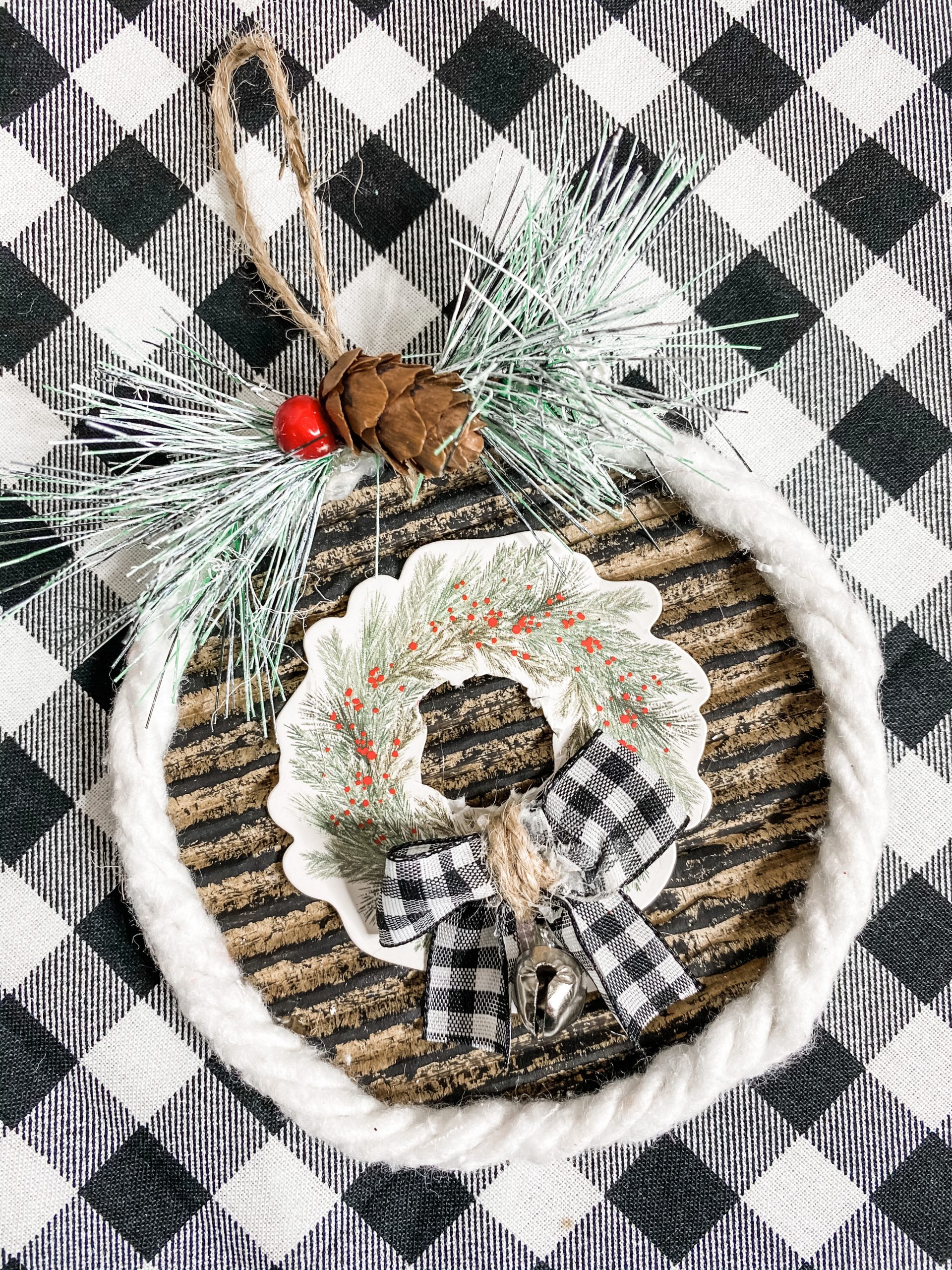 That's right, this DIY ornament is made of CARDBOARD! Of course, there are other parts to this ornament that came from Dollar Tree. This is another super easy Christmas DIY craft that would be perfect for kids!
With just a little bit of supervision using a hot glue gun and a pair of scissors, your child or grandkids could have so much fun recreating their own cardboard Christmas ornament!
This one is also great for parents and grandparents who collect ornaments. Especially handmade Christmas ornaments. This one makes for great DIY Christmas gifts for all ages to make!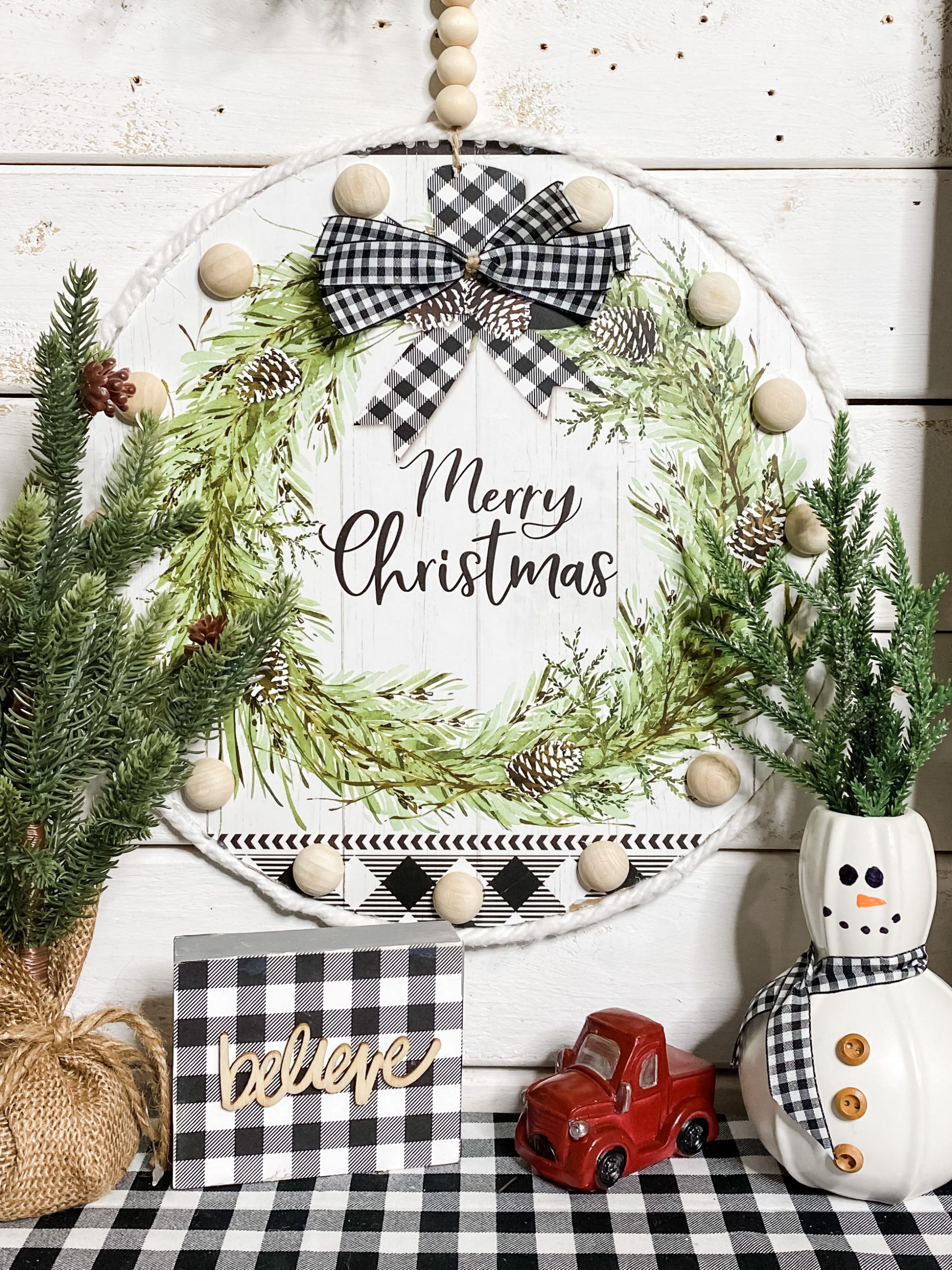 Does this look familiar? While this decoupaged Christmas sign may look like the Dollar Tree pizza pan DIY you saw at the top, I actually used a Dollar Tree circle sign for this.
You could very easily recreate this Christmas DIY with a pizza pan, you'll just have to get creative with attaching the hanger! Talk about DIY Christmas Decorations Dollar Tree style!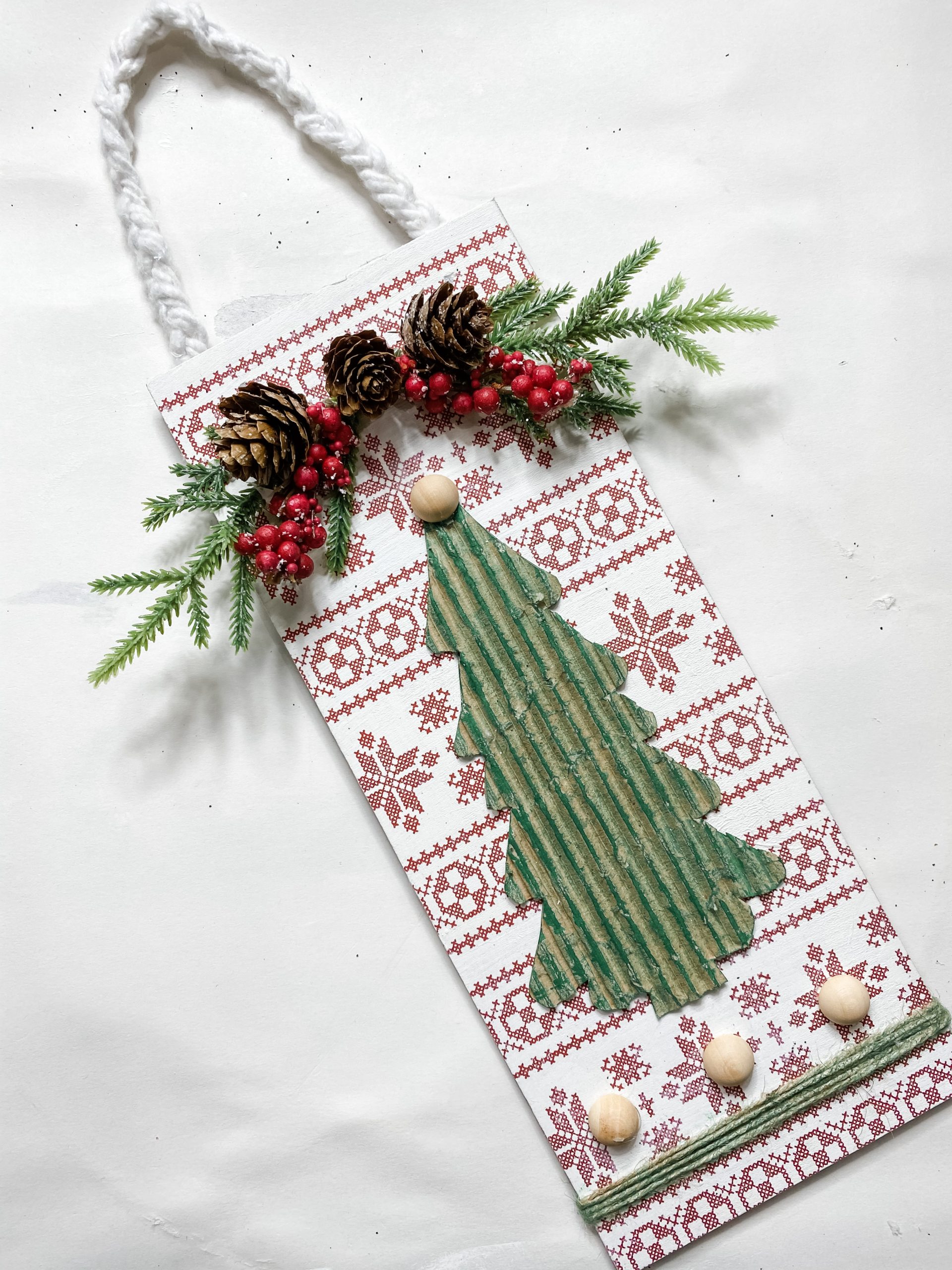 Remember how I told you earlier that cardboard can be a great substitute for items you don't have?
This Dollar Tree Christmas Decor DIY is a prime example of that! I found a super cute wooden Christmas Tree at Target on weekend, and I thought the tree would be so adorable in one of my Christmas crafts. However, I wasn't sure all of my followers would have the same item.
That's when I decided to create a FREE template for the shape of the wooden Christmas Tree and I traced it onto a piece of cardboard. Cut out your shape and it's like you had the real thing!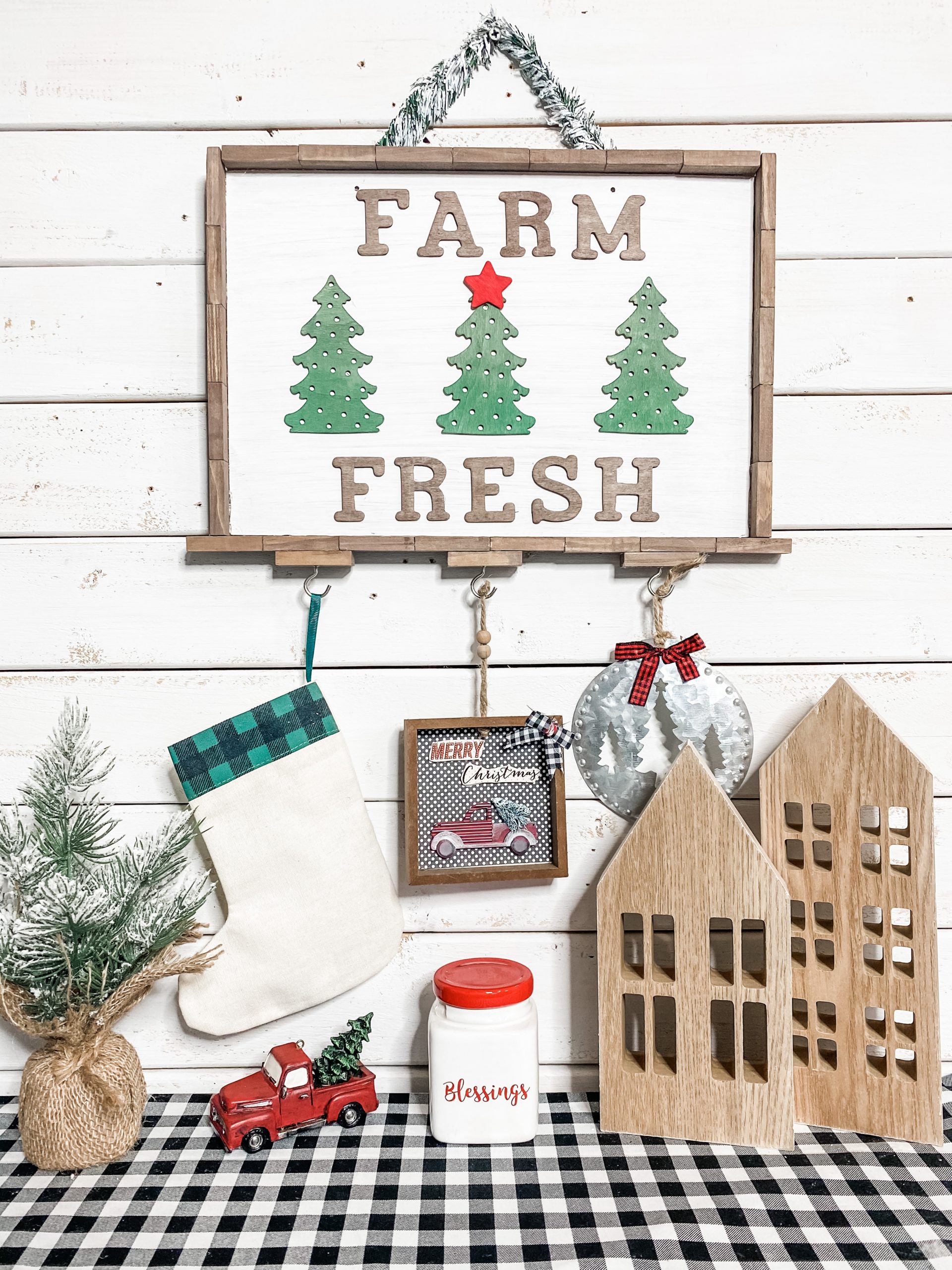 I made this easy Christmas sign DIY with dorm and apartment dwellers in mind. If you aren't able to put holes in your walls or you don't have a fireplace, I thought up this Farm Fresh Christmas DIY stockings holder! Just get an adhesive hook for your wall and hang it up in your living room!
Don't have stockings? You could also put this adorable farmhouse Christmas decor by your front door and hang your keys and masks on it. The possibilities are endless!
Alright, if you're looking for an extremely cheap and easy Christmas craft for kids, this is the one! This Dollar Tree loot bag DIY decor is so easy has only a few steps!
Your kids will feel so accomplished when they finish making this super easy Christmas DIY, and you won't have to worry about them breaking it and wasting money – it's made of CARDBOARD!
This is probably one of the easiest of these 29 Easy DIY Christmas Decor Ideas to make!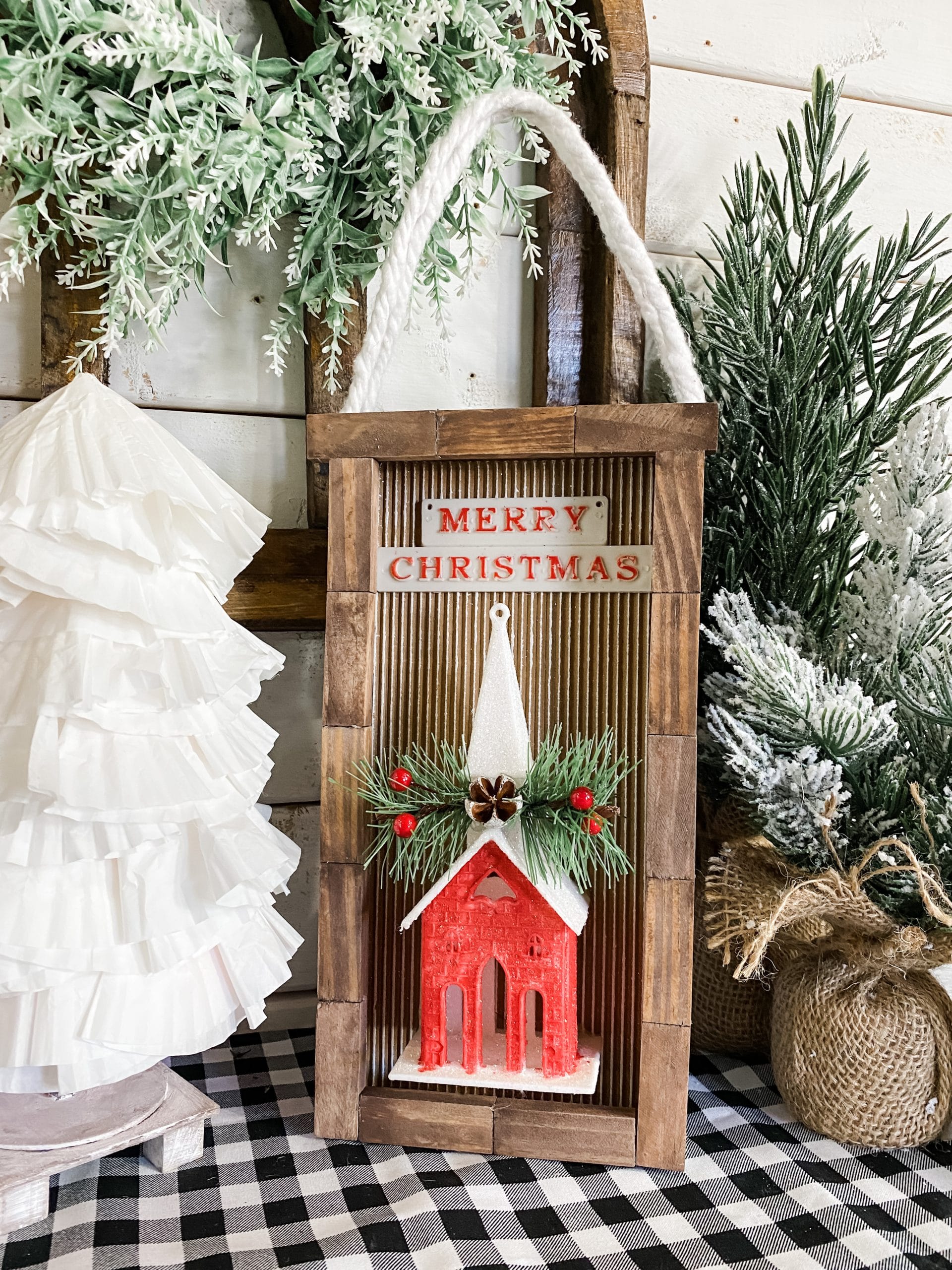 This Christmas Church Shadowbox might be one of my top 5 favorites from this holiday season. I just love how the red churches pop in front of the corrugated cardboard scrapbook paper and brown stained Dollar Tree Tumbling Tower Blocks (Jenga blocks).
I also love how you could stage this Christmas DIY on a shelf or hang it on a wall.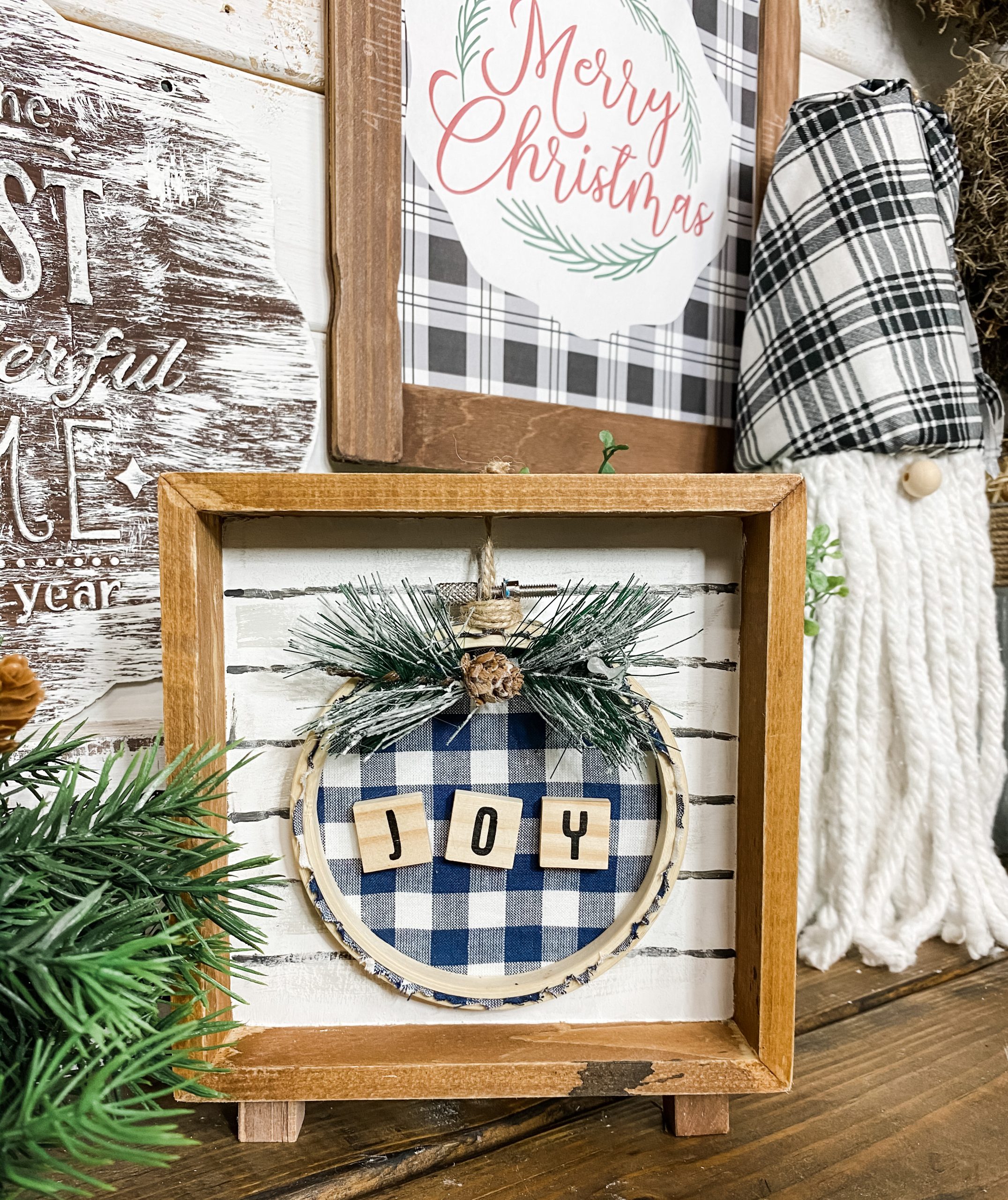 I am in love with how amazing this Dollar Tree embroidery hoop Christmas DIY turned out! I am not a sewer by any means, but you know I love being creative and thinking outside the box.
That's how I came up with the idea to use an embroidery hoop! You could even alter this DIY Christmas decor and turn it into an ornament!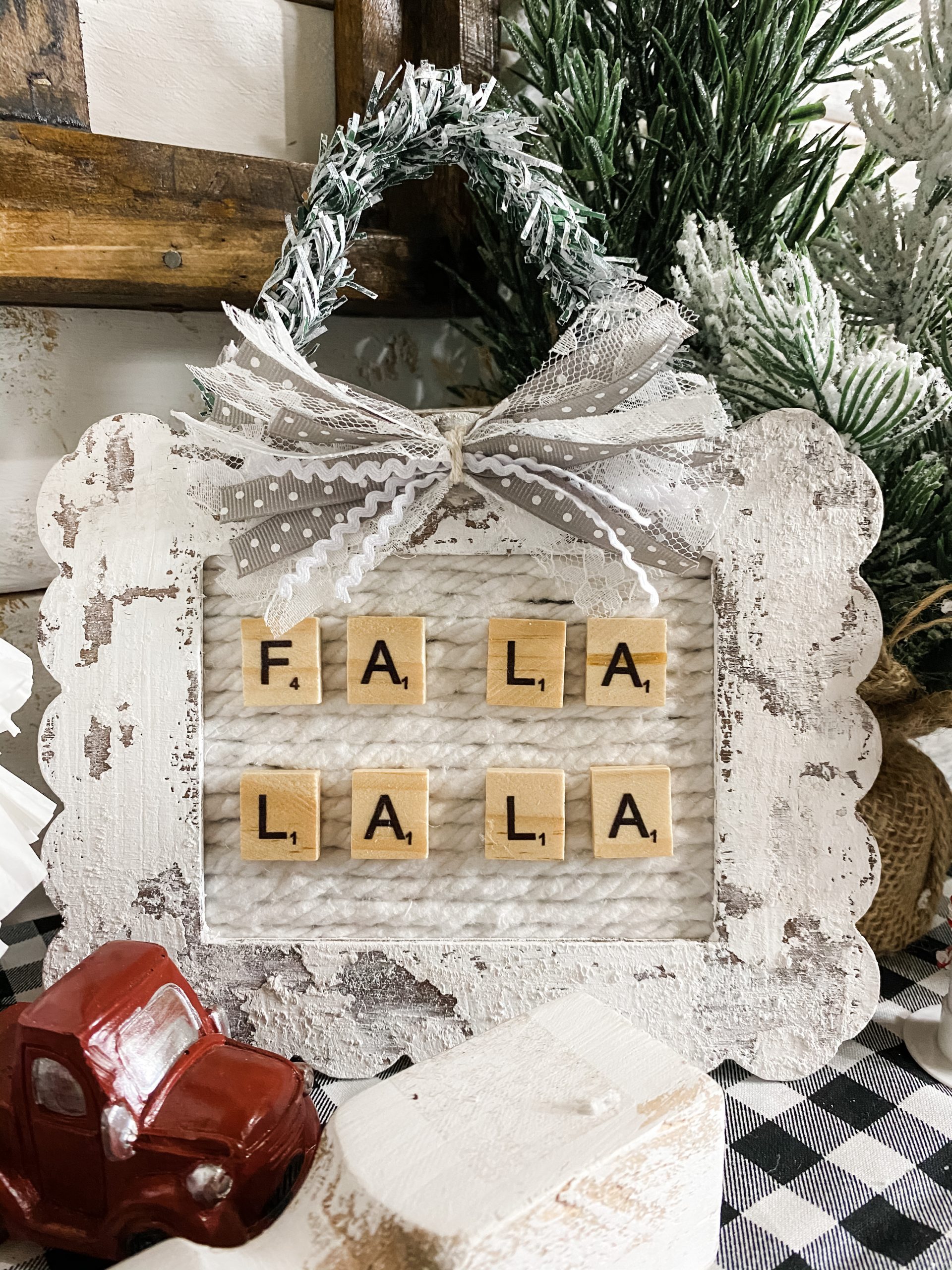 Anybody else slightly obsessed with a chippy finish? This scrabble letter farmhouse Christmas sign is so adorable is honestly, very easy to make.
The trickiest part is the chippy finish, but I walk you through exactly how I get the perfect chippy look every time!
There's also a video tutorial where I show you how I made this Christmas DIY.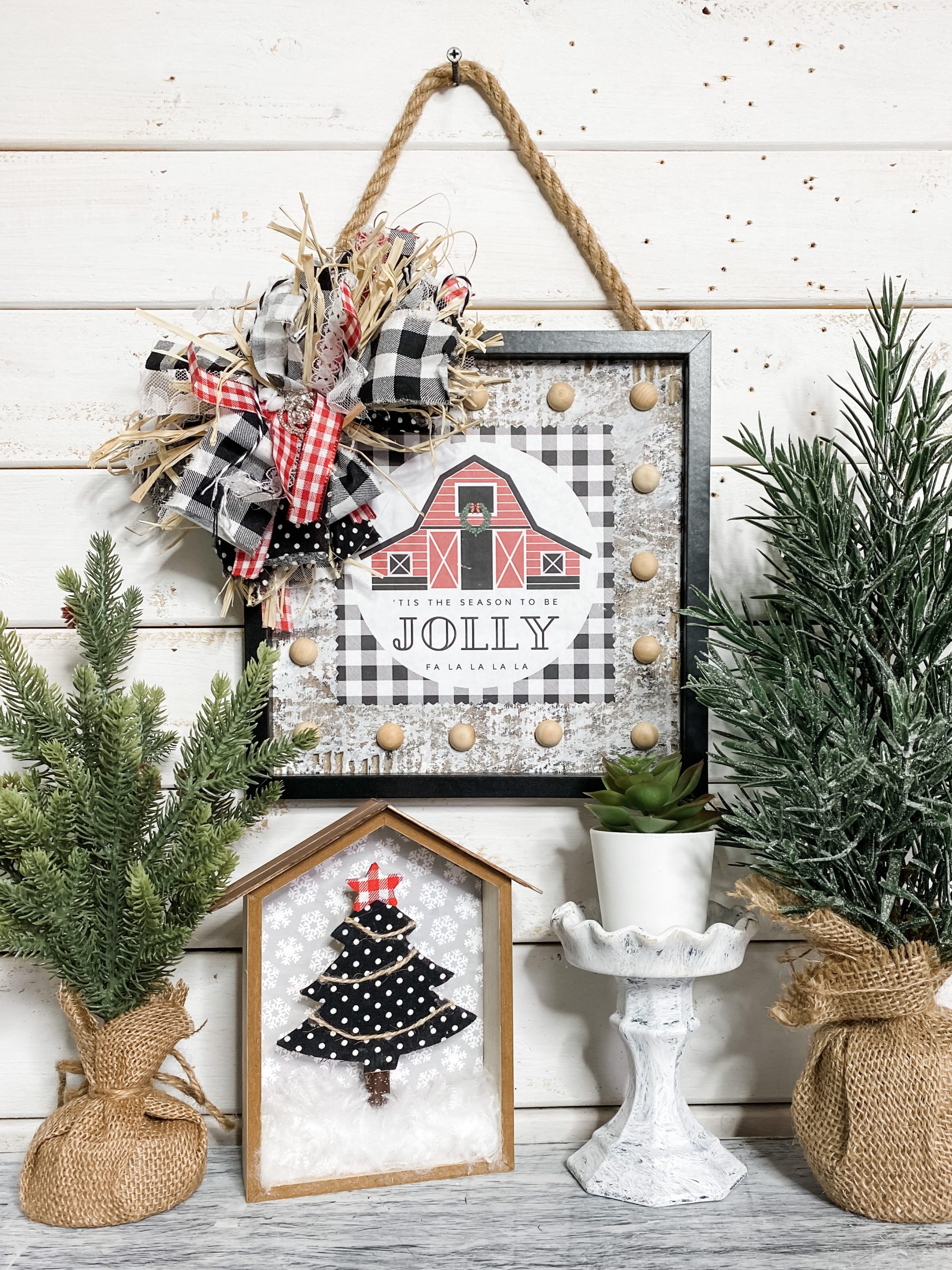 Wanna know my favorite thing about this Jolly Farmhouse Christmas DIY? I used a printable that I designed! I love making new crafts, but I also design my own printables to craft with.
If you love crafting with printables, you should check out my shop! There are tons of printables perfect for the holidays.
This is another easy DIY that would be perfect as a kid's craft with just a little bit of adult supervision.
You could let your children or grandchildren pick out the yarn, paint the star, and completely decorate the little garland Christmas tree!
It would be personalized to them and so cute to hang up each year!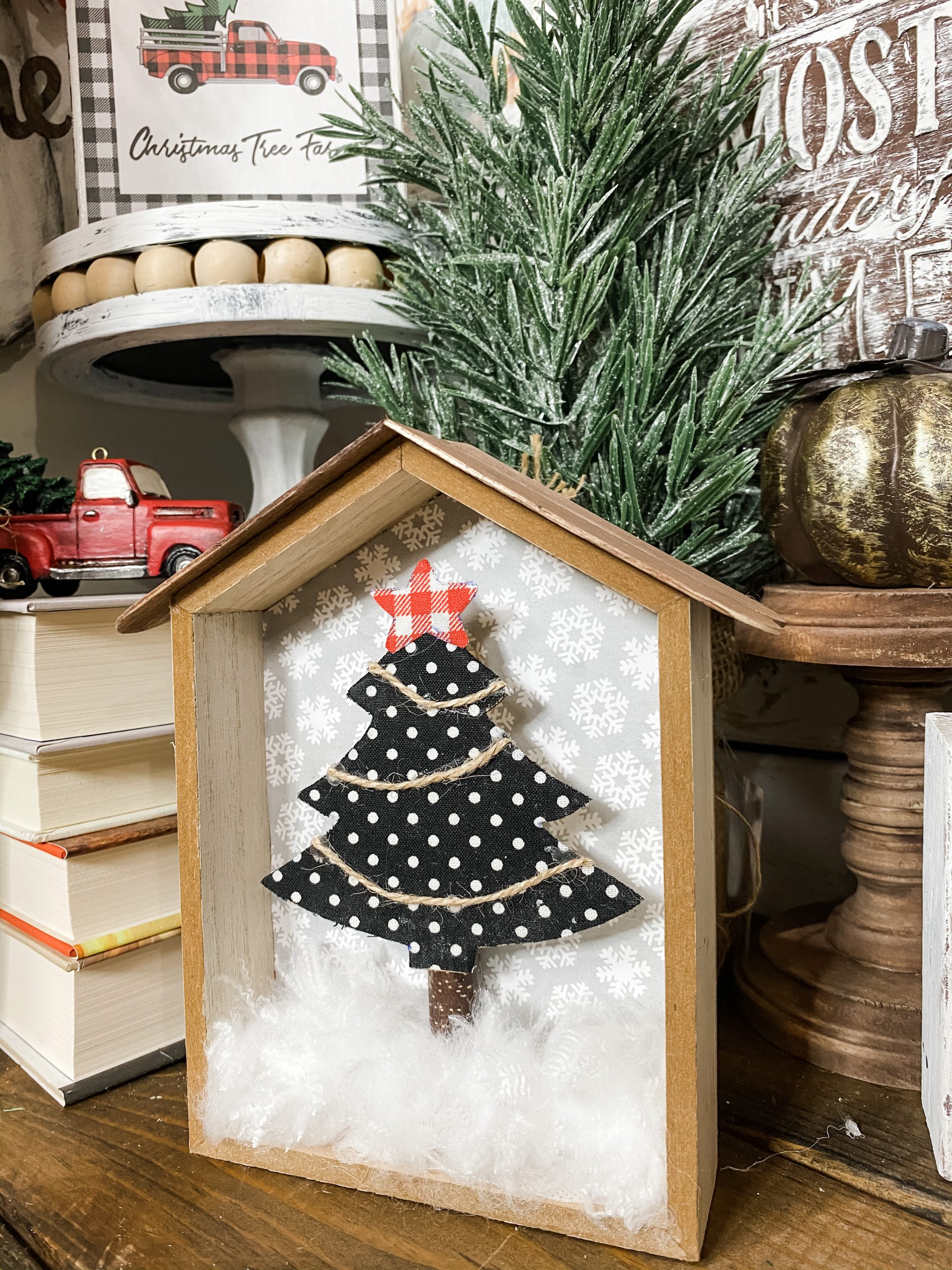 This is another super cute and affordable Christmas DIY with Dollar Tree items! If you're a beginner wanting to learn how to decoupage, then I highly recommend making this adorable Christmas Tree sign box!
The only painting I did was when I stained the craft sticks to make the roof!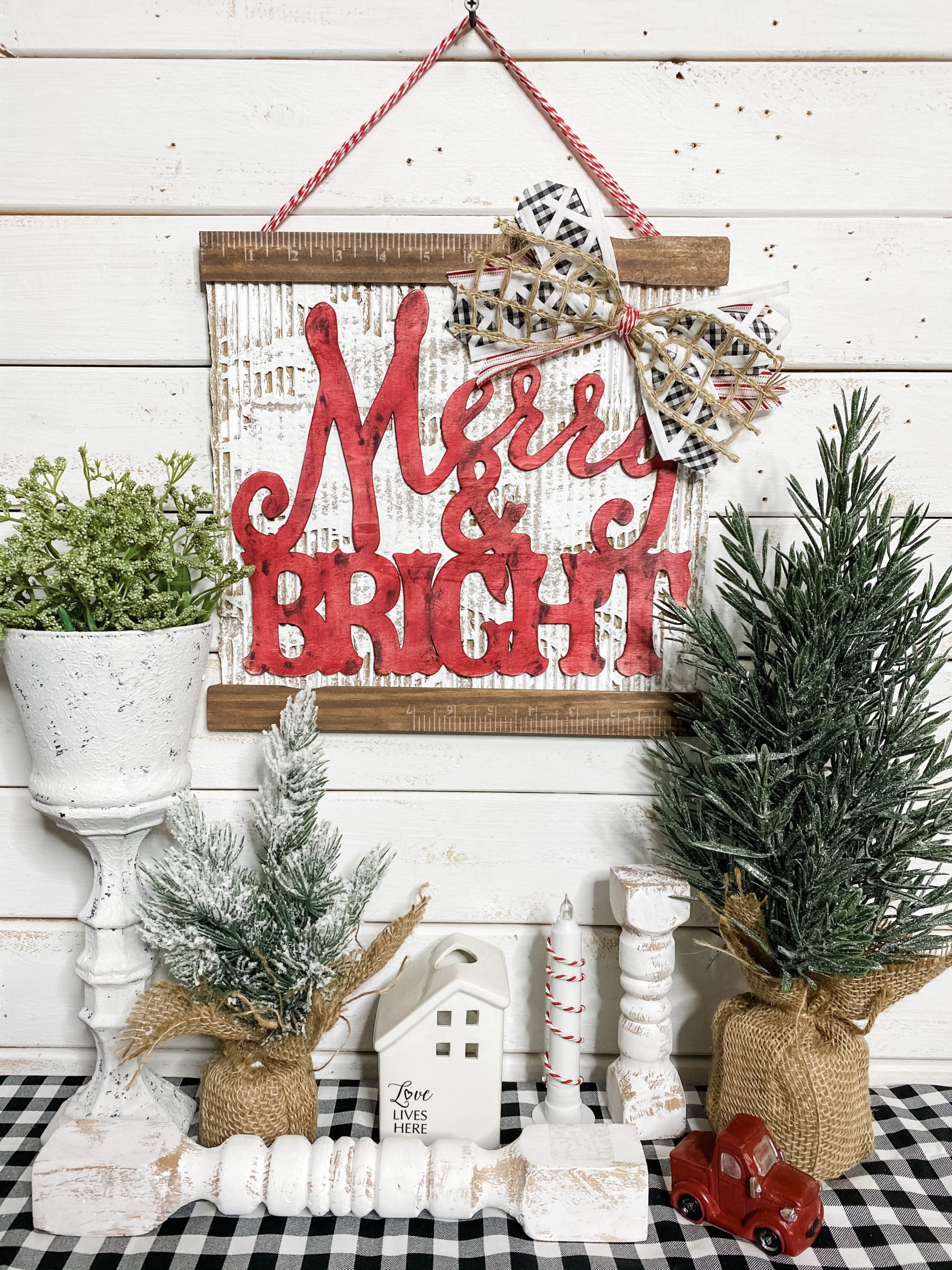 This is another incredible cardboard craft! I really love repurposing materials and items, and that's probably why I like to do cardboard crafts so much.
With just a little bit of painting and hot glue, this Merry and Bright Christmas sign is so easy to recreate and is perfect to hang anywhere in your home (just maybe not outdoors)!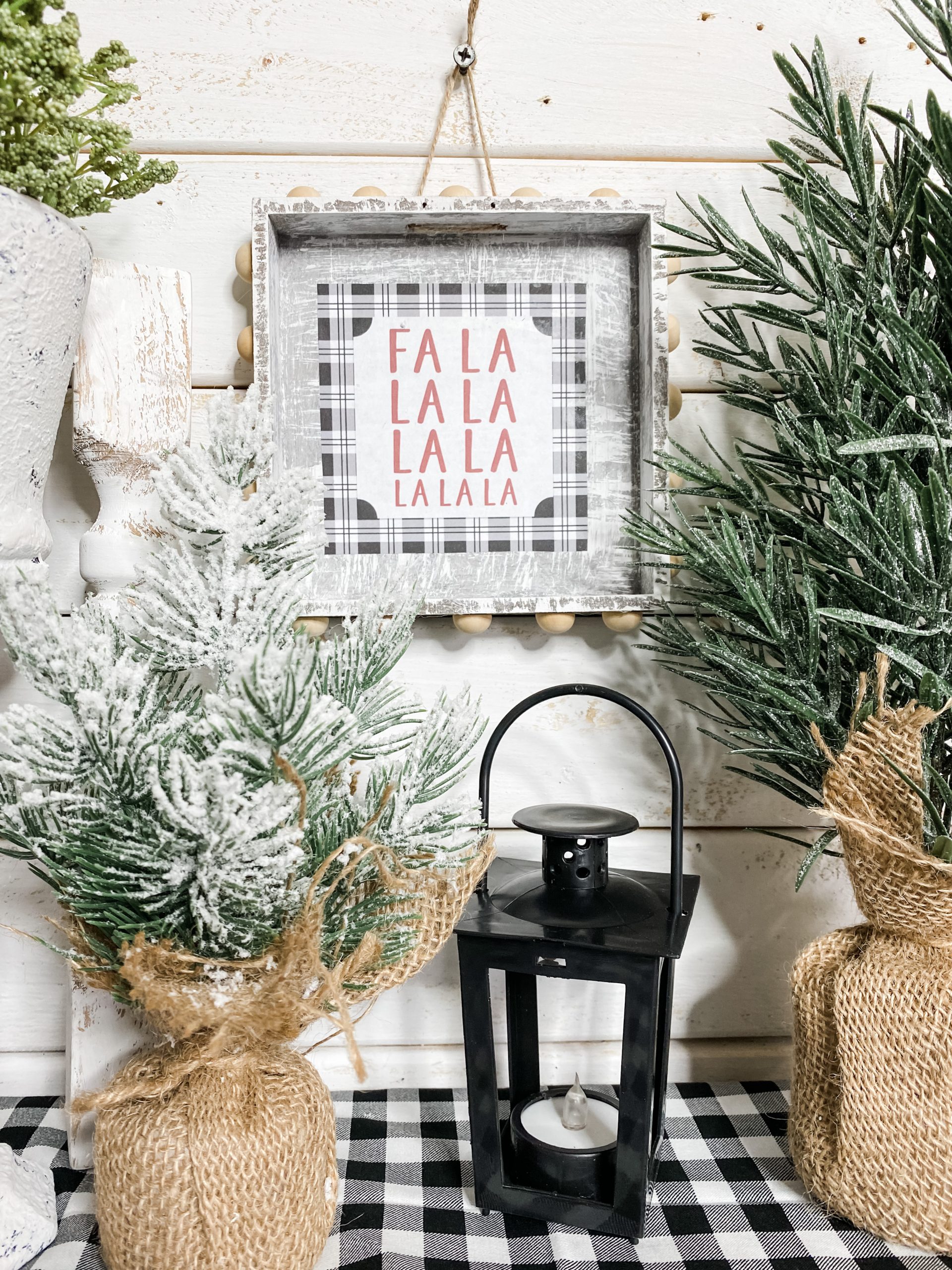 This large Christmas ornament is another craft that I made using one of my own printable designs! If you've never used printables in your crafts, there are so many ways you can use them.
I like to decoupage the printable design onto a surface like this Dollar Tree wood sign box and then decorate around the design.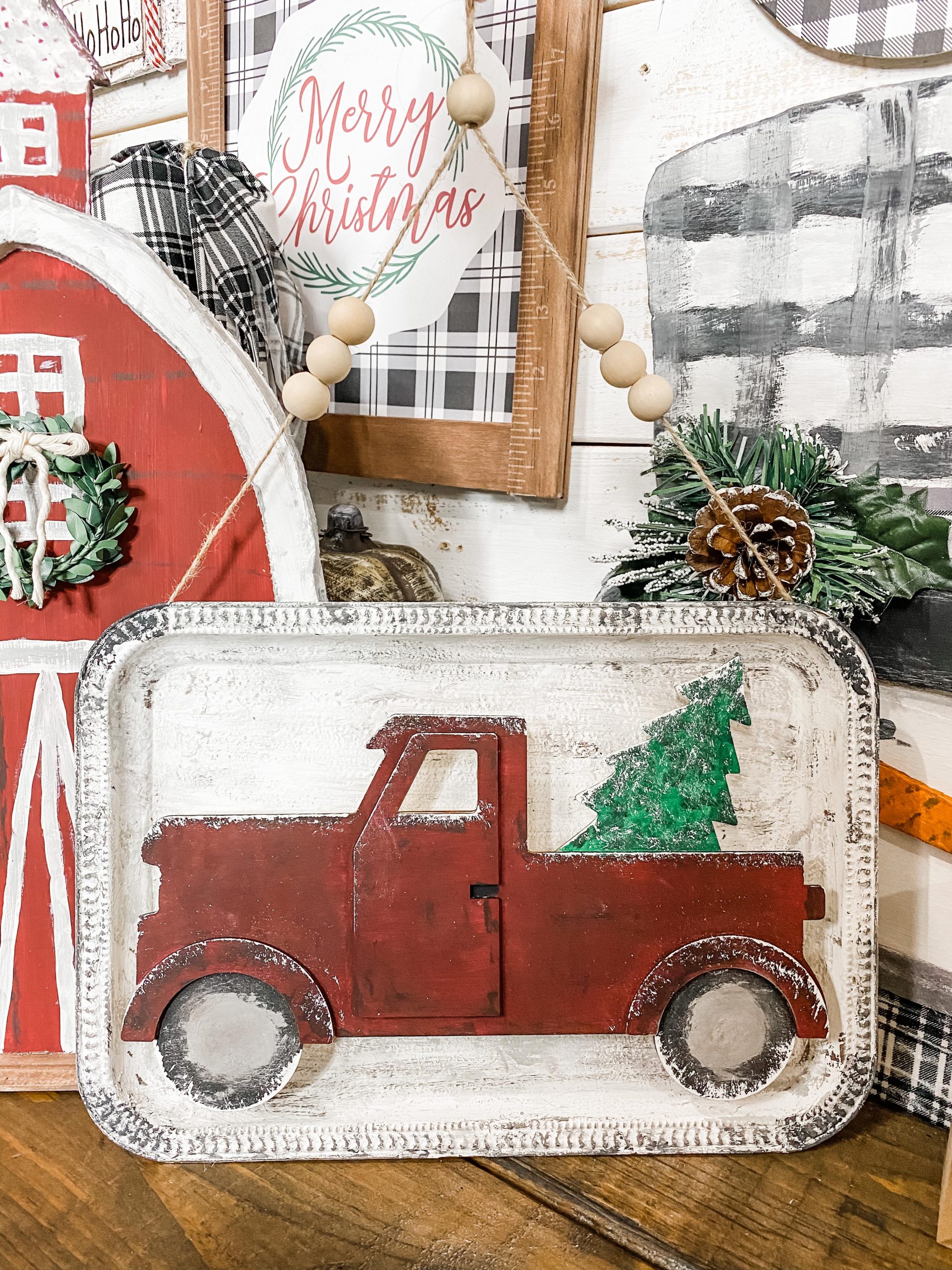 Want to know a cool feature of this Christmas truck DIY? I made the rusted finish on the truck with a mixture of paint and wax!
If you want to know exactly how I did it, I have a supply list, step-by-step instructions, and a video tutorial over on the blog post for this Dollar Tree Christmas Truck DIY.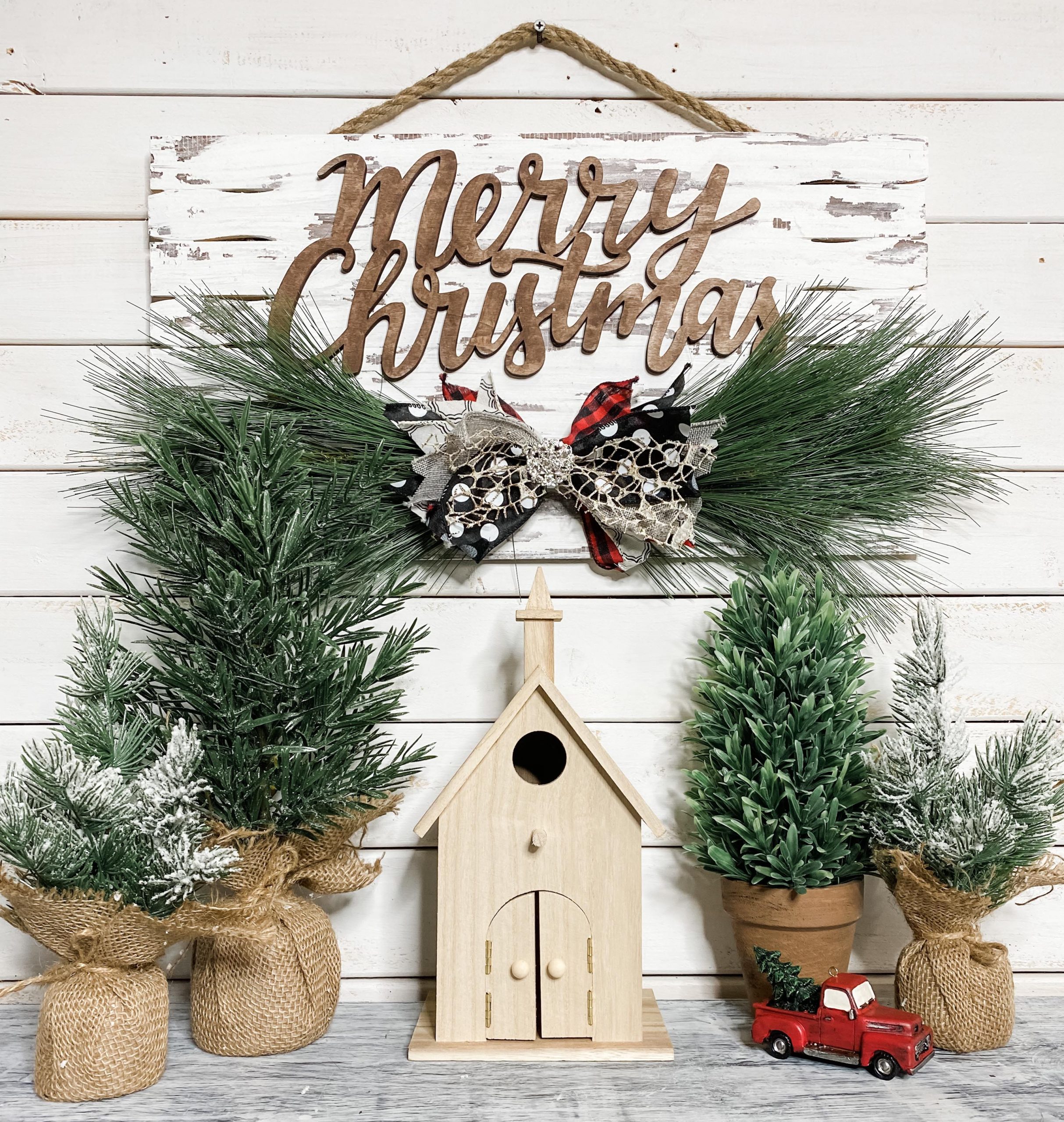 This Merry Christmas Chippy sign was definitely a fan favorite! Back in September, this DIY craft was auctioned off during our Crafty Crew Christmas Angel Program Auction. The backboard is made of Home Depot's 5-gallon paint stirrers and has a chippy finish.
The CCCAP is a program we started to help provide Christmas to children in our Crafty Crew, and applications for assistance are being accepted until November 30, 2020. If you would like, you can also donate to the CCCAP.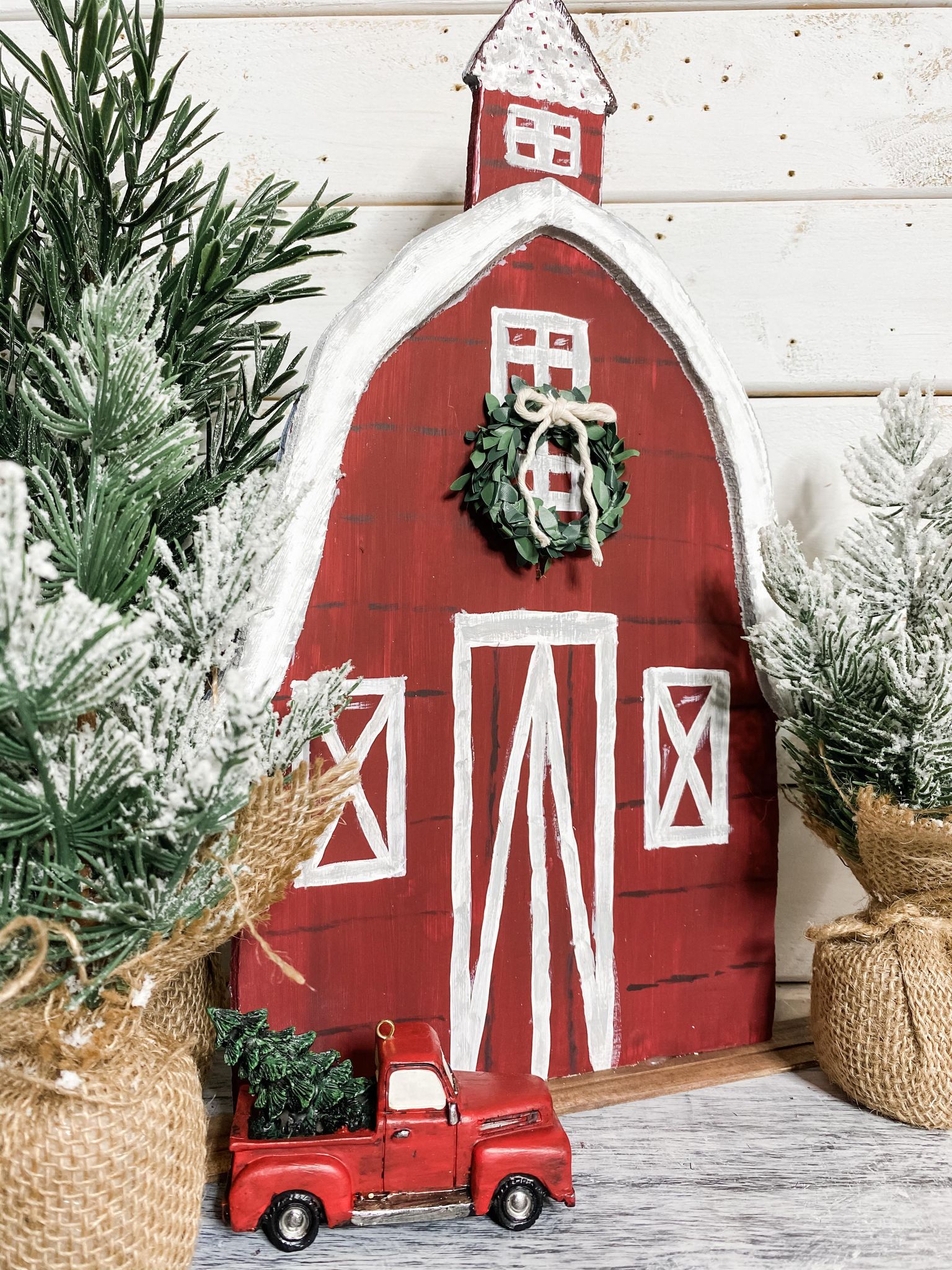 This foam board Christmas barn was inspired by a wood Christmas barn I saw at Hobby Lobby. One of my favorite things to say is, "I can make that!" and that is exactly what happened when I saw the barn at Hobby Lobby.
I brainstormed how I could recreate the wood barn and realized I could create a template and cut it out on foam board!
You can get the template here.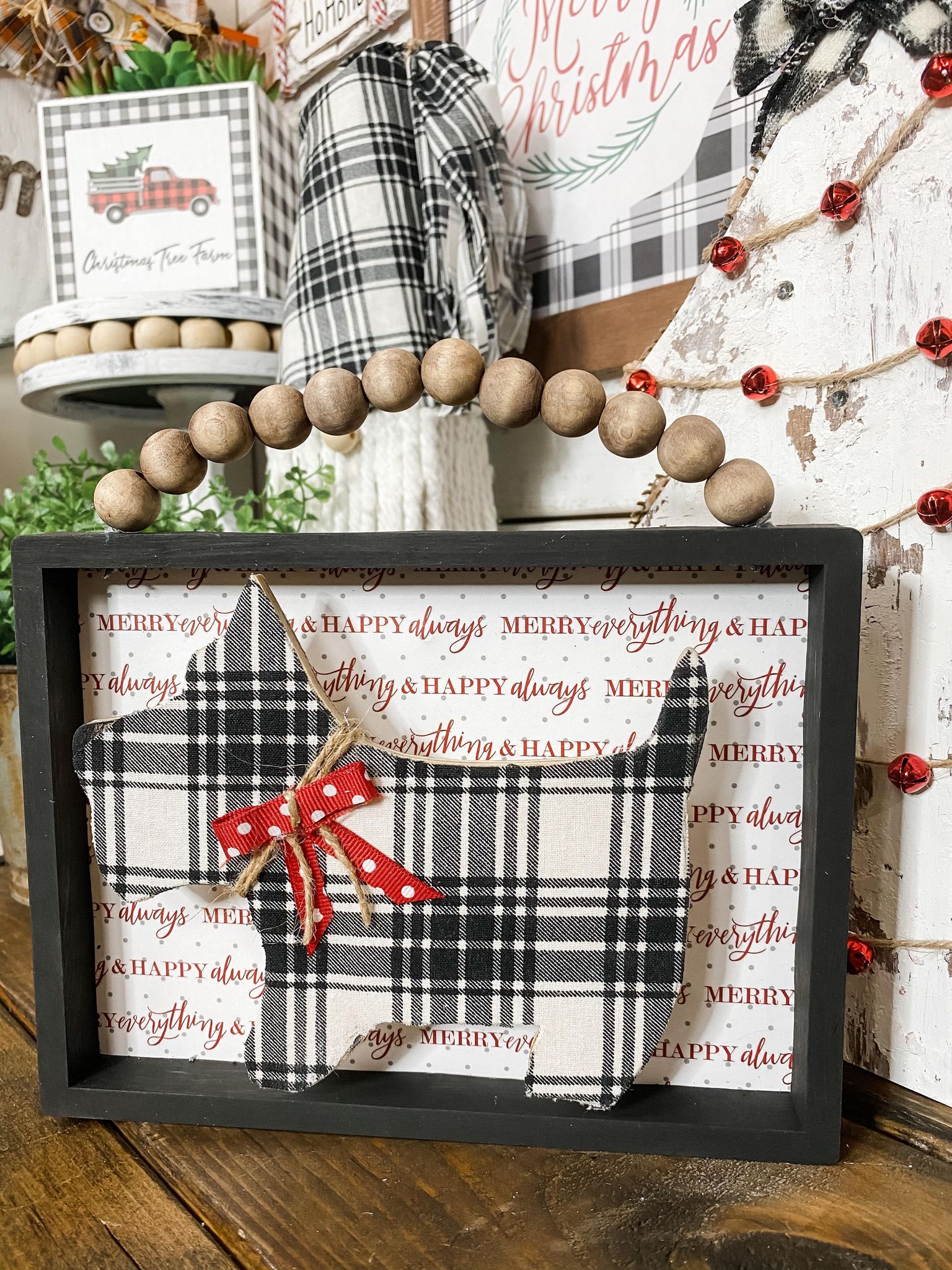 I think my favorite thing about this Farmhouse Christmas sign, other than it is stinking adorable, is that you could easily switch out the patterns to make this an everyday decoration!
I am all about finding ways to created decor that can easily be changed for the seasons and holidays, and this Dollar Tree farmhouse sign is definitely one of them!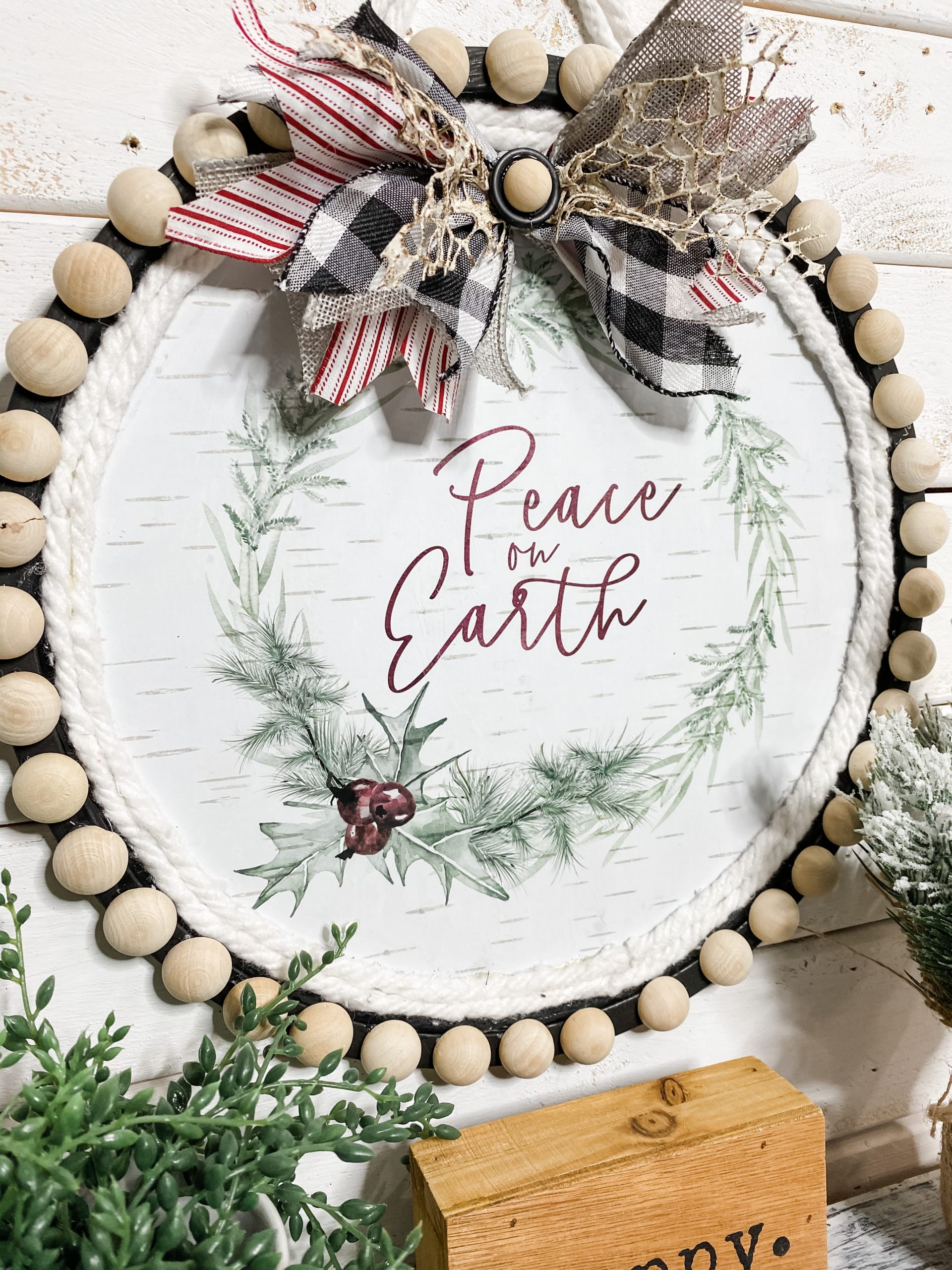 This is the first Dollar Tree pizza pan DIY that I ever did, and let me tell you, my Crafty Crew LOVED IT!
This DIY Christmas decor actually went VIRAL on Pinterest! It is one of my most shared blog posts and was the inspiration for #1 of these 29 Easy DIY Christmas Decor Ideas!
I actually made 2 gnomes in this blog post and video. One is the adorable Santa gnome that you see above, and the second one is more of an everyday gnome.
I used Dollar Tree items including a duster for Santa's beard!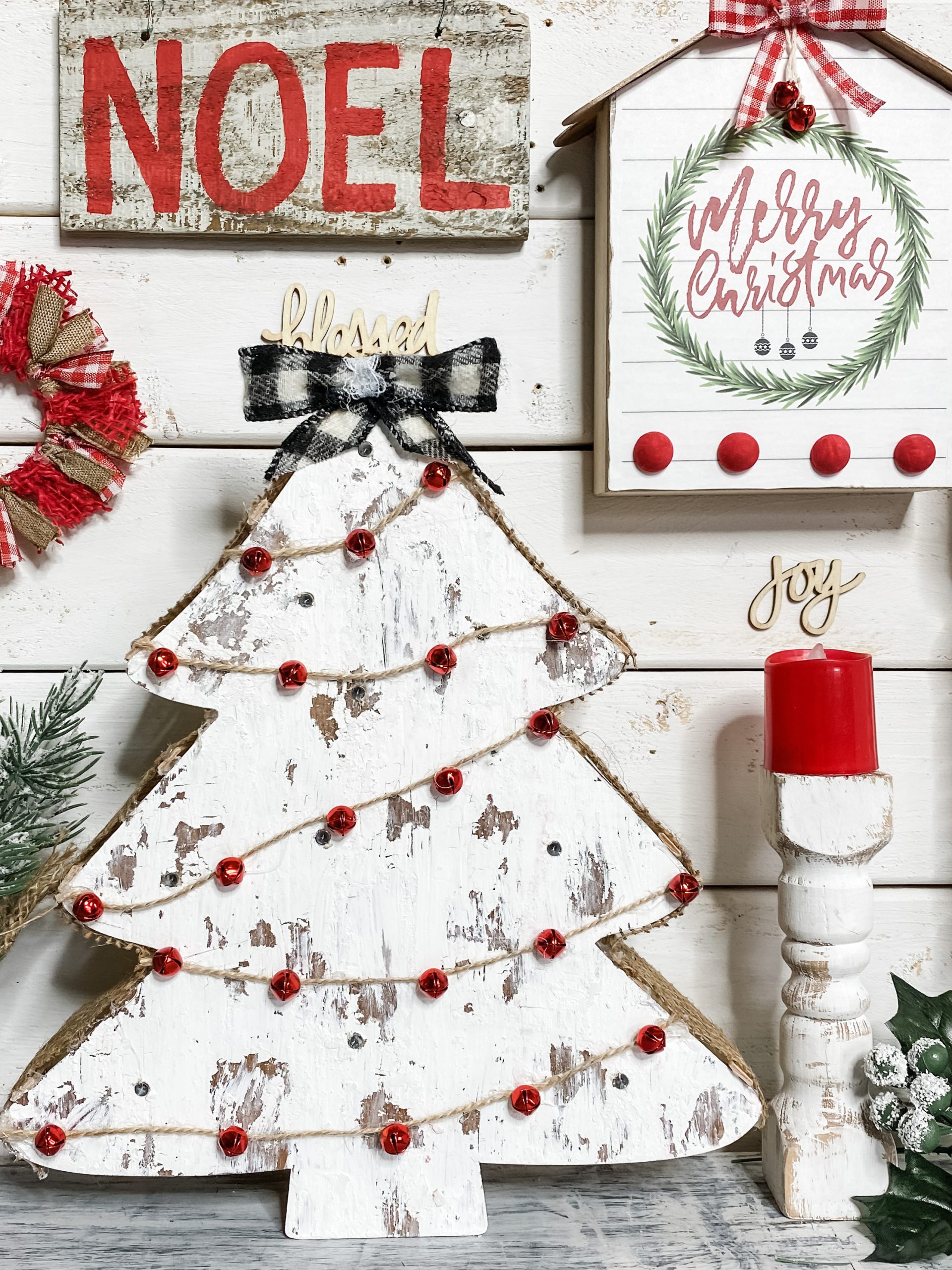 This Chippy Christmas Tree was one of the first Christmas DIYs that I did this year, and I absolutely love it!
One of my favorite things about this easy Christmas DIY is that it actually lights up! I drilled small holes and added twinkle lights!
Check out the blog post to see what it looks like with the lights on.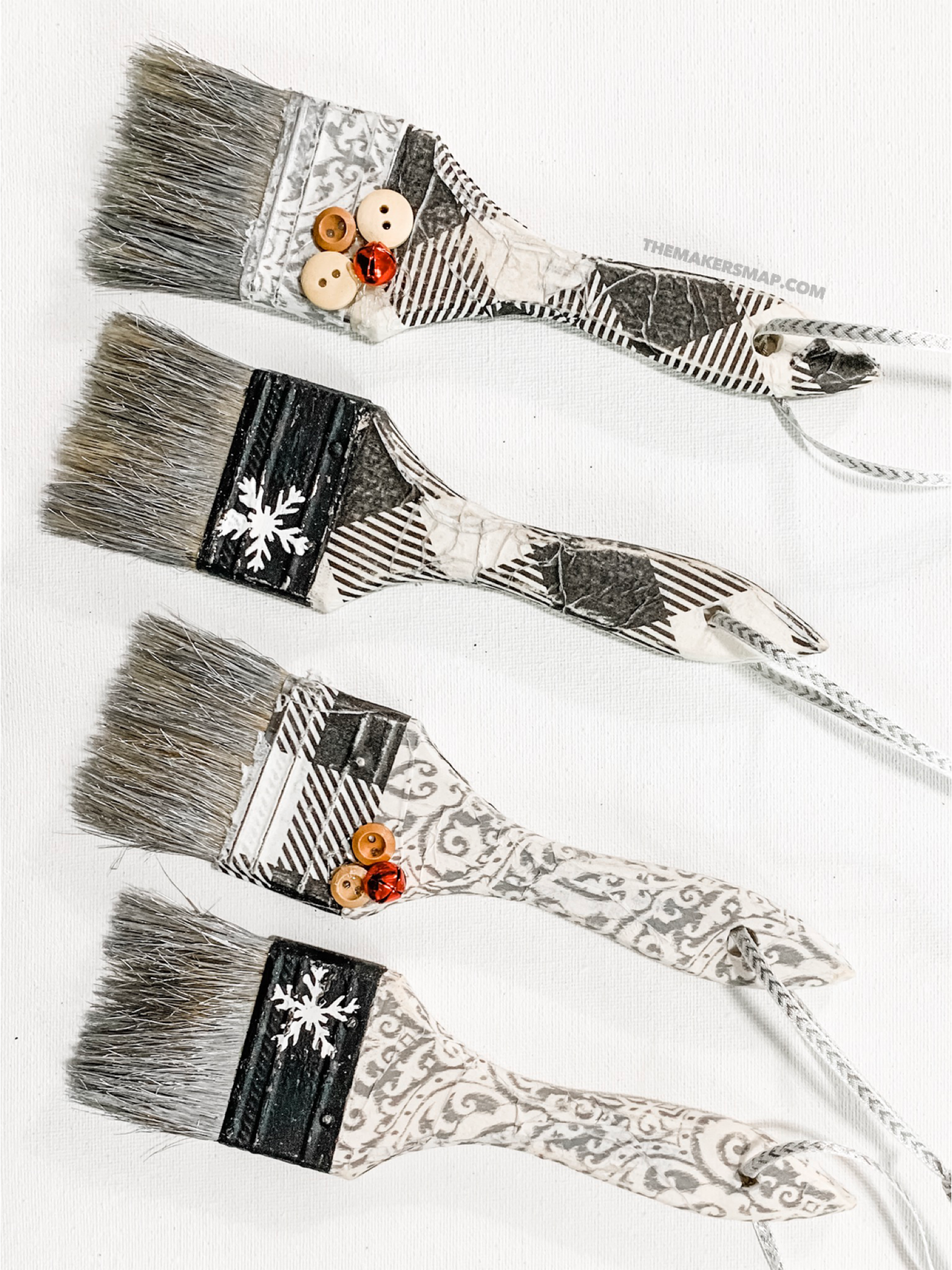 I actually made these decoupaged paintbrush ornaments back in 2019 for my Christmas Tree, but I can't not share them with you. I mean, look at how cute they are!
These DIY paintbrush ornaments are so easy to make and very affordable too! This would be another great kid's craft!
Have a Merry Christmas!
I hope you've enjoyed my favorite 29 Christmas Decor DIY ideas and have been inspired to get crafty!
Remember that many of these easy Christmas DIY decorations would also make great a great DIY Christmas gift.
And you know these would make an amazing homemade Christmas gift for mom! Before too long I will be working on a 100 dollar store Christmas decor DIY ideas! haha!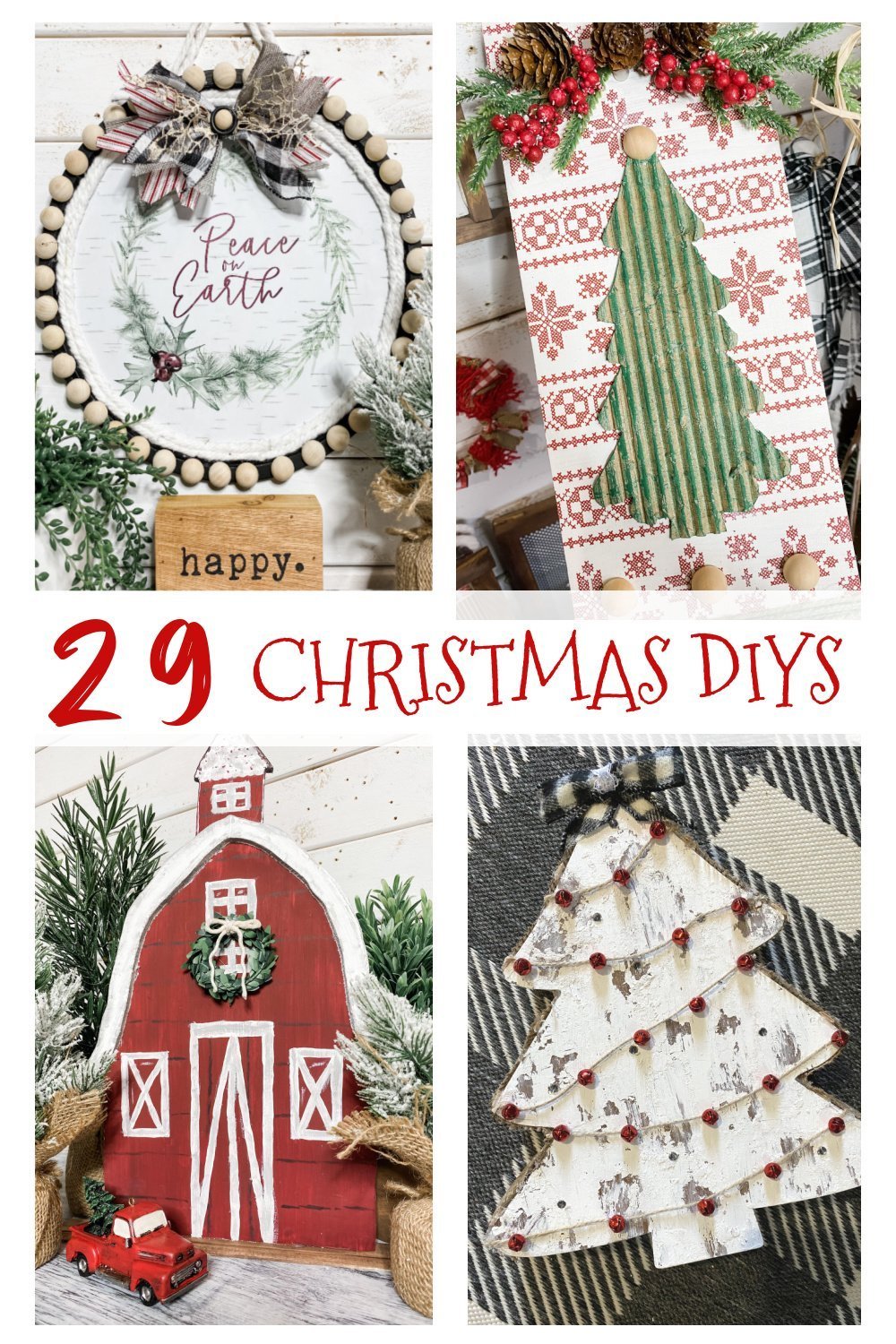 If you decide to make any of these Christmas DIY crafts, I would love to see how yours turns out! You should totally join my FREE Facebook group called On A Budget Crafts! It is a judgment-free community for DIY crafters to show off their projects and ideas.
Thanks for stopping by! XOXO Amber
You can also shop my ENTIRE AMAZON Favorites shop just click here! It's packed full of all the things I use and love.
Here is the supply list I highly recommend every creative has on hand!! Would you also pin my blog for later and get on my newsletter alerts? I would love to have you join my #craftycrew.

— PIN THIS FOR LATER —