Dollar Tree Shabby Farmhouse Christmas Sign DIY
Is anyone else just completely in love with shabby and farmhouse Christmas decorations?? I am not ashamed to say ME, I AM! I have always loved more rustic decorations, even in my everyday decor, and I wanted to make something that has that same rustic farmhouse feel that I love so much. That is how I came up with this Dollar Tree Shabby Farmhouse Christmas Sign DIY!
Watch the replay!
Y'all know me, I am always sharing my ideas and techniques with my #craftycrew! This Shabby Farmhouse Christmas Sign is no different!
I made this adorable DIY craft during a LIVE Facebook video, but you can catch the replay if you want to craft along and see exactly how I put this one together!

For this project, I will be using these items but you can substitute where you want.
"As an Amazon Associate, I earn from qualifying purchases."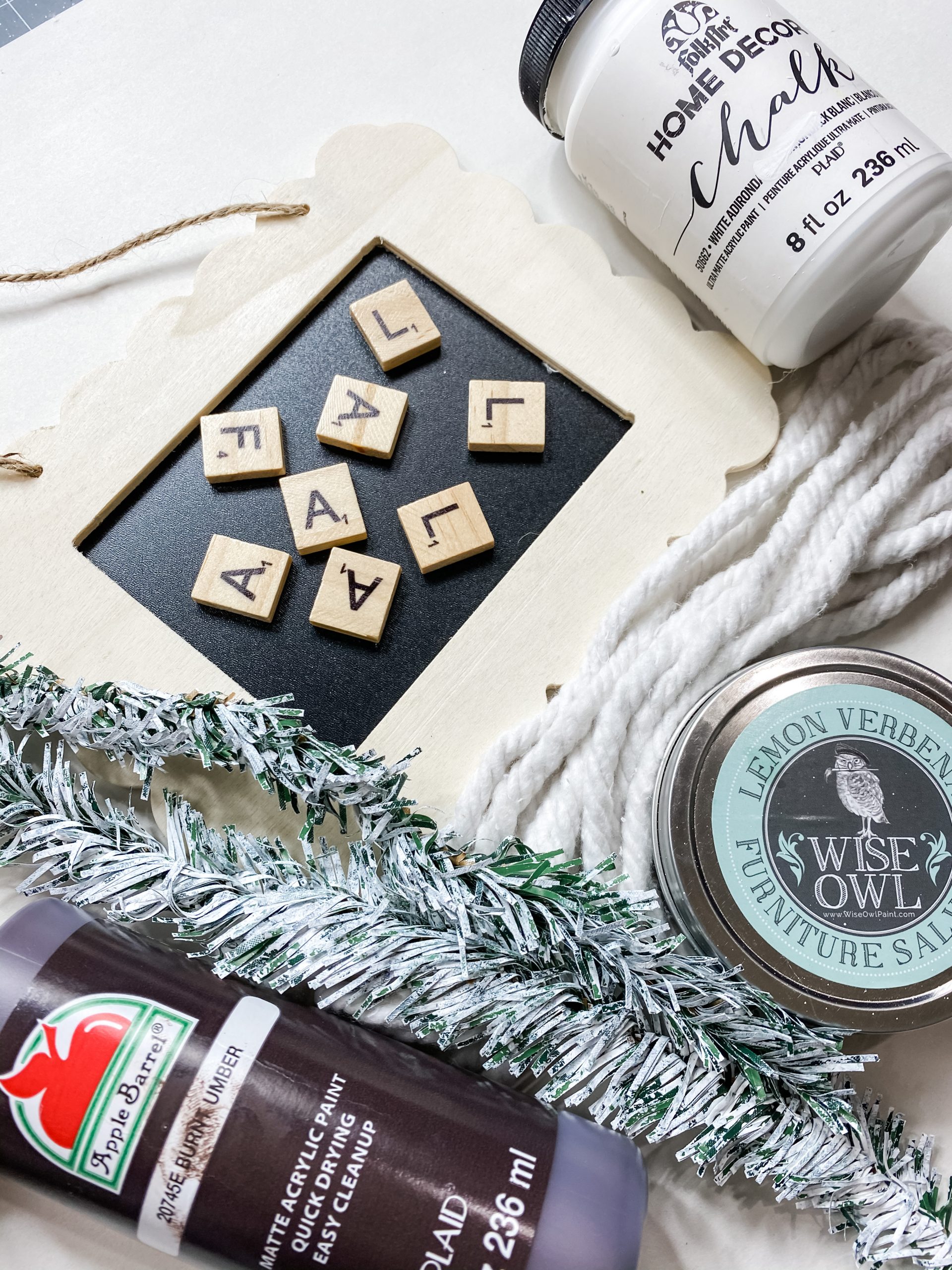 Let's get started!
Okay, y'all, let's get started making this adorable Shabby Farmhouse Christmas Sign! The first thing you're going to do is remove the chalkboard part of the Dollar Tree chalkboard frame. All you have to do is just pop the back off. It's super easy!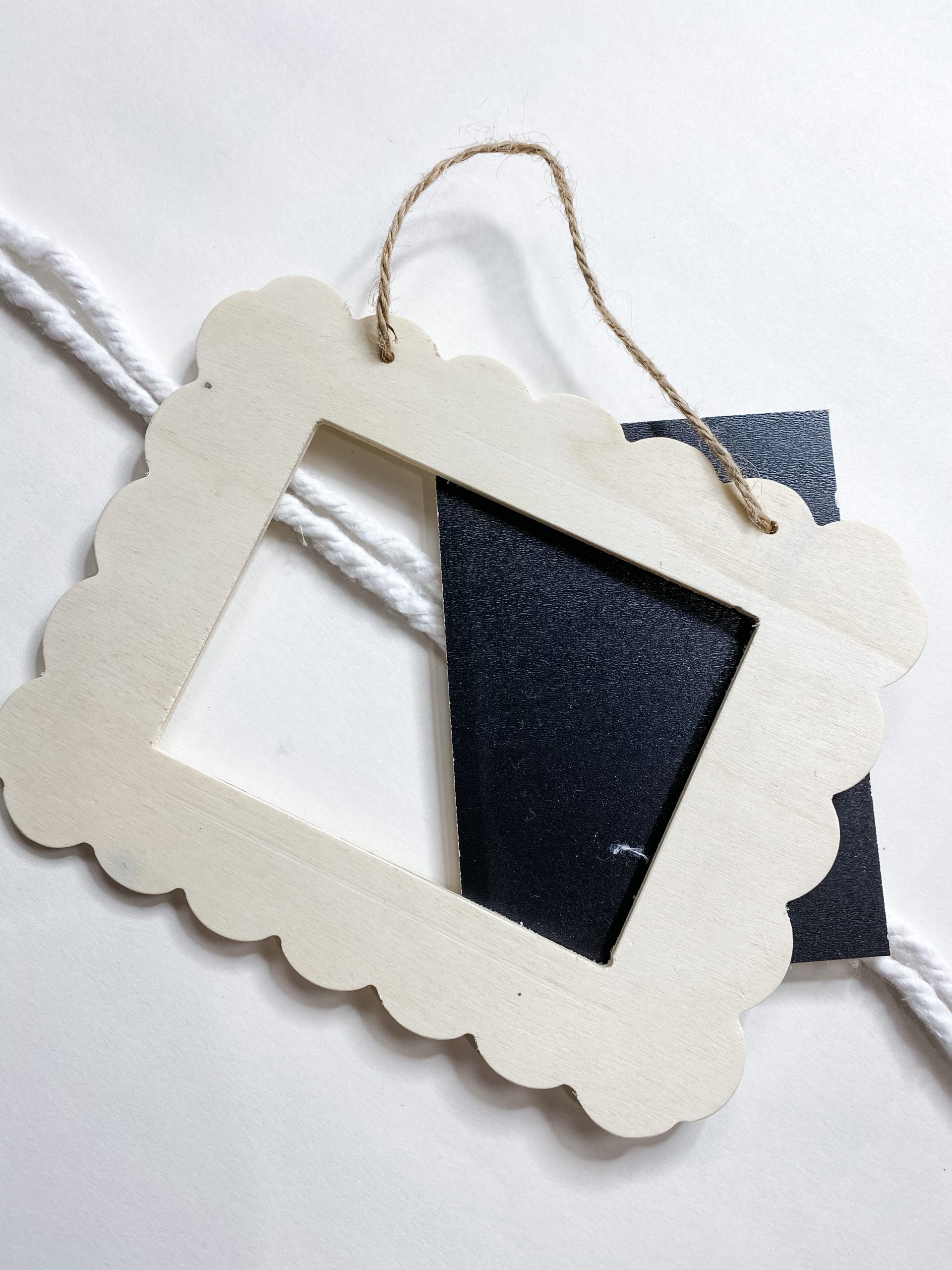 Next, you're going to stain the frame with the Apple Barrel Burnt Umber Acrylic Paint. If you don't know, the best way to stain the wood instead of just painting it is to spray the wood with water first.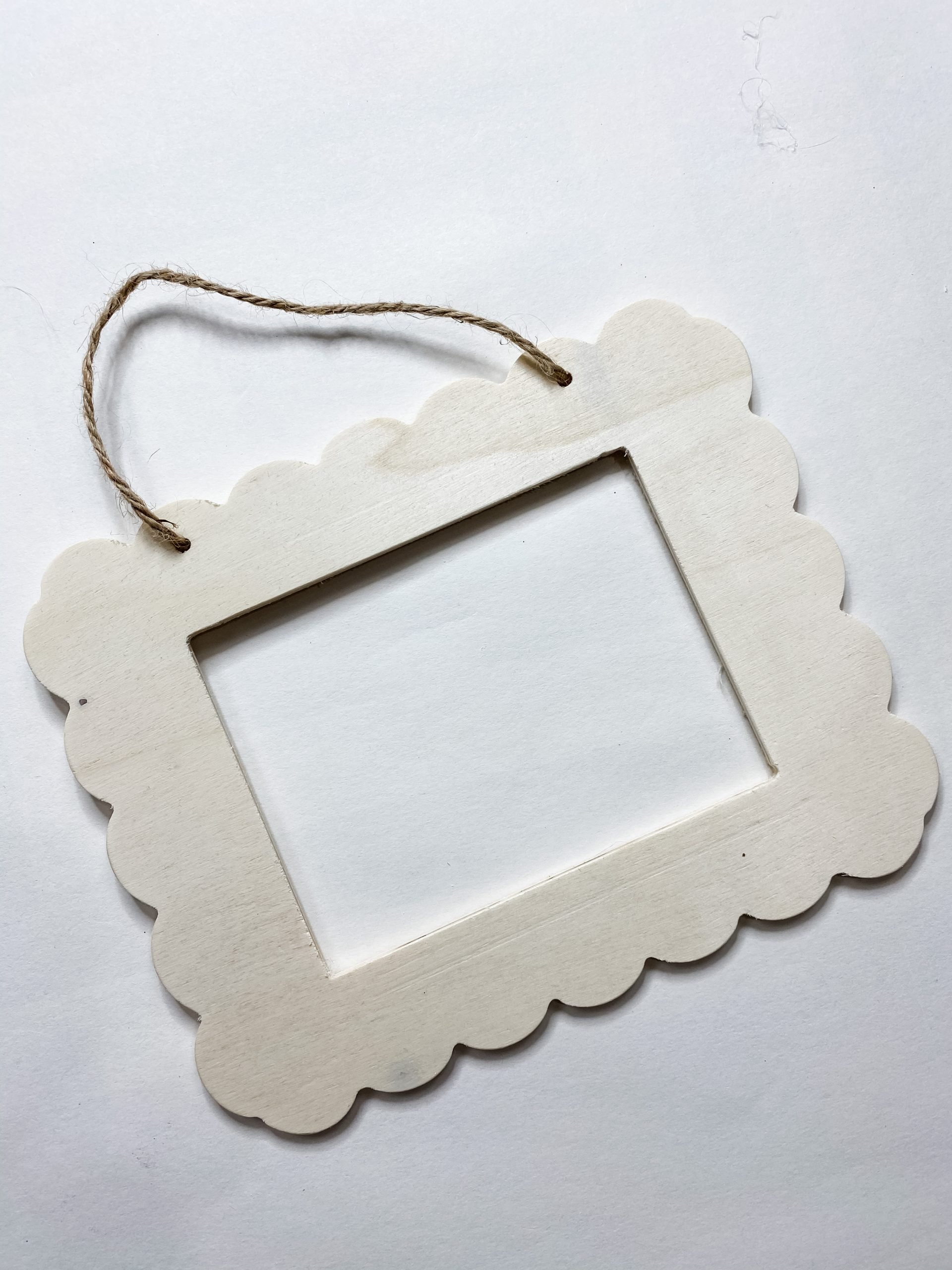 This really helps the wood absorb the paint and have it actually stain the wood rather than just coat it with paint. After I wet the wood, I pour the paint directly onto the wood and then spread it with a baby wipe.
Get the chippy finish
My #craftycrew LOVES the chippy finish that I do on a lot of my DIY crafts, and so do I! If you aren't a fan of it, no worries.
You could always just paint the wood with white paint and simply distress it. However, I want to tell you exactly how I get the chippy finish on my projects.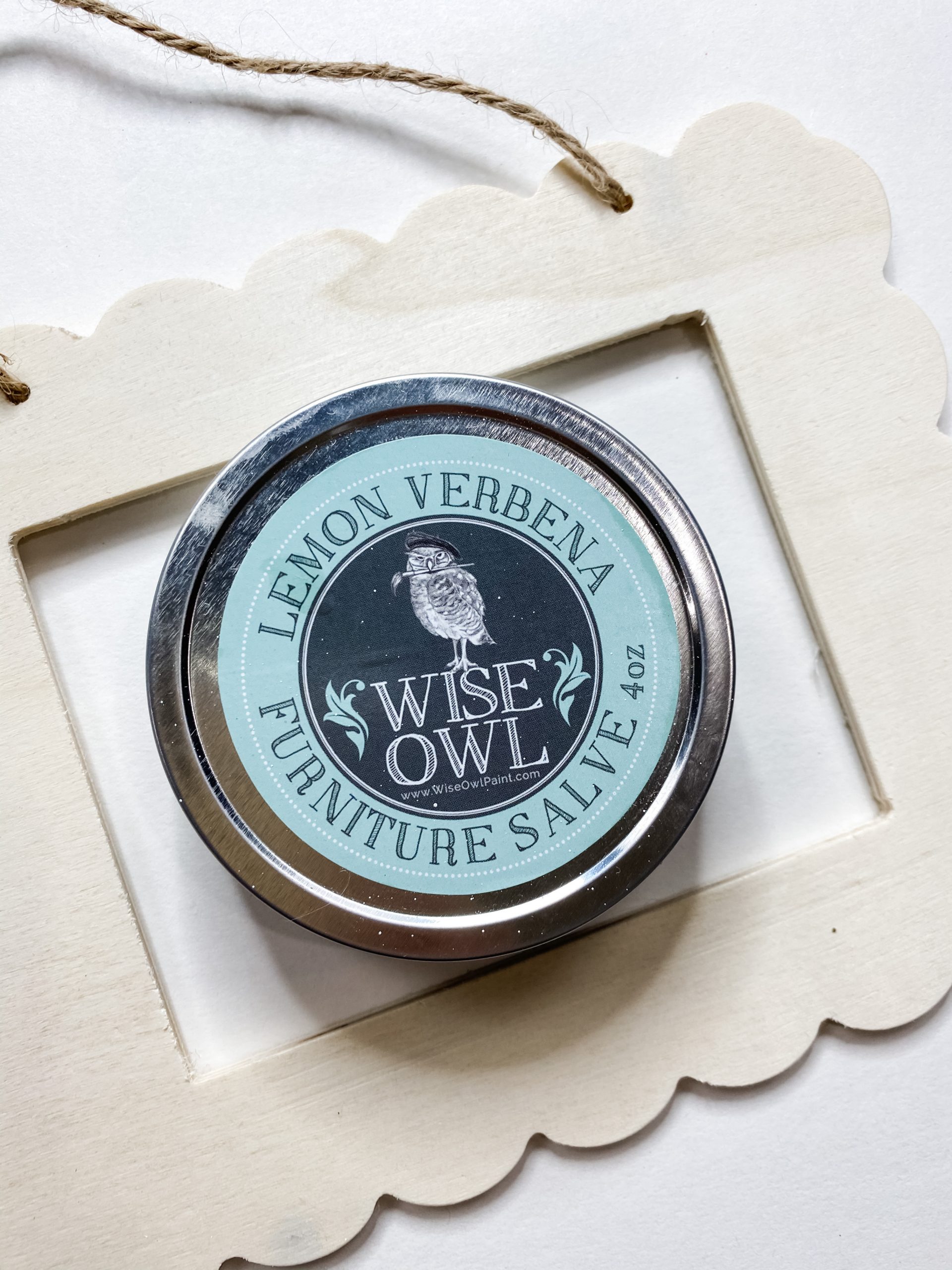 The secret ingredient is this Wise Owl Furniture Salve. You could use any clear wax that you want, but this is the one that I use.
I simply take a chippy paintbrush and apply some of the wax onto the wood where ever I want it to have the "chippy" look. Next, I paint over the entire wood with the Folkart White Chalk Paint.
I allow the white paint to dry mostly, but it will still be wet in the areas where I added the wax. Next, I drag a putty knife over the wet areas and it pulls up the wet paint.
Just keep going over the wet parts and reapplying the wet paint with your putty knife. This is going to give you the "chippy" look and make the paint more crumbly when it mixes with the wax.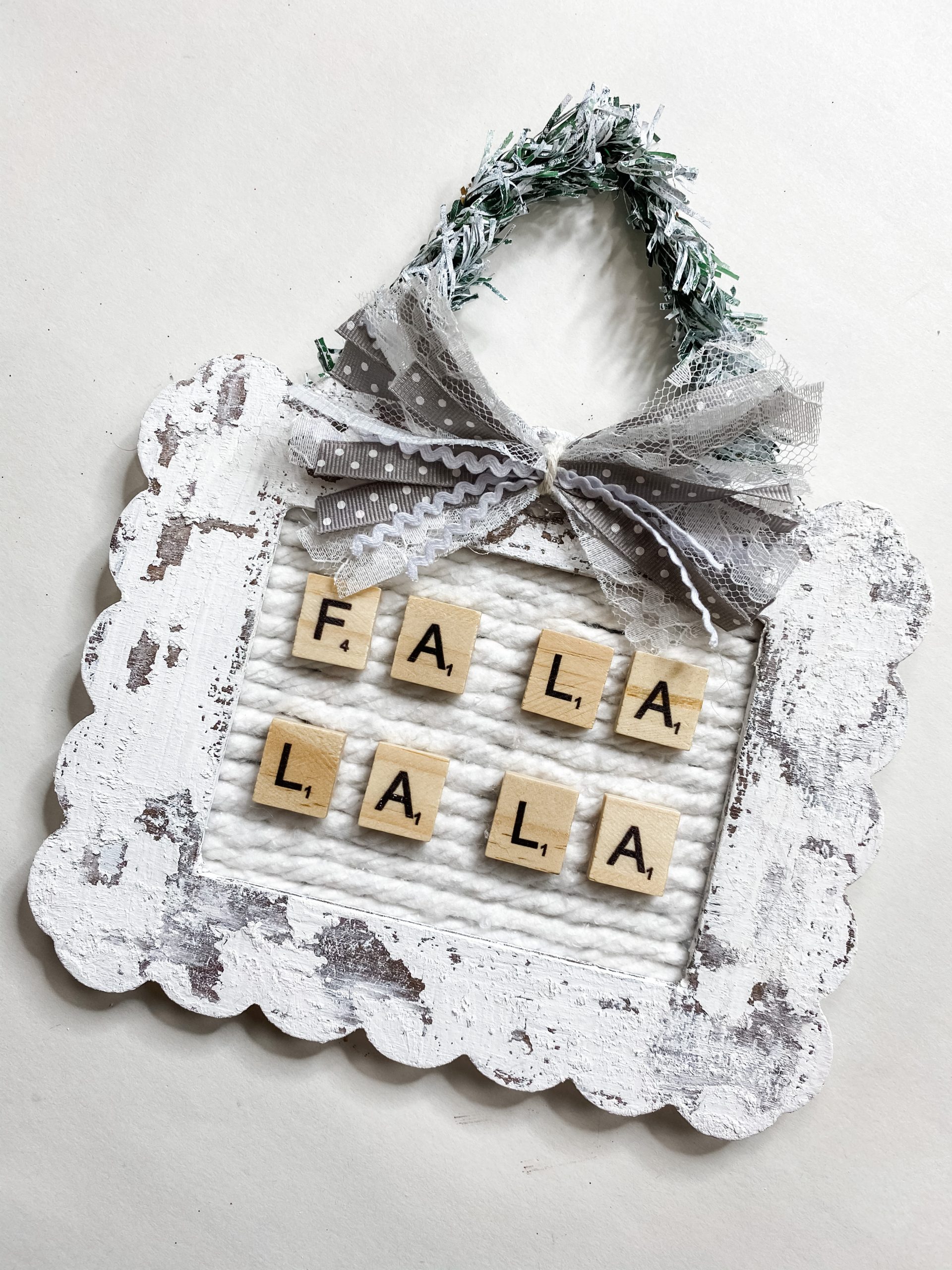 Mop Strings for the win!
Okay, set your painted frame to the side and grab the chalkboard background we removed at the beginning.
All you're going to do is hot glue the Dollar Tree mop strings to the chalkboard. You could do this vertically, horizontally, diagonally, criss-cross, however, YOU want it to look!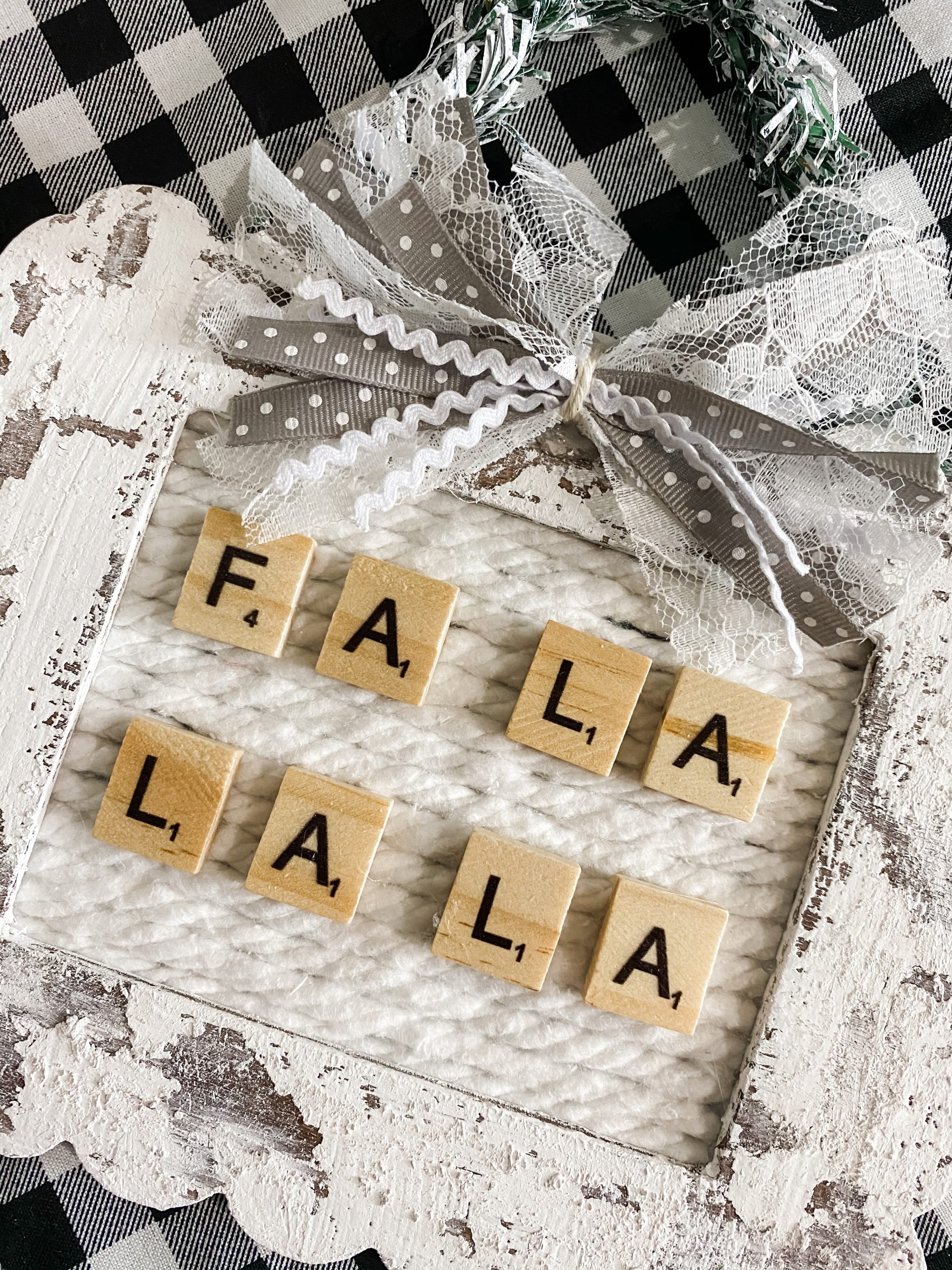 Once your mop strings are glued to the chalkboard, just glue the chalkboard back onto the wood frame!
Falalalala
So, I ordered a big bag of Scrabble letters on Prime Day (I love me some Amazon Prime deals!), and that is where I got the letters for this.
You could use whatever letters you want to make your sign exactly how you want it! Just hot glue them down, and you're done!
(If you like Falalala decor, check out this Christmas Printable Ornament DIY)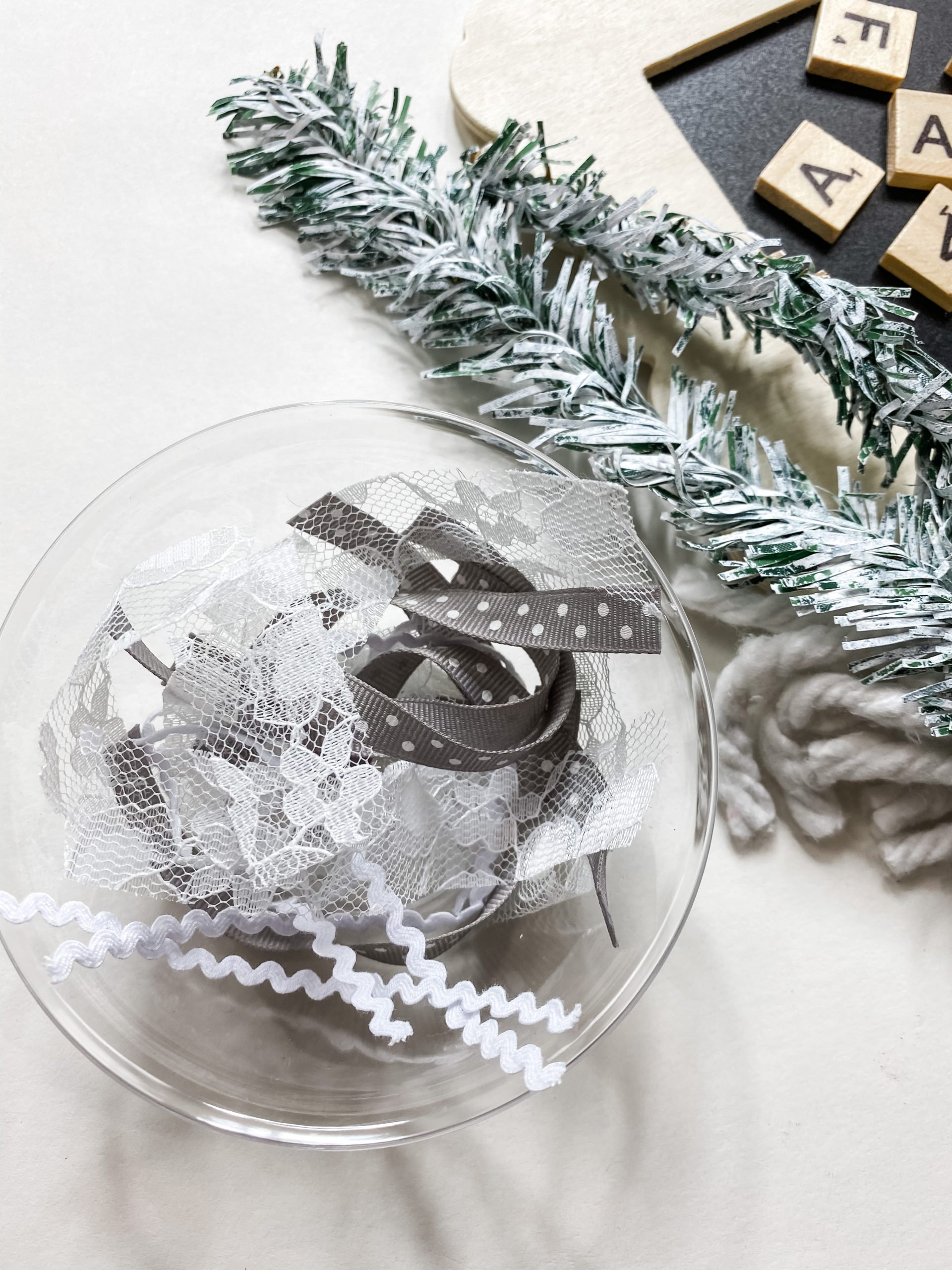 Make a messy bow
Most messy bows that I make a larger than the one I made for this Shabby Farmhouse Christmas Sign, but I really like how this little one looks!
Just cut some strips of your ribbons and lay them in a random order, crisis crossing them over each other, then secure the center.
I just took apart a piece of the mop string, but you could use jute twine or baker's twine. Then all you have to do is hot glue the messy bow onto the DIY craft!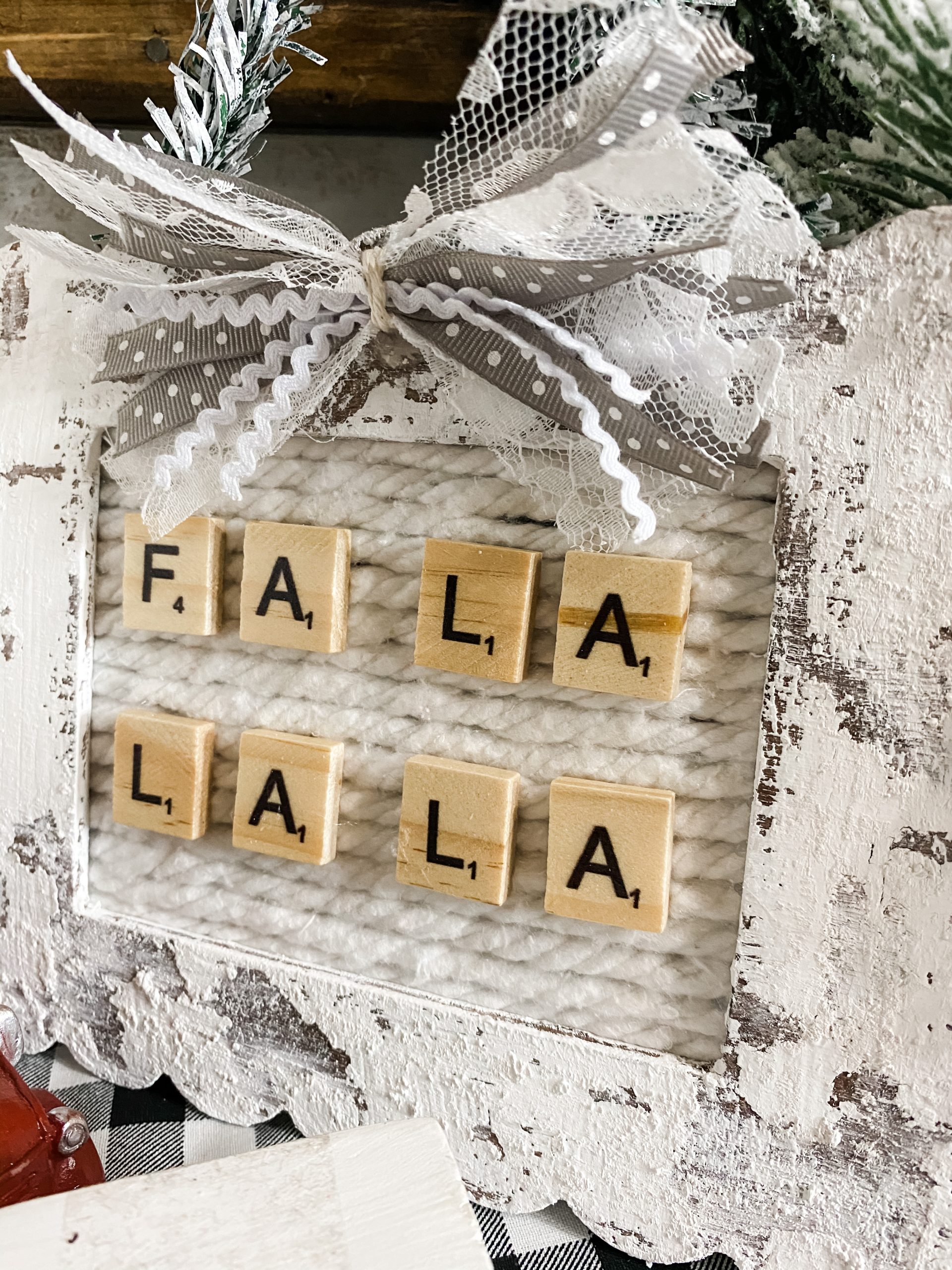 The finishing touches
You're almost done! Grab your Dollar Tree wired garland, lightly paint it with the Folkart White Chalk Paint, and let it dry. I like to use my heat gun to speed up the drying process.
Finally, bend the painted garland into a V shape and hot glue the ends to the back of the wood frame.
Once the glue dries, you are ready to hang this adorable Dollar Tree Shabby Farmhouse Christmas Sign DIY anywhere in your home!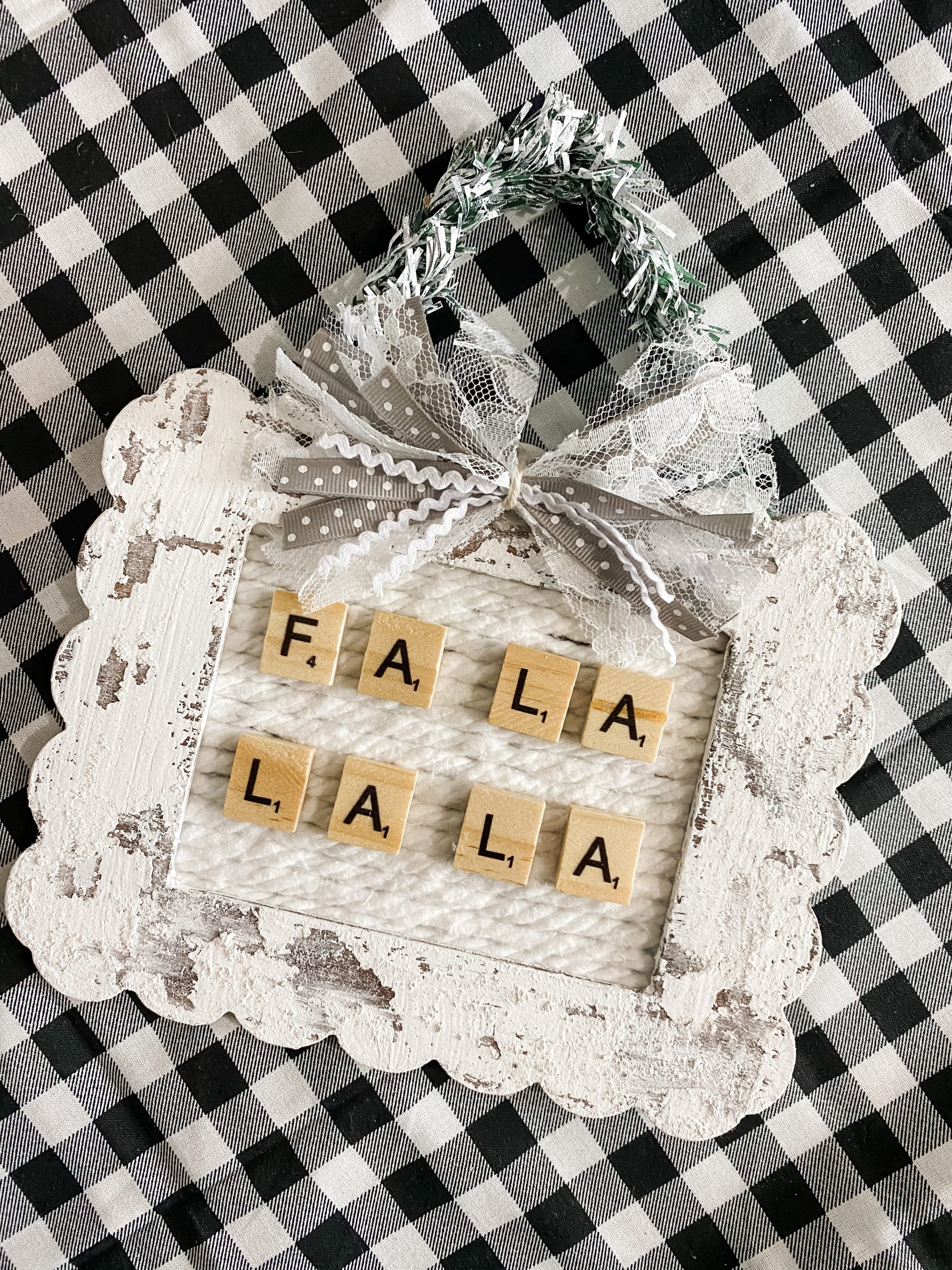 I hope you enjoyed this DIY craft as much as I did and decide to make one for yourself! I would love to see how yours turns out!
You should totally join my FREE Facebook group called On A Budget Crafts! It is a judgment-free community for DIY crafters to show off their projects and ideas.
Thanks for stopping by! XOXO Amber
You can also shop my ENTIRE AMAZON Favorites shop just click here! It's packed full of all the things I use and love.
Here is the supply list I highly recommend every creative have on hand!! Would you also pin my blog for later and get on my newsletter alerts? I would love to have you join my #craftycrew.

Join my free "ON A BUDGET CRAFTS" Facebook group!
PIN THIS POST FOR LATER!