Jolly Farmhouse Printable Christmas Decor DIY
Have I ever told you how much I absolutely LOVE printables? They are so easy to use in your DIY crafts and the possibilities are endless! That's probably why I am so excited to share this Jolly Farmhouse Printable Christmas Decor DIY with you!
There are tons of printables out there, but for this craft I used one that I actually designed! You can purchase your own digital copy of my Farmhouse Christmas Jolly Printable over on my shop. I also offer this printable in a Christmas Bundle Pack that comes with 3 other designs!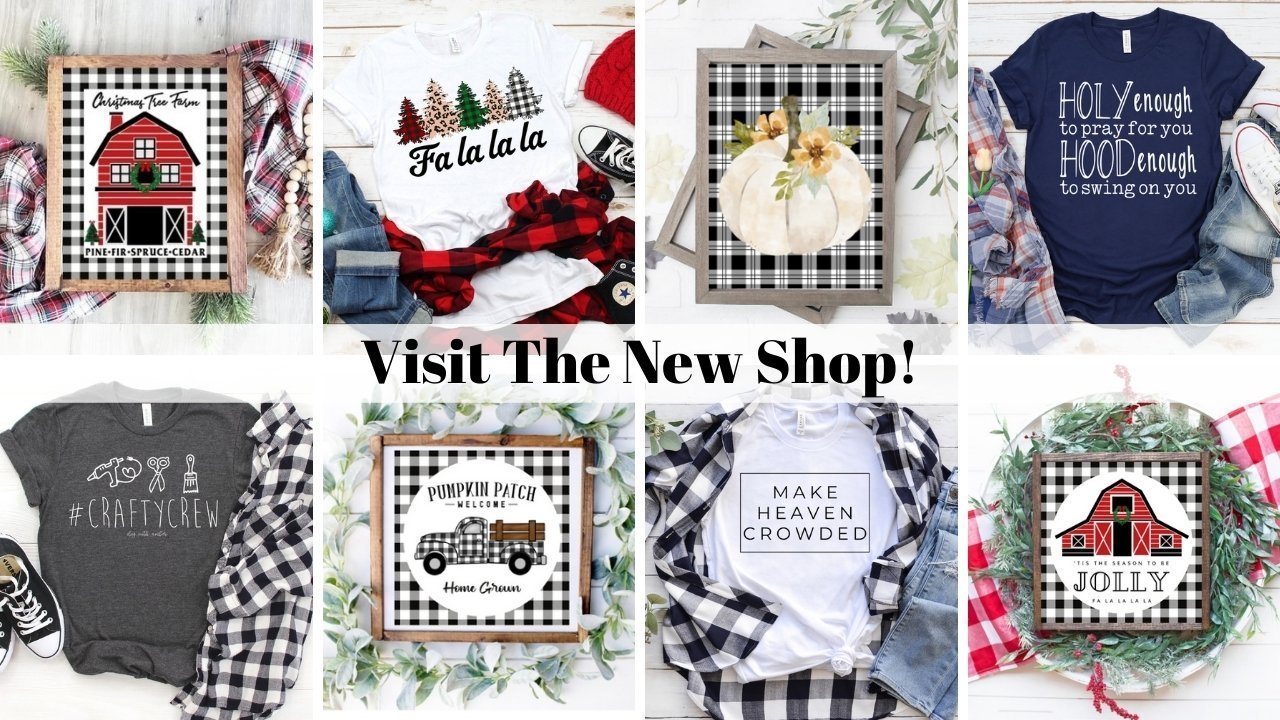 Watch the Replay!
In case you didn't know, my goal in everything I do is to be an inspiration to others. That is why whenever I get a craft idea that I think other people would love, I record myself making it.
I have a Facebook page and a Youtube channel where I share all of my DIY craft video tutorials! This specific craft was made during a LIVE video over on my Facebook page!
For this project, I will be using these items but you can substitute where you want.
"As an Amazon Associate, I earn from qualifying purchases."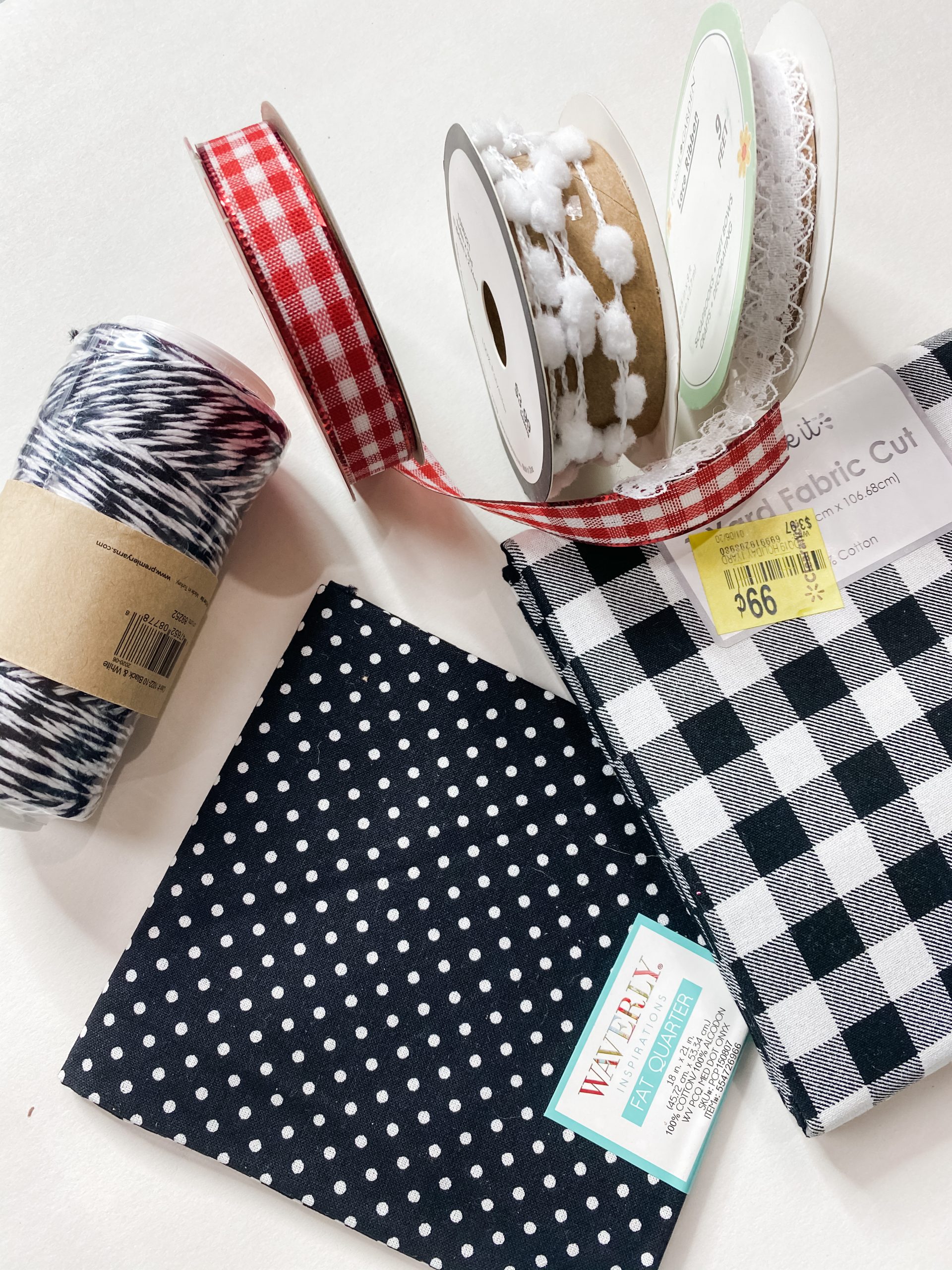 Let's get started!
Alright, the first thing you'll need to do to recreate this Jolly Farmhouse Printable Christmas Decor DIY is to remove the back of the Dollar Tree picture frame and cut the piece of cardboard to fit over the back.
Next, you're going to separate the layers of the cardboard to expose the squiggly inside part of the cardboard.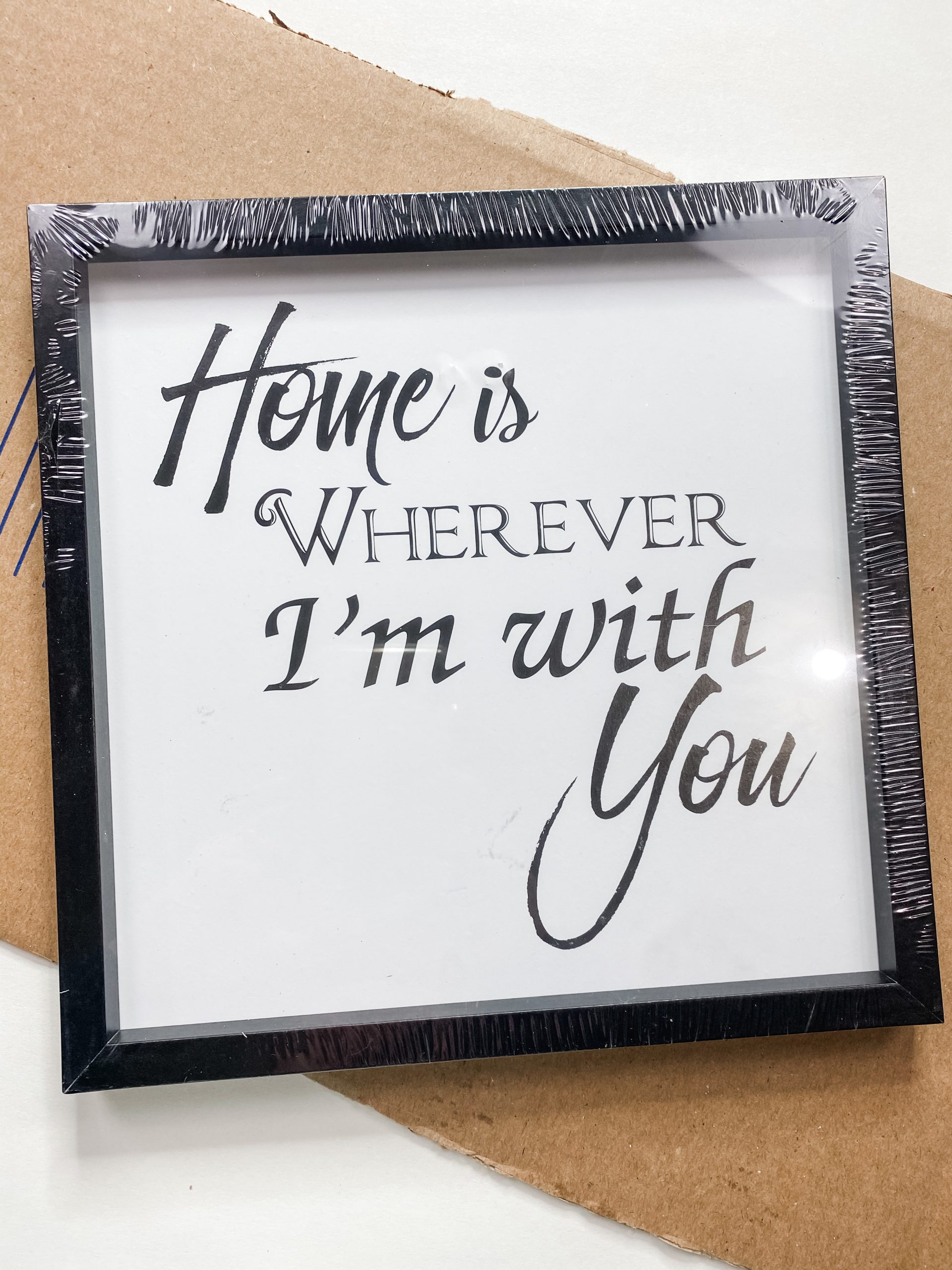 Next, grab your Apple Barrel burnt umber brown acrylic paint and Folkart White Chalk Paint. Paint an uneven coat of the brown paint, and then dry brush the white chalk paint across the cardboard.
This again does not have to be an even coating. This is going to help give it a distressed look.
Once the paint is dry, hot glue the cardboard onto the Dollar Tree frame. Apply a coat of the Mod Podge to the cardboard where you are going to place the Jolly Barnhouse Printable.
Carefully lay the printable down on top of the Mod Podge. I like to take some plastic wrap, lay it over the printable, and use a rolling pin to smooth out any creases or wrinkles.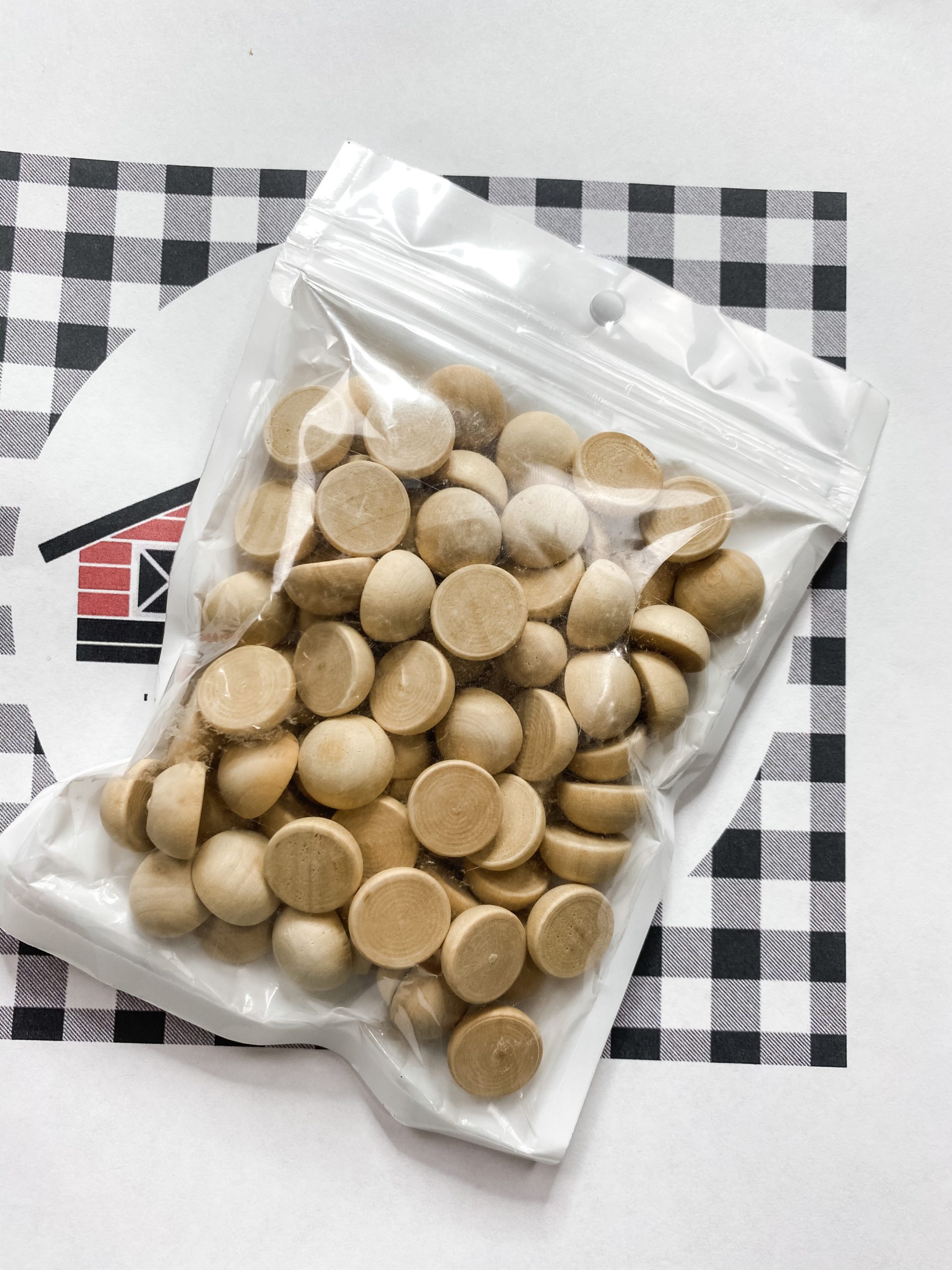 Time to embellish
I love using these half wood beads to add some more details to my crafts. You can do this step with however many or as few beads as you want.
Just put a dot of hot glue on the back of the wood beads and then place them onto the craft where you want them.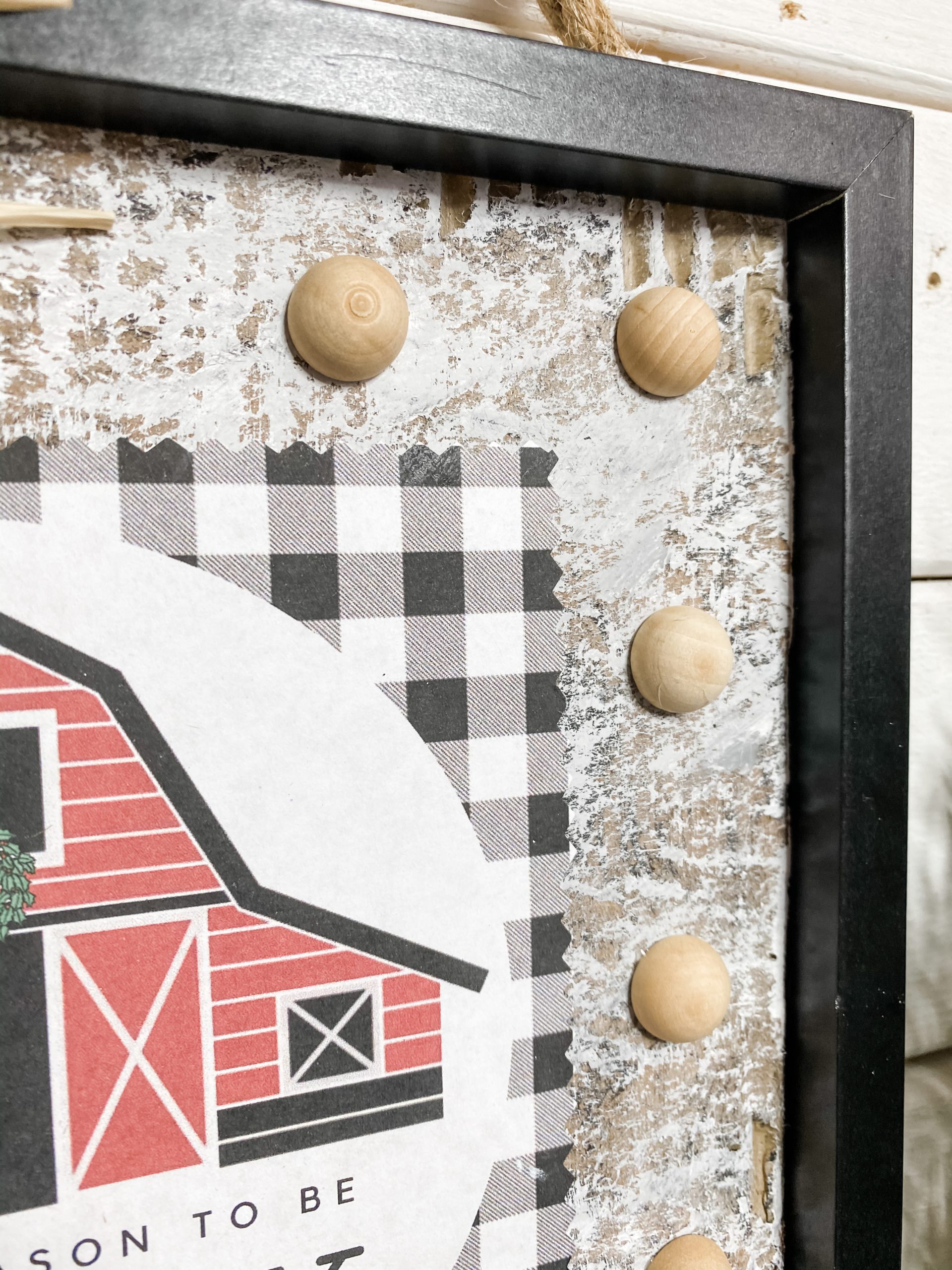 Make a messy bow
I LOVE making adorable messy bows just like the one on this Jolly Farmhouse Printable Christmas Decor DIY! They are so easy to make and don't take an extensive amount of skill or technique.
All you have to do is take the scrap fabric and ribbons that you chose and lay them down in random order. Then, secure the center of the bow with the baker's twine.
You could also add some bling to the center of the messy bow if you wanted to! I love the selection that Totally Dazzled has!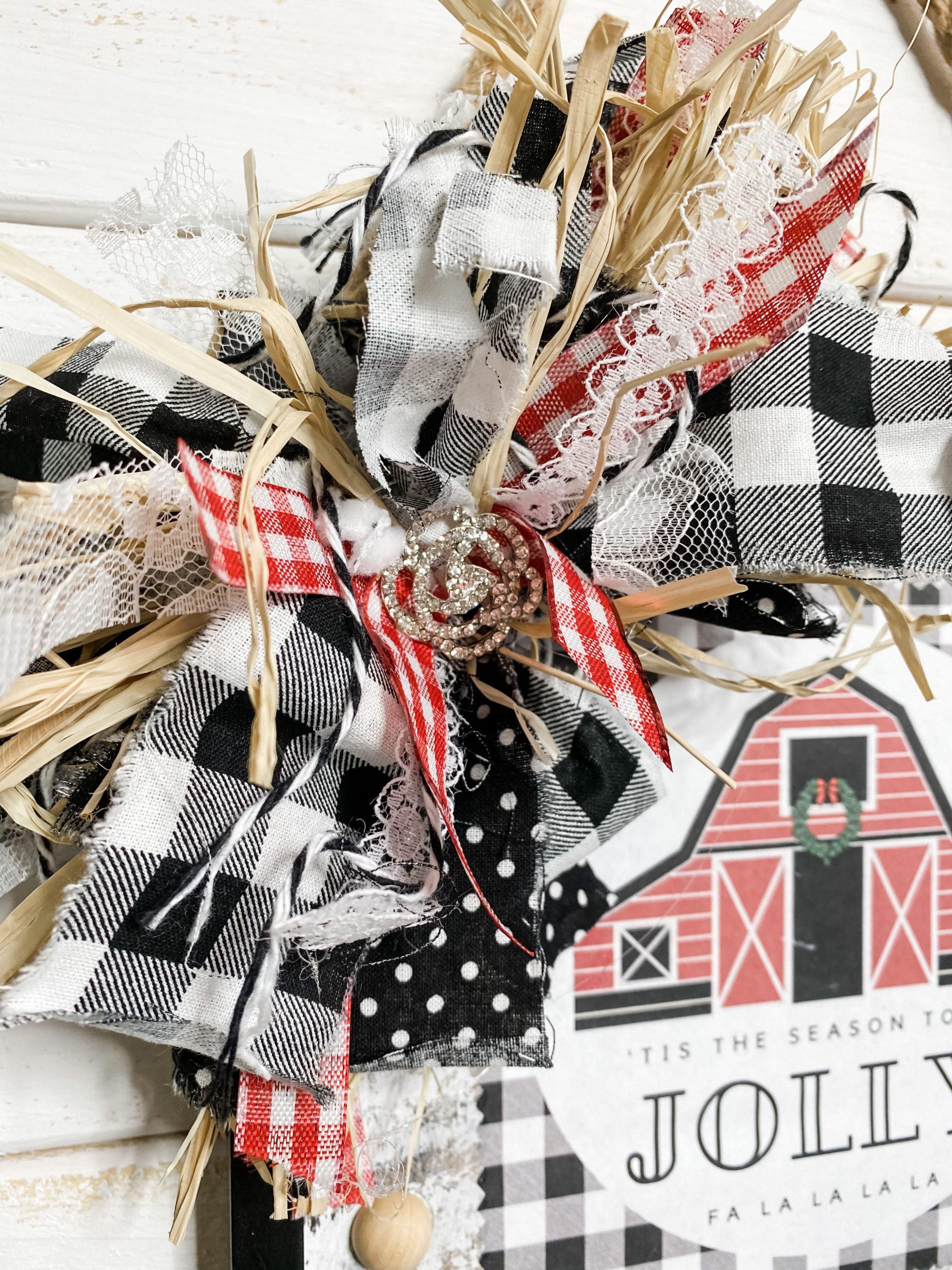 The finishing touches
All that is left for you to do is attach the nautical rope so that you can hang this adorable Jolly Farmhouse Printable Christmas Decor DIY anywhere in your house!
There are 2 ways you can do this. You can use your hot glue gun and simply glue the rope to the back of the frame. The other option is to staple the ends of the rope to the back of the frame.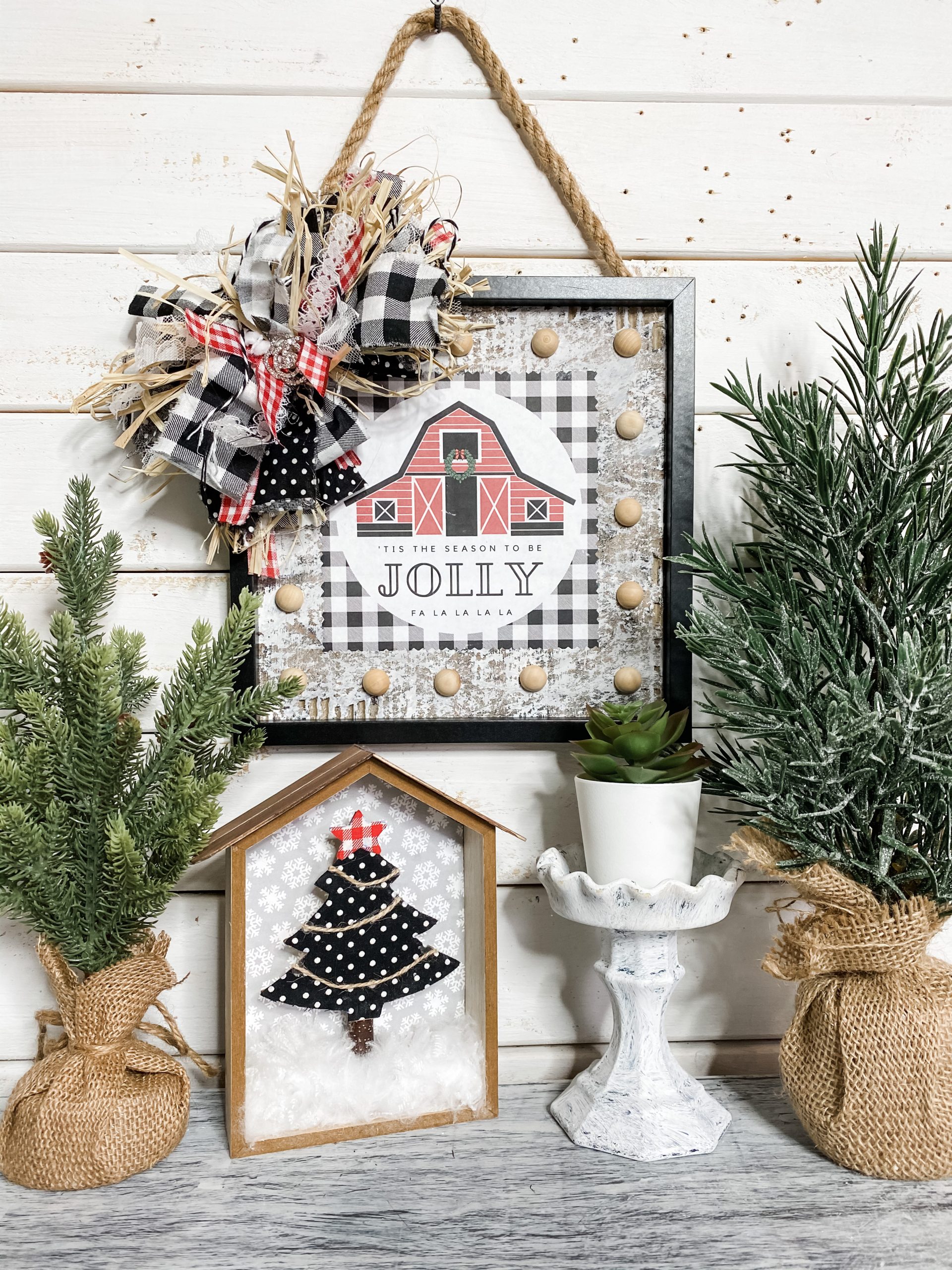 That's it! Those are all the steps of how to make this super cute Jolly Farmhouse Printable Christmas Decor DIY! I hope you enjoyed this DIY craft as much as I did and decide to make one for yourself!
I would love to see how yours turns out! You should totally join my FREE Facebook group called On A Budget Crafts! It is a judgment-free community for DIY crafters to show off their projects and ideas.
Thanks for stopping by! XOXO Amber
You can also shop my ENTIRE AMAZON Favorites shop just click here! It's packed full of all the things I use and love.
Here is the supply list I highly recommend every creative have on hand!! Would you also pin my blog for later and get on my newsletter alerts? I would love to have you join my #craftycrew.

Join my free "ON A BUDGET CRAFTS" Facebook group!
PIN THIS POST FOR LATER!