DIY Home Decor with FREE Valentine's Day Printable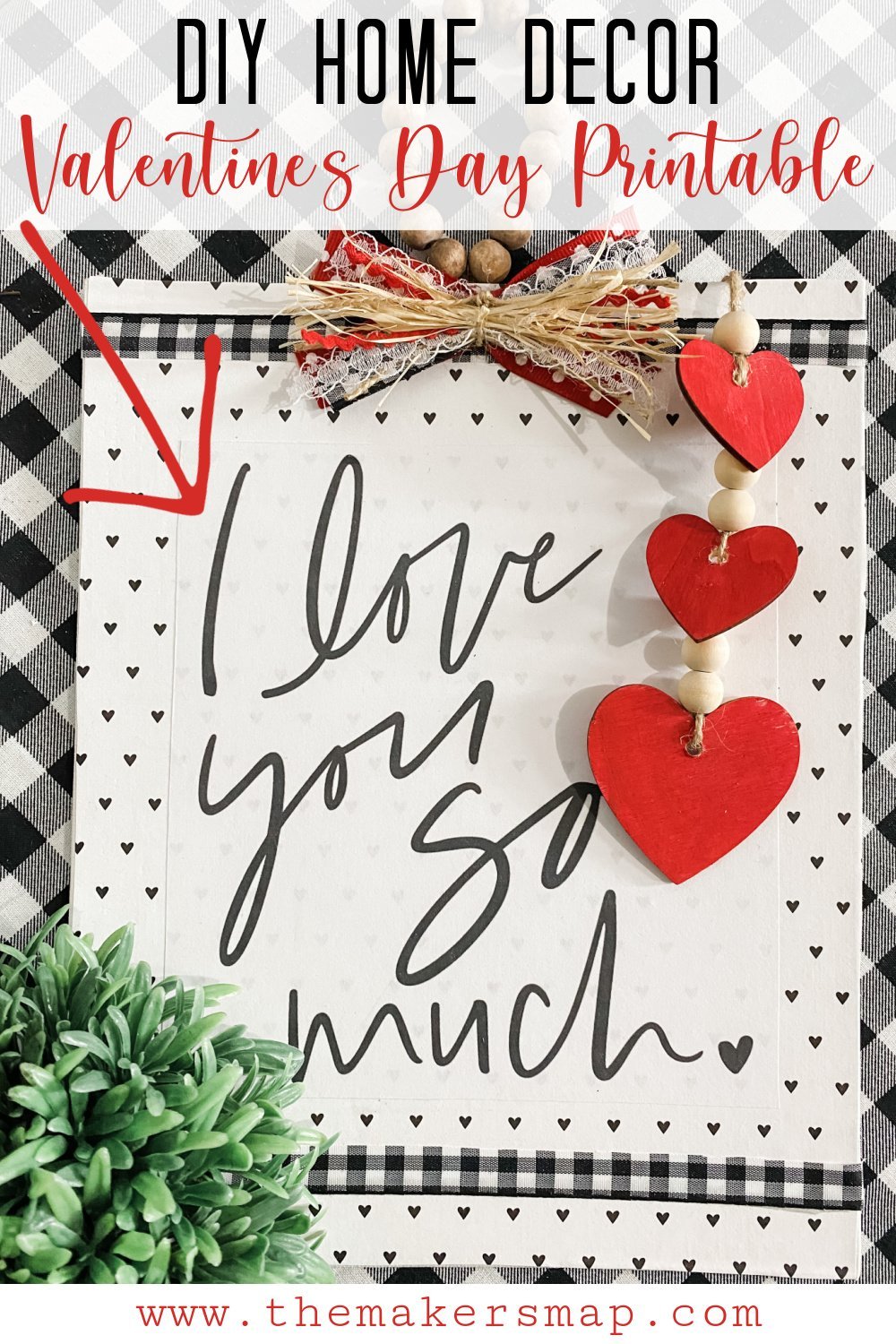 I am so excited to show you this adorable DIY Home Decor with FREE Valentine's Day Printable because almost since the day after Christmas, my Crafty Crew has been asking me for Valentine's Day inspiration.
I am so happy with this Valentine's Day Decor DIY and I really hope it is a source of inspiration for you!
Watch the replay
If you're more of a visual learner than a follow directions learner, you're going to want to watch the replay of the LIVE video I did using this adorable Valentine's DIY Printable. I go step by step and conversate with my Crafty Crew during each DIY Live video!
For this project, I will be using these items but you can substitute where you want.
"As an Amazon Associate, I earn from qualifying purchases."

Let's get started
This is such a simple Valentine's DIY, and I am so excited to teach you how I made it!
I started this project off by trimming the black and white heart scrapbook paper to fit on the Dollar Tree flat back canvas. I love the versatility of Dollar Tree's canvases, so I use them often in my DIY projects.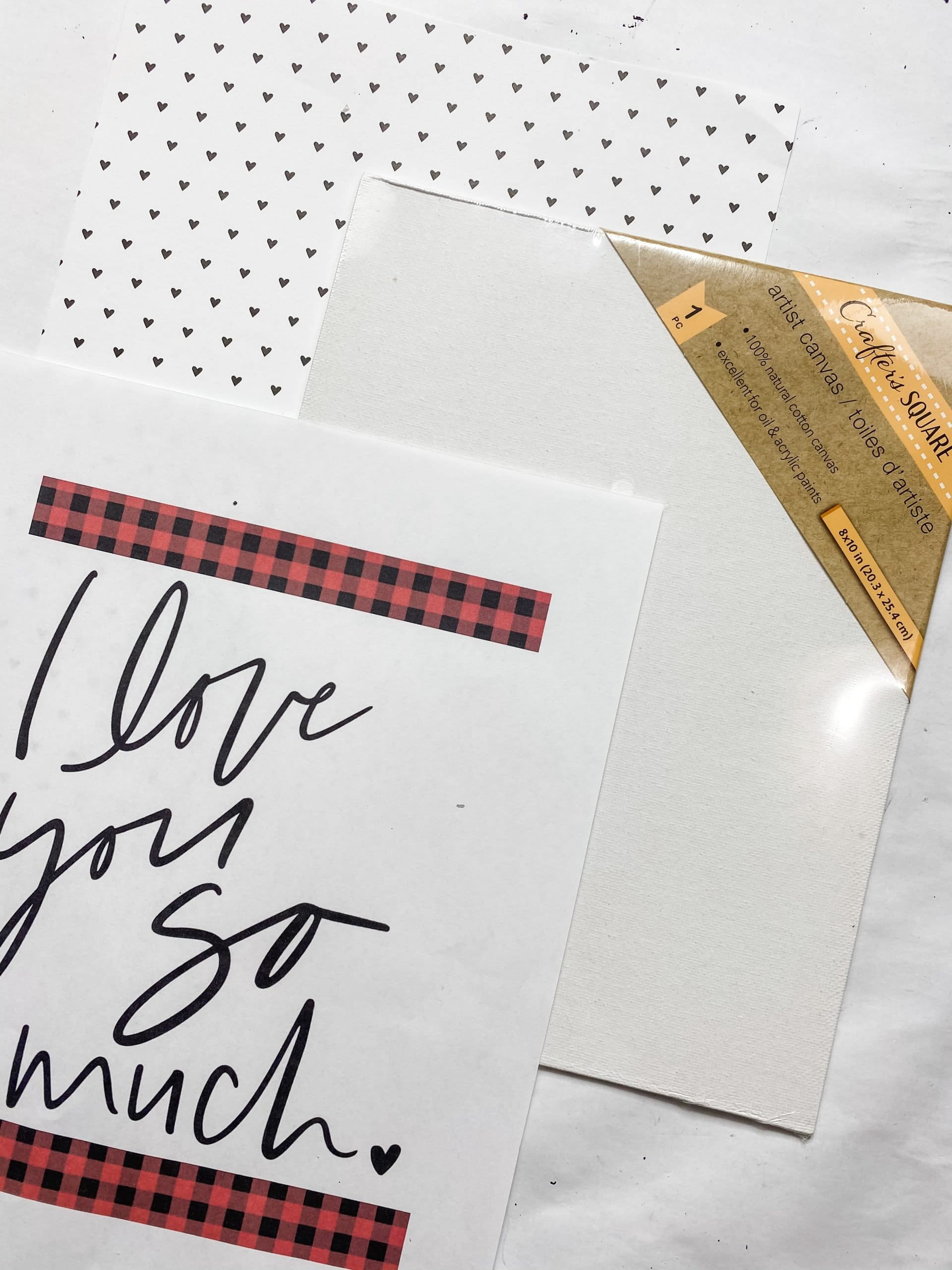 Once your scrapbook paper is cut to fit, apply a coat of Mod Podge to the surface of the Dollar Tree canvas and carefully place the scrapbook paper onto it.
Try to prevent any creases or wrinkles, but if you do see some in your scrapbook paper, you can place a piece of plastic saran wrap over the paper and use your hands or a rolling pin to smooth out the imperfections.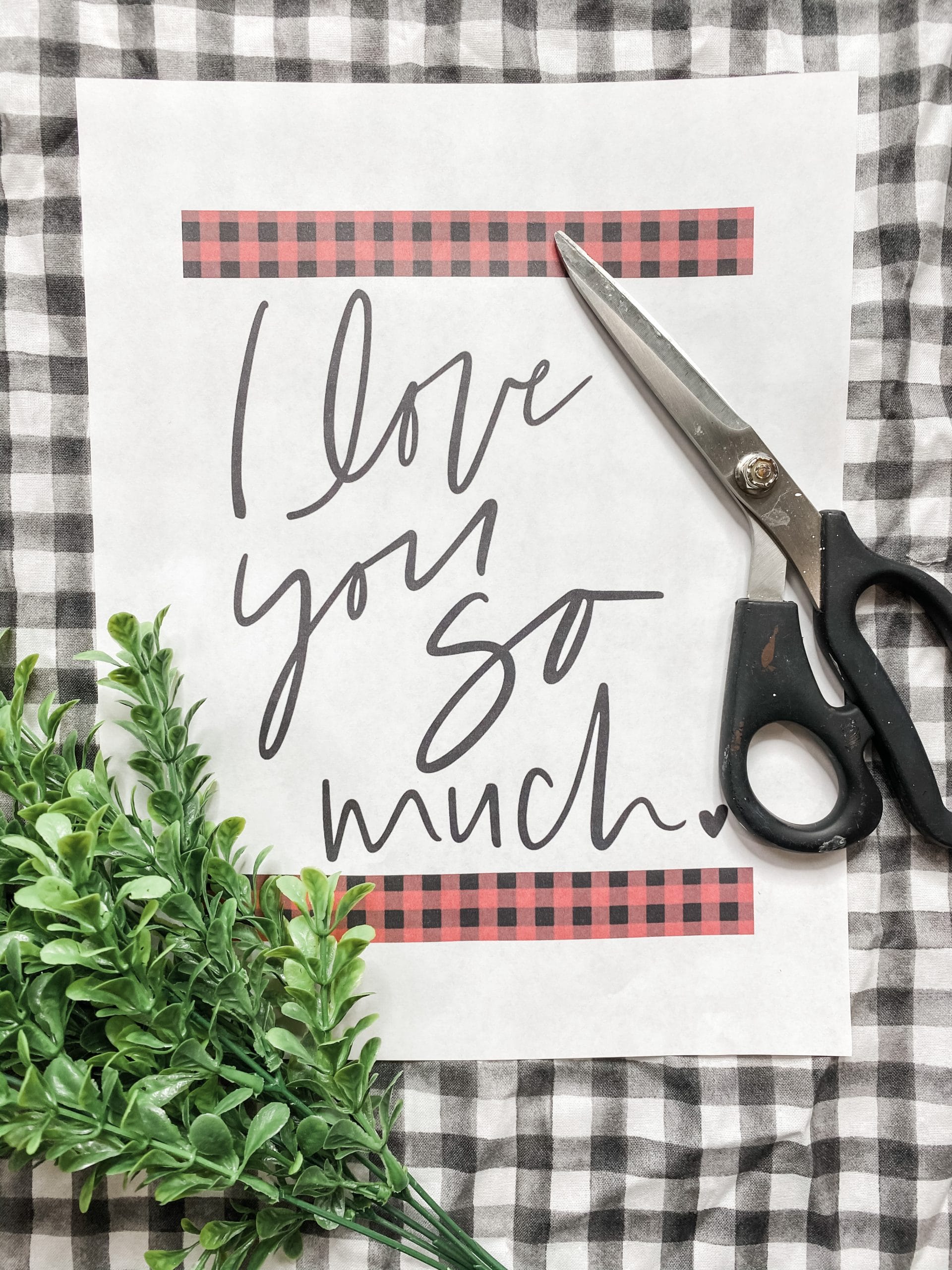 I love you so much
Next, let's add the FREE Valentine's Day printable! My design has the red and black buffalo check strips across the top and bottom, but I didn't want to use those in this DIY. It is very easy to customize any printable to fit your design and decorating ideas!
If you like the buffalo check and want to use it for this DIY, don't trim it off. However, I creased the paper at the edge of the buffalo check and then cut down that line to remove the pattern.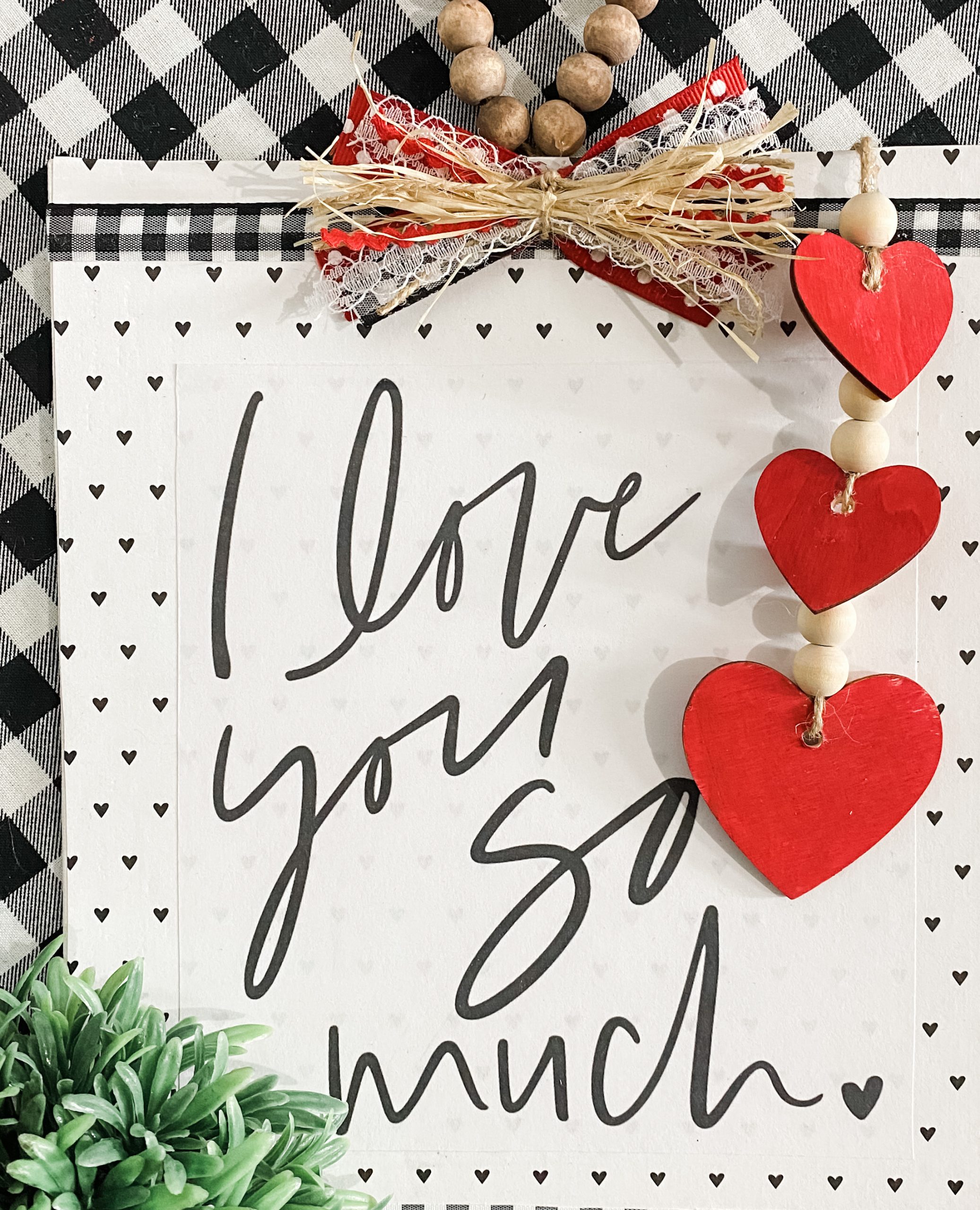 Then, I used Mod Podge again to add the printable to this project. I applied the Mod Podge to the back of the printable then placed it in the center of the decoupaged Dollar Tree canvas.
If there are any wrinkles or creases, use the same technique above to smooth them out. You can also use a hairdryer or heat gun to get out the creases when you are decoupaging.

These cute little Dollar Tree sticker hearts were a definite win the last time I went to the Dollar Tree! I LOVE them!
They had 3 packs with different variations of little hearts: one pack with small hearts with curved tails, one pack with different sized hearts with glitter and curved tails, and one pack with different sized hearts and regular tails.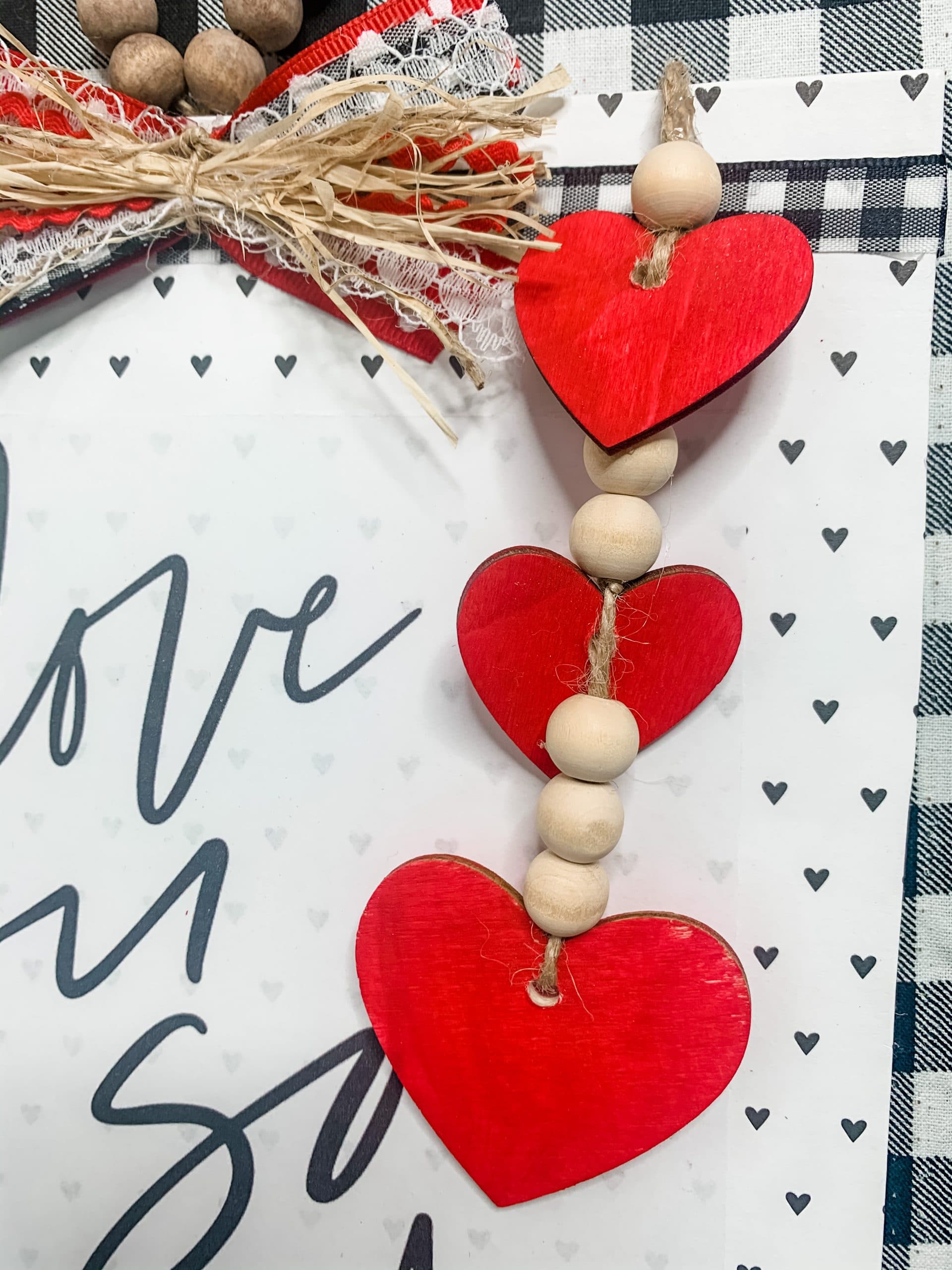 I painted one heart of each size using Craft Smart Red Paint. Allow the paint to dry before moving on. This is where my heat gun came in handy!
Once they're dry, thread the largest heart onto a piece of jute twine and pull it to the center. Then, fold the twine up to create a double strand.
Next, I put three of the small wood beads, the medium-sized heart, two wood beads, the small heart, and three more beads. Finally, tie a knot at the top bead.
Embellish
Next, grab your buffalo check ribbon. The ribbon I used for this project came from Hobby Lobby, but you can get a black buffalo check ribbon from Dollar Tree!
The Hobby Lobby ribbon was a bit wider than I wanted, so I just cut it straight down the middle to create two thinner strips. Then, I hot glued one strip across the top and bottom of the canvas.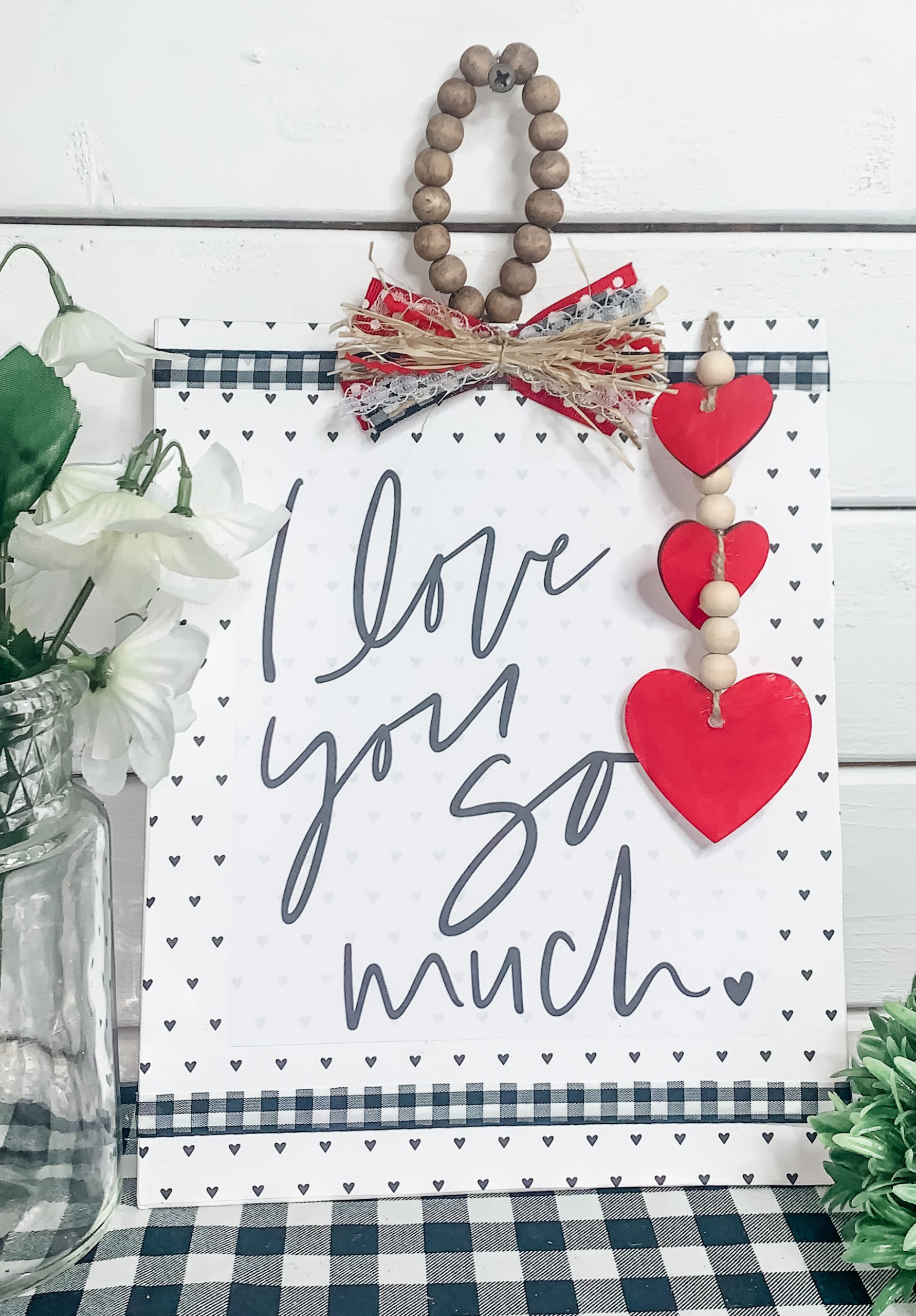 Now, you can attach the strand of painted hearts. I hot glued the ends of the jute twine to the back of the Dollar Tree flatback canvas and draped the strand of hearts over the top of the canvas.
Let's make a hanger
The next step in creating this adorable DIY Home Decor with FREE Valentine's Day Printable is to make the hanger. I used some cute little wood beads and a piece of jute twine for mine.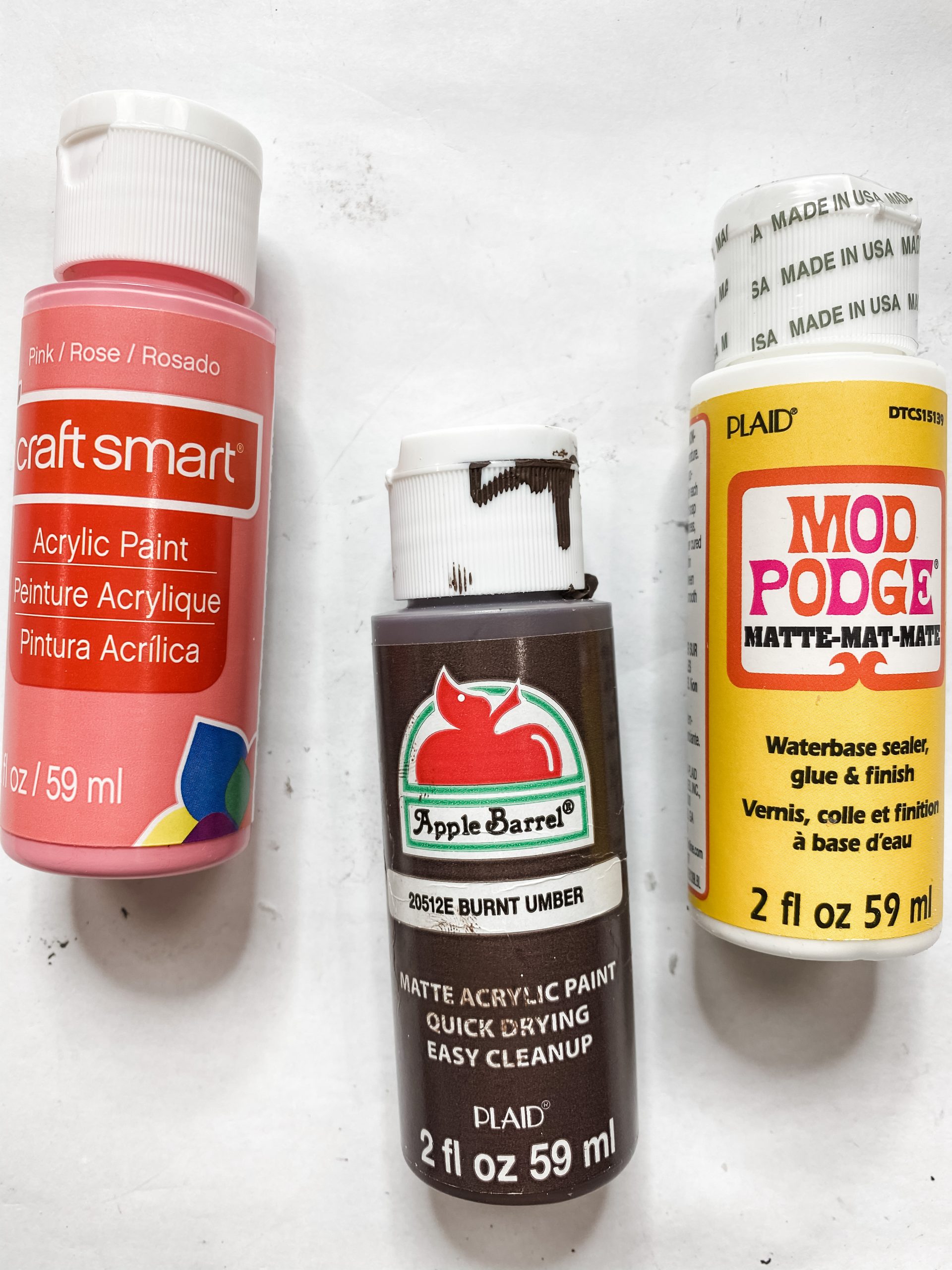 I stained the wood beads before adding them to the jute twine. To do this, put enough beads into a small mixing bowl. Then, spray them with water and pour a small bit of Apple Barrel Burnt Umber Acrylic Paint into the bowl.
Swirl the beads around until they're thoroughly covered. Pull them out of the bowl and use a dry napkin to remove any excess paint. Next, dry the beads and thread them onto the piece of jute twine.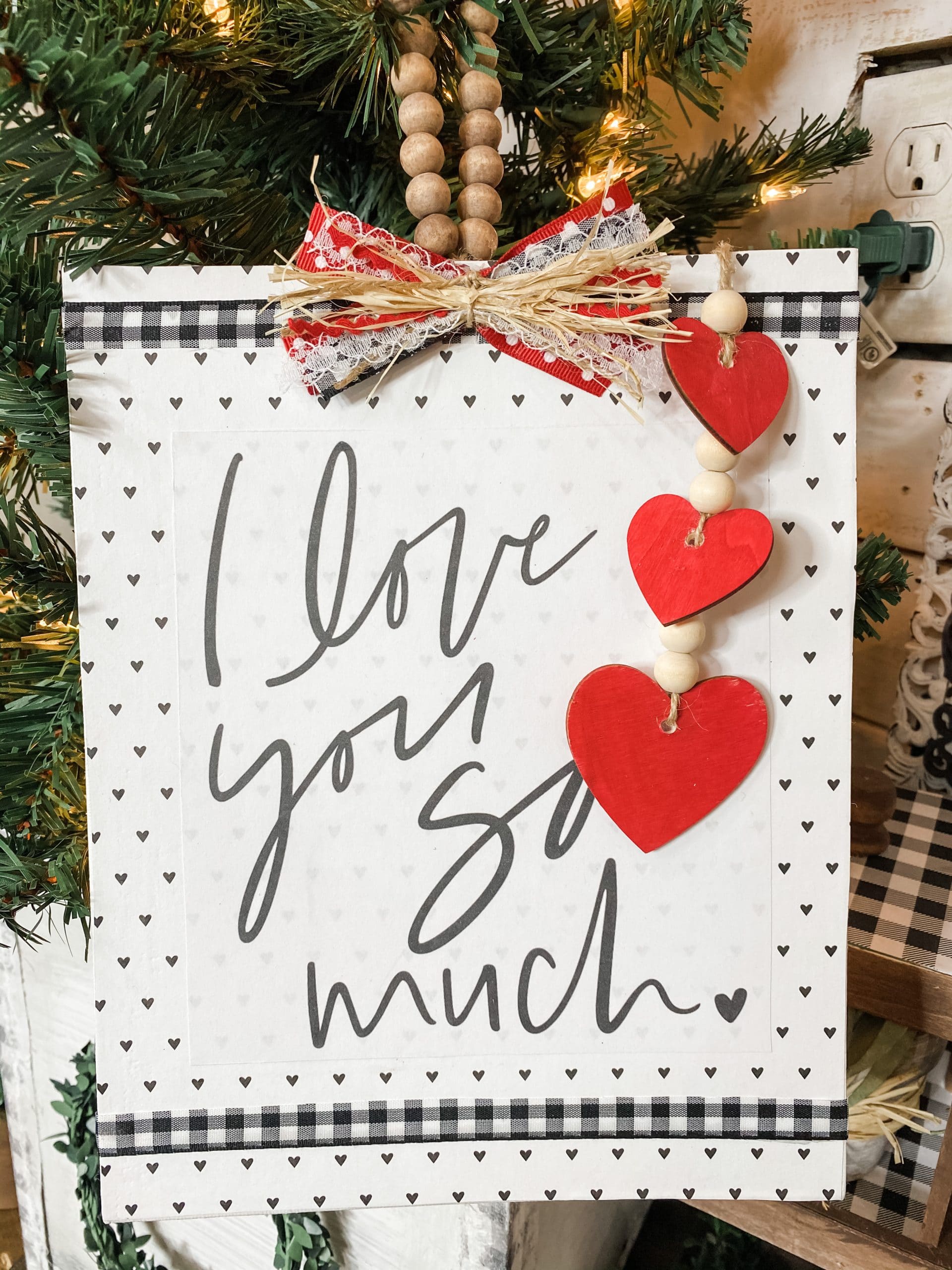 Once your beads are on the twine, and you're happy with the length, tie the twine in a knot to create a beaded circle. Finally, hot glue the ends of the jute twine to the back of the Dollar Tree flatback canvas.
How to make a bow
You can set your canvas to the side and grab the different ribbon patterns, jute twine, and raffia that you are going to make your bow out of. Cut two strips of each ribbon pattern and the jute twine, about 3 inches long, and pull out some strands of raffia.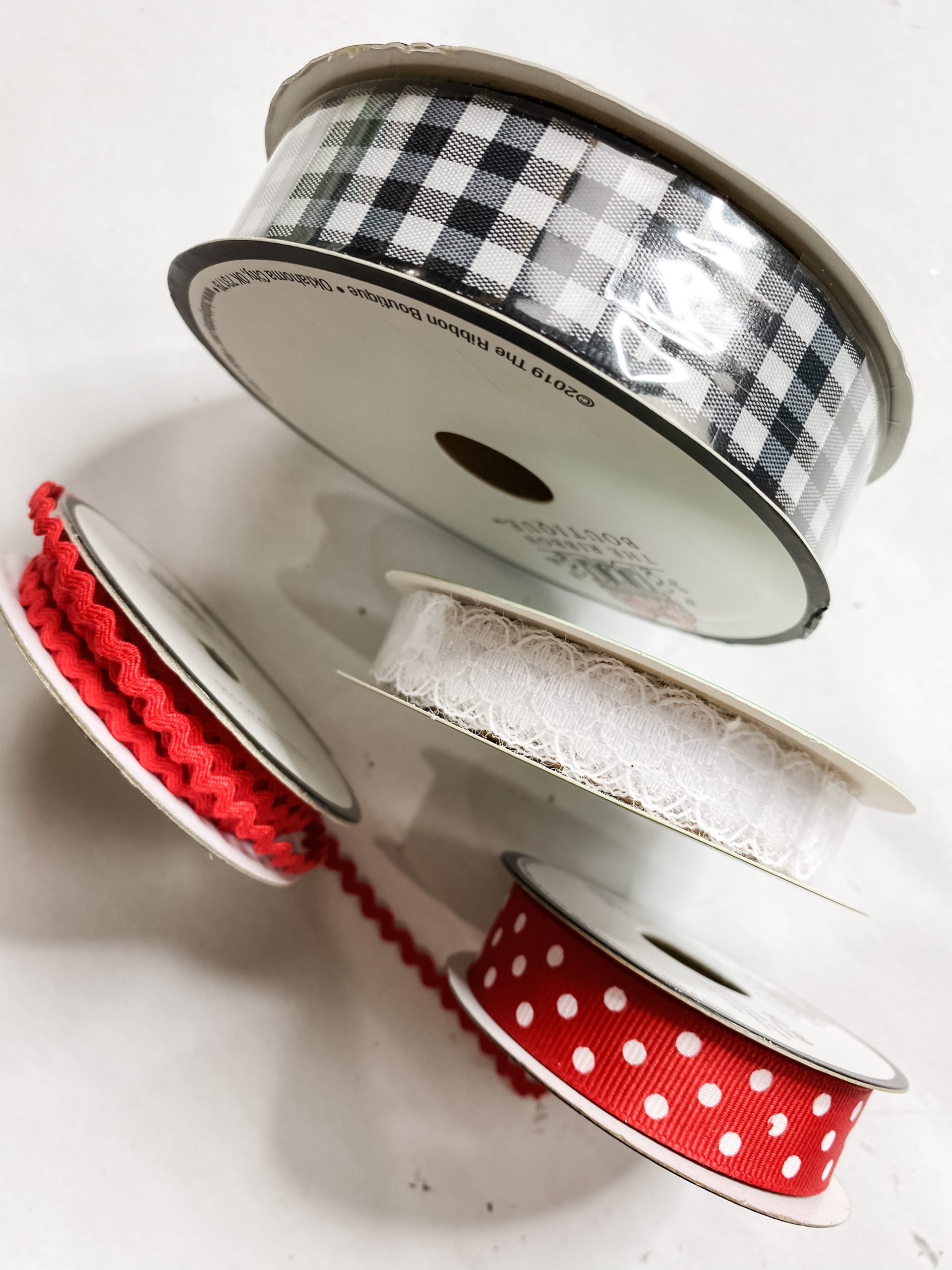 I used the x bow method to create this adorable little bow. Start by laying your ribbon strips in an x pattern, alternating patterns. Add the jute twine throughout.
Lastly, add the raffia to the top of the bow. Once you're satisfied with the way the bow looks, pinch the center and secure it with a piece of jute twine.
Now, all that you have to do is hot glue the little DIY bow onto your decoupaged sign. I put mine at the top of the sign just below the stained wood bead hanger.
Once the glue has dried, you're ready to hang this adorable DIY Valentine's Day decor anywhere in your home!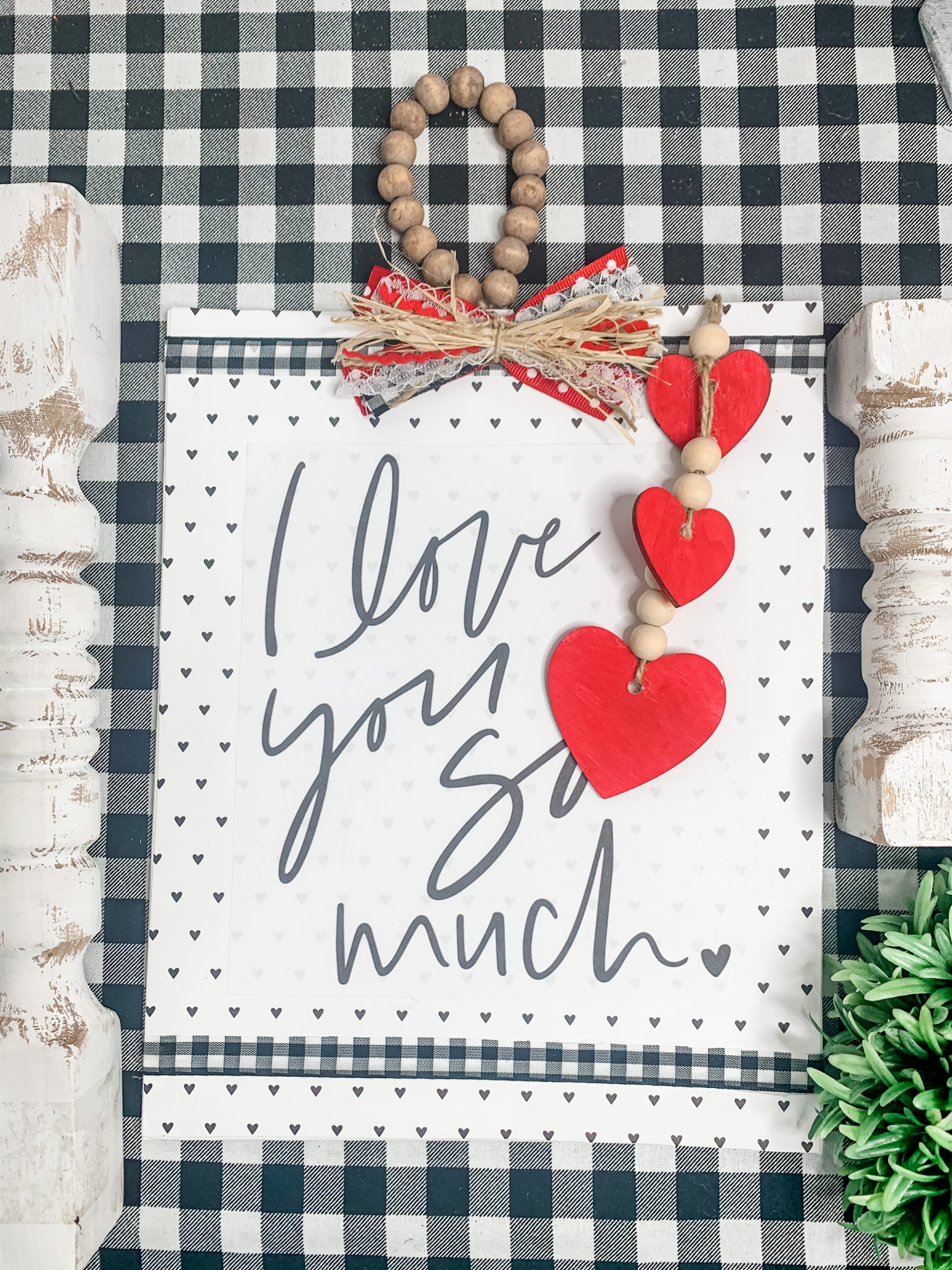 I hope you enjoyed this DIY Home Decor with FREE Valentine's Day Printable as much as I did and decide to make one for yourself! I would love to see how yours turns out!
You should totally join my FREE Facebook group called On A Budget Crafts! It is a judgment-free community for DIY crafters to show off their projects and ideas.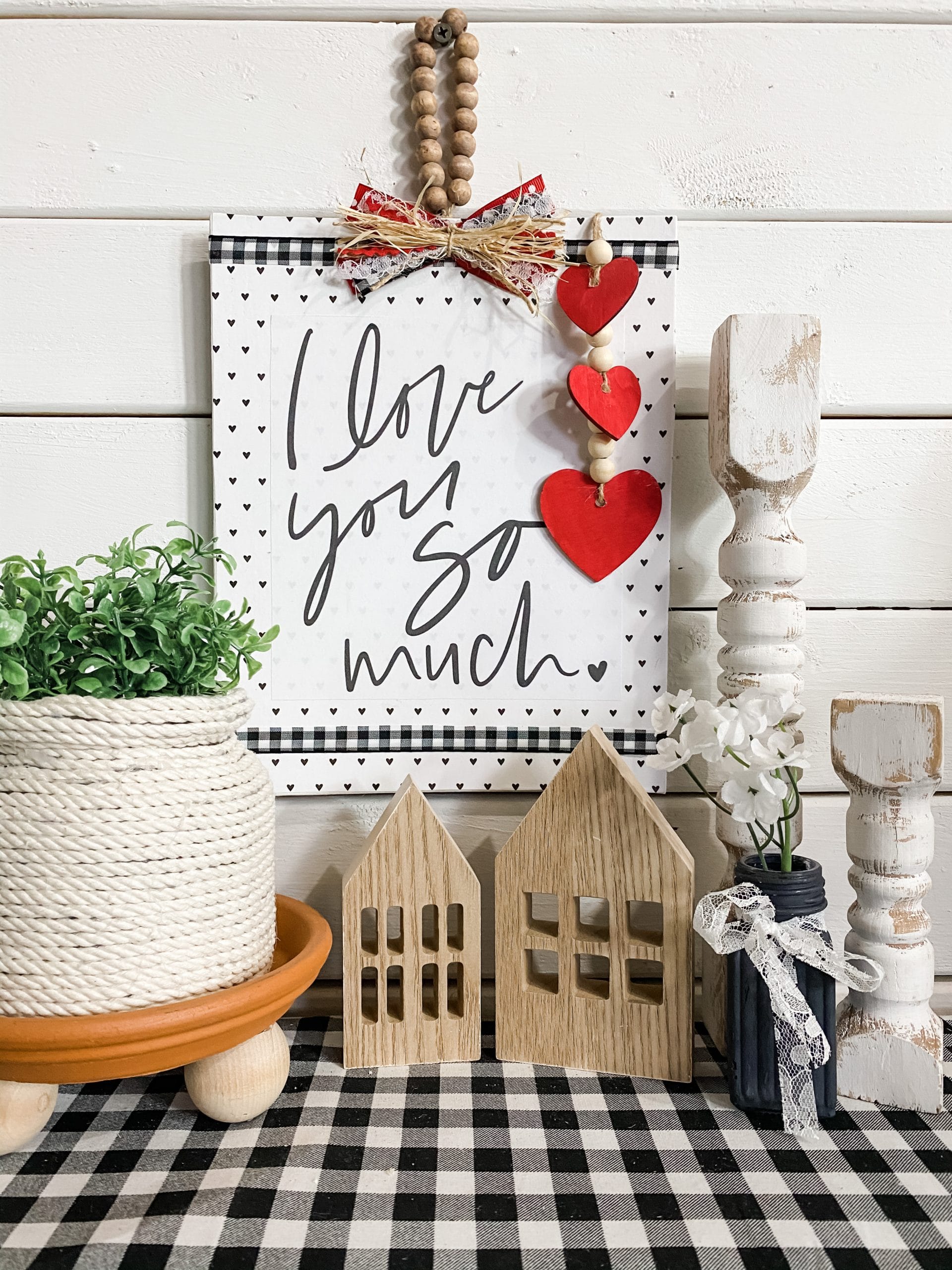 Thanks for stopping by! XOXO Amber
You can also shop my ENTIRE AMAZON Favorites shop just click here! It's packed full of all the things I use and love. Here is the supply list I highly recommend every creative have on hand!!
Would you also pin my blog for later and get on my newsletter alerts? I would love to have you join my #craftycrew.
Inspired? Leave me a comment below! I love hearing from my readers!

Join my free "ON A BUDGET CRAFTS" Facebook group!