DIY Mop String Macrame Decor
This DIY Mop String Macrame Decor is such a simple DIY, and it goes perfectly with any style of decor you have! If you've been looking for something to fill that open space in your bathroom or add to bedroom decor, this is the perfect project for you!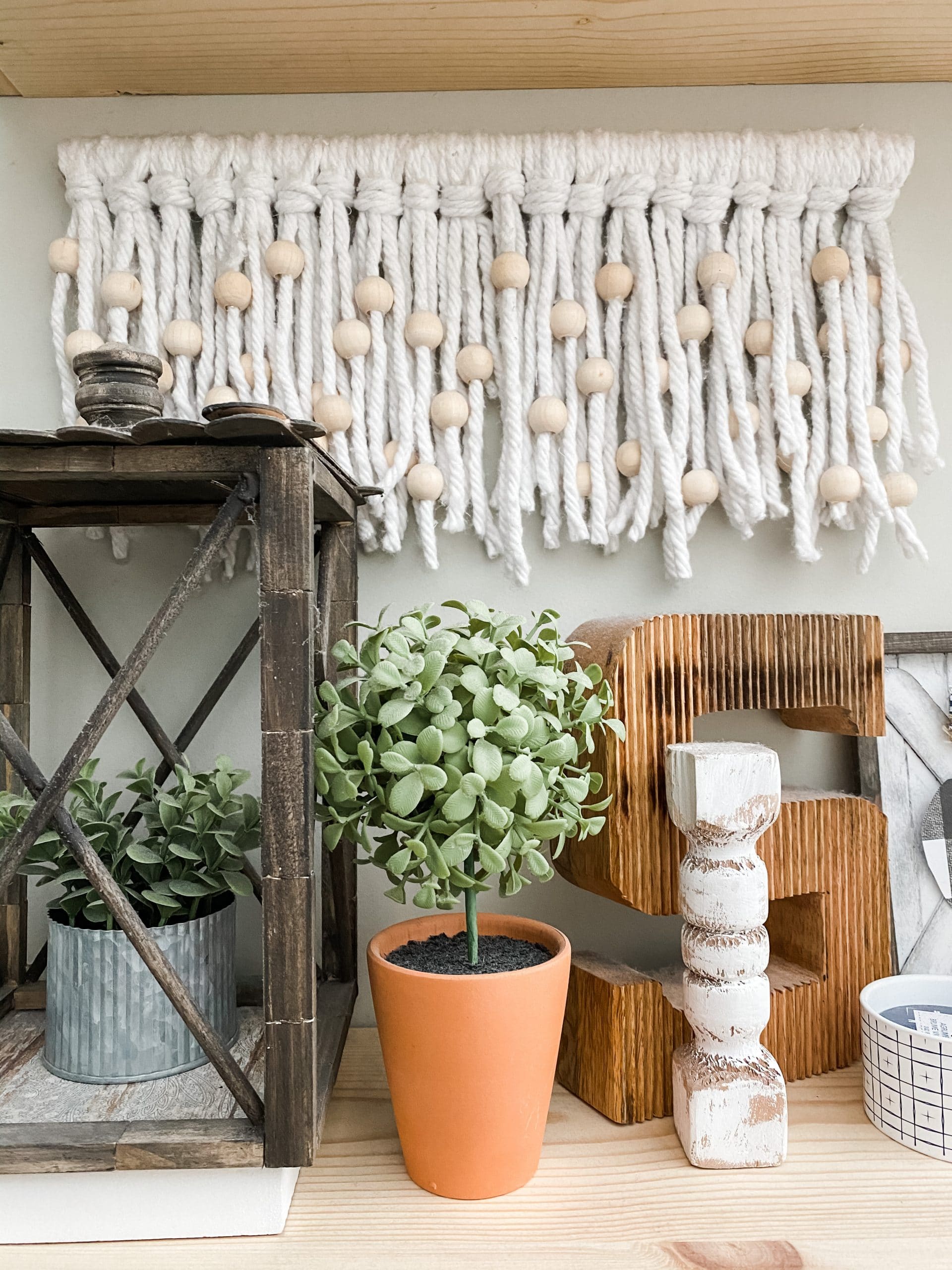 I made this DIY decor for my bedroom, and it is still hanging in my room over a year later!
Check out these other crafts made with a Dollar Tree mop head!
More home decor inspiration
Watch the replay
You would really only need to watch the first twenty minutes of the video because once you start adding the mop strings, that's pretty much the rest of the DIY, but just in case, you can watch the replay of the Facebook LIVE video where I showed my crafty crew how to make a DIY Mop String Macrame Decor!
For this project, I will be using these items but you can substitute where you want.
"As an Amazon Associate, I earn from qualifying purchases."
How to Make DIY Mop String Macrame Decor
Remove the strings from your Dollar Tree mop head and set the strings to the side. It might be helpful to cut the plastic piece that secures the strings together.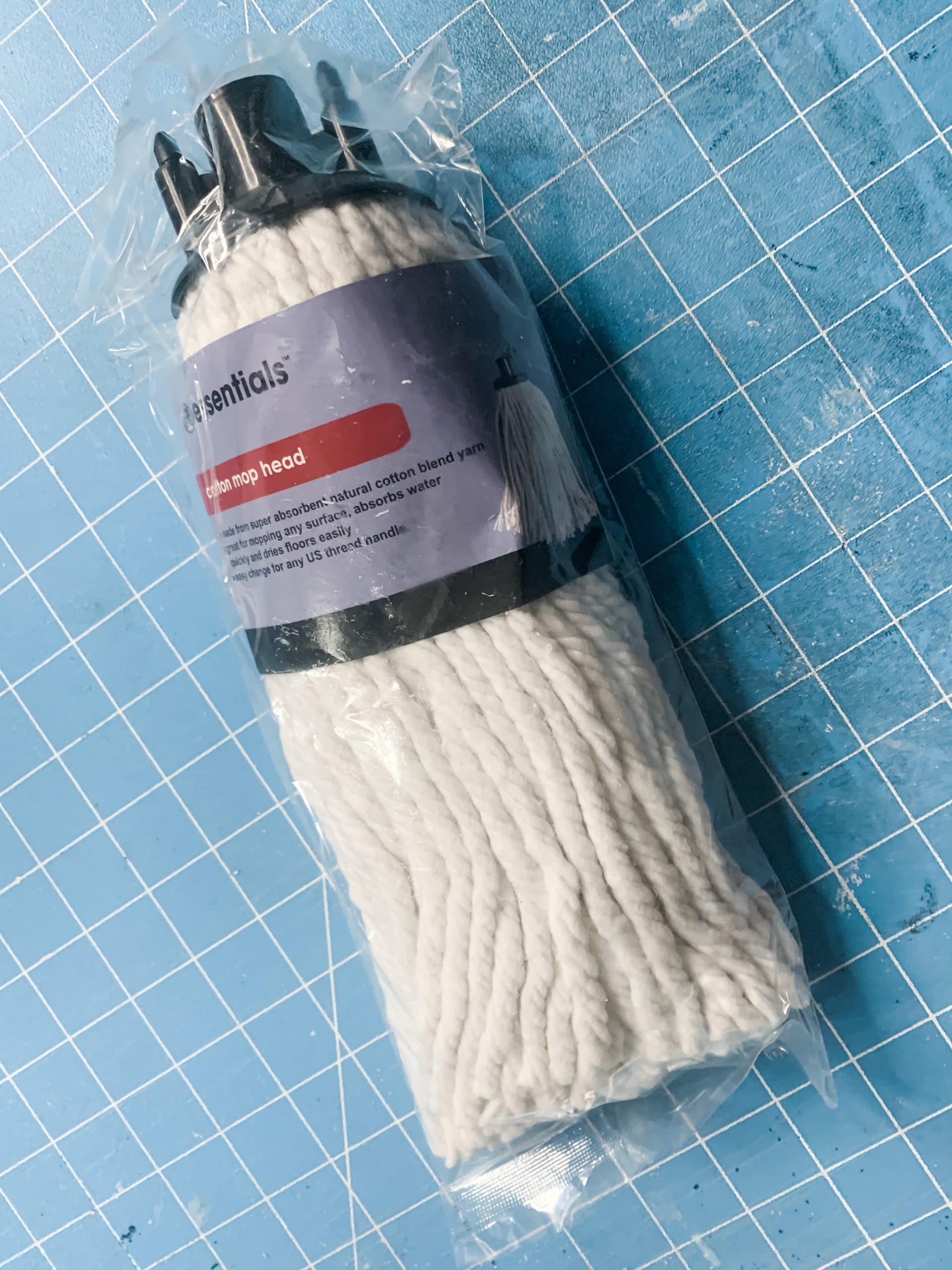 Then, unscrew the handle from your Dollar Tree plunger. I went over my handle with a piece of sandpaper to smooth it out.
To stain the plunger handle you'll need a few wet wipes and brown paint. I used Dixie Belle Coffee Bean Chalk Paint, but you can use whichever brown paint you already have on file.
Use the wet wipe to spread the brown paint across the entire surface of your plunger handle, and make sure to get the paint in the grooves that screwed into the plunger.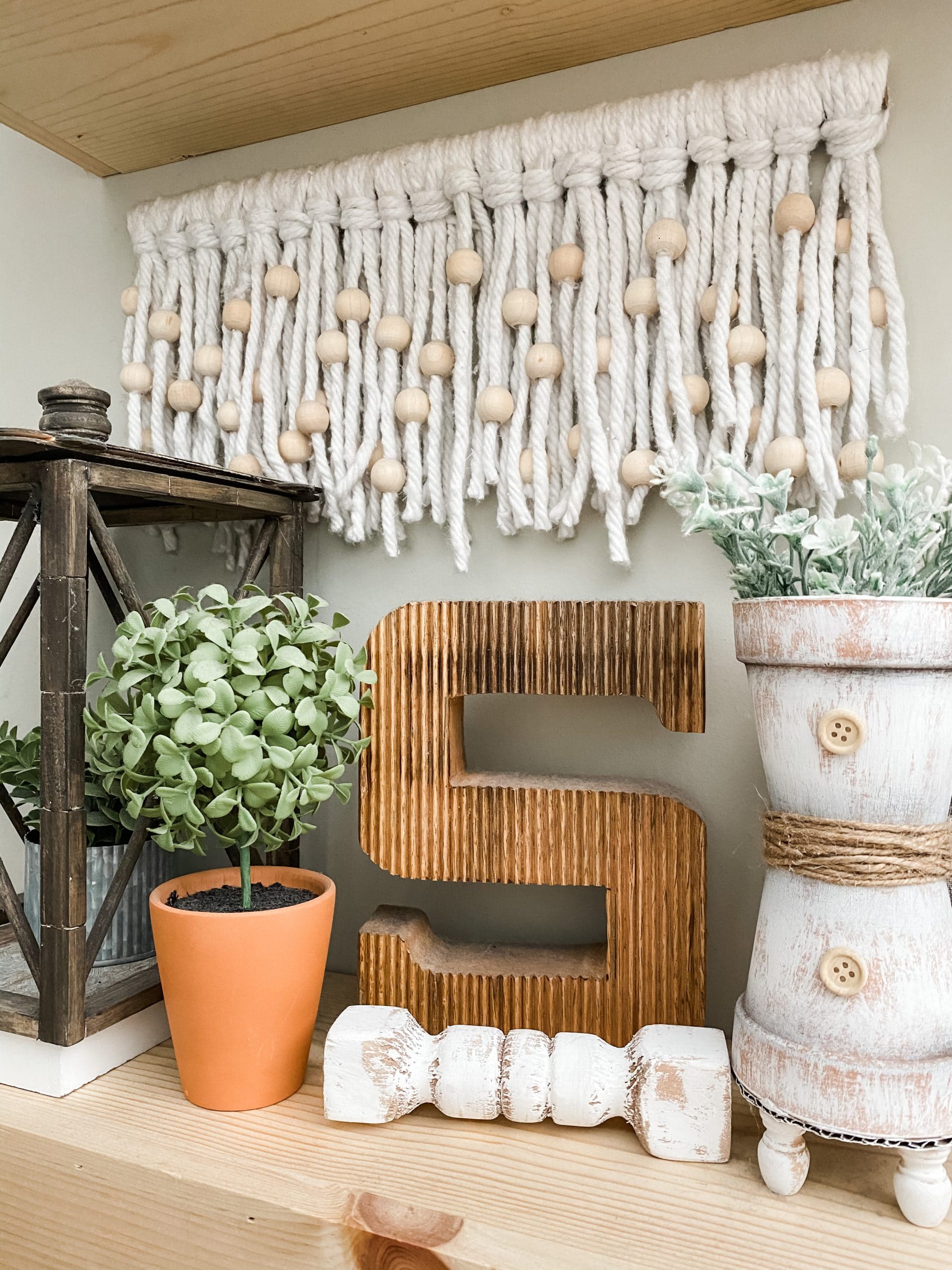 Allow your handle to dry so the mop strings don't absorb the wet paint when you go to attach them later. I used my heat gun to speed up the drying process.
Take two mop strings and bend them in half. Place the curved section of the mop strings over the top of the plunger handle, wrap the ends around the handle and push them through the curved part. This secures the strings to your handle!
The finishing touches
Repeat that over and over until the entire handle is covered. You can hot glue the end mop strings to keep them all from slipping off the Dollar Tree plunger handle.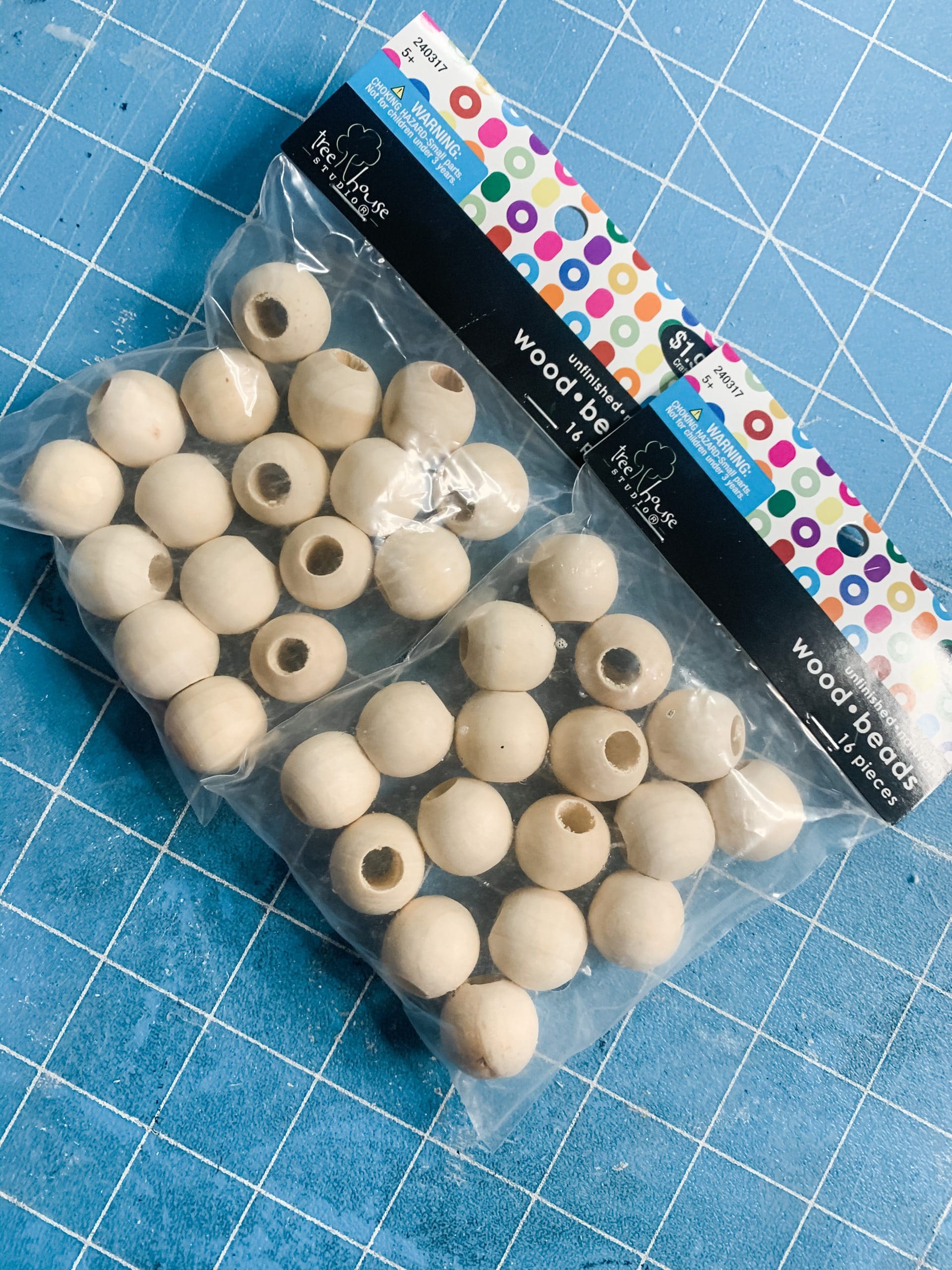 Once you have all the mop strings attached, it's time to start adding the wooden beads! Randomly place them in high and low places across your mop strings. You can use hot glue to secure them in place on the strings.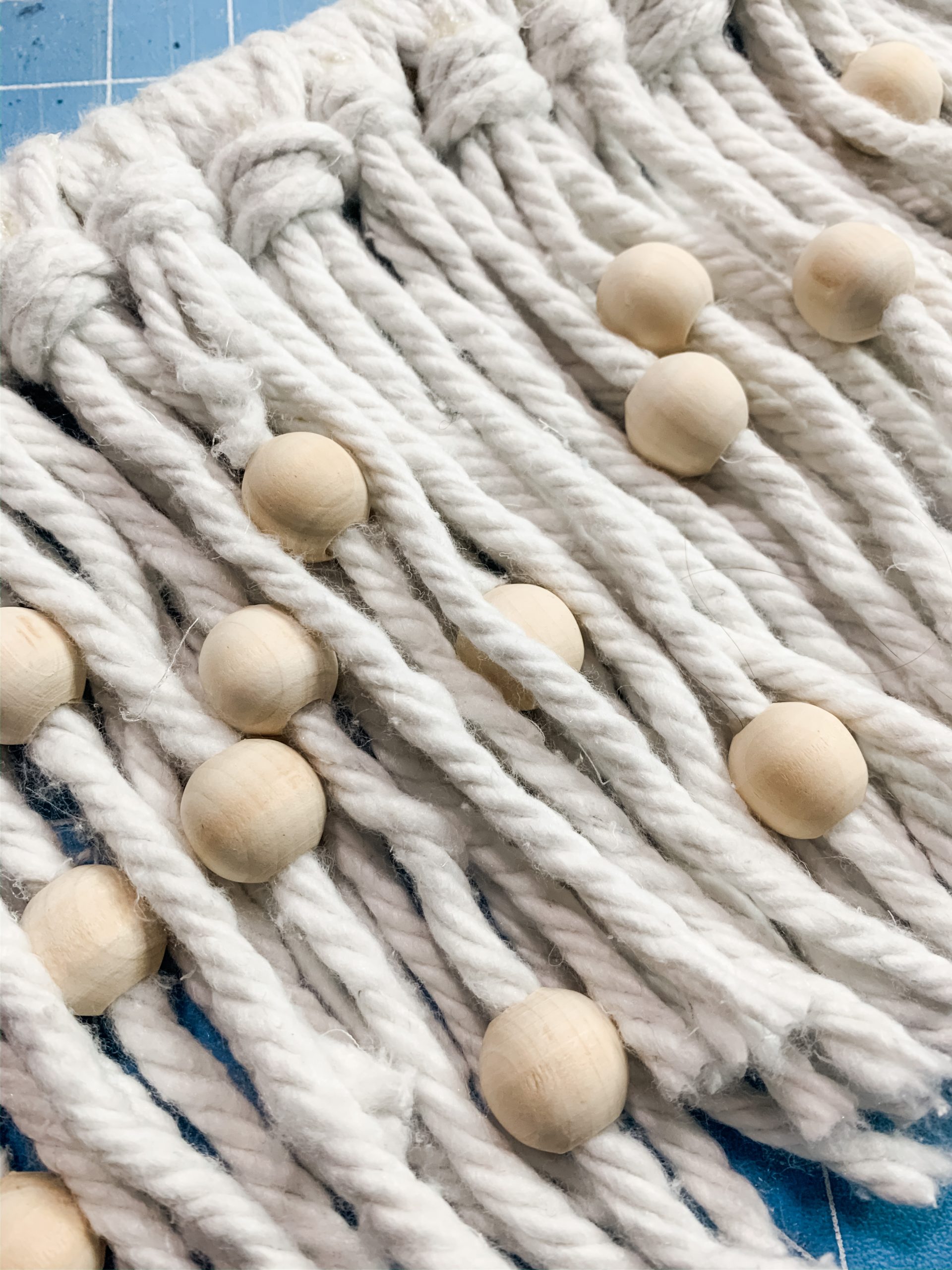 I hope you enjoyed this DIY Mop String Macrame Decor as much as I did and decide to make one for yourself! If you do, I would love to see how yours turns out!
You should totally join my FREE Facebook group called On A Budget Crafts! It is a judgment-free community for DIY crafters to show off their projects and ideas.
Thanks for stopping by! XOXO Amber
You can also shop my ENTIRE AMAZON Favorites shop just click here! It's packed full of all the things I use and love. Here is the supply list I highly recommend every creative have on hand!!
Would you also pin my blog for later and get on my newsletter alerts? I would love to have you join my #craftycrew.
Inspired? Leave me a comment below! I love hearing from my readers!

Join my free "ON A BUDGET CRAFTS" Facebook group!