DIY Birdhouse Shelf Sitters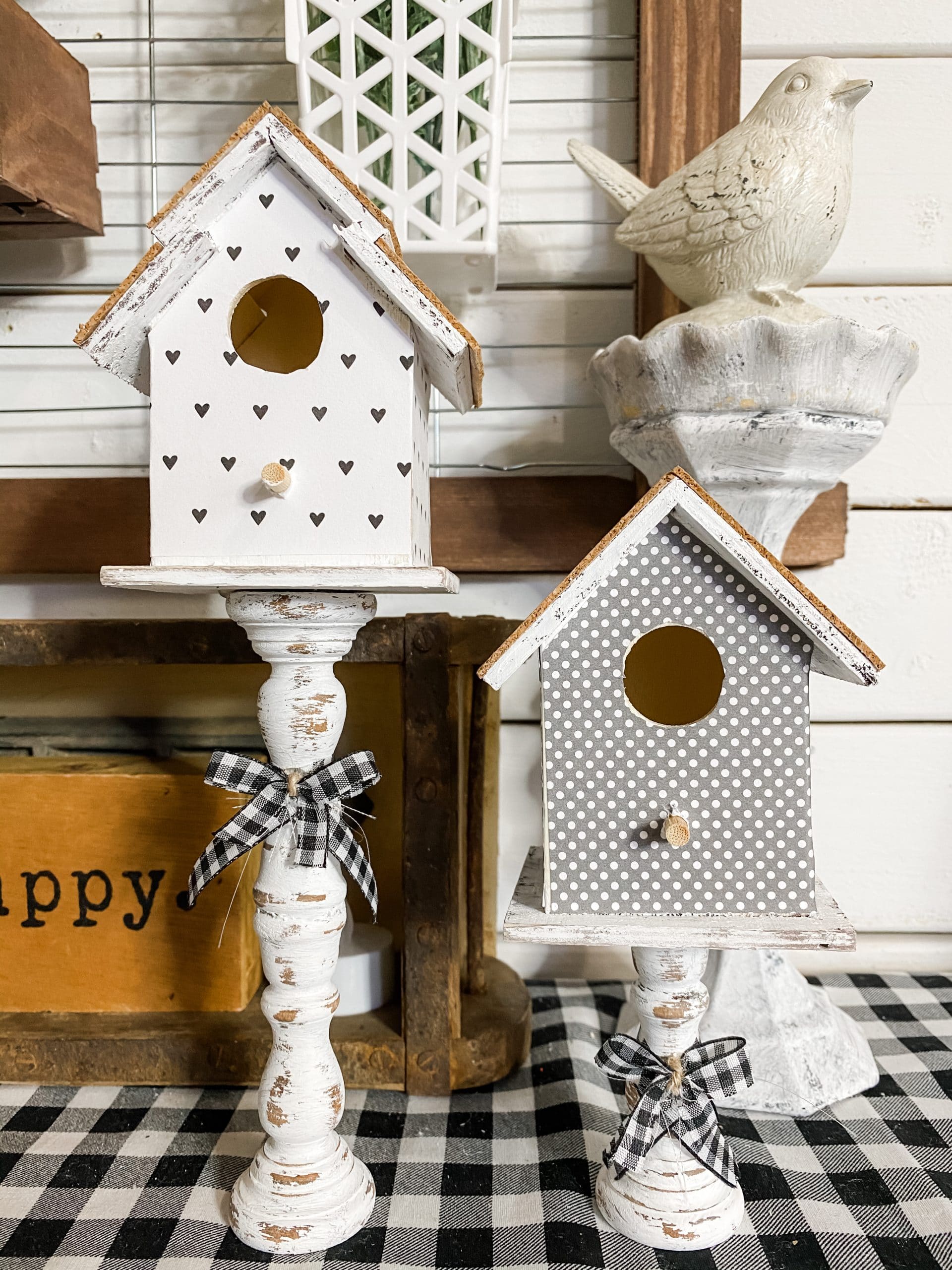 These DIY Birdhouse Shelf Sitters are the perfect affordable DIY decor to fill empty space on your shelf or table because they are so neutral!
No matter what style your home decor is, these easy birdhouse shelf sitters are just what you need!
More home decor inspiration
I recorded the how-to steps of this easy DIY project during a LIVE video on my Facebook page.
If you want to see the process, craft along, or just join in on the fun conversations, you can watch the DIY tutorial replay!
WATCH THE DIY TUTORIAL REPLAY
For this project, I will be using these items but you can substitute where you want.
"As an Amazon Associate, I earn from qualifying purchases."
Dollar Tree Birdhouses (x2)
Dollar Tree Adhesive Corkboard
Grey Pin Dot Scrapbook Paper
Dollar Tree Wooden Candle Holders (x3)
Small Grey Heart Scrapbook Paper
Buffalo Check Ribbon
Apple Barrel Burnt Umber Acrylic Paint
Folkart White Chalk Paint
Wax Paper
Mod Podge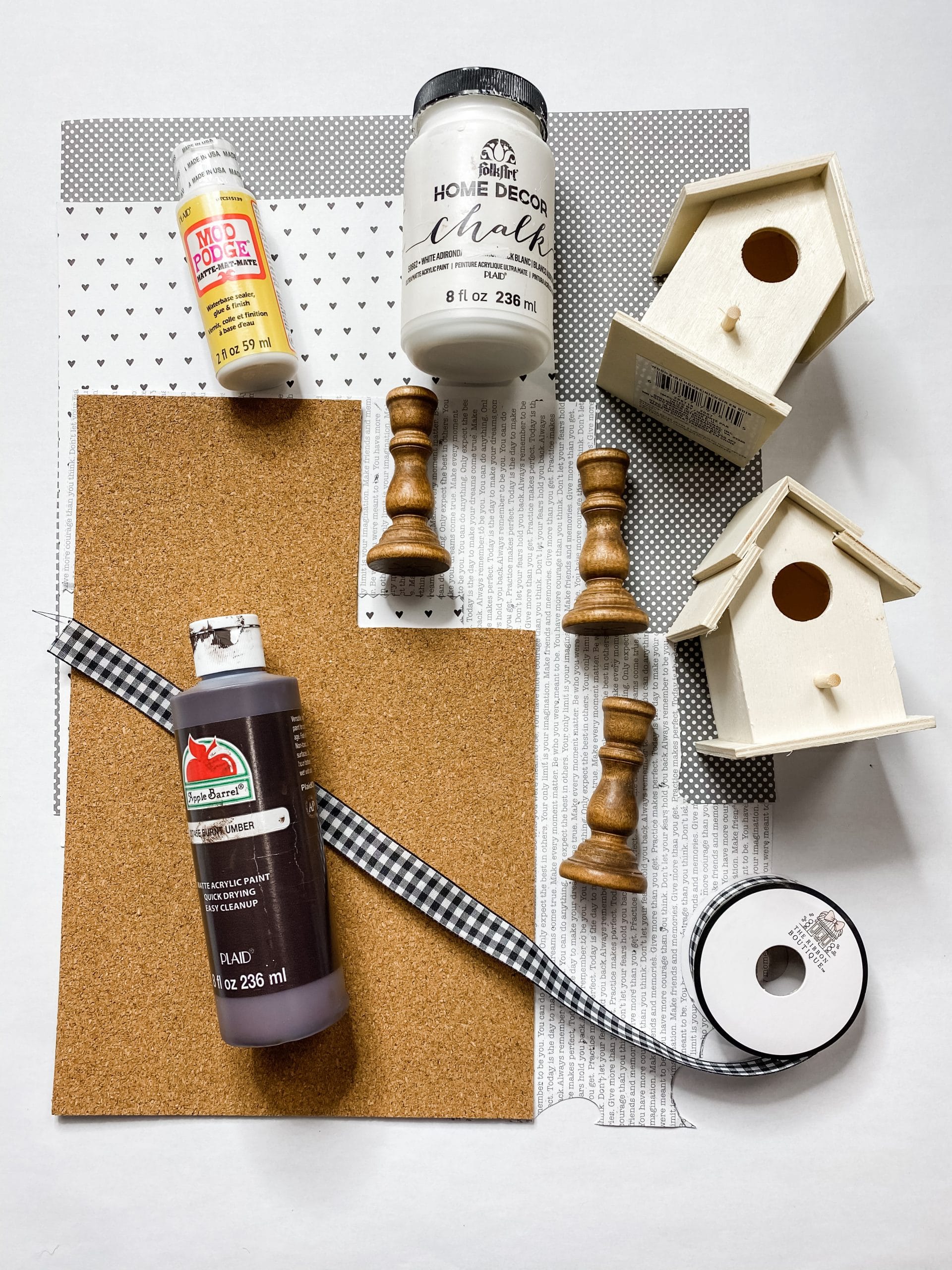 How to Make DIY Birdhouse Shelf Sitters
Start by painting the bottom of the roof and the base of each of the Dollar Tree birdhouses with brown paint. I used Apple Barrel Burnt Umber Acrylic Paint because it is so affordable and great quality for DIY projects!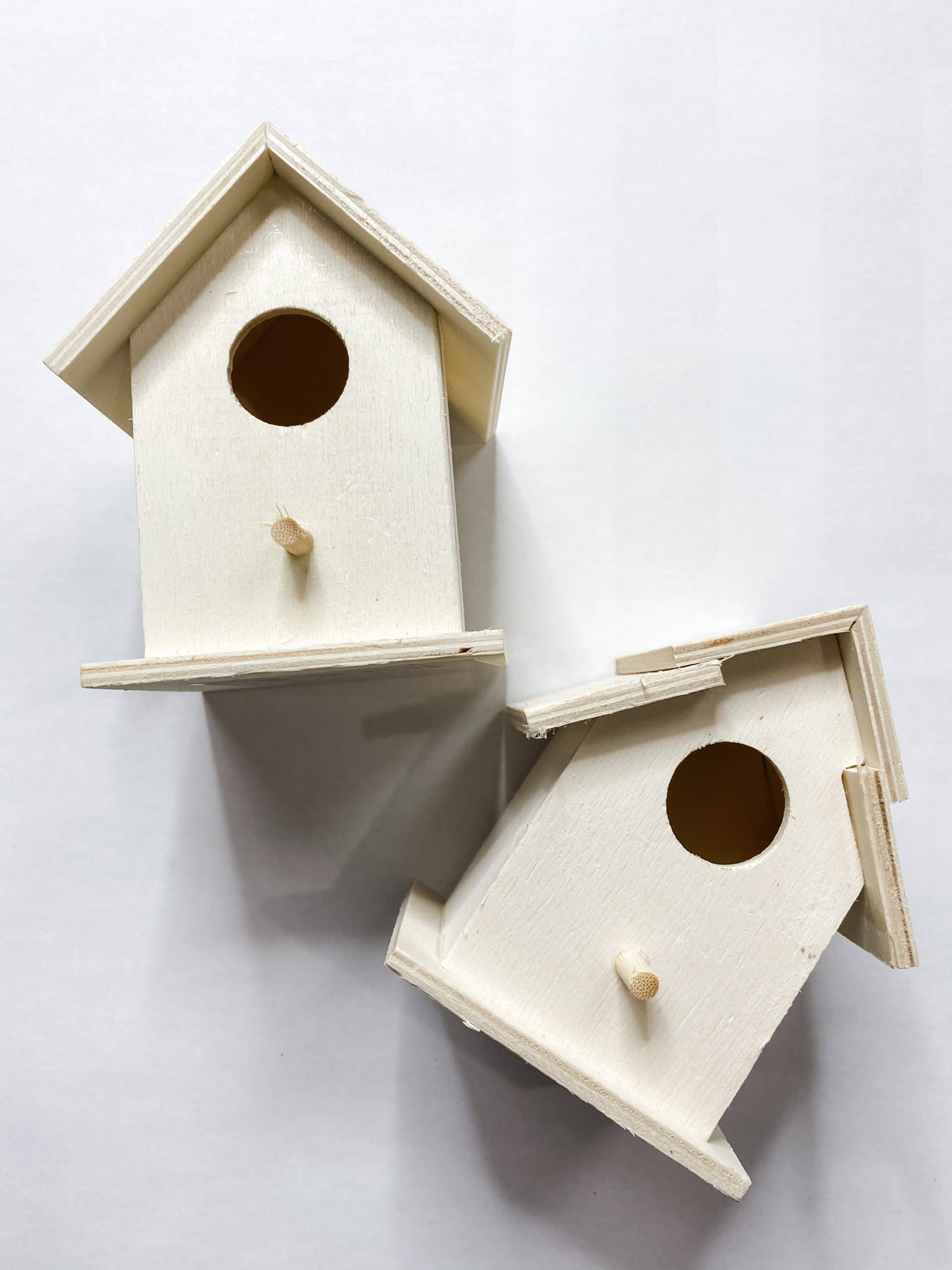 Allow the brown paint to completely dry (I used my heat gun to speed up the drying process), then paint over the brown paint with white.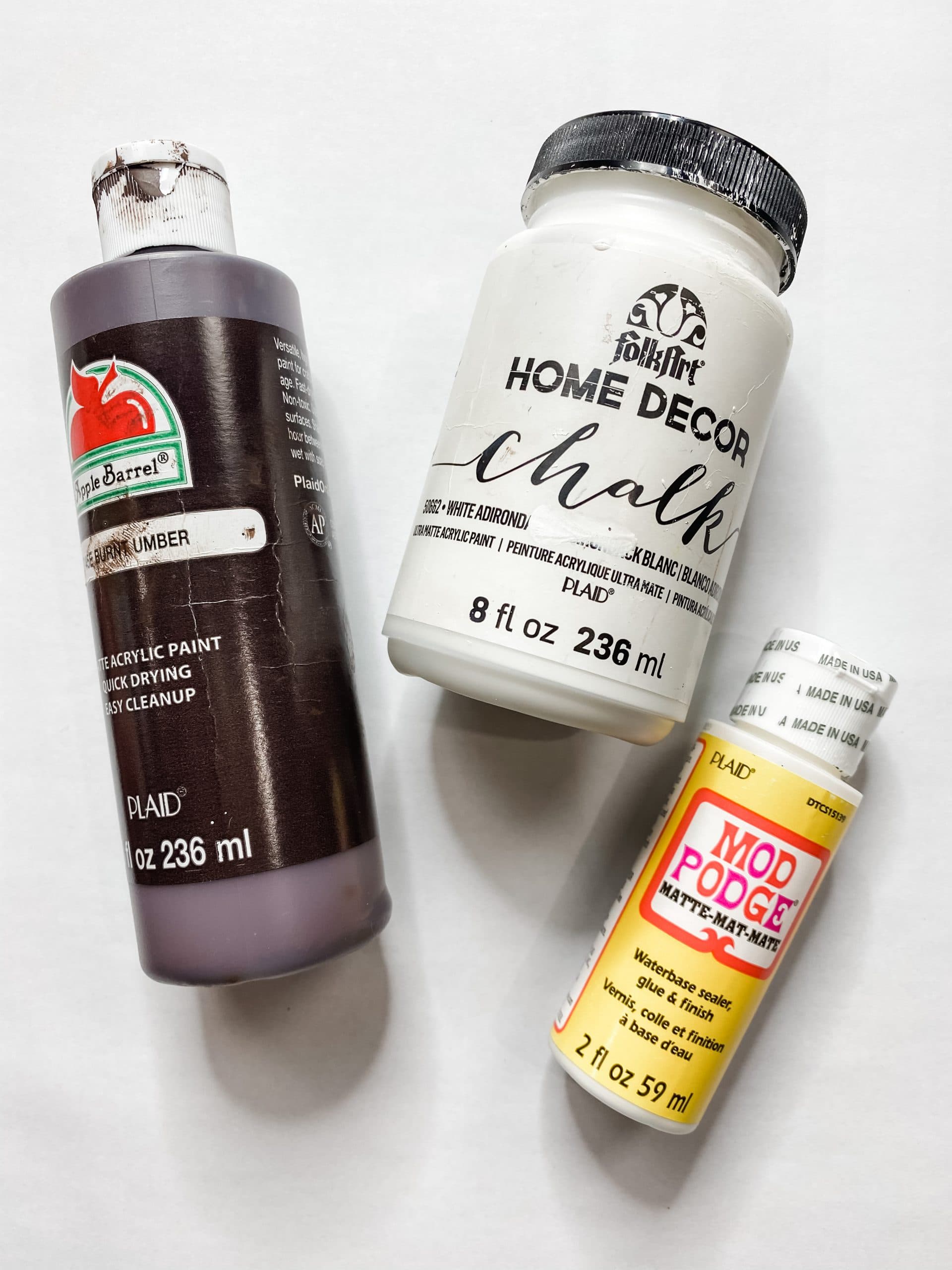 If you keep a light hand and allow the brown paint to show through in some areas on the birdhouses, you'll get an effortless distressed finish!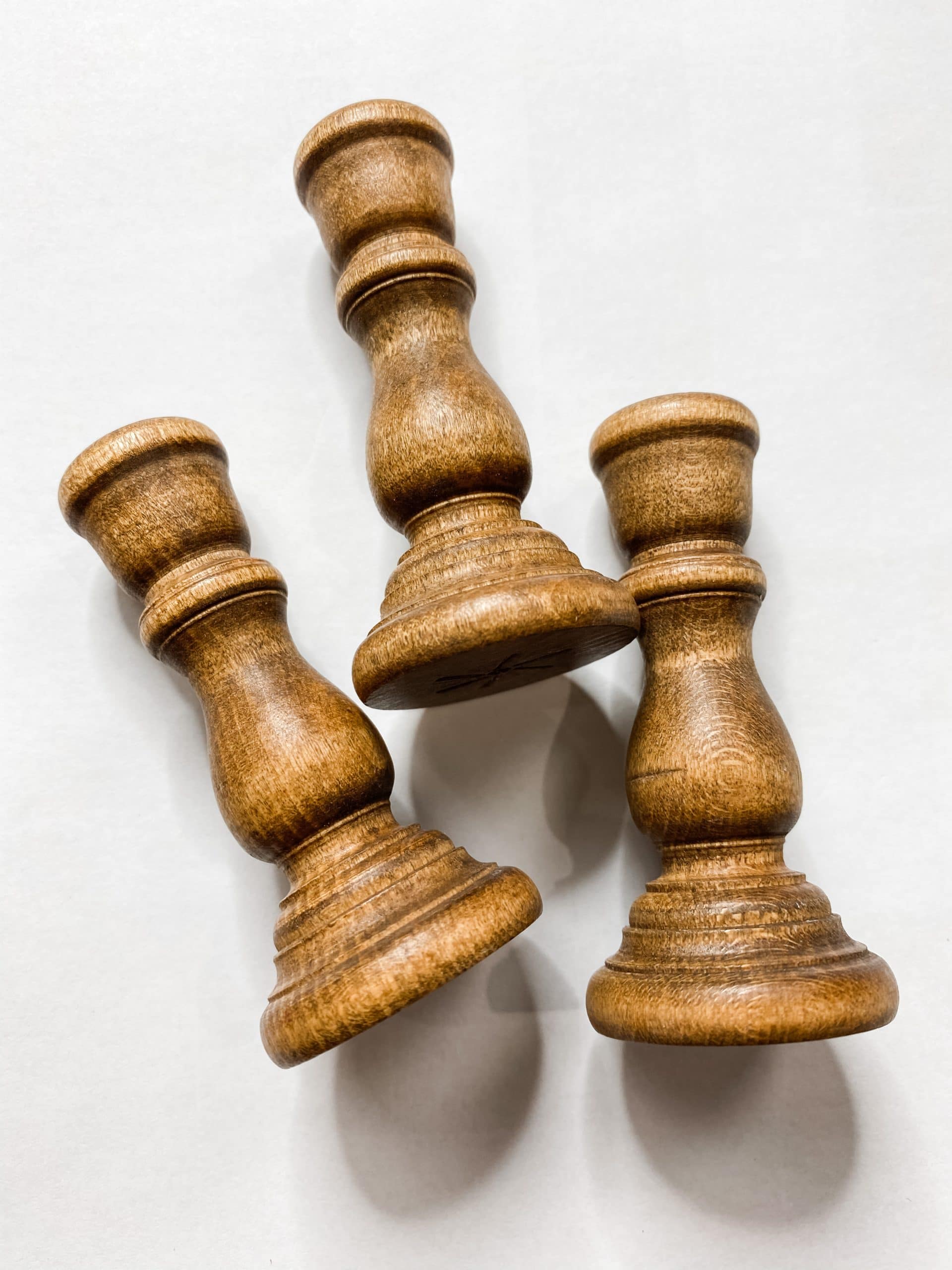 Next, I hot glued two of the wooden candle holders together to create one tall stand. I love doing this to help create a layered decor.
Let the glue dry, then paint all of the wooden candle holders white. I used Folkart White Chalk Paint for this, but you can use Apple Barrel paint for this too.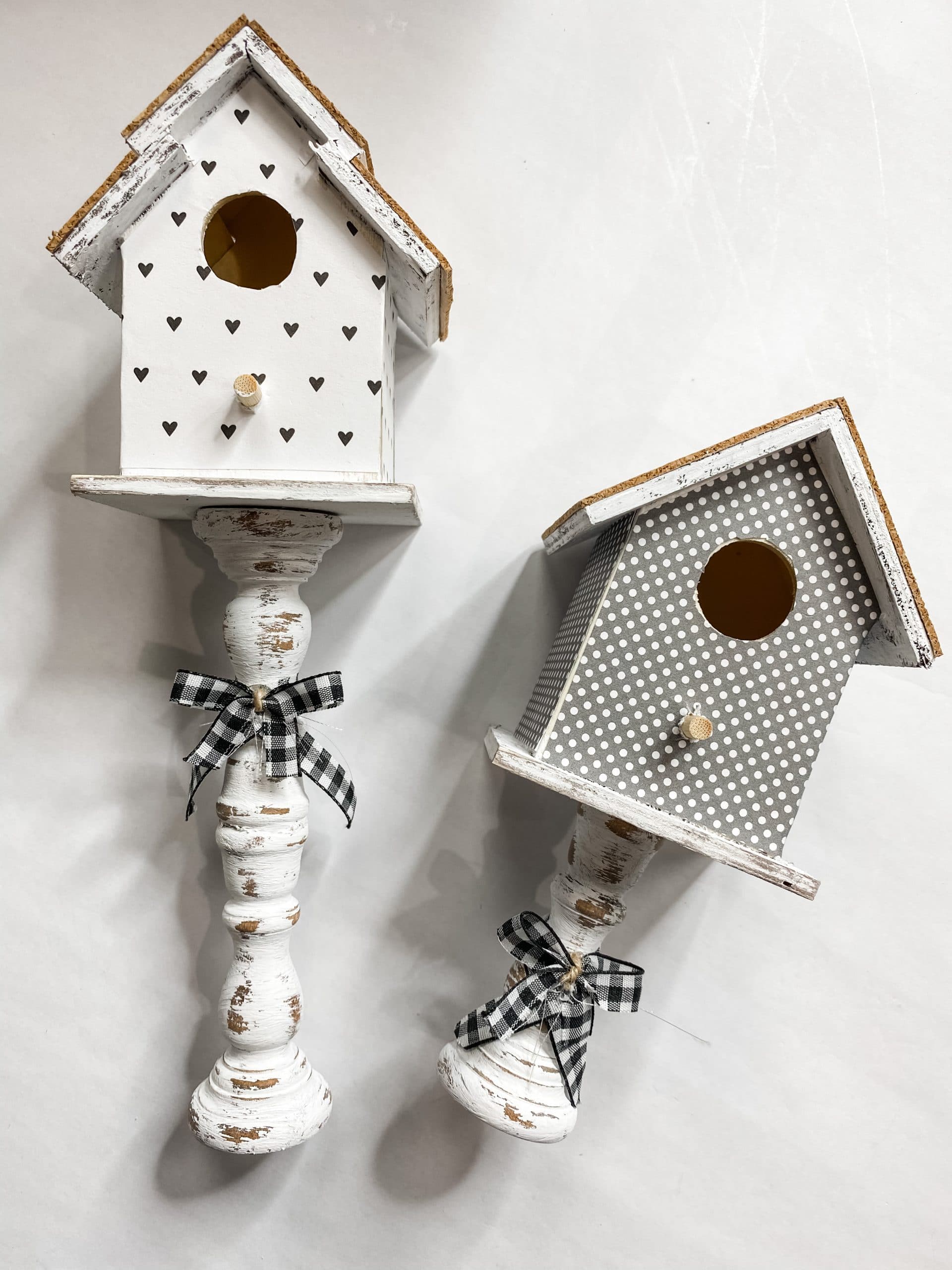 Once the paint dries, you can go over the wooden candle holders with a sanding sponge and lightly distressed them.
Trace out your birdhouse shapes
To make sure that you cut the scrapbook paper pieces the correct size, place a piece of wax paper on the birdhouse and trace out the shape of each side you're going to decoupage.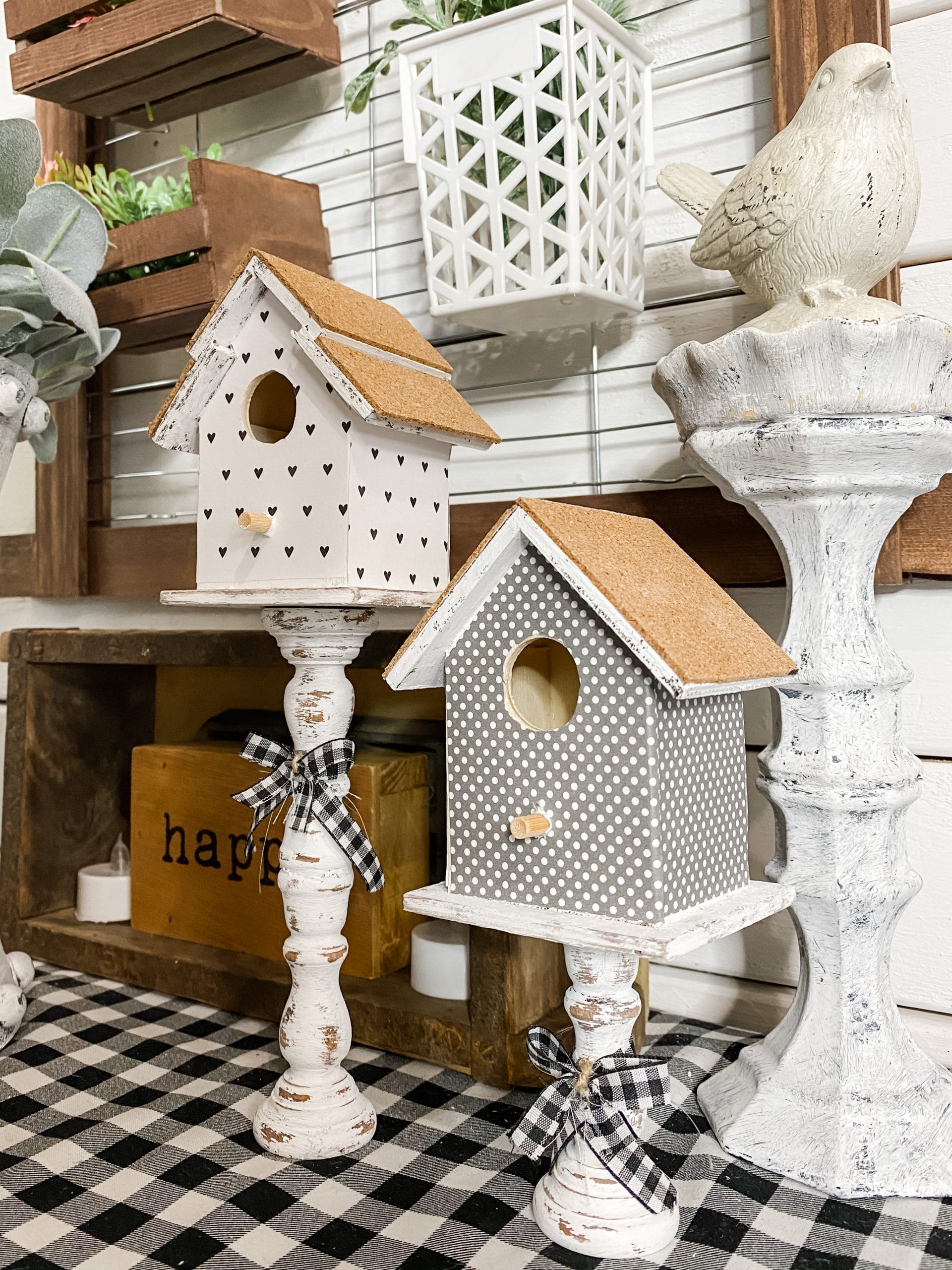 Then, you can cut out that shape and trace it onto the scrapbook paper pattern of choice, and cut the scrapbook paper to the perfect size!
Once you have the scrapbook paper cut out to the correct size, apply a coat of Mod Podge to the surface of the birdhouse and press the paper onto the birdhouse.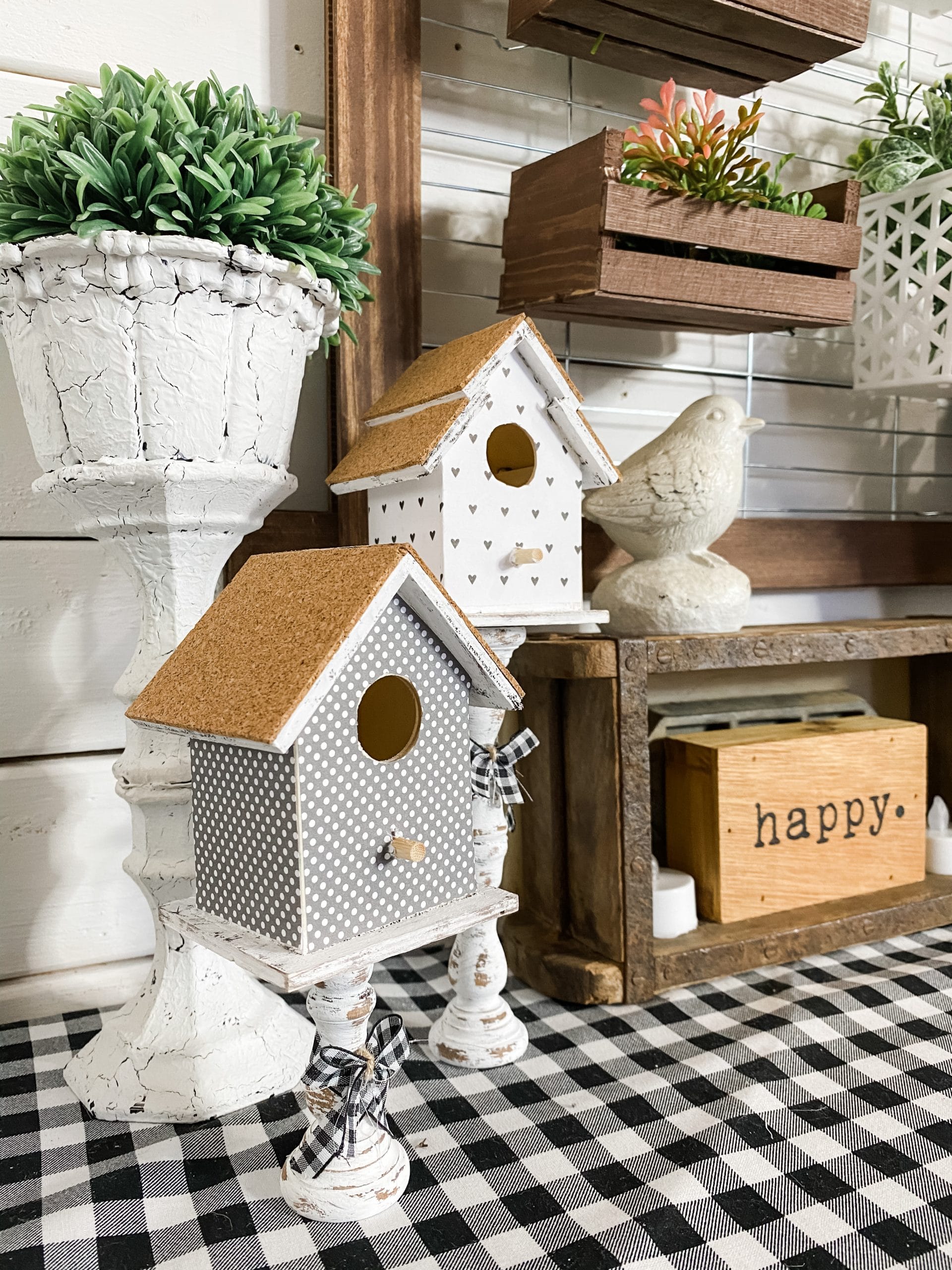 You can use your finger or ball up some plastic saran wrap to smooth out any wrinkles or bubbles that formed in the scrapbook paper.
For the first birdhouse, I decoupaged the scrapbook paper with small grey hearts to the sides of the birdhouse and used adhesive corkboard for its roof.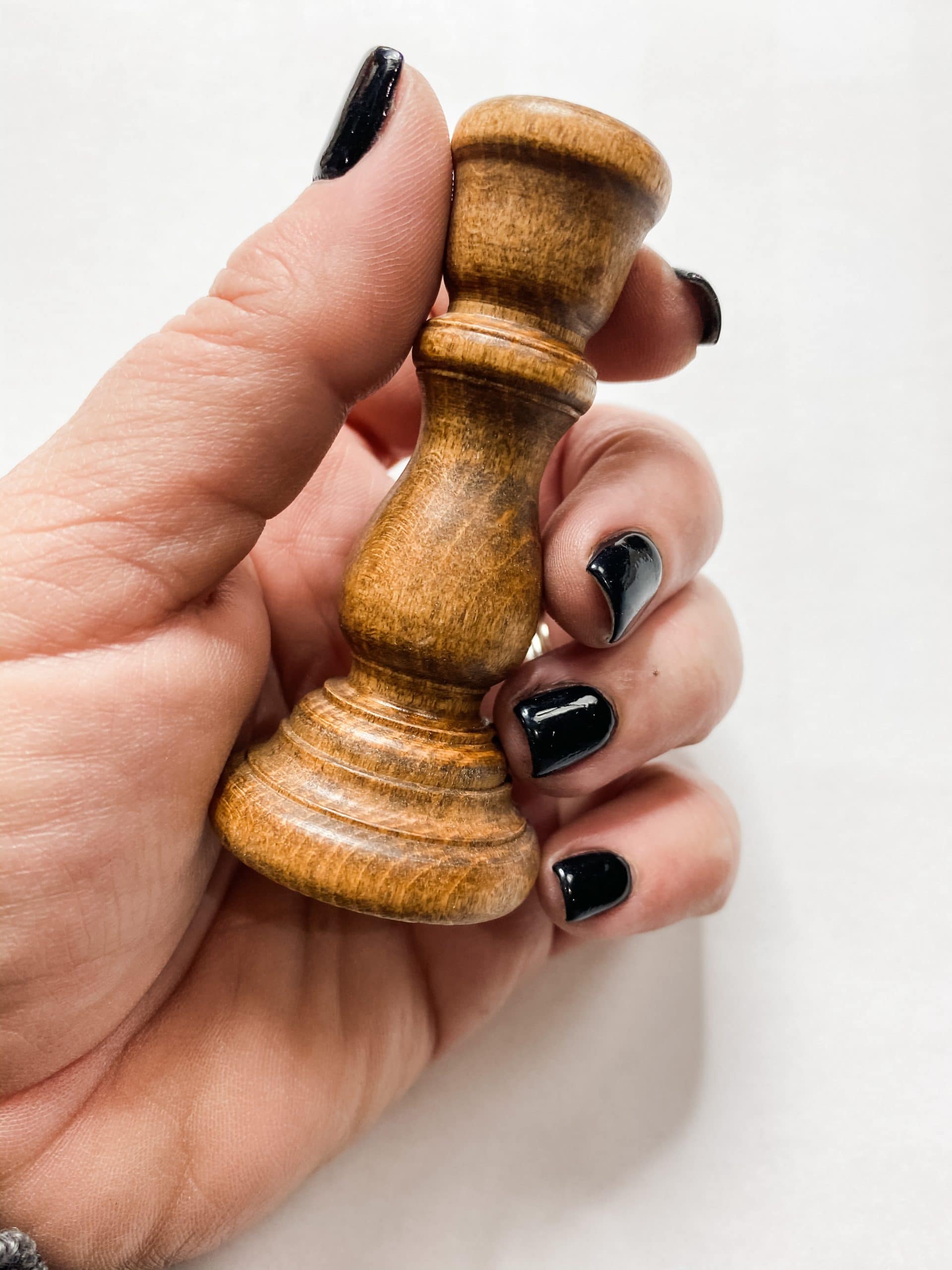 For the second birdhouse, I decoupaged the sides with the grey pin dot scrapbook paper and used the adhesive corkboard for its roof.
Once your birdhouse is decoupaged and the candle holders are painted, go ahead and hot glue them together. Make sure your candle holder is as centered on the bottom of the birdhouse as you can get it.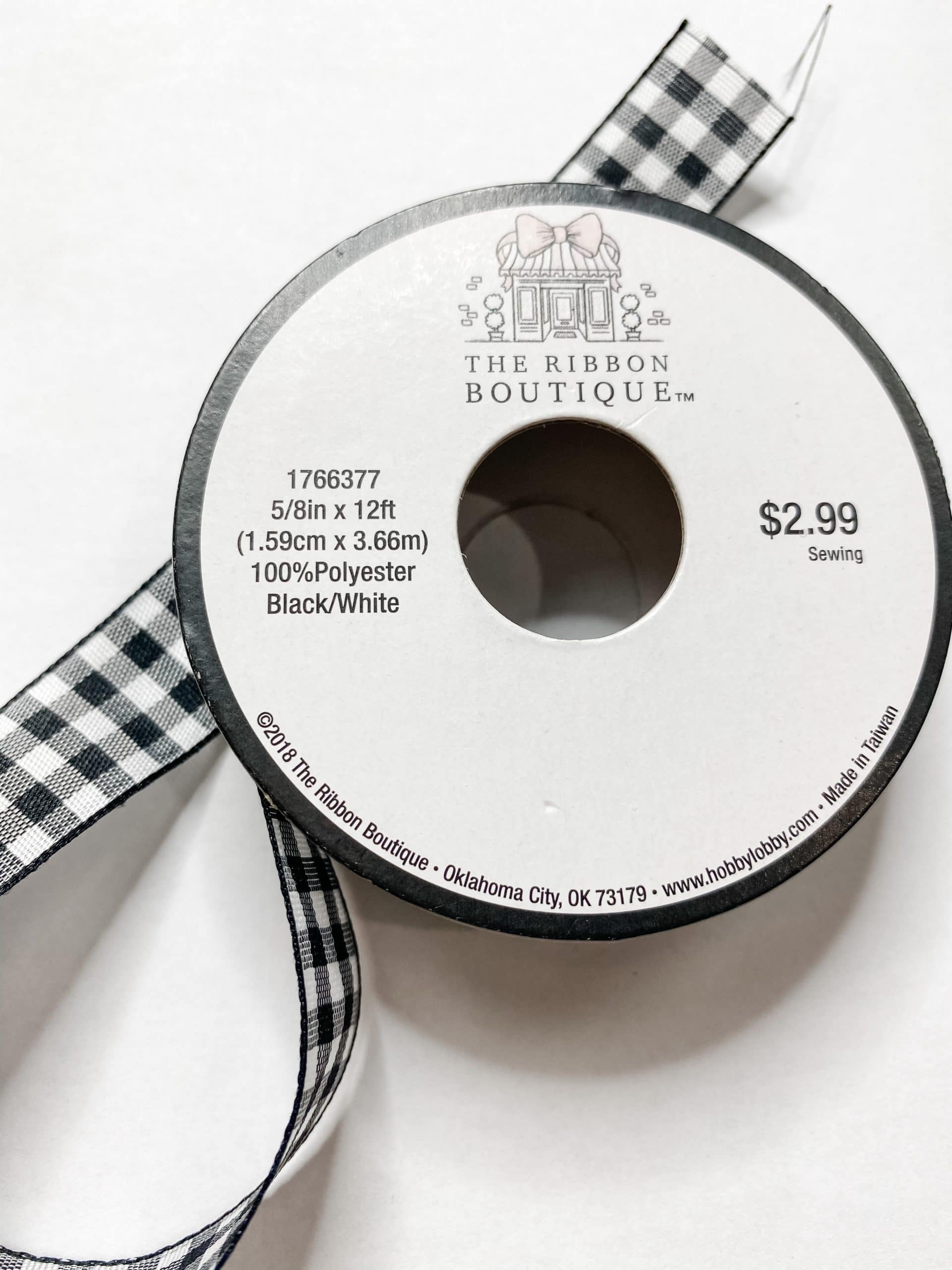 Finally, wrap a piece of the buffalo check ribbon around the wooden candle holders and tie the ribbon in a small little bow!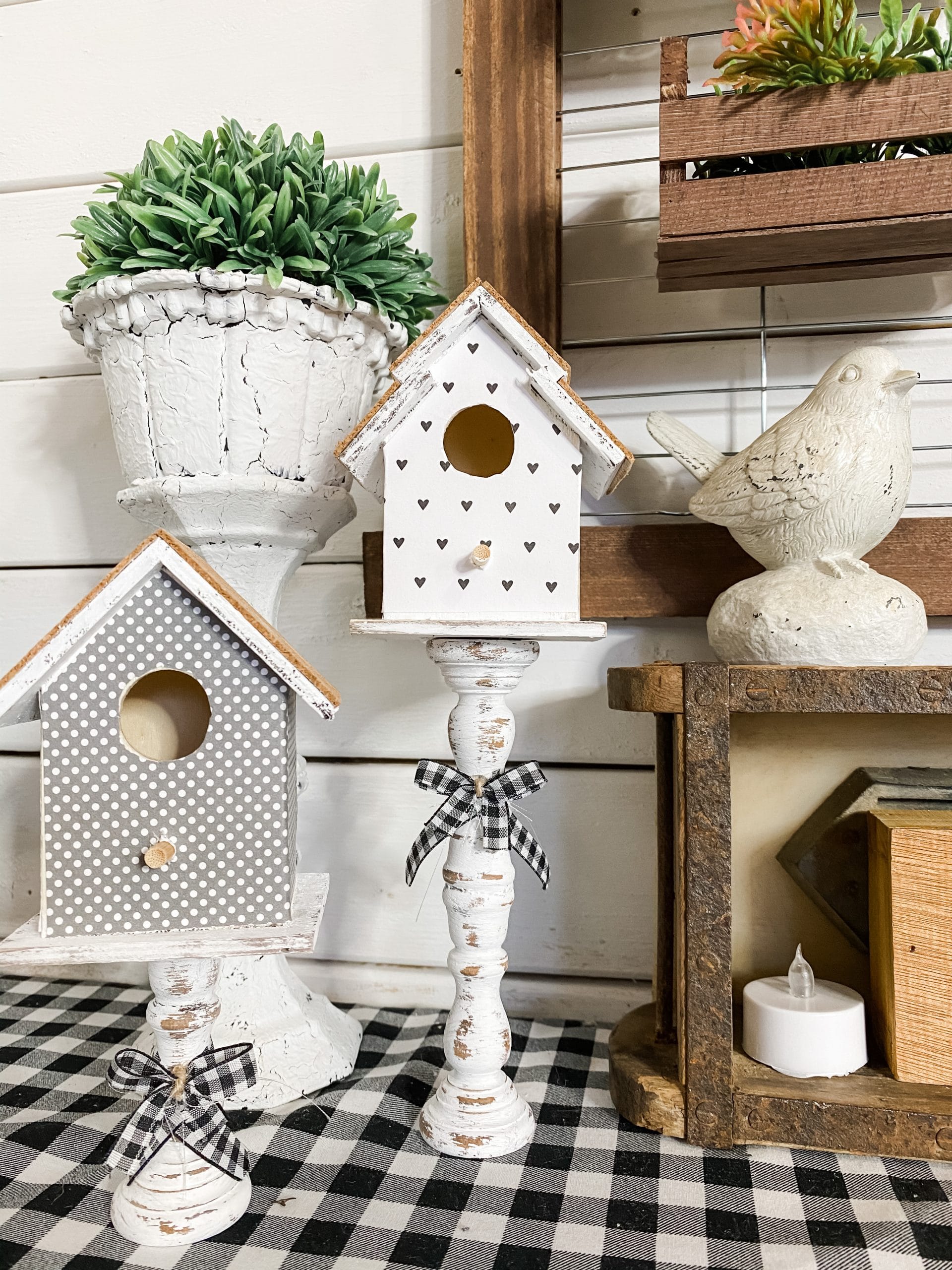 I hope you enjoyed this DIY Birdhouse Shelf Sitters as much as I did and decide to make it for yourself! If you do, I would love to see how yours turns out!
You should totally join my FREE Facebook group called On A Budget Crafts! It is a judgment-free community for DIY crafters to show off their projects and ideas.
Thanks for stopping by! XOXO Amber
You can also shop my ENTIRE AMAZON Favorites shop just click here! It's packed full of all the things I use and love. Here is the supply list I highly recommend every creative have on hand!!
Would you also pin my blog for later and get on my newsletter alerts? I would love to have you join my #craftycrew.
Inspired? Leave me a comment below! I love hearing from my readers!

Join my free "ON A BUDGET CRAFTS" Facebook group!