Best Dollar Tree Valentine's Day Craft Supplies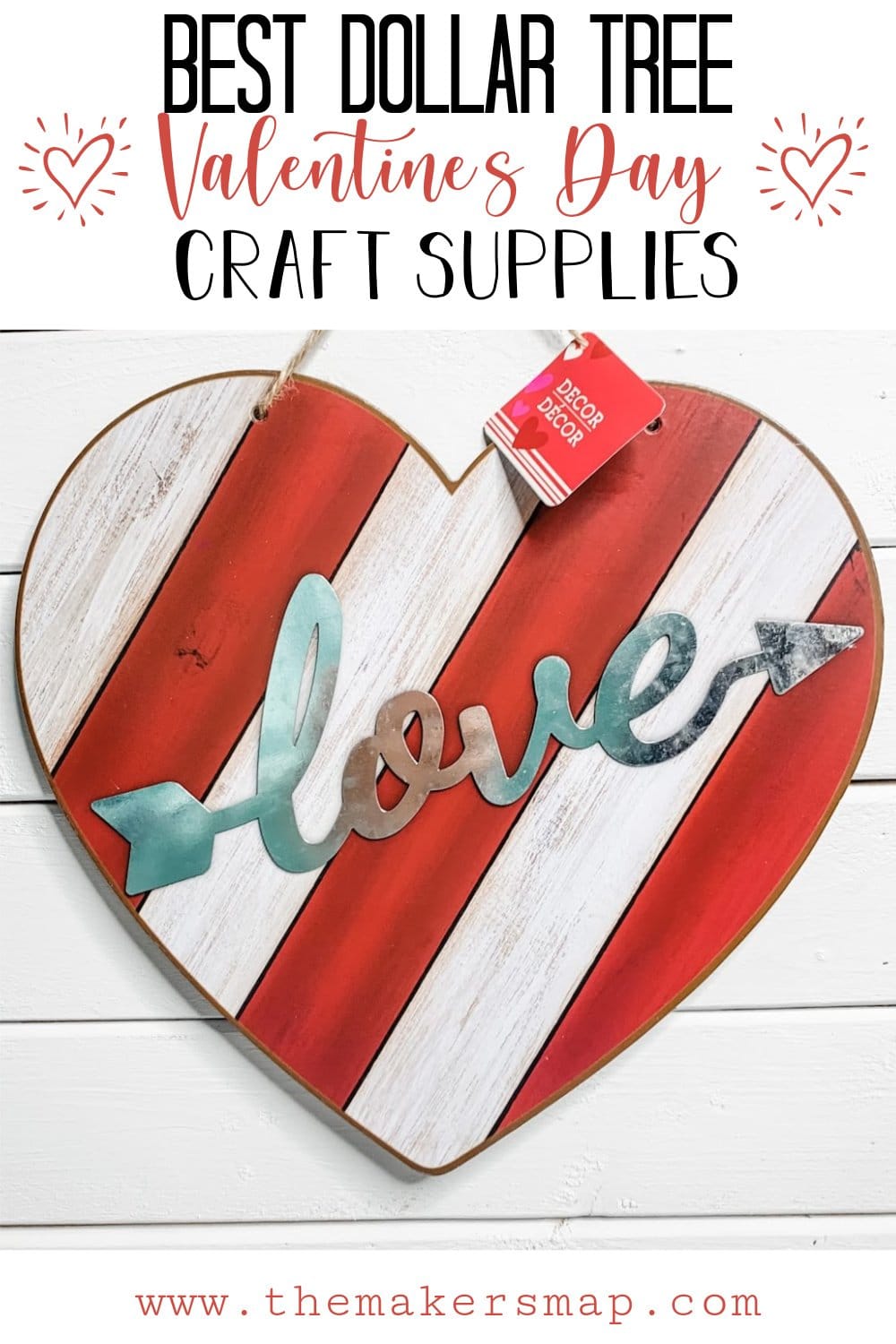 I want to share with you the Best Dollar Tree Valentine's Day Craft Supplies that I found at my local Dollar Tree for 2021!
Every DIYer knows how important it is to have a good craft stash. As the seasons change, and holidays come and pass, we are always looking for the newest and best craft supplies for our craft stash.
Let's get to the goodies!
Alright, let's go one-by-one through the Best Dollar Tree Valentine's Day Craft Supplies I found at my local Dollar Tree! I'm going to tell you what the item is and some of my ideas for how I can use them!
Of course, DIYing is all about creativity, so you can use these items in any way you want. If you have a DIY idea that I don't talk about, put it in the comments!
1. Felt Hearts
These Dollar Tree felt hearts are GREAT in Valentine's Day DIY projects because they add dimension and texture to your projects, and they come in different sizes!
A neat idea I have for these felt hearts is to thread either a ribbon, twine, rope, or yarn of some kind through the holes around the outer edges of the heart. I'm not quite sure exactly how I'm going to use these yet, but I am so happy I was able to add some to my craft stash!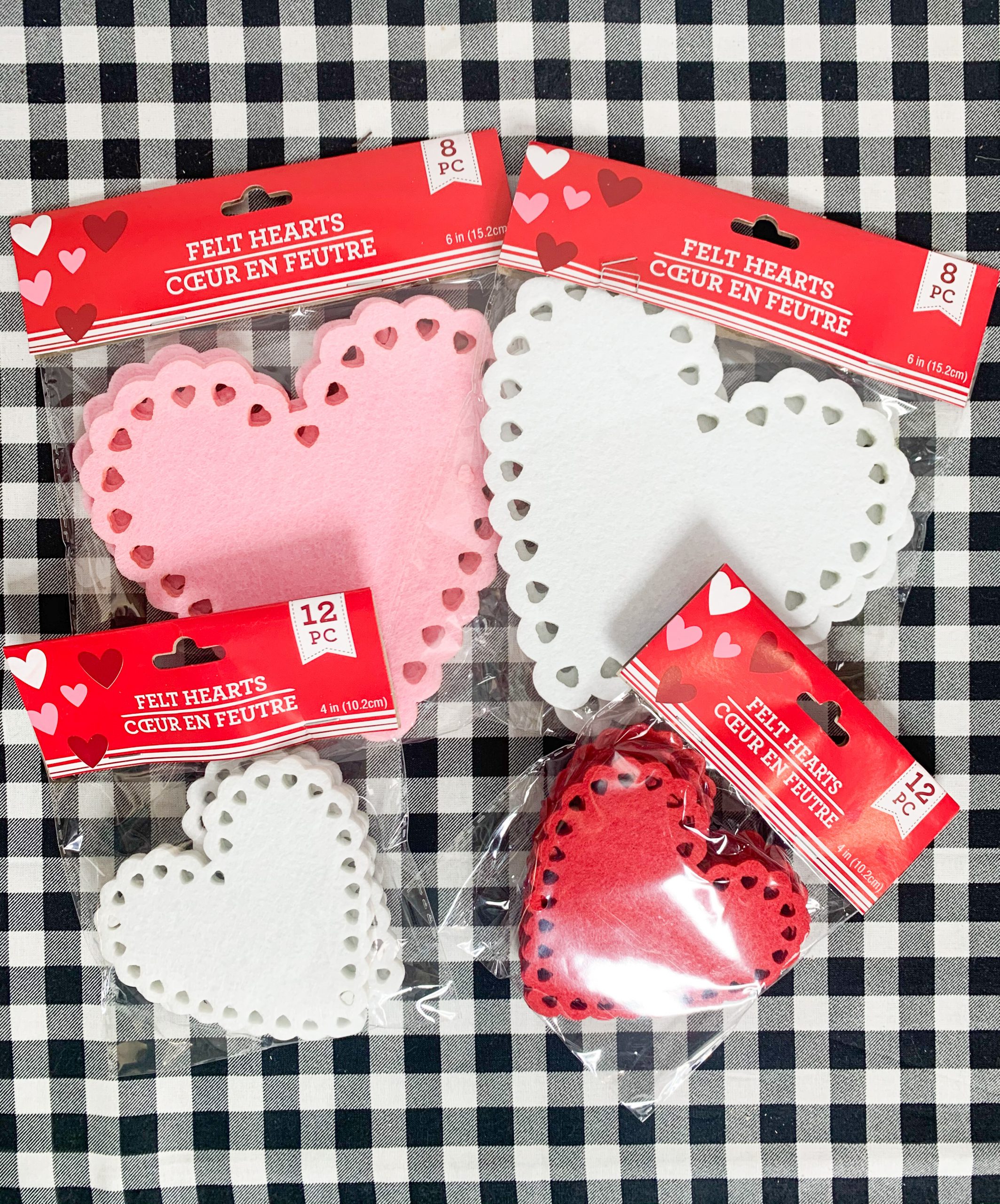 2. Love Each Moment Planked Sign
I am extremely excited that I was able to get my hands on this sign! I love the planks on this sign, and I can't wait to use this Valentine's Day sign in my projects.
A great thing about this Dollar Tree sign is that you don't have to use it for Valentine's Day! It is super cute as it is, but you could paint right over the design and use this for Spring, Easter, Thanksgiving, Christmas, or Everyday decor!
3. Foam Heart Wreath
Sometimes, I see a craft supply, and I immediately know what I'm going to make with it. This Dollar Tree foam heart wreath isn't one of those things. Even though I don't have a clear idea of what I'll use this for, I know there are a ton of possibilities!
You could add to this foam wreath and keep it as a wreath, or you could deconstruct it, and use individual hearts from it. It's up to you!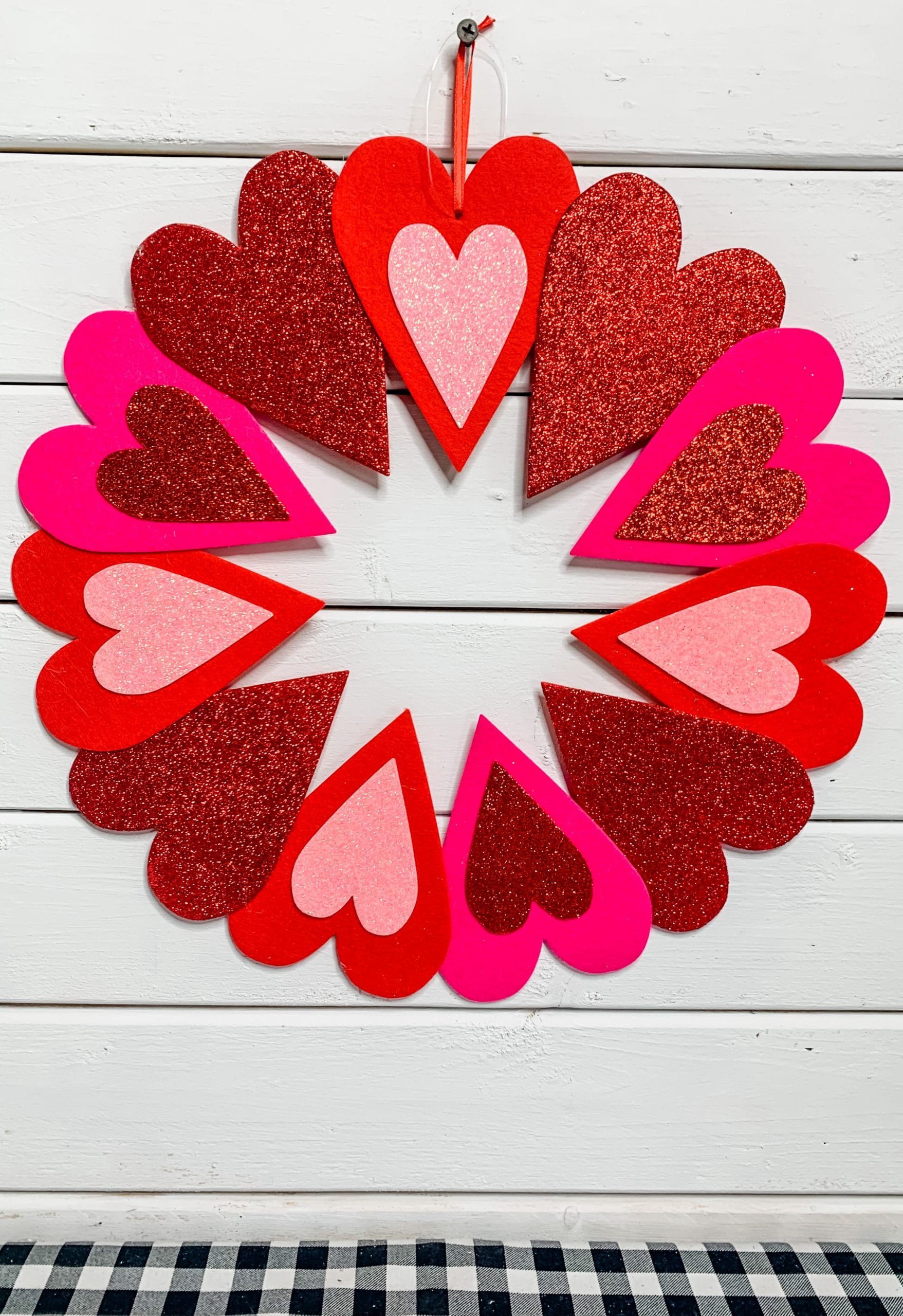 4. Heart and Arrow
I really love the arrow part of this Dollar Tree Valentine's Day item. I don't know how I feel about the actual heart portion, but I'm sure we can find a cute way to incorporate it into our crafts. What would you do with the heart?
The arrow could be pulled off and used in any DIY craft you have in mind! Don't let the glitter scare you, you can sand it down and paint over it.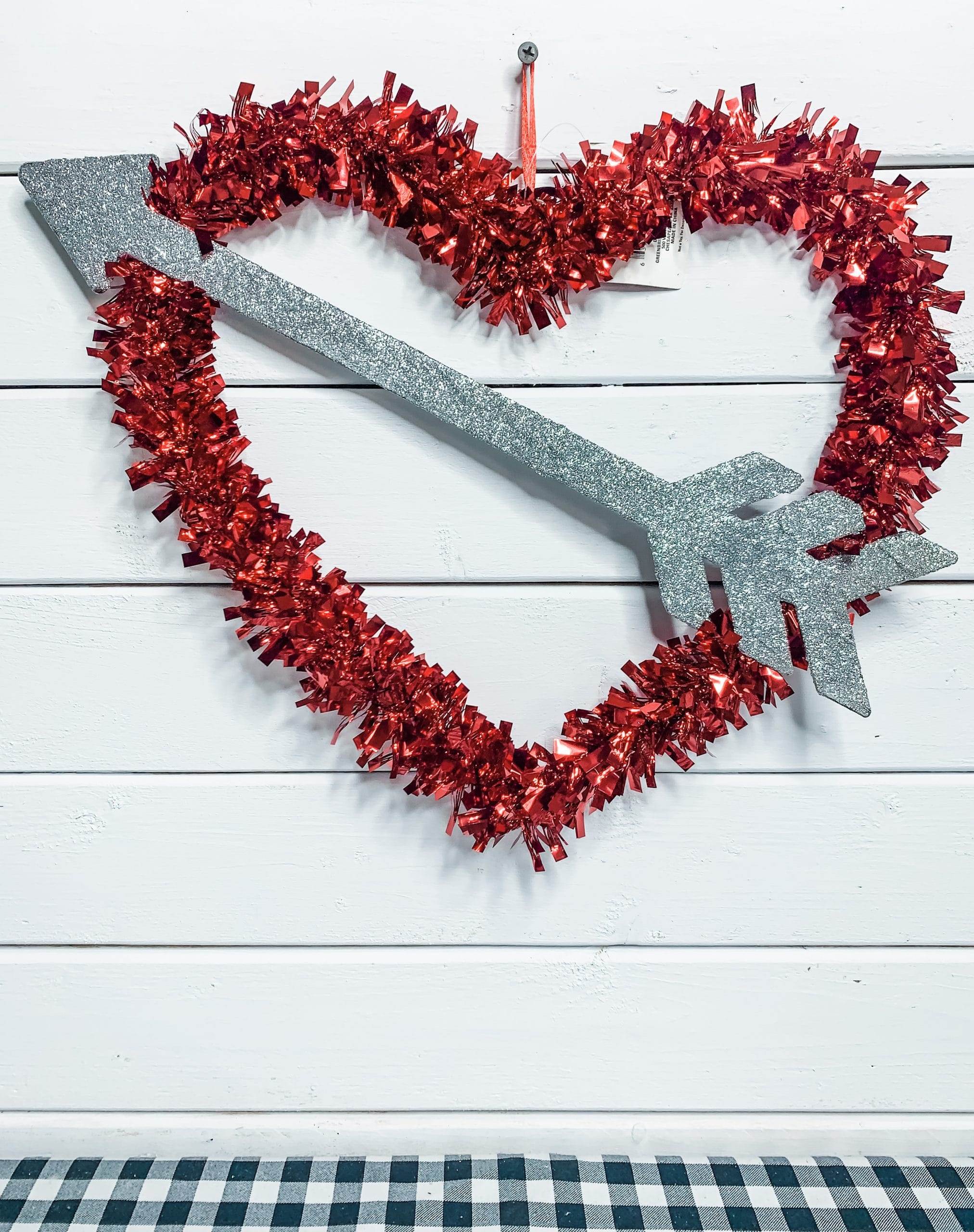 5. Valentine's Day Board Signs
I grouped these 3 different Dollar Tree Valentine's Day Board signs because they can all be used so similarly. When it comes to a surface board, it doesn't matter the design that is already on it, you can redecorate it and turn the board into decor for any holiday or season.
I love the hearts on the left and right signs because they are dimensional! There is a heart actually glued onto the sign, over the printed design. These can be removed and used on anything!
These Dollar Tree signs are so versatile and are absolutely must-haves in any craft stash.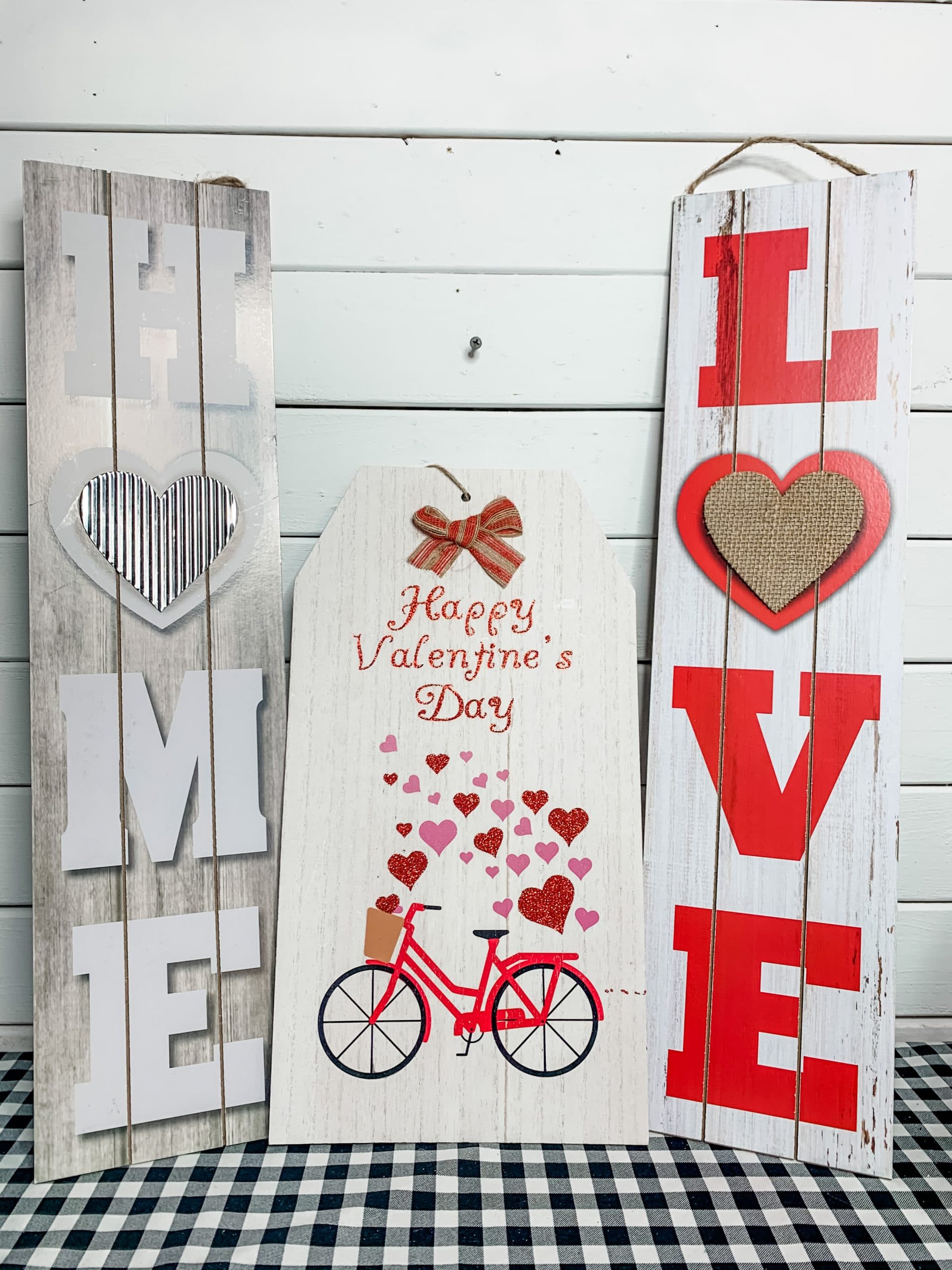 6. Wood letterings
These Dollar Tree wood letterings are GREAT DIY supplies! You can stain them, paint them, decoupage them, and more! Using these wood letterings in your DIY crafts is a great way to customize, get creative, and add dimension to your project. Here are a couple of ways you can use the wood word cutouts from Dollar Tree.
I made this super cute Love wall decor using the word cut out from Dollar Tree last year!
Even though one says Love and the other has a heart, you wouldn't have to use these for Valentine's Day. You could customize these Dollar Tree Crafter Square wood letterings to fit with any season!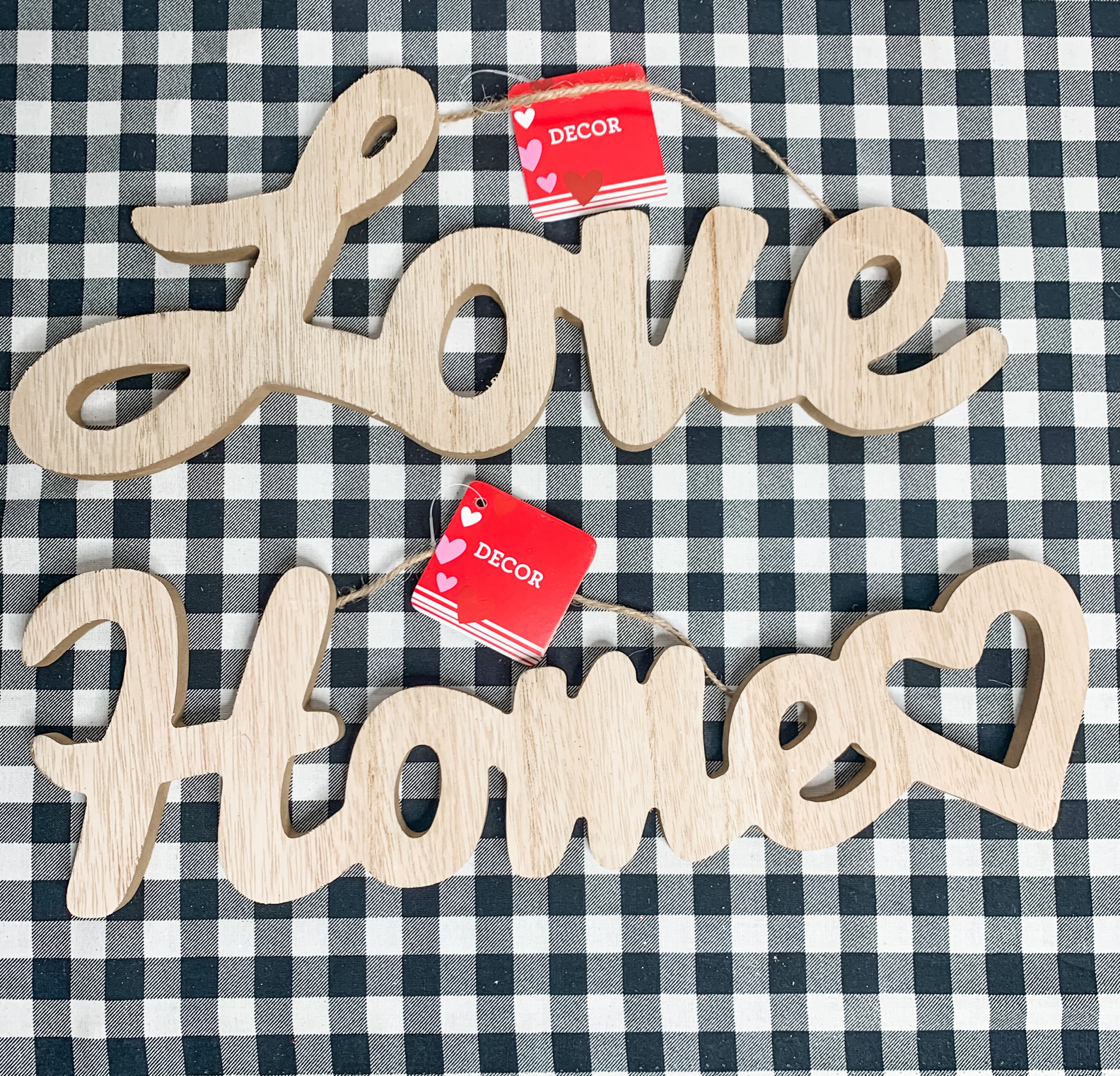 7. Small hanging hearts
These small Dollar Tree hanging hearts are in the same boat as the Dollar Tree Board signs and the Dollar Tree hanging connected hearts below. You can take these apart and paint, decoupage, layer, and more!
One thing I really like about these hanging hearts is the metal wire hanger. Most items that come with a hanger have either a ribbon or twine hanger. I am already churning up ideas of how to reuse the wire from these!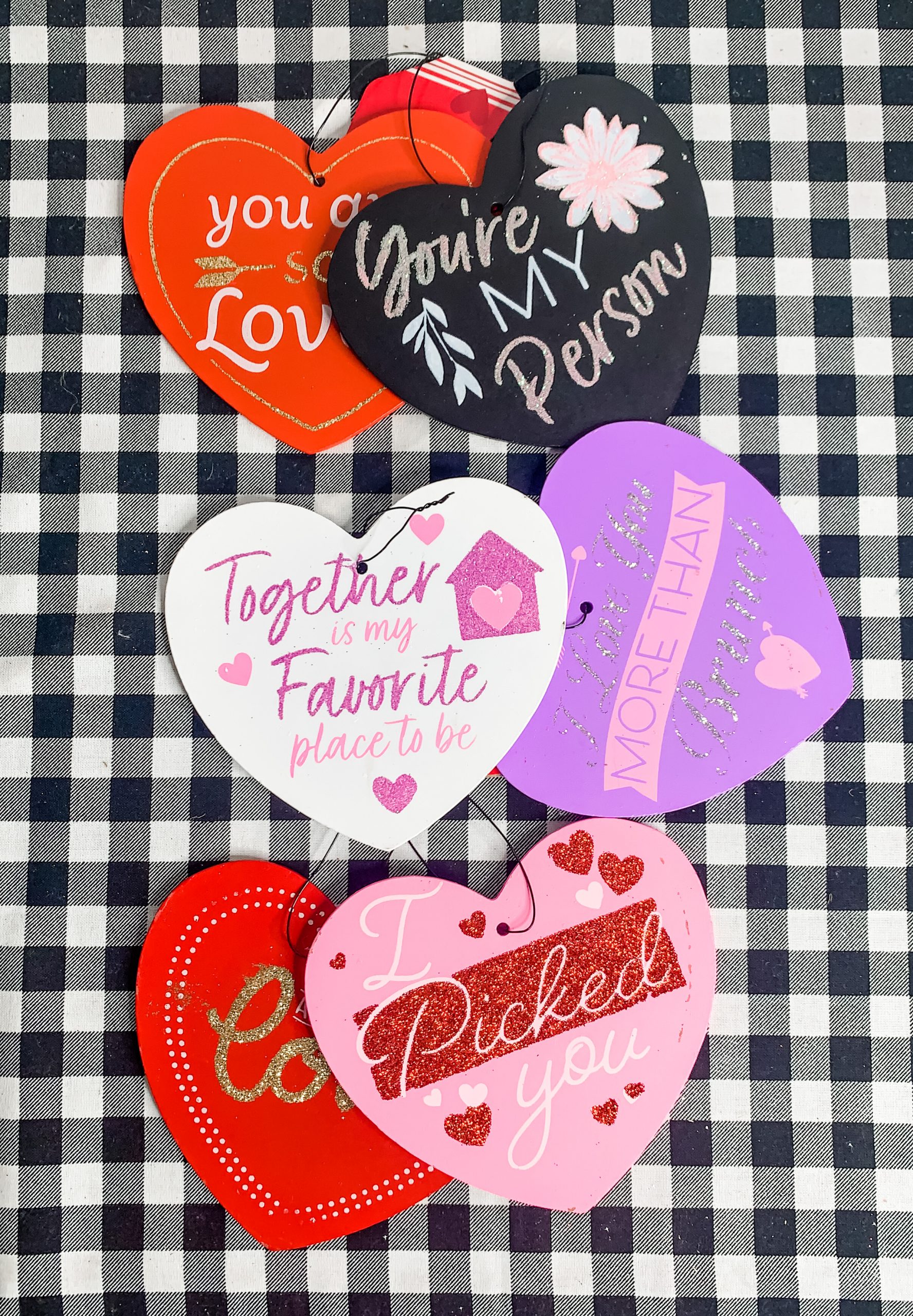 8. Hanging Connected Hearts
I mentioned these connected hearts just above and said how you could take them apart and use them so many different ways, but I also have some ideas that don't include taking them apart!
How cute would it be to decoupage different scrapbook papers on each heart, create a messy bow for the top one, and use some stickers to spell LOVE down the hanger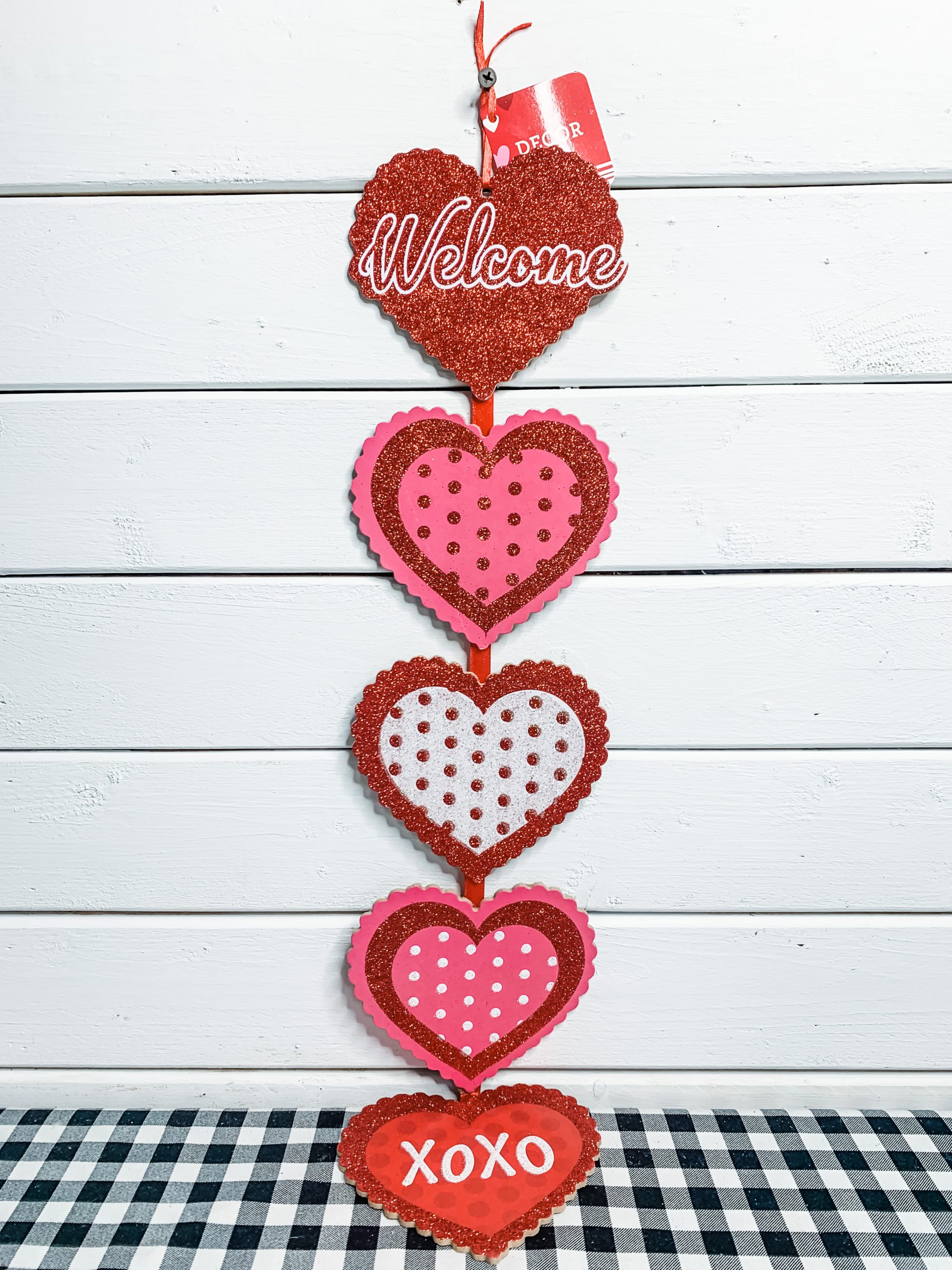 9. Heart Grapevine
Do you know what my brain does when I see these Dollar Tree heart grapevines?? "GARLAND! GARLAND!" How cute would it be to use some jute twine and make some adorable Valentine's Day DIY garland with these??
You could also paint these with white chalk paint, and get a cute, rustic look!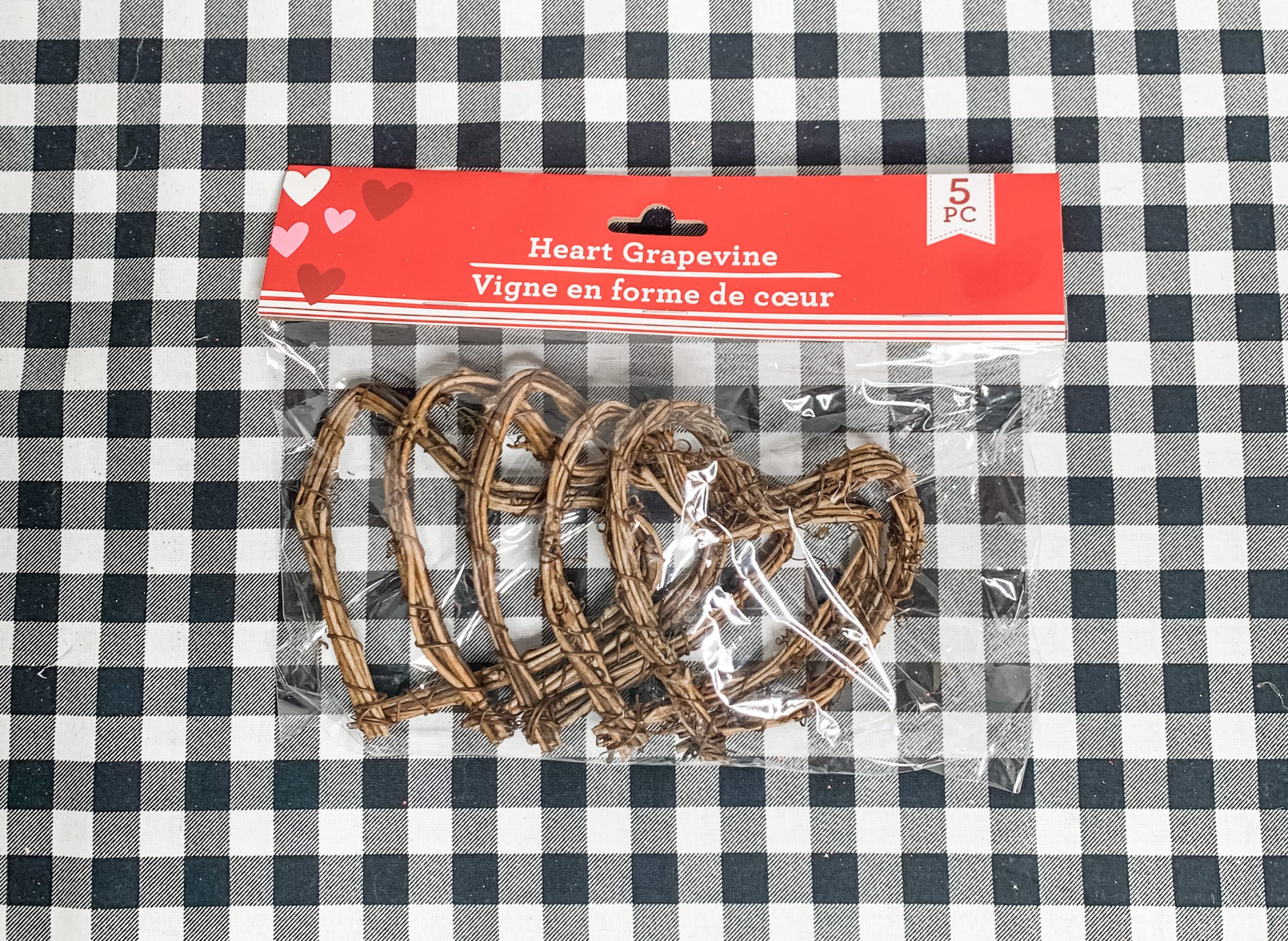 10. Mini Hearts
I just bought these, and I've already used them! They are great for embellishing your DIY projects and adding some extra sweet details.
If you want to see how I've already used these adorable Dollar Tree mini hearts, you should check out the DIY Home Decor with FREE Printable that I just made!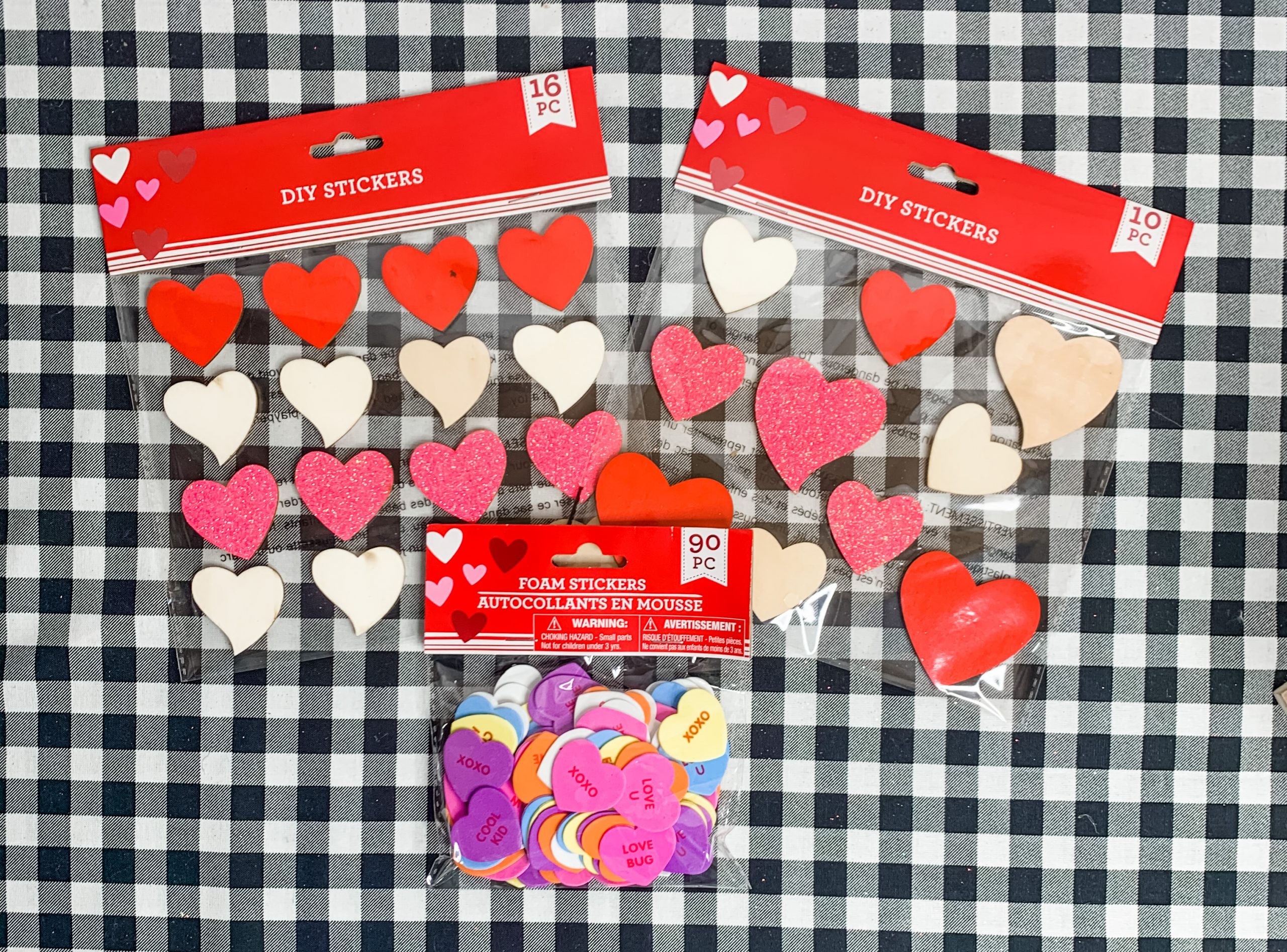 11. Felt and Burlap Sign
When it comes to this Dollar Tree felt and burlap Valentine's Day sign, I would probably just take this whole thing apart. Pull the hearts off the burlap, remove the burlap from the red felt backing, pull the raffia bows off the red checkered hearts, remove the buttons, and cut the words out of the burlap.
Really, just dissect the entire sign and use it for parts! I love getting DIY supplies like this one because I can stretch a one-dollar investment to make the most DIY projects possible.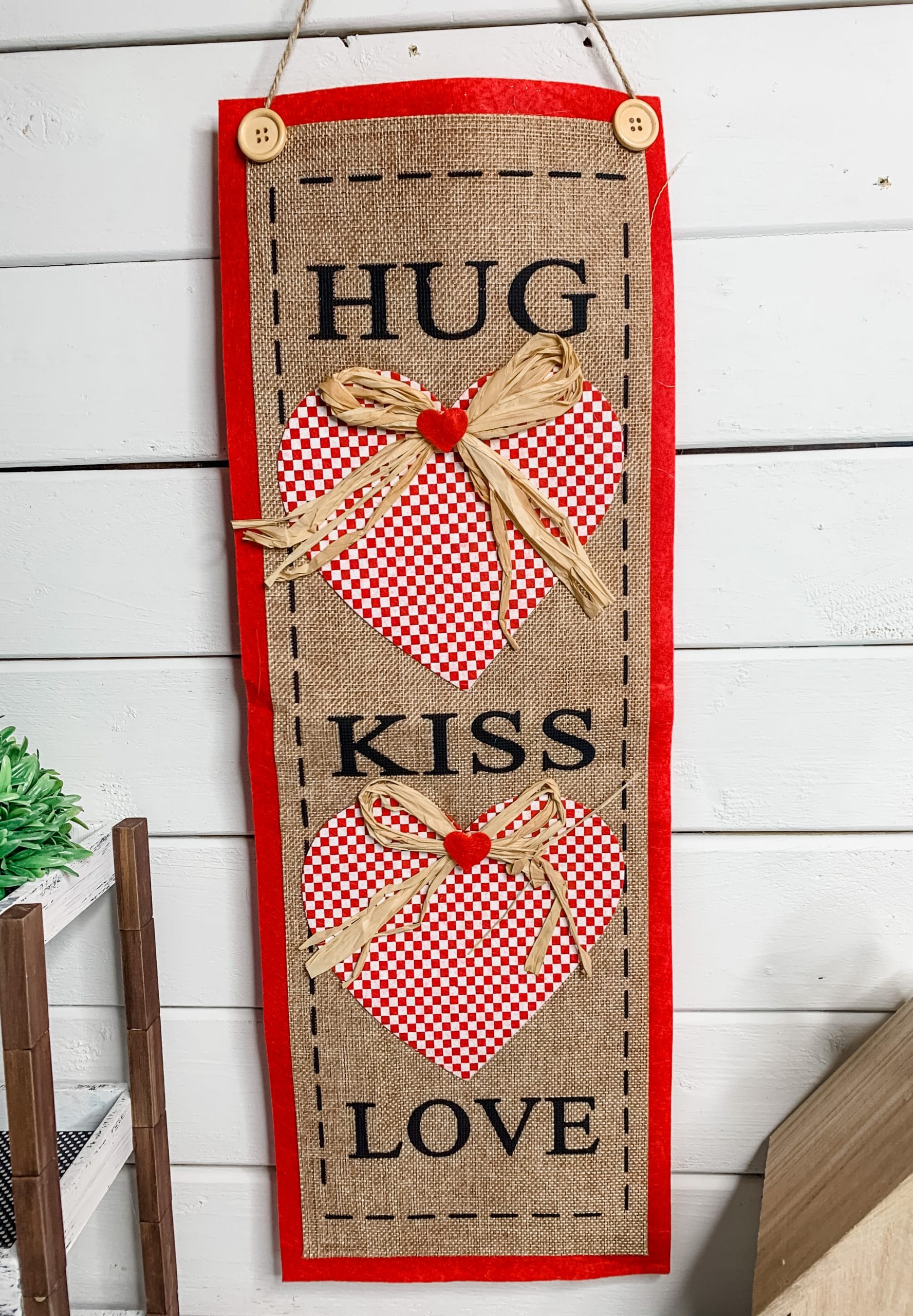 12. Wood heart Sign with Metal Love Arrow
I am in LOVE with this Dollar Tree heart sign with a metal love arrow! Wanna know why? It's pretty much 2 supplies for one. You can pull that metal arrow right off the heart and use them both separately!
I'm already thinking of ways to use this adorable Dollar Tree Valentine's supply, and I can't wait to show you how I do it! (We are halfway through the Best Dollar Tree Valentine's Day Craft Supplies I found at my local Dollar Tree!)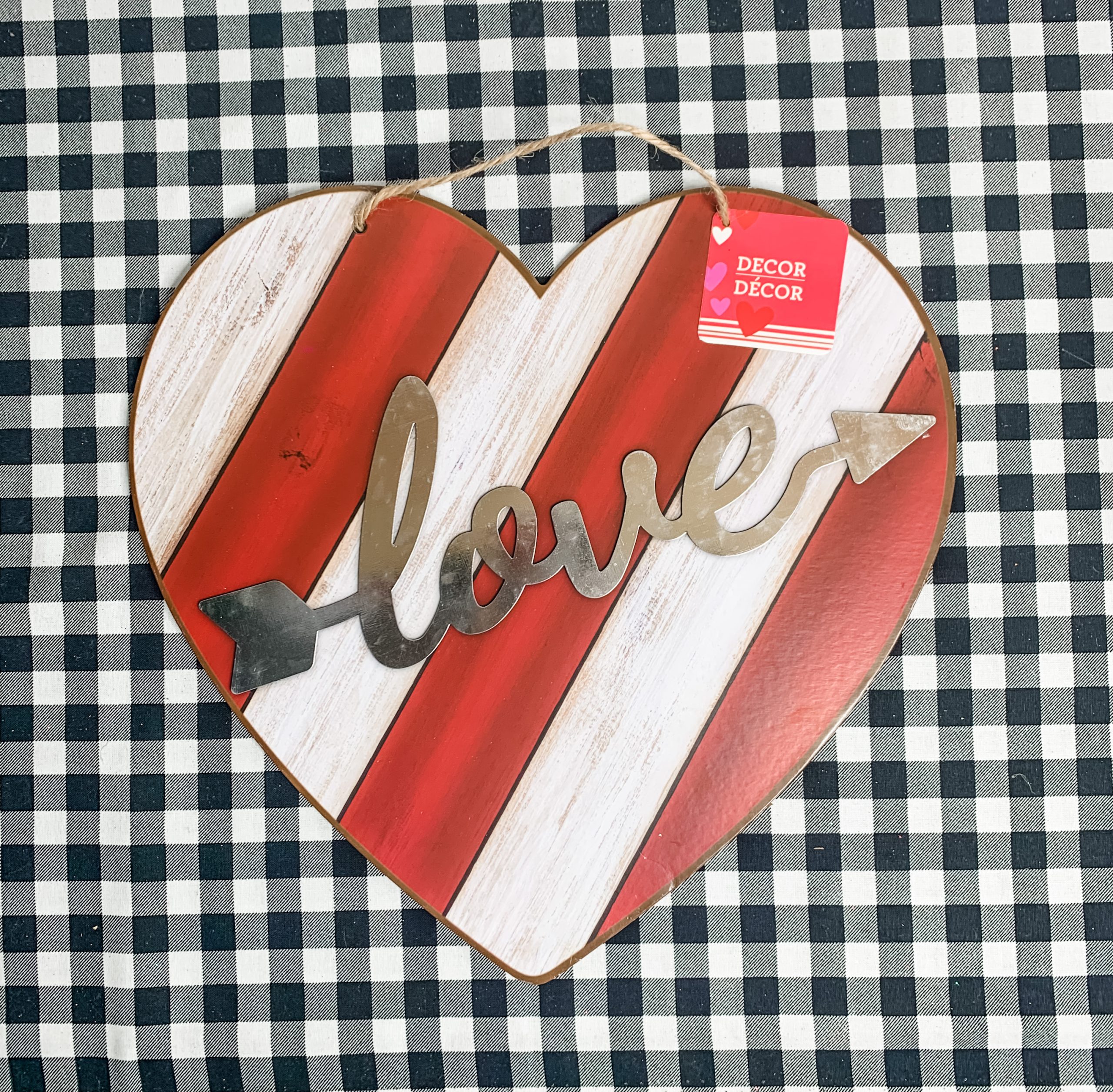 13. Small Thick Hearts
You can't really tell from the picture, but these Dollar Tree faux planked hearts are thicker than the typical Dollar Tree signs. These are another very versatile item that you can use in so many different ways.
Whether you paint it, decoupage it, or keep it as is, these thick hearts will add great dimension to your DIY projects!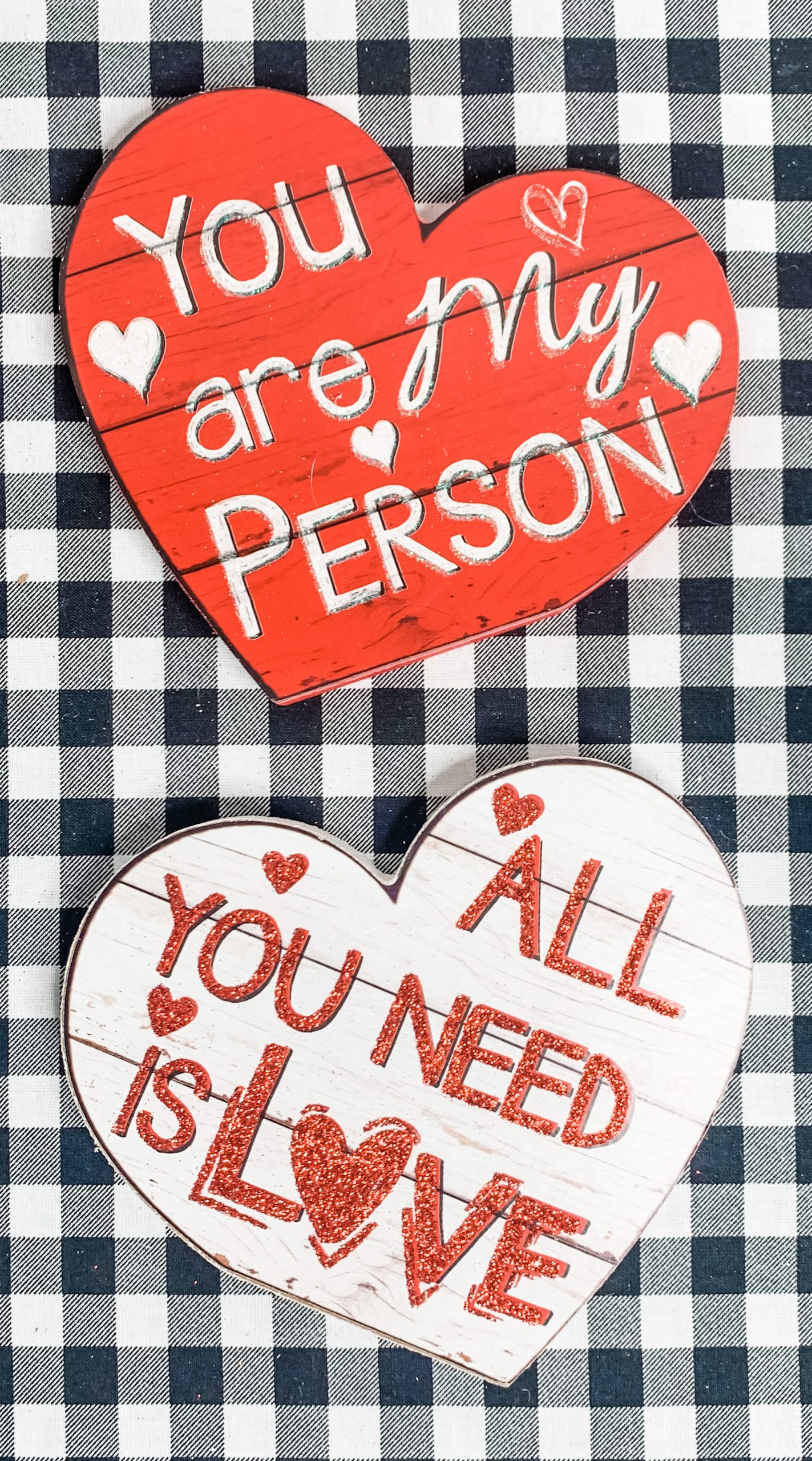 14. Planked Heart Sign From Dollar Tree Crafters Square
If you love this Dollar Tree planked heart sign as much as I do, then you need to stay tuned for how I use it! I have several of these planked heart signs from the Dollar Tree Crafters Square, so I can use them in many different ways.
I could do a chippy finish, decoupage each plank, paint it, stain it, and more! So many options! I'll be sharing what I do with this adorable Dollar Tree heart on my Facebook page, so make sure you follow me if you want to see it first!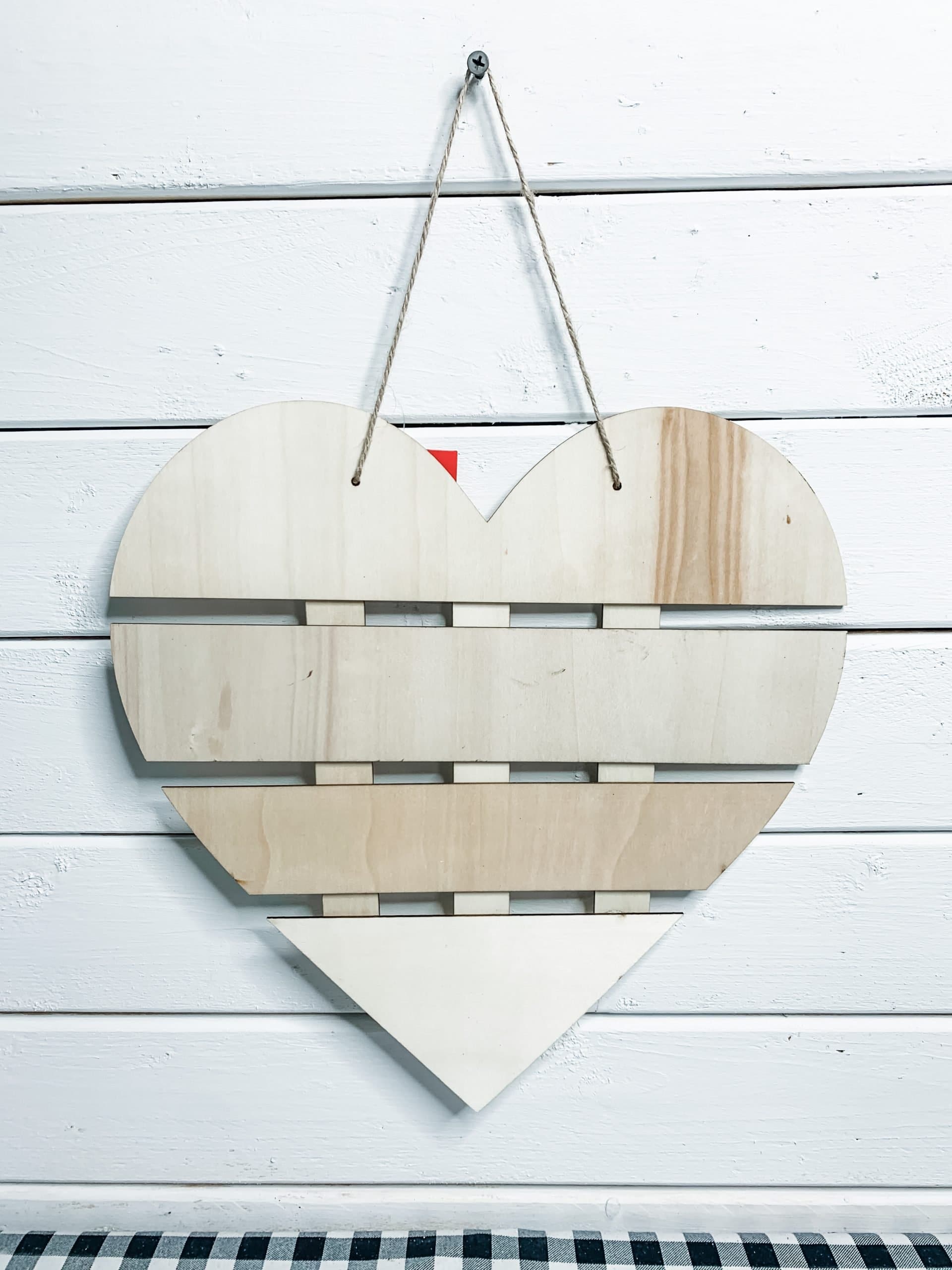 15. Happy Valentine's Day Sign
I think the shining features of this Dollar Tree Happy Valentine's Day sign are the vertical planks and faux burlap Valentine's banner! I love them! You could leave the valentine's banner as it is and paint around it, or remove it be completely creative with your surface.
The possibilities are endless!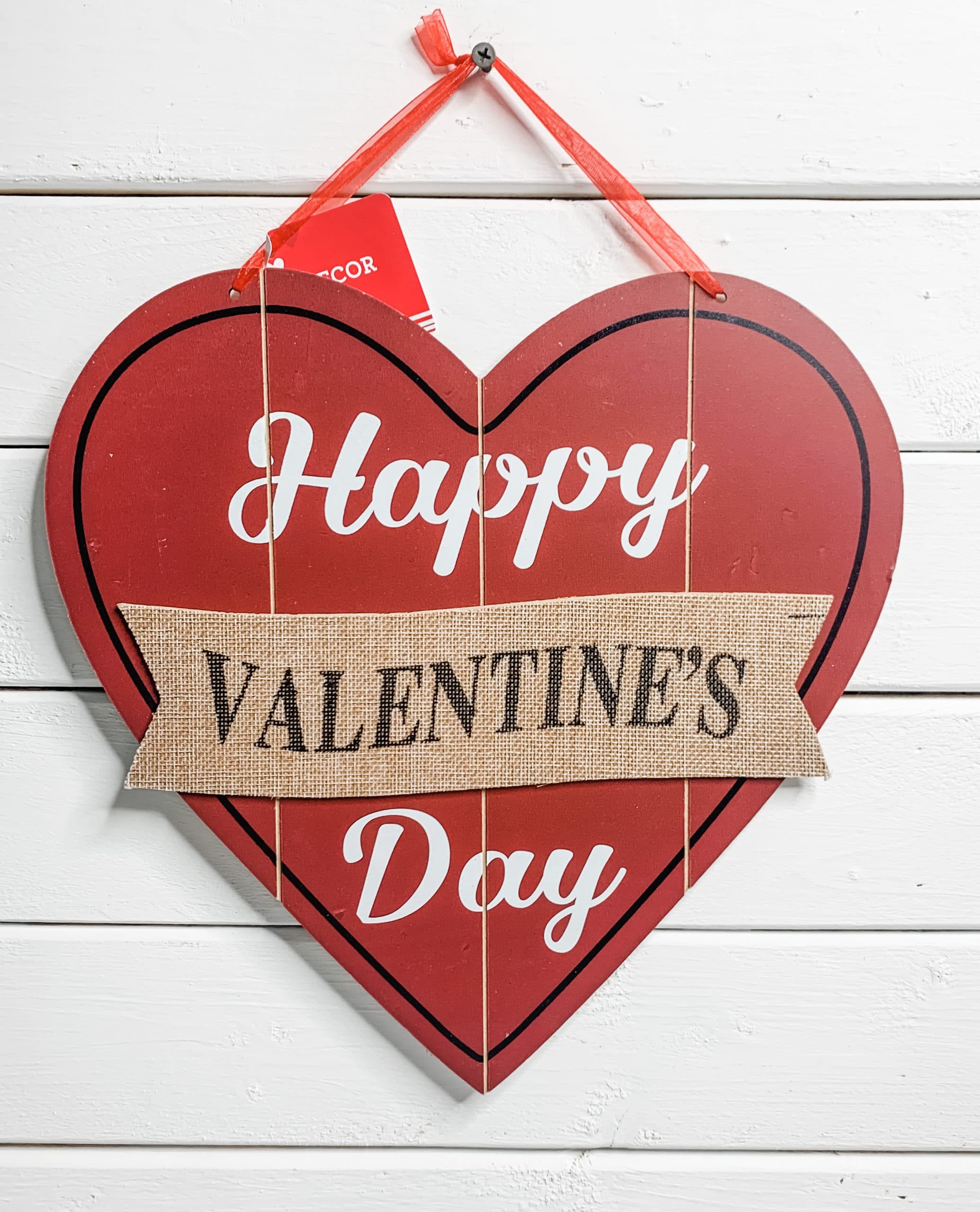 16. Valentine's Day Camper and Truck
I love both the Dollar Tree Valentine's Day camper and the Dollar Tree Red Truck. They are both so stinking cute! A great thing about having these two items in your craft stash is how easy it is to turn both of these very Valentine's Day items into everyday decor!
Don't believe me? I've already used the Valentine's Day truck in one of my everyday DIY's! Check it out here!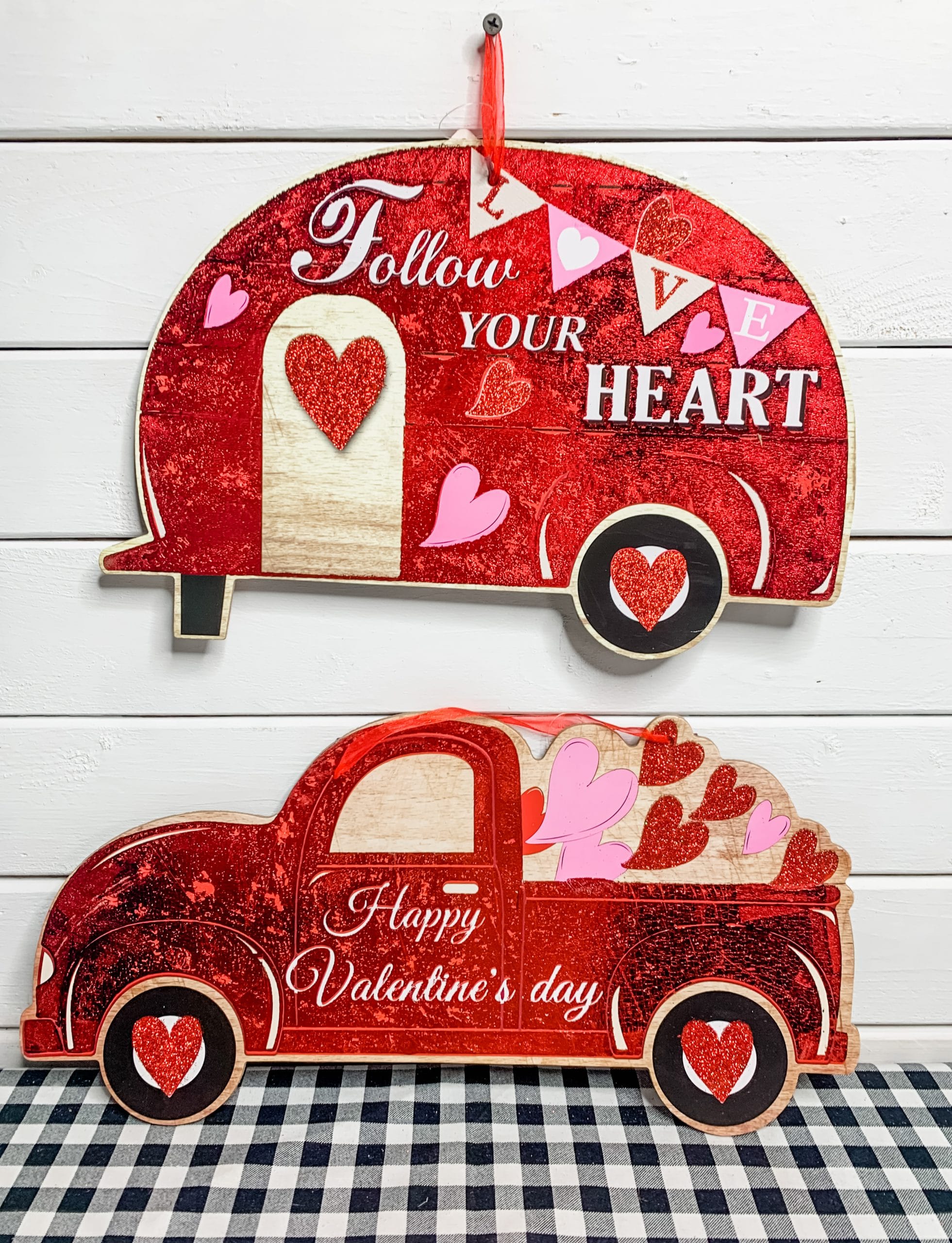 This is the truck that I used to make an everyday/spring decor! I did this last year, but Dollar Tree has this Valentine's Day truck on their shelves again in 2021.
I made a super cute Buffalo Check DIY Planter with two of these adorable trucks!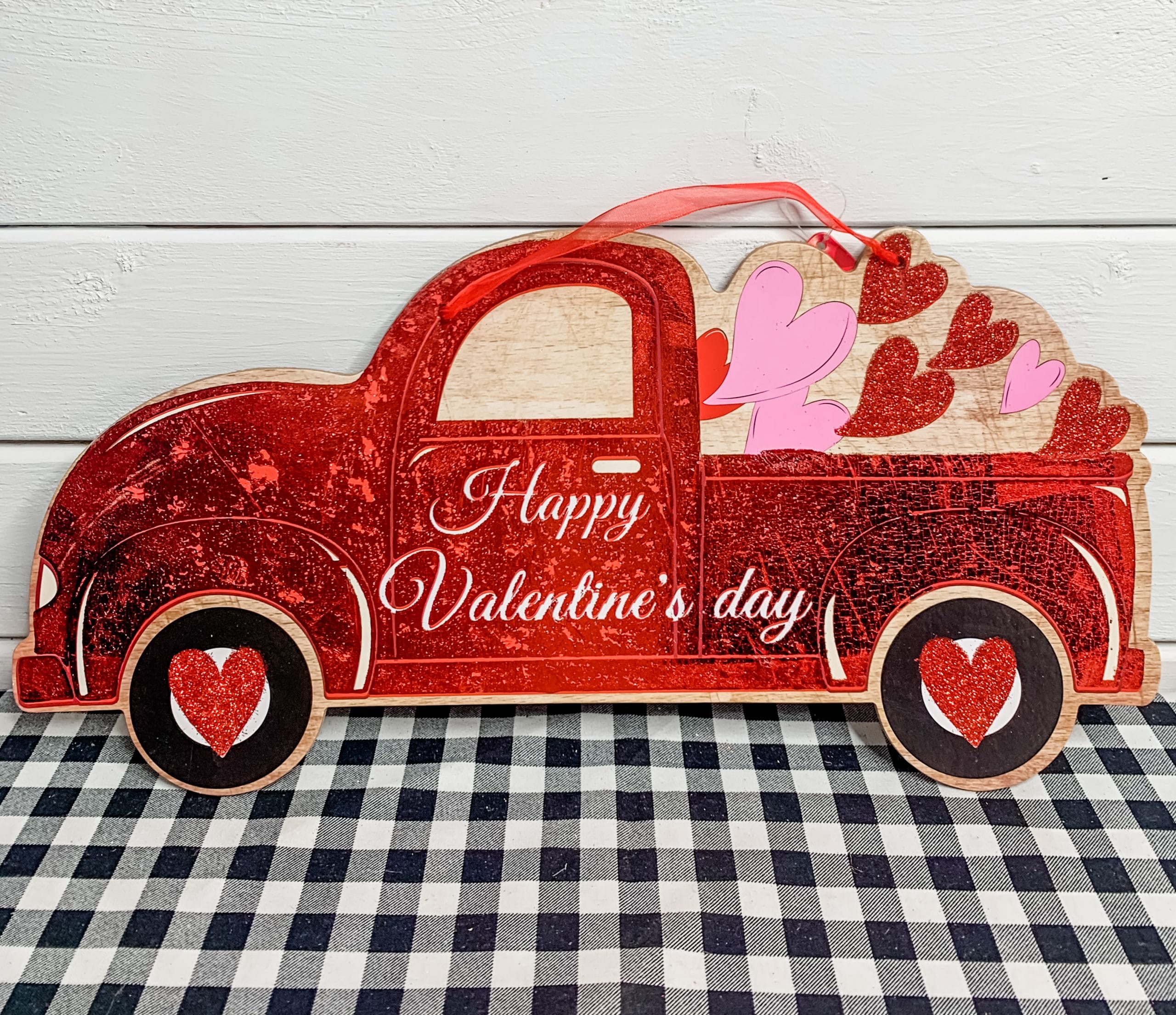 17. Wood Heart Wreath
Remember the felt heart wreath from the beginning of this post? Well, this Dollar Tree wood heart wreath is a similar concept. So many possibilities and ways to refurbish an already cute Valentine's Day decor!
How cute would it be to paint the entire wreath black, then white (gotta have that distressed look) and decoupage a cute Valentine's Day fabric on the hearts??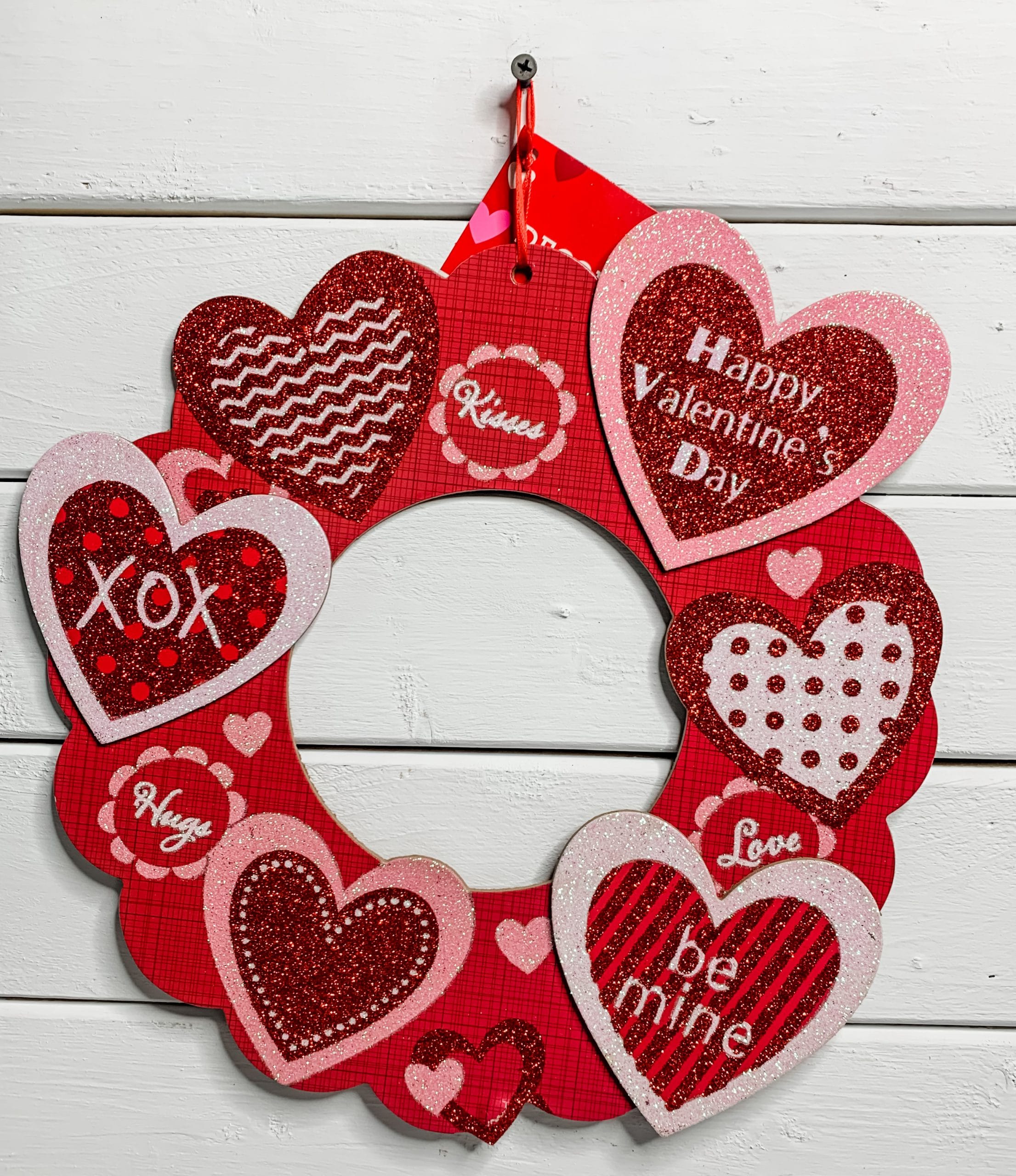 18. Chalkboard Heart Sign
This Dollar Tree Chalkboard heart sign is another DIY supply that I've already used! I turned this cute Dollar Tree item into a magnetic door decor for the center of a super adorable rag wreath for my front door.
Want to know how I did it? Well, I have an easy to follow blog tutorial on how I turned this simple Dollar Tree heart into an adorable magnetic door decor!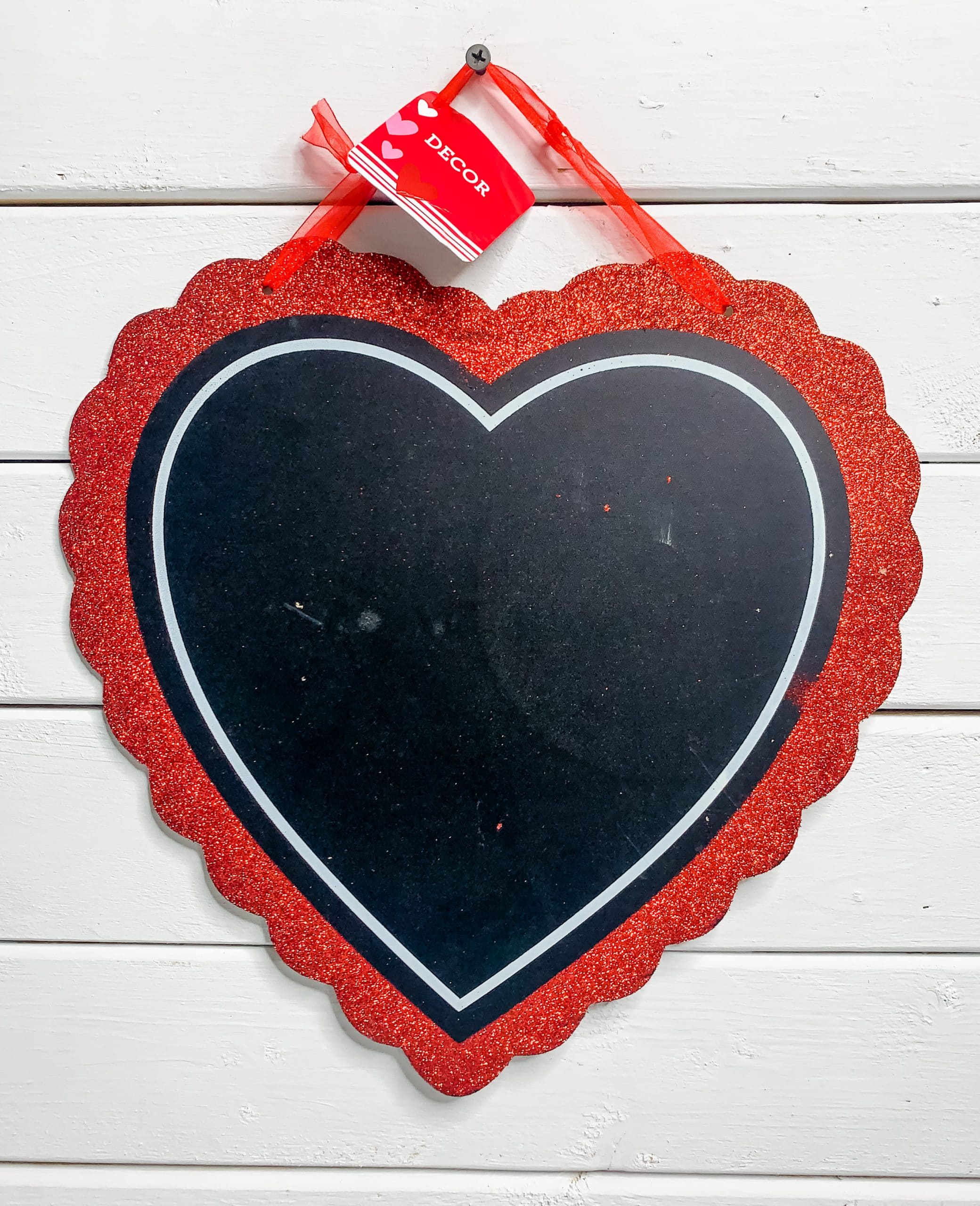 19. Frame
This Dollar Tree Valentine's Day DIY supply might be the most versatile of all the ones I purchased this year.
The design on the front of this frame would be incredibly easy to cover, which makes it almost effortless to turn this into decor for any time of the year!
If you're looking for something that you can completely customize to fit into your home's decor any season of the year, you definitely want to buy this Dollar Tree framed design!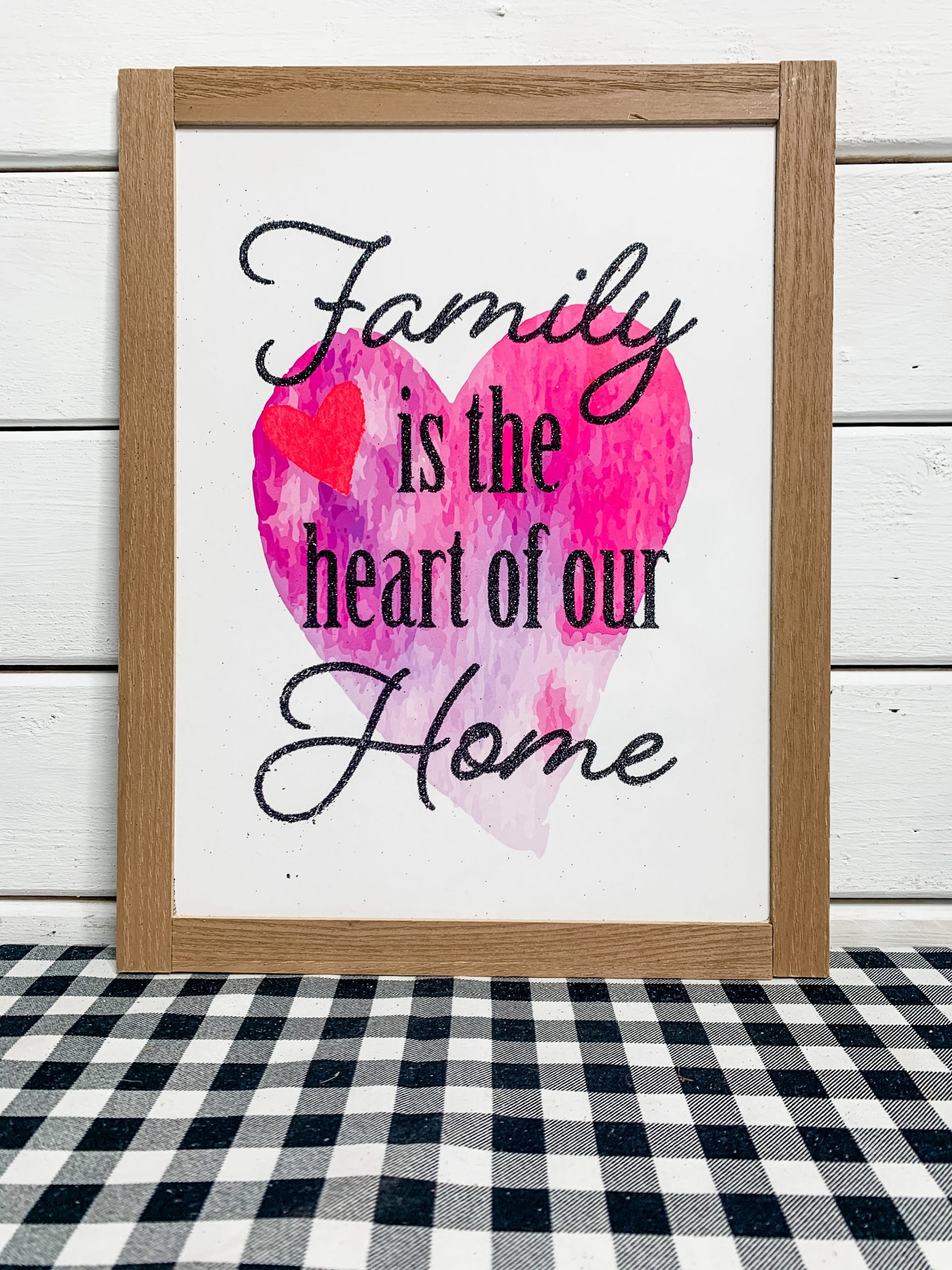 20. Double Plank Sign
I think my favorite part of this Dollar Tree double planked sign might be the little metal hearts on the top plank. These could so easily be removed and turn this from one supply into many.
Remove those hearts and flip the sign over and now you have the perfect surface for any of your DIY ideas!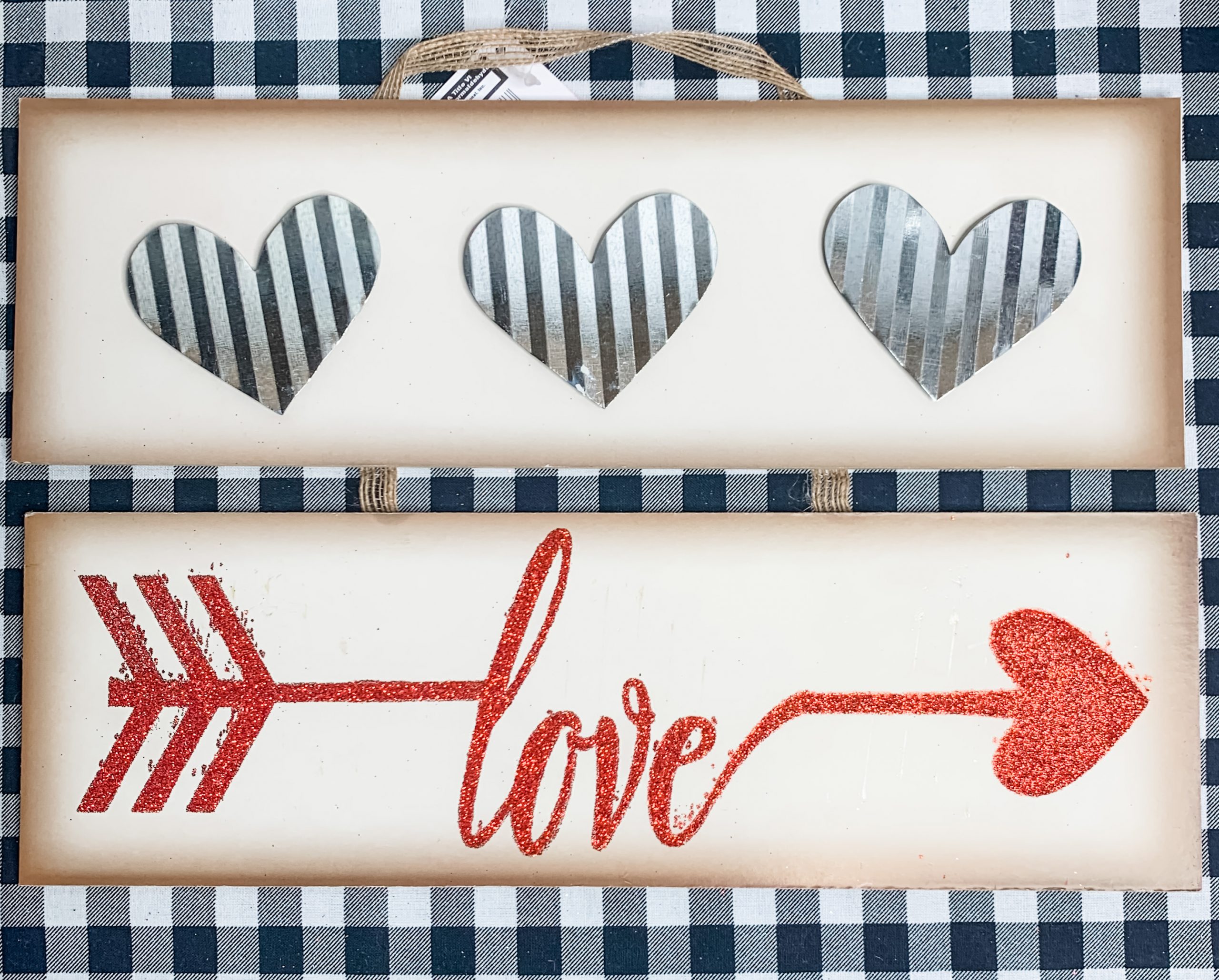 21.Ribbon
I love me a good spool of ribbon, and Dollar Tree hit home with these two adorable Valentine's Day patterns!
I LOVE the red ribbon with white hearts and think it would be perfect to make a messy bow for any of my Valentine's DIYs.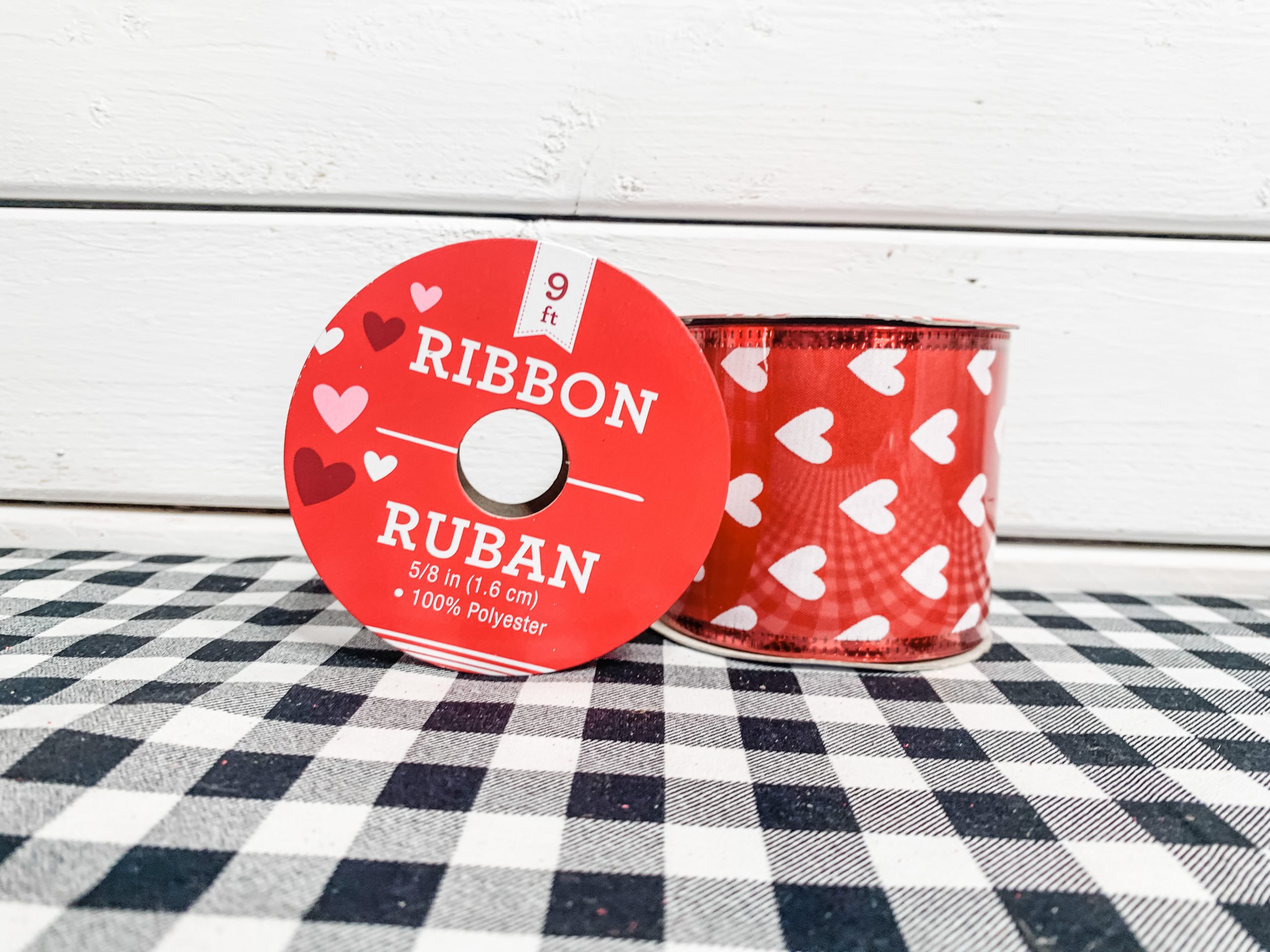 The red buffalo check might be my favorite though because it isn't constricted to only Valentine's Day.
You could use the cute Dollar Tree red buffalo check ribbon any time of the year if you pair it right!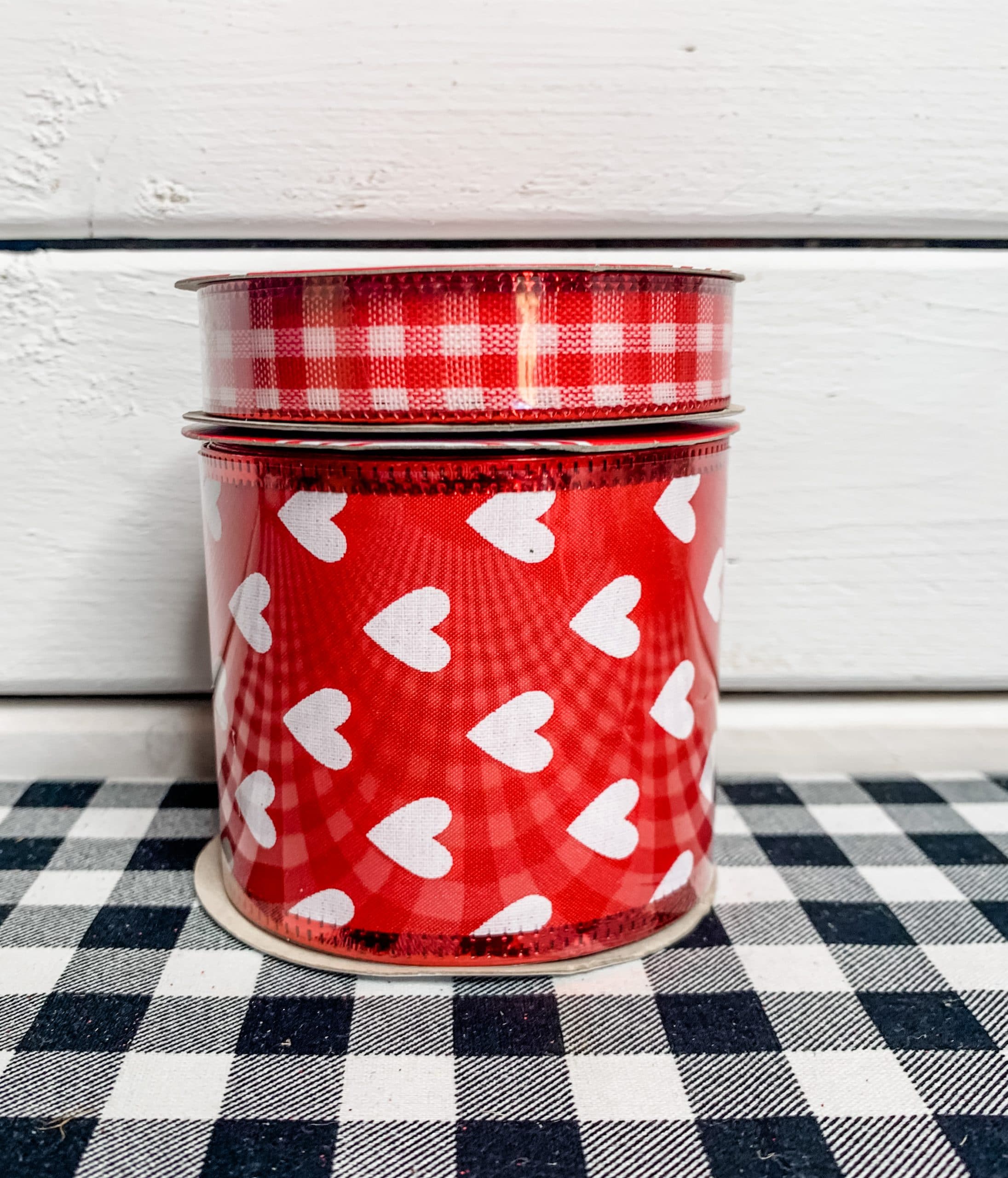 22. Wreath Form
Next, we have this heart-shaped wreath form. There are so many things you can do with a wreath form!
You could add flowers, hearts, or fabric. I think I see a Valentine's Day heart-shaped rag wreath in my future!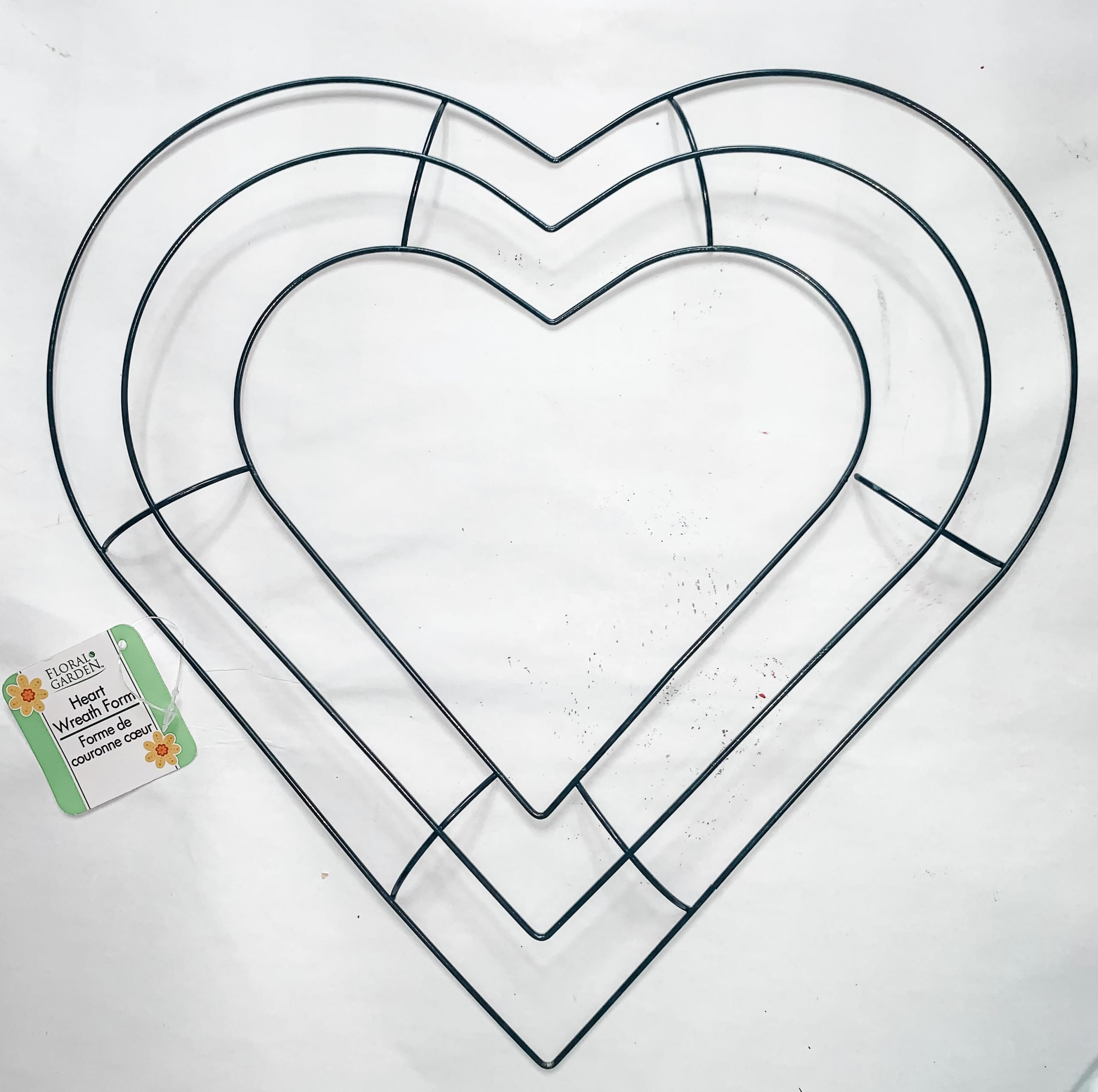 23. Thick Wood Heart Plaques and the Standing Love Word
Dollar Tree has really stepped up its game when it comes to craft supplies! I have been seeing more and more of the thick wood type plaque cutouts lately.
Dollar Tree did not disappoint when it comes to this wood heart plaque. If you are a regular follower of my DIY home blog then stay tuned because I have a feeling there is a project coming using this one.
I love the standing wood words from the Dollar Tree Crafters square. I have used them a few times such as this project here featured on my youtube channel!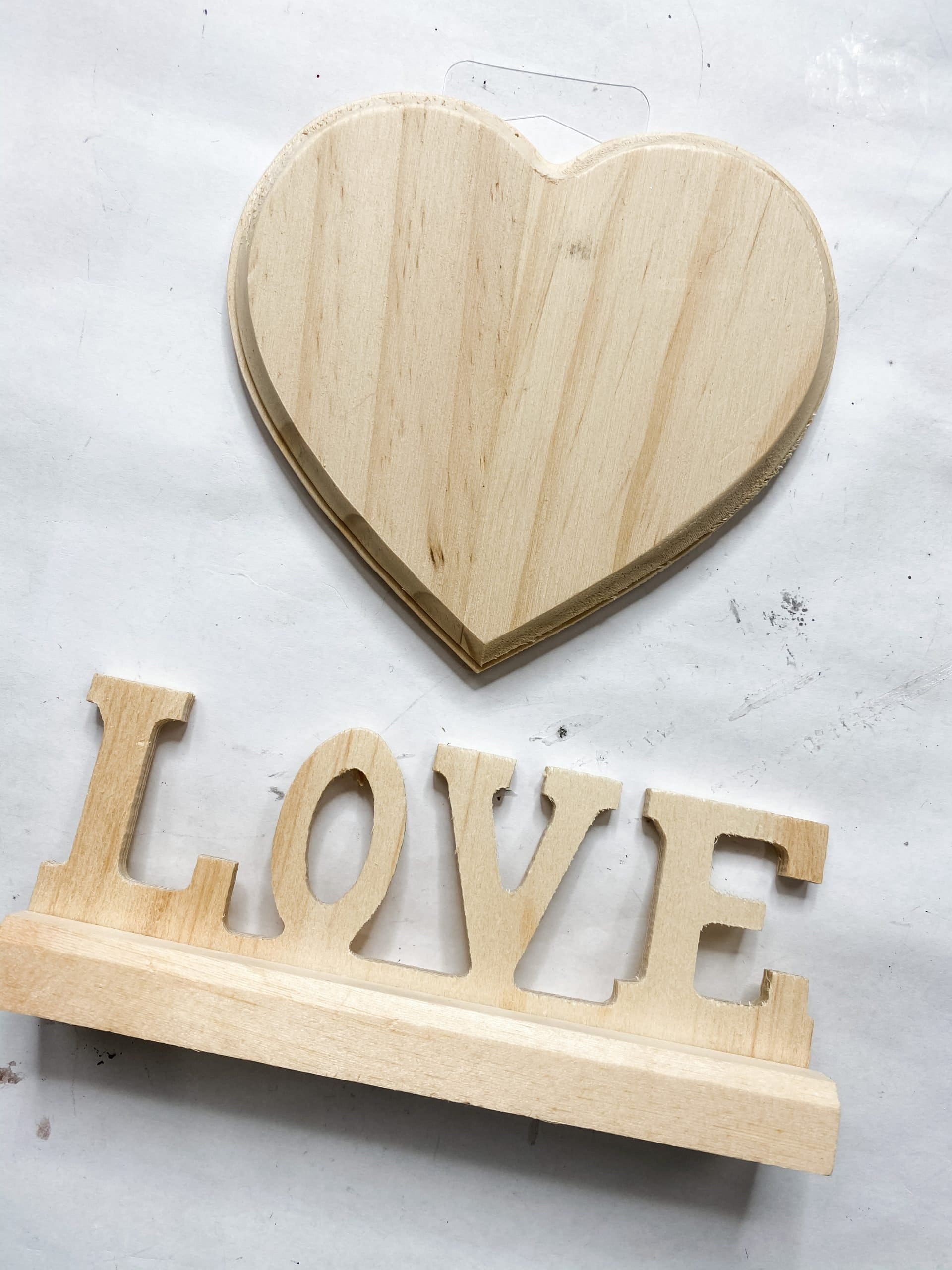 24. Dollar Tree Unfinished wood Valentine's Day Ornaments
When I saw these Dollar Tree Valentine's Day wood ornaments I snatched them up so fast! I love the ornate detail of them and I knew instantly what I was going to make with at least one of them. You can see what I did with it on this Dollar Tree Reverse Canvas Valentine's Day Decor DIY.
There are so many things you can do with the wood ornaments that do not have to be holiday or season-specific. Get creative!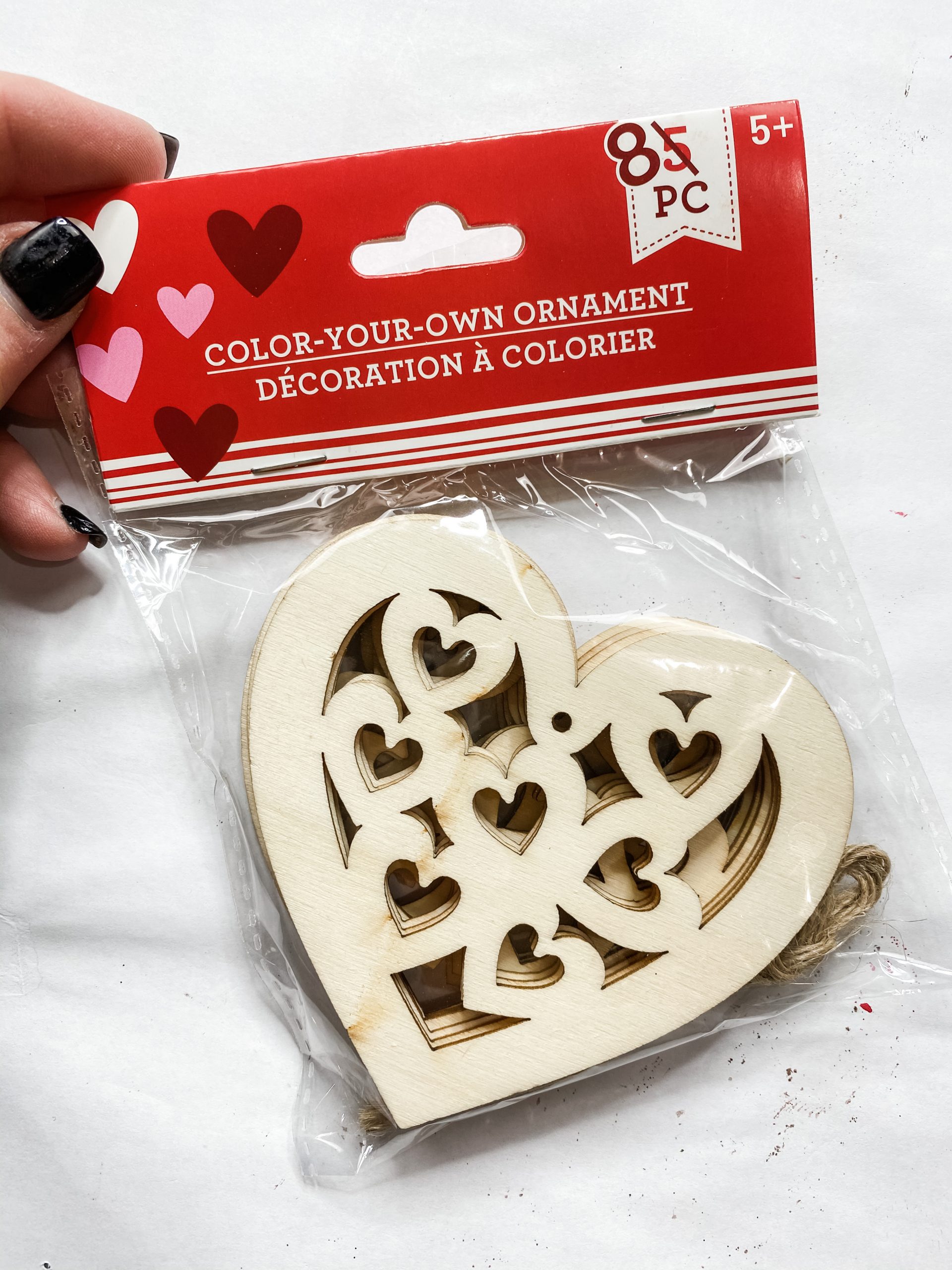 I hope you have enjoyed going through my best Dollar Tree Valentine's Day craft supplies and are inspired to get creative! If you use any of these supplies in your DIY projects, I would love to see what you make!
You should totally join my FREE Facebook group called On A Budget Crafts! It is a judgment-free community for DIY crafters to show off their projects and ideas.
Thanks for stopping by! XOXO Amber
You can also shop my ENTIRE AMAZON Favorites shop just click here! It's packed full of all the things I use and love. Here is the supply list I highly recommend every creative have on hand!!
Would you also pin my blog for later and get on my newsletter alerts? I would love to have you join my #craftycrew.
Inspired? Leave me a comment below! I love hearing from my readers!

————>PIN THIS FOR LATER<————