DIY Dollar Tree Planter Box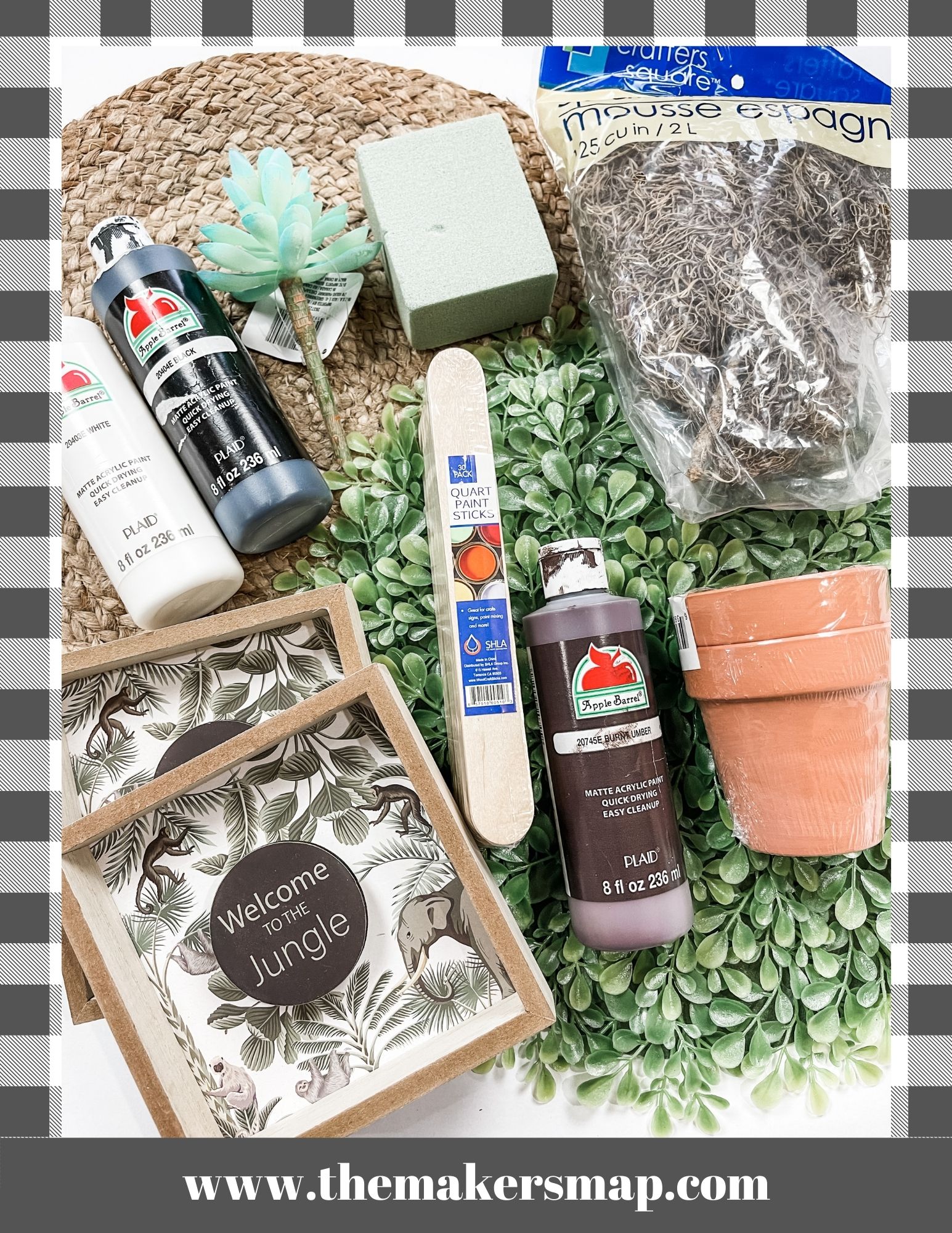 Y'all, I am so excited to share my DIY idea for the 2021 Spring Craftathon™️! This year, I am going to be making an easy DIY Dollar Tree Planter Box that even a beginner crafter can nail!
This is also a great example of how my secret VIP group "Creative Haven" works. I give you supply lists in advance and you get to craft along with me. If you are interested in learning more about the Creative Haven you can visit that page here.
PIN IT FOR LATER
This was filmed live on my Facebook page! Be sure to follow me over there for weekly live crafting and chatting too! We have the best time together!
I would love for you to be a part of the #craftycrew. By the way, that shirt I am wearing in the video you can get one of your very own in my shop. Check it out here!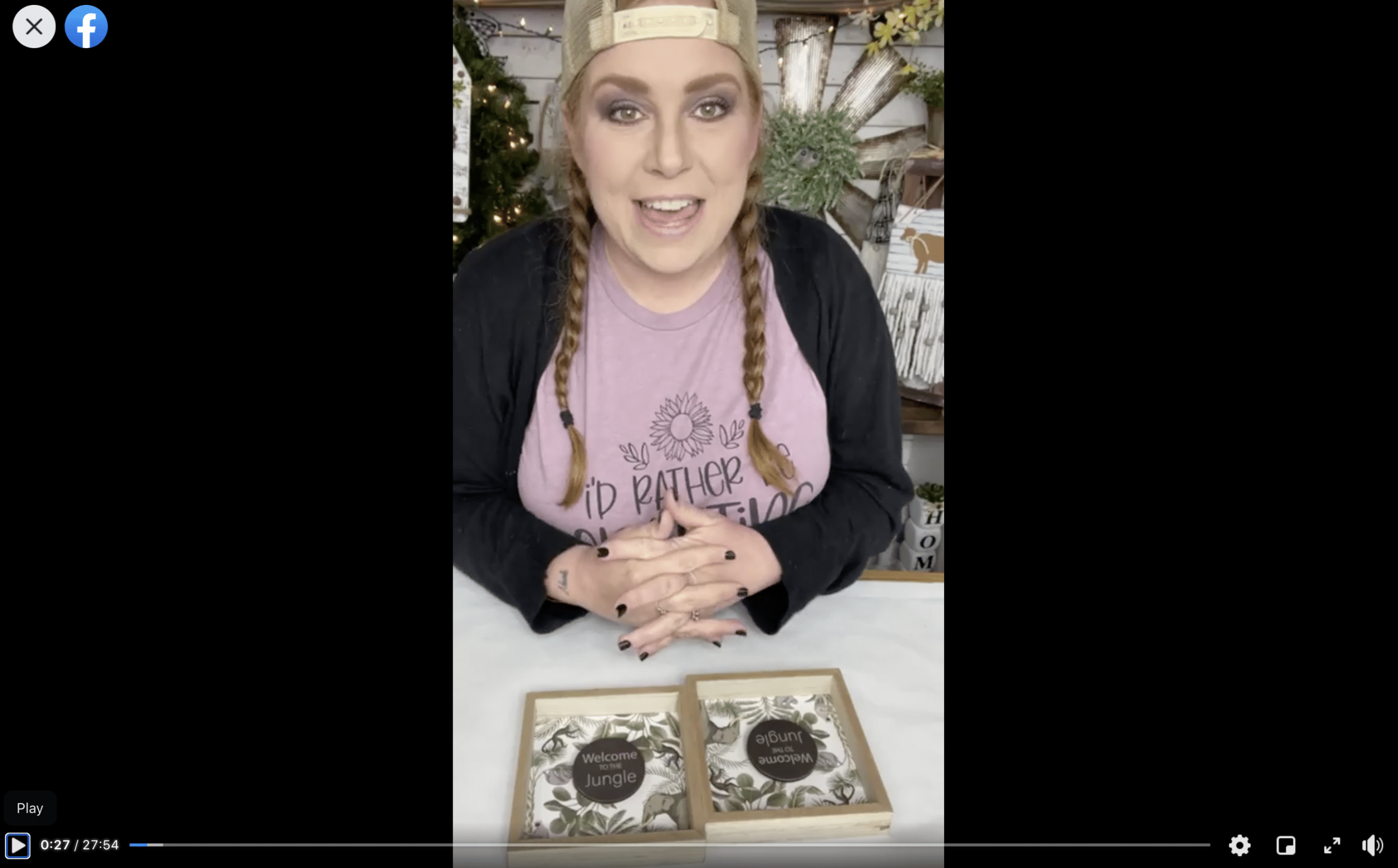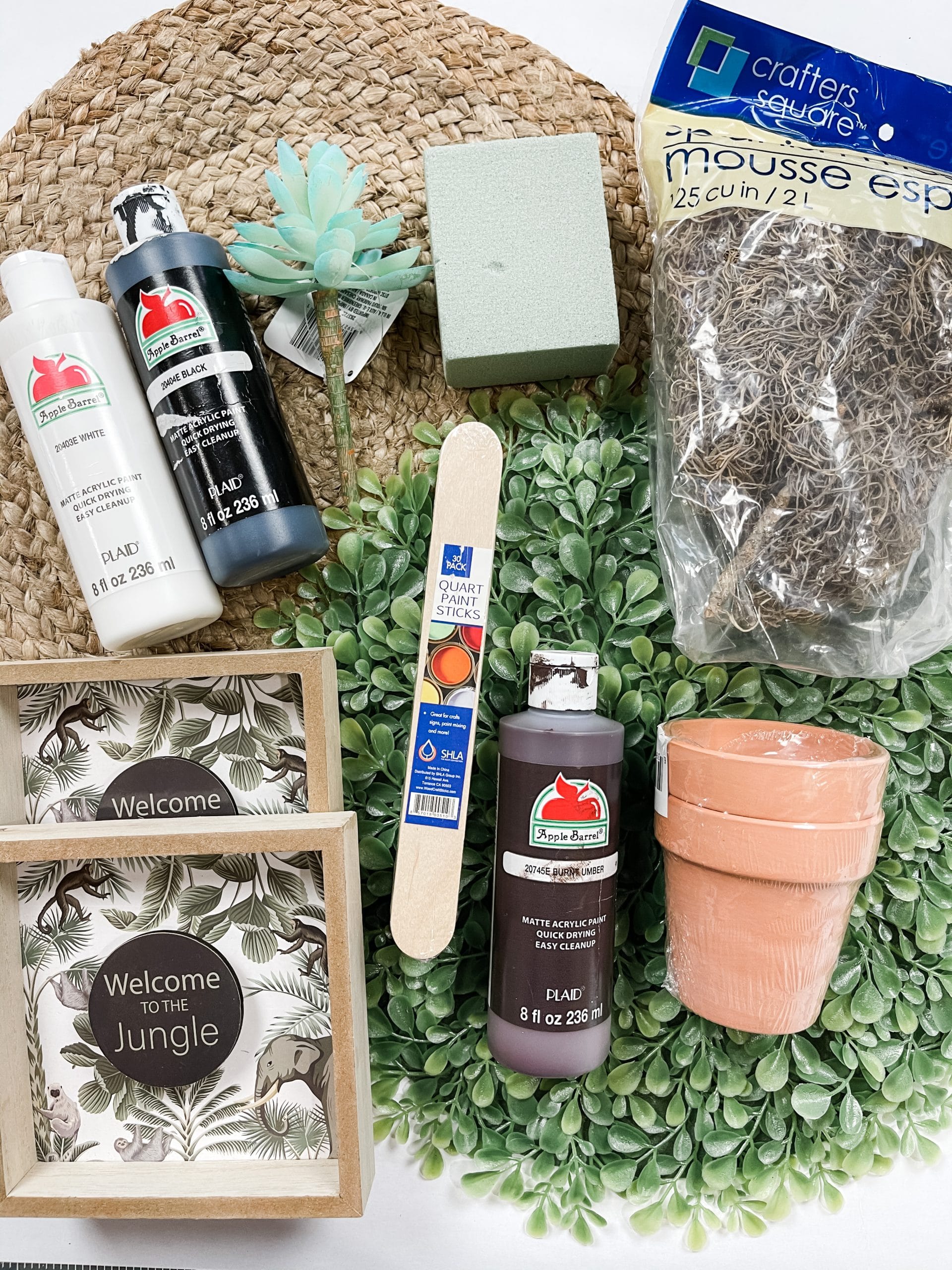 For this project, I will be using these items but you can substitute where you want.
"As an Amazon Associate, I earn from qualifying purchases."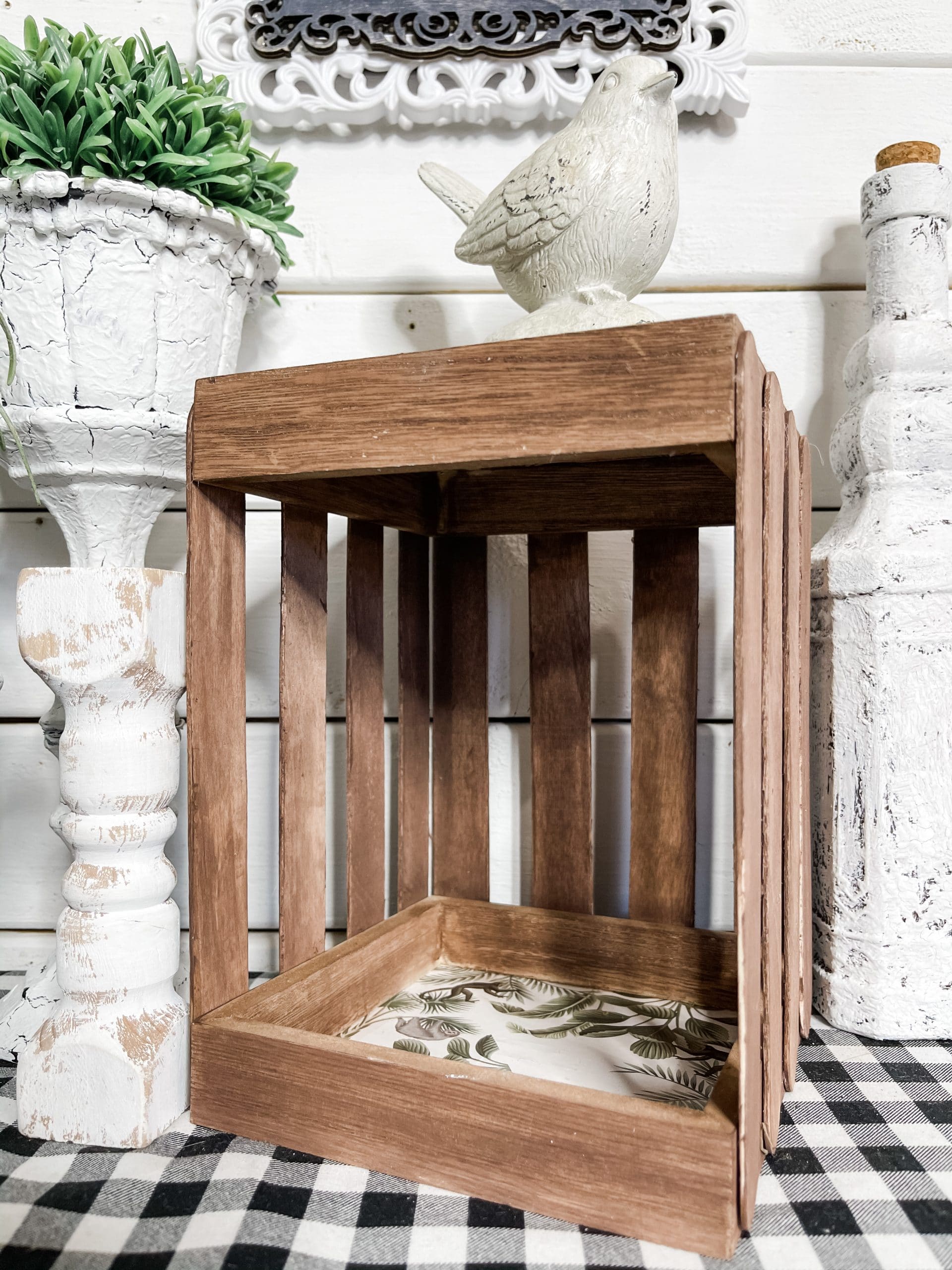 An easy Dollar Tree Home Decor Project
Let's begin!
I started by removing the stickers off the backs of both of the Dollar Tree MDF sign boxes. You can do that pretty easily by heating up the adhesive on the stickers with a heat gun or hairdryer.
Once the stickers were removed, I put some of the Apple Barrel burnt umber paint on a paper plate.
This will help you get better access to dipping in the paint because the paint container lid has a small opening.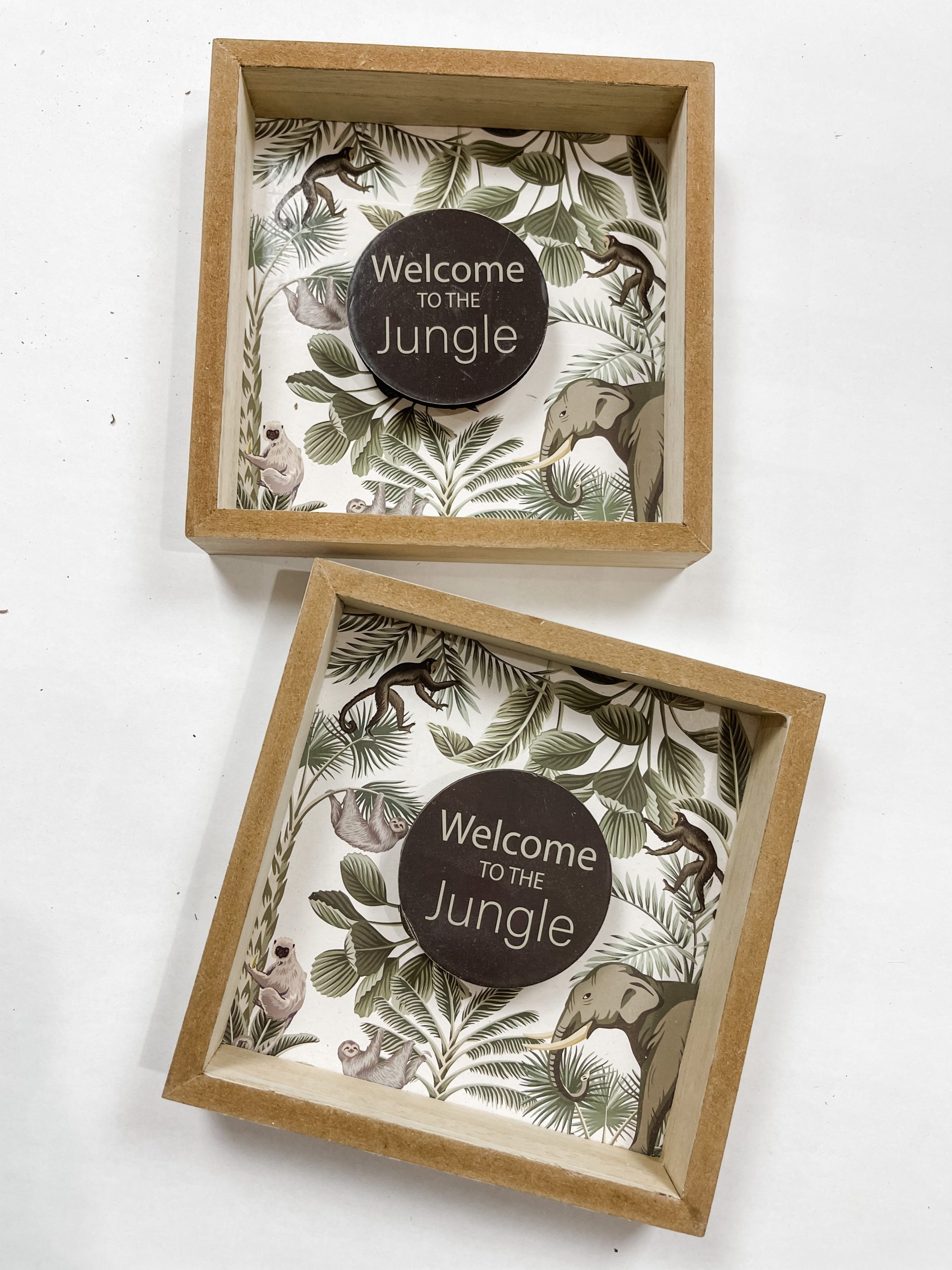 Painting and Staining the sign box
Next, I popped off the round circle on the inside of the sign. You can save those for a future project. I use a 1-inch chip brush to brush on some of the paint and I used a baby wipe to stain the outside edges of the MDF sign boxes.
This will help the color match the quart-size paint sticks when we attach those later. Stain the tops and the sides and if you want you can stain the insides of the box too. I did not cover the print on the inside of the box.
You will need 2 sign boxes, I got mine from Dollar Tree. You can use any kind of box or lid for this farmhouse home decor DIY.
These are the perfect paint colors
I chose to use acrylic paints made by Plaid crafts, I chose the Apple Barrel line of paints. The colors of paint I chose were black, white, and burnt umber.
You can get the Apple Barrel paint at most stores, but I did get these paints from my local Walmart.
Crafting with quart size paint stir sticks
Once the Dollar Tree MDF sign boxes are prepped, set them aside to dry. Next, you will need 12 of the quart-size paint stir sticks.
I get mine at Home Depot in the paint department. You can check your local home depot near you to see if they carry them.
I am using the sticks in the full size they come in, we are not going to be cutting these down. The next step is to use the same Apple Barrel burnt umber paint to stain the quart-size paint sticks brown.
How to stain wood with paint
To stain the wood sticks with paint, you will lay out a few flat and close to each other and use a continuous sprayer water bottle to wet the sticks, next you will use a baby wipe to pick up some paint from the plate and begin to apply the paint to the sticks.
You will see the paint dilutes with the water to stain the sticks. Wipe off any excess left behind. There you have it. You now know how to stain wood with paint easily!
Once the sticks are stained, dry them with a heat gun or hairdryer. You want to make sure they are dry so the hot glue will stick in the next step.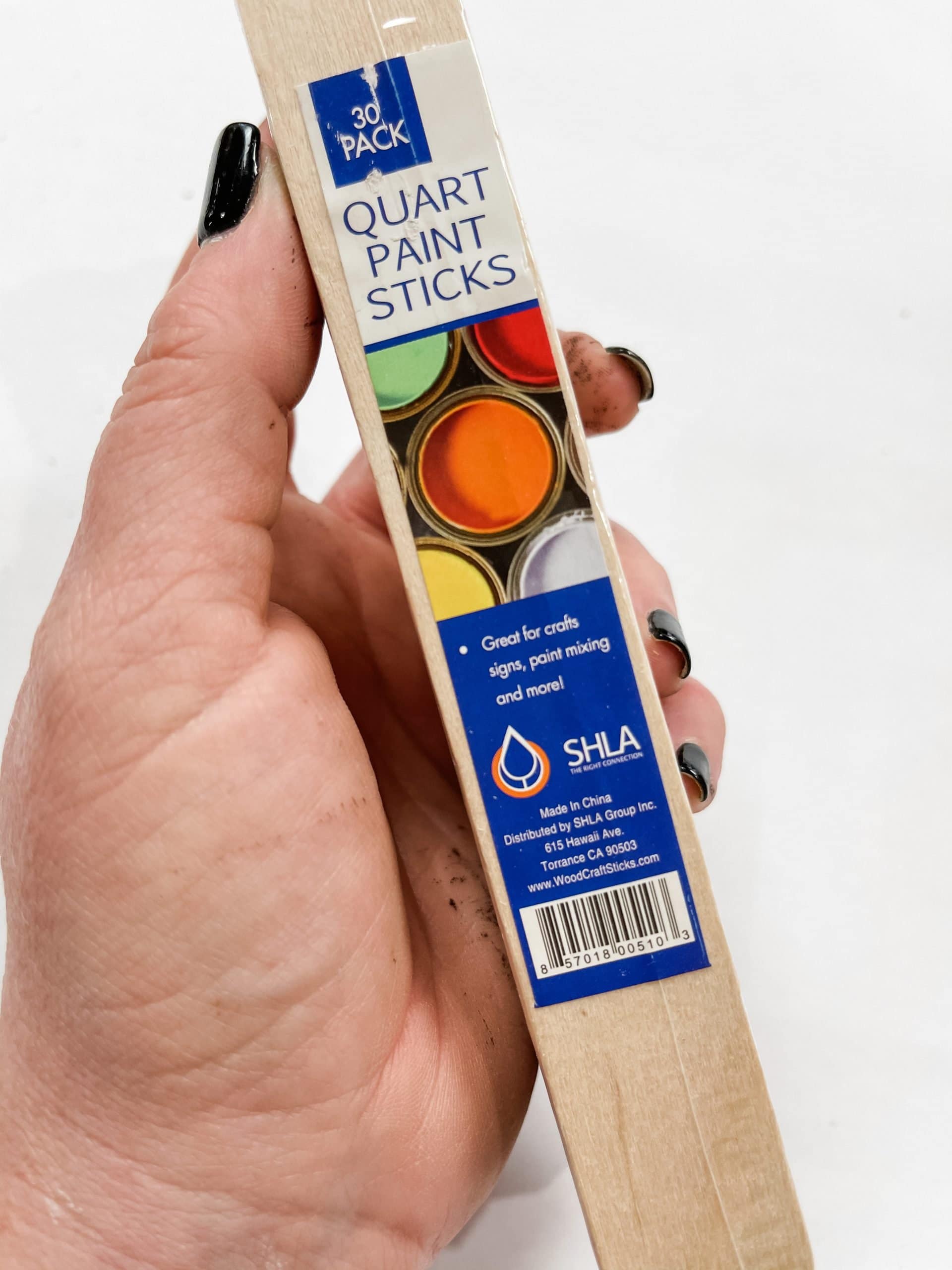 Make the planter
For the next step, it is time to assemble the Dollar Tree DY planter box. As shown in the video, you will want to stand up both Dollar Tree Sign boxes on their sides and space them out equally to lay 4 of the quart-size paint sticks that you stained brown.
Space out the sticks by about 1 inch. Glue each stick to the sign box, as shown in the photos you see below. You will do this on 3 sides. The front will be left open.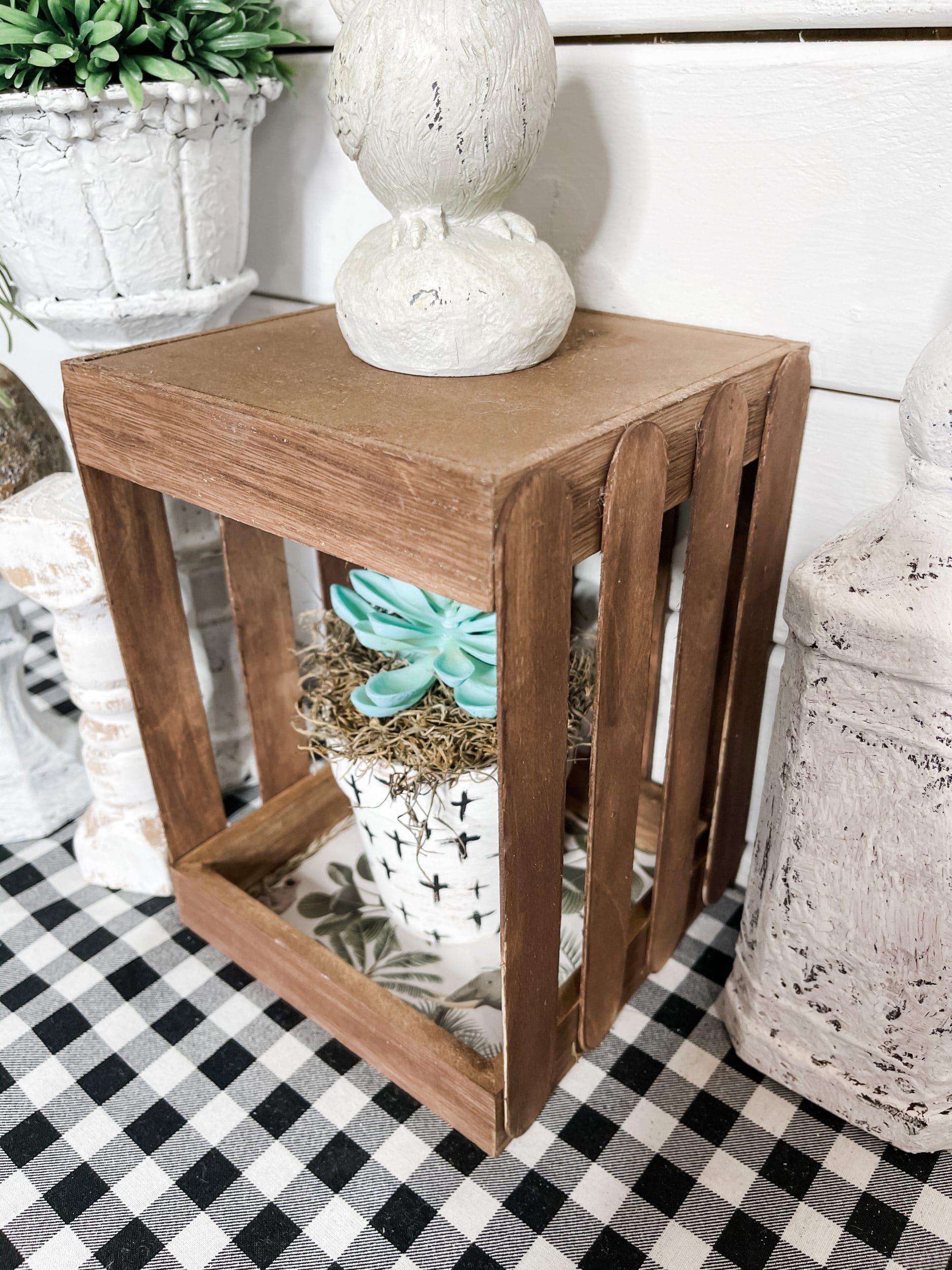 Boho Farmhouse Painted terracotta pot
In the next step, You will need a terracotta pot or a pot of some sort. I also suggest a plastic pot if you can not find a terracotta pot. It will be a great alternative. Maybe even a glass container will work.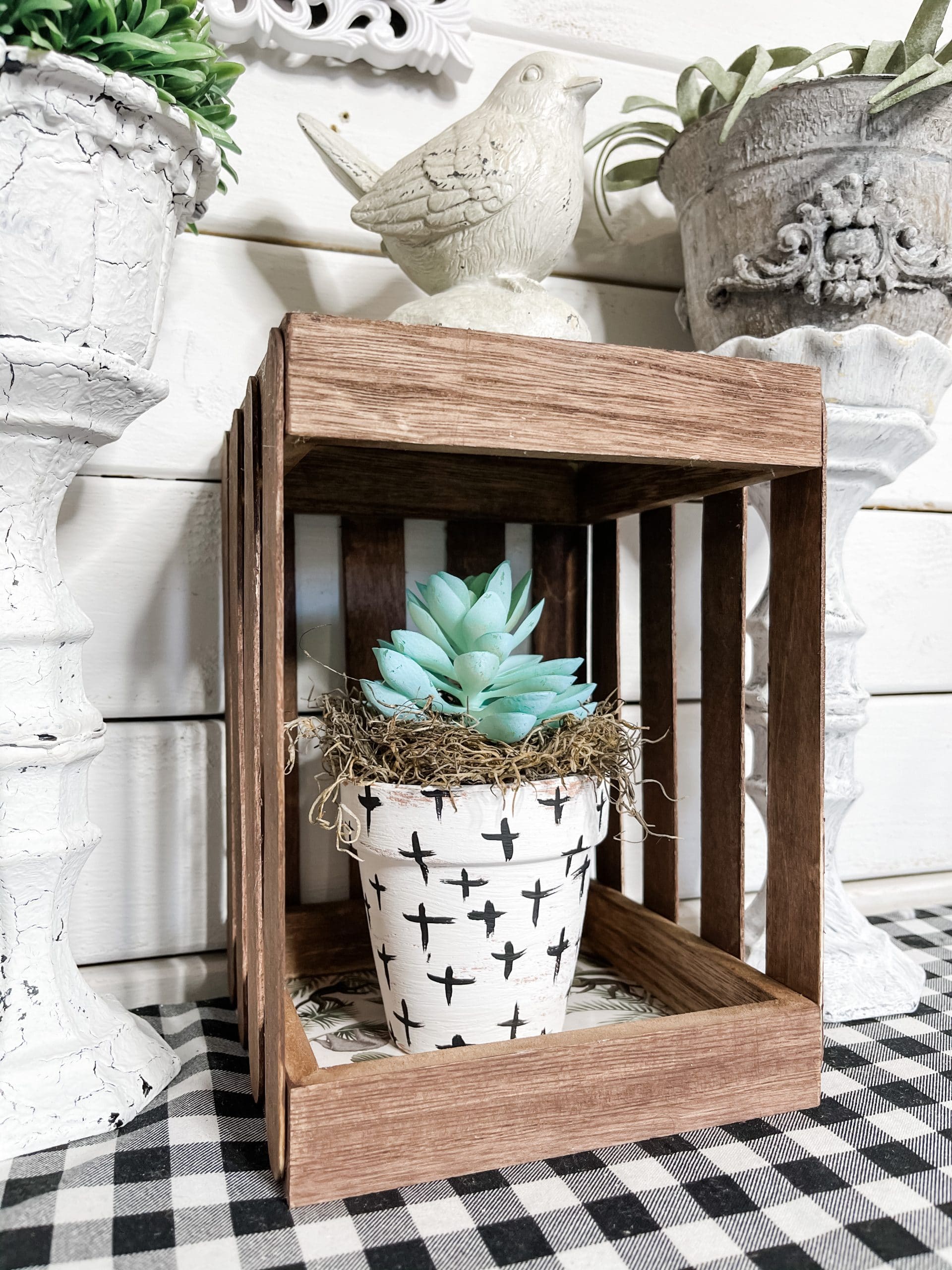 Using the Apple Barrel white paint and a chip brush, apply a coat of white paint making sure not to fully cover the terracotta pot fully.
Leave it looking a little distressed. I love distressed painted pots! Once that step is complete, you will use a flat tip paint artist paintbrush and black paint to create little crosses on the painted pot. This will give you a boho modern farmhouse look.
How to make a succulent planter – cheap
In this final step, I assembled the succulent planter pot. I used a small block of floral foam from the Dollar Tree and cut it into sections to fit inside the painted terracotta pot.
Push the floral foam down, then I used a pencil to make the hole in the foam because my Dollar Tree succulent stem was pretty large.
I then trimmed down the stem of the bright-colored succulent to fit in the foam and terracotta pot better.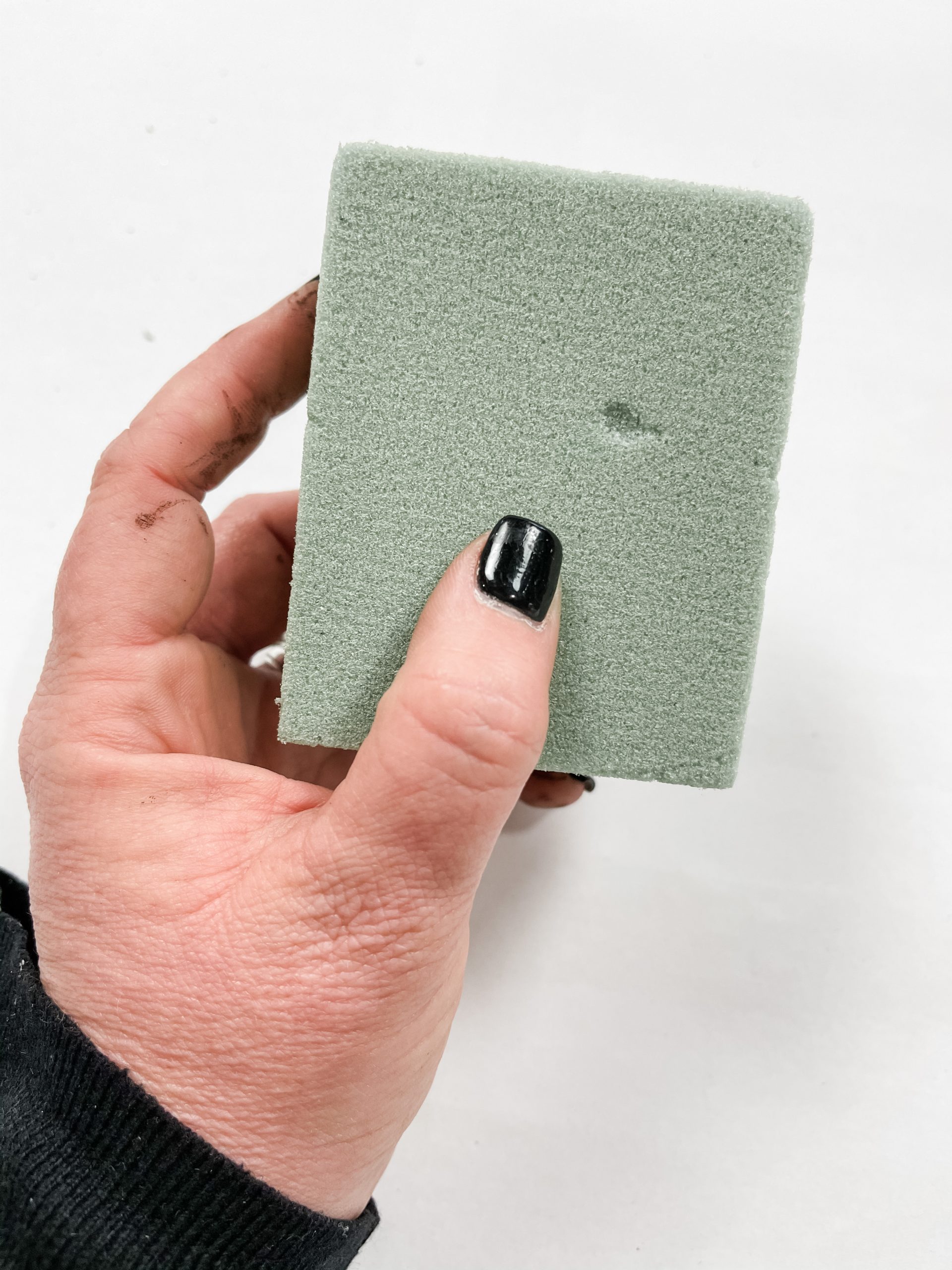 I then added some hot glue on top of the floral foam and I then added a handful of Dollar Tree Spanish moss to the top.
It was the finishing touch to cover the floral foam in the top and made the succulent look real. I have a hard time keeping real plants alive so the fake succulents are perfect for me. Notice how the stem even looks real.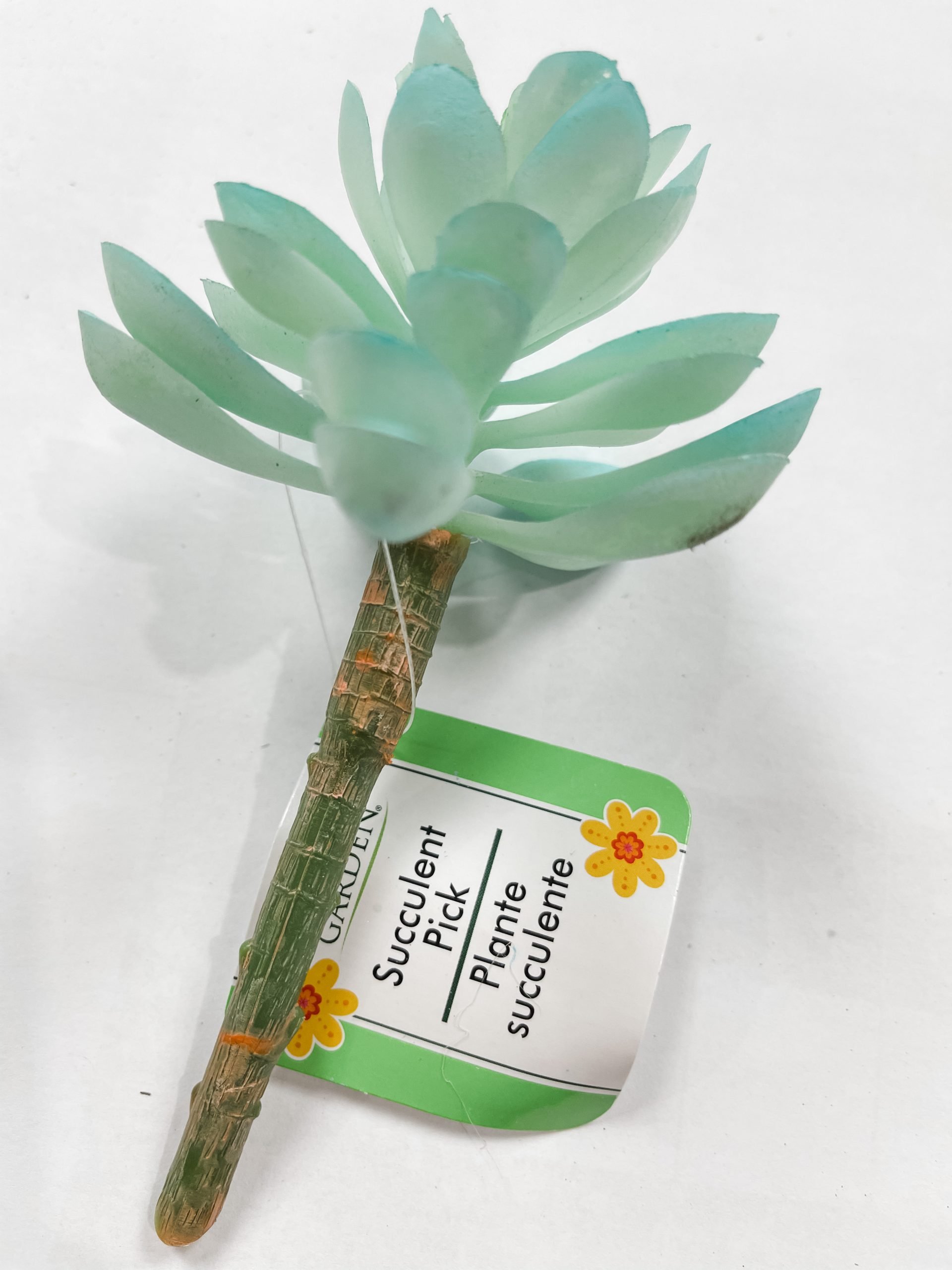 How to create budget home decor
Lastly, I placed that cute boho farmhouse-painted terracotta pot with the succulent and Spanish moss inside the DIY Dollar Tree Planter Box.
The budget home decor project is complete and I am telling you it turned out so cute! Anyone can make this home decor DIY.
It is the perfect craft for beginners. I hope you enjoyed this and you enjoyed the 2021 Spring Craftathon™️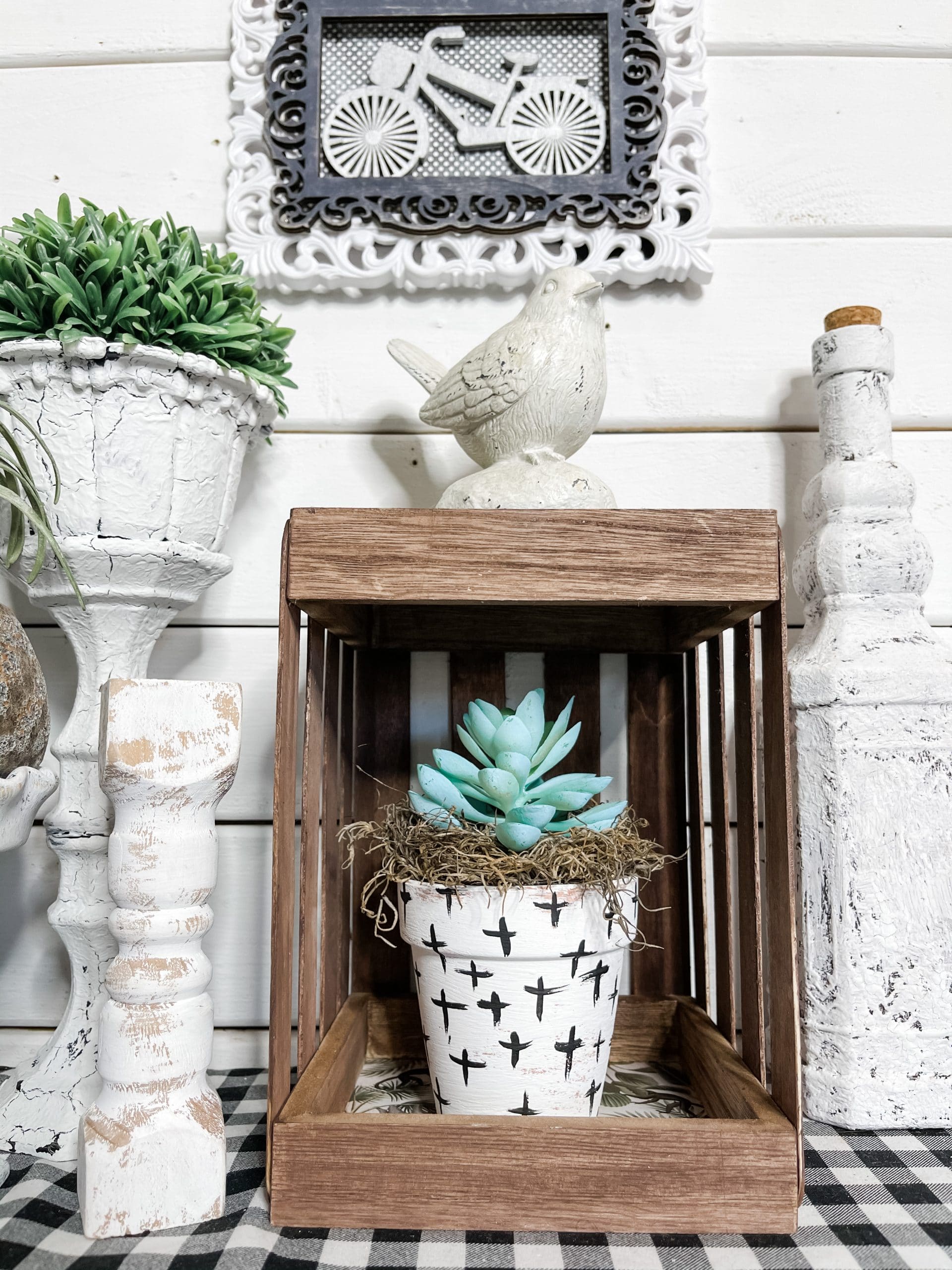 Remember that this was filmed live on my Facebook page. You can always watch the replay for this DIY Dollar Tree Planter Box and be sure to pin this for later and share it with a friend!
Thanks for stopping by! XOXO Amber
You can also shop my ENTIRE AMAZON Favorites shop just click here! It's packed full of all the things I use and love. Here is the supply list I highly recommend every creative have on hand!!
Don't forget to join my newsletter alerts! I send out inspiring home decor DIYs and decorating tips!
Inspired? Leave me a comment below! I love hearing from my readers!

PIN IT FOR LATER