How to Turn Spring Printables into DIY Decor

I love a good printable, especially a spring printable! For this project, I'm going to show you how to turn spring printables into DIY decor, and I used printables from my Spring Mega Craft Bundle! (The bundle is available in my shop, but you get it included with a Creative Haven membership!)
I also used printables from that spring bundle to make a DIY farmhouse decor. You can check it out on the blog too!
Watch the replay
Do you ever see a printable that you know you want to use, but you aren't sure how? Well, I show how I used three of the printables from my Spring Mega Craft Bundle to make adorable DIY decor!
If you want to see the process, craft along, or join in on the fun conversations, you can watch the replay!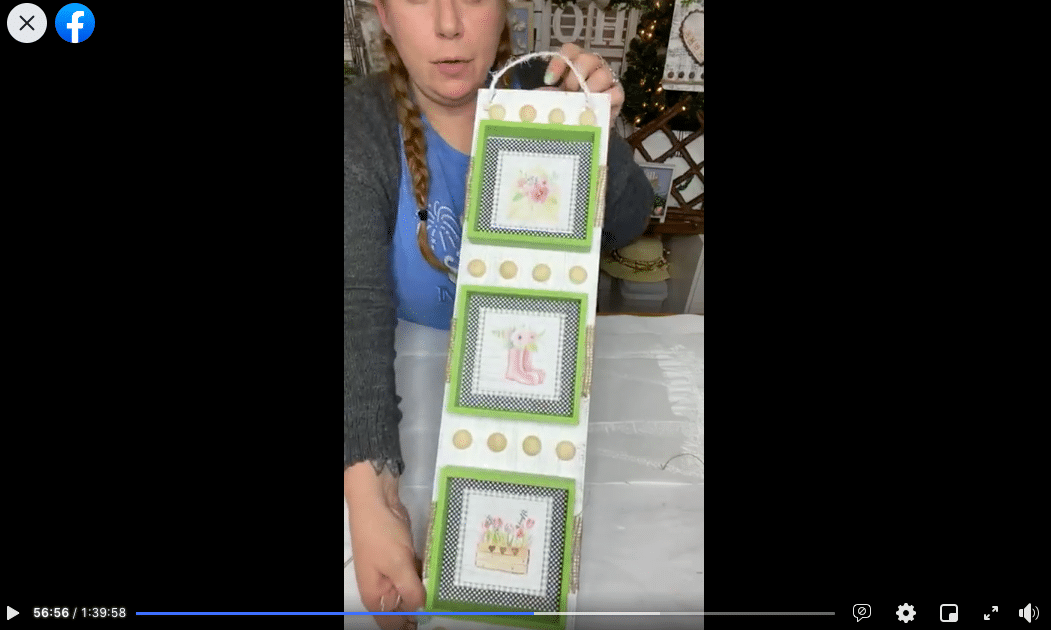 For this project, I will be using these items but you can substitute where you want.
"As an Amazon Associate, I earn from qualifying purchases."
Dollar Tree Tall Valentine's Day sign
Dollar Tree Sign Box (x3)
Large Half Wood Beads
Burlap Ribbon
Polka Dot Scrapbook Paper
Apple Barrel White Acrylic Paint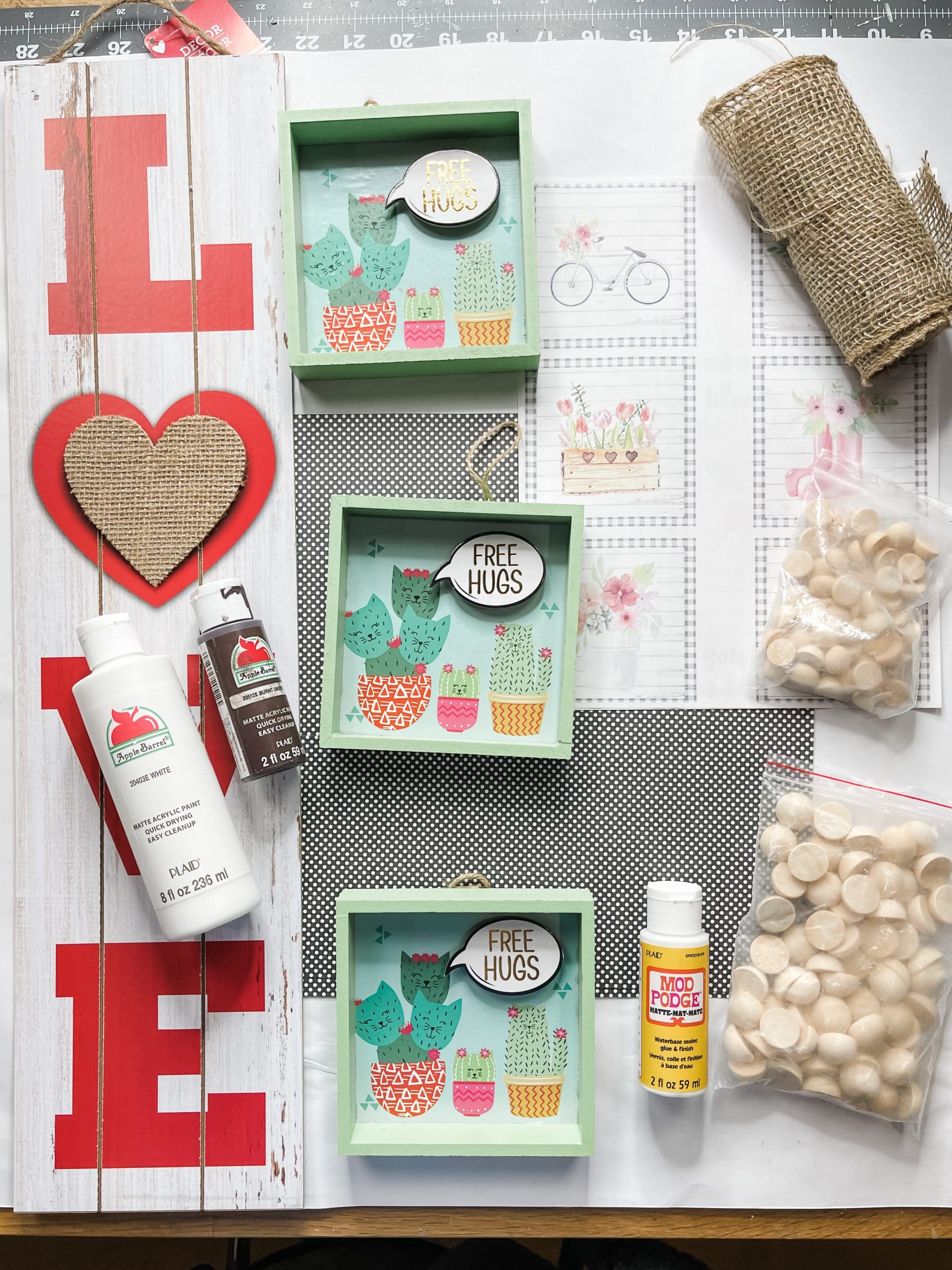 How to Turn Spring Printables into DIY Decor
Start this easy DIY project by picking your printables. I used three from a Spring Mega Craft Bundle I made! You need your printables to be square for this project. Go ahead and cut three printable designs out, and set them to the side.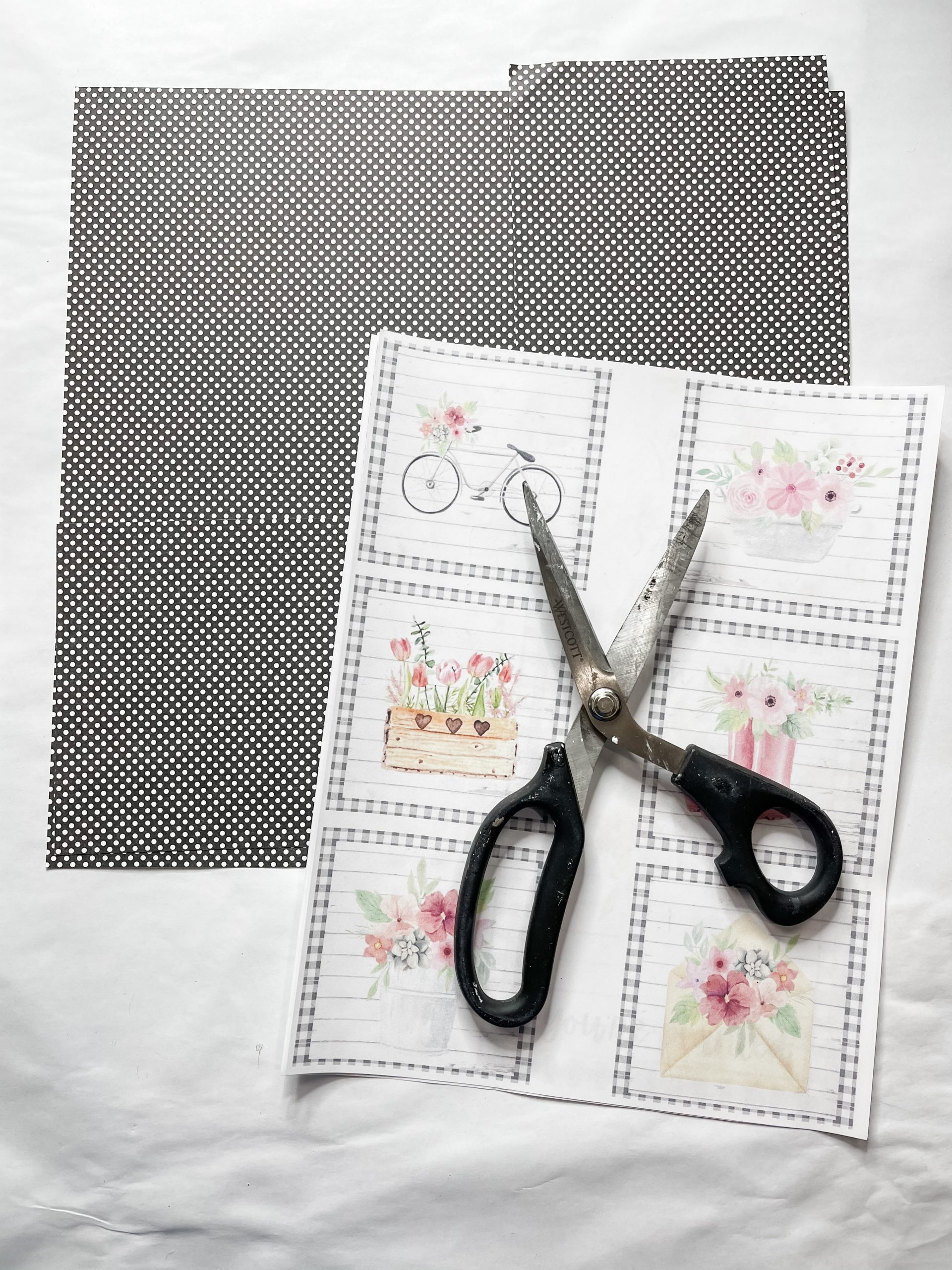 Next, you have to get your Dollar Tree sign boxes ready. The ones that I used had little inserts that I had to remove. I just used a putty knife to pry the inserts out.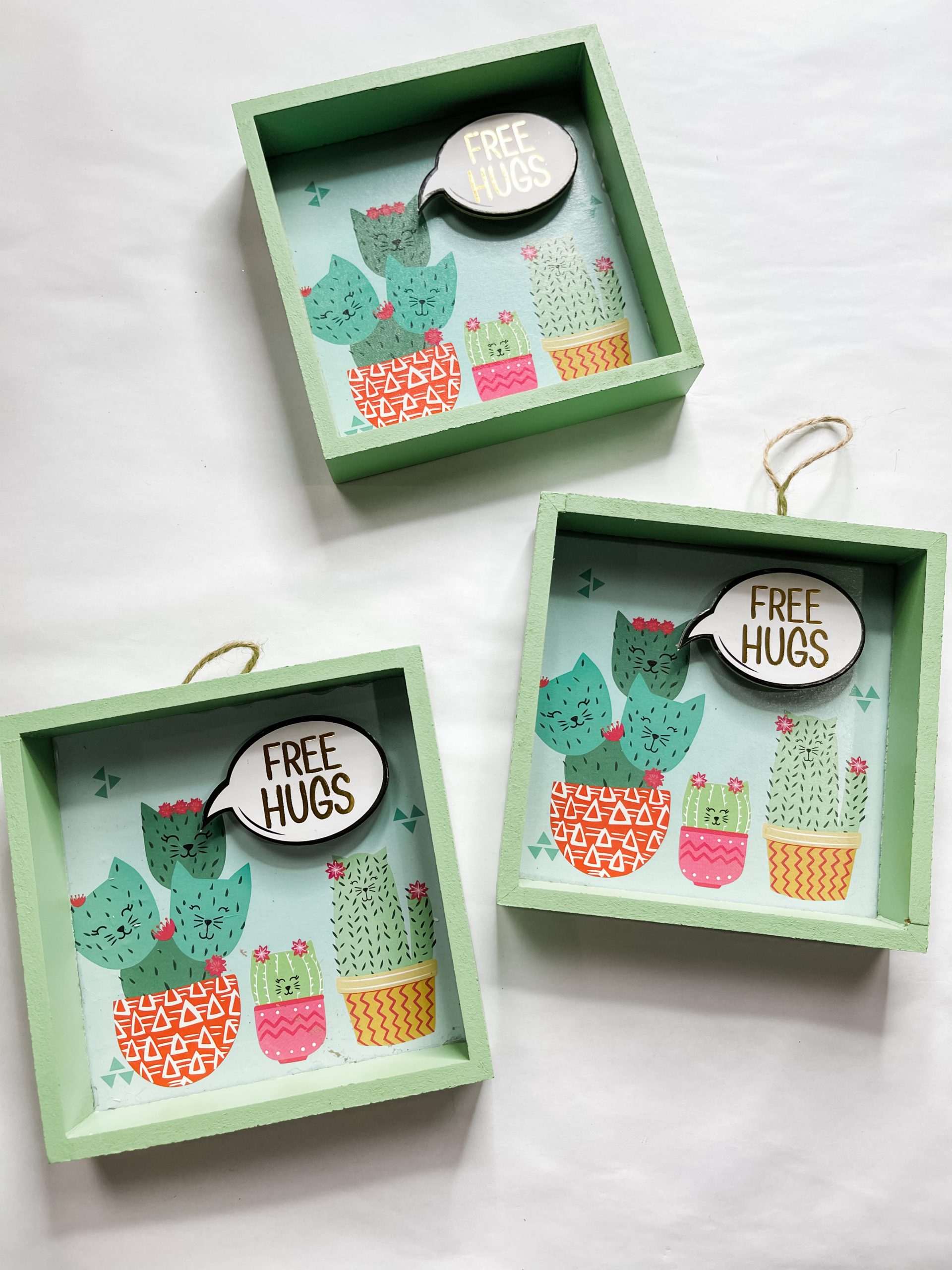 Then, cut three squares out of black polka dot scrapbook paper to fit inside each of the three sign boxes.
Use white paint to paint the back of the tall Valentine's Day sign. I used Apple Barrel White Acrylic Paint, but you can use whichever paint you already have on hand.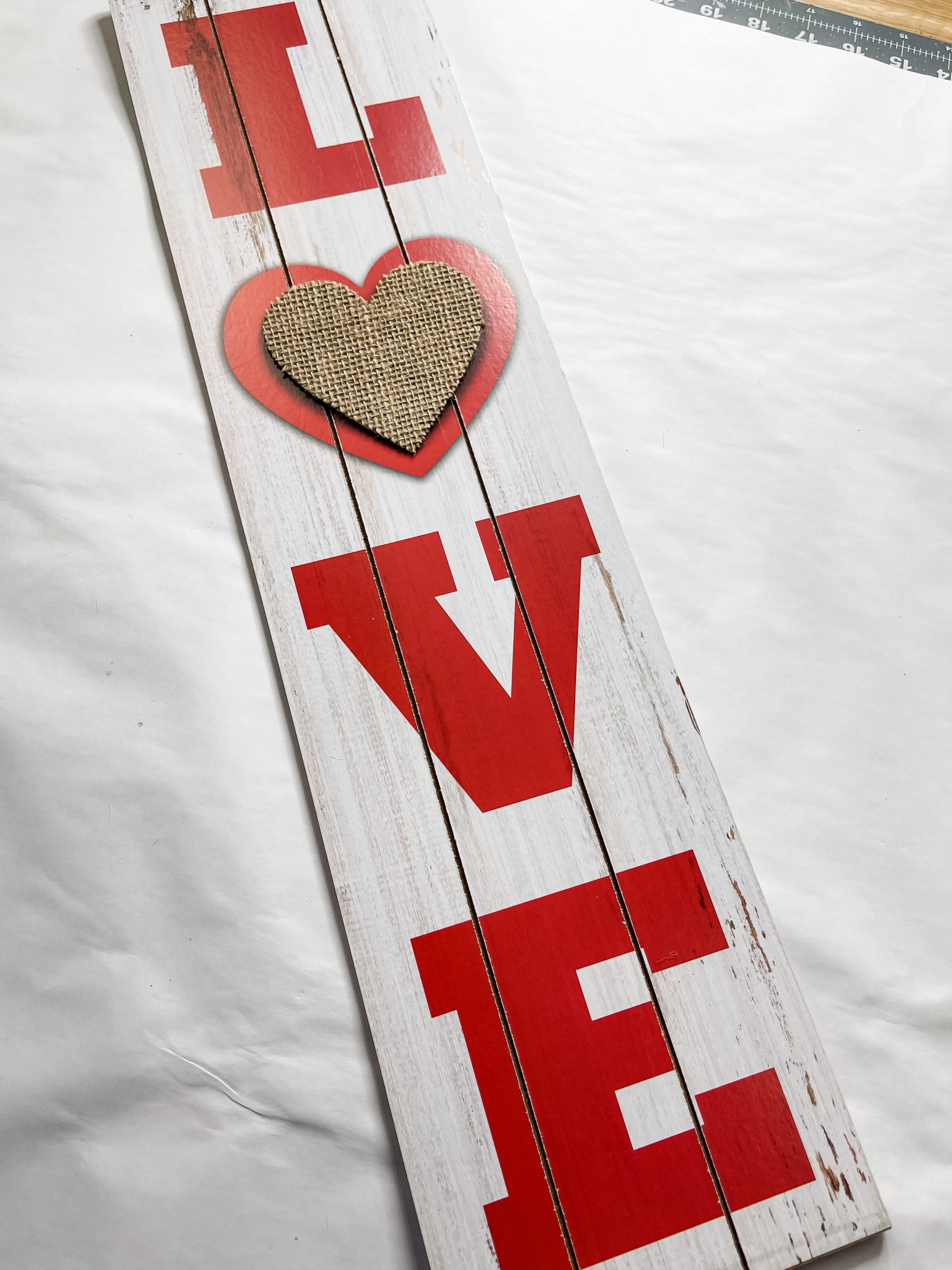 Don't worry about getting an even, full coat of paint on the Valentine's Day sign. Keeping the light hand will create an effortless distressed, farmhouse finish.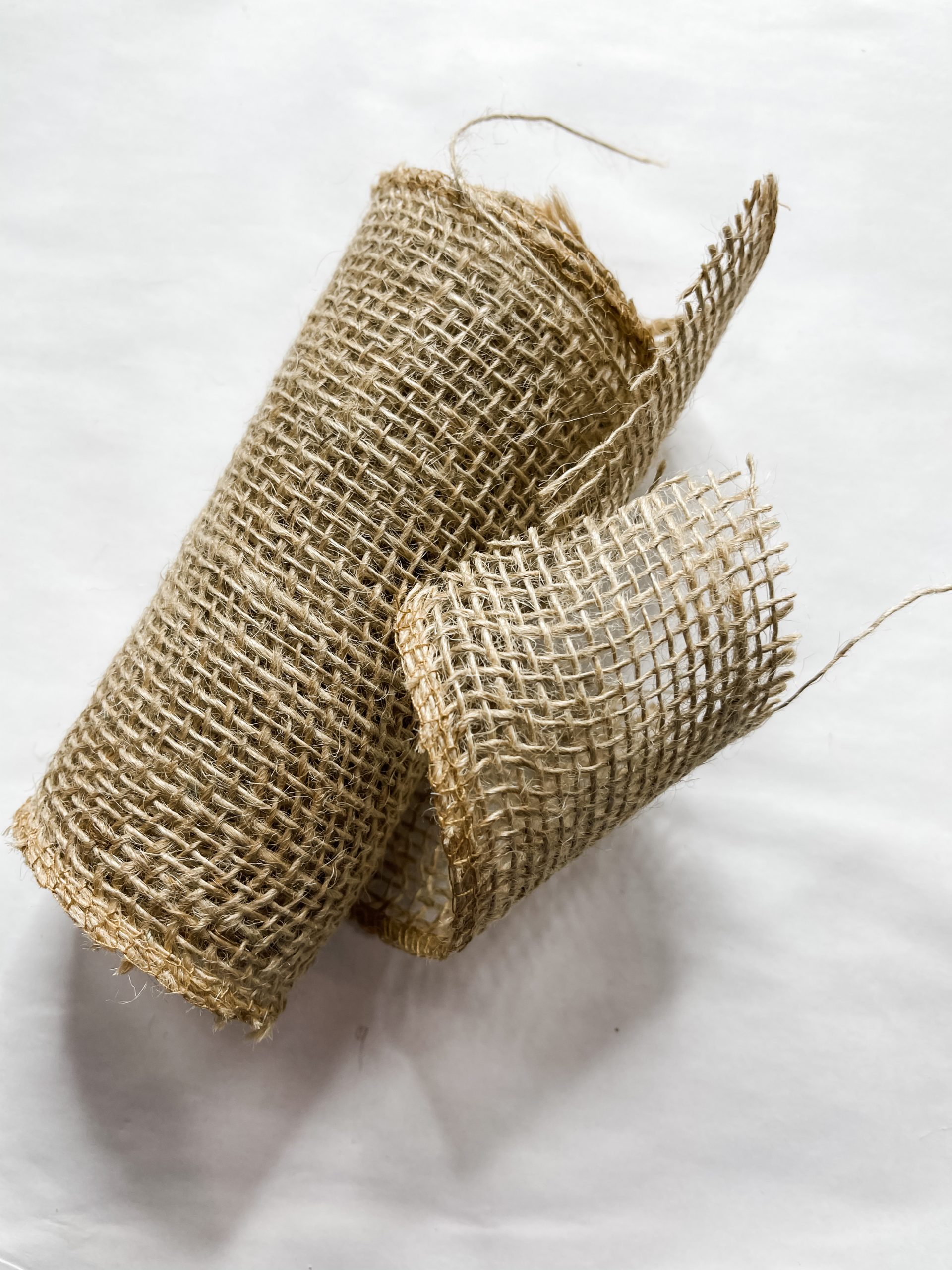 Next, cut three strips of burlap ribbon to go behind each of the sign boxes. I had to trim the width of the burlap ribbon, otherwise, it was too wide and just didn't look right!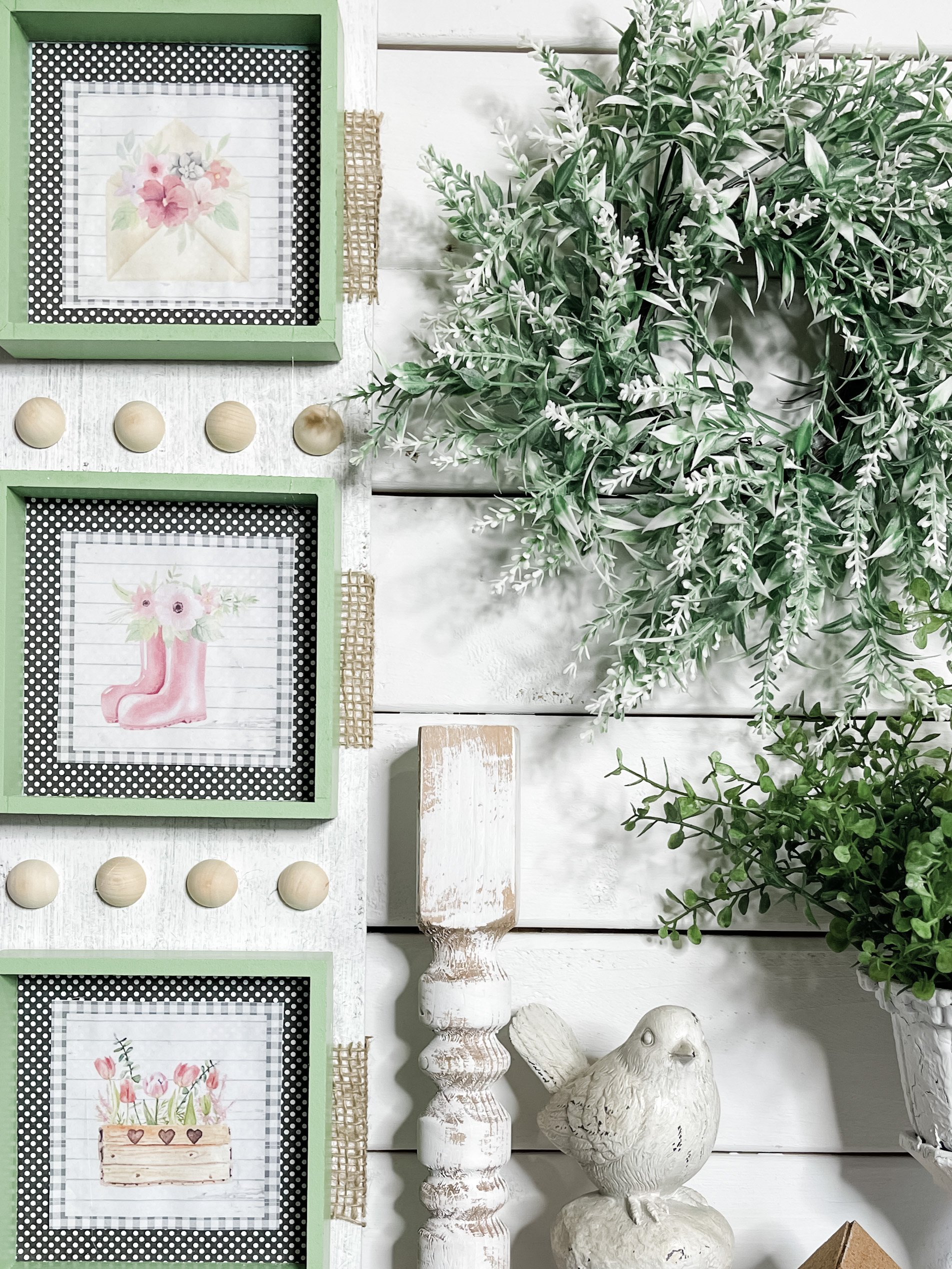 How to decoupage
Allow the white paint to dry on your Valentine's Day sign, and get ready to decoupage the scrapbook paper and printables onto each of the sign boxes.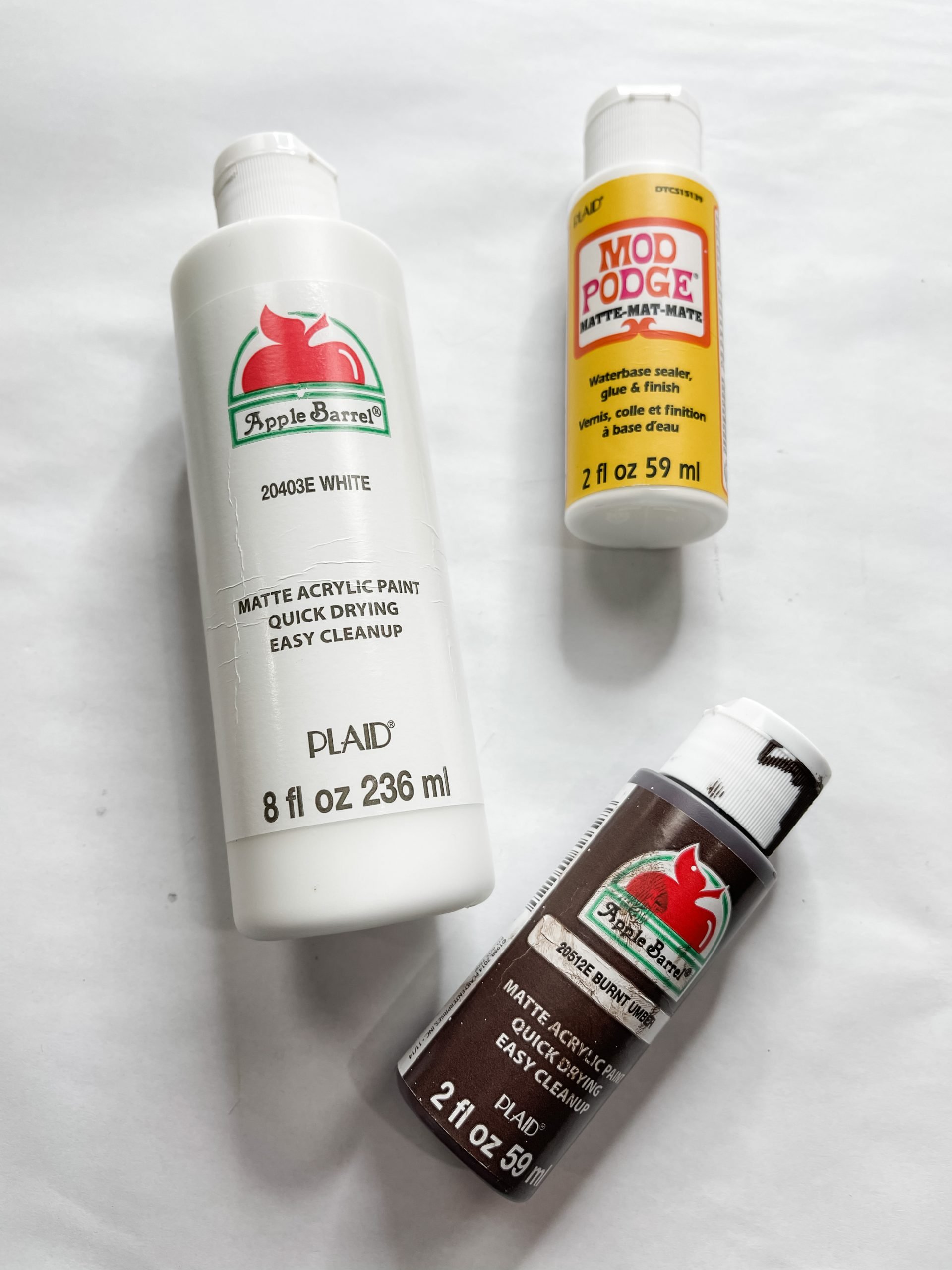 Apply a coat of Mod Podge inside each of the sign boxes and carefully place the scrapbook paper squares. Use a piece of plastic saran wrap to smooth out any wrinkles or creases that may form.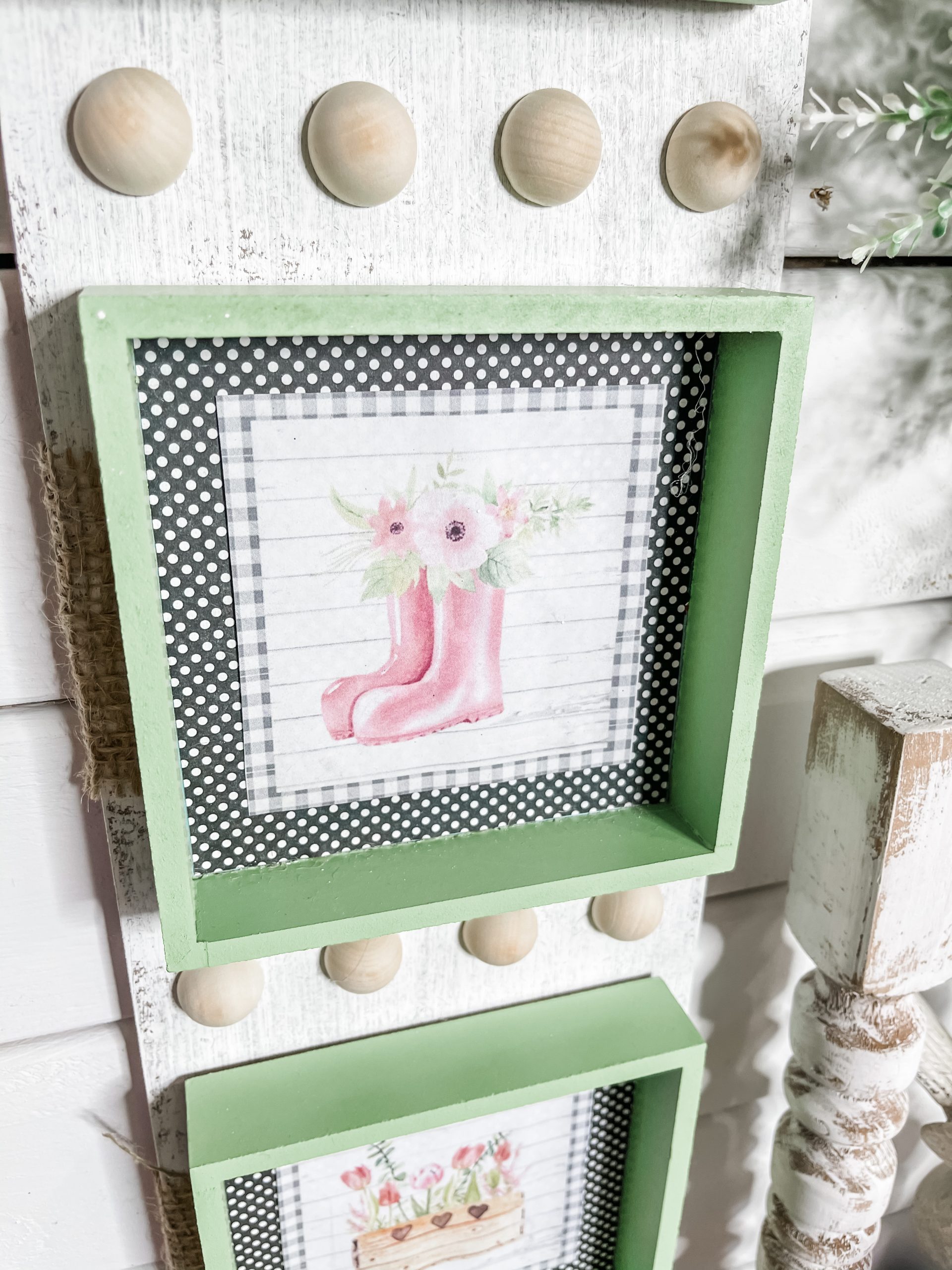 Then, you can use hot glue to attach the printable squares over top of the scrapbook paper squares. Hot glue each of the three ribbon strips across the painted side of the sign.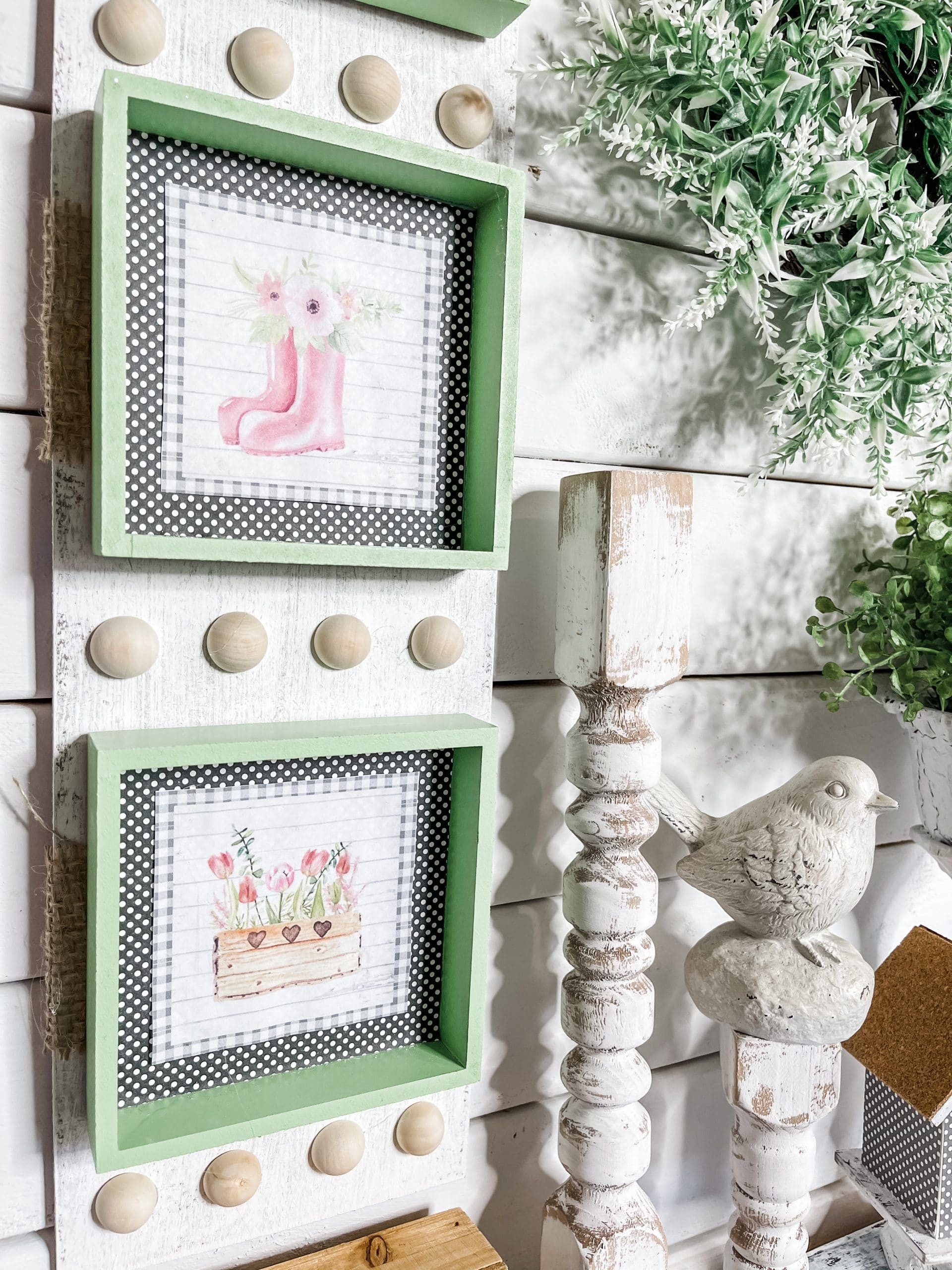 Wrap the ends of each ribbon strip around the edges of the sign and hot glue those in place as well. Once the ribbons are secured in place, hot glue the sign boxes over the middle of the ribbon strips.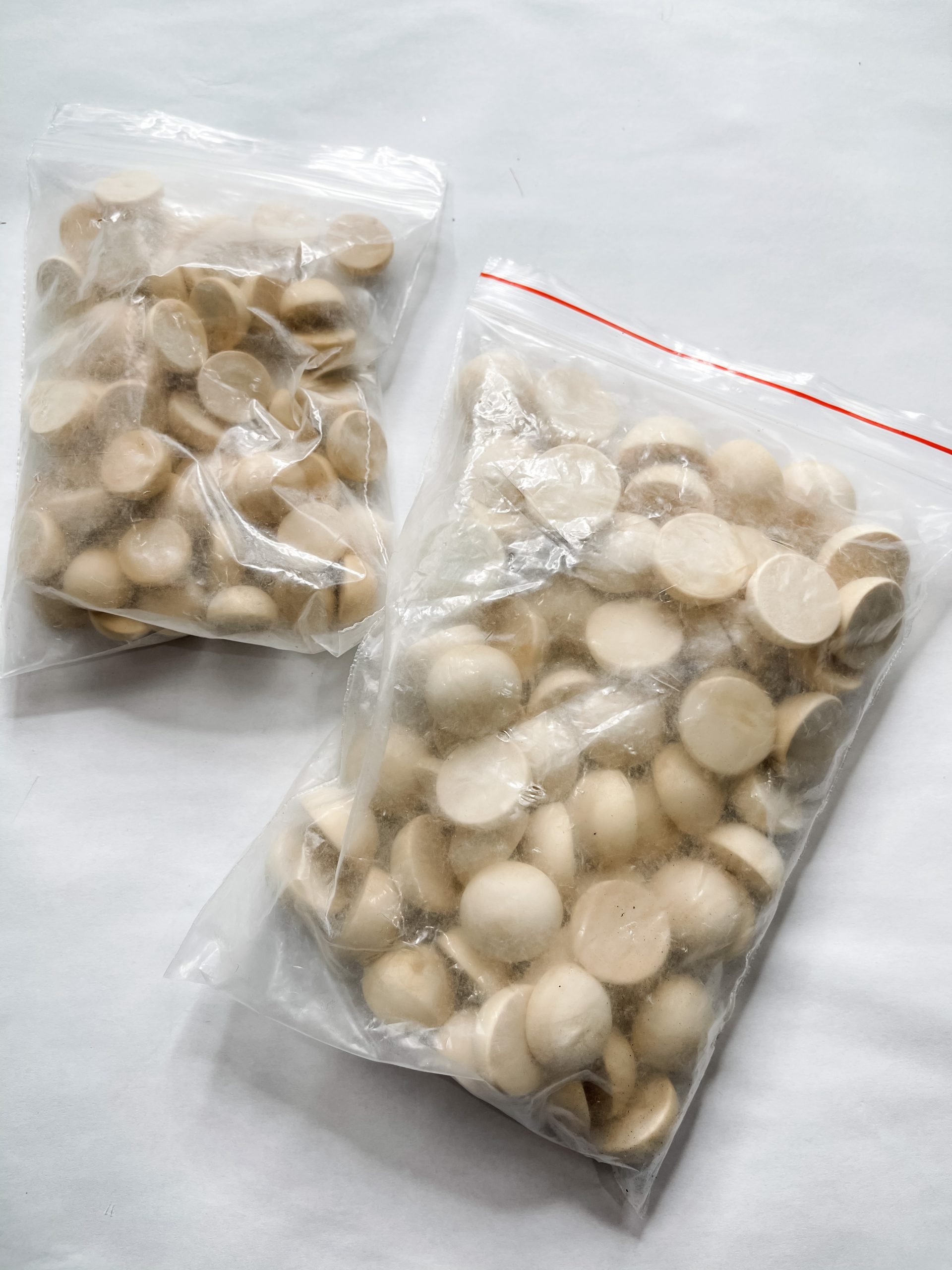 You're going to need 16 large wood beads to embellish your DIY decor. I hot glued them in groups of 4 in between the sign boxes and across the top and bottom of the sign.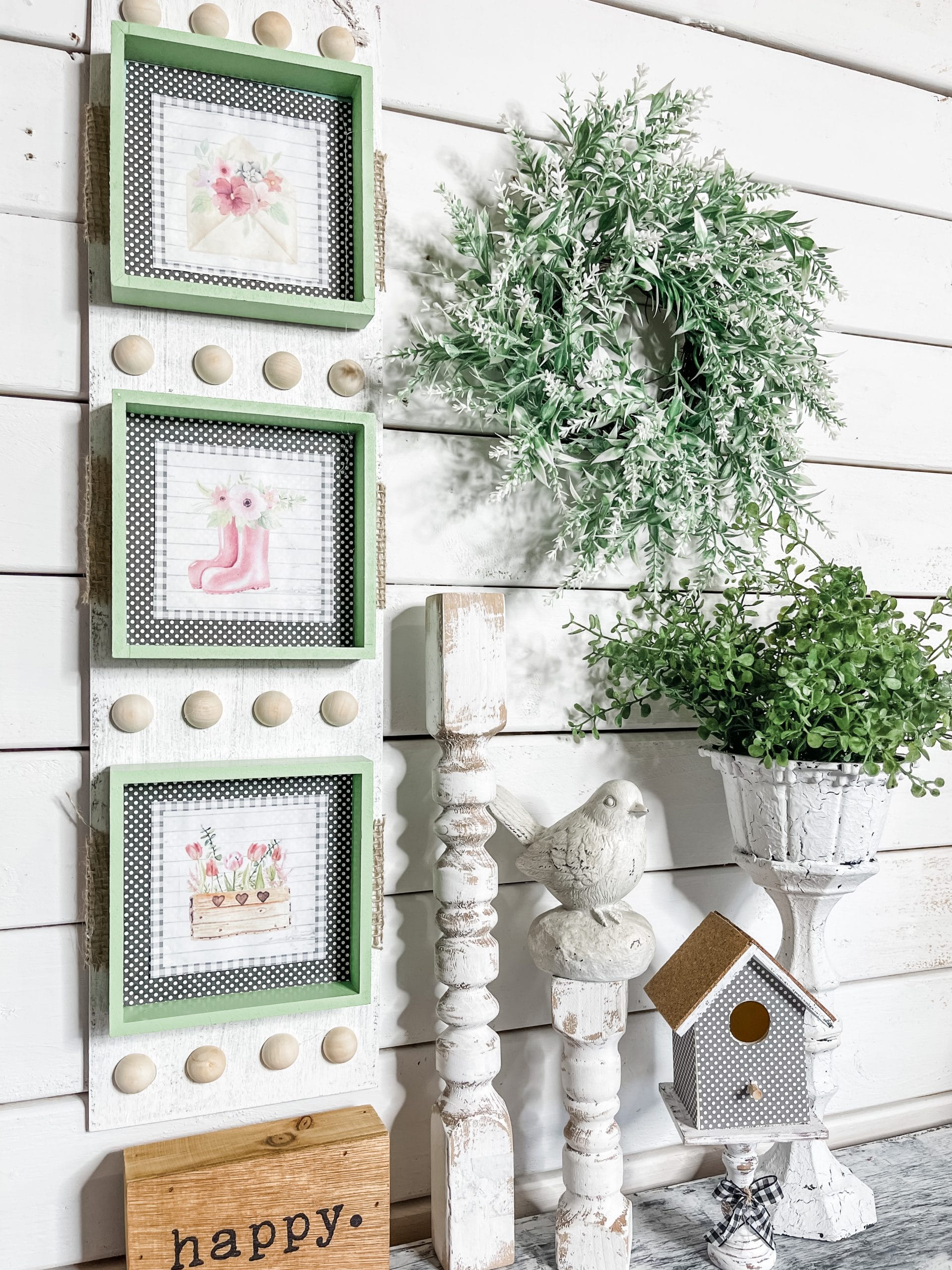 I hope you enjoyed learning how to turn Spring Printables into DIY Decor as much as I did and decide to make this for yourself! If you do, I would love to see how yours turns out!
Also, I have a FREE previous for my Spring Mega Craft Bundle! You can get the FREE printable sent straight to your email. Just sign up here!
You should totally join my FREE Facebook group called On A Budget Crafts! It is a judgment-free community for DIY crafters to show off their projects and ideas.
Thanks for stopping by! XOXO Amber
You can also shop my ENTIRE AMAZON Favorites shop just click here! It's packed full of all the things I use and love. Here is the supply list I highly recommend every creative have on hand!!
Would you also pin my blog for later and get on my newsletter alerts? I would love to have you join my #craftycrew.
Inspired? Leave me a comment below! I love hearing from my readers!

Join my free "ON A BUDGET CRAFTS" Facebook group!