We are waiting inside to meet you!
Creative Haven – A monthly or yearly creative group!
Monthly Membership:
Yearly Membership:
SUBMIT PAYMENT ONLY ONCE PLEASE! (Coupons only apply to new members)
Hey there! I'm Amber Strong! I am a creative nerd! I am a serious DIY'er, Maker, Painter, and Decorator!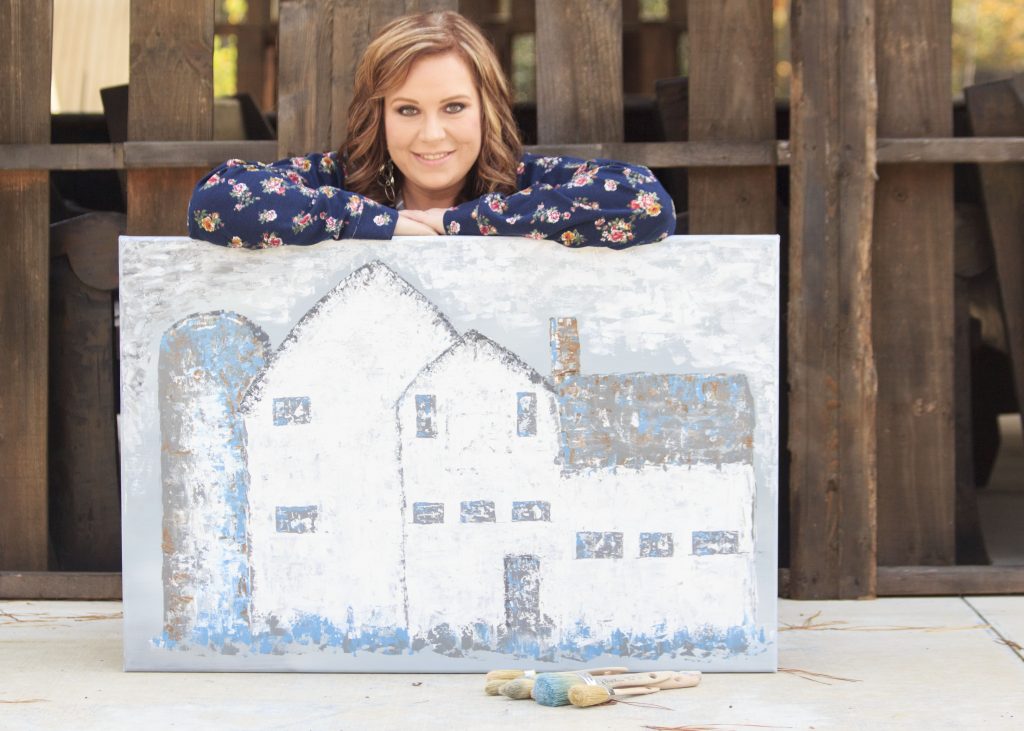 Do you love crafting and DIY?
I LOVE IT! I am pretty innovative and I love to think outside the box! One thing I love is helping others get creative too!
You will find me on Facebook, Instagram and I do have a YOUTUBE Channel! I do FB LIVE videos regularly where I share my love for DIY and Crafty things!
BUT, I often get asked a million questions such as:
Do you have supply lists for your DIY's?

"Hey, I know your so busy but I didn't know who else to ask, can you help me with something"

I would love to learn more about _____!
The questions come in at a record rate daily! So I thought it was time to give you a place to go to get top priority and a vip experience!
An affordable monthly or yearly option creative haven group just for you!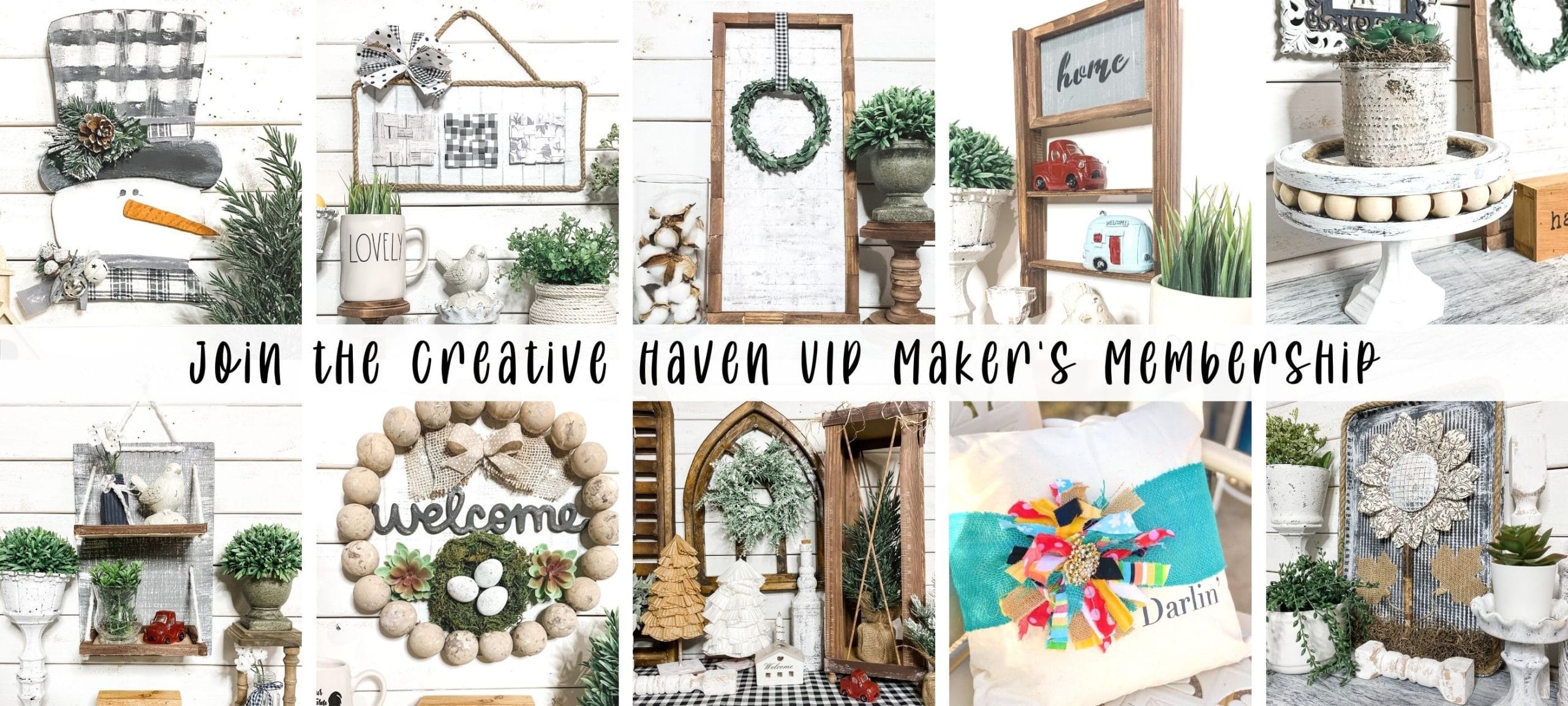 What is the Creative Haven?
It is a monthly or yearly paid private group where you will find other creative people just like you to bounce ideas off of and get fresh creative ideas! Plus I will be there! We will discuss, learn, and grow together! Throughout your membership depending on how long you remain a member: We will talk about paint, crafts, DIY, interior design, "how-to" stuff, shopping advice, brainstorming ideas for all kinds of things, to create a home and life you love and much more!
Each month will feature a different topic, theme or member submitted requests.
One of the special things about the "creative haven" is you get access to me to ask your questions, you get special VIP treatment! The creative haven group will give you a place to ask questions and get answers and gain access to secret DIYs including FULL supply lists.
Monthly Membership:
Yearly Membership:
Are there any experience requirements?
Absolutely not! It's for everyone!
Everyone will have different levels of experience, and talents! There will be ZERO trolls or haters! (best part right) You will get to be yourself, share your projects, photos of your home, make special requests, ask for advice and we will all be there to learn from each other and live our best creative lives!
The only expectation is to come expecting to be encouraging, kind, and willing to just have a good time!
So, what do I get with my membership?
DIY with ME! You will get at LEAST 2-3 live videos with me including supply lists where it permits (more if time allows me)! Either crafting, doing a larger DIY, painting, building, learning new paint finishes or techniques, sharing helpful tips, decorating advice, having a hot seat session (that's where a couple of you can come on video with me if you like) each week would vary and each month may have a special theme! (It's gonna be a good time!)
Access to all printables! Creative Haven Members who are active and paid gain access to all of my free, paid, and members-only exclusive printables. This adds great value to your membership! Printed copies are not included with membership. You can purchase those here!
Celebrity Crafters! You will get access to a guest celebrity crafter once a month, and occasionally the celebrity crafter may be one of our very own members! I know this has been requested by my followers! (could be one of your favorite crafters you follow)
FRESH CREATIVE IDEAS: I try to bring you never before seen DIY's or I try to bring you a DIY that I have modified to be fresh and new! Plus, you get to see all the other members DIY's and their versions to inspire you as well.
Questions Answered: You will have VIP access to getting your questions answered and get a more personalized experience! Ask your questions anytime on the specified thread in the group!
Supply Lists: You will get a supply list for special crafts and DIY's every month, I try to post the supply lists the week ahead. (you are not mailed any supplies)! You are not required to craft along or use what is listed on the supply list. I encourage you to think outside the box and I do offer substitutions.
Discounts: You will have access to discount codes when I am able to provide them to you.
Members-only VIDEO VAULT: You will get access to a vault of DIY's that are for members only. (this vault will grow as the group does) As well as a special video vault of past DIY's on my FB page, yes they are already public but they can be hard to find at times. (This list will be added to in my extra time)
Craft and/or DIY challenges! Occasionally we will do a challenge, (details will be posted with the challenge and the requirements) winner will get a gift card (of my choosing).
Member INPUT! I frequently ask the members to give input and recommendations. It is important that my members feel apart of the community and are able to make suggestions and vote in polls within the group.
COMMUNITY! You get to be apart of a community of people who will love you, encourage you, and be there! (even if you need to just talk about LIFE, there is a thread for that) My mission is to be a resource for creatives to go to that is a safe place as well as creative!
Early Access: Creative Haven Members will occasionally get early inside access to special happenings, DIY's filmed for youtube, tips, and special chit chats!
REPLAY Access: Each DIY will be placed in the topics tab for replay as often as you like. (this is especially helpful for new members to gain access to past DIY's)
***This group is not going to teach any business support!
JOIN NOW FOR JUST $21 month or $210 yearly membership!
Monthly Membership:
Yearly Membership:
You are locked in at this price as long as you don't cancel. This is a subscription and will be deducted monthly or yearly until you cancel. *You can cancel anytime! (there are no refunds so please stay through your paid month or year even if you cancel the next day, there are no refunds or credits). Billing is in 30 day segments if you joined monthly no matter what time of the month you joined. You are only billed once every 30 days. If you joined yearly, you are billed once a year 365 days from the day you first joined. **Beta price has ended for founding members! The are locked in at the rate they joined with as long as they do not cancel.
Special access to order at a discount MEMBERS ONLY SHIRT!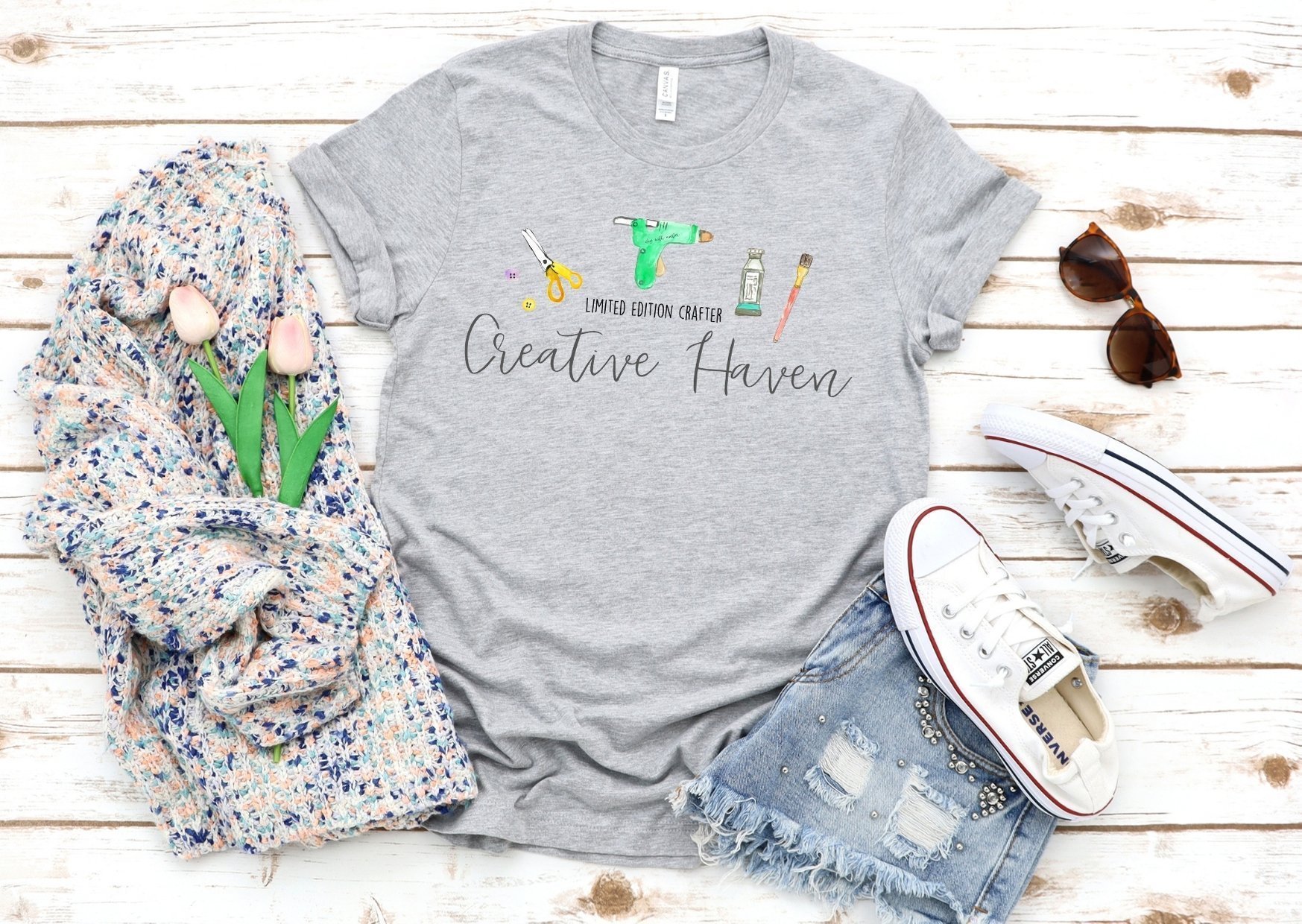 YES, GIRL! I need this sign me up!
The Creative Haven VIP is unlike any other group you may have been apart of whether it is a free group or a different paid group. I do not allow posts to clutter the discussion. In fact, every post has a place. If you come to the group to post, you need to post to the proper thread. If you or another member posts to the discussion it will be removed and you will be asked to put it in the proper place. This ensures that each member comes to the group to take away what they have purchased access to. And scrolling thousands of random posts is not helpful to our members. The discussion feed will always feature the posts you have purchased access to.
Sample Supply List photo
– there is also a FULL detailed list that is always included as well.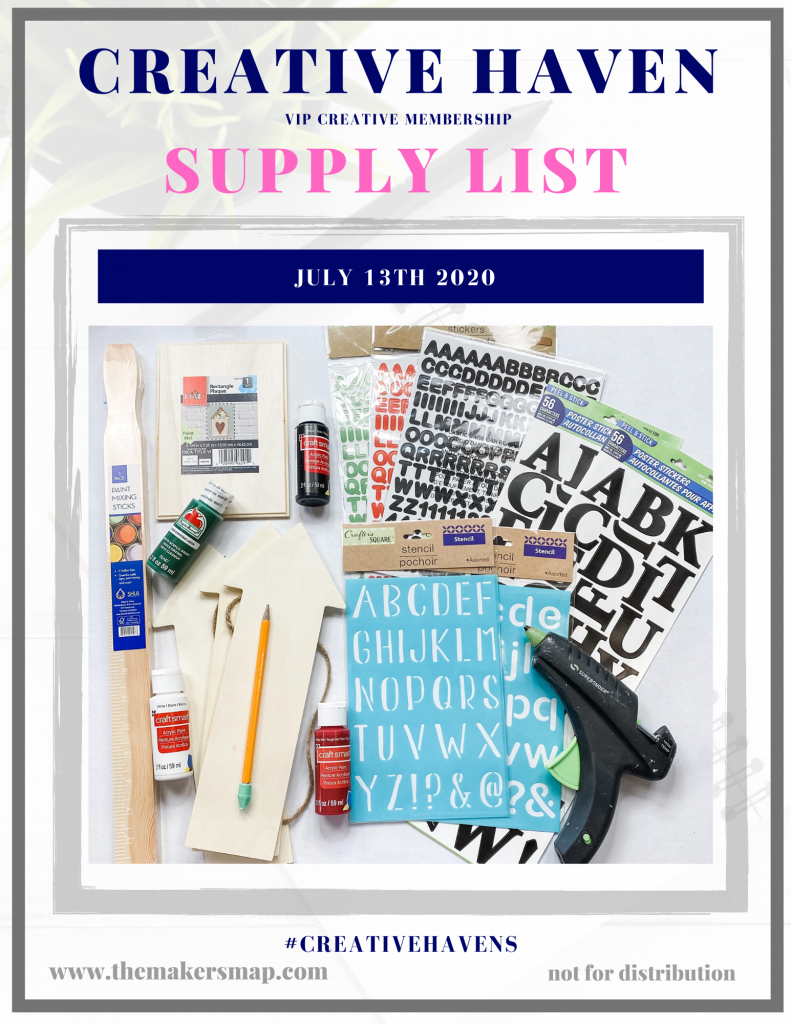 Everything is organized! We use the topics feature for all posts
IMPORTANT!
Once you join, be sure to check the email confirmation of your purchase it will be sent to you, and then request to join the private Facebook group and be sure you are logged in to Facebook properly! (that is where we will all be hanging out)! You can not get access unless you have paid!
Monthly Membership:
Yearly Membership:
JOIN THE FACEBOOK GROUP – Only if you purchased it!
You will not be automatically added!
You must request to join the group!
Be sure to request to join the group, you will not get an invite! Be sure to include the email you signed up with, as well as the name used when you purchased it! (I know sometimes our Facebook names do not match)
If you do not answer the questions asked when you request to join, you will automatically be denied access!
NO pages are allowed to join the group, you must join as your personal profile!
You must agree to follow all the group rules! Members are not allowed to post directly to the discussion feed.
I am so excited and can not wait to see you inside the Creative Haven VIP community!
There are no credits or refunds.
It is each member's responsibility to show up for the scheduled times. Yes, there is a schedule, you will know ahead of time. Bonus content is extra and not scheduled. Arrive on the scheduled day a few minutes before in the group, refresh the feed until you see the live video appear. Do not rely on Facebook to tell you.
Once inside the group, everything is organized and you must post and communicate in the proper threads. There is a welcome video explaining how the group is structured and organized to help you experience the group in the best way. If you need help you must email us!
There is also a support topic tab if you need help with your account.
Membership Services are subscribed to services typically on a recurring payment plan. Through memberships, you gain access to exclusive content, products or information each month or year you remain active.
Digital Goods or Information Products are general phrases used to describe any goods that are stored, delivered, and used in its electronic format. Digital goods are shipped electronically to the consumer through email or download from the Internet. Digital Goods or Info Products can also be in the form of courses, videos, or any type of virtually consumed information.
Contact
info@themakersmap.com