DIY Decorative Bird Feeder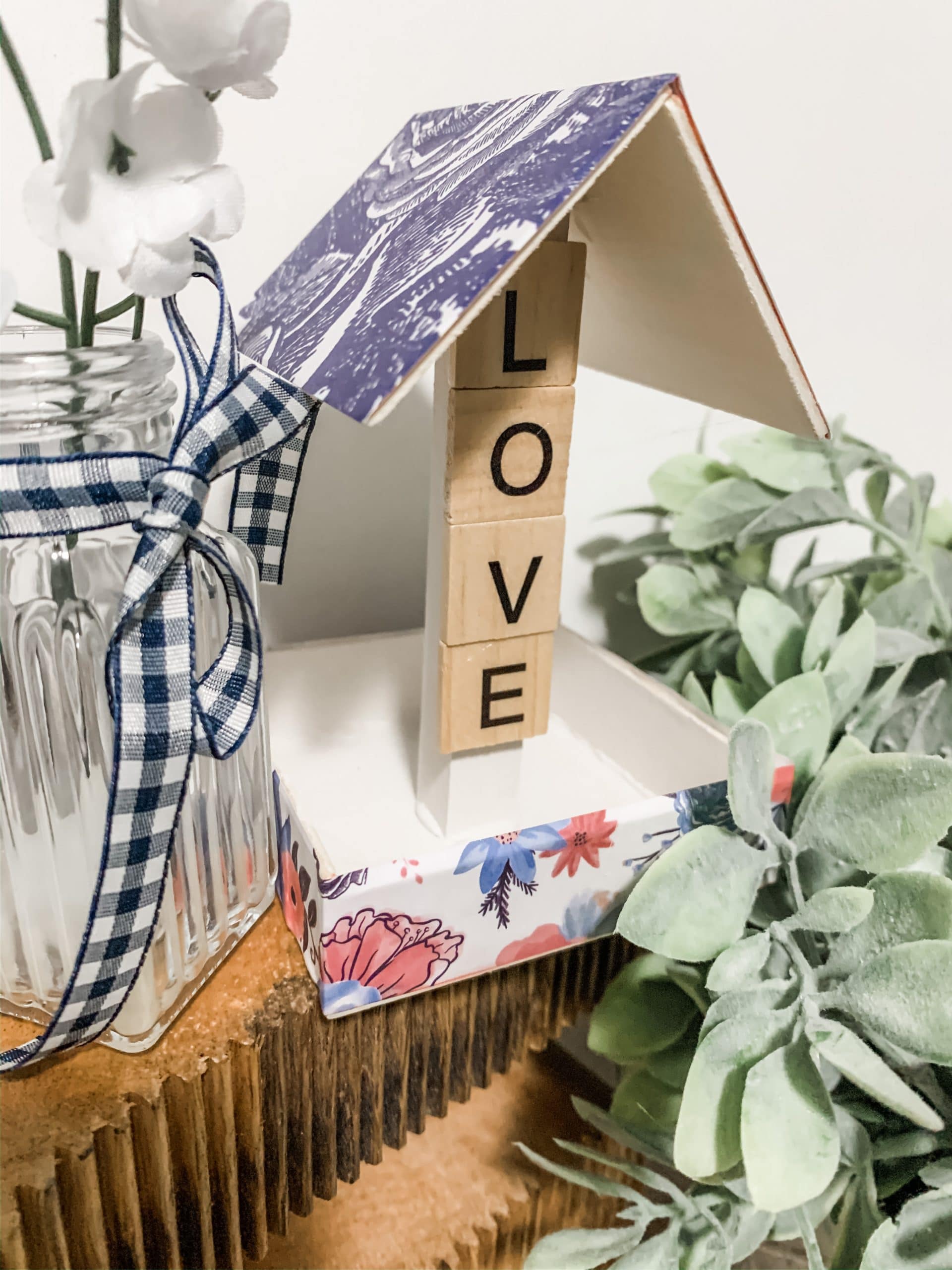 This DIY Decorative Bird Feeder is such an easy shelf sitter DIY, and I just had to share it with you! Sometimes I find myself with pretty complex DIY ideas, but this easy shelf decor was not one of those.
With a little hot glue, Mod Podge, and white paint, you can bring make your own DIY floral shelf decor!
Watch the replay
Don't believe how easy it is to make an adorable bird feeder shelf sitter? Watch the Facebook Live Replay from 2020 where I show all the how-to steps to creating this super cute DIY decor!
For this project, I will be using these items but you can substitute where you want.
"As an Amazon Associate, I earn from qualifying purchases."
Dollar Tree Bird Feeder
Floral Scrapbook Paper (x2 patterns)
Scrabble Tiles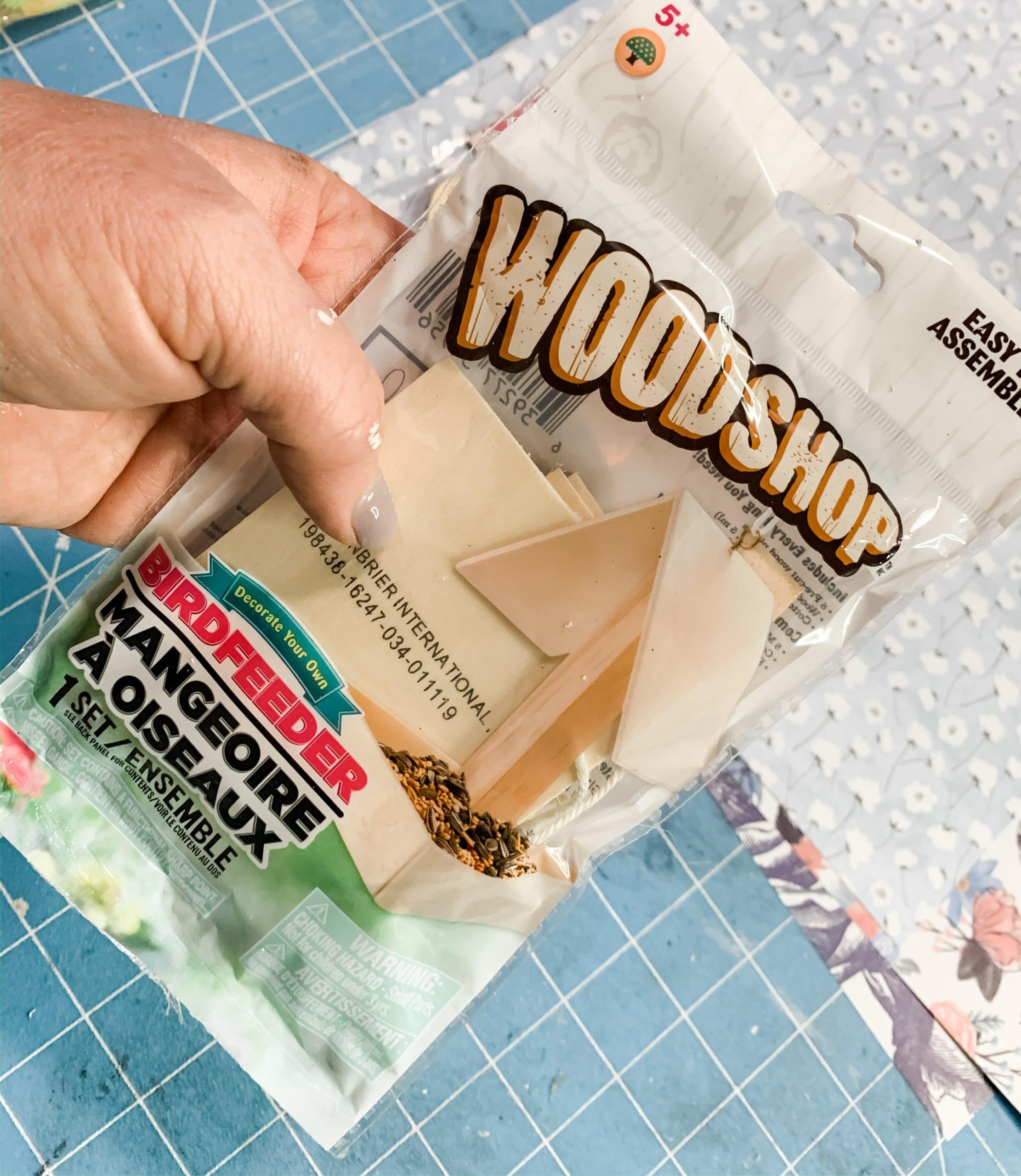 Let's get started
Alright, the first thing you have to do to make this adorable DIY shelf decor is assemble your Dollar Tree bird feeder. Just hot glue the pieces of the bird feeder together until it is all put together.
Before we paint the bird feeder and decoupage the scrapbook paper, go ahead and pick out the phrase you want on your bird feeder. I chose love, but you could do home if you want a more neutral phrase.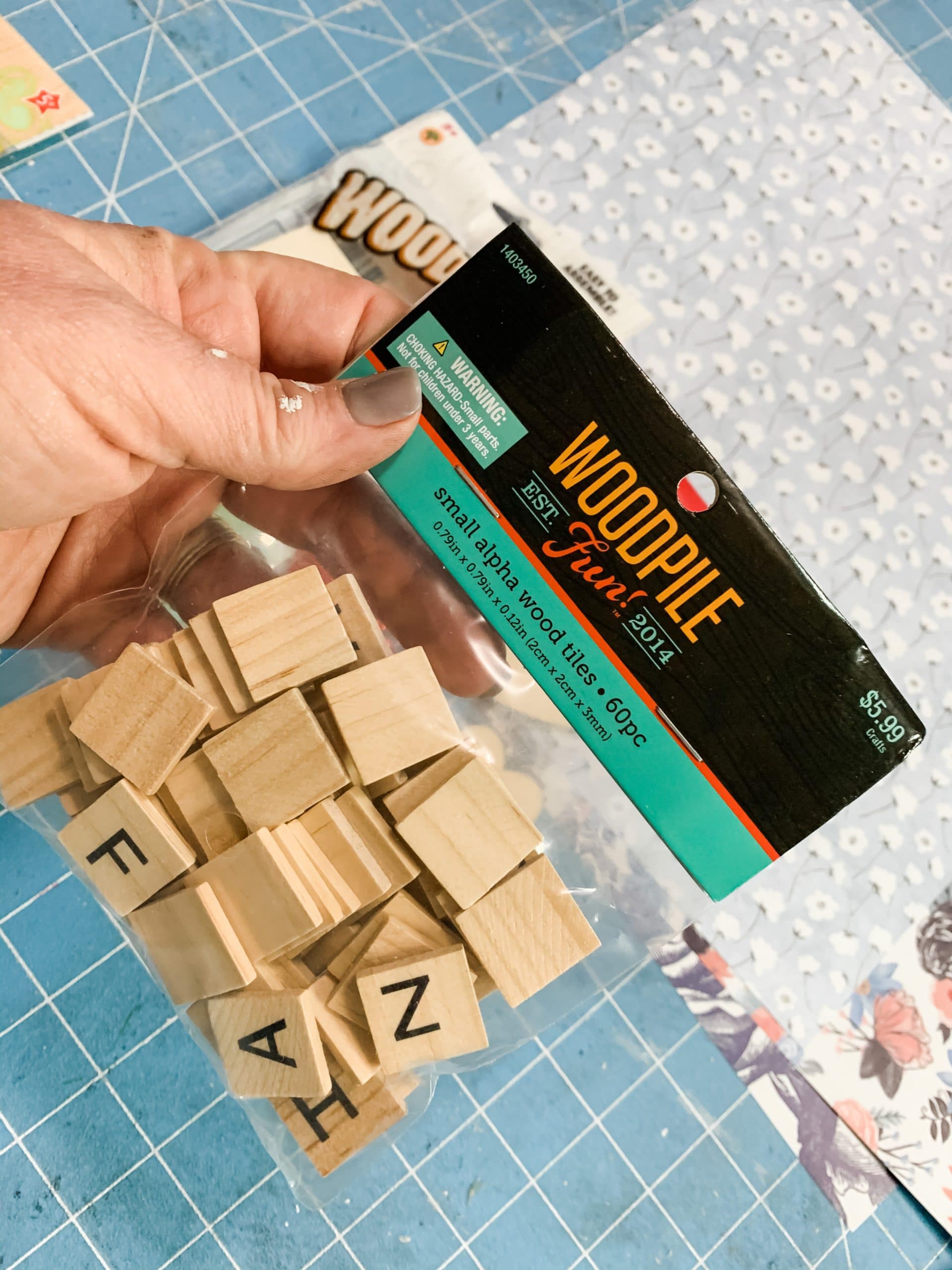 Now, cut a strip of your first scrapbook paper patron to wrap around the base of the Dollar Tree bird feeder.
Once you have the scrapbook paper strip ready, apply a coat of Mod Podge to the outside of the base of the birdhouse and carefully place the paper strip.
If the strip is too short, you can cut a small piece to fill the uncovered space.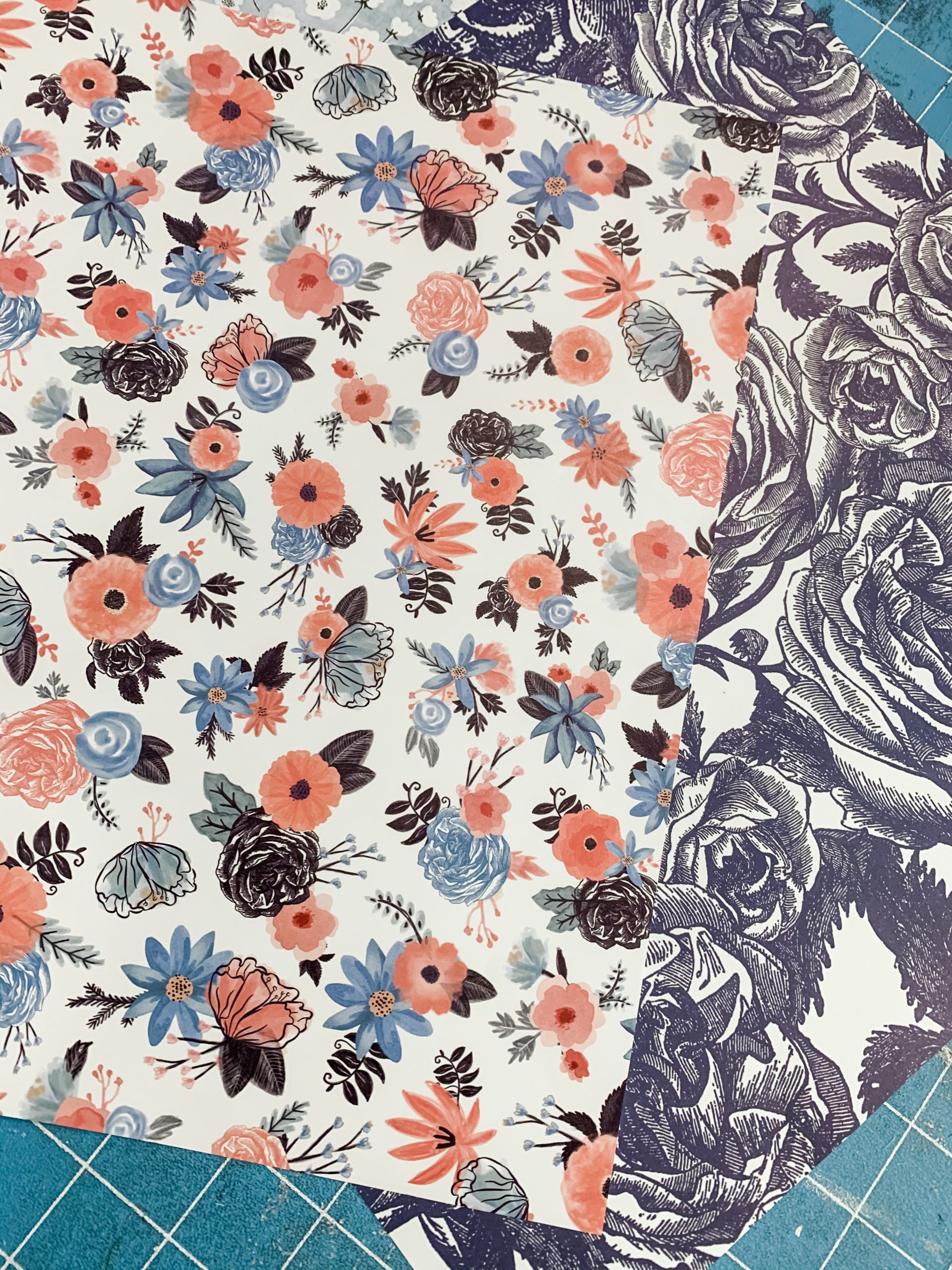 I used a different scrapbook paper pattern for the roof of the Dollar Tree bird feeder, but whether or not you're using the same pattern or a different one, cut a rectangle out large enough to cover the top of the roof.
I folded the rectangle in half before I applied the Mod Podge to make sure it would lay down easily onto the roof. Then, apply the Mod Podge to the roof and carefully place the rectangle piece of paper.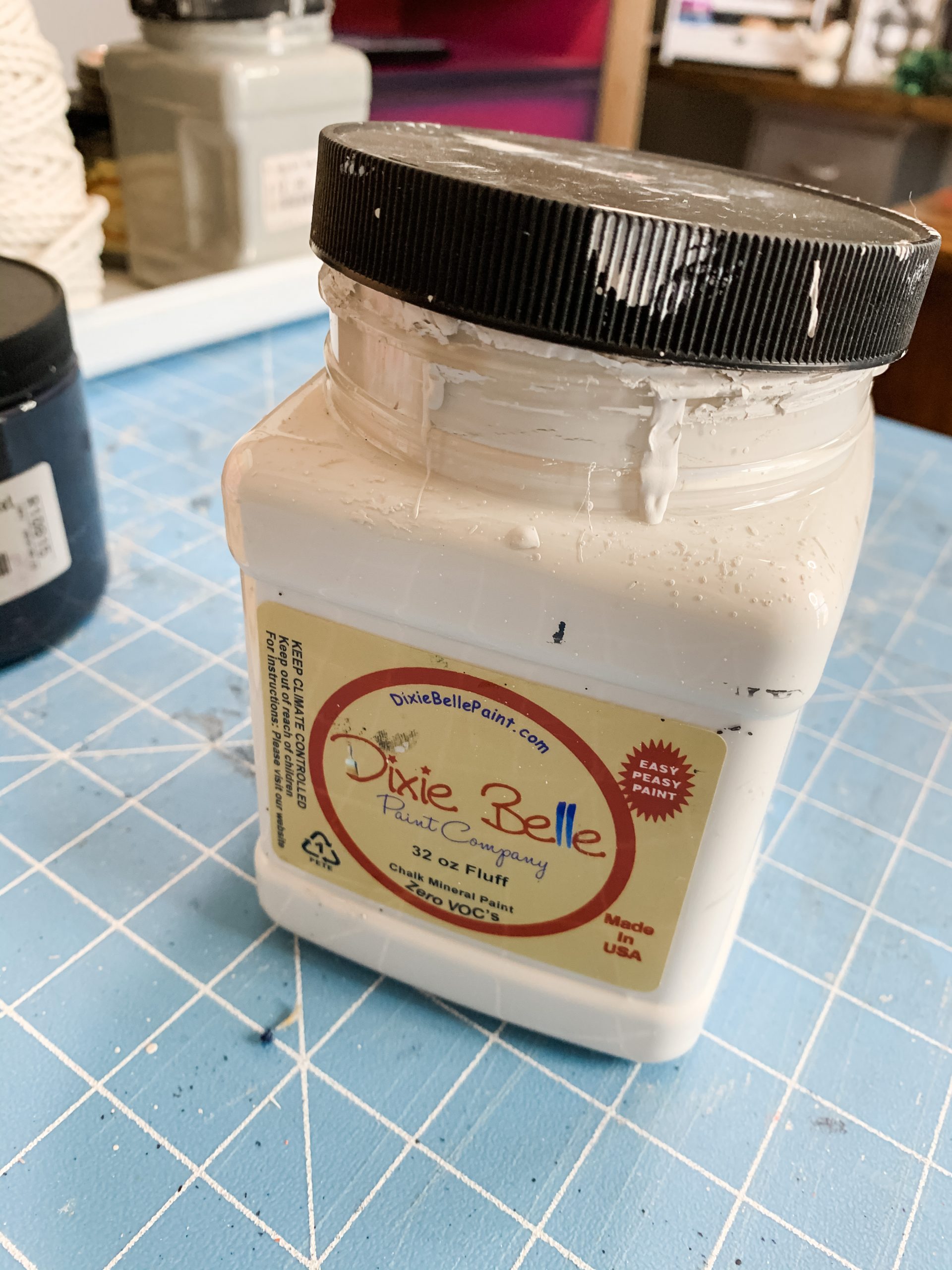 Finishing touches
Once your scrapbook paper is decoupaged onto the Dollar Tree bird feeder, it is time to paint the exposed wood white. I used Dixie Belle Fluff Chalk Paint, but you can use whichever paint you prefer.
Allow the paint to dry (I used my heat gun to speed up the drying process), then hot glue your scrabble tile letters up the center beam of the bird feeder. If you don't have a heat gun, you can use a hairdryer on the low cool setting.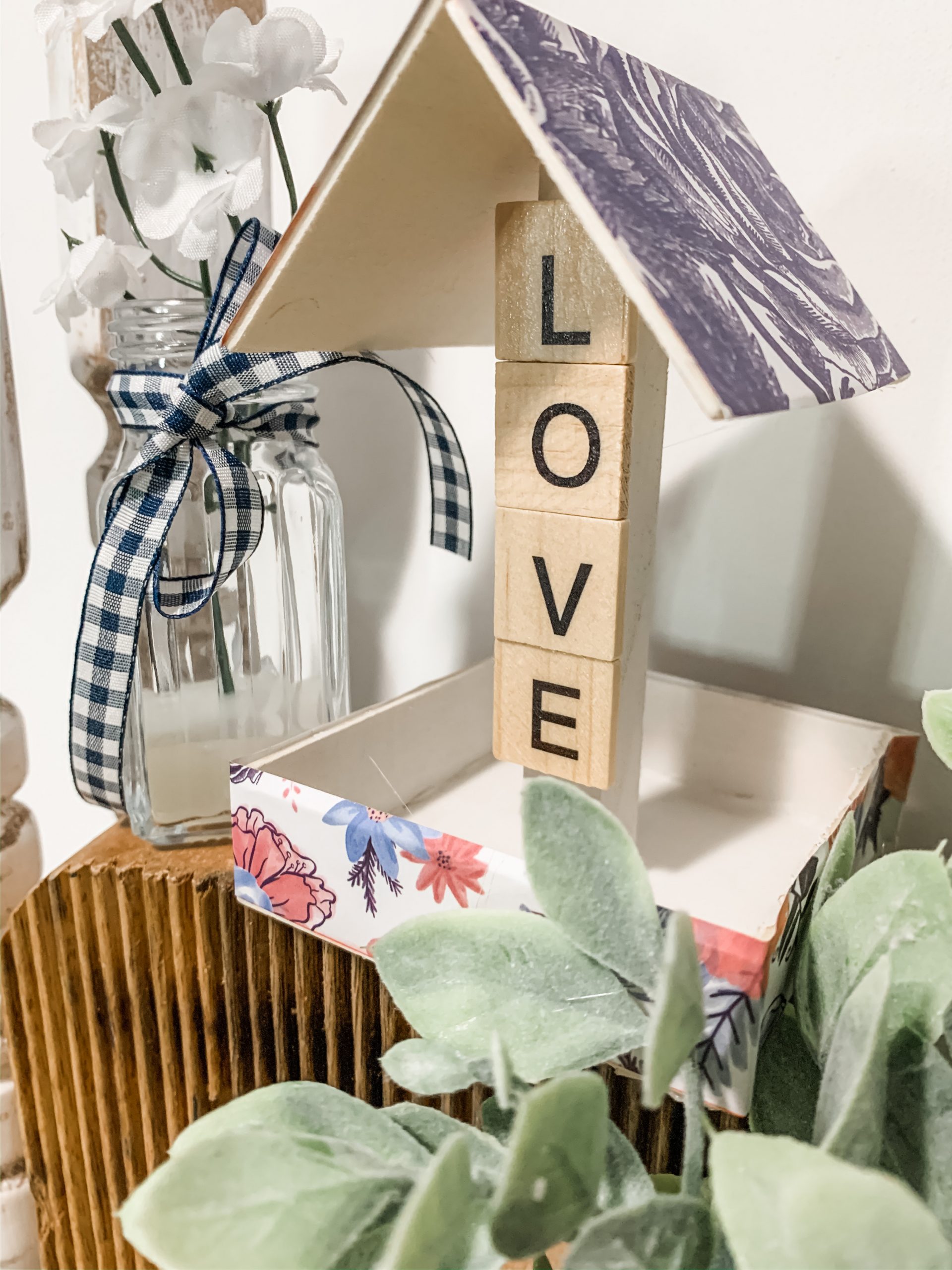 I hope you enjoyed this DIY Decorative Bird Feeder as much as I did and decide to make one for yourself! I would love to see how yours turns out!
You should totally join my FREE Facebook group called On A Budget Crafts! It is a judgment-free community for DIY crafters to show off their projects and ideas.
Thanks for stopping by! XOXO Amber
You can also shop my ENTIRE AMAZON Favorites shop just click here! It's packed full of all the things I use and love. Here is the supply list I highly recommend every creative have on hand!!
Would you also pin my blog for later and get on my newsletter alerts? I would love to have you join my #craftycrew.
Inspired? Leave me a comment below! I love hearing from my readers!

Join my free "ON A BUDGET CRAFTS" Facebook group!