Valentine's Day or Spring Decor with Fake Flowers

Can you ever have too much buffalo check? I feel like I'm using buffalo check on so many of my DIY projects, but come on! Look at how adorable this Valentine's Day or Spring Decor with Fake Flowers is!
I just love how buffalo check goes with everything! You can use it for Christmas, Valentine's Day, Easter, Spring, Summer, and Everyday decor!
Watch the tutorial
This great DIY decor project is so simple, I put together a quick DIY tutorial video for you! The DIY tutorial video is less than 4 minutes and shows you exactly how I project this DIY idea to life!

For this project, I will be using these items but you can substitute where you want.
"As an Amazon Associate, I earn from qualifying purchases."
Dollar Tree Planked Heart
Dollar Tree Pink Doily
Piece of Cardboard
Dollar Tree Wood heart sticker
Wood heart cutout with love (Hobby Lobby)
Fake Flowers
Jute Twine
Buffalo Check Tissue Paper
Plastic Jar
Dixie Belle Fluff Chalk Paint
Mod Podge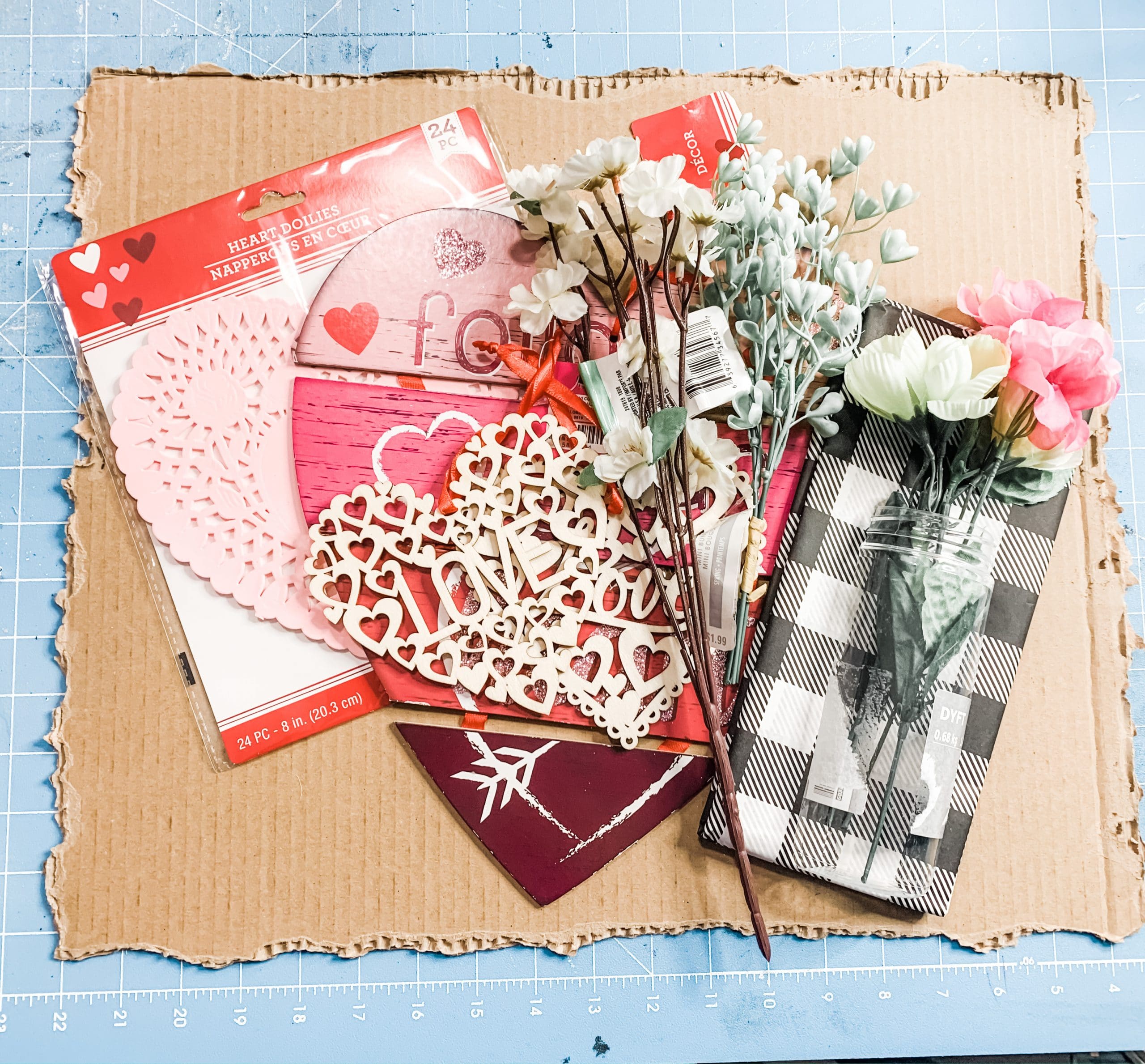 Let's get started
The first step of making this adorable DIY decor that can be used for Valentine's Day or Spring is to paint the piece of cardboard. Make sure that your cardboard piece is large enough for the Dollar Tree heart and the DIY flower pot.
I tore the edges to give it more of a shabby chic feel. You can use whatever white paint you want, but I used Dixie Belle Fluff Chalk Paint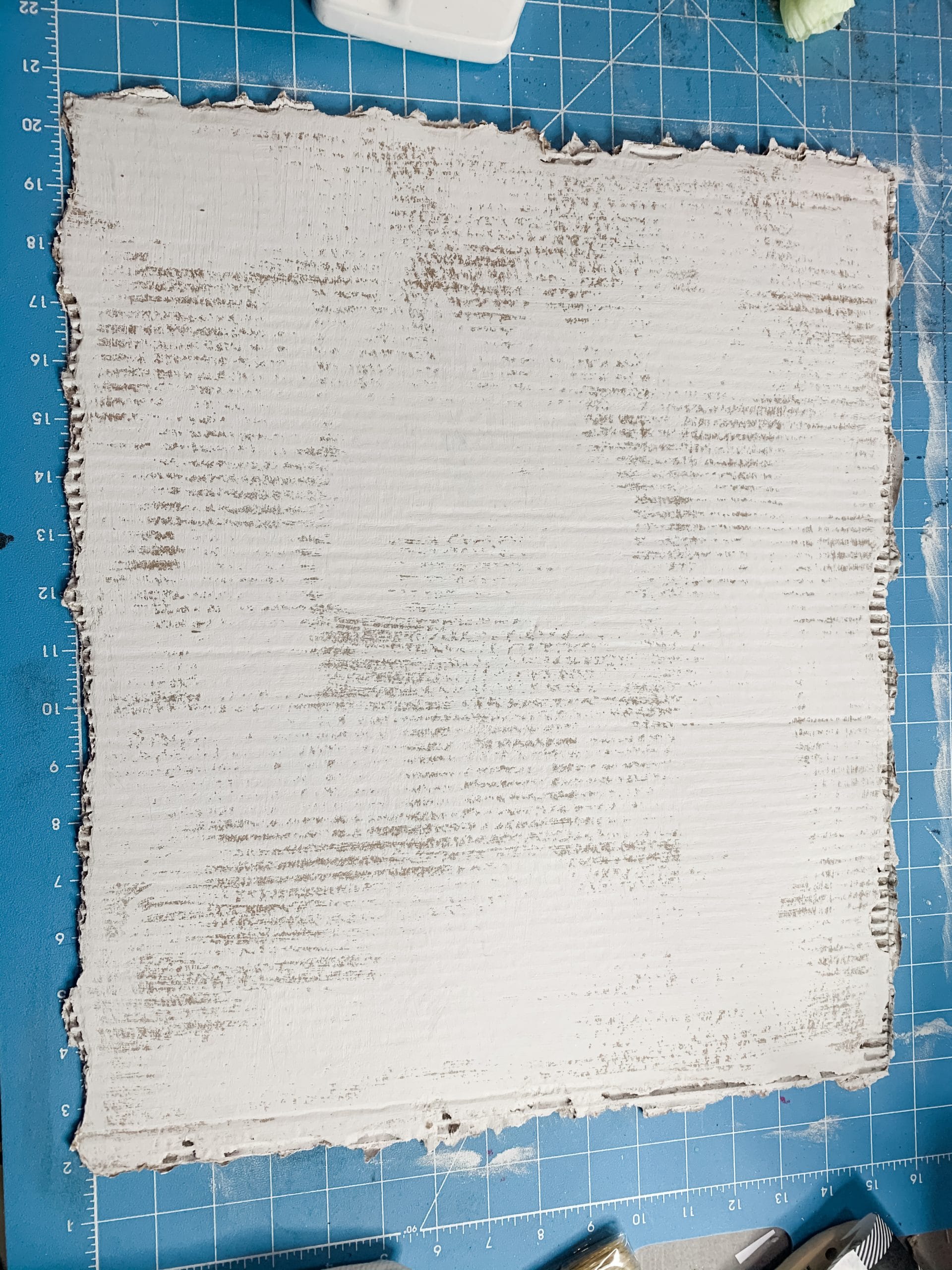 Don't worry about getting a full, even coverage of the white paint on your piece of cardboard. Once the paint was dry, I lightly distressed the paint with a sanding sponge to smooth it out.
How to decoupage
Next, you need the Dollar Tree planked heart, buffalo check tissue paper, Mod Podge, and white paint. Before we start decoupaging the tissue paper, we have to cut it to shape.
Because the Dollar Tree heart has a bold pattern, I mixed some white paint with Mod Podge then applied it to the heart pieces. Allow the Mod Podge to dry, then sand the edges to remove the excess tissue paper.
The pieces of the Dollar Tree heart were connected by ribbons. I went ahead and cut those ribbons because I planned on gluing the pieces onto the cardboard one by one.
This also made it easier to remove the excess tissue paper from the inner edges.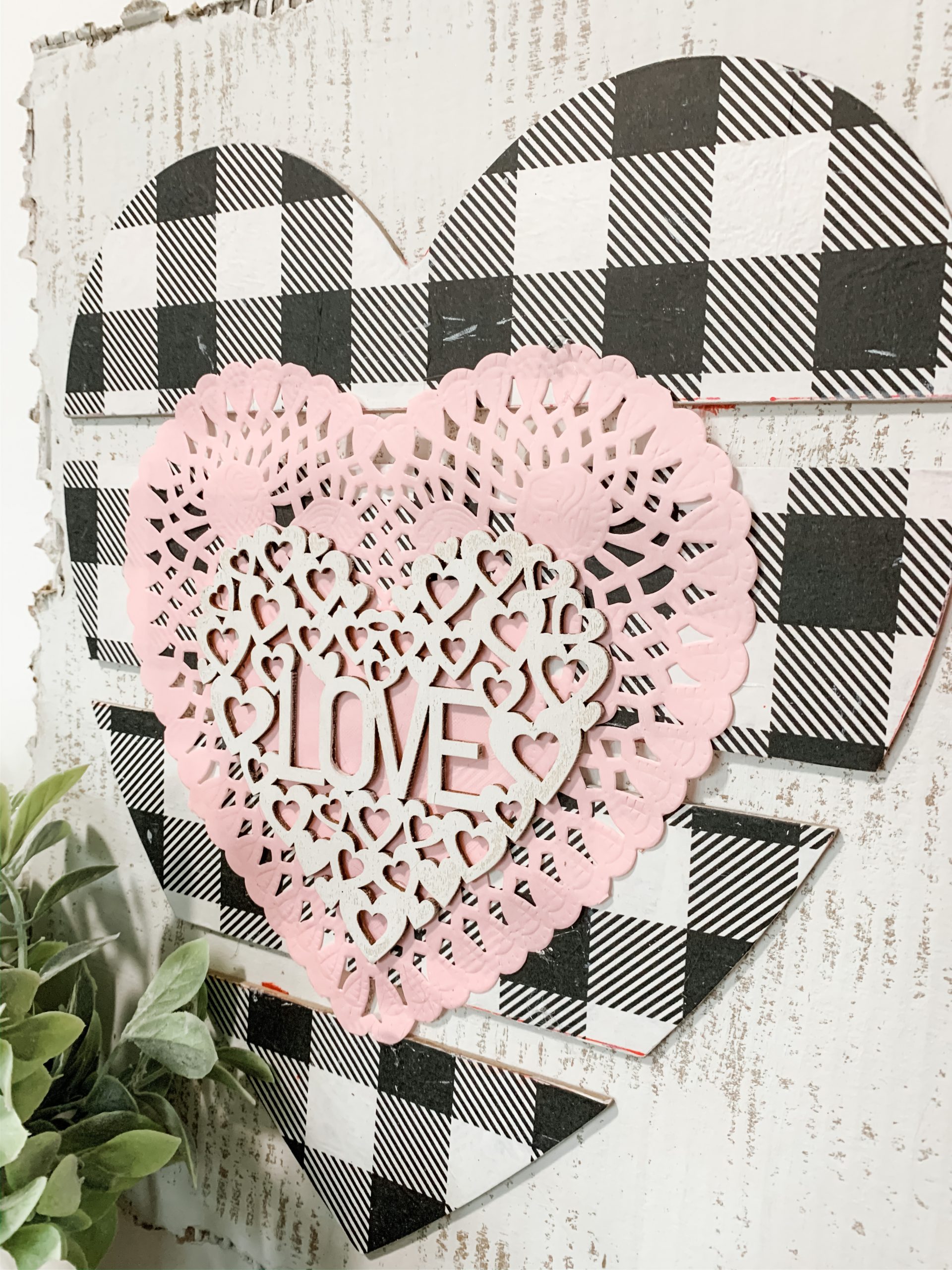 Once the tissue paper has adhered to the heart pieces, you can hot glue them onto the cardboard. I like to dry place everything before I glue it to make sure it will fit perfectly and looks exactly how I envisioned it.
Now that the heart pieces are in place, you need your Dollar Tree pink doily. Simply hot glue the doily onto the center of the DOllar Tree planked heart pieces.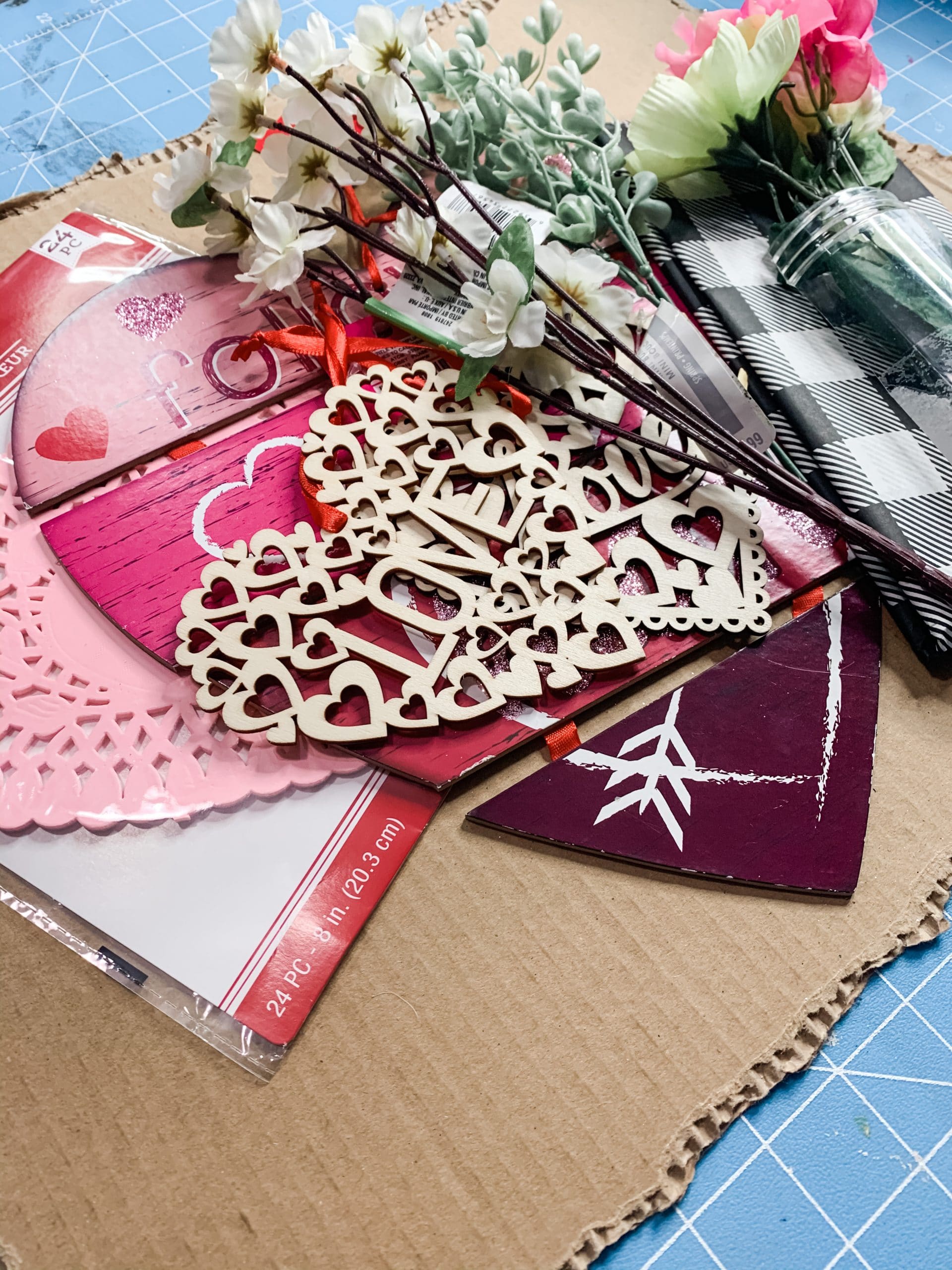 Add a little love
I used a wood heart cutout with love in the middle for the center of my layered hearts. Before I hot glued it in place, I painted the face of the wood heart with Dixie Belle Fluff Chalk Paint.
DIY flower pot
For the flower pot, I used a plastic jar that I cut in half vertically. To make the flower pot match the rest of the project, I decoupaged a piece of the same buffalo check tissue paper of the lower half of the plastic jar.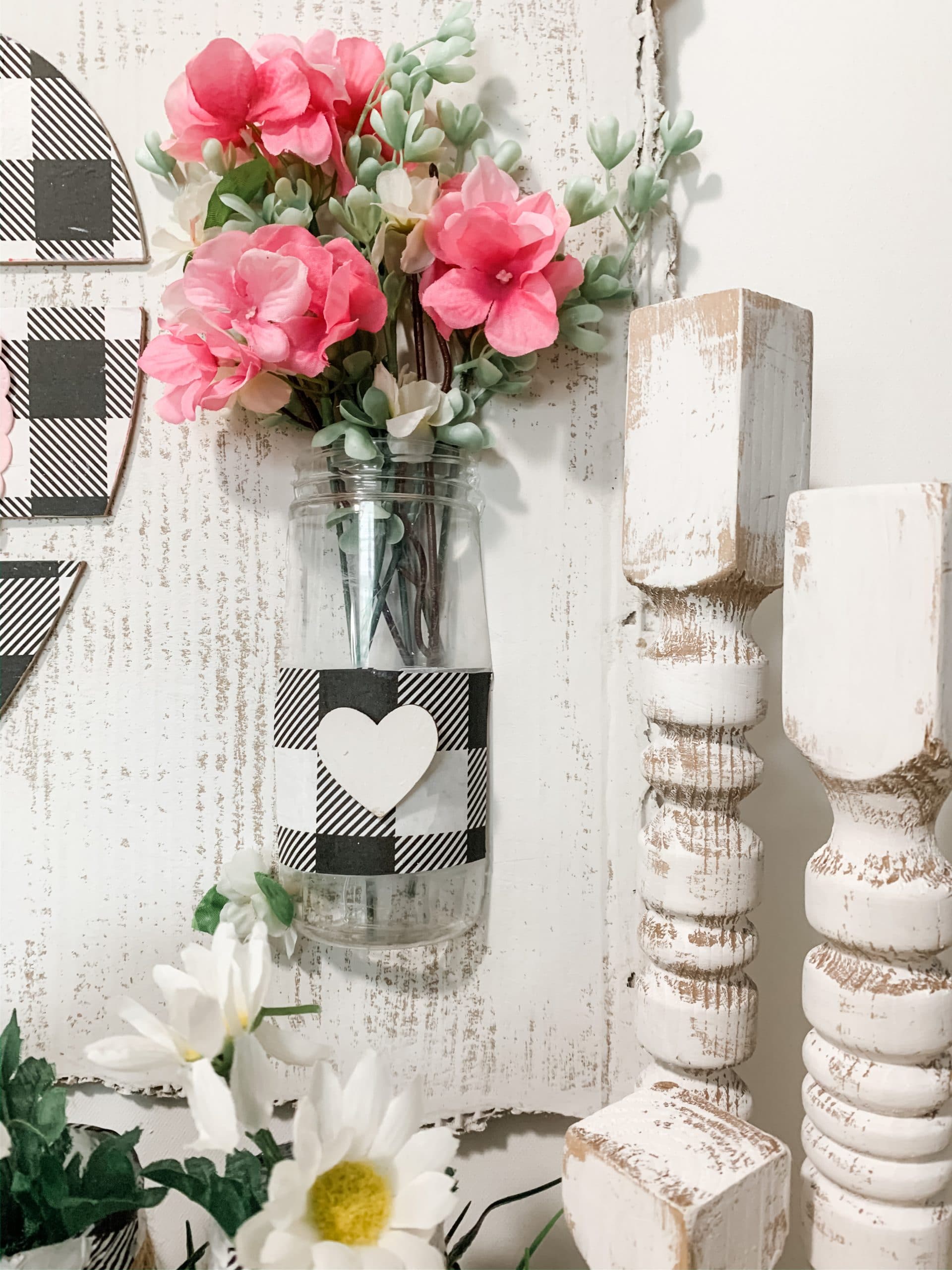 Before I hot glued the decoupaged DIY flower pot onto the cardboard, I dry placed it and put the flowers in to see how it would look.
Once I was happy with the placement, I hot glued the plastic jar flower holder to the right of layered hearts.
Fit your flowers in after you've hot glued the flower holder in place. The last part of this flower pot is a Dollar Tree wood heart sticker.
I painted the heart white and hot glued it to the middle of the buffalo check tissue paper on the flower pot.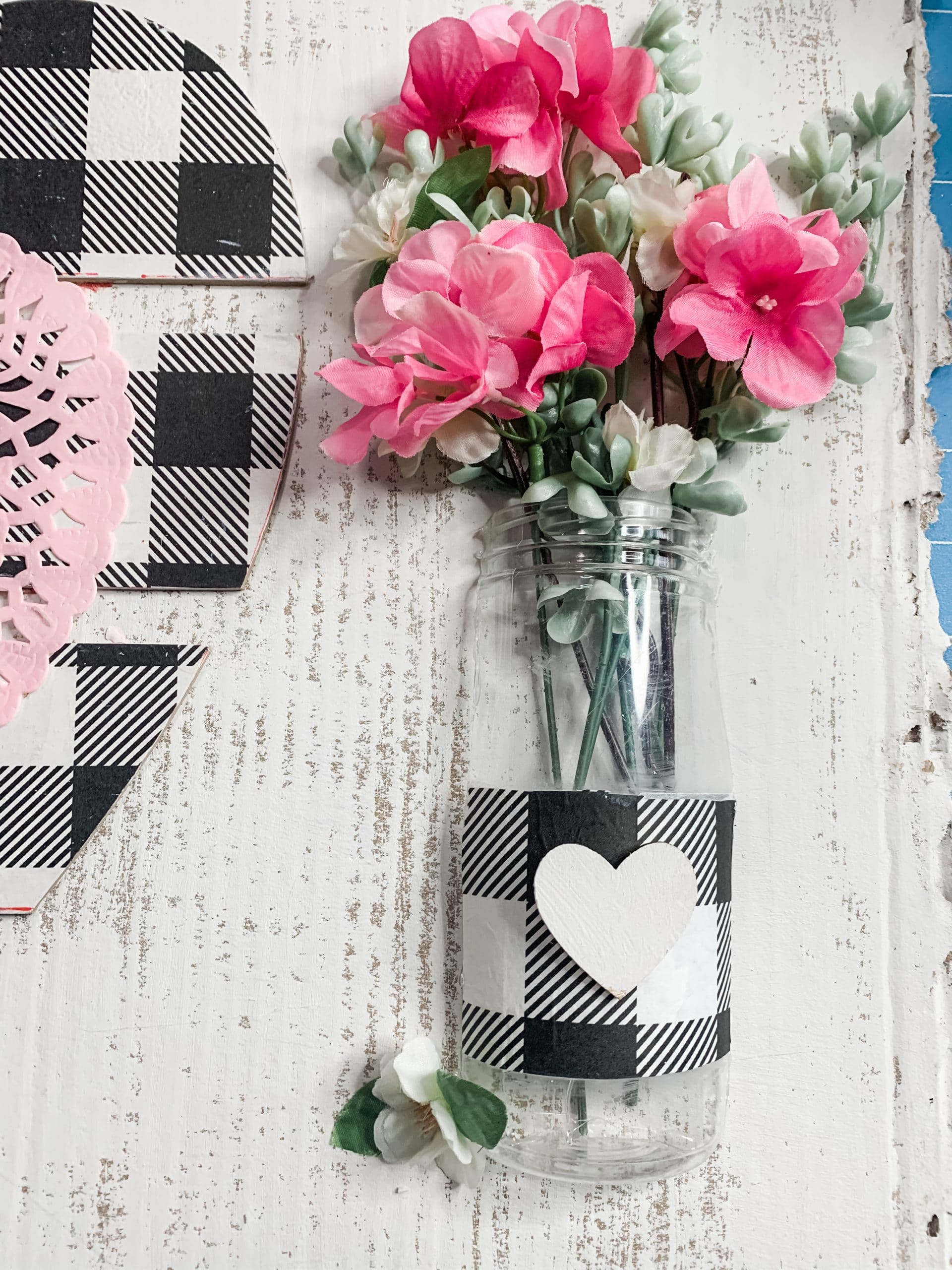 Add your hanger
The final step to making this adorable DIY Spring decor is to add a hanger! I used jute twine and hot glued it lower on the back of the cardboard so it wouldn't be seen when I hung the decor on my wall.
Once your hanger is secured on the back of the cardboard, you're ready to decorate your home with this adorable Valentine's Day or Spring Decor with Fake Flowers!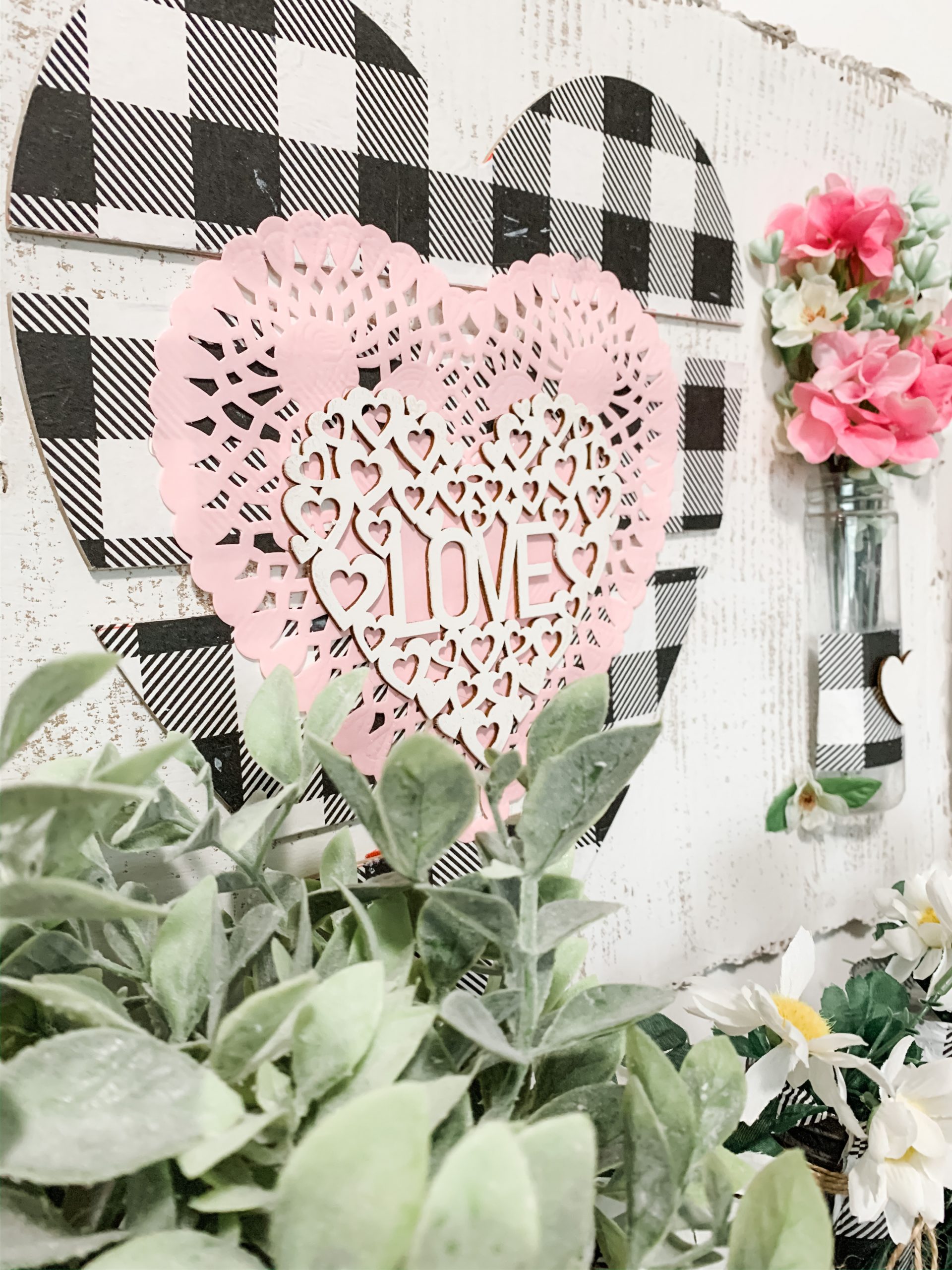 I hope you enjoyed this Valentine's Day or Spring Decor with Fake Flowers as much as I did and decide to make one for yourself! I would love to see how yours turns out!
You should totally join my FREE Facebook group called On A Budget Crafts! It is a judgment-free community for DIY crafters to show off their projects and ideas.
Thanks for stopping by! XOXO Amber
You can also shop my ENTIRE AMAZON Favorites shop just click here! It's packed full of all the things I use and love. Here is the supply list I highly recommend every creative have on hand!!
Would you also pin my blog for later and get on my newsletter alerts? I would love to have you join my #craftycrew.
Inspired? Leave me a comment below! I love hearing from my readers!

Join my free "ON A BUDGET CRAFTS" Facebook group!