Make a Dollar Tree Bee Skep Basket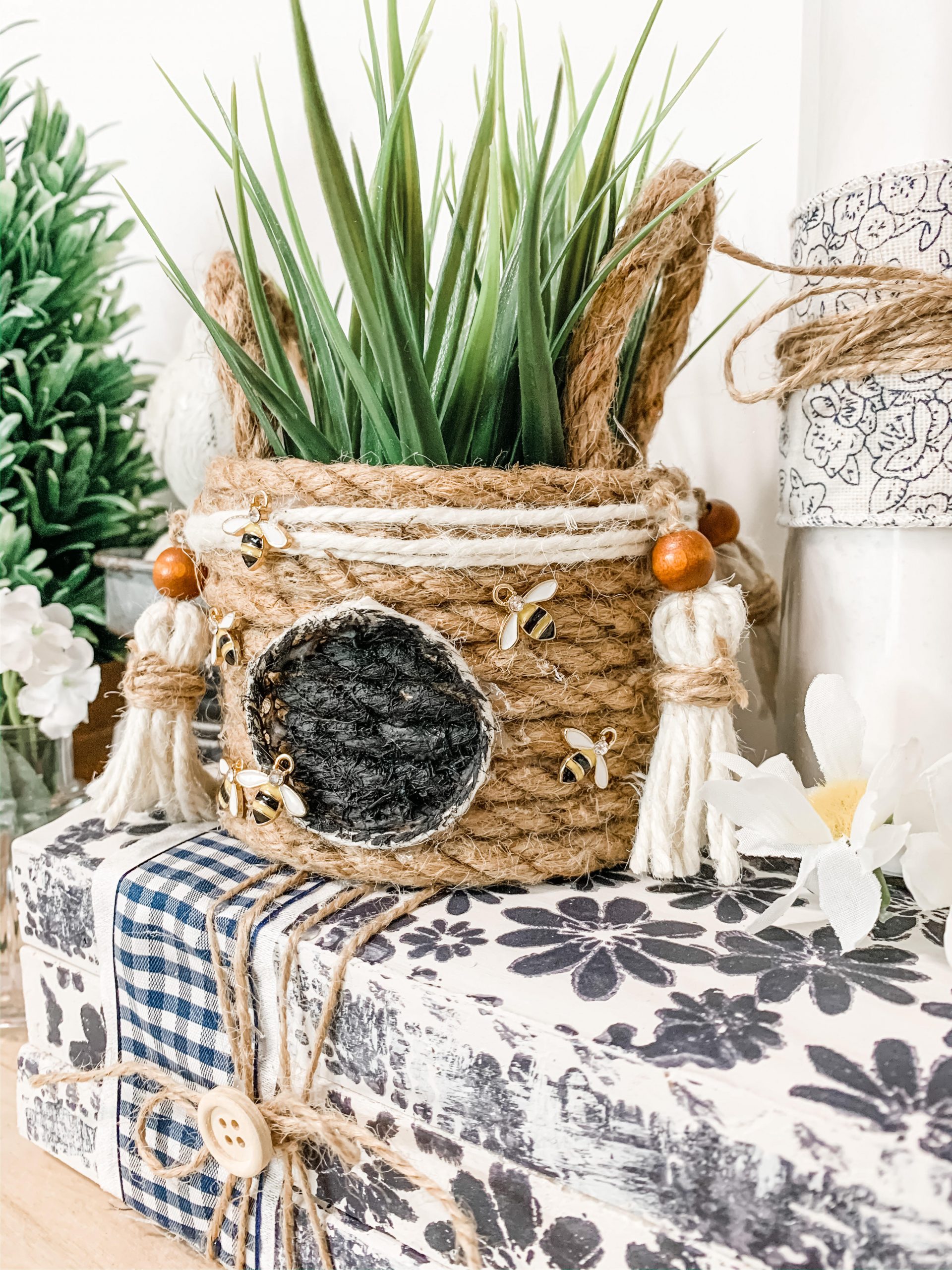 >> Pin this for Later <<
Hey there friends! On the blog this week is one of my favorite DIY projects I have done! I am showing you how to make a Dollar Tree Bee Skep basket! Plus, I filmed it so you can WATCH the process below! Just click to play! It's a full video over on my YOUTUBE channel!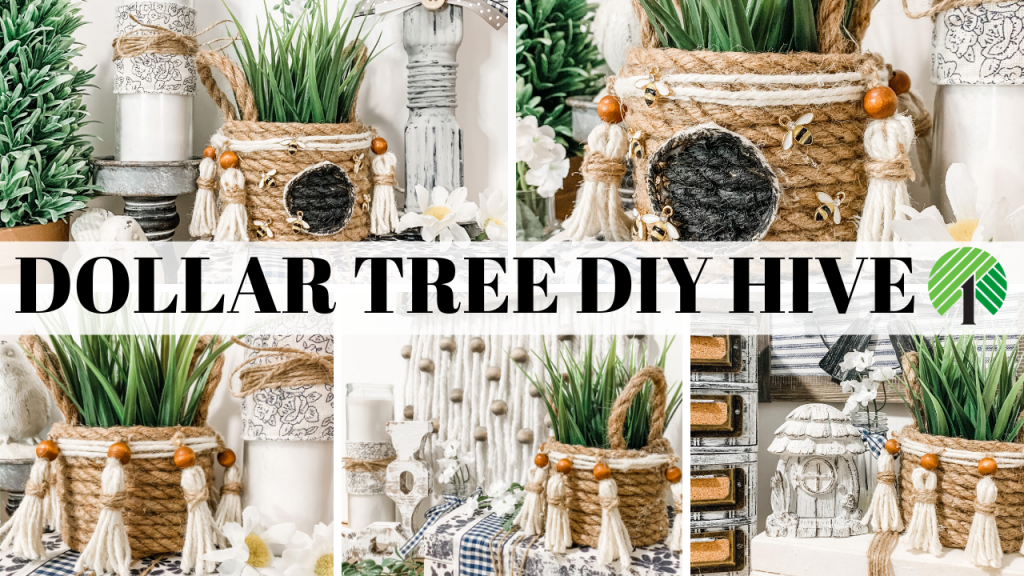 So all things 'beehives", "bee skep" and "bee stuff" are totally the in thing right now! I did make a full bee skep right after making this cute little Dollar Tree Bee Skep Basket!
If you wanna see how I did that one you can catch that video replay! (I created it on live video here)
The Big Bee Skep I did live: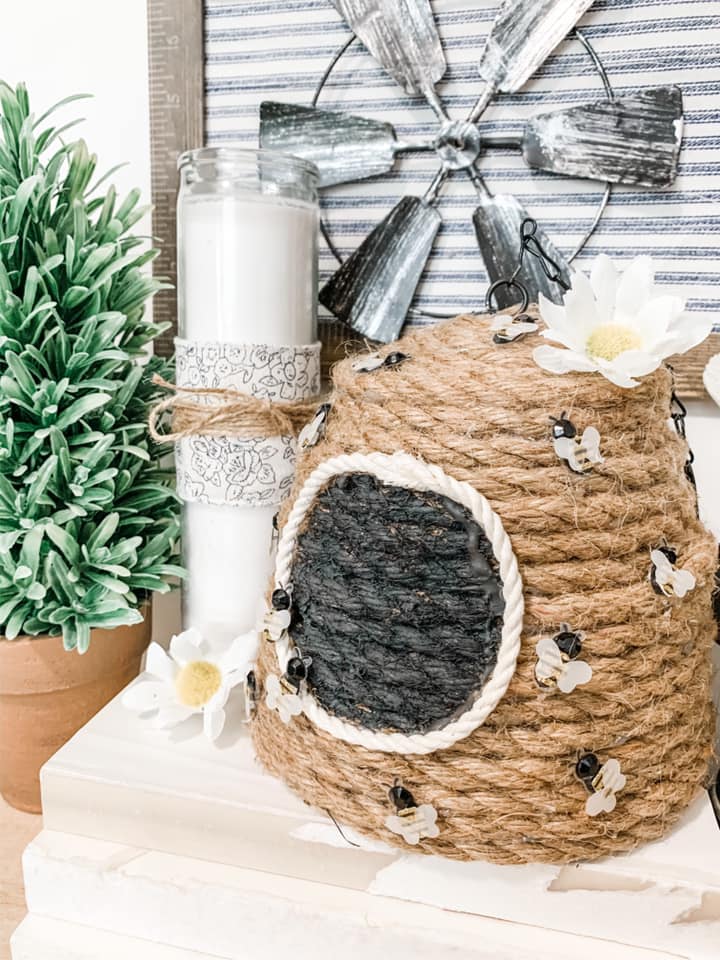 Alright! Let's get right to it! (these are my affiliate links if a purchase is made through one of my links I may earn a small commission but that does not cost you any extra) There is also a short version of this video on Facebook here as well!
For this project, I will be using these items but you can substitute where you want.
"As an Amazon Associate, I earn from qualifying purchases."
white jute twine
Mold for the basket (I used a Dollar Tree votive)
Let's get started
For this project, I started by hot gluing the end of my nautical rope together because it was starting to unwind itself. Then, I started twisting the rope to form a circle, hot gluing it to itself as I was wrapping.
I wrapped the rope into a circle until the circle was large enough for the Dollar Tree votive to sit on it, then I started wrapping the rope around the votive.
Make sure you pull the rope off your mold as you're hot gluing it in shape to keep the rope from sticking to your mold. You can also wrap your mold with wax paper if you're worried about the rope getting glued to the mold.
Once you're happy with the height of your basket, trim the nautical rope and hot glue the end in place. Then, I wrapped white jute twine around the top of the basket and hot glued it in place.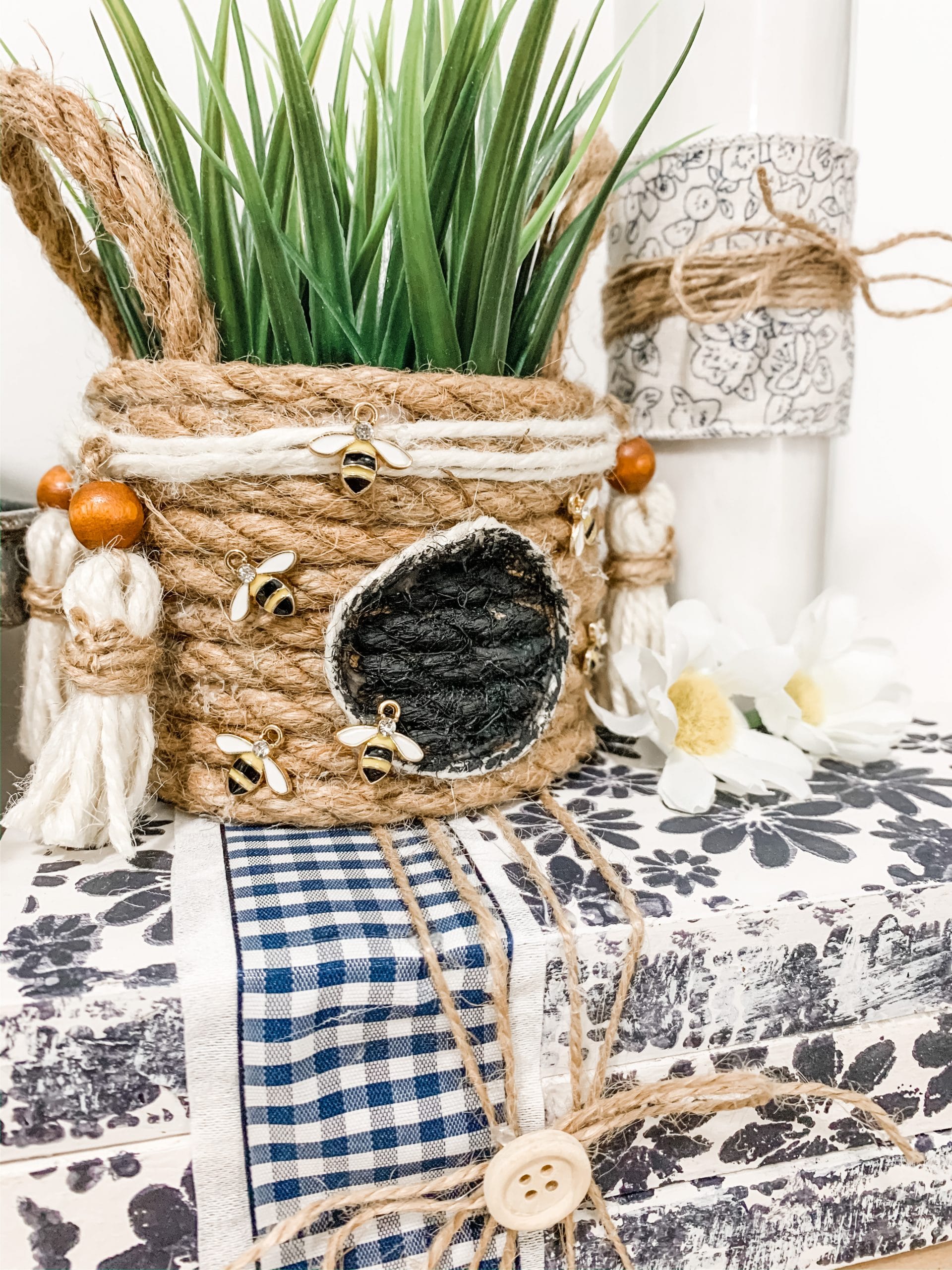 I made this Dollar Tree Bee Skep basket double-sided. On the first side, I made some tassels with white jute twine, natural jute twine, and wood beads!
How to make a tassel
I wrapped the white jute twine around two fingers several times and secured the loops with a piece of natural jute twine. Keep the excess twine long because we are going to thread the wood bead onto it later.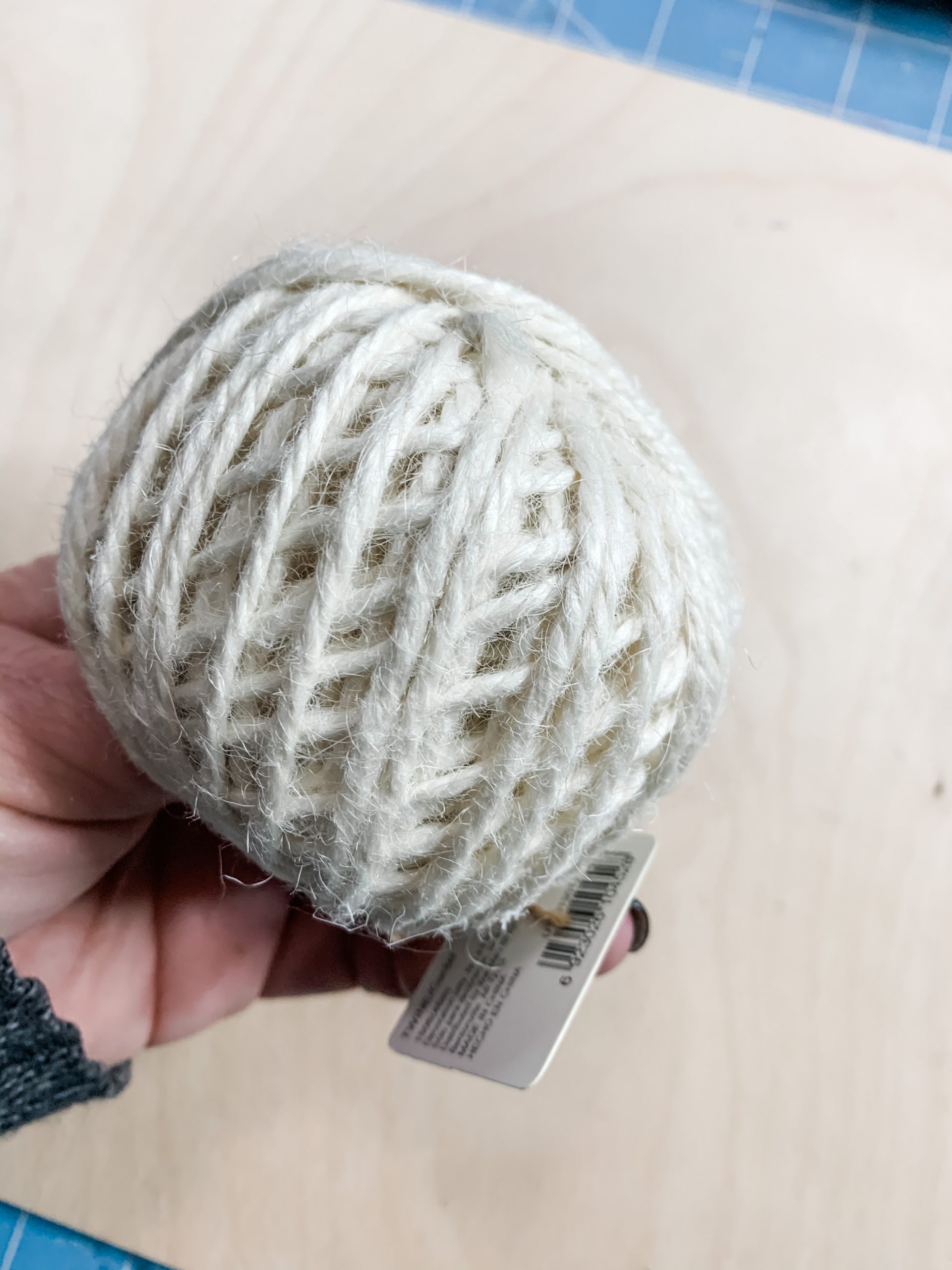 Then, I wrapped a piece of natural jute twine around the loops. Keep this piece of jute twine towards the top of your loops.
Once the loops were secured together, I wrapped the natural jute twine around the white twine several times. Tie the natural jute twine in a knot and cut the excess twine off with a pair of scissors.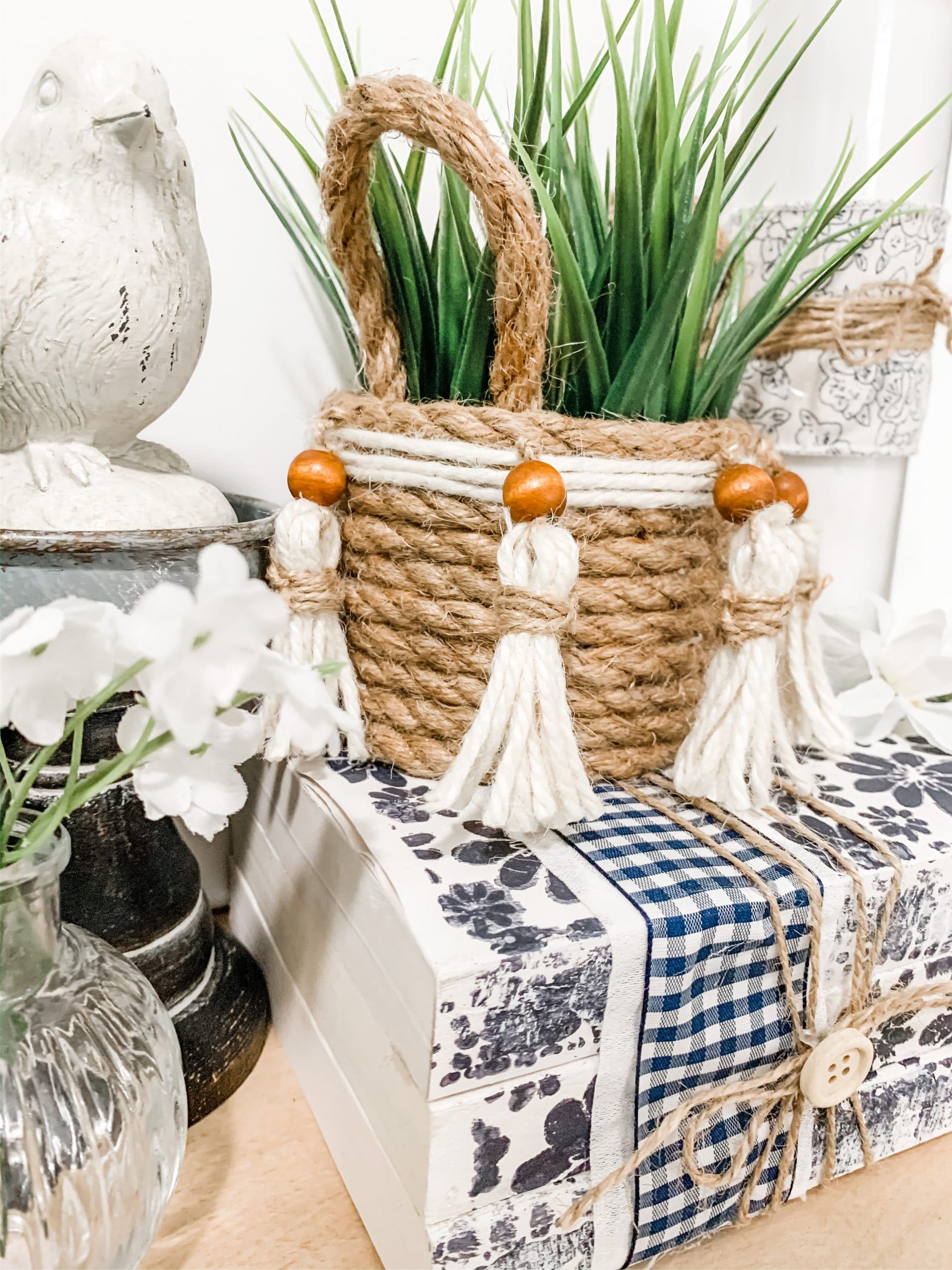 Now, you can cut the bottom of the loops of white jute twine with a pair of scissors, and you have a tassel! The next step is to add your wood bead. Thread the bead over the twine at the top of your tassel and tie the twine in a knot to secure the bead in place.
Now, you can tie the tassel around the white jute twine that you wrapped around the top of the basket. I made and attached five of these twine tassels to my Dollar Tree Bee Skep basket.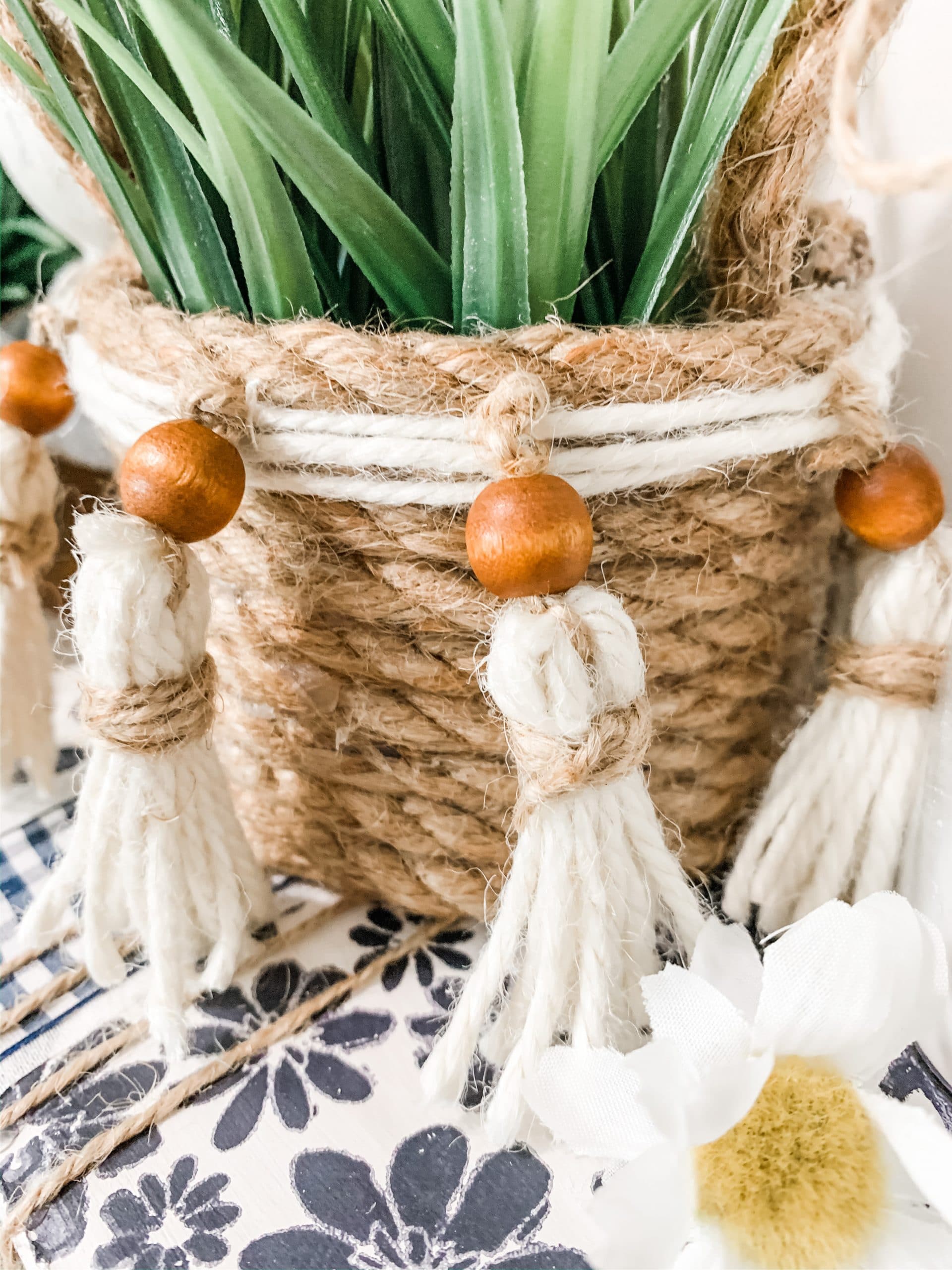 Double-Sided Bee Skep Basket
Get a new piece of nautical rope and hot glue one end of it on the inside of your bee skep basket. Decide how long you want the handle of your basket to be, cut the rope, and hot glue the second end to the inside of your basket.
Repeat that process with another piece of natural jute twine on the other side of your basket to create two handles for this basket.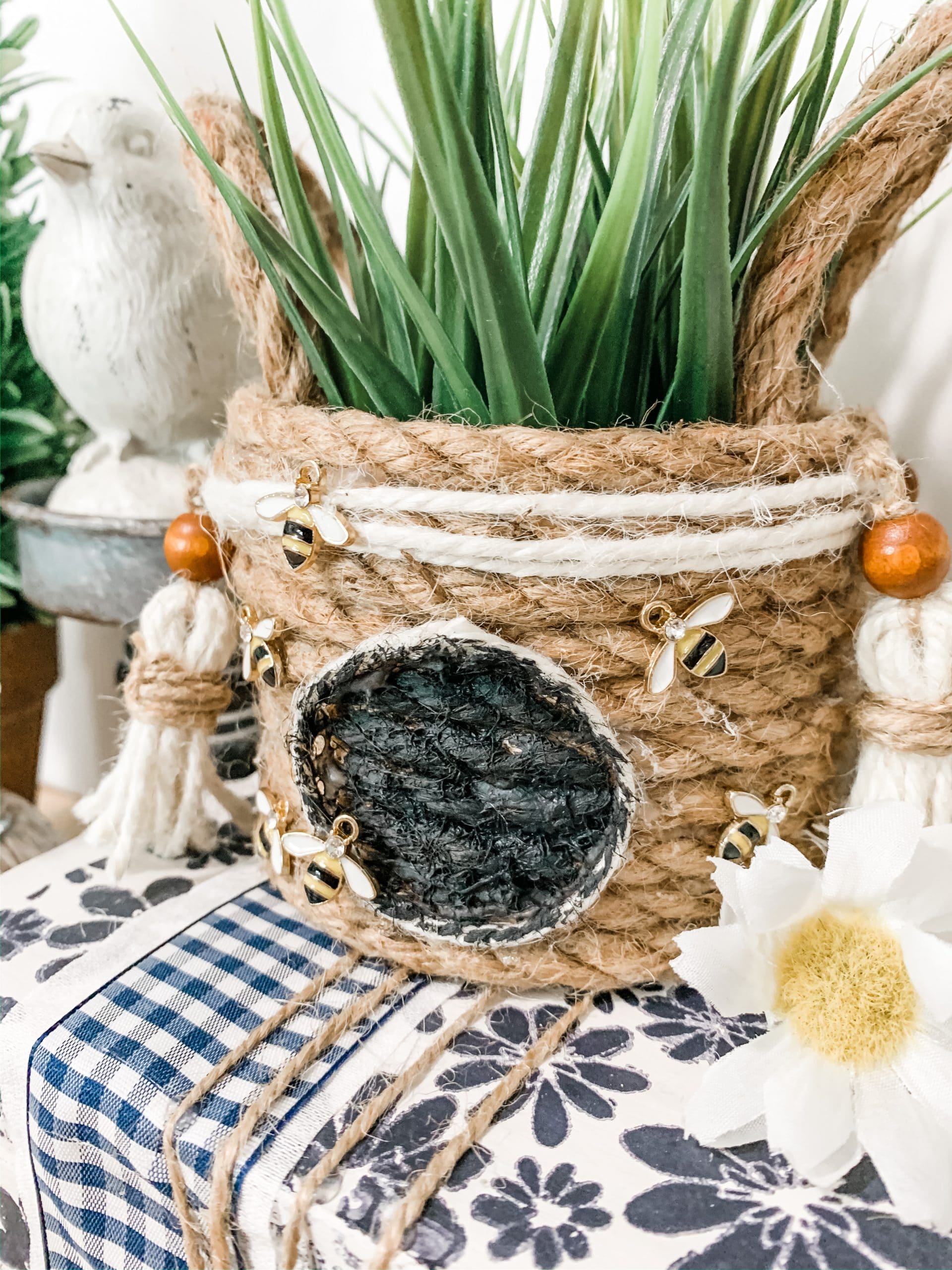 For the second side of my bee skep basket, I hot glued a piece of white jute twine in a circle on the empty side of the basket. Then, I painted inside the twine circle with black paint.
Lastly, I hot glued little bees onto the beehive side of my DIY Dollar Tree Rope Bee Skep Basket!
Here are some up-close photos for you to check out on both sides! And if you decide to make one you have to share your photos with me. If you already made one, let me know below in the comment area what tips you can share with us!
I hope you enjoyed this Dollar Tree Bee Skep Basket as much as I did and decide to make one for yourself! I would love to see how yours turns out!
You should totally join my FREE Facebook group called On A Budget Crafts! It is a judgment-free community for DIY crafters to show off their projects and ideas.
Thanks for stopping by! XOXO Amber
You can shop my ENTIRE AMAZON Favorites shop just click here! It is packed full of all the things I use and love, and here is the supply list I highly recommend!
Would you also pin my blog for later and get on my newsletter alerts? I would love to have you join my #craftycrew.
Inspired? Leave me a comment below! I love hearing from my readers!

Join my free "ON A BUDGET CRAFTS" Facebook group!
>> PIN THIS POST FOR LATER! <<