DIY Dollar Tree Reverse Canvas Christmas Tree Decor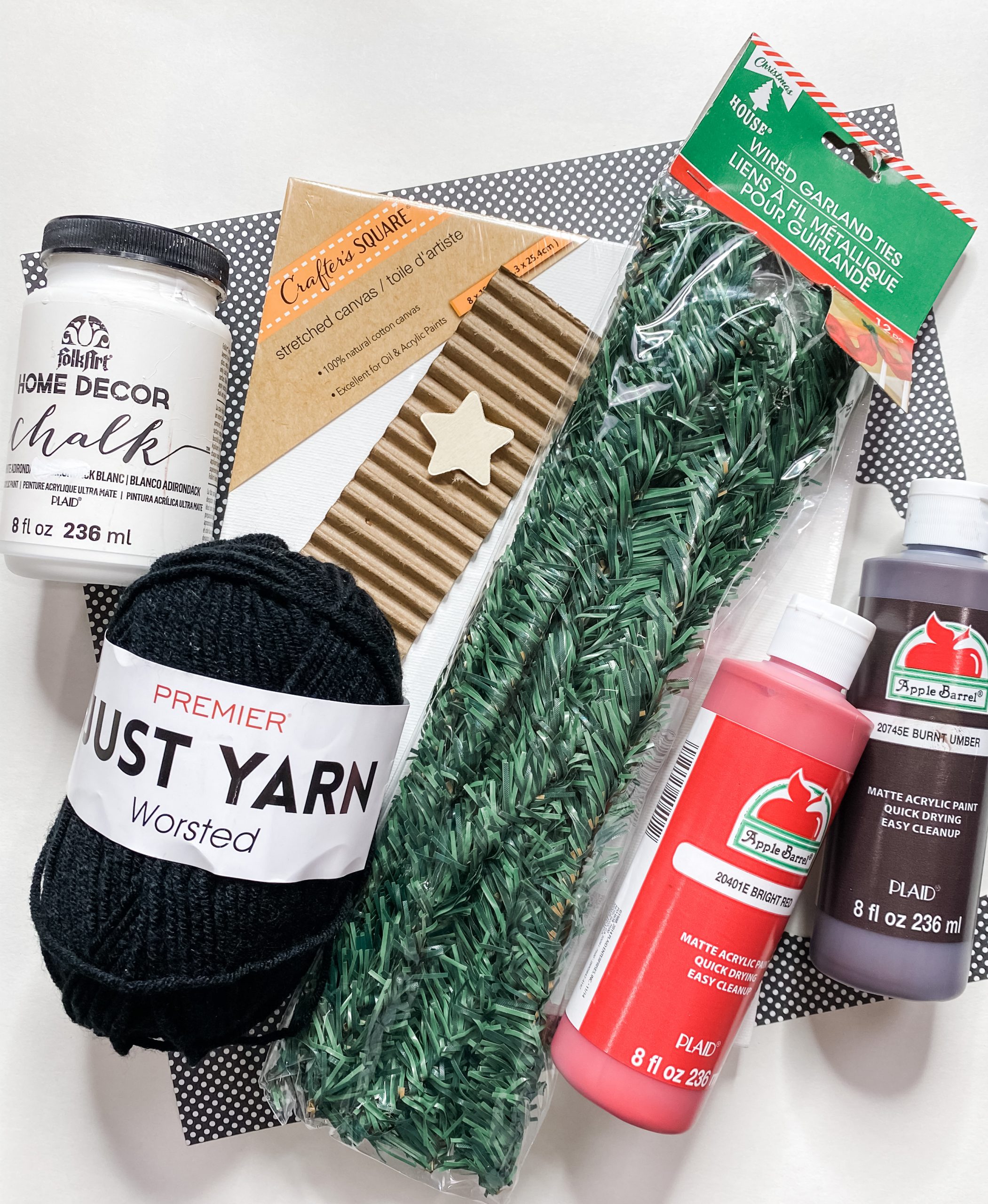 If you're an avid DIY'er like me, then you're probably always looking for inspiration. I mean, that's probably why. you're here reading this in the first place. Am I right? Let me just say that I hope this DIY Dollar Tree Reverse Canvas Christmas Tree Decor is a moment of inspiration for you!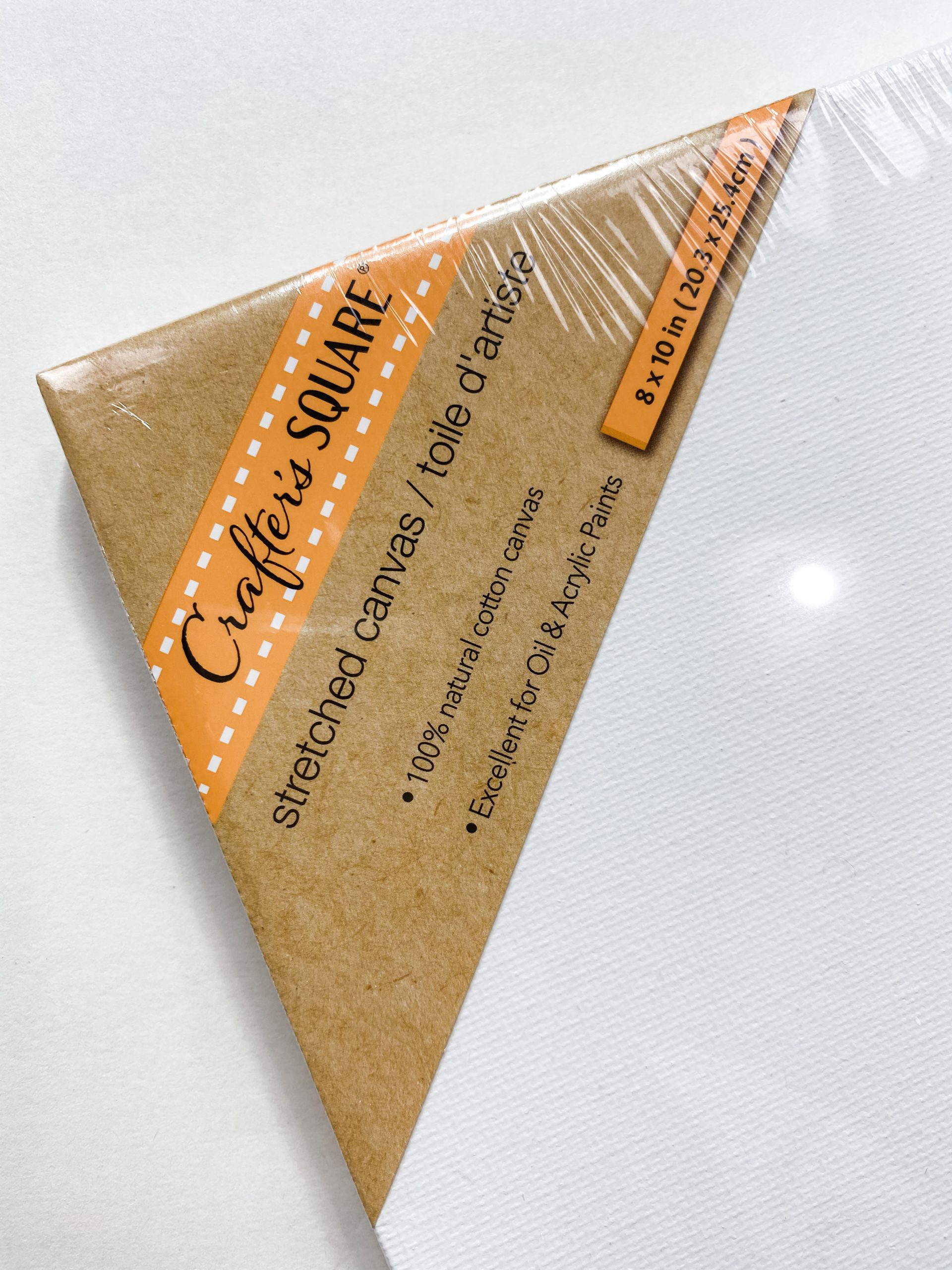 I love finding new ways to use ordinary craft supplies, like the Dollar Tree canvas, and I think you are really going to love how easy and ridiculously adorable this DIY Christmas decor turns out! (Check out another of my reverse canvas DIY's: Easy Chippy Farmhouse Home Decor Sign)
I always record the crafts that I make, whether during a Facebook LIVE or uploaded to Youtube, and this DIY is no different. I do have a Youtube channel, be sure to subscribe to my Youtube channel to be alerted when videos post!
You can watch this full tutorial on my facebook page below as well!
Are you on Tiktok? So am I! I posted this craft on my Tiktok! It's perfect if you want a quick, under a minute video tutorial of this DIY!
For this project, I will be using these items but you can substitute where you want.
"As an Amazon Associate, I earn from qualifying purchases."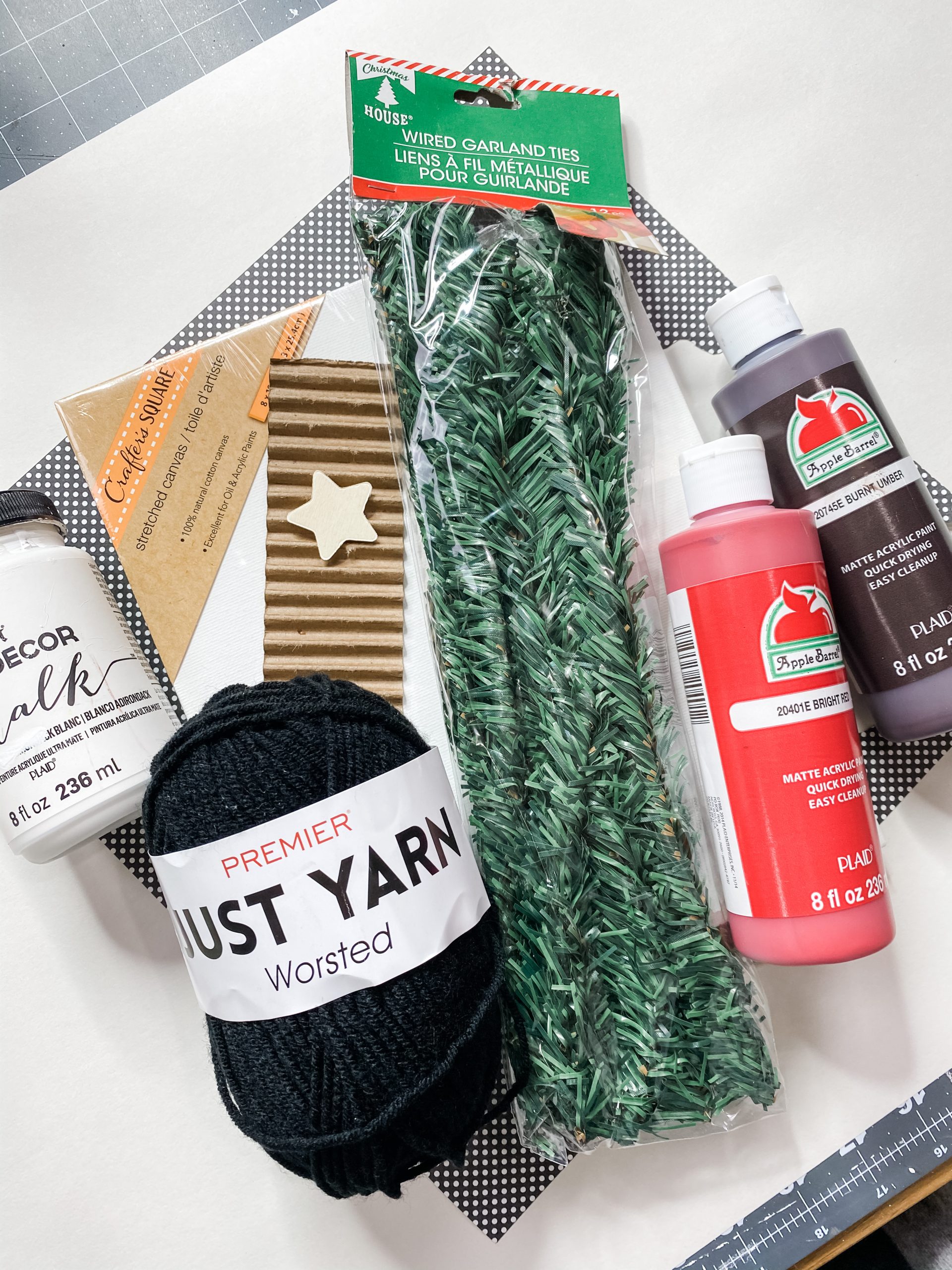 Let's get started!
The first thing you're going to need to do is remove the canvas from its frame. Next, I stained the canvas with the Apple Barrel Burnt Umber acrylic paint. I always spray the wood with water before I stain it because this helps the wood absorb the paint and have the stained look. I just pour the paint directly onto the wood and then spread it with a baby wipe. This is a really fun "how to stain wood with paint and water" trick.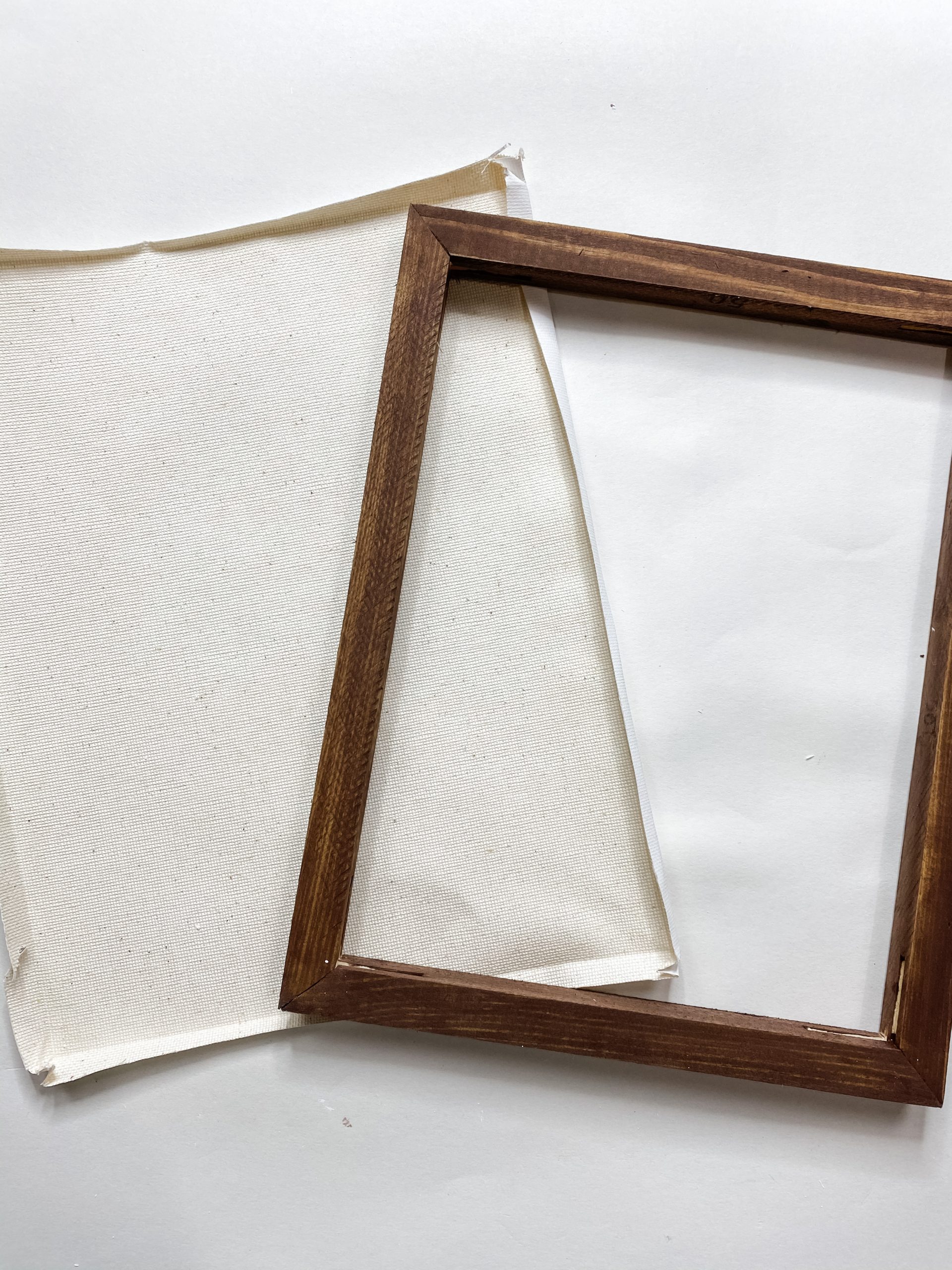 Make sure the stain is dry before moving on. Next, you're going to attach the scrapbook paper as the new back of the canvas. I get my scrapbook paper from Hobby Lobby and I use my 40 off Hobby Lobby coupon or I wait until Hobby Lobby sale is running on Scrapbook paper. I just hot glue the scrapbook paper and then trim the edges. You could also staple the paper to the frame if you wanted to.
Let it snow
The fun part! How to flock garland with paint! It is super easy to do! Now grab your Dollar Tree garland ties and Folkart White chalk paint. Just lightly brush the paint onto the garland ties with a chippy paintbrush to make it look like snow. I love a good Dollar Tree DIY Christmas Craft.
I used about 6 of the Dollar Tree wired garland ties. Then, I folded each one into a V shape and then slid them into each other. Then I cut the ends to give the Christmas tree a rounded bottom. You could use as many or as few of these garland ties as you wanted, depending on how big you wanted the Christmas tree to be.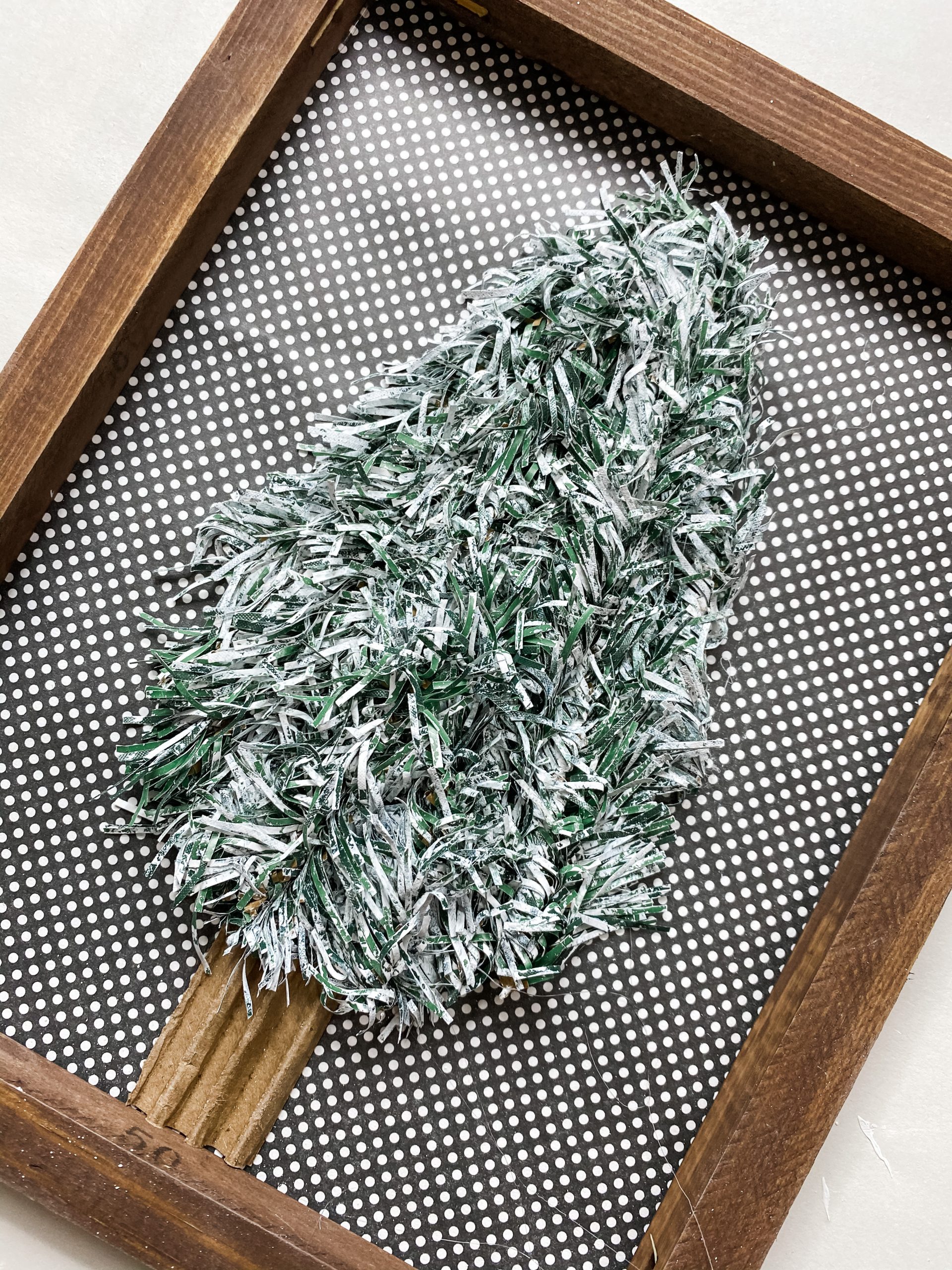 It's beginning to look a lot like Christmas
Remember that piece of cardboard? You're going to need it for this part. I separated the 2 liners of a strip of cardboard so that you could see the squiggly part on the inside. This is what I used for the Christmas Tree stem! I hot glued the dry garland Christmas Tree shape and the piece of cardboard to the scrapbook paper inside the Dollar Tree canvas frame.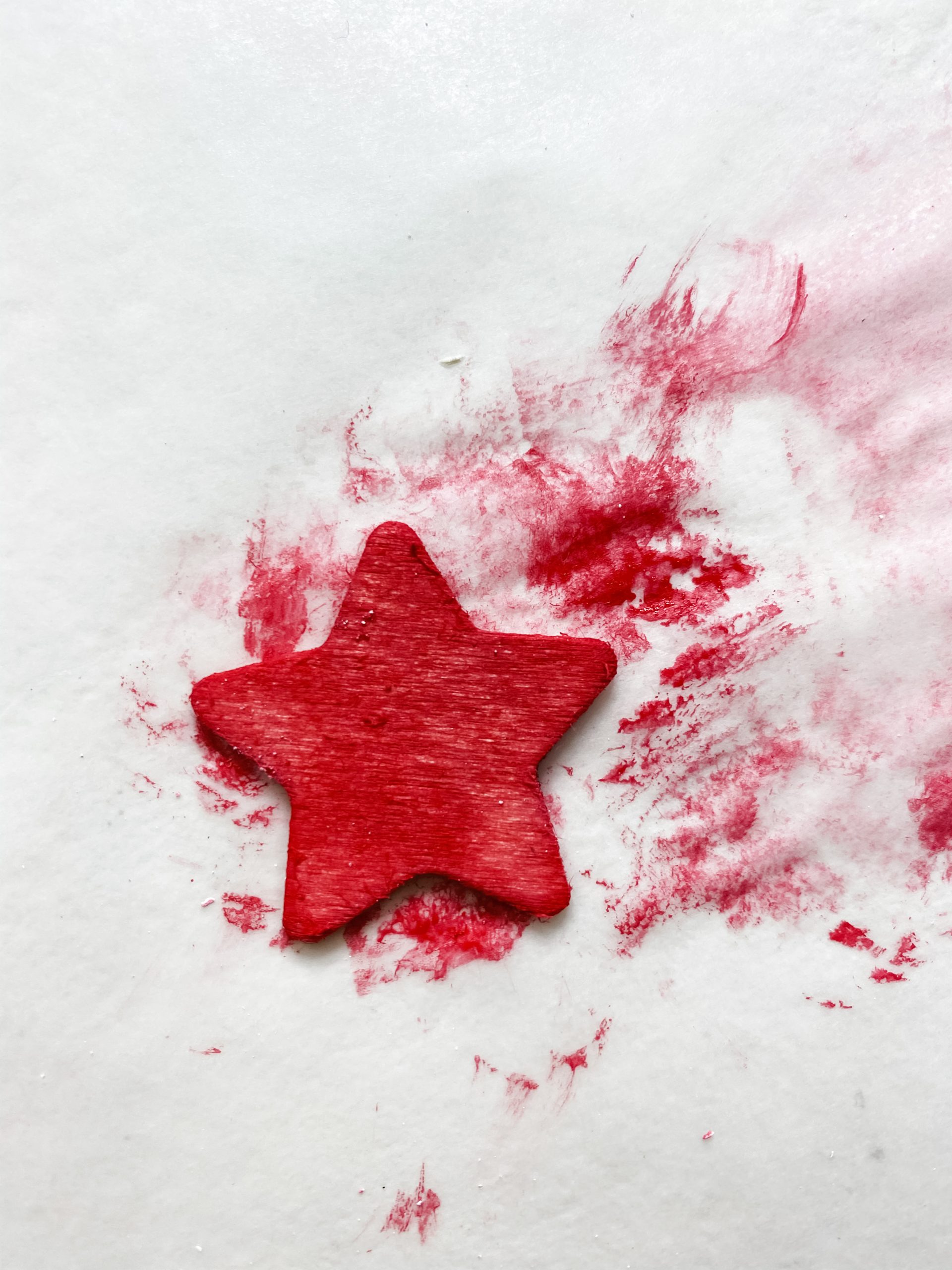 You can't have a Christmas Tree without a topper! I painted the star from the Dollar General variety craft cutout pack with the Apple Barrel Red Apple acrylic paint. If you want a bit of a deeper red, you can always mix some of the Apple Barrel Burnt Umber brown acrylic paint with it. Then just hot glue the Dollar General star to the top of your DIY Christmas tree!
The finishing touches
All that is left to do is add your yarn like garland! I just cut some pieces of yarn and draped them across the Christmas tree. Hot glue them down and you're done!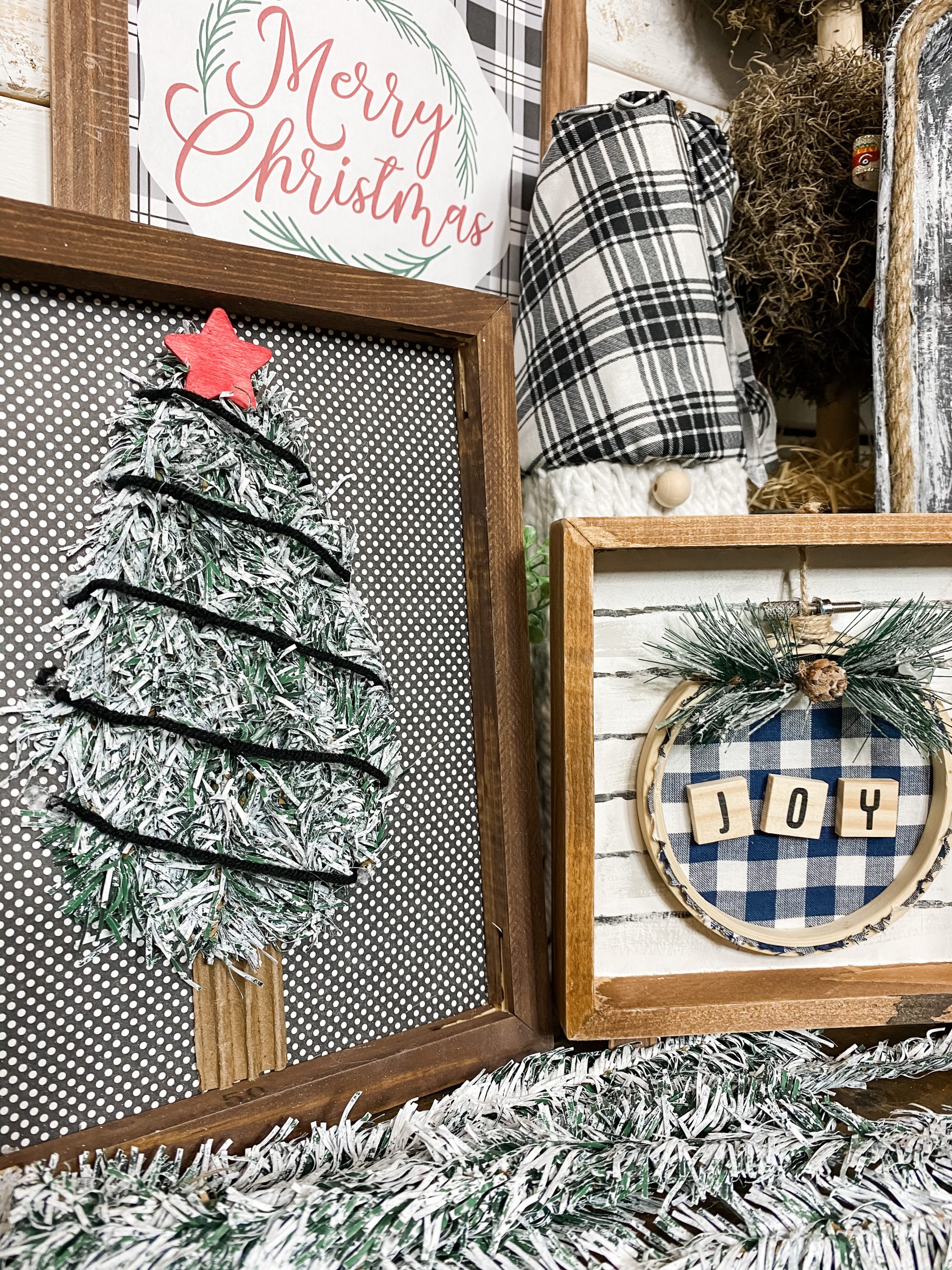 How adorable is this?!
Was I lying when I told you how cute this DIY Dollar Tree Reverse Canvas Christmas Tree Decor was?? I hope you've enjoyed learning how to make this easy Christmas DIY craft! If you decide to make this DIY craft for yourself, I would love to see how you do it! I have a FREE Facebook group called On A Budget Crafts just for the crafting community to share their projects and ideas!
Thanks for stopping by! XOXO Amber
You can also shop my ENTIRE AMAZON Favorites shop just click here! It's packed full of all the things I use and love. Here is the supply list I highly recommend every creative have on hand!! Would you also pin my blog for later and get on my newsletter alerts? I would love to have you join my #craftycrew.

Join my free "ON A BUDGET CRAFTS" Facebook group!
PIN THIS POST FOR LATER!