Dollar Tree Ping Pong Balls DIY Snowman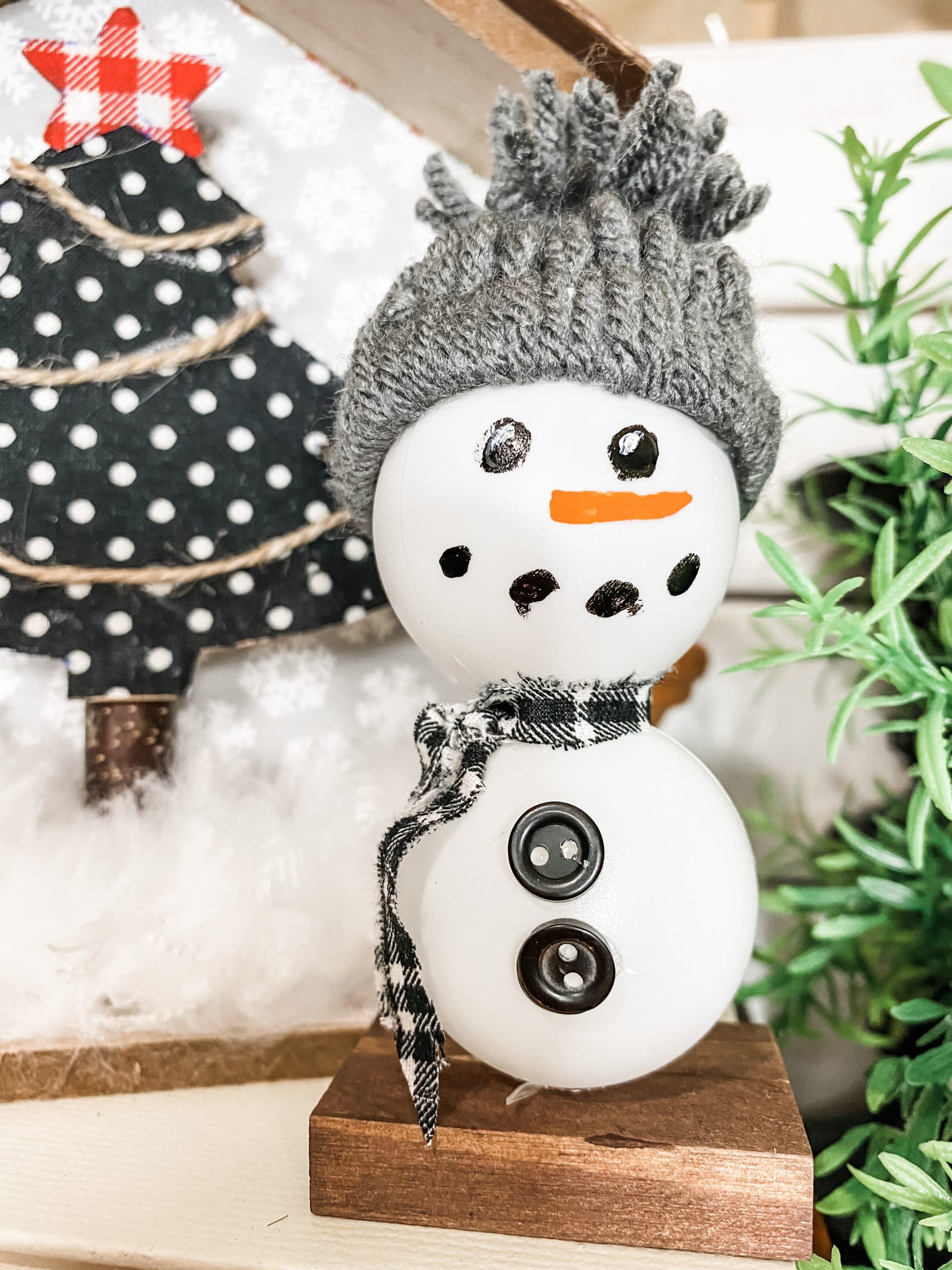 This Dollar Tree Ping Pong Balls DIY Snowman is such a sentimental project for me. I made this adorable little snowman for my granddaughter, Avery, and she absolutely loved it.
It made me think, how many other families would enjoy this easy kid's craft? It reminds me of another snowman DIY that I did: a Dollar Tree Vase DIY Christmas Snowman!
Even though this is an extremely simple holiday DIY, I wanted to share exactly how I brought this Dollar Tree DIY to life.
Watch the replay
It took me about 45 minutes (with a good bit of talking and laughing) to make this easy DIY snowman. I recorded the steps during a LIVE video on my Facebook page.
If you want to see my process, you can watch the replay. If you want to join in for conversation and fun, I did some super fun giveaways after I finished making the craft.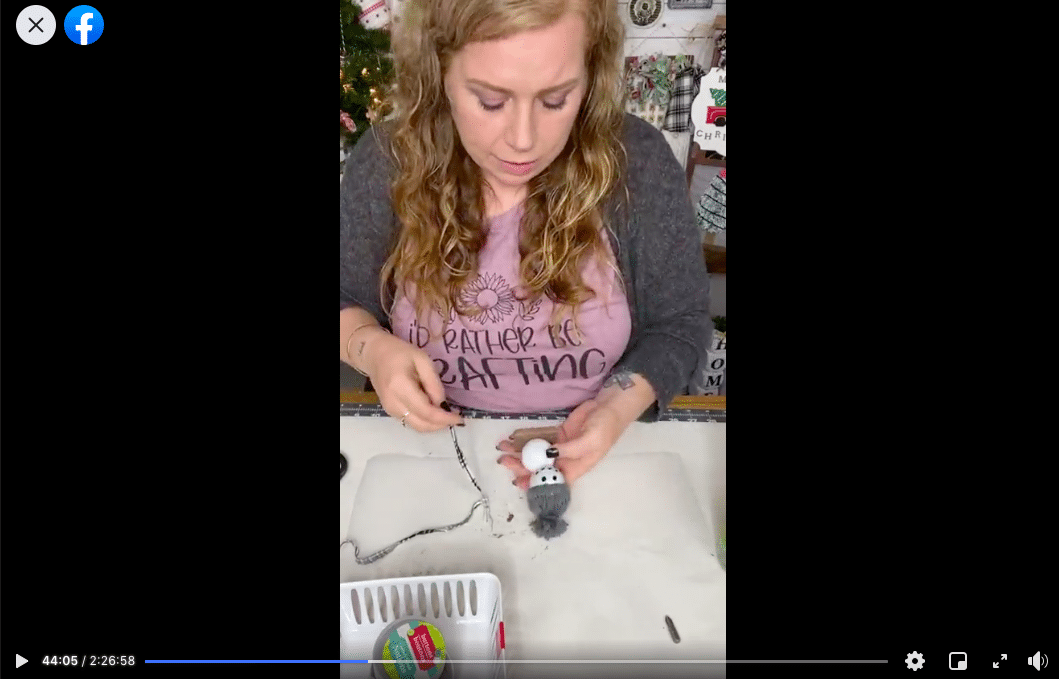 For this project, I will be using these items but you can substitute where you want.
"As an Amazon Associate, I earn from qualifying purchases."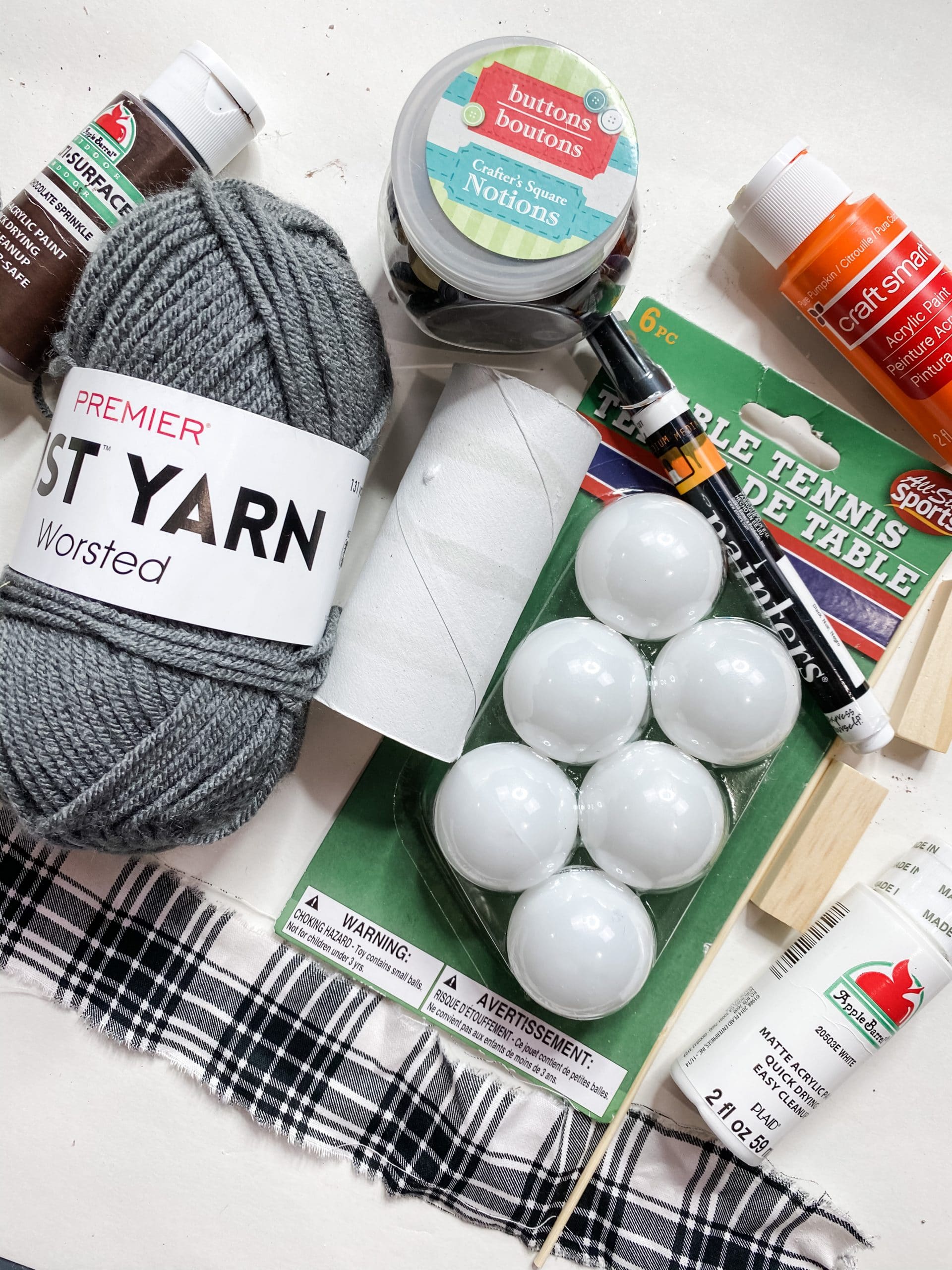 Let's get started
To start making this adorable little snowman is to make a cute hat. I used Dollar Tree yarn and an empty toilet paper roll.
First, cut a small piece of toilet paper roll. You don't need this piece to be too big. Make your piece of empty toilet paper roll about a quarter of an inch.
Next, grab your Dollar Tree yarn. This might be the most tiresome step of the entire DIY. To make the adorable beanie for your DIY snowman, you're going to need several strands of yarn, all about the same length.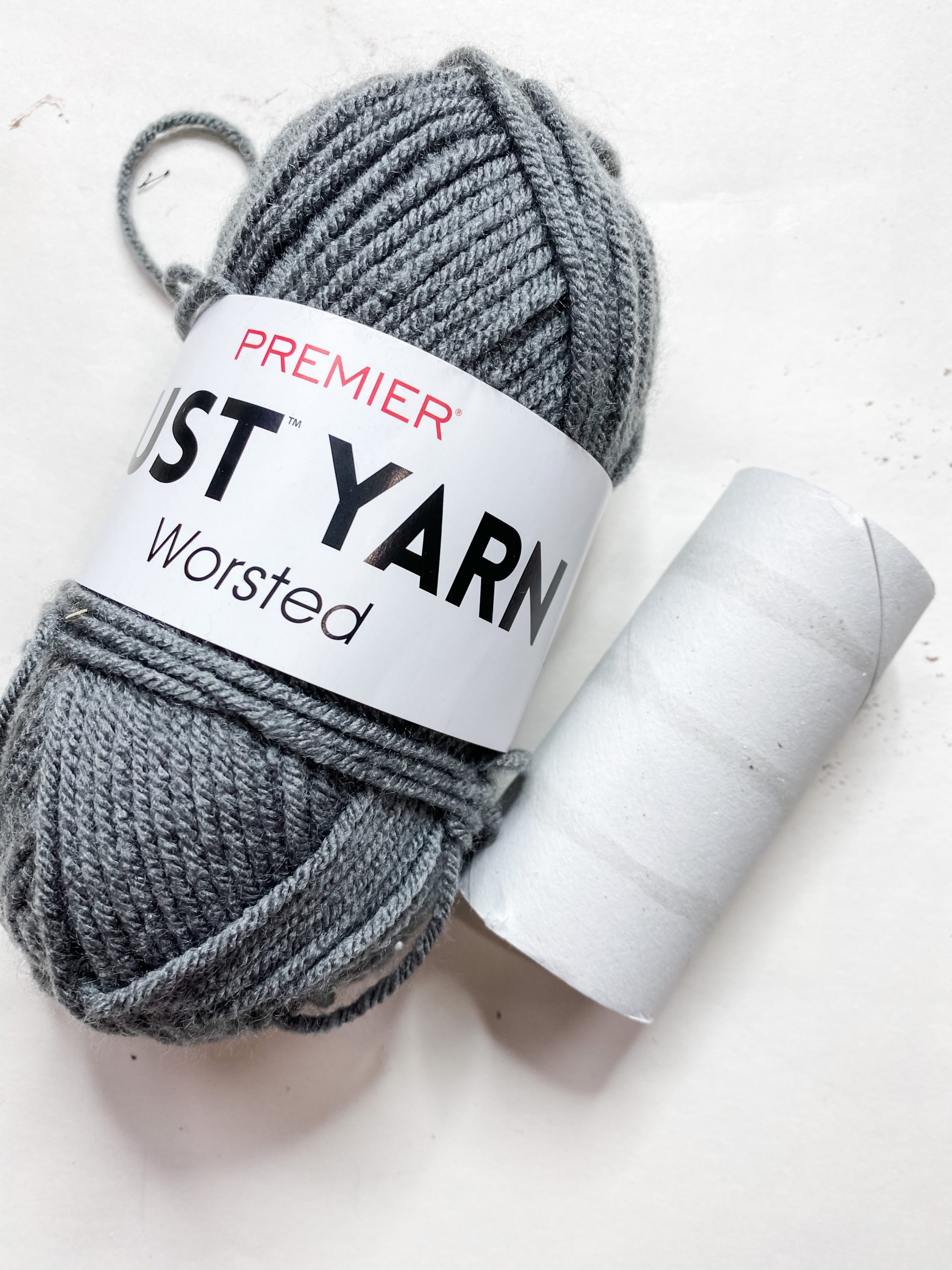 I wrap the yarn over the palm of my hand many times, cut the end of the strand of yarn, then cut across the top of my hand to cut several strips of yarn at once. We have to work smarter, not harder!
Here comes the tricky part. You're going to tie each individual strand around the trimmed piece of the empty toilet paper roll. Get the knot as close to the roll as possible, and you'll have a good length of yarn hanging off.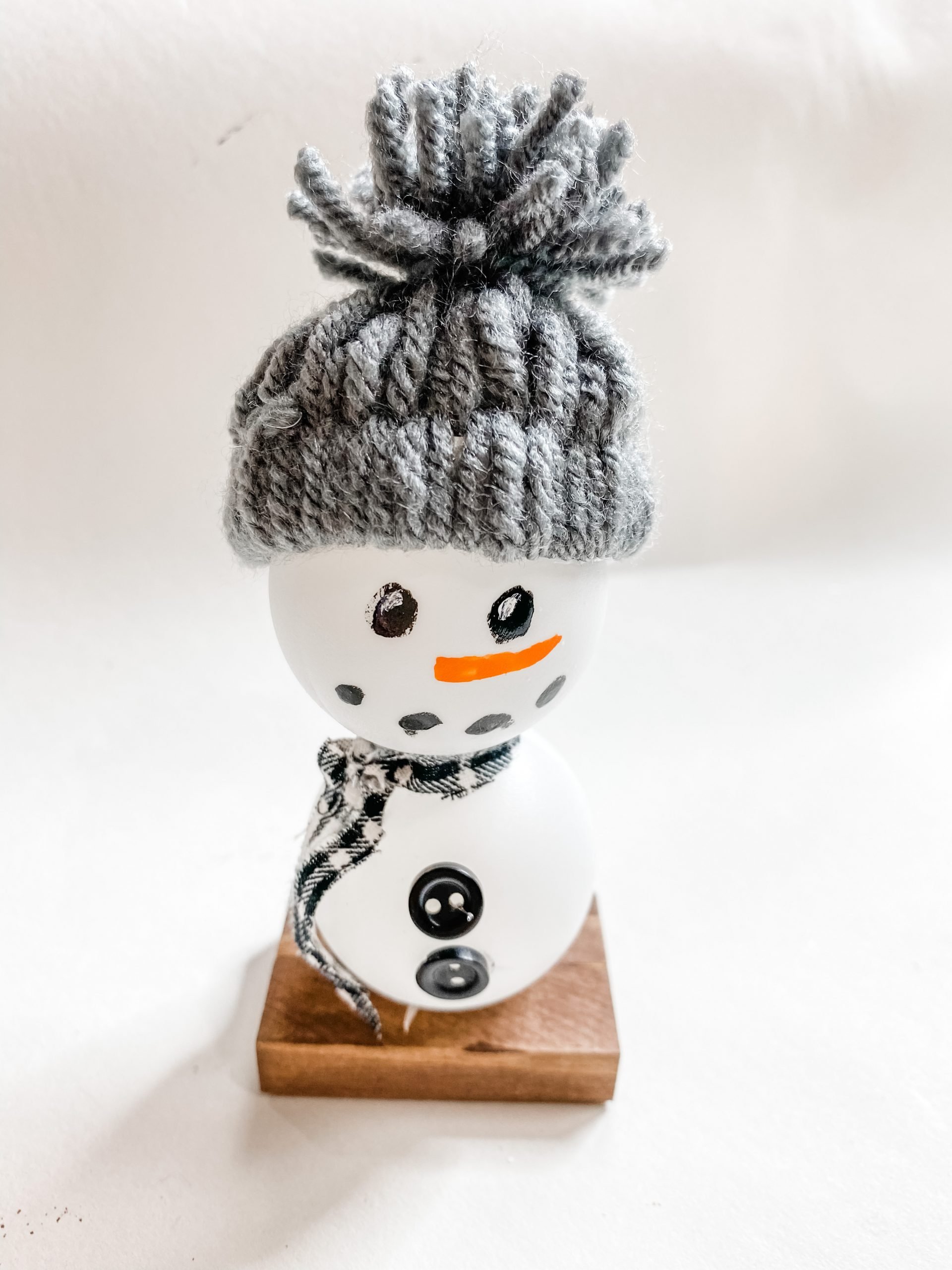 Wrap and tie each individual strand until you can't see the piece of empty toilet paper roll anymore. The yarn should completely cover the roll, and you should have many strands of yarn hanging off the top of the roll.
Pull all of the hanging strands of yarn down the same direction and bunch the ends with your fingers. Now, wrap another strand of the grey yarn around the ends of the yarn tied to the roll.
Before you tie the final piece of yarn into place, make sure you have a little bit of the yarn strands peeking out the end of it. Pull the final piece of yarn tight and tie it in a knot.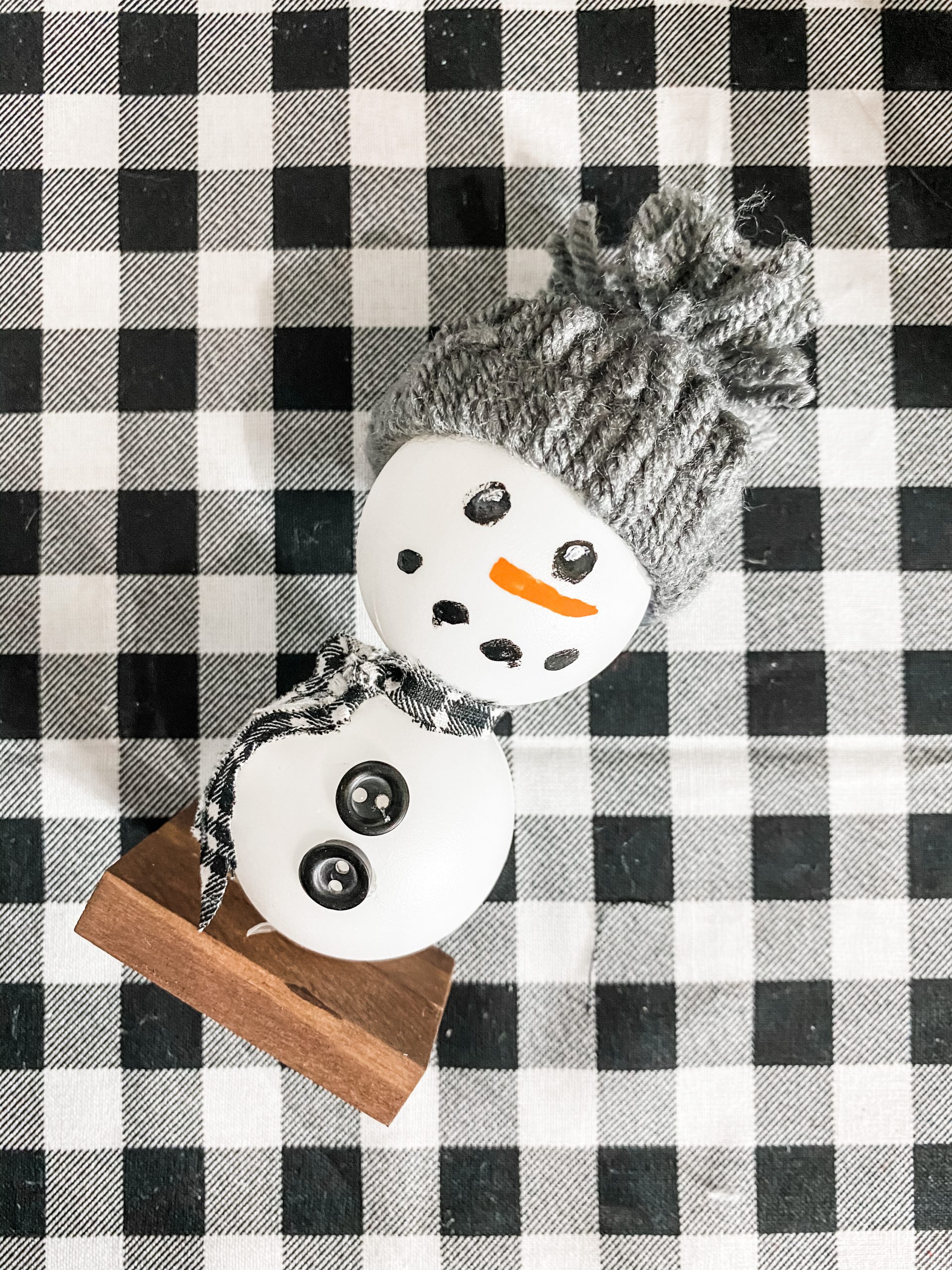 Do you wanna build a snowman??
We need a base for our snowman, and I used Dollar Tree Tumbling Tower blocks. I took 2 of the blocks and glued them together.
Next, I needed to add some sturdiness to the snowman, because I didn't think hot glue would be enough.
So, I used my hot glue gun to melt a small hole in the ping pong balls and pushed a Dollar Tree wood skewer through the holes. Do this with 2 Dollar Tree ping pong balls.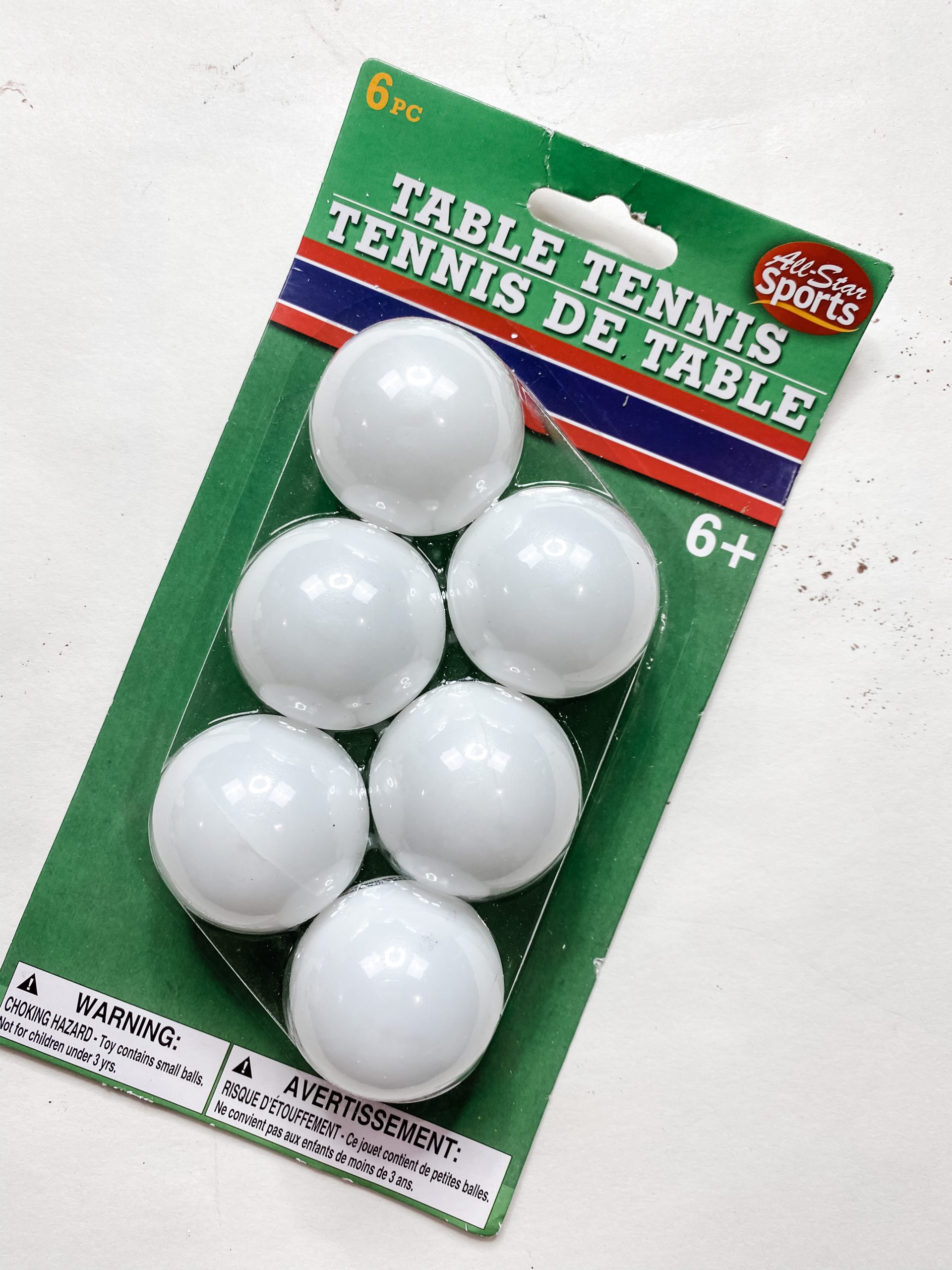 Once you have the ping pong balls positions perfectly, trim the wood skewer. I had to pull my drill out to connect the wood skewer to the tumbling tower blocks.
I drilled a small hole close to the center of the 2 blocks glued together. Before I hot glued the skewer into place, I stained the blocks with Apple Barrel Chocolate Sprinkle Acrylic Paint. Wet the blocks with a little bit of water, then spread the paint with a baby wipe.
Allow the paint to dry, then put a bit of hot glue into the hole, and press the end of the wood skewer into the hole.
Now, hot glue the DIY yarn hat to the top of the snowman's head. Tilt the hat backward just a little before hot gluing into place. You don't want the hat to sit directly on the top of the DIY snowman's head.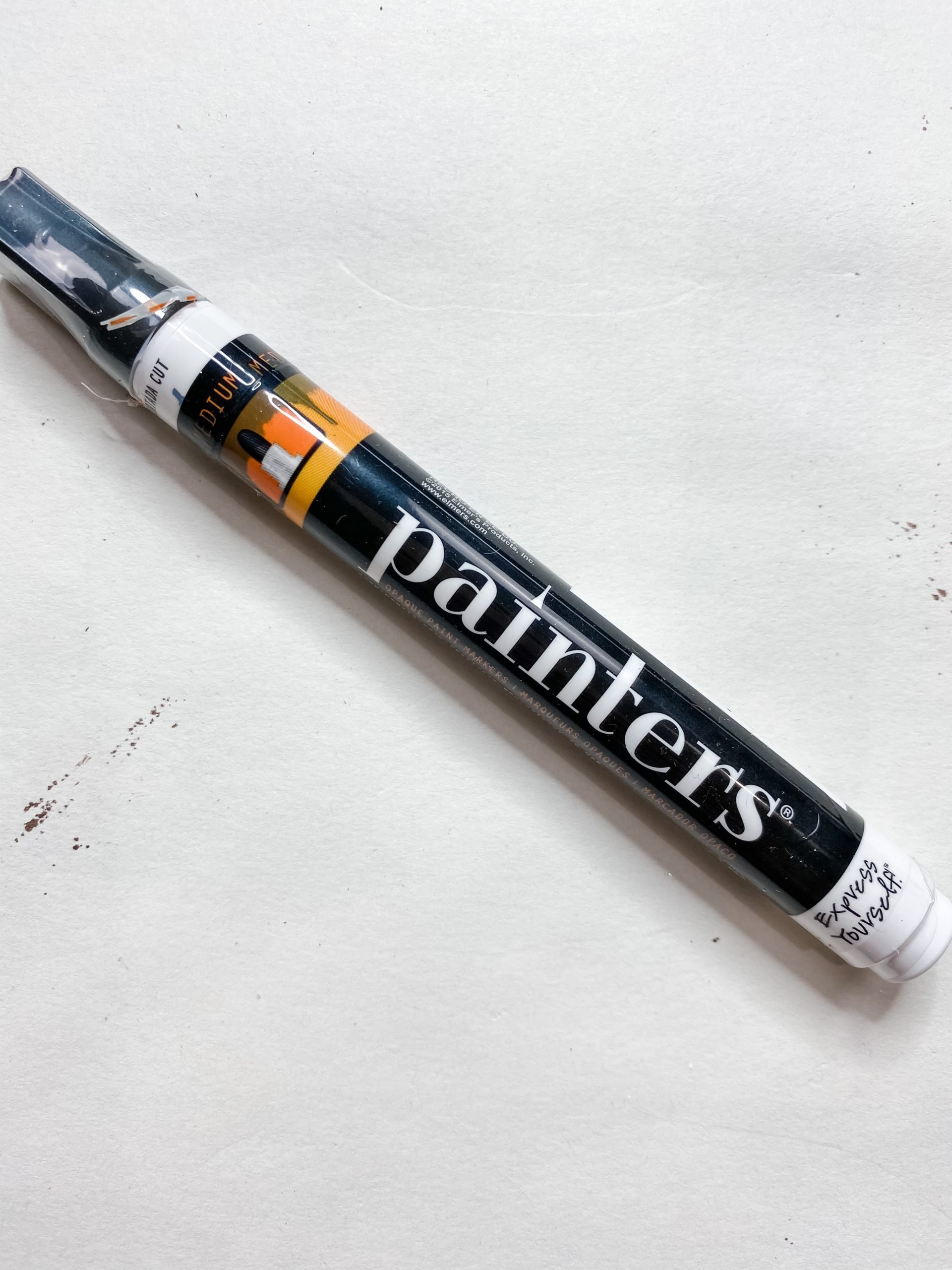 The finishing touches
I used a Black Fine Tip Painter's Marker from Walmart to paint the snowman's eyes and mouth. Then, I used a strip of Dollar Tree buffalo check fabric to create a cute scarf for my ping pong ball snowman.
You can cut or tear the strip of fabric, then wrap it around the snowman's neck and hot glue it into place.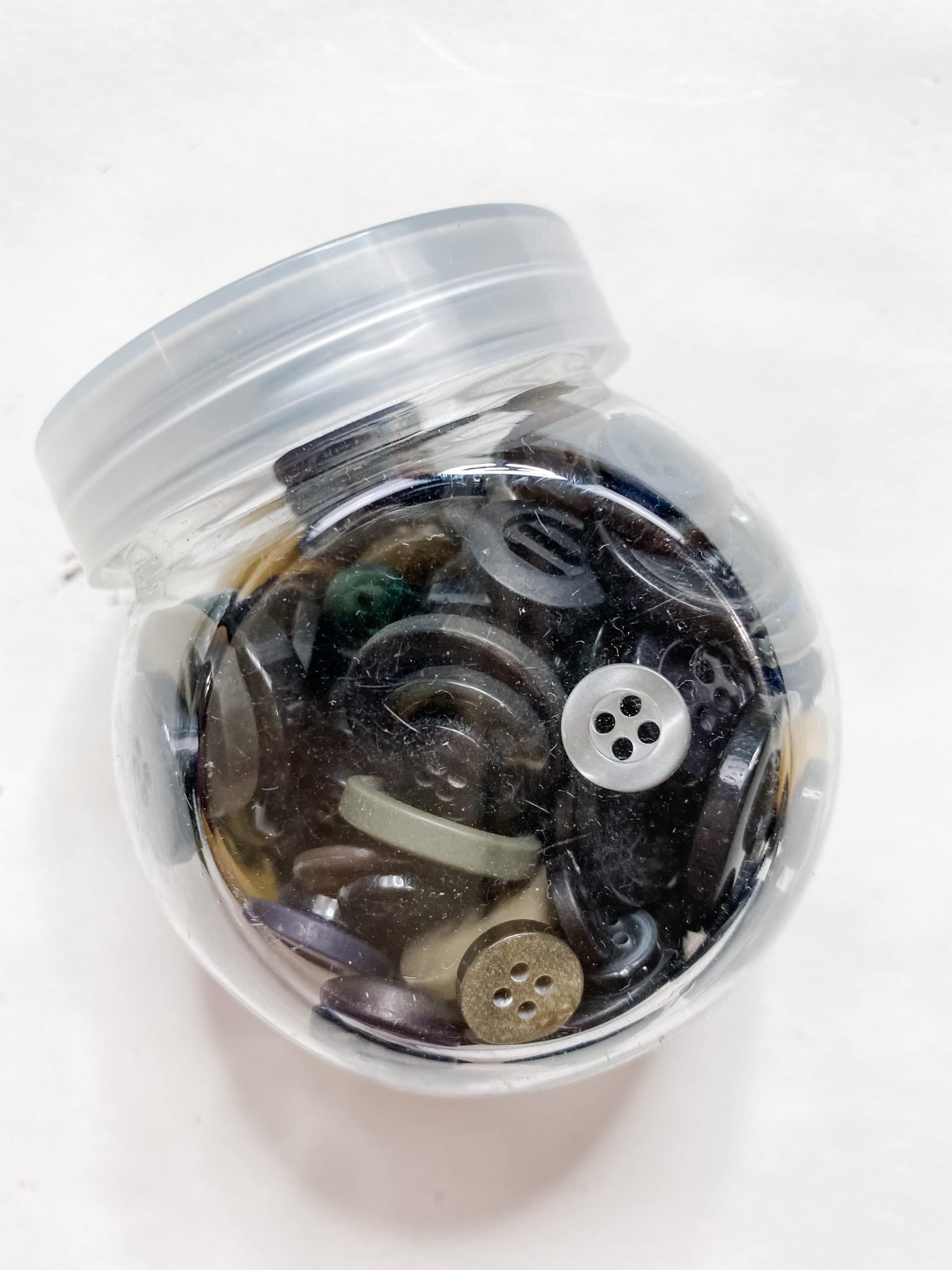 Cute as a button
I got this jar of little buttons from the Dollar Tree. Just pick two matching buttons and hot glue them onto the snowman's belly. To make the snowman's little carrot nose, I used an artist's brush and a bit of Craft smart Orange Paint.
The final thing I added to my snowman was my granddaughter's name, Avery, to the very bottom. I gave Avery her little snowman and she LOVED IT! We would catch her carrying her snowman throughout the house, and feeding it her snacks! Kid's are so funny!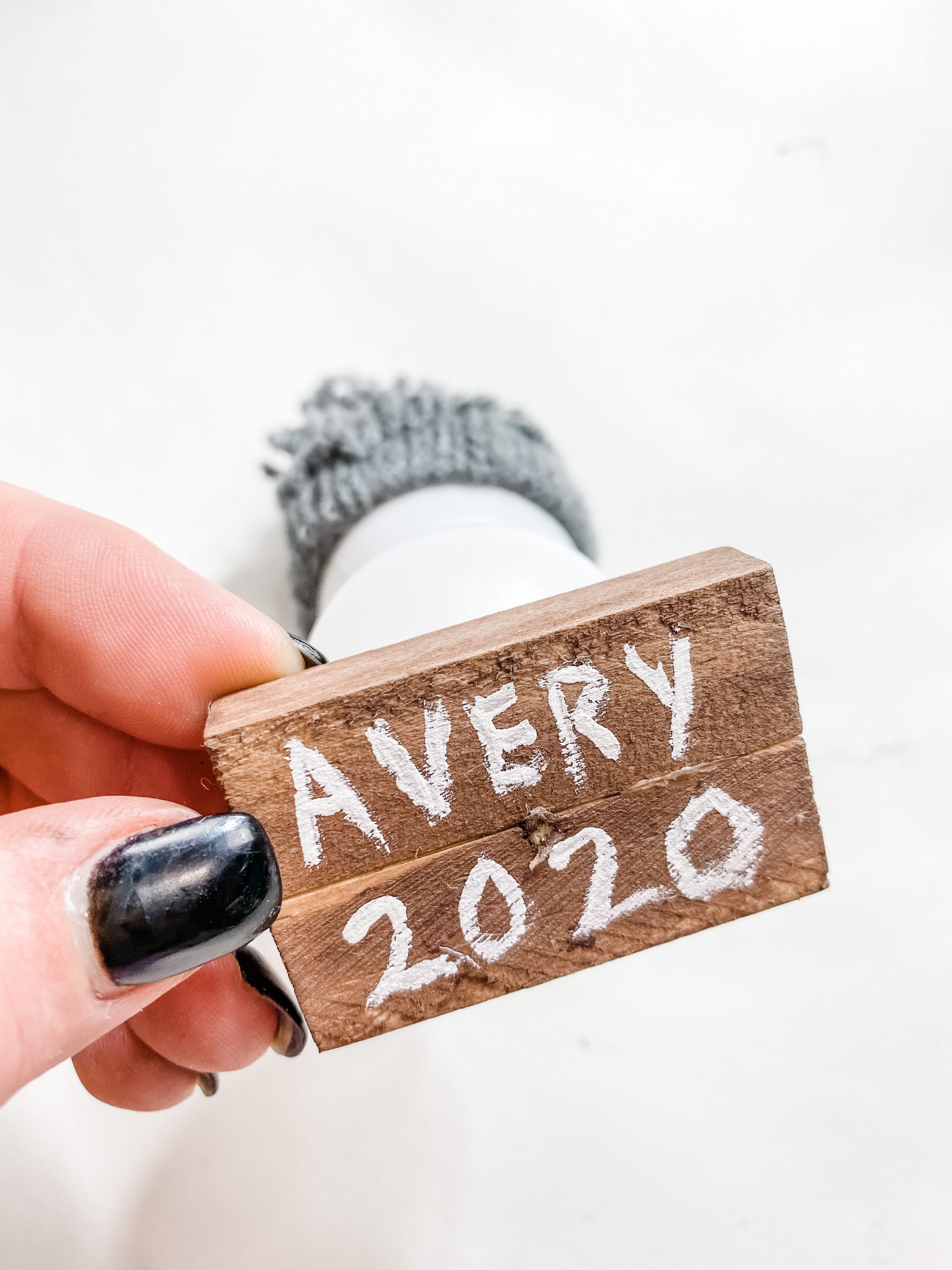 This Dollar Tree DIY Snowman would be so much fun to make with little kids, whether at home or as a school project. Definitely be cautious and responsible with the hot glue gun, as it could be dangerous for small children to use.
I hope you enjoyed this Dollar Tree Ping Pong Balls DIY Snowman as much as I did and decide to make one for yourself!
I would love to see how yours turns out! You should totally join my FREE Facebook group called On A Budget Crafts! It is a judgment-free community for DIY crafters to show off their projects and ideas.
Thanks for stopping by! XOXO Amber
You can also shop my ENTIRE AMAZON Favorites shop just click here! It's packed full of all the things I use and love.
Here is the supply list I highly recommend every creative have on hand!! Would you also pin my blog for later and get on my newsletter alerts? I would love to have you join my #craftycrew.

Join my free "ON A BUDGET CRAFTS" Facebook group!
PIN THIS POST FOR LATER!