Pumpkin Spice Mug Fall Home Decor
This pumpkin spice mug fall home decor is so stinking cute and is perfect for all the PSL lovers out there! It's great for tiered tray or shelf decorating and can be paired seamlessly with your Fall decor!
I love crafting, and I love home decorating on a budget, so it's the perfect pair! I get to make the decor for my home that perfectly matches my vision without breaking my bank account.
If you're like me and want a beautiful home that shows your personality without having to drop a big chunk of change, then you will love this DIY fall decor project!
How to make a Pumpkin Spice Mug Fall Home Decor
I started by painting the base of the pumpkin spice mug. I painted the whipped cream topping with white paint and the handle with DecoArt pebble acrylic paint.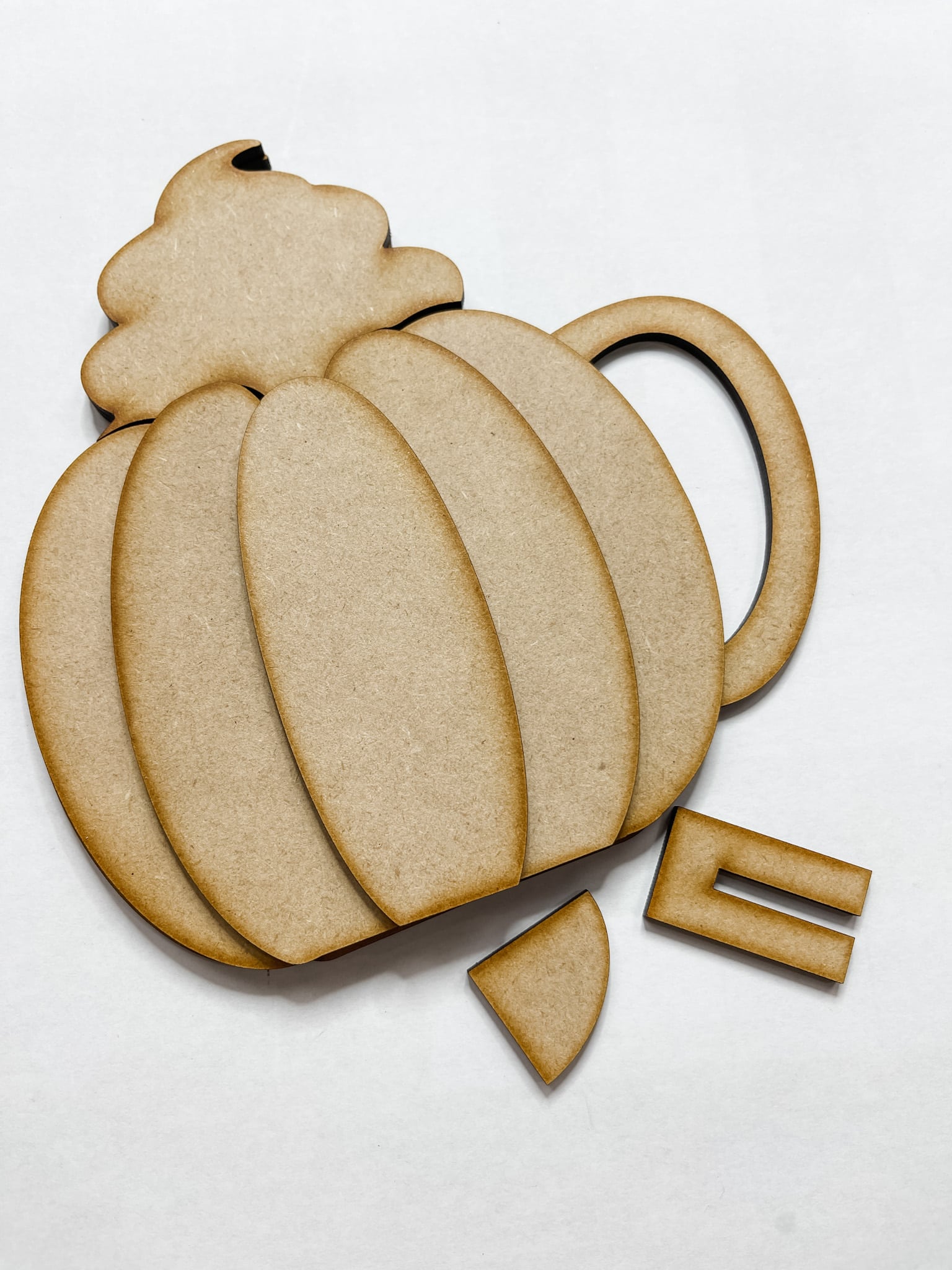 Also, I painted the cup part of the mug with orange paint. Next, I cut the embossed scrapbook paper to fit on each piece of the pumpkin layers.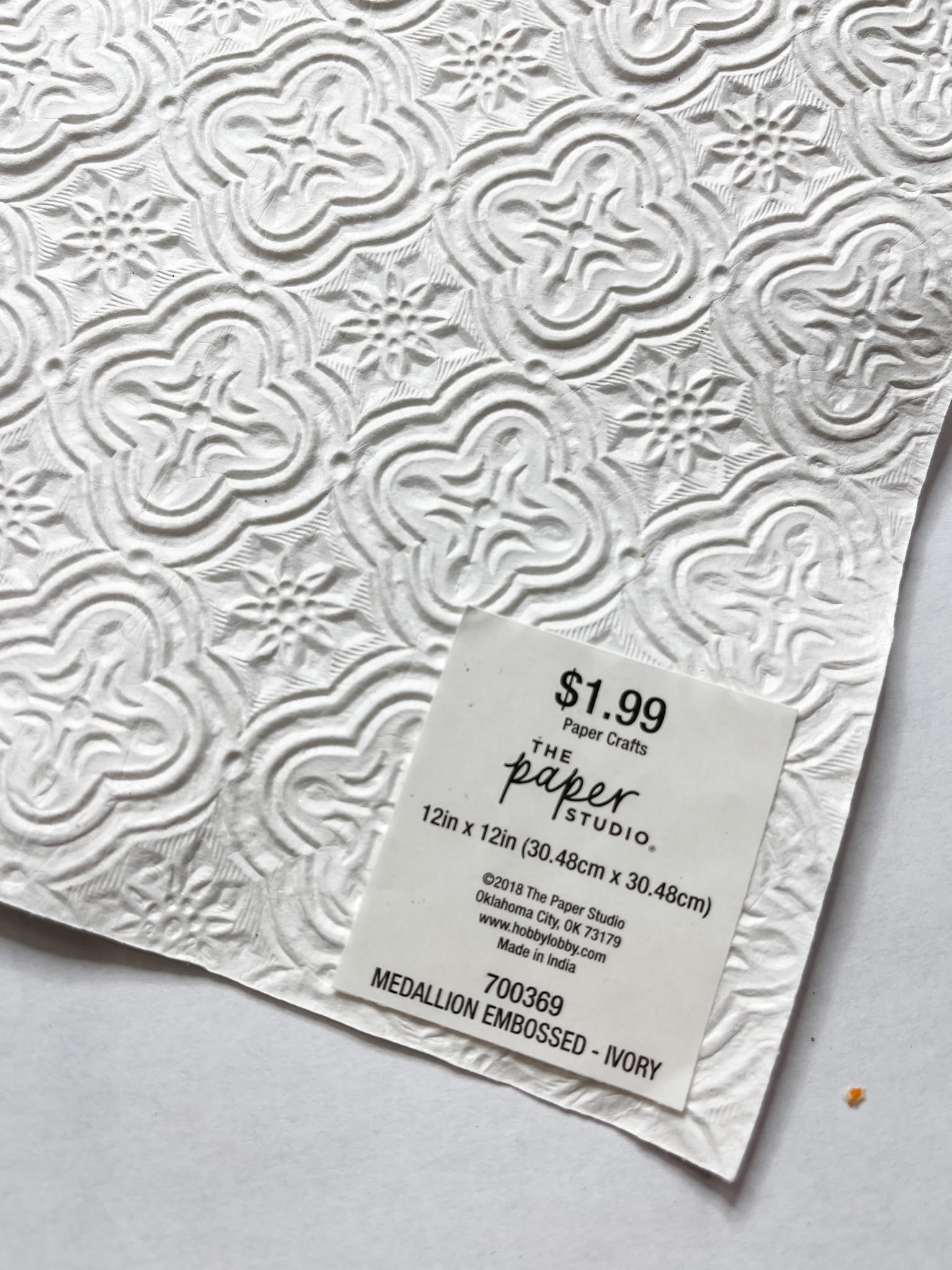 Apply Mod Podge to each piece of the pumpkin layers and place the embossed scrapbook paper onto the Mod Podge. Use a rolling pin to smooth the wrinkles or bubbles in the paper.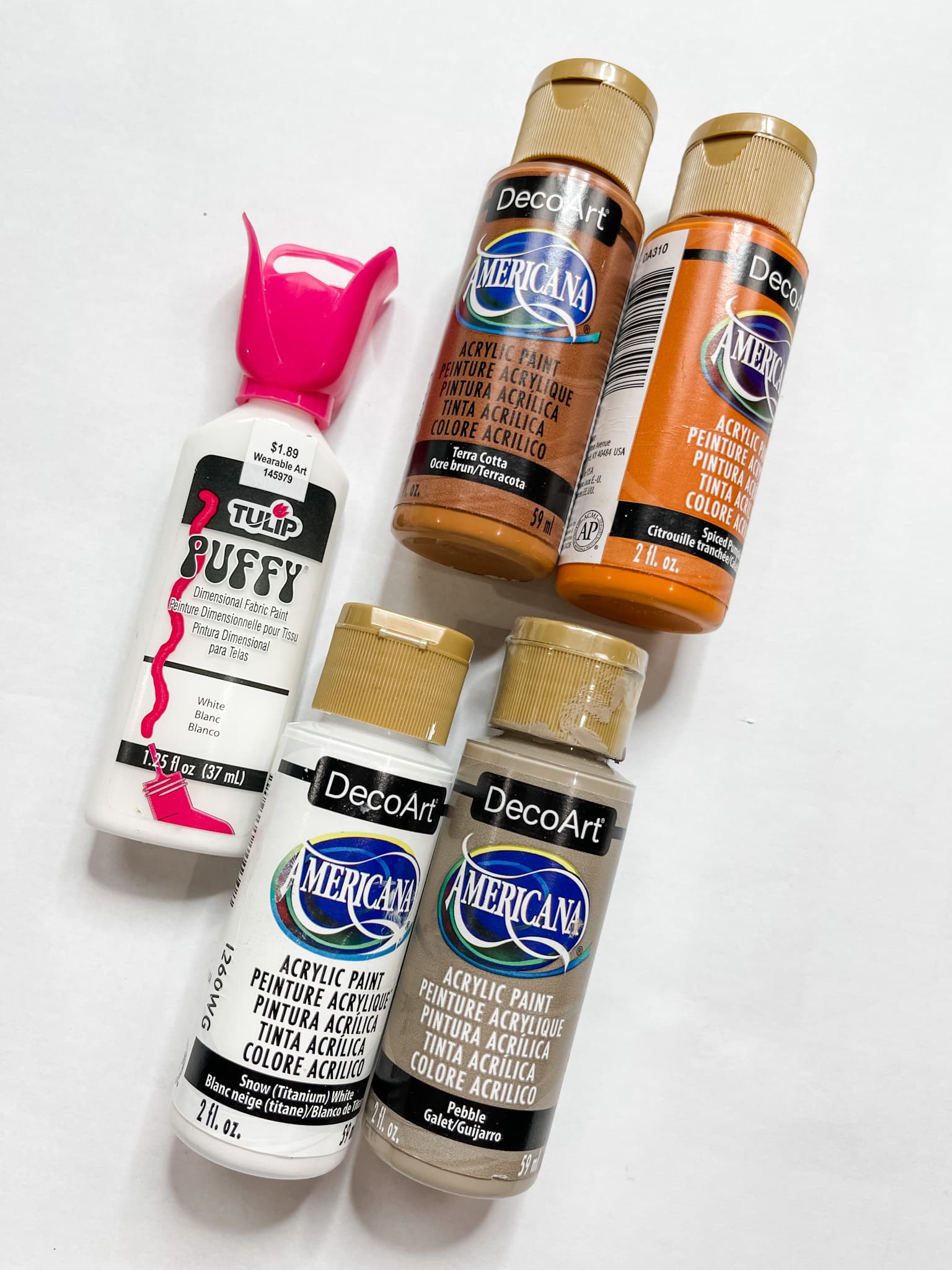 Paint the scrapbook paper with white paint. Allow the white paint to dry and brush the terra cotta orange paint across the scrapbook paper. You're highlighting the designs on the paper.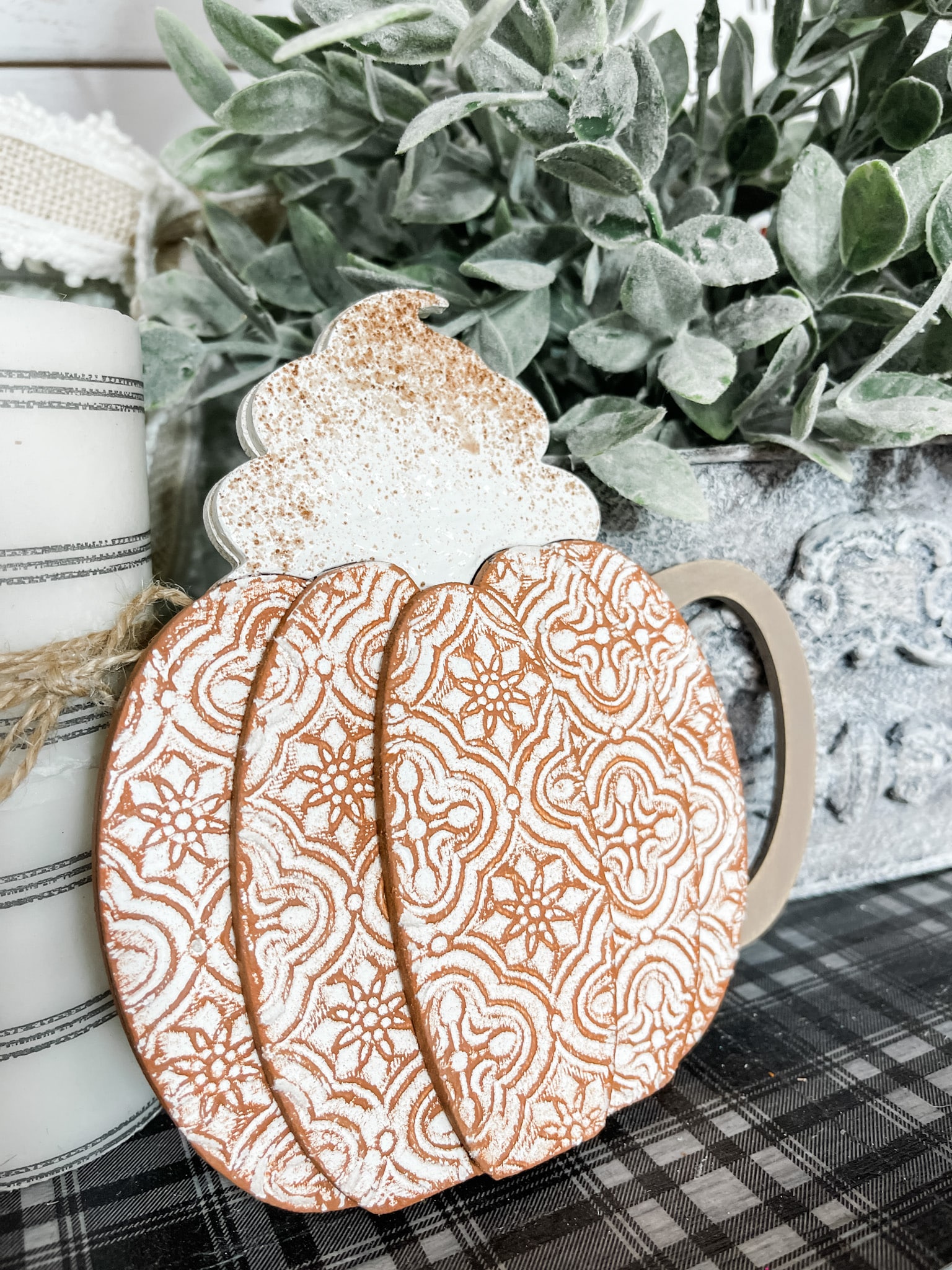 Make sure you paint the edges of each pumpkin piece with orange paint, allow the paint to dry completely, then assemble and glue the pieces together!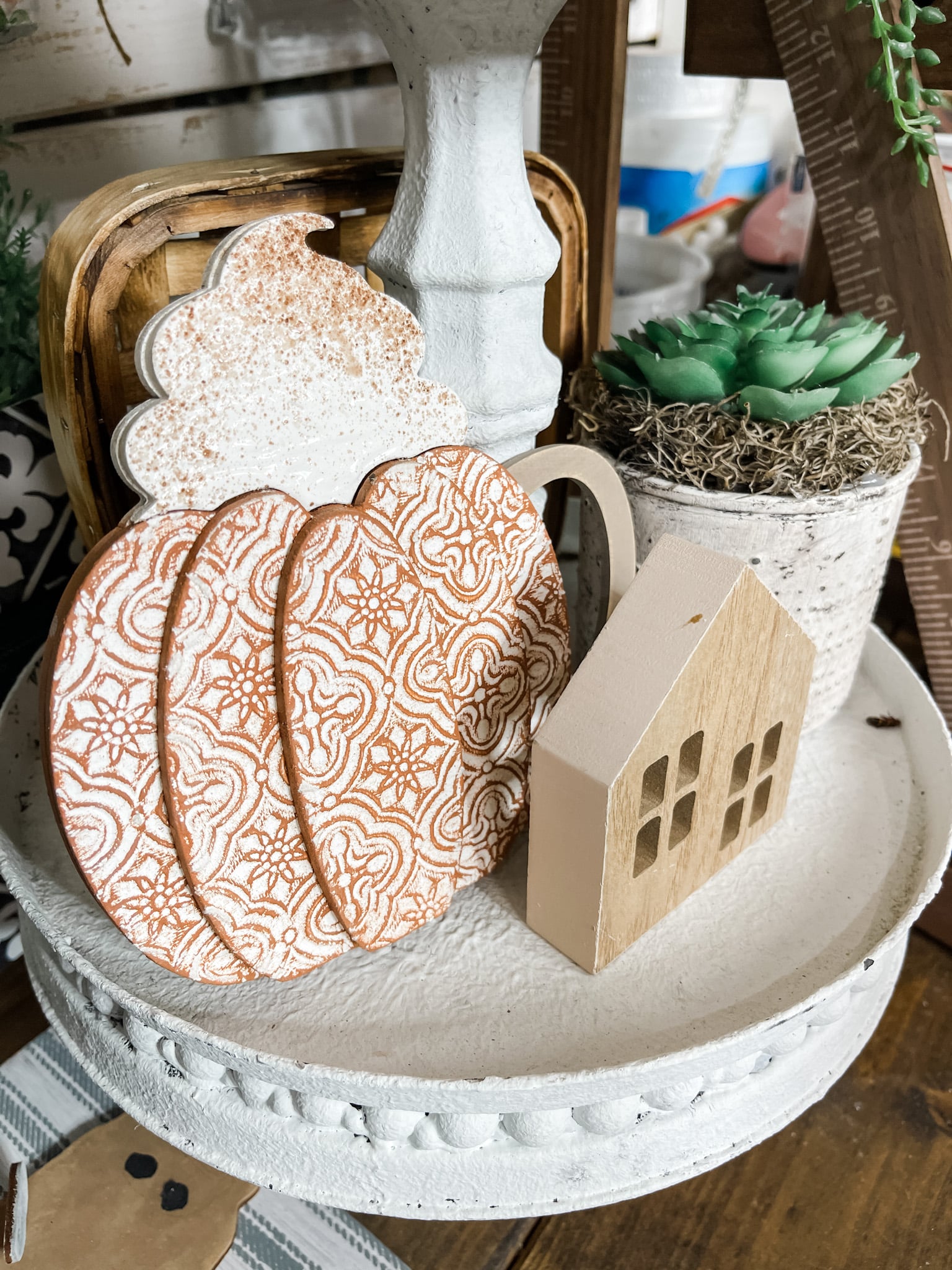 Next, I painted the layered whipped cream piece white and swirls the puffy white paint onto the whipped cream dollop.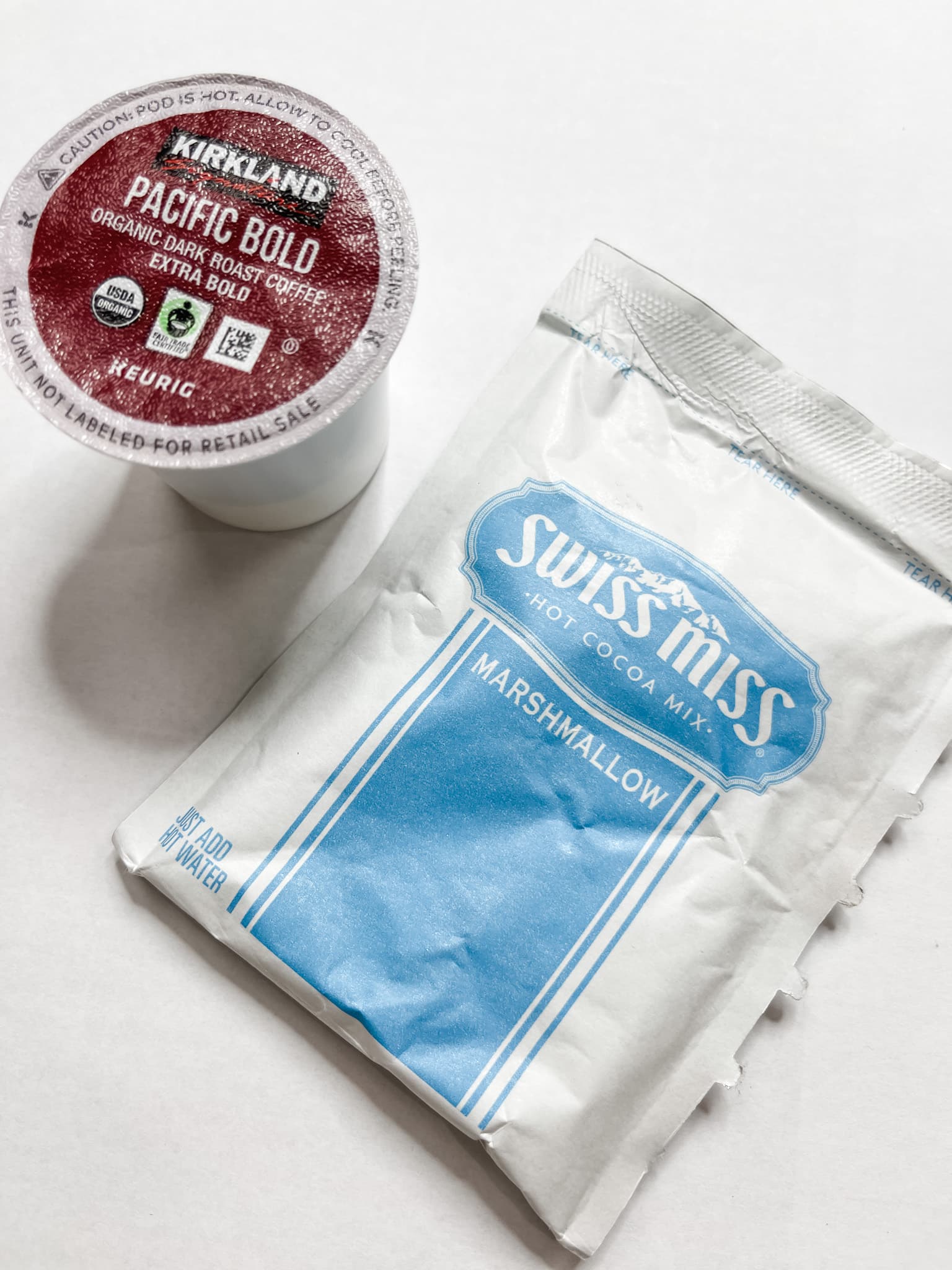 I glued the dollop onto the base of the pumpkin spice mug, and while the paint was wet, I sprinkled the Swiss Miss hot cocoa onto the tip of the dollop.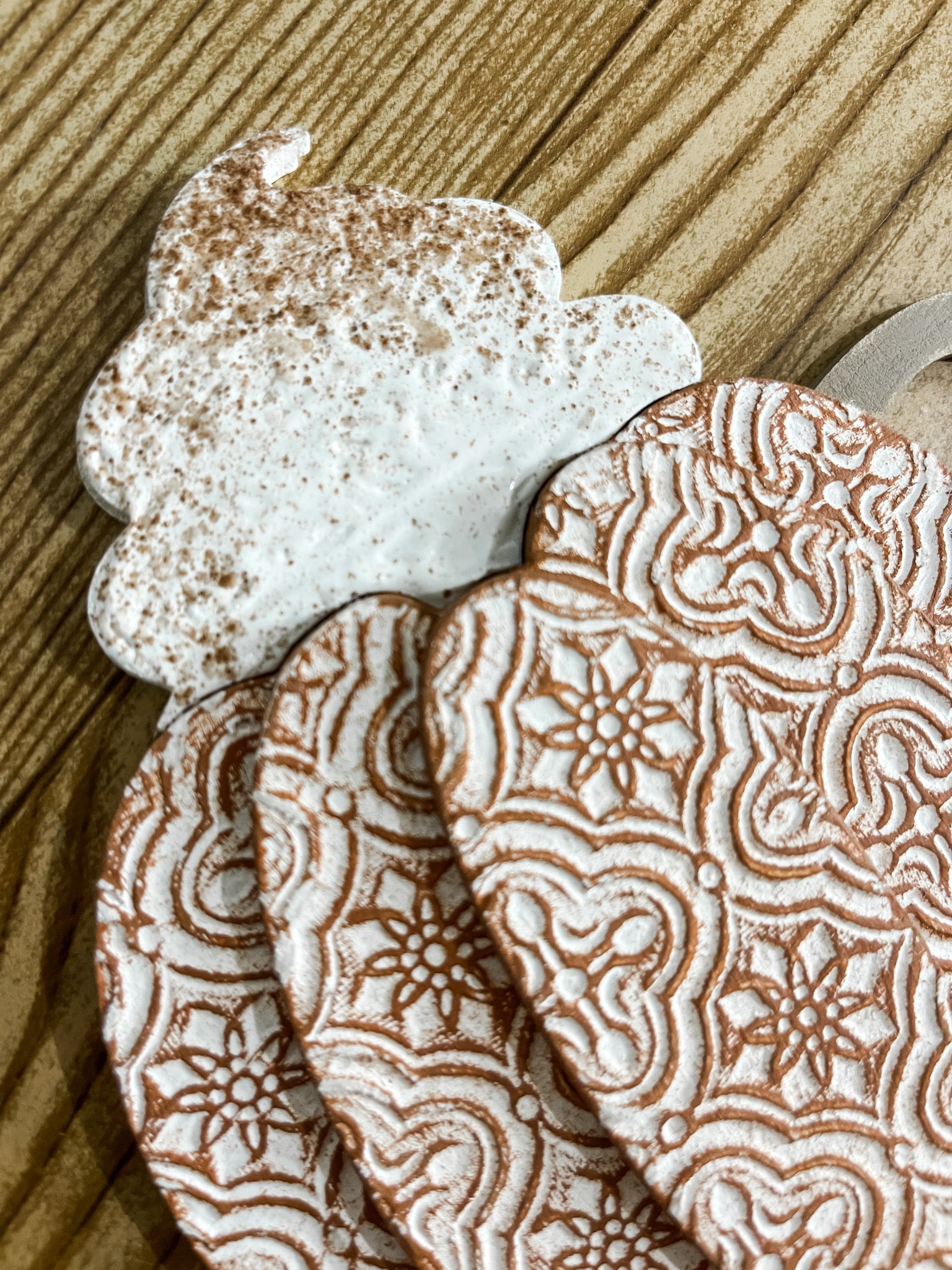 Let the paint dry completely (I like to use my heat gun to speed that up) and you're ready to decorate with your pumpkin spice mug!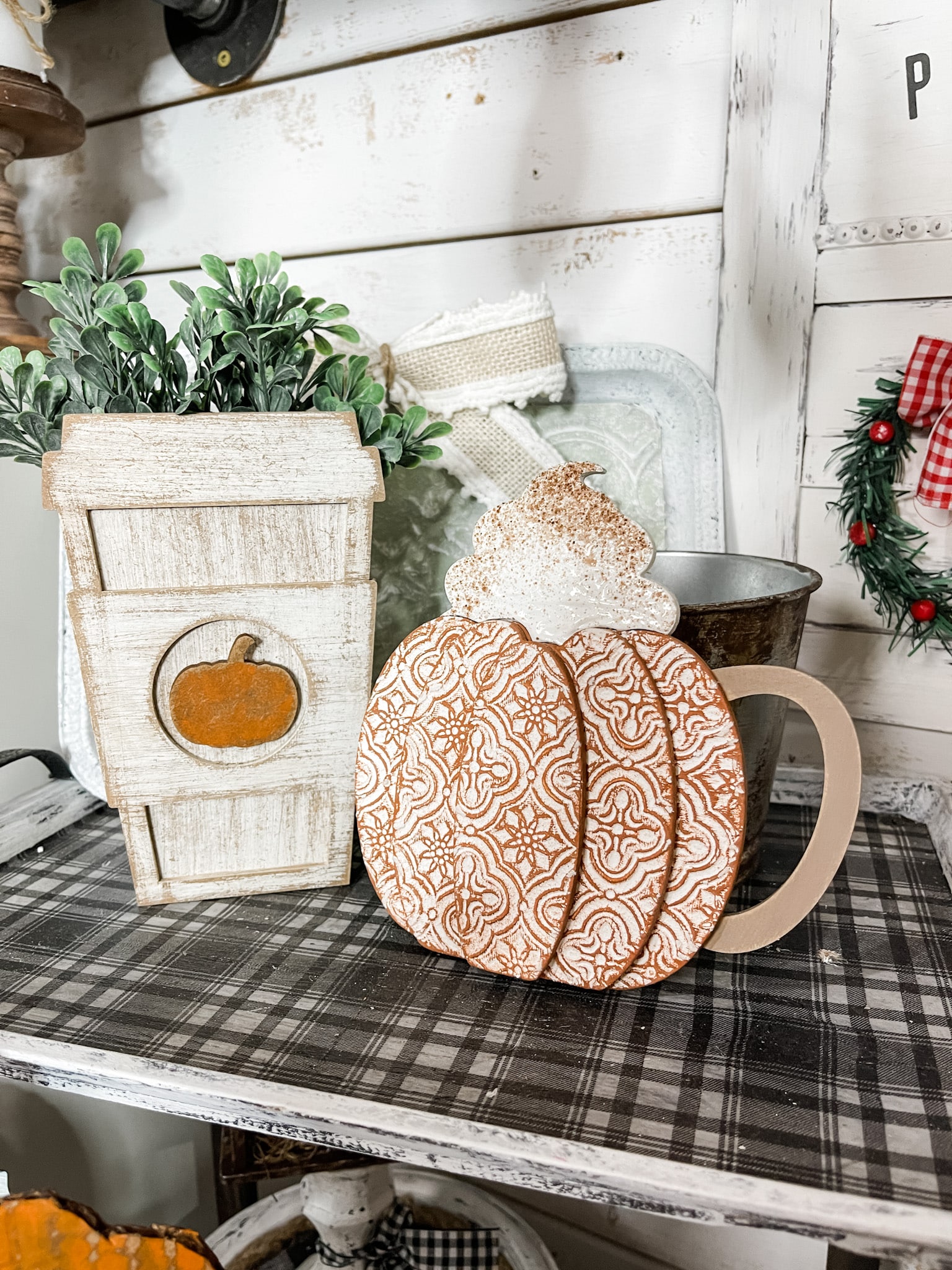 I hope you enjoyed this Pumpkin Spice Mug Fall Home Decor as much as I did and decide to make one for yourself! I would love to see how yours turns out!
I recorded how to make this adorable Pumpkin Spice Mug Fall Home Decor during a LIVE video on my Facebook page.
If you want to see the DIY process, craft along, or just join in on the fun conversations you can watch the DIY tutorial replay video on Facebook!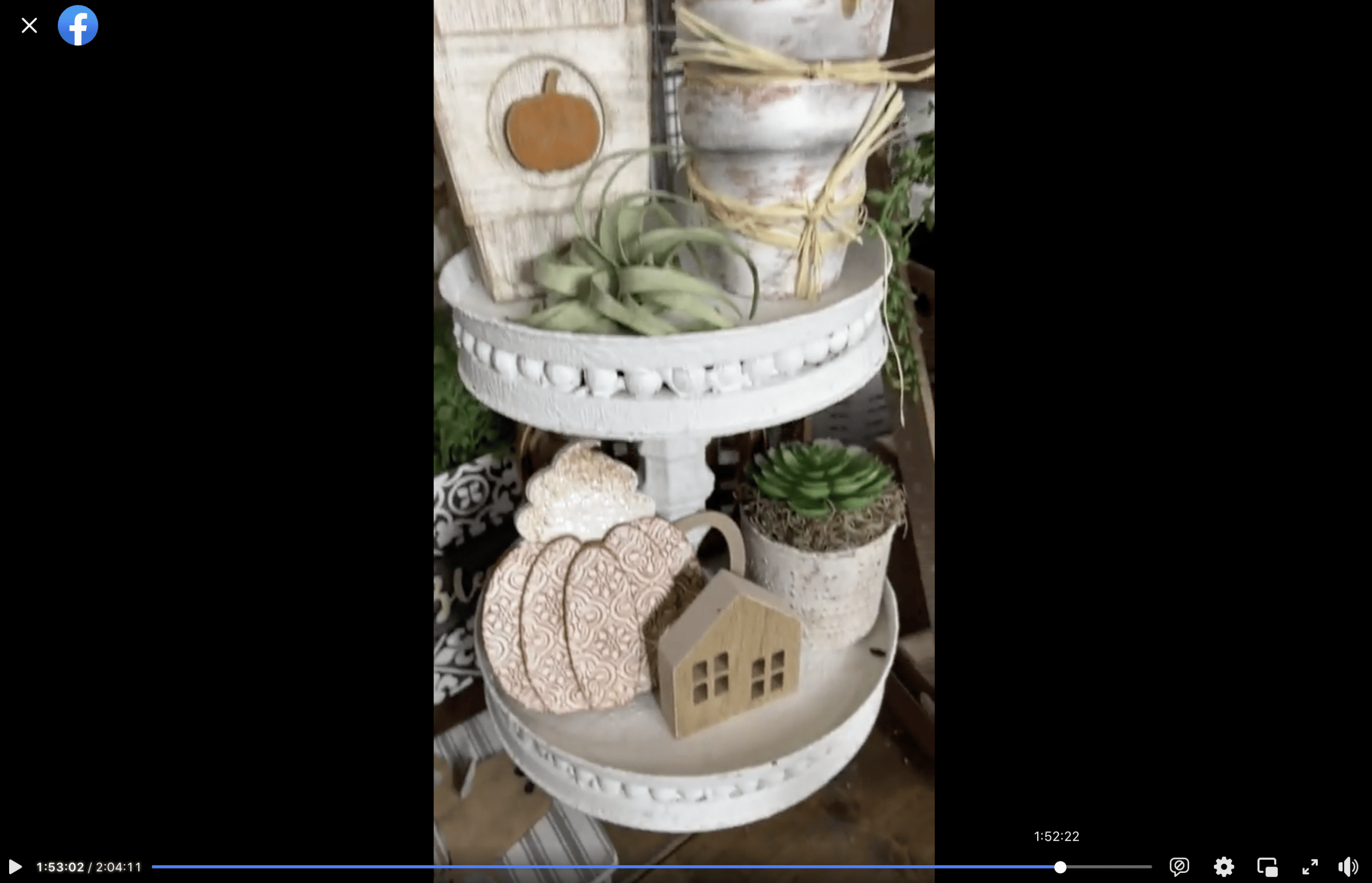 For this project, I will be using these items but you can substitute where you want.
"As an Amazon Associate, I earn from qualifying purchases."
Embossed Scrapbook Paper
Swiss Miss Hot Cocoa Mix
Pacific Bold Coffee K Cup
Foam Sponges
White Puffy Paint
Gator Zip Sander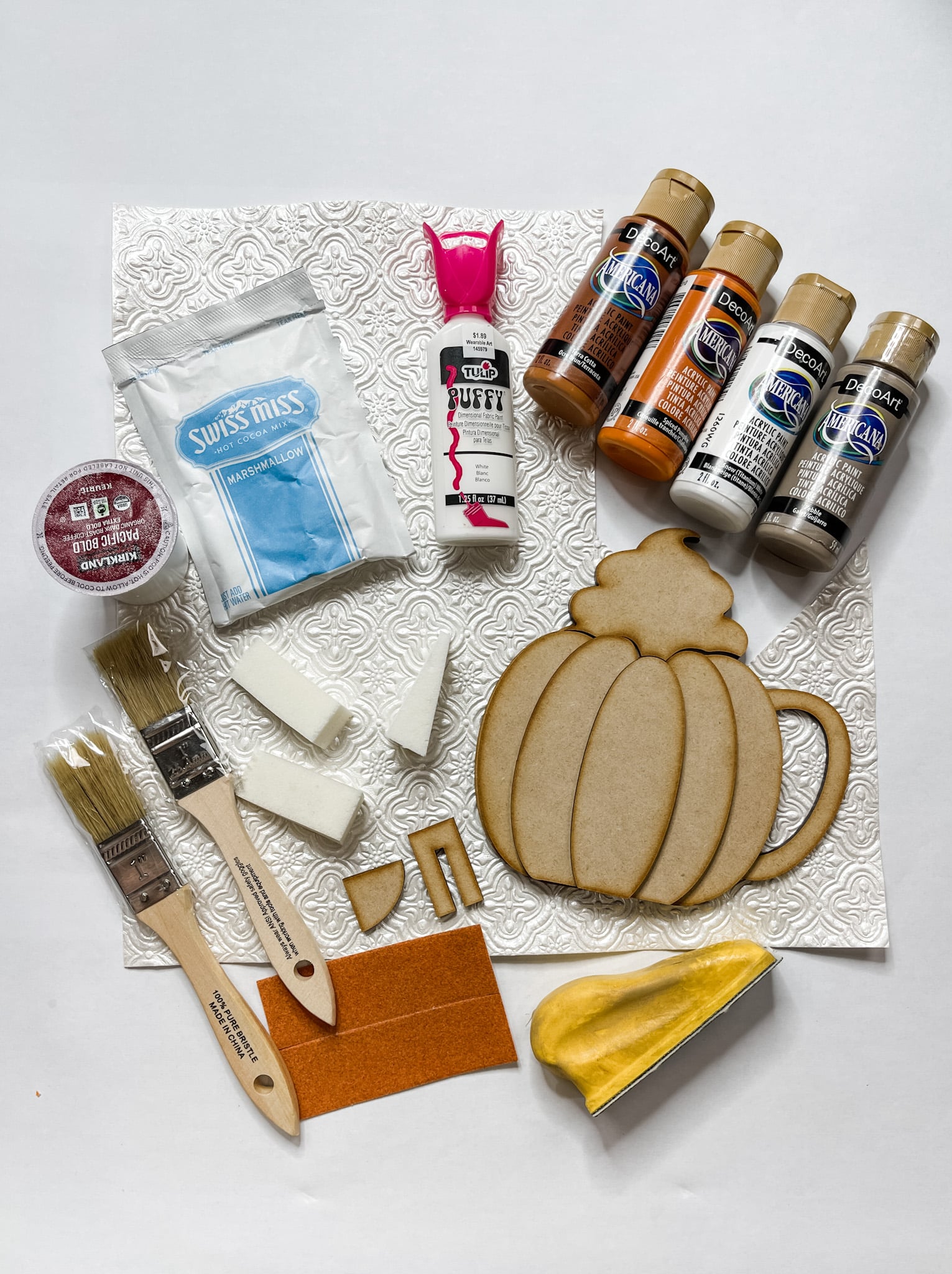 You should totally join my FREE Facebook group called On A Budget Crafts! It is a judgment-free community for DIY crafters to show off their projects and ideas.
Thanks for stopping by! XOXO Amber
You can also shop my ENTIRE AMAZON Favorites shop just click here! It's packed full of all the things I use and love.
Here is the supply list I highly recommend every creative have on hand!! Would you also pin my blog for later and get on my newsletter alerts? I would love to have you join my #craftycrew.

Join my free "ON A BUDGET CRAFTS" Facebook group!
PIN THIS POST FOR LATER!