Wood Bead Flower – Neutral Home Decor
I am so excited to share a super simple, affordable, and adorable wood bead flower – neutral home decor that will go great with almost any style of home decor!
This DIY decor idea is something you could easily add into your existing home decor and it would work year round.
Want some color? Just change out the color of paint you use to stain the wood beads! Also, how cute could this be as decor for a little girl's room??
Hobby Lobby Wood Bead Flower Dupe
I was browsing Hobby Lobby the other day and I saw on display this beaded wood flower. I knew I had all the supplies to make it so I came home and pulled out all the things I thought I would need and I decided to give it a try. I love a good Home Decor Dupe!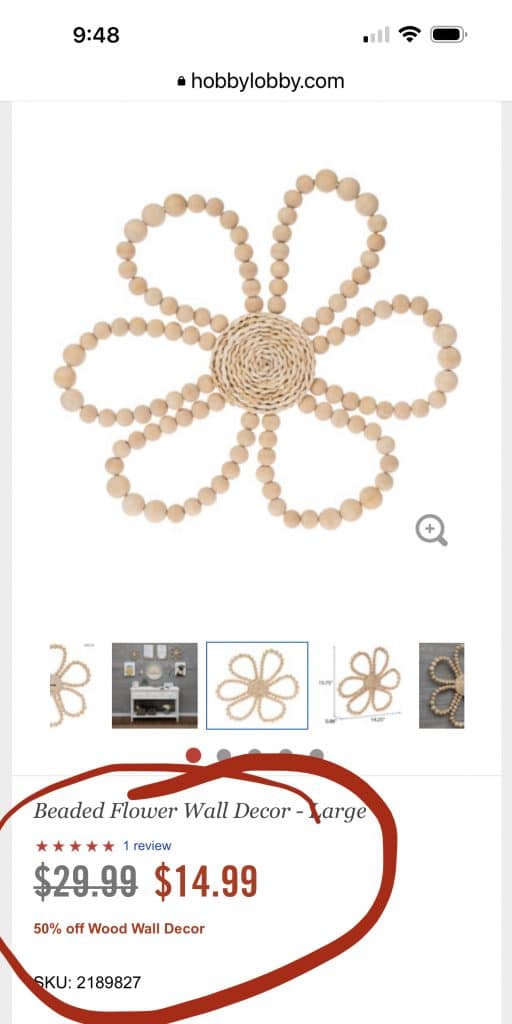 How to make a Wood Bead Flower – Neutral Home Decor
I started this project by staining a TON of the wood beads with the DecoArt pebble acrylic paint. To do that, separate the beads into small plastic mixing bowls and spray them with water.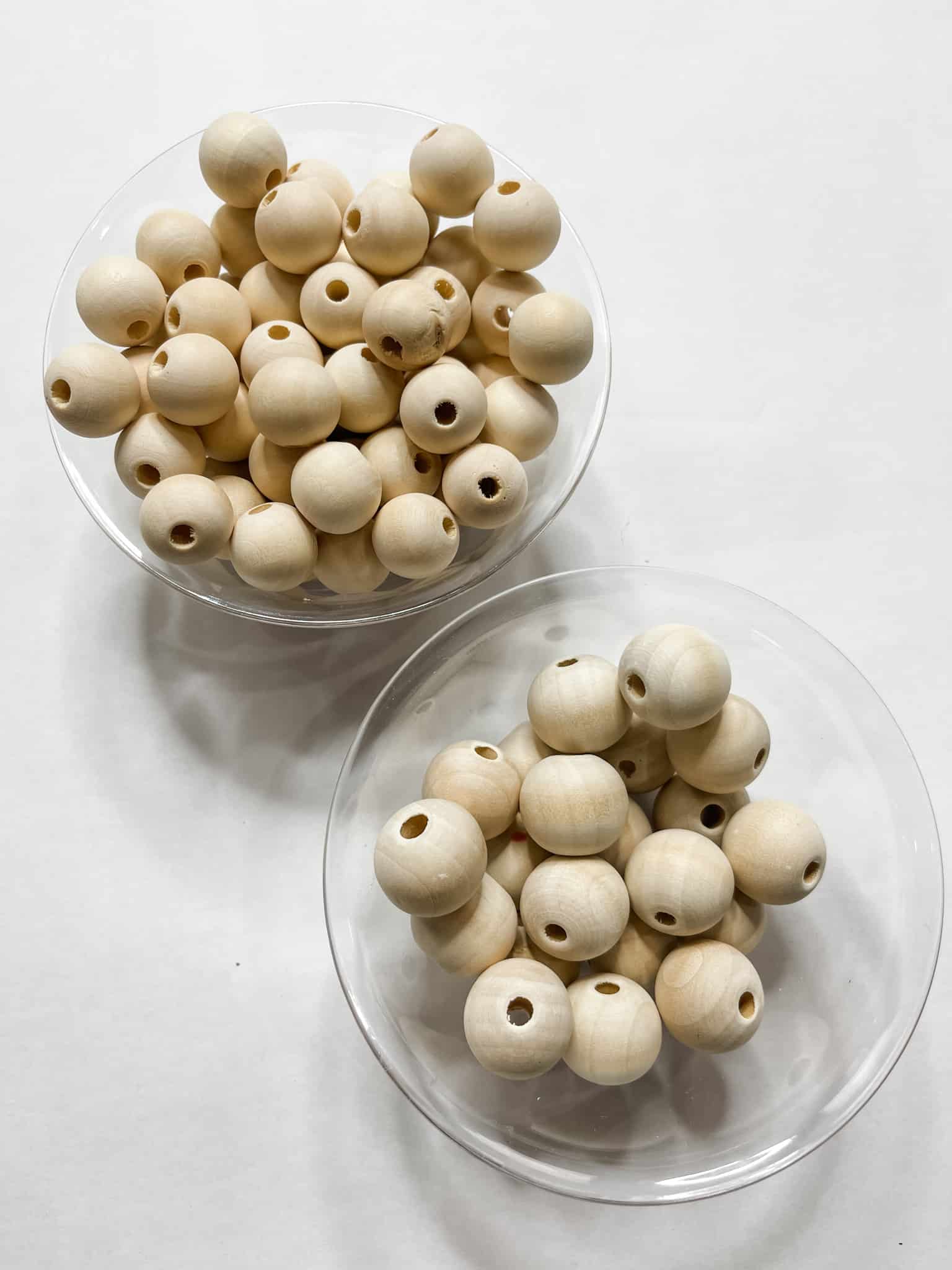 Then, pour a bit of the paint overtop the wet beads. Spray a bit more water onto the paint and swirl the beads around in the bowls until they're all coated in the paint.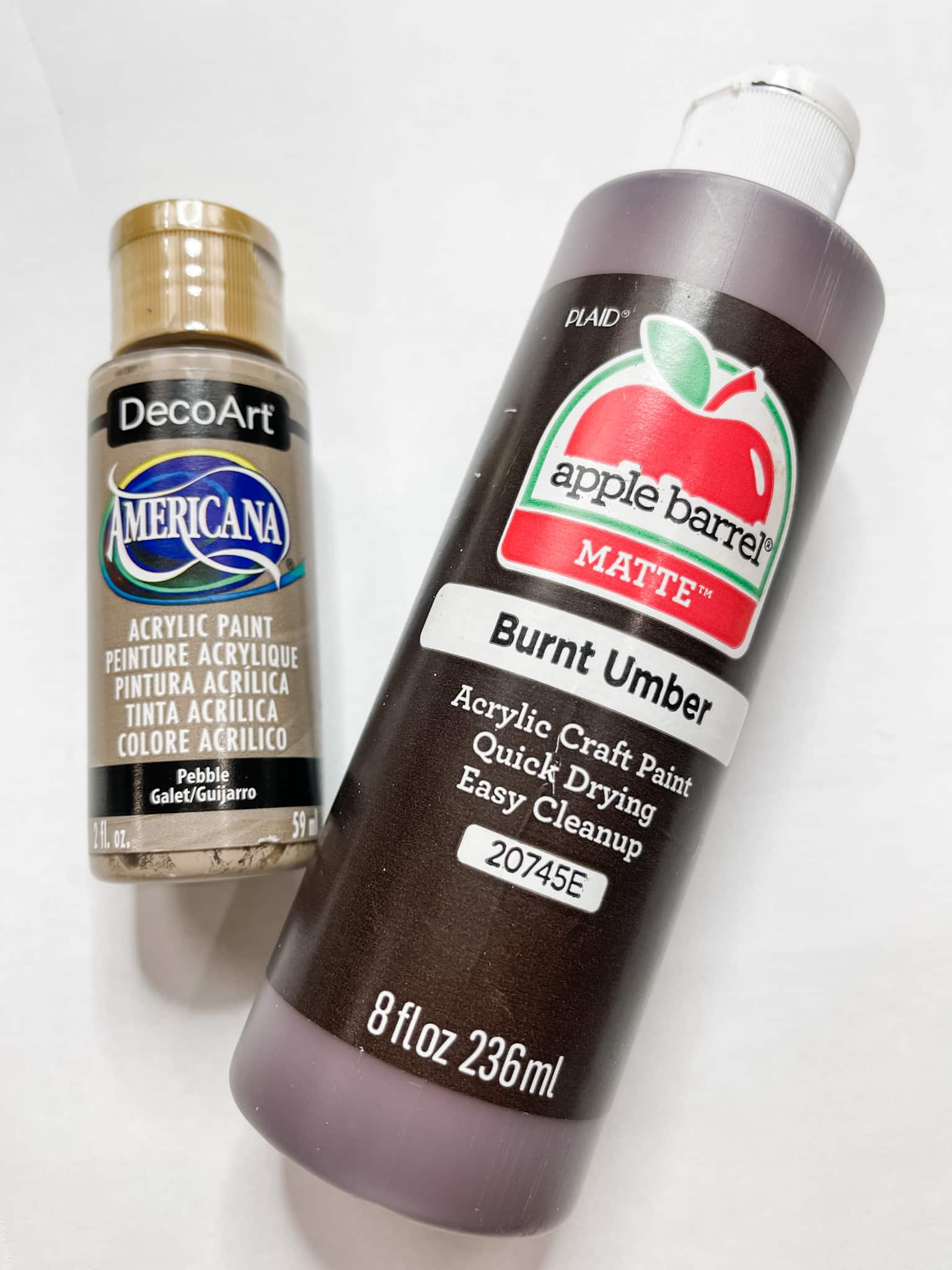 Use a paper towel to remove the excess paint from the beads, and allow the beads to dry. I like to use my heat gun to speed up the drying process.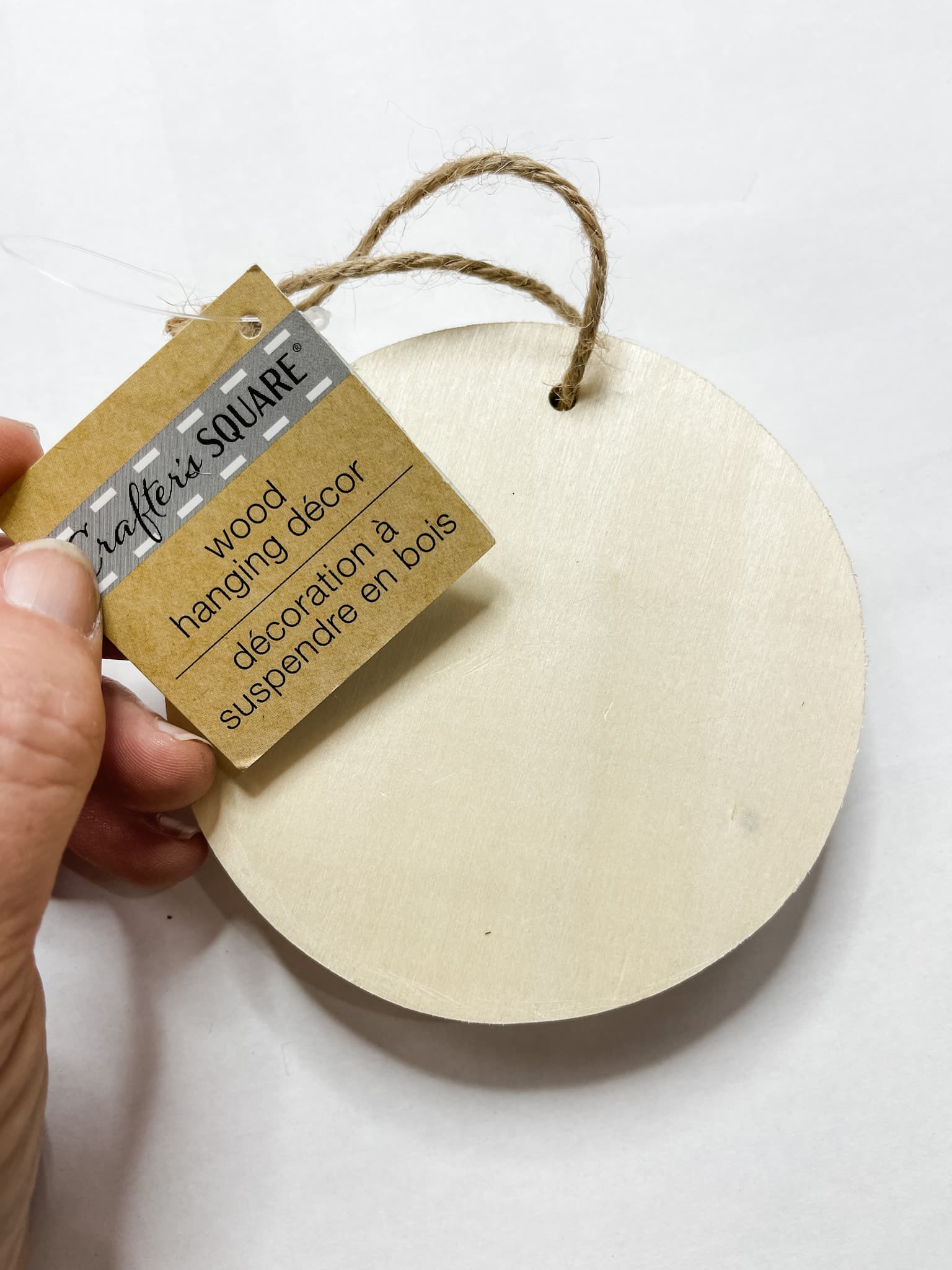 Next, I stained the Dollar Tree wooden circle with the same DecoArt pebble acrylic paint. Once your circle and all the beads are dry, you can start assembling your flower!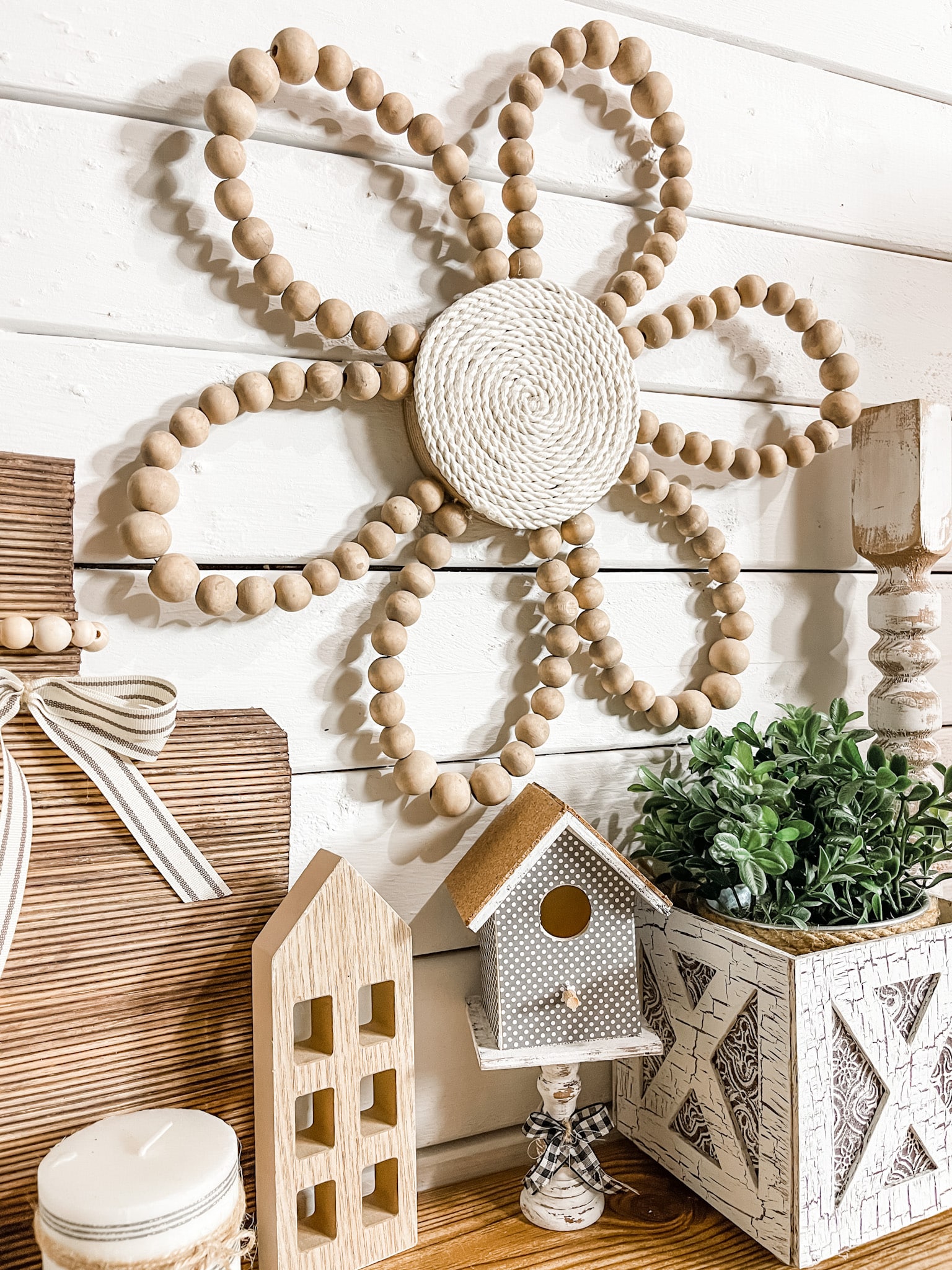 Put your wood bead flower together
Thread your stained beads onto the wire. I positioned the larger beads at the center of the string of beads so they'd be bigger on the outer edge of each petal.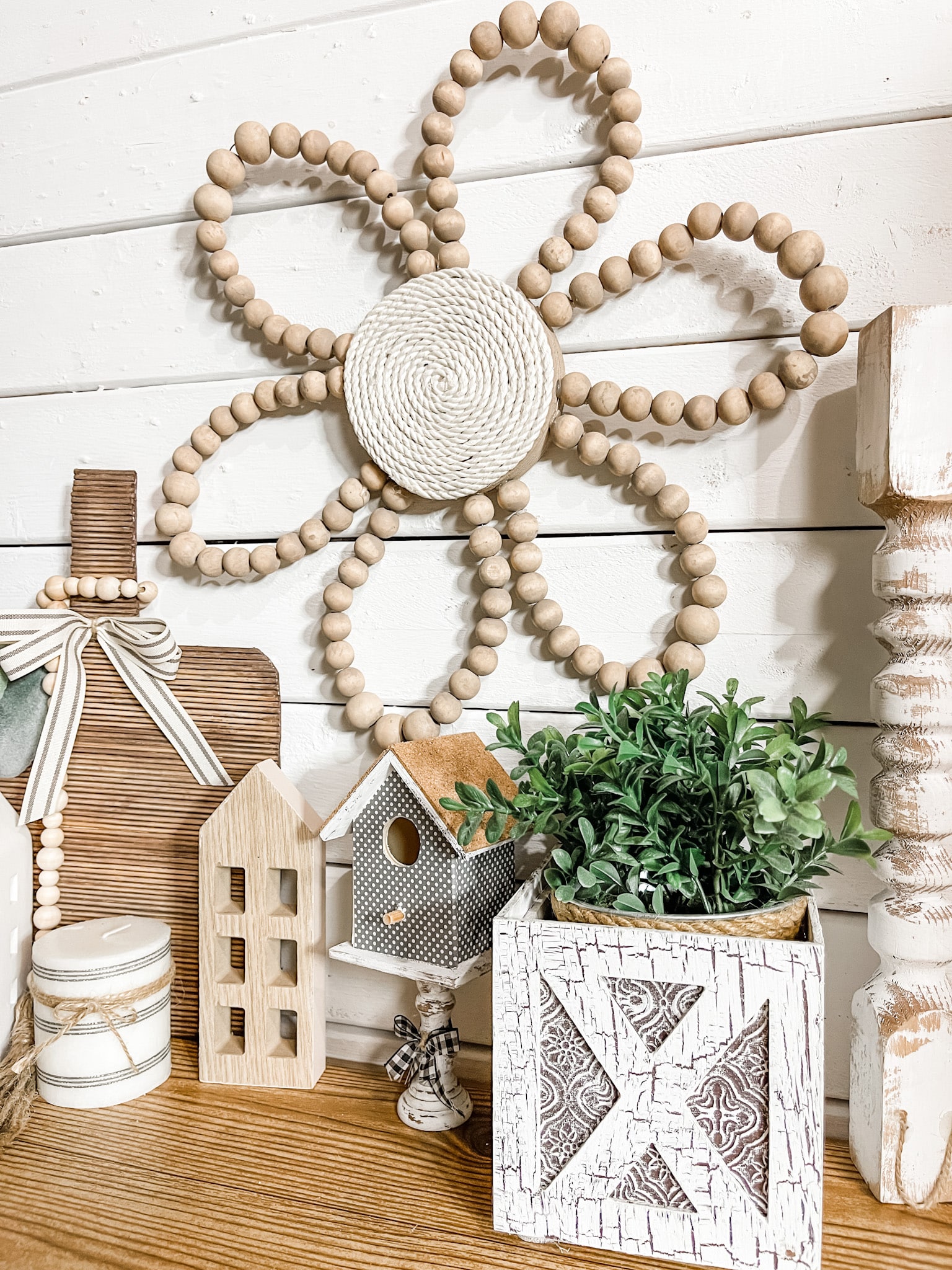 Once you have each string of beads ready to make your petals, place and mark where you want each of the wires to go to attach the petals to the wooden circle.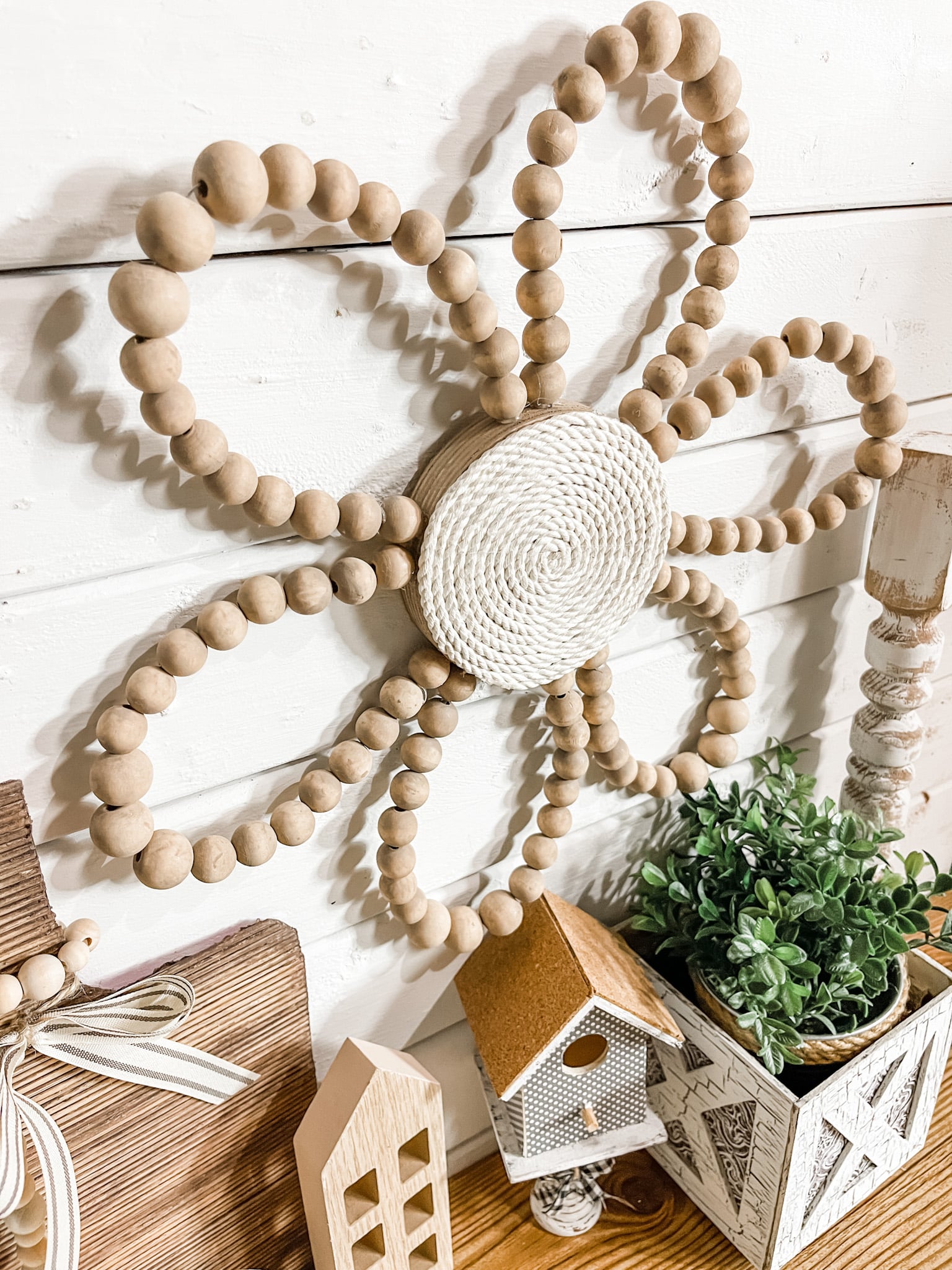 Put some hot glue on the ends of each wire and push them into the holes you just drilled. Next, I glued the white jute cord onto the front of the circle.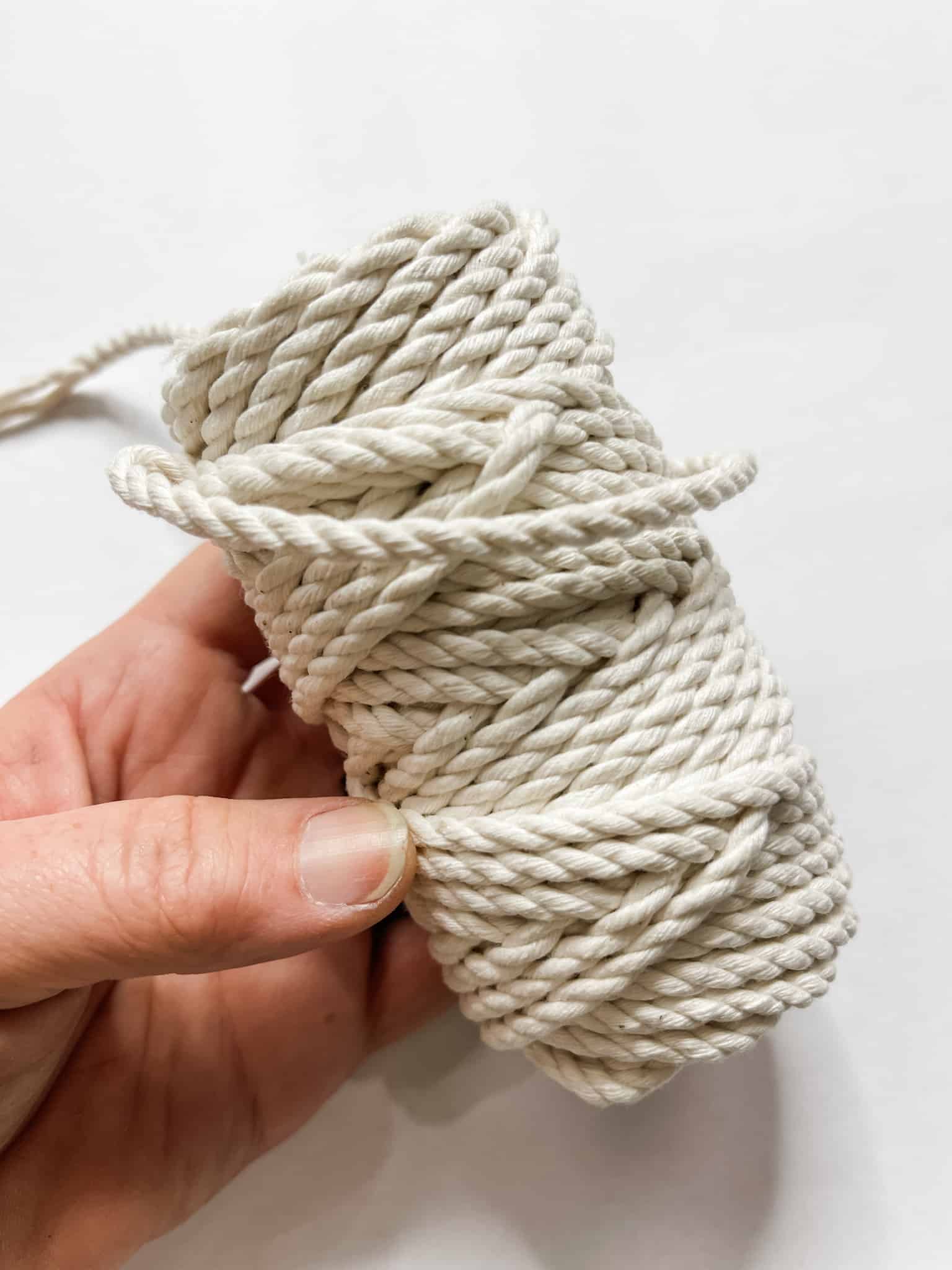 I started at the center and swirled the spiraled it around until the entire circle was covered. Lastly, I stapled a piece of wire to the back so I could hang my flower on the wall!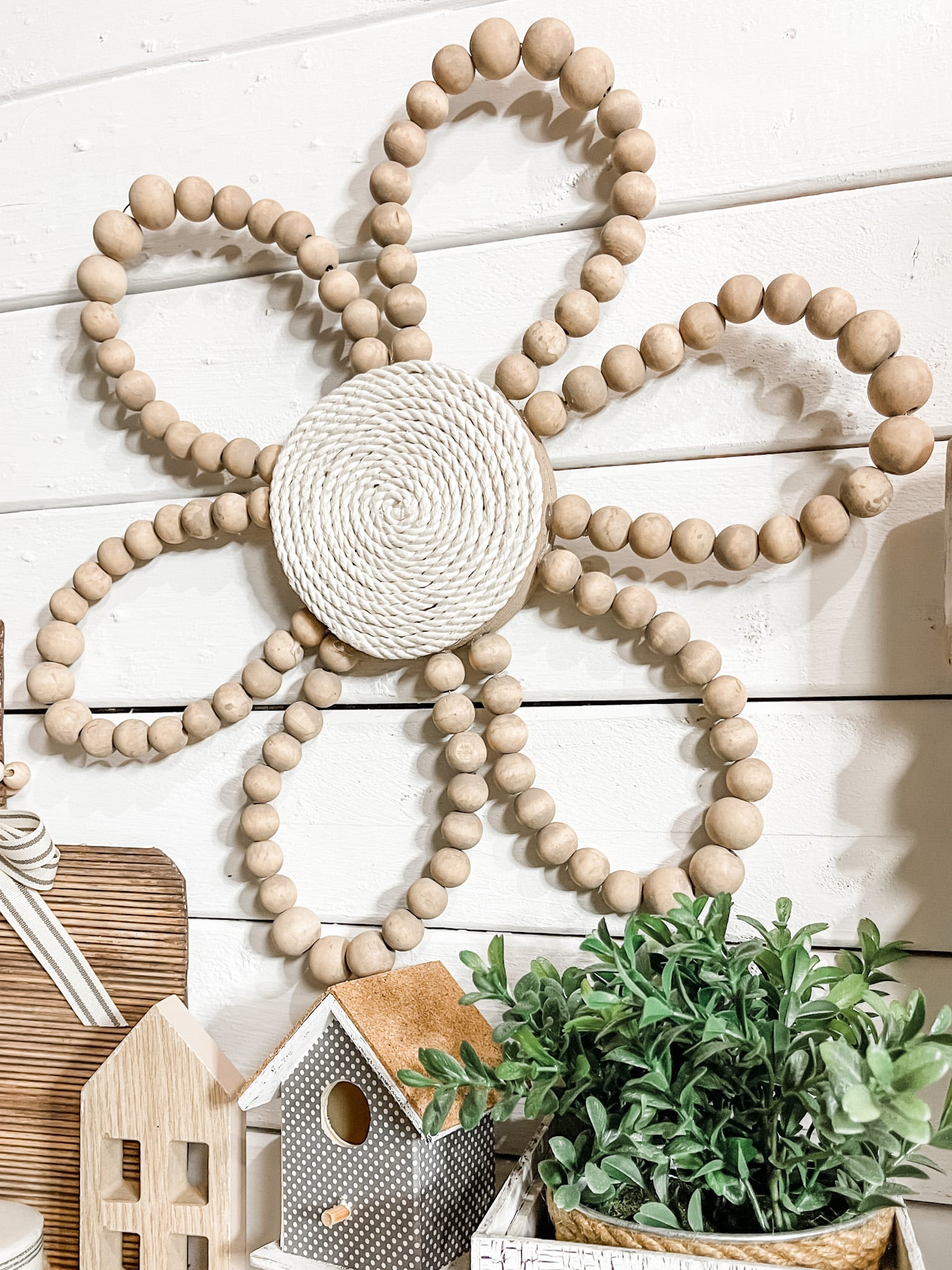 I hope you enjoyed this Wood Bead Flower – Neutral Home Decor as much as I did and decide to make one for yourself! I would love to see how yours turns out!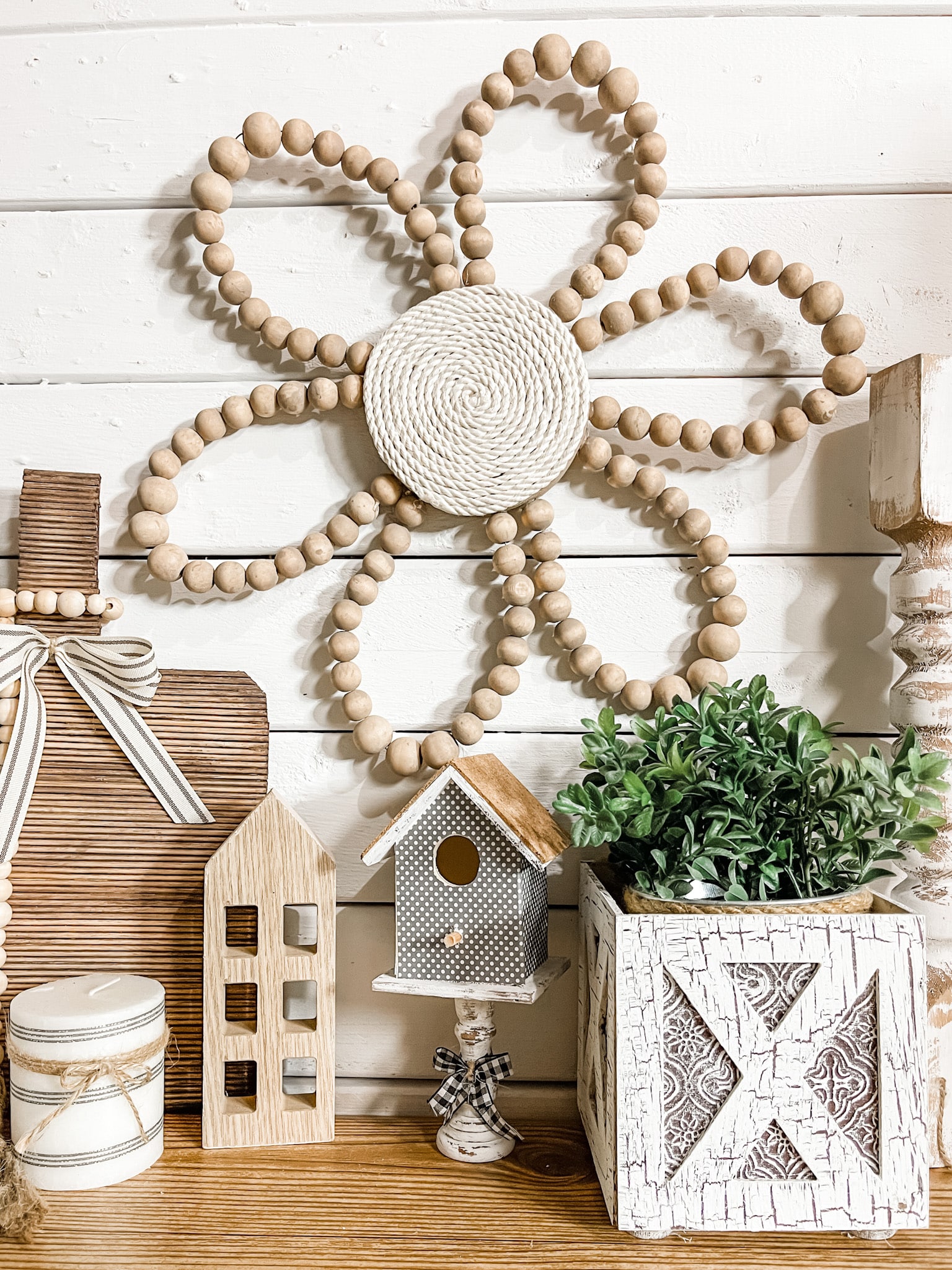 I recorded how to make this adorable Wood Bead Flower – Neutral Home Decor during a LIVE video on my Facebook page.
If you want to see the DIY process, craft along, or just join in on the fun conversations you can watch the DIY tutorial replay video on Facebook!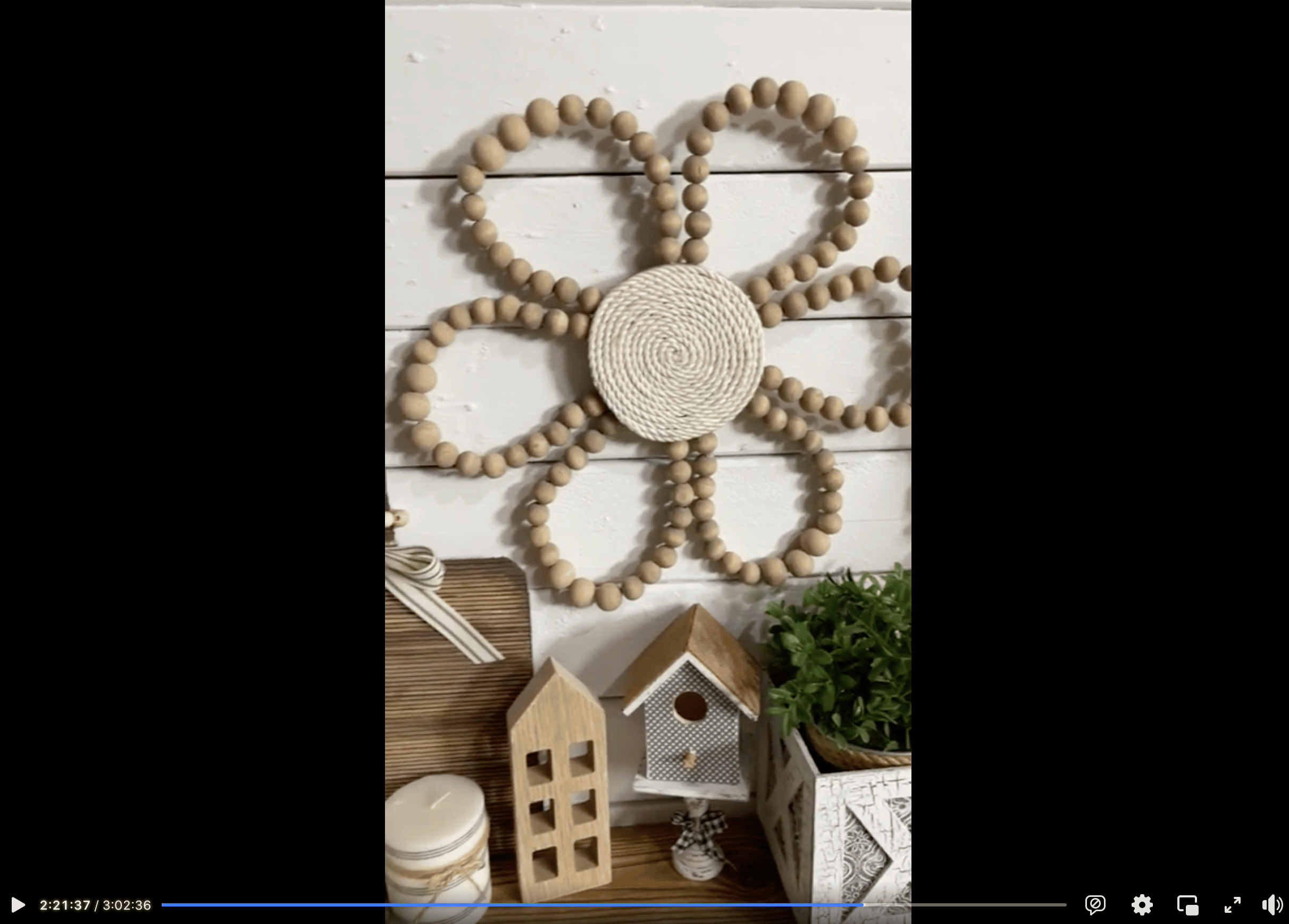 For this Wood Bead Flower – Neutral Home Decor, I will be using these items but you can substitute where you want.
"As an Amazon Associate, I earn from qualifying purchases."
Dollar Tree Bamboo Skewers
Wood Beads (2 different sizes)
Dollar Tree Wood Circle
Dollar Tree Wired Jute Cord (or floral wire)
White Jute Cord
Gator Zip Sander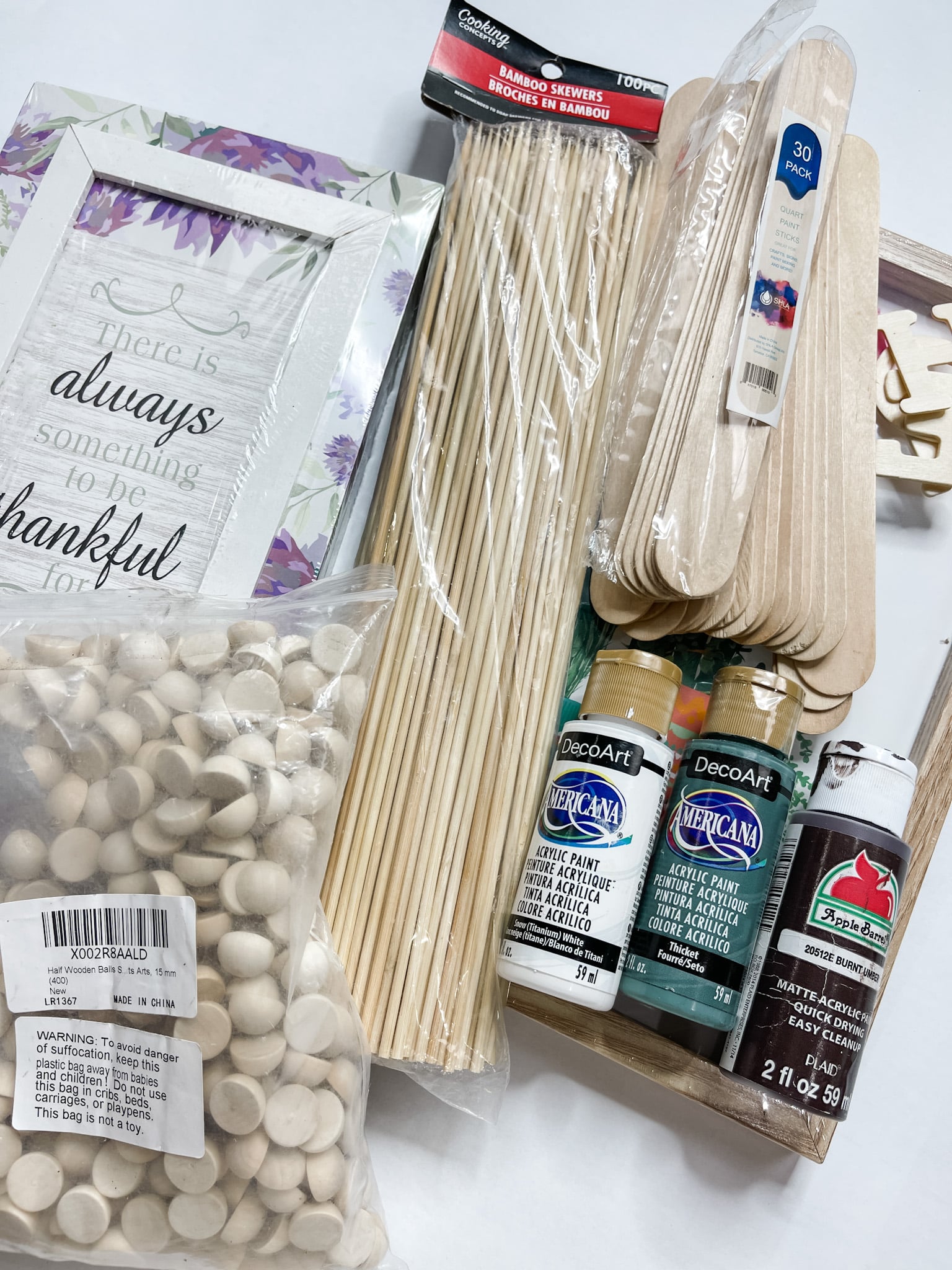 You should totally join my FREE Facebook group called On A Budget Crafts! It is a judgment-free community for DIY crafters to show off their projects and ideas.
Thanks for stopping by! XOXO Amber
You can also shop my ENTIRE AMAZON Favorites shop just click here! It's packed full of all the things I use and love.
Here is the supply list I highly recommend every creative have on hand!! Would you also pin my blog for later and get on my newsletter alerts? I would love to have you join my #craftycrew.

Join my free "ON A BUDGET CRAFTS" Facebook group!
PIN THIS POST FOR LATER!