How to make Amber's Napkin bow

If you are anything like me then you might not be very good at making bows, but today I'm excited to show you how to make Amber's (that's me!) napkin bow!
I've struggled to make pretty much every bow I've tried. Don't get me wrong I improve my bow-making technique and skills each time I make a bow.
I've got pretty good at making a messy bow, I've mastered the x bow and I'm a master at a hot glue bow!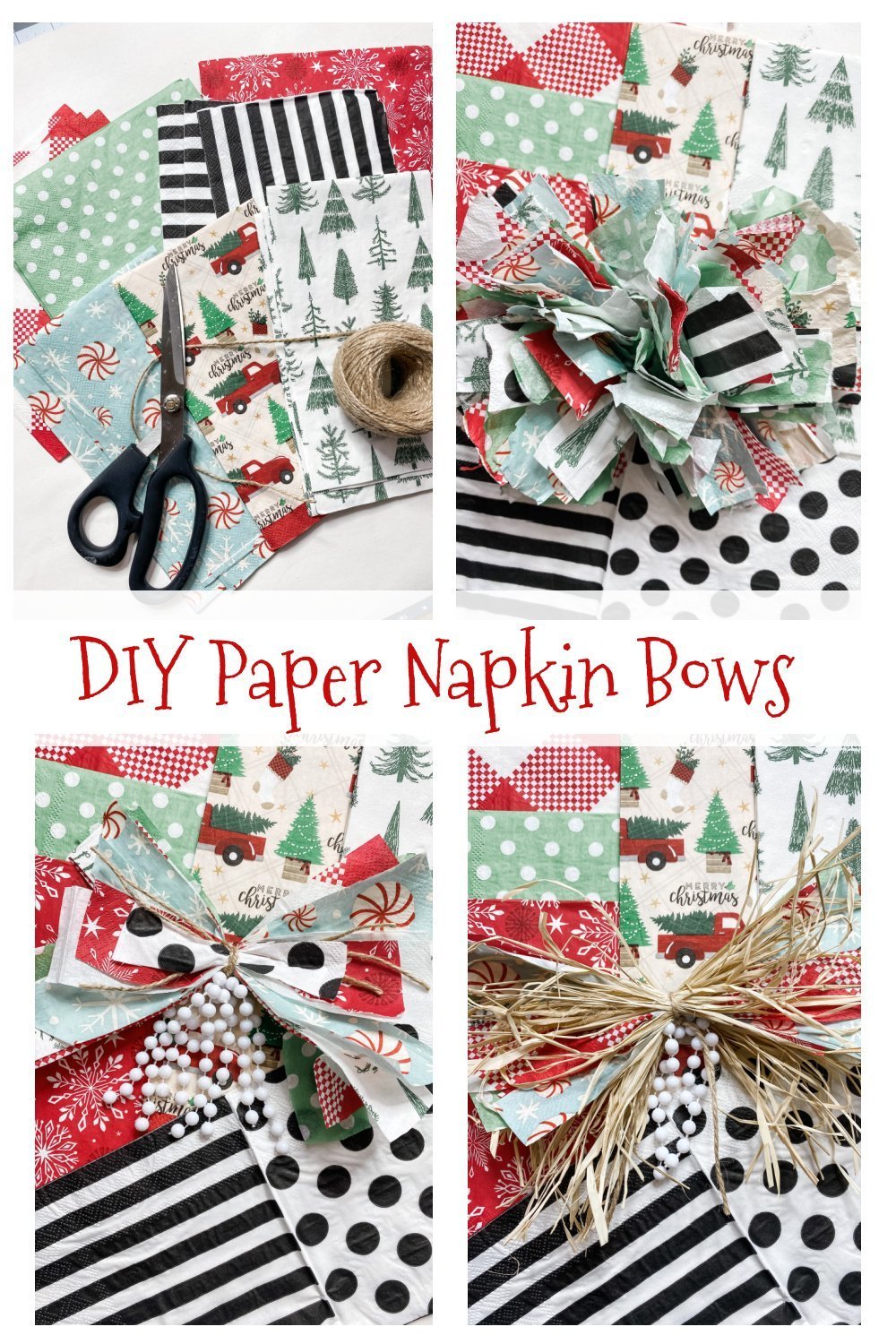 Amber's napkin bow
What else am I going to do with all these paper napkins? She was like that is brilliant! DO IT!

I don't think anyone has ever made a paper napkin bow! After digging deep on the internet we couldn't find anything!
So I got my paper napkins out and decided I was going to make a napkin bow and call it the Amber bow!
One thing I love to craft with is napkins! I can decoupage a napkin to pretty much anything! But I was talking to my daughter-in-law and my assistant, Michelle, and I was like, I'm going to make a napkin bow!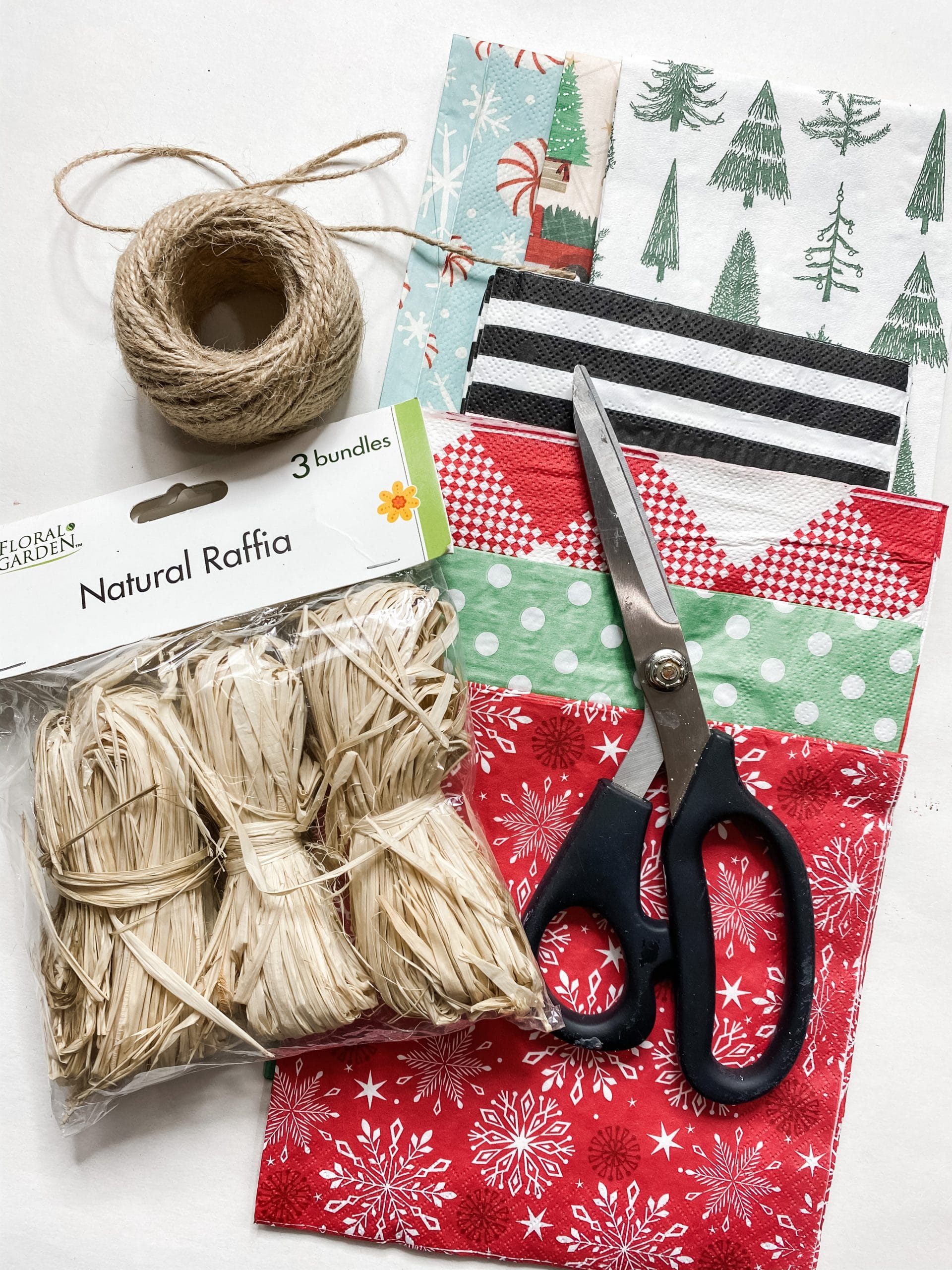 I know, I'm not the original creator of any of these bow styles. But I'm hoping I'm the first to make bows using paper napkins!

Because, why not!!
If not that's ok! But for now, I'm going to show you how to make the Amber bow! It's basically bows made with paper napkins instead of fabric, ribbon, or other materials that are not napkins lol! Let me have my moment haha!
A simple DIY bow!

I decided to make 3 styles of the Amber bow – Amber's napkin messy bow, Amber's napkin x bow, and Amber's napkin raffia bow!
As I said, I didn't invent any of those bow styles! In fact, the first time I heard of a messy bow was from my friend Melanie she is my friend and DIY blogger at Southern Crush at home!
And the x bow, which I learned from my followers is also referred to as the Re-Fabbed bow. Brooke is an amazing DIY'er too I love her blog! And I have no idea who created the raffia bow!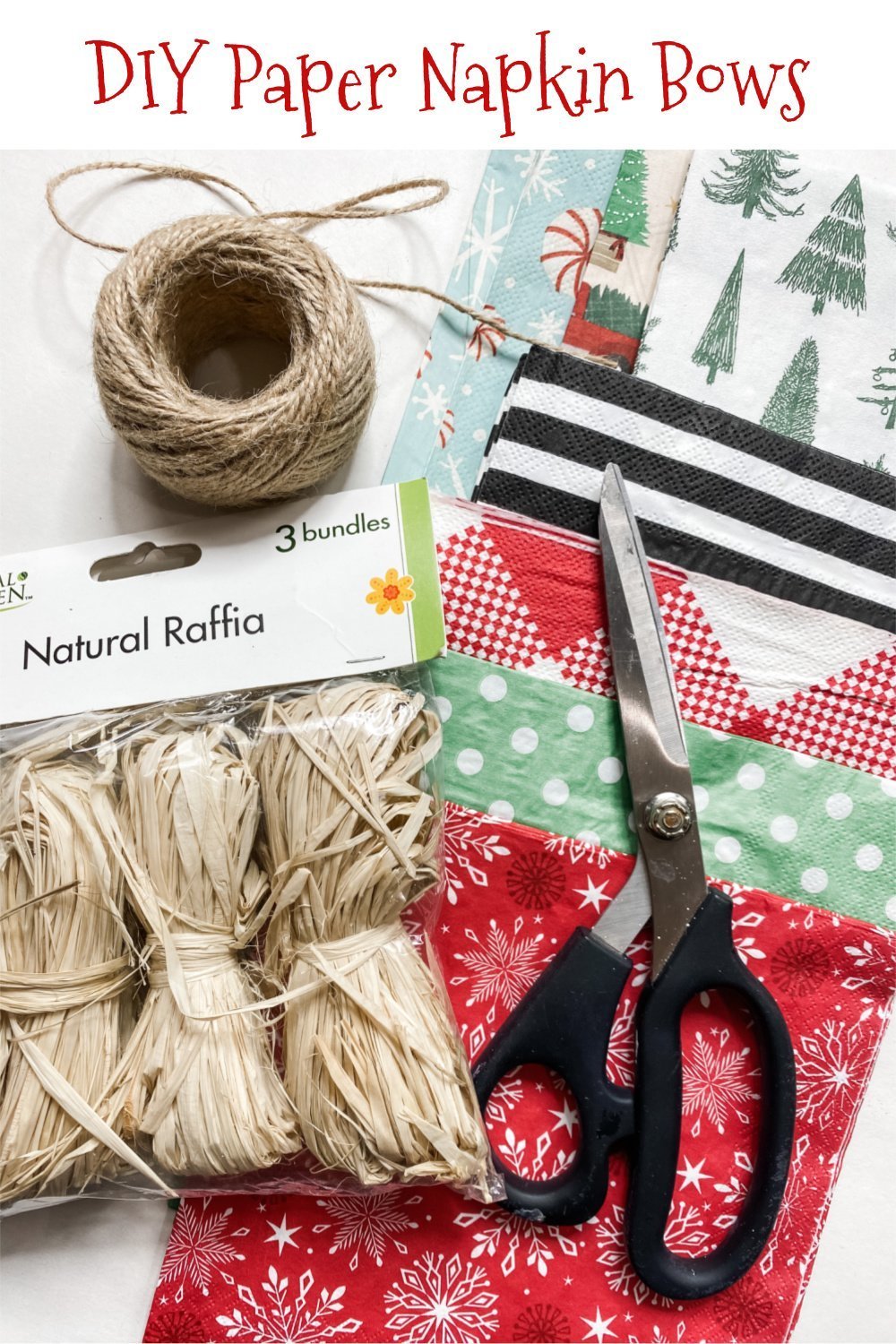 Bows! Bows! And more Bows!
Honestly, there are too many bows to keep up with. However, I've never seen a decorative bow made using paper napkins!
These paper napkin bows would be a great addition to a gift bag or a gift box too! I have heard of people making a wrapping paper bow so why not consider using a paper napkin to make a bow too!
How to make Amber's napkin bow tutorial!
Want to watch how I made Amber's napkin bow? You can catch the replay over on my Facebook page!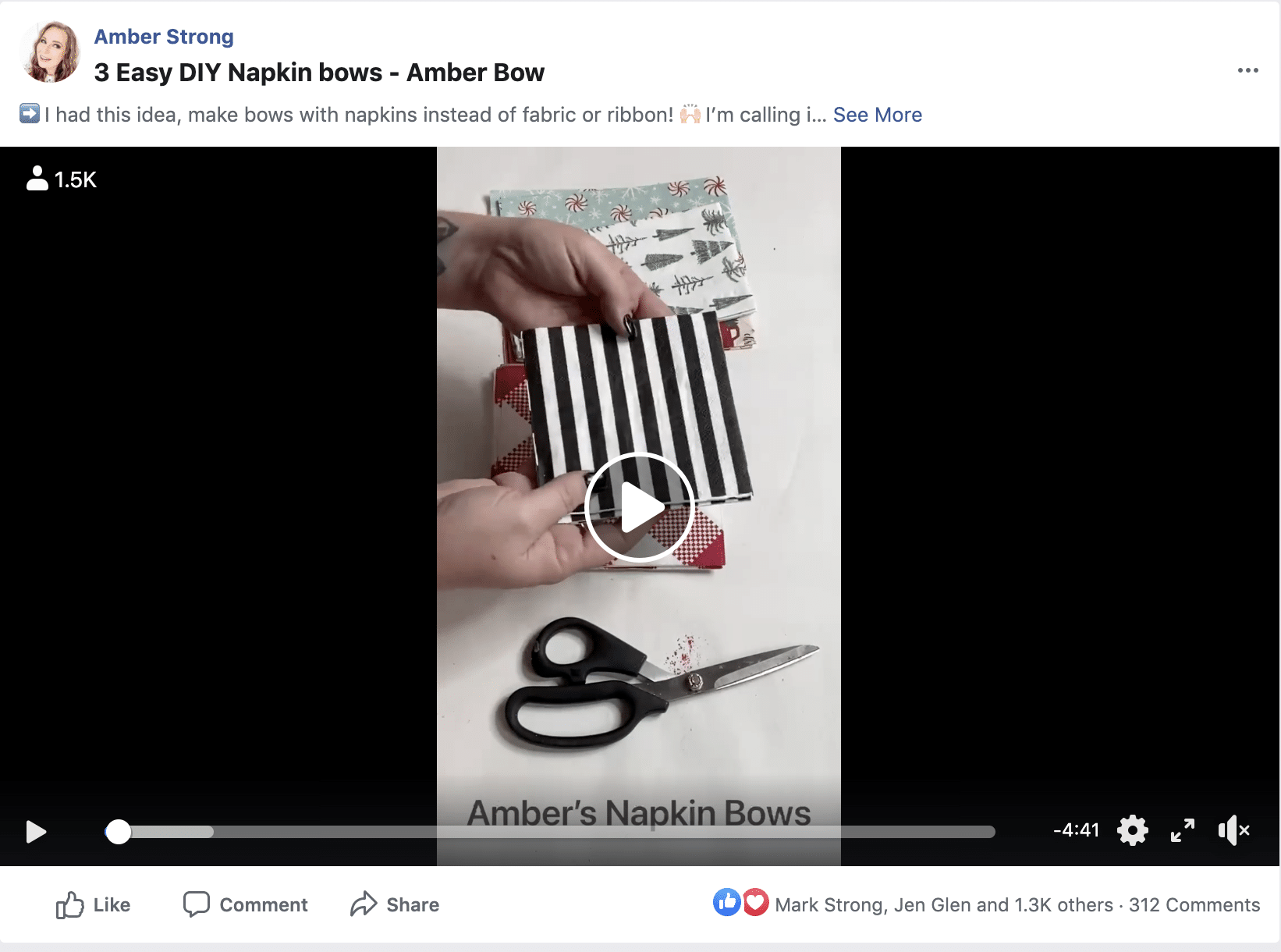 For this project, I will be using these items but you can substitute where you want.
"As an Amazon Associate, I earn from qualifying purchases."
Dollar Tree Red buffalo check picnic napkins
Christmas Truck napkins
Dollar Tree green polka dot napkins
Dollar Tree back and white stripe and polka dot napkins
Blue snowflake napkins
Dollar Tree red snowflake napkins
Target Christmas trees napkins
Dollar Tree Twine
Dollar Tree raffia
How to make the napkin bow
To start making this DIY paper napkin bow, that I'm calling the Amber bow! You can use any napkin pattern or color you like.
You can make it a Christmas bow, Easter bow, Valentine's Day now, 4th of July bow, a fall bow, or an everyday type of bow! Don't forget you can also make these paper napkin bows to put on gifts as well.
The best part is, You can decide! Another thing you can customize is the style of the bow! I made 3 different ones! You can see the full tutorials in the video here.
Make the bow
I used 2 paper napkins each because I wanted to make 3 napkin bows but you can use 1 napkin each to start your first paper napkin bow.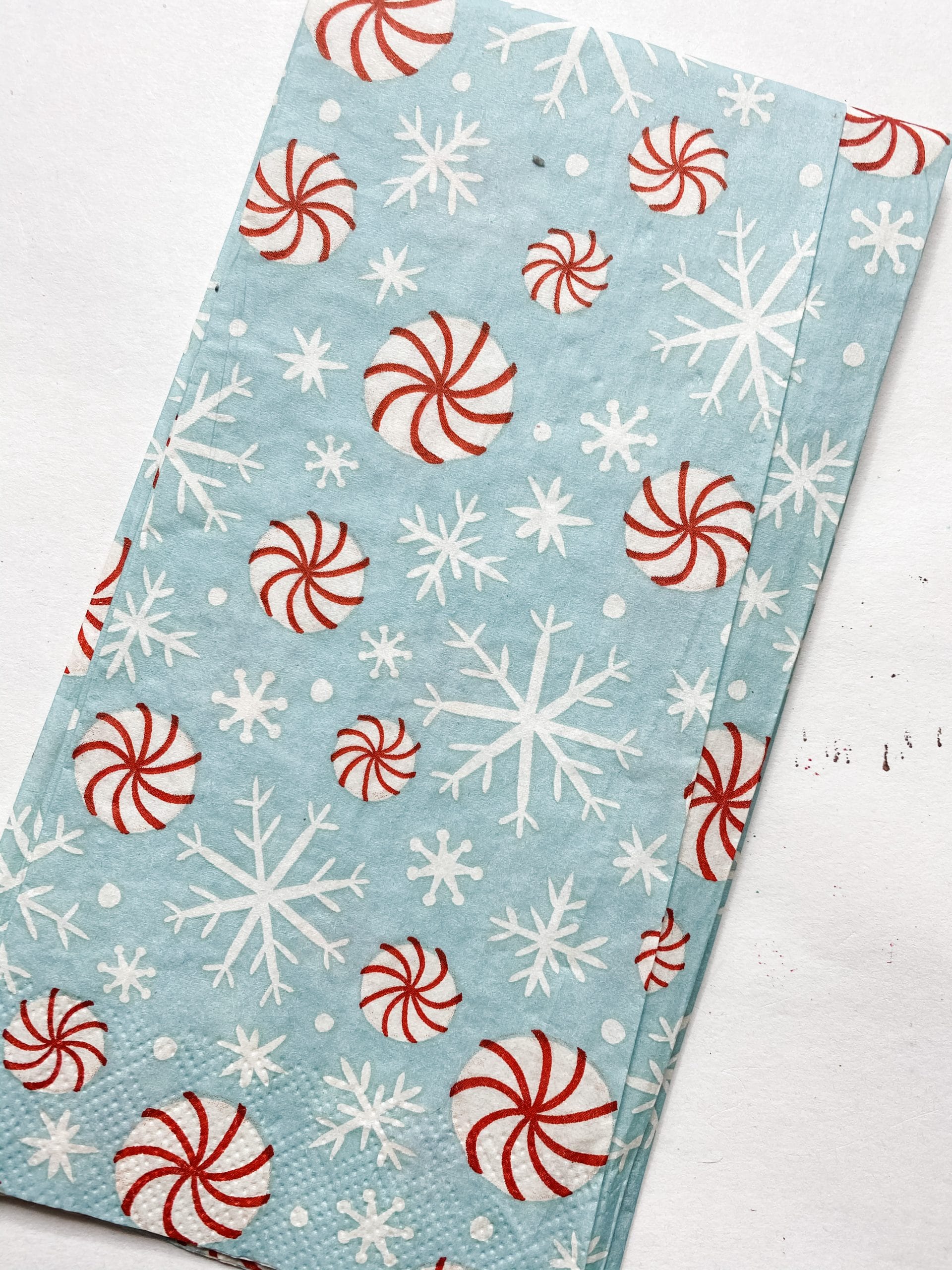 Cut your paper napkins in strips of about 1 inch to 1/2 inch. The length doesn't matter until it's time to make the bow.
When you make the paper napkin bow you will want to decide how wide or big you want your bow to be. I cut my napkin strips 7 inches long to start. You can always trim your napkin strips down.
Amber's Napkin messy bow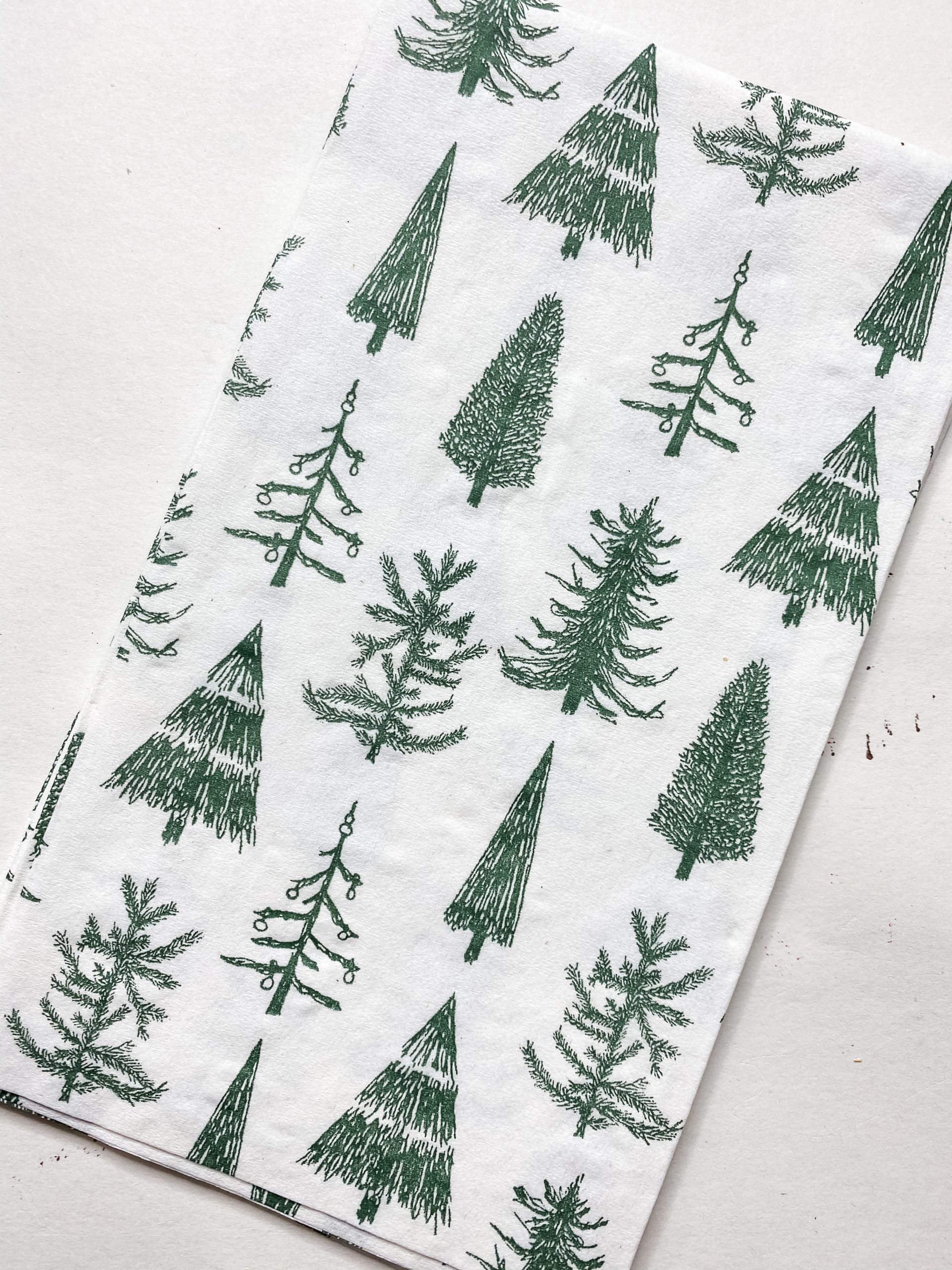 For the paper napkin messy bow, you will stack in an x pattern or create a circle with an x pattern. Be sure when you are making the napkin messy bow that you stack your napkin strips in a random pattern or order.
The method of making the messy bow hasn't changed, only what we are using to make it!
Placing your napkin strips in this manner will give your napkin bow a messy look. I learned all about messy bows from my sweet friend at Southern Crush at Home.
Once you are done stacking, tie off your napkin messy bow with Dollar Tree jute twine. You can also use a zips tie to secure your napkin bow also.
Now that you are done securing your napkin messy bow, now you want to trim it up. Gather the napkin messy bow into a pin and trim the ends flush. Remember, do not cut too short.
$1 Dollar Tree napkins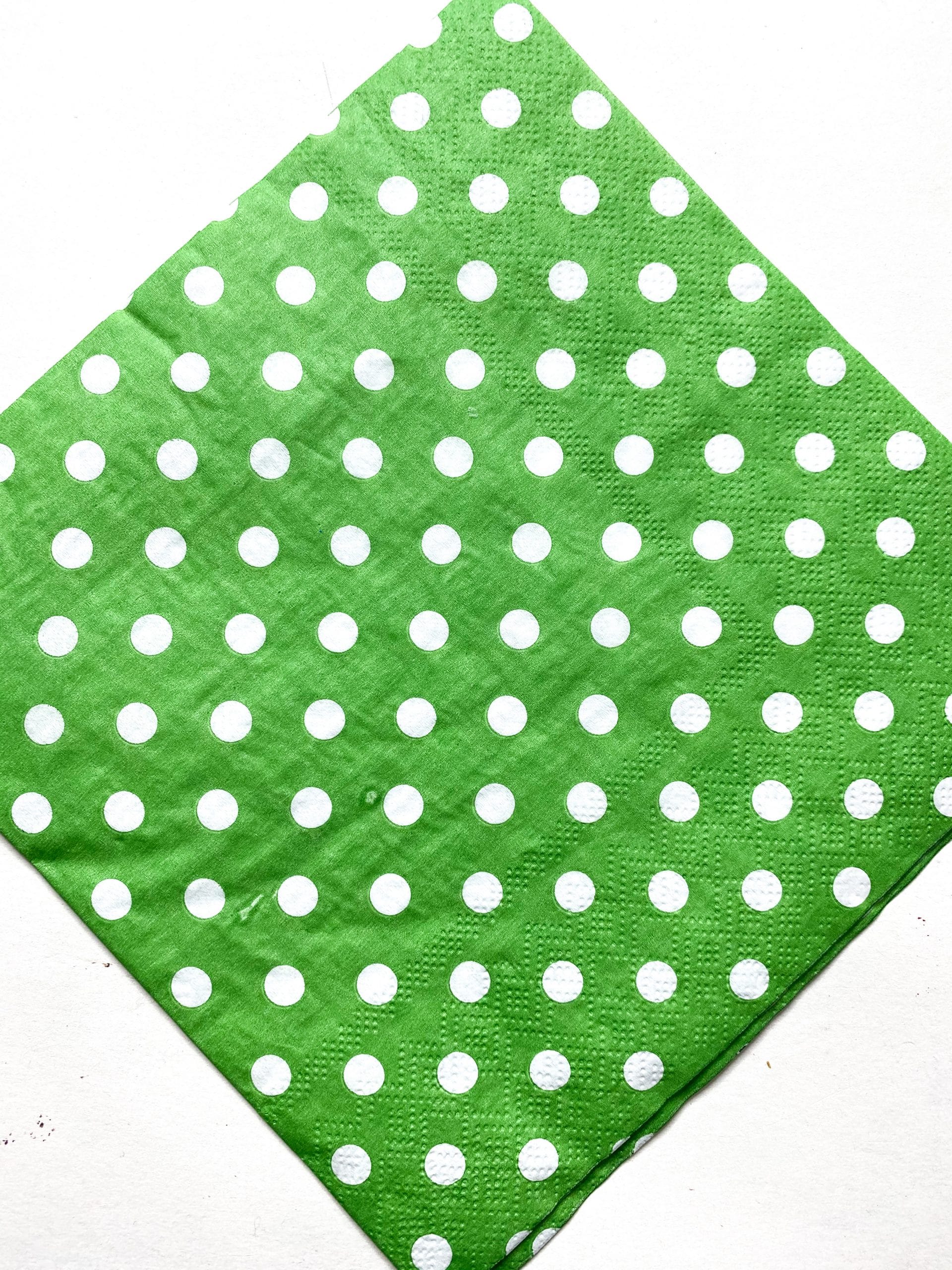 Now it's time to fluff your napkin messy bow. Be very gentle! After all, your messy bow is made with napkins. But it will still be a beautiful full messy napkin bow.
Pull your napkin strips apart to fluff your bow. You might even want to give it a shake and scrunch your napkin bow a bit.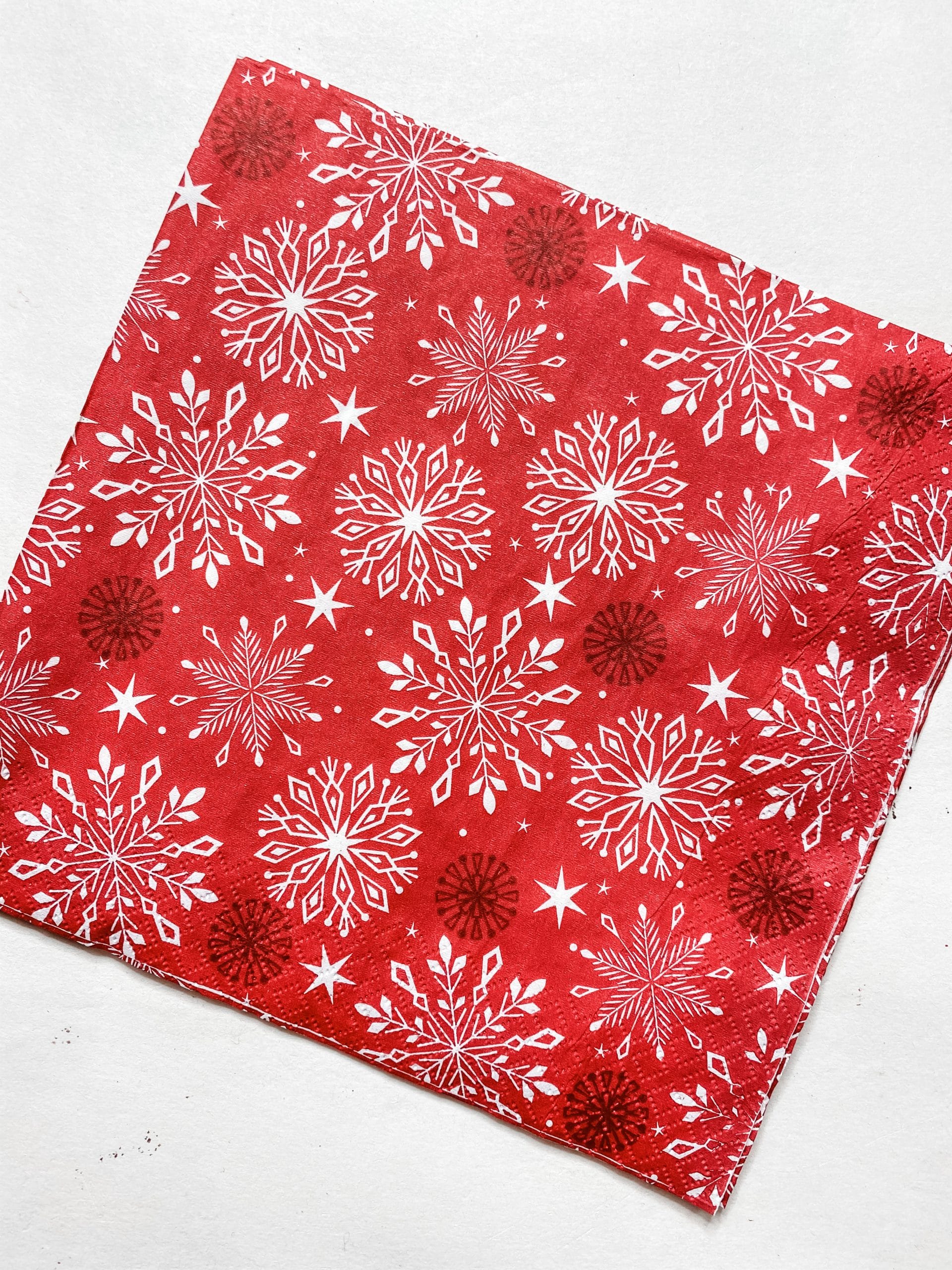 Amber's napkin bow – the x bow
For the next napkin bow in my series of paper napkin bow creations, I'm going to show you how to make Amber's napkin bow that is made like the x bow or Re-Fabbed bow.
I'm not sure who invented this bow but you might know it already. When I first started making bows this was the easiest bow for me to make.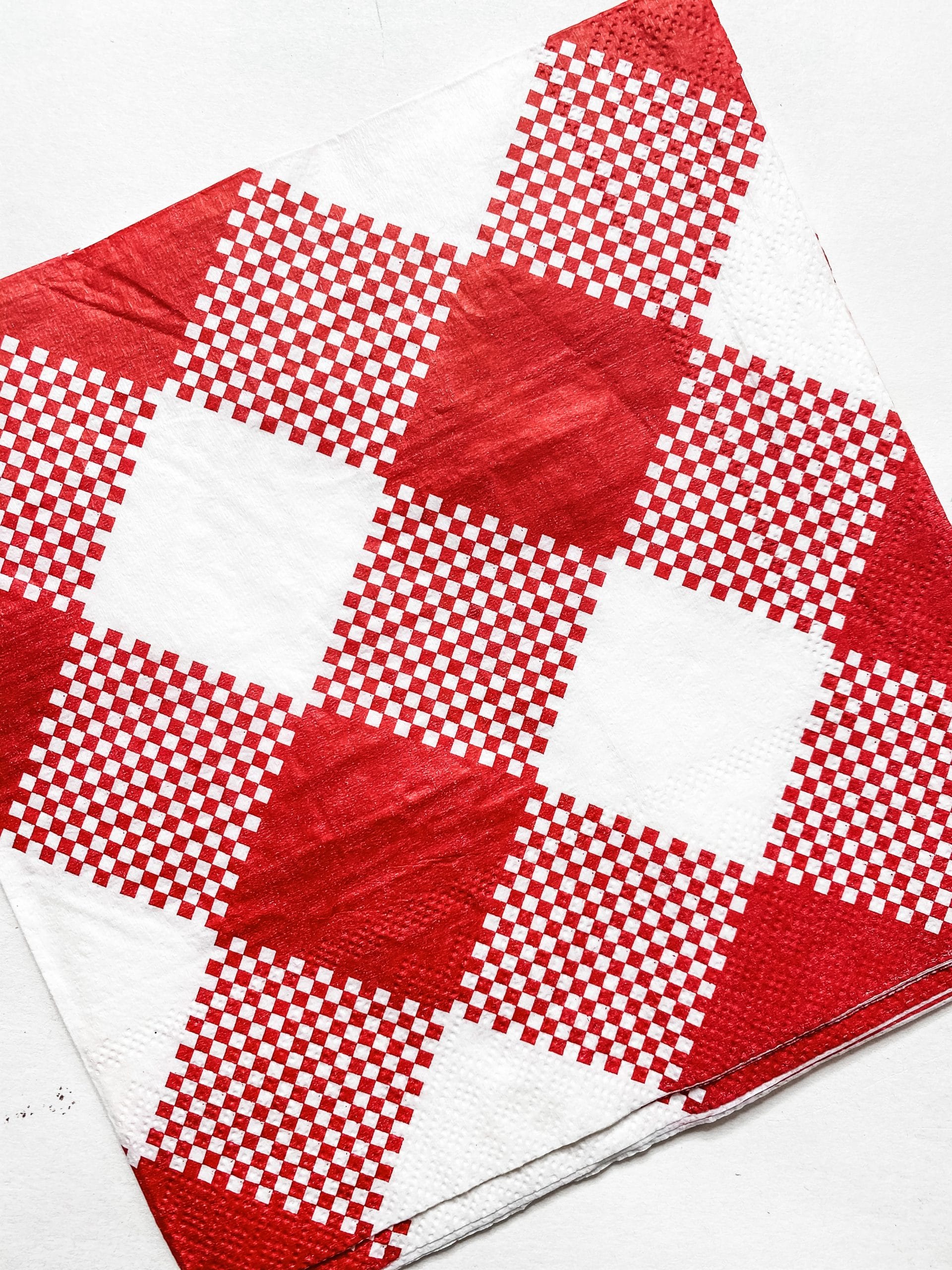 For this paper napkin bow, I'm using the same napkin strips to make the bow. Accept, we will not need as many napkin strips and we will be adding a little jute twine to our napkin bow.
Create about 3-4 x's and then add one napkin strip across the center. You can use a pattern for this or you can use random napkin strips as well.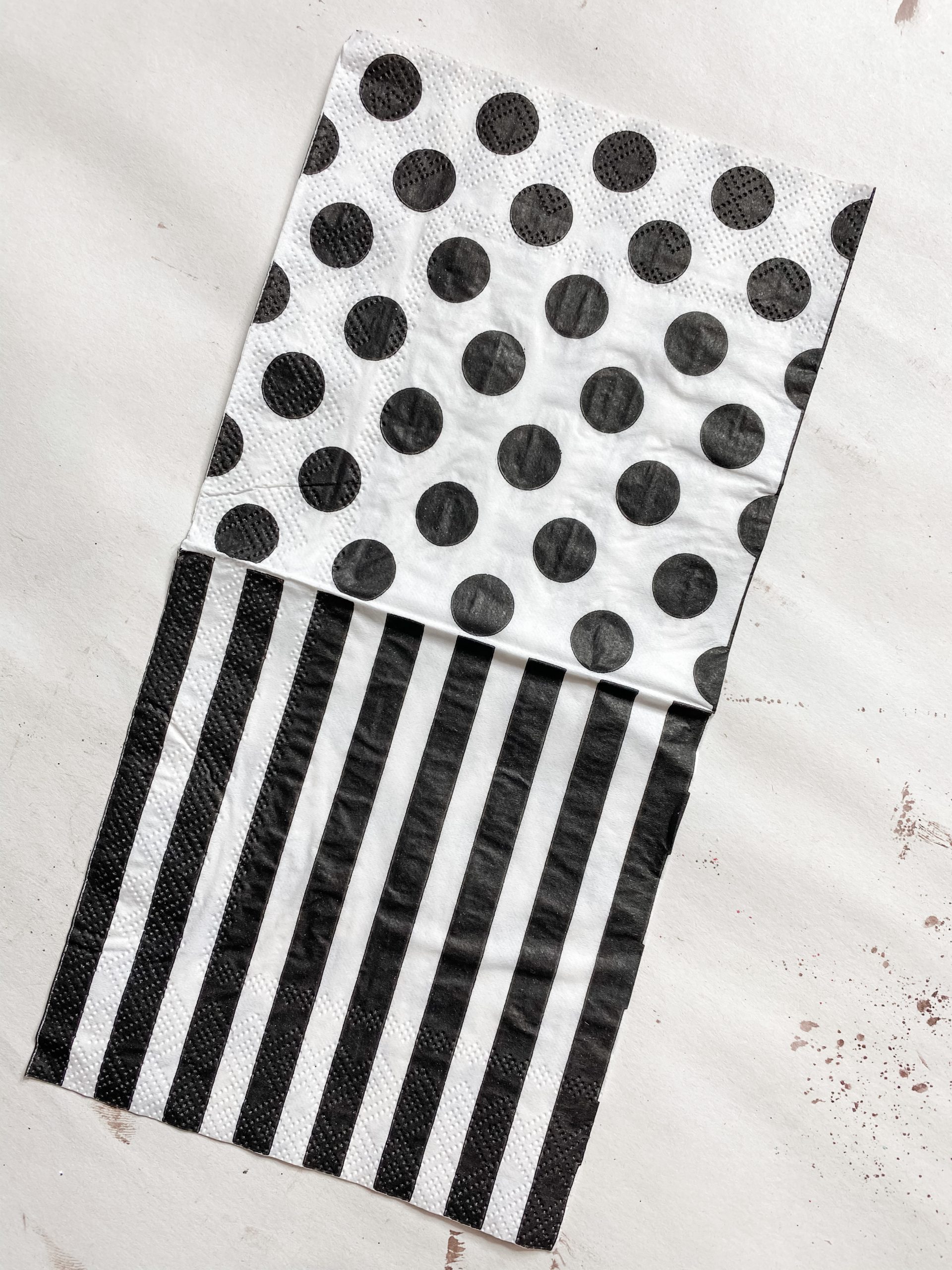 Bow making is so fun, right!
Once you are done stacking your napkin strips to make the bow, bow you want to tie it off. You will tie the napkin bow off with jute twine. I use the Dollar Tree jute twine.
You are all done! You now have an x style napkin bow!!! Cute right! I am absolutely in love with this simple and easy DIY bow!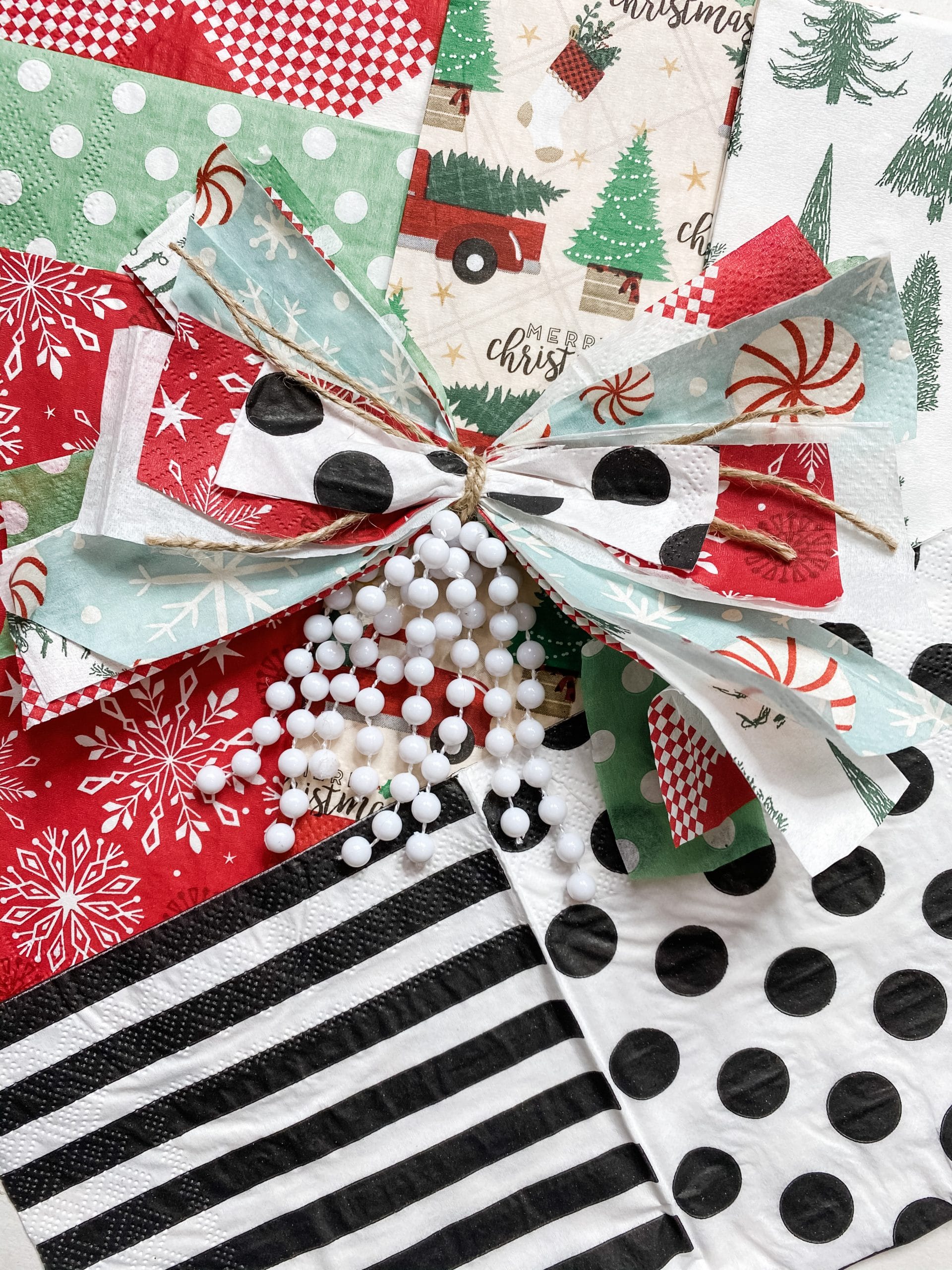 Let's make a cute raffia napkin bow!
Last but not least is the adorable Amber bow using raffia and napkins! I know, I'm totally making this up and re-inventing already done before bows!
It's ok, I'm just having a moment over here making a big deal out of this paper napkin bow idea!
For this napkin bow, you will make the x bow but you will add raffia on the top of your napkin bow and under the napkin bow! I used the Dollar Tree Raffia, I do prefer the raffia from Walmart though.
That's it. Tie off your bow with twine and then trim the raffia ends to the length you want for your bow.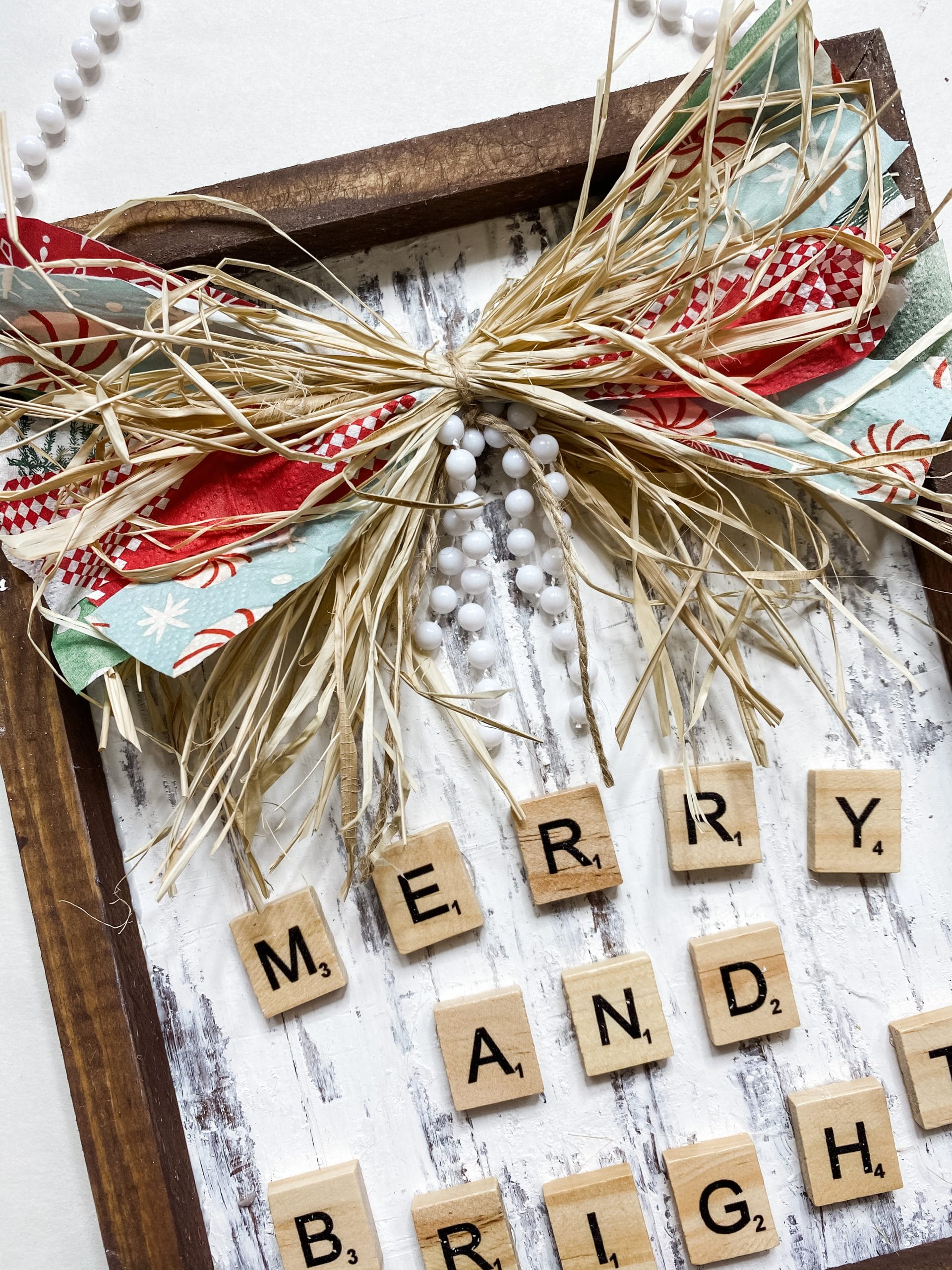 You just made your first paper napkin bow!
How fun were these bows! Seriously, I was jumping with excitement when I had this bow idea! I sure hope you love what I'm calling Amber's napkin bows!
For real, I would be so excited to see you make a bow using paper napkins! And I'd be over the moon if you told a friend and shared it on social media!
I can not wait to see your paper napkin bows! I know they are going to be amazing! And I promise you I will be making more of these paper napkin bows!
Cheaper than ribbon and fabric!
One of the main reasons I thought of the napkin bow is because fabric and ribbon can be very costly and using napkins is an alternative to making a bow with ribbon or to make a bow with fabric.
Napkins are a great budget-friendly alternative when making bows! Trust me! The end result is just as pretty!
You can also use tissue paper to make a bow but it is much thinner than a napkin.
Make Amber's napkin bow
Some great places to find napkins to make a bow are places like Amazon, Dollar Tree, Dollar General, Walmart, Michaels, Tuesday Morning, HomeGoods, TJmaxx, and Hobby Lobby.
Be sure when you shop Hobby Lobby to use a 40% off coupon. Get the latest coupon here. (Get Hobby Lobby code and use online or in-store here)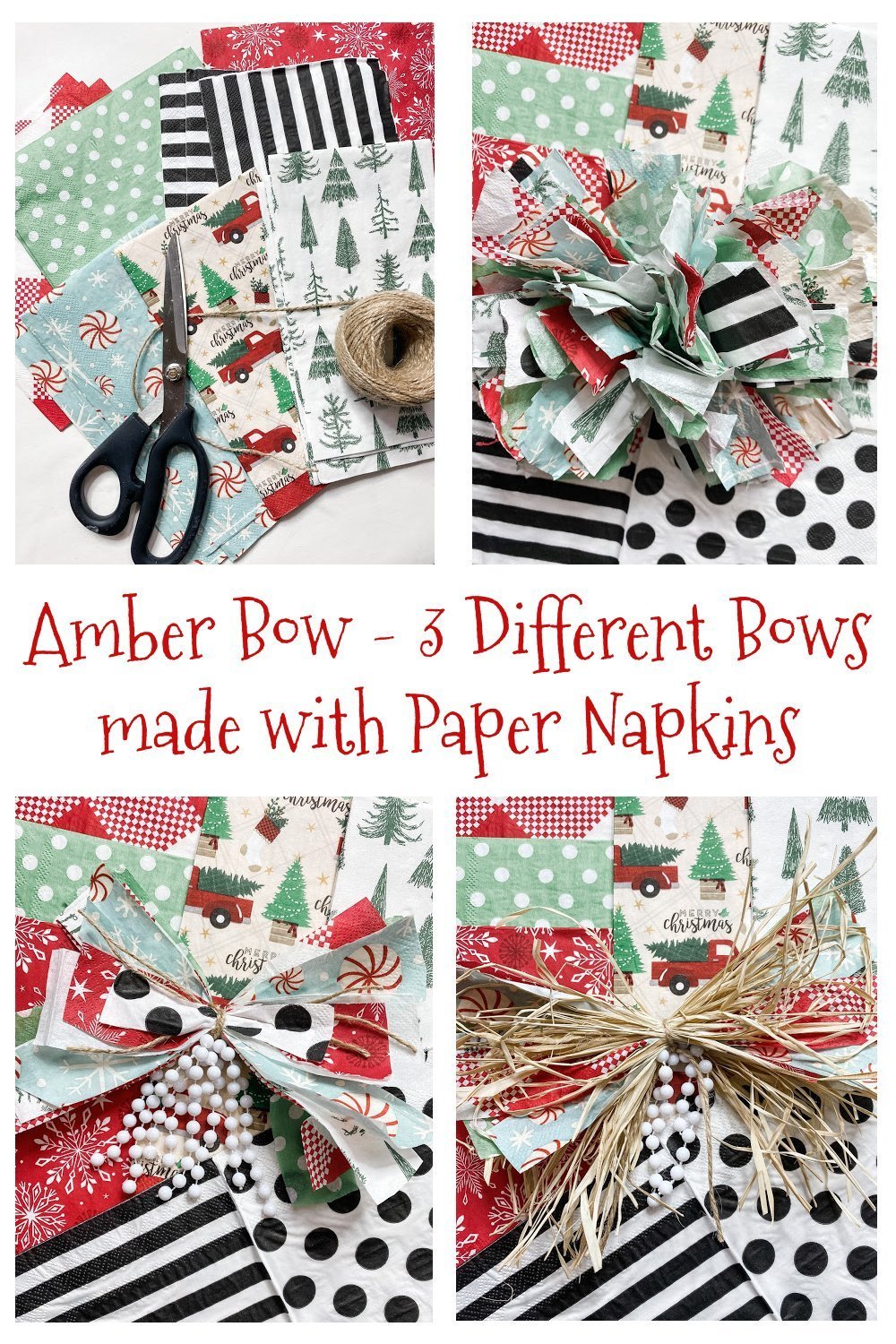 I hope you enjoyed this napkin bow DIY as much as I did and decide to make one for yourself! I would love to see how yours turns out!
You should totally join my FREE Facebook group called On A Budget Crafts! It is a judgment-free community for DIY crafters to show off their projects and ideas.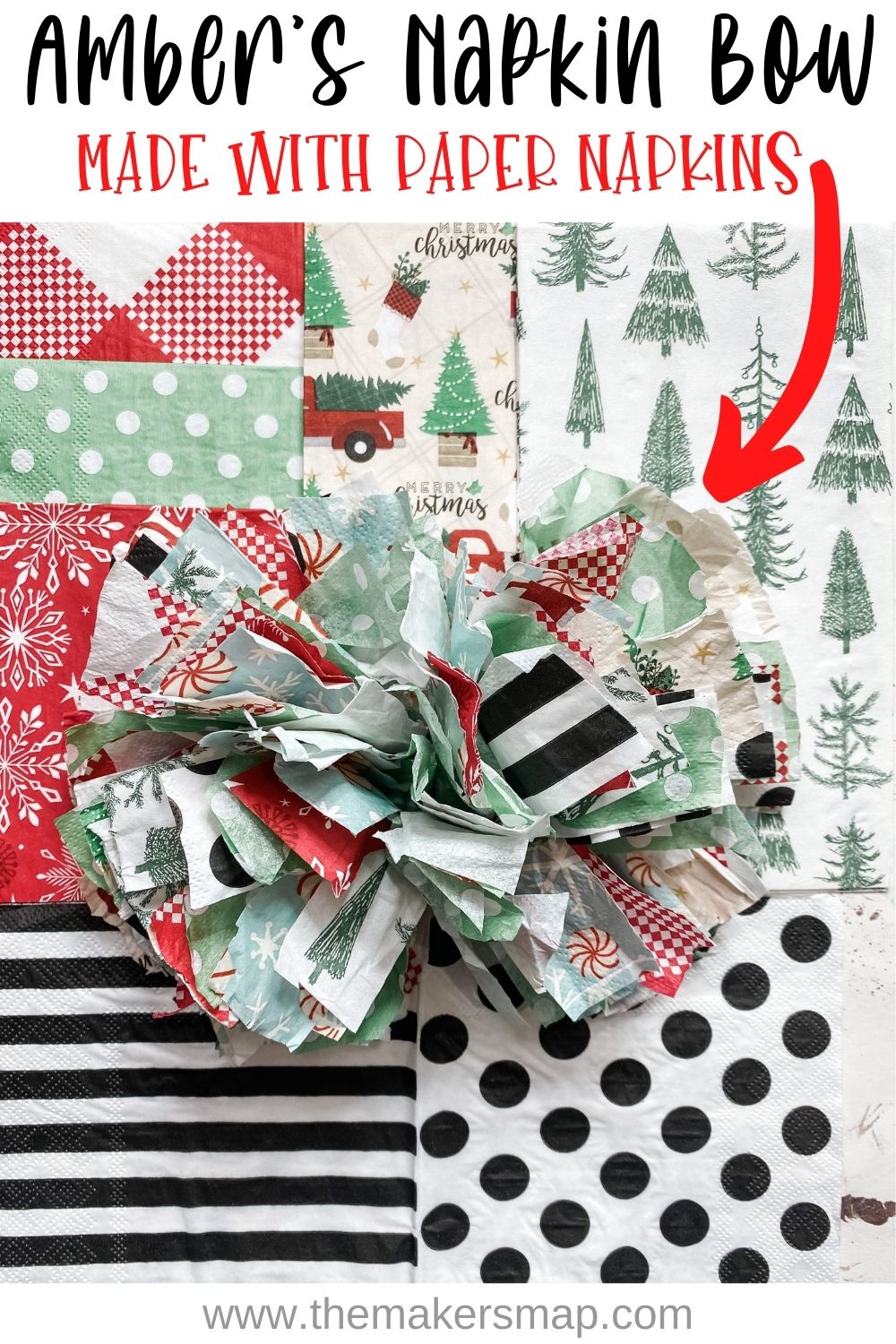 Thanks for stopping by! XOXO Amber
You can also shop my ENTIRE AMAZON Favorites shop just click here! It's packed full of all the things I use and love.
Here is the supply list I highly recommend every creative have on hand!! Would you also pin my blog for later and get on my newsletter alerts? I would love to have you join my #craftycrew.

Join my free "ON A BUDGET CRAFTS" Facebook group!
PIN THIS POST FOR LATER!