Decorative Spindle House Kit
If I had to pick between only making my own home decor or only buying store bought decor for the rest of my life, I would choose making my own 100%, and this Decorative Spindle House Kit is part of the reason why!
This Decorative Spindle House Kit is a blank, unfinished kit that I sell in my shop. I took the basic brown wood finish and transformed it into a piece of stunning home decor that blends into my style and aesthetic perfectly!
When a customer purchases the Decorative Spindle House Kit from my shop, they get to do the exact same thing with their own style, and I think that is the most amazing part of crafting!
How to make a Decorative Spindle House Kit
I started this kit like every one of my kits – by sanding each piece. When we cut these on our laser machines, it can leave a layer of residue that affects the finish on them.
Once each piece was sanded, I started painting! I mixed a bit of black into my blue paint to make a deeper blue, then painted the rectangle backing piece for the spindle house kit.
Once the paint was dry, I used a sander to distress the blue paint lightly. Next, I stained the house and spindle pieces with brown paint.
To do so, I mixed a bit of brown paint with water and used a wet wipe to spread the mixture onto the pieces. Allow the stained pieces to dry completely.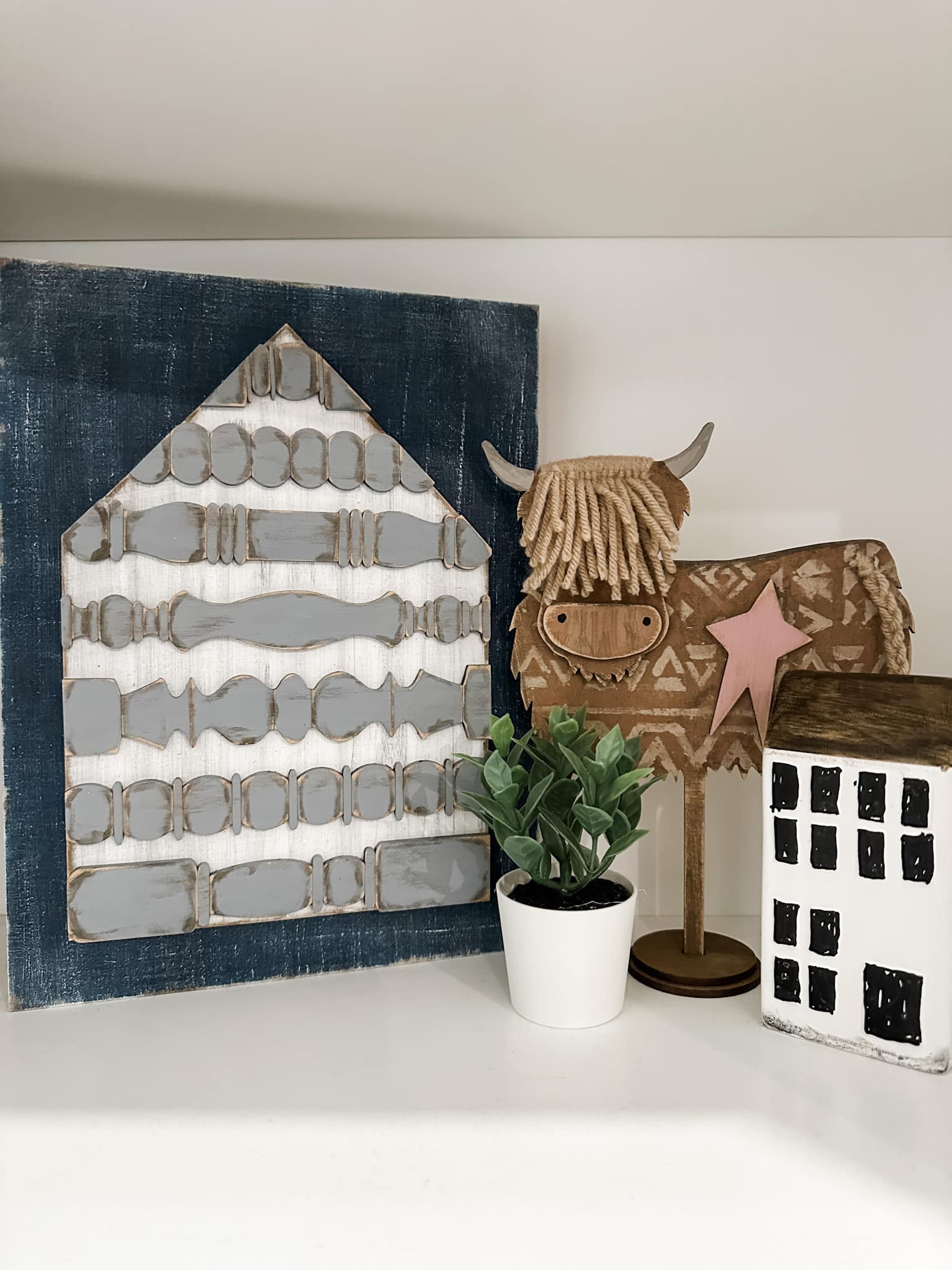 Then, use a sponge to drag white paint across the house shape. I wasn't going for full coverage, so I kept a light hand.
For the spindle pieces, I mixed a bit of grey with white to make a lighter grey paint. Apply the mixture to each of the spindles and allow it to dry completely.
Next, I used a tool to draw the lightly carve the lines for the spindles into the pieces. Once that was done, I lightly distressed each spindle and started gluing them to the house shape.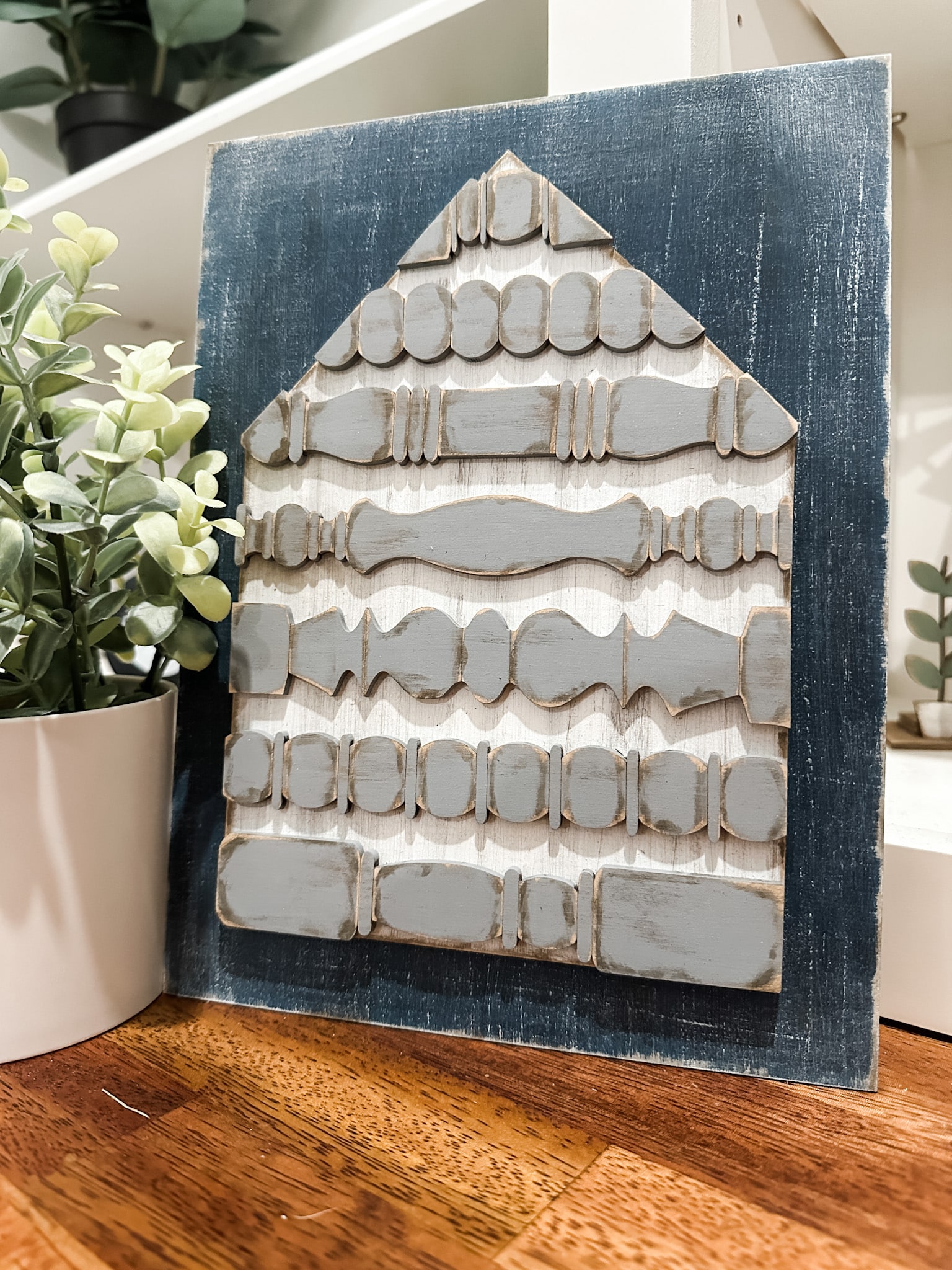 Bring it all together!
Before I glued the house shape onto the blue background, I lightly brushed a small amount of white paint over the blue. Allow it to dry, then glue the house onto the board.
After the pieces were glued together, I used a bit of brown paint to add some detailing to each of the spindles.
Next, I assembled the kickstand for the back of the spindle house kit and glued it in place! Lastly, I glued some greenery to the top of the spindle house and added a little raffia, but I decided I liked it more without it so I just pulled them off.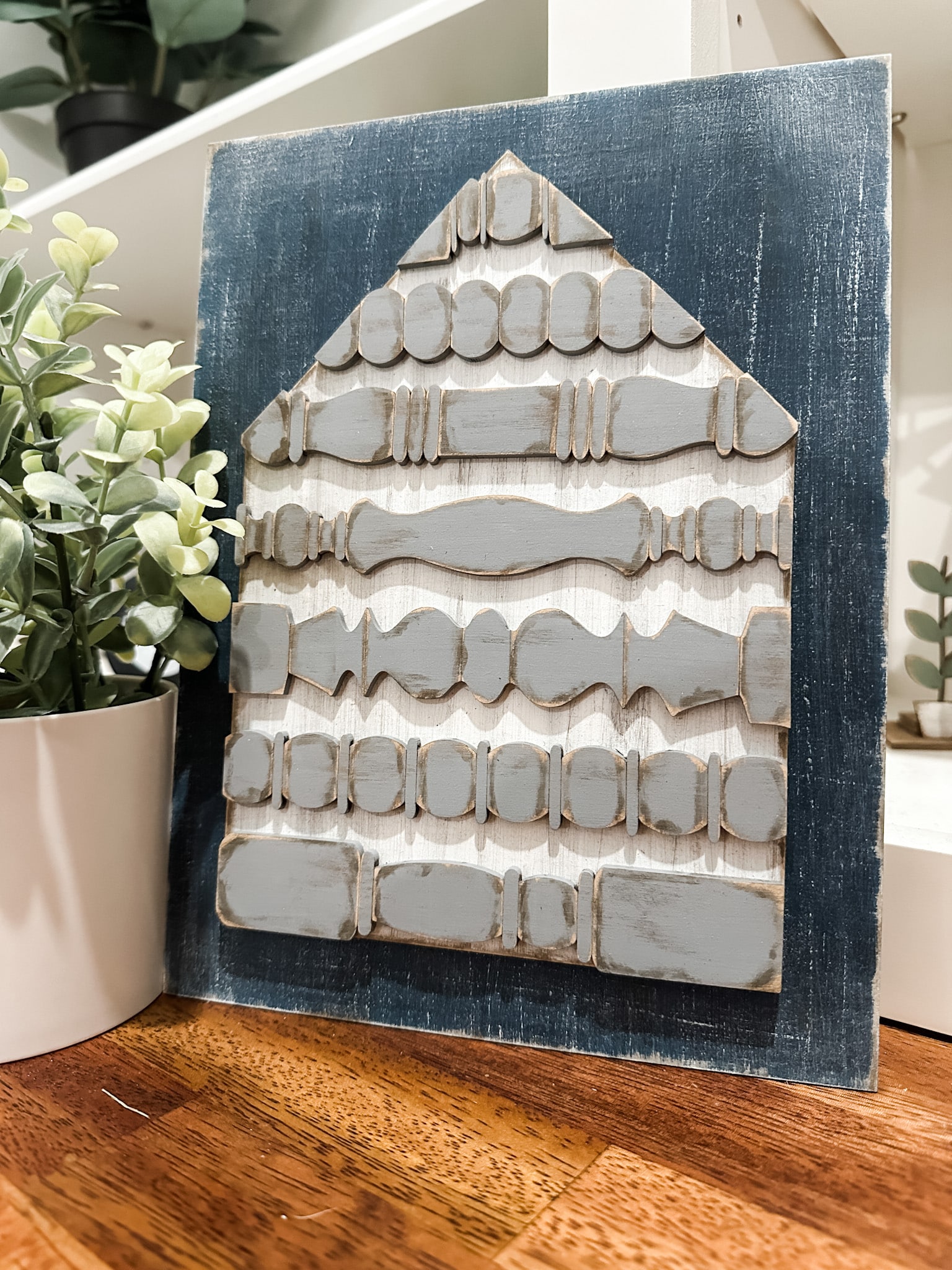 I hope you enjoyed this Decorative Spindle House Kit as much as I did and decide to make them for yourself! I would love to see how yours turns out!
You should totally join my FREE Facebook group called On A Budget Crafts! It is a judgment-free community for DIY crafters to show off their projects and ideas.
I shared how to make this super cute Decorative Spindle House Kit during a LIVE video on my Facebook page.
If you want to see the DIY process, craft along, or just join in on the fun conversations you can watch the DIY tutorial replay on Facebook!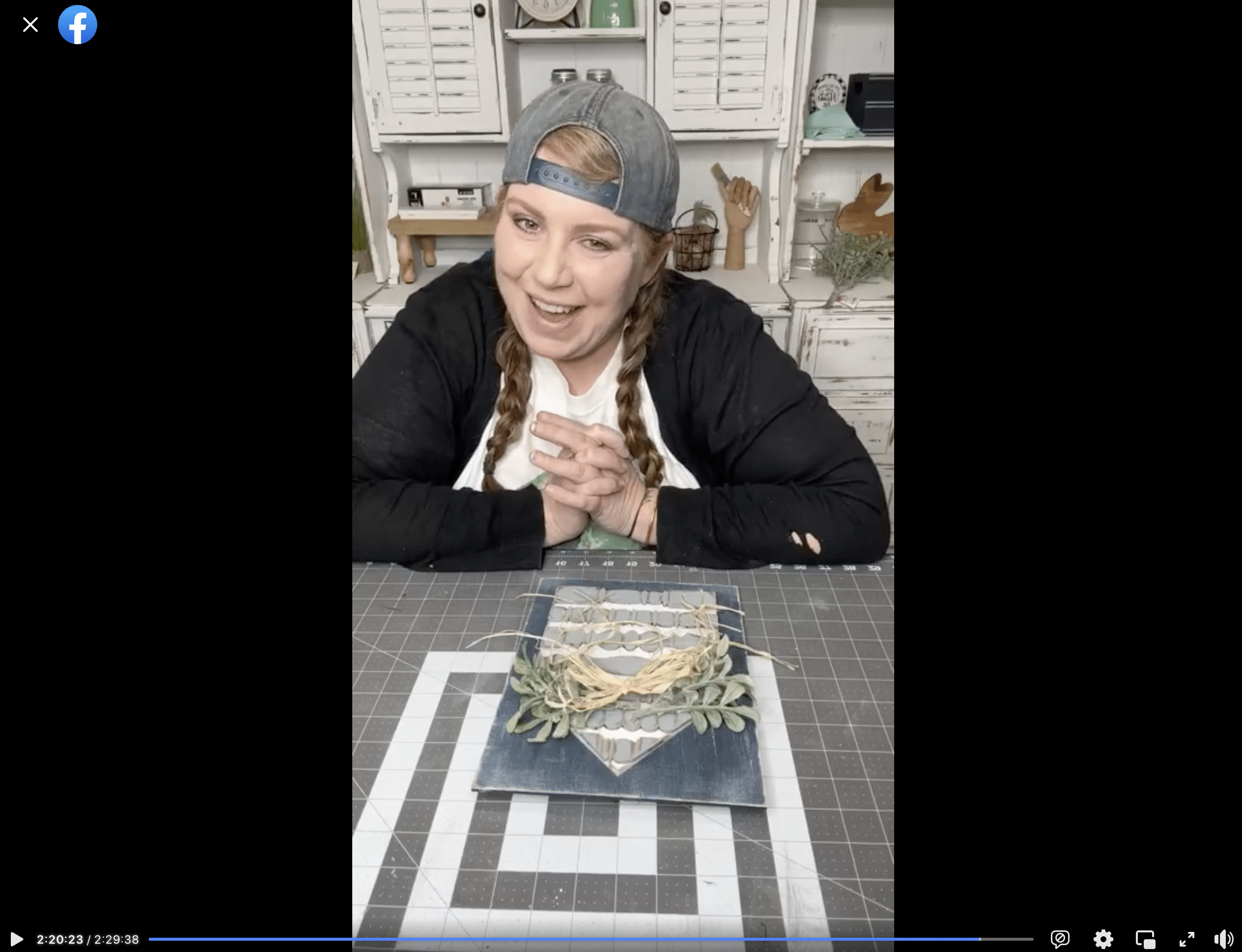 For this project, I will be using these items but you can substitute where you want.
"As an Amazon Associate, I earn from qualifying purchases."
Paints of choice

Navy Paint
Black Paint
Grey Paint
Brown Paint
White Paint

Gorilla Super Glue
Baby Wipes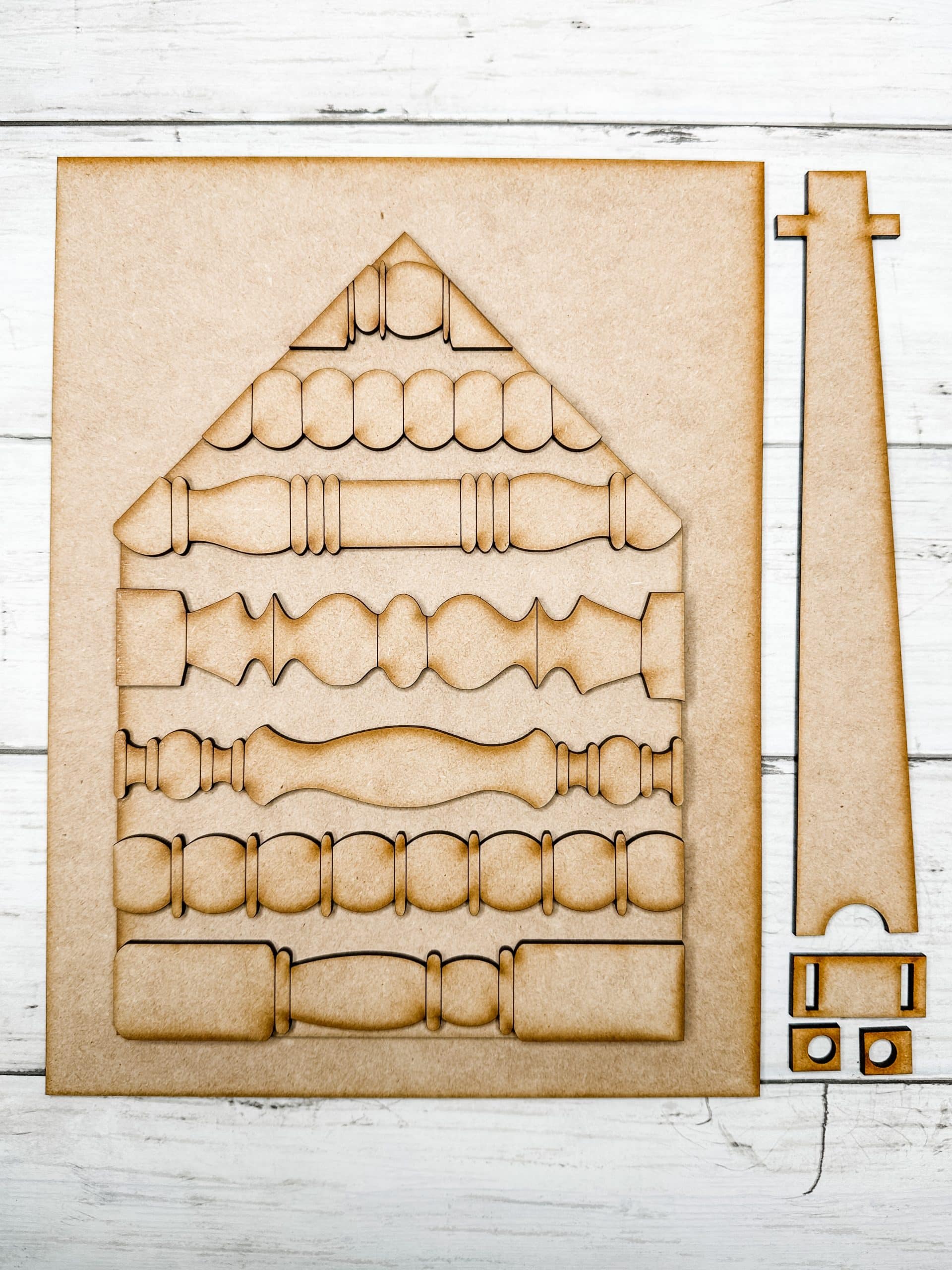 If you loved this Decorative Spindle House Kit you might also like this

Chippy Rosette Home Decor

!
Thanks for stopping by! XOXO Amber
You can also shop my ENTIRE AMAZON Favorites shop just click here! It's packed full of all the things I use and love. Here is the supply list I highly recommend every creative have on hand!!
Would you also pin my blog for later and get on my newsletter alerts? I would love to have you join my #craftycrew.
Inspired? Leave me a comment below! I love hearing from my readers!