Y'all, I am OVER THE MOON happy with how amazing my front porch looks with this fall makeover! For those of you who don't know, decorating for fall is one of my absolute favorite things to do!
I just LOVE how fall decor looks, not to mention that the weather is finally bearable here in South Georgia for me to actually spend some time outside!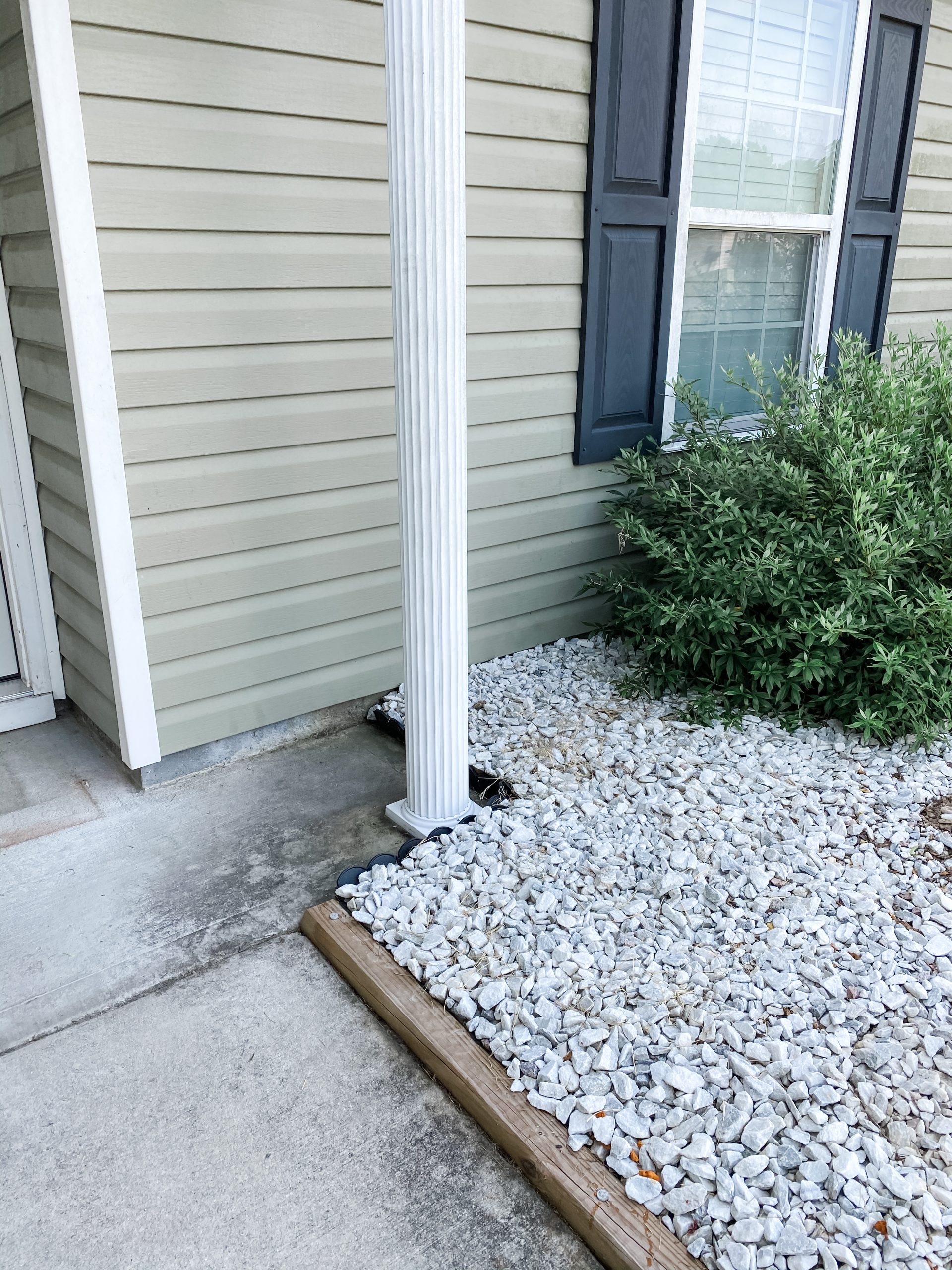 Usually, for the holidays, I'll DIY a wreath or door hanger and change it out for the season or occasion, but I wanted to go ALL OUT this fall with my front porch decorating!
I even had some decorations leftover and was able to decorate the Creative Haven (that's what I call my she-shed), so stay tuned for how I decorate that!
BEFORE the makeover!
Here is what my front porch looked like BEFORE the AMAZING Fall Front Porch Makeover!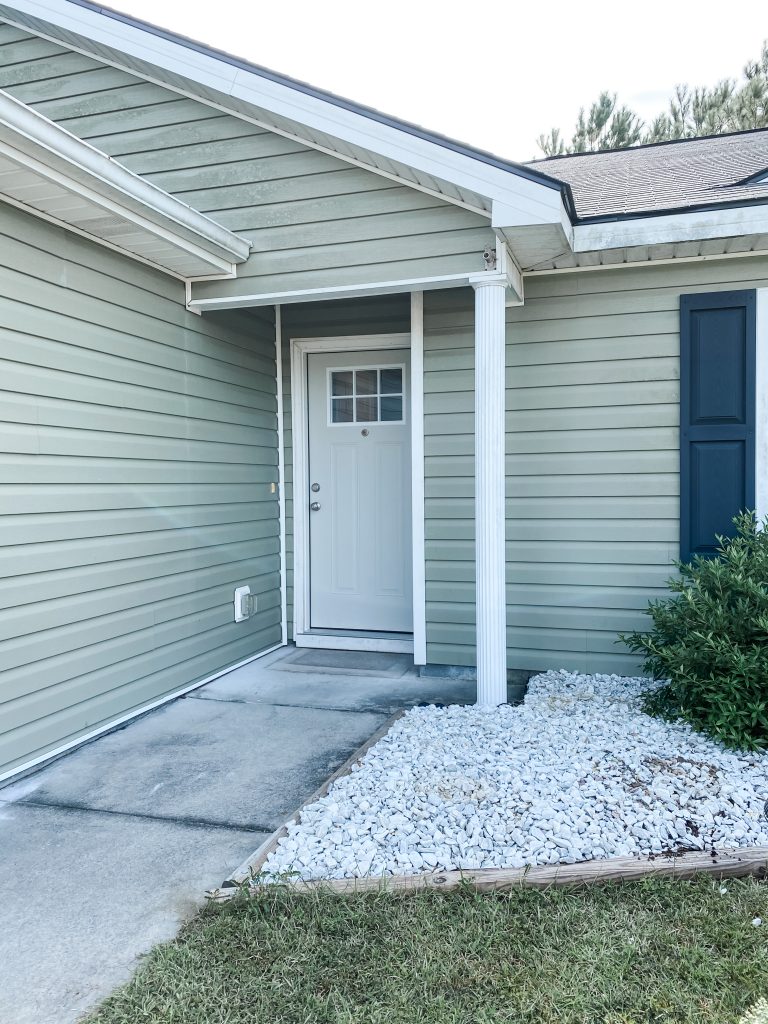 Here is what you need:
Just so you know, these are my affiliate links. If you purchase from these links, I may make a small commission, but it will not cost you any extra. "As an Amazon Associate, I earn from qualifying purchases." Amber is affiliated by Reward Style, a program that pays me a small commission if a reader purchases through a link.
Extra-Large Orange Pumpkin x1
Medium Orange Pumpkin x1
Small Orange Pumpkin x1
Small White Pumpkin x2
Extra Small White Pumpkin x1
2 rectangle hay bales
2 Dollar Tree Metal Bike and Red Truck Pumpkins from the Fall 2020 collection
Dollar Tree Wire Pumpkin Form (previously made DIY craft)
Small Wood Shelf (previously made project from pallets)
Keep reading to see where I purchased each part of this amazing Fall Front Porch Makeover!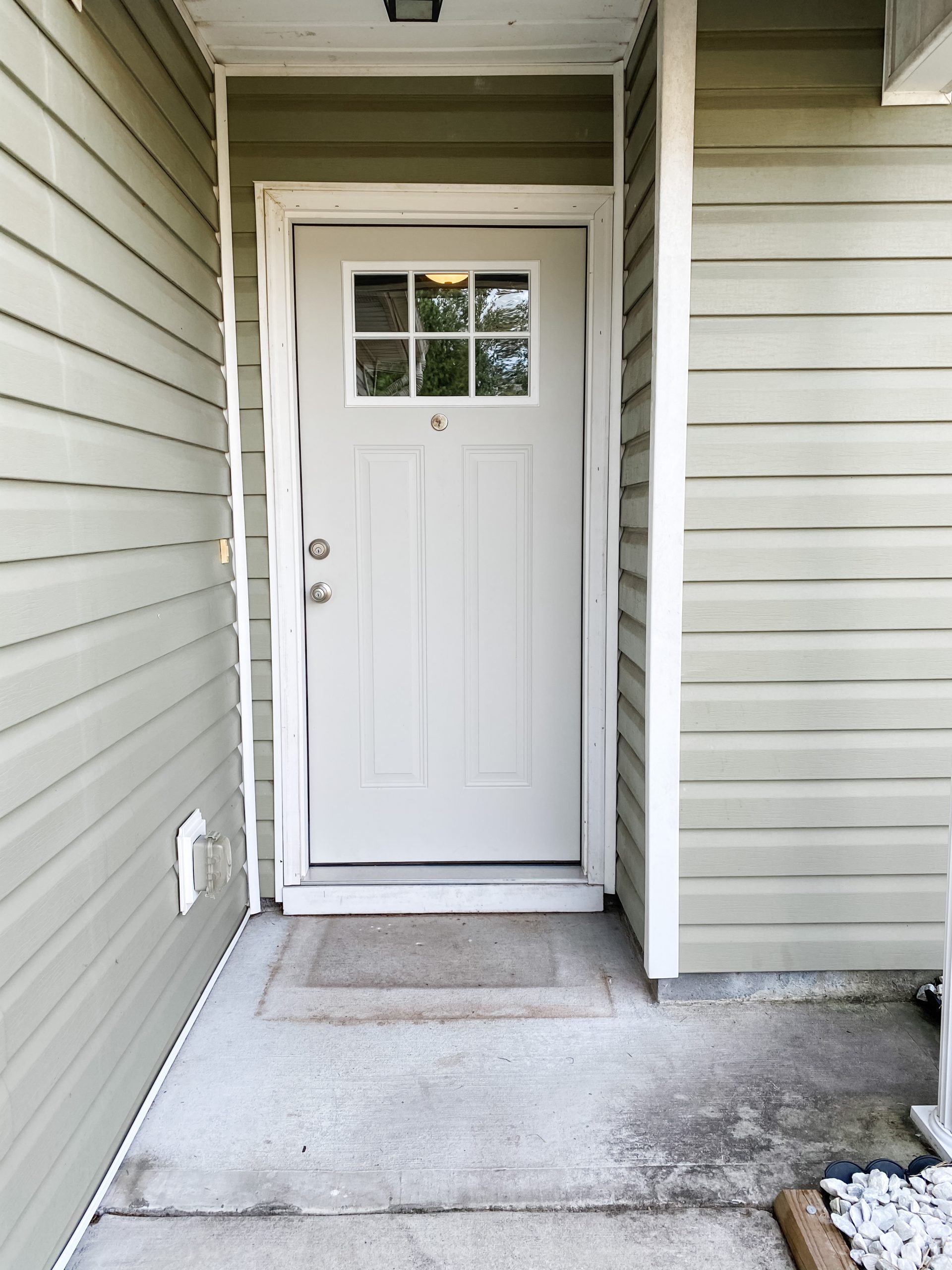 Mums the word!
One very important part of my Fall Front Porch Makeover is the flowers. Every Fall, I love switching my flowers from Vincas to Mums. Mums are an annual flower, so they will only bloom in the Fall, but they are so beautiful and are perfect for any outdoor decorations! I really like Mums because of the beautiful colors you can choose from. I got mine from Home Depot.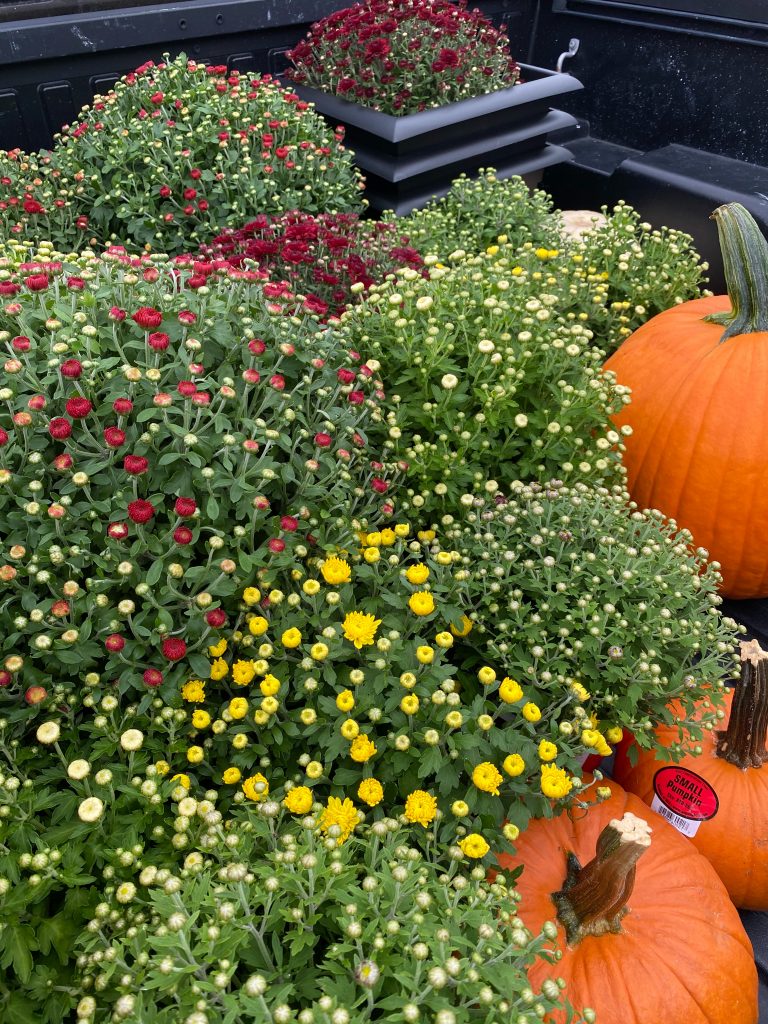 I filled the bed of my truck with my Mums from Home Depot! They had so many beautiful colors, but I went with 2 large red/orange Mums, 1 small orange Mums, 3 small white Mums, 1 small yellow Mums, and 3 small red mums.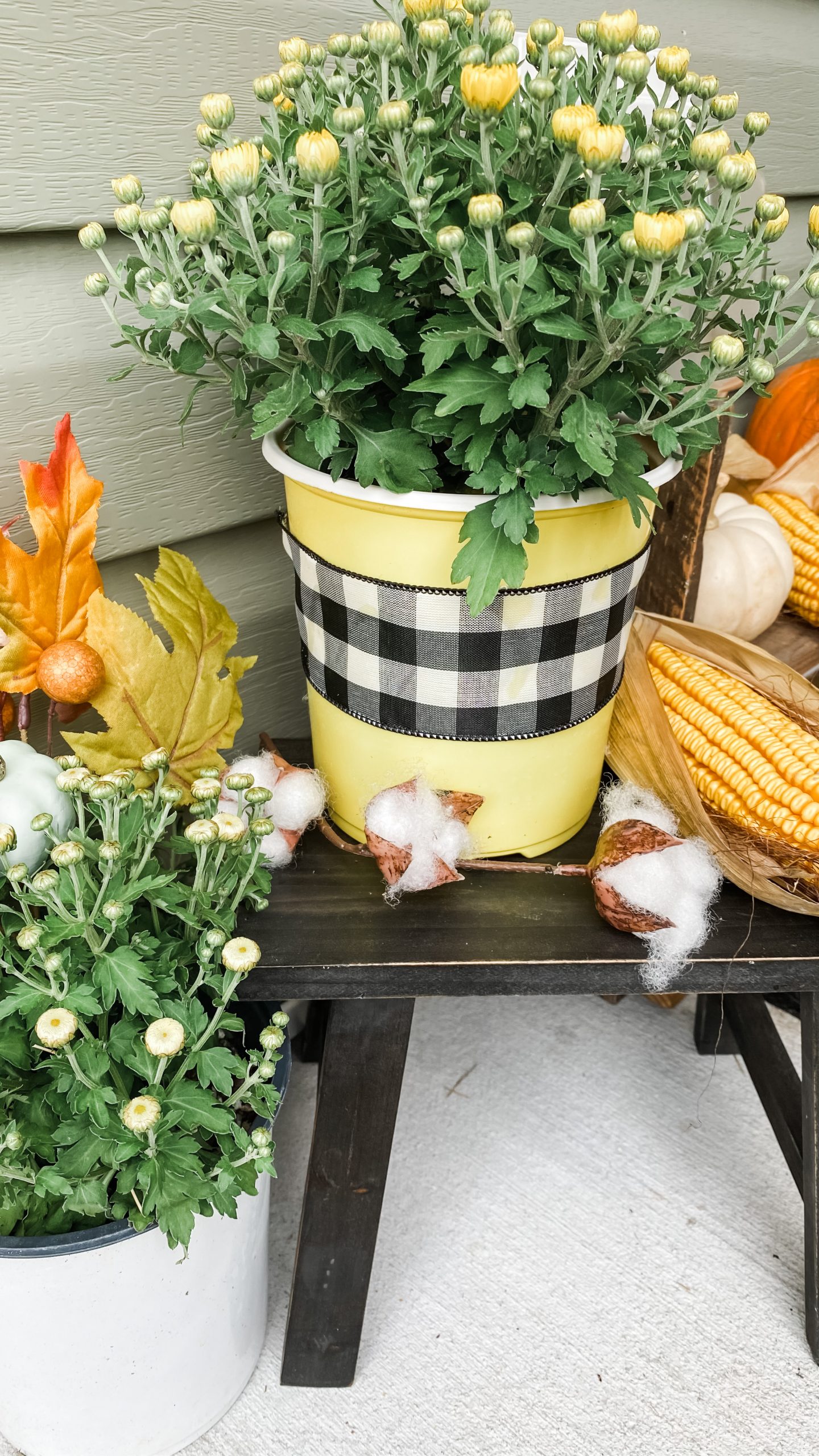 I also got 2 large square planters that I put the large red/orange Mums in. Pro Tip: I flipped one upside down and glued the top one on top of the bottom one. That instantly created height for the layers you are going to want to achieve.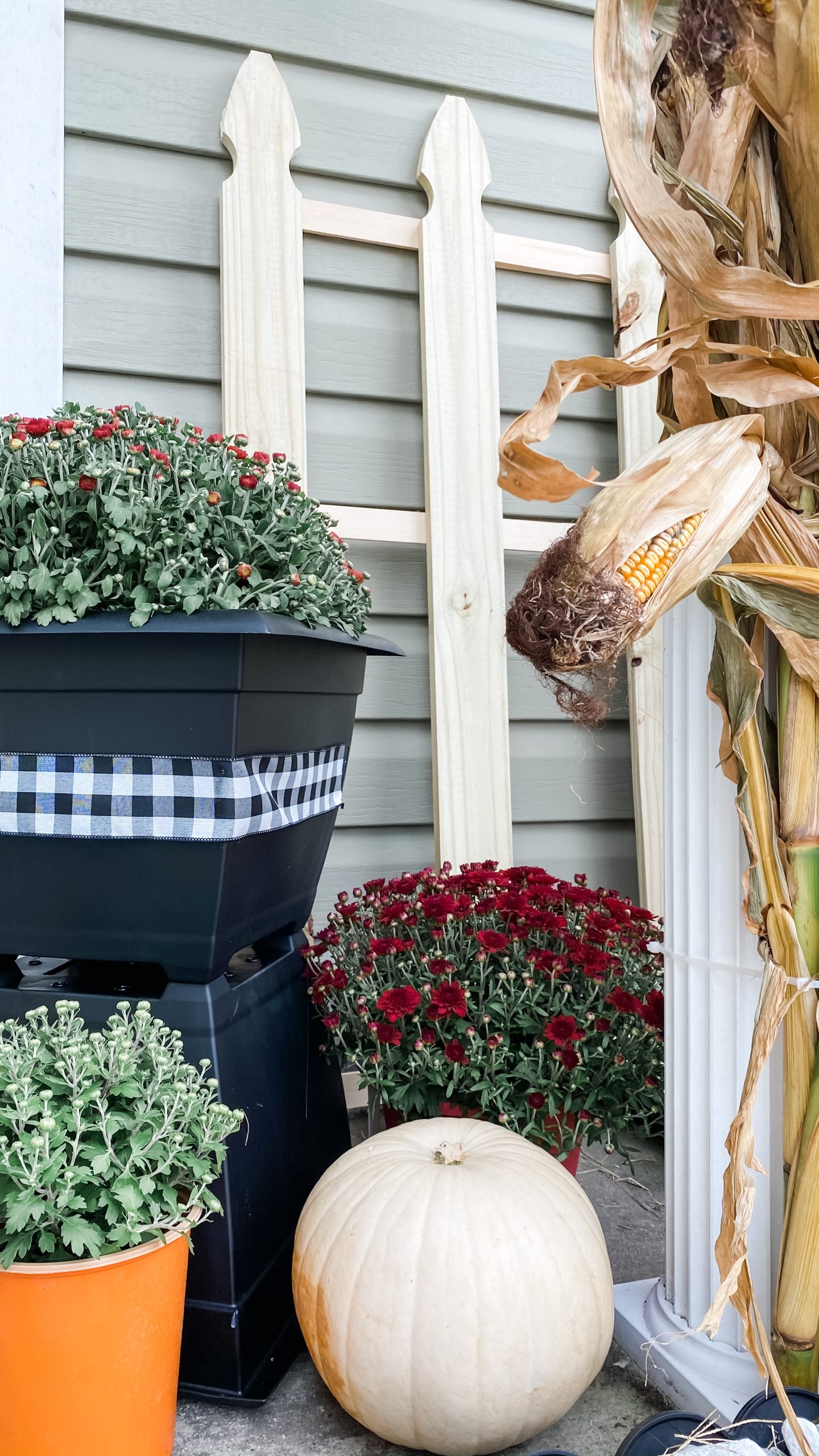 For the first one, I just wrapped some adorable Walmart Buffalo Check ribbon around it and put it right by the front door.
You can also watch this and MORE videos over on my YOUTUBE CHANNEL!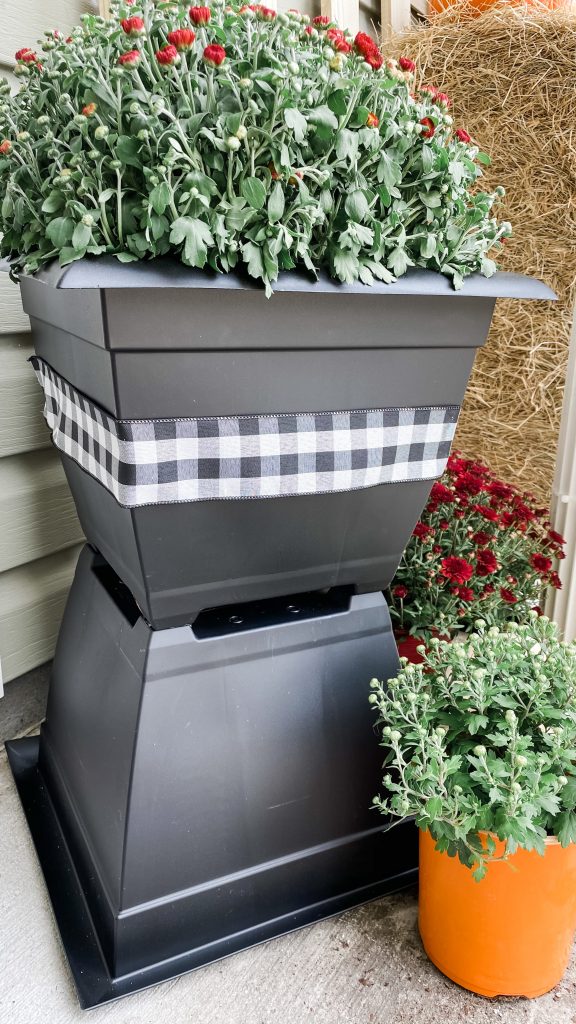 I put this square planter with the red/orange mums on top of a circle planter that I already had (it used to have Vincas in it), and then added some Dollar Tree cotton sprays around the base.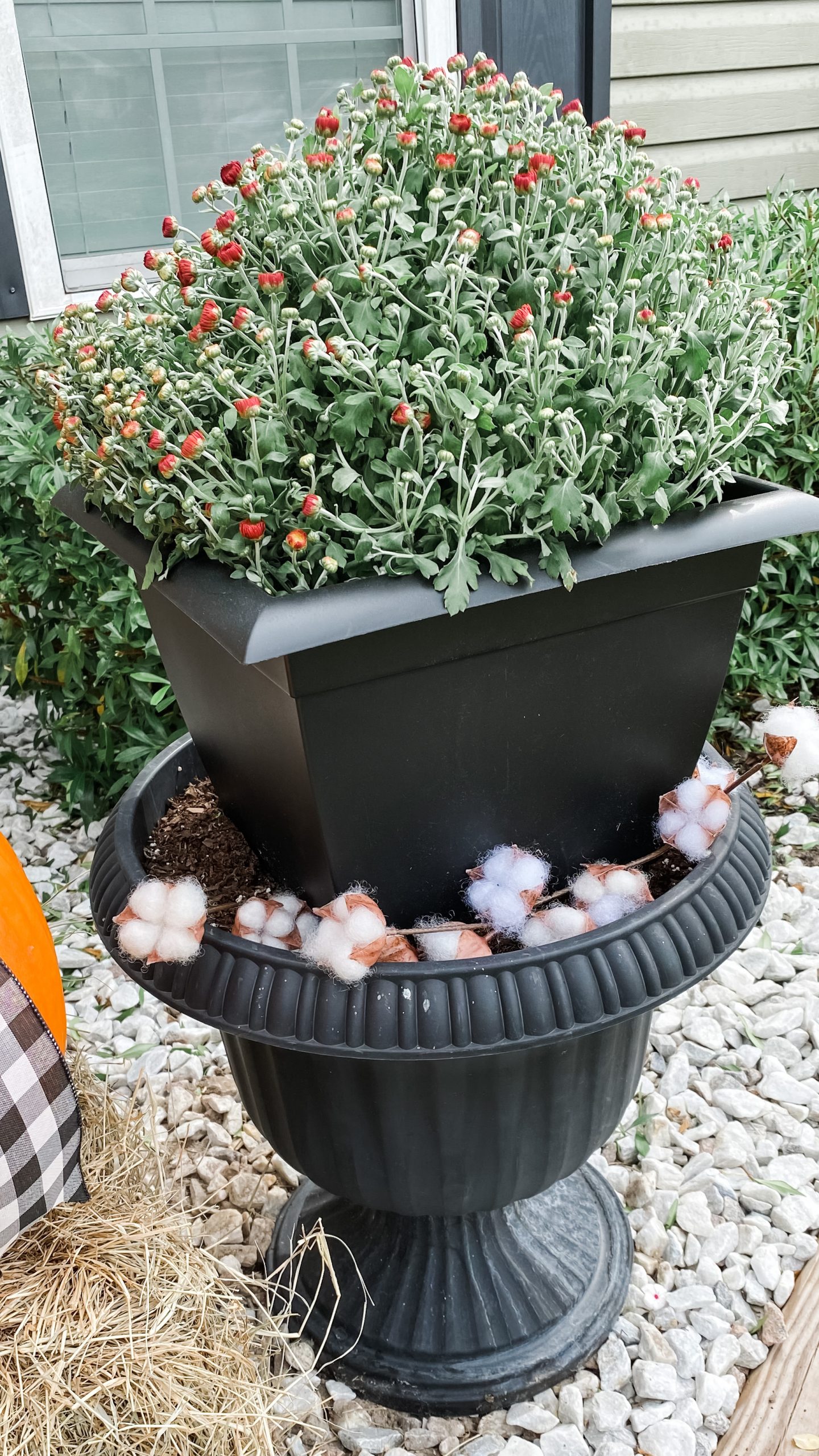 Pumpkins
The pumpkins also came from Home Depot. I was honestly surprised at the selection of pumpkins they had! Not only did they have a variety of sizes, but they had both the orange and white pumpkins as well. I ended up getting an extra-large orange pumpkin, a medium-sized orange pumpkin, a small orange pumpkin, two small white pumpkins, and an extra small white pumpkin.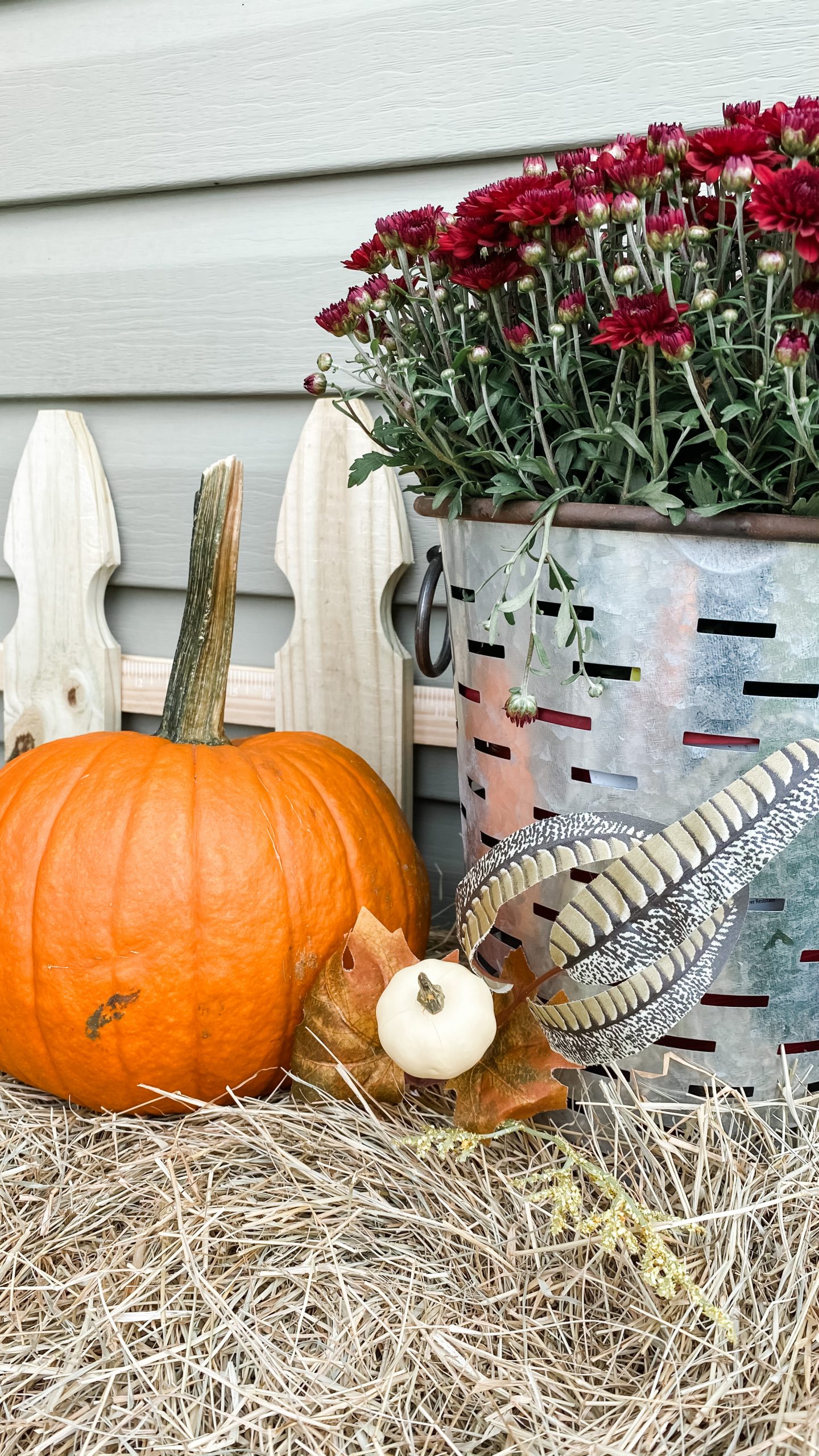 I spread the pumpkins out across my front porch. My favorite is probably the extra-large one with the adorable buffalo check bow on it! I made the bow with ribbon from Walmart.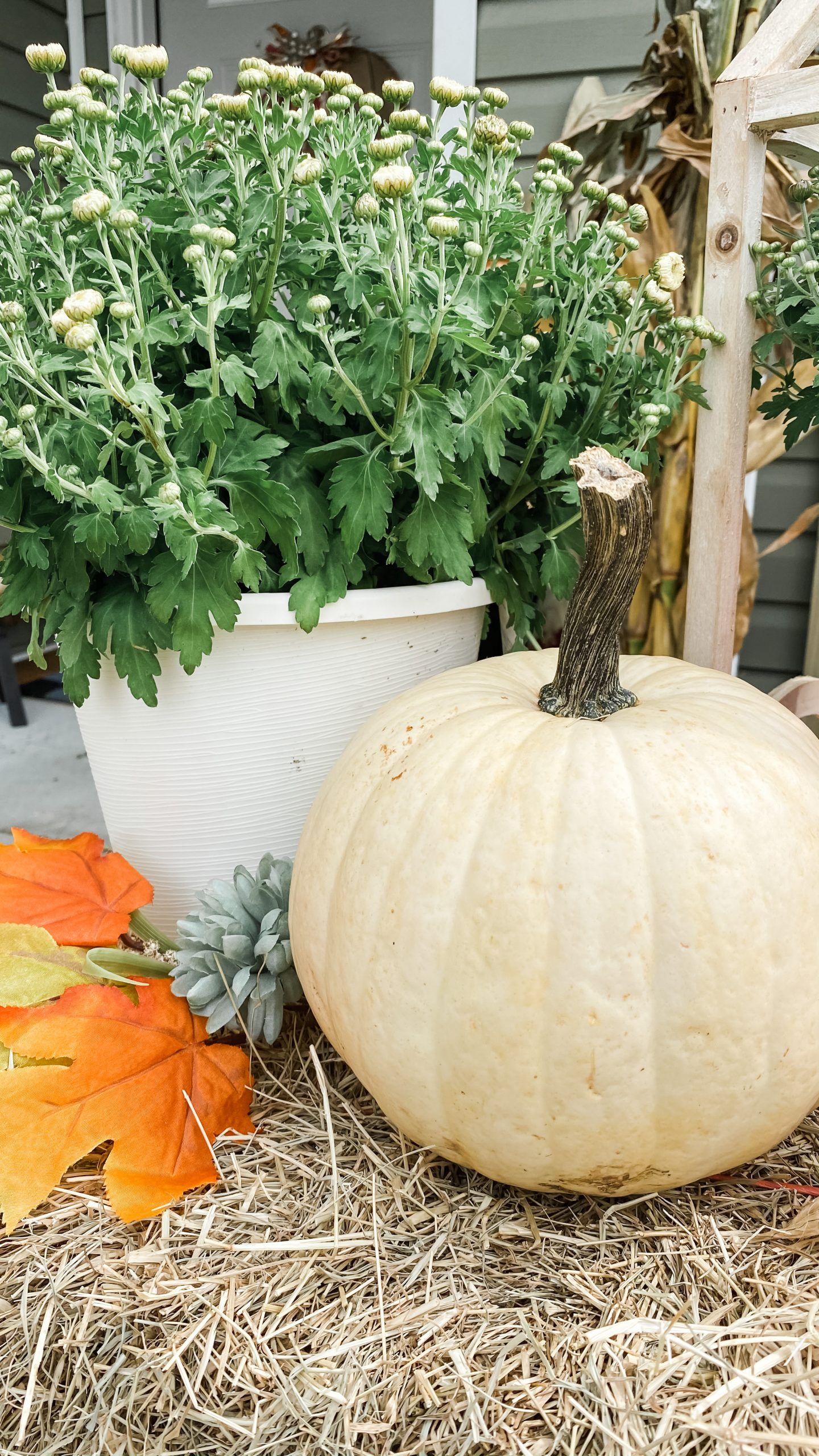 Hay, there!
I got the 2 rectangle hay bales from my local Tractor Supply. These just scream FALL, don't they!? I absolutely love the way they look on my front porch. I used mine to put other pieces of decor on. I laid one down horizontally and stood one up against my house vertically. This really helped give the decorations more dimensions and helped me highlight certain pieces, like the adorable galvanized bucket from Kirkland's!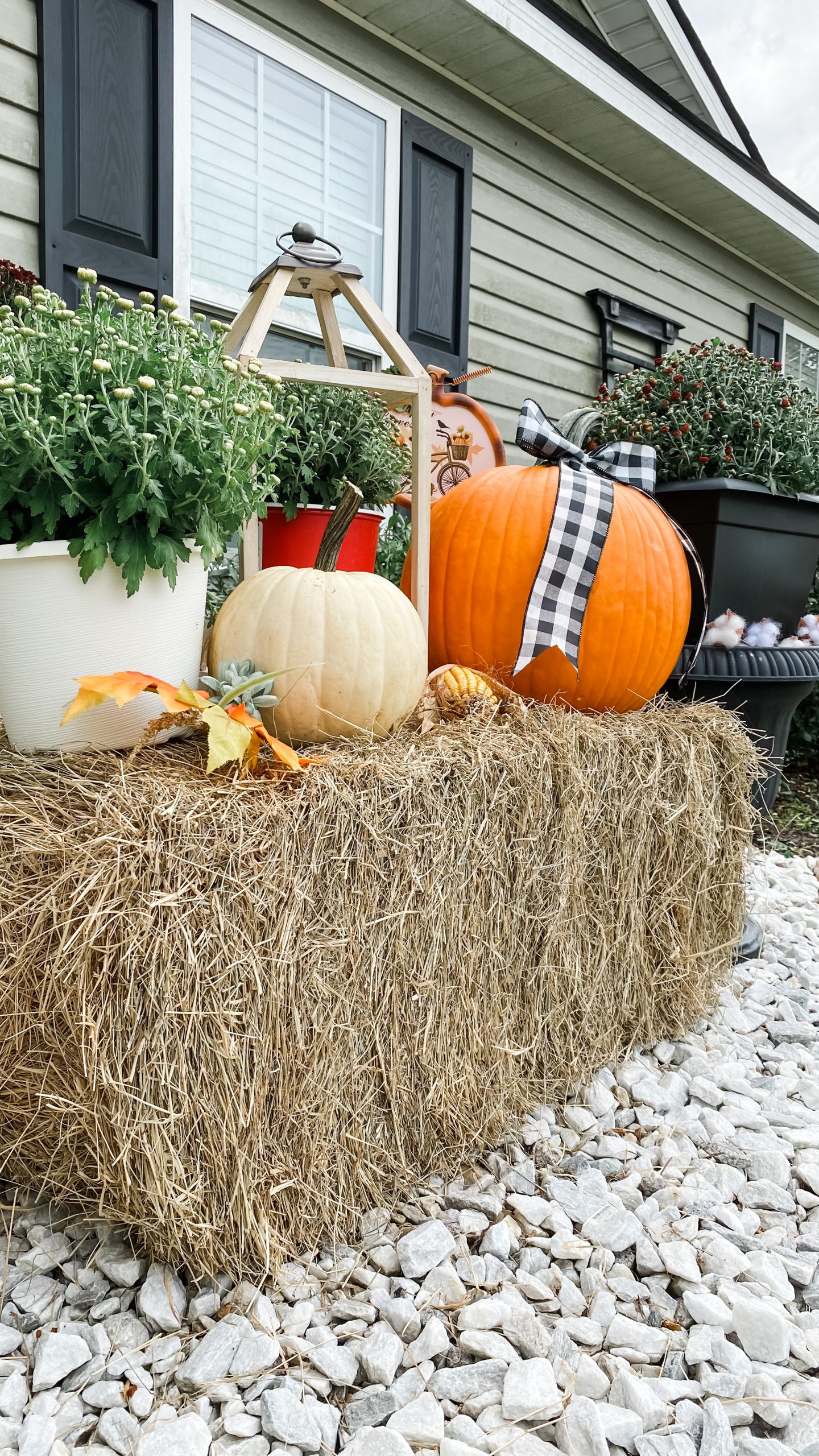 Cornstalks
For the cornstalks, I had to go to Lowe's. I used 2 cornstalks for my Fall Front Porch Makeover, and here is why. You can see that I stood one of the stalks up in my decorations, but for the second stalk, I took the corn off of it and staged them throughout the decor. If you wanted to, you could just purchase one cornstalk and take the corn off of that one, but I chose to purchase 2.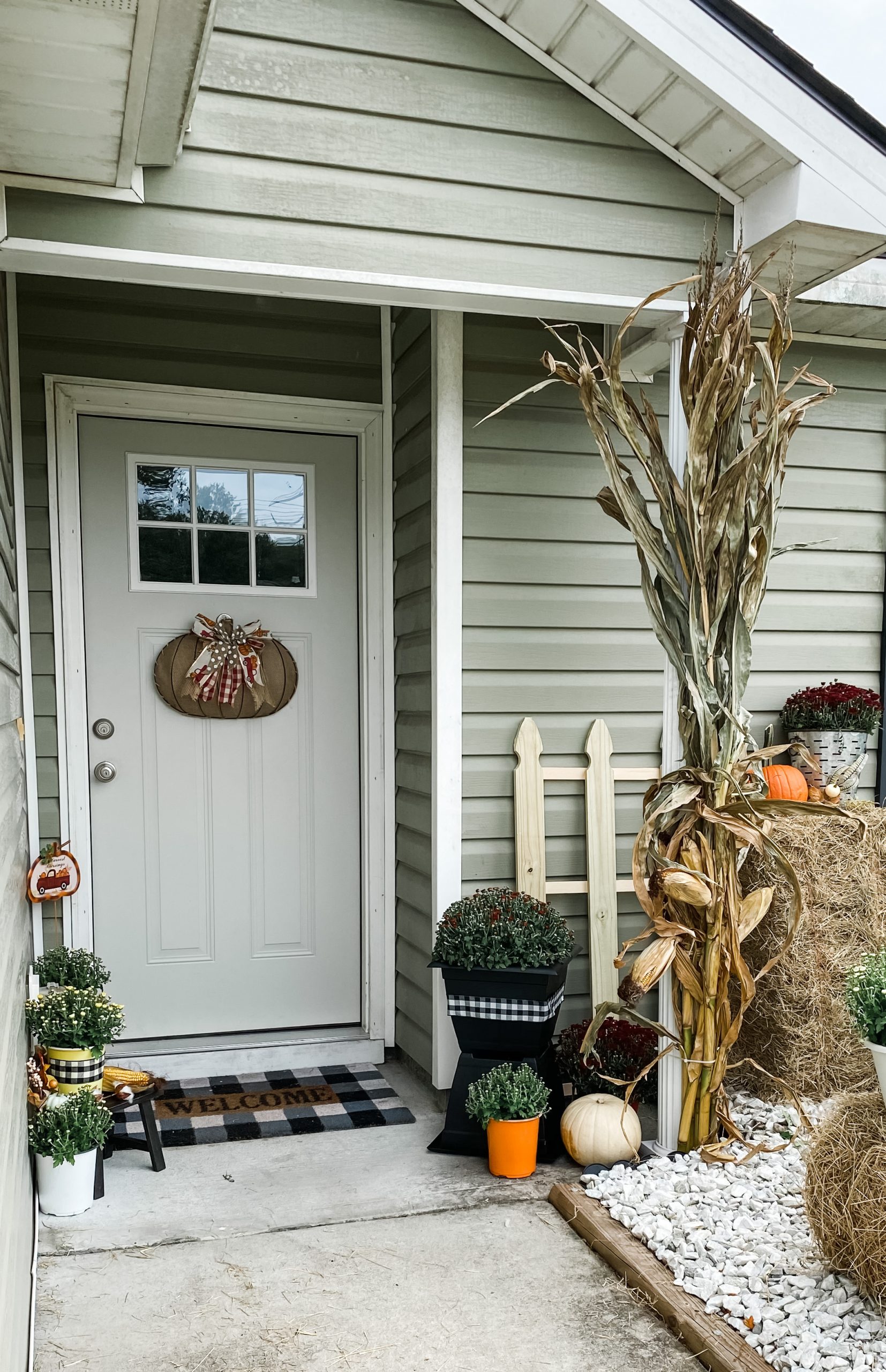 I used the zip ties to attach the cornstalk to the pillar on my front porch and make it stand up straight.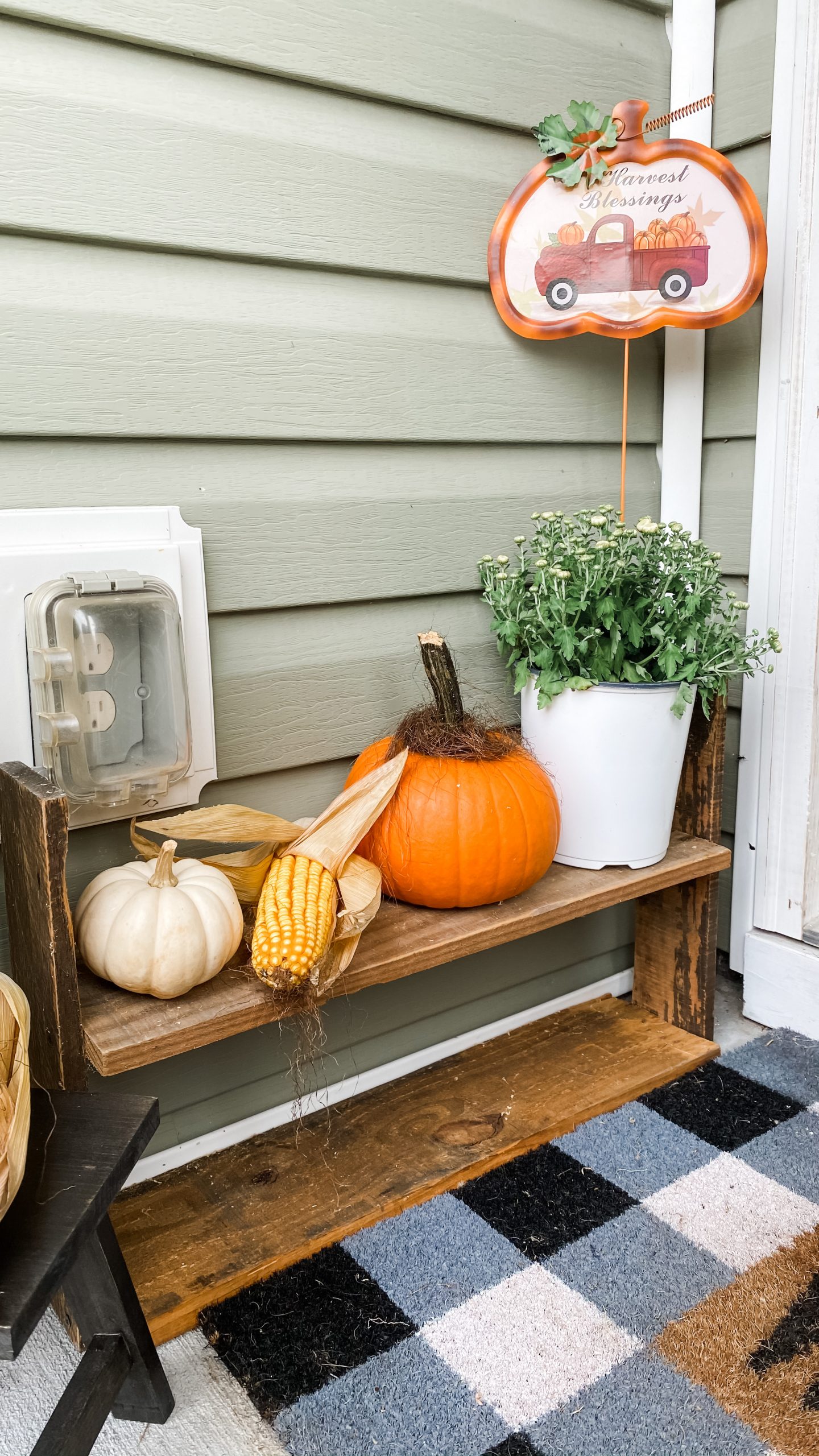 I told you I took some of the corn off the stalks to stage throughout the decorations. I put one of them on this adorable little wooden shelf I had made of pallets! You can also see here one of the small mums, the extra small white pumpkin, and the small orange pumpkin! You can also see the Dollar Tree metal pumpkin with the cute red truck here. Normally, I add my own touches to Dollar Tree products (that's what most of my blog posts are about if we're being honest) but I thought this was just too cute to change!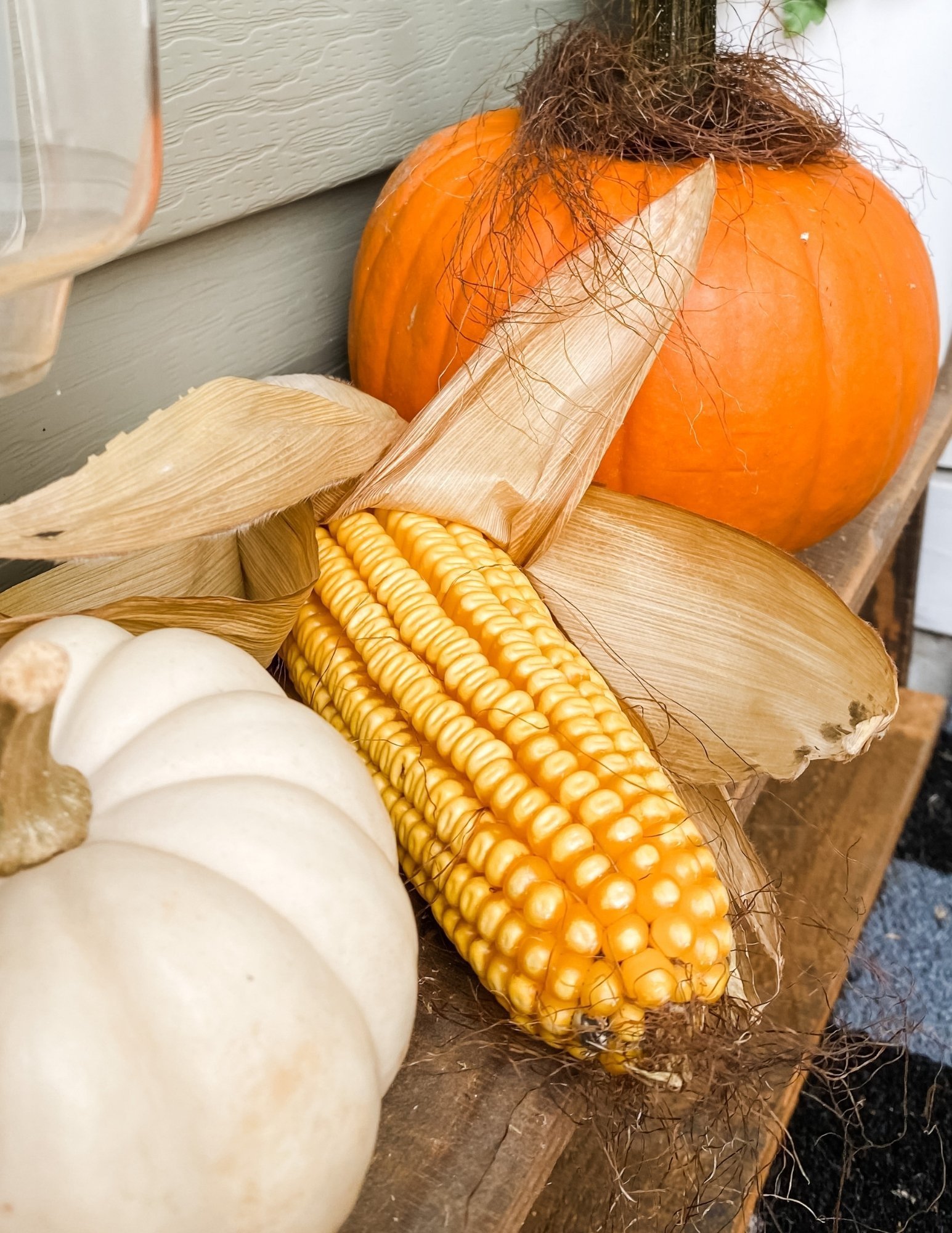 The magic is in the details!
There are some less-obvious parts of the Fall Front Porch Makeover that I want to point out to you! But first, can you guess what they are?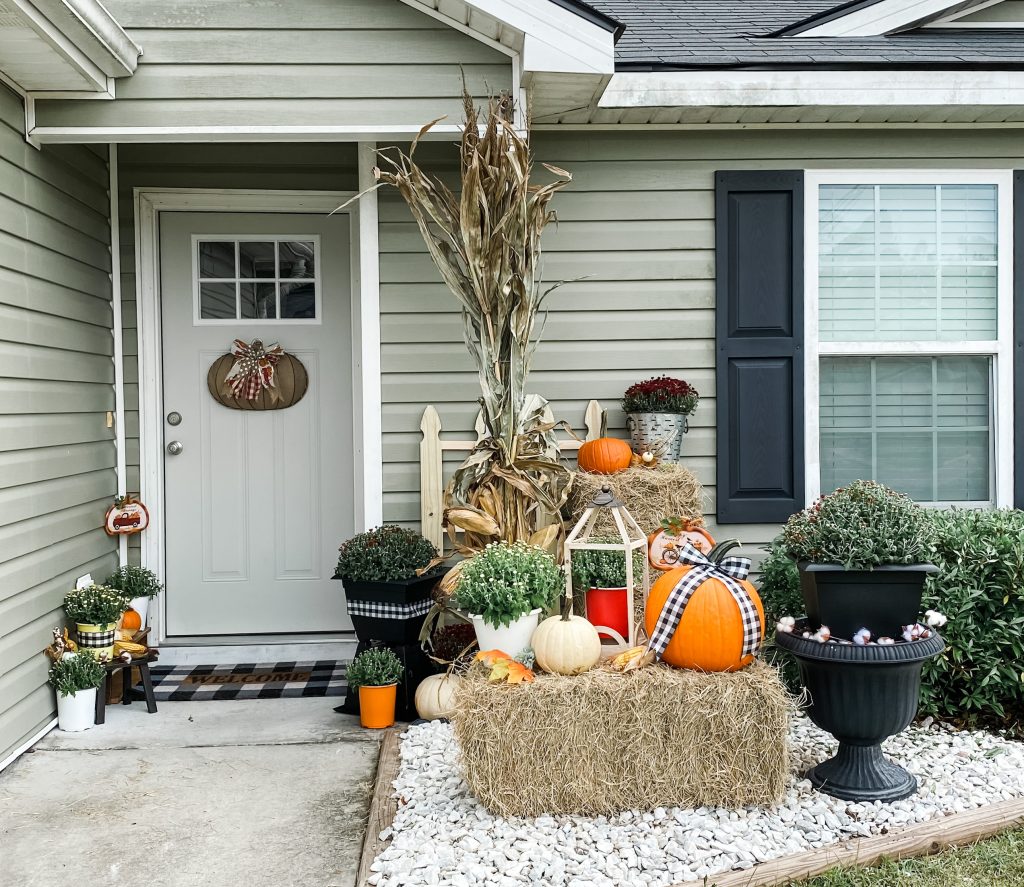 If you guessed the wireframe pumpkin door hanger, the wooden lantern with the red mums in it, the cute wooden stool on the left, or the adorable picket fence up against the house, you were right!
You could definitely do a Fall Front Porch Makeover without these pieces – they aren't essential, but I think they really bring it all together!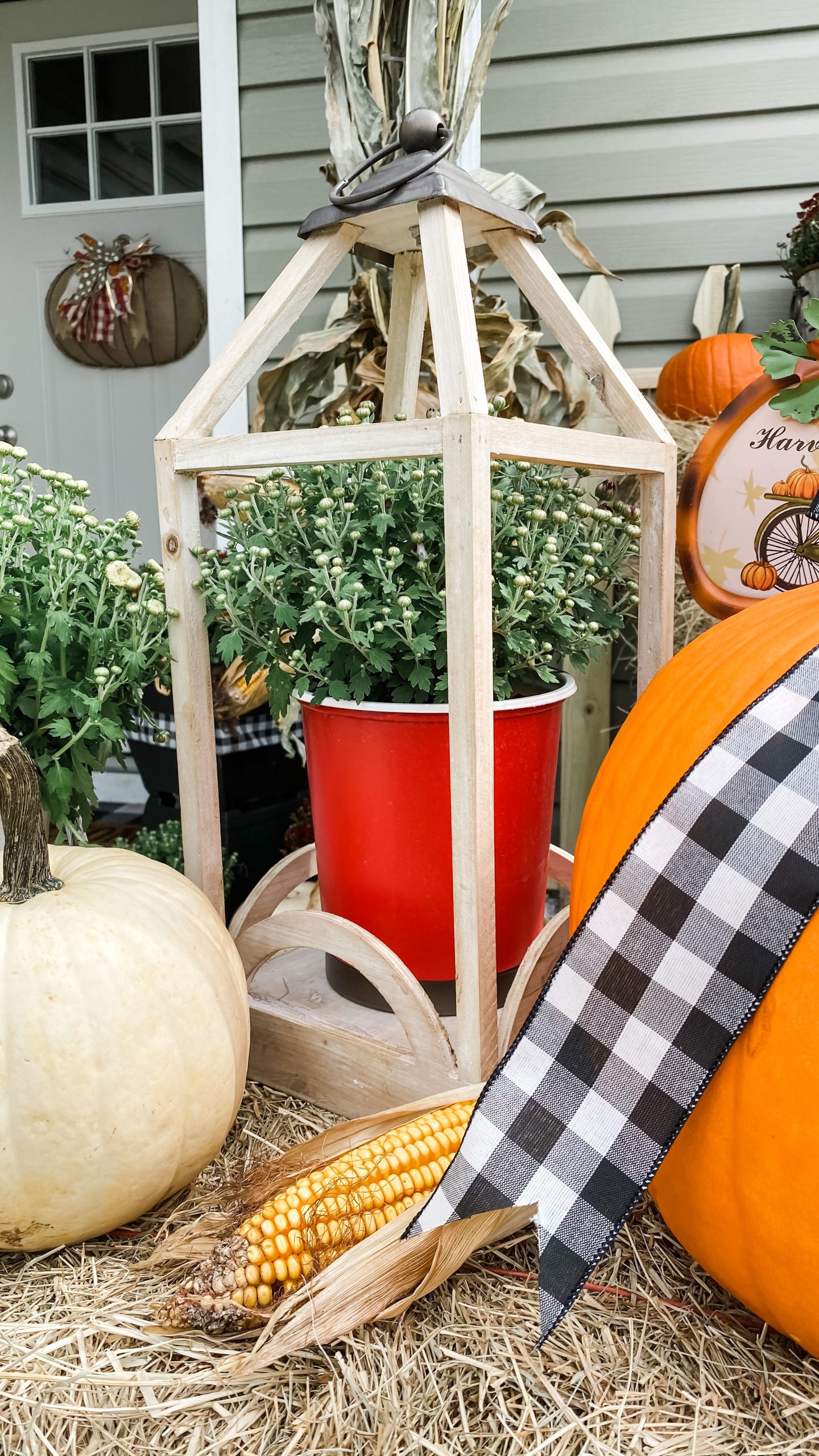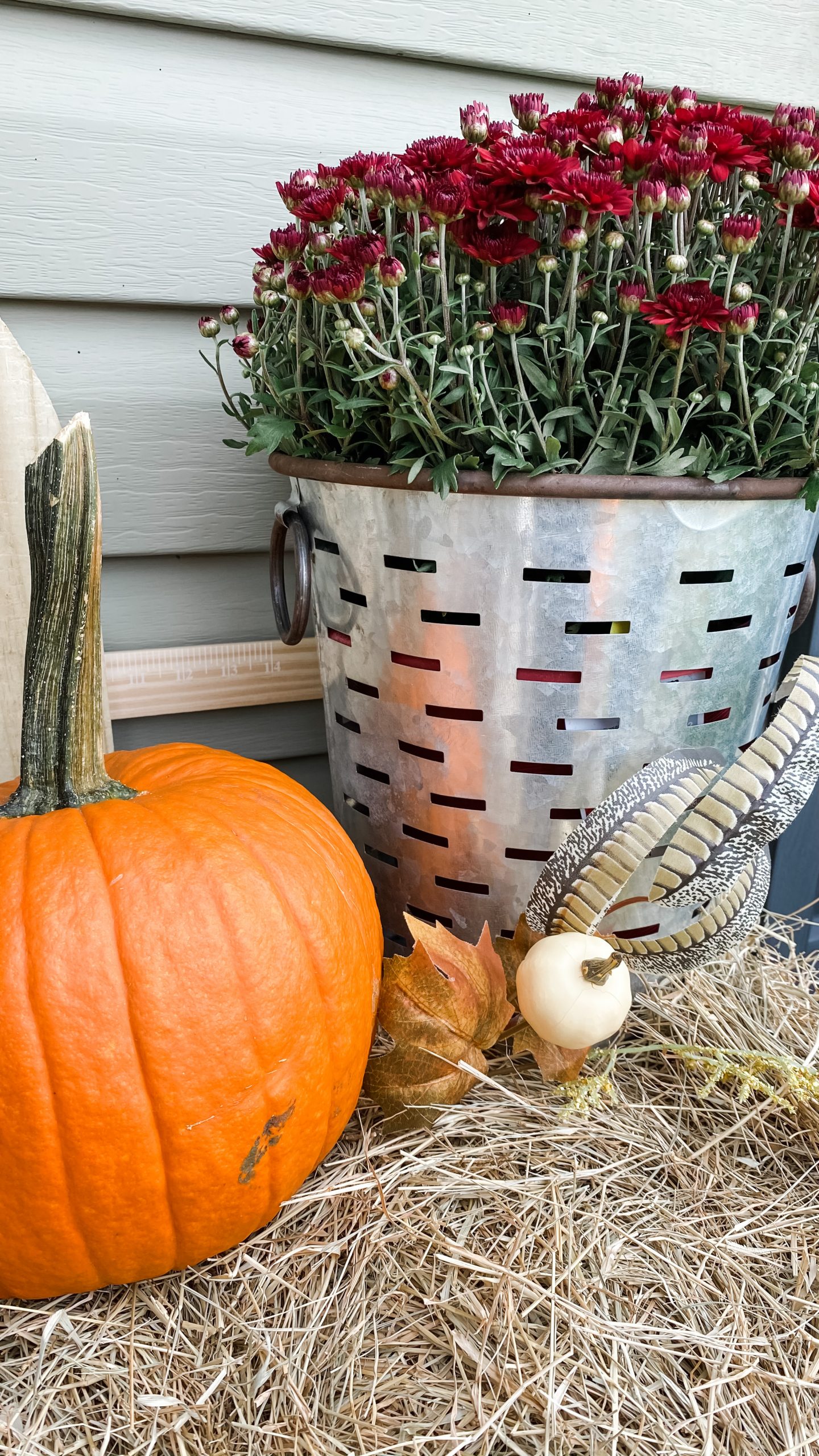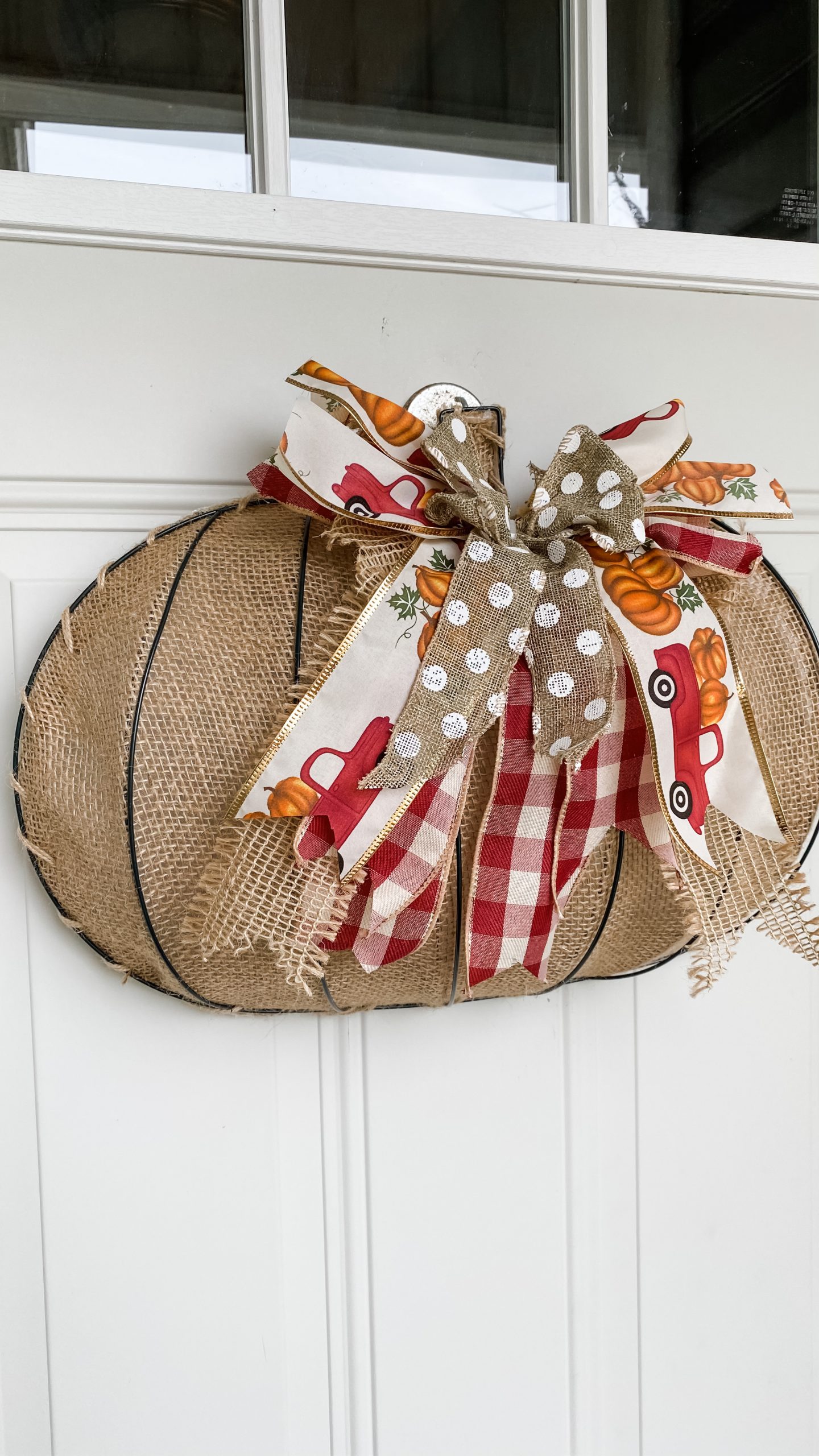 So, the wireframe pumpkin door hanger is a DIY craft project that I had done before I even thought of this porch makeover, but it fit in so PERFECTLY with how I wanted my front porch to look!
You can watch the Wire Pumpkin form Door Hanger with Messy Bow DIY Facebook Live Video Replay HERE!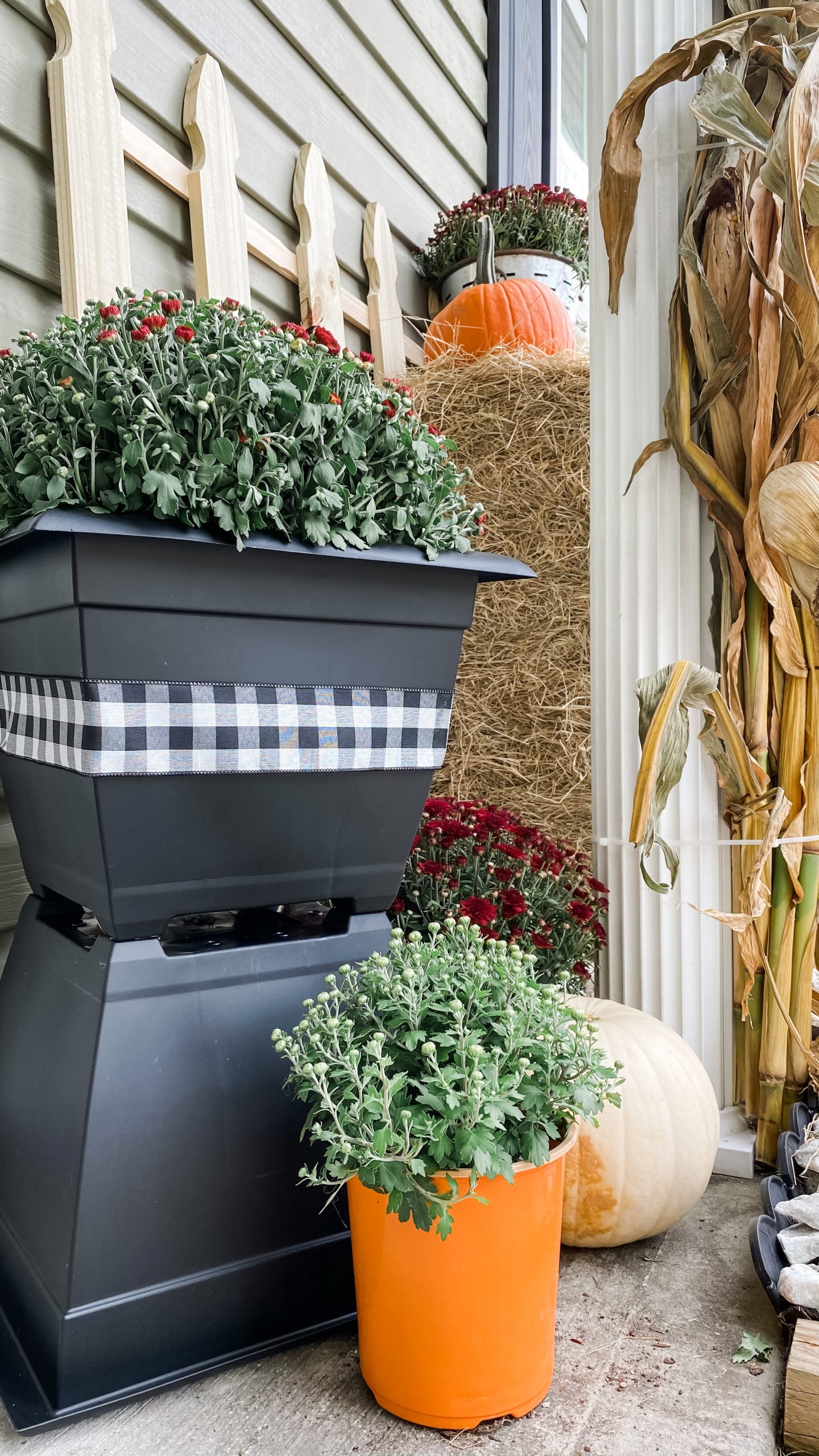 The black wooden stool galvanized bucket, and wooden lantern all came from Kirkland's.
Make your own picket fence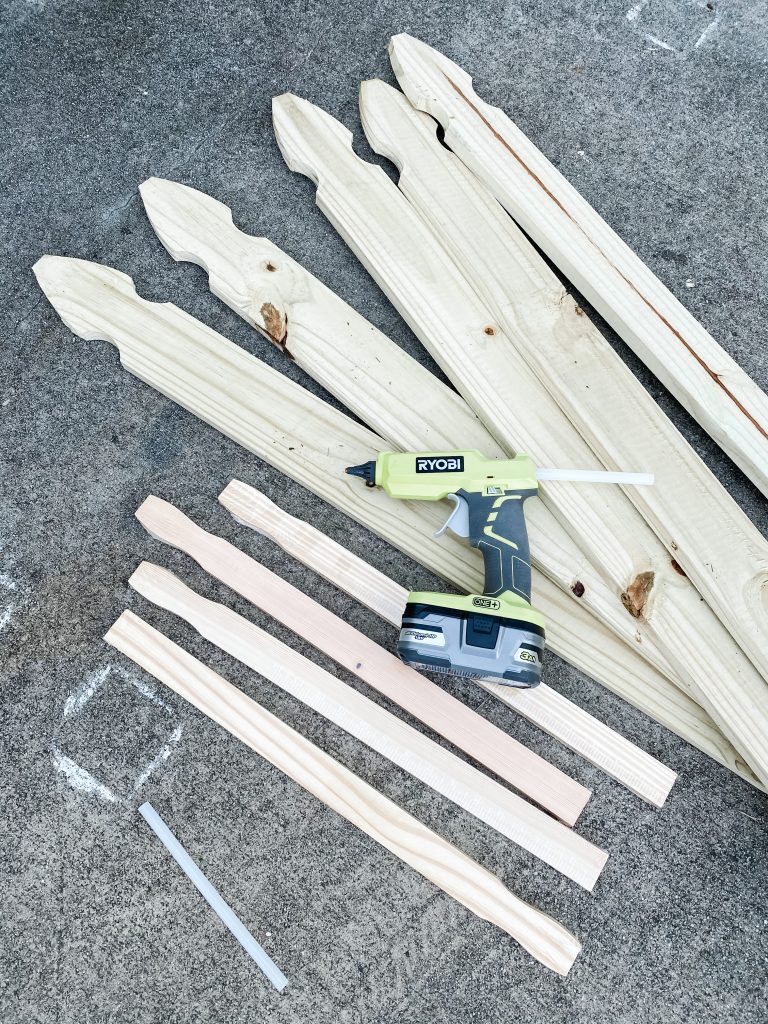 I think the picket fence is just so stinking cute! You could use this year-round and decorate it for any holiday or season. I don't know why I didn't make it sooner!
To make your own picket fence, you'll need 5 fence pickets (I got mine from Home Depot) and 9 of the 5-gallon paint stirrers (also from Home Depot). Finally, you'll just need a hot glue gun and glue sticks! It's so easy to make!
You can see exactly how I made this picket fence, you can watch the video I did LIVE on m Facebook page!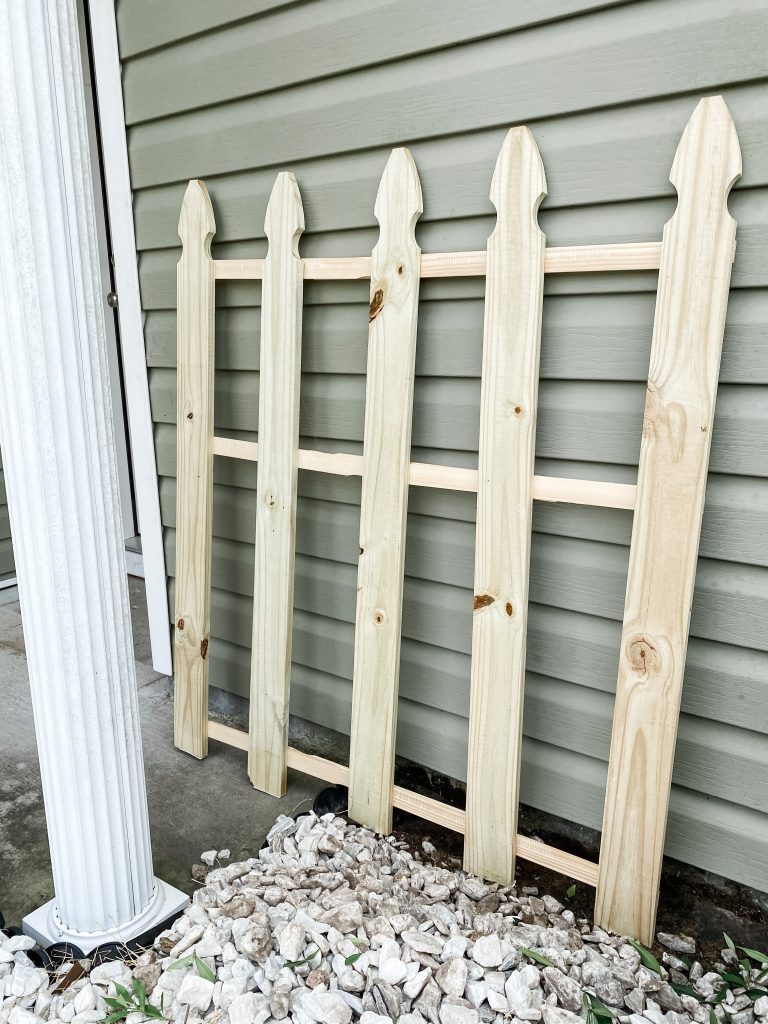 You can see the full video over on Youtube HERE!
Put it all together and what do you get?
When you put everything together, you get this amazing Fall Front Porch Makeover! I cannot believe the before and after of my front porch!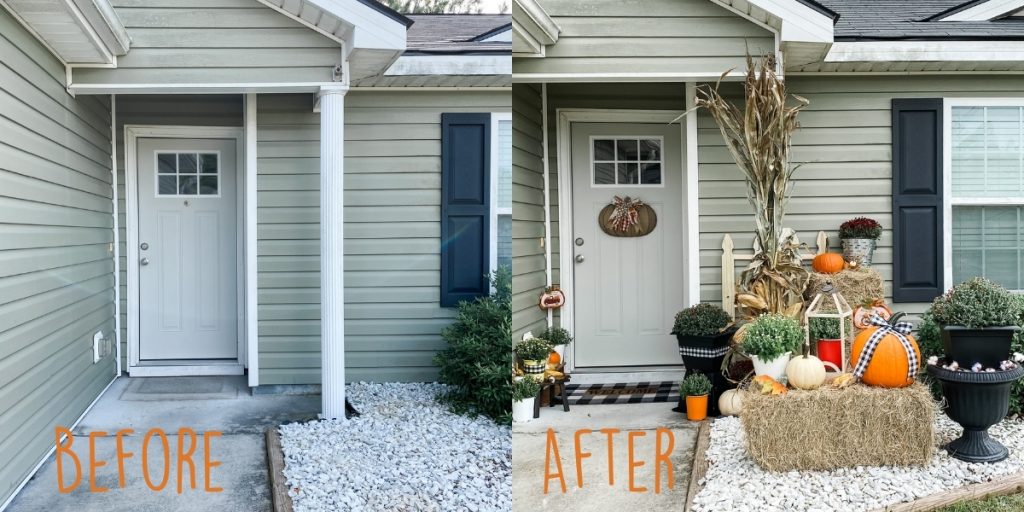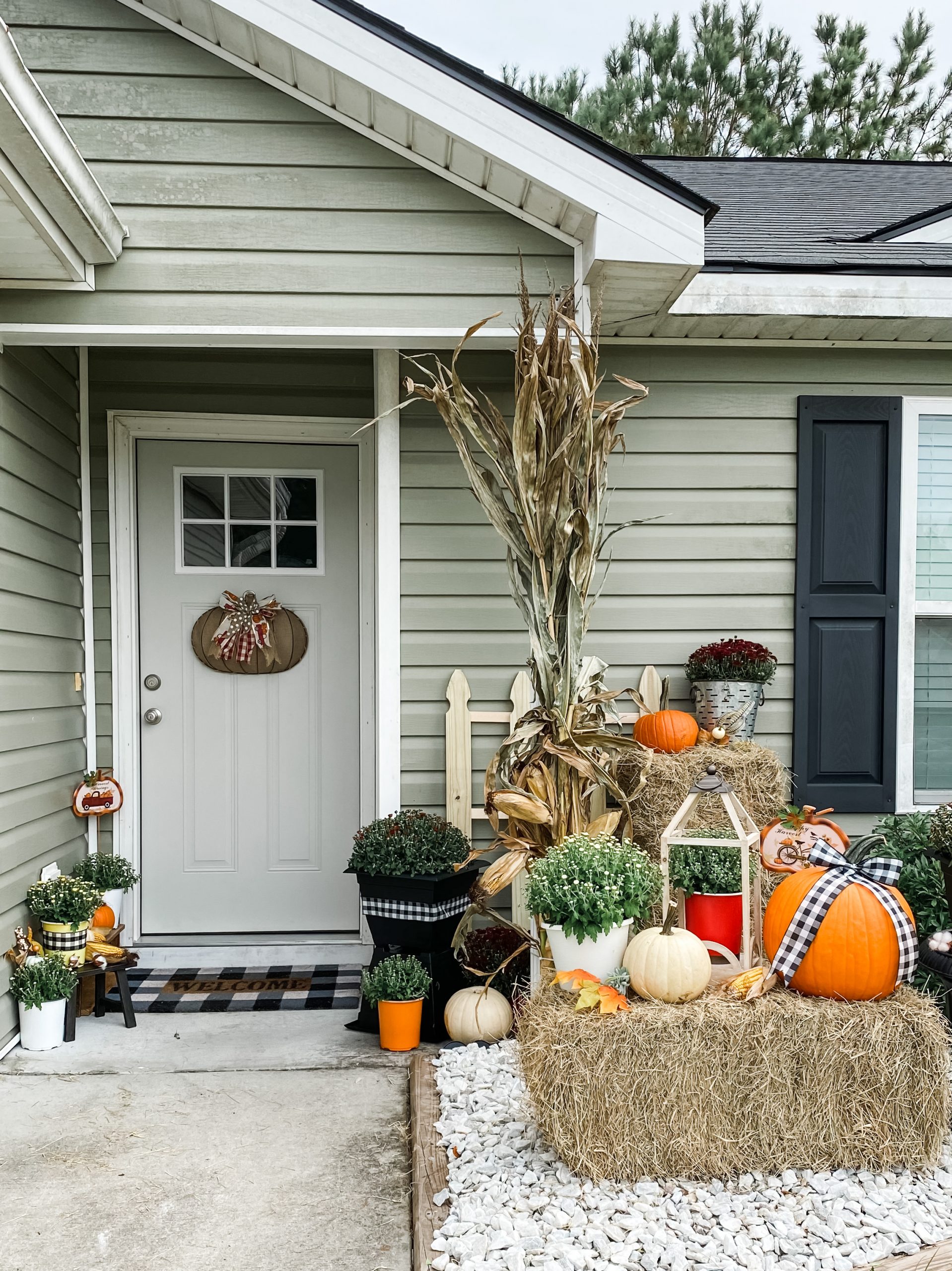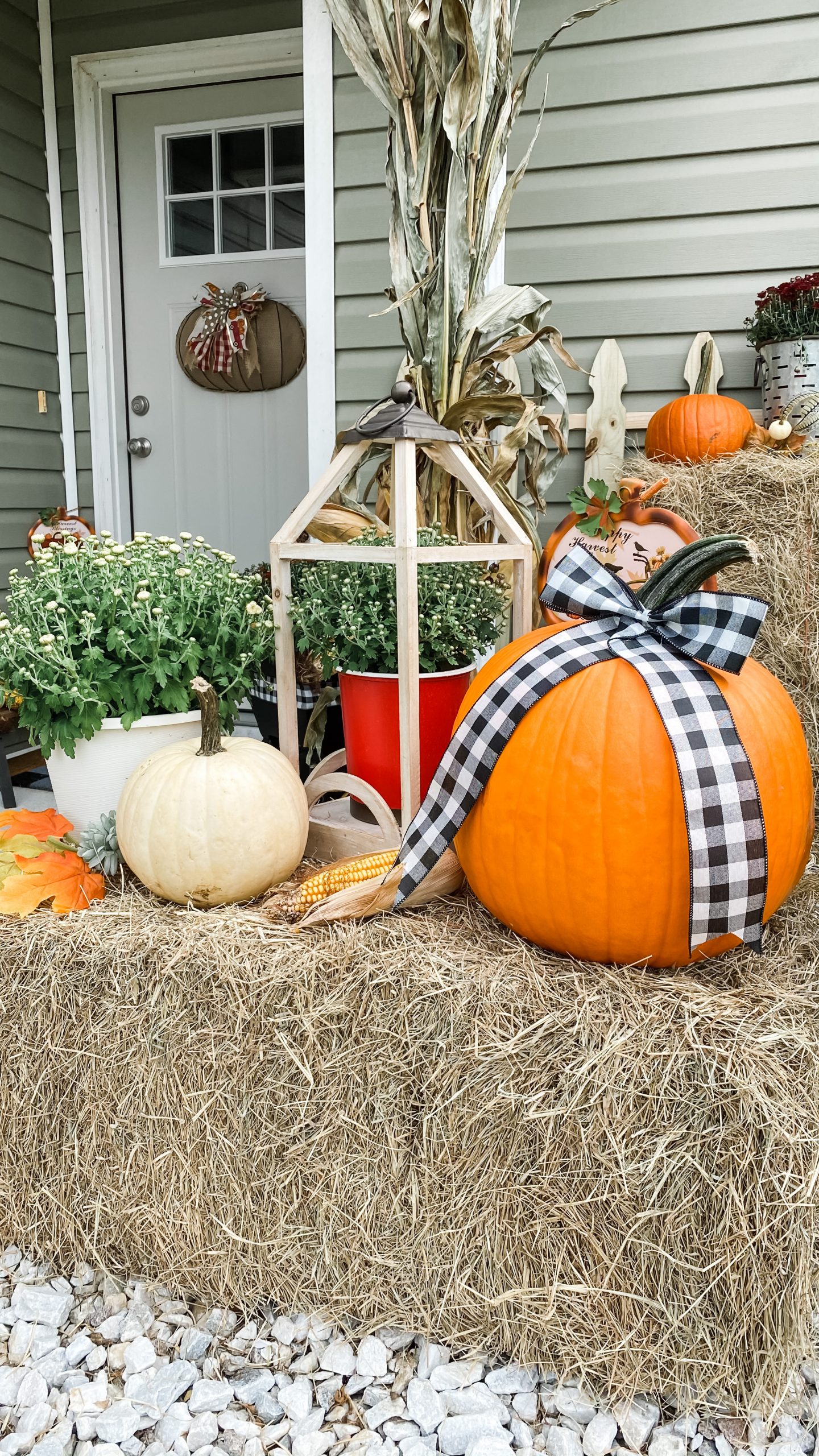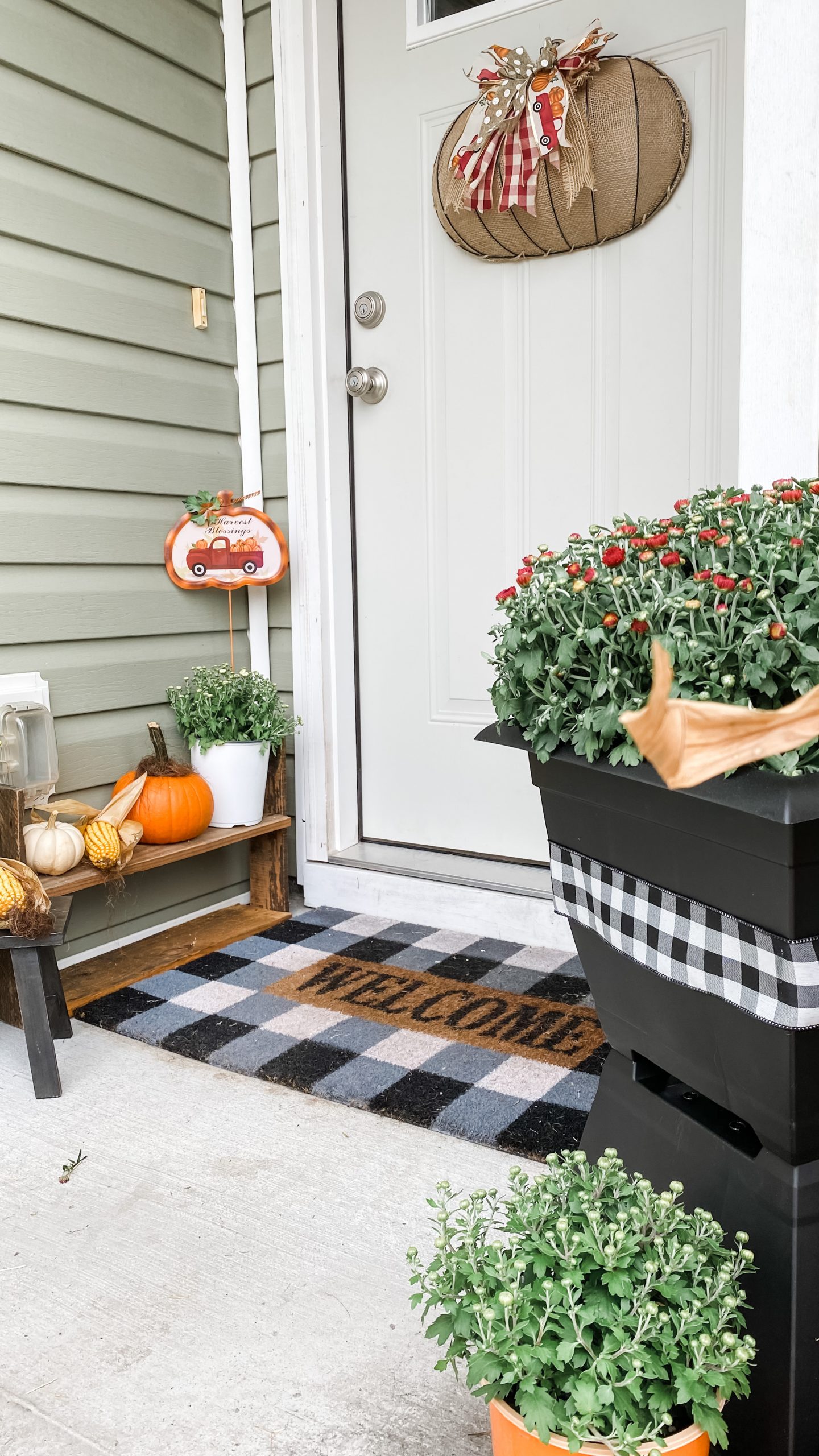 If you loved this DIY you might also like this one too!
What do you think about this Fall Front Porch Makeover? Tell me in the comments!
Thanks for stopping by! XOXO Amber
Would you also pin my blog for later and get on my newsletter alerts? I would love to have you join my #craftycrew.

Join my free "ON A BUDGET CRAFTS" Facebook group!
PIN THIS POST FOR LATER!
and follow me on Pinterest too! HERE