Make a Popsicle Stick Pumpkin Fall Decor DIY

Oh my GOODNESS! I could NEVER have imagined how amazing this popsicle DIY would turn out! I showed my #craftycrew how to make a popsicle stick pumpkin fall decor DIY during a Facebook LIVE celebrating 100K followers!
I'm always doing LIVE crafting videos, but this one is just so special to me because reaching 100K followers on Facebook is such a big thing for me.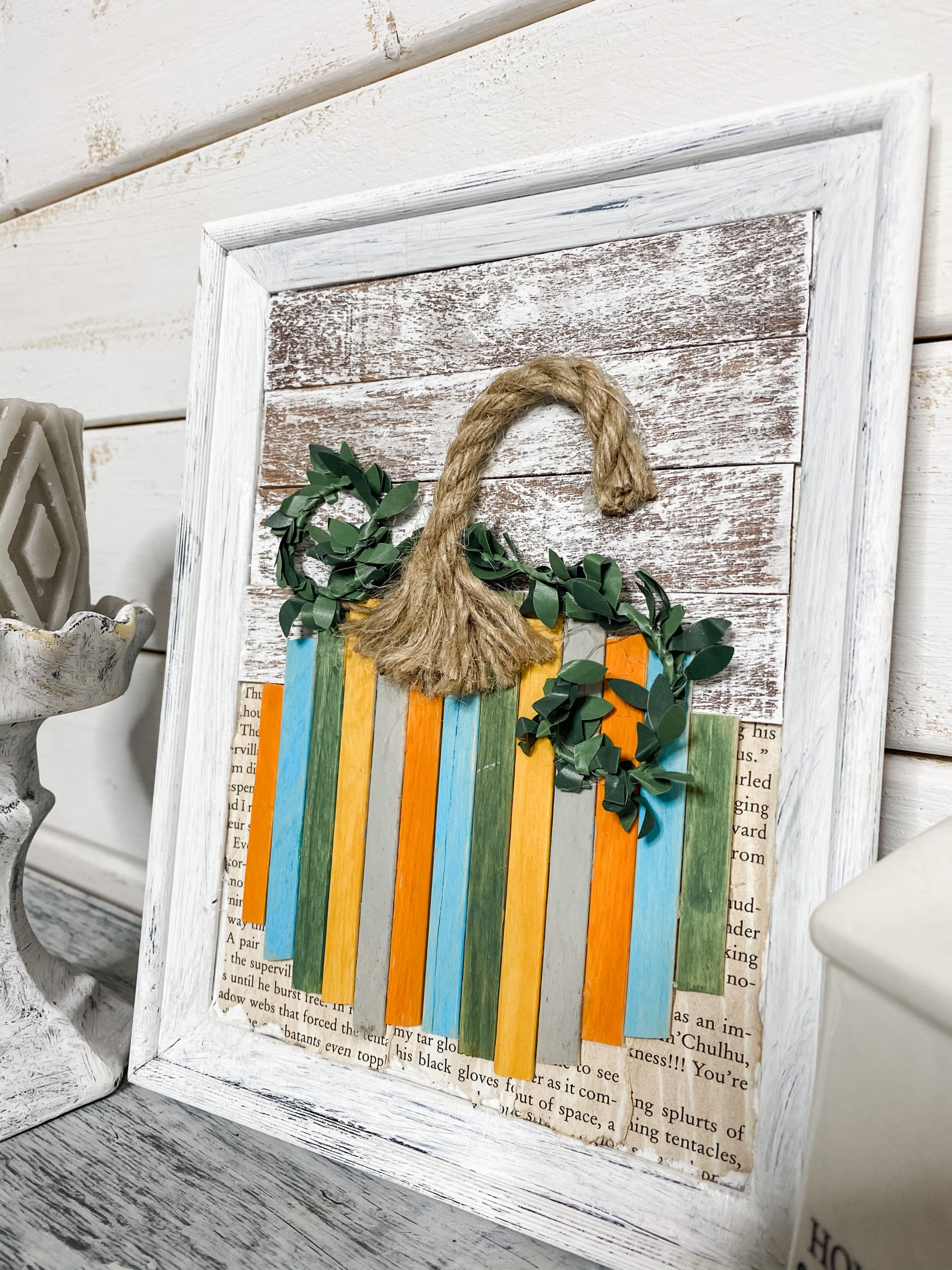 If you've ever seen any of my DIY crafts, you've probably noticed that I don't use a lot of bold colors. Most things are neutral colors and patterns that will work with any home decor, but I just aboslutely love how the color POPS on this popsicle stick pumpkin DIY.
Watch the Replay
I recorded myself making this craft LIVE on Facebook, but you can watch the replay if you want to see exactly how I did it!

For this project, I will be using these items but you can substitute where you want.
"As an Amazon Associate, I earn from qualifying purchases."
Dollar Tree Quart Paint Sticks
5×7 Dollar Tree Picture Frame
Dollar Tree Decorative Nautical Rope
Wired garland
Regular popsicle sticks
Antique Wax
Waverly Pumpkin Paint
Scissors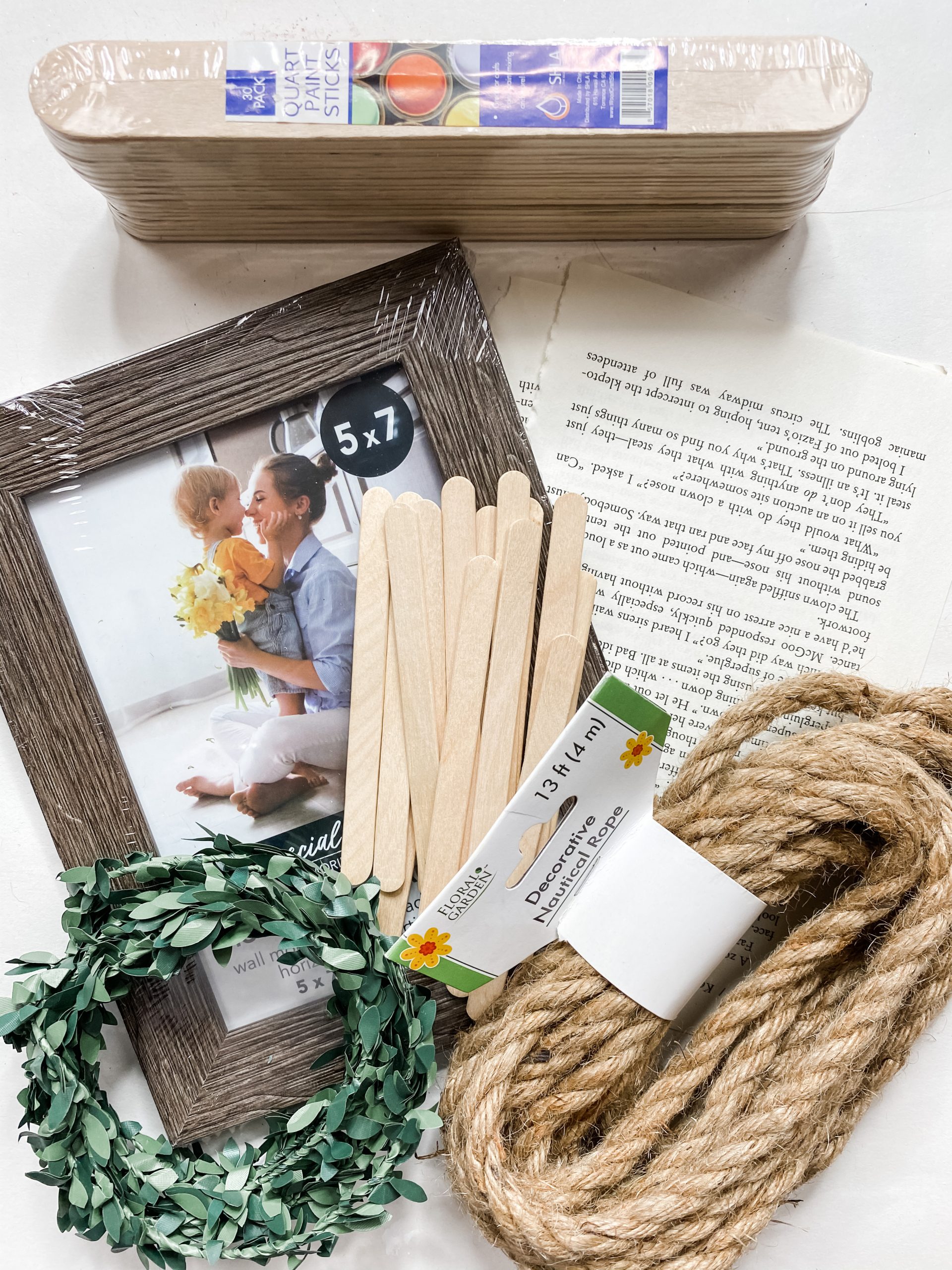 Let's get started
I used a Dollar Tree clipboard picture frame, so I had to pop off the clip piece and glue the back down, but you can use a regular 5×7 picture frame to save you some steps.
Next, I grabbed the paint sticks. I cut them with my scissors to make them fit inside the frame. I only covered the top half, but you could plank the entire inside of the frame.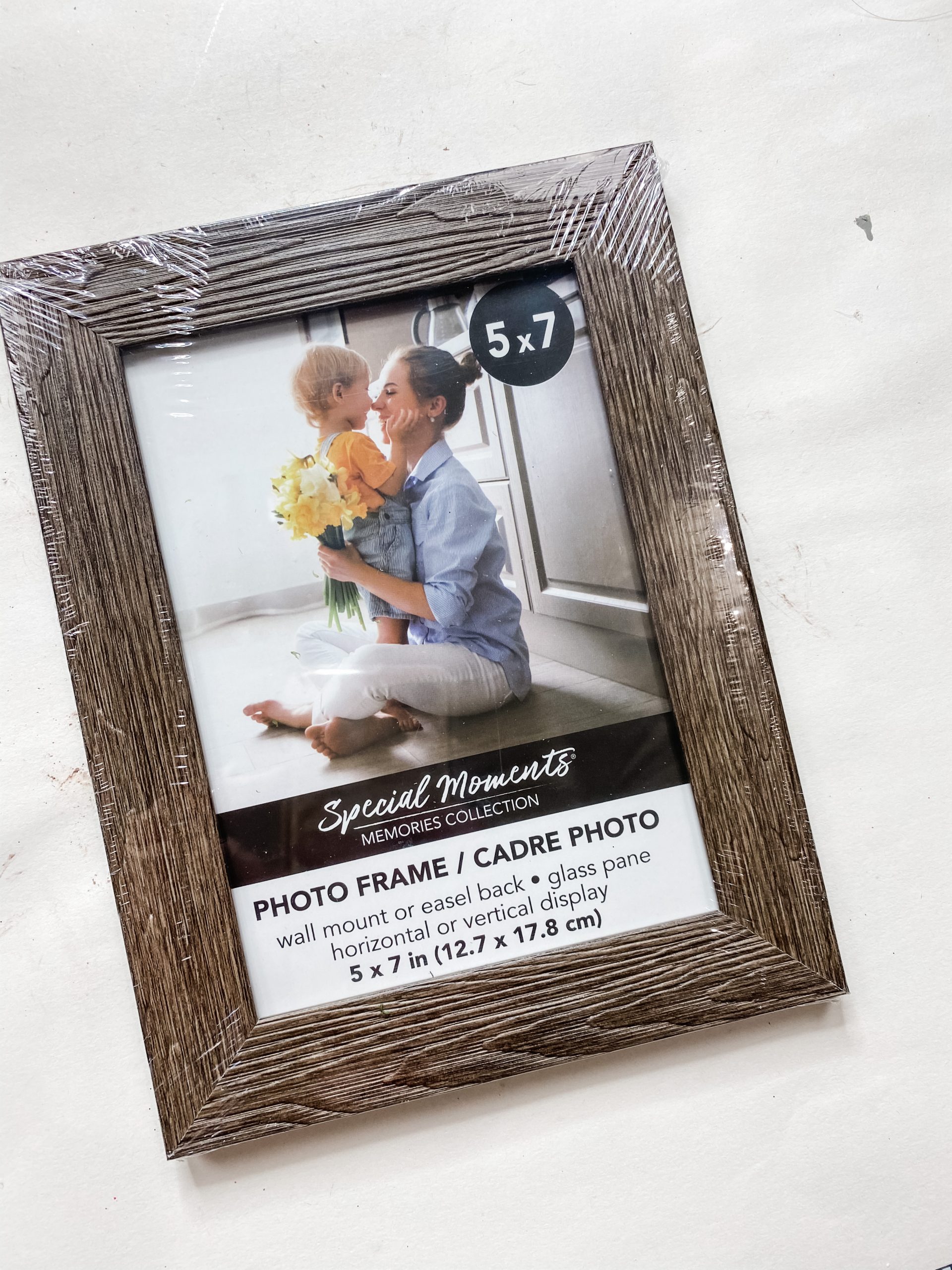 Next, I painted the entire frame with my Folkart White Chalk Paint and a chippy brush. It doesn't have to be an even coating, because you want it to have kind of a rustic, distressed look.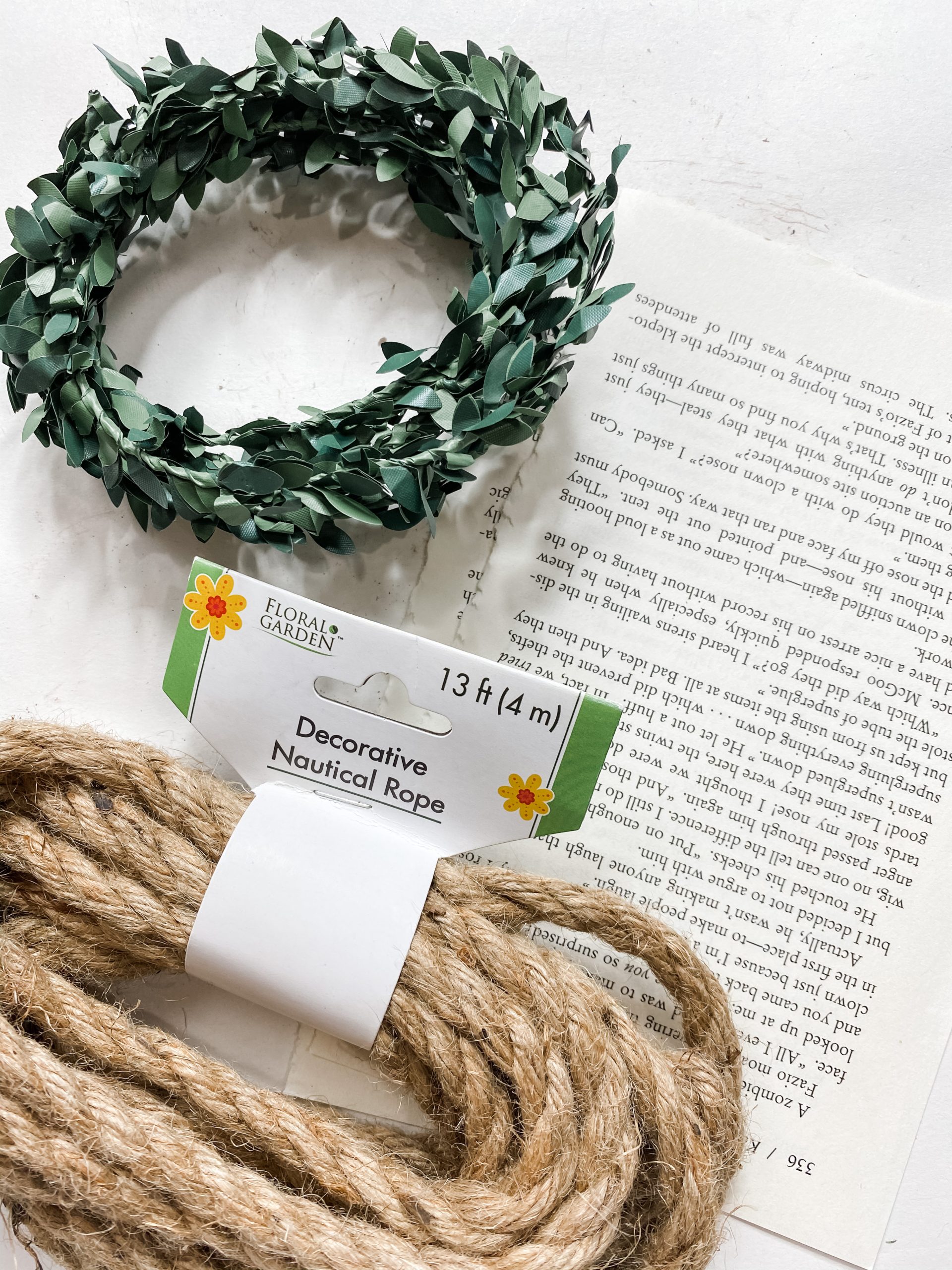 Add your own touch
For this next part, you can use pages from any book you want. You can pick pages from a book that has meaning to you, or you can do what I do and go to the Dollar Tree or local thrift stores and get a cheap, used book. Either way, you'll take the pages you pick and rip them into strips.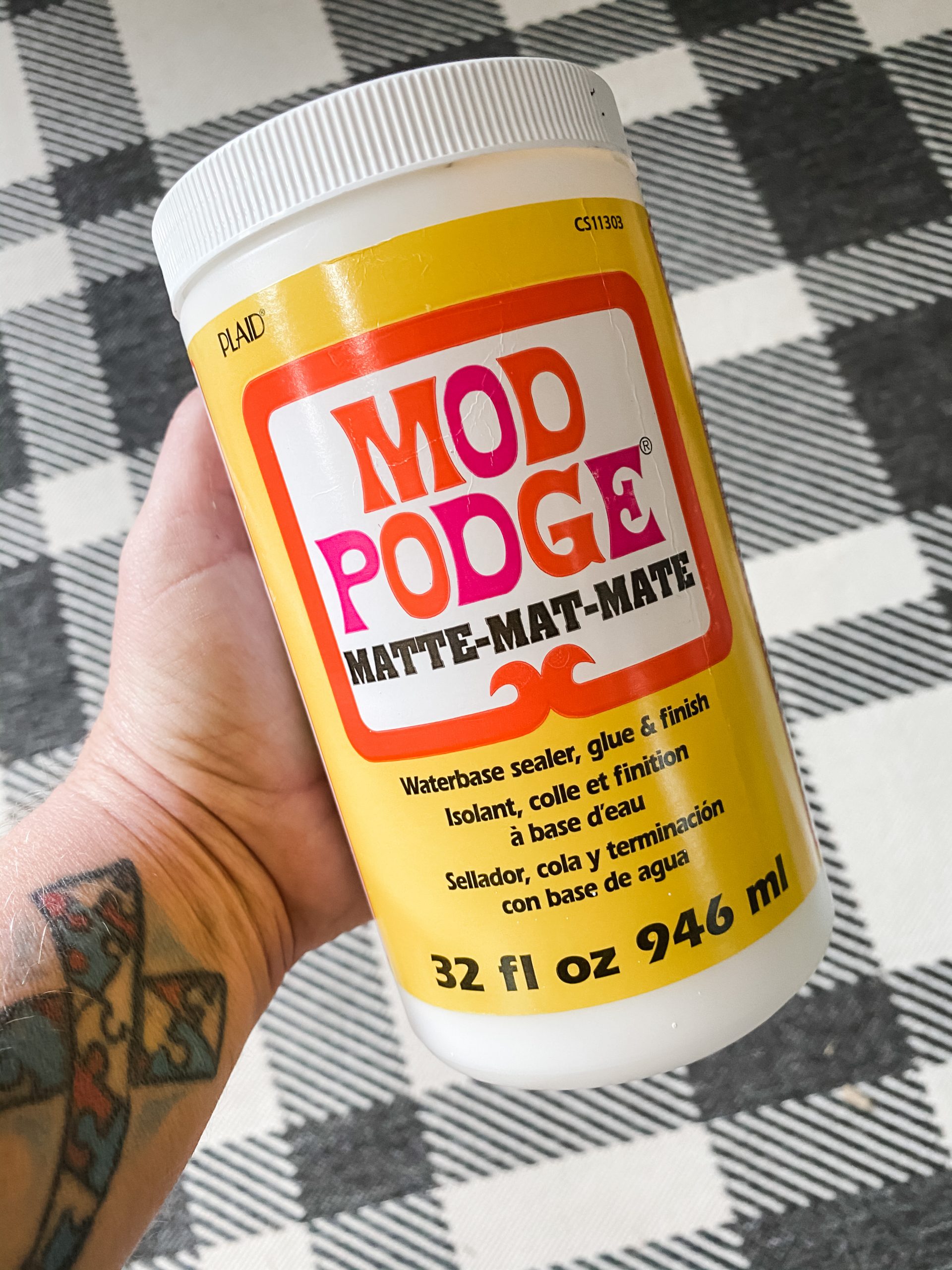 I mixed some Antique Wax with water and just brushed it over the book pages. This gives them an aged look and really adds some great detail to the project!
Apply Mod Podge to the frame, and then lay the pages down carefully on top of the Mod Podge.
Plank it
Remember those paint sticks you cut? Grab those again. To stain these, I lightly wet the wood and then pour the Apple Barrel Brown Paint directly onto the wood.
I wipe the paint across the wood with a baby wipe. The water helps the wood absorb the paint instead of just sticking to the surface. This gives us the stained look rather than a painted look.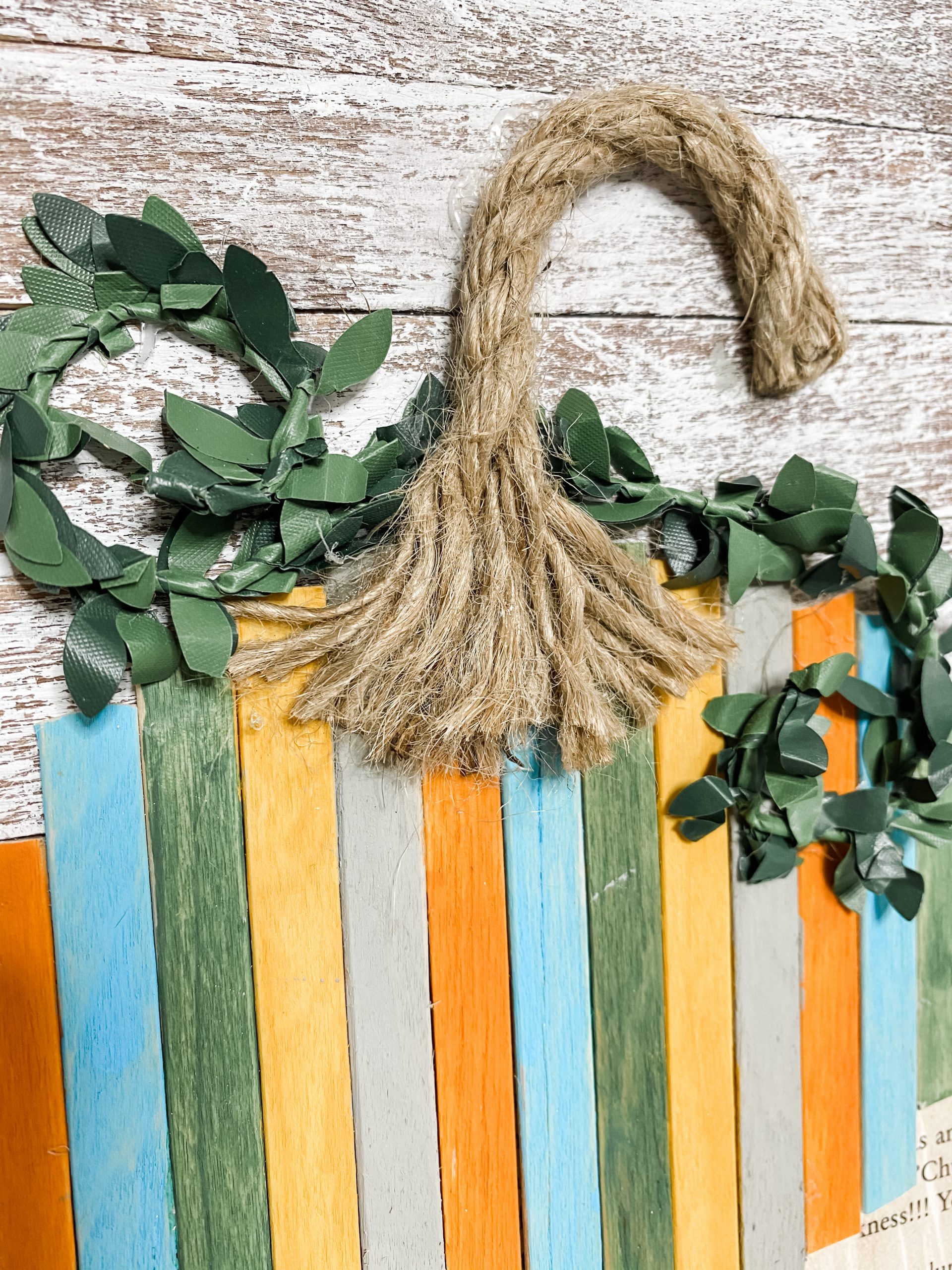 Next, I dry brushed some of the Folkart White Chalk paint onto the planks to really give them the distressed look I wanted. Once they're dry, just hot glue them into place!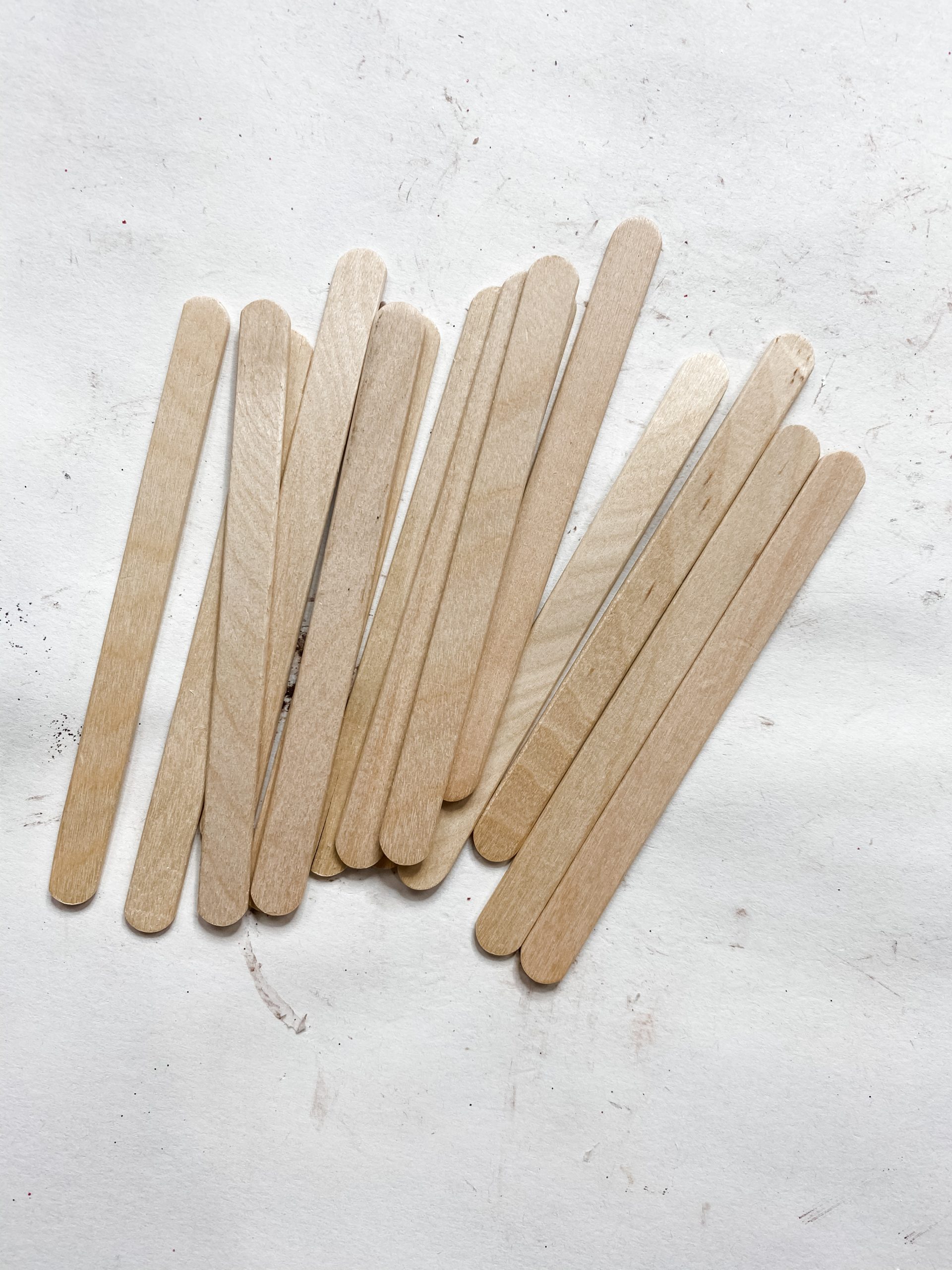 Popsicle Stick Pumpkin
To make the popsicle stick pumpkin, I laid out how many popsicle sticks would fit inside the frame. This showed me the width of my pumpkin.
I then trimmed the popsicle sticks to get a rounder, more pumpkin-like shape!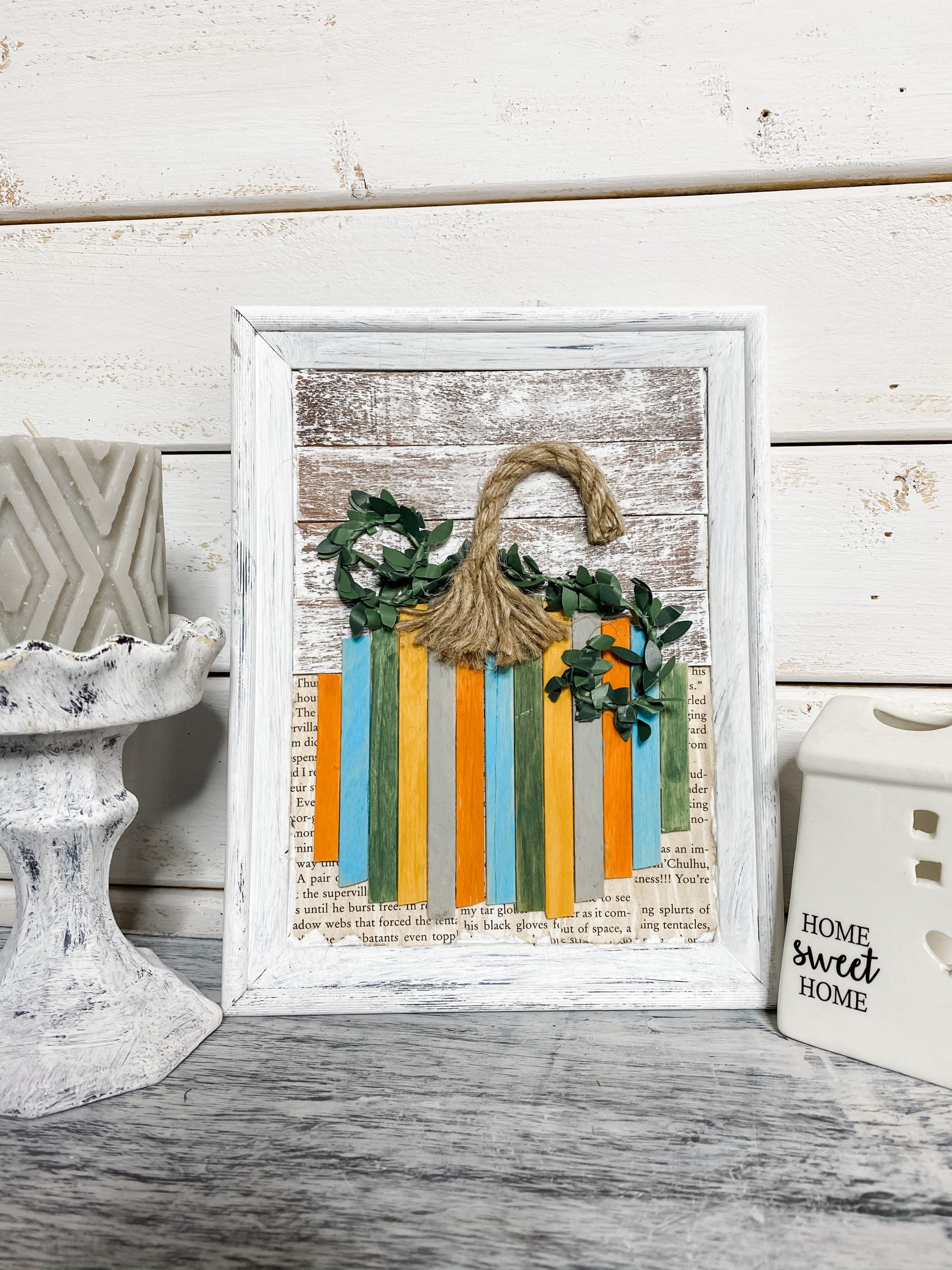 For this next part, you can use any color or color order you want. But you just paint each popsicle stick and lay them back down in order.
Go ahead and hot glue them down once they are painted, dry, and in order!
Make your stem
To make the stem of this Dollar Tree popsicle stick pumpkin, I took some nautical rope and unwound one end of it.
I cut it to the length that I wanted and then hot glued it into place. If you want to see exactly how I did this, you can watch the Facebook replay!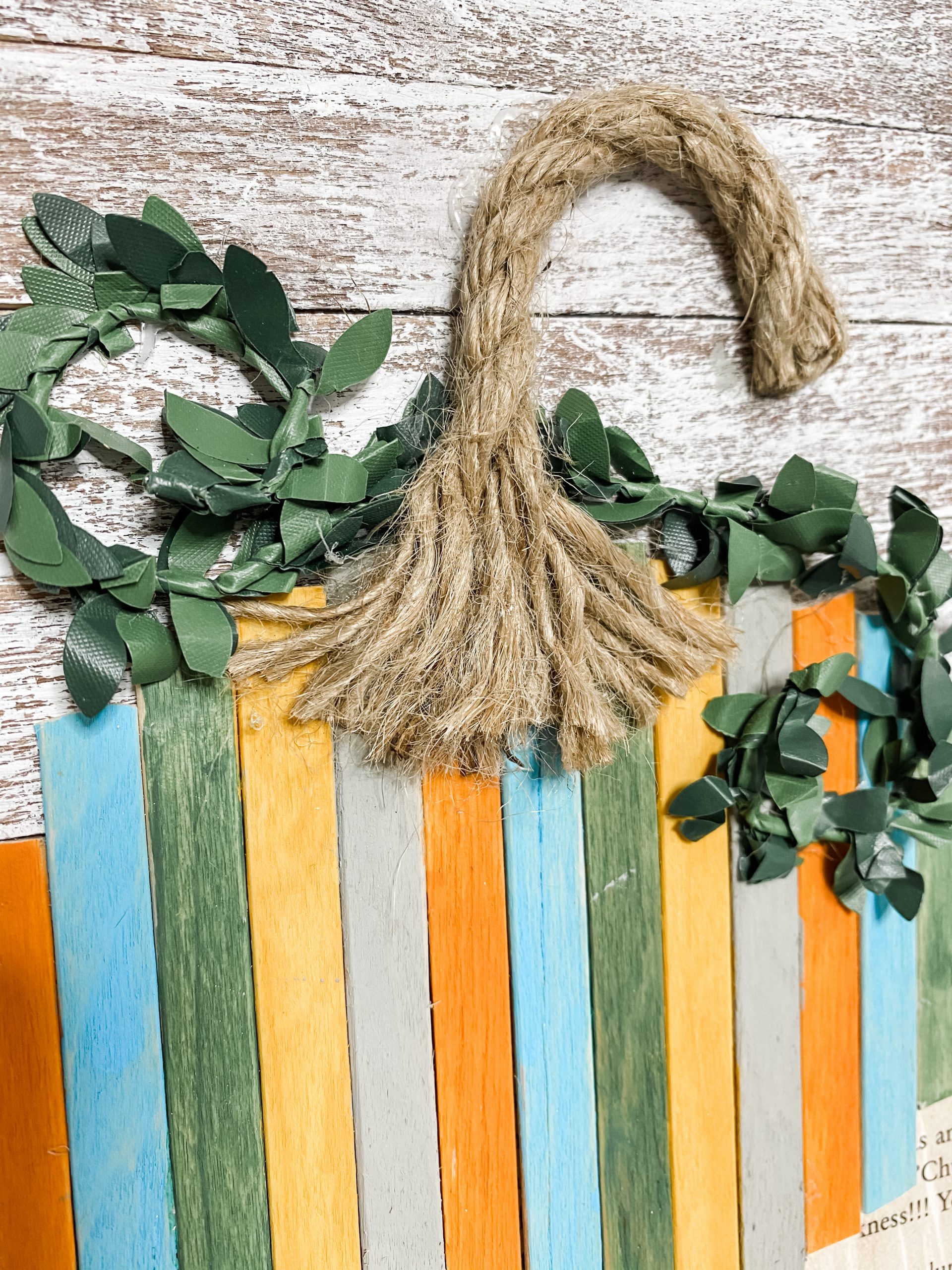 The finishing touches
The last thing to do is add the wired garland to the base of the stem! Just bend it into the shape you want – I kind of swirled mine – and then hot glue it down!
Just like that, you've learned how to make a Popsicle Stick Pumpkin Fall Decor DIY!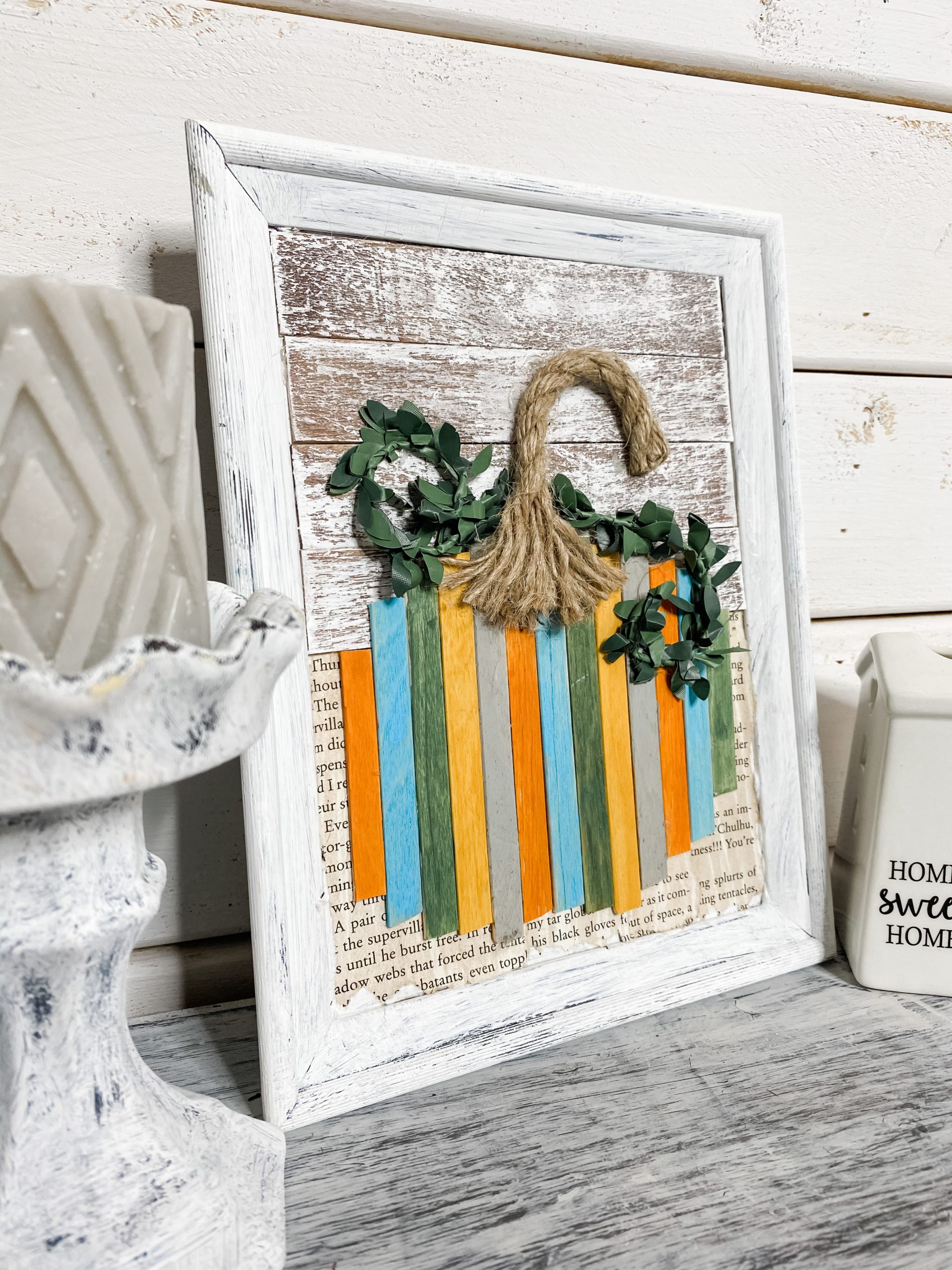 I hope you have loved this project as much as I do and plan to make one of your own! If you do, I have a FREE Facebook group for crafters where we all just share pictures of our projects!
It's called On A Budget Crafts, and I would love to see how you make this popsicle stick pumpkin your own!
If you loved this DIY you might also like this Fall Pumpkin Decor DIY!
Thanks for stopping by! XOXO Amber
You can also shop my ENTIRE AMAZON Favorites shop just click here! It's packed full of all the things I use and love.
Here is the supply list I highly recommend every creative have on hand!! Would you also pin my blog for later and get on my newsletter alerts? I would love to have you join my #craftycrew.

Join my free "ON A BUDGET CRAFTS" Facebook group!
PIN THIS POST FOR LATER!