How to DIY a Fall Buffalo Check Pumpkin with a Dollar Tree Bath Mat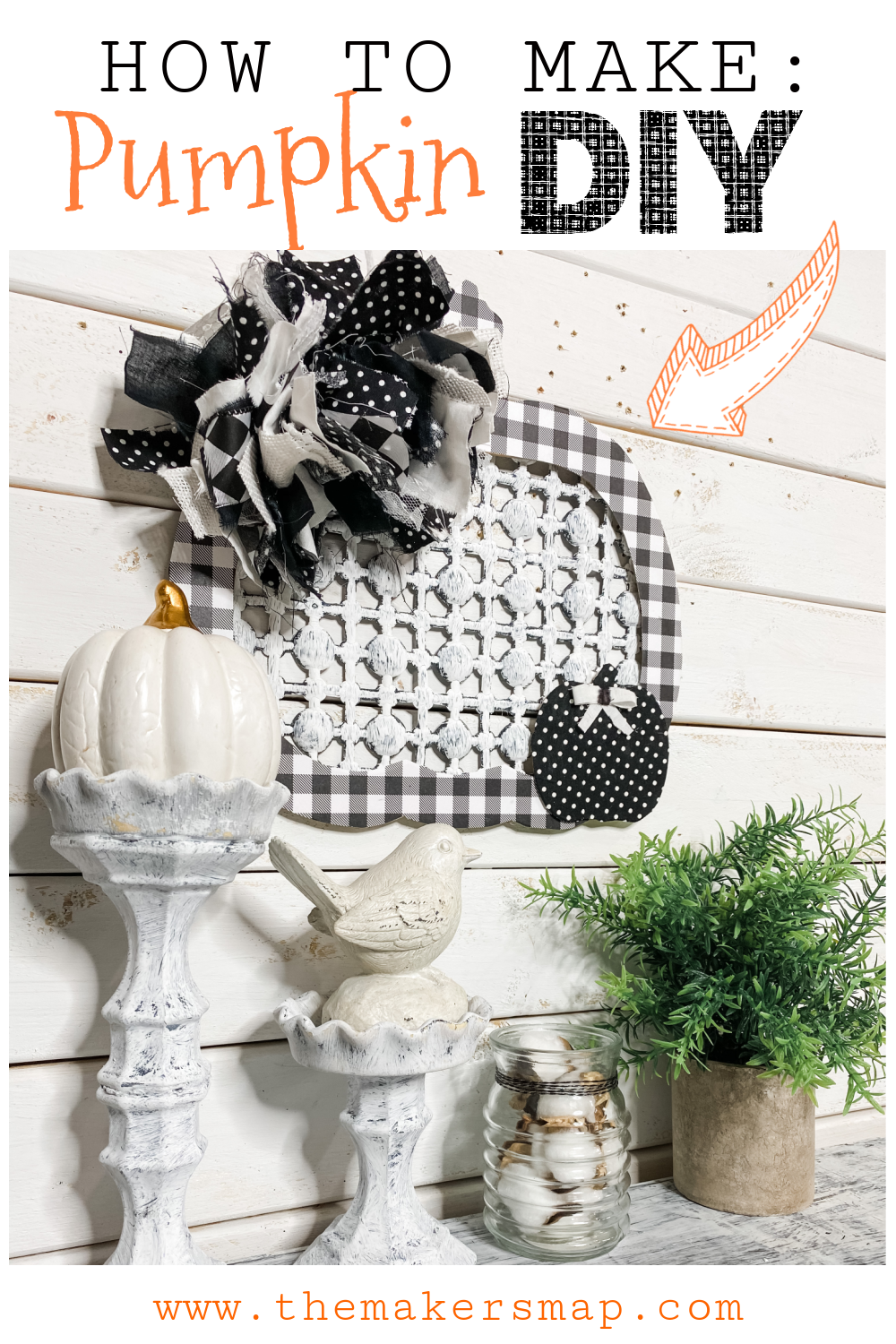 Okay, y'all. This adorable DIY Buffalo Check Pumpkin is a bit of an oldie, but it is DEFINITELY a goodie! It is no secret that I am obsessed with Dollar Tree.
What can I say? I love taking cheap items and turning them into high-end-looking decorations! Not only that, but I love sharing my ideas and techniques with my #craftycrew.
That's why I just HAVE to tell you how to DIY a Fall Buffalo Check Pumpkin with a Dollar Tree bath mat!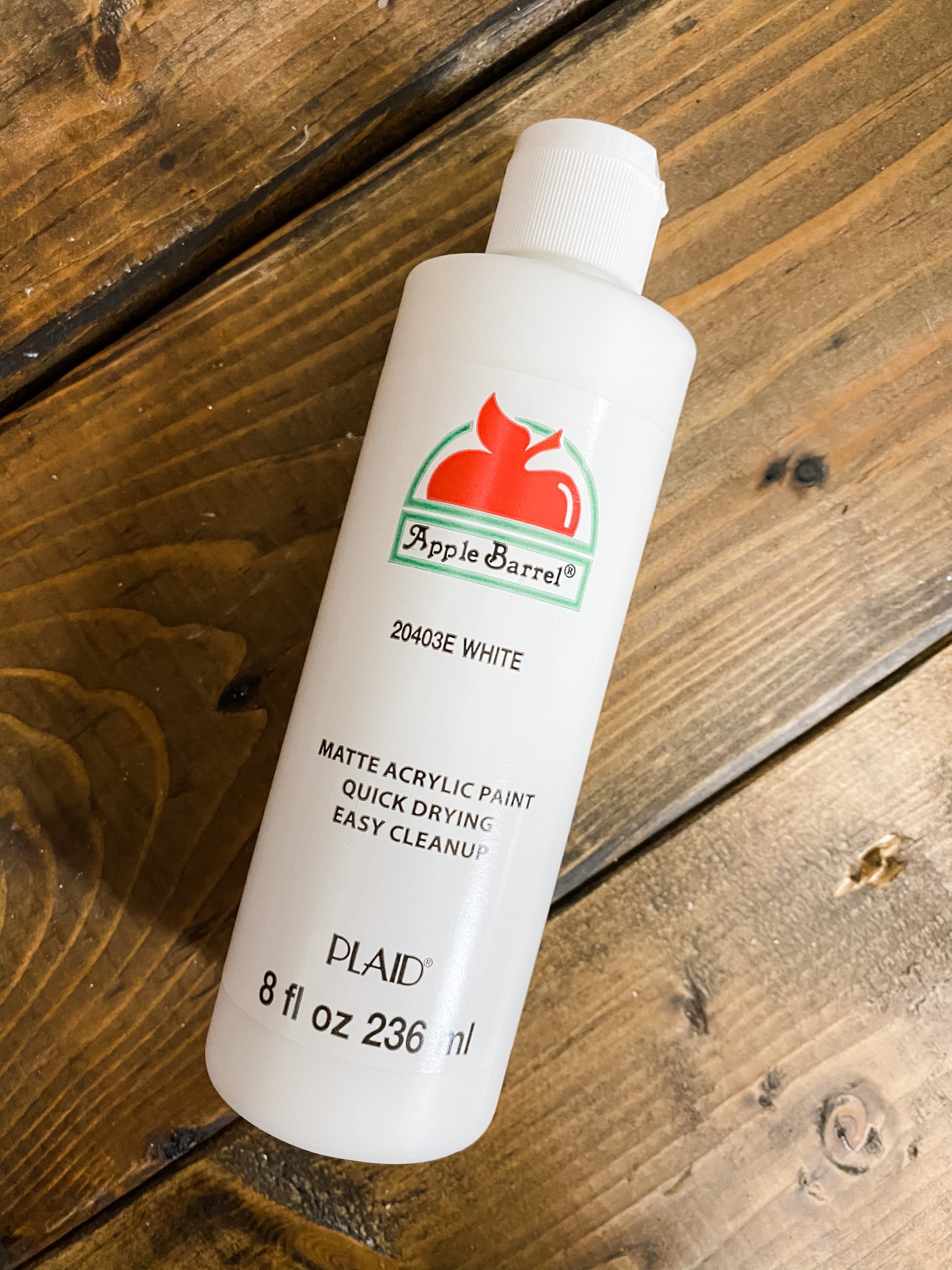 Watch the replay
If you love all things DIY and crafting, you NEED to go check out my Facebook page. I go LIVE on there several times a week and show my #craftycrew different DIY crafts.
I made this super cute buffalo check pumpkin while LIVE on my Facebook page! You can check out the replay if you want!

For this project, I will be using these items but you can substitute where you want.
"As an Amazon Associate, I earn from qualifying purchases."
White Acrylic Paint
Rustoleum Slate Spraypaint
Buffalo Check Paper from Hobby Lobby
White Burlap Ribbon (Hobby Lobby)
Polka Dot Fabric (Walmart)
White fabric (Walmart)
Harlequin Ribbon (Hobby Lobby)
Dollar Tree Pumpkin Ornament (3pack)
Dollar Tree Pumpkin Decor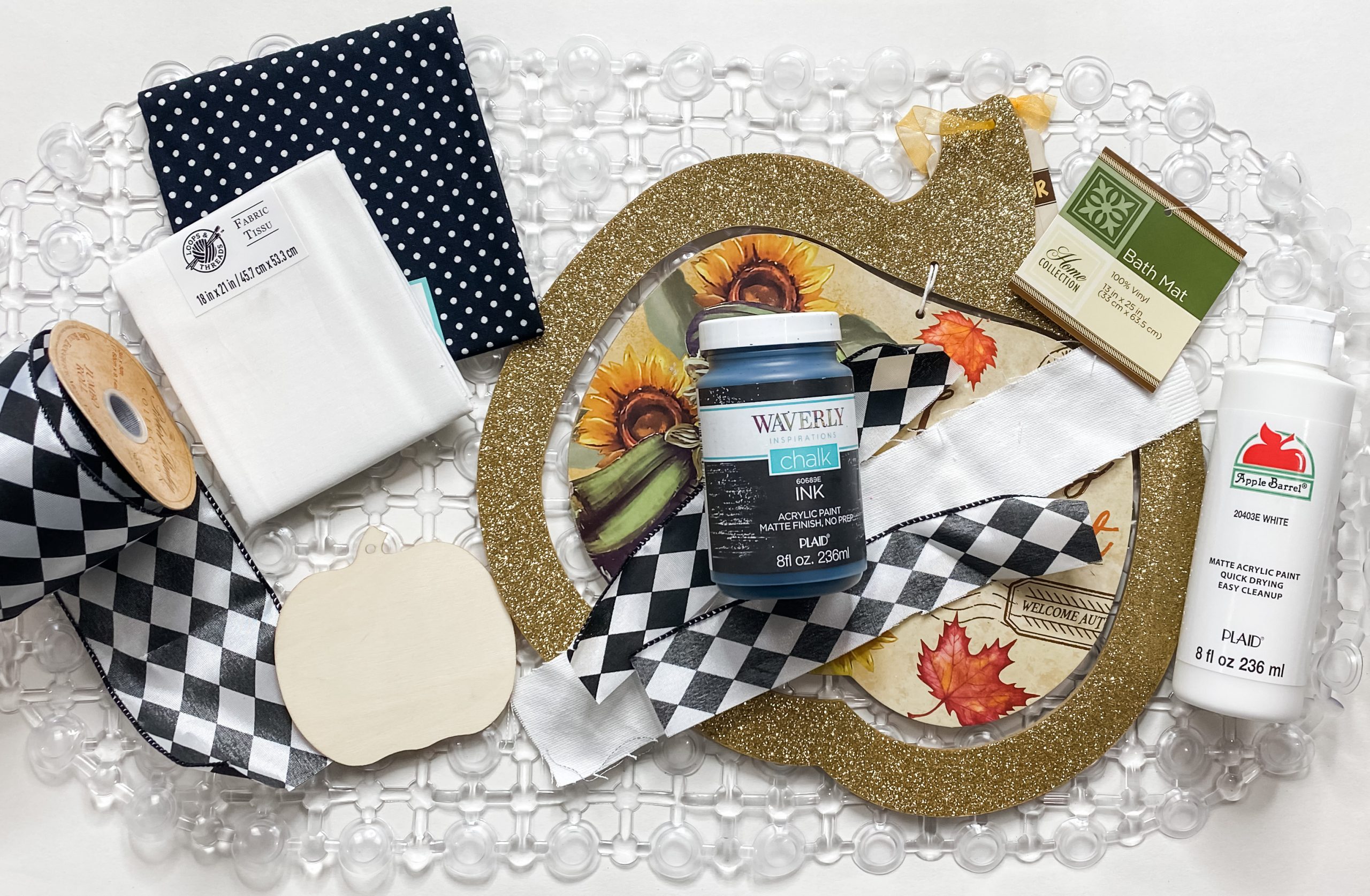 Let's get started
Alright, let's start making this cute buffalo check pumpkin DIY! The first thing I did was remove the center pumpkin from my Dollar Tree wood pumpkin decor.
We are going to use the outside frame and decoupage it later, so set it to the side!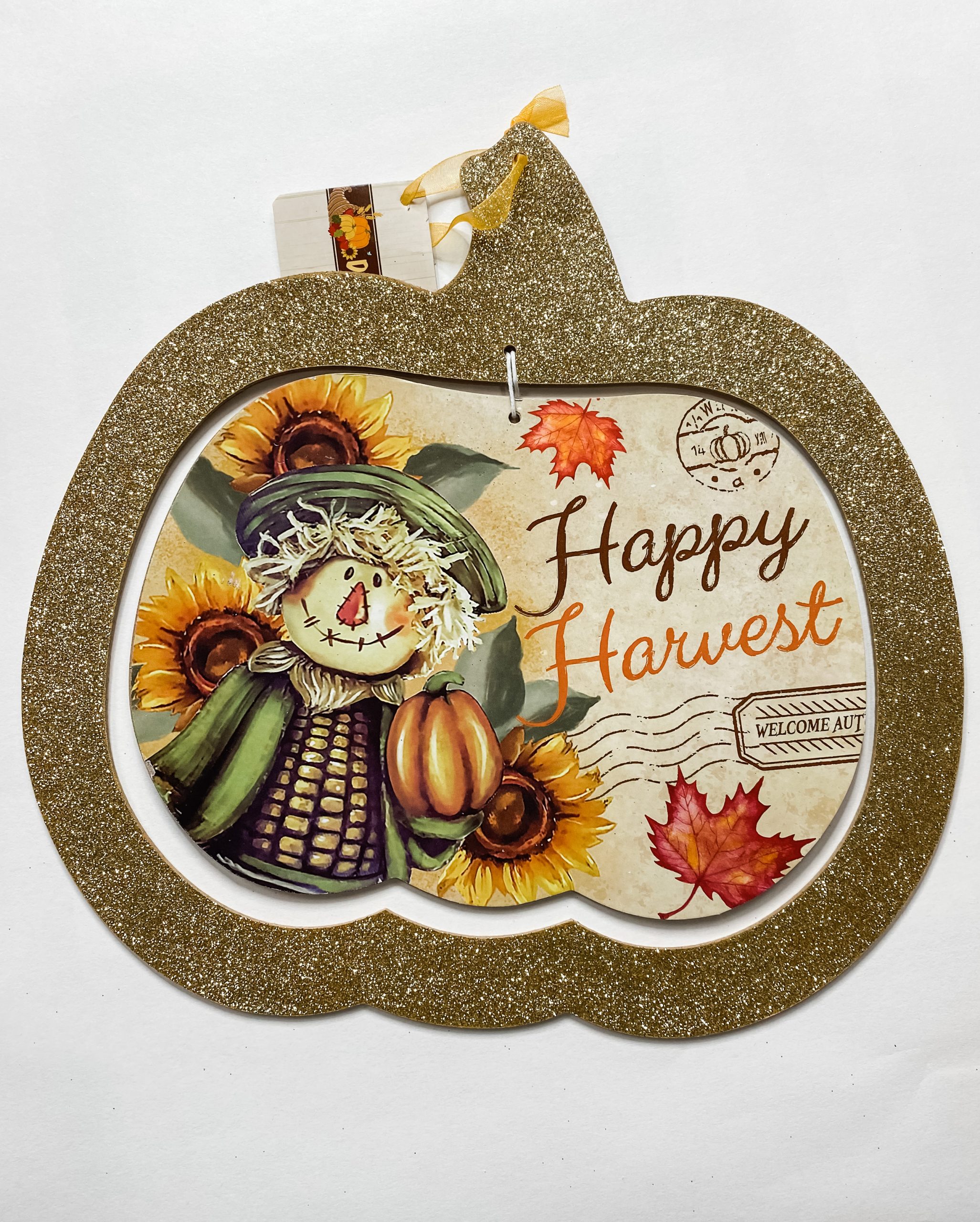 Next, I trimmed the Dollar Tree bath mat to a smaller size – closer to the size of the pumpkin frame. It doesn't have to be a perfect fit just yet.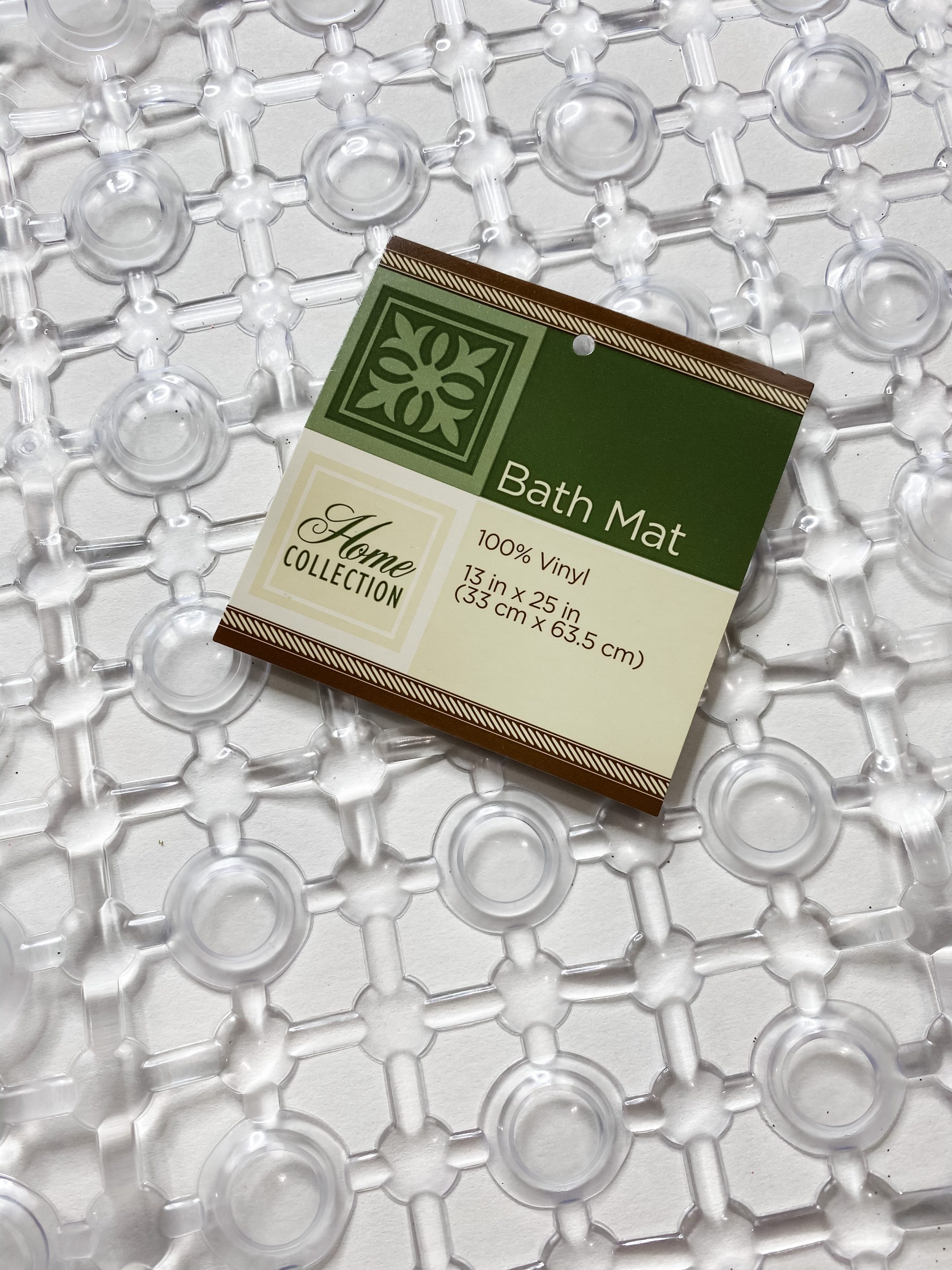 I used the Rustoleum Slate Spraypaint and covered the bath mat in an even coating.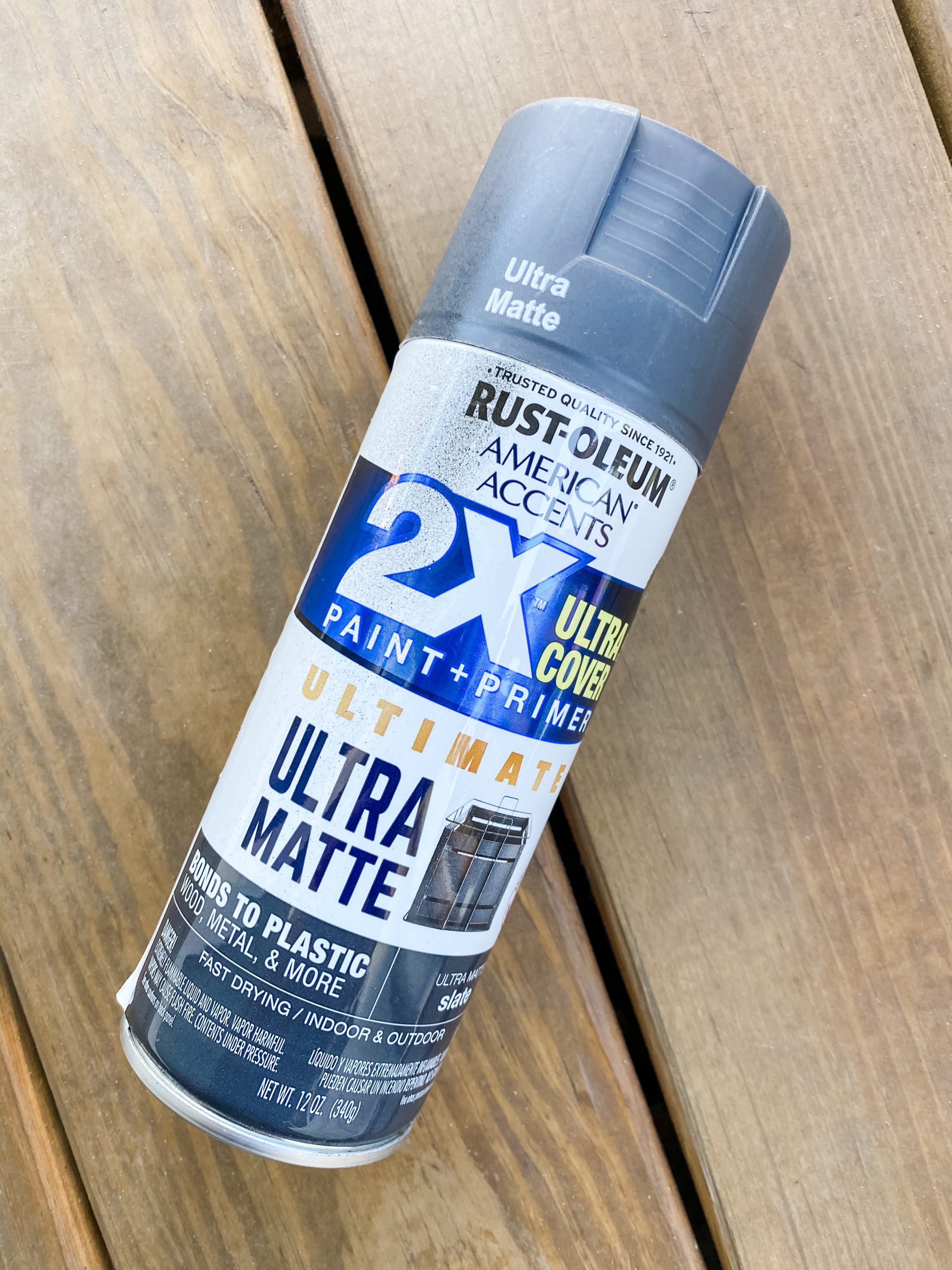 Grab your pumpkin
While the bath mat is drying, I started working on the pumpkin frame. Next, I traced the shape of the pumpkin onto the back of the buffalo check paper and cut it out to fit it onto the pumpkin.
Apply an even coat of Mod Podge to the surface of the pumpkin and then carefully apply the buffalo check paper cut out.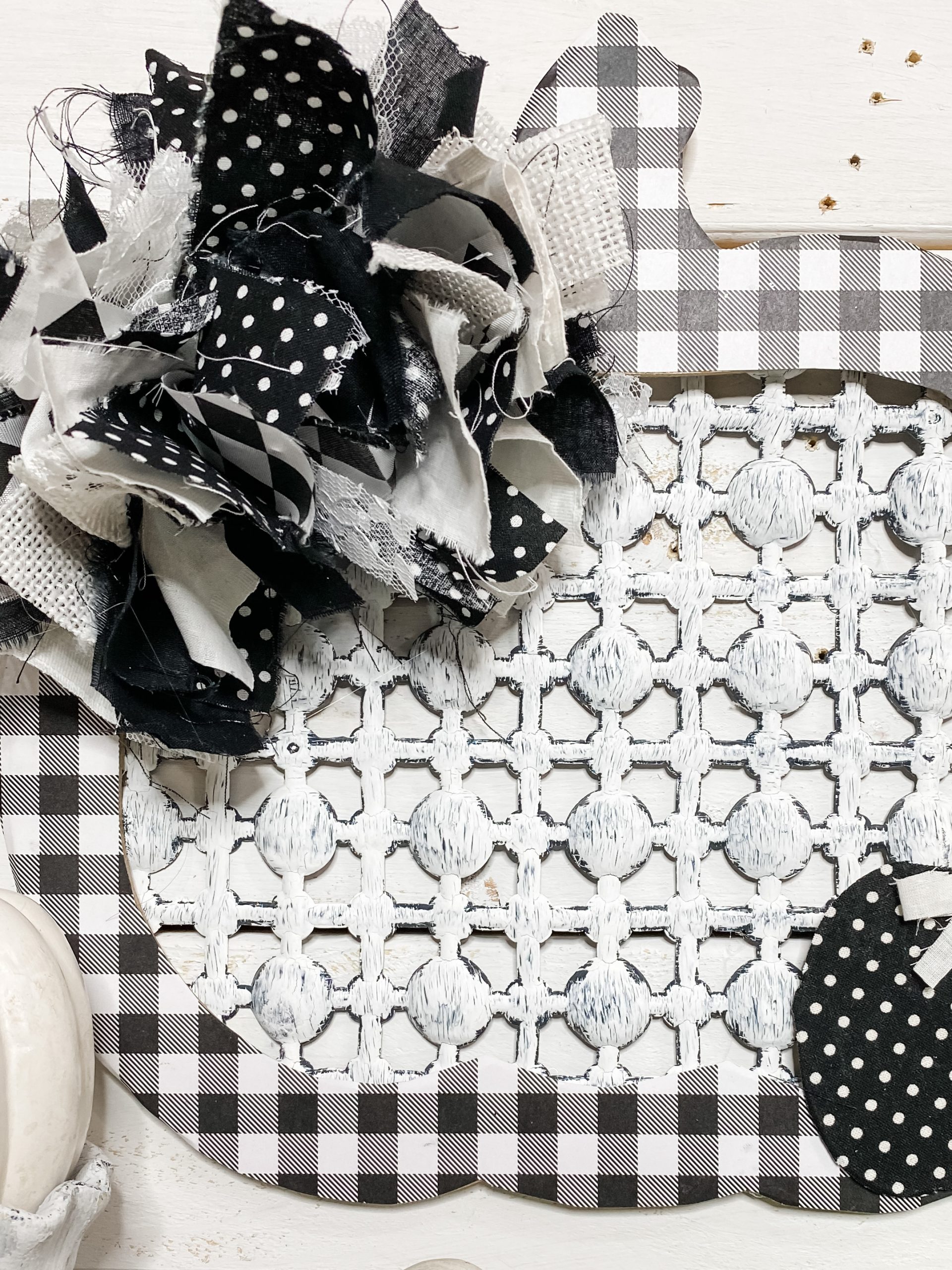 Make your messy bow
I love making these adorable messy bows in my crafts because there is no wrong way to make them!
They are just a little difficult to explain how to make without showing you, but you can see exactly how I made this one in the Facebook replay on my page!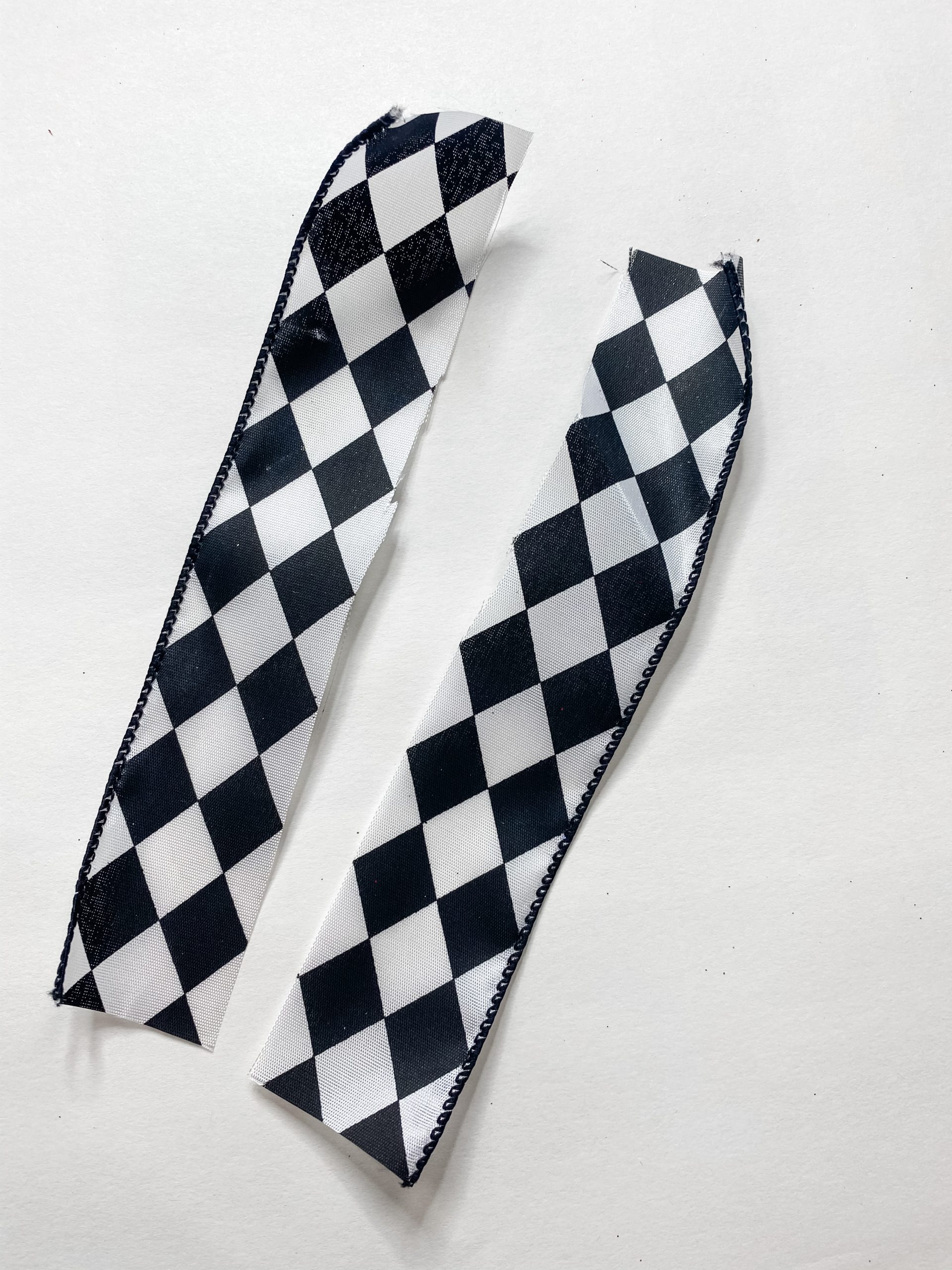 Basically, I cut the fabrics and ribbons I want to use in the messy bow, layer them in random orders and then secure them with another piece of ribbon tied around the center.
You can also add some bling if you want! I love the selection that Totally Dazzled has! Go ahead and hot glue the messy bow where you want it on the pumpkin frame!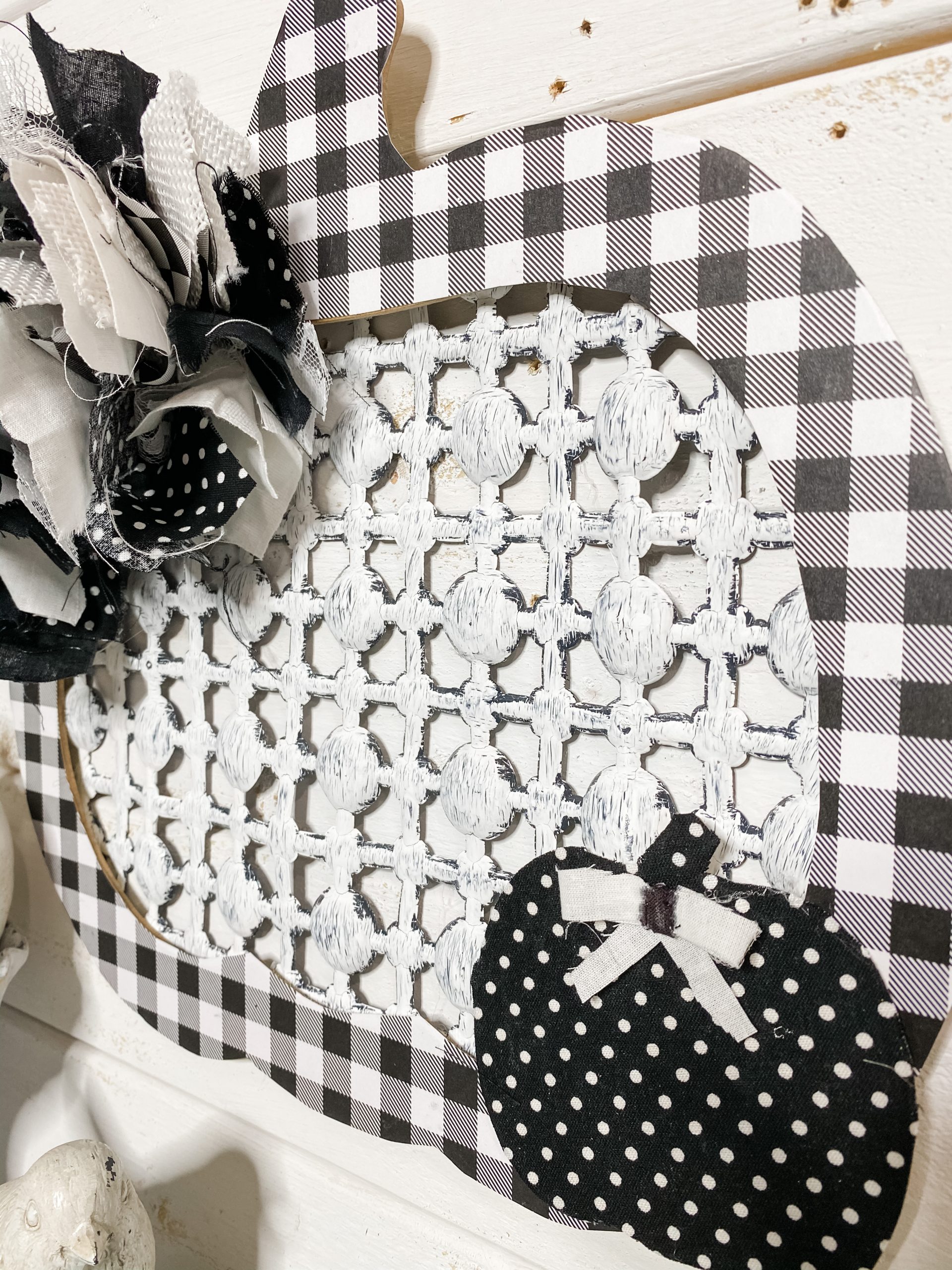 It's starting to come together now!
The spray paint should be dry by now. I just dry-brushed the white paint across the bath mat and it gave it a kind of distressed look.
Once the white paint is dry, it is time to attach the bathmat to the pumpkin frame. Lay the pumpkin frame face down and set the bath mat face down on top of it.
Now, trim the edges of the bath mat so that nothing hangs over the edges of the pumpkin frame. I used my hot glue gun to attach the bath mat to the pumpkin.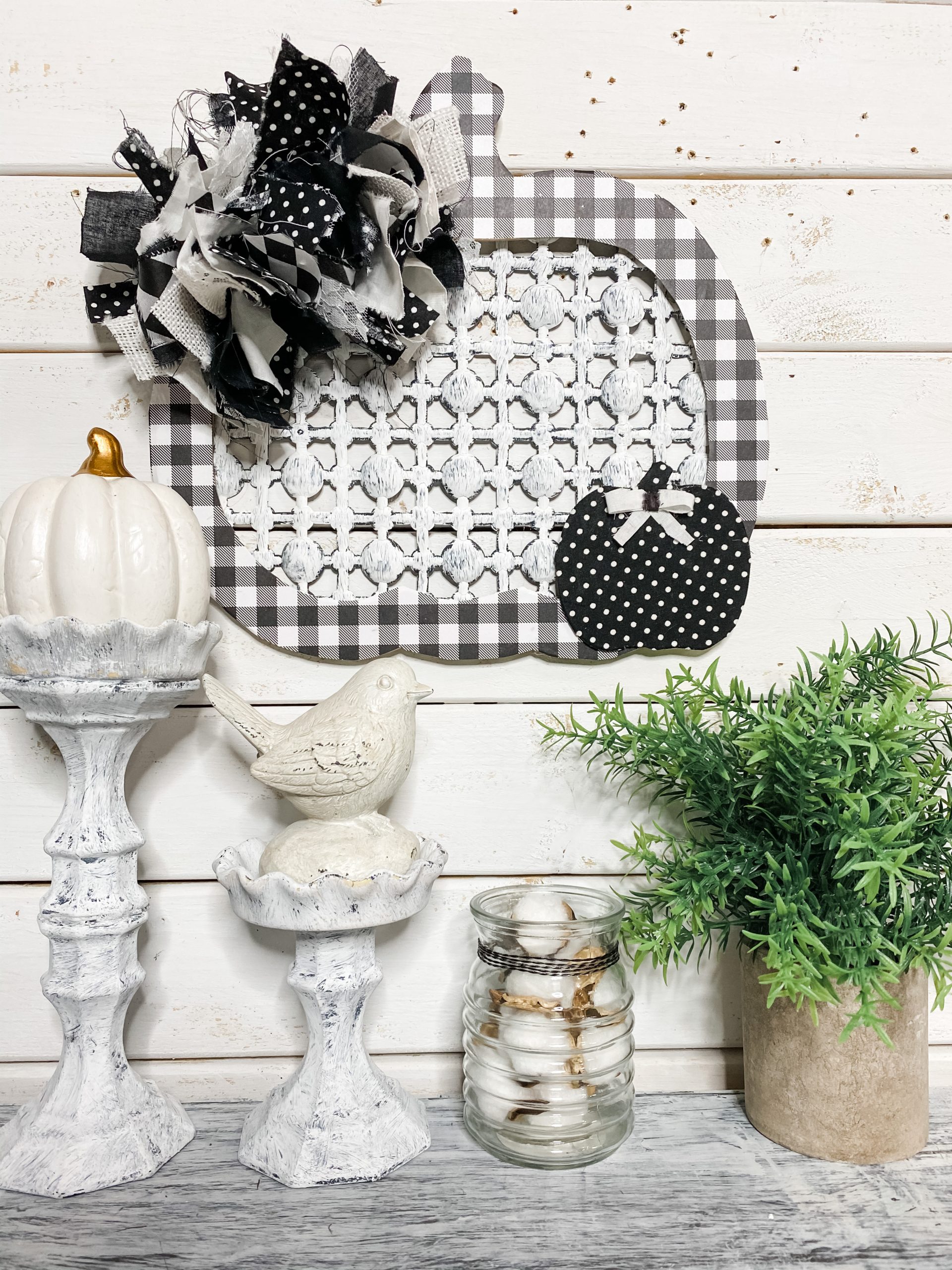 The little pumpkin
The last thing you have to do to make this DIY Fall Buffalo Check Pumpkin with a Dollar Tree bath mat is decorate the little Dollar Tree pumpkin ornament!
I used a polka dot fabric from Walmart, but you could use whatever pattern you want!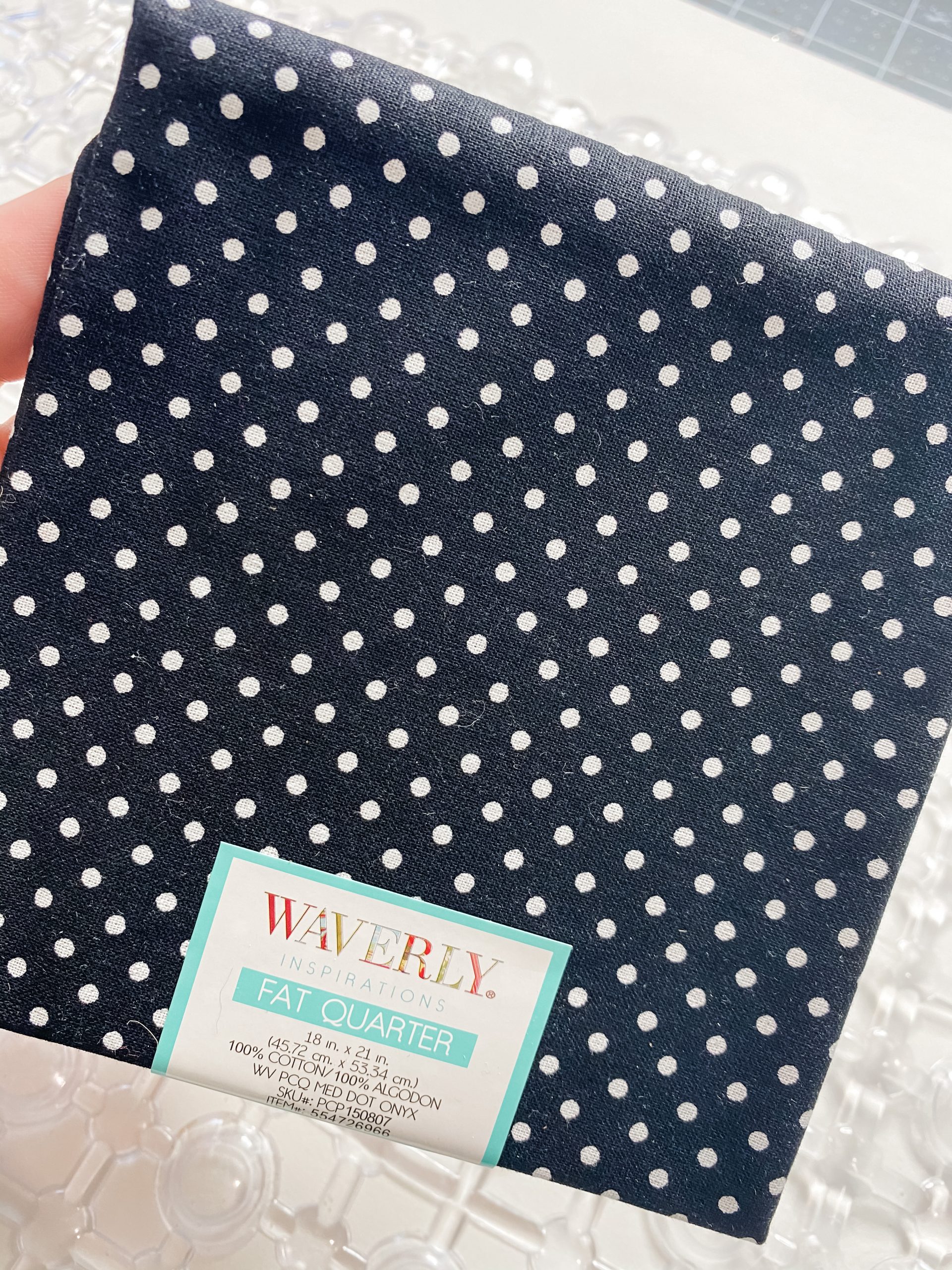 Just cut it to fit the little pumpkin first. Next, apply Mod Podge to the pumpkin and then carefully lay the fabric onto the Mod Podge. Use a card or rolling pin to smooth out bubbles and wrinkles.
To make the tiny little bow on the small pumpkin, I just cut some fabric and hot glued it in the shape of a small bow. See exactly how I did it in the Facebook replay!
How cute is this!?
Oh my gosh! How absolutely CUTE did this turn out?? I hope you loved this easy Fall DIY as much as I did and enjoyed learning how to make a DIY fall buffalo check pumpkin with a Dollar Tree bath mat!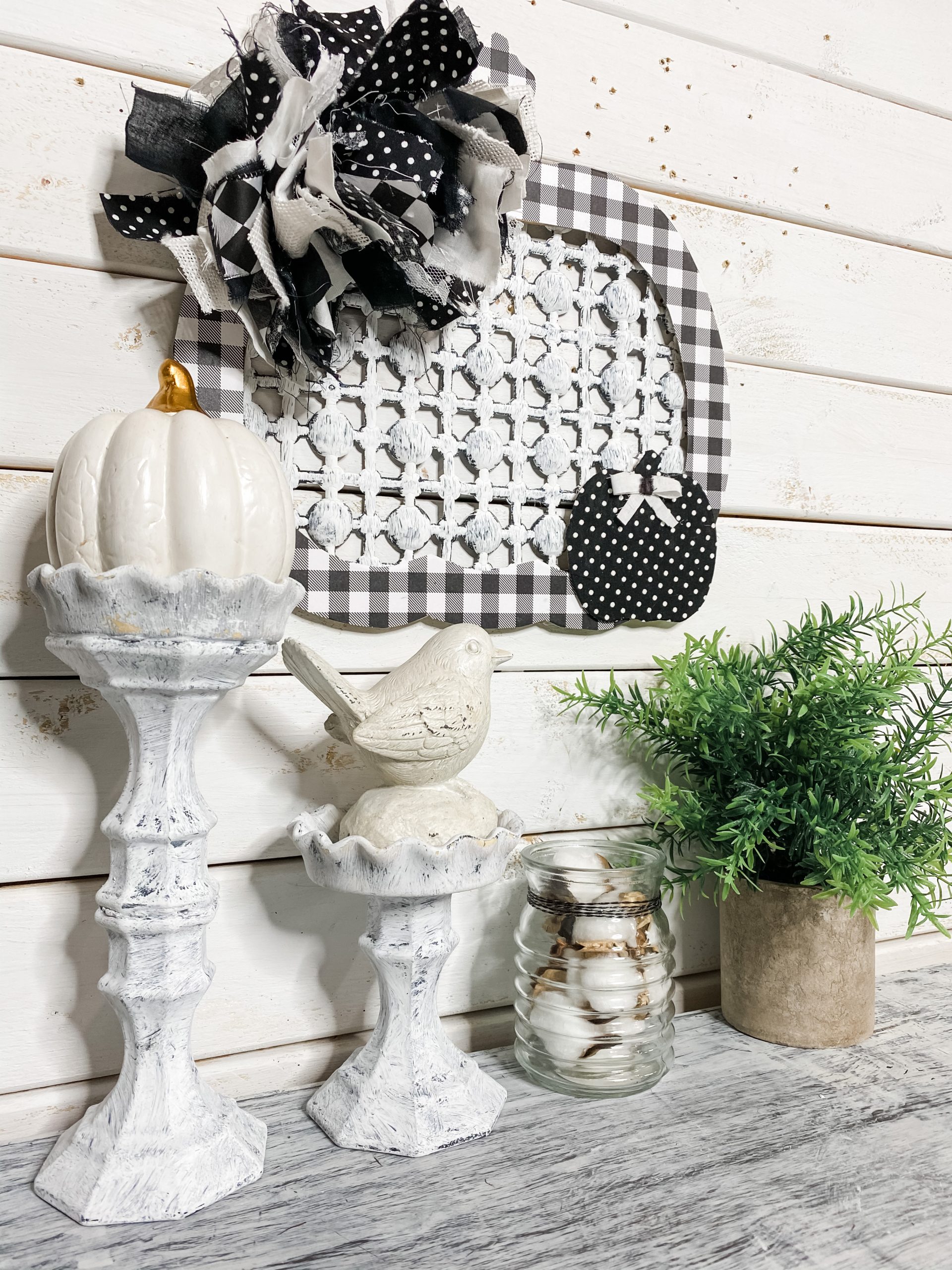 Thanks for stopping by! XOXO Amber
You can also shop my ENTIRE AMAZON Favorites shop just click here! It's packed full of all the things I use and love.
Here is the supply list I highly recommend every creative have on hand!! Would you also pin my blog for later and get on my newsletter alerts? I would love to have you join my #craftycrew.

Join my free "ON A BUDGET CRAFTS" Facebook group!