Dollar Tree Rustic Fall Truck DIY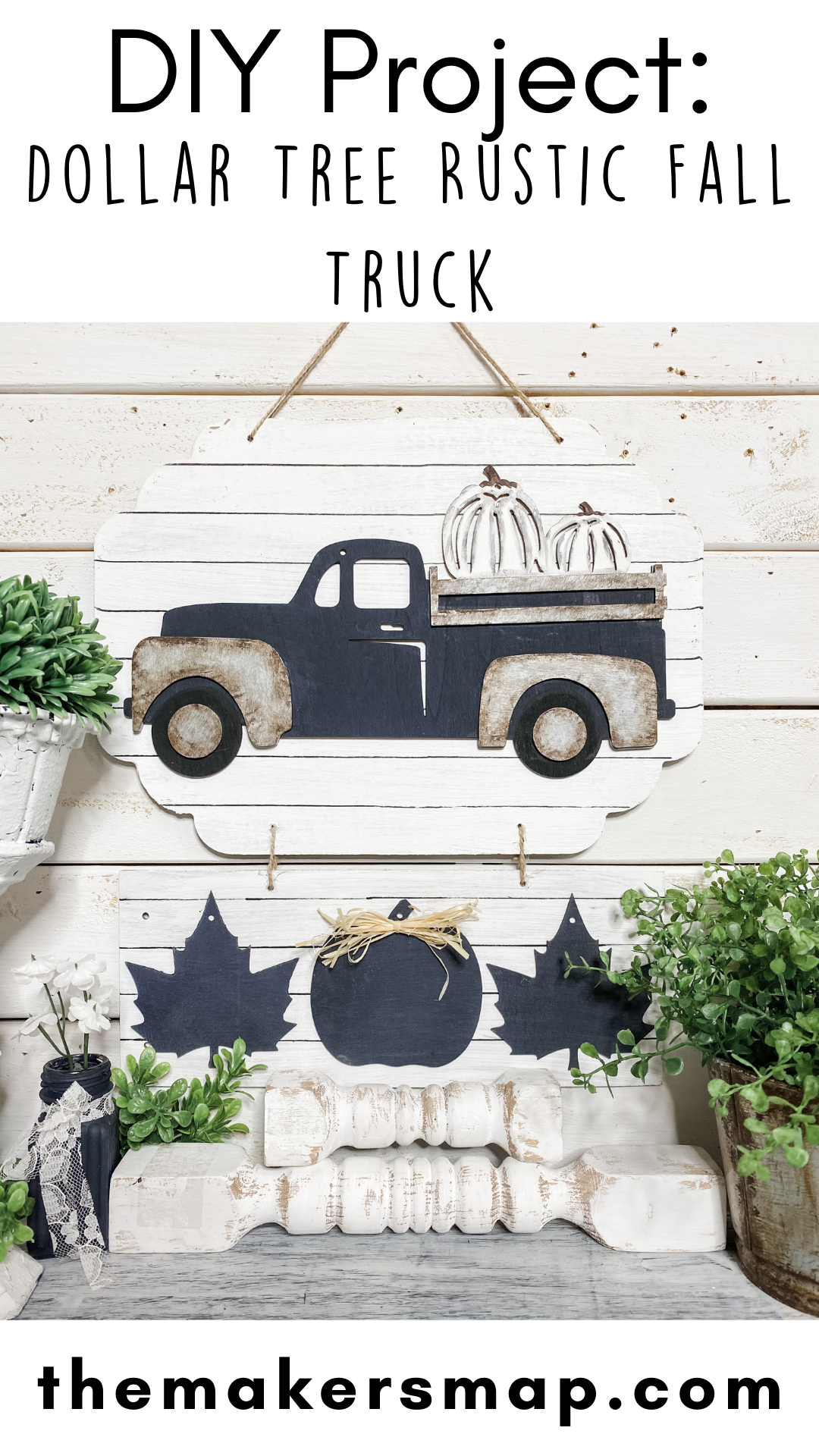 I could not be happier with how good this Dollar Tree Rustic Fall Truck DIY looks! This is the perfect project for customizing because you have to paint each of the pieces, which means the possibilities are ENDLESS! And can I just say that the raffia on the pumpkin just gives this project an extra fall-feeling?
I made this project to hang on my bedroom door. For those of you who don't know, I recently redecorated my bedroom in navy. I know it kind of looks black in the picture, but the truck, leaves, and pumpkin are all painted with "In the Navy" from Dixie Belle.
Want to know how I did it? You can watch me make this Dollar Tree Rustic Fall Truck DIY!
I just love how navy looks on fall DIY decor projects! Can you believe that the truck is just a wood cut out? I wanted it to have that "rustic" feel, so I made it look rusted on some parts.
Not sure how to do that? No worries! I show you exactly how to do it and explain the process in the video just above!
DIY Decor
I am always making new things to decorate my house with. That's actually where most of my projects end up! (My husband loves it because it looks good, and saves us money!) I plan on hanging this one on my bedroom door, but where would you put it?
If you're like me and you're always making something to decorate your house with, I wanna see what you've made! I have a free group on Facebook where you can share your creations and get inspired by others too, it is called On a Budget Crafts.
You can find so many more crafts on my Facebook Page! I go LIVE often with DIY projects and even have groups DEDICATED to DIY projects.
Time to make this Dollar Tree Rustic Fall Truck DIY!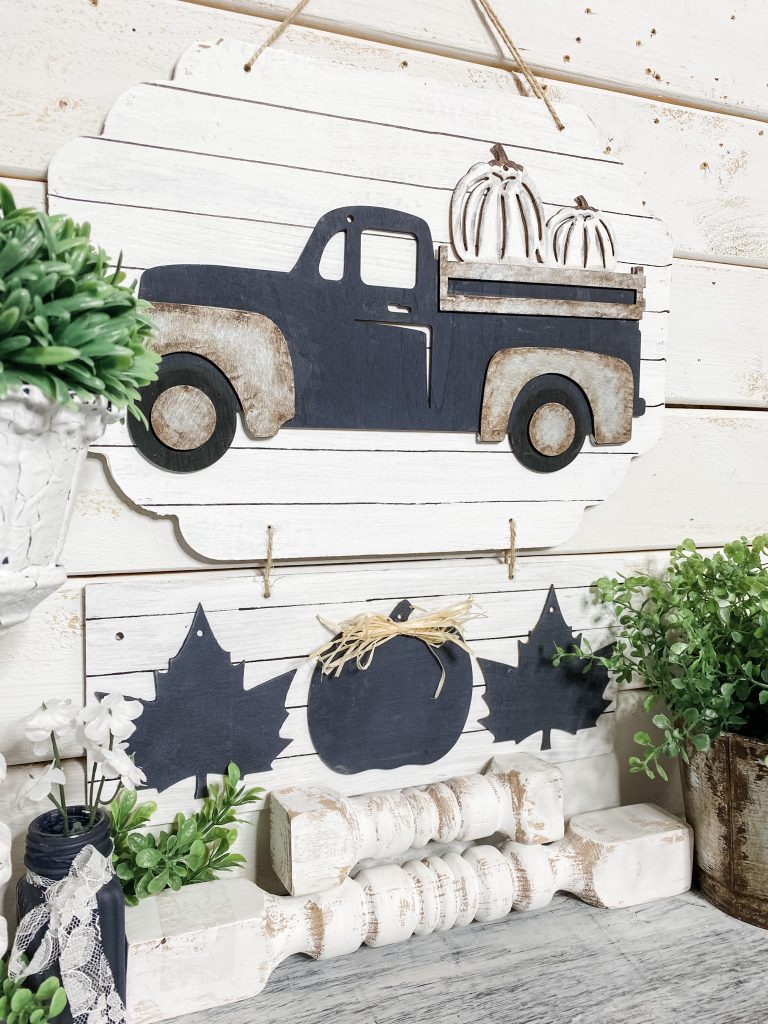 Alright! Let's get right to it! (these are my affiliate links. If a purchase is made through one of my links I may earn a small commission but that does not cost you any extra)
"As an Amazon Associate, I earn from qualifying purchases."
To make a Dollar Tree Fall Foam Pumpkin, you will need:
2x Dollar Tree Fall Sign Board
6pk. Dollar Tree pumpkins
6pk. Dollar Tree Leaves
Dollar Tree artisan paintbrushes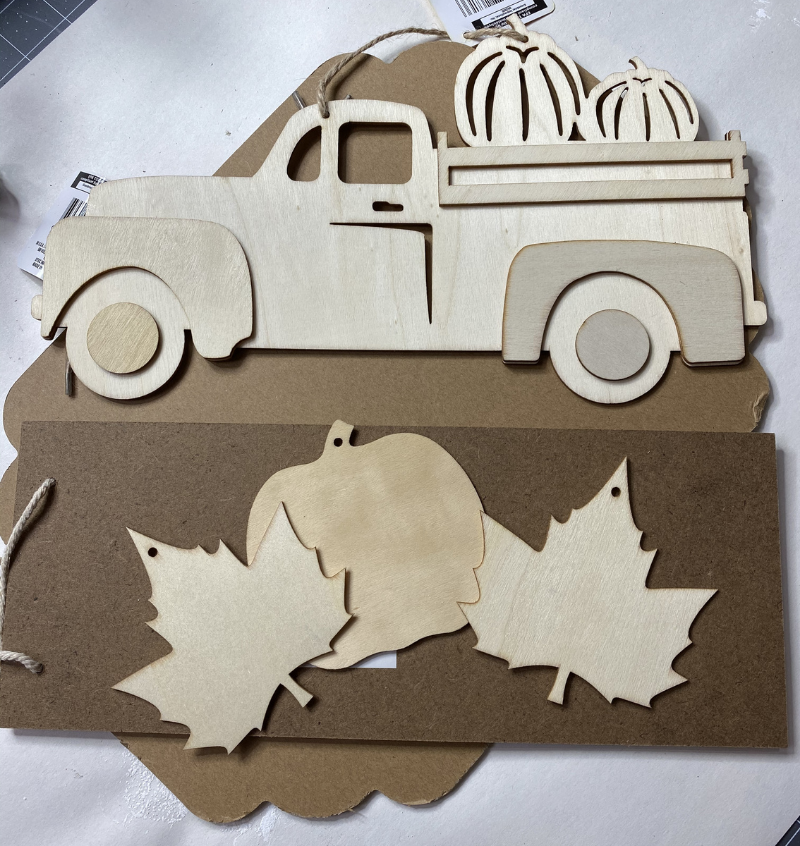 I don't ever want you to just copy what I do. Where's the fun in that? Let me be your inspiration and remember to think outside the box!
Have fun making this super cute Dollar Tree Rustic Fall Truck DIY! I'll see you on the next blog post, #craftycrew!
XOXO – Amber
Pin this for later!