Bamboo Skewer DIY Farmhouse Decor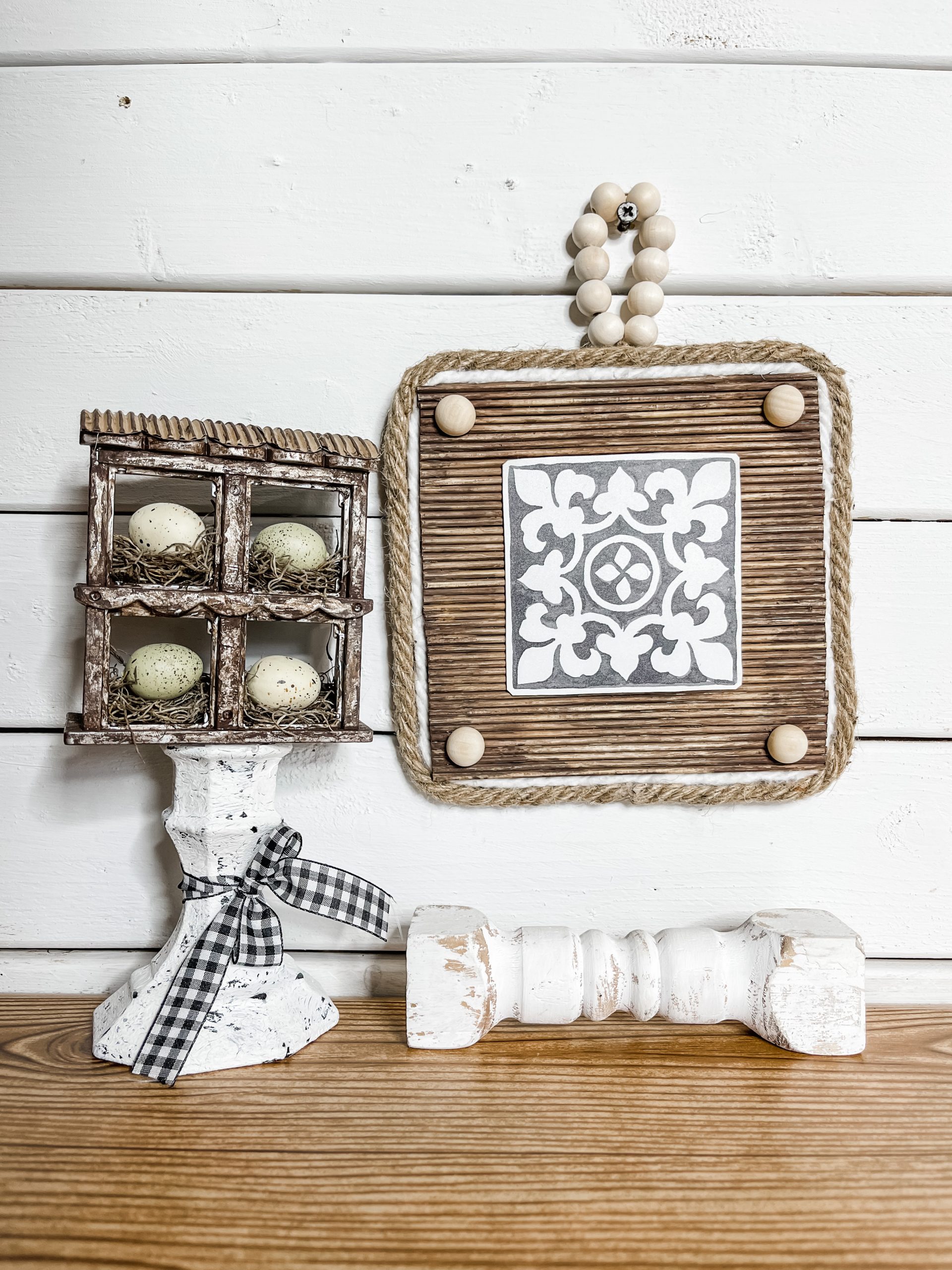 I've been on a crafting kick with Dollar Tree bamboo skewers lately, but I am not ashamed, because that's how I came up with this adorable Bamboo Skewer DIY Farmhouse Decor!
Here are some other DIY projects I've made with bamboo skewers!
Watch the DIY tutorial
I recorded the how-to steps of making this easy Bamboo Skewer DIY Farmhouse Decor during a LIVE video on my Facebook page.
If you want to see the DIY process, craft along, or just join in on the fun conversations, you can watch the DIY tutorial replay!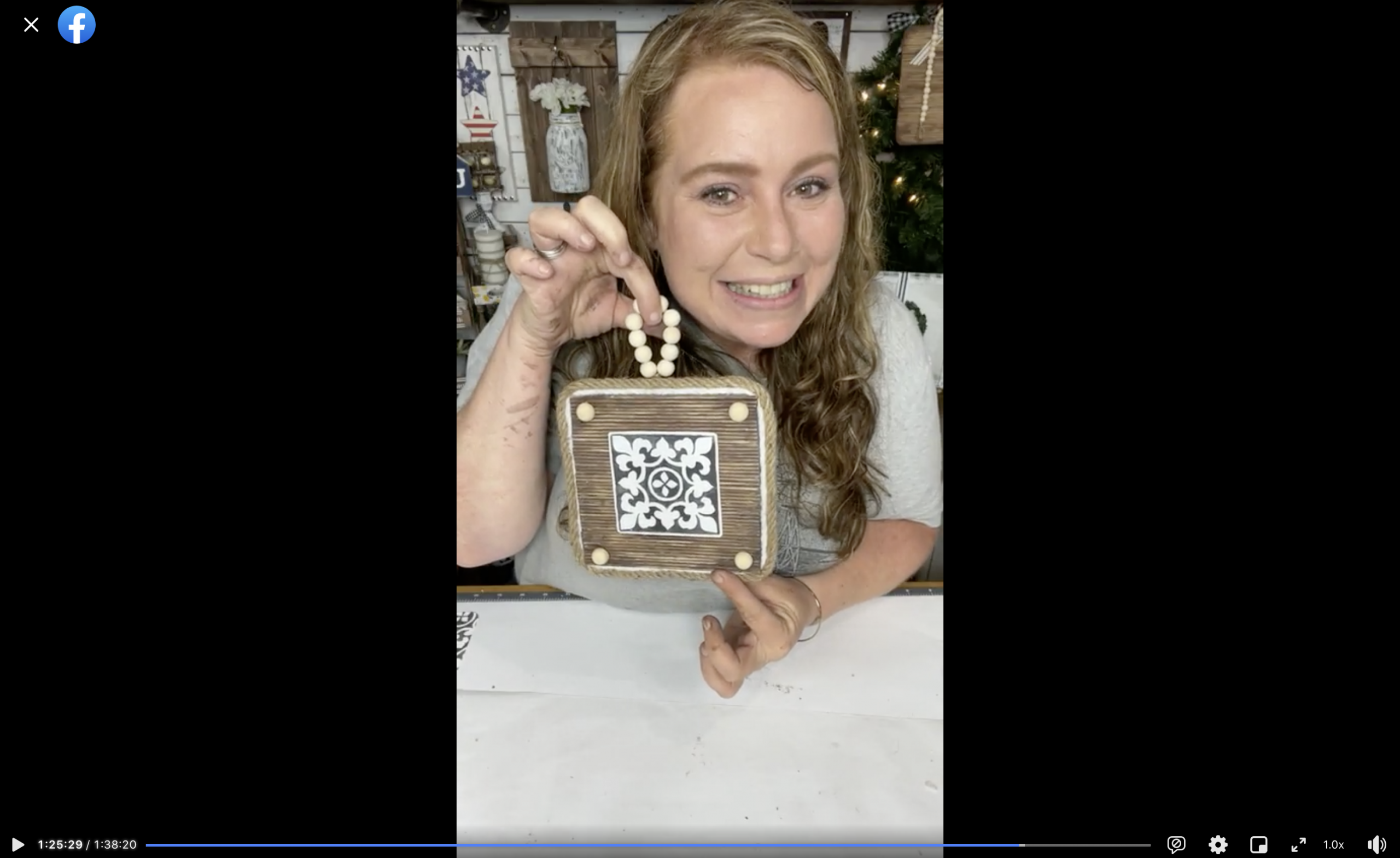 For this project, I will be using these items, but you can substitute where you want.
"As an Amazon Associate, I earn from qualifying purchases."
Dollar Tree Wood Puzzle Board
Dollar Tree Bamboo Skewers
Wood Beads
Half Wood Beads
Dollar Tree Mop Head
Dollar Tree Nautical Rope
Hobby Lobby Plastic Placemat
Cardboard
Apple Barrel Burnt Umber Acrylic Paint
Apple Barrel Territorial Beige Acrylic Paint
Jute Twine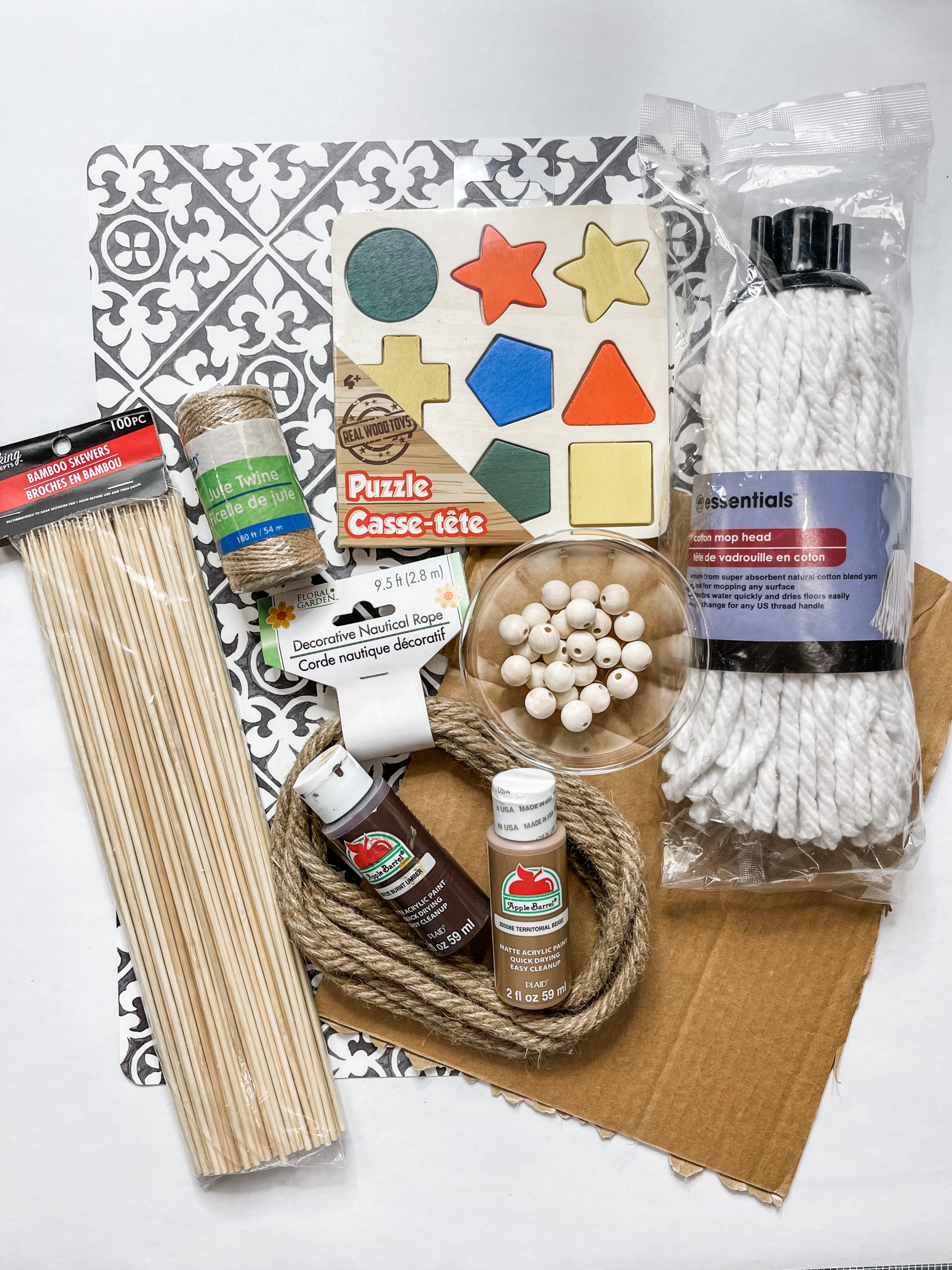 How to Make Bamboo Skewer DIY Farmhouse Decor
Start by removing the puzzle pieces from the Dollar Tree wood puzzle board and turn the board over so you have a flat surface in front of you.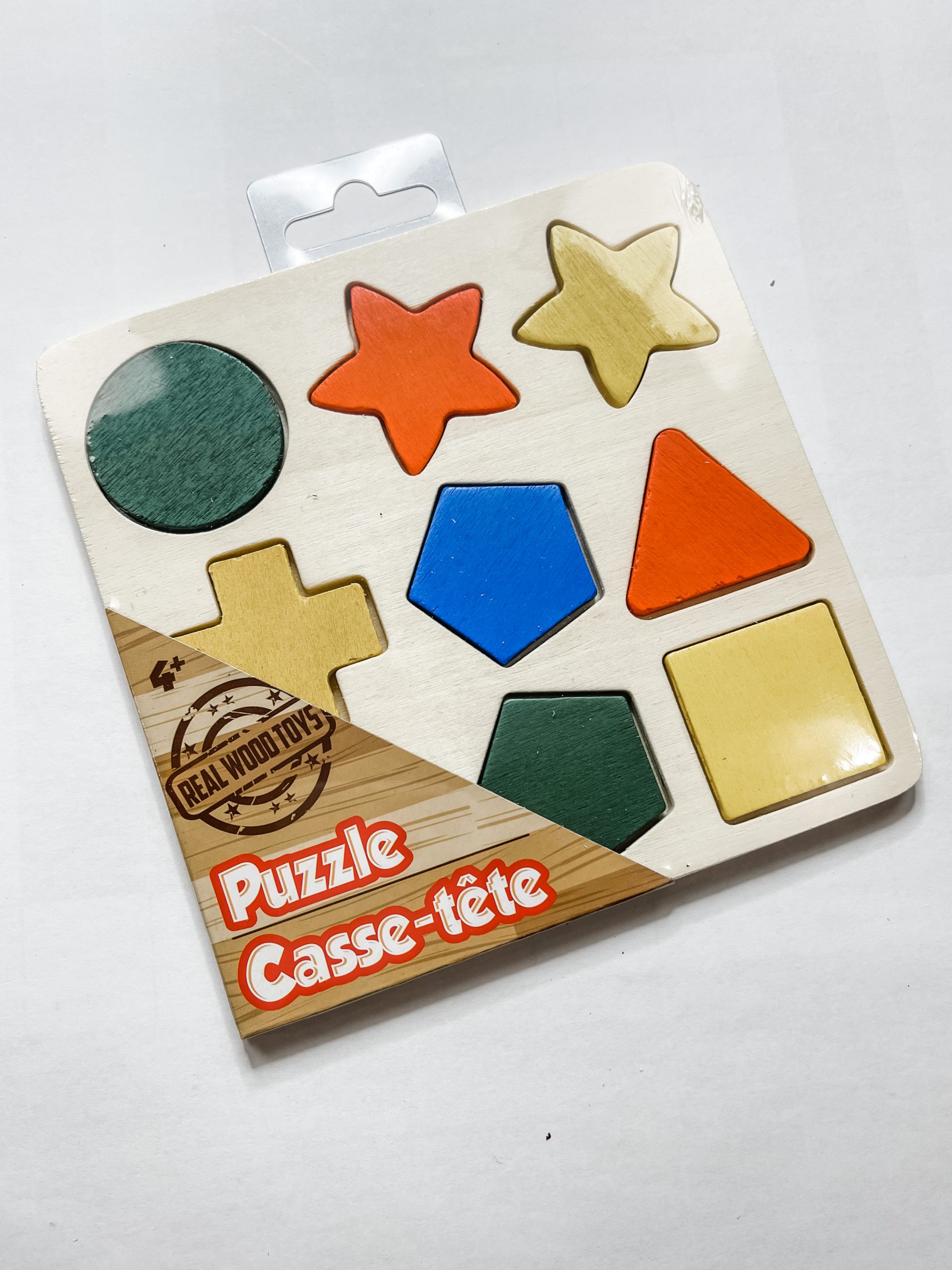 Then, pour your Apple Barrel burnt umber acrylic paint into a small mixing bowl and stir in a bit of the territorial beige to lighten the brown.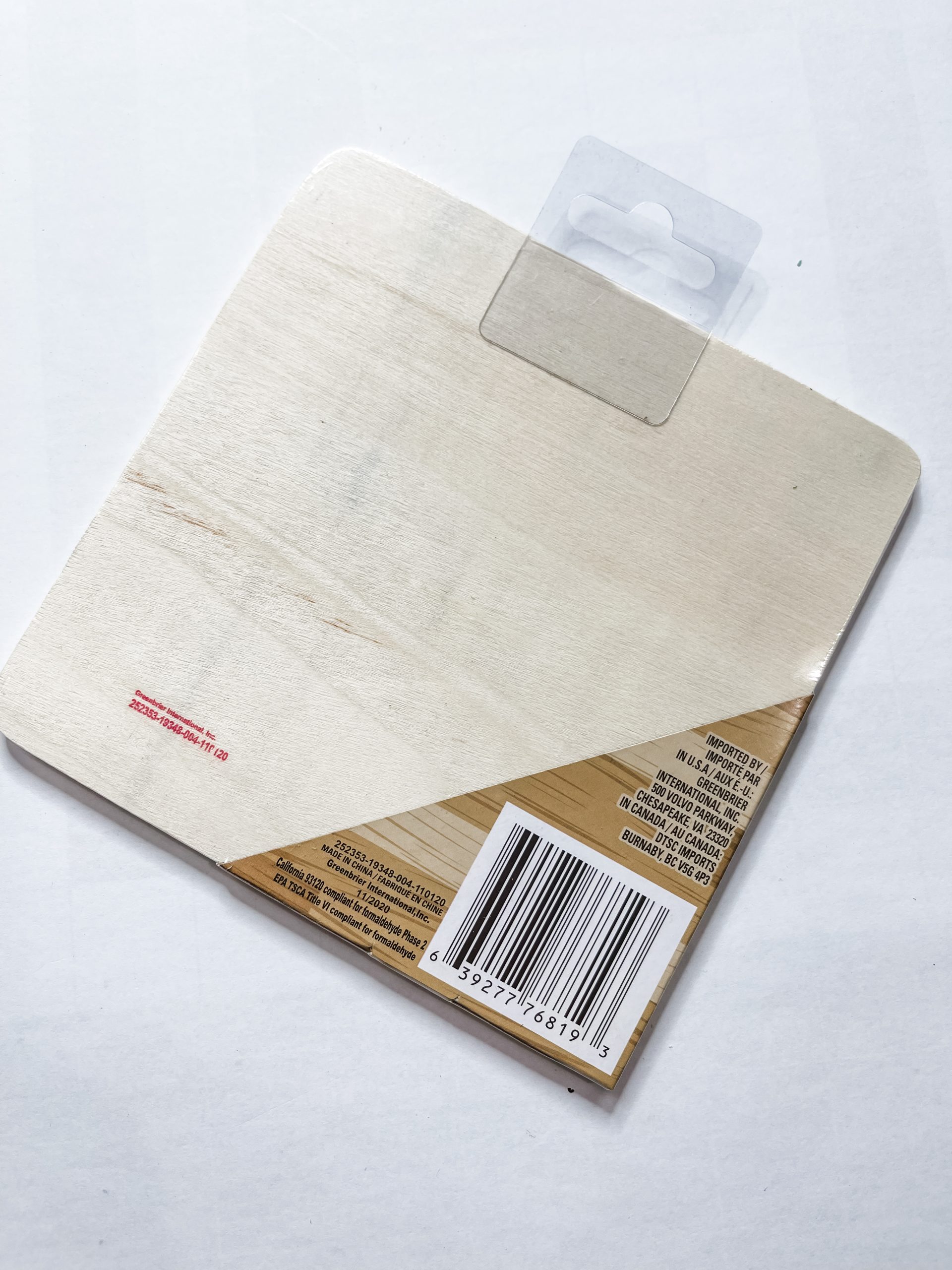 Paint the mixture onto the back and sides of the puzzle board. Then, go over the surfaces with a wet wipe to remove any excess paint.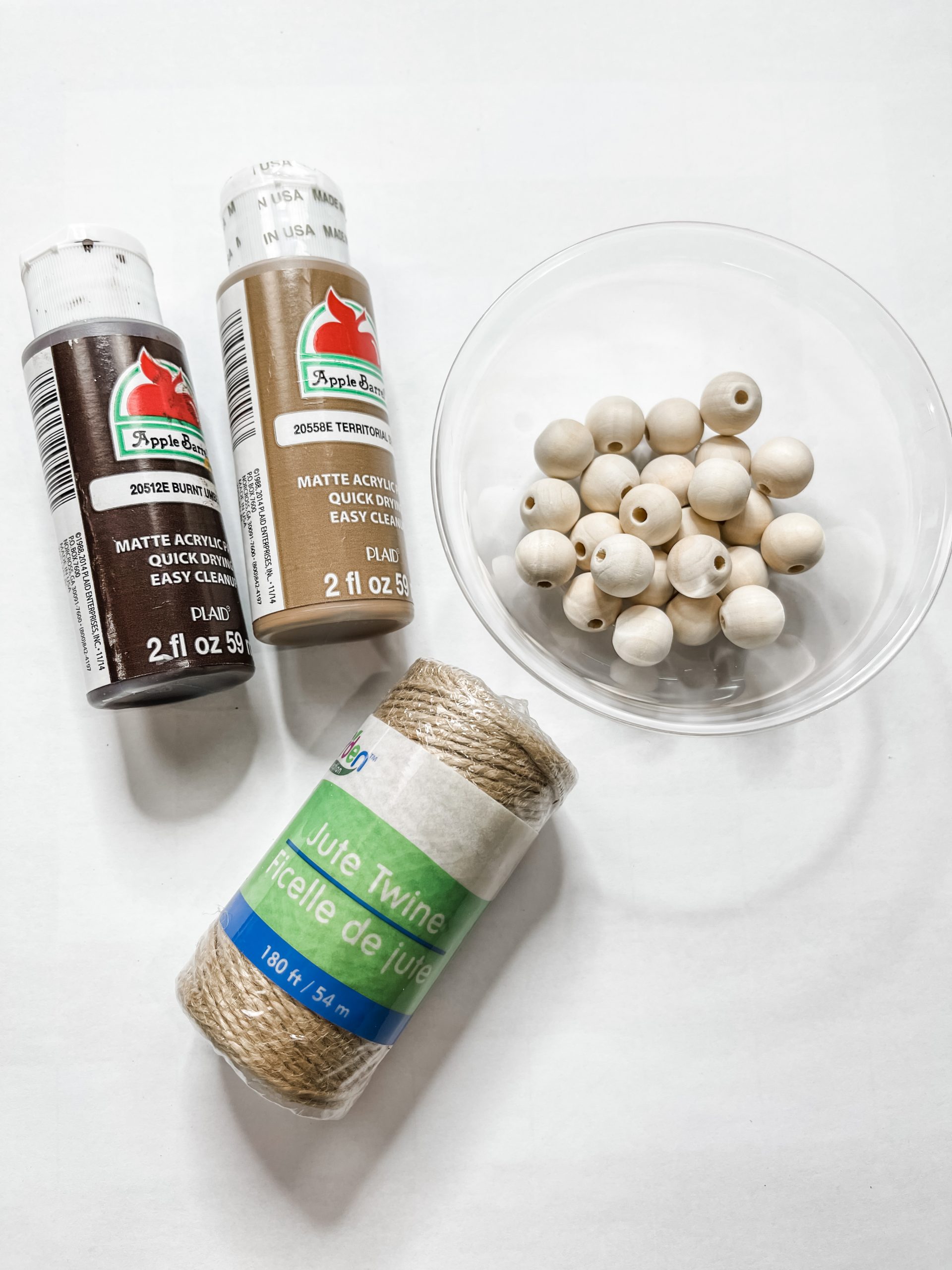 Next, I hot glued the bamboo skewers onto the back of the puzzle board. They're going to hang over the edges of the puzzle board, and that is okay! We'll trim them later!
Once I had all the bamboo skewers hot glued in place, I sanded over the top of them to remove any dried glue from the top of the skewers.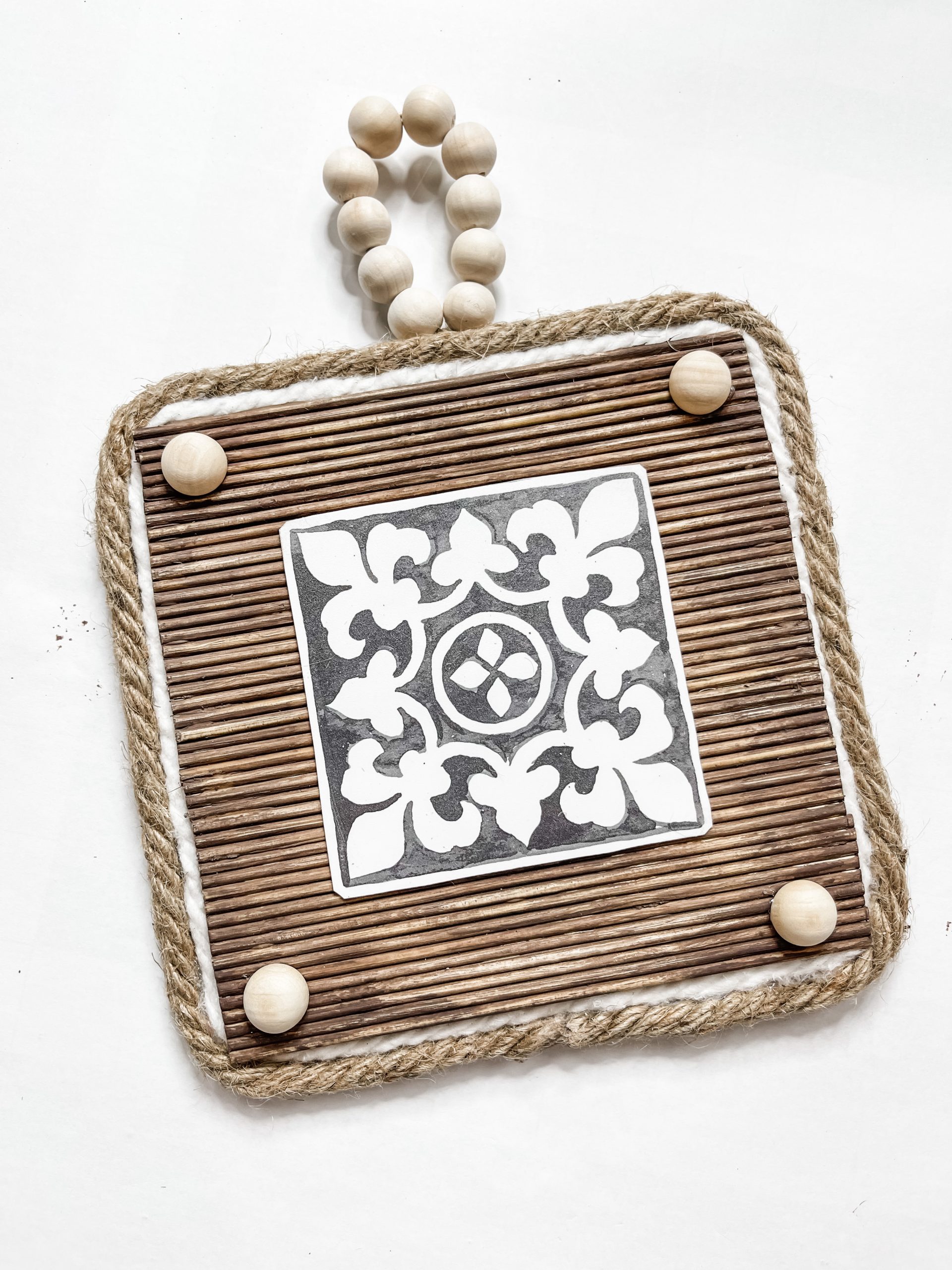 Make sure you let the glue dry completely, then cut the excess skewers from around the puzzle board. Some of the skewers might try to pull up, so just glue them back down if they do.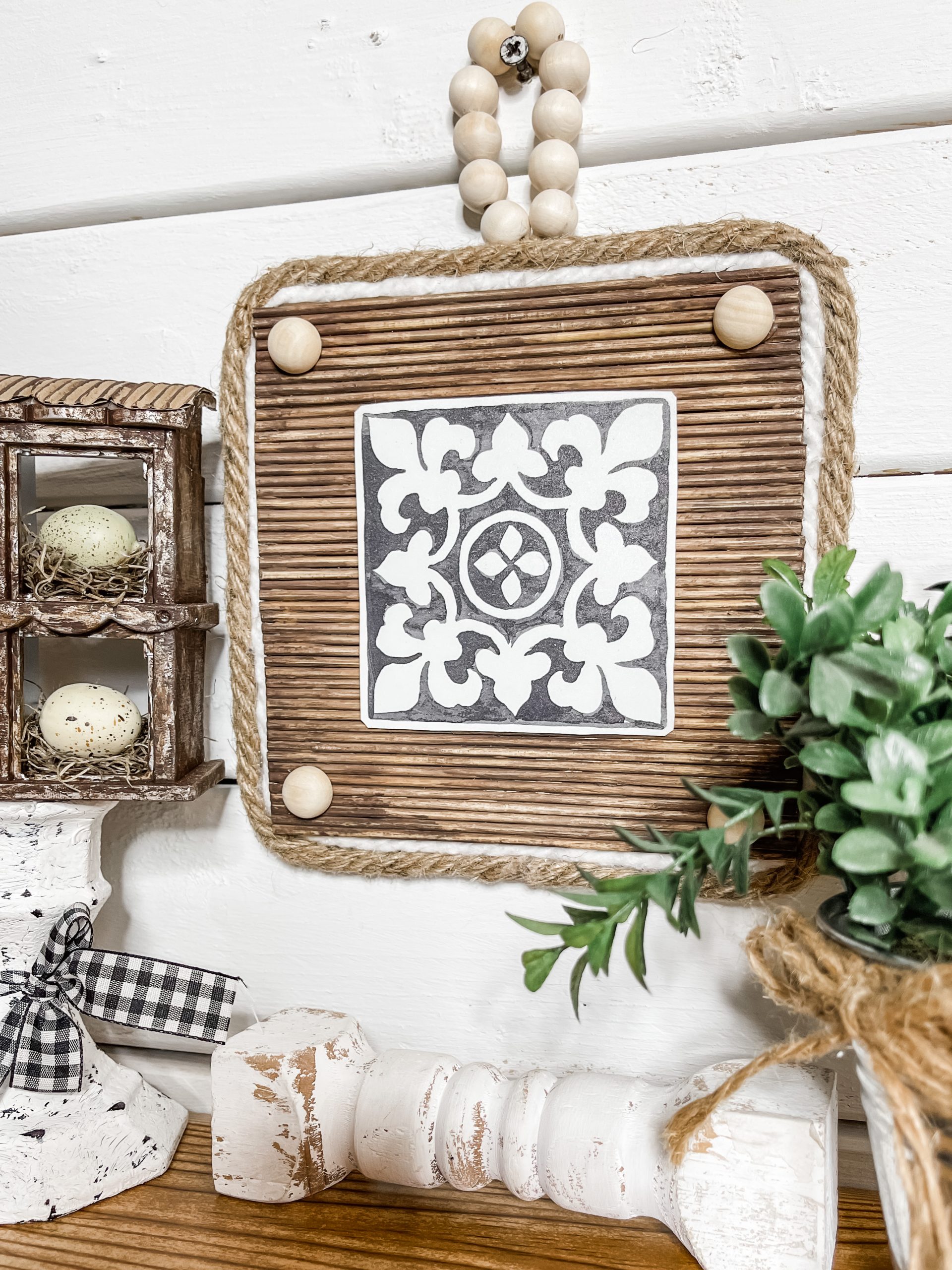 Then, I painted the paint mixture from before onto the bamboo skewers. I used a wet wipe to smudge the paint and get an uneven finish on the skewers.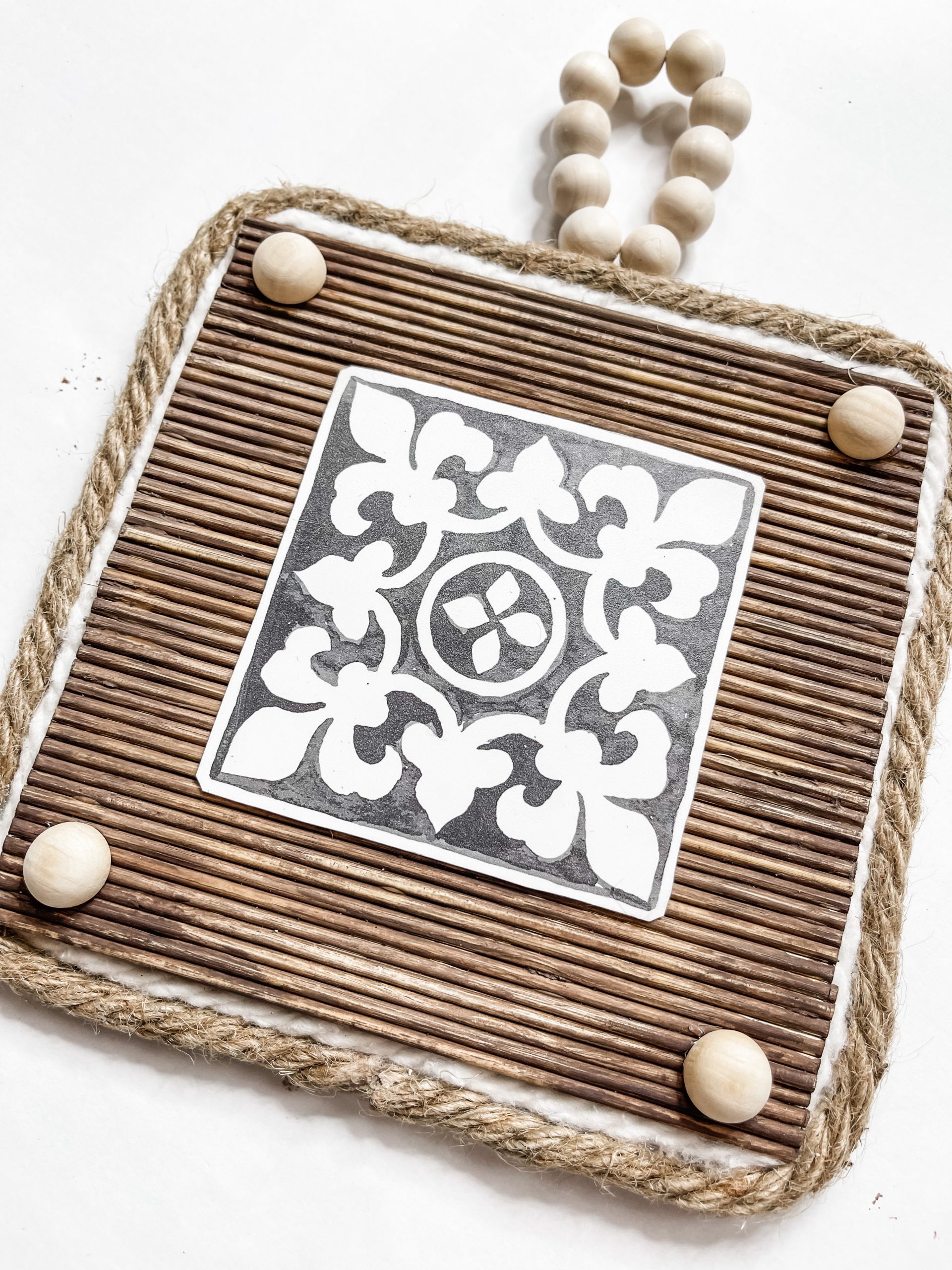 I went back over the skewers in random places with just burnt umber acrylic paint to add some detail to them.
Bring it all together
Next, you need to cut the pattern out of the Hobby Lobby plastic placemat. Hot glue the Dollar Tree puzzle board onto the cardboard, but don't cut the excess cardboard off yet.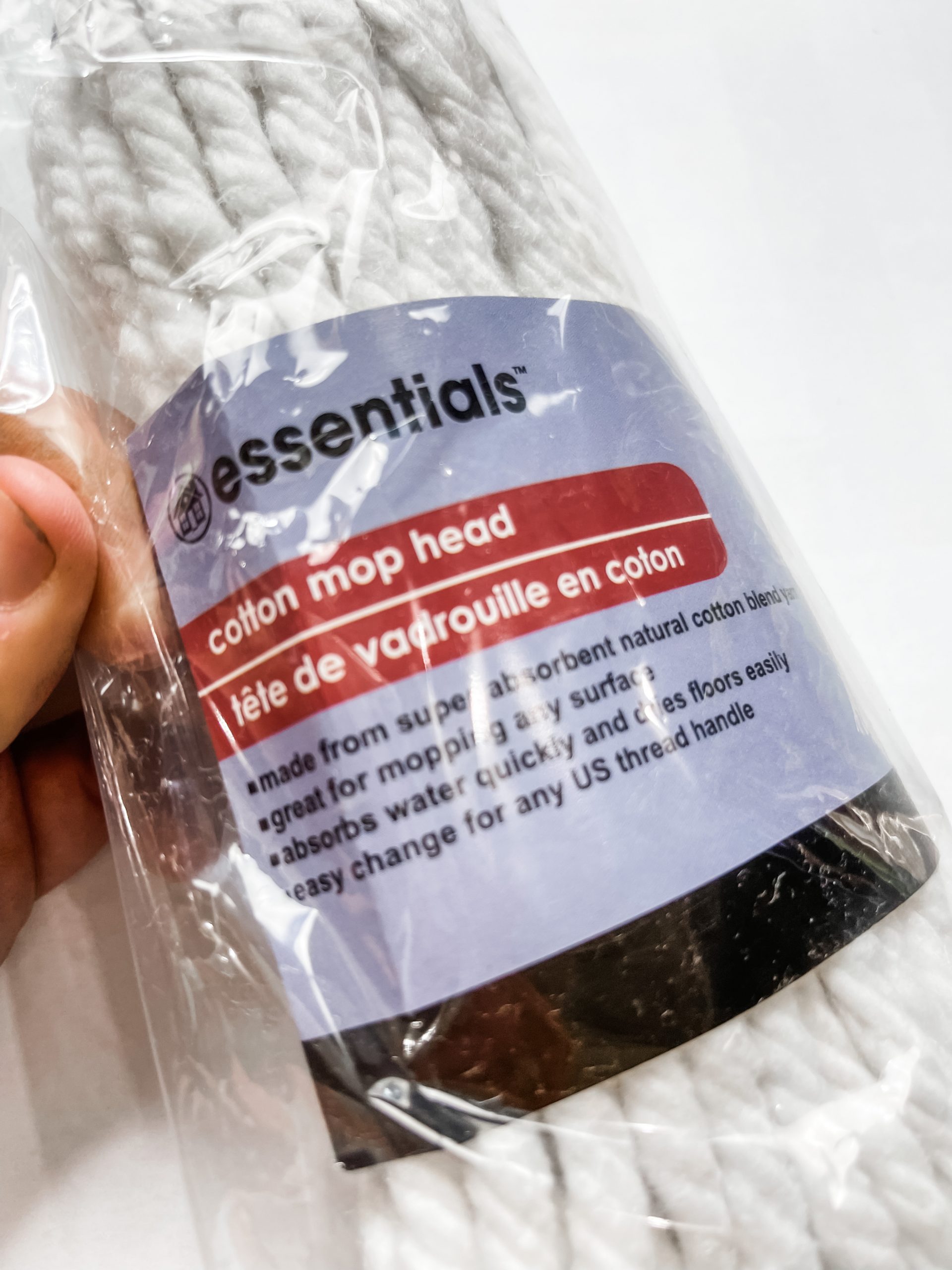 Hot glue the mop string around the outer edge of the puzzle board, then hot glue the Dollar Tree nautical rope around that. You want to be able to see both the mop string and nautical rope.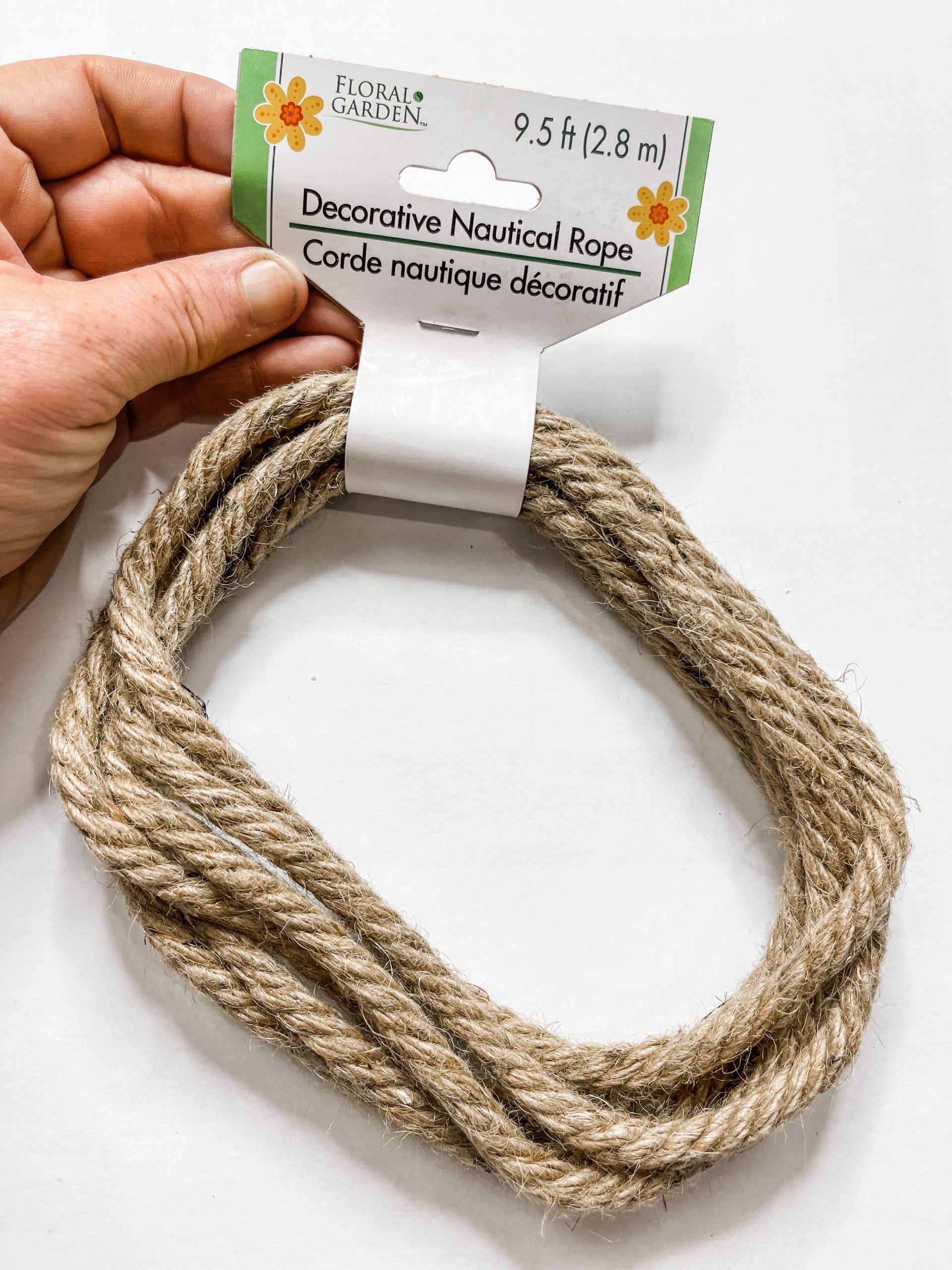 Once the glue is dry, go ahead and cut and remove the excess cardboard. Then, thread your wood beads onto the jute twine to make the hanger.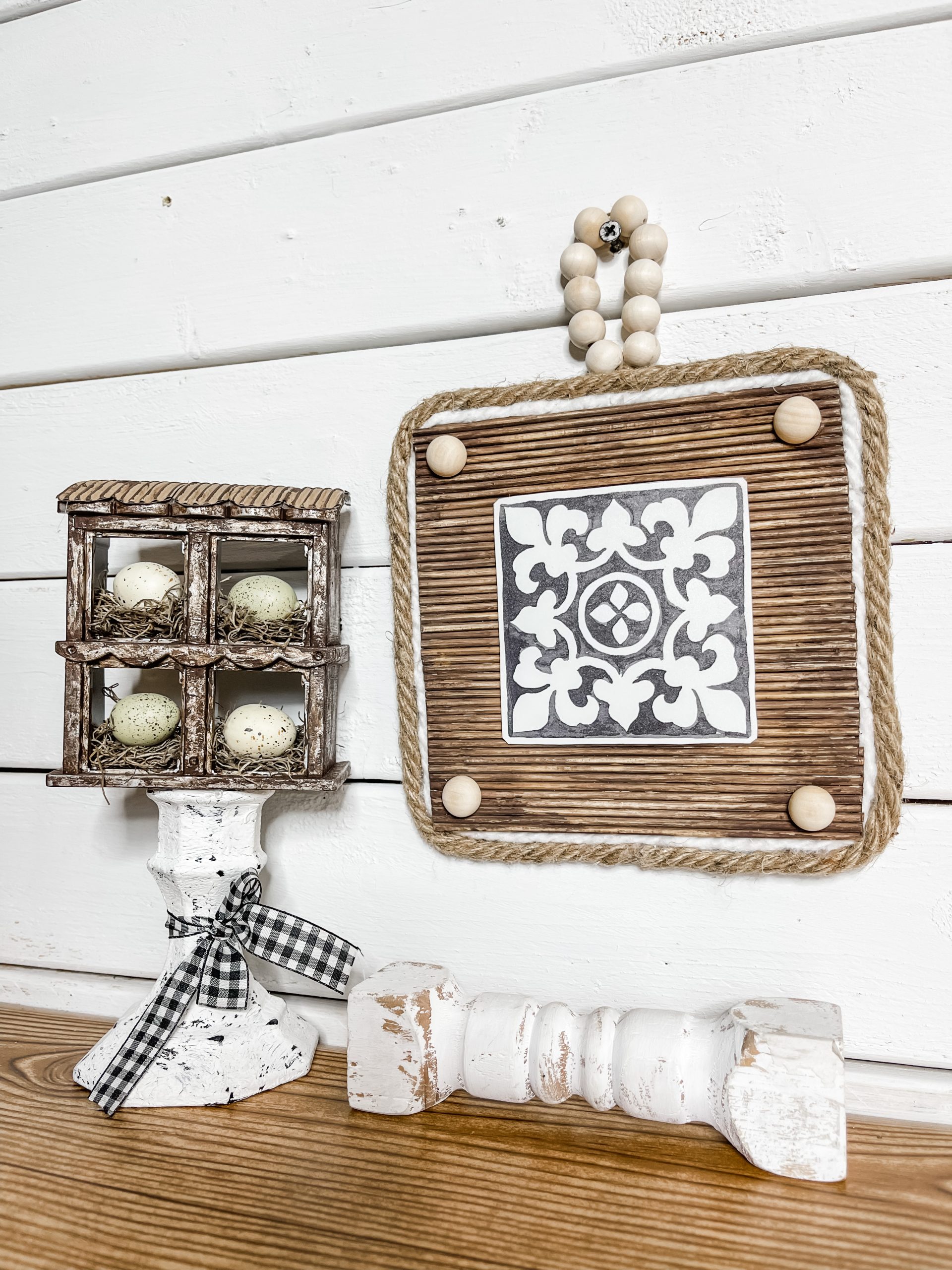 When you're happy with the size of your hanger, tie a knot to create a sort of bead bracelet. Hot glue the ends of the twine to the back of the DIY farmhouse wall decor.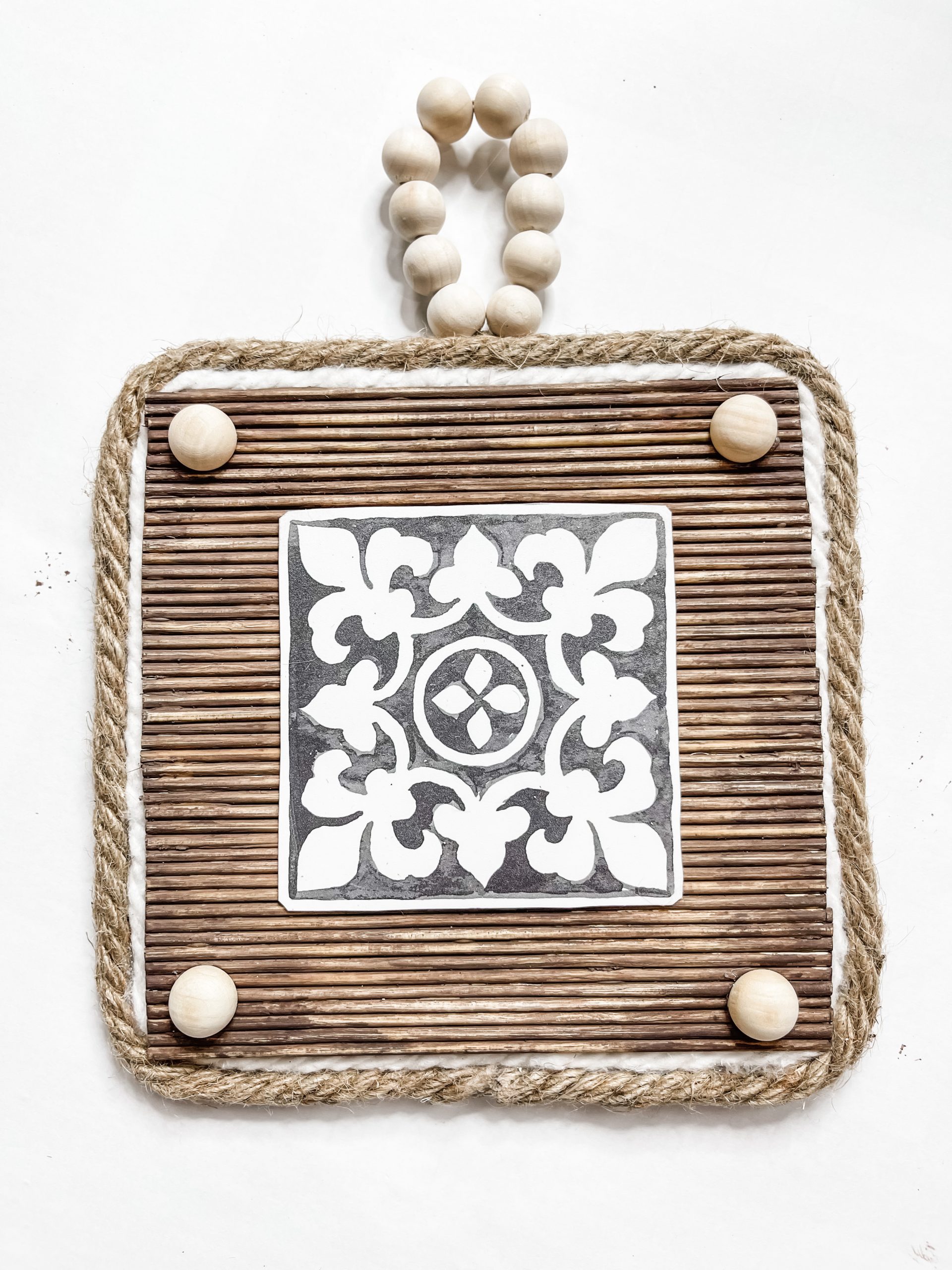 Lastly, hot glue the placemat cutout to the front center of your bamboo skewers, and hot glue four half wood beads (one in each corner) to the front of the decor!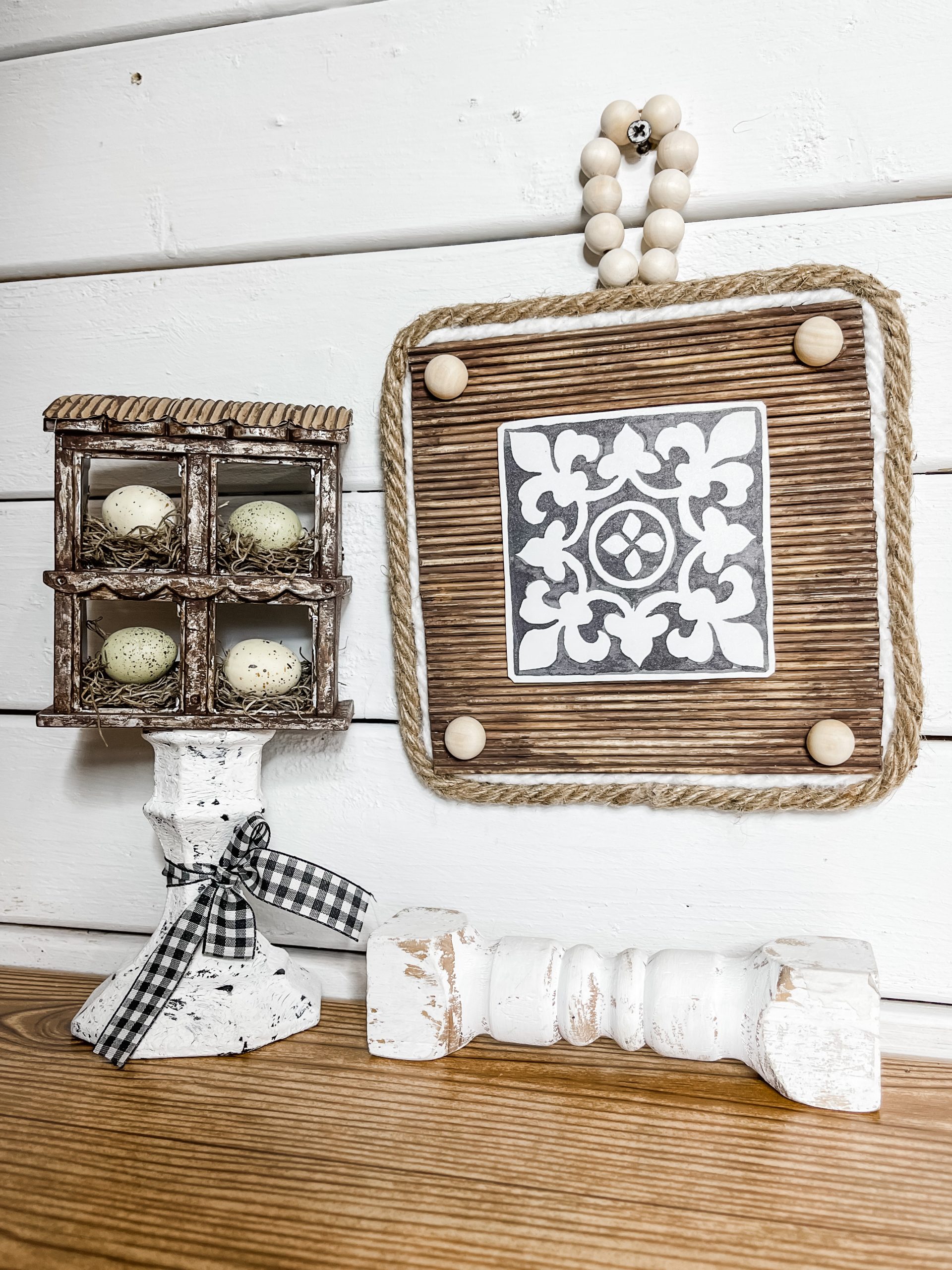 I hope you enjoyed this Bamboo Skewer DIY Farmhouse Decor as much as I did and decide to make it for yourself! If you do, I would love to see how yours turns out!
You should totally join my FREE Facebook group called On A Budget Crafts! It is a judgment-free community for DIY crafters to show off their projects and ideas.
If you loved this DIY, you might also like these DIY ideas!
Thanks for stopping by! XOXO Amber
You can also shop my ENTIRE AMAZON Favorites shop just click here! It's packed full of all the things I use and love. Here is the supply list I highly recommend every creative have on hand!!
Would you also pin my blog for later and get on my newsletter alerts? I would love to have you join my #craftycrew.
I email alerts about new blogs like this Bamboo Skewer DIY Farmhouse Decor so you're always up to date on fun, new DIY ideas!
Inspired? Leave me a comment below! I love hearing from my readers!

Join my free "ON A BUDGET CRAFTS" Facebook group!