Black and White Fall Pumpkin Sign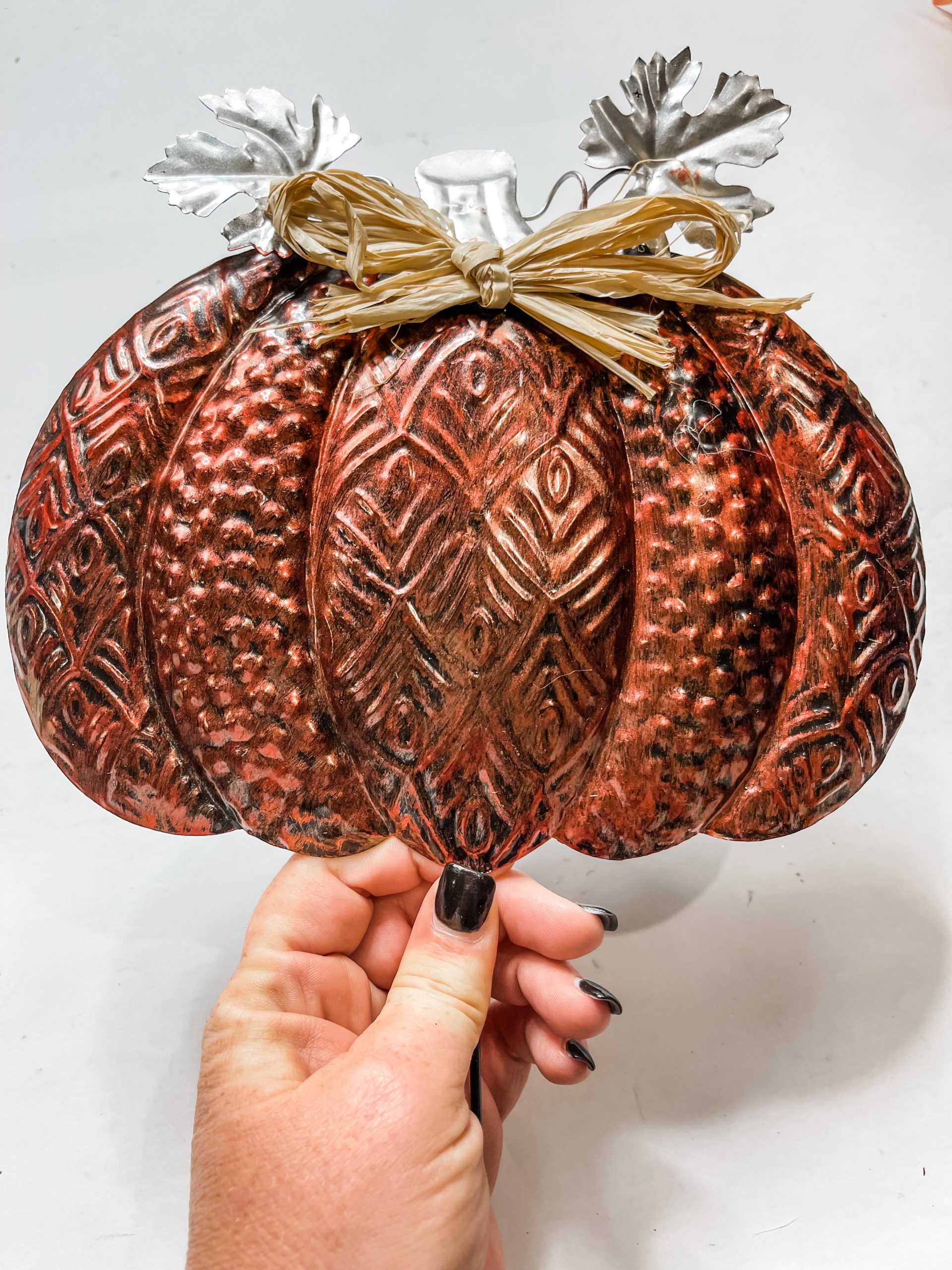 I know I always say "I'm so excited to share this DIY with you," but I seriously mean it every time, especially with this Black and White Fall Pumpkin Sign!
I've always been a creative person and had a lot of fun thinking of new ways to create adorable and affordable home decor, and that's why I share my ideas with everyone I can.
My goal is always to inspire others to have a well-decorated home that they are proud of, without having to spend their entire income just on home decor!
Watch the DIY tutorial
I shared the quick DIY tutorial for this adorable black and white metal pumpkin decor on my Youtube Channel!
If you want to see the simple DIY process for this project, and the 3 other amazing black and white fall decor ideas, you can watch the Youtube DIY tutorial!
Three more Black and White Fall Decor Ideas:
WATCH THE DIY TUTORIAL ON YOUTUBE
I recorded the how-to steps of making this adorable black and white metal pumpkin decor during a LIVE video on my Facebook page.
If you want to see the DIY process, craft along, or just join in on the fun conversations, you can watch the DIY tutorial replay on Facebook!
WATCH THE DIY TUTORIAL REPLAY ON FACEBOOK
Check out these black and white Fall decor ideas!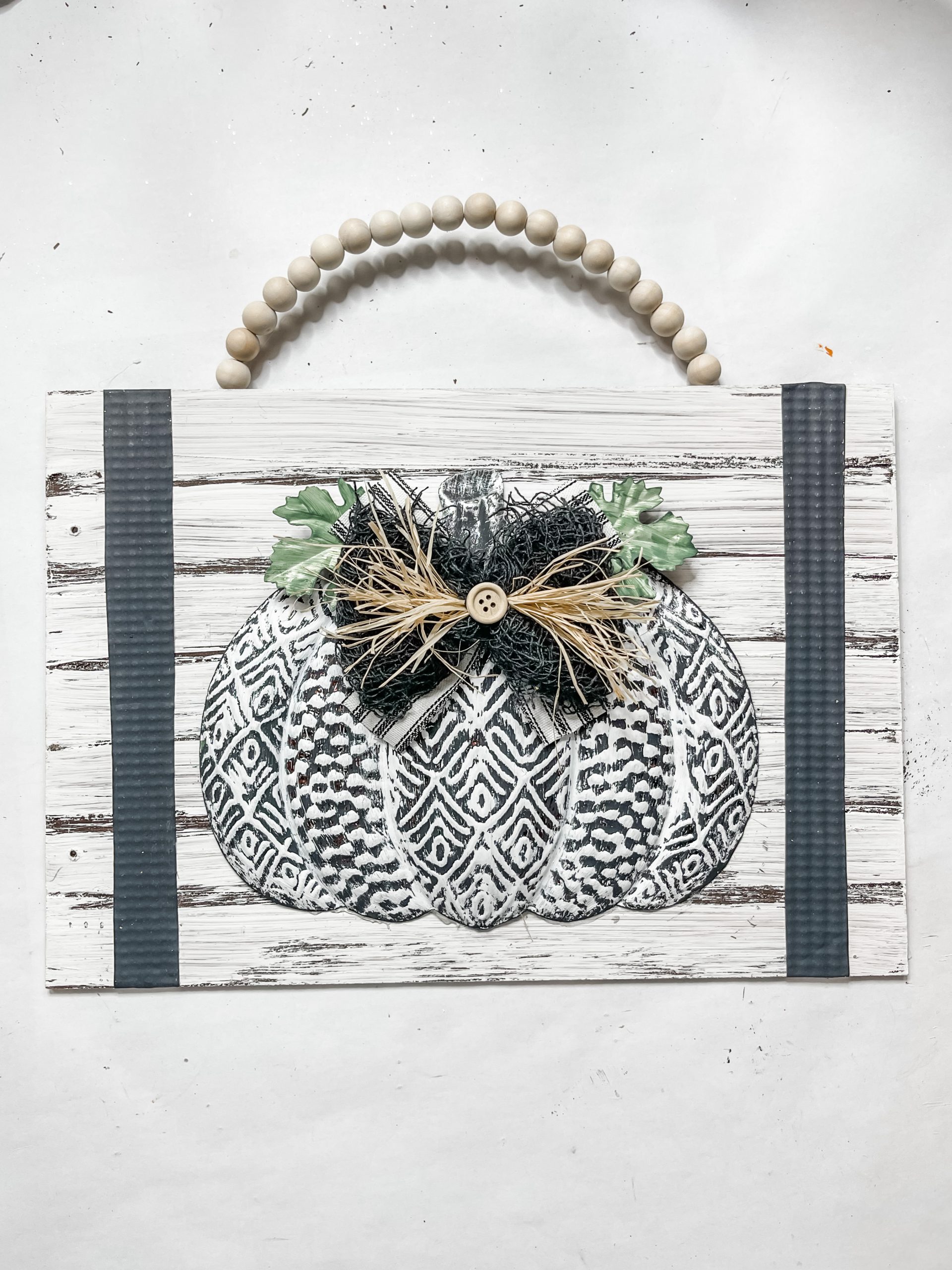 For this project, I will be using these items, but you can substitute where you want.
"As an Amazon Associate, I earn from qualifying purchases."
*I didn't use the Dollar Tree Spanish Moss, Eucalyptus, or Fall Leaves pictured below*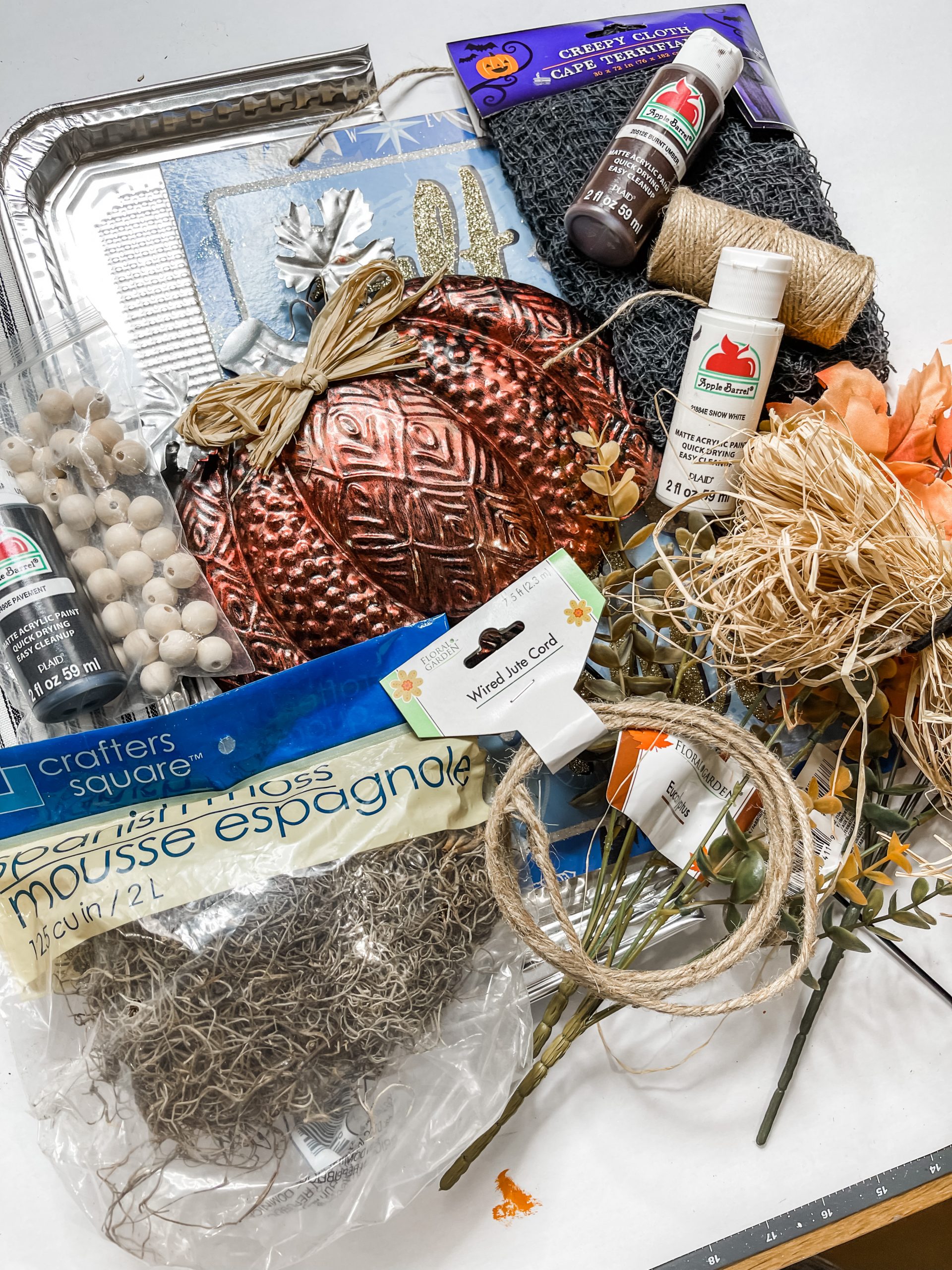 How to Make a Black and White Fall Pumpkin Sign
Start this DIY project by removing the stake from the Dollar Tree metal pumpkin. You can twist and bend the stake until it breaks off, just be careful not to hurt yourself!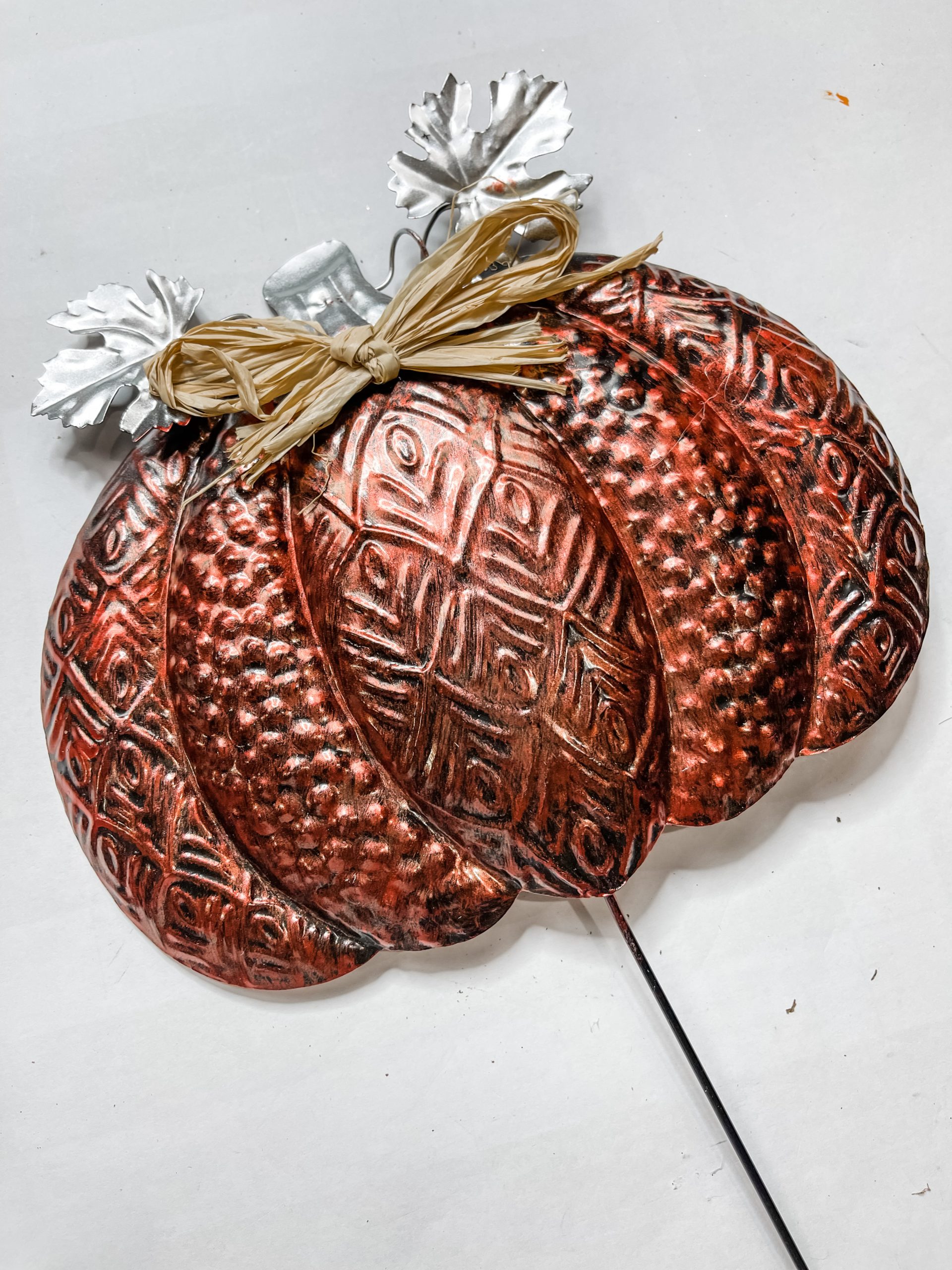 Next, you're going to score lines horizontally across the back of your Dollar Tree sign. This is the base for your faux shiplap finish.
Deepen your lines with a screwdriver. Next, you're going to paint the back of the Dollar Tree sign with brown paint. I used Apple Barrel Burnt Umber Acrylic Paint for this.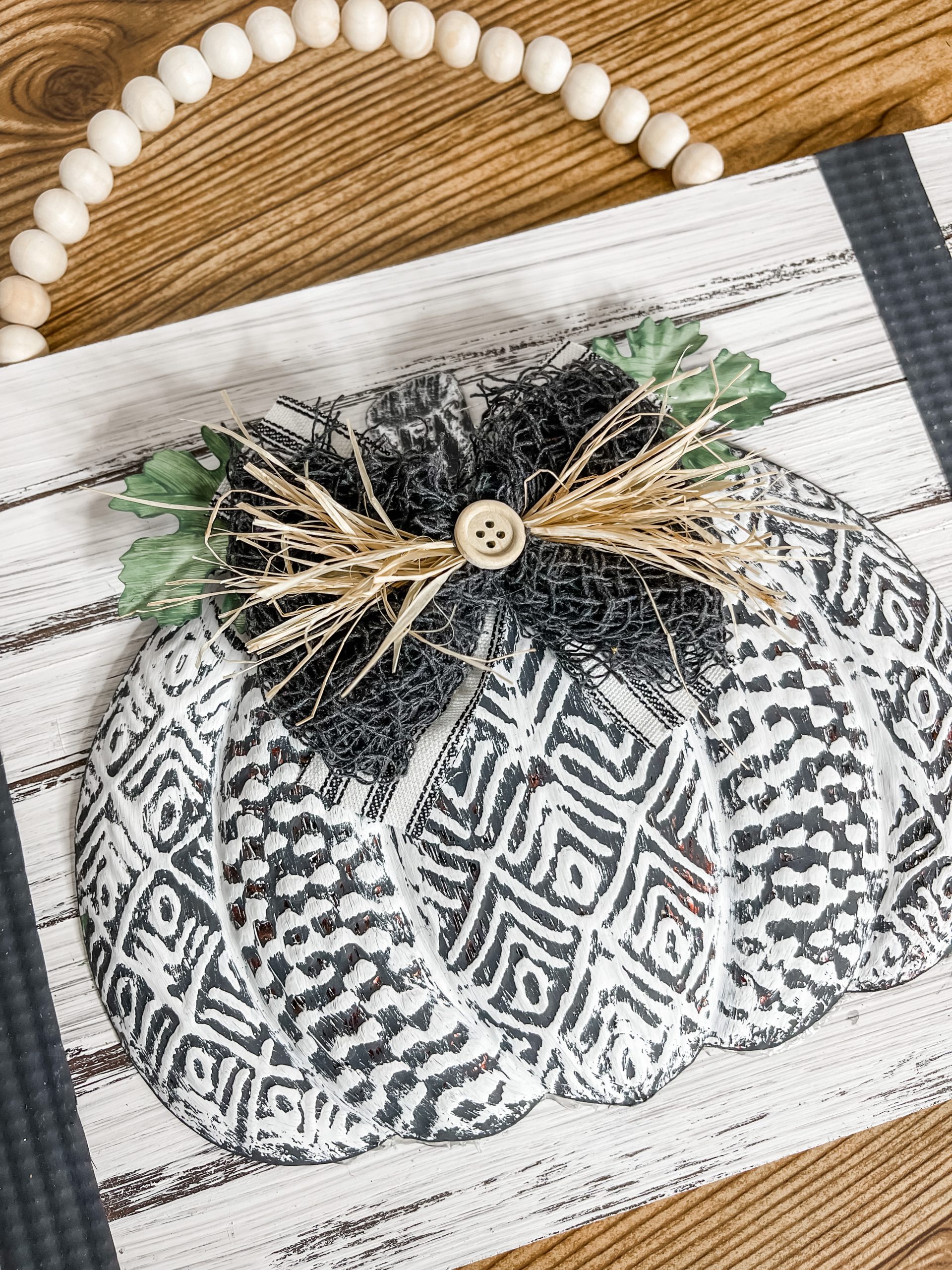 Allow the brown paint to dry completely. I used my heat gun to speed up the drying process. If you don't have a heat gun, you can use a hairdryer on the low-cool setting.
Then, use a dry chippy paintbrush to lightly apply white paint over the coat of brown paint on your fall sign.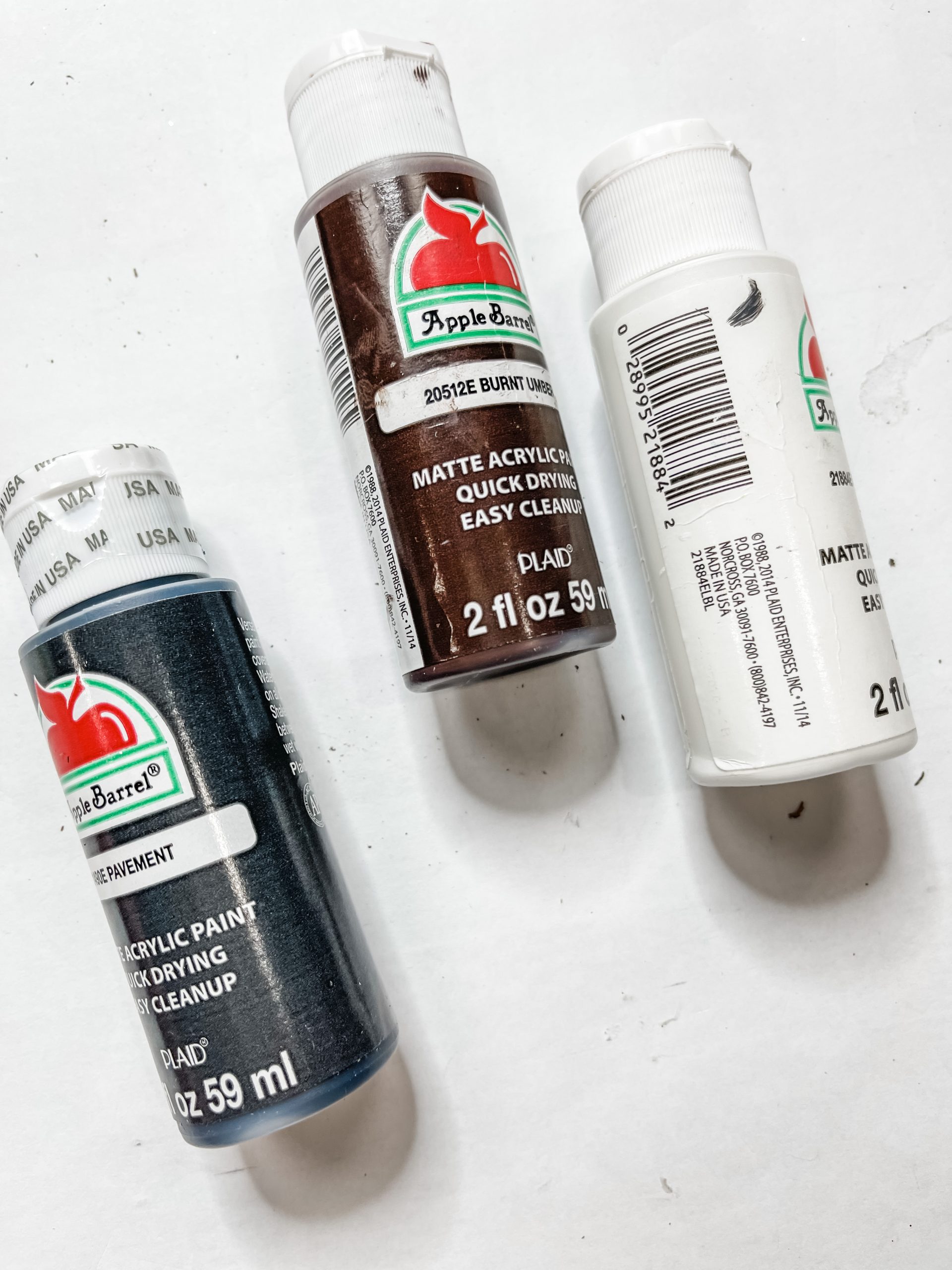 Use horizontal strokes and don't go for full coverage. This will help you achieve the rustic, shiplap finish for this DIY fall decor!
Next, cut two strips about an inch thick out of your Dollar Tree cookie sheet. These strips will go vertically on the sides of the sign.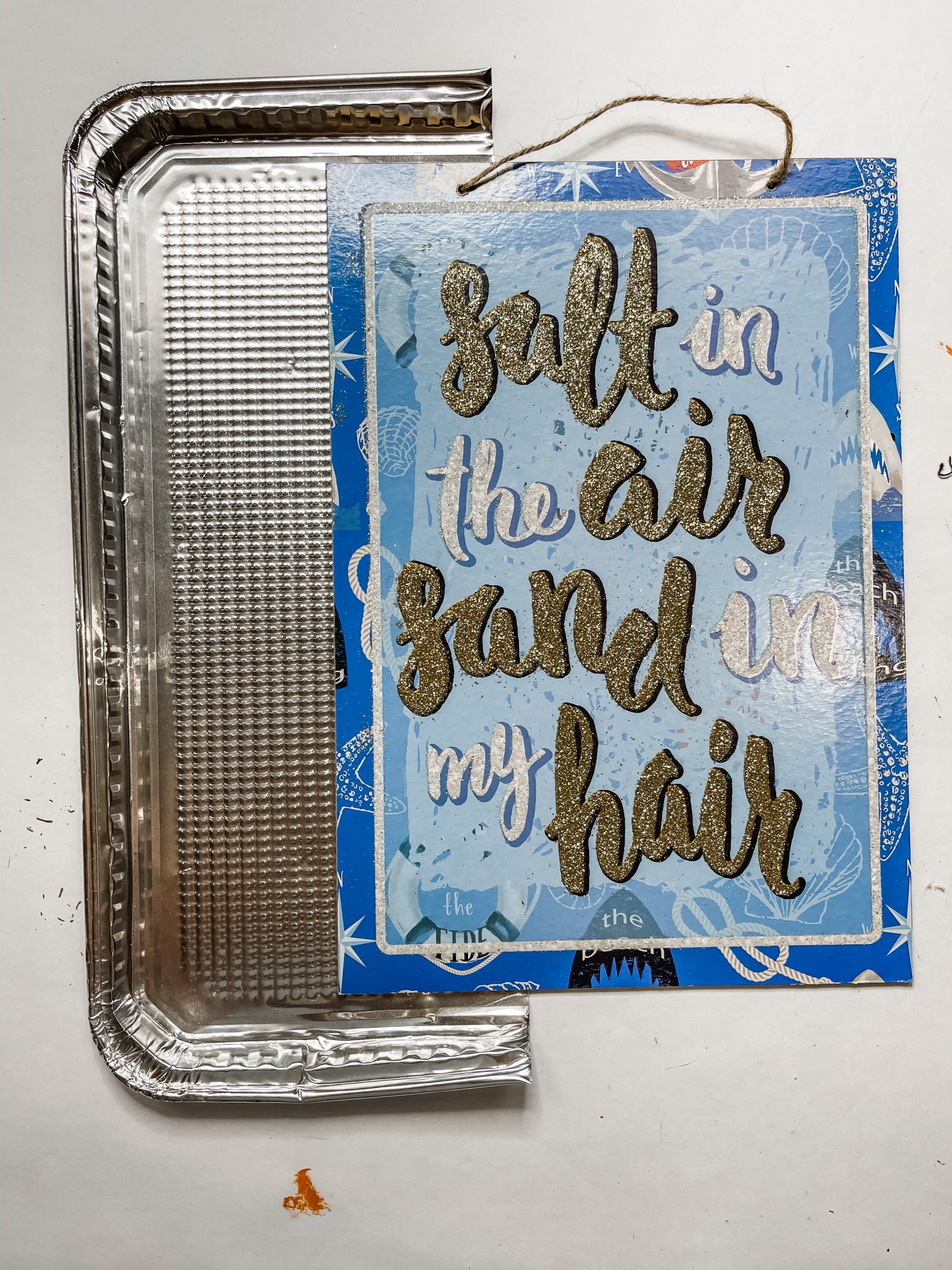 How to DIY with a Dollar Tree metal pumpkin stake
Don't get me wrong, the metal pumpkin is adorable. But for it to work for my DIY idea, I had to make some edits to it!
I folded the metal leaves up so they wouldn't get paint on them, then I painted the pumpkin white. The pumpkin had an indented embossed design, and I didn't want the paint to get into the indents.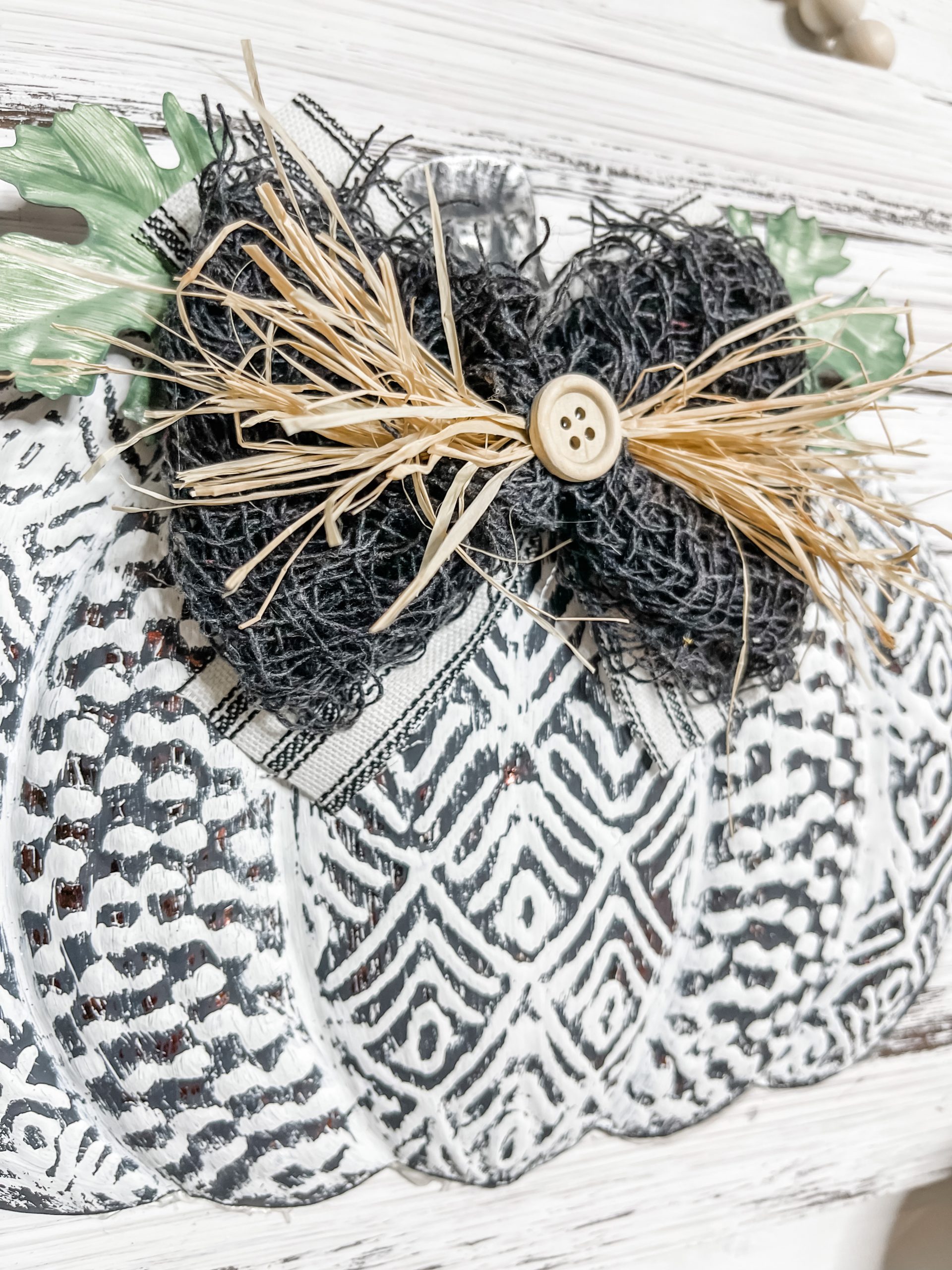 I let the white paint dry completely, then painted over it with the Apple Barrel Pavement Acrylic Paint.
Once the pavement paint was dry, I did a final coat of white paint over top. Then, I painted the stem of the pumpkin with the same pavement paint.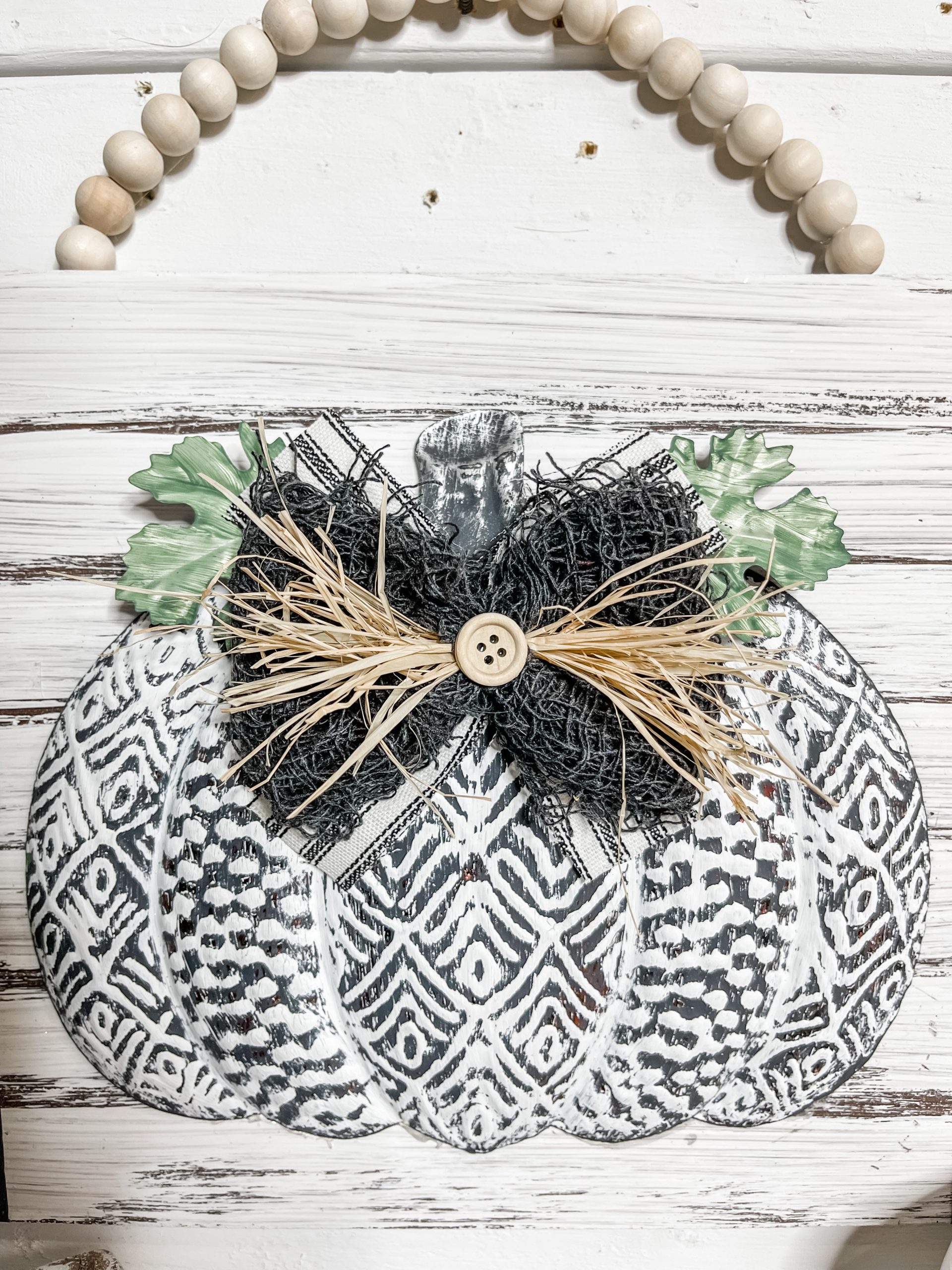 Lastly, I painted the leaves of the Dollar Tree metal pumpkin with Apple Barrel Moss Green Acrylic Paint.
I let the green paint dry, then folded the metal leaves back down into place. Next, I worked on painting the strips of the Dollar Tree cookie sheet.
I painted each of the tin sheet strips with the Apple Barrel Pavement Acrylic Paint. Let the paint dry on each strip
Make your DIY bow
I used something new to make the DIY bow for this adorable Fall sign: Dollar Tree Creepy Cloth! I'm serious, that's what it's called!
I laid it out flat and folded it over in small sections several times, then cut the folded section from the rest of the cloth.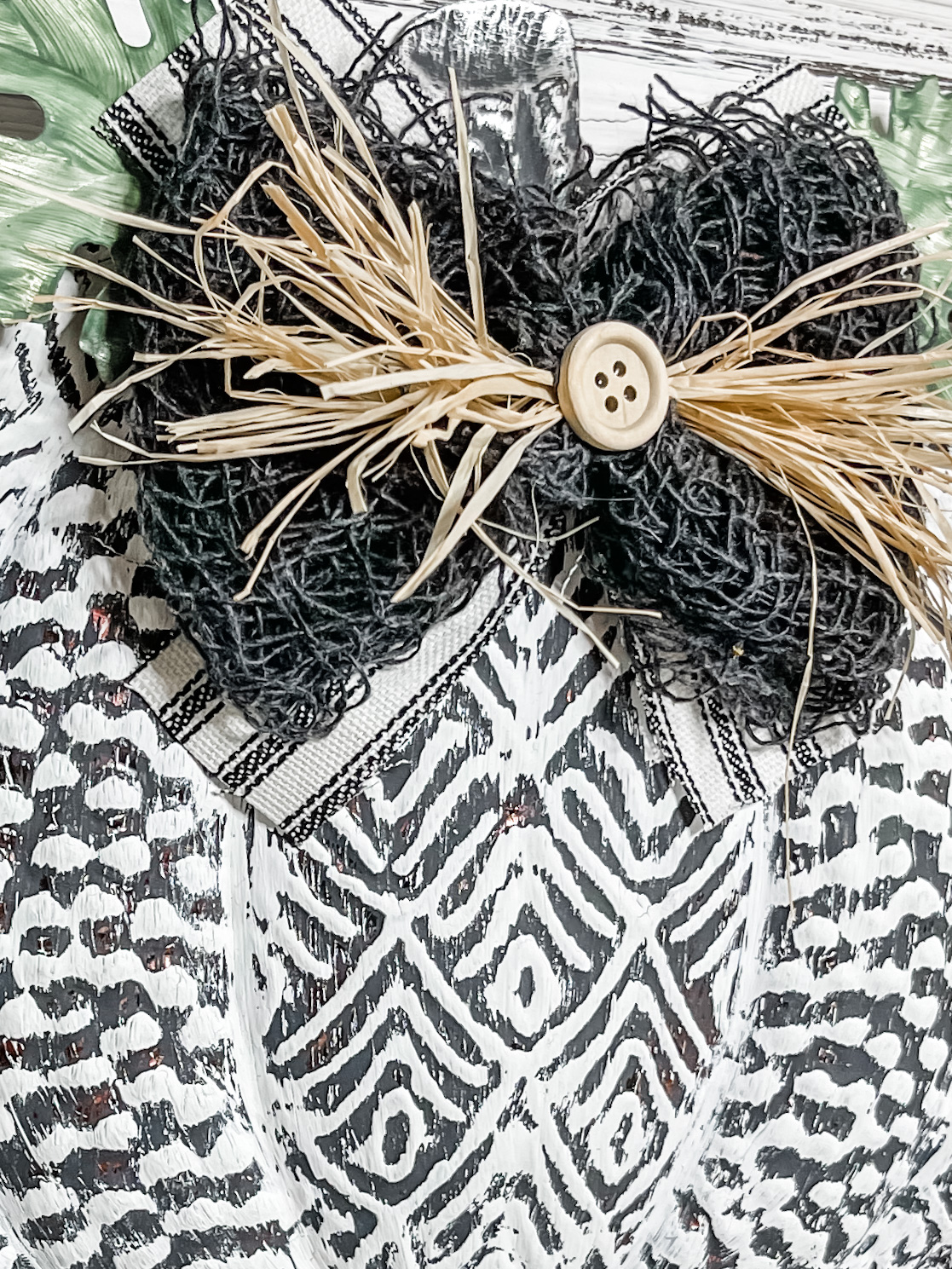 Then, I cut the folded strip in half and folded one half in thirds. I pinched the middle, and it started to look like a bow!
Next, I cut two strips of the ticking fabric and got a few pieces of raffia to add to the bow. Place the fabric in an X pattern, place the folded cloth on top, and bundle up the raffia on top of the cloth.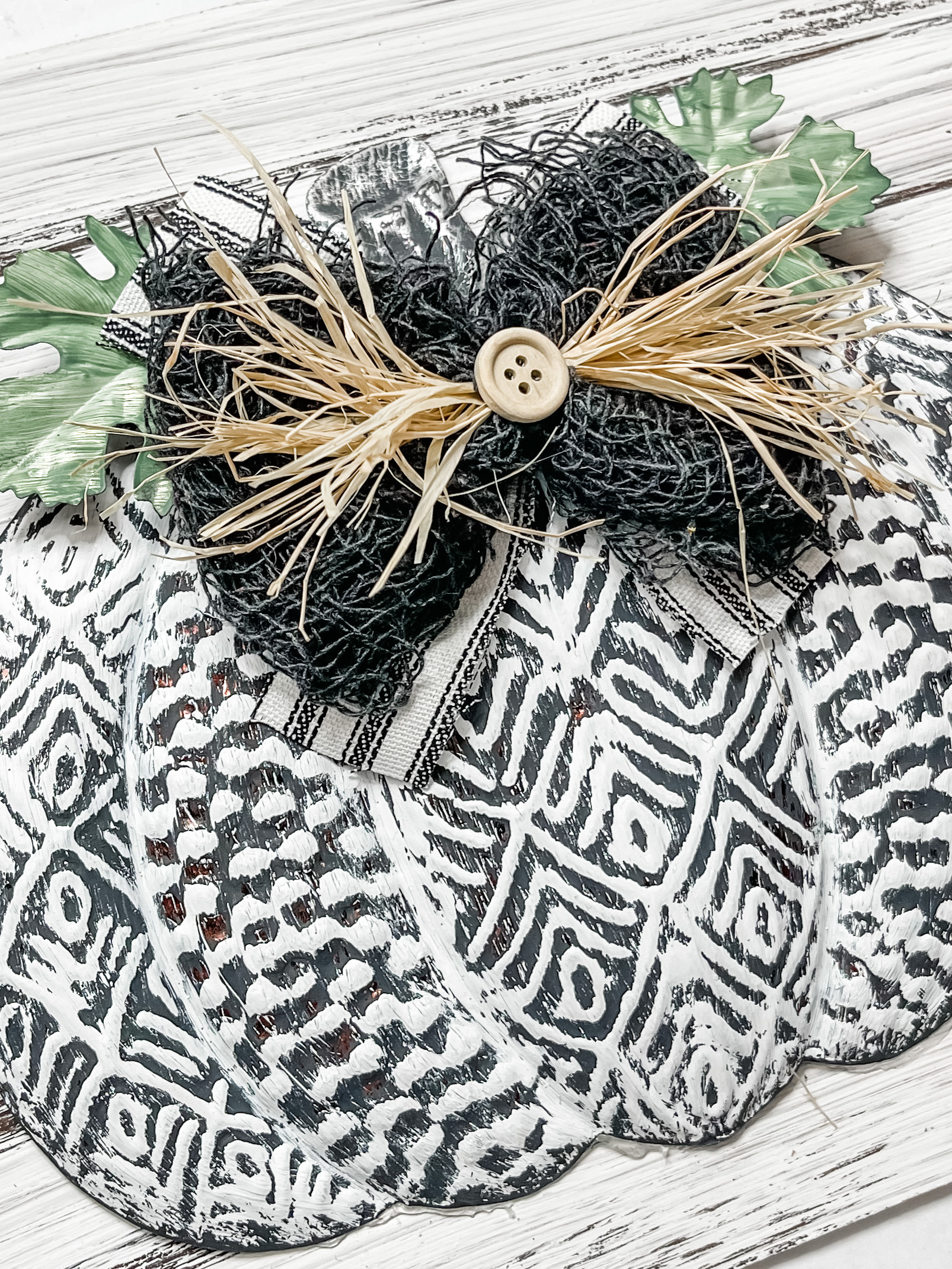 Pinch the center and secure it with a piece of jute twine. Finally, hot glue a small button over the center of the bow and secure the adorable bow to the pumpkin, just below its stem!
Bring it all together
Dry place the pumpkin on the center of the sign and hot glue each of the painted tin strips on either side of the pumpkin.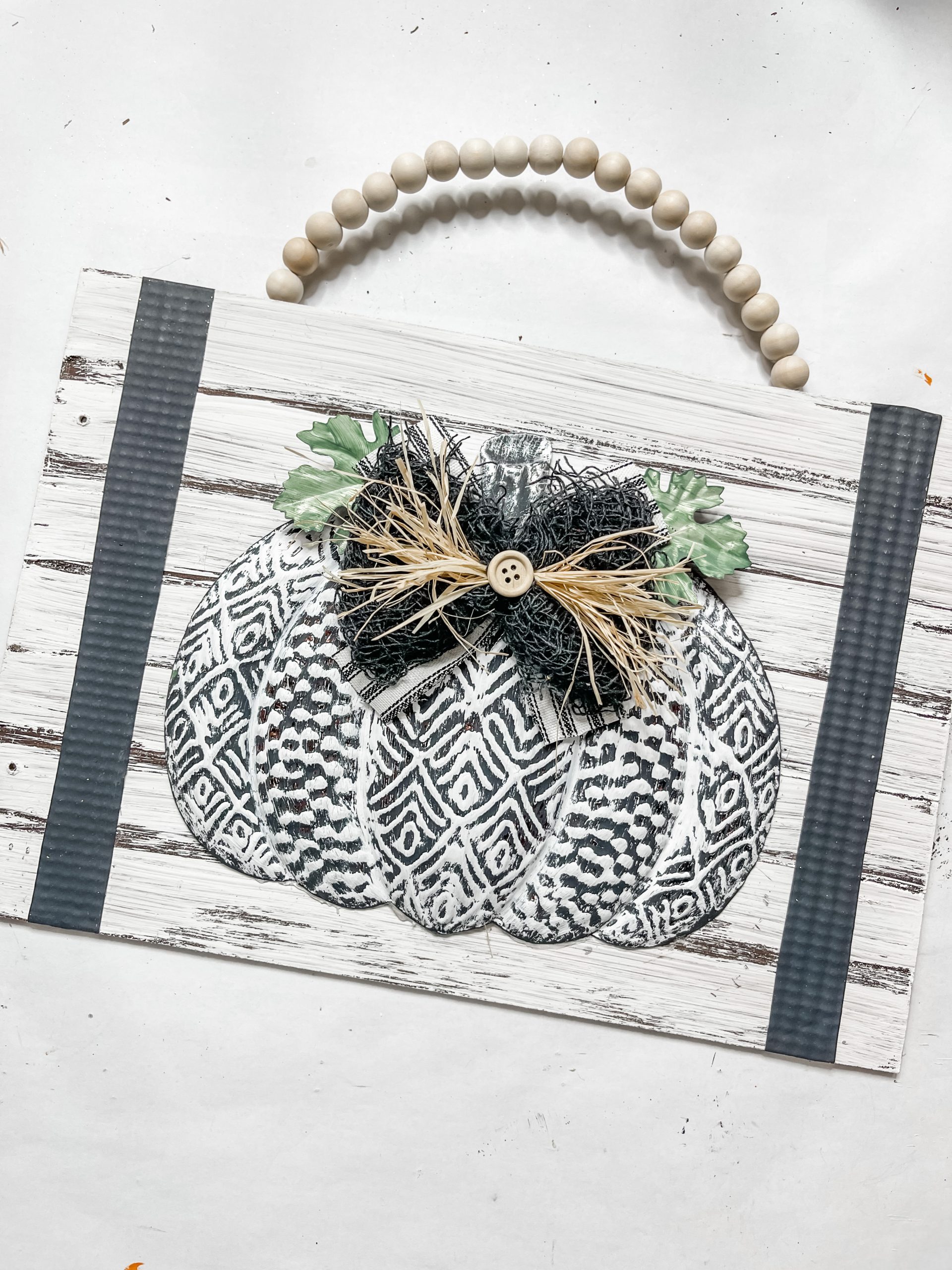 Remove the jute from your Dollar Tree wired jute cord and thread your wood beads onto the wire until you're happy with the length of the hanger.
Flip the sign over and hot glue the ends of the wire to the back of the sign! I hot glued a piece of fabric over each end to really secure the hanger in place.
Lastly, hot glue the metal pumpkin to the center of the sign.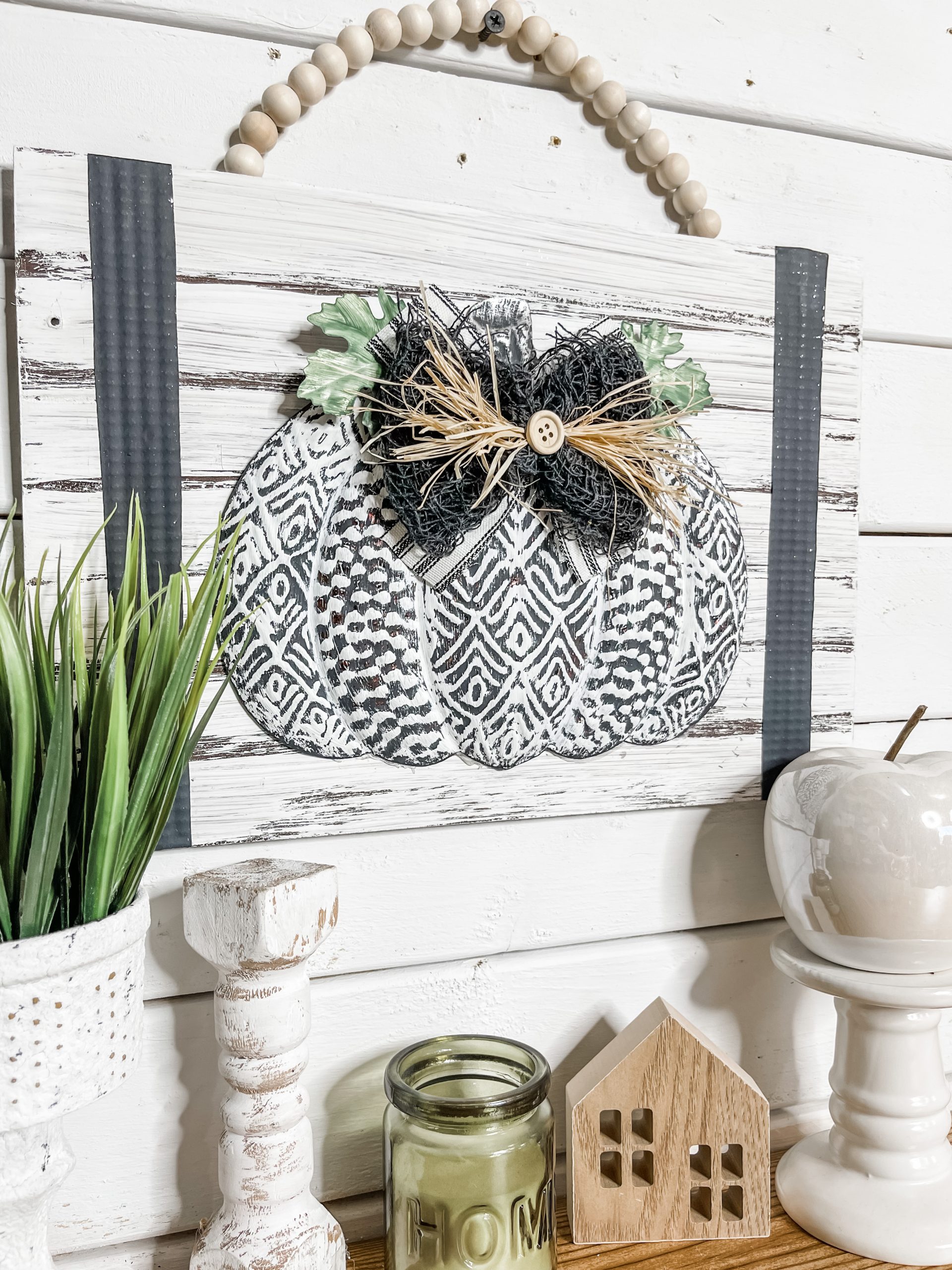 I hope you enjoyed this Black and White Fall Pumpkin Sign as much as I did and decide to make it for yourself! If you do, I would love to see how yours turns out!
You should totally join my FREE Facebook group called On A Budget Crafts! It is a judgment-free community for DIY crafters to show off their projects and ideas.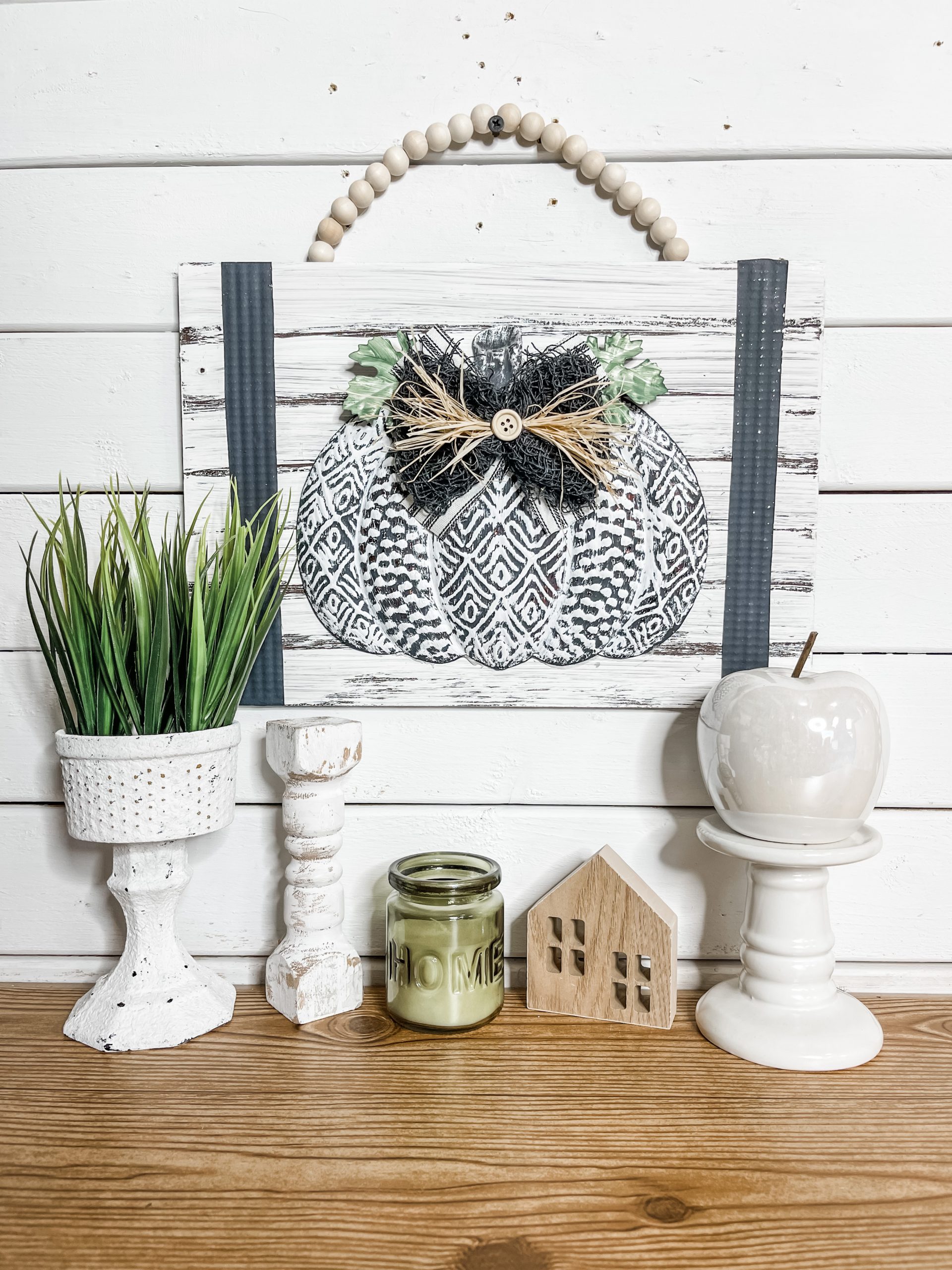 If you loved this Black and White Fall Pumpkin Sign, you might also like these DIY ideas!
Thanks for stopping by! XOXO Amber
You can also shop my ENTIRE AMAZON Favorites shop just click here! It's packed full of all the things I use and love. Here is the supply list I highly recommend every creative have on hand!!
Would you also pin my blog for later and get on my newsletter alerts? I would love to have you join my #craftycrew.
I email alerts about new blogs like this Black and White Fall Pumpkin Sign so you're always up to date on fun, new DIY ideas!
Inspired? Leave me a comment below! I love hearing from my readers!

Join my free "ON A BUDGET CRAFTS" Facebook group!