Front Porch and Outdoor Fall Decor Ideas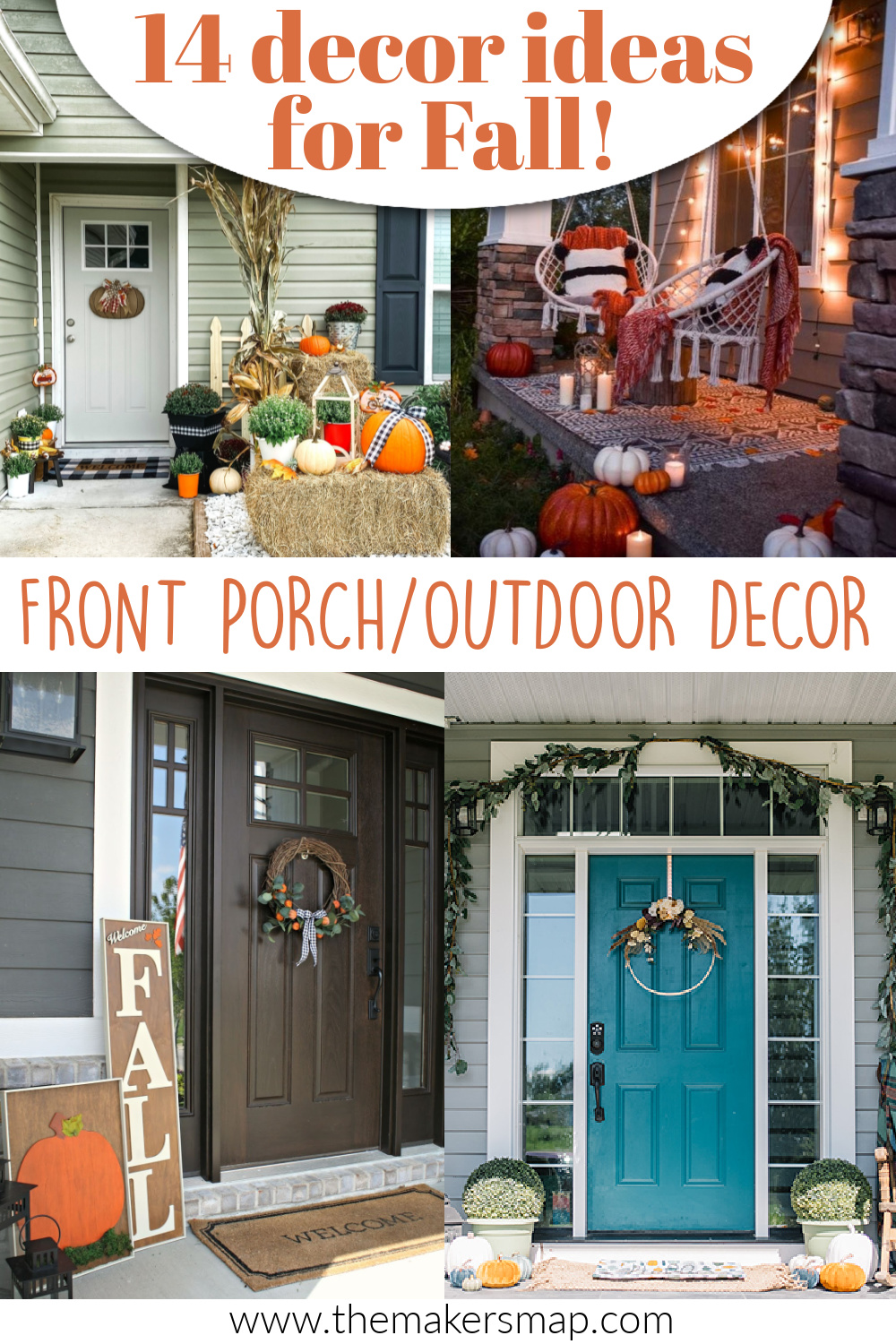 Decorating your front porch or outdoor space for Fall is so much fun, but it can also be overwhelming, so I've found 14 Front Porch and Outdoor Fall Decor Ideas to inspire you!
These are a variety of ideas with different decor styles and color pallets so you won't be disappointed!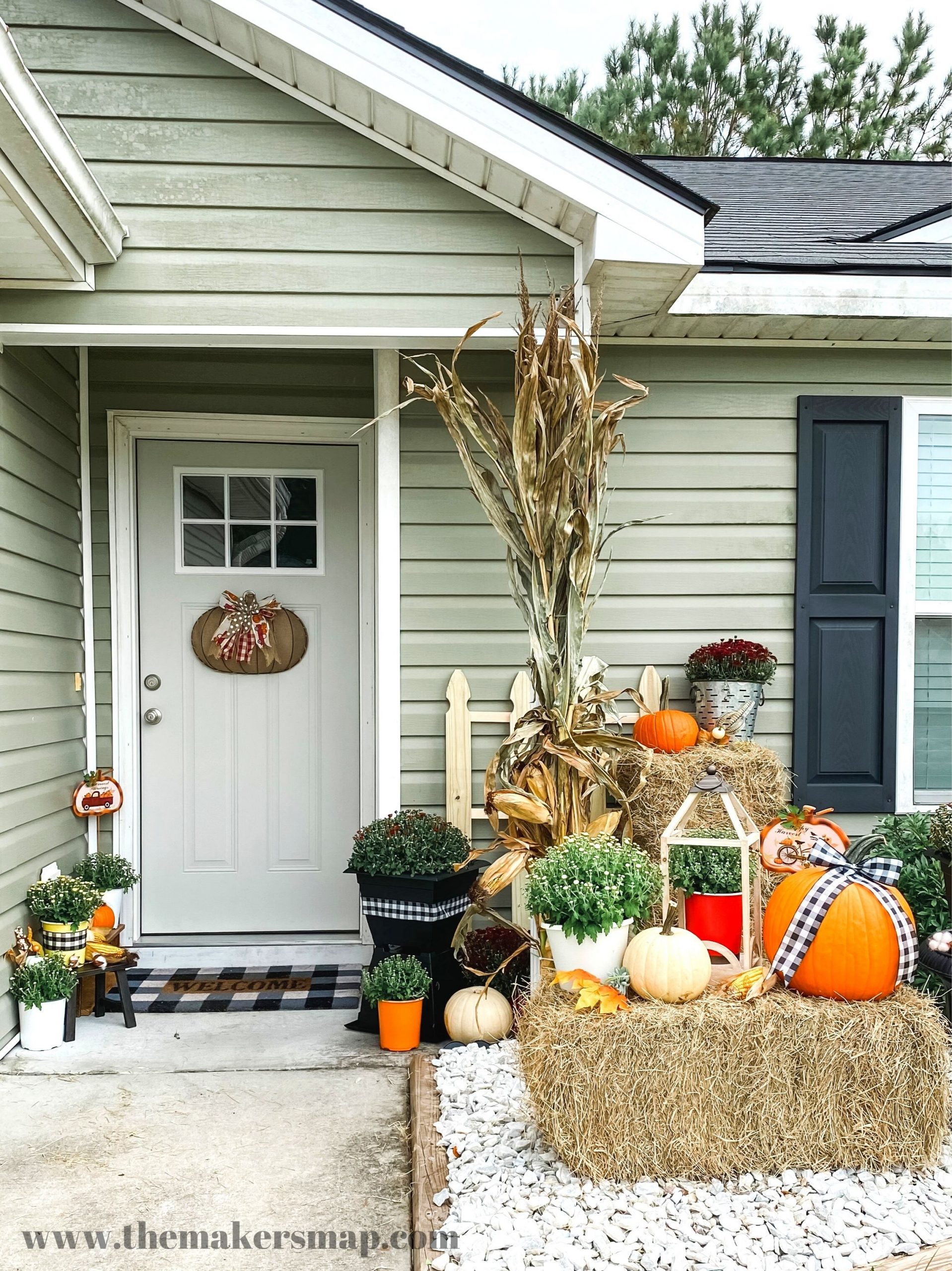 I couldn't tell you about Fall front porch or outdoor decor without sharing how I decorated my front porch last year!
We have a small front porch, but we've expanded the space by adding some rock in front of our small garden, and that created extra space for decorating!
Even if you have a small front porch, you can easily decorate for Fall just like I did!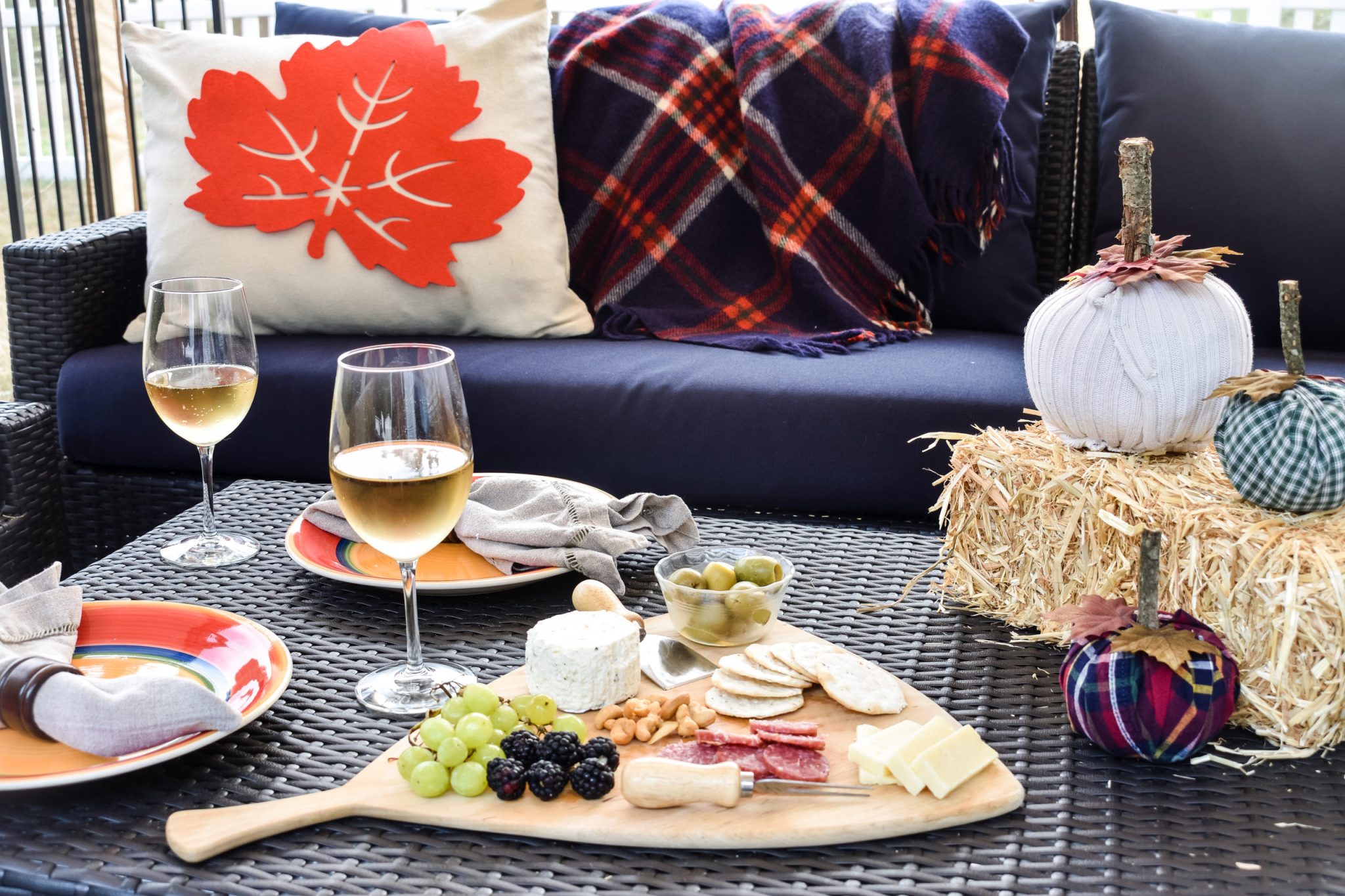 Do you have a patio, outdoor, or entertaining space that you want to decorate for Fall in addition to your front porch?
Check out these tips from The Zucchini Sisters on how to transform your entertaining space and give it the perfect cozy feeling for Fall!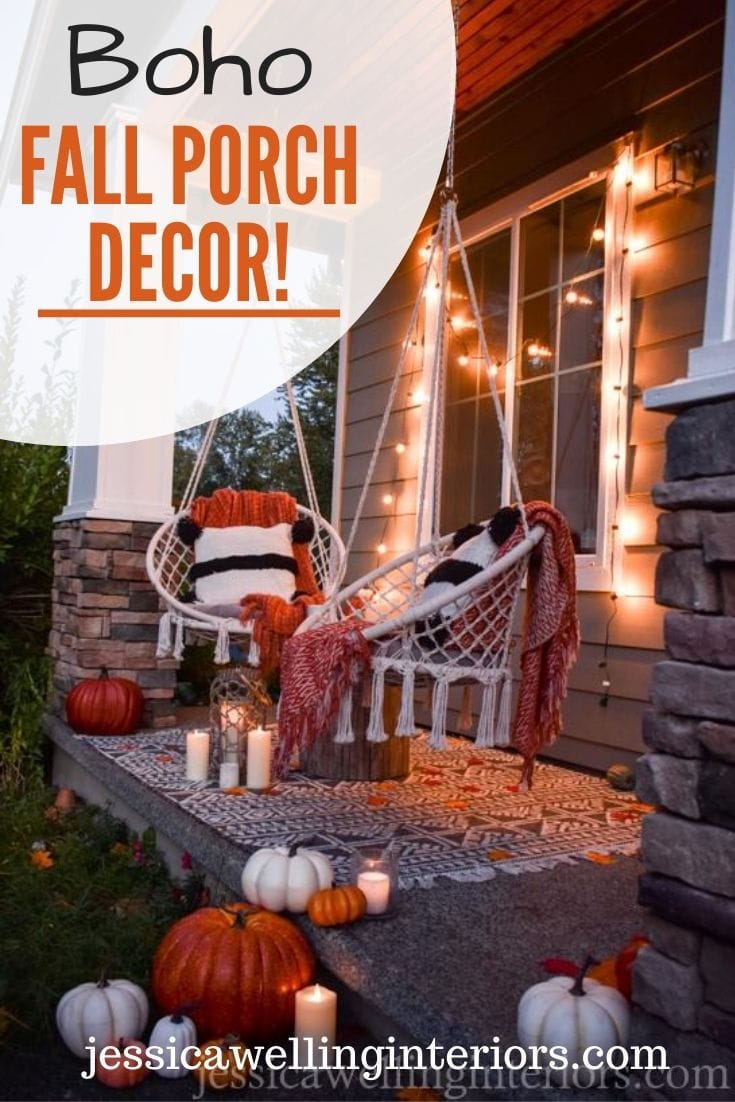 Even if you don't have the same amazing boho swinging chairs as Jessica, you can't go wrong with her tips on how to give your porch a boho makeover for Fall!
You'll be dying to sit on your front porch and have a cup of coffee on a cool Fall morning!
Thistle Key Lane is coming in with some more amazing ideas on how to decorate a small front porch for Fall! I absolutely love how her ideas compliment her dark door!
Jennifer ticks all the boxes and shares some amazing ideas for not only decorating your front porch for Fall, but also your patio space and kid's playhouse!
If you're looking for unique Fall decor ideas, you HAVE to see how she transformed her outdoor spaces for Fall!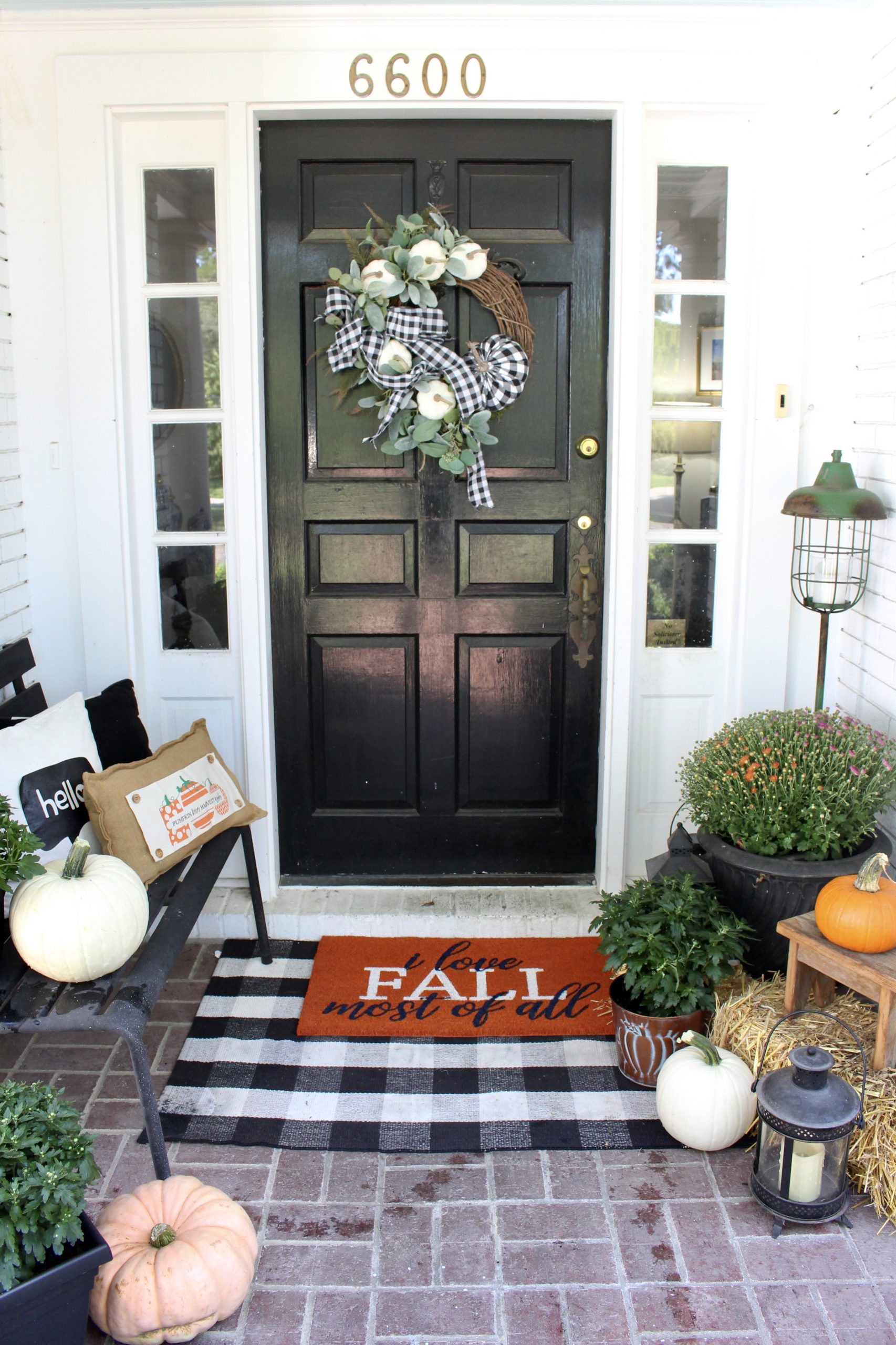 Don't want to go overboard with your outdoor Fall decor this year? Well, you have to check out how White Cottage Home & Living kept their front porch fall decor simple with the perfect Farmhouse feeling!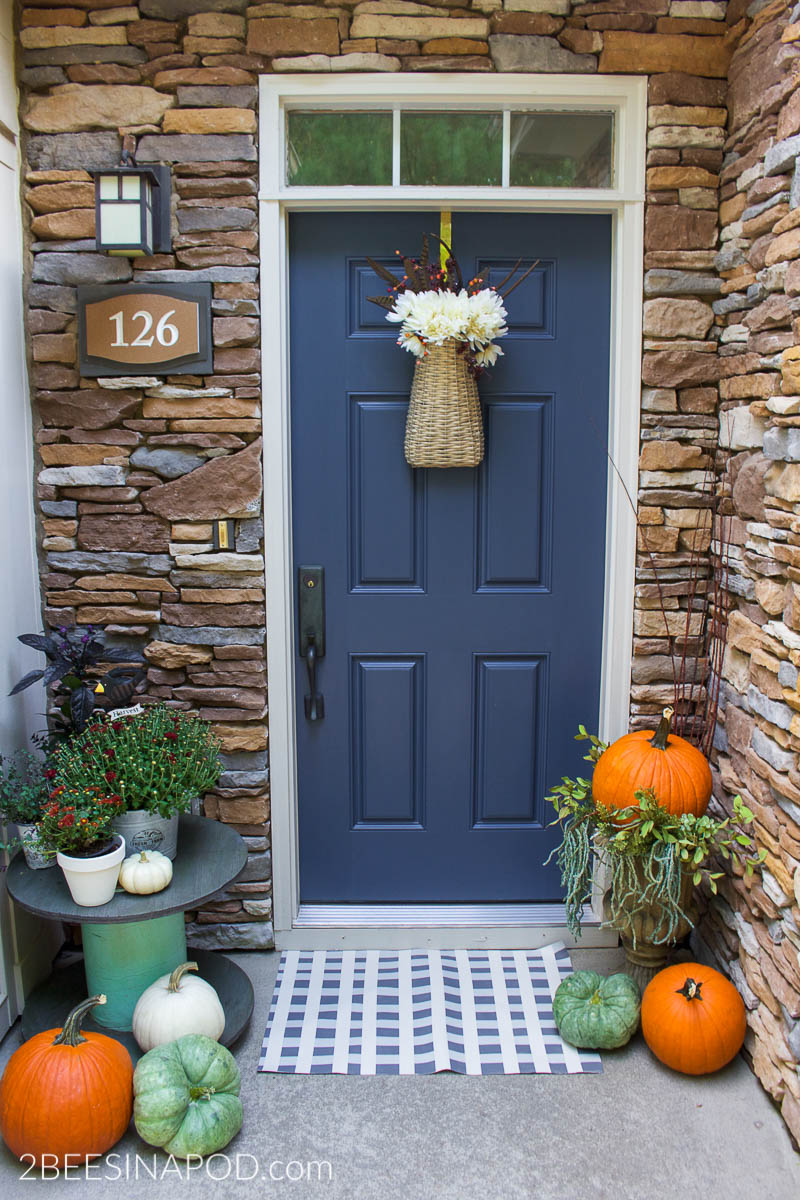 Can I just say, I absolutely LOVE the green pumpkins in this adorable Fall front porch decor!
Not only do 2 Bees in a Pod show how they brought their front porch to life for Fall, but they also transformed their patio to create a cozy and inviting space for their friends and family!
Balancing your front porch decor to make it more appealing can be difficult, so you can't go wrong with symmetrical decor!
Get some front porch Fall decor ideas and inspiration from The DIY Mommy, and you won't regret it!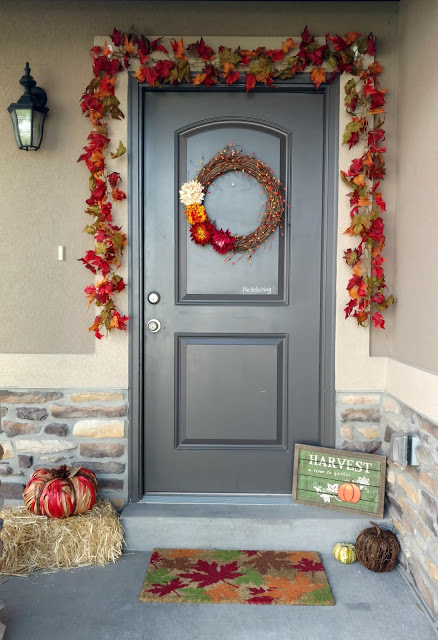 I absolutely love how Sunshine & Munchkins coordinated their front porch Fall decor with their Mantel decor to create a cohesive decor experience in their home!
See how they brought their simple, natural Fall decor to life!
2X4 WOOD PORCH PUMPKINS FOR FALL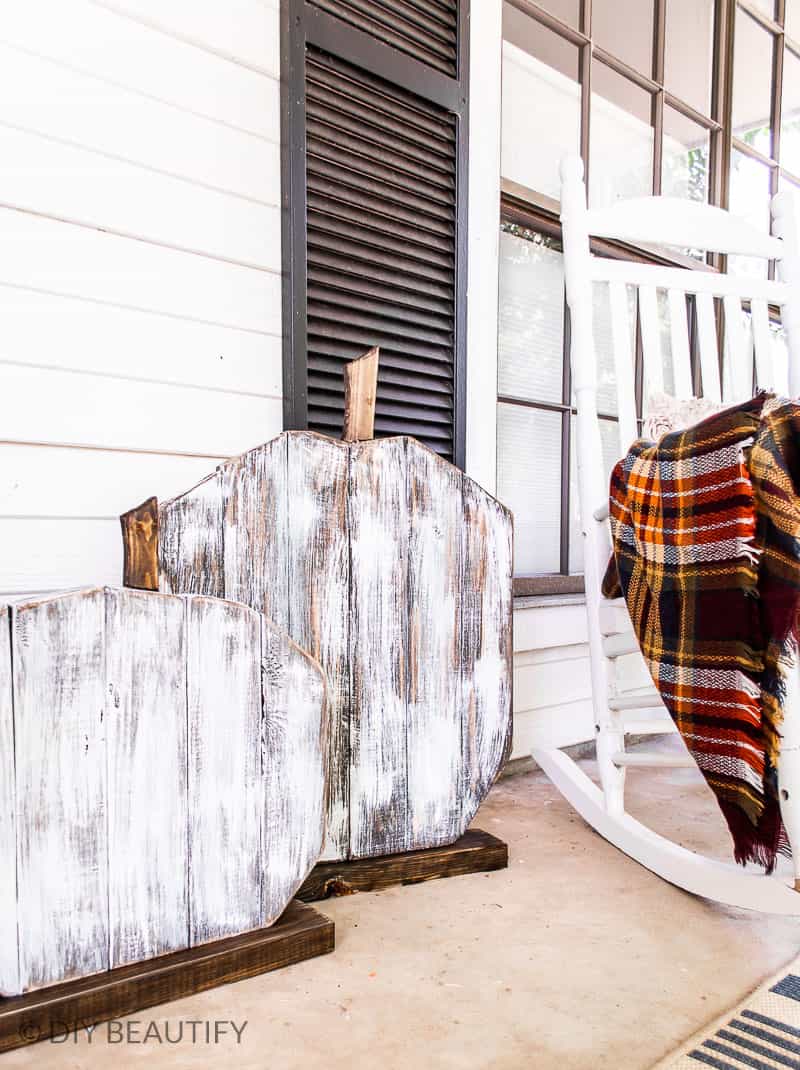 WOW! These DIY 2×4 Porch Pumpkins are absolutely AMAZING! Seriously, I might have to make some for my outdoor Fall decor this year!
I love the distressed finish on DIY Beautify's pumpkins, but you could totally customize the colors to match your Fall decor colors!
No front porch fall decor is finished without something eyecatching on your front door like this adorable DIY wreath!
Don't worry if you're not an experienced wreath maker, this DIY Fall Wreath is super simple and affordable to make!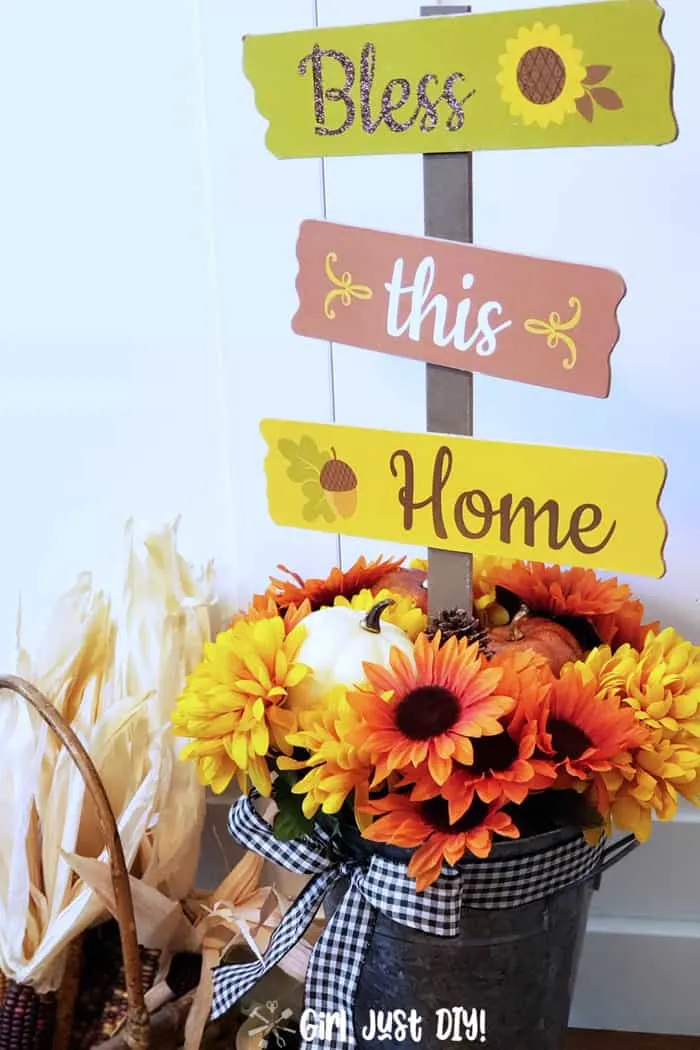 Doesn't this Dollar Store Flower Bucket DIY just scream Fall?? This would be absolutely amazing by your door on your front porch!
Check out the easy DIY tutorial for making your own Fall flower bucket!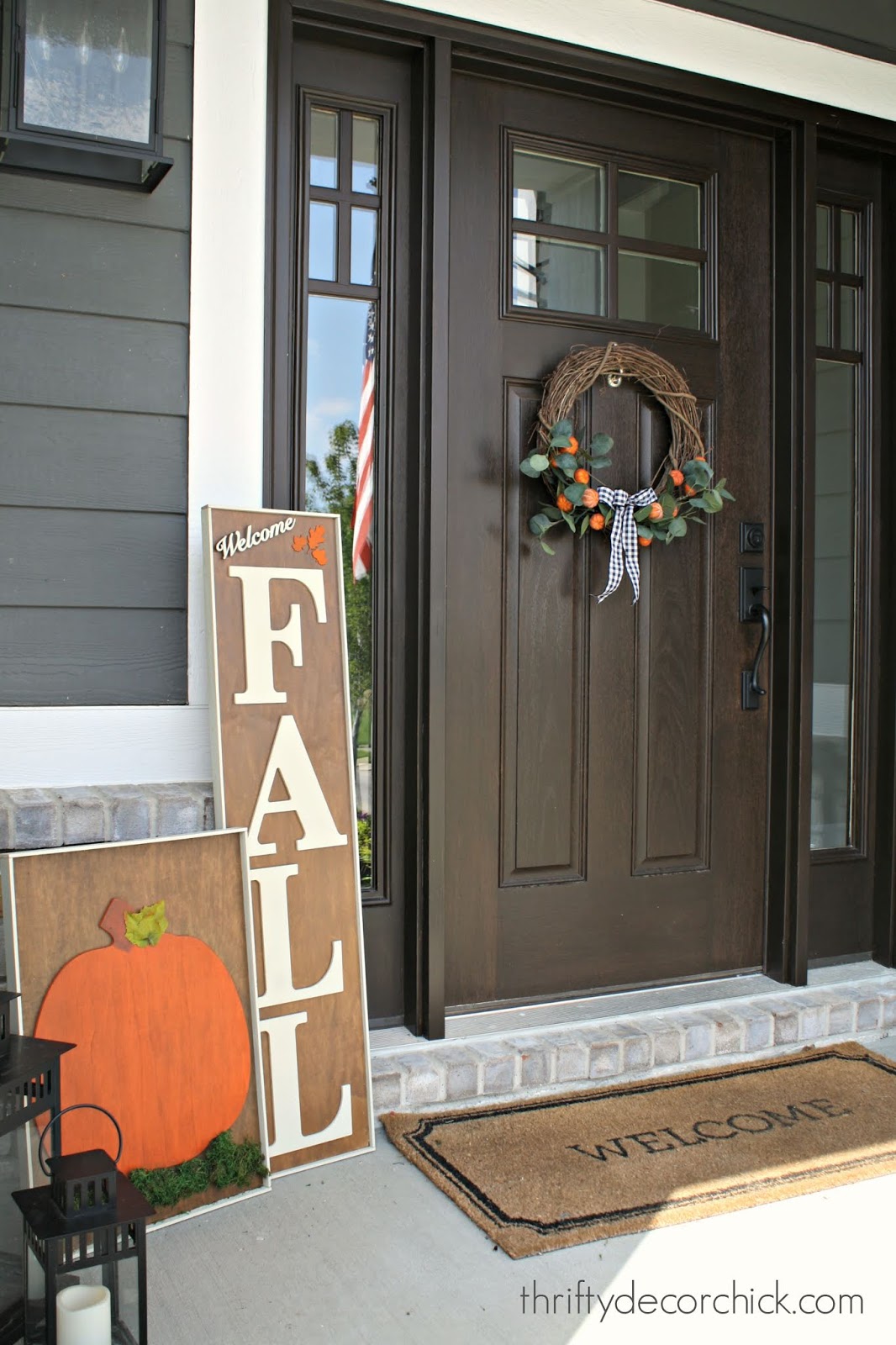 Who doesn't love a good large Fall sign?? They can be so expensive if you go to a store like Hobby Lobby or Home Goods, so why not make your own??
You have to see how Sarah, the Thrifty Decor Chick, made her own large fall porch signs, and how you can too!
Don't like using real pumpkins to decorate for Fall? You have to check out these DIY concrete pumpkins as an alternative!
Pin this post for later!
I hope you enjoyed these 14 Front Porch and Outdoor Fall Decor Ideas as much as I did and are inspired to decorate your home!!
You should totally join my FREE Facebook group called On A Budget Crafts! It is a judgment-free community for DIY crafters to show off their projects and ideas.
If you loved these Front Porch and Outdoor Fall Decor Ideas, you might also like these DIY ideas!
Thanks for stopping by! XOXO Amber
Check out my ENTIRE AMAZON Favorites shop which is packed full of all the things I use and love. Here is the supply list I highly recommend every creative have on hand!!
Would you also pin my blog for later and get on my newsletter alerts? I would love to have you join my #craftycrew.
I email alerts about new blogs like these 14 Front Porch and Outdoor Fall Decor Ideas so you're always up to date on fun, new DIY ideas!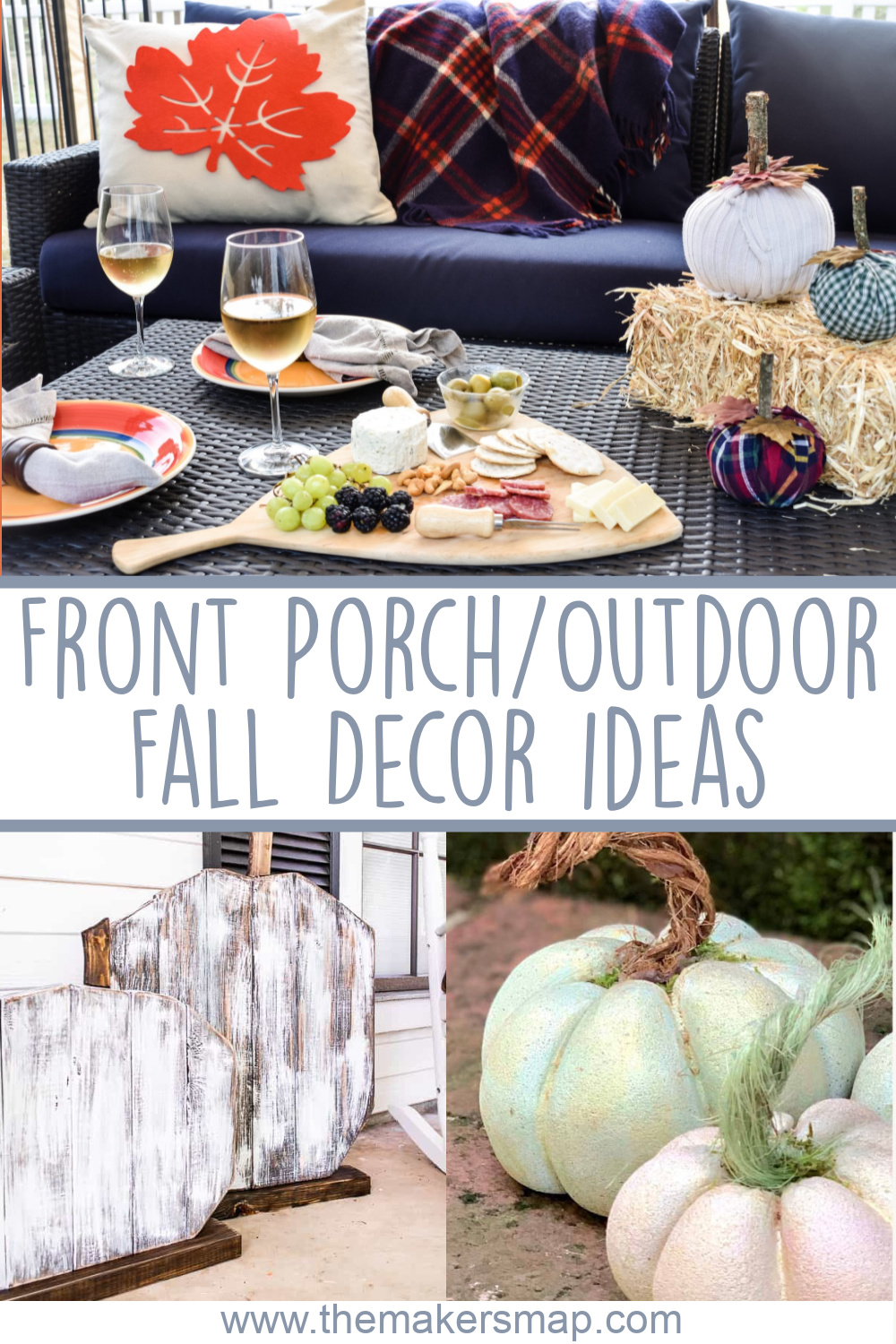 Inspired? Leave me a comment below! I love hearing from my readers!

Join my free "ON A BUDGET CRAFTS" Facebook group!