New Dollar Tree 2021 Fall Finds
Okay, if you're new here, you need to know that I make a lot of DIY home decor using Dollar Tree items. They're so affordable, it only makes sense to repurpose $1 into amazing home decor! Well, I just HAD to share with you these new Dollar Tree 2021 Fall Finds!
These items will be amazing for any DIY'er trying to get ready for the cooler weather and leaves to start falling!
You can go to your local Dollar Tree and see if they have these items in stock, or you can just order them online and have them sent right to your house!
Each title and image in this post is linked to Dollar Tree's website so you can shop their new Fall selections from your phone, tablet, or computer!
Don't be thrown off by the word "glitter" in the name of these adorable Dollar Tree fall signs! You can always sand off as much glitter as possible and paint over it!
I love these unique holiday signs to use as surfaces in my Fall DIY decor projects! Flip them over, and you have a blank canvas!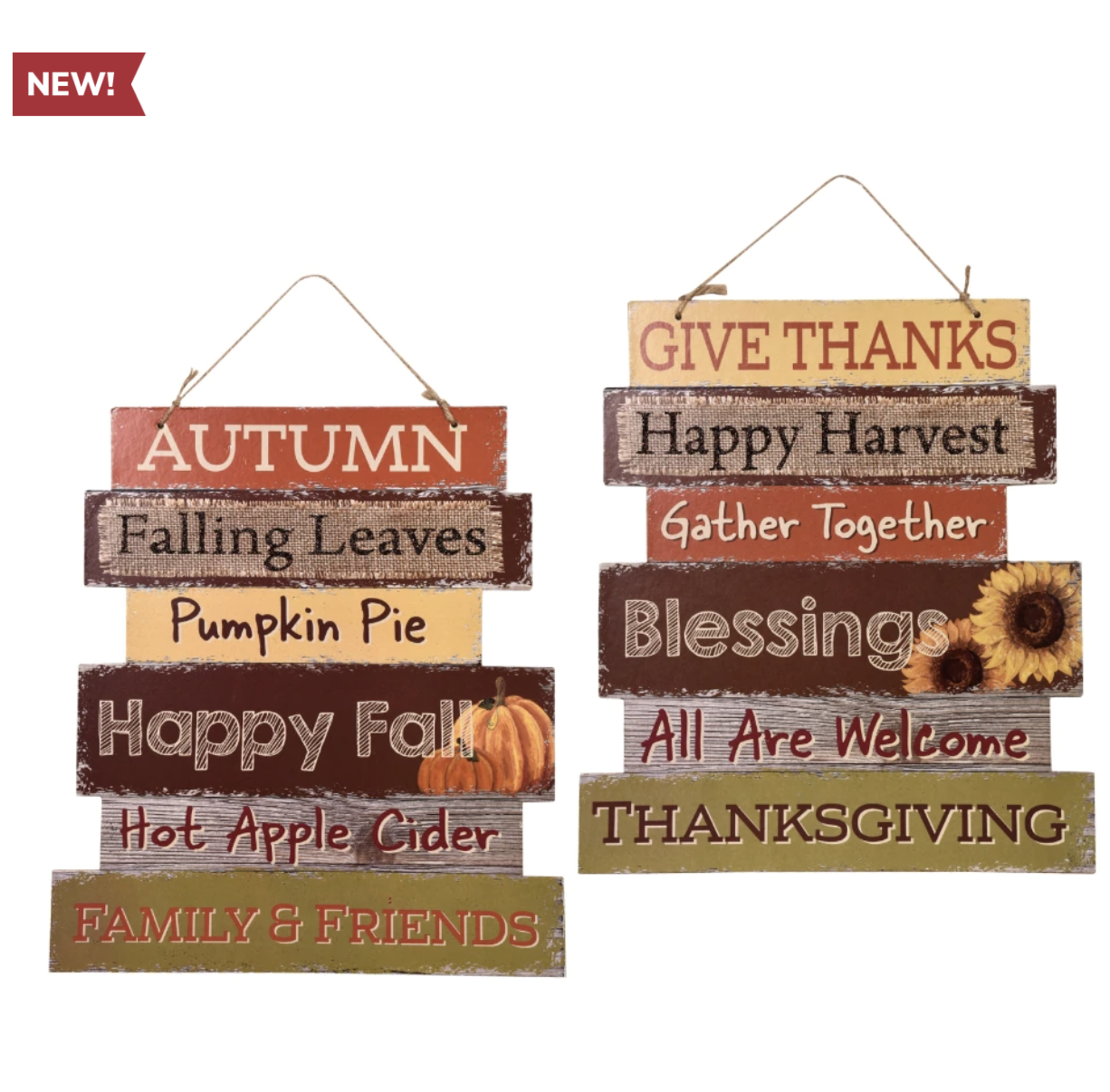 These wooden harvest Dollar Tree fall signs are PERFECT for any DIY'ers craft stash because they can be used YEAR ROUND!
Just like with the adorable trucks before, you can flip them over and you have a neutral blank canvas to work with!
Don't get me wrong, sometimes Dollar Tree fall decor can actually be cute just the way it is, but there is nothing wrong with repurposing their decor items.
These square fall signs are perfect for a DIY'er because you can use them year-round and customize them for any decor style or time of year!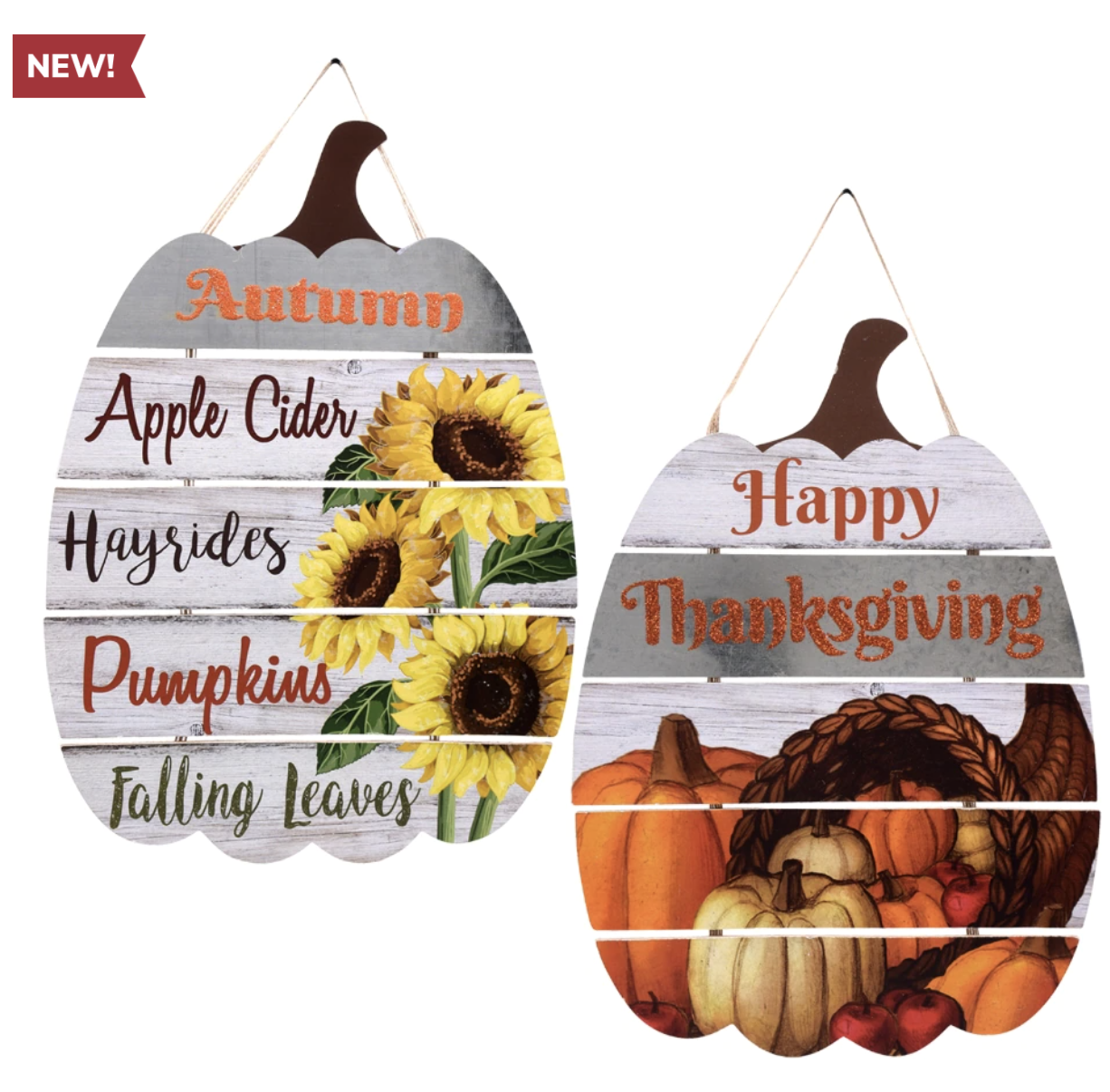 These Dollar Tree pumpkin-shaped signs are a little less versatile when it comes to DIY decor, but they are perfect for Fall!
I'm already imagining some adorable DIY projects I can do using these new Dollar Tree fall decor pumpkin-shaped signs!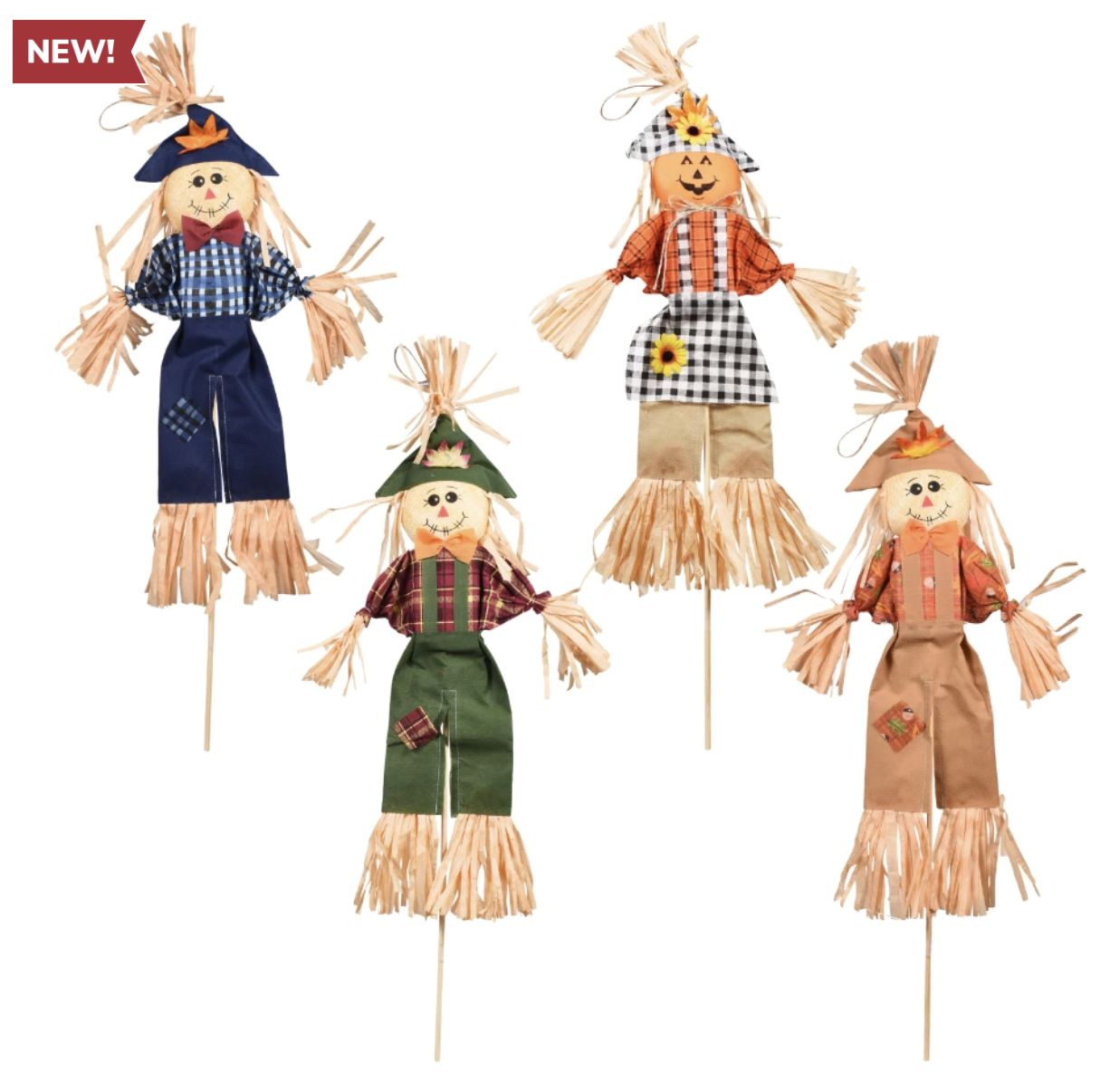 I'm not sure how I'm going to use these scarecrow stakes just yet, but I'm sure I can come up with something absolutely adorable!
Even if I don't use these in a DIY project, they are adorable to use in your home decor this Fall! Maybe put them in the garden by your front porch!
You can't have Fall decor without corn. It's like an unspoken rule! I am so excited about these metal corn stakes in the new Dollar Tree fall decor selections!
I can just see the perfect faux rust finish on these to go with some amazing DIY farmhouse decor!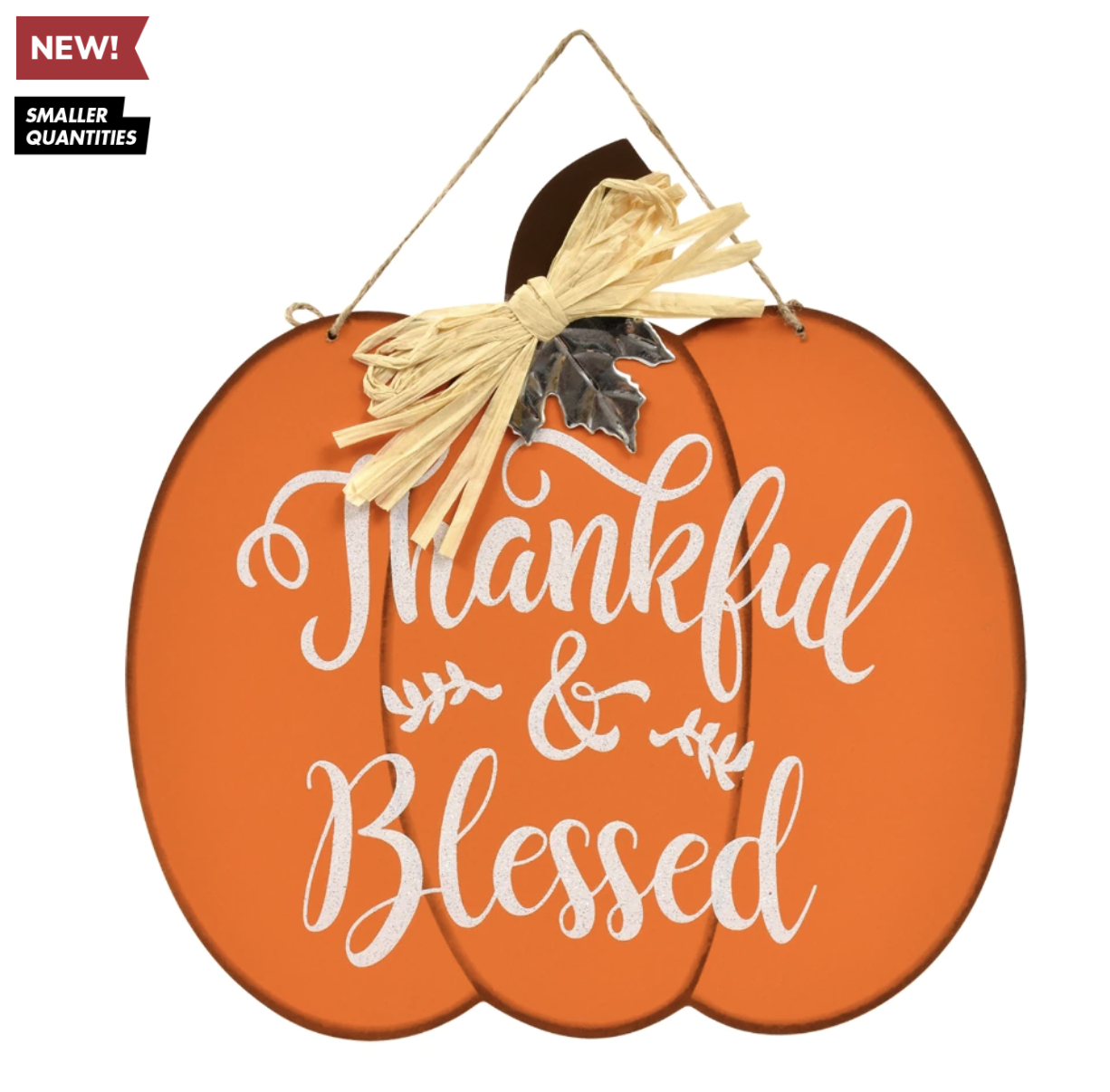 You can't go wrong with a good pumpkin-shaped sign. I really mean it! You can customize a pumpkin-shaped sign to fit any style of Fall home decor!
And for a dollar, you really can't beat it! Make sure to get you a few of these pumpkin-shaped signs the next time you make a visit to your local Dollar Tree!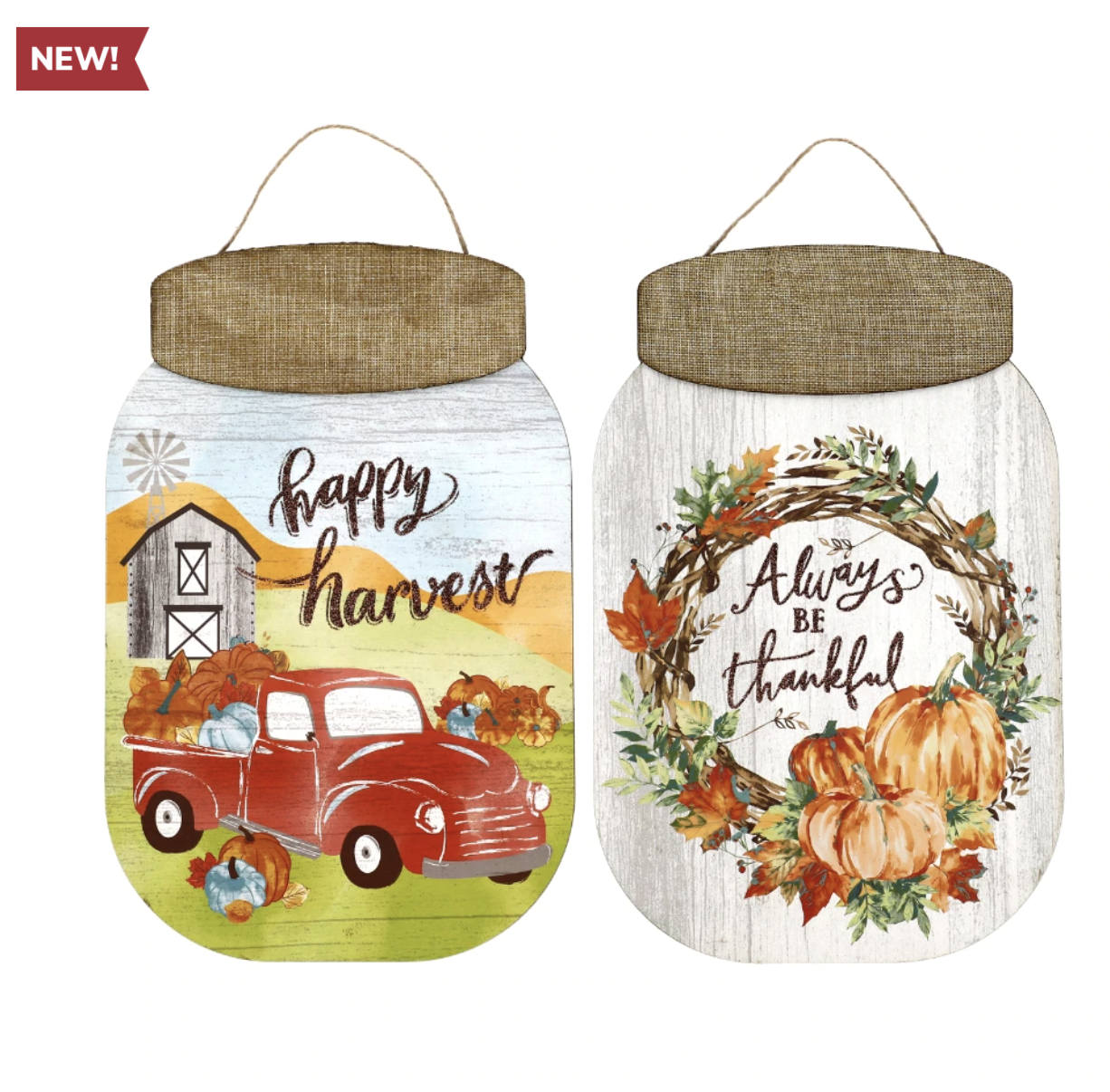 I am seriously OVER THE MOON excited about these mason jar Fall signs! Honestly, I like the Always BE thankful print, but these signs are great for customizing and your own DIY ideas!
Have you ever seen something as adorable as these Dollar Tree Fall LED lights??? I mean, seriously! These are so cute, I CANNOT wait to use them!
Okay. They can't be serious with these. Buffalo check AND pumpkins AND mini!?!? These are TOO STINKING CUTE!!
RUN, don't walk, to your closest Dollar Tree to snatch these up before they're all gone! I just KNOW these aren't going to last very long on the shelves!
Y'all. LOOK AT THAT TRACTOR! My creative DIY gears are turning FULL speed in my head right now!
I can't wait to use these metal tractor/truck stakes to make some adorable DIY Fall home decor!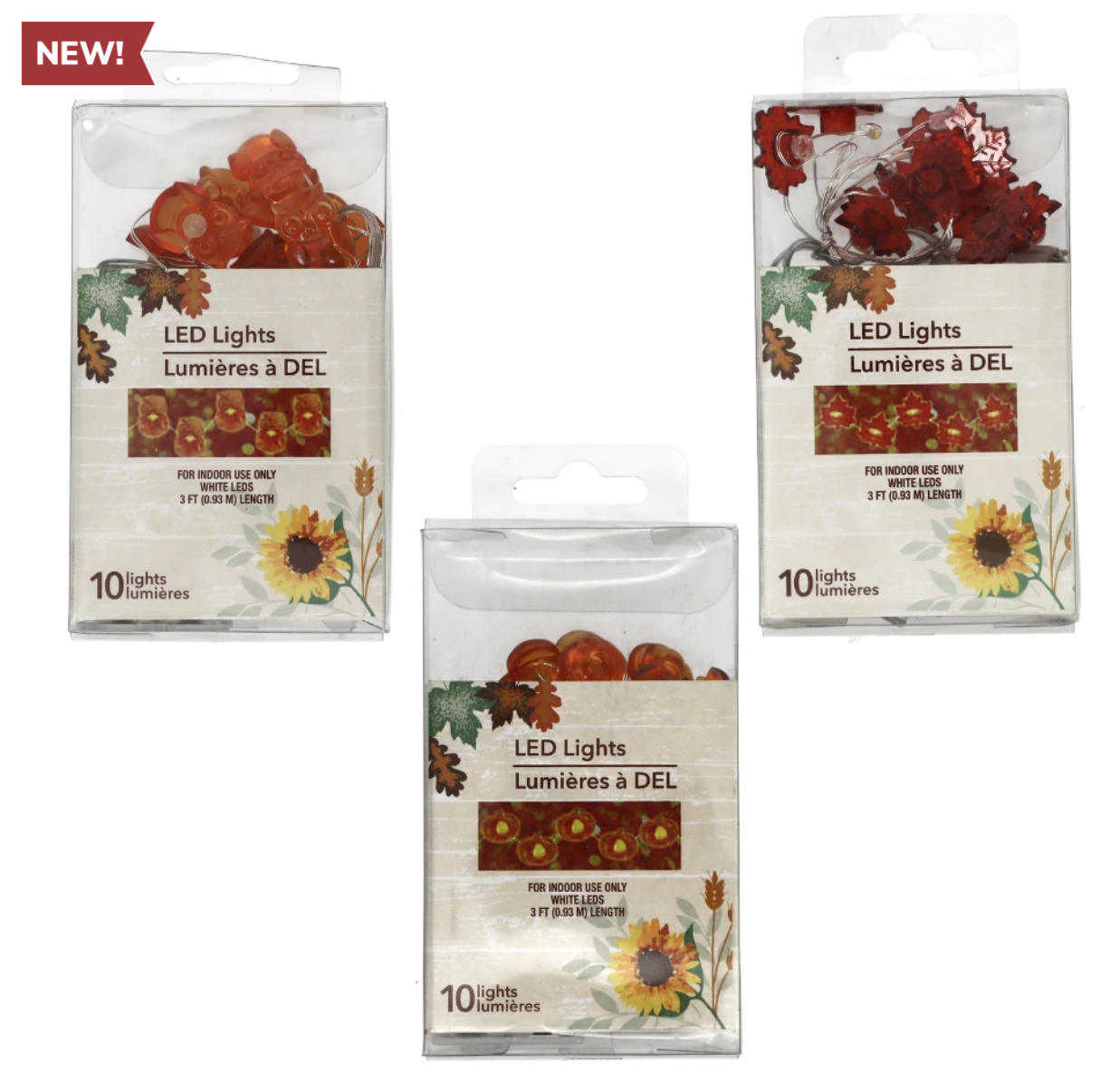 These are some more Fall LED lights that I'm sure can be used to make some super cute Fall DIY home decor this year!
Even if you don't make something out of these, you can hang them up to decorate a classroom or desk!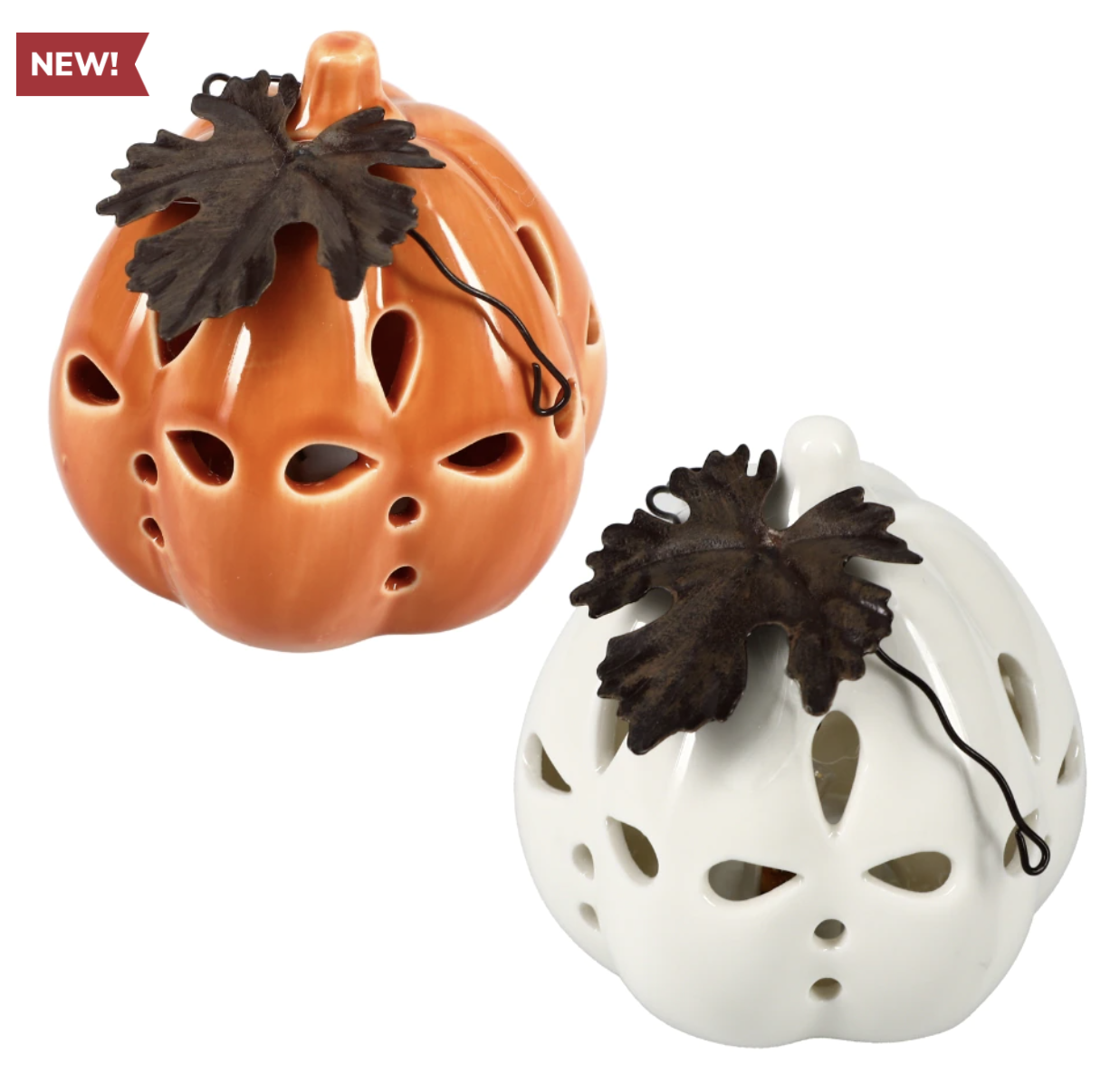 These little eyelet pumpkins are perfect for filling shelf space and adding a bit of spice to your home decor this Fall!
I mean, you don't even have to do anything to do these adorable little pumpkins to use them in your home decor!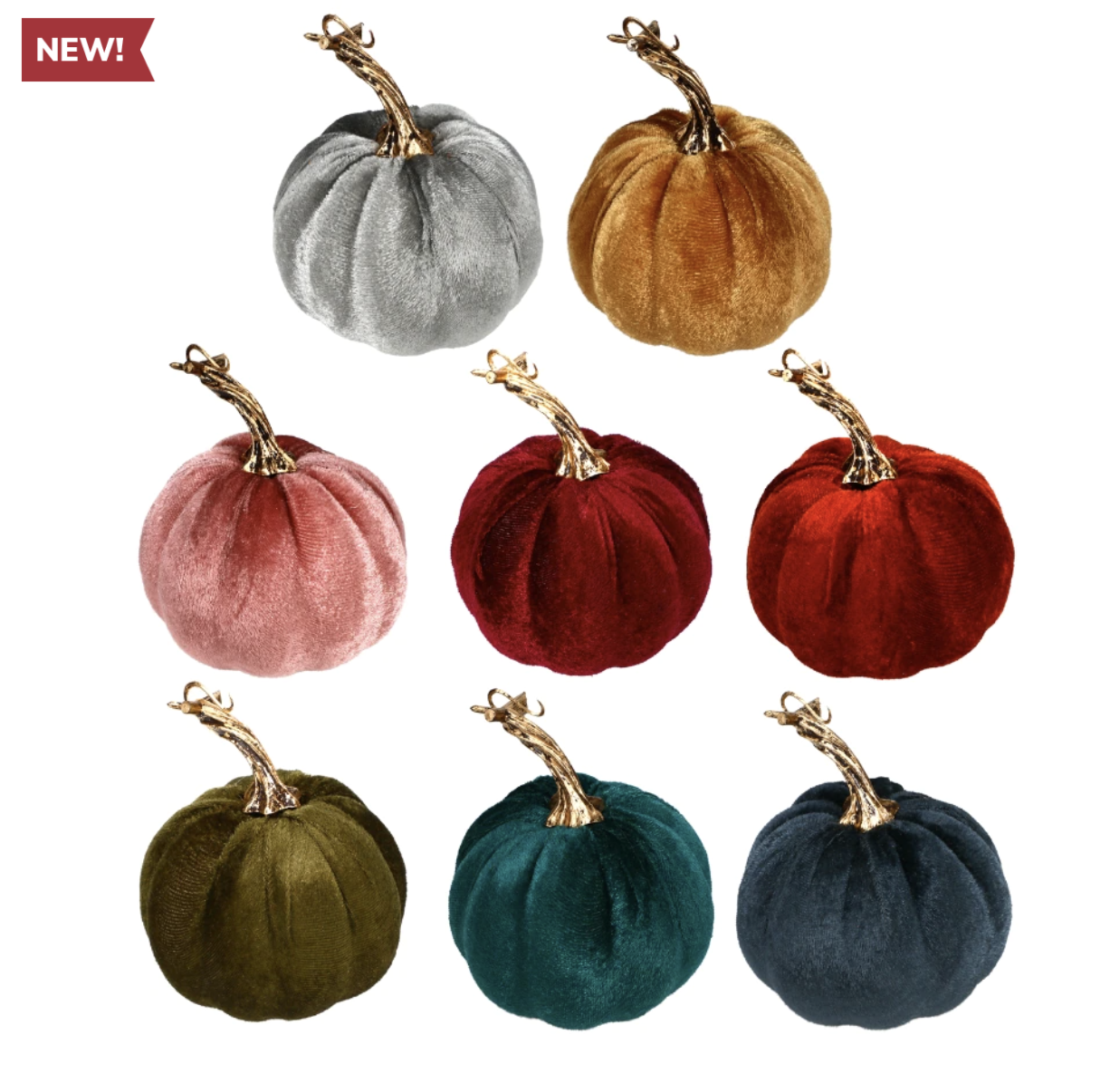 I'm not sure that I'll use these velvet pumpkins in my own home decor, but they are too adorable not to share!
Just because they don't really match my decor style doesn't mean they aren't absolutely adorable!
You know what metal means, right? I can just see the faux rust finish on the bumpers of these Dollar Tree vintage metal signs!
You can use these metal trucks for Fall decor, but you can also use them for Christmas or every day with just a little bit of paint!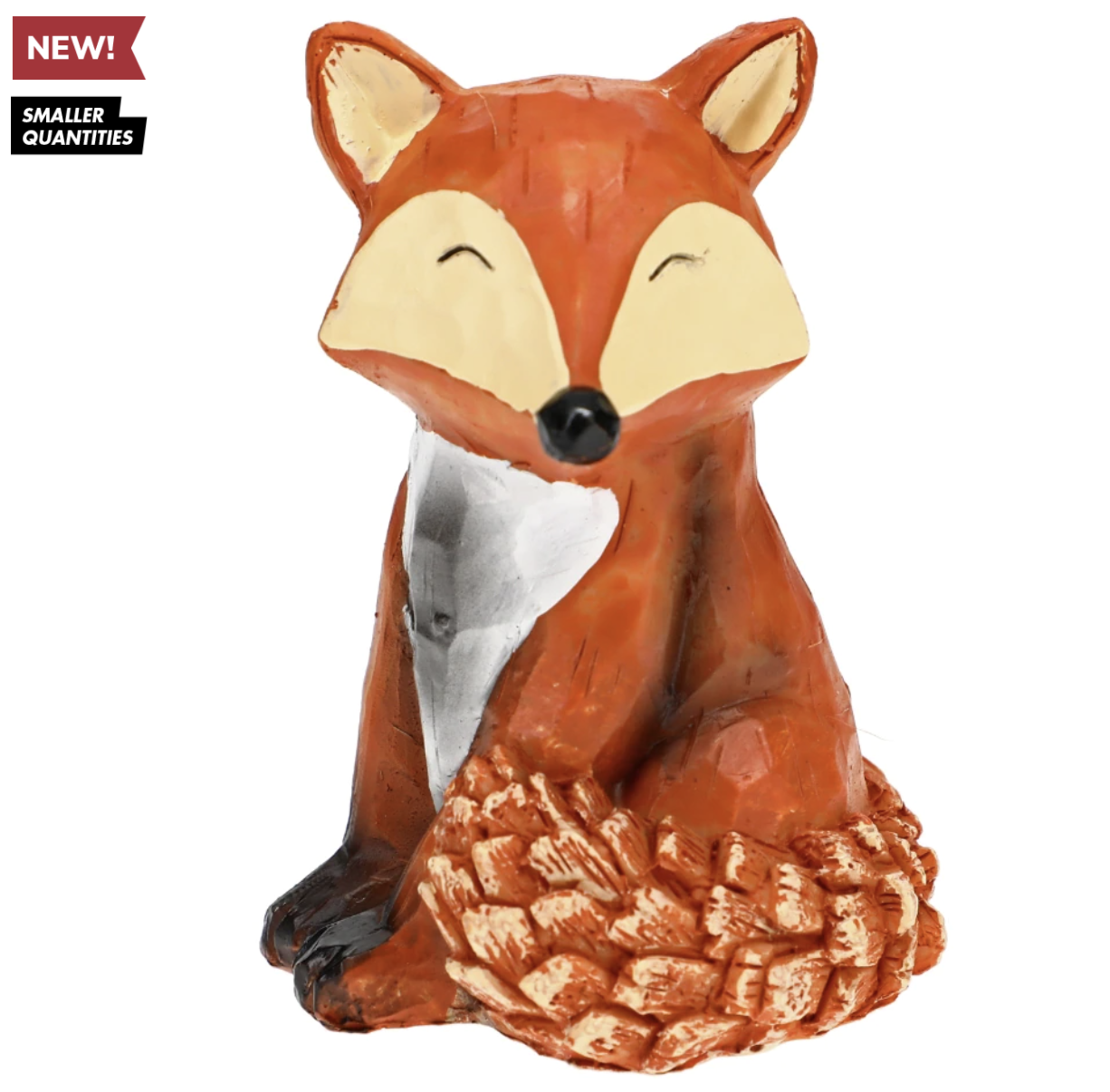 How cute is this little fox?? I wouldn't do anything to this Dollar Tree fox figurine, but it would be a great way to add to your decor!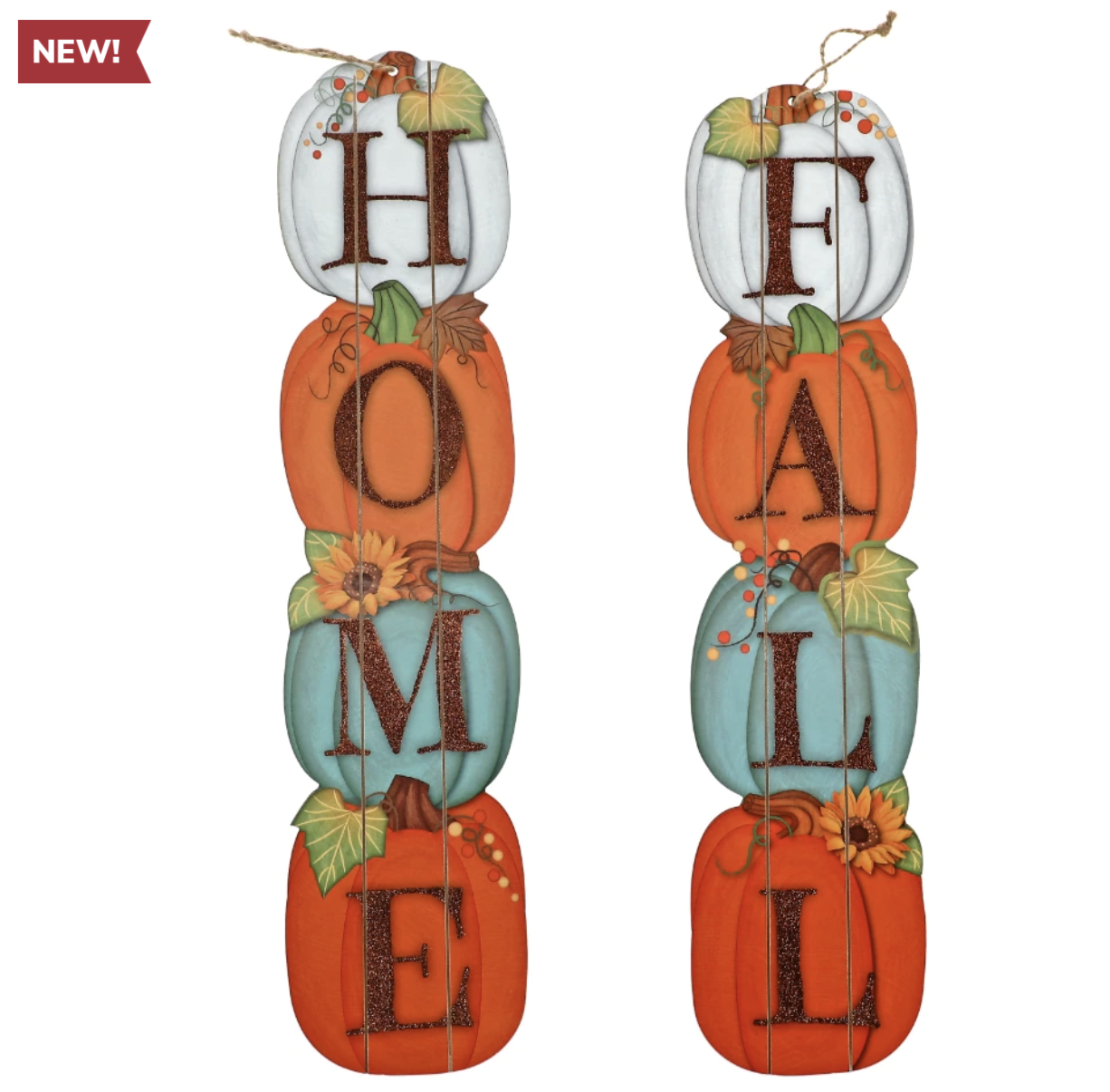 These Dollar Tree hanging harvest pumpkin signs are amazing! I love the vertical planks SO MUCH! If I'm being honest, I'm not a fan of the designs on these.
But that's nothing that can't be fixed! I'm sure I'll use these in my DIY projects this year!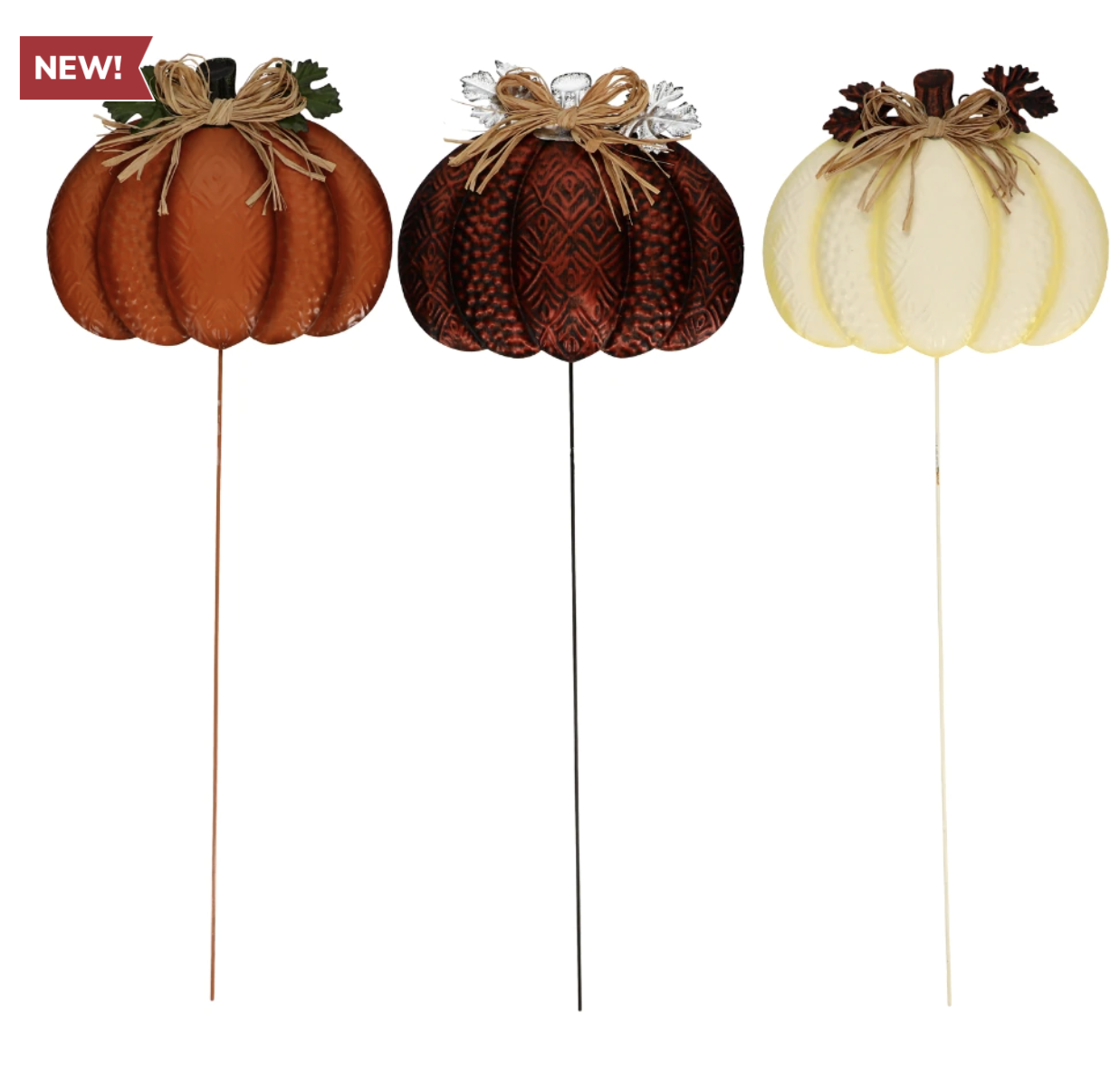 These Dollar Tree pumpkin garden stakes are so great and would be amazing in a centerpiece, wouldn't they??
I already have a few ideas of how I'm going to repurpose these new Dollar Tree fall decor stakes to create something amazing!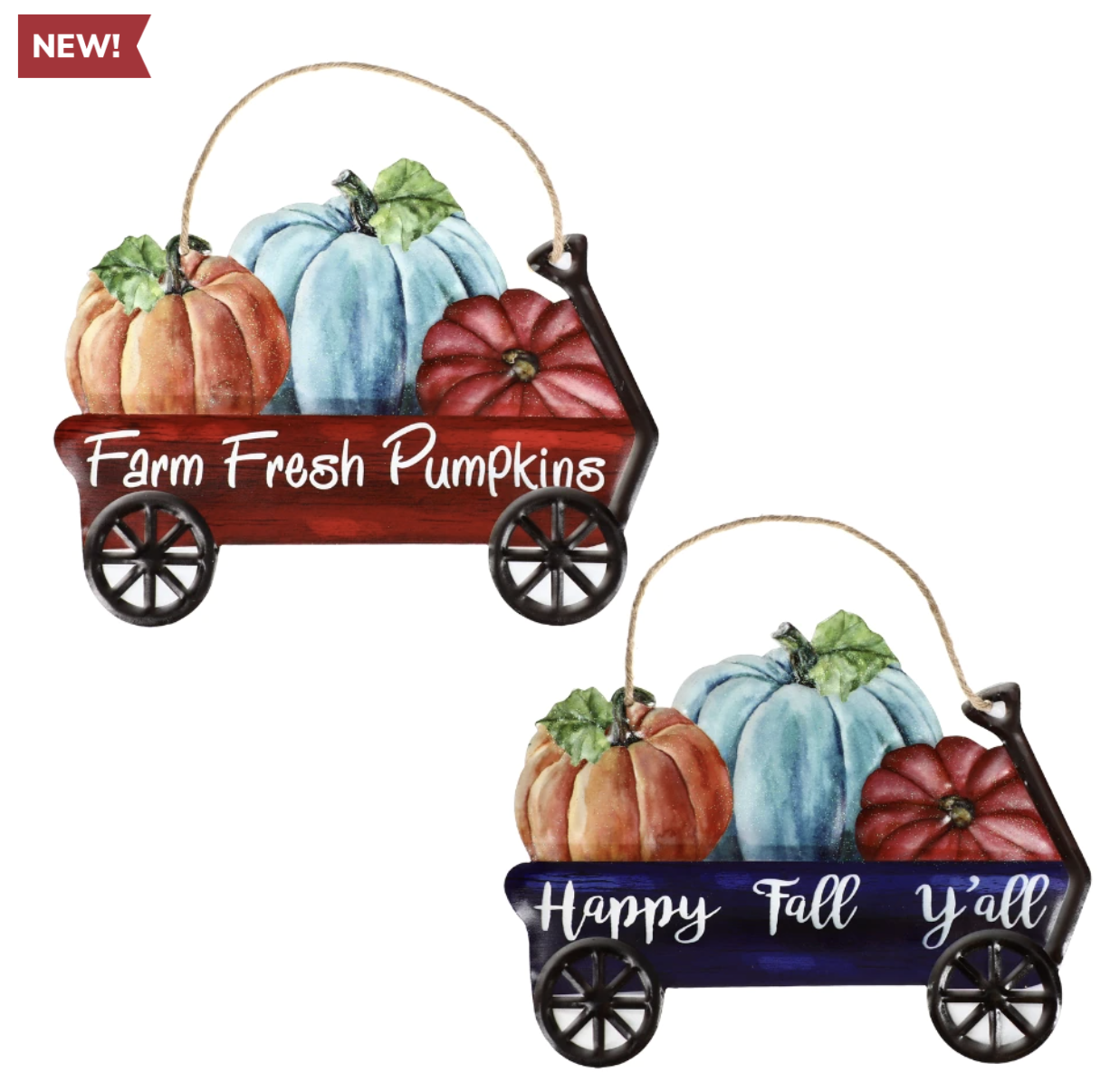 OH MY GOSH! These are SO STINKING CUTE! I literally can't handle this right now! I am going to have to stop myself from buying ALL of these from my local Dollar Tree!
Seriously, I might just order a case from Dollar Tree online!
I've used tablecloths to make some amazing DIY home decor, and with these adorable Dollar Tree fall tablecloths, I'm not going to stop any time soon!
These seem to have the pattern mainly on the edges, but you can use the other parts of the tablecloths to make bows or whatever you can think up!
There's just something irresistible about mini pumpkins. Or is that just me? Either way, you can use these adorable little pumpkins to add to your Fall home decor!
If they don't match the colors you're going for, you can always paint them!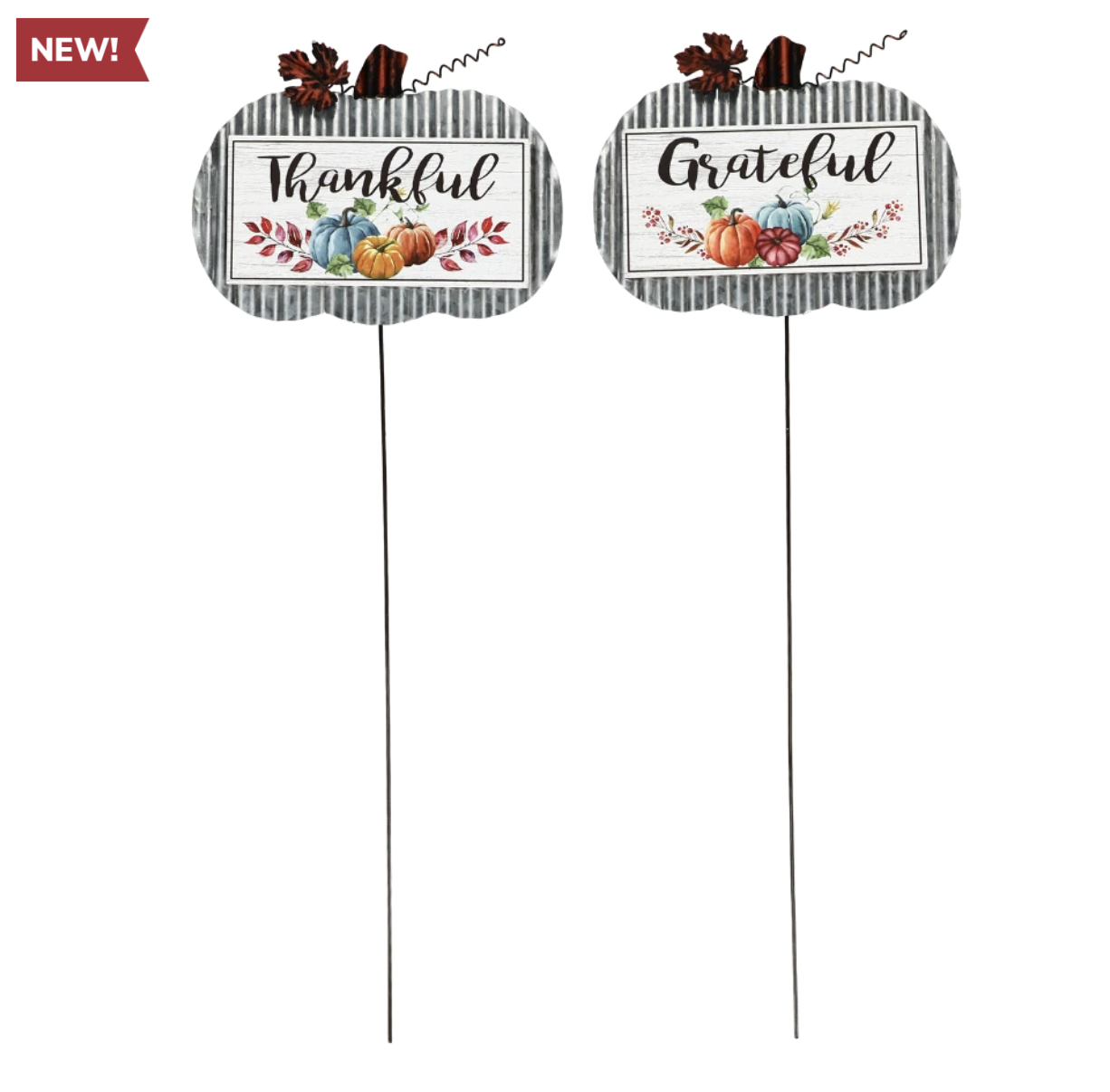 Look at that crimped metal! These might be my favorite things that I've seen in the new Dollar Tree Fall decor!
I am so excited to make something with these!!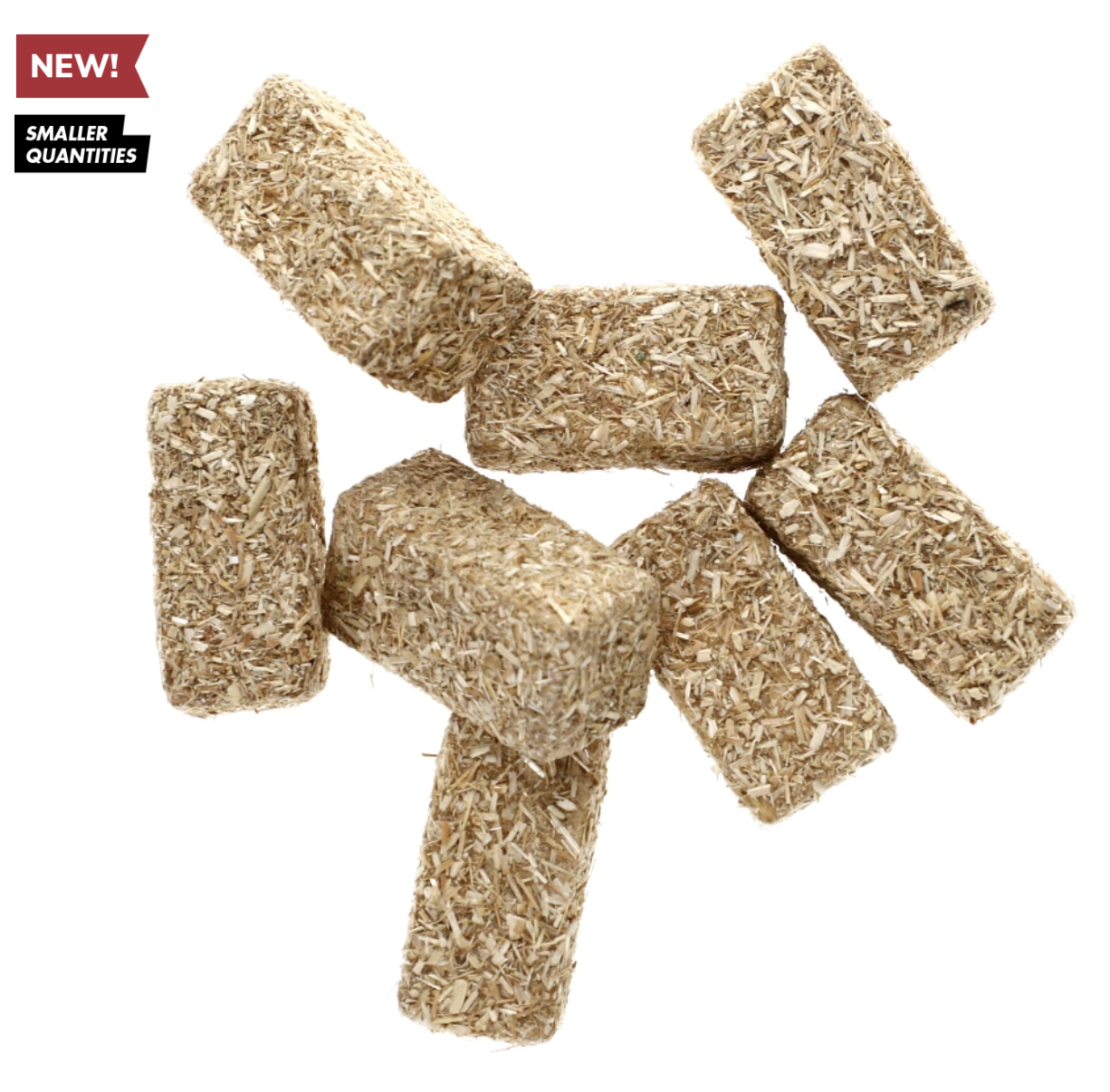 I have a feeling these min faux hay bales are going to be a HIT and hard for Dollar Tree to keep in stock. If you see them, you better go ahead and scoop them up ASAP!
Go to your Dollar Tree, NOW!
I hope you enjoyed these new Dollar Tree 2021 Fall finds as much as I did and decide to use them yourself! If you do, I would love to see how your project turns out!
You should totally join my FREE Facebook group called On A Budget Crafts! It is a judgment-free community for DIY crafters to show off their projects and ideas.
Thanks for stopping by! XOXO Amber
You can also shop my ENTIRE AMAZON Favorites shop just click here! It's packed full of all the things I use and love. Here is the supply list I highly recommend every creative have on hand!!
Would you also pin my blog for later and get on my newsletter alerts? I would love to have you join my #craftycrew.
I email alerts about new blogs like these new Dollar Tree 2021 Fall finds so you're always up to date on fun, new DIY ideas!
Inspired? Leave me a comment below! I love hearing from my readers!

Join my free "ON A BUDGET CRAFTS" Facebook group!