Dollar Tree DIY Spring Decor with Free Printable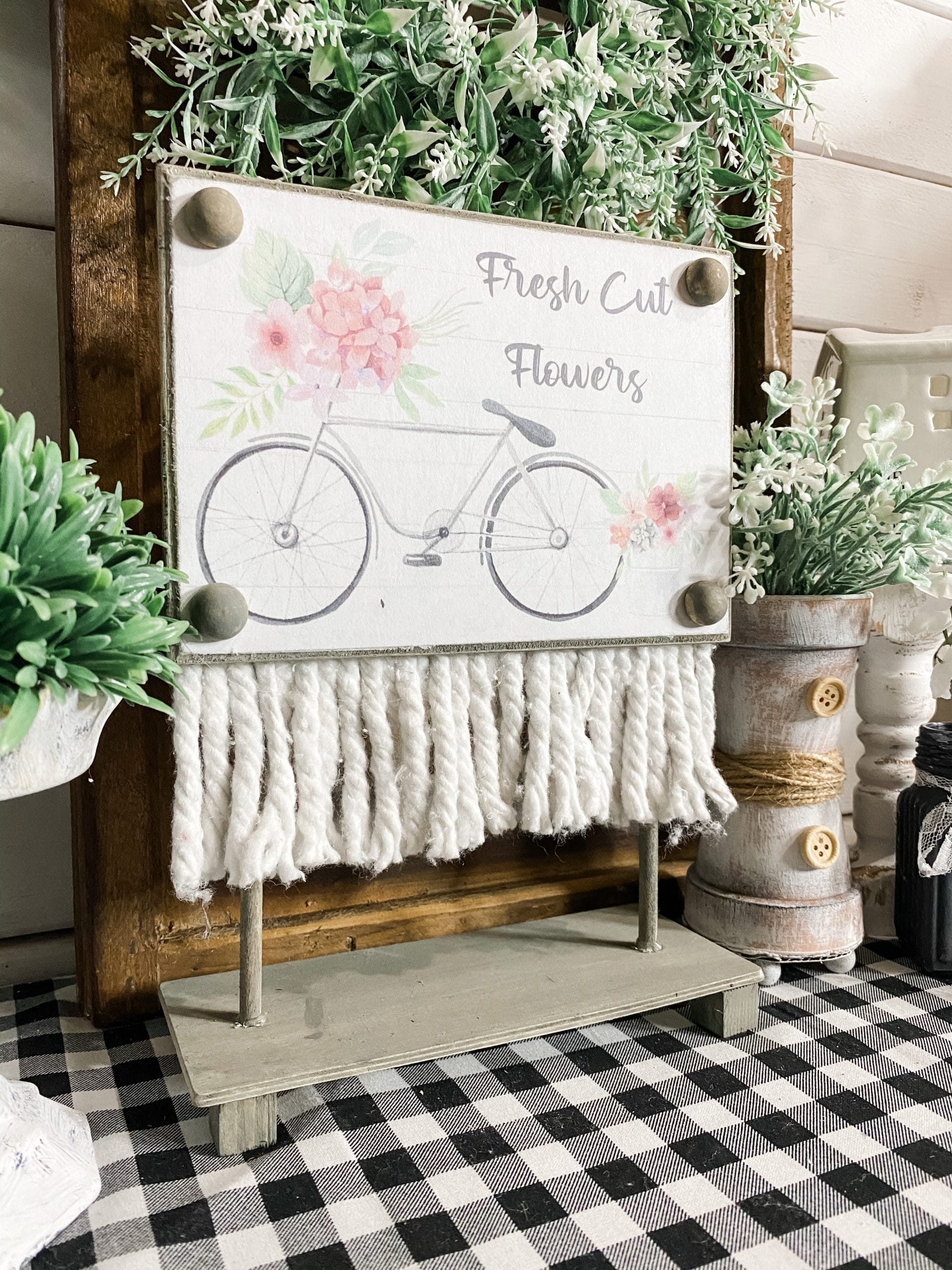 Y'all have been asking for new free spring printables, so here is one just for you! I designed the adorable spring bike printable for this Dollar Tree DIY Spring Decor with Free Printable project.
The printable file comes with the spring bike design I used for this project along with a Valentine's Day printable design! You can get your copy sent straight to your email inbox! (Send me the FREE Printable!)
Watch the replay
Not only can you get the spring printable for free, but you also have this FREE DIY tutorial video at your disposal!
I recorded how to make this easy spring DIY during a LIVE video on my Facebook page, and if you want to craft along or see my techniques, you can watch the replay!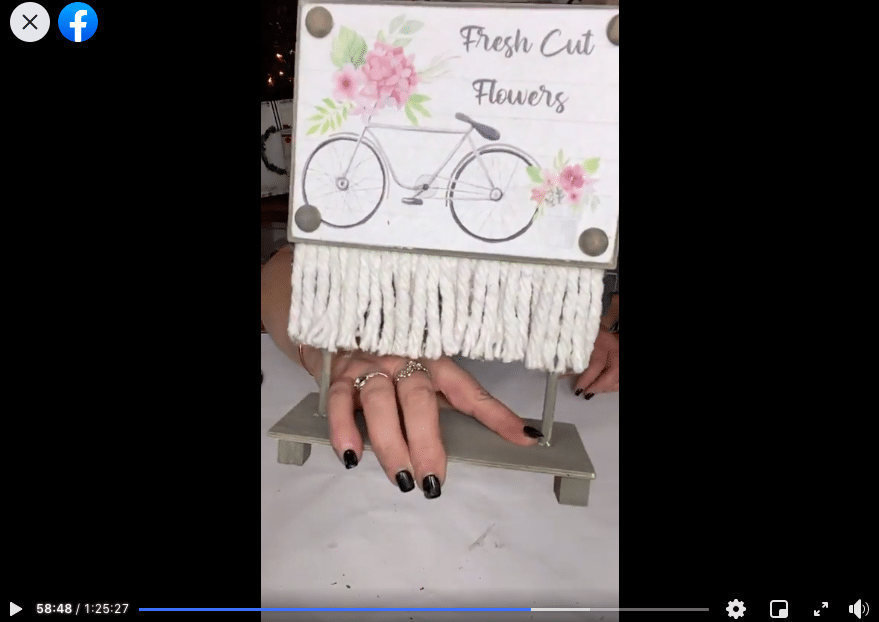 For this project, I will be using these items but you can substitute where you want.
"As an Amazon Associate, I earn from qualifying purchases."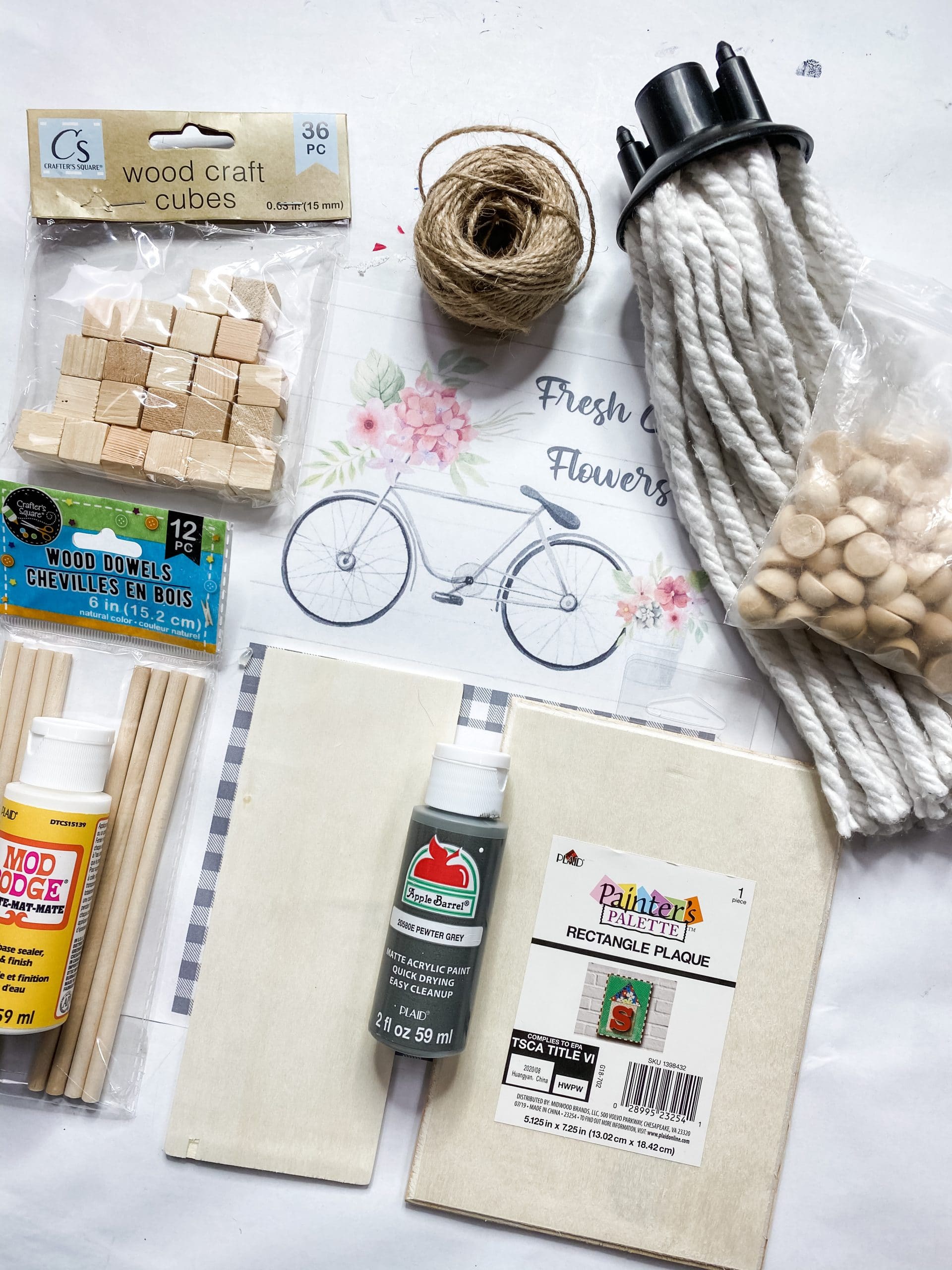 Let's get started!
The first step to making this adorable Dollar Tree DIY Spring Decor with Free Printable is to stain the Dollar Tree Rectangle Plaque with your Apple Barrel Pewter Grey Acrylic Paint. To do this, pour a bit of the grey paint directly onto the wood rectangle plaque and use a wet wipe to spread the paint across the wood.
Use a clean wet wipe to remove any excess paint. Your wood will be left with a perfect stained finish! You can always buy wood stain, but it is usually more expensive than this technique.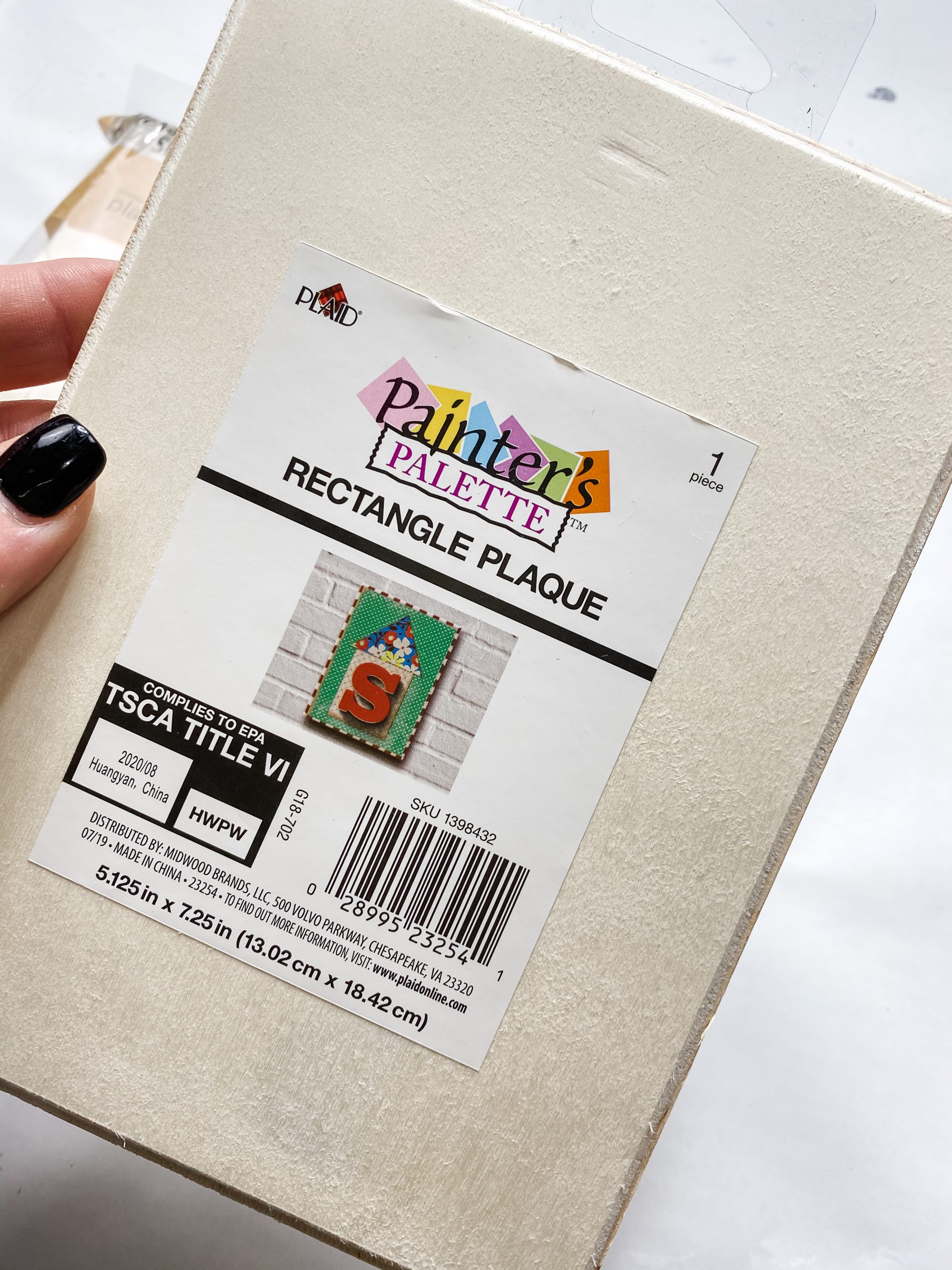 Allow the Dollar Tree wood plaque to dry before you move to the next step! I used my heat gun to speed up the drying process. If you don't have one, you can always use a hairdryer on the low cool setting.
Once your wood is dry, you're going to need your printable design. I have a super cute (if I do say so myself) FREE spring printable available, and it is the one I used for this project!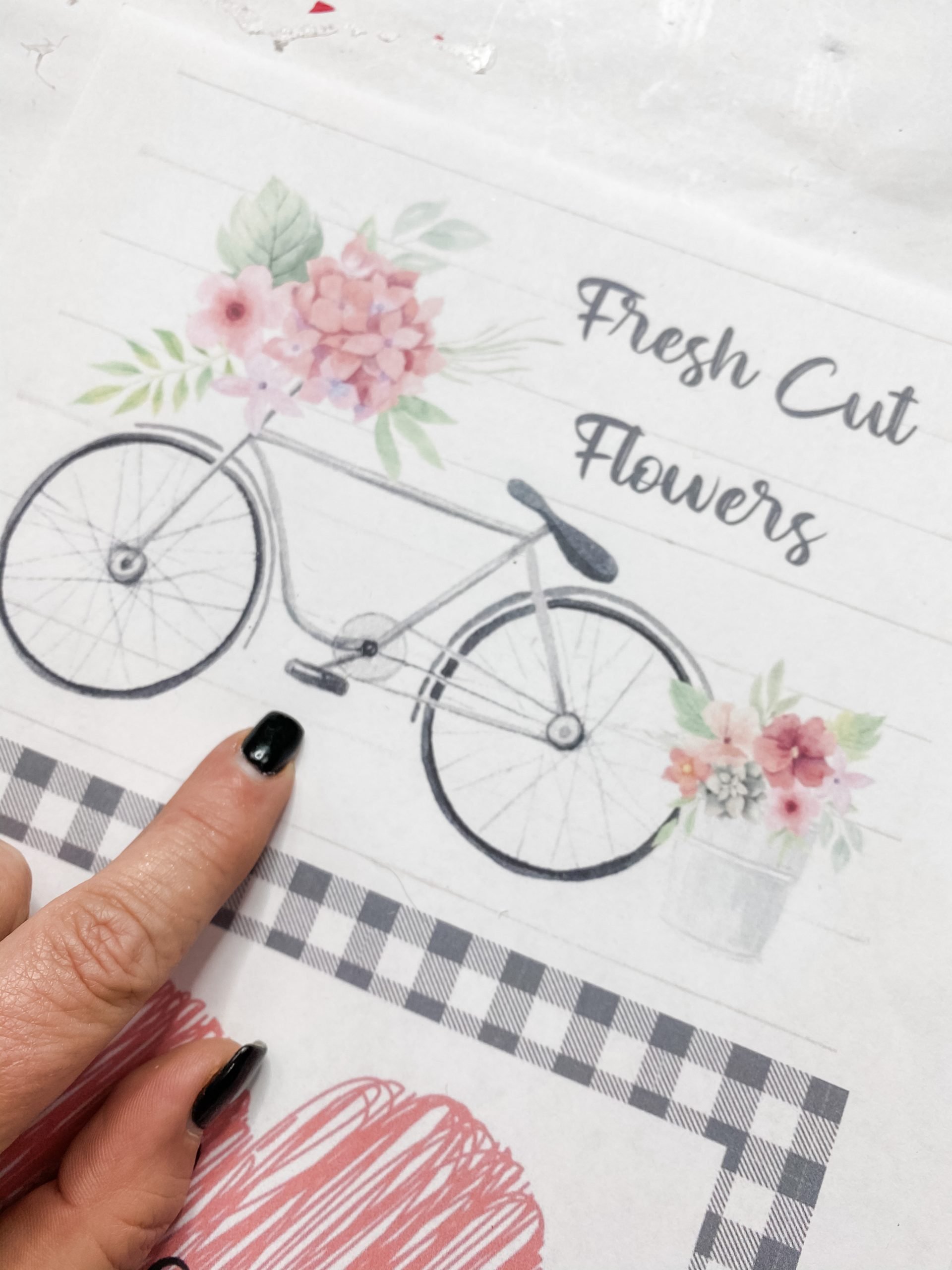 How to decoupage
Now that you have your stained wooden rectangle dried and the bike printable design ready, it is time to decoupage! To decoupage, you're going to apply a coat of Mod Podge to the surface of your wood plaque and carefully place the printable design.
Do your best to prevent and wrinkles or creases from forming. If you see any, lay a piece of plastic saran wrap over the printable and use a rolling pin to smooth out the imperfections.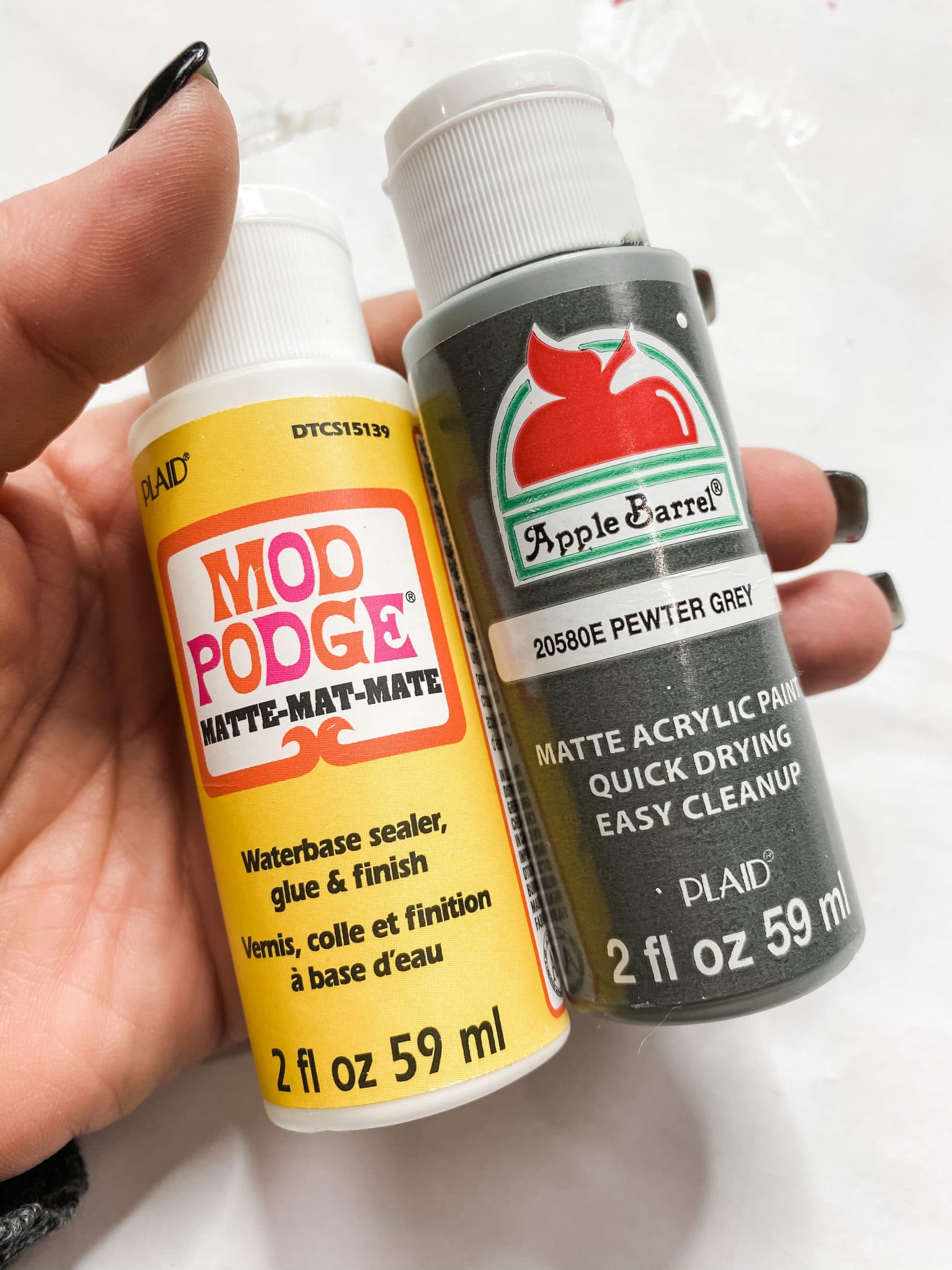 Once the Mod Podge dried, I went around the edges with a sanding sponge to lightly distress the wood and blend the paper into the wood. This makes the bicycle printable look like it was always there!
Get to staining!
Remember the wood staining technique we used on the Dollar Tree Rectangle Plaque? Well, you're going to use that same technique to stain the two wood dowels, four woodcraft blocks, four half wood beads, and a wooden rectangle.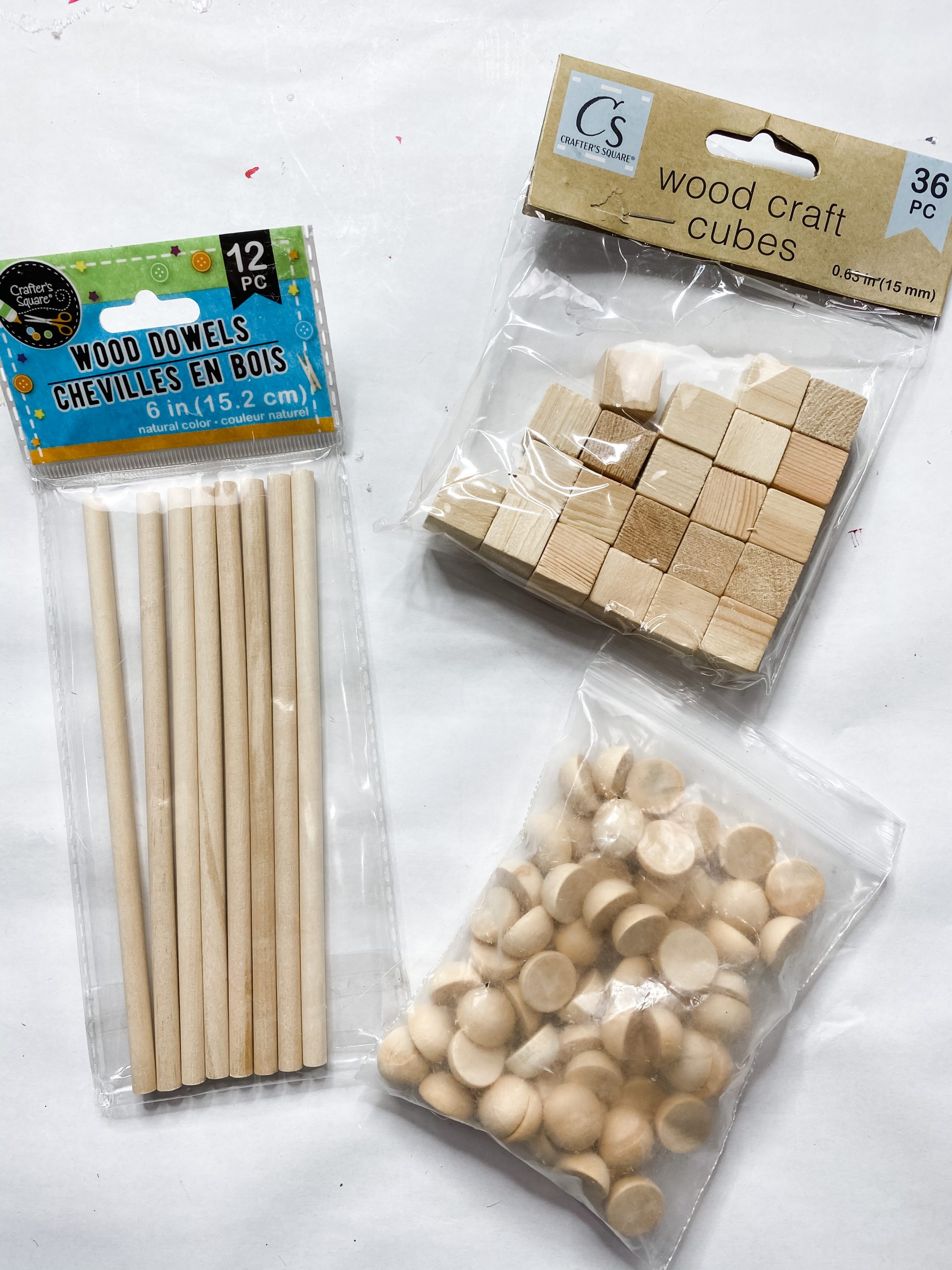 Dry all of the pieces that you just stained. I recorded myself making this adorable spring decor during a Facebook LIVE video, so I didn't have time to let them dry naturally. That's why I LOVE my heat gun so much!
Once they're dry, you're going to drill two holes in the Dollar Tree wood rectangle for the wood dowels to go in. You want them to be spaced slightly smaller than the width of the decoupaged rectangle plaque.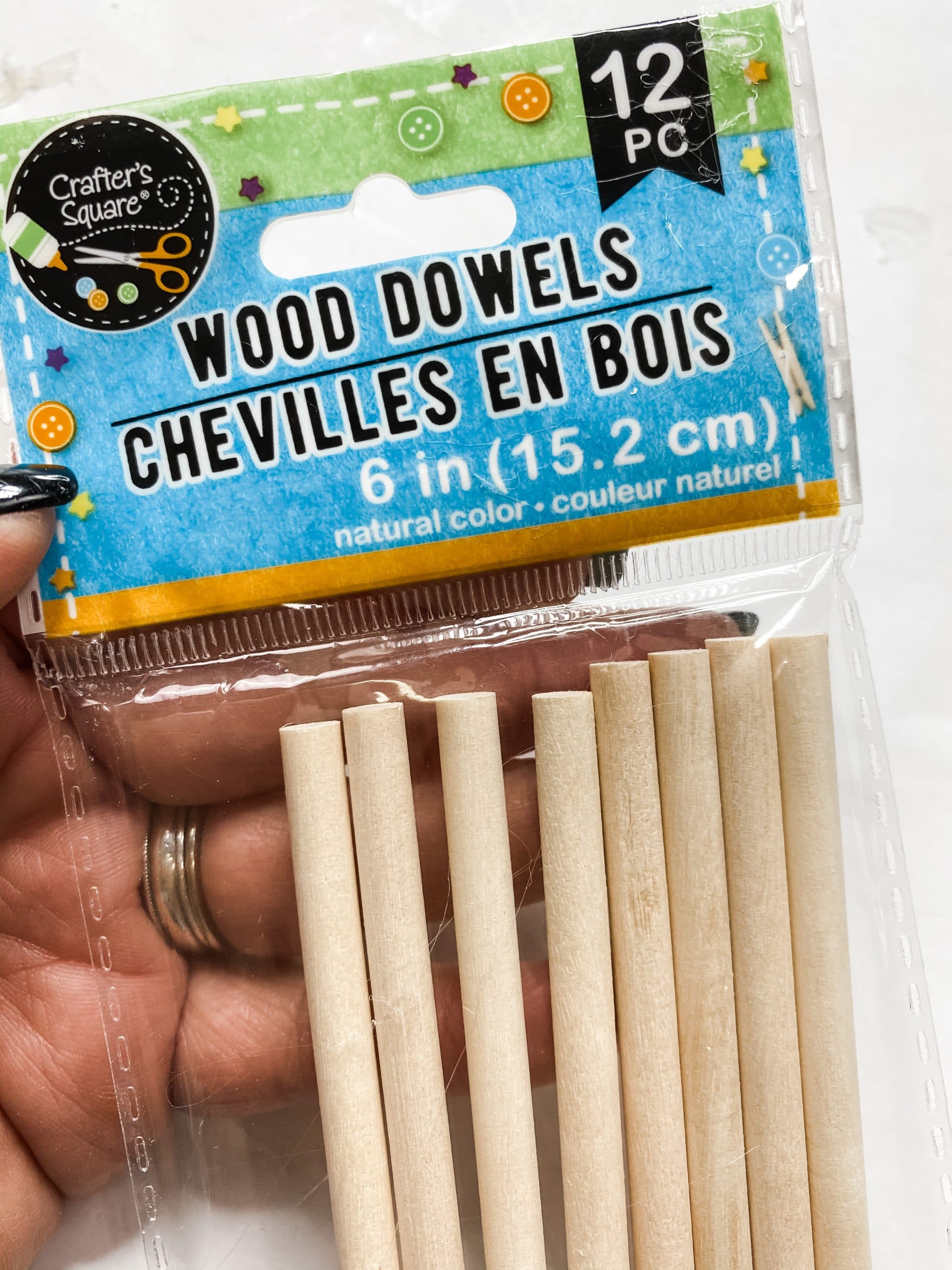 Now that you have the holes drilled, hot glue the stained Dollar Tree wood dowels into the holes. This is going to be the base of your DIY spring decor. Set the base to the side for now, and grab the decoupaged wood plaque with free bike printable.
Dollar Tree Mop Head
To use the Dollar Tree Mop Head strings on this adorable DIY Dollar Tree spring decor, you have to remove the black plastic piece that secures the strings. I use a pair of aviation snips to break the plastic and free the mop strings.
Next, flip the decoupaged wood plaque over, and hot glue mop strings to the bottom of the back of it. They're going to be too long, so once you have them all hot glued in place, trim the mop strings to the length that you want them.
Turn the plaque over so the free fresh cut flowers spring printable design is facing up, and hot glue a half wood bead in each corner of the Dollar Tree rectangle plaque.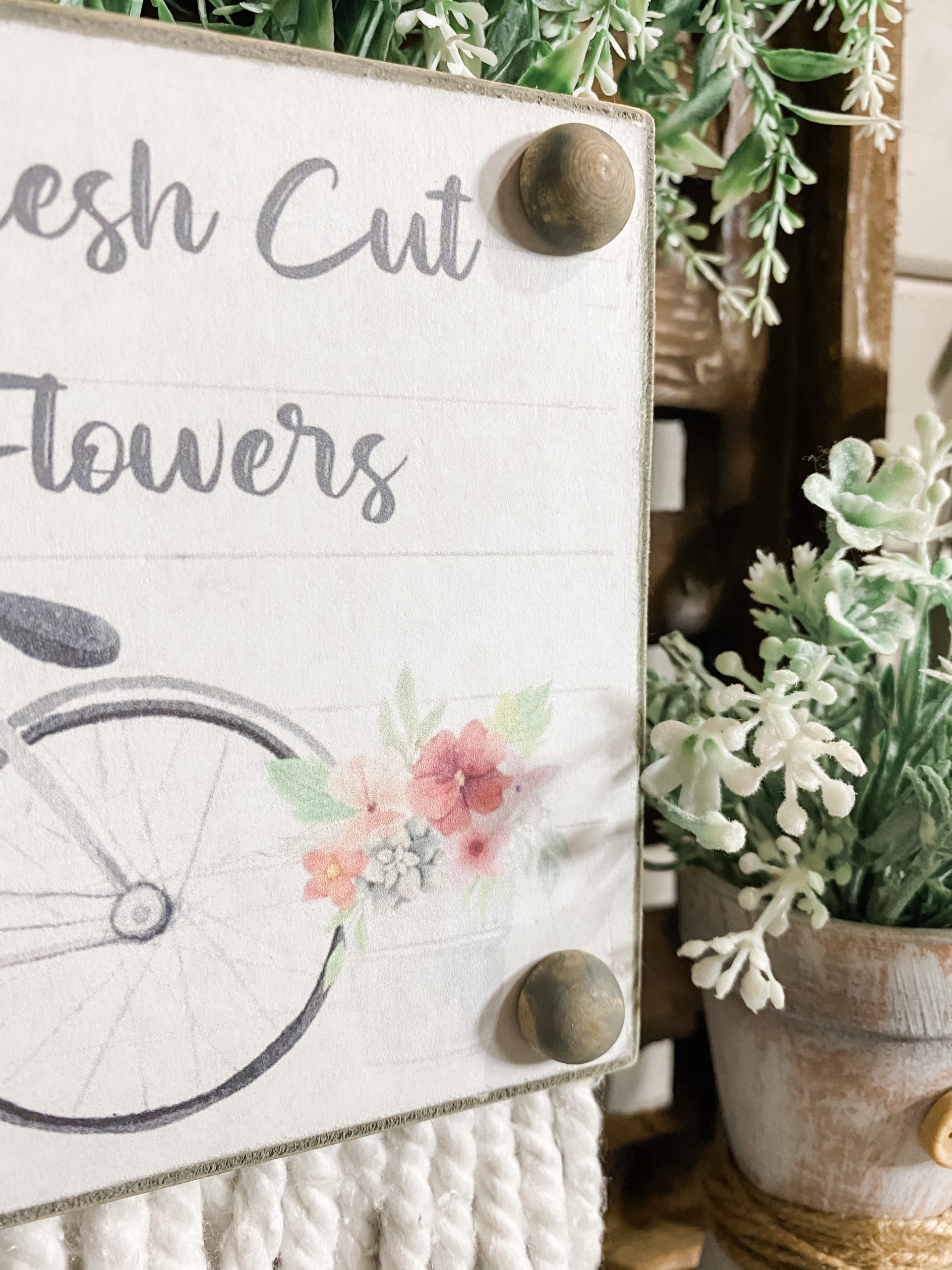 Start bringing it all together
Next, we are going to add the feet to our base. That's what the four wood cubes are for! Hot glue one Dollar Tree Crafters square wood craft cubes in each corner on the bottom of the base.
Alright, now you're going to flip the decoupaged wood plaque over again so the design is face down and the back is facing you. We are about to connect the base to the wood rectangle plaque.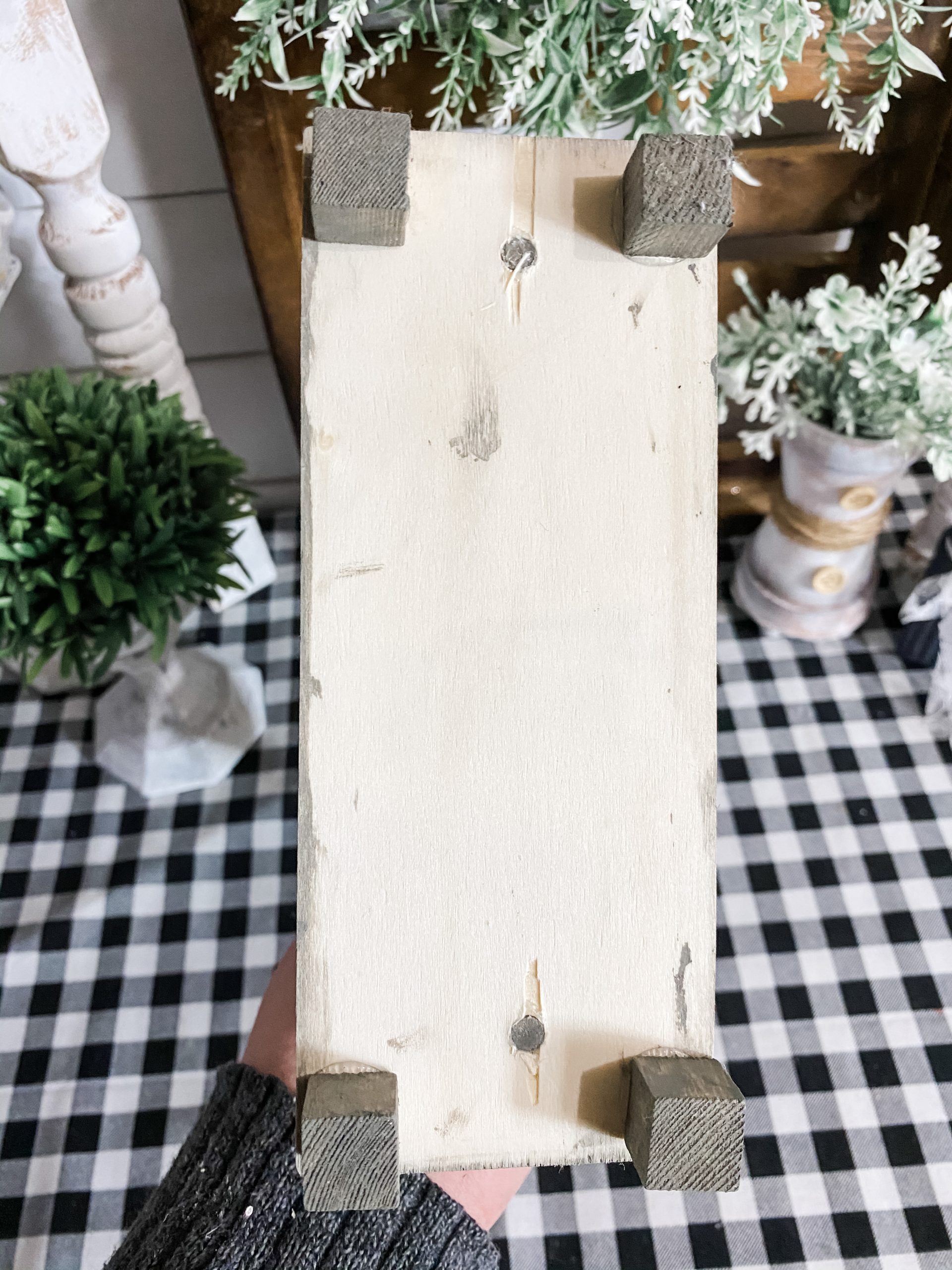 To attach the wood dowels to the back of the decoupaged wood plaque, I had to add a craft stick. The mop strings prevented the dowels from laying flat on the back of the wood plaque.
I trimmed a wood craft stick to fit on the back of the plaque, then hot glued the dowels onto the craft stick.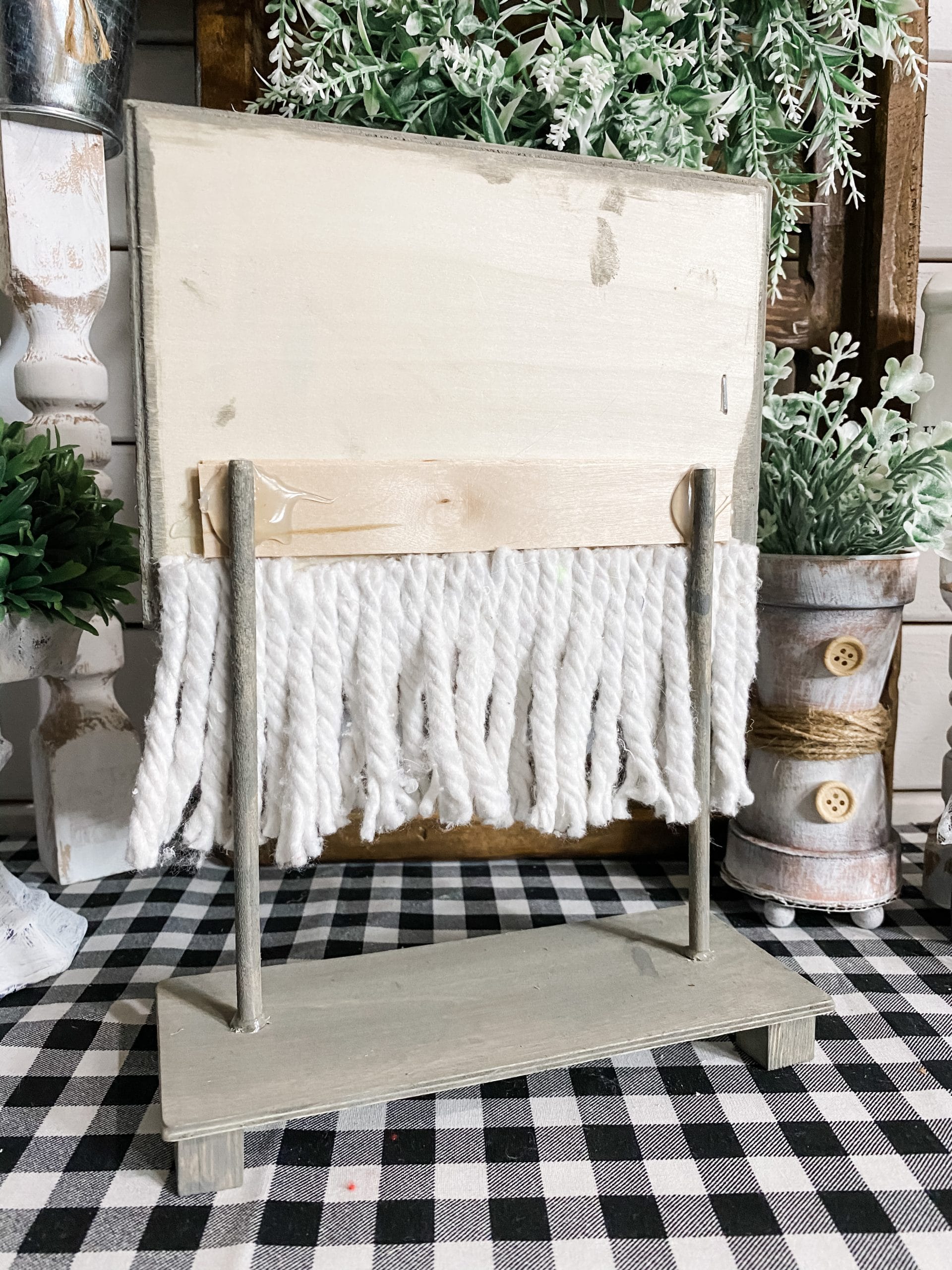 That's it! Once your hot glue is dry, you're ready to move this adorable Dollar Tree DIY Spring Decor with Free Printable anywhere in your home!
I thought of this after I made this project, but I think it would be so perfect to trim the mop strings just a little shorter and add a DIY planter to the base. What do you think?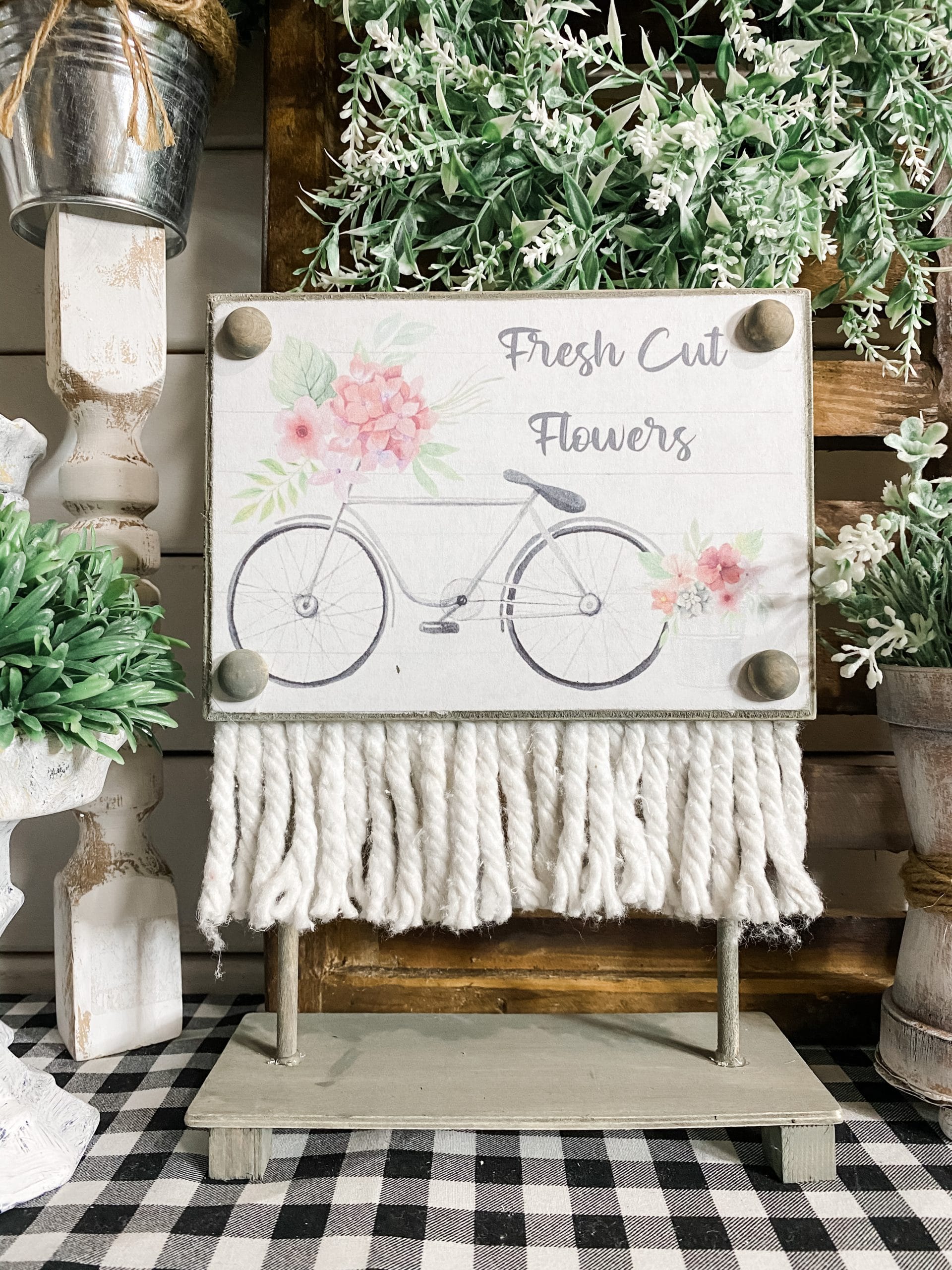 I hope you enjoyed this Dollar Tree DIY Spring Decor with Free Printable as much as I did and decide to make one for yourself! I would love to see how yours turns out!
You should totally join my FREE Facebook group called On A Budget Crafts! It is a judgment-free community for DIY crafters to show off their projects and ideas.
Thanks for stopping by! XOXO Amber
You can also shop my ENTIRE AMAZON Favorites shop just click here! It's packed full of all the things I use and love. Here is the supply list I highly recommend every creative have on hand!!
Would you also pin my blog for later and get on my newsletter alerts? I would love to have you join my #craftycrew.
Inspired? Leave me a comment below! I love hearing from my readers!

Join my free "ON A BUDGET CRAFTS" Facebook group!