I have this thing now for my front door for some reason now! I don't know about you but ever since the creative bug jumped up and bit me again! I have been on a roll creating some super cute stuff for my home! And this Easy Spring Door Hanger DIY is one of those things that is going right on my front door this spring! If you missed my last post, I showed you how I made the HOT MESS MESSY BOW on this Spring Door Hanger you can check that blog post here!
For the past 7 years I have been busy owning a business OUTSIDE my home and that mean't I was not home much to really decorate. Don't get me wrong, I decorated but not like I wanted to! So now that I am working from home full time I decided that I am going to thoroughly love my home and I am going to make most everything in it! (If I can) With spring right around the corner I decided that I would make a front door hanger for my door right now! WHY WAIT!
I am not waiting for Spring! I am ready now!
>> PIN THIS FOR LATER <<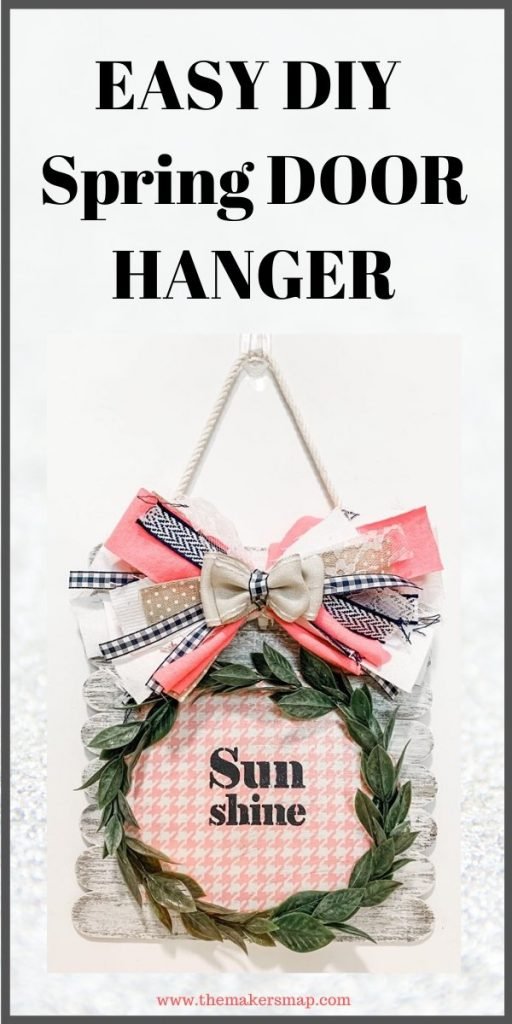 Click Image Below to play the HOW TO VIDEO

Let the crafting project being:
For this  project I used these items:
You can check your local dollar tree, hobby lobby, Walmart, Michael's, JoAnn's or any other store that has ribbon or fabric remnants! You can make this with whatever colors, textures and fabric you like! (these are my affiliate links, if you you use them I may earn a commission, it does not cost you extra) (thanks for supporting me)
For the Messy Bow here is a recap from my messy bow blog post you can read here
Here are the steps I took to make it!

For my Easy Spring Door Hanger DIY, I started by laying out my popsicle sticks and gluing them together to create my board. I used the brown paint to stain the sticks (I did use Dixie Belle Paint but you can use any paint you like) I then painted over that with the white paint in a dry brush method. I sanded some areas down to distress. I then covered my wood cut out from Dollar Tree with cutting tissue paper also from Dollar Tree. But before doing that that I put a quick coat of paint over the back side to keep the under color from coming through the tissue paper. I used Mod Podge to apply the tissue paper.
After that was dry I covered the tissue paper with a quick coat of Mod Podge before adding my SUNSHINE Dollar Tree Stencil and applied the black paint! Once it was all ready to go I added some sprigs of greenery to the cut out to create a wreath outline. I glued that to my popsicle sticks and then added the MESSY BOW to the top and added a hanger with the Jute twine to hang.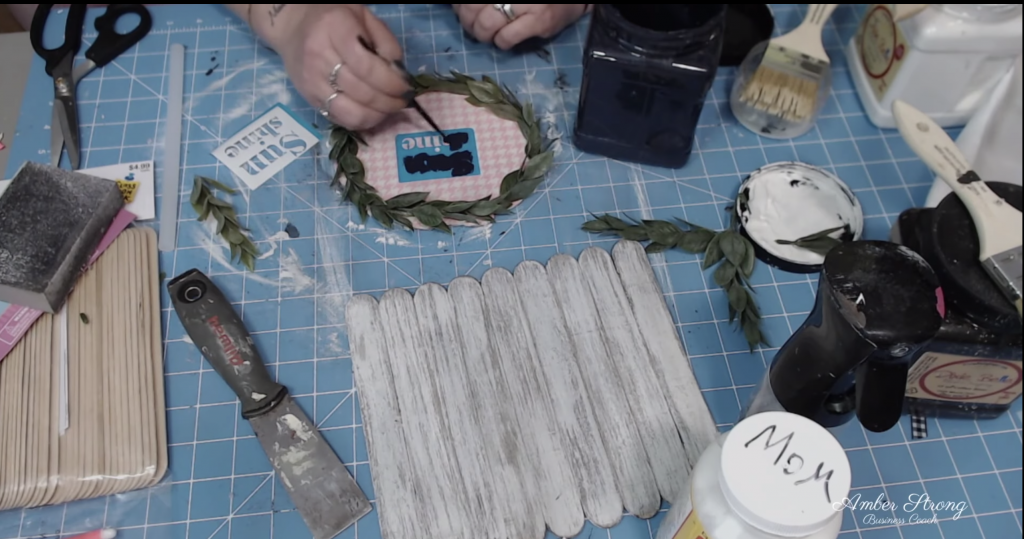 It really was super easy and fun to make again you can watch the video that I did in FAST MODE to help you get a better idea! I really have enjoyed making all the cute things lately for my home and sharing the experience on my blog and LIVE on my facebook page! If you are not following me on Facebook you totally should because I go LIVE almost every evening crafting and doing DIY stuff for my home!
Thank you again for popping on my blog and I hope you enjoyed this fun project. I would love to hear your comments below! I love hearing from my readers!
I hope you have loved this and are inspired! Be sure to pin my project and get on my newsletter alerts! It is easy to sign up below after these photos!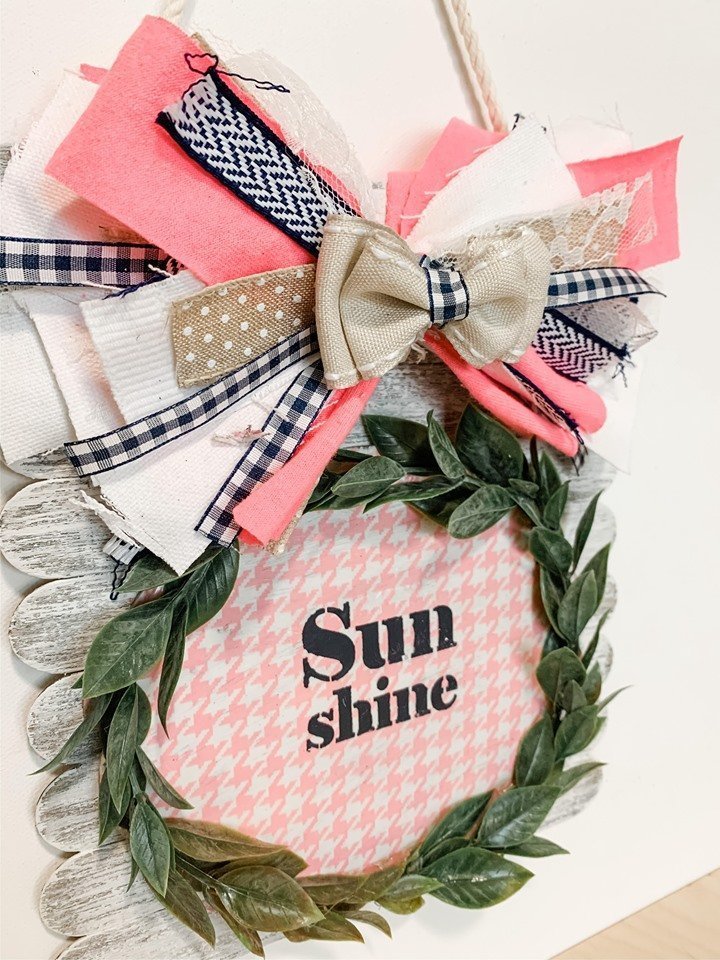 Inspired? Leave me a comment below! I love hearing from my readers! 

Join my free "ON A BUDGET CRAFTS" Facebook group!
>>>> PIN THIS POST FOR LATER! <<<<<