This DIY Easter gnomes decor is so cute, and it is an example of me stepping out of my comfort zone. I really don't use bright colors like I did for this project, but I'm so glad I did!
As a crafter, I think sometimes we get comfortable with a certain style and we don't ever really branch outside of our little box.
I want to use this adorable Easter craft to give you a challenge. Do something different, that you wouldn't typically do, on your next craft. Try a new technique, paint color, or pattern!
More Easter decor inspiration
Watch the DIY tutorial
I shared how to make this super adorable DIY Easter Gnomes Decor with my Easter gnomes craft kit during a LIVE video on my Facebook page.
If you want to see the DIY process, craft along, or just join in on the fun conversations, you can watch the DIY tutorial video on Facebook!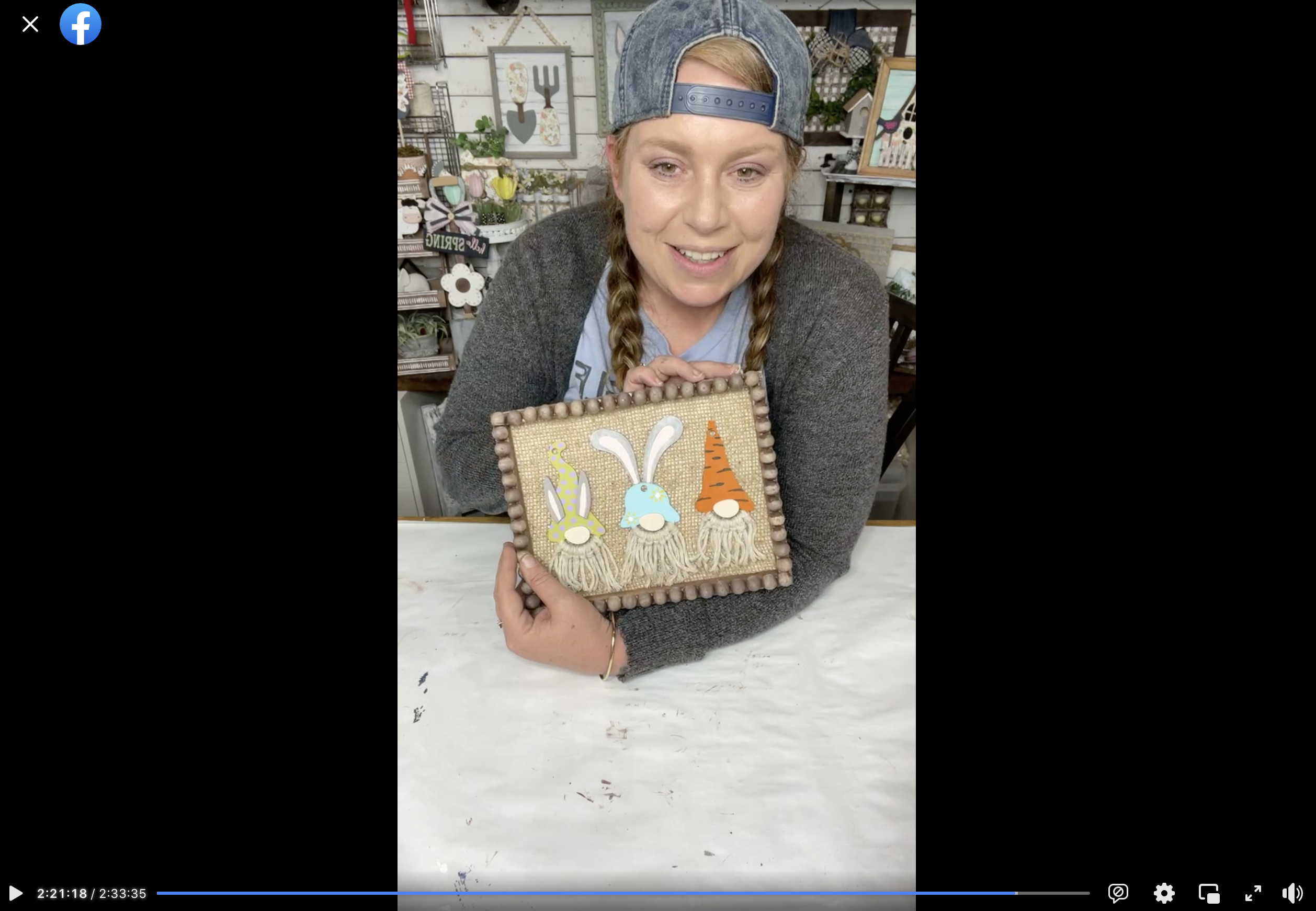 For this project, I will be using these items, but you can substitute where you want.
"As an Amazon Associate, I earn from qualifying purchases."
Dollar Tree White Nautical Cord
Dollar Tree Canvas
15mm Half Wood Beads
Burlap
Variety of Paints of choice
Krazy Glue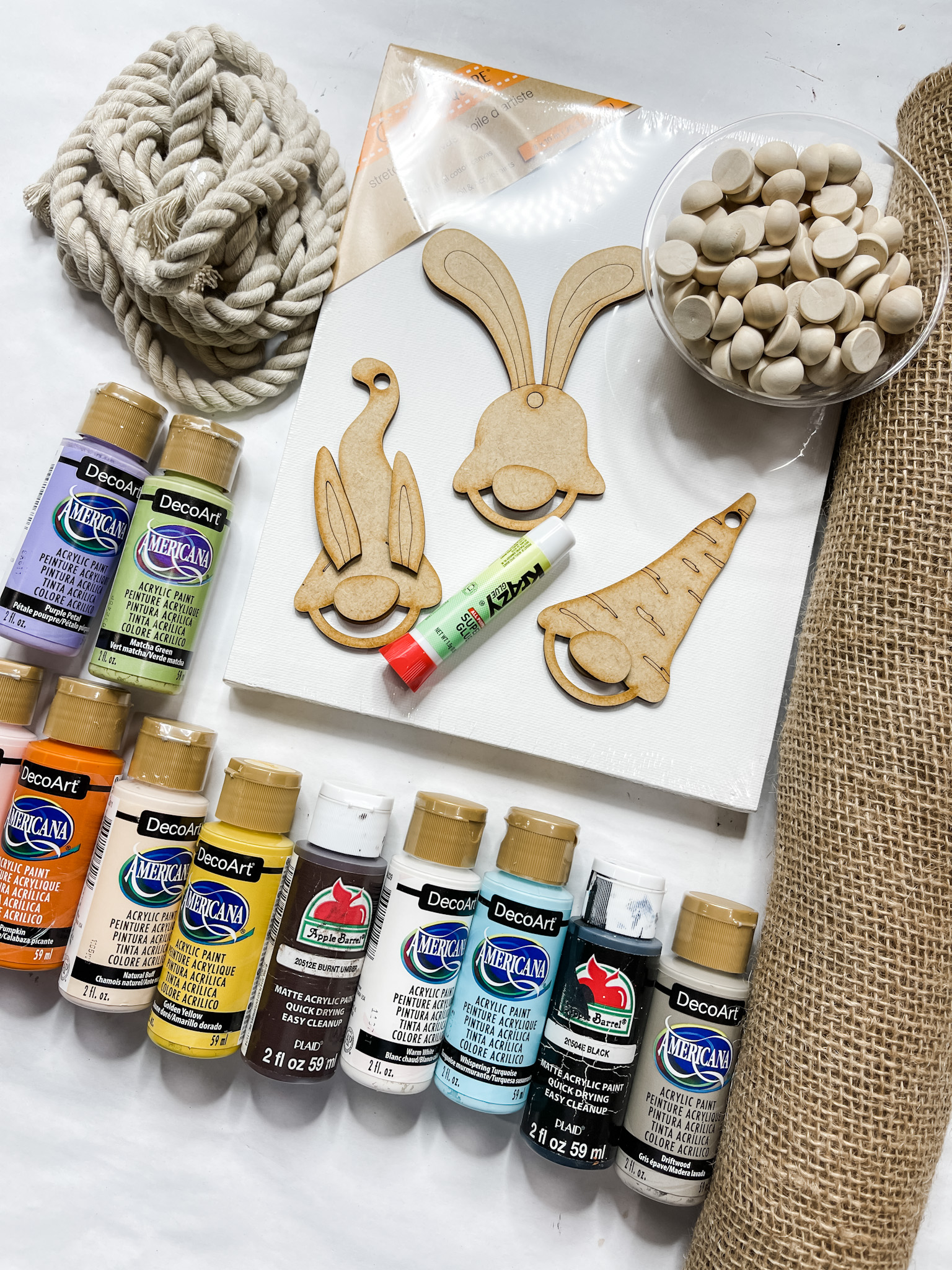 How to make DIY Easter Gnomes Decor
I started this super cute Easter gnomes DIY by removing the canvas from its frame. Do this carefully so you don't tear up the canvas.
Then, I traced the size of the wooden frame onto the canvas and cut it so that it fits perfectly on the front of the frame.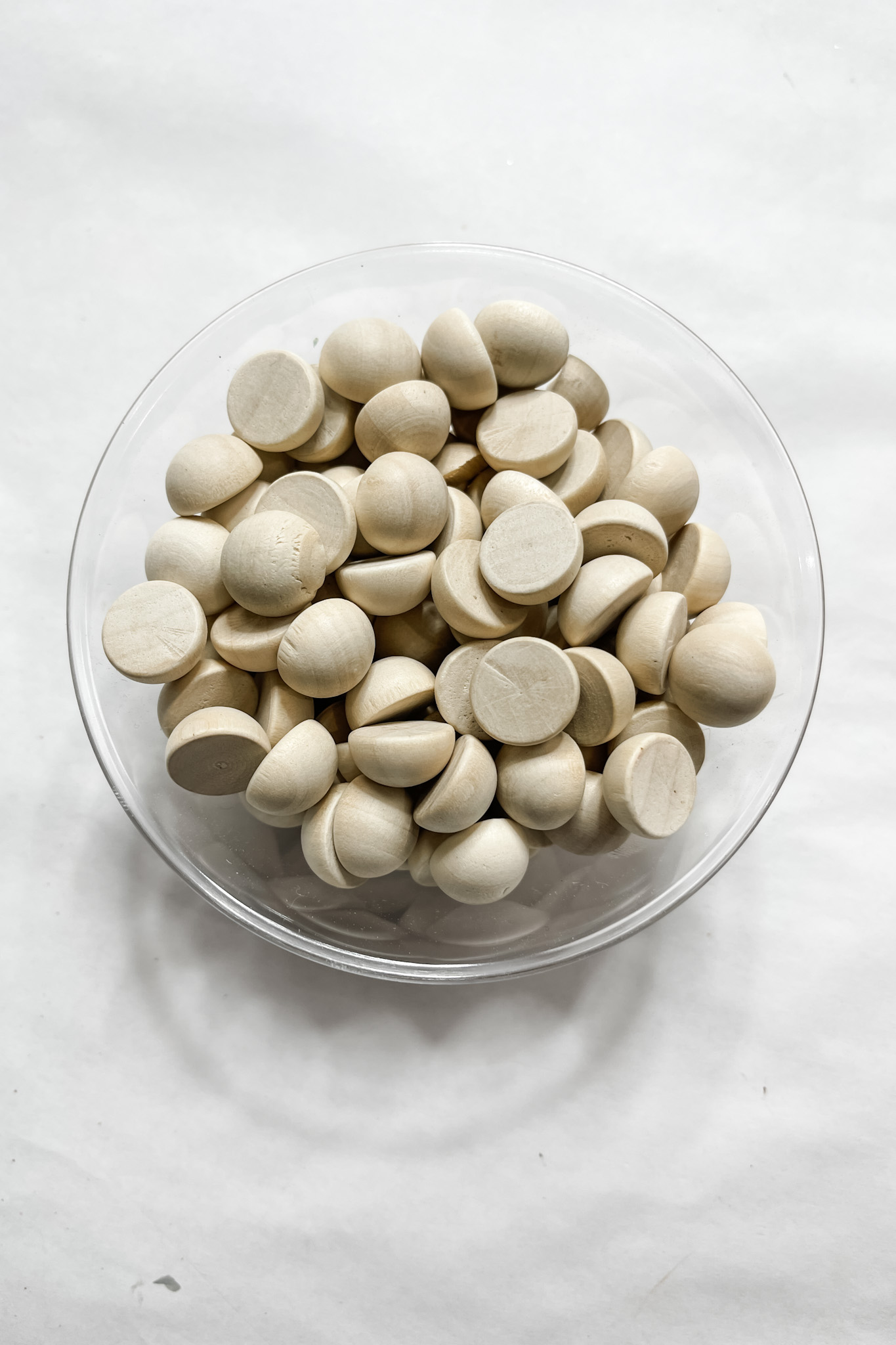 Next, I glued 15mm half wood beads onto the front of the frame to embellish it. Once all the beads were secured in place, I got ready to stain the wood.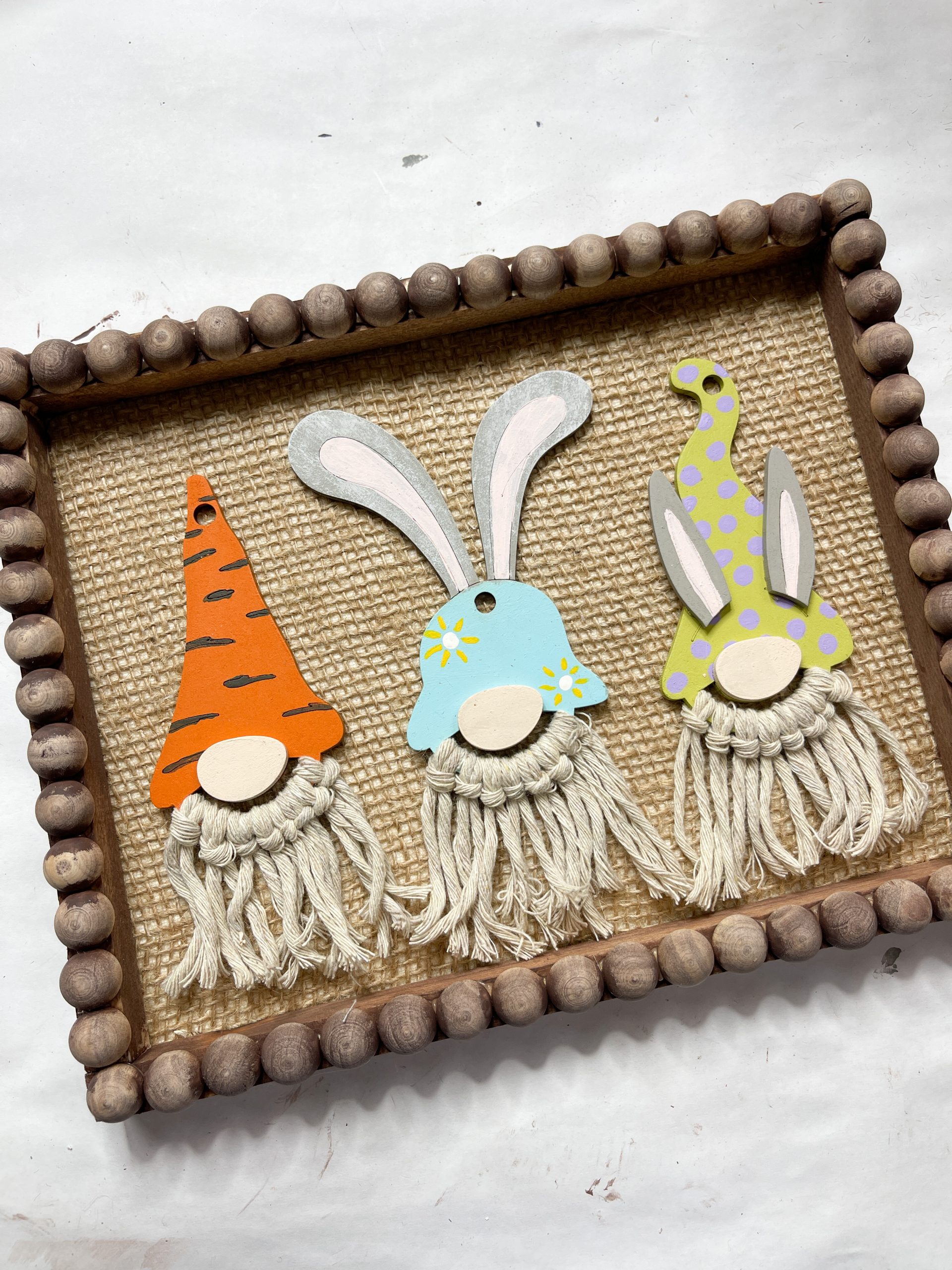 How to stain wood with acrylic paint
I use acrylic paint to stain wood all the time because it is so much more affordable than using actual wood stain and you can't even tell the difference!
To stain wood with acrylic paint, pour the brown paint into a small mixing bowl and mix in some water. Then, apply the paint/water mixture onto the wood with either a paintbrush or wet wipe.
Once the surface is covered with the paint/water mixture, use a clean wet wipe to remove the excess mixture from the surface and you're left with an effortless and affordable stained surface!
Next up I cut the burlap to be the same size as the trimmed canvas piece. I applied a coat of Mod Podge to the canvas and pressed the burlap onto the Mod Podge.
I covered the burlap with a piece of plastic saran wrap and used a rolling pin to smooth it out on the canvas. Then, I used my heat gun to quickly dry the Mod Podge.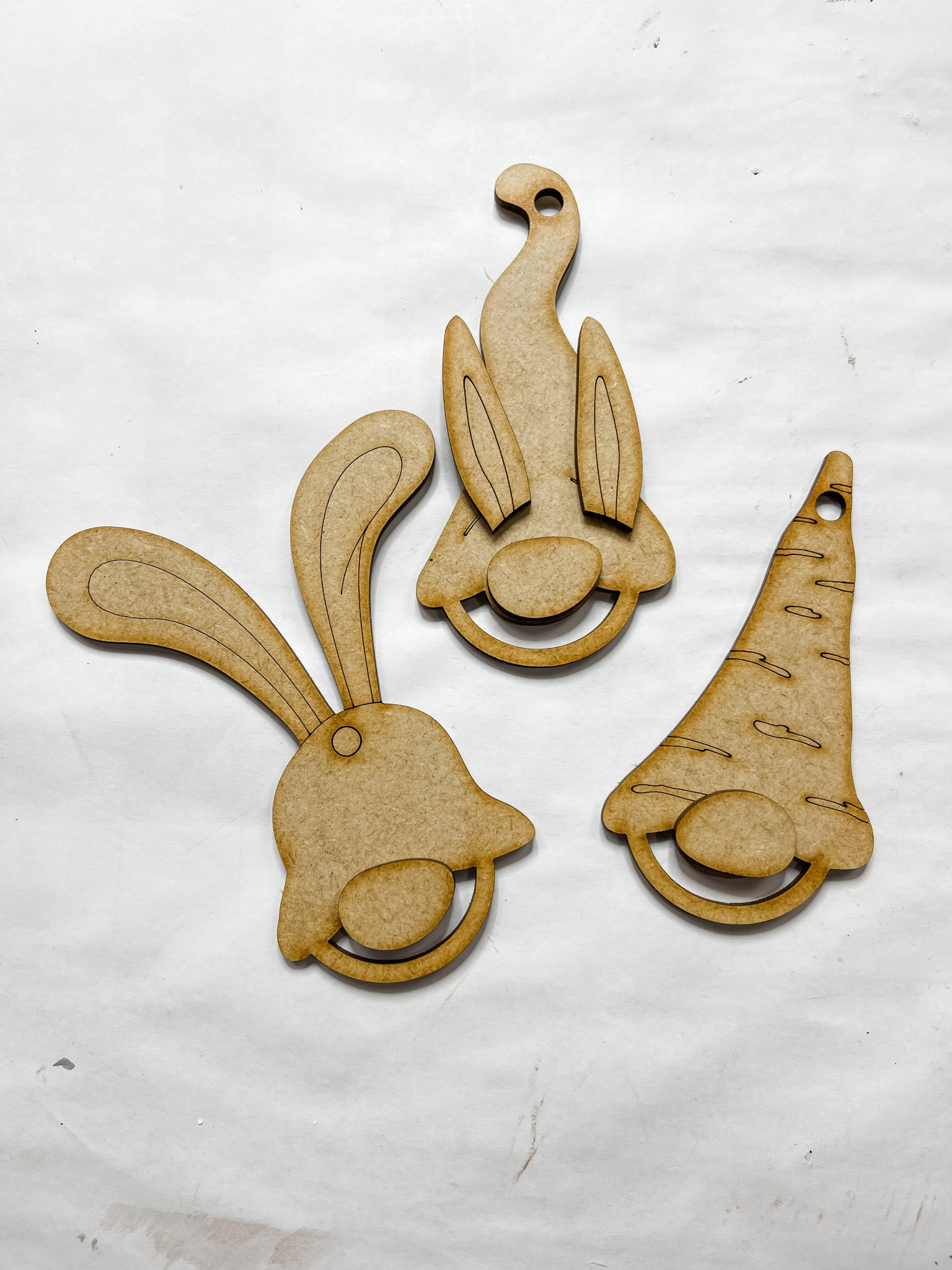 Decorate your Easter Gnomes craft kit
This is the extra fun part of this DIY Easter craft! Now it's time to assemble and decorate your Easter gnomes craft kit!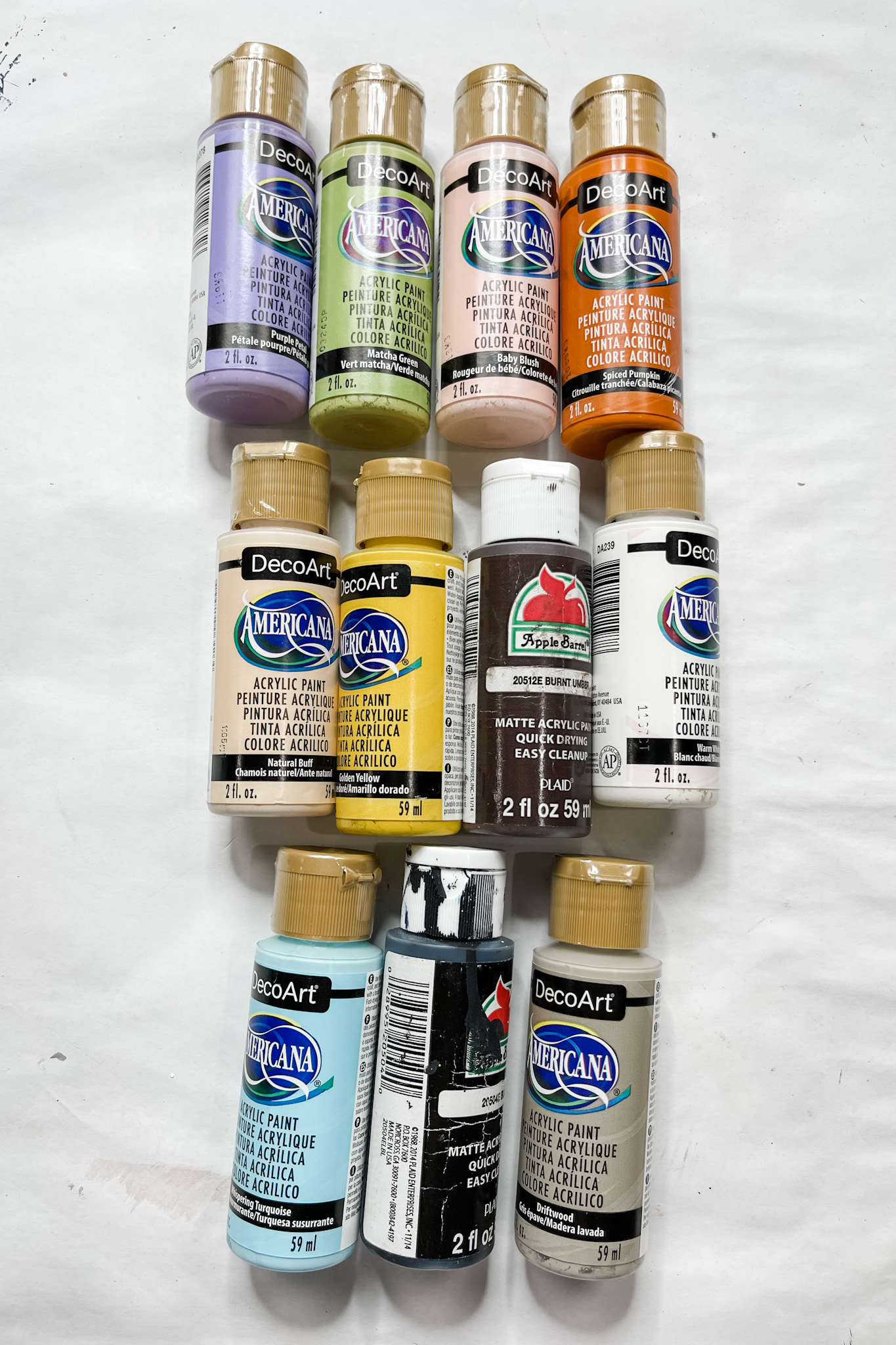 The kit comes unassembled and unfinished, so you have total creative freedom with it. Start by sanding the front of each piece of the craft kit.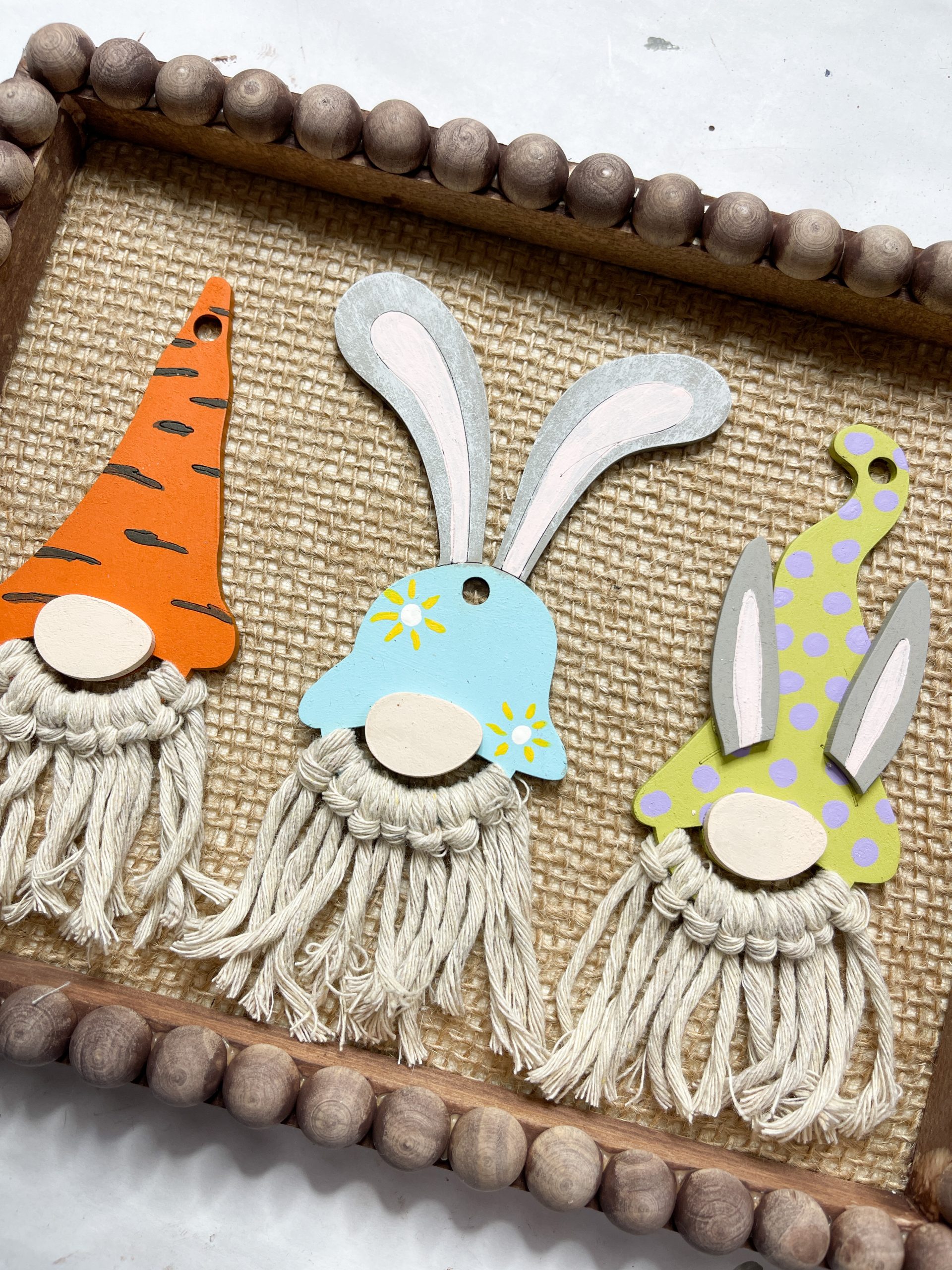 Then, paint each part of the Easter gnomes as you want with whatever paint color you want. You can see the colors I used in the tutorial video on Facebook.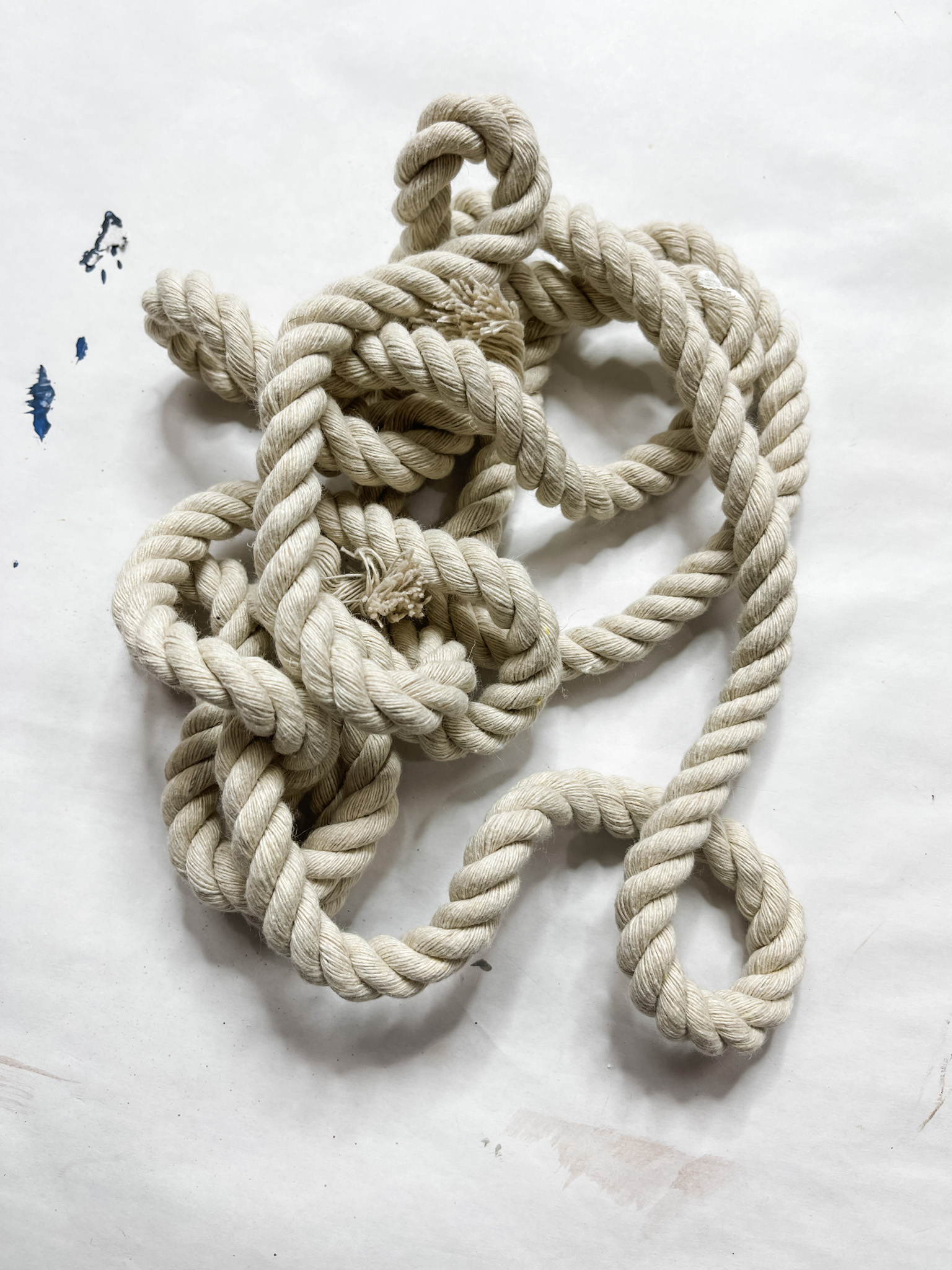 Once the paint is completely dry (thank you heat gun), assemble the Easter gnomes craft kit with glue. Next, you want to unwind the nautical cord. These will be the beards for your gnomes.
Tie the strands to the bottom of each of the gnomes and trim them to the length you want.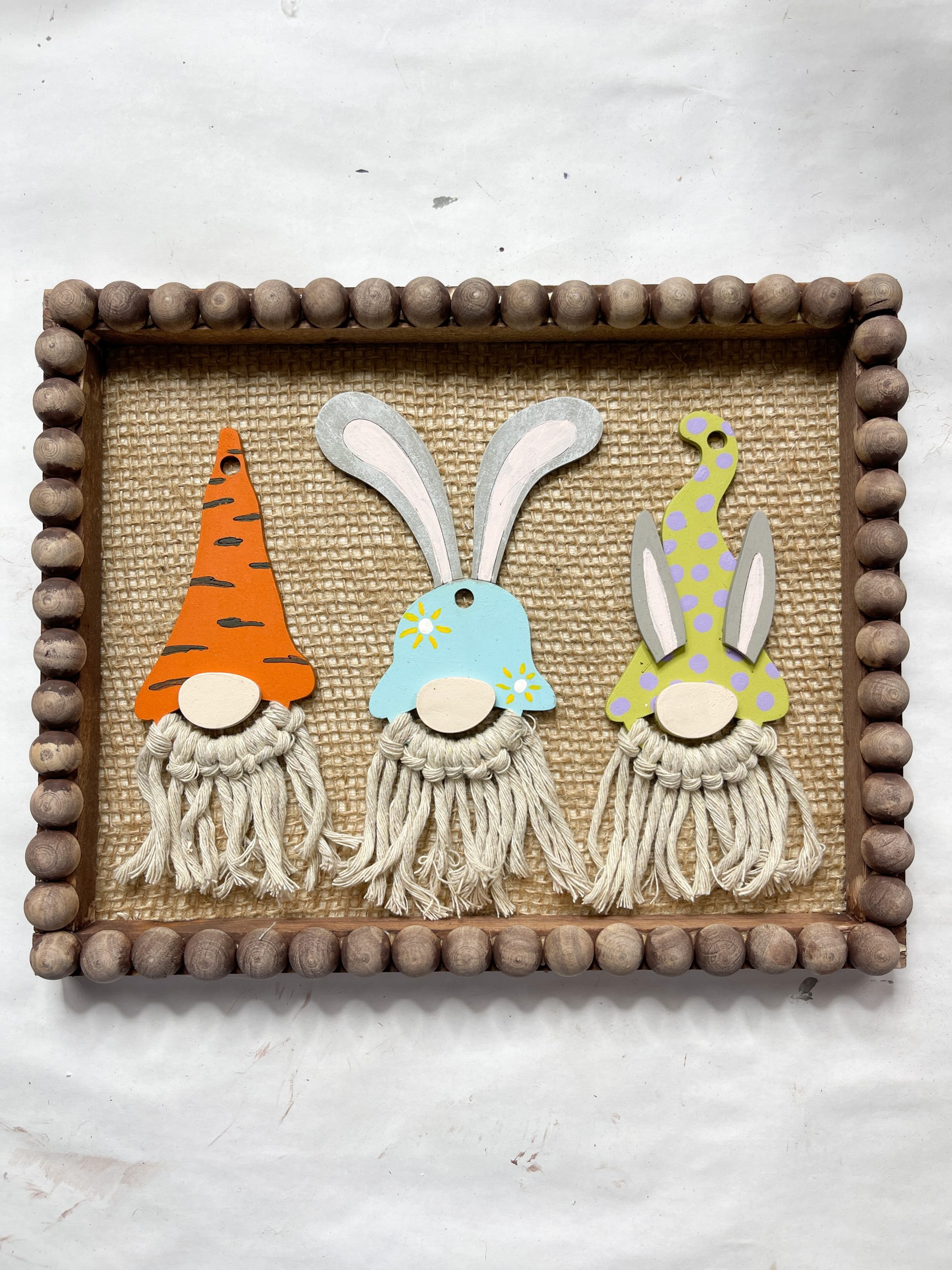 Bring it all together
Glue the stained and embellished canvas frame to the burlap and canvas. Lastly, glue each of the decorated and assembled Easter gnomes onto the burlap.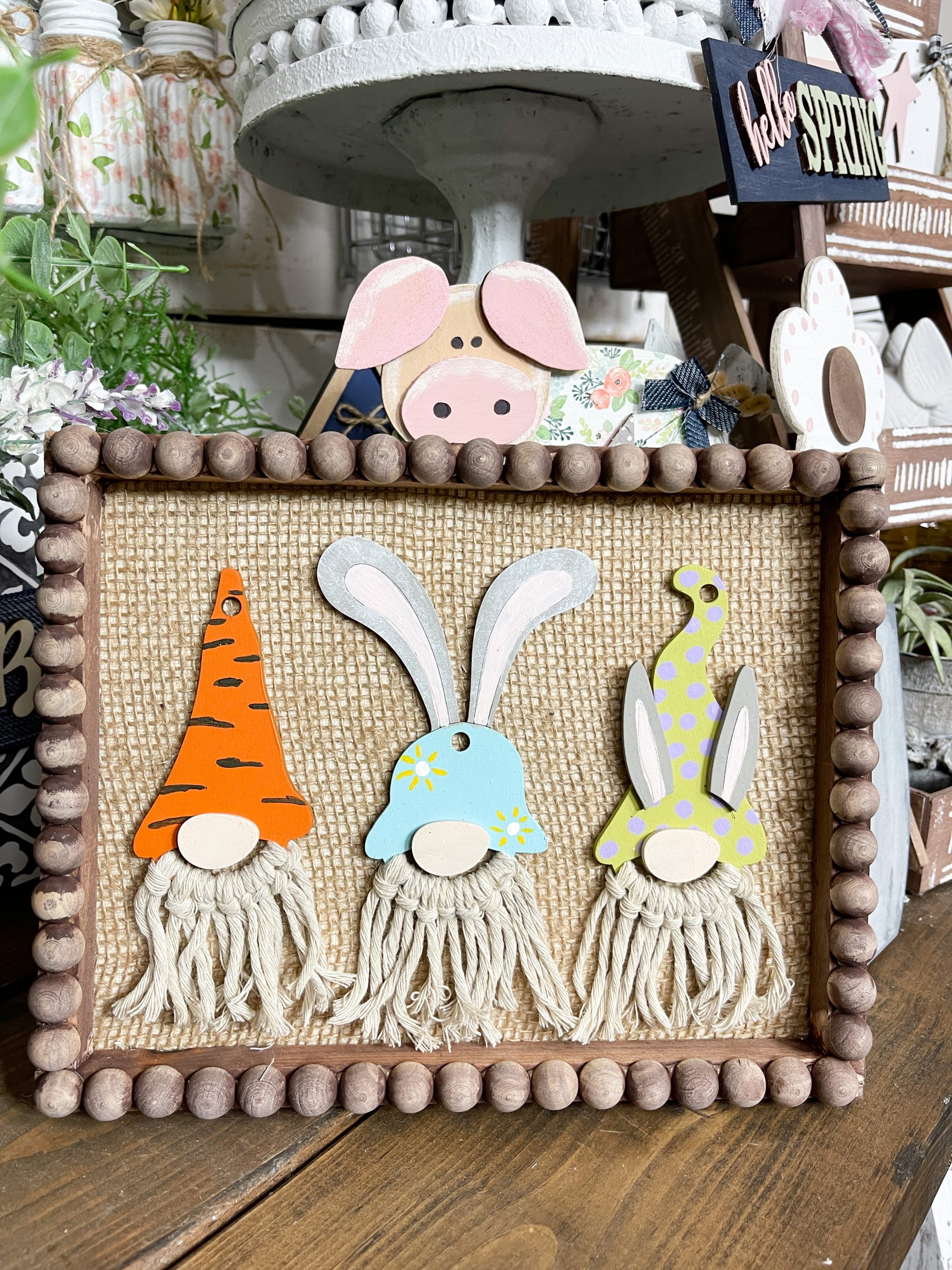 I hope you enjoyed this DIY Easter Gnomes Decor as much as I did and decide to make it for yourself! If you do, I would love to see how yours turns out!
You should totally join my FREE Facebook group called On A Budget Crafts! It is a judgment-free community for DIY crafters to show off their projects and ideas.
If you loved this DIY, you might also like these DIY ideas!
Thanks for stopping by! XOXO Amber
You can also shop my ENTIRE AMAZON Favorites shop just click here! It's packed full of all the things I use and love. Here is the supply list I highly recommend every creative have on hand!!
Would you also pin my blog for later and get on my newsletter alerts? I would love to have you join my #craftycrew.
I email alerts about new blogs like this DIY Easter Door Wreath so you're always up to date on fun, new DIY ideas!
Inspired? Leave me a comment below! I love hearing from my readers!

Join my free "ON A BUDGET CRAFTS" Facebook group!