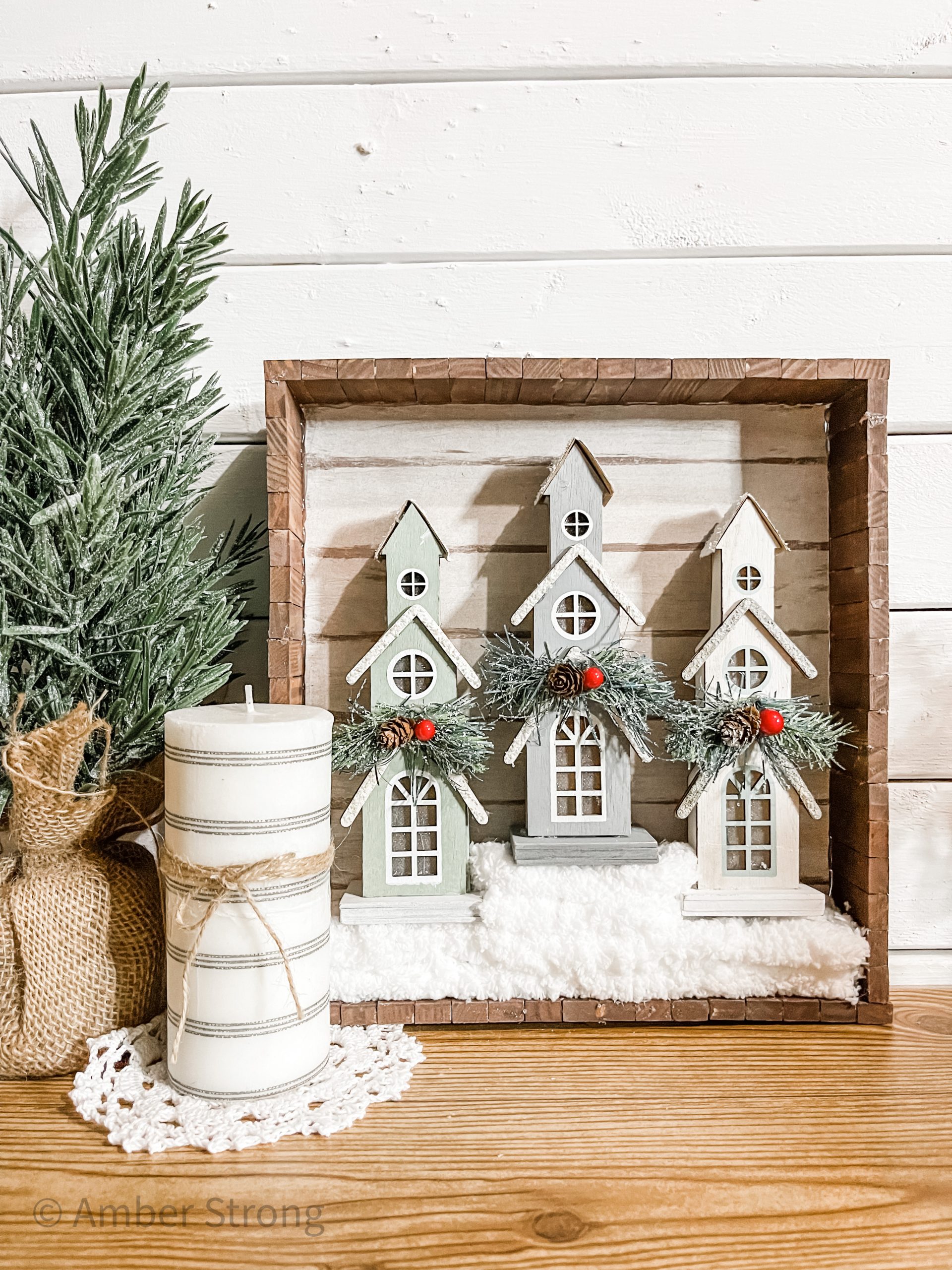 There are so many things I love about this DIY Winter Church Scene, I can't even pick my favorite! I love the muted tones on the churches, the pop of red from the berries, the fluffy white snow made from chunky yarn, the DIY block frame.
Let's be real, I love everything about this affordable project, and I think you're going to love it as much as I do! Not only is this super adorable and easily made on a budget, but the churches light up too!
I recorded how to make this adorable DIY Winter Church Scene during a LIVE video on my Facebook page.
If you want to see the DIY process, craft along, or just join in on the fun conversations, you can watch the DIY tutorial on Facebook!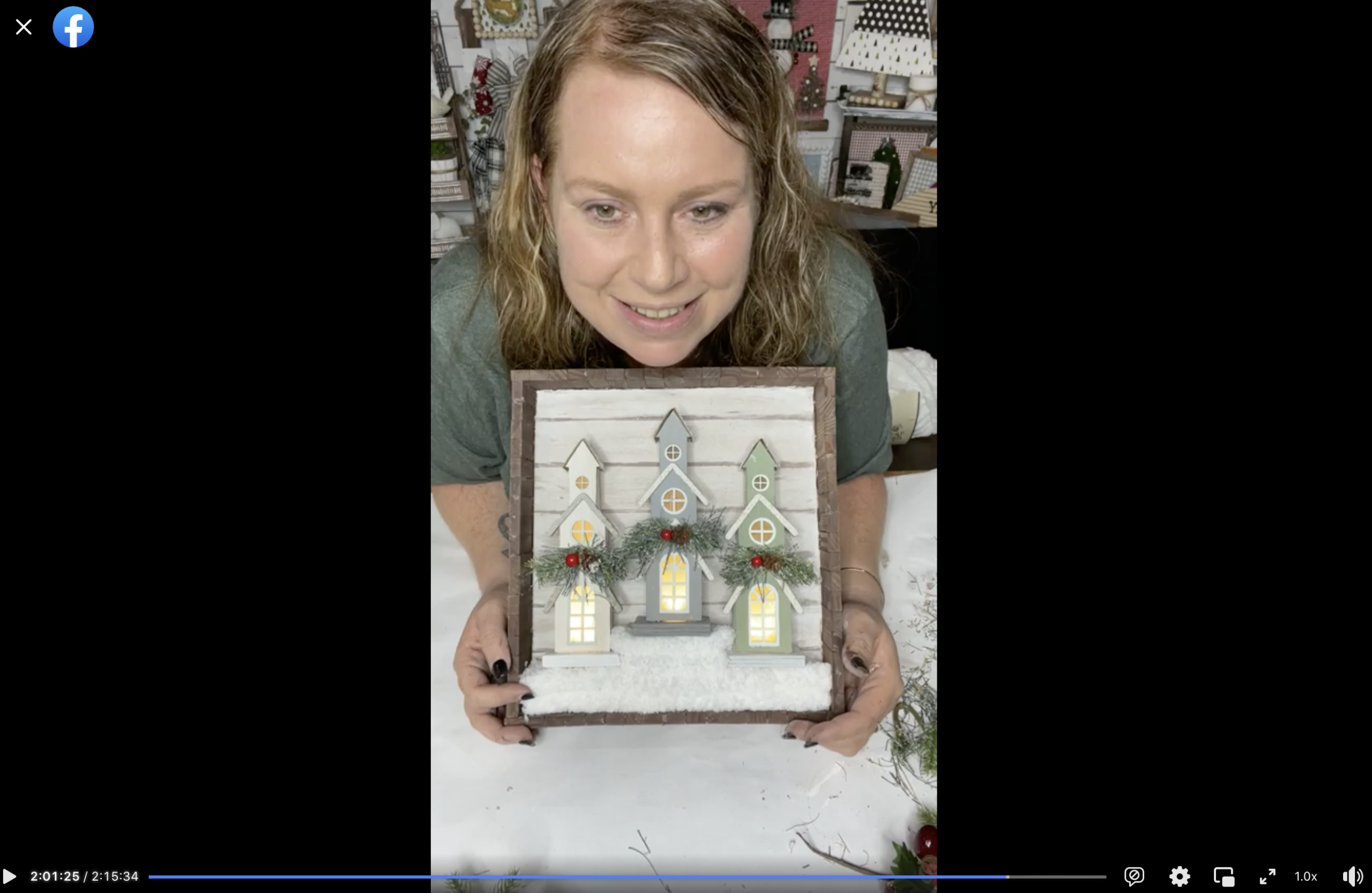 For this project, I will be using these items but you can substitute where you want.
"As an Amazon Associate, I earn from qualifying purchases."
Dollar General Light Up Churches
Dollar Tree Square Sign
Dollar Tree Tumbling Tower Blocks
Christmas Greenery with pine cones and berries
Chunky White Yarn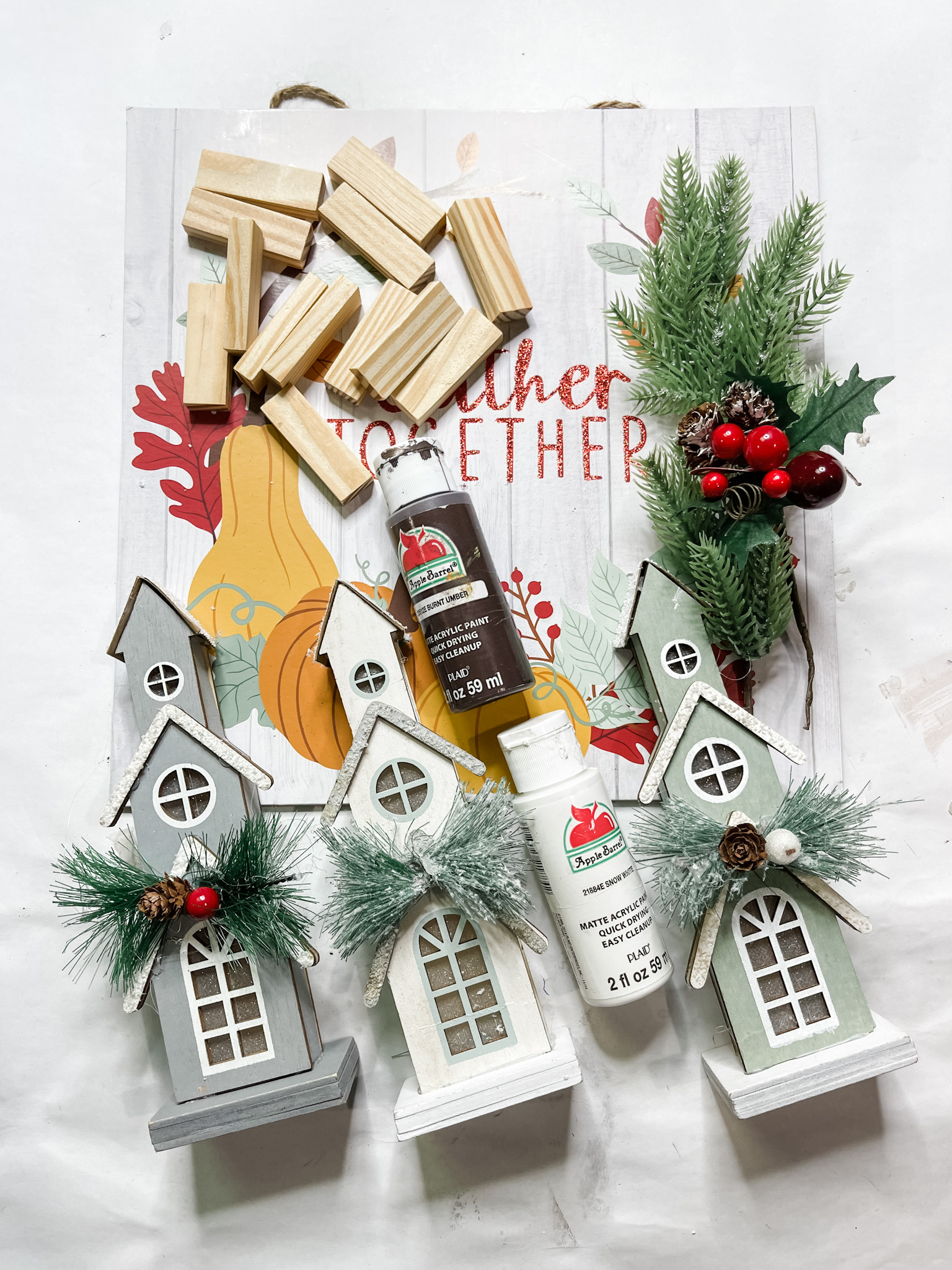 How to make a DIY Winter Church Scene
I started this craft project by removing the twine hanger from the Dollar Tree square sign and I flipped it over so the blank back was facing up.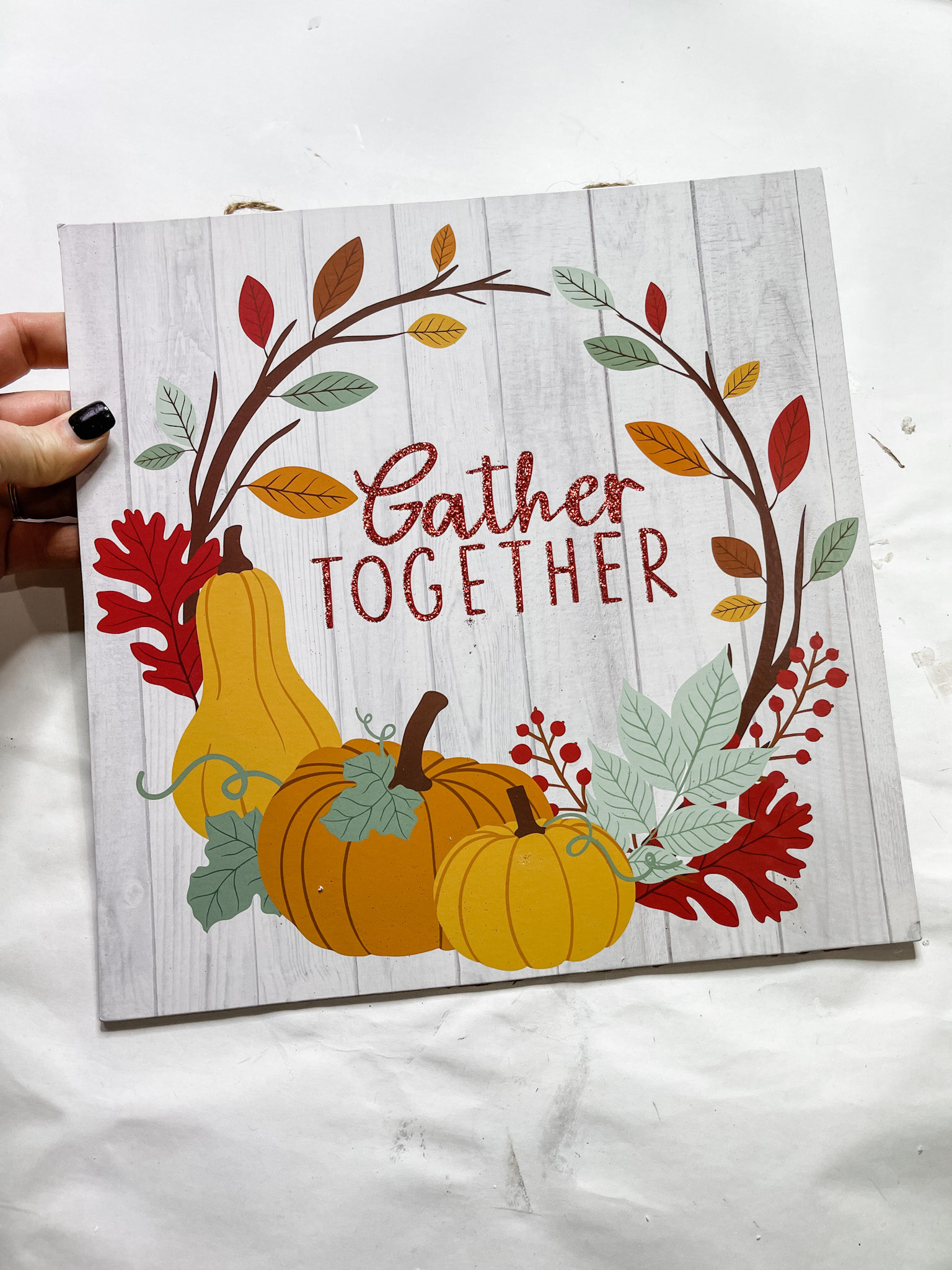 Then, I laid out how many Dollar Tree Tumbling Tower blocks I would need to create the frame around the Dollar Tree sign.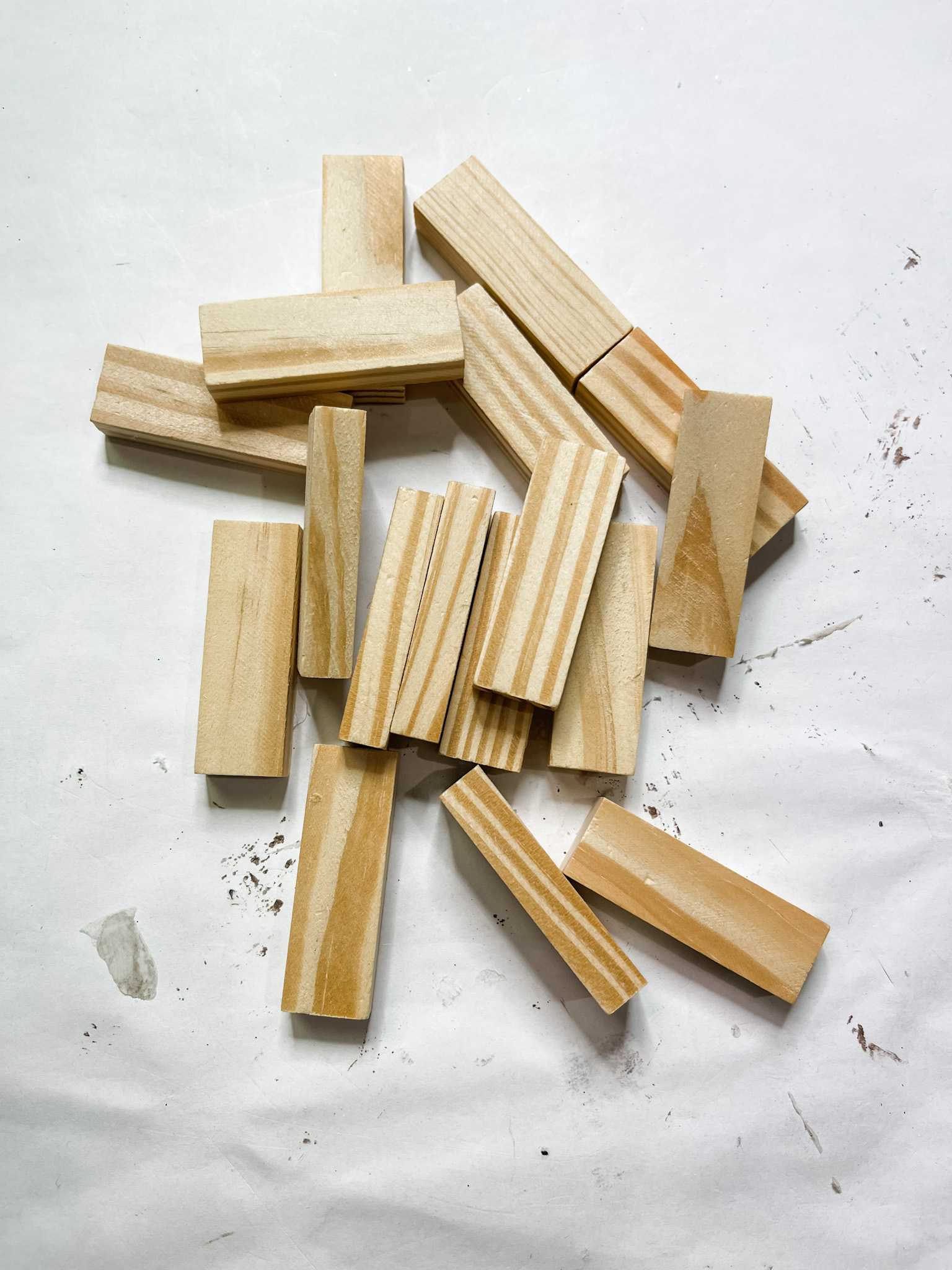 Hot glue each of the blocks together to create the frame, one side at a time. It might be helpful to have a straight edge, like a ruler or a box, to help you glue the blocks together.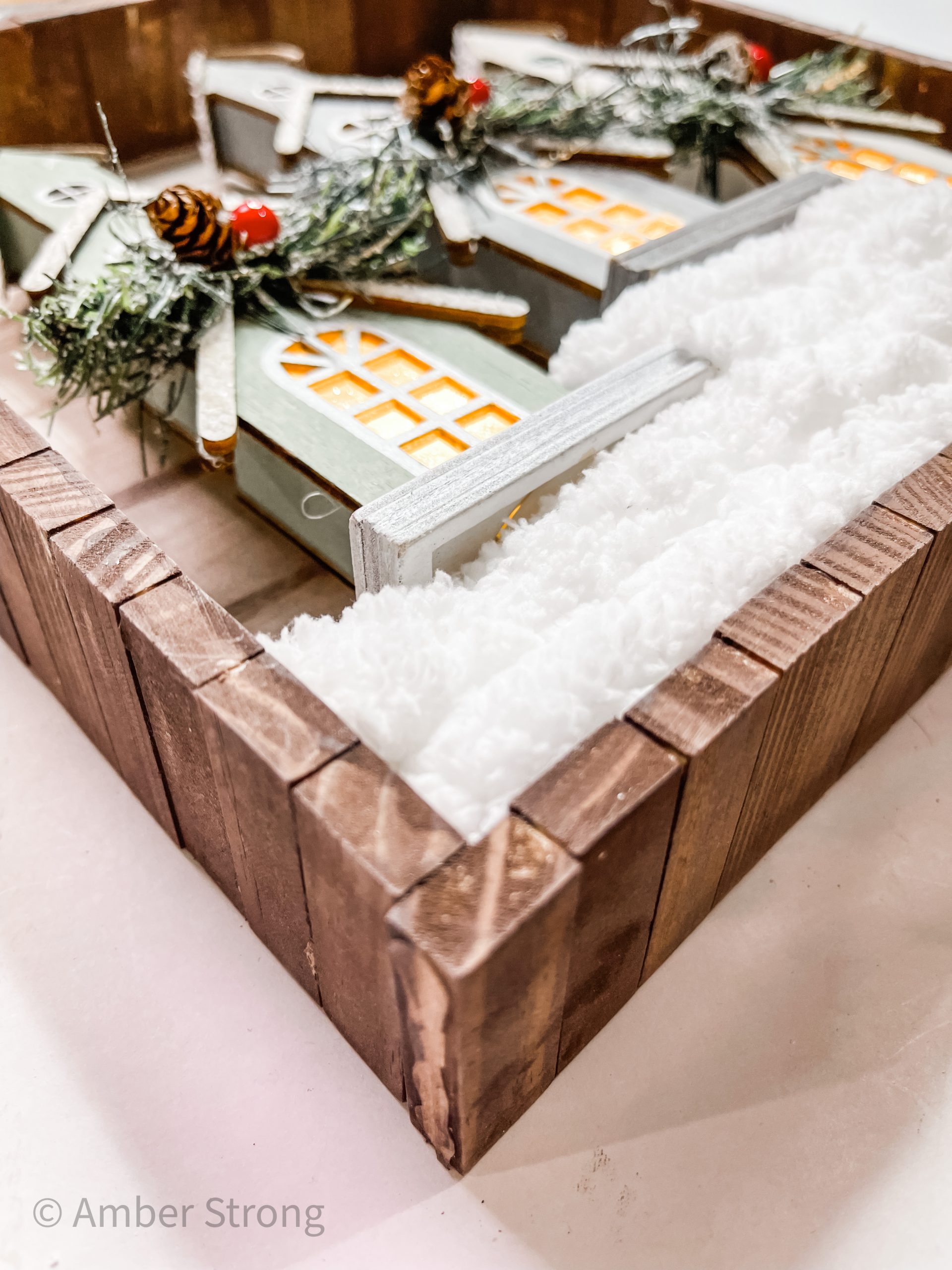 Once each side of the frame was made and the glue was dry, I lightly sanded the blocks to remove any excess clumps of glue from between the blocks.
How to stain wood with paint
Now, it's time to stain the blocks! To do that, I sprayed each strip of blocks with water and poured the brown paint onto the wood.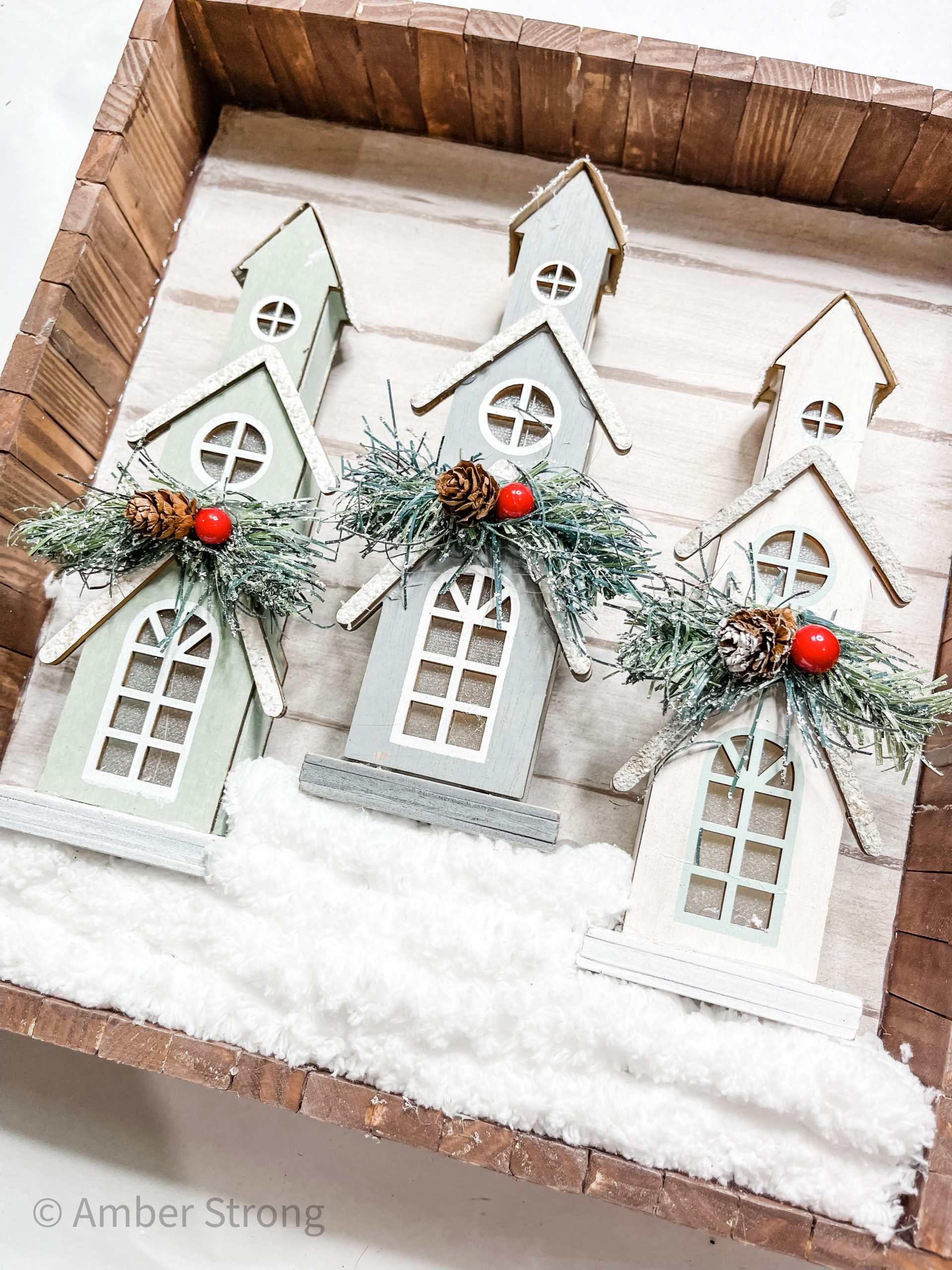 I used a wet wipe to spread the paint across each of the strips. Then, I went over the surfaces with a clean wet wipe to remove any excess paint. What's left is an effortless stained finish!
Next, I worked on the Dollar Tree square sign. I had to trim mine just a little to make this work, so I used a ruler to measure and then cut the sign with a razor.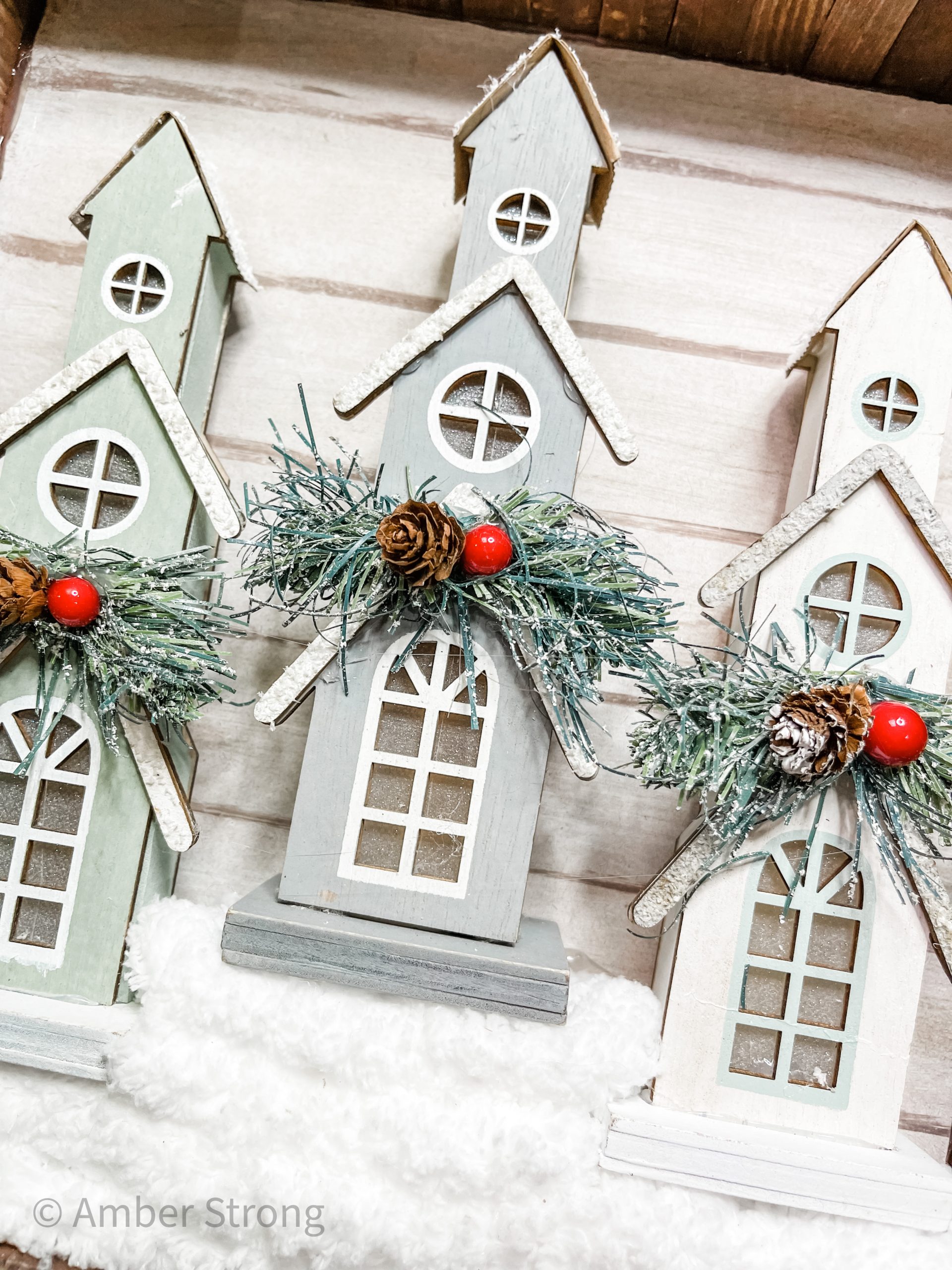 Then, I painted the back of the square sign with white paint. I like to use Apple Barrel or DecoArt because they are very affordable but still of great quality for my craft projects!
Let the white paint dry, then create a faux shiplap look by lightly brushing brown paint in straight horizontal lines across the sign.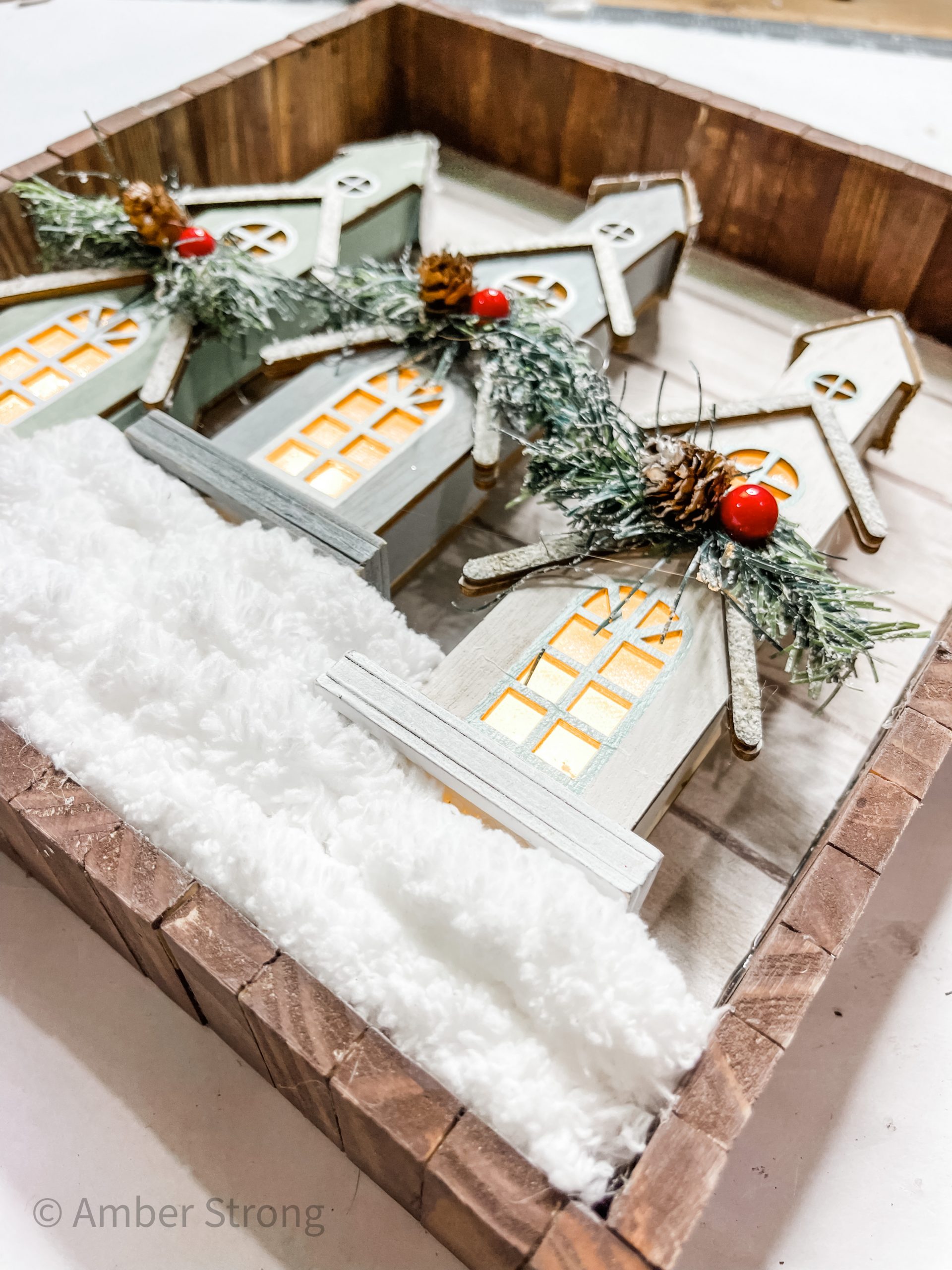 Allow the brown paint to dry, then go over the entire surface with a sanding sponge to smudge out the brown paint across the sign and give it an aged appearance.
Now, hot glue the pieces of the frame onto the square sign to bring it together.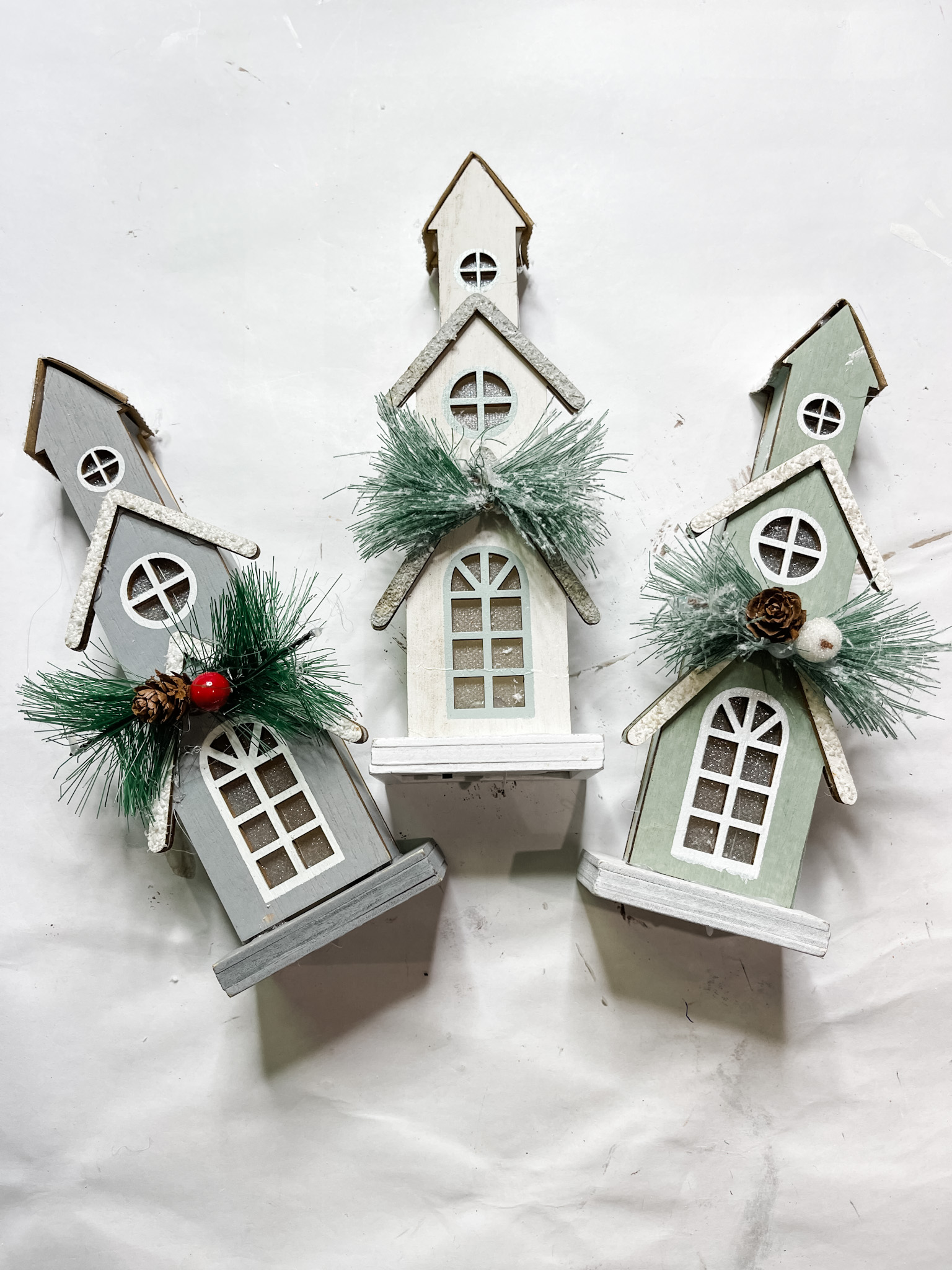 Customize your Dollar General Churches
I absolutely loved the three light-up churches as they were, but for this project, I wanted them to match a little more, so I removed the greenery from each one.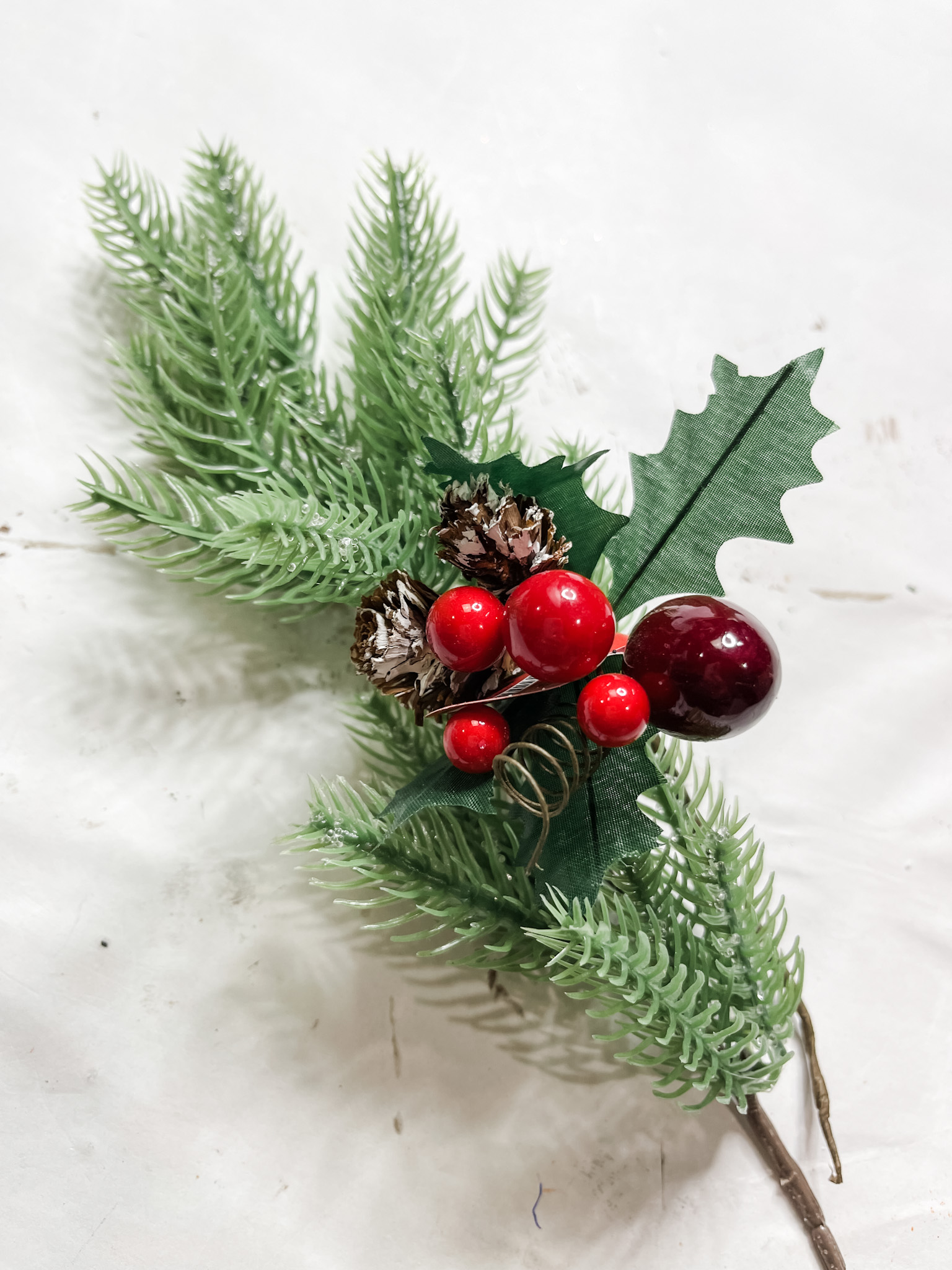 Then, I used my own greenery spray with pine cones and red berries to make the churches look more uniform.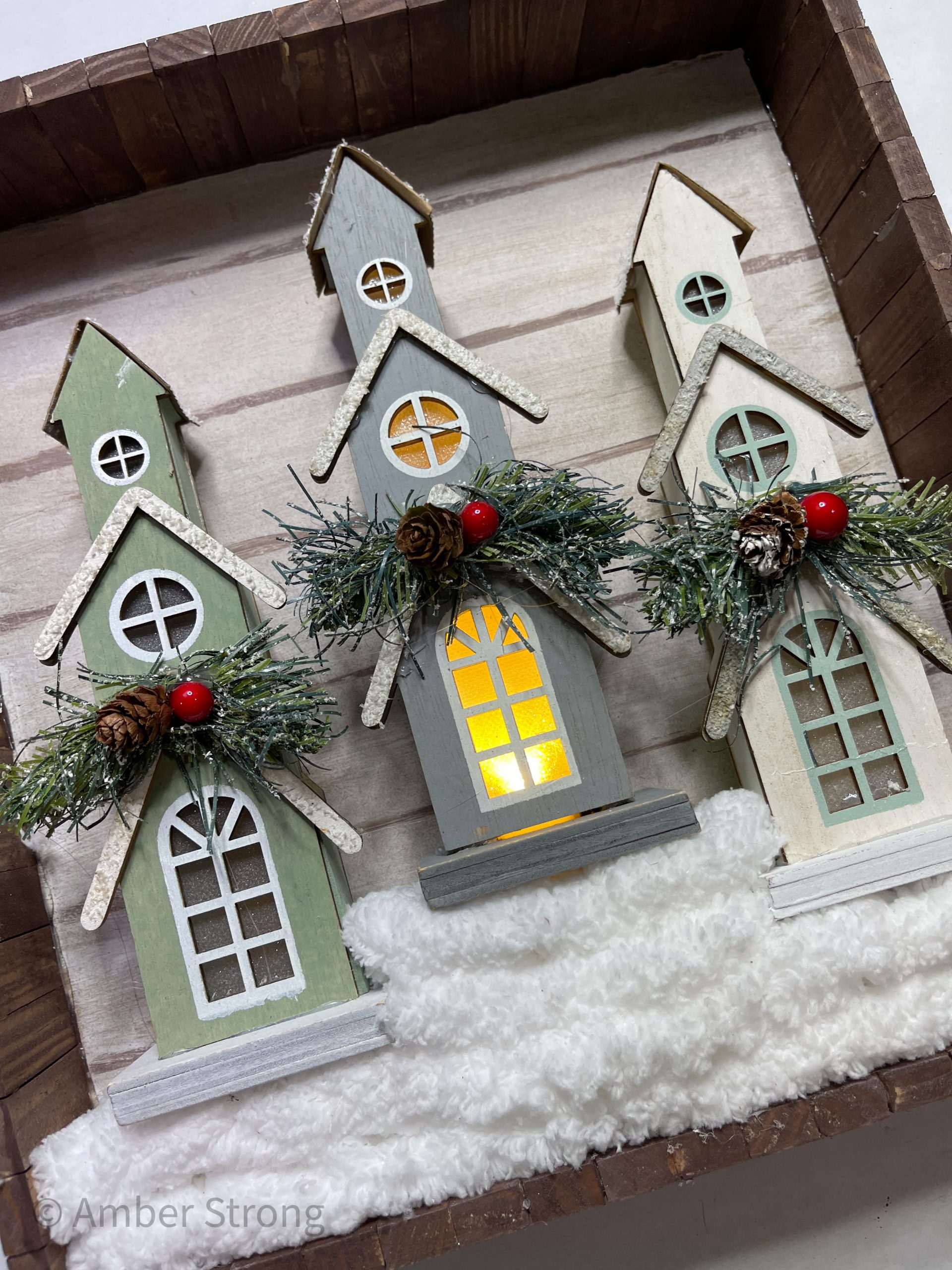 Once I was happy with the churches, I hot glued each of them to the square sign with the middle church raised slightly higher than the other two.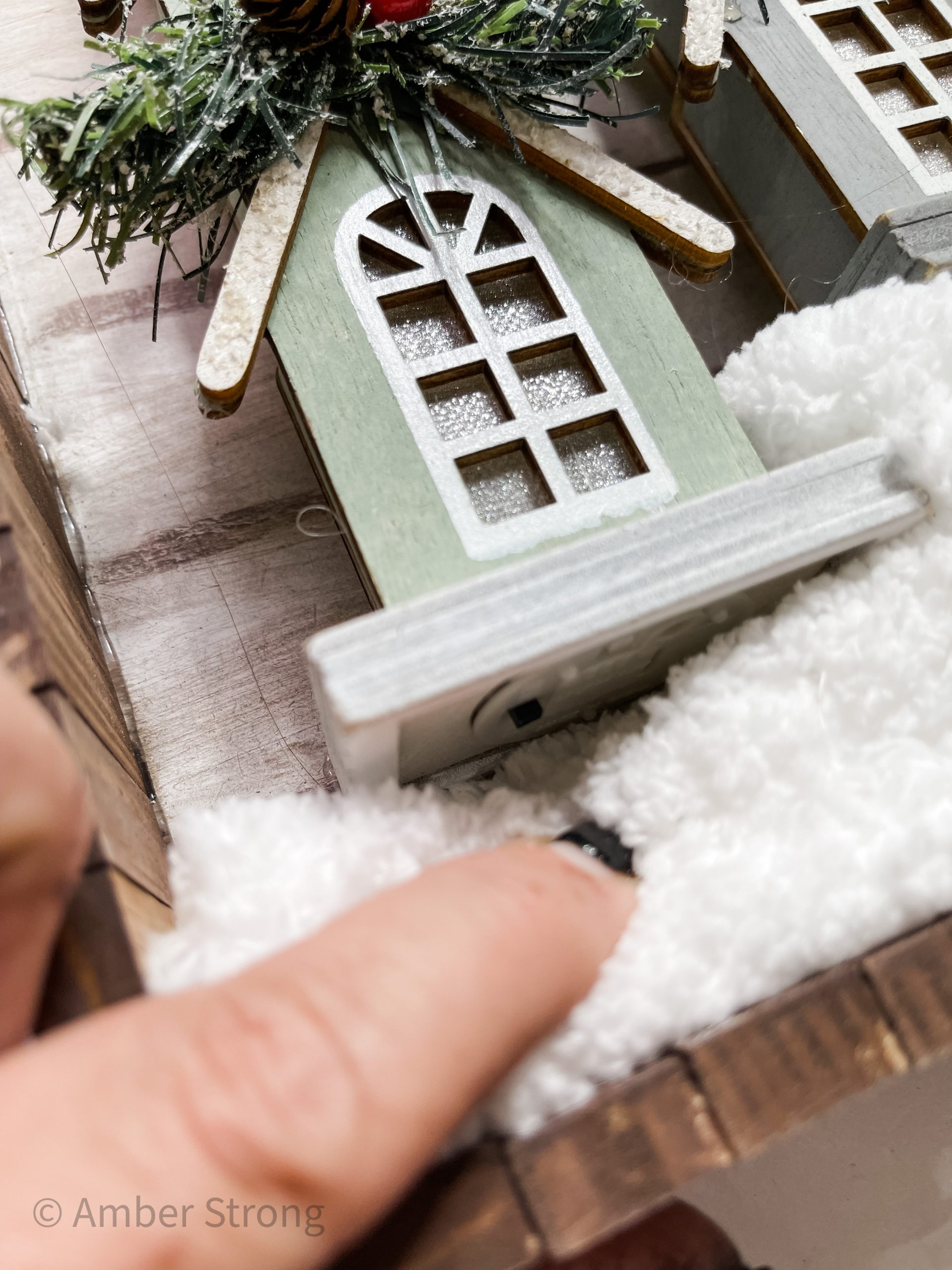 Lastly, I hot glued the chunky white yarn underneath the churches to look like a fluffy layer of snow! Make sure you don't cover the switches on the churches so you can still turn them on and off!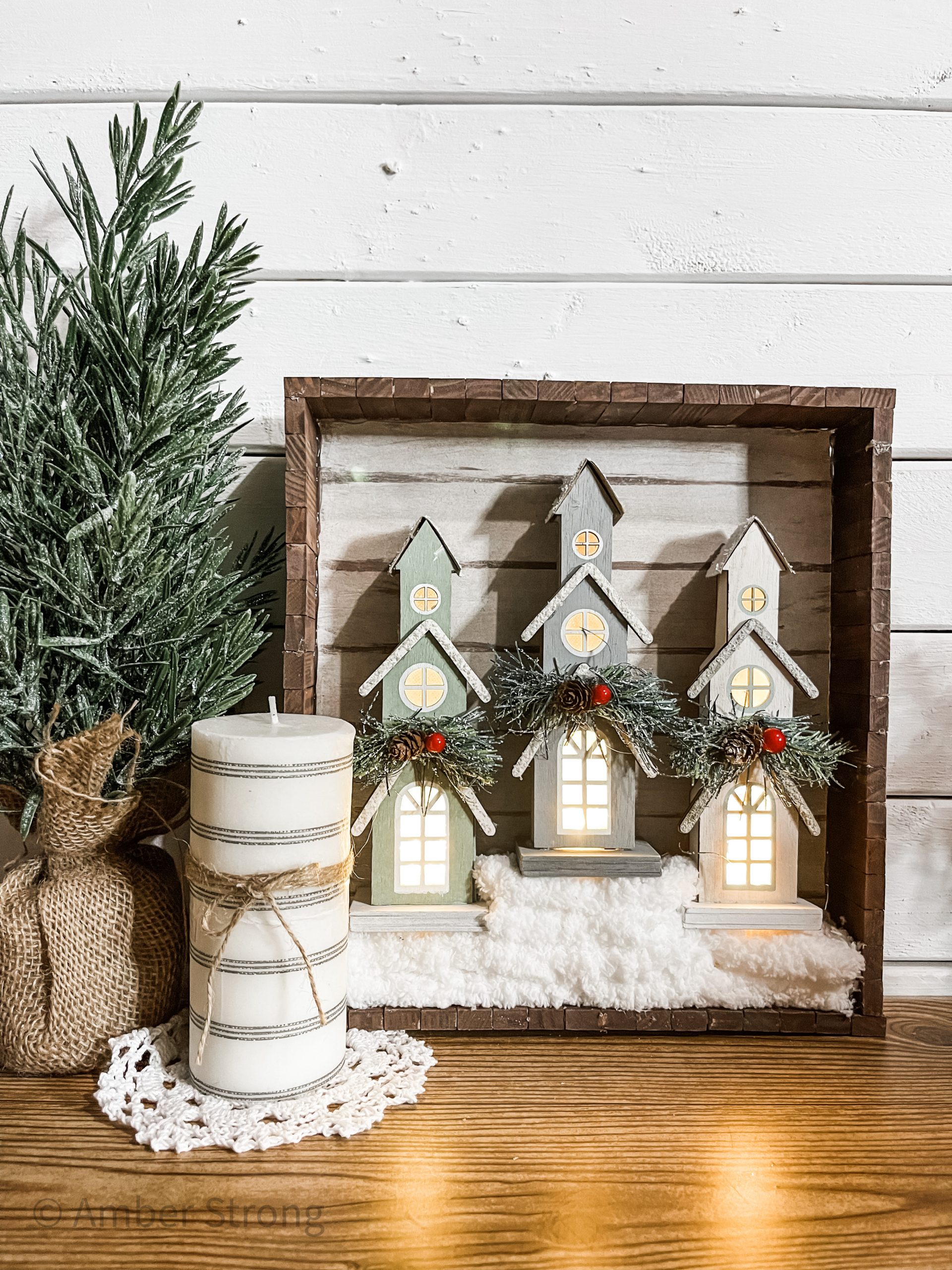 I hope you enjoyed this DIY Winter Church Scene as much as I did and decide to make it for yourself! I would love to see how yours turns out!
You should totally join my FREE Facebook group called On A Budget Crafts! It is a judgment-free community for DIY crafters to show off their projects and ideas.
Thanks for stopping by! XOXO Amber
You can also shop my ENTIRE AMAZON Favorites shop just click here! It's packed full of all the things I use and love.
Here is the supply list I highly recommend every creative have on hand!! Would you also pin my blog for later and get on my newsletter alerts? I would love to have you join my #craftycrew.

Join my free "ON A BUDGET CRAFTS" Facebook group!
PIN THIS POST FOR LATER!