Thankful Sign with Fall Truck Printable
If you aren't using printables in your DIY decor projects, you are missing out! I mean, just look at how I made this DIY Thankful Sign with my Fall Truck Printable!
Seriously, this is so easy to make, it would probably take less than 20 minutes with a heat gun. And, it's super affordable! With almost all the supplies from Dollar Tree, you can't go wrong with this one!
If you like this easy fall printable DIY, you might like my Easy DIY Fall Wire Frame Pumpkin!
Watch the DIY Tutorial Replay
I recorded the how-to steps of making this adorable Thankful Sign with Fall Truck Printable during a LIVE video on my Facebook page.
If you want to see the DIY process, craft along, or just join in on the fun conversations, you can watch the DIY tutorial replay!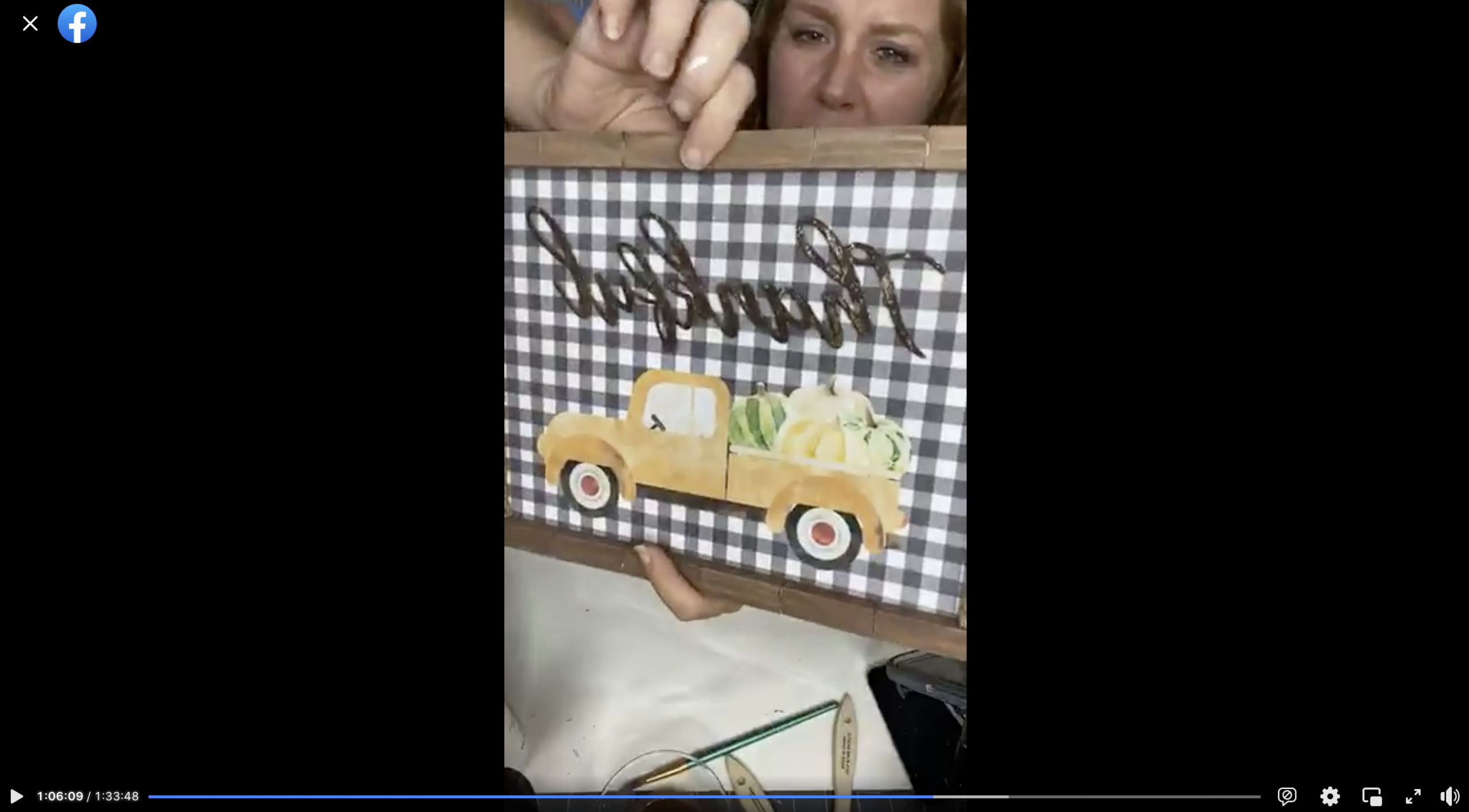 For this project, I will be using these items, but you can substitute where you want.
"As an Amazon Associate, I earn from qualifying purchases."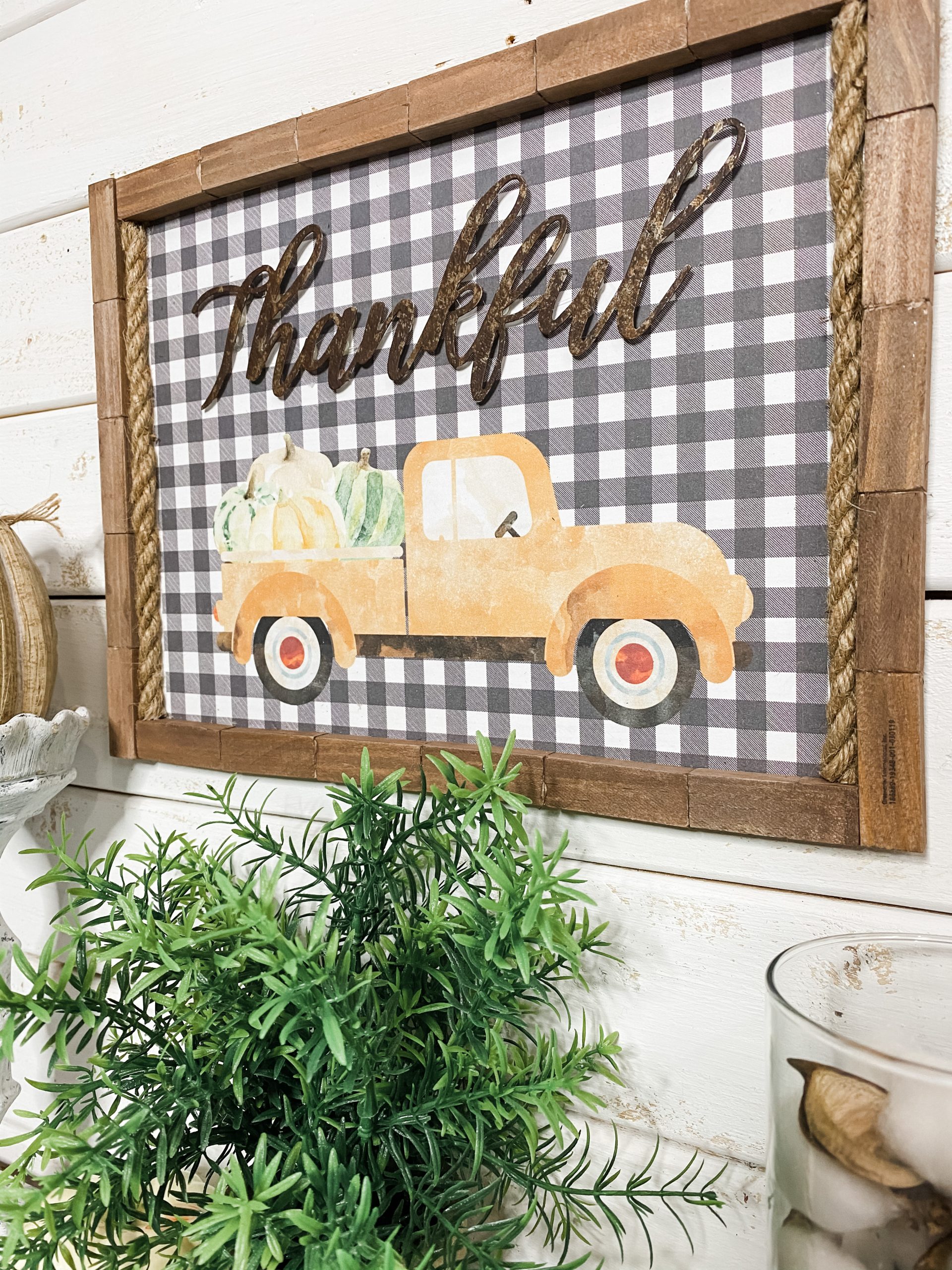 How to Make a Thankful Sign with Fall Truck Printable
Start by removing the twine hanger from your Dollar Tree sign, and paint the back of the sign with white paint. I used Apple Barrel Snow White Acrylic Paint.
I love to use Dollar Tree signs in my DIY projects because they are perfect surfaces! You can flip them over and turn them into anything!
Allow the white paint to dry, and start working on staining the Dollar Tree Tumbling Tower blocks! Mix a bit of brown paint (I used Apple Barrel Burnt Umber Acrylic Paint) and water in a small bowl.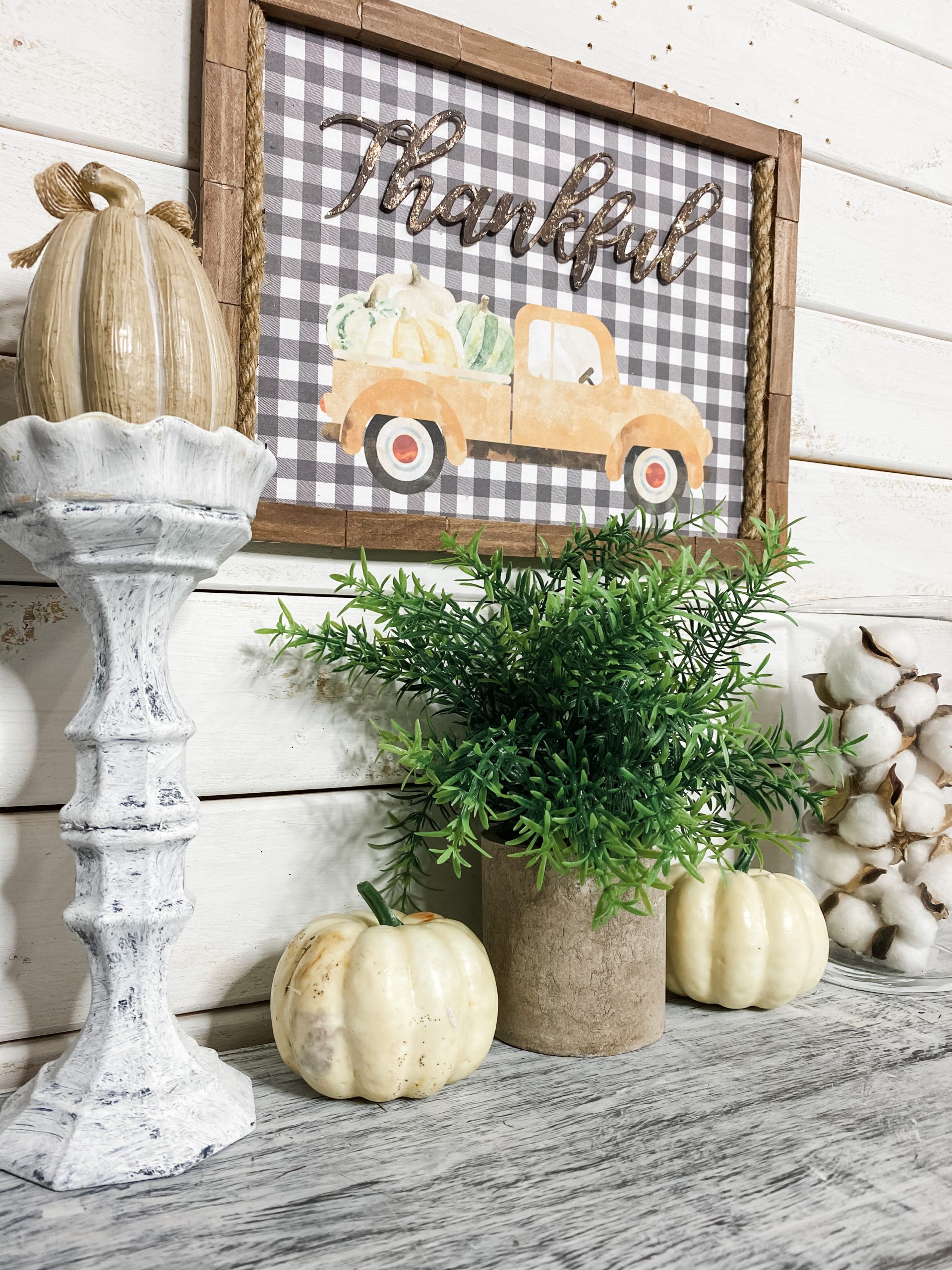 Glue the blocks together for the strips for each side of your sign. Use a wet wipe to spread the mixture across the Tumbling Tower blocks. Use a clean wet wipe to remove any excess paint from the blocks.
Now, apply a coat of Mod Podge over the coat of white paint on your Dollar Tree sign and place the Fall truck printable onto the surface.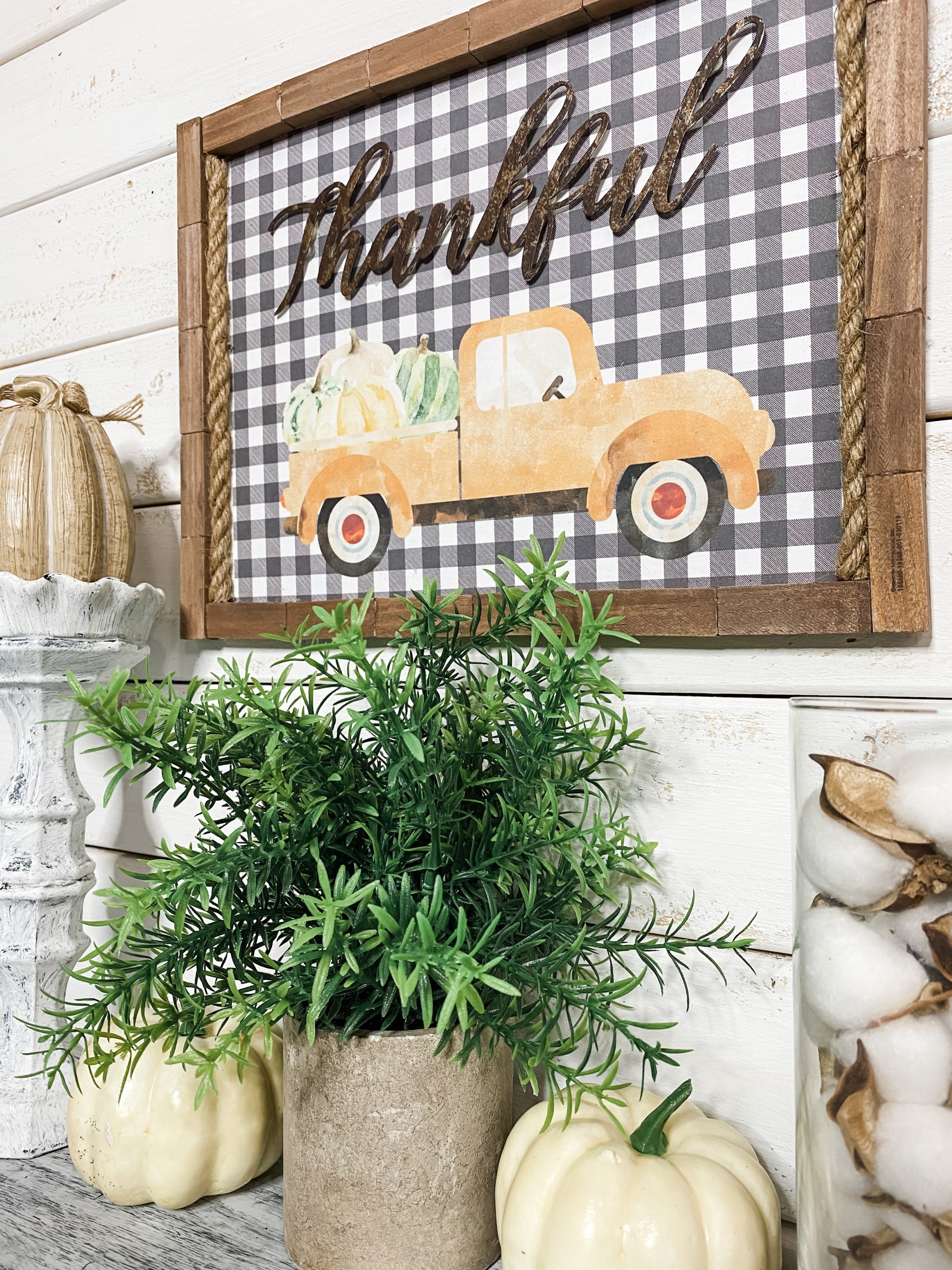 Use a rolling spin to smooth out any wrinkles or creases in the printable, then allow the Mod Podge to dry. I used my heat gun to speed up the drying process.
Make sure the Tumbling Tower blocks are completely dry, then hot glue them around the edges of the sign.
There were two slivers of space between the printable and the blocks, so I took two Dollar Tree nautical rope pieces and hot glued them over the exposed white.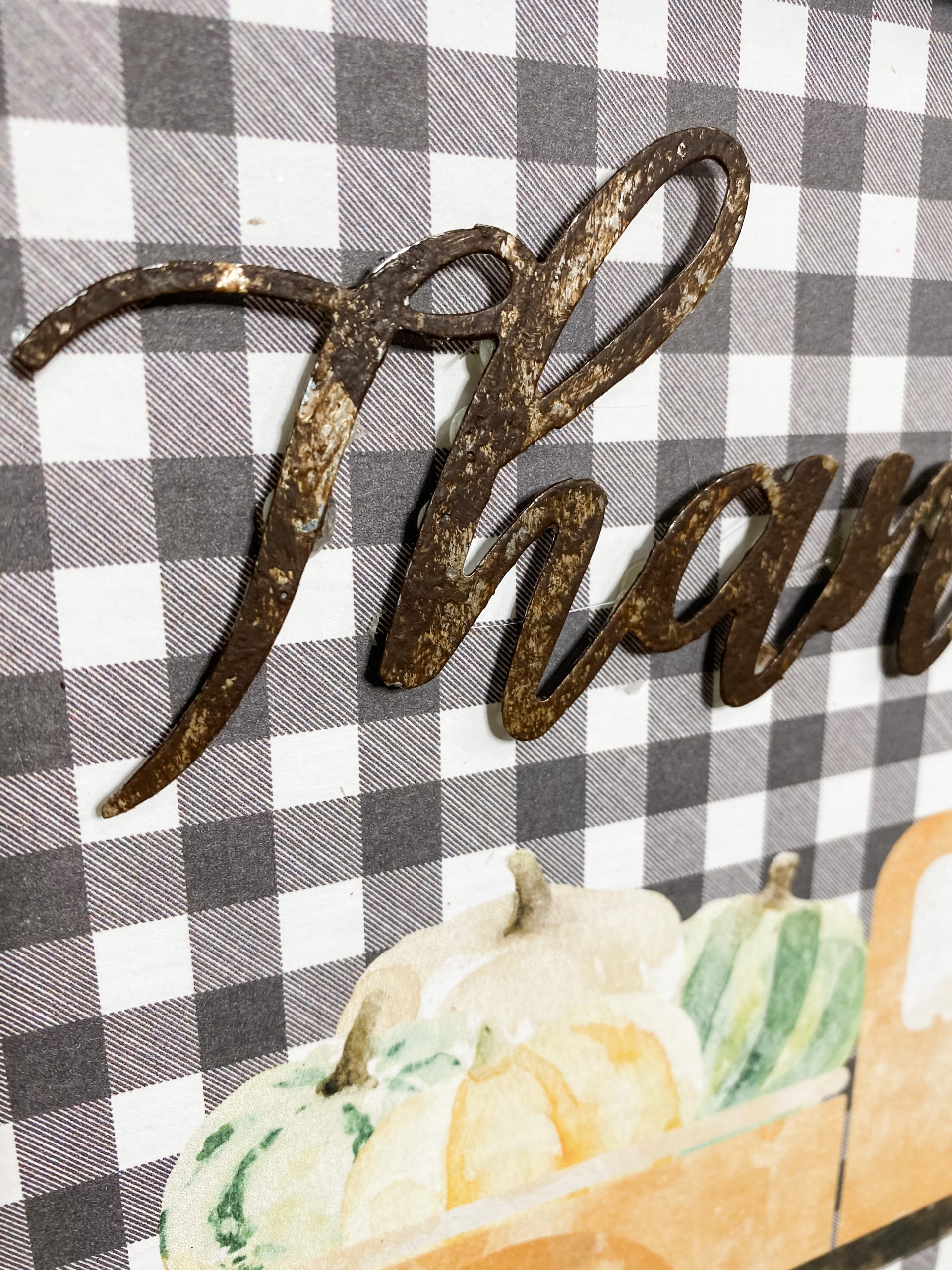 How to faux rust metal
The key to getting a good faux rust finish on metal is Mod Podge! You apply a coat of Mod Podge to the metal and it creates the texture you need for the faux rust finish.
Then, lightly apply Waverly Antique Wax over the dried Mod Podge. Keep dabbing the wax onto the metal until you're happy with the faux rust finish!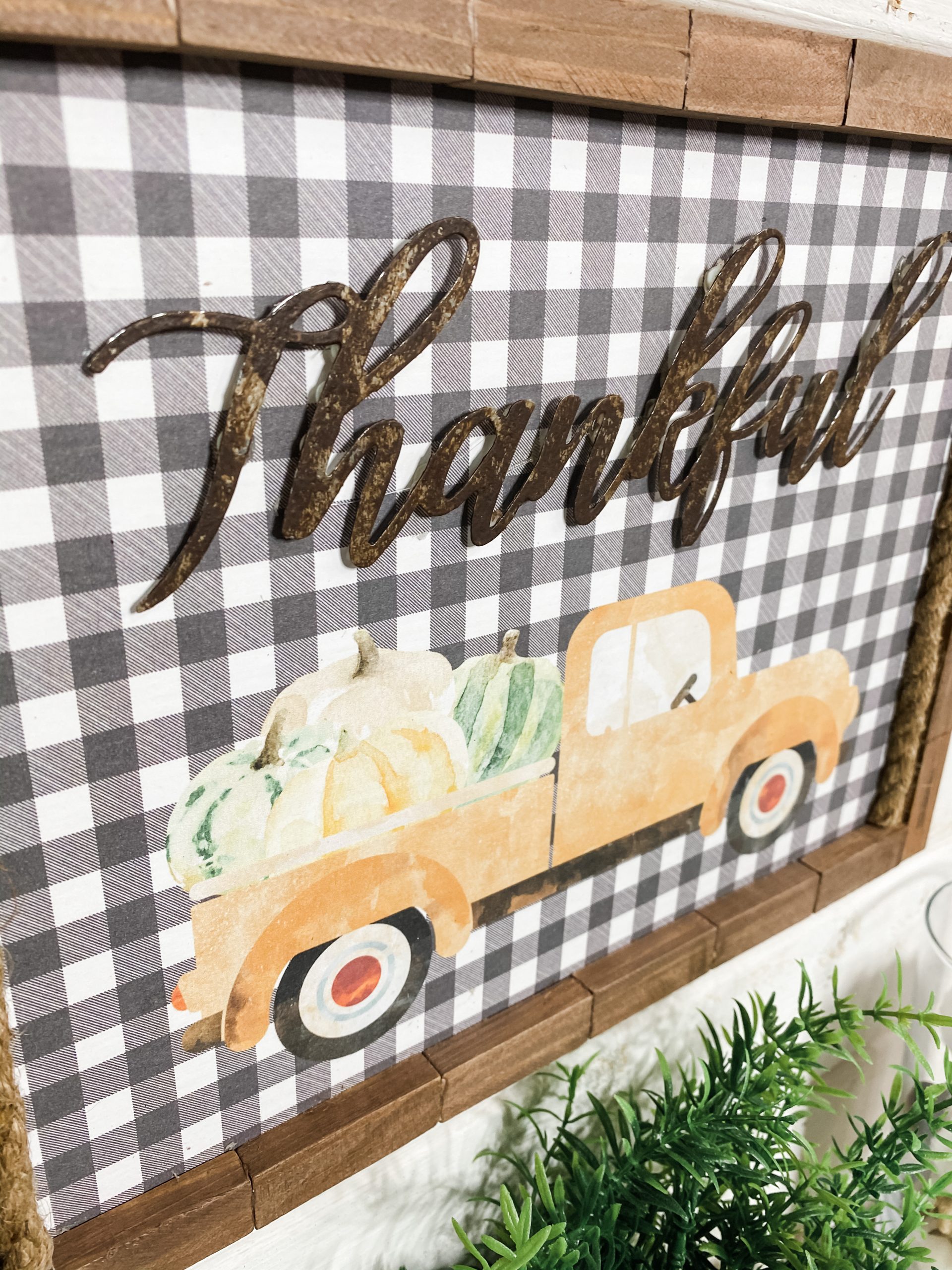 Dab on just a little bit of Folkart Java Chalk Paint to deepen the faux rust finish on the metal. Let the metal dry completely.
Then, I stuck the Dollar Tree pearl stickers on the back of the lettering and hot glued the thankful lettering to the sign, above the yellow fall truck.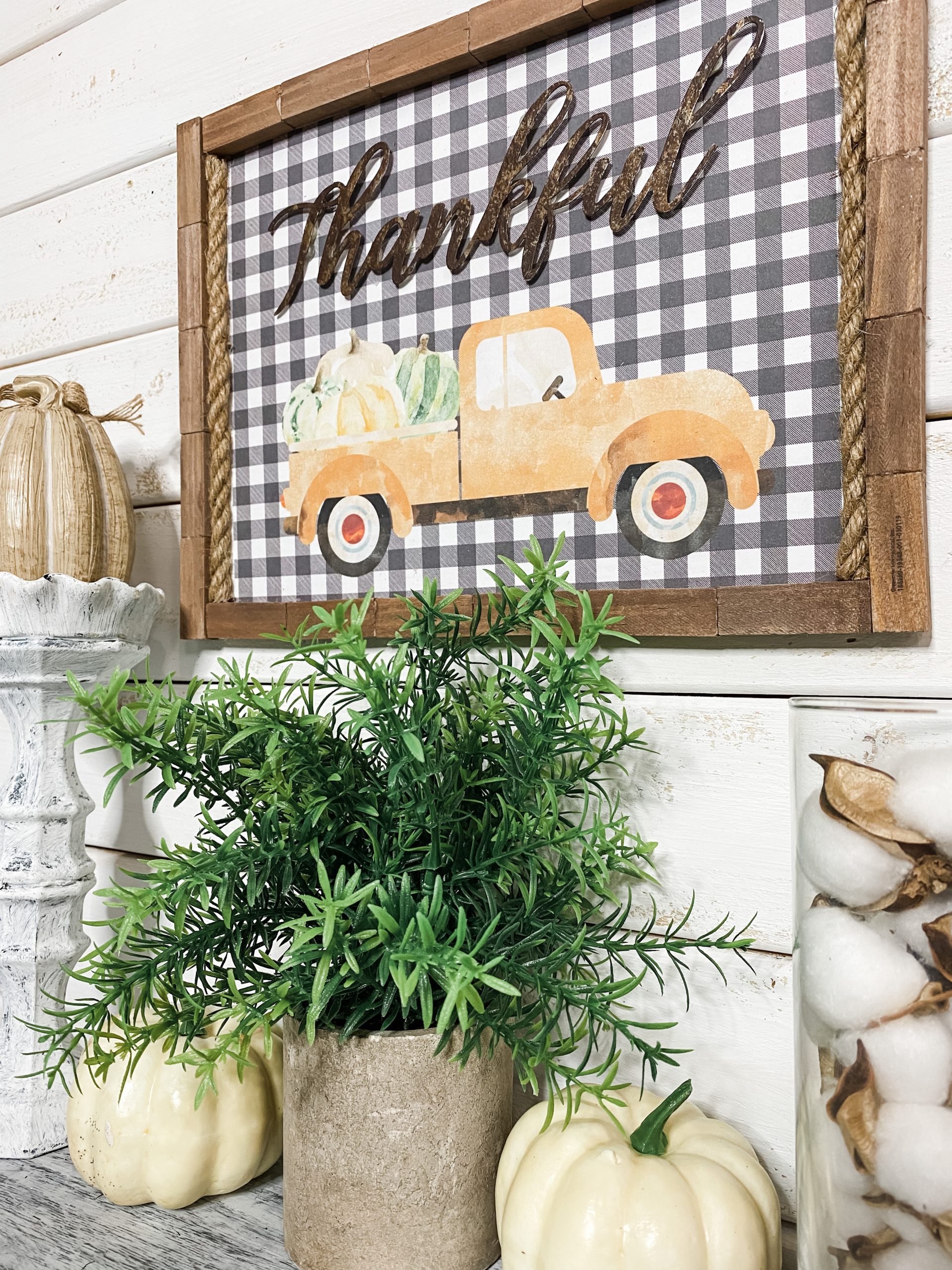 I hope you enjoyed this Thankful Sign with Fall Truck Printable as much as I did and decide to make it for yourself! If you do, I would love to see how yours turns out!
You should totally join my FREE Facebook group called On A Budget Crafts! It is a judgment-free community for DIY crafters to show off their projects and ideas.
If you loved this easy fall home decor, you might also like these DIY ideas!
Thanks for stopping by! XOXO Amber
You can also shop my ENTIRE AMAZON Favorites shop just click here! It's packed full of all the things I use and love. Here is the supply list I highly recommend every creative have on hand!!
Would you also pin my blog for later and get on my newsletter alerts? I would love to have you join my #craftycrew.
I email alerts about new blogs like this Thankful Sign with Fall Truck Printable so you're always up to date on fun, new DIY ideas!
Inspired? Leave me a comment below! I love hearing from my readers!

Join my free "ON A BUDGET CRAFTS" Facebook group!