Valentine's Day Standing Hearts Decor
Making these Valentine's Day standing hearts decor was so much fun, not just because they turned out super cute, but also because I cut out the standing hearts on my very own Glowforge!
If you didn't know, a Glowforge is an amazing 3D laser printer! You can cut and engrave acrylic, cardboard, fabric, food, glass, hardwood, leather, metal, and more!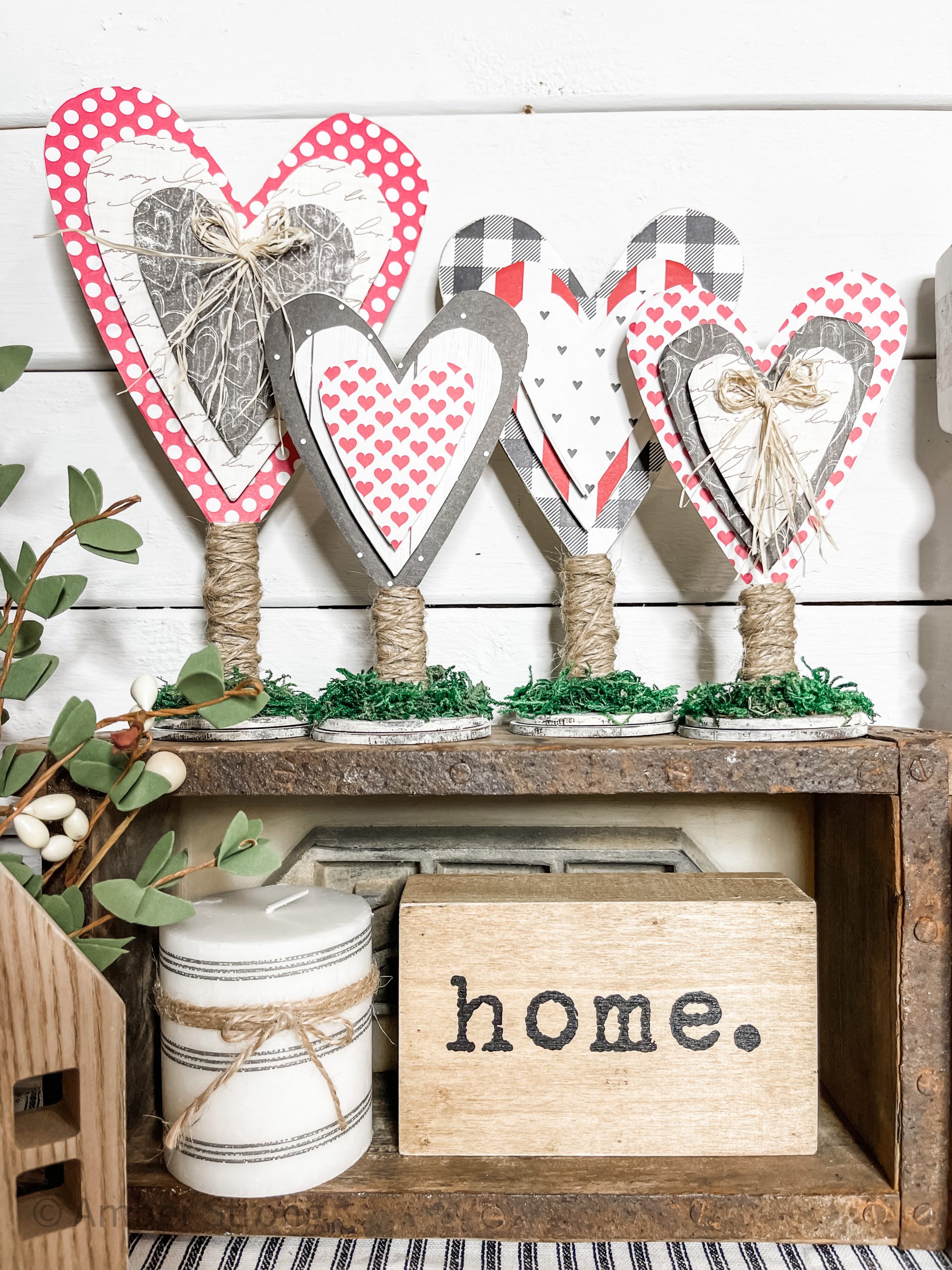 I've been using my Glowforge to cut my very own DIY kits, like the standing hearts!
TEXT RESTOCK TO +1 (912) 875-8866 FOR KIT RESTOCK ALERTS
Check out these other crafts made with a Dollar Tree mop head!
Get your DIY kits!
The standing hearts I used for this adorable Valentine's Day DIY project are one of many craft kits that I offer! My DIY craft kits are created using either MDF / HDF / Birch Wood.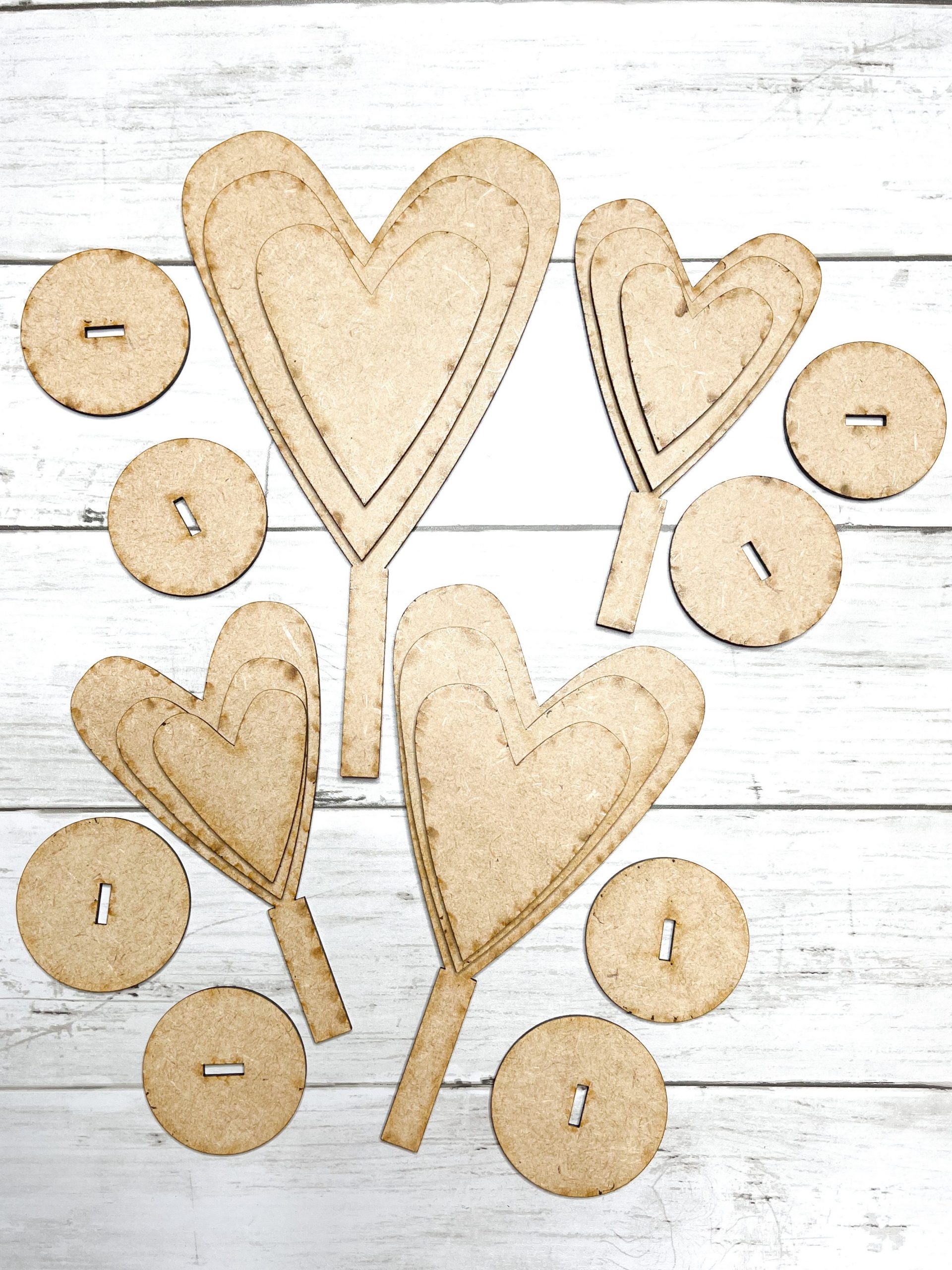 Each kit is laser cut, packed, and shipped by myself and my team. We take great pride in providing you with items you can craft with and make adorable home decor with!
There are a variety of kits for different seasons and holidays. Check out the DIY kits today!
TEXT RESTOCK TO +1 (912) 875-8866 FOR KIT RESTOCK ALERTS
I recorded how to make these adorable Valentine's Day Standing Hearts Decor during a LIVE video on my Facebook page.
If you want to see the DIY process, craft along, or just join in on the fun conversations, you can watch the DIY tutorial replay on Facebook!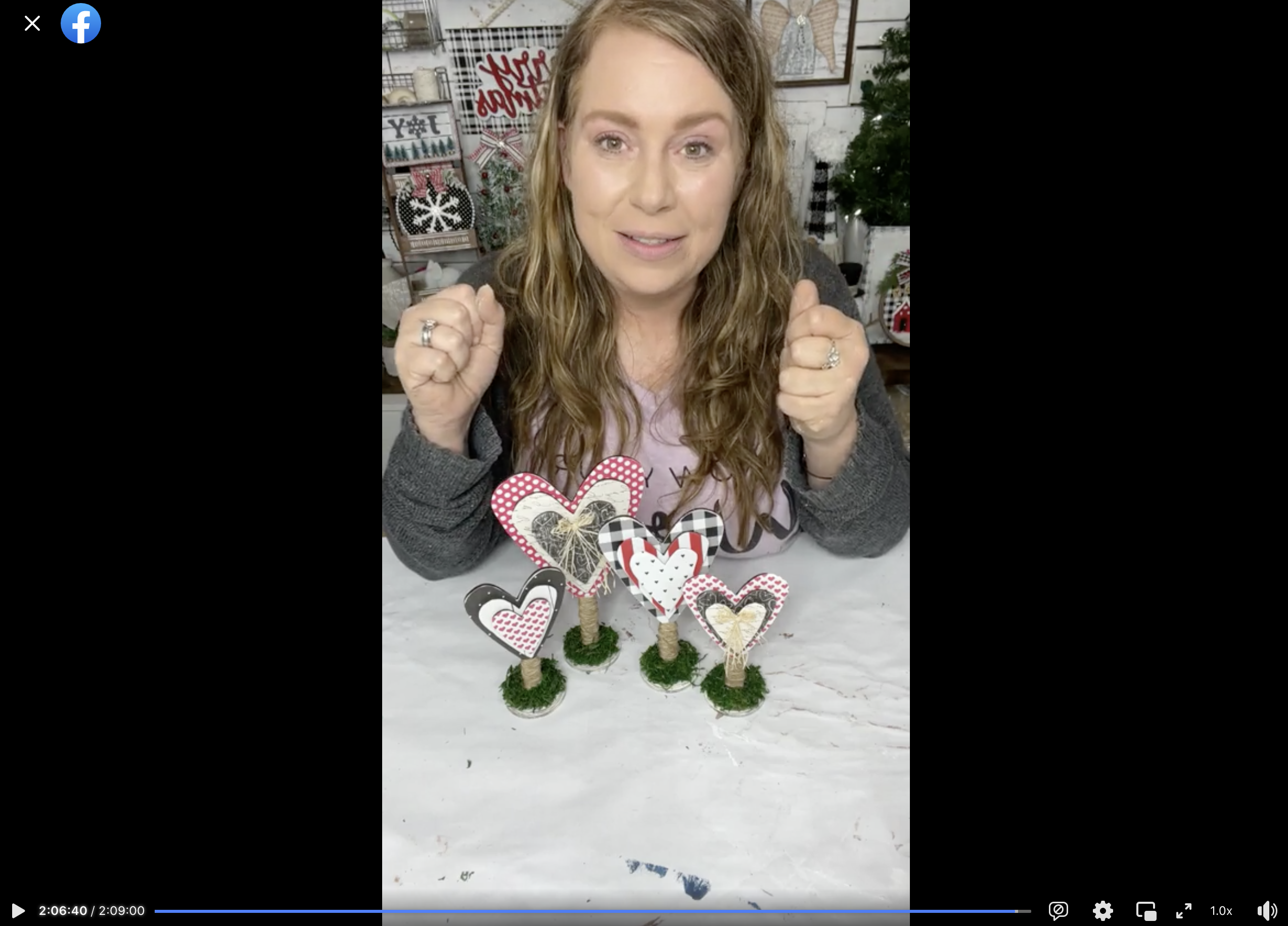 For this project, I will be using these items but you can substitute where you want.
"As an Amazon Associate, I earn from qualifying purchases."
Standing Hearts Kit – Comes with all the wooden pieces needed to assemble the standing hearts. To complete the project, you will need the additional supplies below.
Dollar Tree Floral Moss
Dollar Tree Jute Twine
Variety of Scrapbook Paper
Dollar Tree Raffia
Mod Podge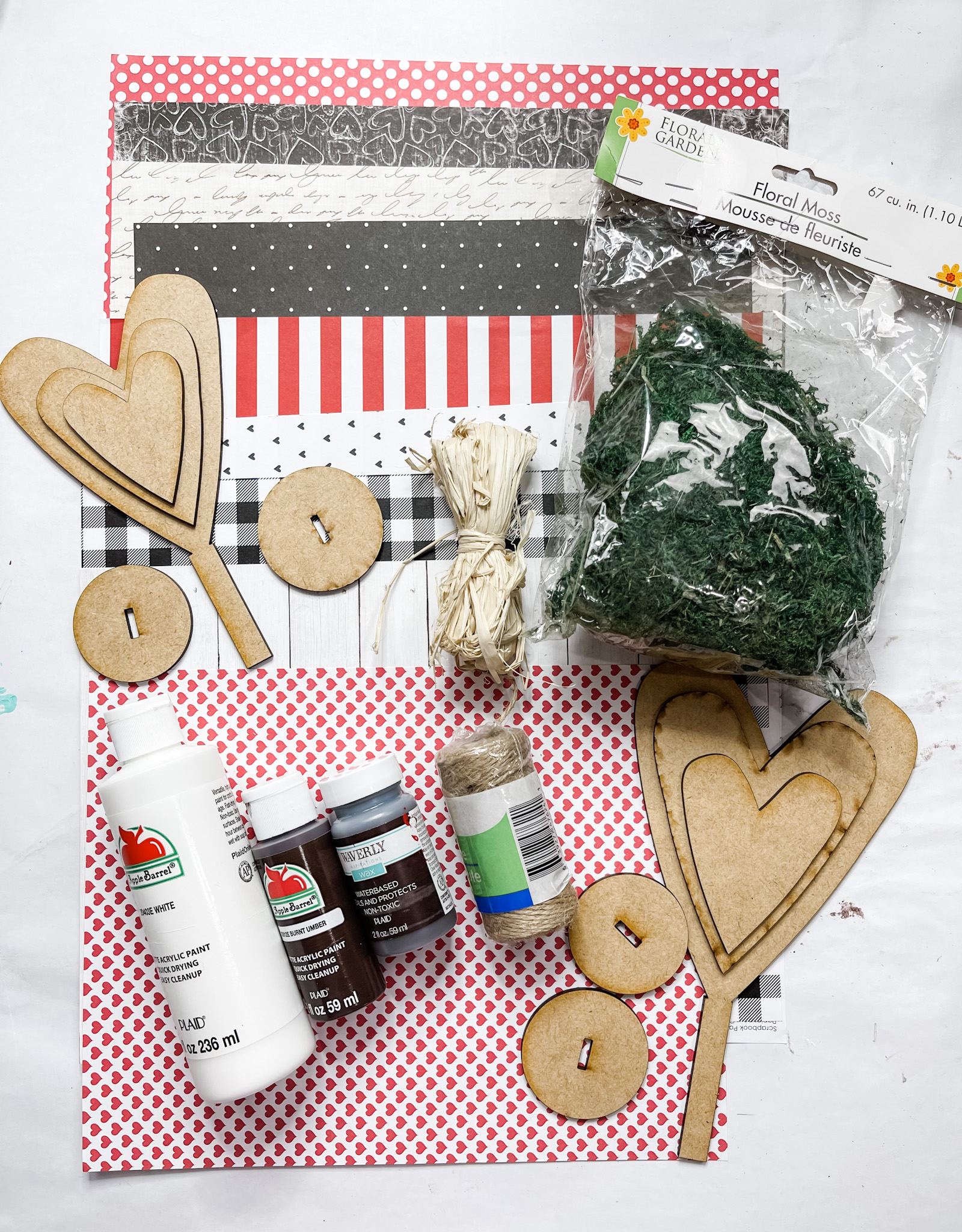 How to Make Valentine's Day Standing Hearts Decor
I started this project by staining the stems of each of the standing hearts with brown paint. To stain with paint, I poured a bit of brown paint on a paper plate and used a wet wipe to apply it to the wood.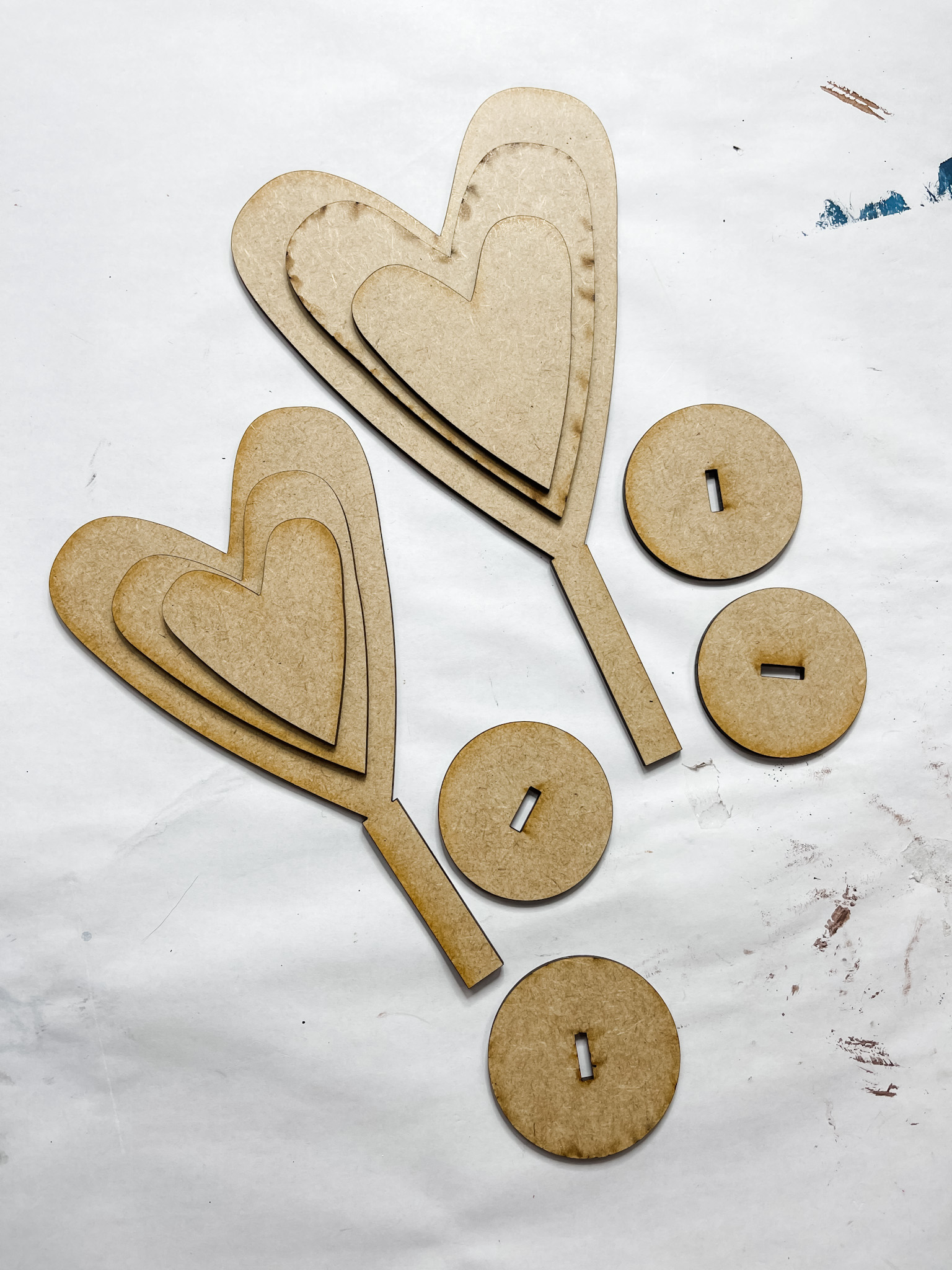 Once the stained stems were dry, I painted the entire heart and stem with white paint. Allow the white paint to dry before moving on. I used my heat gun to speed up the drying process.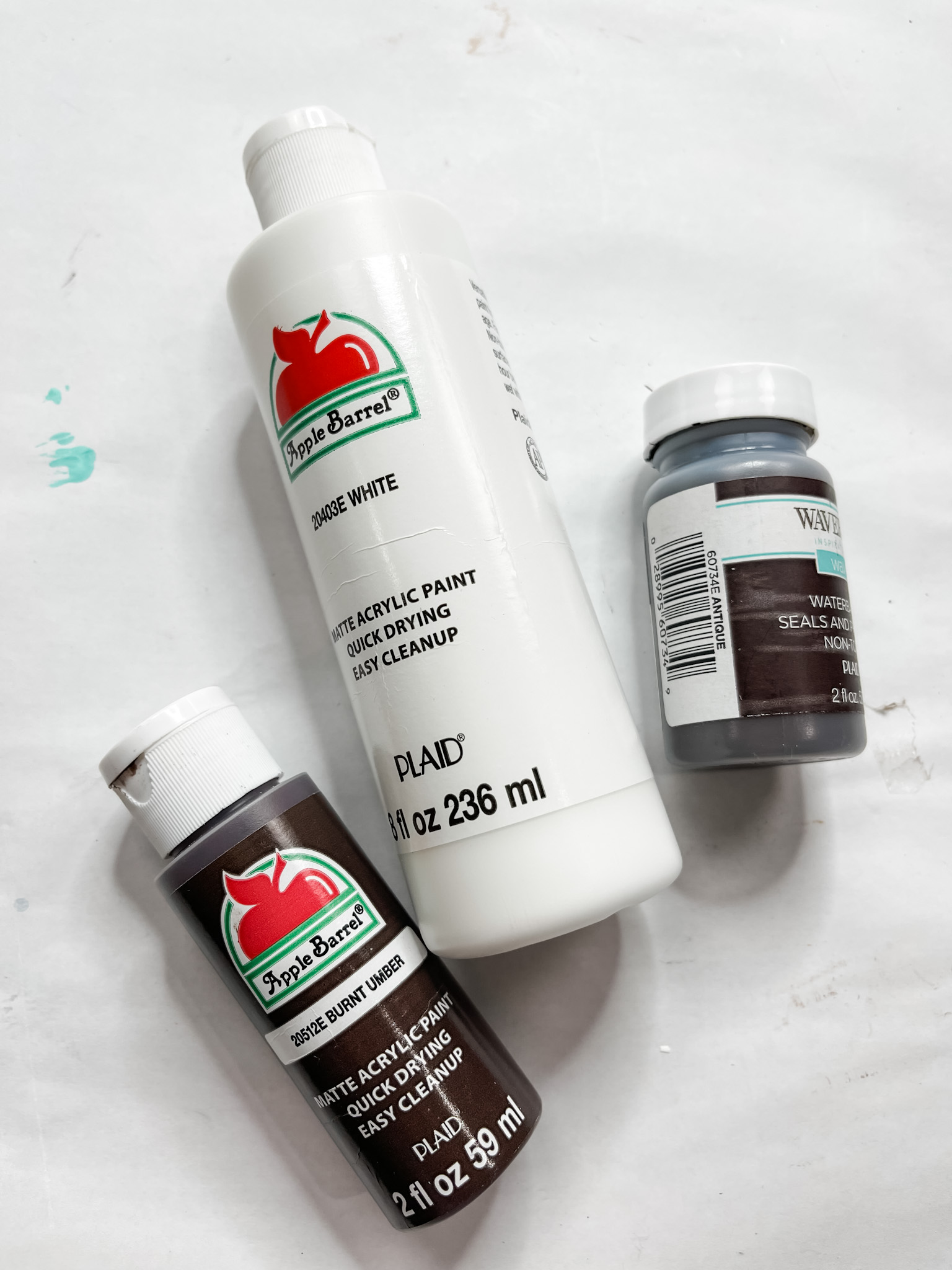 Once the paint is dry, trace each heart on a different scrapbook paper and cut the hearts out. Apply a coat of Mod Podge on each wood heart and place the paper cutouts onto the Mod Podge.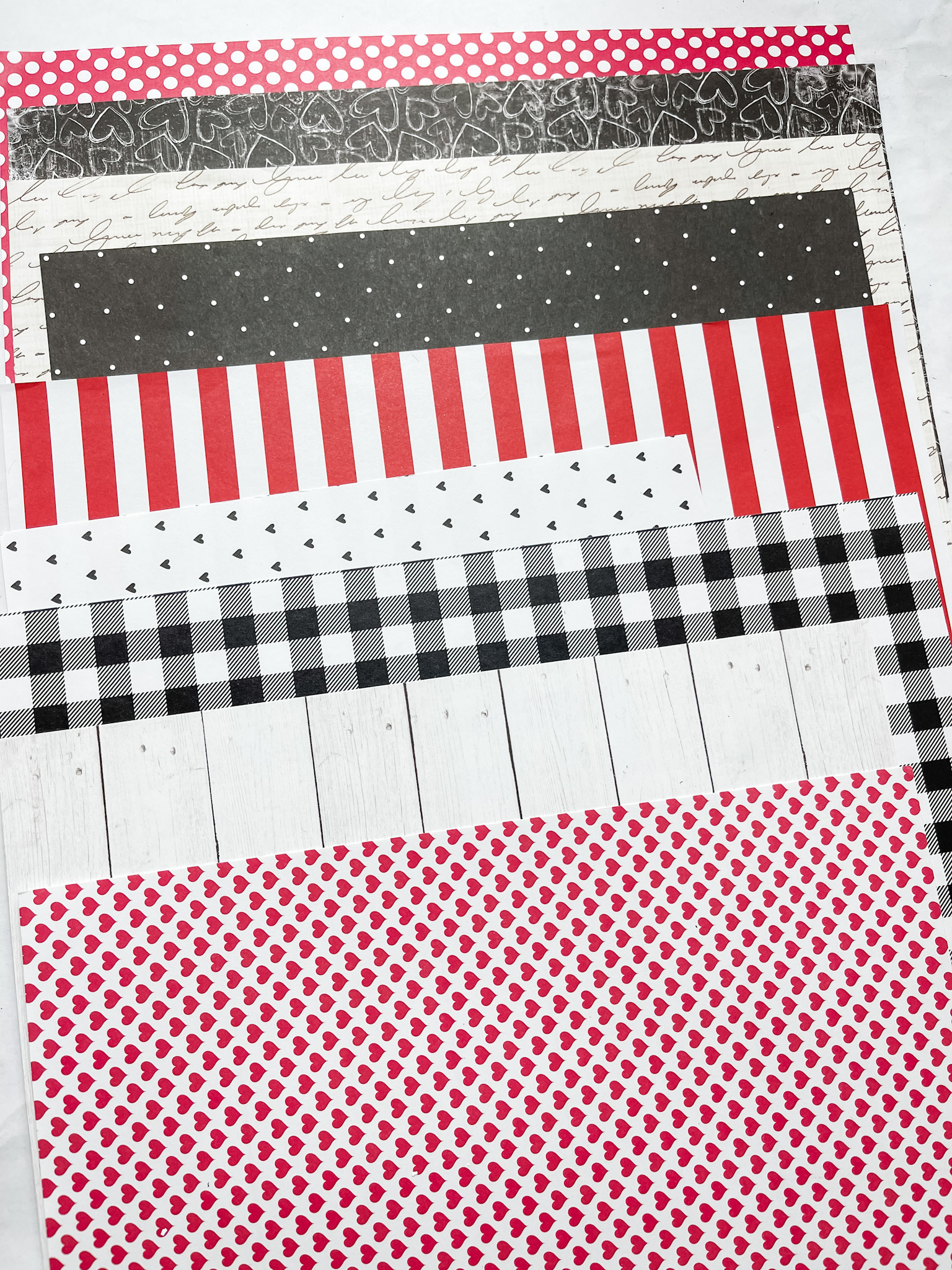 Use a rolling pin or ball up some plastic saran wrap to smooth out any wrinkles or bubbles in the scrapbook paper. Next, stain each of the bases for the hearts the same way you stained the stems.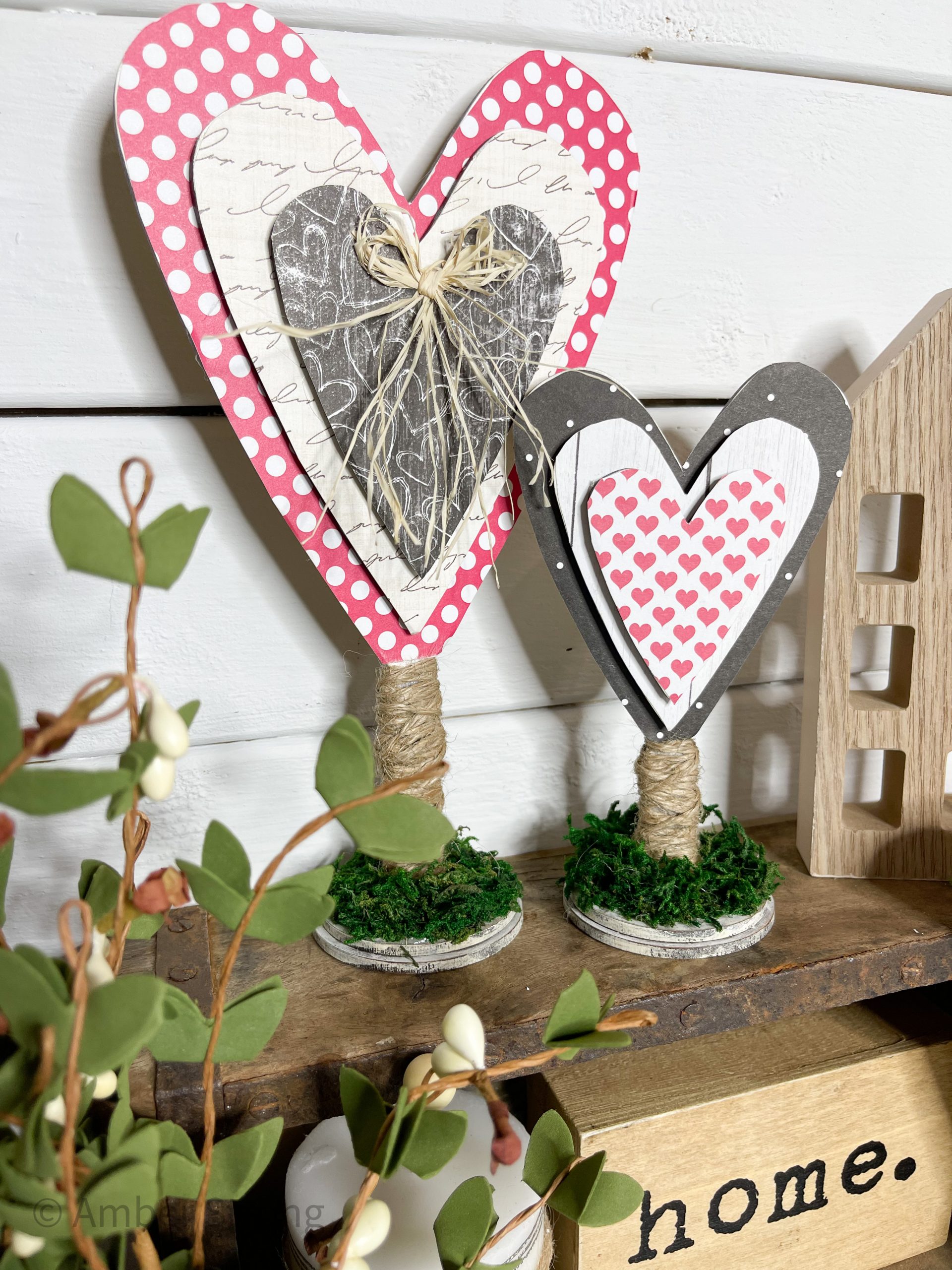 There are two circles for each base. Glue the base pieces together, then glue each layer of the standing hearts together.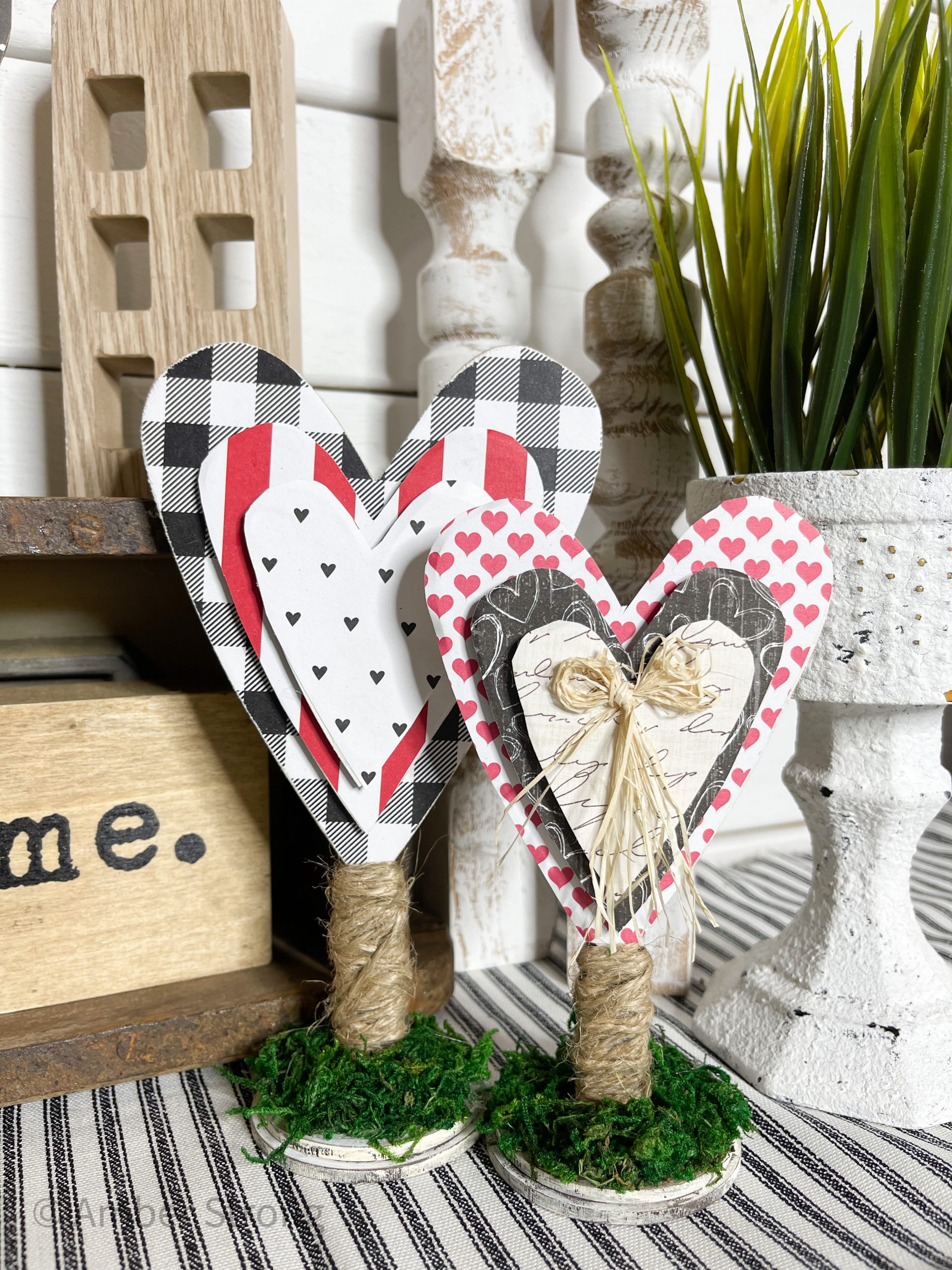 Once the stained and assembled bases are dry, lightly brush some white paint onto them. Allow the paint to dry, and lightly distress them with a sanding sponge.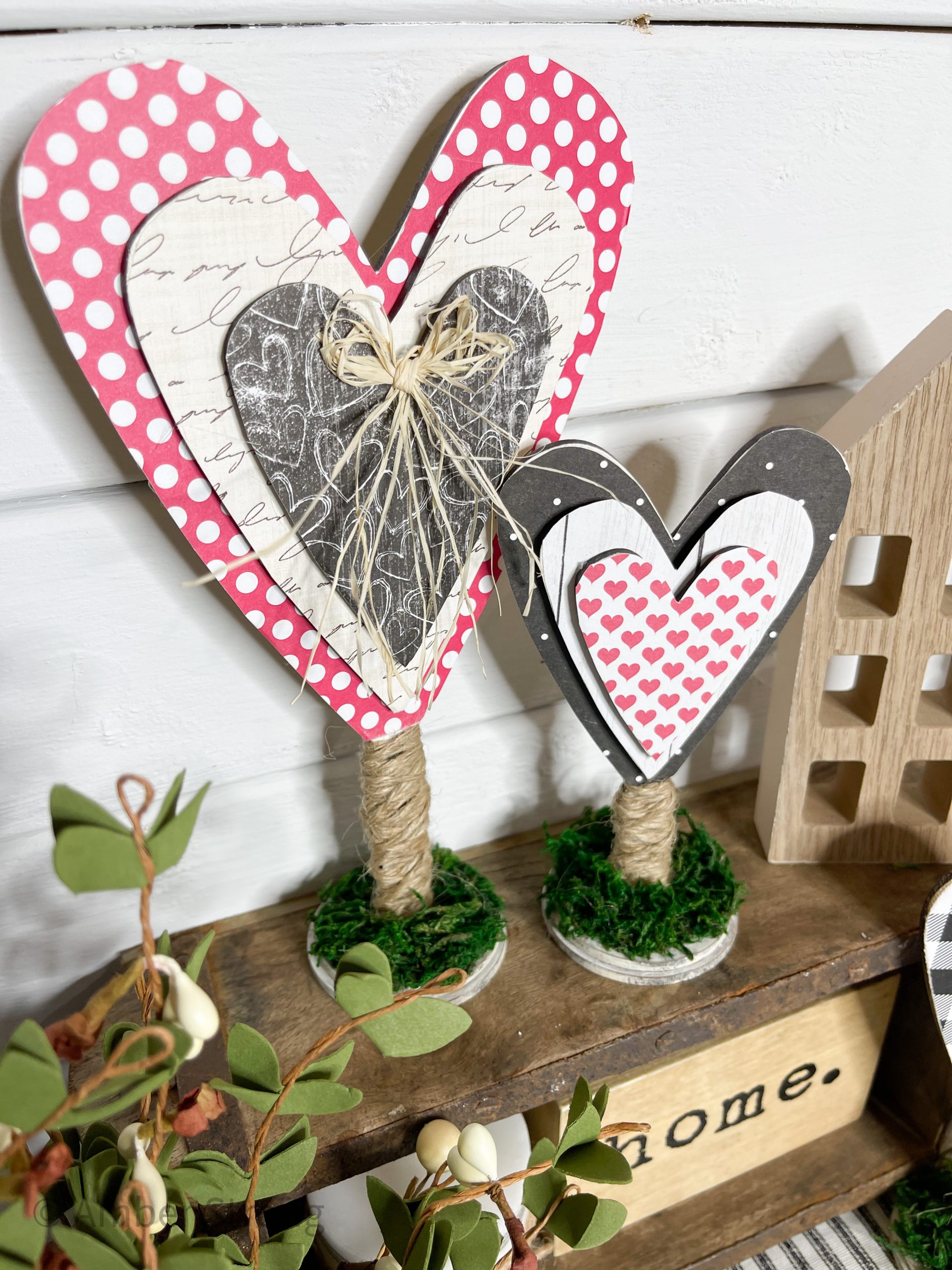 Next, I wrapped jute twine around each stem and glued it in place. Glue the floral moss to the top of each base and press the standing hearts into the slits in the bases.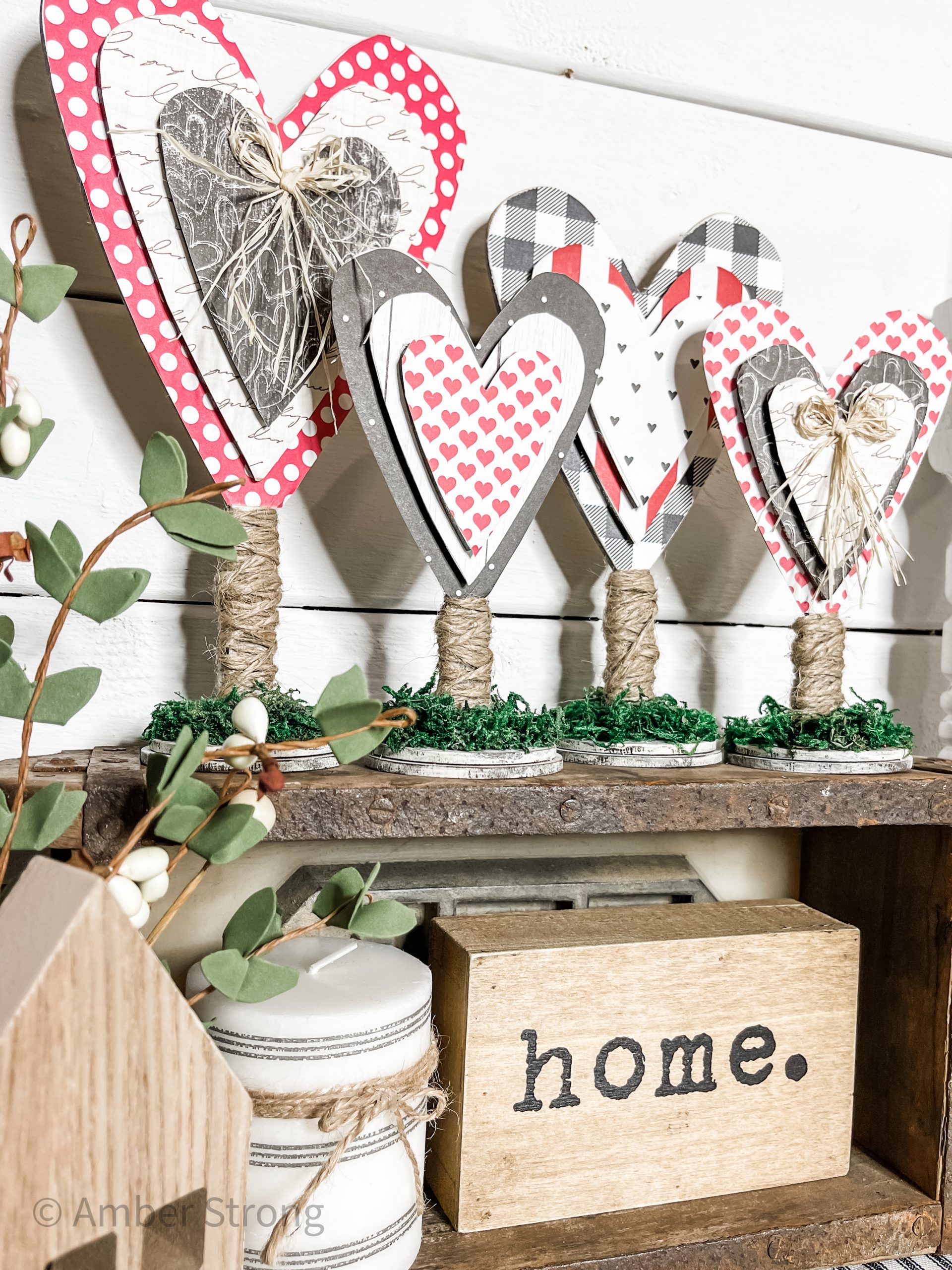 Lastly, I made two little bows out of Dollar Tree raffia and hot glued them to the largest standing heart and one of the smaller standing hearts!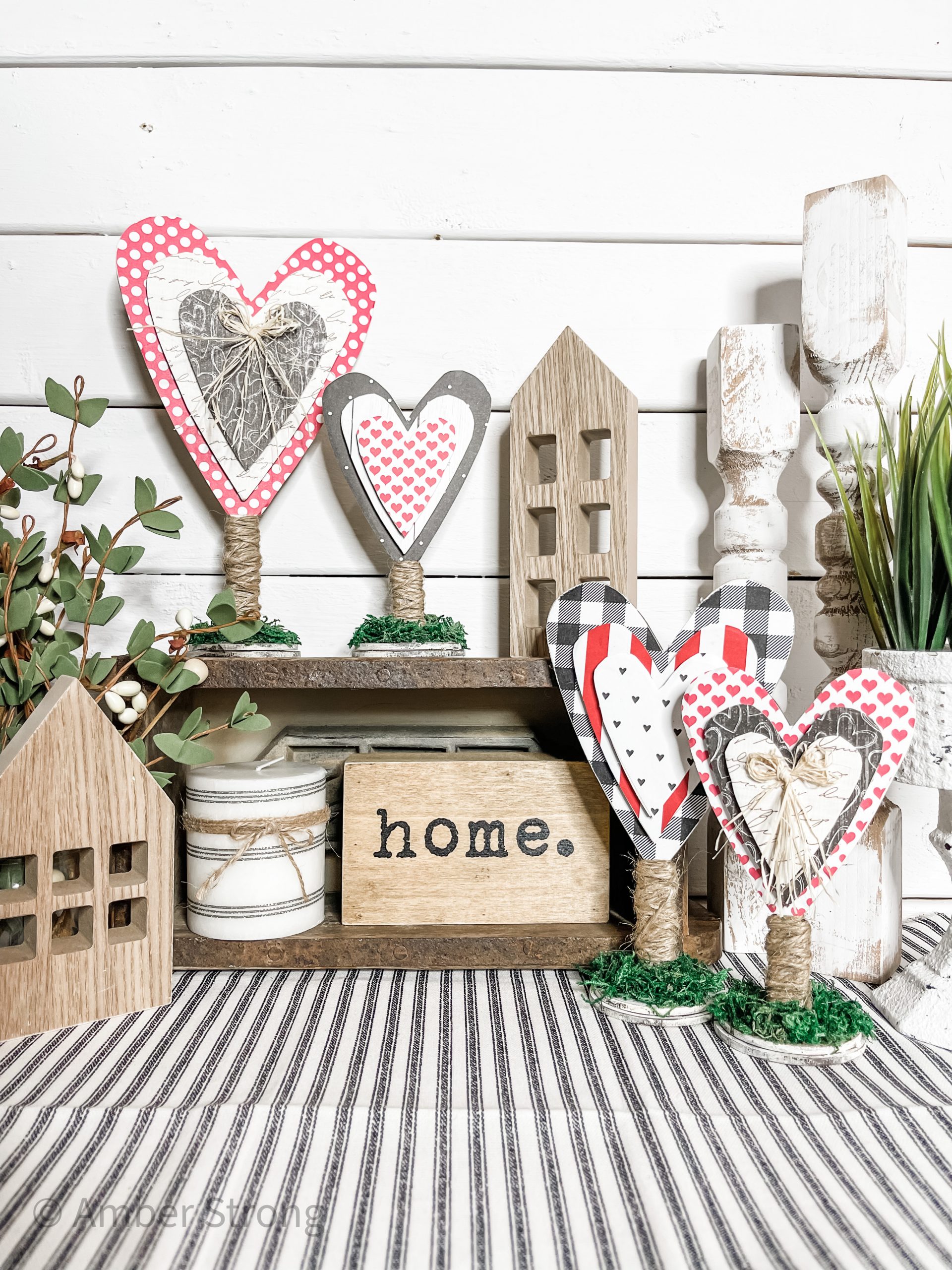 If you love these cute little standing hearts, you have to check out my other DIY kits!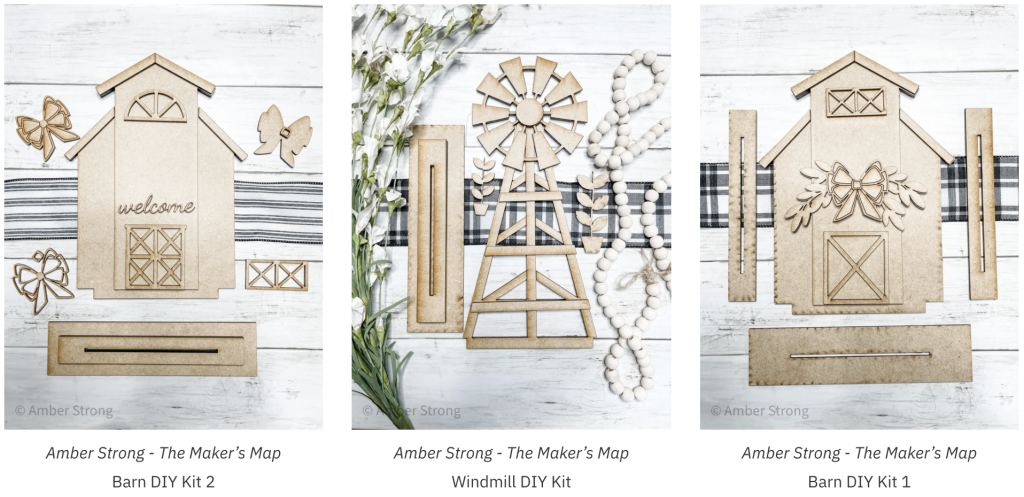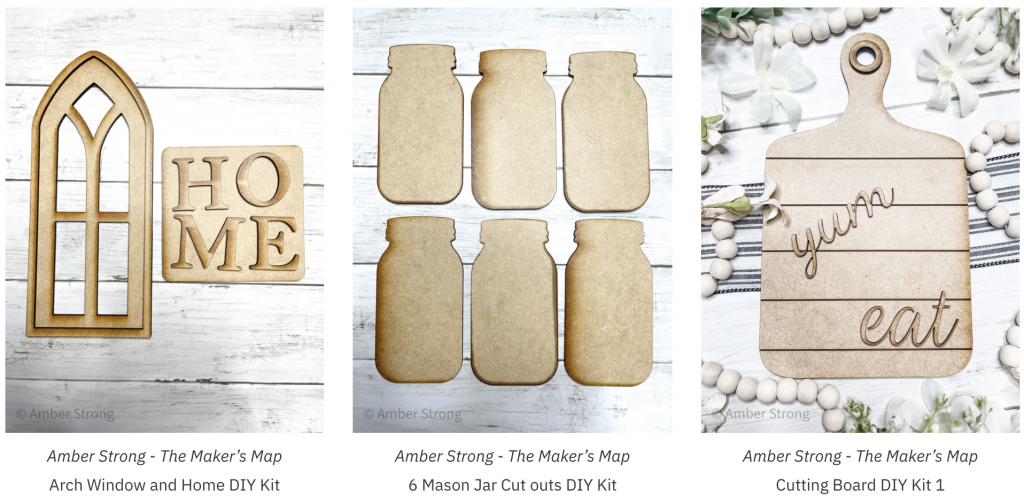 Also, check out the napkin bundles available! These are great for DIY'ing with! You can decoupage them onto practically any surface and create unique, one-of-a-kind home decor!
I hope you enjoyed this Valentine's Day Standing Hearts Decor as much as I did and decide to make one for yourself! I would love to see how yours turns out!
You should totally join my FREE Facebook group called On A Budget Crafts! It is a judgment-free community for DIY crafters to show off their projects and ideas.
Thanks for stopping by! XOXO Amber
You can also shop my ENTIRE AMAZON Favorites shop just click here! It's packed full of all the things I use and love. Here is the supply list I highly recommend every creative have on hand!!
Would you also pin my blog for later and get on my newsletter alerts? I would love to have you join my #craftycrew.
Inspired? Leave me a comment below! I love hearing from my readers!