How to Decoupage a Dollar Tree Christmas Gift Bag DIY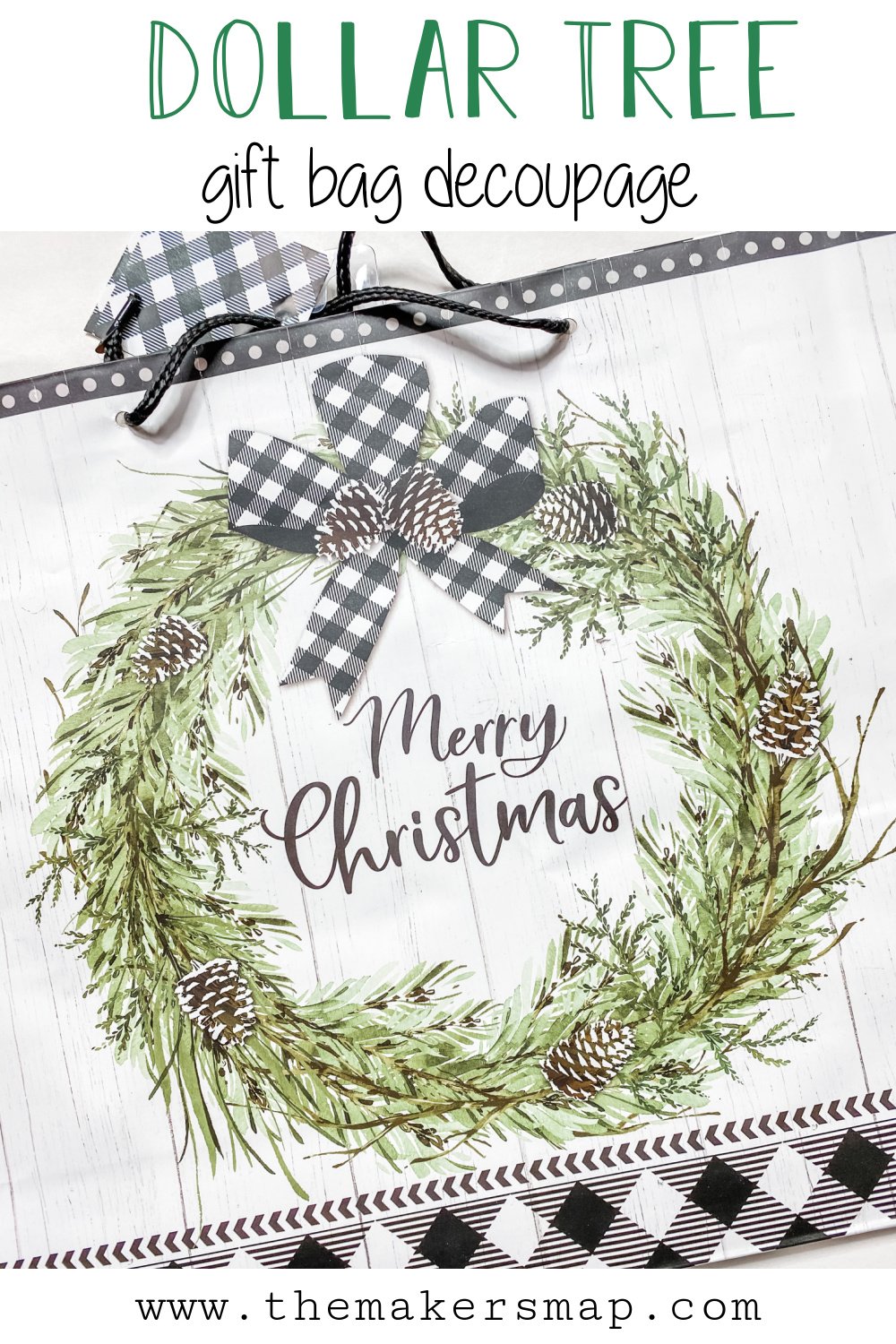 Y'all, we had a GUEST crafter show us How to Decoupage a Dollar Tree Christmas Gift Bag DIY! Carol Craftskins joined us for a special, one-night-only DIY project!
She was so full of personality, it was so much fun learning how to decoupage a Dollar Tree Christmas gift bag DIY!
(This project really reminds me of the Dollar Tree Christmas Pizza Pan DIY I did not that long ago!)
Watch the replay
When I say Carol Craftskins was so much fun, I really mean it! You definitely need to watch the replay if you want a good laugh or to see how she created such a cute and easy Dollar Tree Christmas DIY!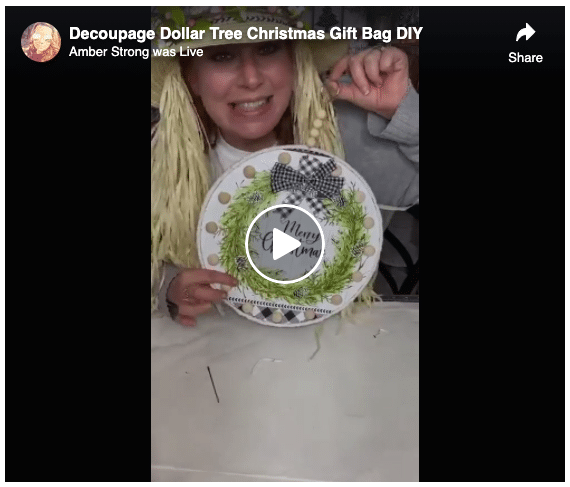 For this project, I will be using these items but you can substitute where you want.
"As an Amazon Associate, I earn from qualifying purchases."
Let's get started!
Alright, step number one to recreate Carol's super cute Christmas Gift Bag Decoupage DIY is to trace the shape of the Dollar Tree Wood Circle sign onto the gift bag and cut the design out.
Make sure you center the wood sign over the portion of the gift bag that you want to decoupage!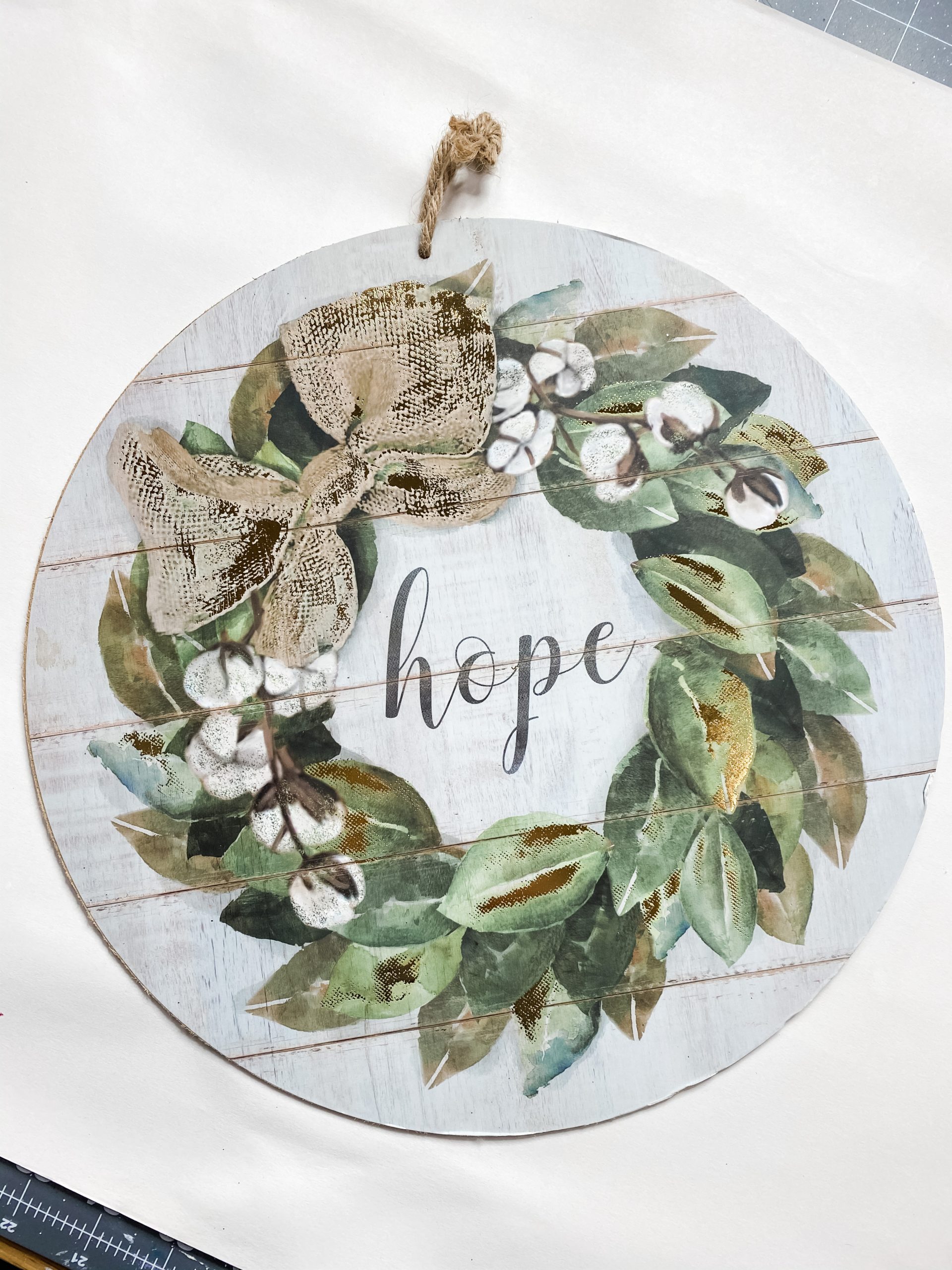 Mod Podge
Mod Podge is the key to decoupaging! Apply a coat of Mod Podge to the back of the Dollar Tree wood sign and place the gift bag cutout onto it.
I like to use a rolling pin to smooth out any wrinkles or creases. If you're worried about it tearing the bag, just lay a piece of plastic wrap over the project then use the rolling pin.

Add some detailing
Once the Mod Podge has dried, you can start adding the detailing! To use the Dollar Tree Mop Head, you're going to need to remove the plastic part. Carol Craftskins used some aviation snips and just broke the plastic piece off.
Next, she hot-glued mop strings around the edges of the wood sign. This helps cover up any jagged edges you may have had when you were cutting the Dollar Tree gift bag.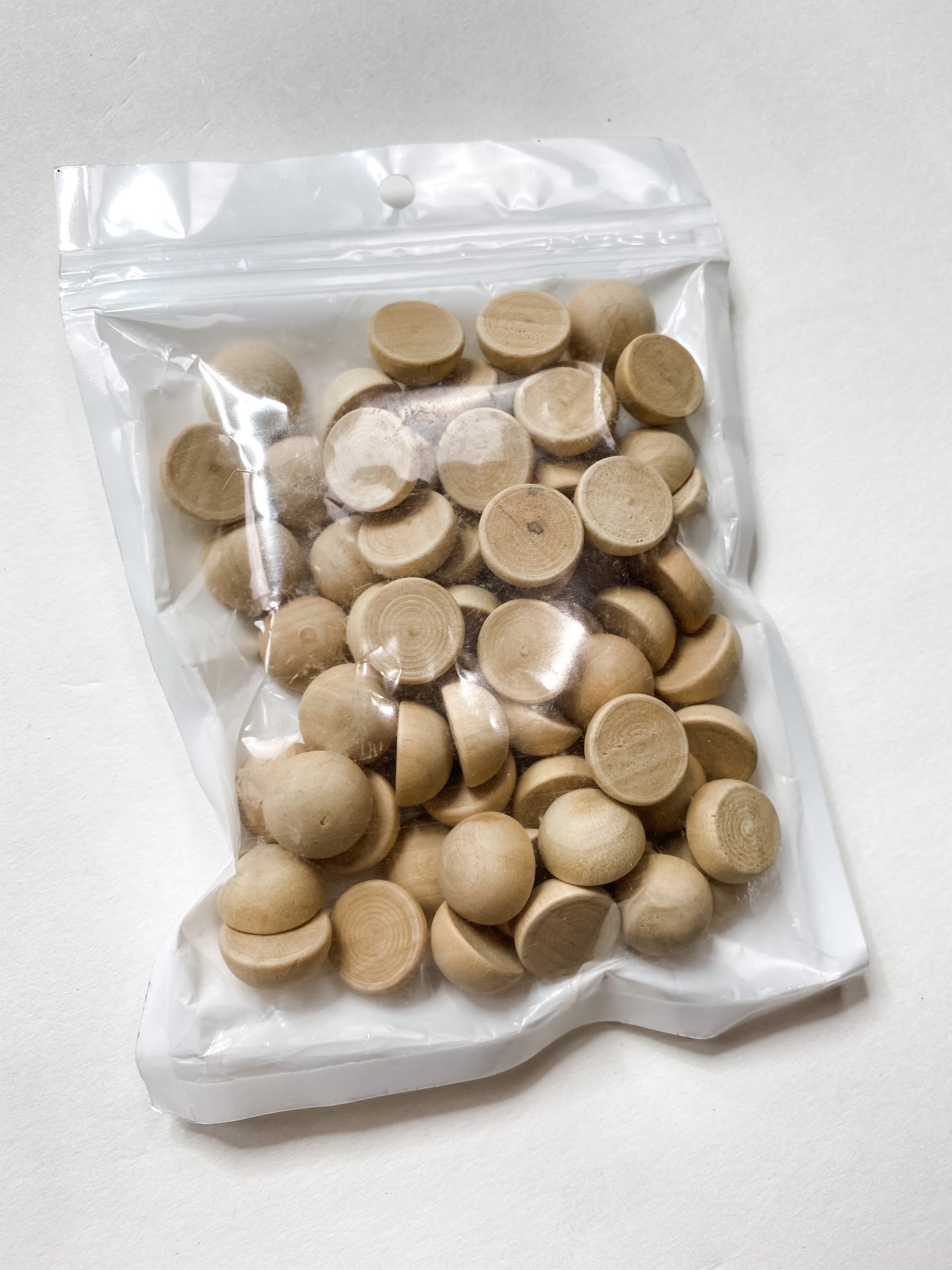 I LOVE using half wood beads to add some embellishment to my DIY crafts, and so does Carol Craftskins! You can use as many or few as you want, but just hot glue them into place!
Carol placed her half wood beads evenly spaced around the outer edge of the wood sign.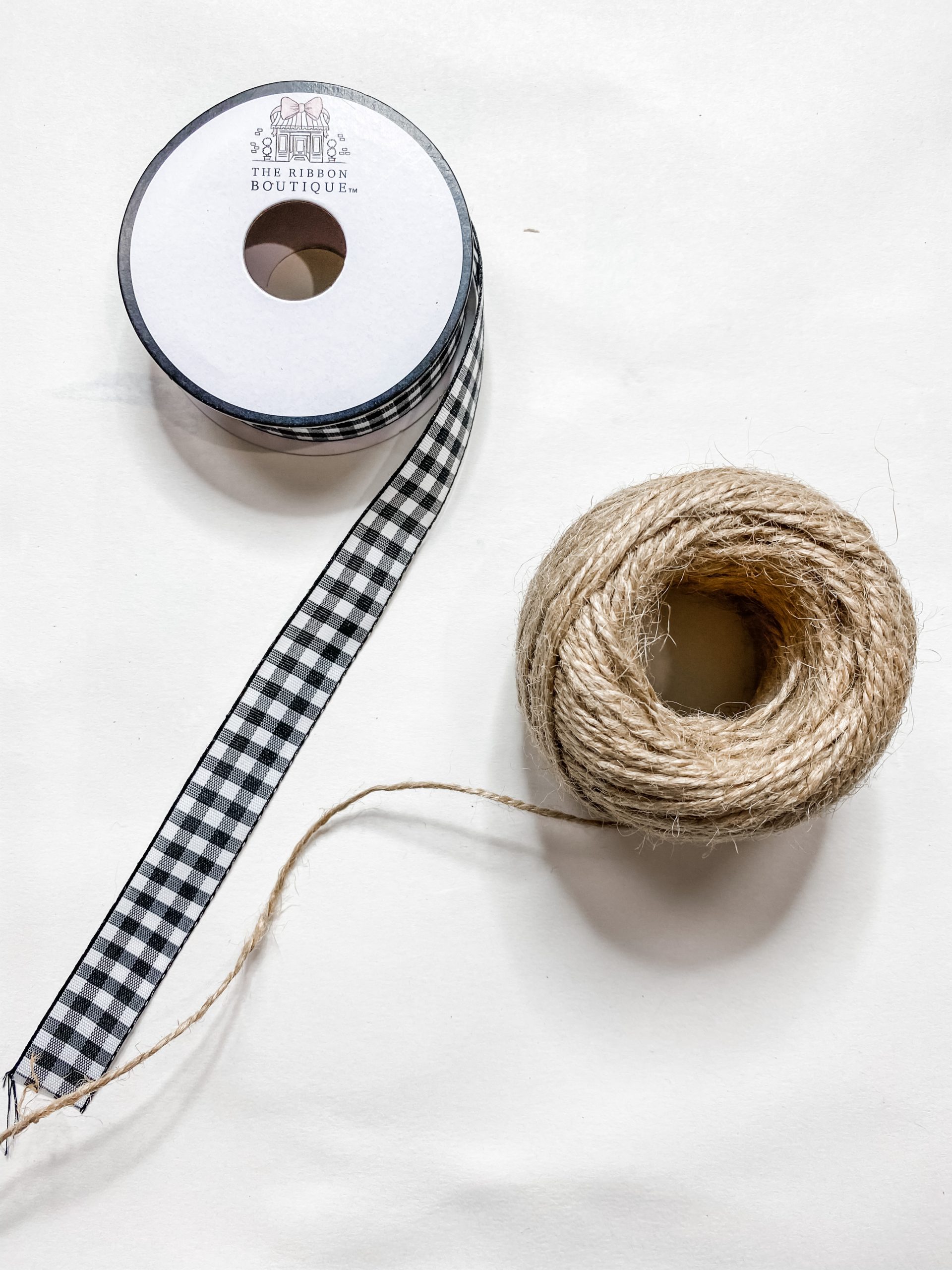 The Dollar Tree gift bag already had a bow printed on it, but Carol Craftskins wanted this Christmas DIY to be more dimensional
So, she created a little messy bow from the buffalo check ribbon and hot glued it on top of the printed bow. She didn't completely cover the printed bow, though.
To make the messy bow, just cut several strips of the buffalo check ribbon and lay them in an x-shape. Next, secure the center with some jute twine!
You could use multiple ribbon patterns as I did for this craft: Dollar Tree Shabby Farmhouse Christmas Sign DIY.
The finishing touches
All that is left to do is make and attach the hanger! To make the hanger for this super cute decoupage DIY, Carol Craftskins threaded some wood beads onto jute twine.
She used a drill to make a hole at the top of the wood sign and put the end of the twine through it.
If you don't have access to a drill, you could always hot glue the end of the twine to the back of the Christmas sign. Finally, tie the keyring to the top end of the twine hanger.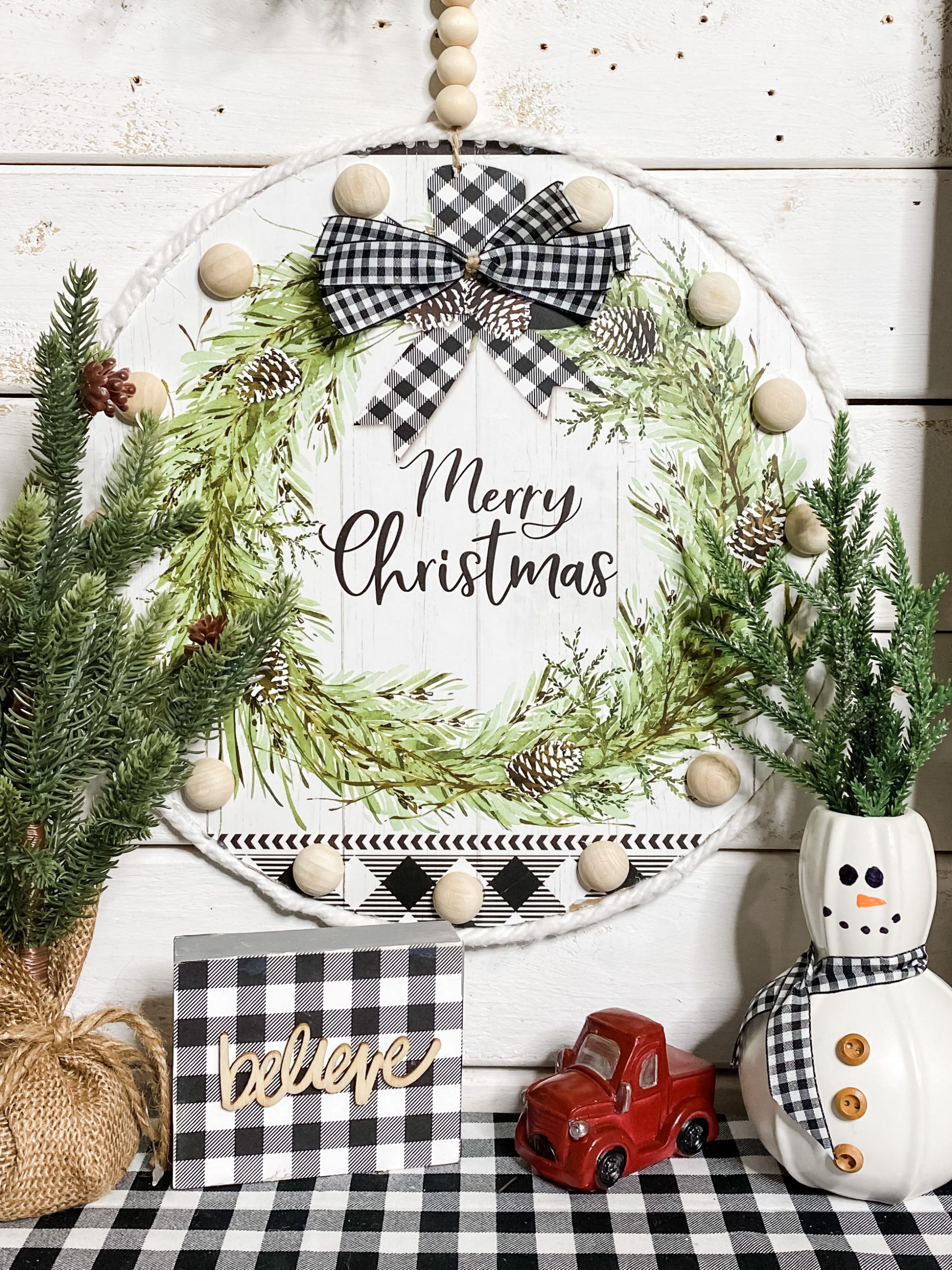 I hope you enjoyed learning How to Decoupage a Dollar Tree Christmas Gift Bag DIY as much as I did and decide to make it for yourself! I would love to see how yours turns out! Y
ou should totally join my FREE Facebook group called On A Budget Crafts! It is a judgment-free community for DIY crafters to show off their projects and ideas.
Thanks for stopping by! XOXO Amber
You can also shop my ENTIRE AMAZON Favorites shop just click here! It's packed full of all the things I use and love.
Here is the supply list I highly recommend every creative have on hand!! Would you also pin my blog for later and get on my newsletter alerts? I would love to have you join my #craftycrew.

Join my free "ON A BUDGET CRAFTS" Facebook group!
PIN THIS POST FOR LATER!