Dollar Tree Pizza Pan Christmas DIY

Another DIY that I could not resist doing – my first Dollar Tree Pizza Pan Christmas DIY! I love going to Dollar Tree, and it is no secret that I pretty much have everything you can imagine in my she-shed that I call the Creative Haven.
Now, let's talk about the hot commodity of 2020 when it comes to Dollar Tree items. The 2021 Dollar Tree calendars! They are perfect for making Dollar Tree DIY home decor!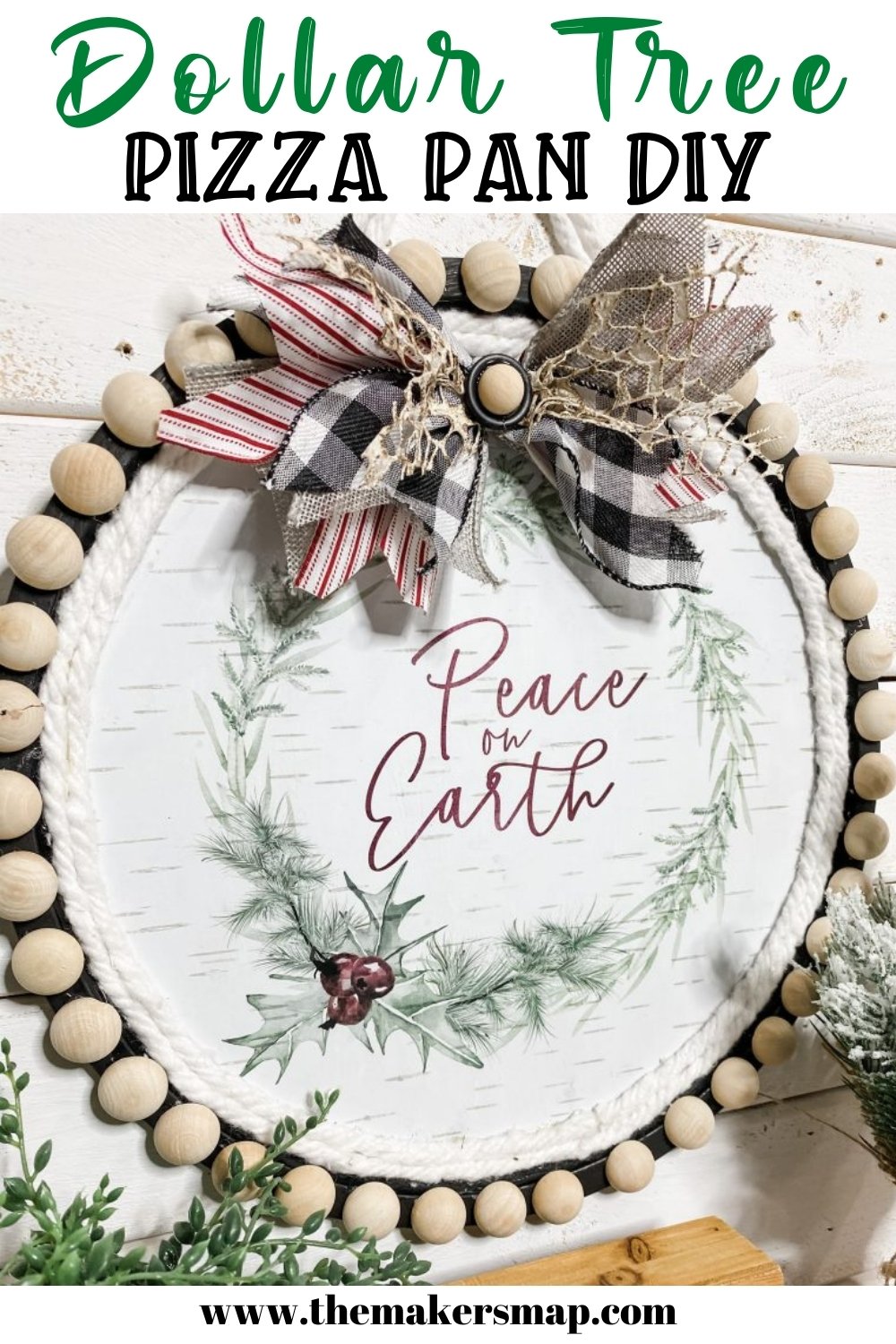 Y'all, I have literally seen people fight over a $1 calendar. The Farmer's Market Dollar Tree calendar seems to have started the whole thing.
I personally love the Be Brave calendar and the Simply Blessed calendar most. Needless to say, I am in love with the Dollar Tree Calendars! I had to get myself one!
WATCH THE VIRAL VIDEO with over 51 million views!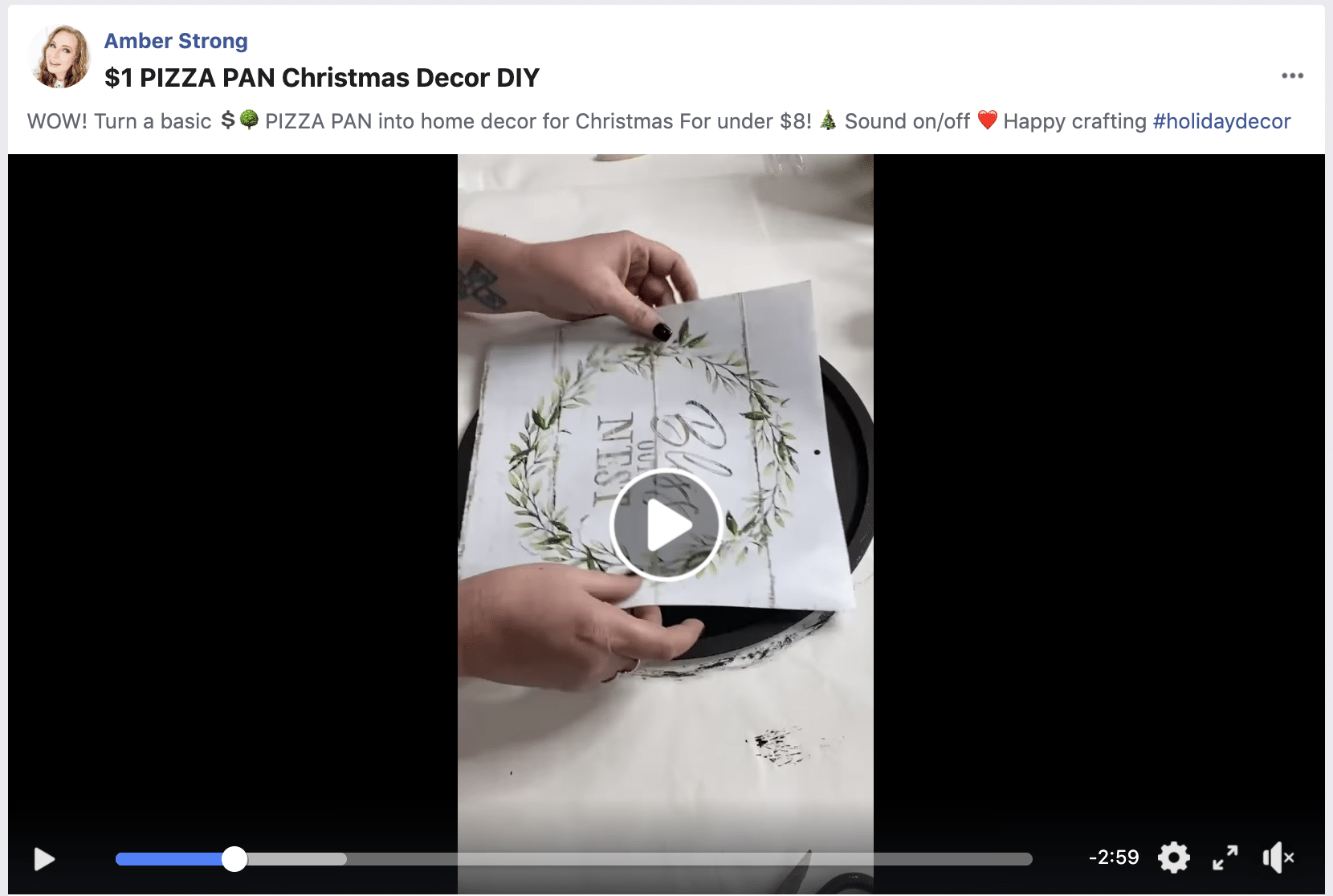 I originally made this DIY Pizza Pan decor during a Facebook Live video. If you want to see that video, you can watch the DIY tutorial replay on Facebook!
The original video is 2 and a half hours long! (WOW!) But we had so much fun bringing this affordable DIY Christmas decor to life!
The coveted Dollar Tree calendar
I have not yet used one of these coveted calendars until this Dollar Tree Pizza Pan Christmas DIY! Honestly, I am pretty excited to share it with y'all!
I did do this exact DIY live on my Facebook page. We had a great time and learned a lot of fun tips and tricks together.
BUT I also filmed a different version using the Simply Blessed Dollar Tree Calendar. Watch that VIRAL VIDEO HERE! Check out that blog here!
Let's get started on this Dollar Tree DIY.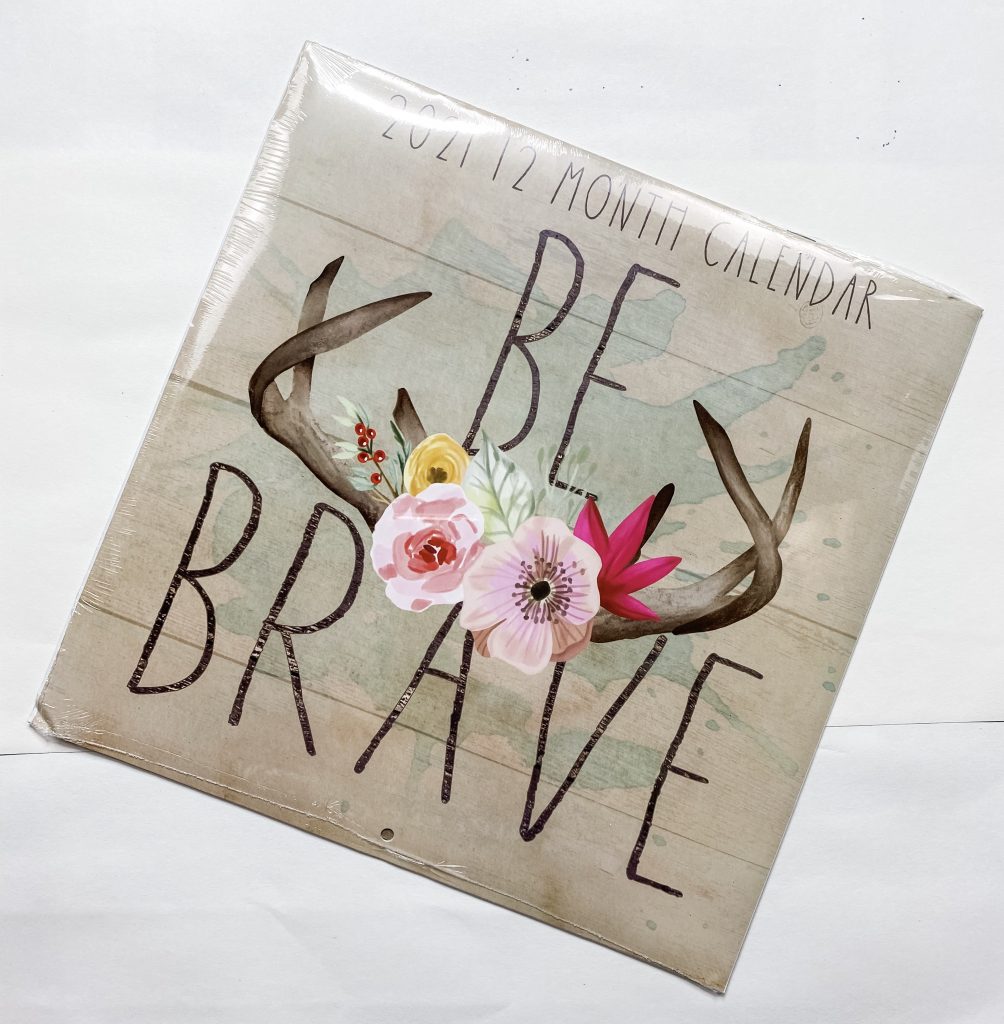 We will be using this Dollar Tree Be Brave 2021 calendar for this Christmas DIY Decor craft project. You can always use a printable or another image for this DIY if you do not have the Dollar Tree calendar.
Dollar Tree 2021 Calendar Craft – Easy DIY!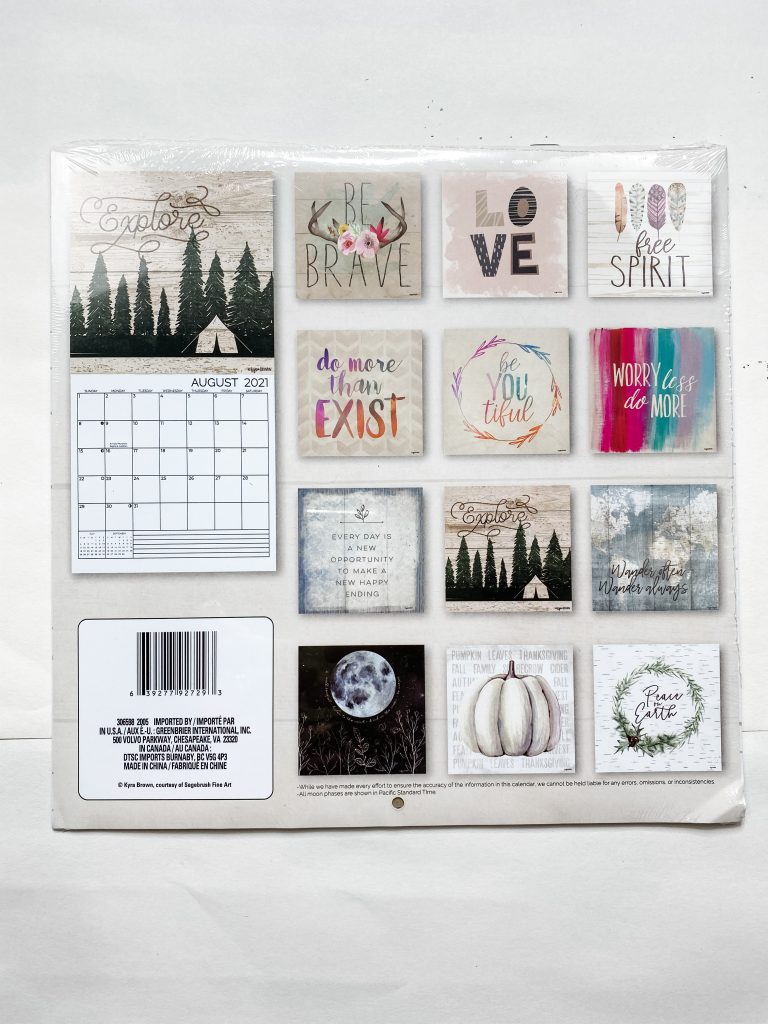 This is what the back of the calendar looks like.
You can see all the different prints inside and you can also use these little squares for smaller DIY craft projects.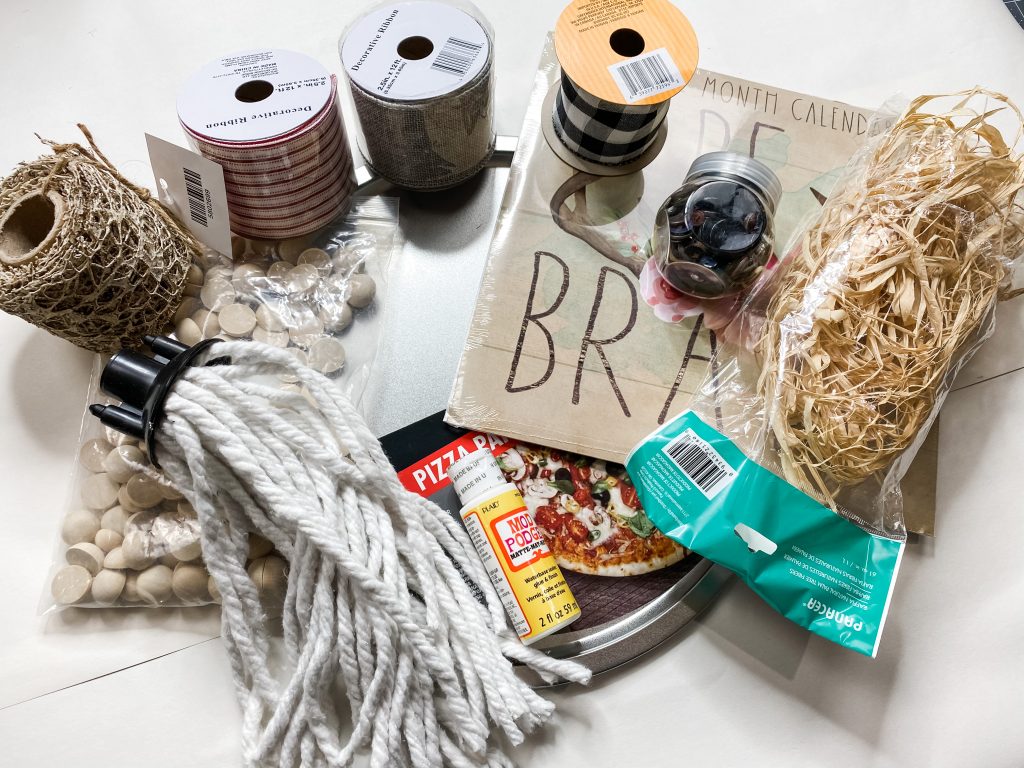 For this project, I will be using these items but you can substitute where you want.
"As an Amazon Associate, I earn from qualifying purchases."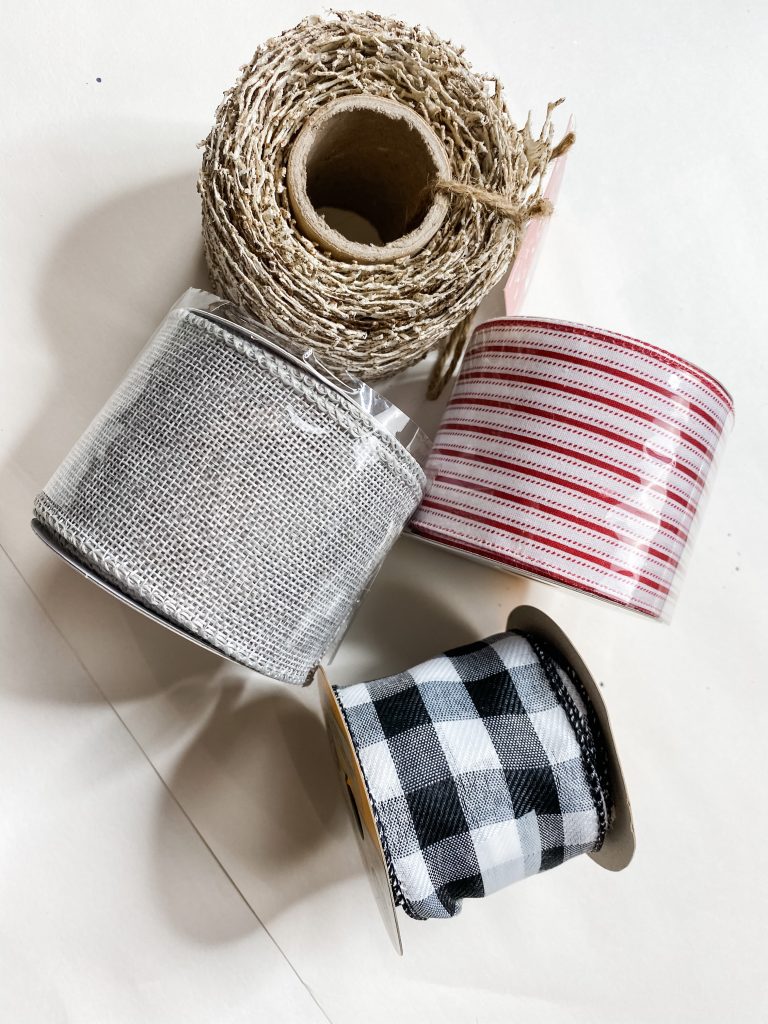 You are gonna want to make this one!
To make this Dollar Tree Pizza Pan Christmas DIY, I started by painting the pizza pan black. I allowed it to dry fully before adding the mod podge.
Pro tip: I used my heat gun to speed the drying process.
Once dry, I applied the mod podge and the Christmas print from the Dollar Tree Be Brave calendar. I used saran wrap to protect the print that I decoupaged while I worked out the bubbles.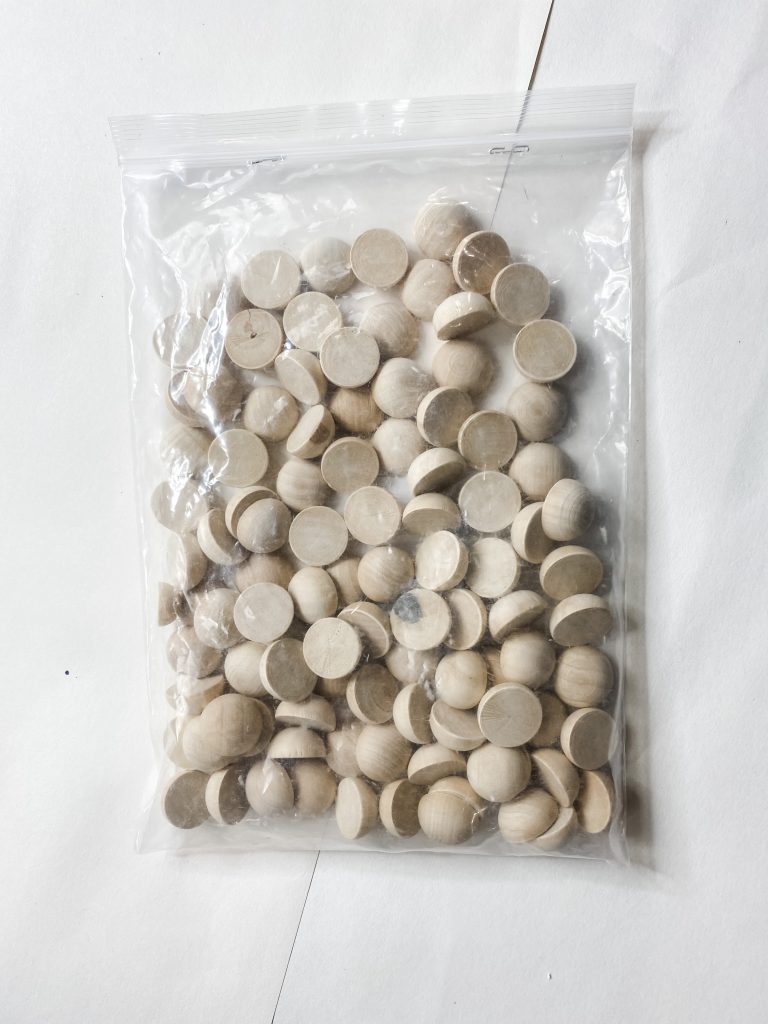 Once the Mod Podge dried, I started adding the Dollar Tree mop head strings around the Dollar Tree pizza pan edge in two rows.
When that step was done, I added the half wood beads to the full edge allowing there to be a gap between them. Next, we moved on to making the super cute messy bow.
How to make the bow
In this step, I am going to show you how to make a bow from ribbon. The easy messy bow literally was 7 pieces of ribbon that I tied together with a zip tie.
Remember to use your hobby lobby coupon when you buy your ribbon if it is not on sale at Hobby Lobby that week. This really is the easiest bow to make.
I glued the easy messy bow onto the Dollar Tree pizza pan and added a button and a half wood bead to the center of the bow.
Lastly, I used 2 pieces of my Dollar Tree mop head strings to create a hanger for my Dollar Tree Pizza Pan Christmas DIY wall decor.
By the way, you need to add this easy messy bow to your list of bows to make for your next Christmas craft DIY!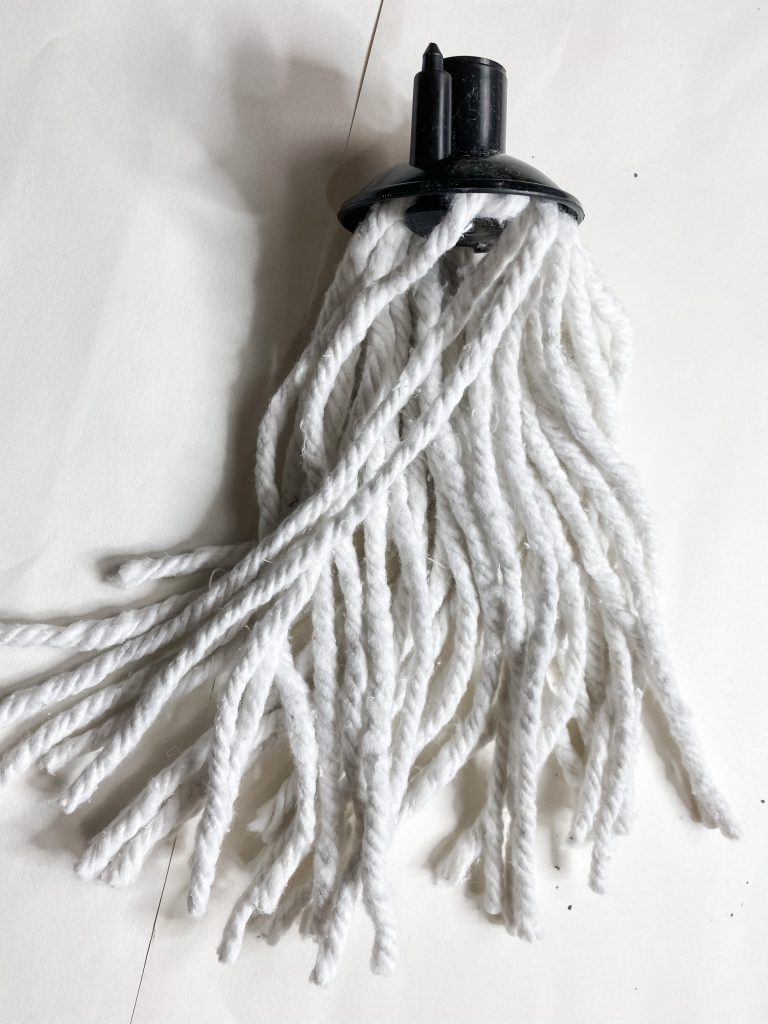 A Dollar Tree Christmas DIY favorite
Tell me that this isn't the cutest Dollar Tree DIY Christmas craft project using the pizza pan. I think I will be making more of these Dollar Tree pizza pan crafts in the future.
I sure hope this Dollar Tree DIY inspired you. Can you tell that I love making Christmas decor? Especially easy Christmas crafts that are cheap. Besides fall, Christmas is my favorite time of the year.
Thanks for popping in on my blog. I hope to see you on the next one!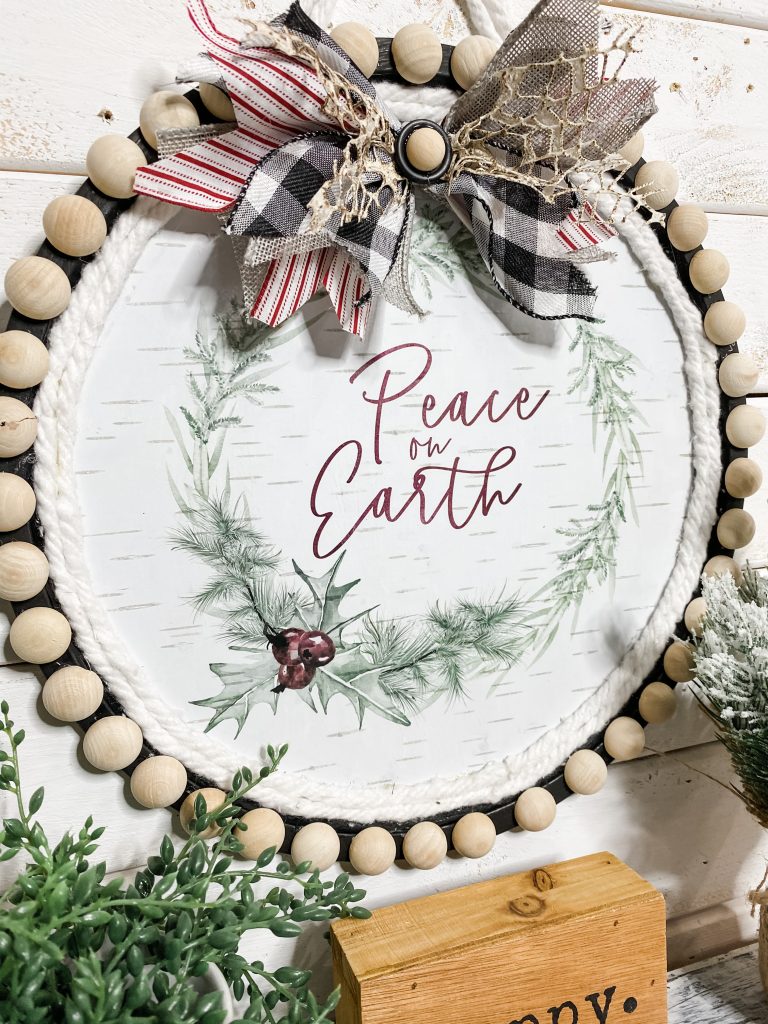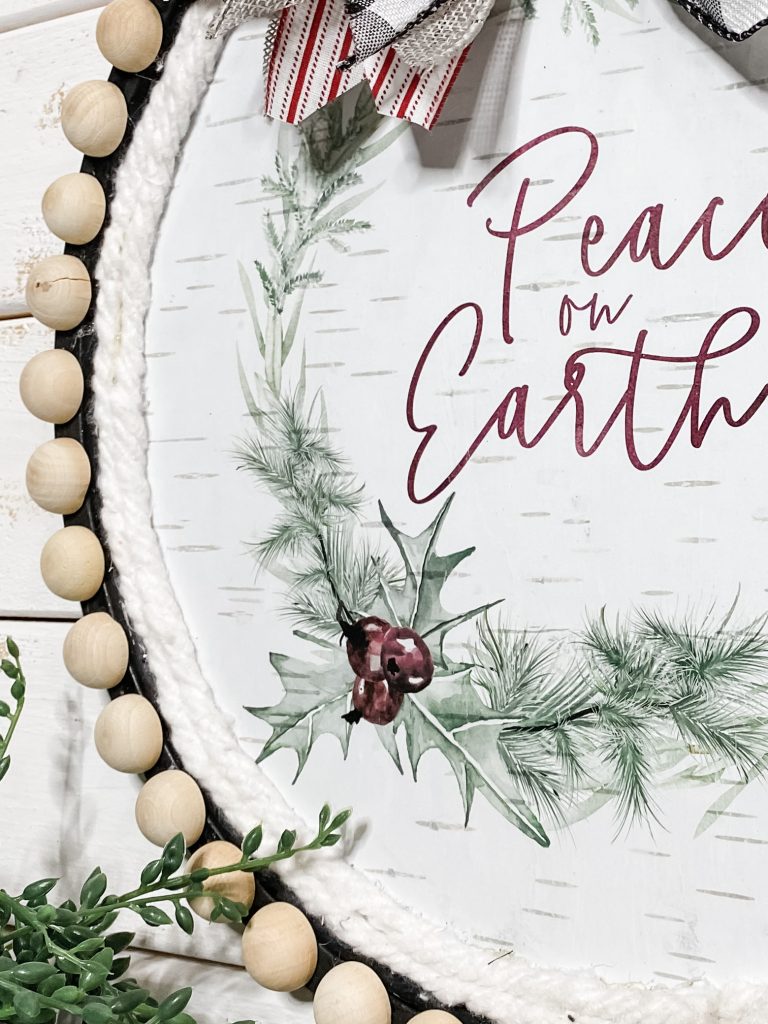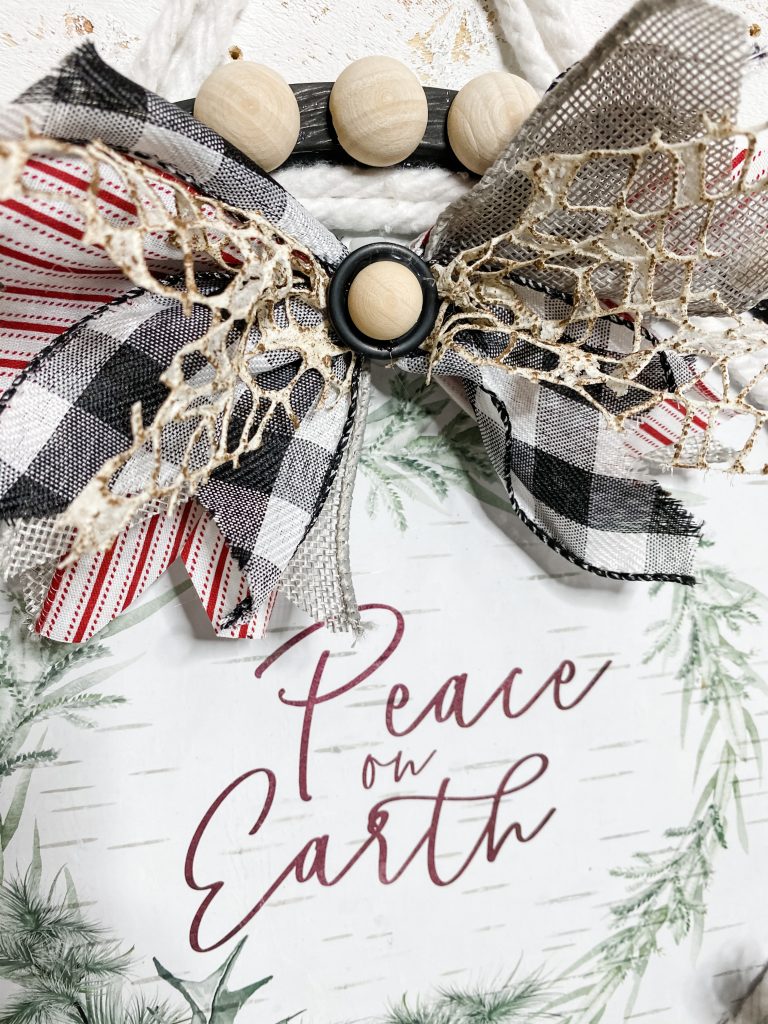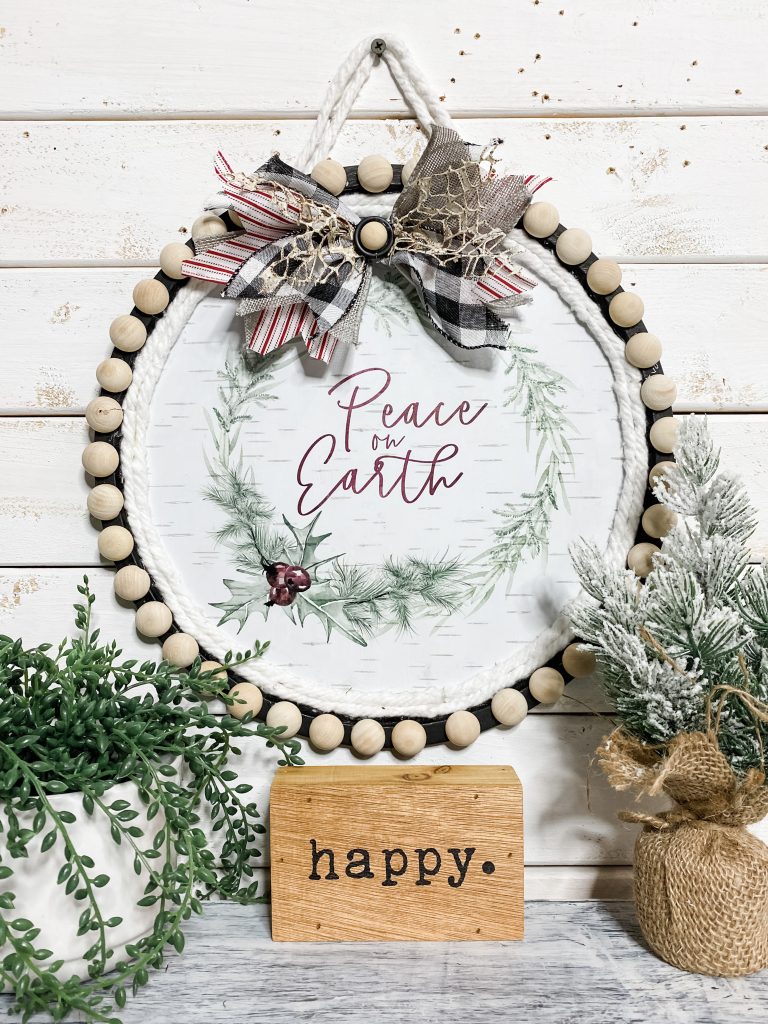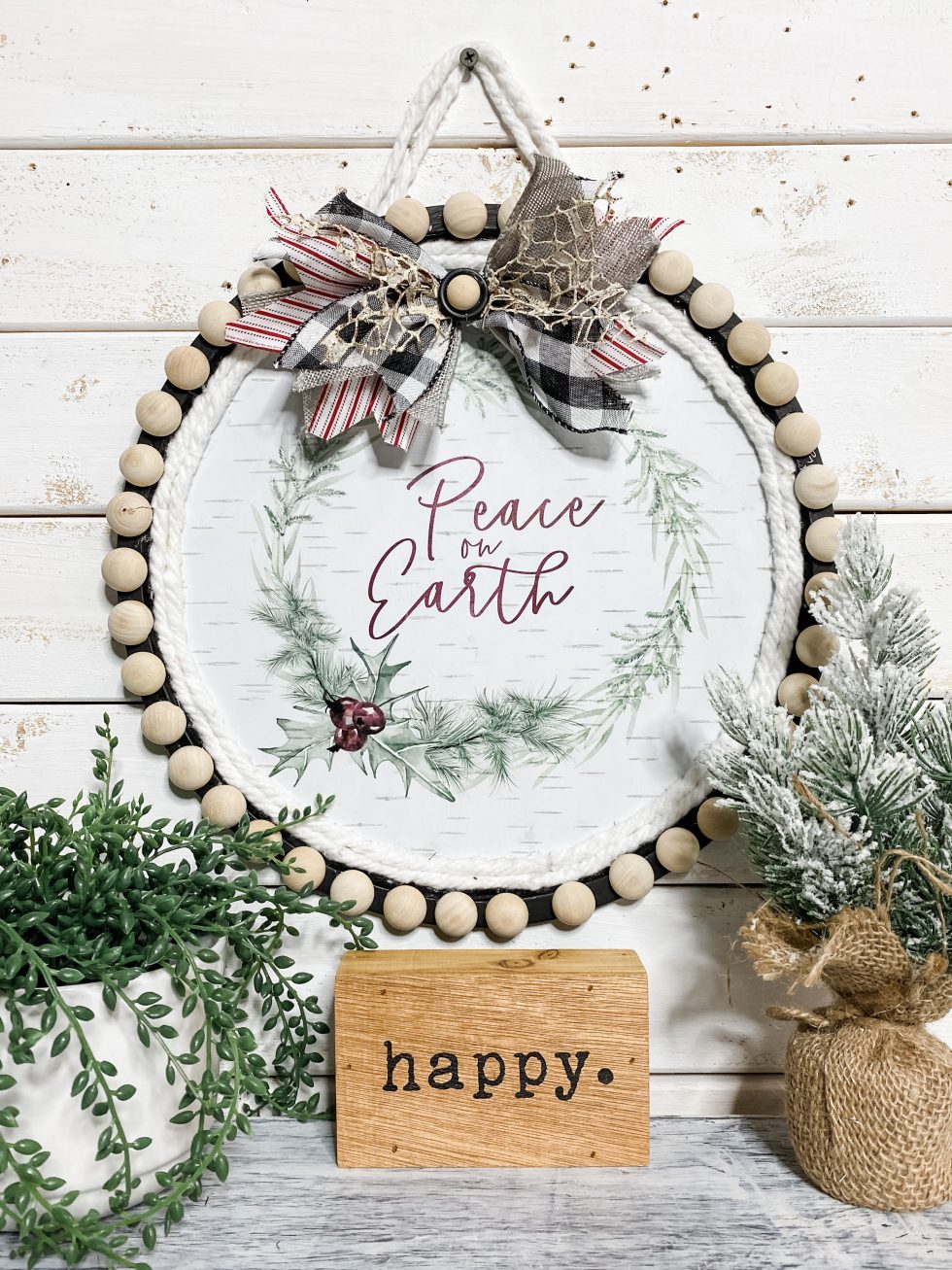 You can also shop my ENTIRE AMAZON Favorites shop just click here! It's packed full of all the things I use and love.
Here is the supply list I highly recommend every creative have on hand!! Would you also pin my blog for later and get on my newsletter alerts? I would love to have you join my #craftycrew.
Inspired? Leave me a comment below! I love hearing from my readers!
Join my free "ON A BUDGET CRAFTS" Facebook group!
Check out these Pizza Pan Craft Ideas from some of my Favorite DIY blogs
DIY Beautify – PIZZA PAN WREATH WALL DECOR (WITH WOOD BEADS)
Daily DIY Life – DOLLAR TREE PIZZA PAN FALL WELCOME SIGN