Queen Bee Printable DIY Decor

I am absolutely in LOVE with this Queen Bee Printable DIY Decor! I frequently design my own printables for DIY home decor, and I wanted to make something different than my other designs, so I came up with an adorable vintage bee and crown printable.
Now, I do sell several of my printable designs, including a few bundles of printable designs, but I'm giving the vintage bee and crown printable that I used for this project away for FREE!
You can get a digital copy of this vintage bee and crown printable sent directly to your email inbox for FREE. Yes, FREE! No strings attached, no credit card information required. Just enter your email, and the digital download is YOURS!
I recorded how to turn the free vintage bee and crown printable into the perfect DIY home decor during a LIVE video on my Facebook page! You can see the how-to steps by fast-forwarding to the 39-minute mark (I made another printable DIY home decor at the beginning of the video).
For these projects, I will be using these items but you can substitute where you want.
"As an Amazon Associate, I earn from qualifying purchases."
Dollar Tree Easter Sign Box
Corrugated Scrapbook Paper
Piece of cardboard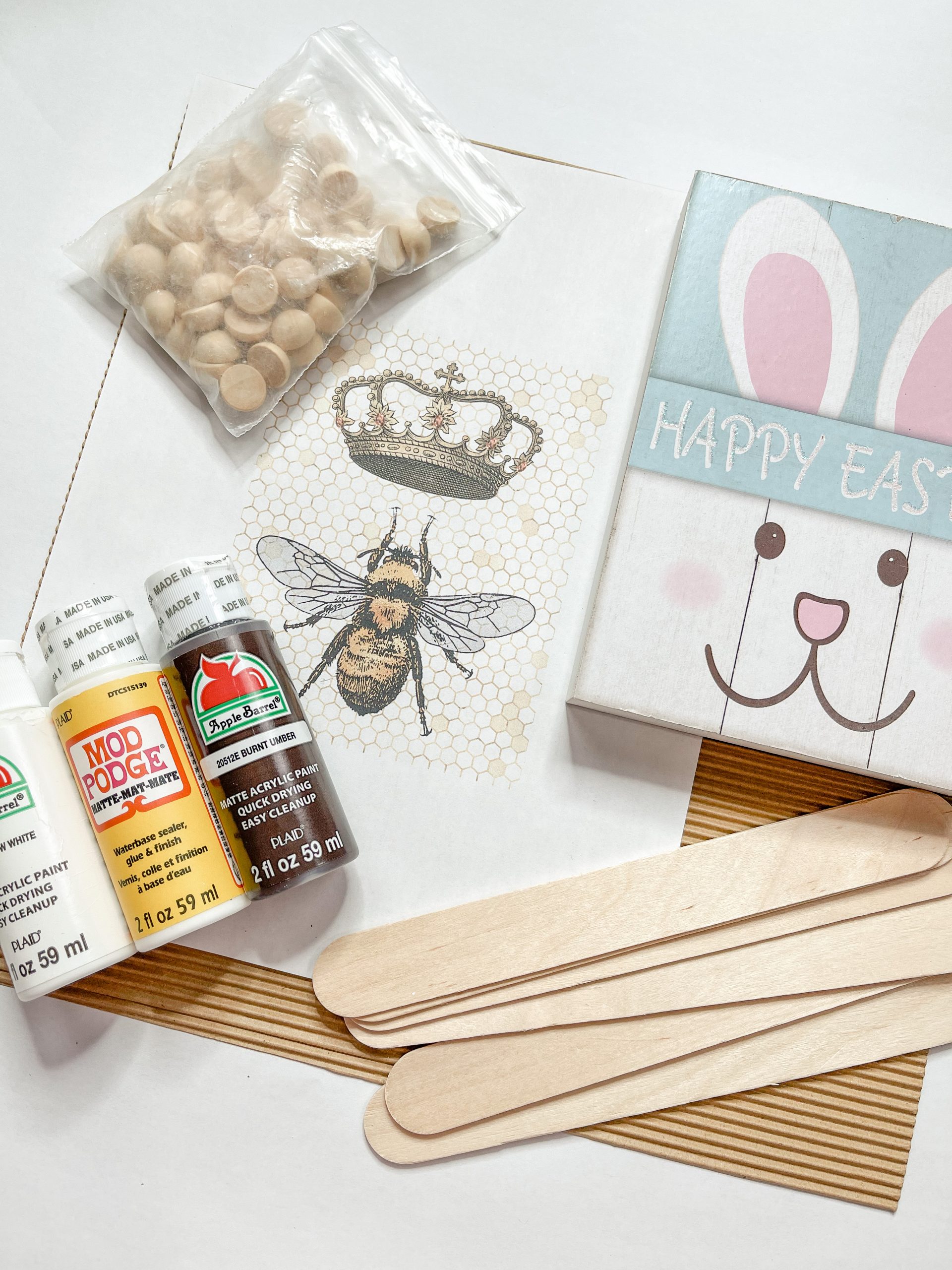 How to Make Queen Bee Printable DIY Decor
Start by tracing the size of the Dollar Tree Easter sign box onto the corrugated scrapbook paper, and cut the rectangle out of the paper. Then, mark the length of the sides of the sign box onto the craft sticks.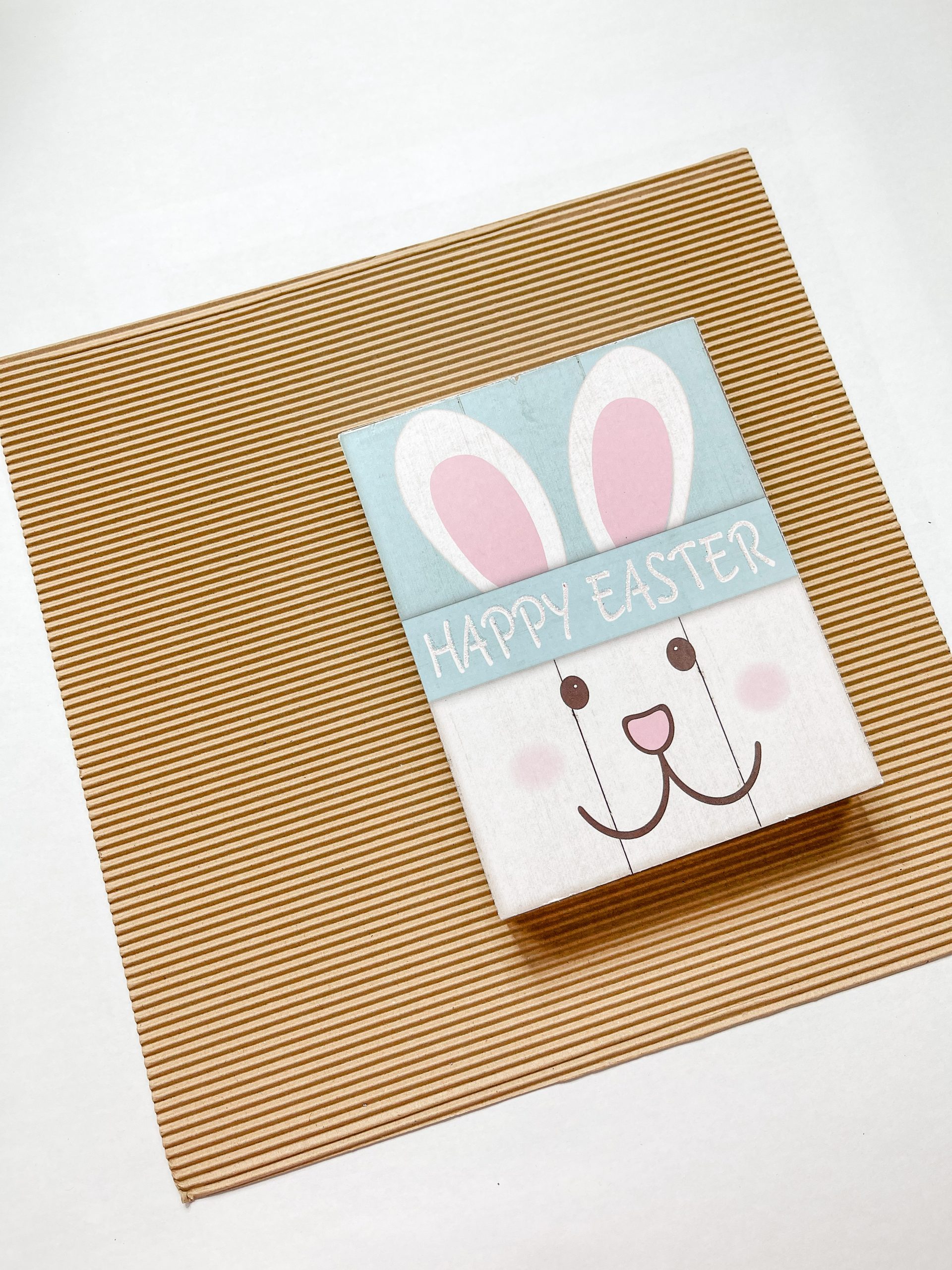 You can use a pair of scissors to trim each of the craft sticks so they will fit around the sides of the sign box. Now, stain the trimmed craft sticks.
To stain the wood, pour brown paint (I used Apple Barrel Burnt Umber Acrylic Paint) onto the craft sticks and use a wet wipe to spread the paint across the surfaces.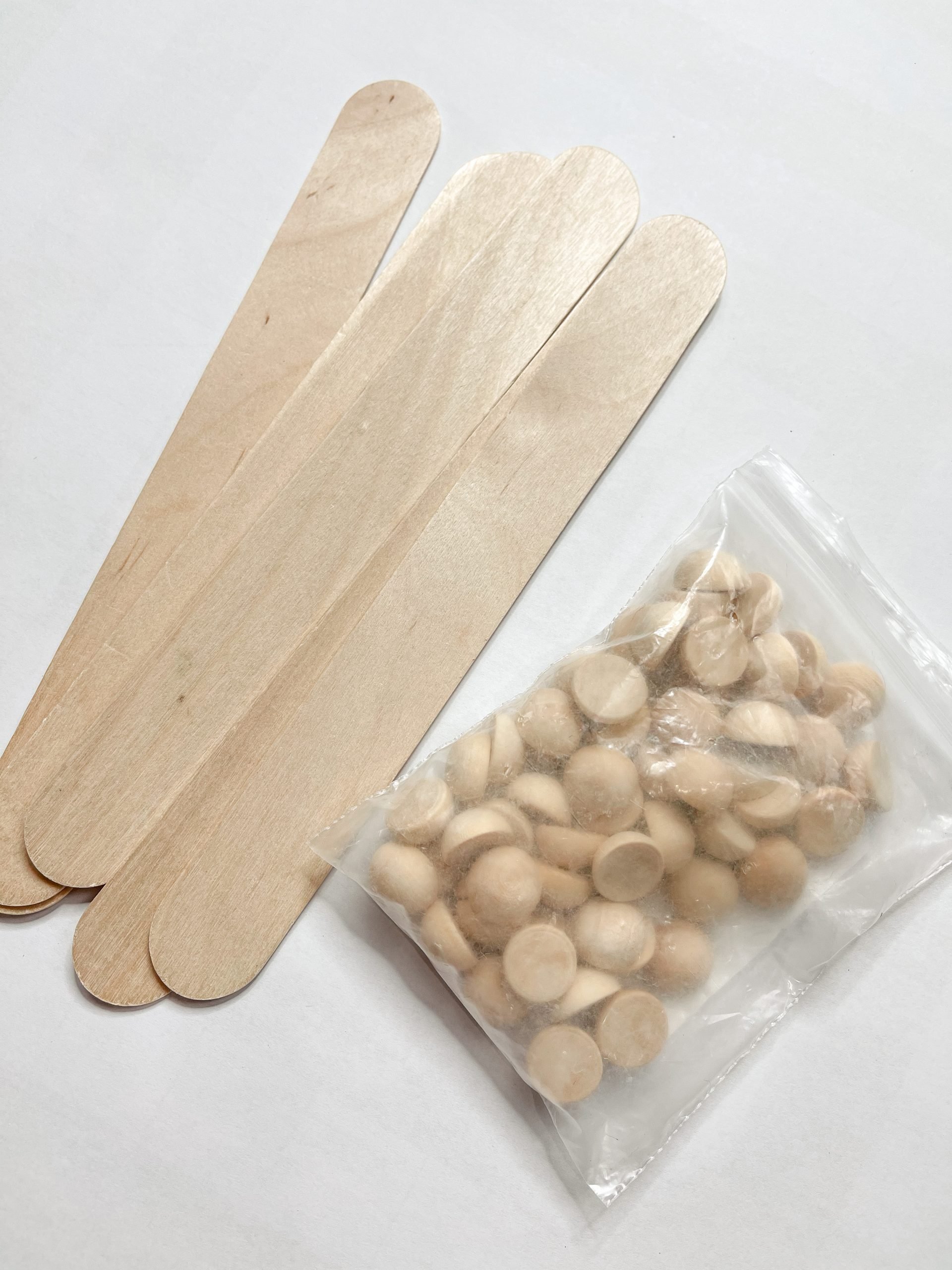 The water helps the wood absorb the paint's pigment and gives the wood a stained finish rather than a painted look. You can always buy regular stain, but I just find it too expensive.
Allow the craft sticks to dry (I used my heat gun to quickly dry them), then hot glue them around the sides of the sign box. Next, hot glue the corrugated scrapbook paper onto the front of the sign box.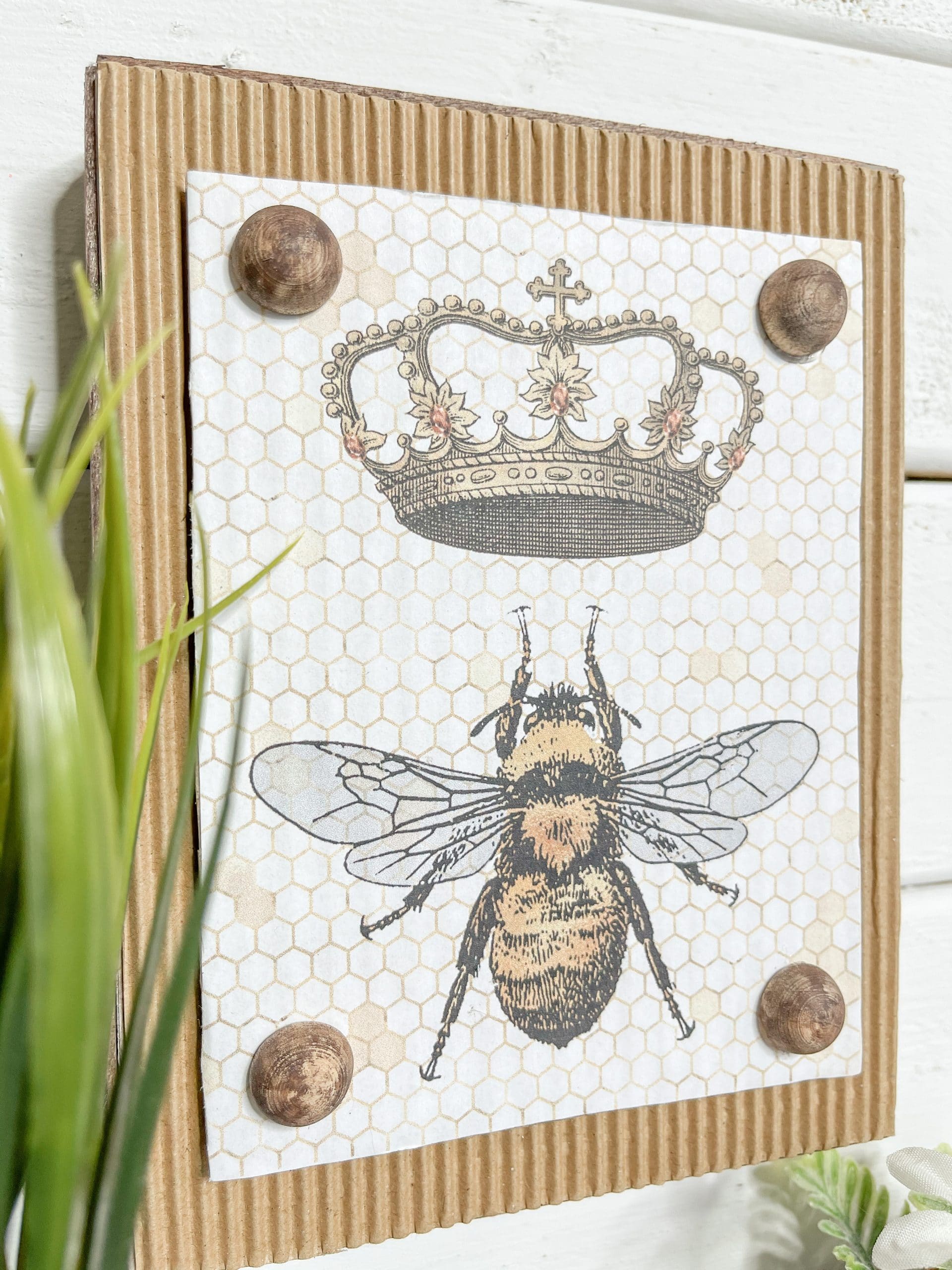 I used a small artist's paintbrush to paint brown paint in the cracks between the corrugated scrapbook paper and the craft sticks on the side of the sign.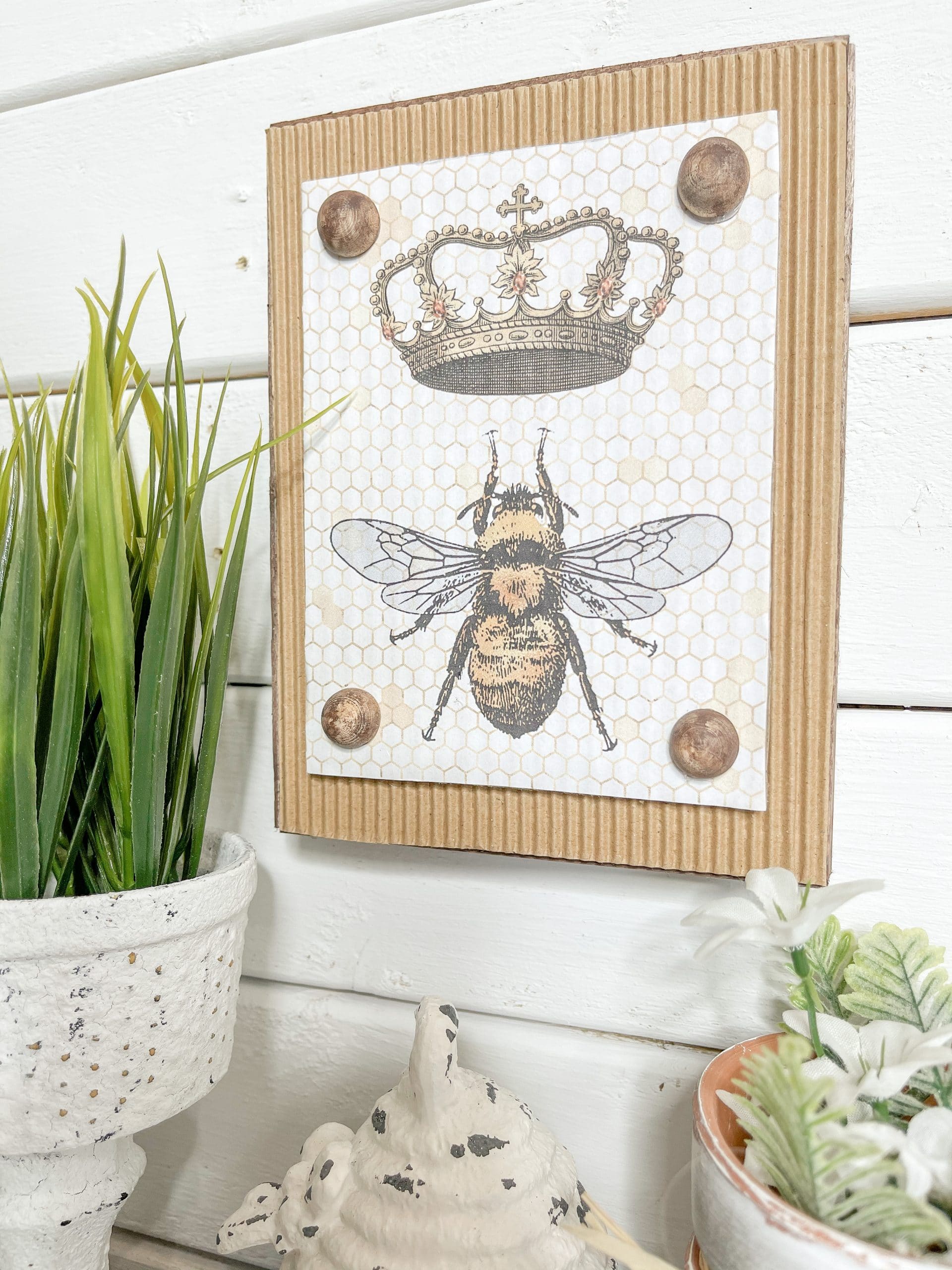 You need to download and print the FREE Vintage Bee and Crown printable if you want to use that for this project. You can have a copy sent directly to your email for FREE here.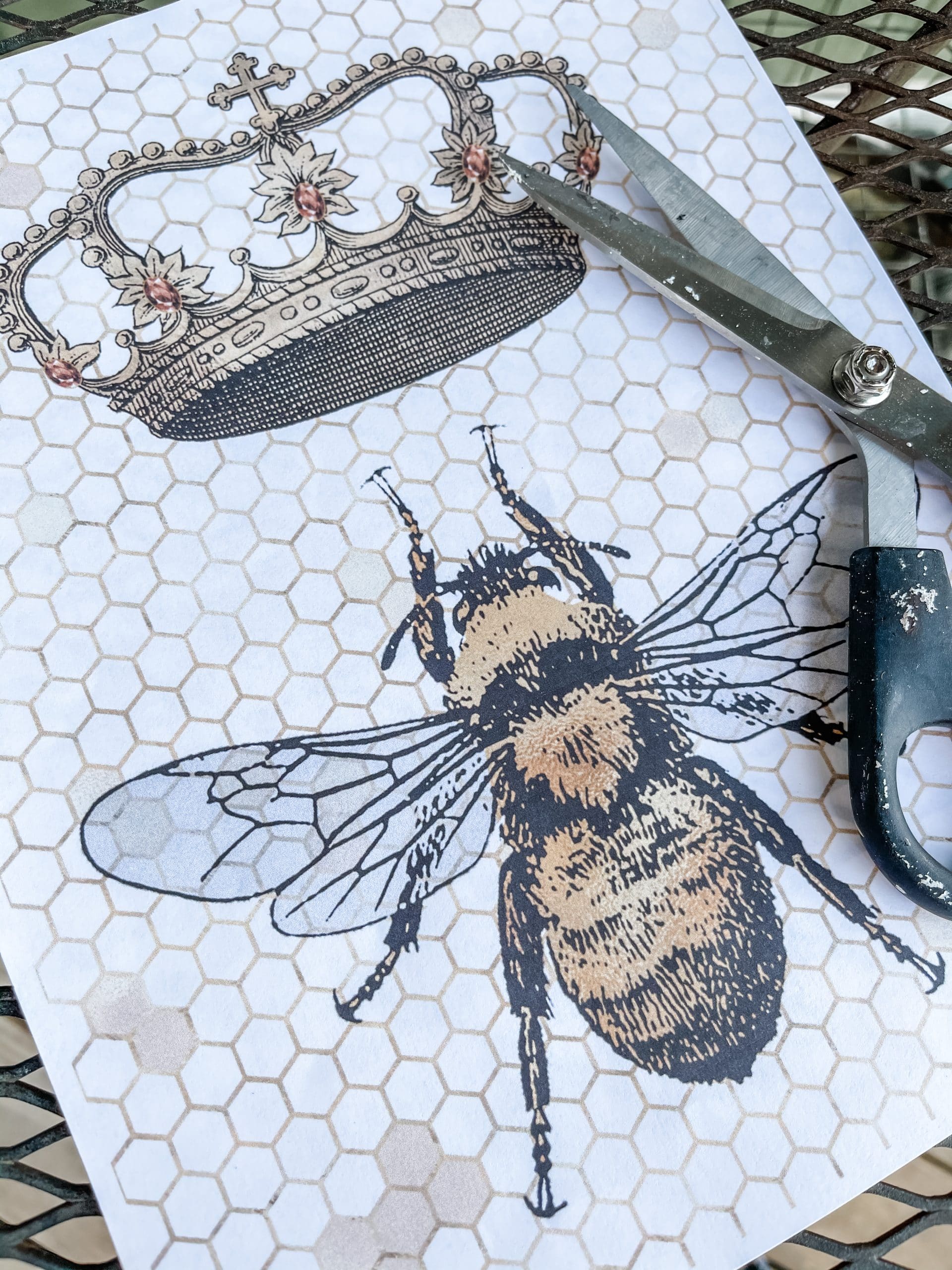 Make sure you scale the design to the right size, otherwise it will print as a full sheet design. You can adjust the design size in your printer's settings before you print it.
Once you have it printed, cut the design out and trace its size onto a piece of cardboard. Cut the cardboard to size, apply a coat of Mod Podge to the cardboard, and place the printable design onto the cardboard.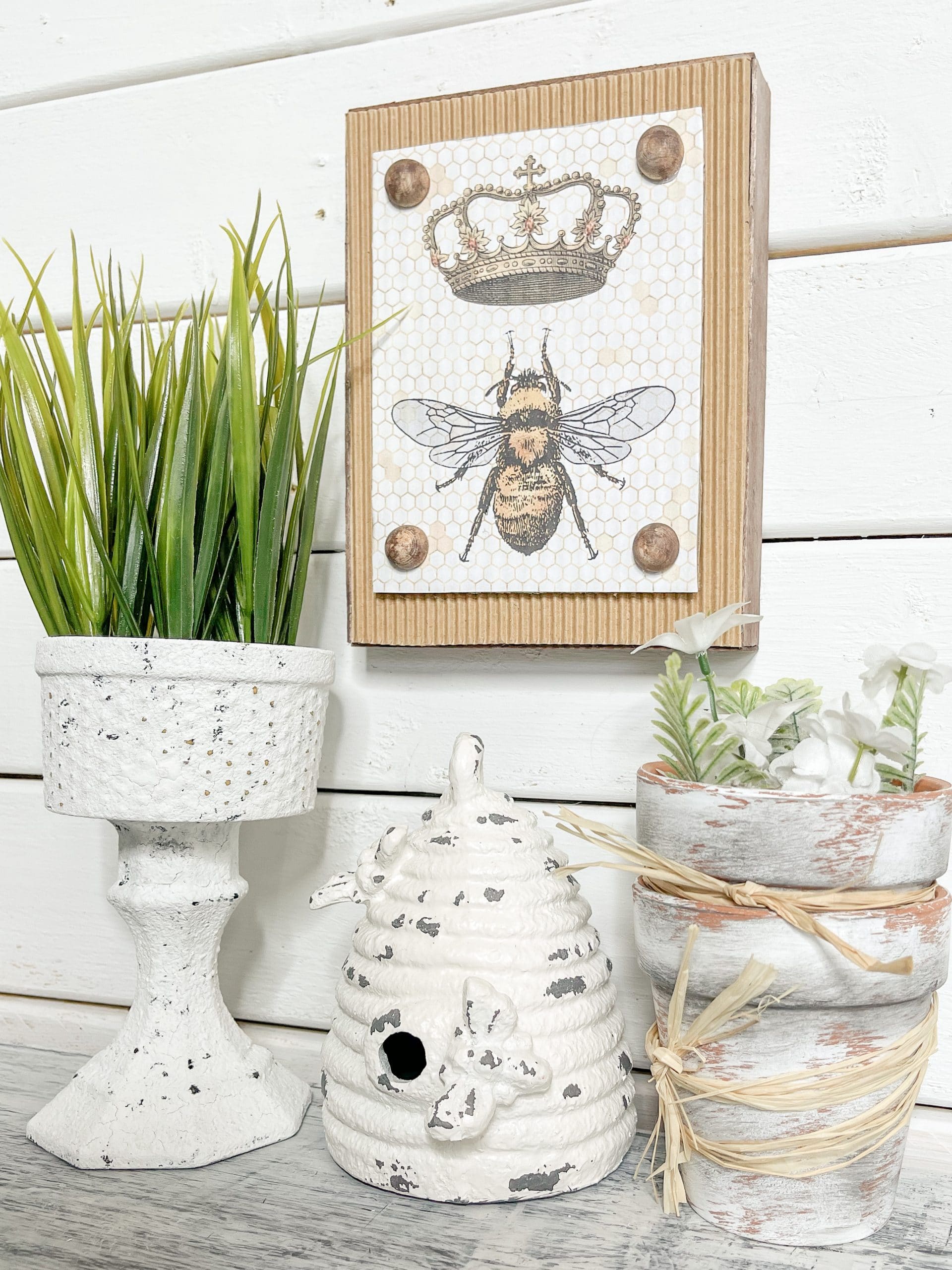 Use a piece of plastic saran wrap to smooth out any wrinkles, creases, or bubbles. You can also use a rolling pin to smooth out the imperfections.
I used four half wood beads to embellish this DIY home decor. First, I stained them with the same technique that I used to stain the giant craft sticks at the beginning.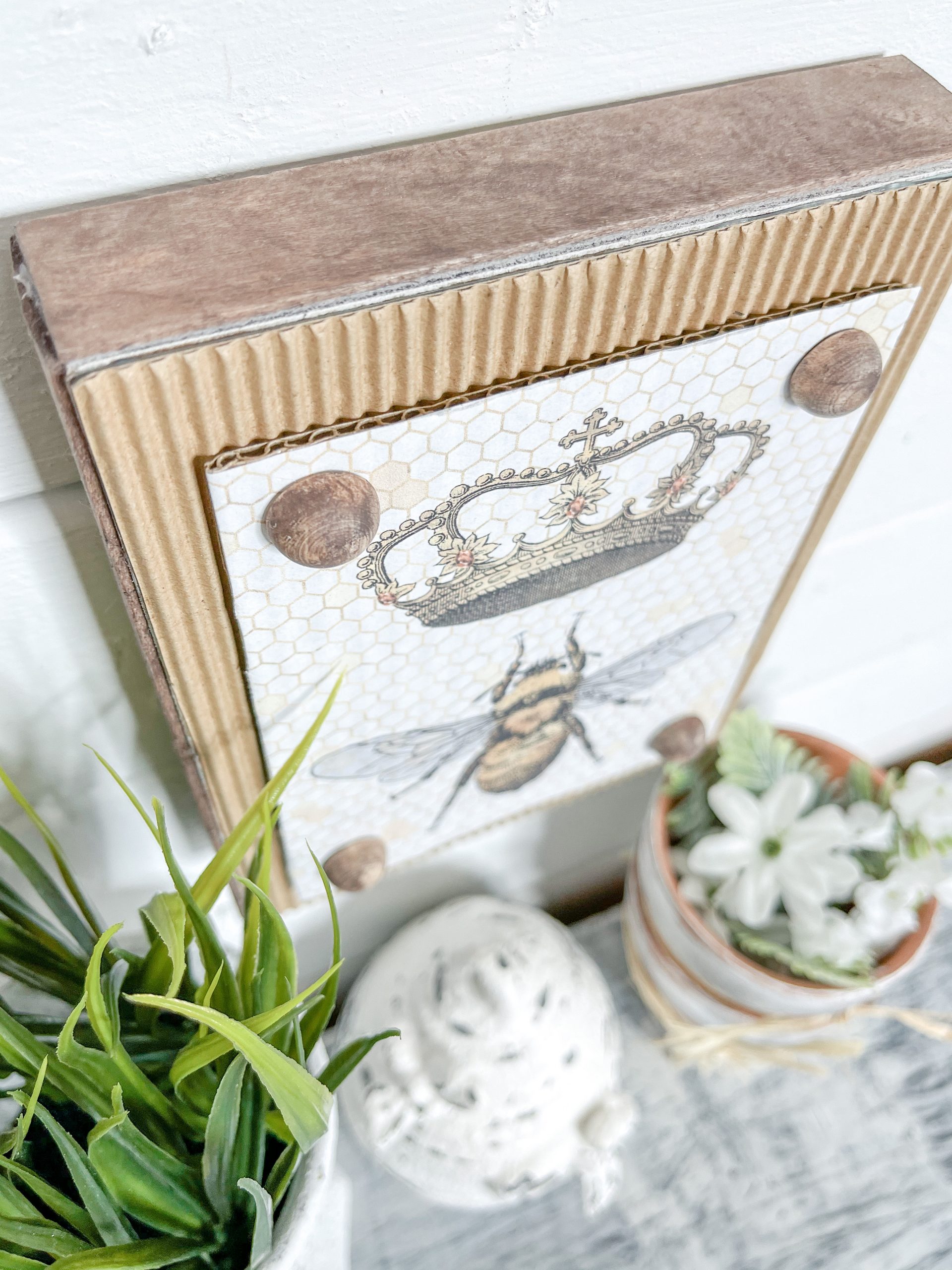 Once they were dry, I hot glued a bead in each corner of the decoupage cardboard, then I hot glued the cardboard onto the corrugated scrapbook paper.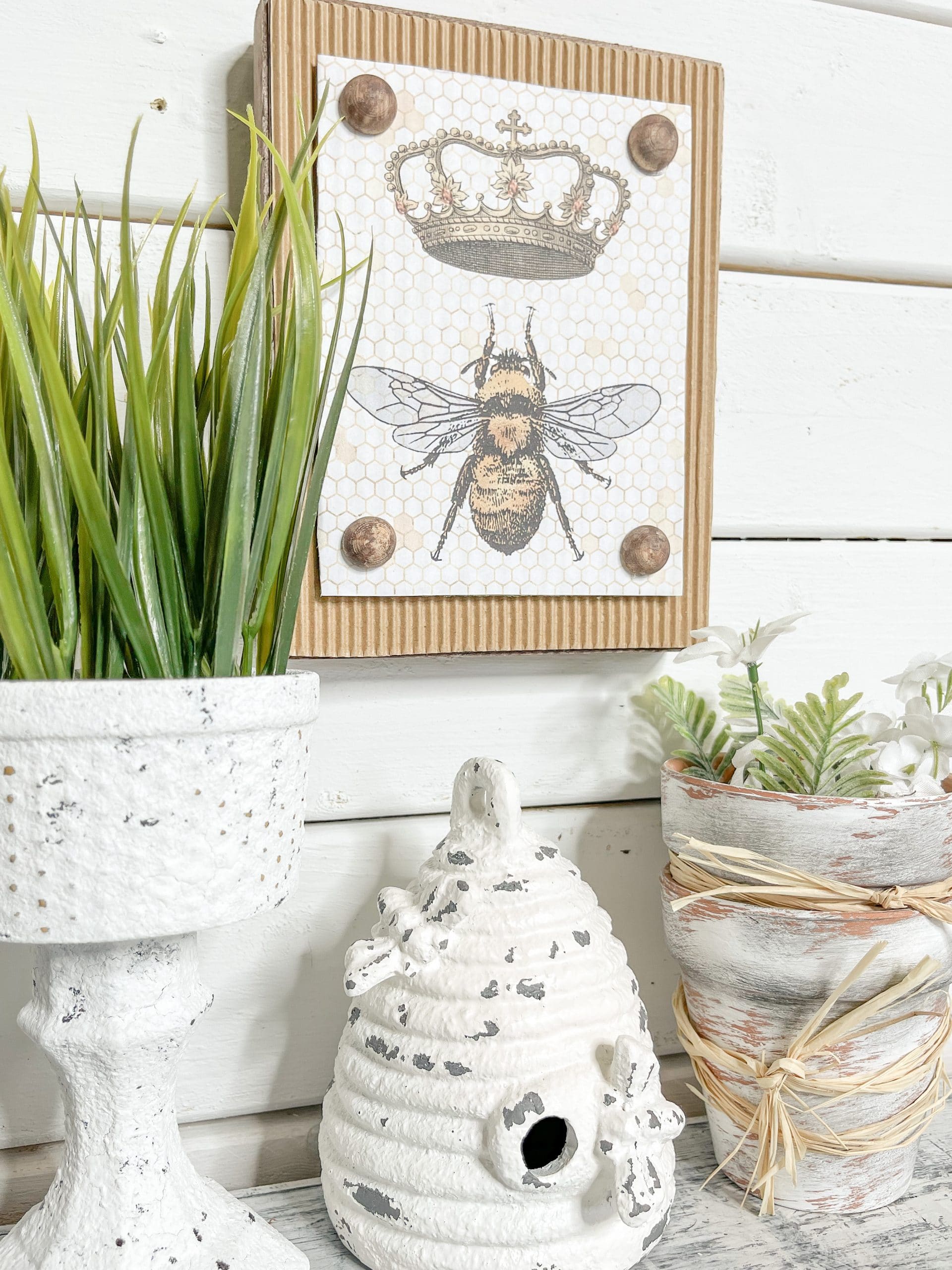 I hope you enjoyed this Queen Bee Printable DIY Decor as much as I did and decide to make this for yourself! If you do, I would love to see how yours turns out!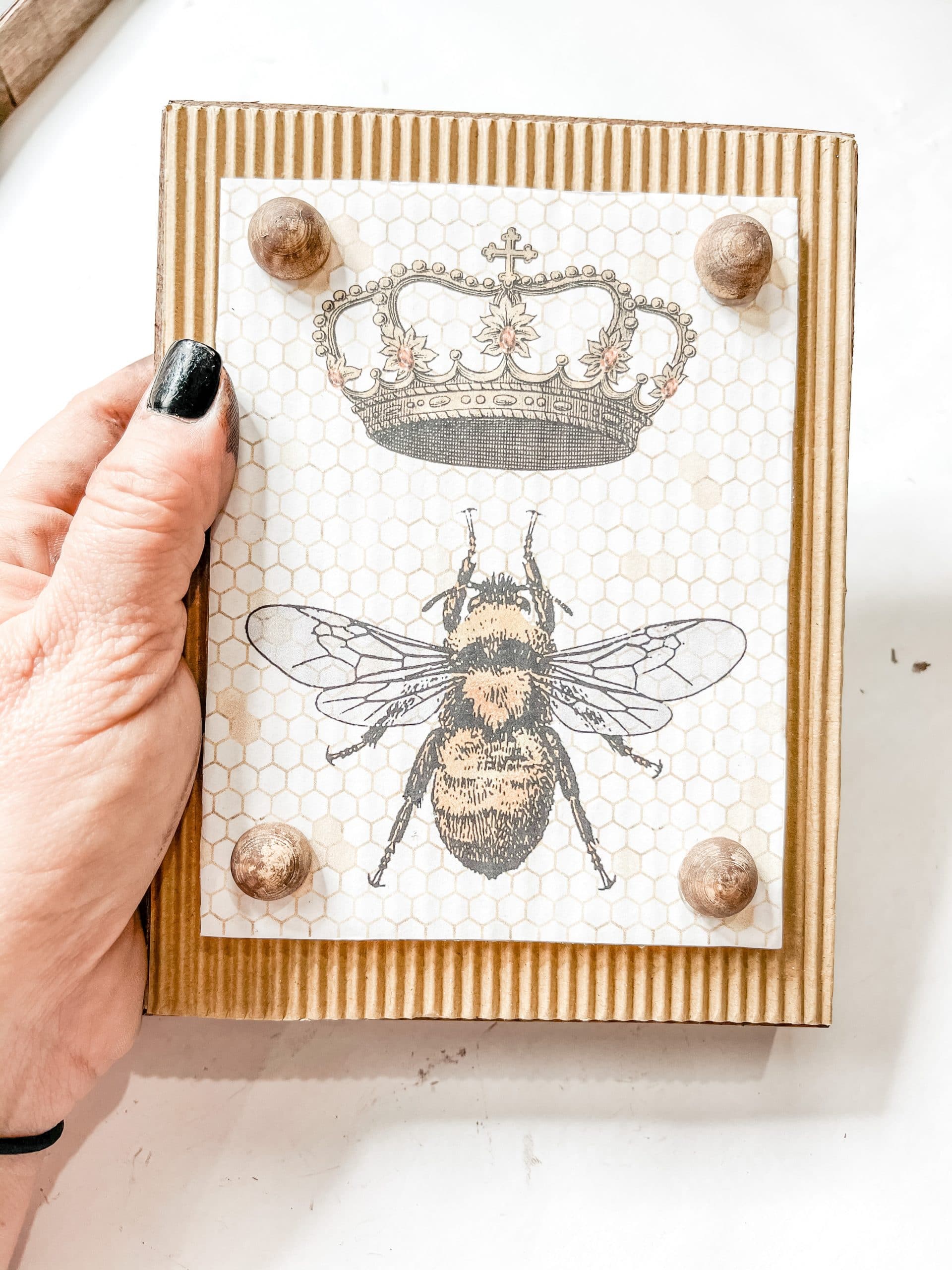 You should totally join my FREE Facebook group called On A Budget Crafts! It is a judgment-free community for DIY crafters to show off their projects and ideas.
Thanks for stopping by! XOXO Amber
You can also shop my ENTIRE AMAZON Favorites shop just click here! It's packed full of all the things I use and love. Here is the supply list I highly recommend every creative have on hand!!
Would you also pin my blog for later and get on my newsletter alerts? I would love to have you join my #craftycrew.
Inspired? Leave me a comment below! I love hearing from my readers!

Join my free "ON A BUDGET CRAFTS" Facebook group!