DIY Painted Stencil design on Coffee Mug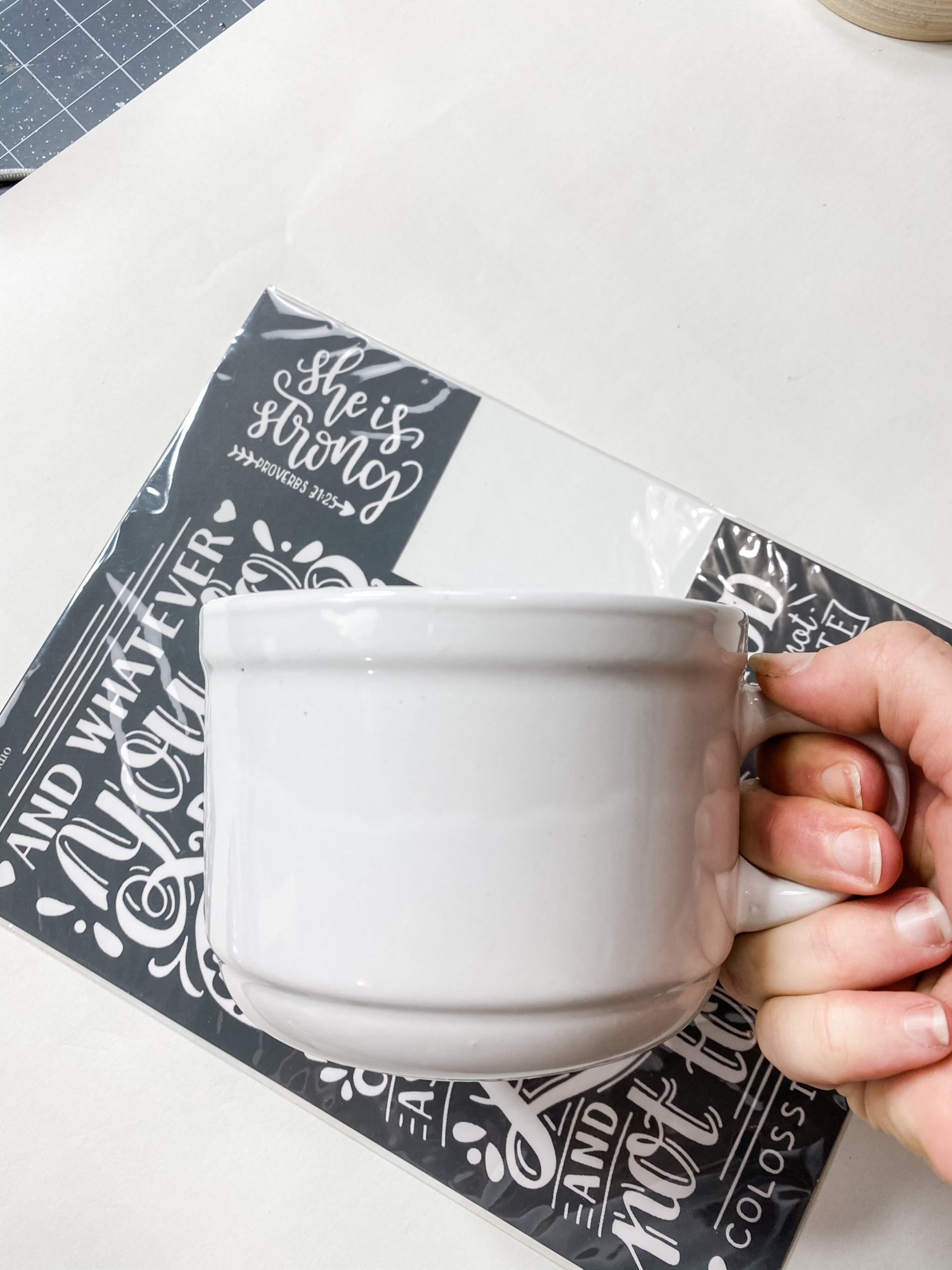 My love of coffee is probably why I love this DIY painted stencil design on a coffee mug SO MUCH! The most amazing part is I am using a $1 Dollar Tree mug! Like the good mugs!
Is it okay to say I am addicted to coffee? I will literally have 3 cups of coffee a day, minimum! I used to get EIGHT shots of espresso when I would go to Starbucks, and if you saw my coffee mug cabinet, your jaw would drop!
This is going to be a very short and quick blog because of how stupidly simple this DIY is!
Watch the replay
If you want to see the step-by-step tutorial of how to make this super cute DIY Painted Stencil Design on Coffee Mug you can watch the Facebook Replay! I love doing crafts on Facebook Live so y'all can watch and craft along with me!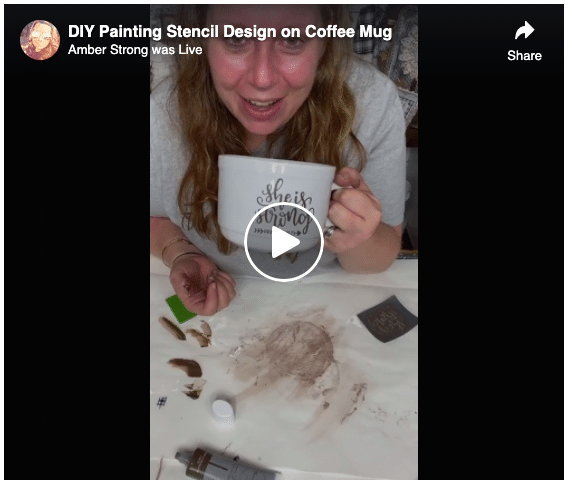 For this project, I will be using these items but you can substitute where you want.
"As an Amazon Associate, I earn from qualifying purchases."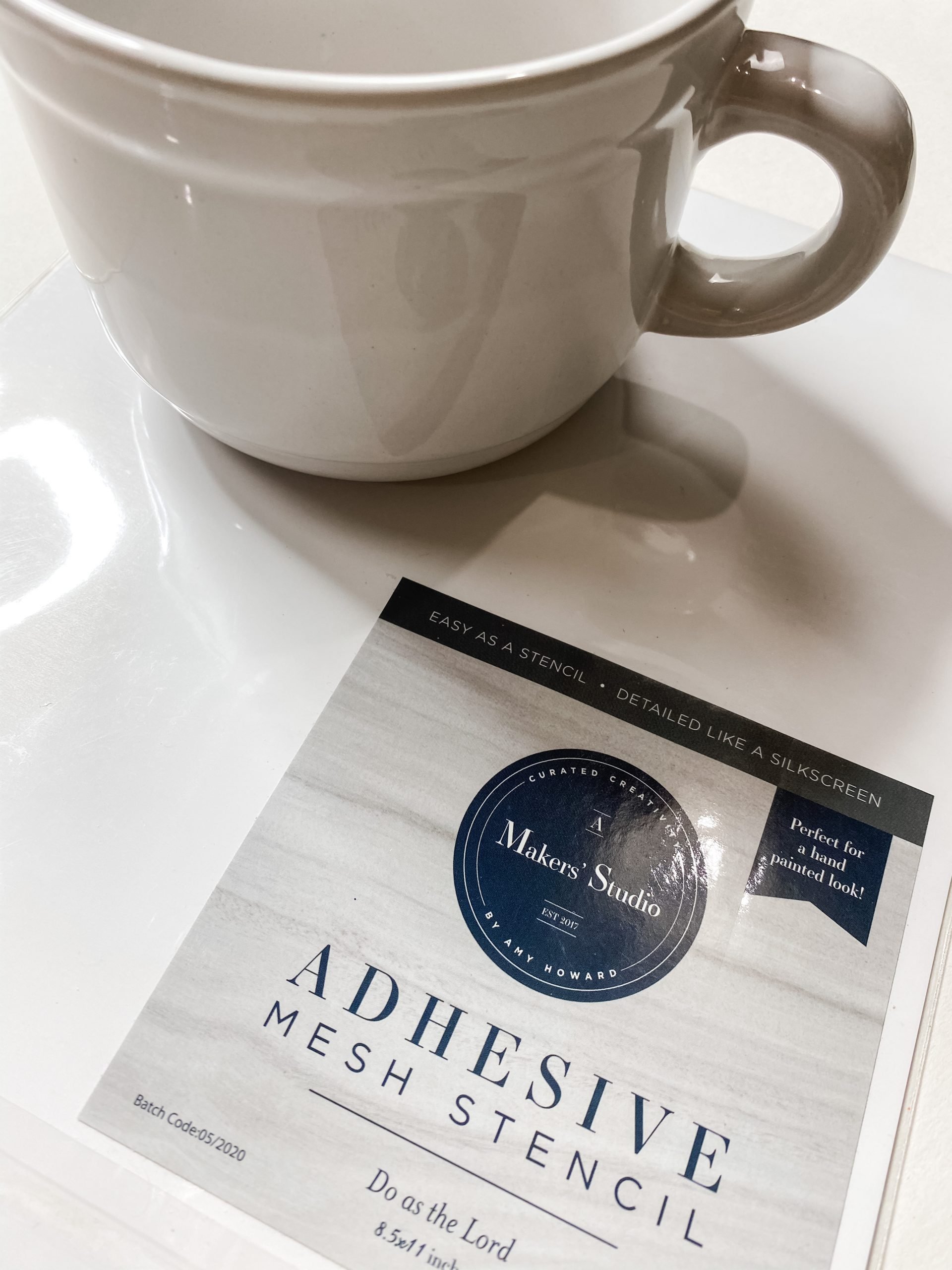 Let's get started!
Step one of making a DIY Painted Stencil Design on a Coffee Mug is to pick the stencil you want to use! I got this adorable Proverbs 31:25 stencil from A Maker's Studio.
I love this verse, but if this design isn't for you, this project will work with any other stencil design!
Peel the A Maker's Studio adhesive stencil from its backing and place it on the Dollar Tree coffee mug. Make sure you clean the surface of the coffee mug before you place the stencil!
You can use alcohol to clean the surface of the mug before applying the ceramic paint from A Maker's Studio.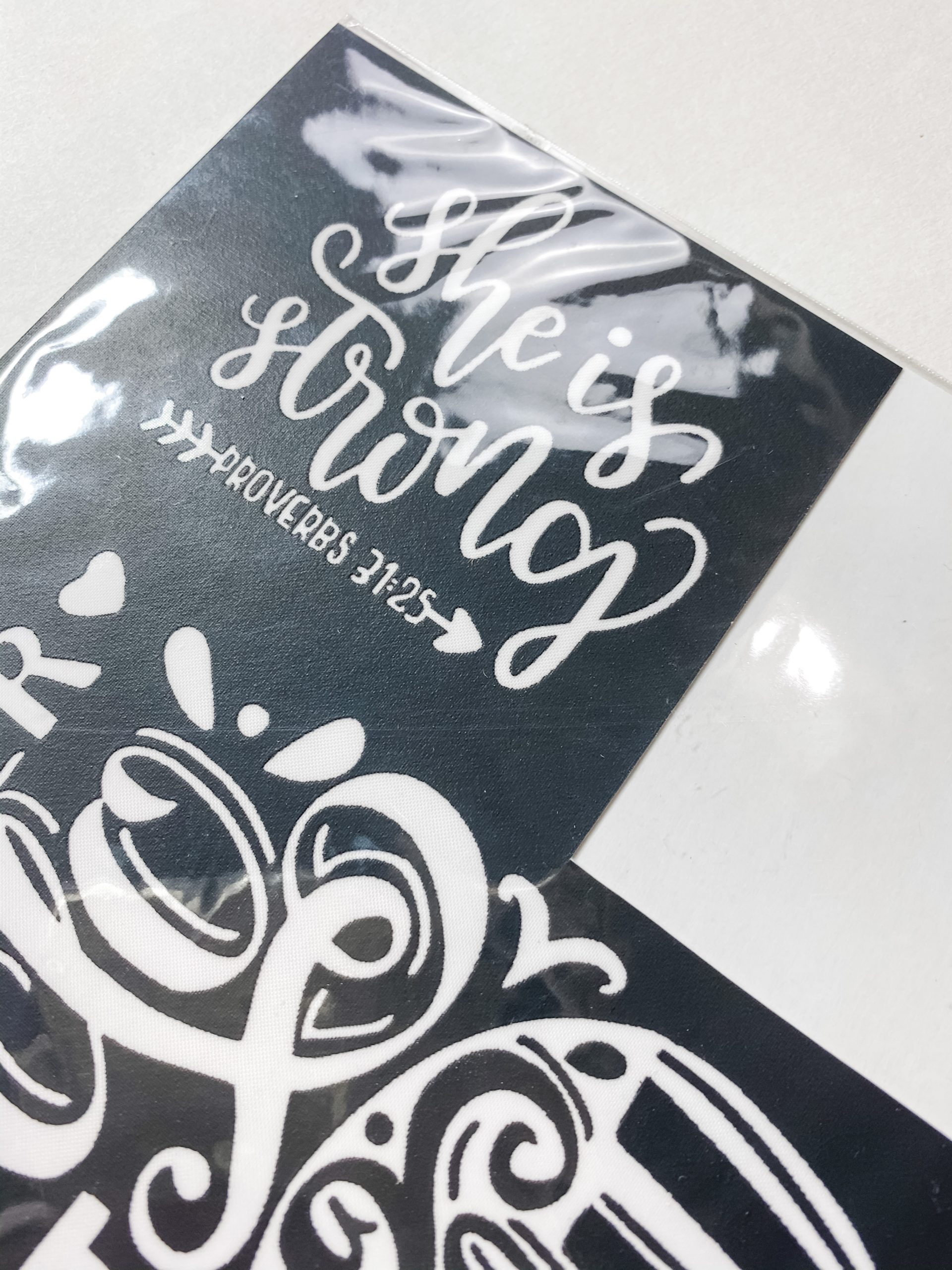 Paint it!
I used A Makers' Studio's Dark Chocolate Ceramic Paint, but you can use whatever color you prefer. I really love how the dark brown pops on the white Dollar Tree coffee mug.
Just put two small dabs of the ceramic paint on a piece of wax paper and scoop the first one up with the paint scraper from A Makers' Studio.
Drag the paint from the outside of the stencil to the middle of it. Make sure not to get any paint off the edges of the stencil.
If the first dab of paint isn't enough, pick up the second dab and repeat the technique. If you see any bleed through that is normal. Wait to wipe off the excess until the ceramic paint has dried fully.
What you should know before you stencil-paint a mug:
Clean the surface completely, and be sure that the mug surface is smooth and free of defects, and lastly use a good paint that bonds well.
A dollar tree mug is perfect for this DIY stenciled mug project. I also love that A Maker's studio ceramic paint does not require baking, microwaving, or heating whatsoever. No-bake ceramic paint is my kind of paint!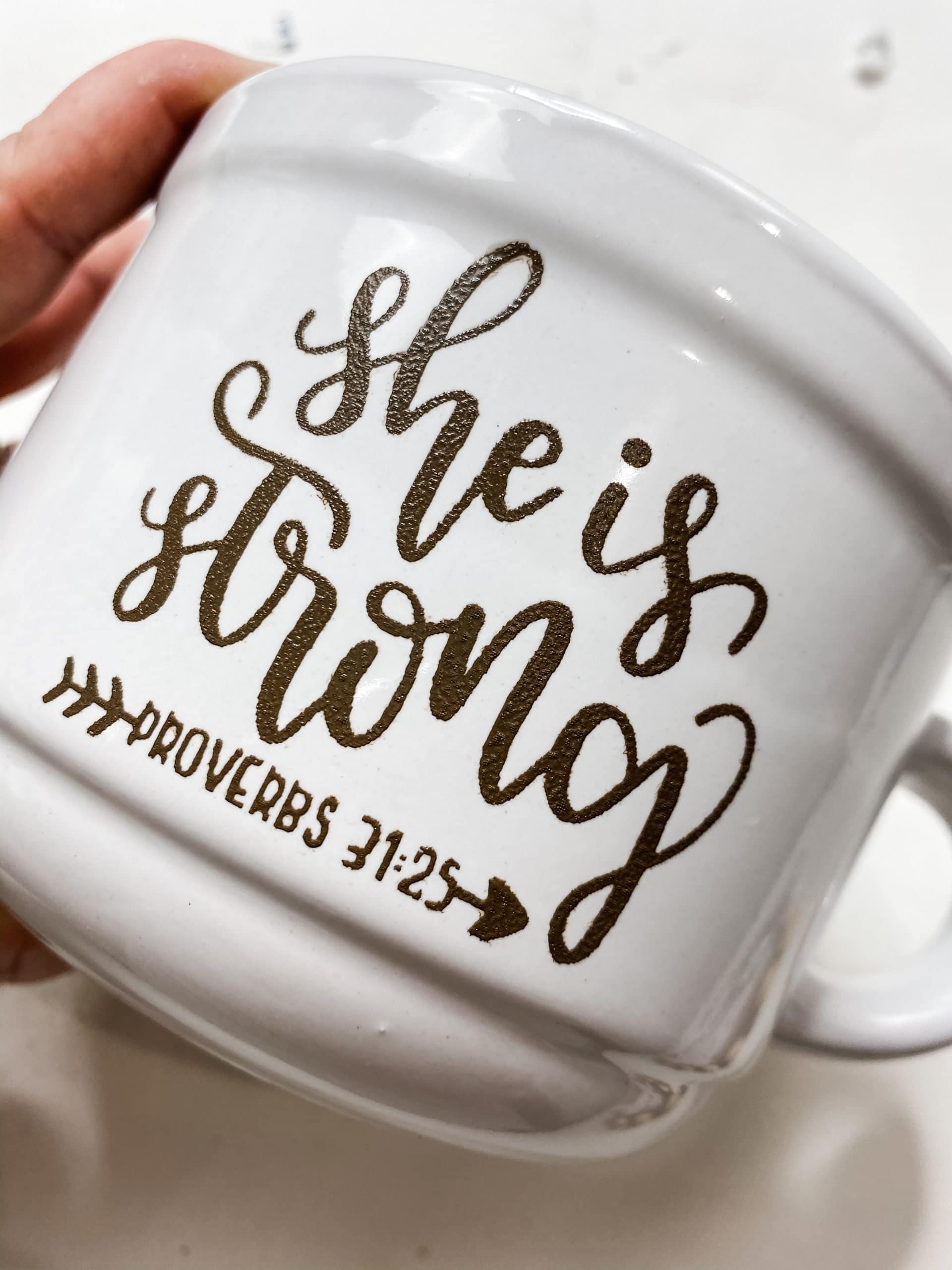 Pull the adhesive stencil off of the coffee mug carefully. You don't want to pull any of the ceramic paint off of the coffee mug.
Make sure you quickly clean the paint off the stencil so you can reuse it later! Just stick the stencil back onto its adhesive backing once it is clean and dry.
Allow your ceramic paint to dry on your coffee mug and you're ready to go brew a fresh cup of coffee in your new DIY Painted Stencil Coffee Mug!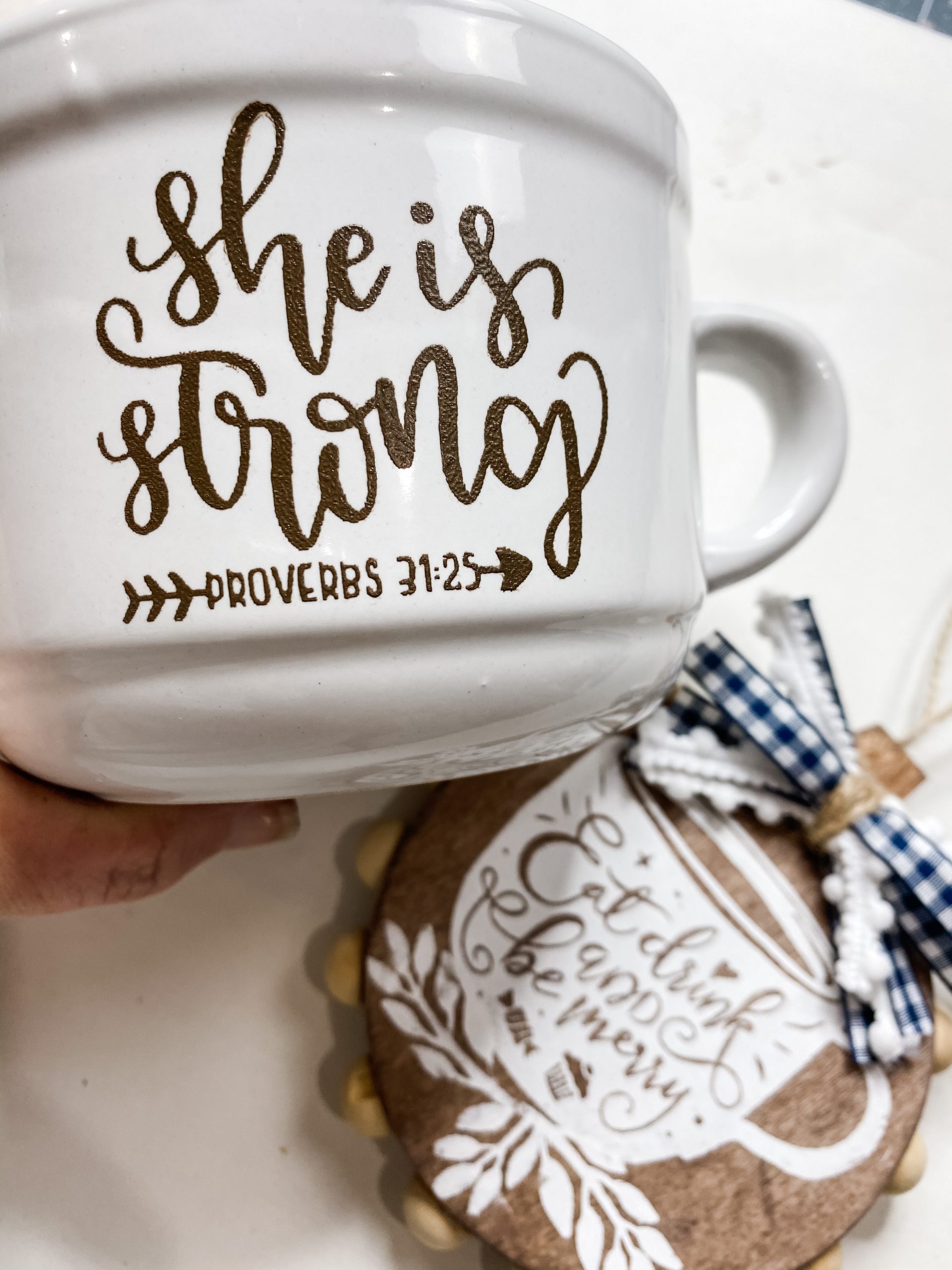 (That's the DIY stencil ornament that I made in the same video as this painted stencil coffee mug!)
I hope you had as much fun learning how to make this DIY Painted Stencil Design on Coffee Mug as much as I did and decide to make it for yourself!
I would love to see how yours turns out! You should totally join my FREE Facebook group called On A Budget Crafts! It is a judgment-free community for DIY crafters to show off their projects and ideas.
Thanks for stopping by! XOXO Amber
You can also shop my ENTIRE AMAZON Favorites shop just click here! It's packed full of all the things I use and love.
Here is the supply list I highly recommend every creative have on hand!! Would you also pin my blog for later and get on my newsletter alerts? I would love to have you join my #craftycrew.

Join my free "ON A BUDGET CRAFTS" Facebook group!
PIN THIS POST FOR LATER!