Dollar Tree Cookie Sheet Craft with Free Christmas Printable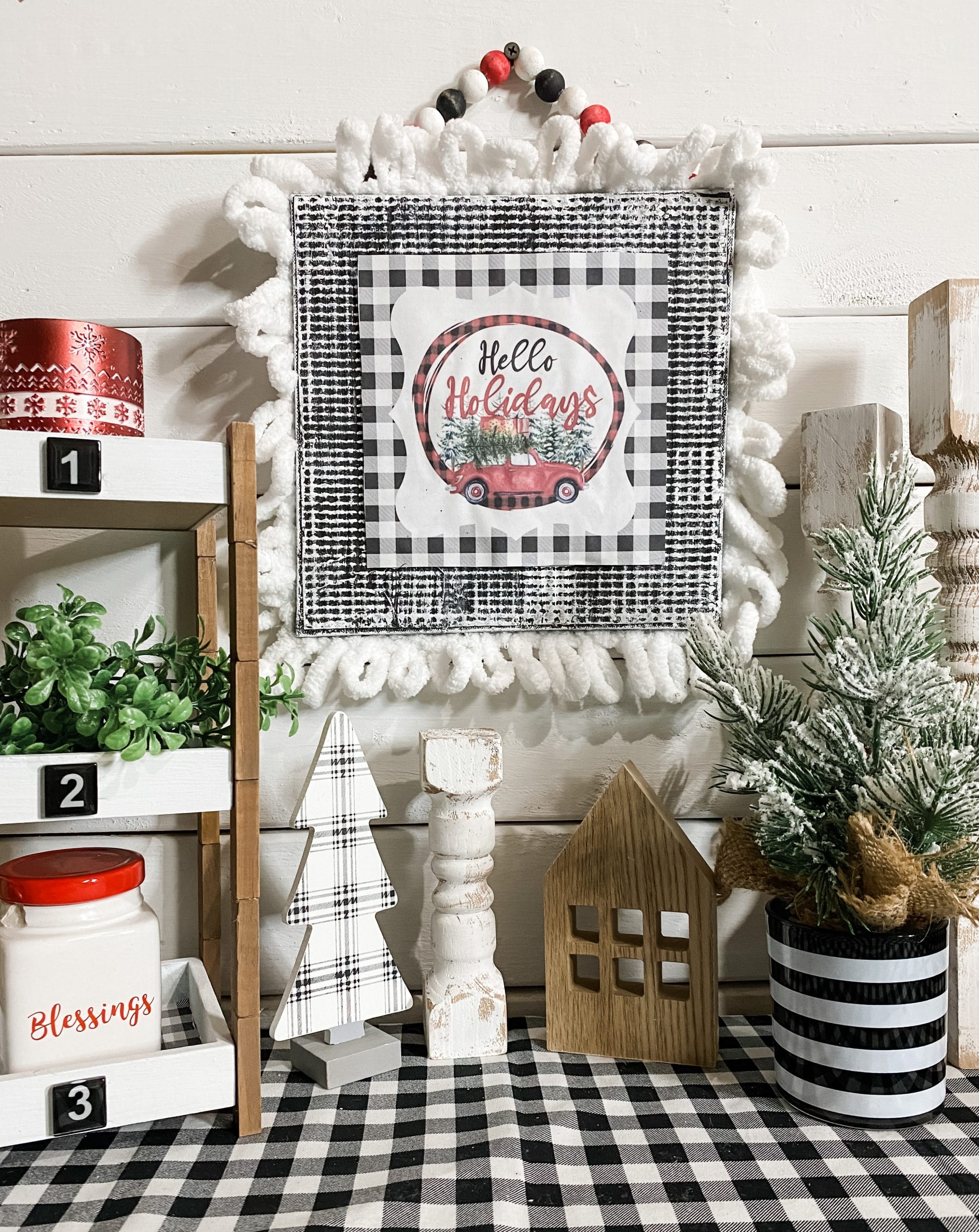 I might be slightly obsessed with this adorable Dollar Tree Cookie Sheet Craft with Free Christmas Printable! Maybe it's because I used my own FREE Christmas printable, or maybe it's because it is so affordable, easy, and fun to make!
I really let my creative juices flow with this Christmas craft, and I am so happy with how it turned out!
Sometimes, I get some pretty crazy ideas that I'm just not sure if they'll work or not. See how I made this Dollar Tree DIY Christmas craft, and tell me what you think!
Watch the Replay!
If you're wanting a visual tutorial of how to make this easy Christmas with my FREE Christmas printable, then you're going to want to watch this replay!
I recorded myself making this adorable Christmas decor during a LIVE video on my Facebook page.
There is crafting, conversation, and just good fun! After I finished the DIY craft, I also did some giveaways!
I love giving back to my Crafty Crew, and the best way I can do that is through giveaways at the end of my LIVE videos.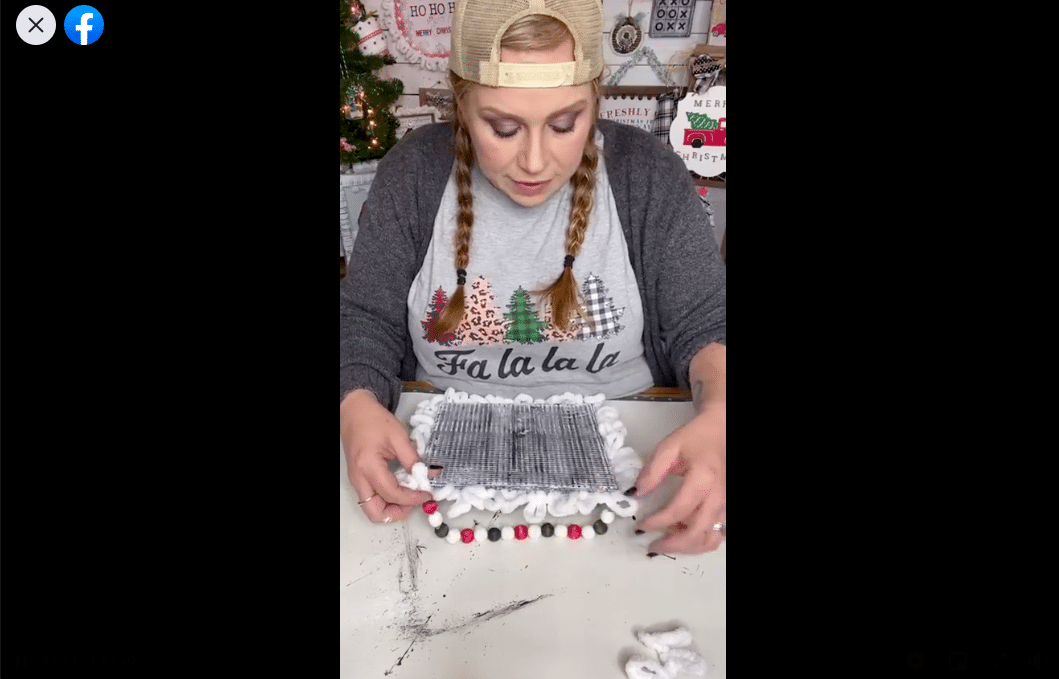 For this project, I will be using these items but you can substitute where you want.
"As an Amazon Associate, I earn from qualifying purchases."
Dollar Tree 10×10 Canvas
Dollar Tree Cookie Sheet
Loop-It Yarn
Waverly Ink Chalk Paint (Black)
Folkart White Chalk Paint
Craft smart Holiday Red Paint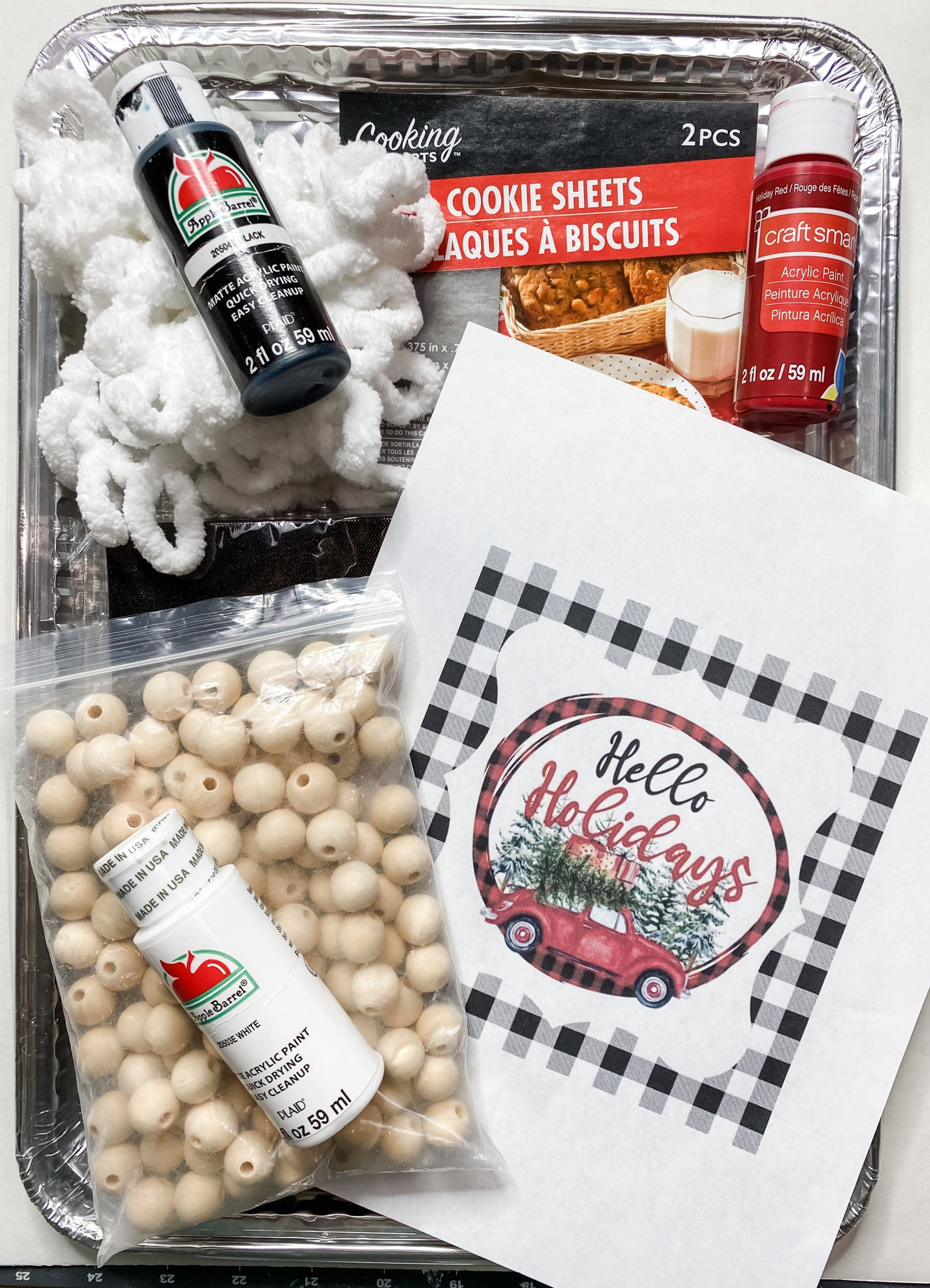 Let's get started!
To start making this easy DIY Christmas decor, you're going to need to remove the sticker from the Dollar Tree cookie sheet and the packaging from the Dollar Tree 10×10 canvas. Put the canvas onto the cookie sheet and trace around it with a sharpie.
Now, carefully, use a pair of scissors to cut out the square that you just traced onto the cookie sheet. Get the lines as straight and even as you can, but remember that it is better to cut the shape larger than needed rather than smaller.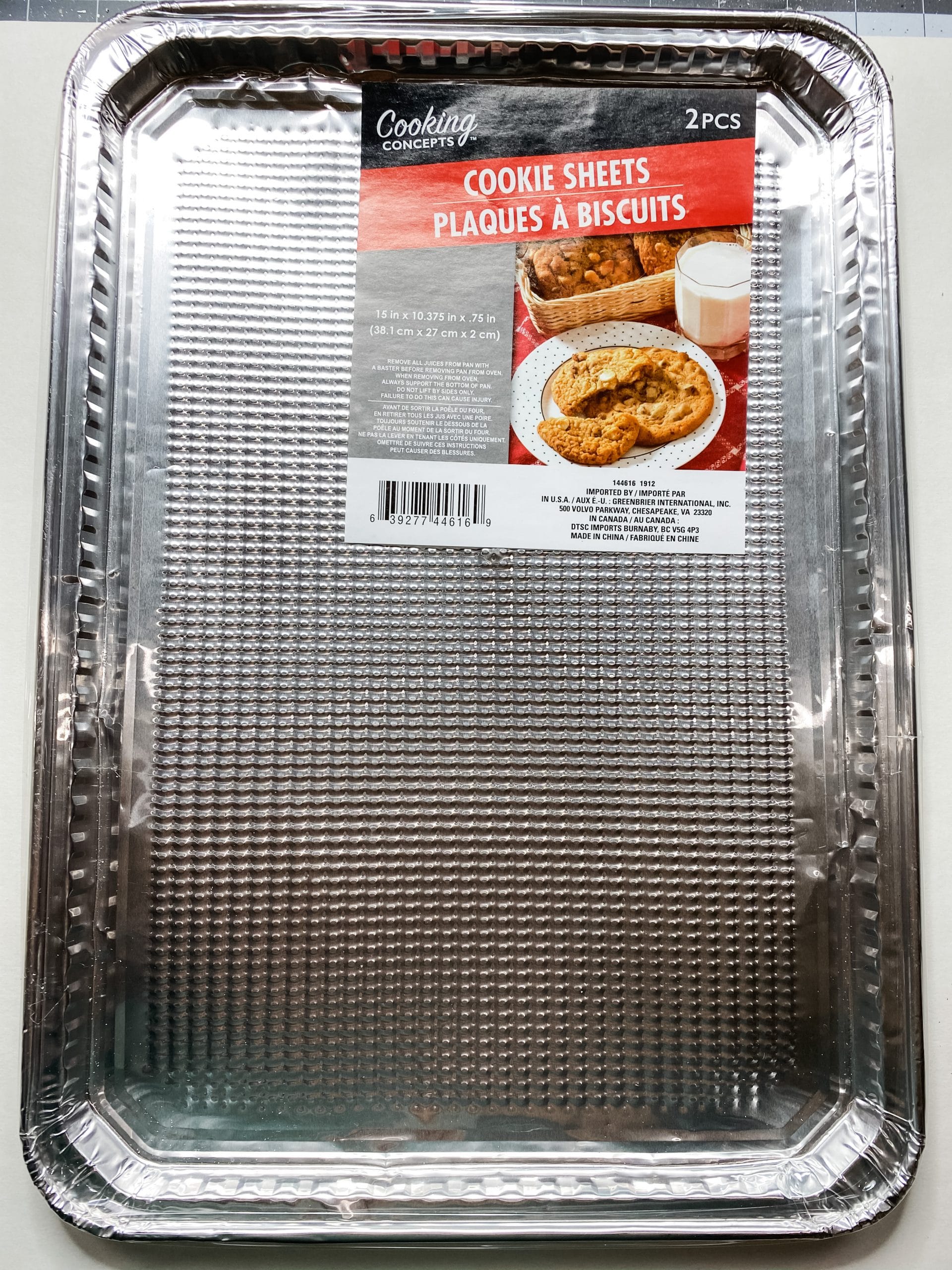 Once you have the cookie sheet cut to the right size, you're going to attach it to the front of the Dollar Tree canvas.
I simply hot glued the cookie sheet to the front of the canvas and then went around the edges of the canvas with a sanding sponge.
I had to do this because I got hot glue all over the front of the metal and the canvas, and the sanding sponge helped peel it all off.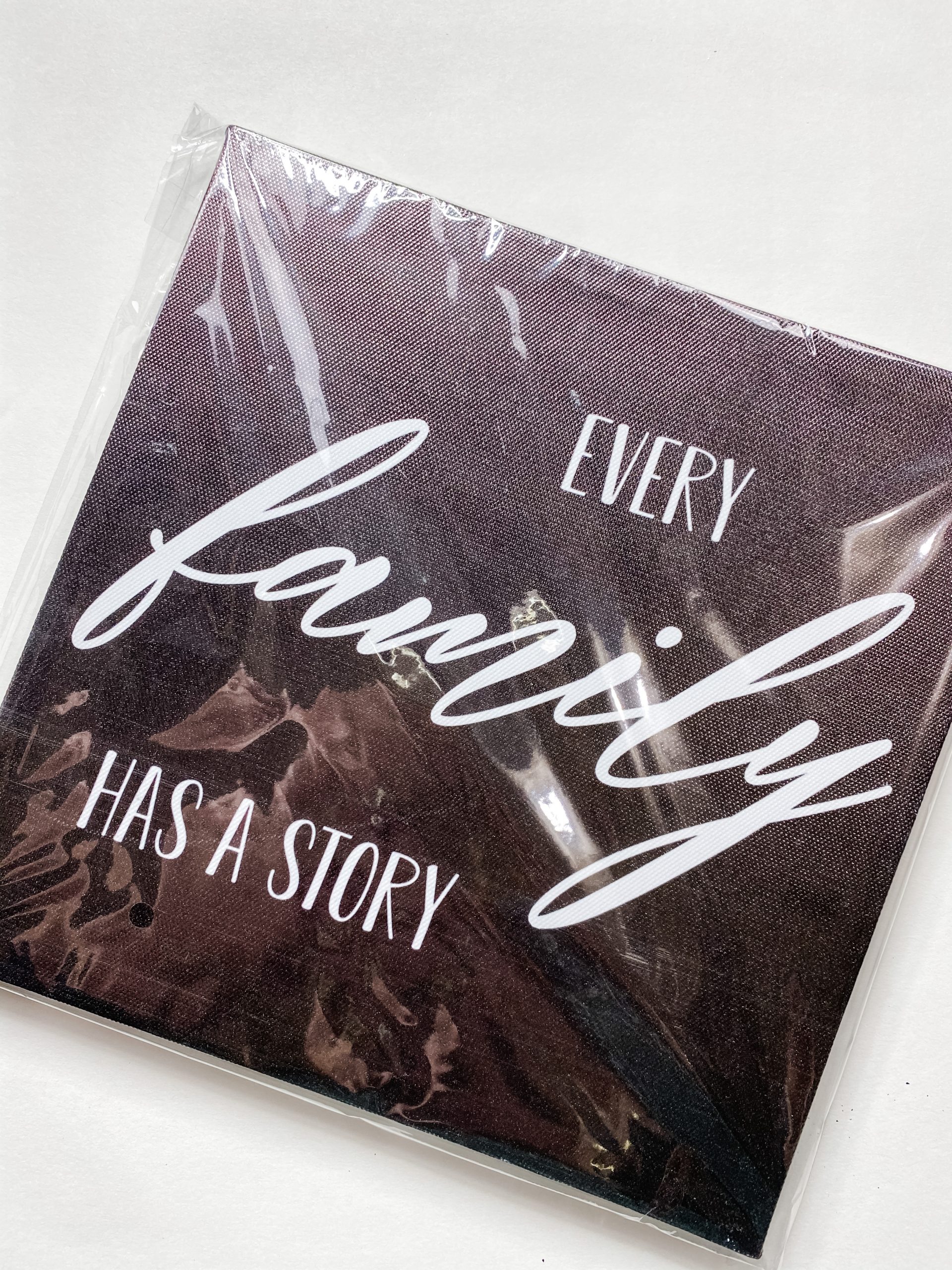 Get to painting
Before we add my Free Christmas Printable to the craft, we are going to paint the cookie sheet! I used Folkart Ink Chalk Paint.
Just pour a bit directly onto the cookie sheet, and spread it around the entire surface with a chippy paintbrush.
I made sure the edges were covered first, then blended the paint inward toward the center of the cookie sheet. Next, I used my heat gun to dry the painted Dollar Tree cookie sheet.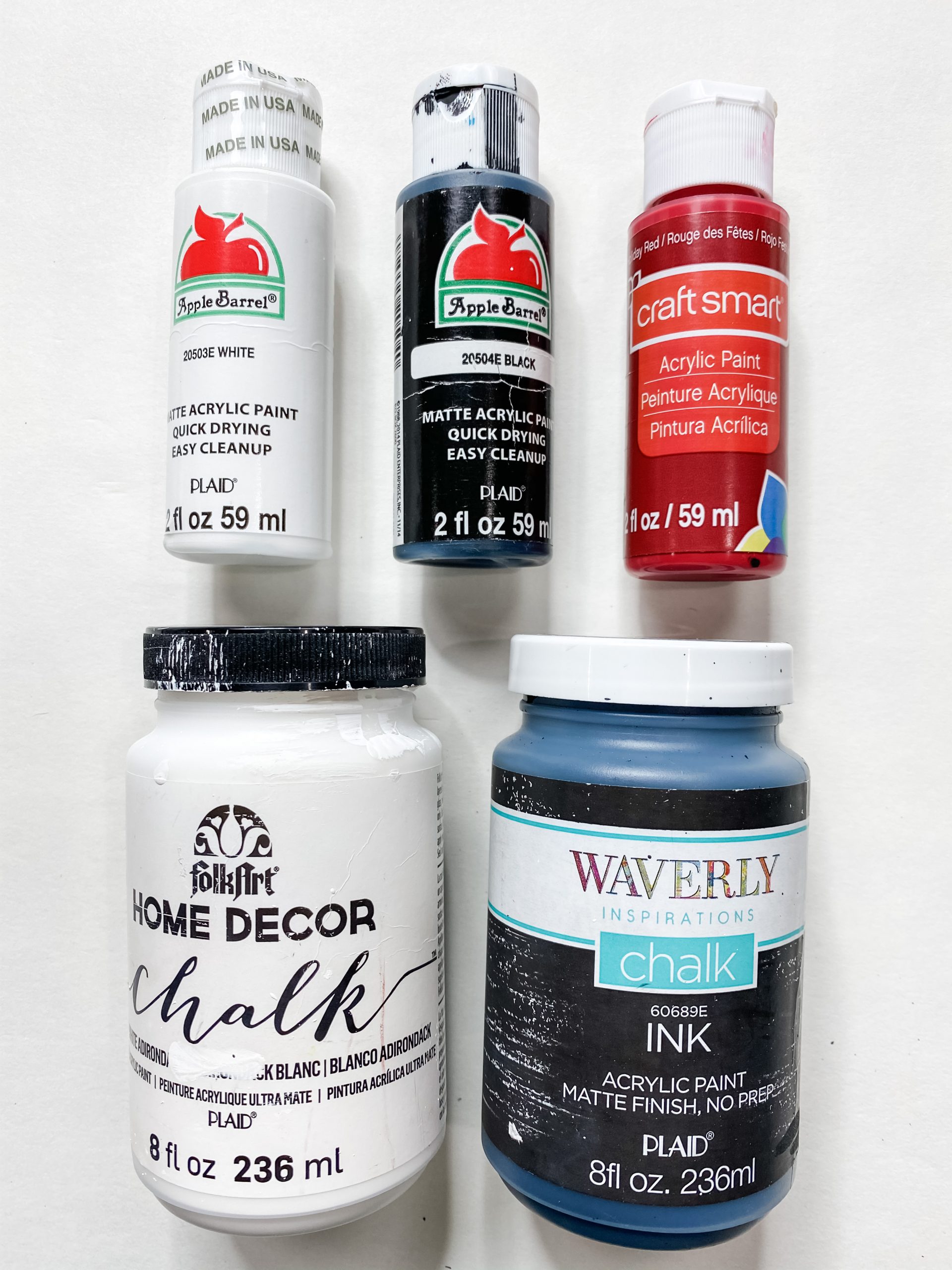 Once the black paint is completely dry, get a new chippy paintbrush and lightly dry brush Folkart White Chalk Paint across the Dollar Tree cookie sheet. Make sure you also paint around the edges of the Dollar Tree canvas.
Set the canvas to the side and grab three small bowls, your wood beads, Craft smart Holiday Red paint, Apple Barrel Black Acrylic Paint, and Apple Barrel White Acrylic Paint. Put 5 beads into each bowl and spray them with water. The water is going to help the wood absorb the paint.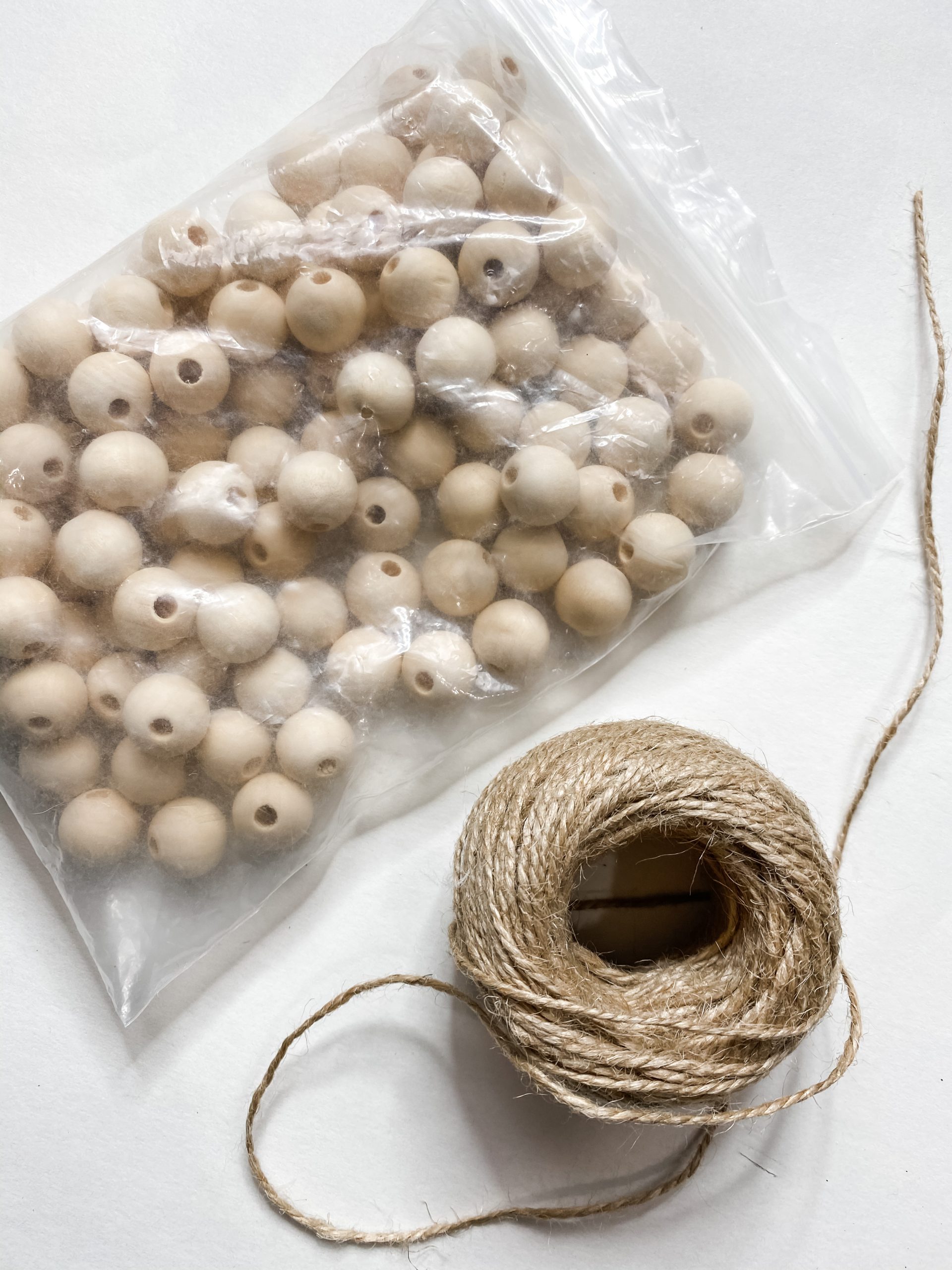 Let's make a hanger
Next, pour one paint color per bowl. Swirl the beads around in the bowls to get an even coating of paint.
Allow them to sit for a little bit to really allow the paint to stick, then pull them out of the bowl and wipe them with a baby wipe to remove any excess paint.
I put the beads onto a napkin, folded one end around it to make a small cup, and used my heat gun to dry them.
Once I had dried all of the beads, I threaded them onto the jute twine, alternating the colors as I went. (red, white, black, white, red, white, etc.)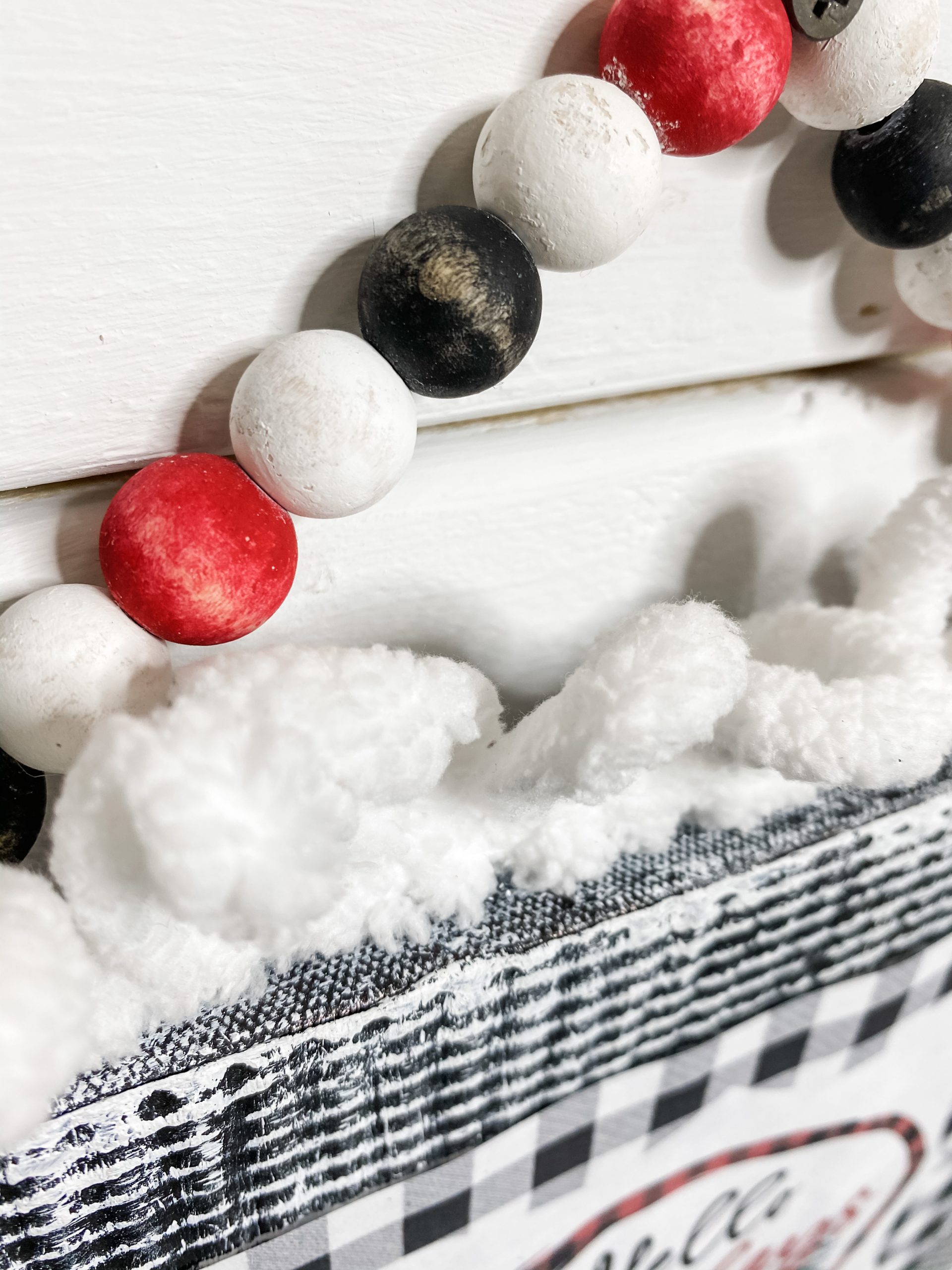 Tie a knot in the jute twine by each of the end beads. Now, hot glue the ends of the jute twine to the back edges of the Dollar Tree canvas.
I had to use my finger protectors for this part, but you could use tweezers or popsicle sticks to press the twine down into the hot glue.
This next step might be one of my favorites. If you've been paying attention to my recent crafts, you might have noticed a trend – loop-it yarn!
That's right, I embellished this easy Christmas decor with the Hobby Lobby loop-it yarn around the edges of the canvas.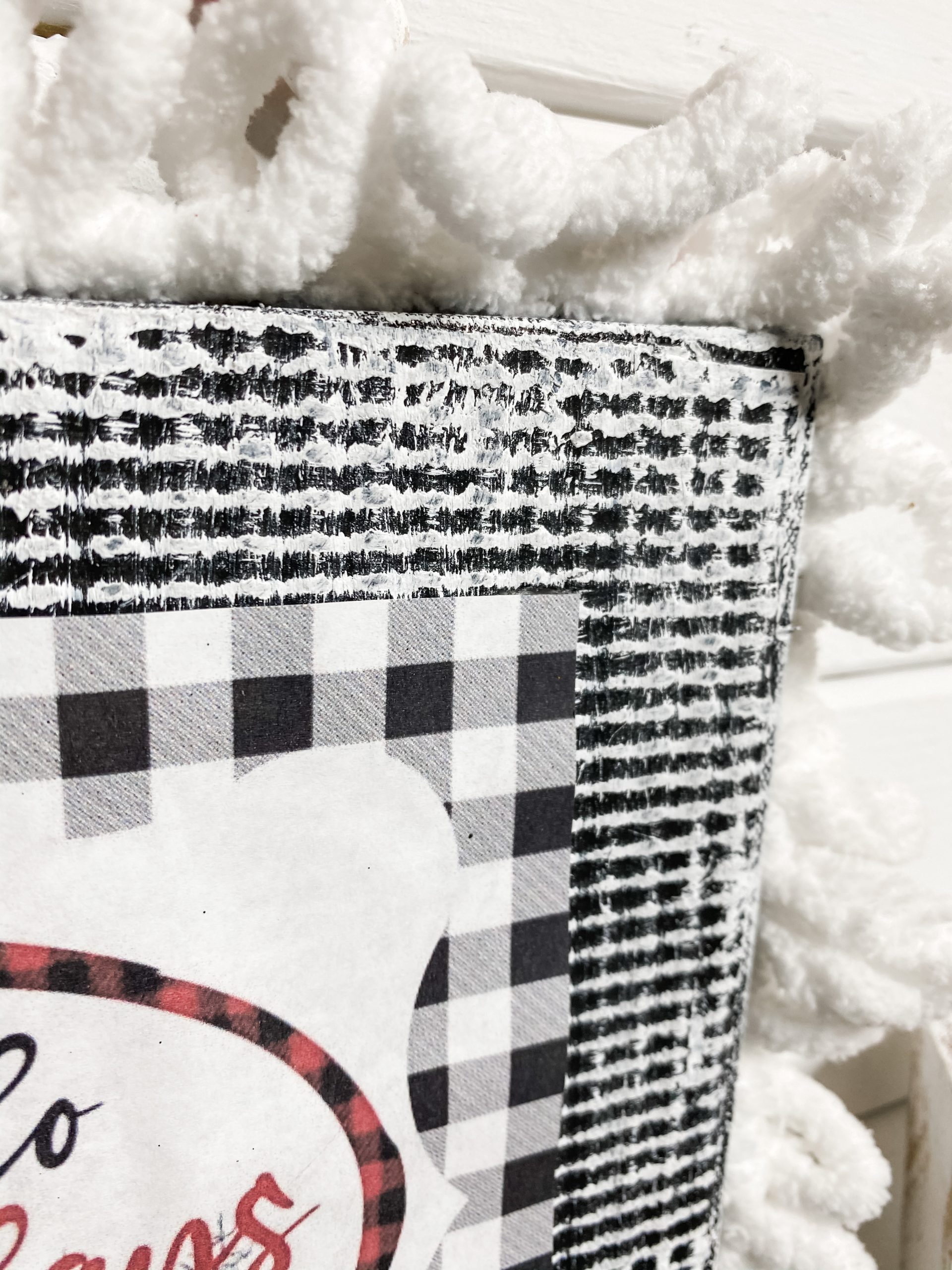 Free Christmas Printable
Now it's time to add my FREE Christmas printable! Typically, I use Mod Podge and decoupage the printable onto the craft, but that wouldn't work very well with the metal cookie sheet. Instead, I hot glued the printable onto the center of the Christmas sign.
If you want to use the exact printable that I used for mine, you can get it sent straight to your email inbox for FREE!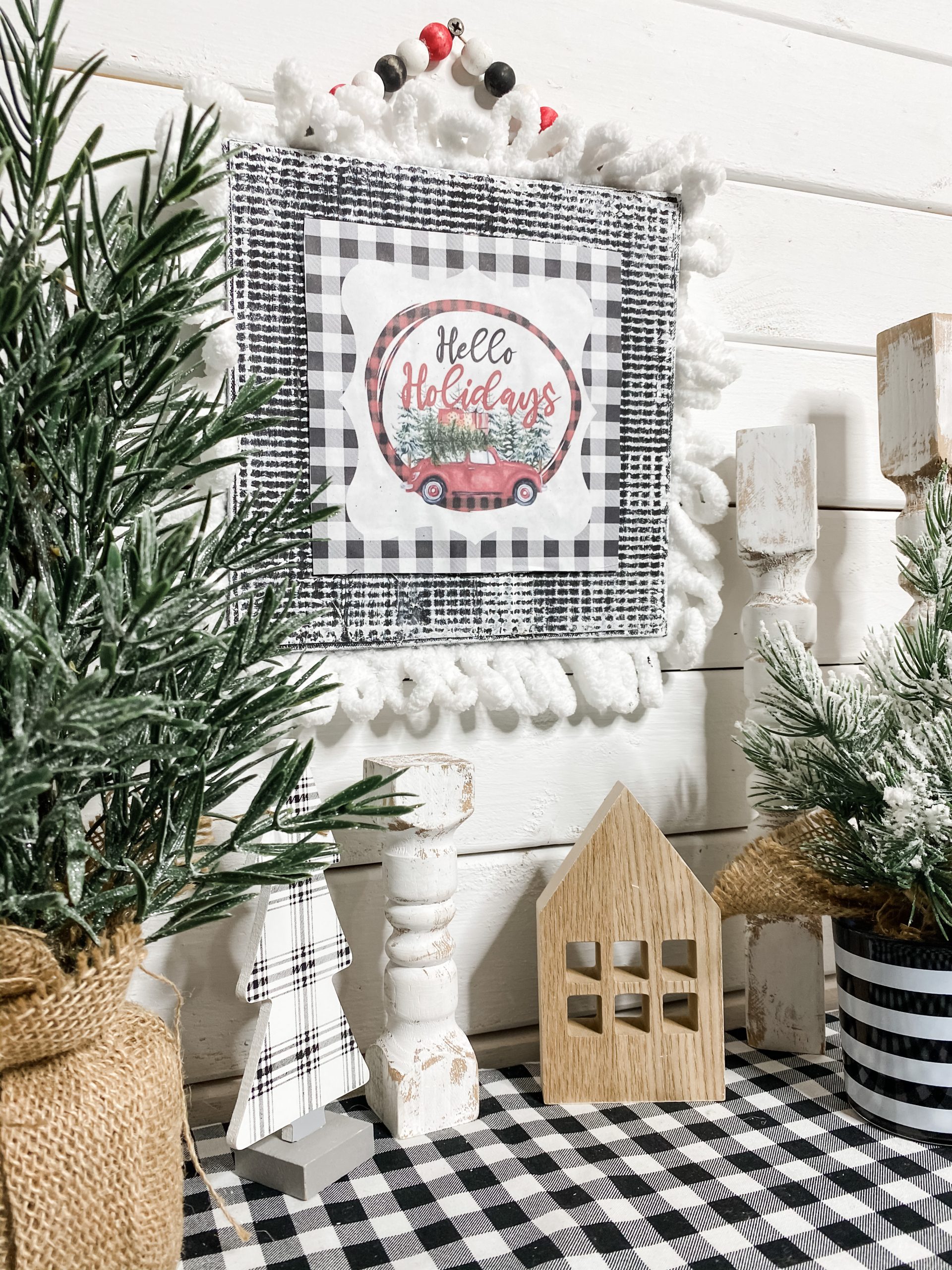 I hope you enjoyed this Dollar Tree Cookie Sheet Craft with Free Christmas Printable as much as I did and decide to make one for yourself!
I would love to see how yours turns out! You should totally join my FREE Facebook group called On A Budget Crafts! It is a judgment-free community for DIY crafters to show off their projects and ideas.
Thanks for stopping by! XOXO Amber
You can also shop my ENTIRE AMAZON Favorites shop just click here! It's packed full of all the things I use and love.
Here is the supply list I highly recommend every creative have on hand!! Would you also pin my blog for later and get on my newsletter alerts? I would love to have you join my #craftycrew.

Join my free "ON A BUDGET CRAFTS" Facebook group!
PIN THIS POST FOR LATER!