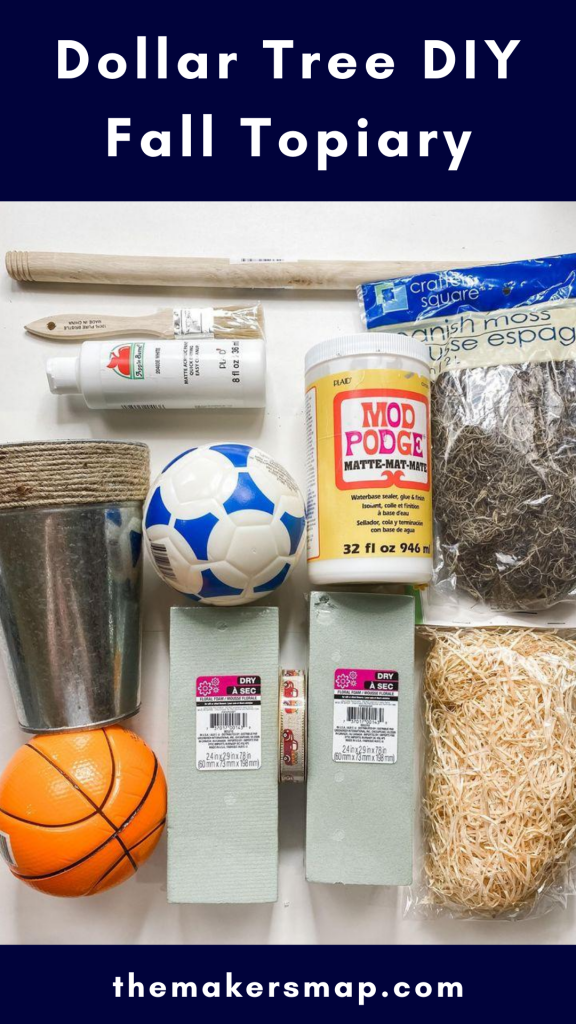 Pin this for Later
Who doesn't love a good fall craft project? Then my DIY Dollar Tree Fall Topiary for Craftathon should light you up with joy! First of all it is just too stinkin cute and it was lots of fun to make as a presenter of the Fall 2020 Craftathon! In fact if you love this you might be interested in joining my Creative Haven VIP community! You can learn more HERE (it is a paid membership but it is affordable too. We do secret DIY's in there!)
One thing I have learned throughout the years is that people love to know what to use and how to make it. I love putting together the lists and instructions and I absolutely love showing how I make stuff. I knew i wanted to make something for fall when I was asked to present at the 2020 Craftathon.
Like I was saying
I love to share all the details. I also I share in depth in my private group! You get the fully supply list before hand so you have it in case you want to craft along with me. You will also get full access to all my printables and that is included with your membership! Just something for you to consider.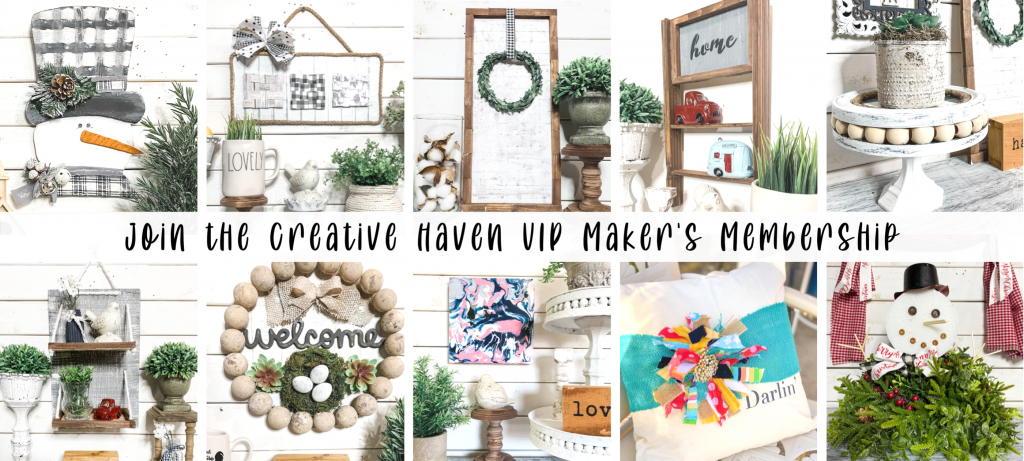 It was such an honor to be selected by my good friend Melanie to be a presenter in her 2020 Fall Craftathon. There were 54 other presenters who participated. The theme was Fall, of course! And let me tell you all the presenters projects were just amazing.
I knew I wanted to make something that not only I wanted to use but I wanted to dream up something others would want to make as well.  So I had to think outside the box! I thought, "What could we make that has a fall feel but also could be changed up to be everyday decor?"
This DIY Dollar Tree Fall Topiary for Craftathon will hopefully inspire you!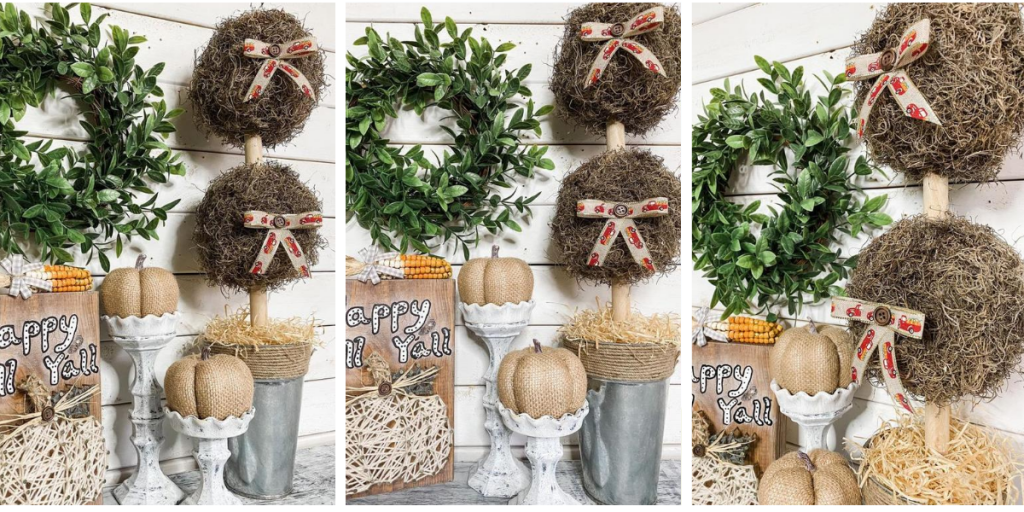 The Full replay is available right now for you to view! It was recorded live on my Facebook page. (Funny story!) My internet box went out the day before the event so my internet connection was awful, but the show must go on. I still think the tutorial is worth watching. Plus it is only 20 minutes long and you can skip ahead if you need to. WATCH IT HERE!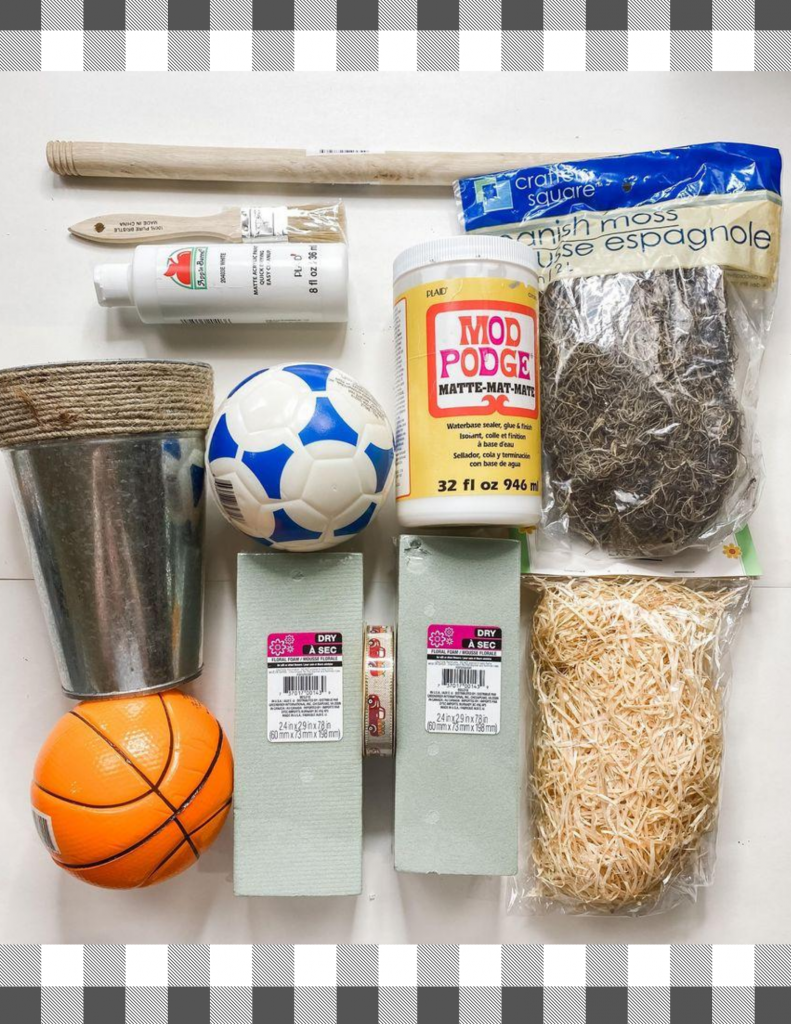 I gathered my supplies and came up with this cute idea to make a DIY Dollar Tree Fall Topiary for the Craftathon. Maybe you have some of these supplies to make one yourself, and if you do you must show me your version! I actually have a free facebook group where all my creative friends share their awesome crafty creations! You can join in with us and show off your's! It is called On a Budget Crafts Facebook Group!

The supplies I used for this craft:
Most of the items I used were from Dollar Tree but I did include my amazon affiliate links for you. (i earn a small commission but it does not cost you any extra)
white paint You can get this at Michaels or Amazon
modpodge (you can also get this at Michaels)
Buttons  Some People like to use the bling stuff. I love Totally Dazzled! 
I also use my heat gun, glue gun, glue sticks, scissors, and paint brushes too. And I do recommend you use a craft mat or craft paper to do this craft on.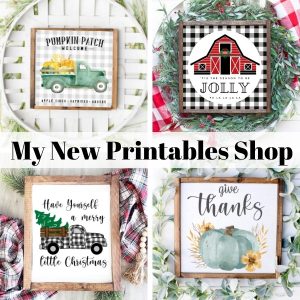 You can find more printables in my shop!
I recorded this during the live Fall Craftathon 2020 event. If you want easy access to the replay CLICK HERE!
How I made this DIY Dollar Tree Fall Topiary
I started by puncturing a hole in each of the foam sports balls to push the wood plunger handle through. This is helpful before you add the moss. Go ahead and put the sports balls on the plunger handles now.
Next I mixed the white paint with the modpodge to give a quick coat over the colors of the foam sports balls. Mixing the modpodge with the paint helps with adhesion, in my opinion.
I did this just in case the colors might have shown through. Once that was dry I started adding the moss with hot glue over each of the sports balls.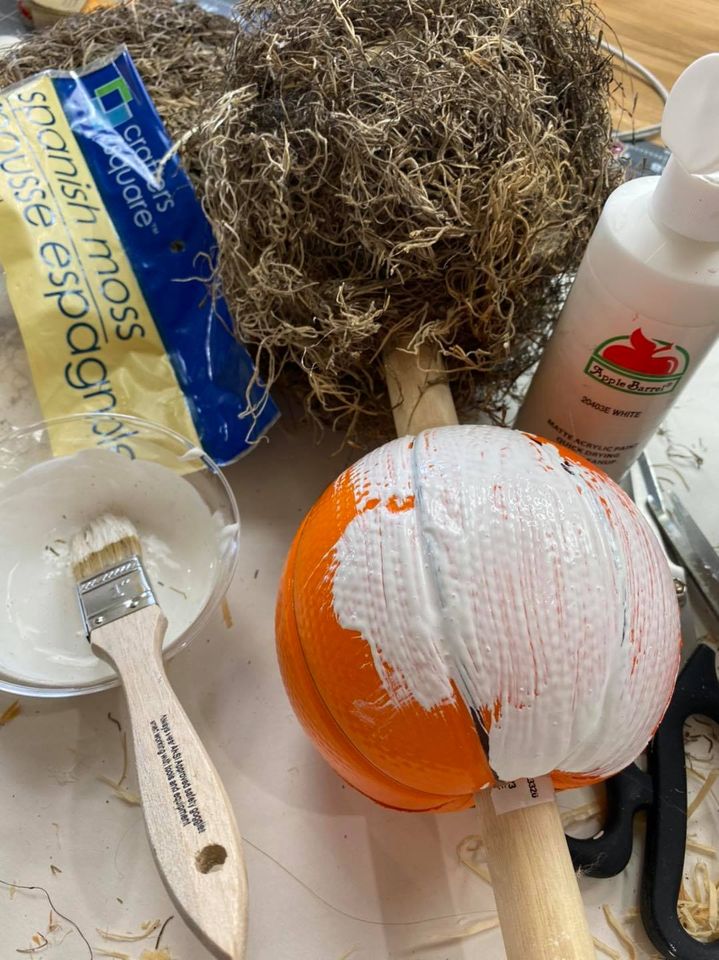 Once that is done. You can add the floral foam to your galvanized bucket to push the plunger handle down into. I added a little glue to my handle to make sure it didnt move.
Lastly I added the mini raffia to the bucket over the floral foam and i finished off my Dollar Tree DIY Fall Topiary with some cute Fall Red Truck ribbon bows topped off with a button in the center.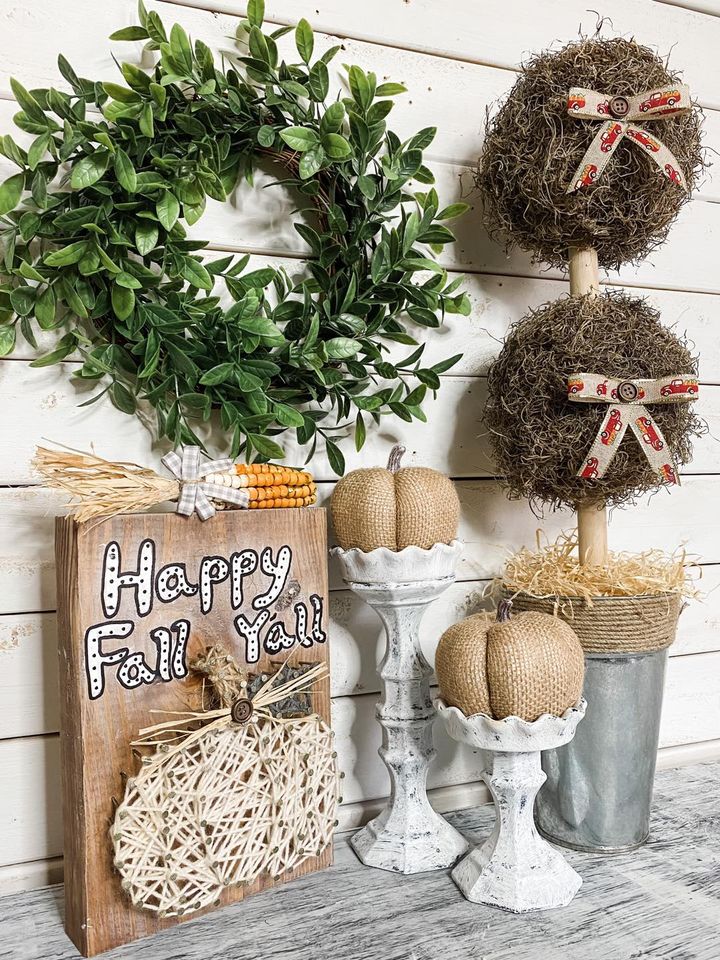 Final reveal!
You can see that this topiary is pretty tall and you can absolutely put these outside or indoors as well. Change out your bows for an everyday style or change out with the seasons or use no bow at all.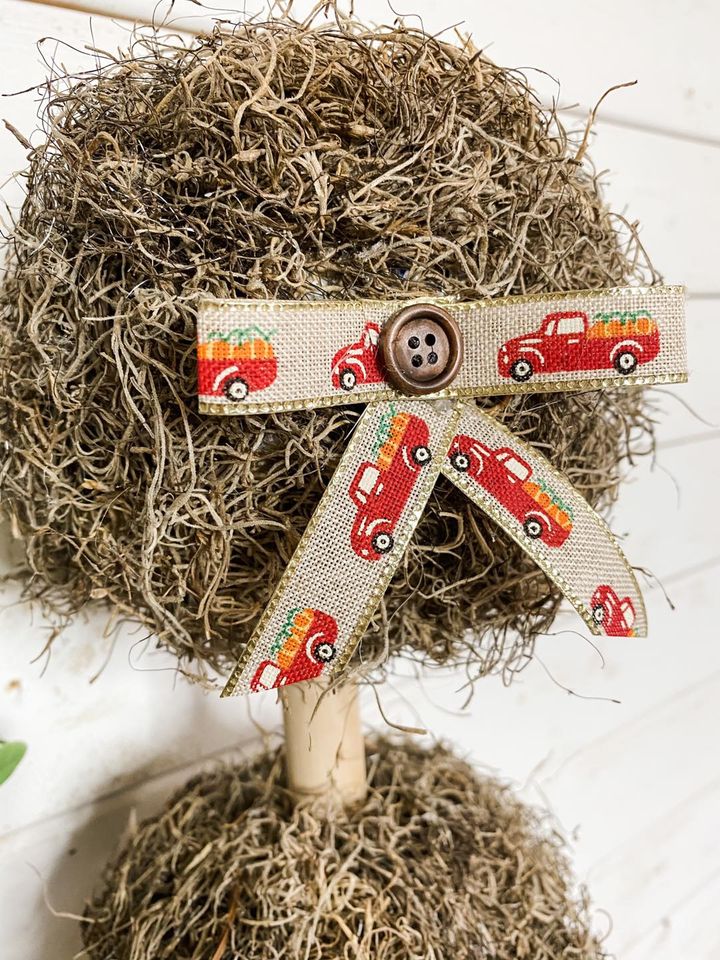 I would love to read what you think of this Fall DIY. You can tell me below in the comments and be sure to PIN THIS!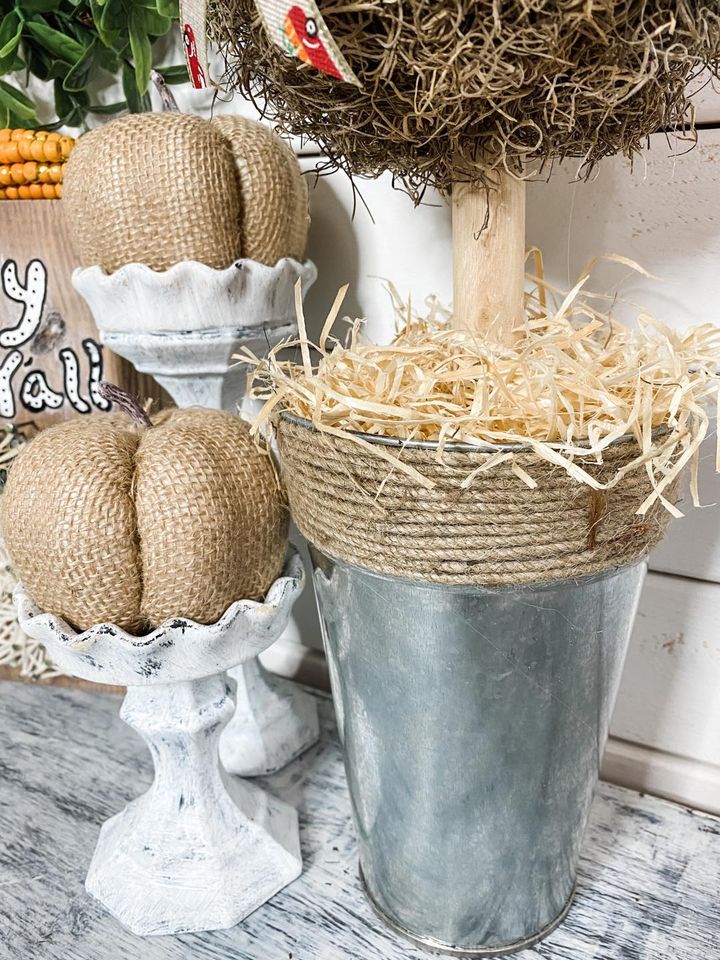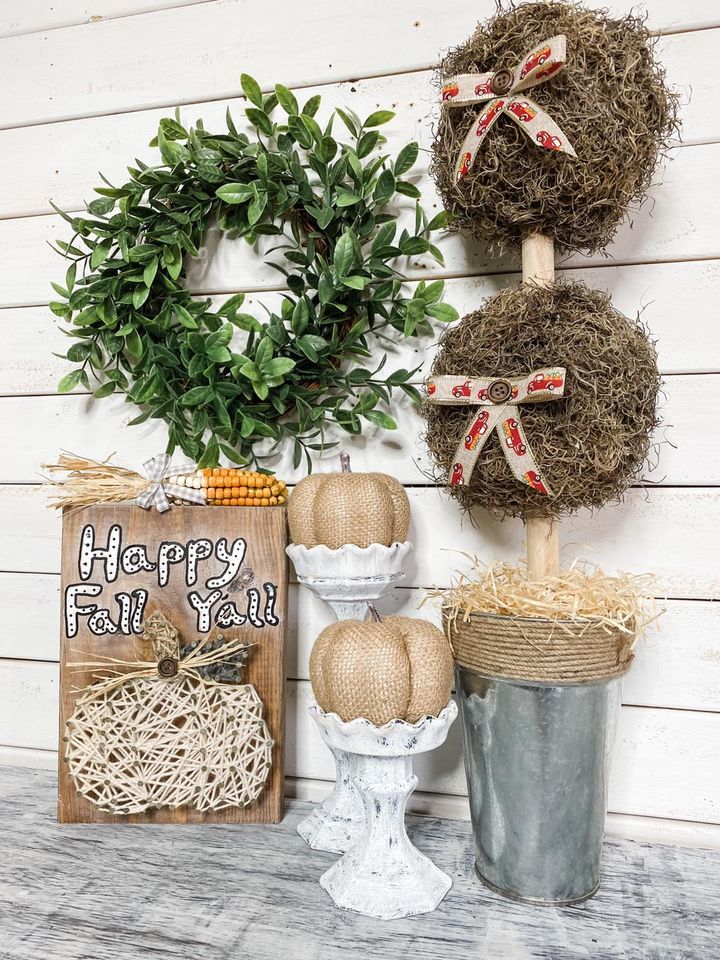 I love teaching people how to save money and make things myself and if that is something that you want to be apart of please consider joining me in the Creative Haven VIP membership group! 
I am a sucker for DIY decor that is for sure and I am definitely addicted to Dollar Tree DIY's, basically my whole house is a DIY project, and they look super high end too!
You might also like this DIY with Free printable!
I hope you loved this blog post this week and you get on my newsletter list and come back again for another fun DIY project!
Remember, You can shop my ENTIRE AMAZON Favorites shop just click here! It is packed full of all the things I use, love and recommend! But as a creative myself one thing I try to do is shop affordable! My go to places locally are DOLLAR TREE, Walmart, Michael's, Hobby Lobby and yes I get supplies at Home Depot and Lowes too!!
Be sure to pin my blog for later! It is easy to sign up below! Not only do I love my entrepreneur friends I absolutely adore my #CRAFTYCREW too!
And Subscribe to my YOUTUBE CHANNEL right here!
Inspired? Leave me a comment below! I love hearing from my readers! 
Join my free "ON A BUDGET CRAFTS" Facebook group!
>>>> PIN THIS POST FOR LATER! <<<<<