DIY Rustic Dollar Tree Tic-Tac-Toe Decor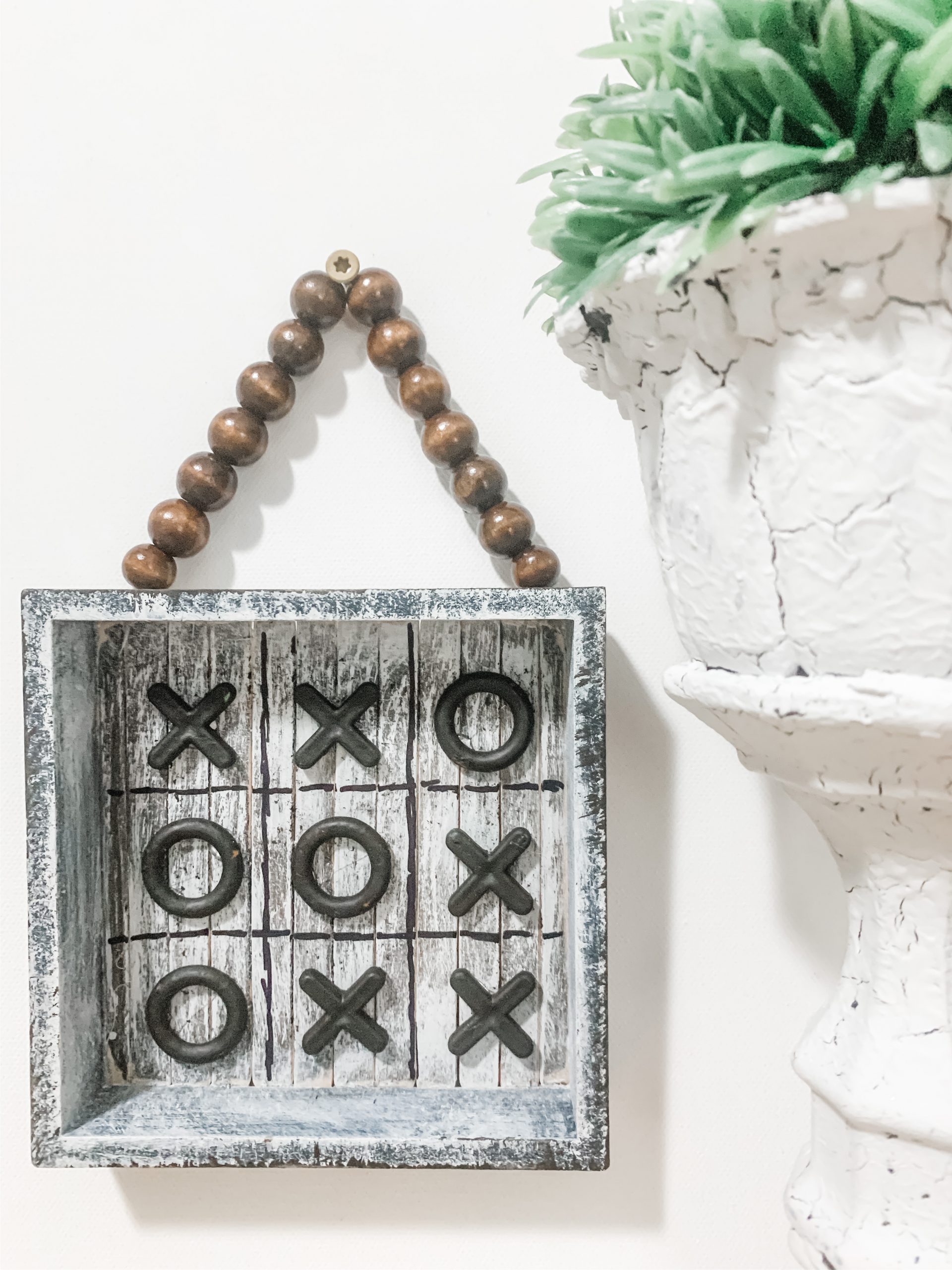 Are you ever scrolling through Pinterest and just get so tired of looking at the same, typical decor over and over again? Well, me too! So, I came up with this adorable DIY Rustic Dollar Tree Tic-Tac-Toe Decor!
I absolutely love this DIY project, and I think you will too! It is so simple to make and very affordable as well!
Watch the replay
I recorded the how-to steps to making this adorable Dollar Tree DIY during a live video on my Facebook page. If you want to see my techniques, craft along, or just join in on the fun conversations, you can watch the replay!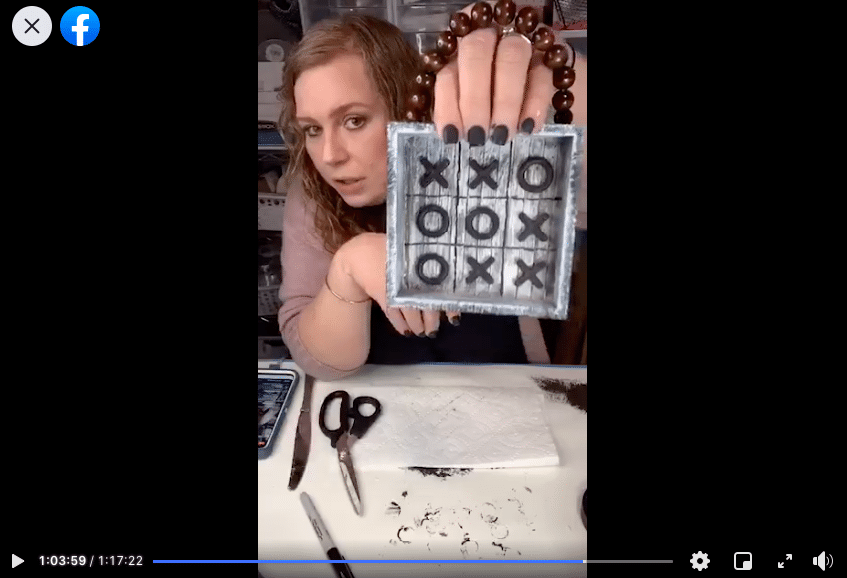 For this project, I will be using these items but you can substitute where you want.
"As an Amazon Associate, I earn from qualifying purchases."
Dollar Tree Sign Box
Dollar Tree Tic Tac Toe Game
Popsicle Sticks
Wood Beads
Dixie Belle Fluff Chalk Paint you can use regular acrylic white paint
White Jute Twine
Let's get started
Okay, let's get to what you came here for! Start making this adorable Dollar Tree DIY by removing the backing from your Dollar Tree sign box. I used a putty knife to pry the backing off the frame.
I originally planned to cover the back of the sign box with large craft sticks or scrapbook paper, but when I dry-placed them, I wasn't happy with how big they were. Instead, I decided to cover the back with popsicle sticks.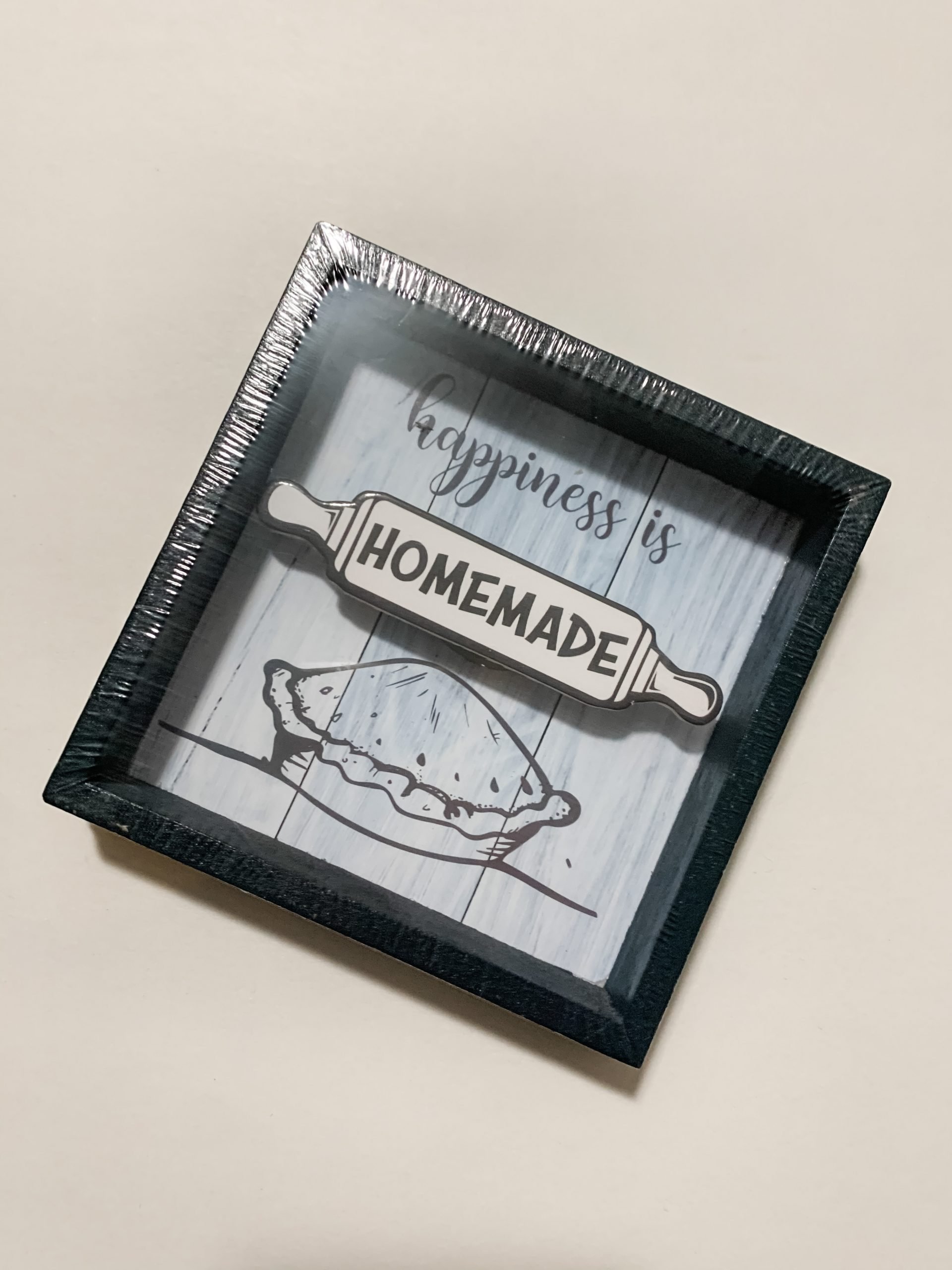 The popsicle sticks fit perfectly onto the back of the sign box. I hot glued the ends to the edges of the frame. Then, I stained the popsicle sticks with Dixie Belle Coffee Bean Chalk Paint.
To stain the wood, dip a wet wipe into the brown paint and spread the paint across the surface of the wood. The water in the wet wipe helps the wood absorb the paint and gives it a stained finish rather than a painted look.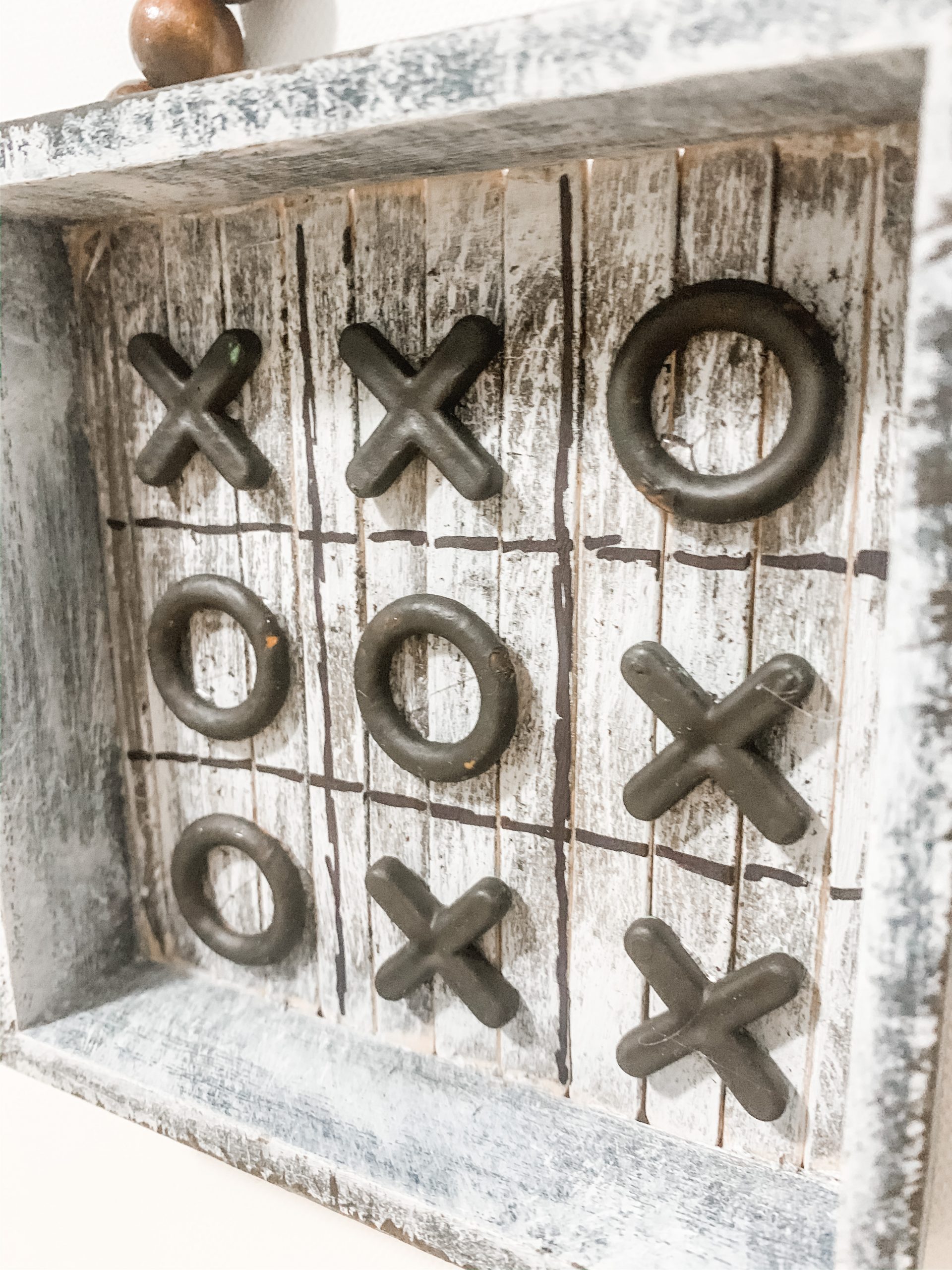 If you apply too much paint, you can go back over the popsicle sticks with a clean wet wipe to remove the excess. Now, set your sign to the side and grab your Dollar Tree tic tac toe game. All we need from it are the X's and O's. So, pull them out of the game and grab some brown paint.
Paint each of the X's and O's completely brown and allow them to dry. You can set them to the side to dry if you want because next, we are going to paint the sign box again.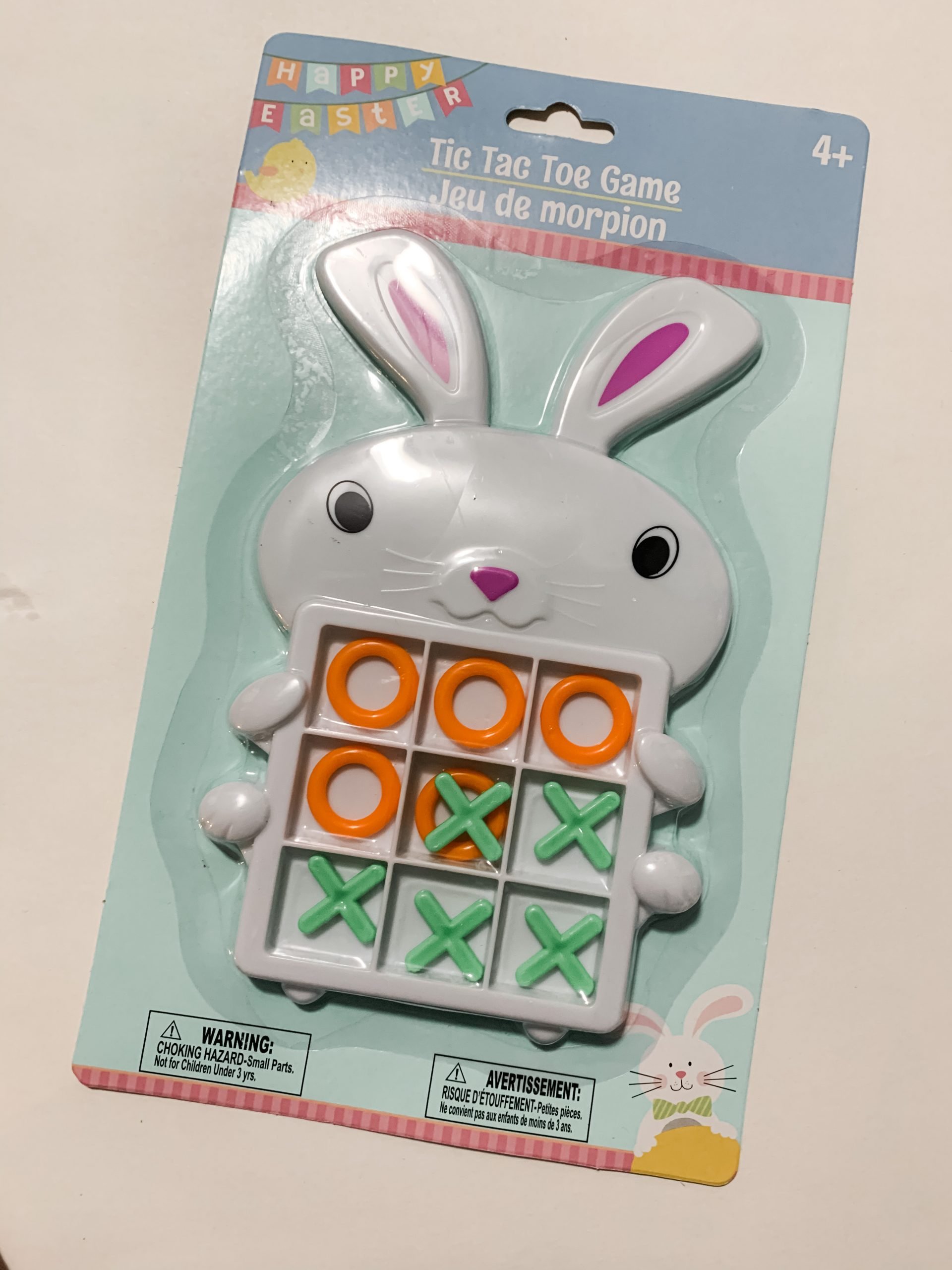 Add your white paint
Once your popsicle sticks have dried, it is time to add some white paint! I used Dixie Belle Fluff Chalk Paint, but you can use whichever white paint you prefer.
Use a chippy paintbrush to lightly apply a coat of white paint across the popsicle sticks and frame. Keeping a light hand will give you an effortless distressed finish!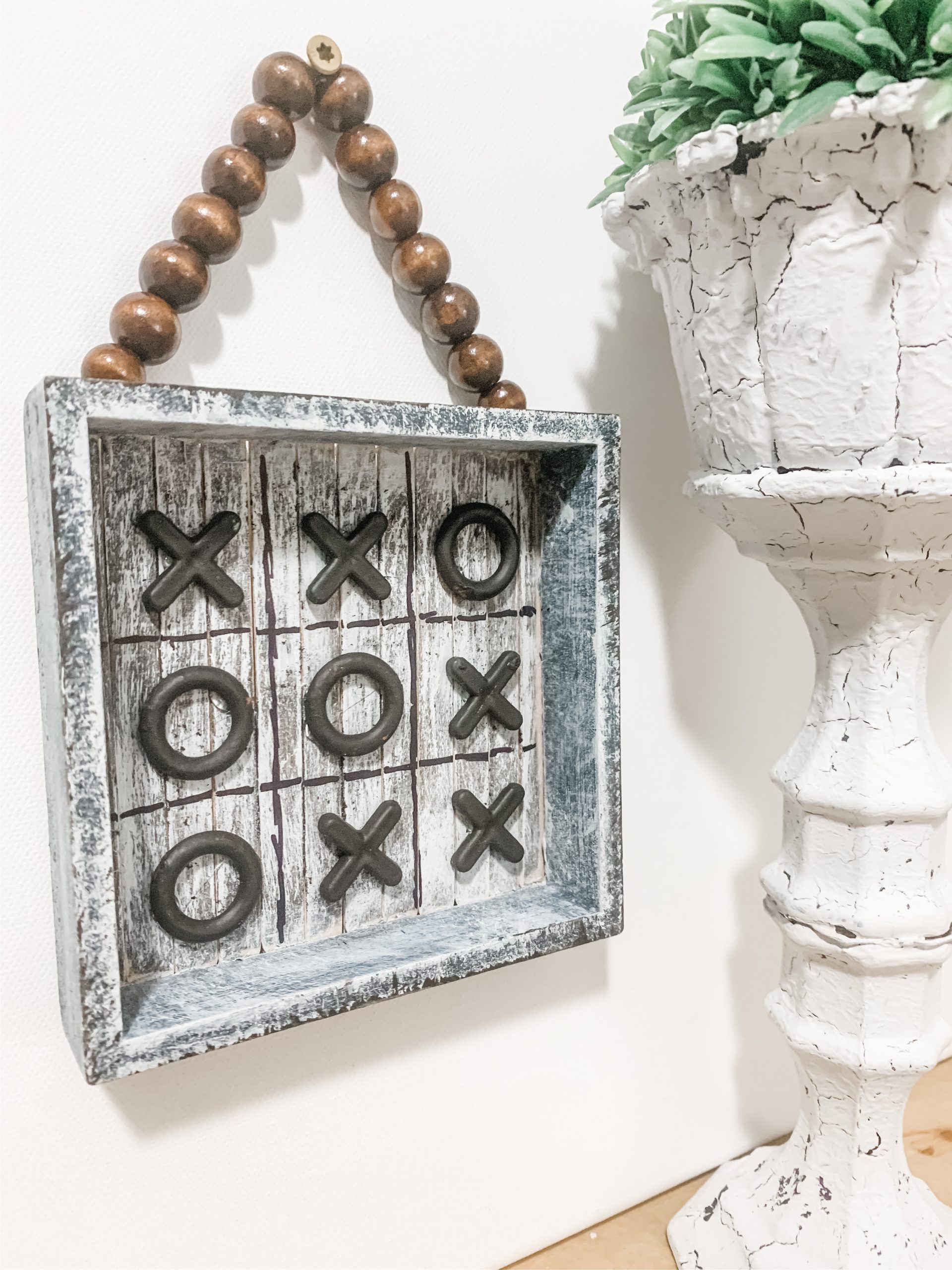 Make your hanger
To make my hanger, I used white jute twine and dark wood beads (found them at Michael's!). Thread the beads onto your jute twine until you're happy with the length of your hanger.
Secure the end beads by either tying a knot next to them or applying a bit of hot glue where you want them to sit and slide them over the glue.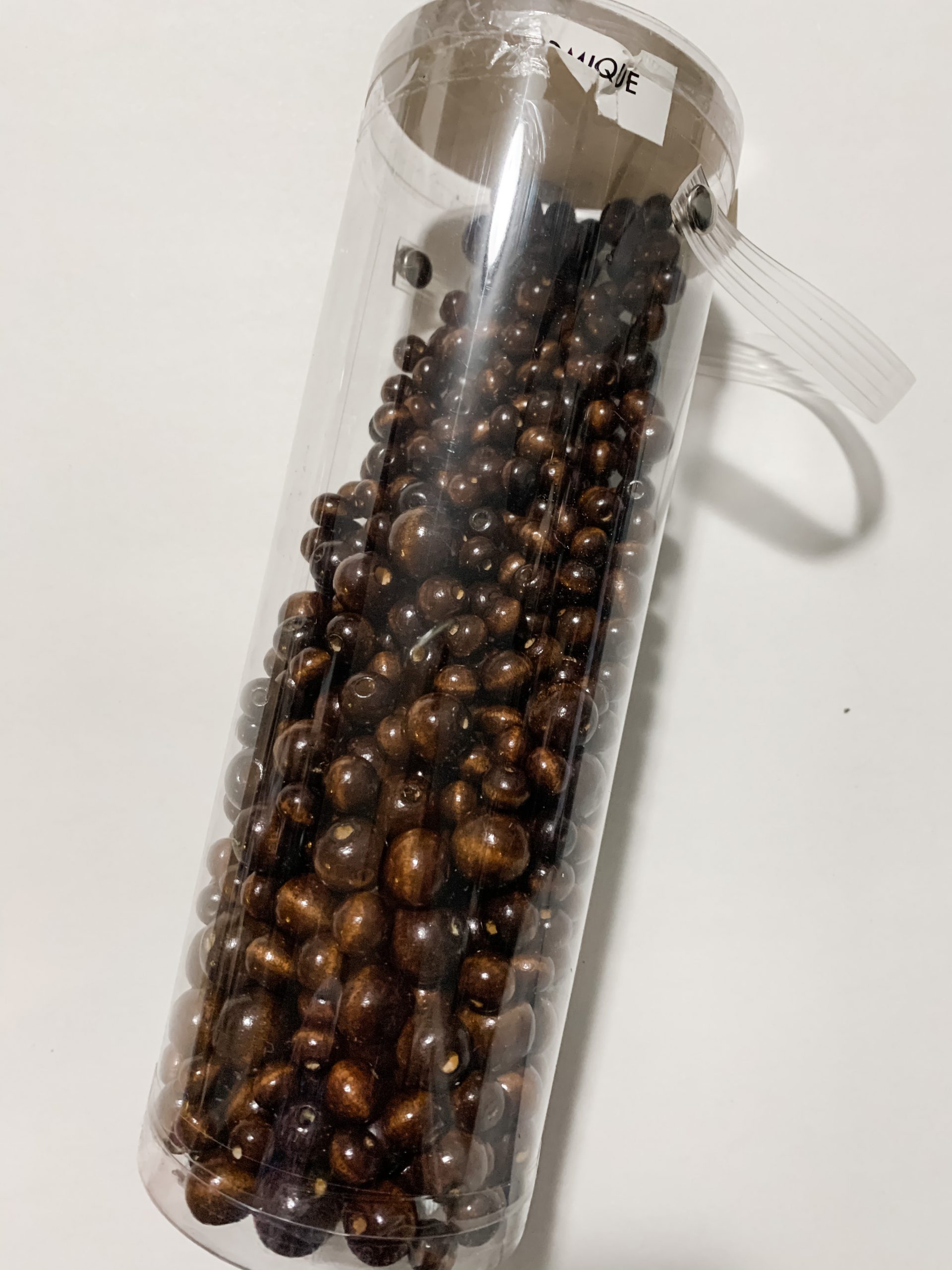 Tic-Tac-Toe
Next, I dry placed the X's and O's inside my Dollar Tree sign box and used a black Sharpie marker to draw the Tic-Tac-Tie lines. Then, I hot glued each of the X's and O's in place.
Finally, you have to attach your hanger. Simply hot glue the ends of the jute twine to the back of the popsicle sticks. You might want to have some finger protectors when you press the twine into the hot glue so you don't burn your fingers.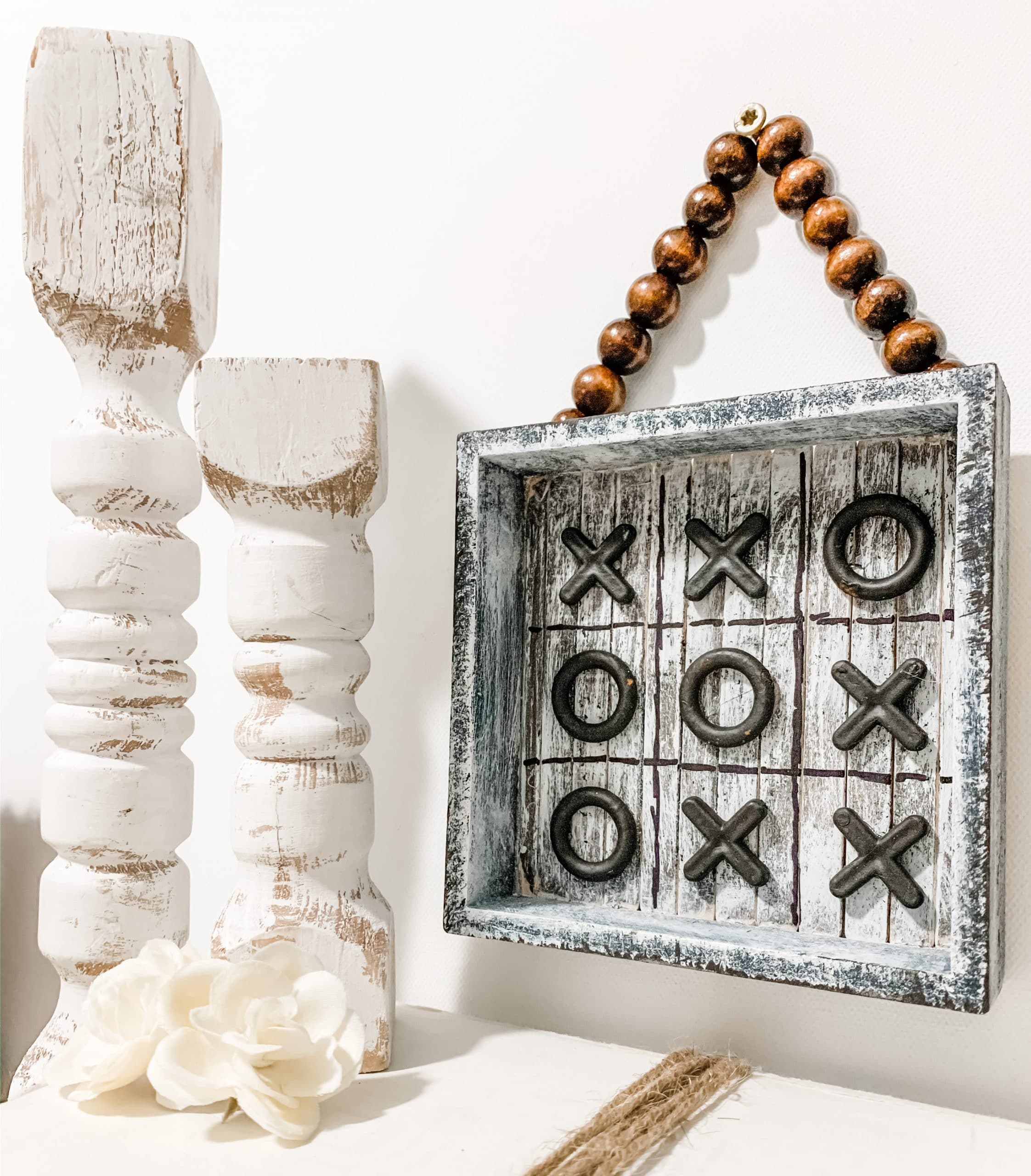 I hope you enjoyed this DIY Rustic Dollar Tree Tic-Tac-Toe Decor as much as I did and decide to make one for yourself! I would love to see how yours turns out!
You should totally join my FREE Facebook group called On A Budget Crafts! It is a judgment-free community for DIY crafters to show off their projects and ideas.
Thanks for stopping by! XOXO Amber
You can also shop my ENTIRE AMAZON Favorites shop just click here! It's packed full of all the things I use and love. Here is the supply list I highly recommend every creative have on hand!!
Would you also pin my blog for later and get on my newsletter alerts? I would love to have you join my #craftycrew.
Inspired? Leave me a comment below! I love hearing from my readers!

Join my free "ON A BUDGET CRAFTS" Facebook group!