It happened again! I had another brainy idea and I decided to make a series of Dollar Tree Canvas DIYs! Honestly, it was more of a challenge. Create 4 Fall Farmhouse DIY's really cheap.
If you didn't already know I make printable designs that you can make crafty home decor with.
They are all available in my shop, you can get the digital download bundle, individual downloads to print it yourself or you can order prints directly from me. That is a great option for many of my readers and followers who do not have a printer.
I am here for the challenge!
So, I challenged myself to use a $1 Dollar Tree Canvas and a few other minimal supplies and printables from one of my fall bundle packs.
I was so excited about the whole thing that I created a Youtube video around the idea. I was absolutely blown away at the response.
Let's just say the sales for this Fall bundle have been crazy amazing! You can get the bundle too right here at this link.
You can also watch the full FALL PRINTABLE DIY TUTORIAL VIDEO on Youtube!
4 Fall Farmhouse DIY's using Dollar Tree Canvases
You can see the mockups in the photos and obviously you can use these in many ways. Seriously, the possibilities are endless!
And the coolest part is if you do purchase my digital downloads you can scale the sizes on your printer to print out full size or smaller size. You can find that stuff in your advanced printer settings when you go to print.
Let's start with the first one I made!
"As an Amazon Associate, I earn from qualifying purchases."
For this one, I used the Buffalo Check Truck Farmhouse Printable. it was scaled to print at 55% (I use an Epson 2720 printer) I used a Dollar Tree Canvas, I cut out the printable, glued it directly to the canvas with Modpodge. Next, I framed the printable with half-round wood beads.
I decided to make this one look like a scroll, so I added 2 paint sticks that I stained brown with paint and water. I glued those with my glue gun to the top parts of the frame.
You will want to finish it off with a basic twine hanger. It was absolutely so quick and easy and it looks so expensive.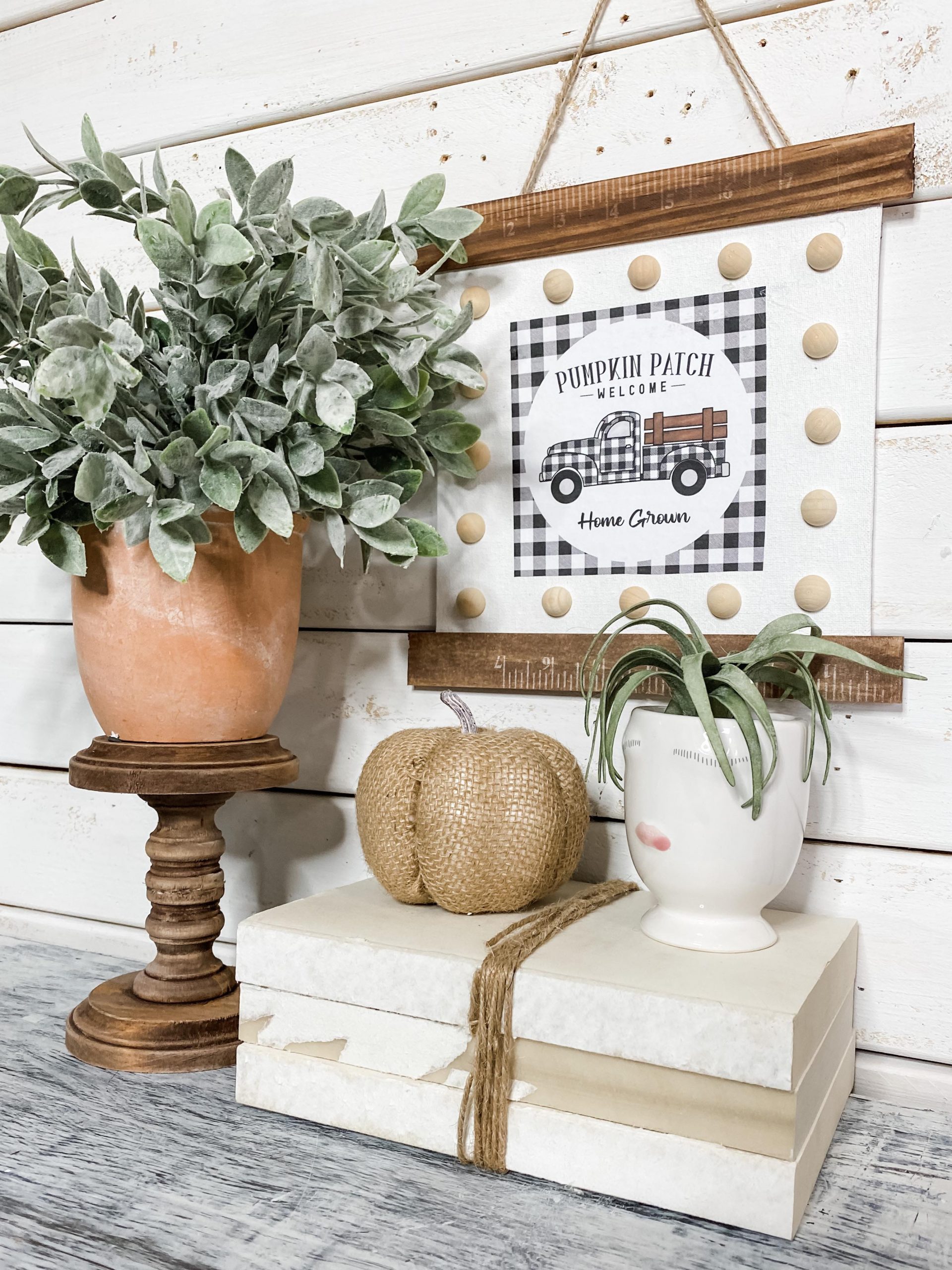 Are you a red truck lover?
The next one I made, is this super cute Red Truck Printable with a buffalo plaid framed background.
I love the red truck and the watercolor pumpkin printable. The entire look of this DIY Home Decor is just perfect.
For this one I used a Dollar Tree stretched canvas, the Red Truck Printable, mod podge, Dollar Tree boho farmhouse ribbon (yes, that is Dollar Tree Ribbon) I also used hot glue to apply the ribbon. Super simple DIY that cost me just $2 to make!

For the next of the 4 Fall Farmhouse DIY's, I used the Yellow Farmhouse Truck with Pumpkins Printable. This one features the word Thankful across the top with buffalo check in the background.
To make this super cute Fall Farmhouse DIY you will need a flat Dollar Tree canvas, my Farmhouse Truck with pumpkins printable, or one of my free printables you can find here.
You will need wood beads, paint, and twine. I cut out my printable to fit the canvas size. Next, I put the beads in a bowl and added paint, and just swirled the beads around to get this marbled look.
Lastly, I added them to the twine and then glued the bead hanger to the backside. This DIY cost around $4 to make, and it was super fun.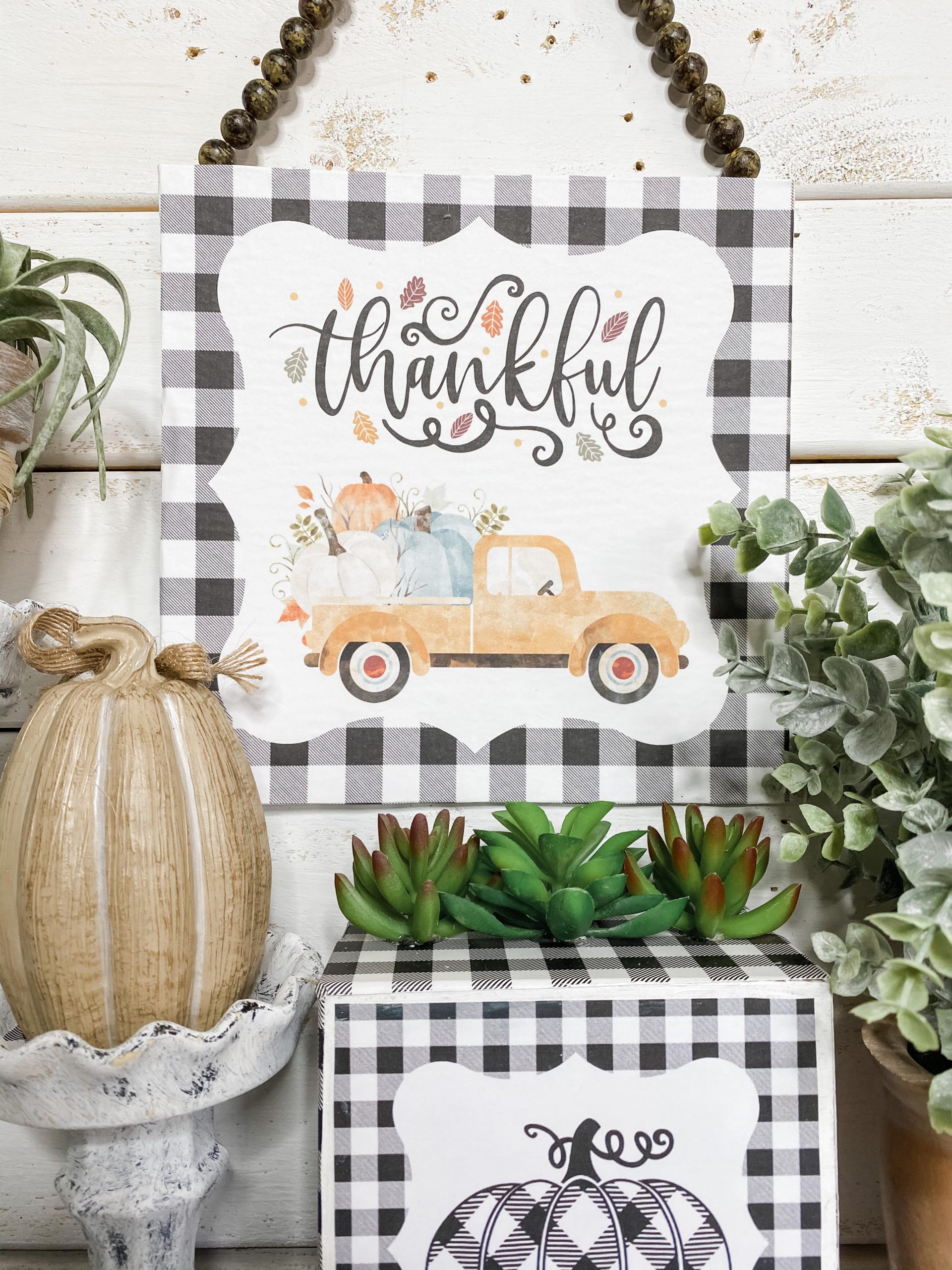 Last but not least!
The final Fall Farmhouse DIY will feature this super cute You are pumpkin to my spice printable. You had to know I was going to throw in a messy bow at some point.
This one happens to feature my signature Raffia-filled Easy Messy Bow. Don't forget the video includes the messy bow tutorial with step-by-step instructions.
You can also check out this LAYERED Messy Bow Tutorial here. One question I always get asked is "how to make a messy bow" and the answer is right here.
Let's begin, I started with a Dollar Tree flat canvas, I scaled the Pumpkin to my spice printable to about 55 percent before I printed it out.
I applied it with mod podge and then I mixed up some paint in the color brown, a pumpkin color, and I dry brushed the colors around the edges and on the canvas to give a weathered look.
Now for the MESSY BOW
I used orange burlap and brown burlap both from Dollar Tree, I also used fall ribbon from Dollar Tree! Lastly, I added in some white twine and lots and lots of raffia!
To make this bow you want to just be very messy and have no pattern. You will start with the burlap ribbon first as your base, and then start stacking in a random X pattern. (you can always check this layered messy bow tutorial as well)
Once you stack all the pieces of fabric/ribbon and the raffia to make the messy bow you will tie it all together with a zip tie.
I did not cut my zip tie, I glued it to the back of the canvas for added support. Lastly, I added a braided twine hanger to this Fall Farmhouse DIY. Tell me that it did not turn out just adorable!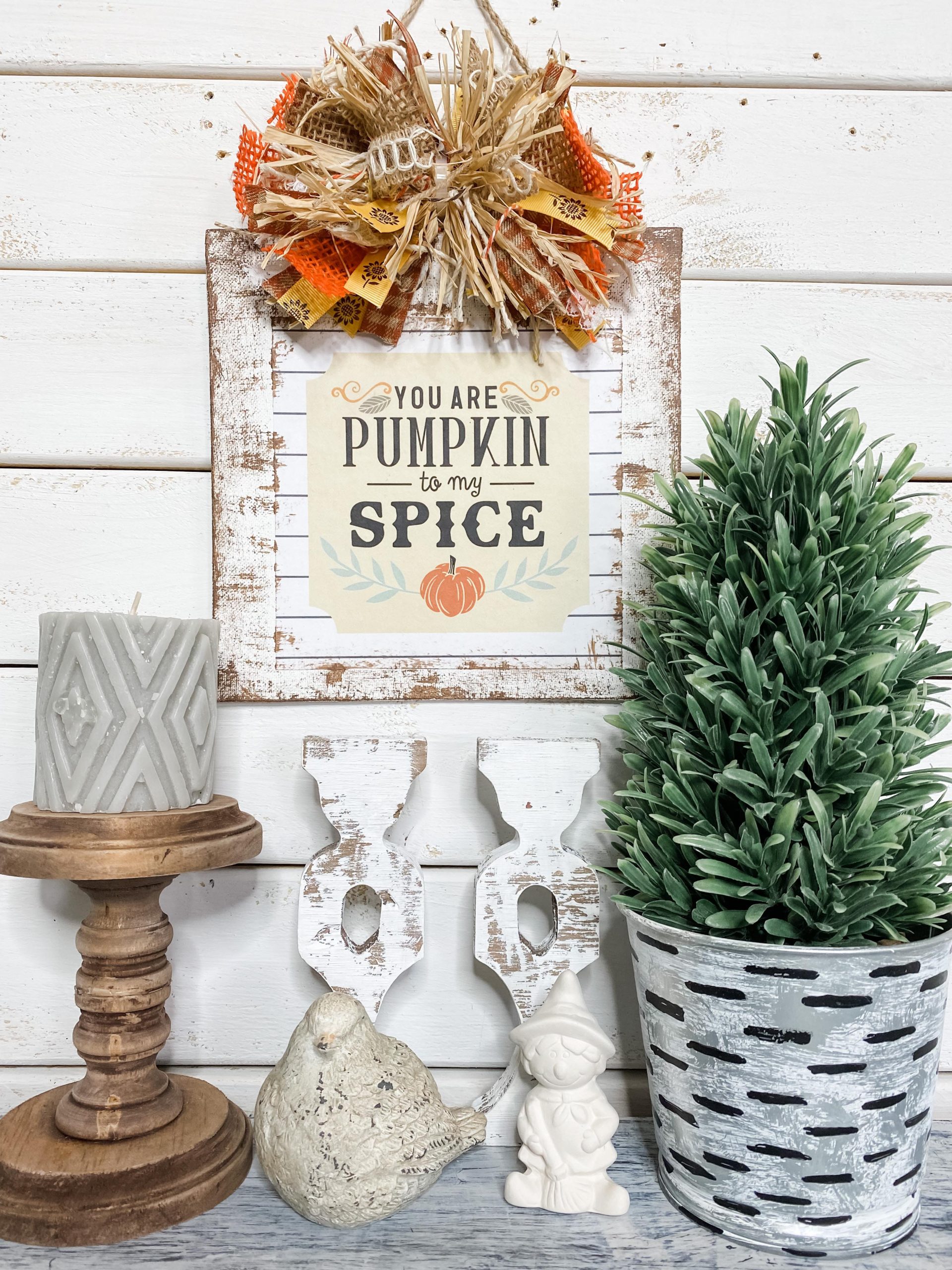 Here is the list of supplies (collectively): "As an Amazon Associate, I earn from qualifying purchases."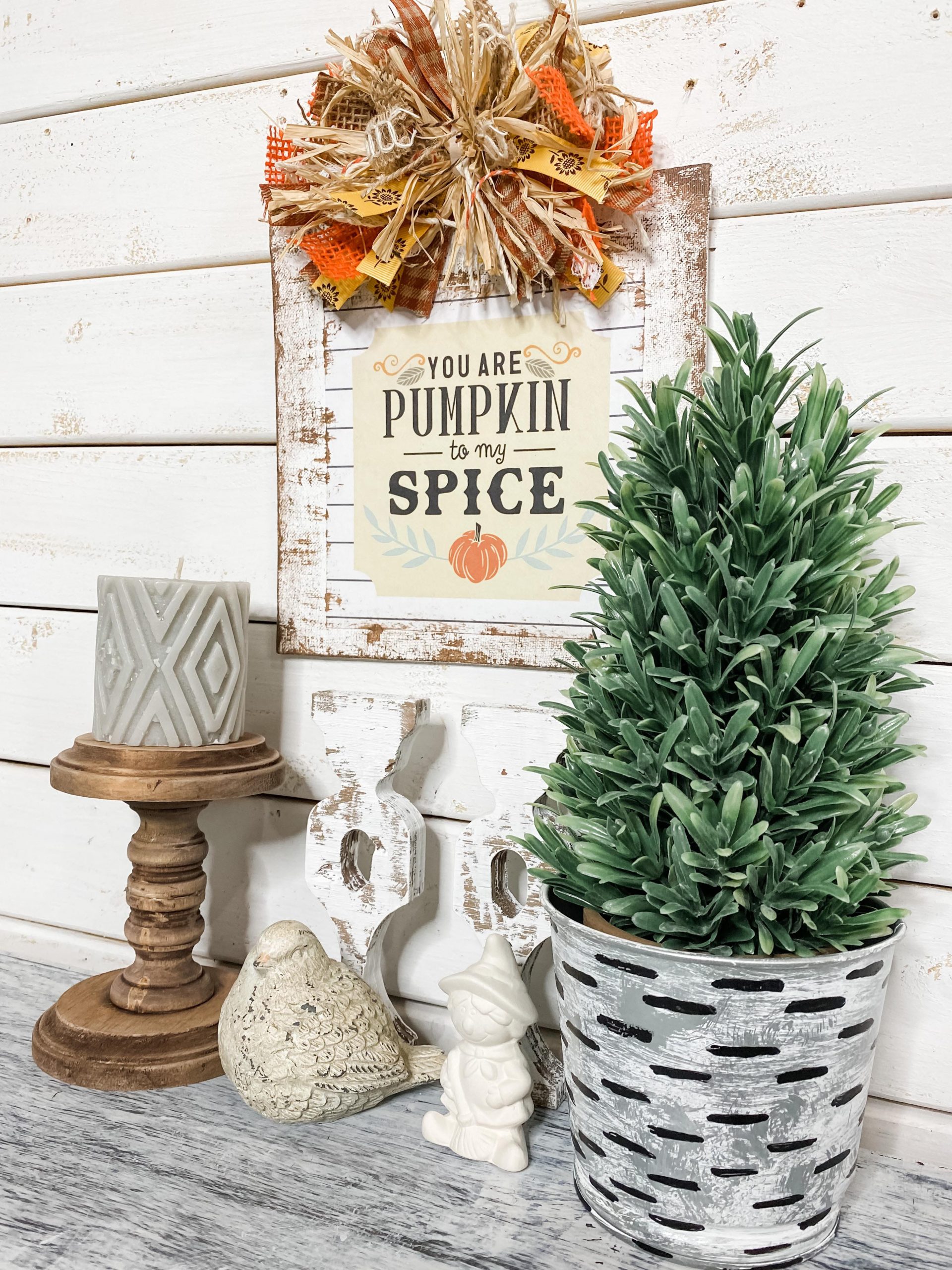 I hope you have enjoyed these easy DIYs!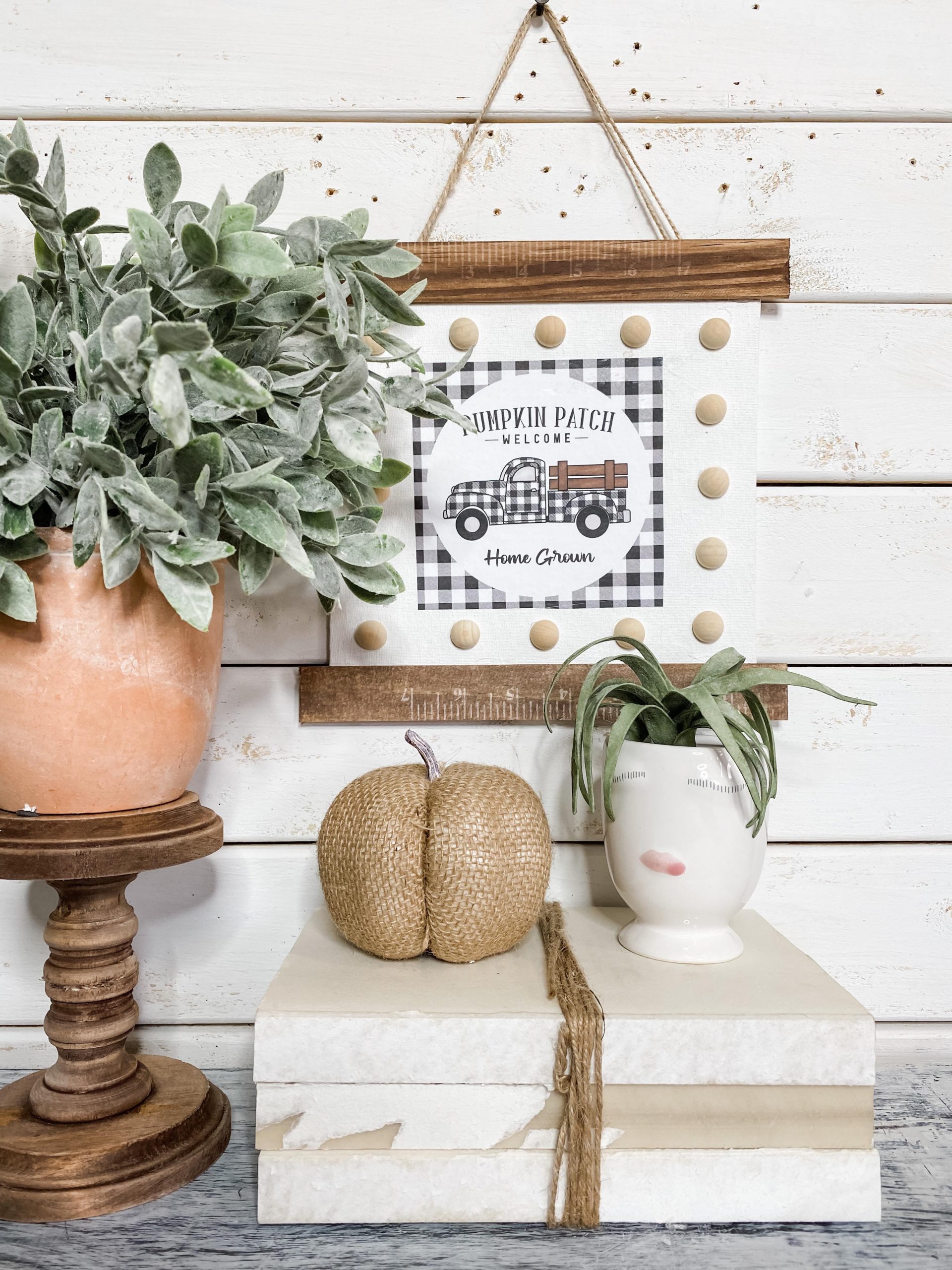 You can find all of my printables over in my SHOP. You can purchase the digital downloads or purchase printed copies that I will mail right to your home.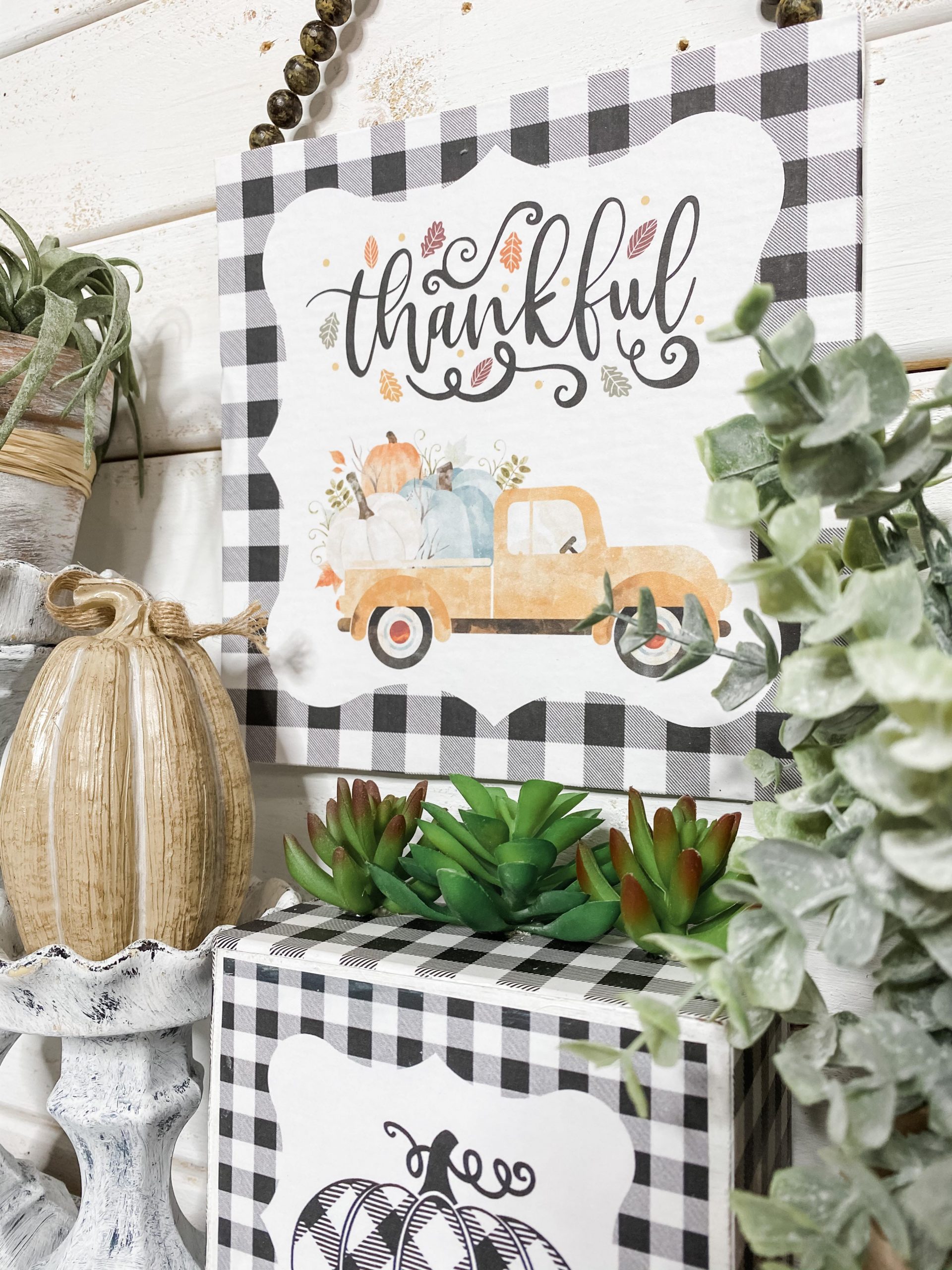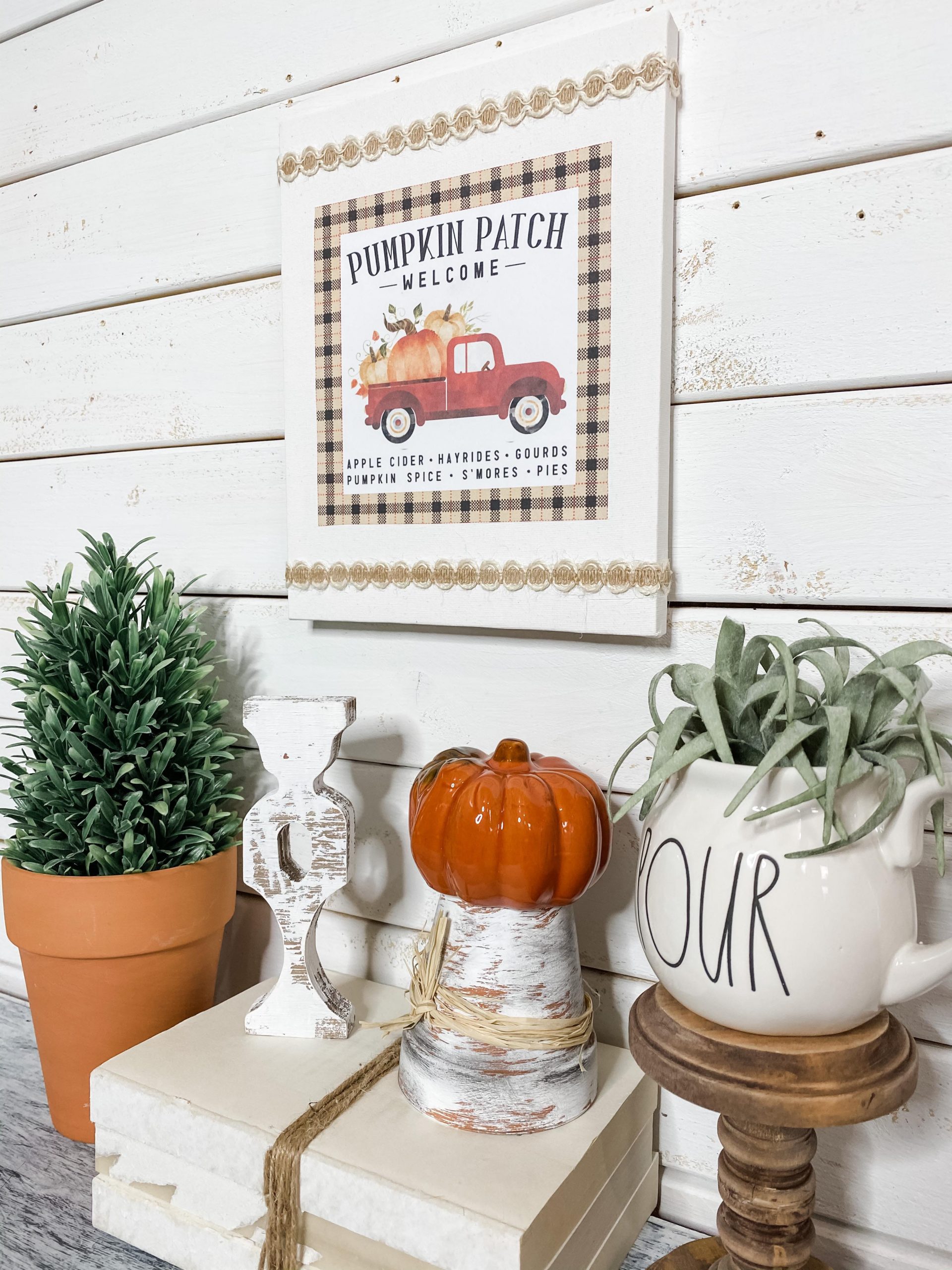 I hope you loved these super fun and easy fall home decor printables and DIYs!
Thanks for stopping by! XOXO Amber
You can also shop my ENTIRE AMAZON Favorites shop just click here! It's packed full of all the things I use and love.
Here is the supply list I highly recommend every creative has on hand!! Would you also pin my blog for later and get on my newsletter alerts? I would love to have you join my #craftycrew.
("As an Amazon Associate I earn from qualifying purchases.")

Join my free "ON A BUDGET CRAFTS" Facebook group!
PIN THIS POST FOR LATER!