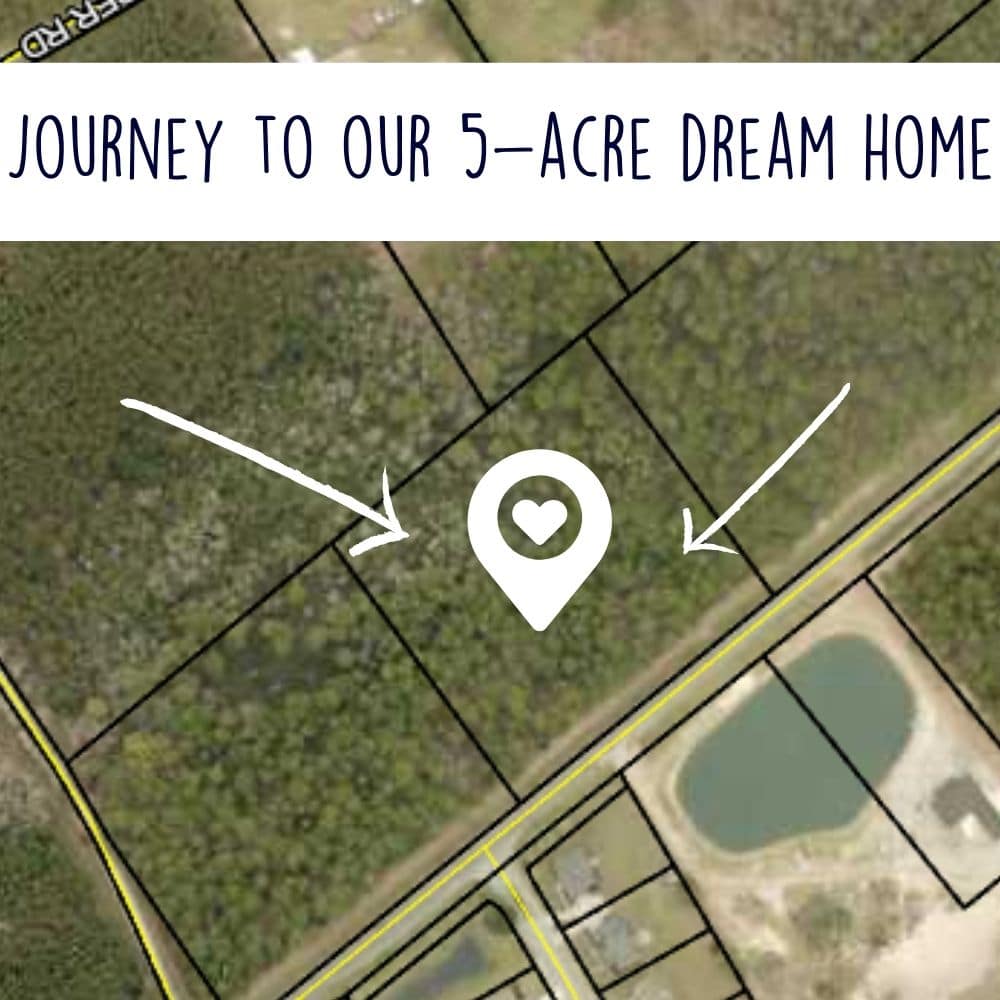 OMG, We're building a home! See that photo below! That is 5 full acres of land, well at least it is the driveway that enters the 5 acres! Nevertheless, we are thrilled the be the proud landowners!
It has been 6 years since we built and purchased our current home but we're building a home again. YES, We are on a journey now to build and purchase a new home! It has been quite an amazing 6 years in our current home but we have just outgrown it! We are limited in the land space and our home space too! I am sure you can relate to that!
We are just out of room!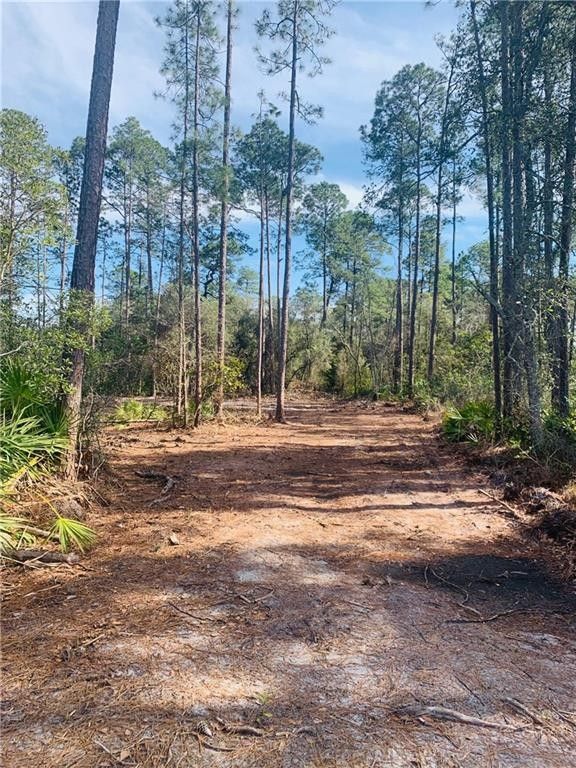 For Press, Partnerships, and Product Submissions head to the newsroom!
Journey to our 5-acre dream home
So, after talking with my husband and going over some things, we came to the conclusion that we want out of the town and into the country! We also want to get our first plot of land that isnt in a neighborhood!! We currently have .55 acres which is still a good bit but there are wetlands we will not be able to expand to.
So, now the journey begins! We are building our 4th home!
Looking back at our current home!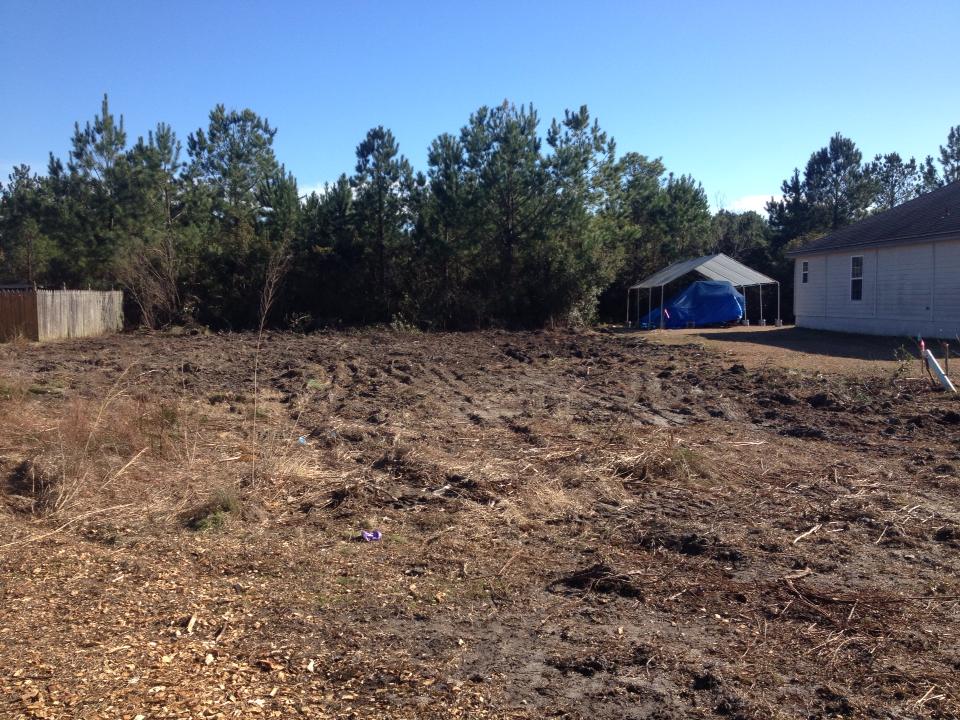 The photo you see above is the .55 acres where our current house sits! Lots of mature pretty trees and I love where our home is currently but we can't go any further back! Which was fine 6 years ago! But we need more land now!
This is where the foundation went, looks like there isn't much of a back yard but there really is a nice size backyard. Promise!
Our re-start starter home!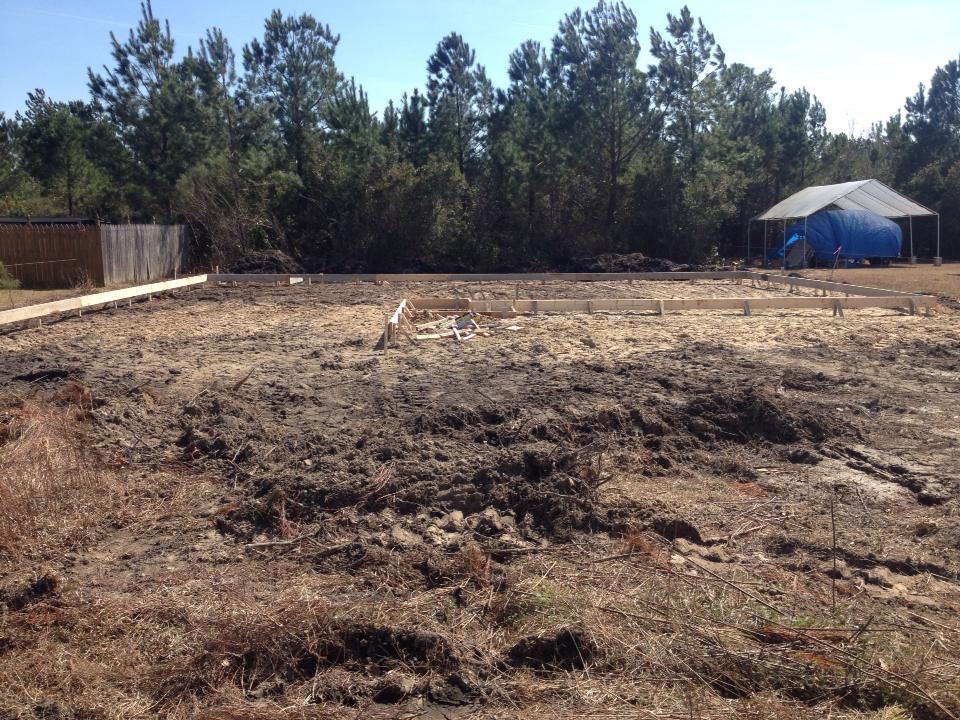 I suppose one day I will write up something about the home we are currently in, so many memories and projects that took place in the house! But for now, let me show you the outside of our current home on the little over a half-acre lot we have now. It was built by Scott Martin of C.S. Martin locally in Rincon, GA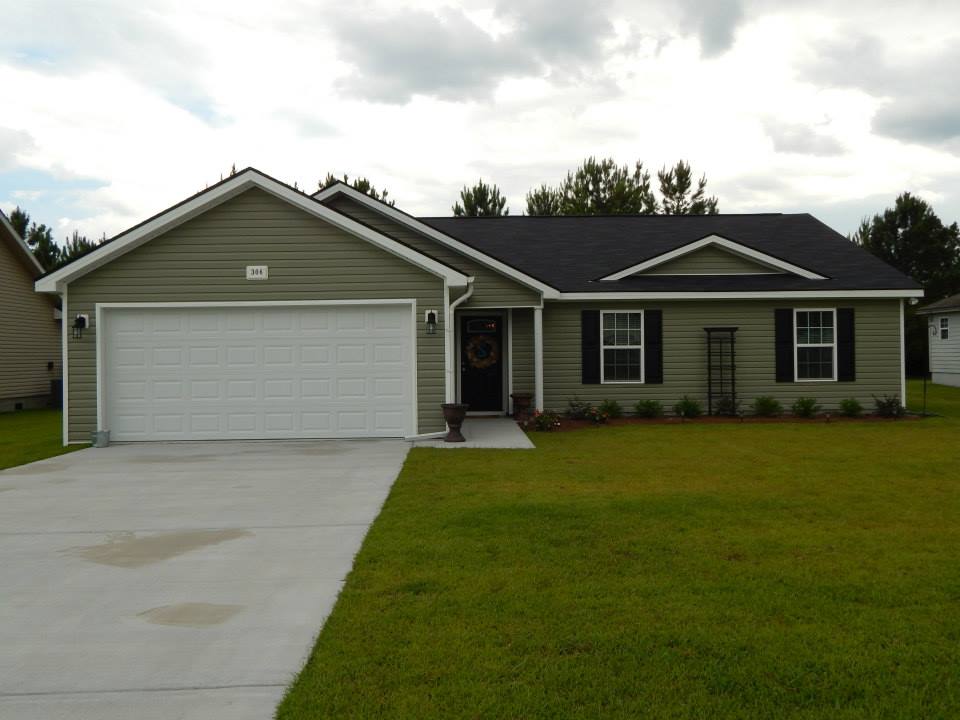 It is a 4 bedroom 2 bath home! Honestly, It might not be over the top from the road but it is simple, yet grand inside! It has been our perfect home for 6 years! But now it is time to let it be someone else's, perfect home and a good starter home for a young family!
The new home journey hopefully begins soon!
We're building a home, I cannot believe we are doing it again! I know you can tell I am so READY! The best part is I GET TO DESIGN MY OWN DREAM HOME this time! Right! So exciting!
Here is the rough draft floor plan that I drew out. I did love the Frank Betz Hickory Flat floor plan but I wanted to change some things! I am not very good at drawing things like this so keep that in mind.
After looking through tons of floor plans on the Architectural Designs House plans website we ended up modifying a totally different floor plan, however, the Hickory Flat Floor plan is what inspired me to create our own custom floor plan from scratch!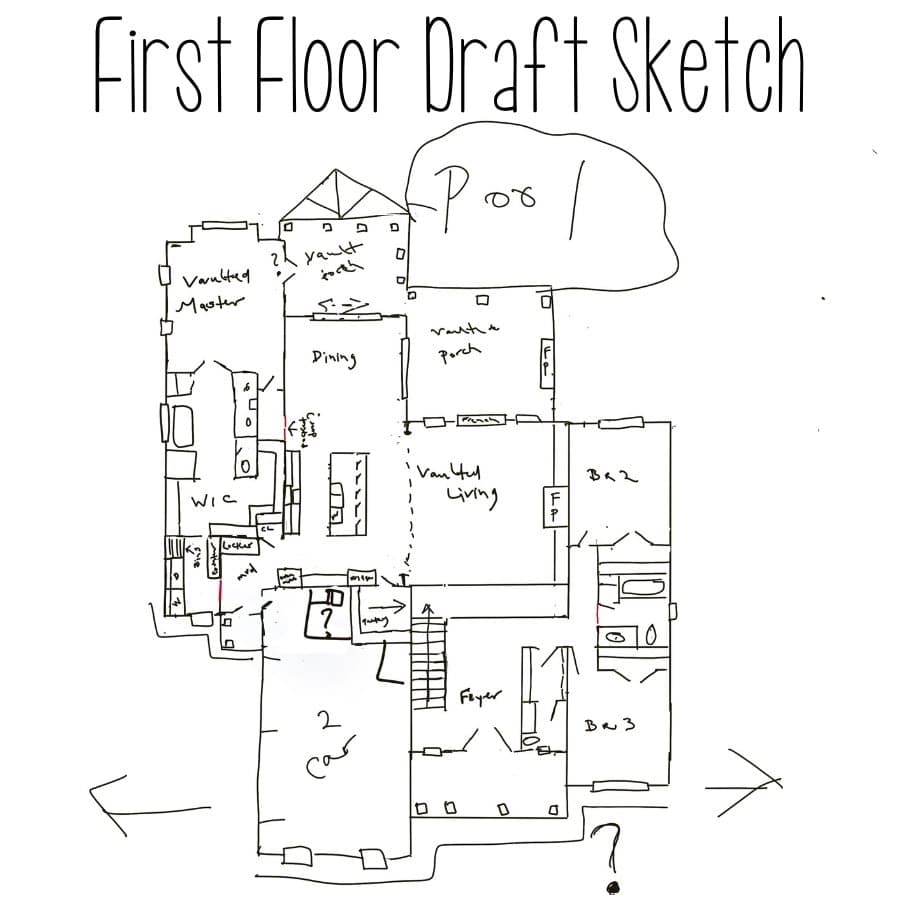 My Dream home adventure
Like I said the original home plan we did love on the inside is by Frank Betz you can see that plan on their site it is called The Hickory Flat floor plan! I just had to make some changes to make it fit what I needed my dream home to have. As soon as I get the final House plan back from our architect, I will certainly share what we settled on in the end. (Update: THE Final House plans are done and on the blog)
We have no idea just yet on the exterior details but, I did send over some inspiration photos so that the architect can use them to draft an exterior elevation for us. By the way, did I mention we're building a home! I can not even believe it!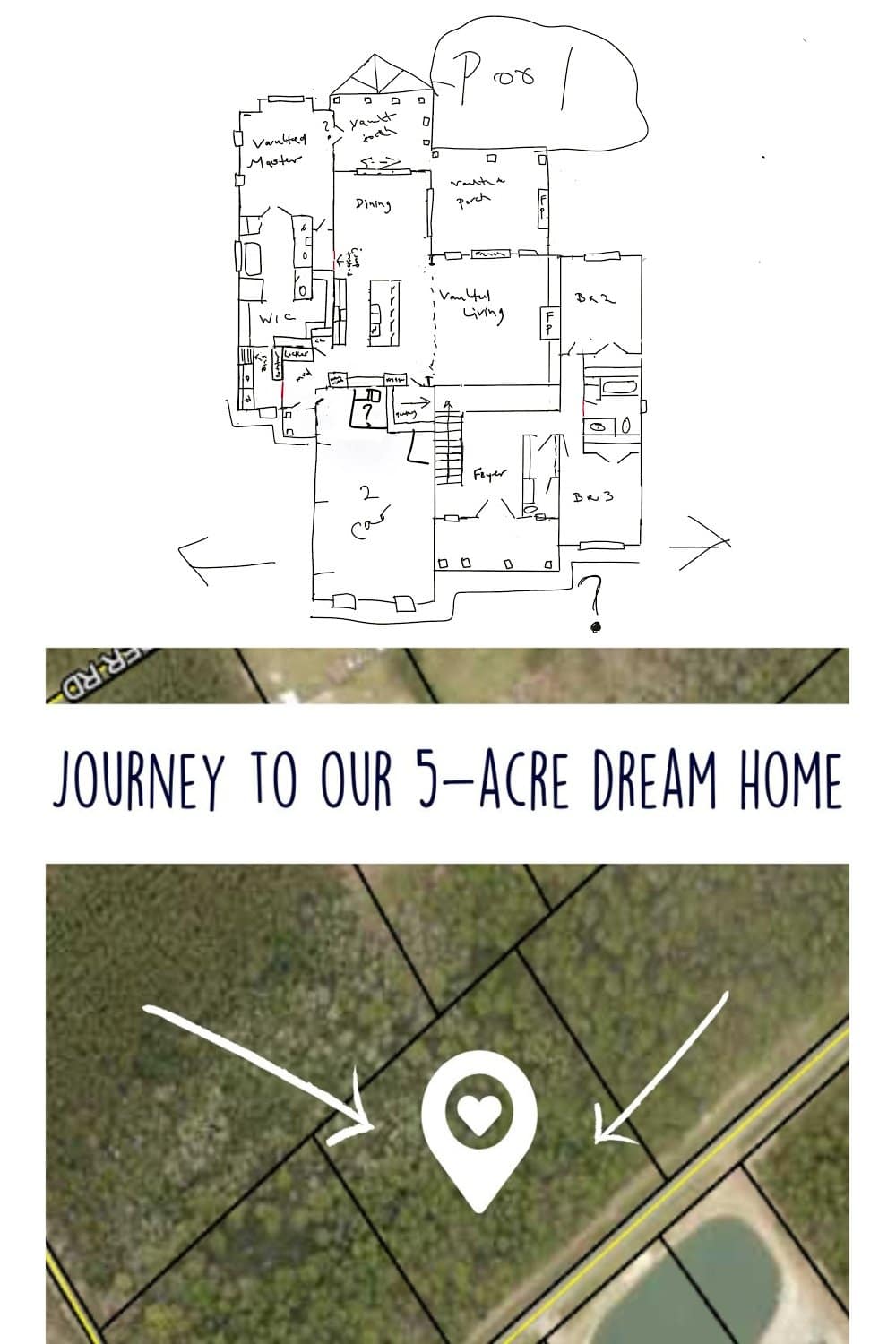 Take a look at the grand living space!
You know, I did love so many of the features of the inside of the Hickory Flat plan like the shiplap! I know some say it will go out of style and I should just do drywall but until it does go out of style I am going to go with what I love. Well, I am adding shiplap and wood beams too! And most likely other wood accents.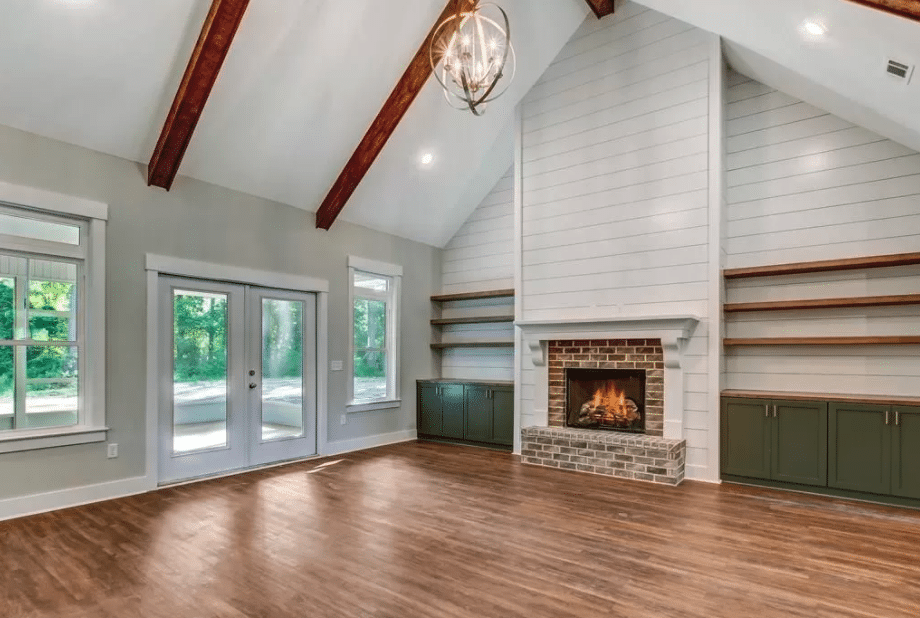 Here is another version of the same Hickory Flat plan but from a different builder.
Follow my blog and socials!
Please be sure to join my email list and follow my blog, as well as my social media pages because I will be taking every one of you on the journey with me!
I will share more about this home journey along the way, I just wanted to show you how amazing this whole thing is and how excited I am. You can follow all the house building updates on my blog.
By the way, we still have to start the process to reno our current home! Things like paint, new carpet, and bathroom redos are on the to-do list! It's going to be an exciting season for me and my family for sure!
Here is the 2nd-floor draft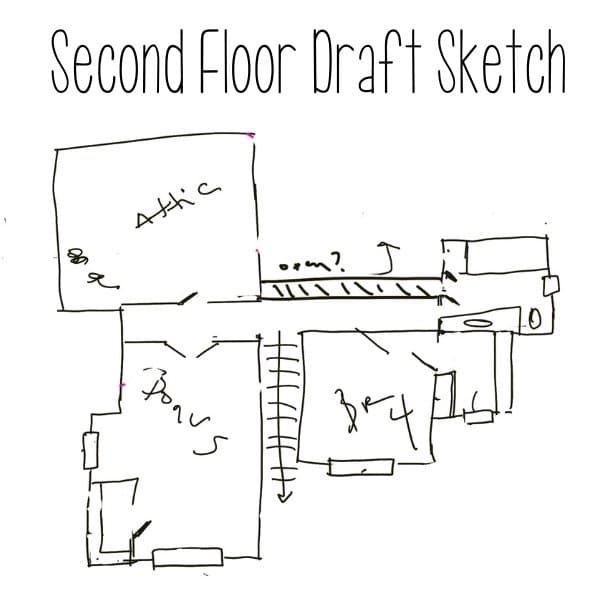 Our Amazing Builder!
I am beyond excited to share that Alex Long, the owner of Lawrence Alexander Homes and Renovation Doctors will be our Custom home builder for this huge project! And I can not even begin to tell you just how amazing Alex has been! Not to mention our realtor Sarah McCoy has been hands down one of the best realtors we have ever had the pleasure of working with! I am sure you will hear more about them both soon!

Come on the journey with us!
We are just waiting on a few things like the final floor plan and elevation, the survey, soil test, and then I believe we should be closing on on our construction loan very soon! If you have ever gone through this process then you know that the excitement is super high and sometimes things take quick turns!
We are on the road to a new home regardless but I had to share the process! It can be timely and at times super exciting and stressful too! Especially when it comes to the financing a home part! Don't get me started on that lol!
Our 5-acre lot!
As you can see the photo is blurry but it is the best I can do at the moment! The pin drop with the heart is ideally where the house will end up going. Back in the trees. Don't worry, we are planning to thin out the timber so we will still be able to see the road, and the house will be so pretty sitting off in the distance. In the quiet town of Guyton, Georgia!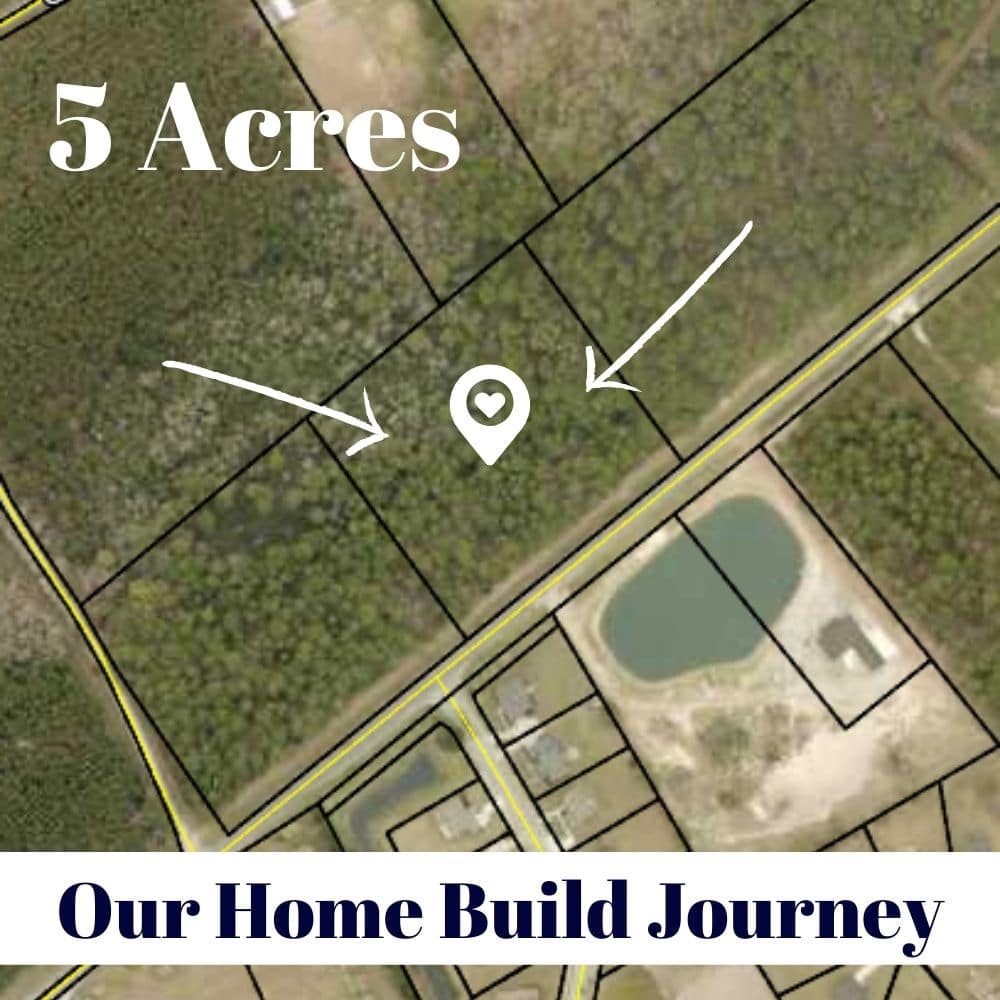 Beautiful Bathroom and Shiplap walls! Yes, please!
How about a few more photos for you to look at! I hope you are here for the journey! You know, I will do my very best to fill this home with all my budget-friendly DIY decor for years to come I just know it! I might even add a brand new element to the blog that is all things home living! OK, that will be so much fun! DIY and Home living! PERFECT DUO!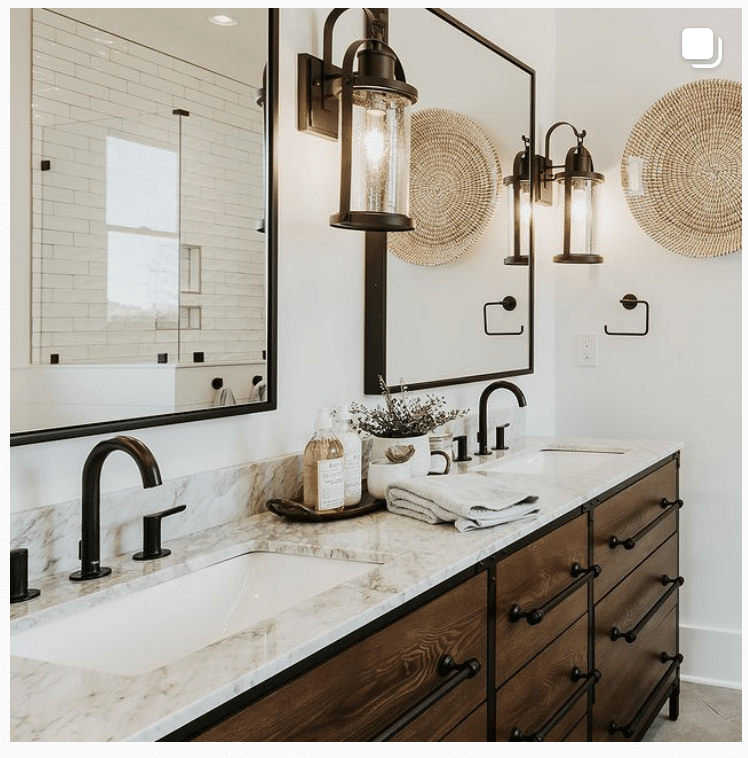 We're building a home – TWO porches! oh my!
Thank you for popping in on this blog today and I hope you found some inspiration while you were here! I will certainly share updates along the way, be sure to hop on the email list to stay in the loop, and check out my other blog posts too!
To see all the updates on our home build journey you can visit a special area on my blog, just click the image below to see all the home build post updates!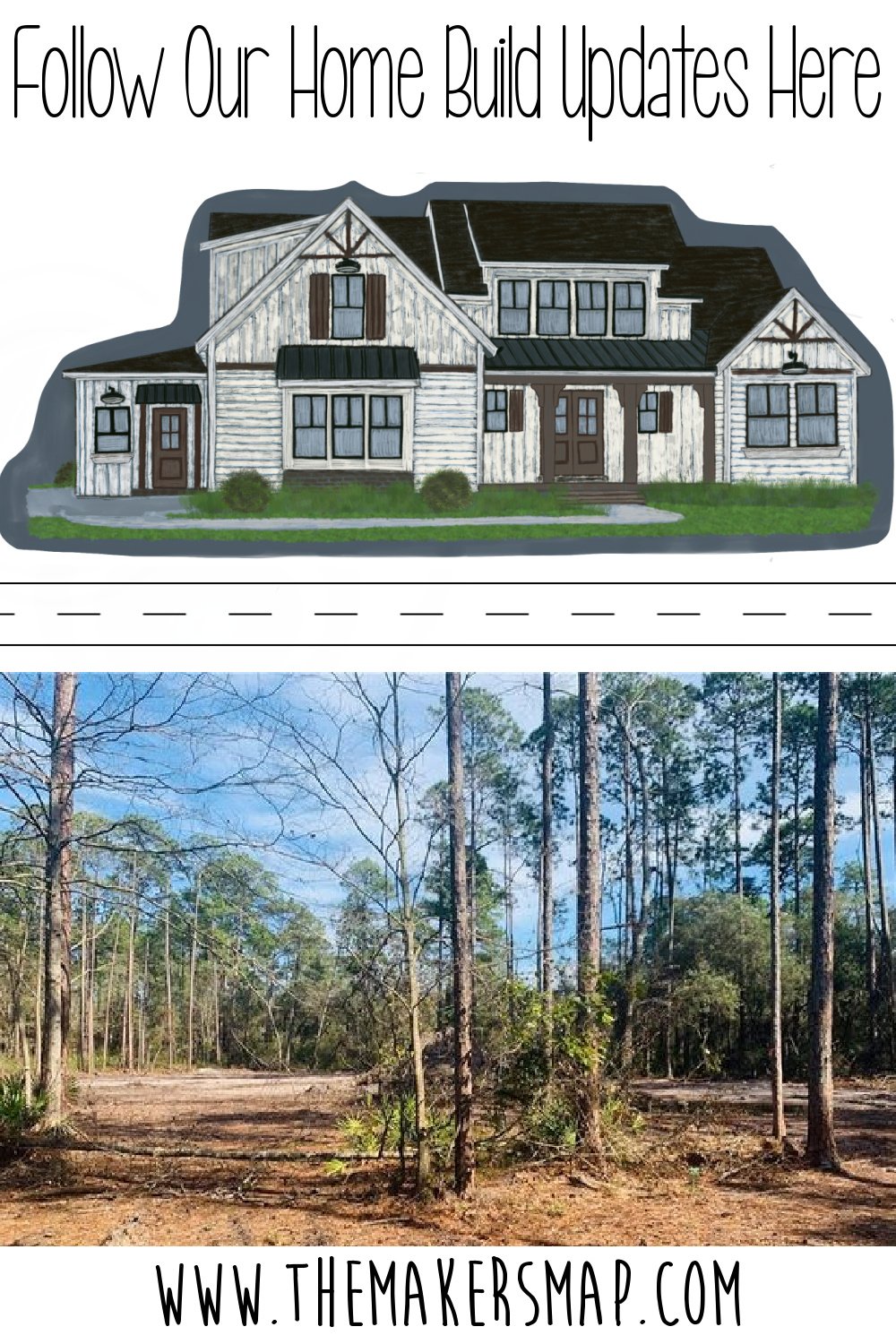 PRESS and Brands:
If you are a media or press publication and are interested in featuring this ENTIRE process from start to finish please reach out asap via email or our press newsroom. If you are a brand interested in a partnership we are eager to work with you and showcase your amazing products! Just go here for all the juicy details.
Would you also pin my blog for later and get on my newsletter alerts? I would love to have you join my #craftycrew.
The photos you see in this post are owned by Amber Strong, JCH Homebuilders, SMLC, and/or Frank Betz! Full credit is given to them!
Thanks for stopping by! XOXO Amber
You can also shop my ENTIRE AMAZON Favorites shop just click here! It's packed full of all the things I use and love. Here is the supply list I highly recommend every creative have on hand!!
Inspired? Leave me a comment below! I love hearing from my readers!

Join my free "ON A BUDGET CRAFTS" Facebook group!