10 Easy 4th of July DIY Decorations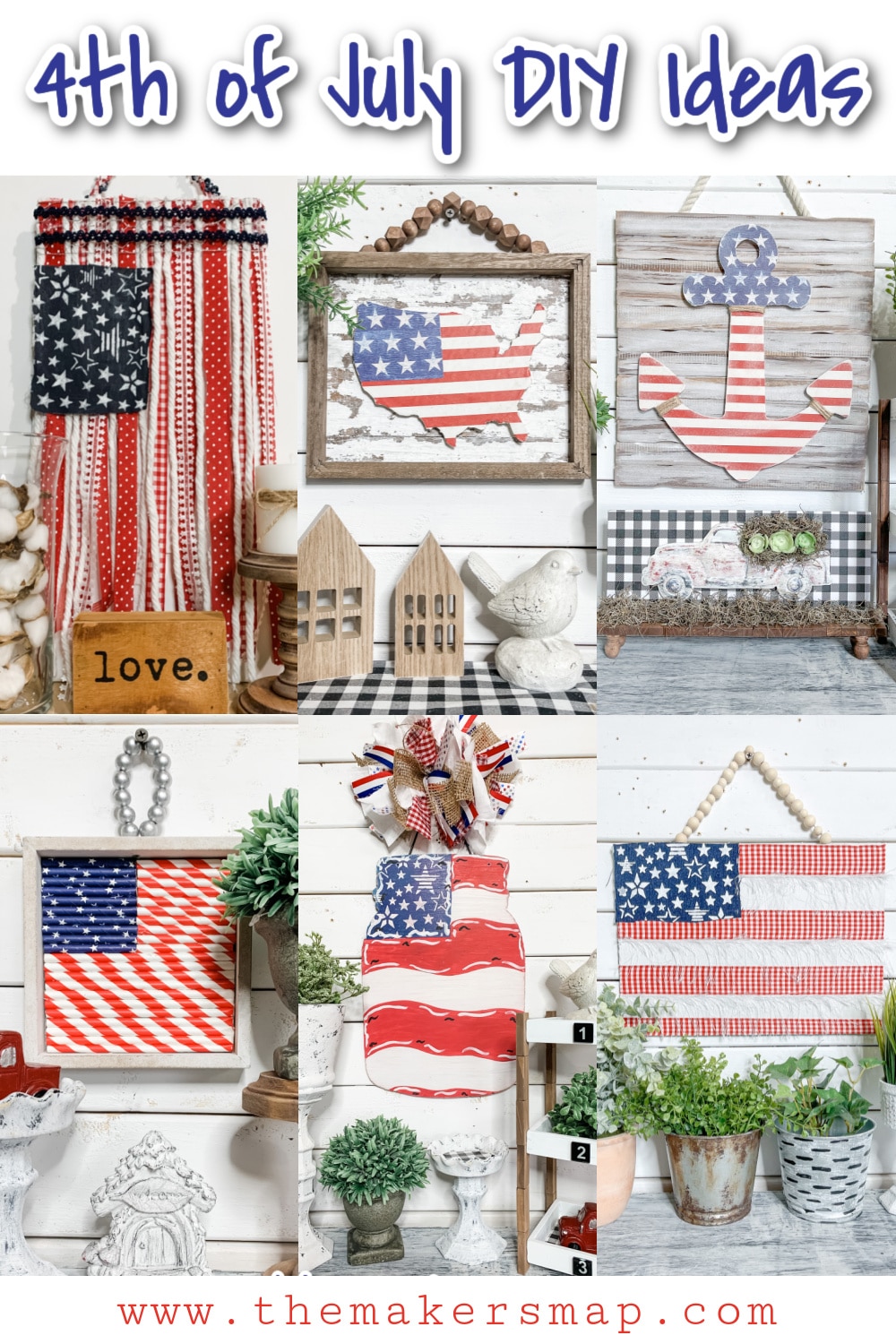 You can't go wrong with a good patriotic American DIY project, so I've put together 10 Easy 4th of July DIY Decorations that I think you're going to love!
I've personally made each of these amazing patriotic DIY decor ideas, and I can promise you, these are easy enough for even beginner crafters to put together.
I've been in the DIY world for a little while now, and I love finding new ways to inspire others to have a home that is beautifully decorated without breaking their bank.
That's why a lot of the projects that I make are made of mostly Dollar Tree items. You can take cheap items from stores like Dollar Tree and turn them into amazing high-end-looking DIY home decor!
With everything that has happened in the world since COVID, a lot of people are on very tight budgets, and I get that. But, being on a tight budget doesn't mean you have to dislike your home or space!
There is no reason that ANYONE should have to spend crazy amounts at big home decor stores to get amazing and beautiful home decor.
You can take (almost) any piece of decor from the big name stores like Hobby Lobby and Michael's and use it to inspire your own DIY home decor, just like I do!
I hope you really enjoy these 10 Easy 4th of July DIY Decorations as much as I do, and use them to inspire you to create a decorated space that you LOVE to come home to!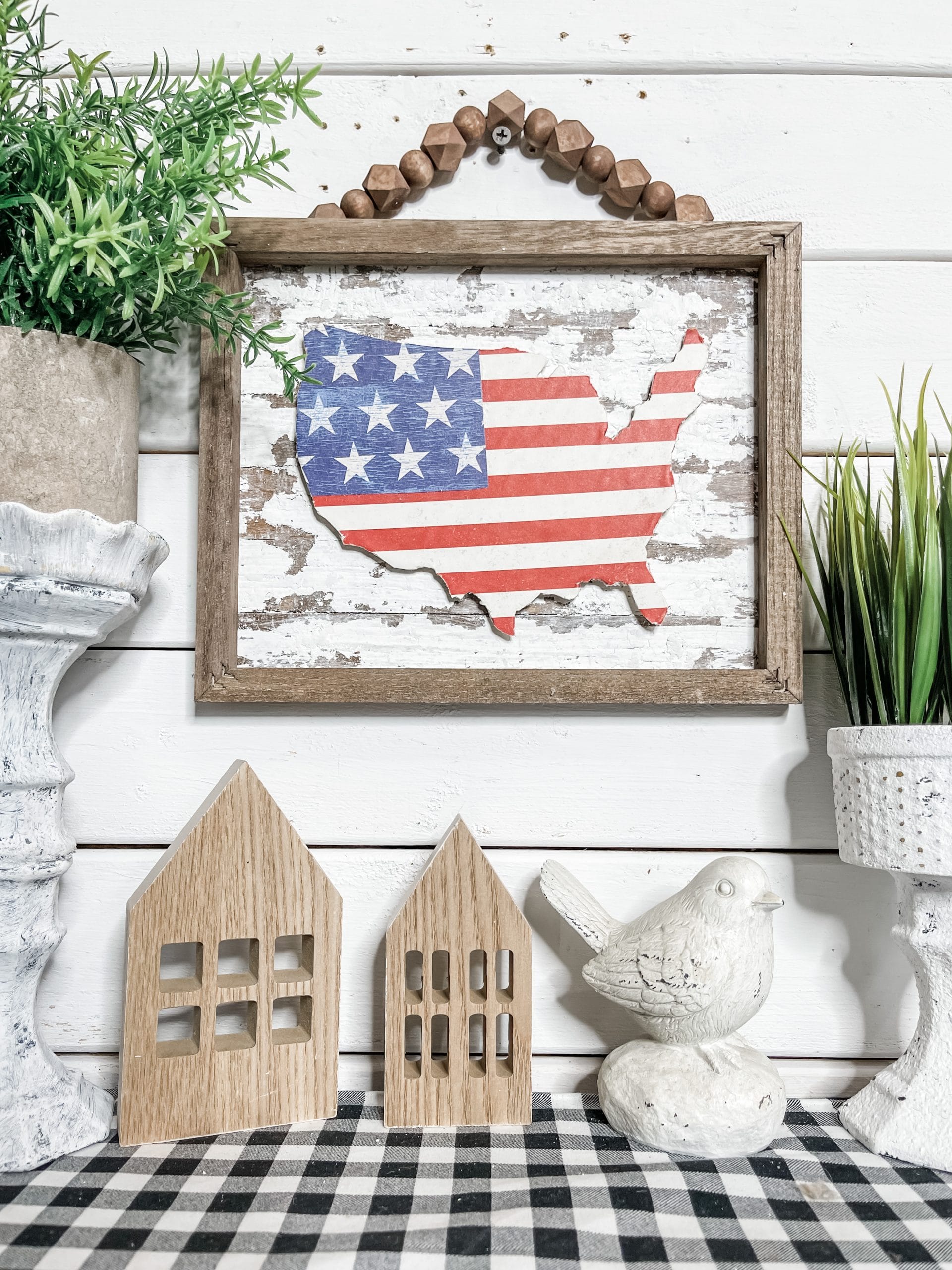 This chippy reverse canvas DIY project is perfect for your 4th of July decorations! It is a simple DIY project that makes a big statement!
Made with several Dollar Tree supplies, this is a very affordable DIY decor idea perfect for a crafter on a budget. I love the chippy finish on this project, and I walk you through, step-by-step, on how to get the perfect chippy finish on wood!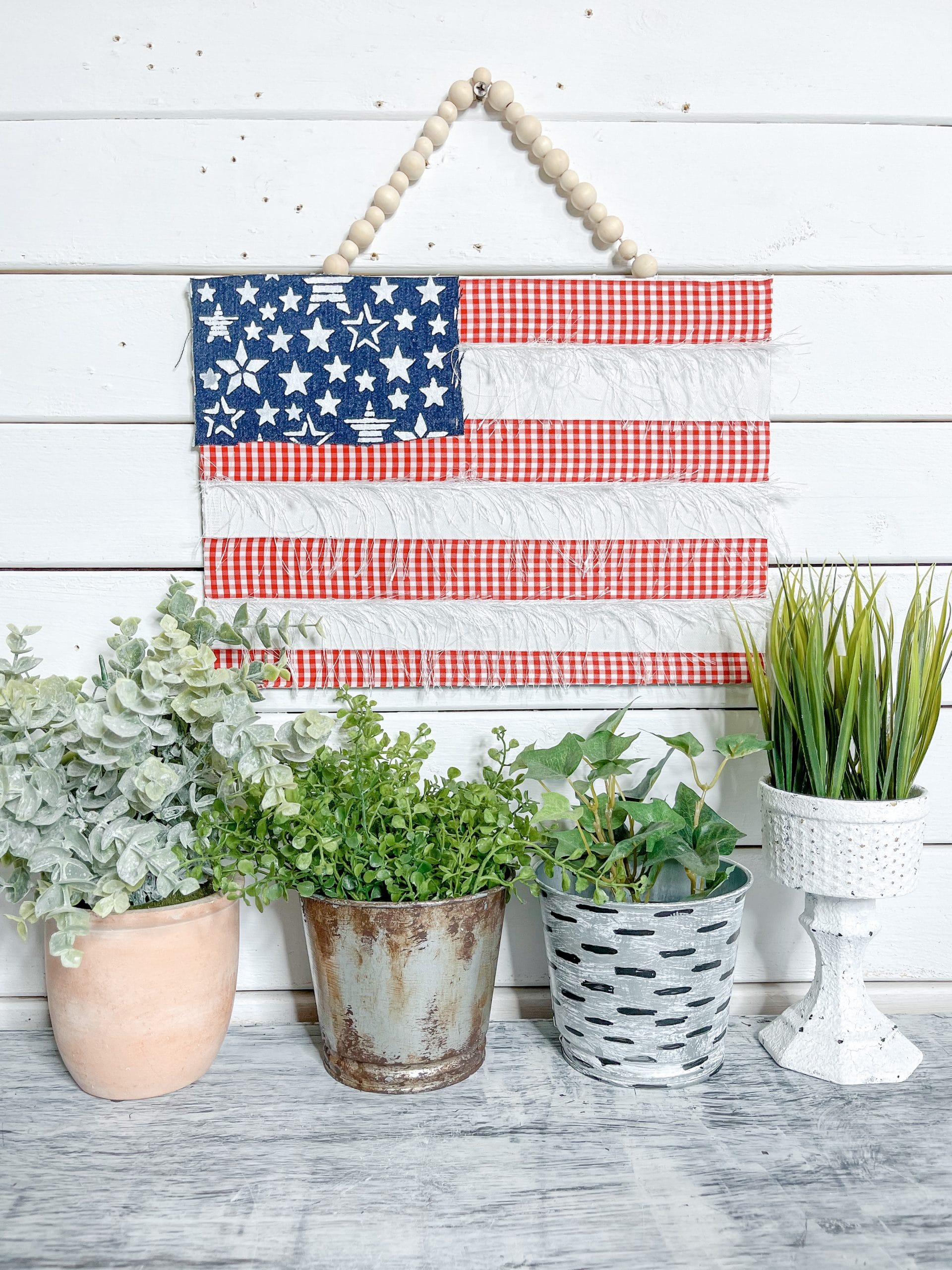 This DIY blue jean American flag is the PERFECT way to repurpose that old pair of jeans that you know doesn't fit you after last year's quarantine!
You can also use fabric scraps or even old t-shirts to create the stripes for your American flag. What I'm trying to say is this might be one of the most affordable projects in this list!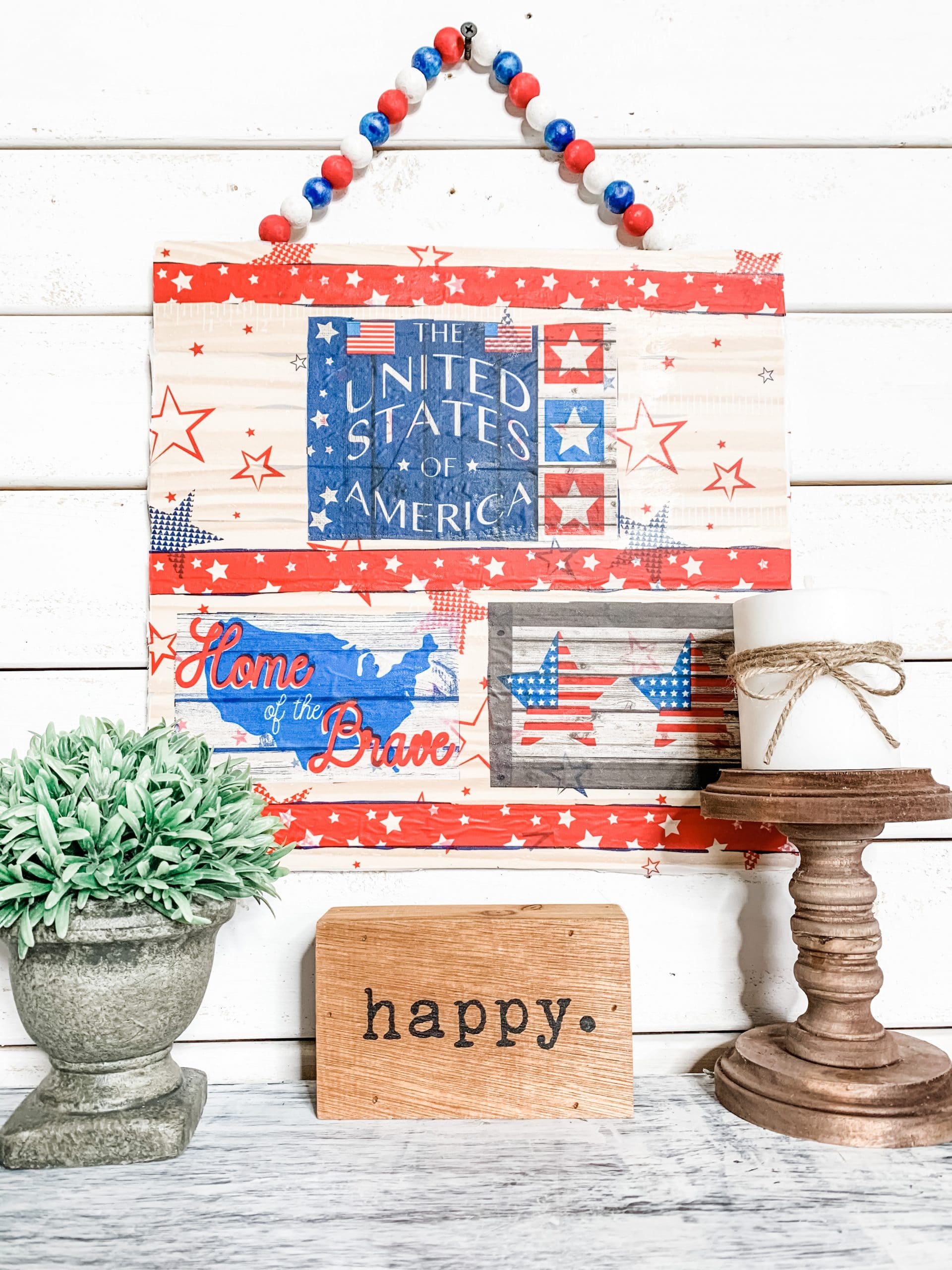 Are you noticing a theme here? I like finding ways to repurpose items and turn them into amazing DIY decor. That is exactly what I did with this repurposed tablecloth decor for 4th of July!
With paint sticks and a patriotic tablecloth, you can create amazing decor to celebrate America!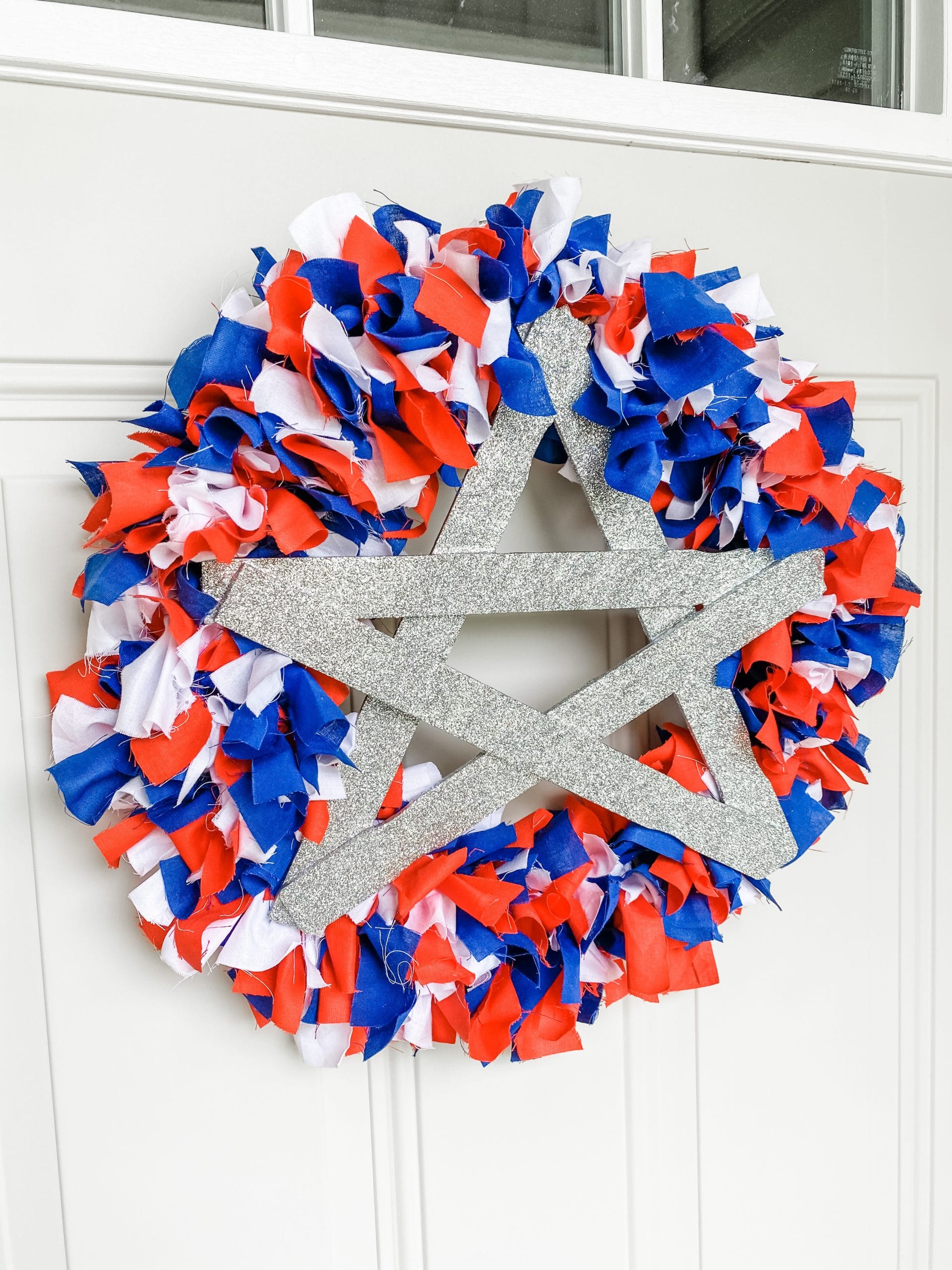 Who doesn't love a good rag wreath? They are so easy to make because you're literally just tying fabric onto a wreath form!
Get some red, white, and blue fabric (or some old red, white, and blue t-shirts), cut them into strips and tie them onto the wreath form. Then, all you have to do is make the cute silver star for the center of the wreath!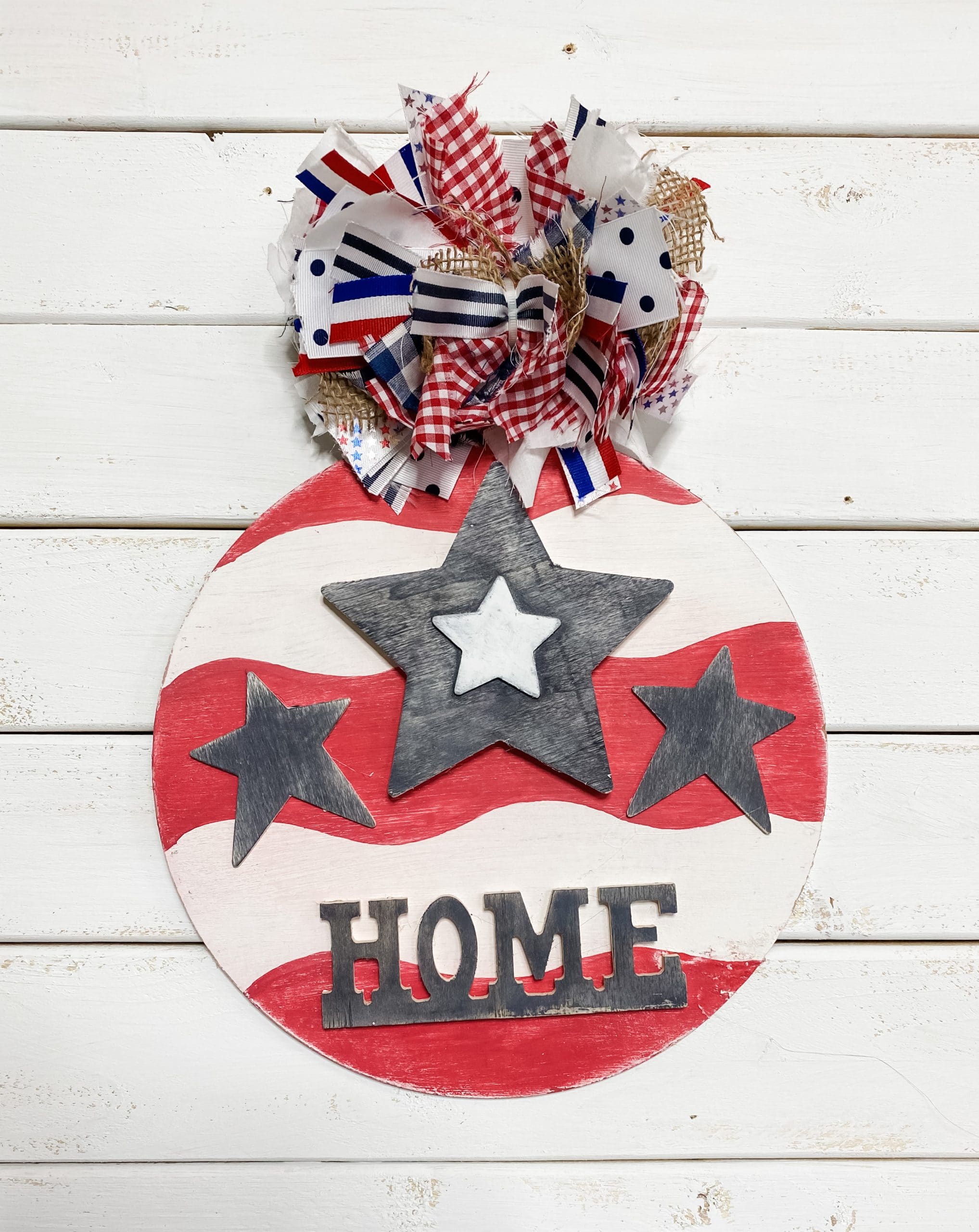 Are you like me and you like to change out the decoration on your front door for each holiday? Well, this patriotic door hanger is the PERFECT DIY project for your 4th of July decorations!
I think my favorite part of this DIY decor idea is the messy bow. I'm not a professional bow maker by anyone's standards, but I am always so happy when I add a messy bow to my projects!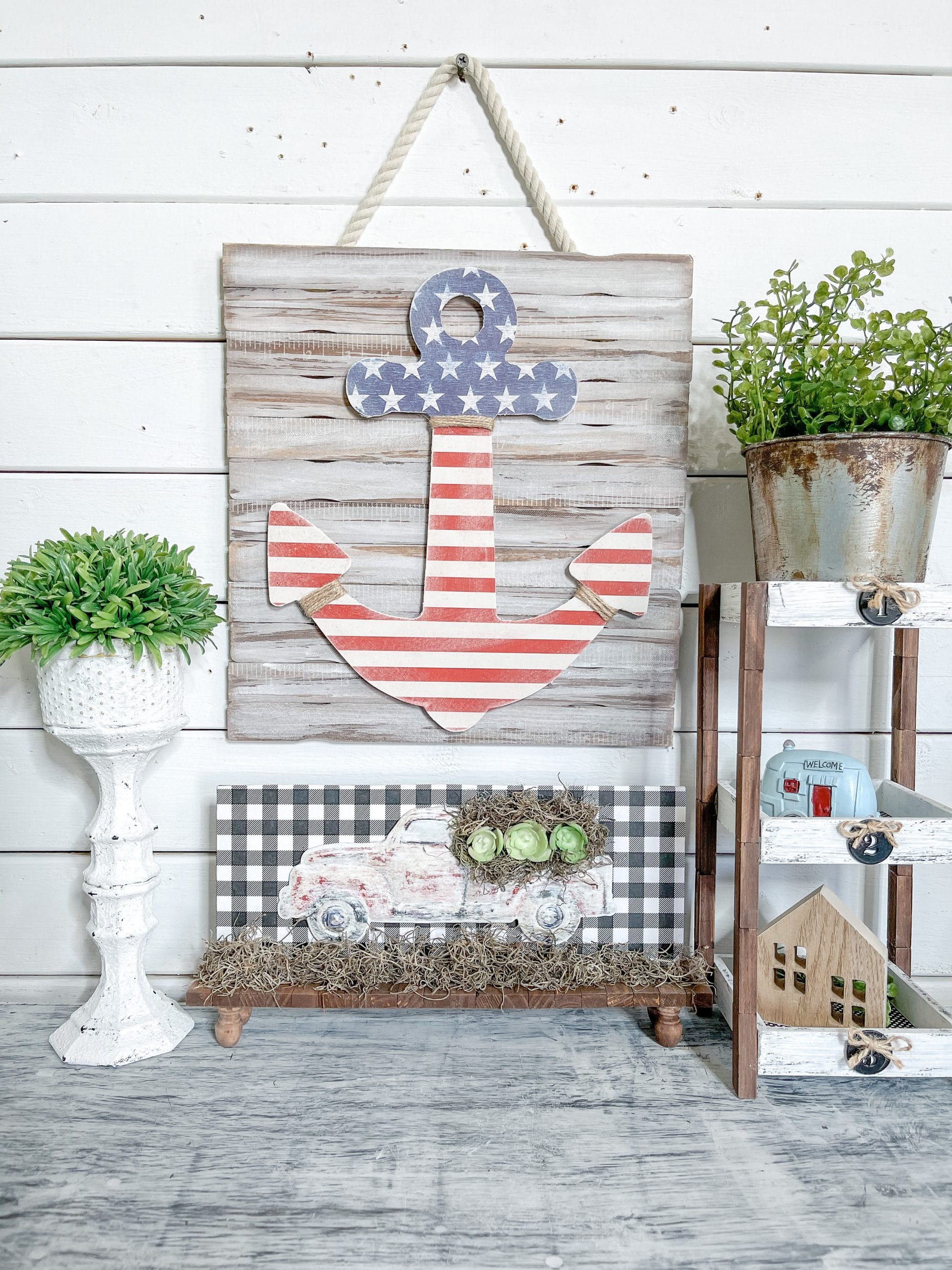 Have you seen Dollar Tree's nautical collection? If you haven't, that's where I got the anchor for this patriotic decor idea!
If you have a coastal theme in your home or own a vacation beach rental, you NEED to make this easy patriotic nautical decor!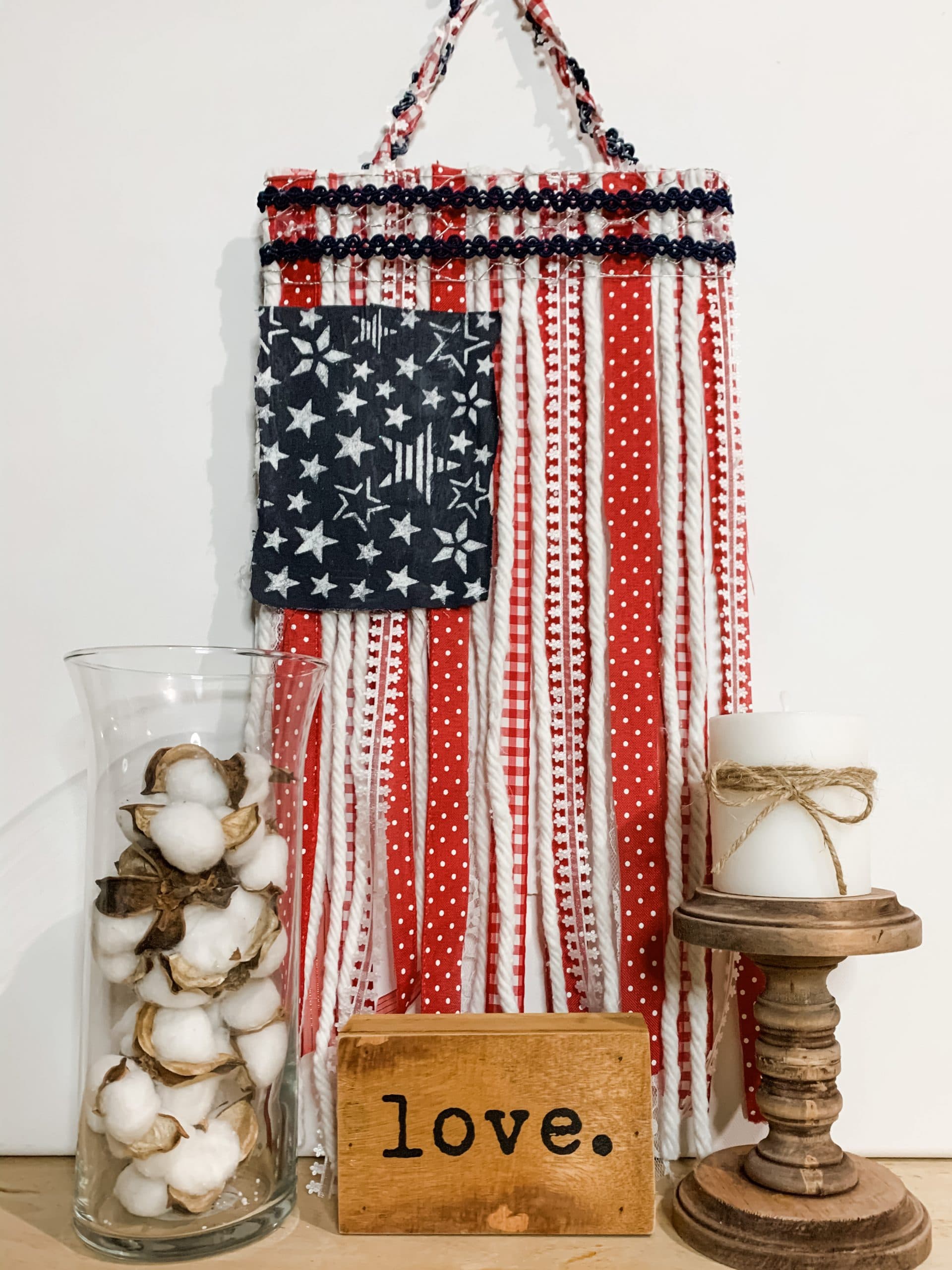 If you're like me and have an overwhelming amount of ribbon that you just don't know what to do with, use some of them to create this adorable DIY American flag!
Don't have enough ribbon? You can use t-shirts or fabric to create the hanging strips for this super cute 4th of July decoration!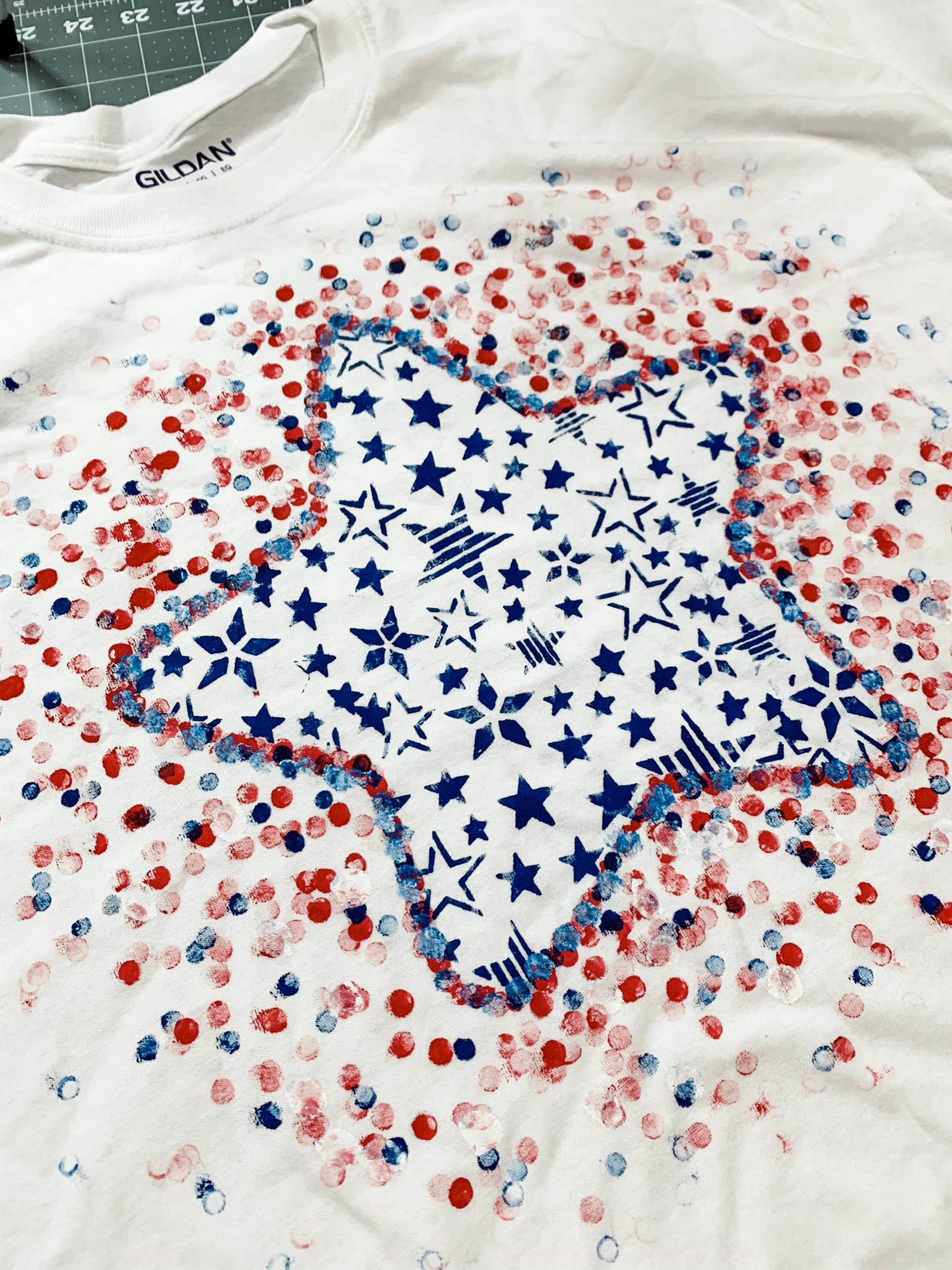 Need something to wear for the family 4th of July get together? We all know that buying a shirt to wear once can be ridiculously expensive.
Why not take a plain white shirt and turn it into the perfect 4th of July outfit?? You can even buy the plain shirts in a variety of sizes to create matching outfits for the entire family!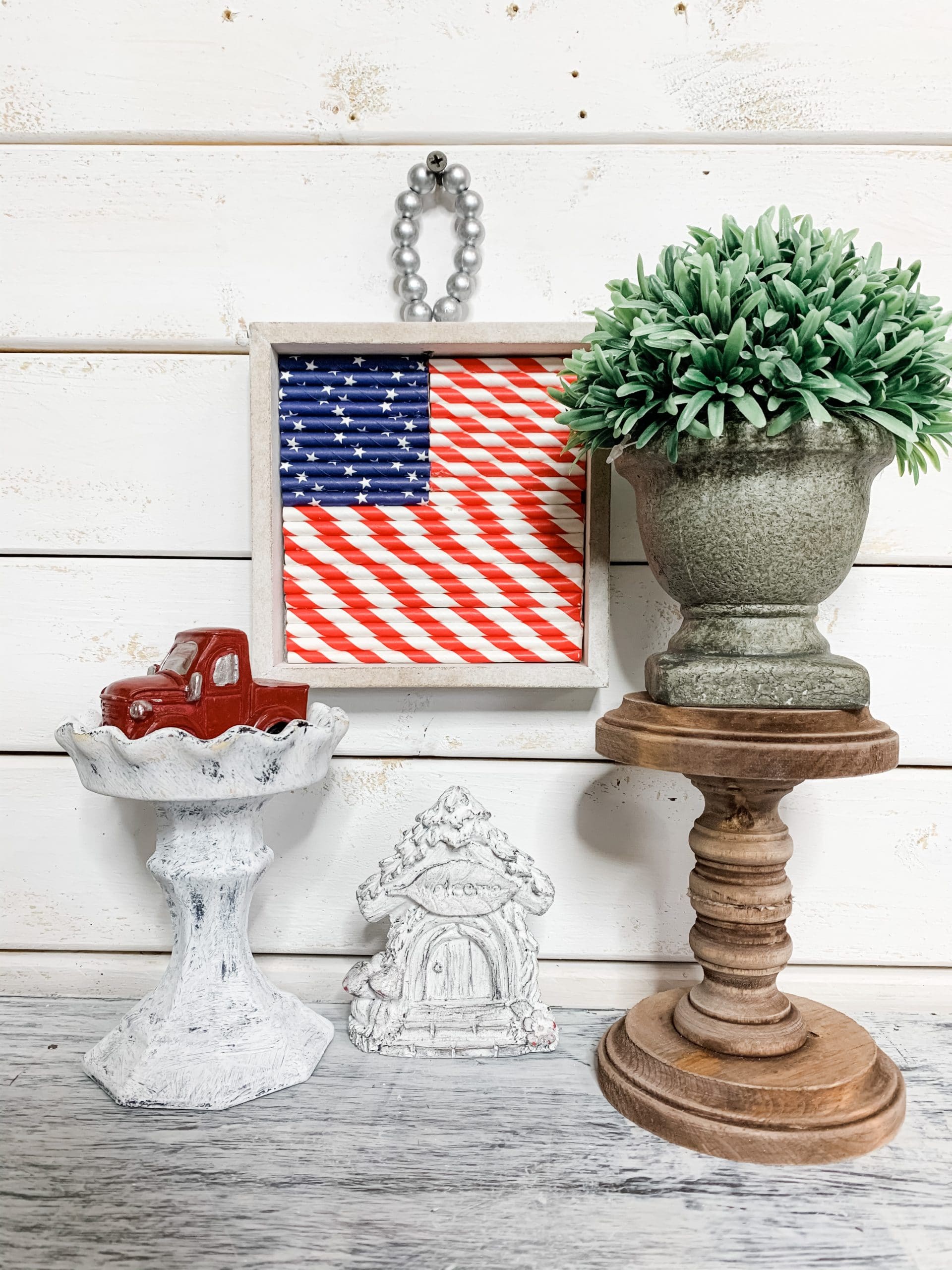 I love the simplicity of this adorable 4th of July decor idea. Made with a Dollar Tree sign box and some red, white, and blue straws, you can create your own patriotic home decor!
The icing on the cake for this project is the silver beaded hanger! If you're looking for an extremely easy, and affordable, project for this 4th of July, give this DIY flag a chance!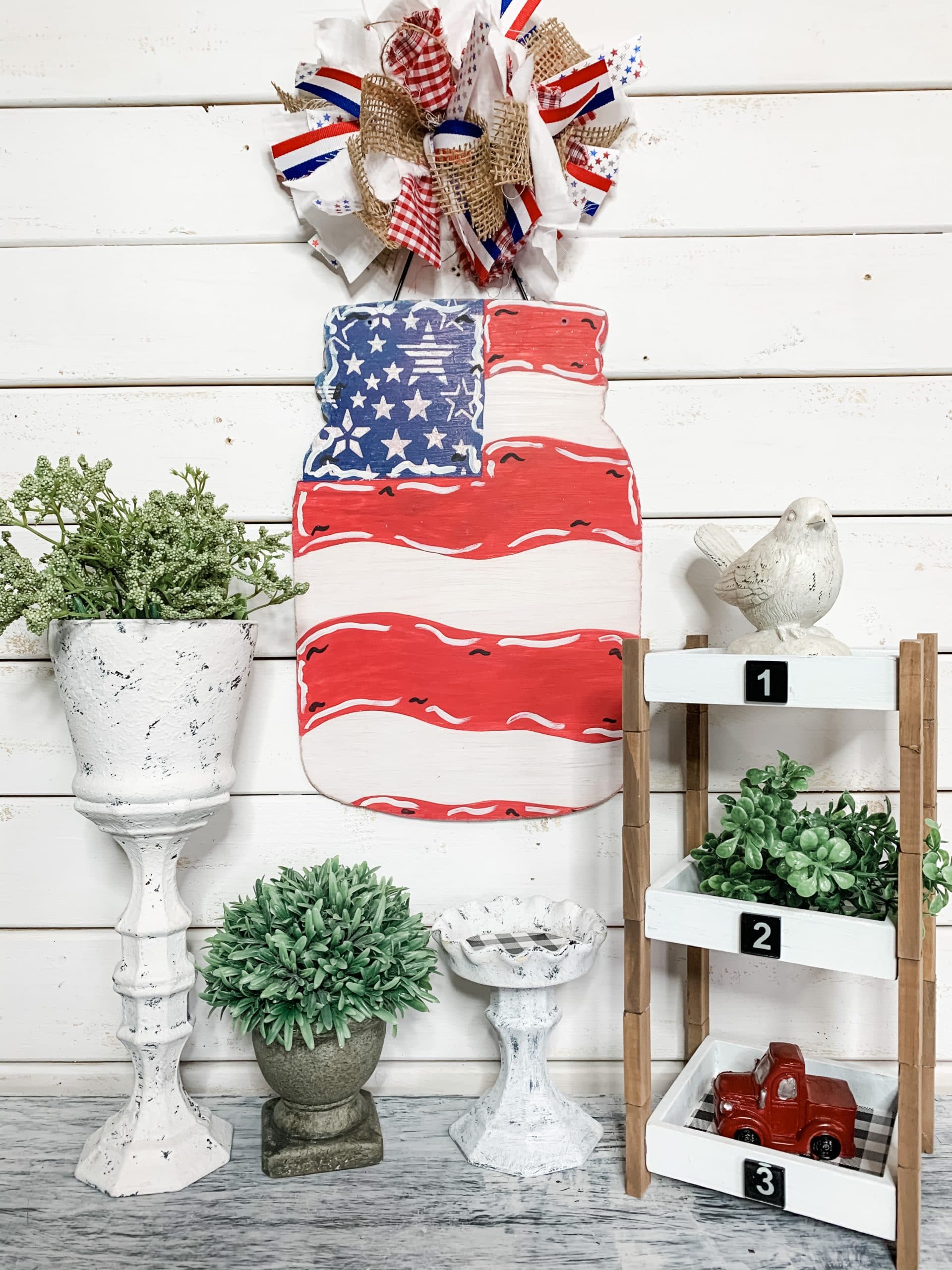 Remember what I said about messy bows? Well, I think the messy bow on this patriotic mason jar really makes this project!
This 4th of July Dollar Tree mason jar decor is perfect for decorating a house in the south. We do love our mason jars!
I hope you enjoyed these 10 Easy 4th of July DIY Crafts as I did and decide to make them for yourself! If you do, I would love to see how yours turns out!
You should totally join my FREE Facebook group called On A Budget Crafts! It is a judgment-free community for DIY crafters to show off their projects and ideas.
If you liked these easy and affordable 4th of July decorations, you might also like these:
Thanks for stopping by! XOXO Amber
You can also shop my ENTIRE AMAZON Favorites shop just click here! It's packed full of all the things I use and love. Here is the supply list I highly recommend every creative have on hand!!
Would you also pin my blog for later and get on my newsletter alerts? I would love to have you join my #craftycrew.
Inspired? Leave me a comment below! I love hearing from my readers!

Join my free "ON A BUDGET CRAFTS" Facebook group!