DIY Patriotic Dollar Tree Mason Jar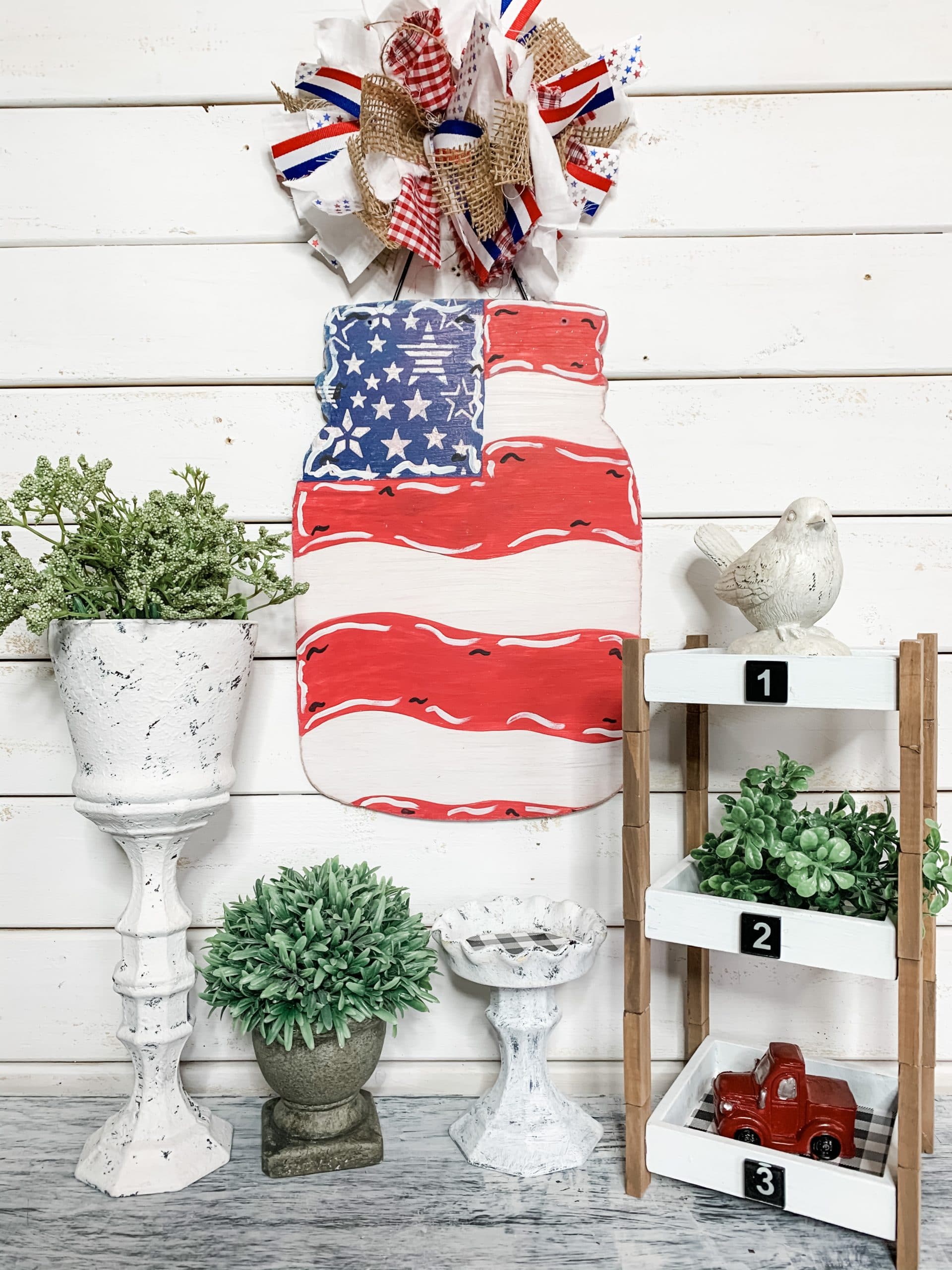 Okay, I know. The Dollar Tree mason jar sign is already a 4th of July Decor. But, come on! Look at how cute this DIY Patriotic Dollar Tree Mason Jar is! This is such an easy Dollar Tree sign makeover, and you can personalize it in so many ways!
Watch the tutorial
I shared the how-to video on my Youtube page, and it has three other super adorable DIY projects as well! This patriotic mason jar is the first project in the video, so all you have to do is press play!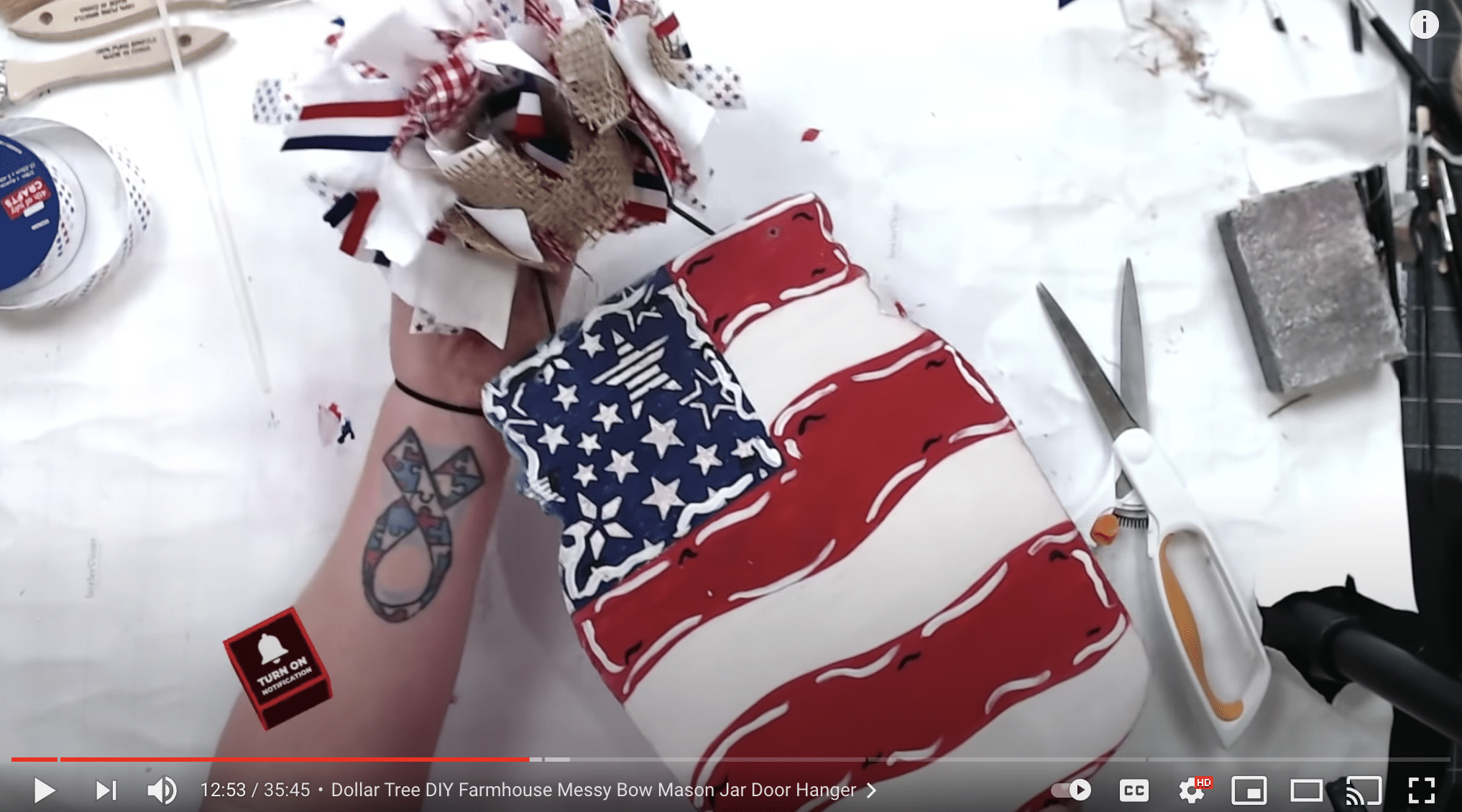 For this project, I will be using these items but you can substitute where you want.
"As an Amazon Associate, I earn from qualifying purchases."
Dollar Tree Mason Jar
Dollar Tree Star Stencil
Jute Twine
Dollar Tree Windmill Welcome Sign
Burlap Ribbon
Red Buffalo Check Fabric
White Fabric
Red/White/Blue Striped Ribbon
Red/Blue/Silver Star Ribbon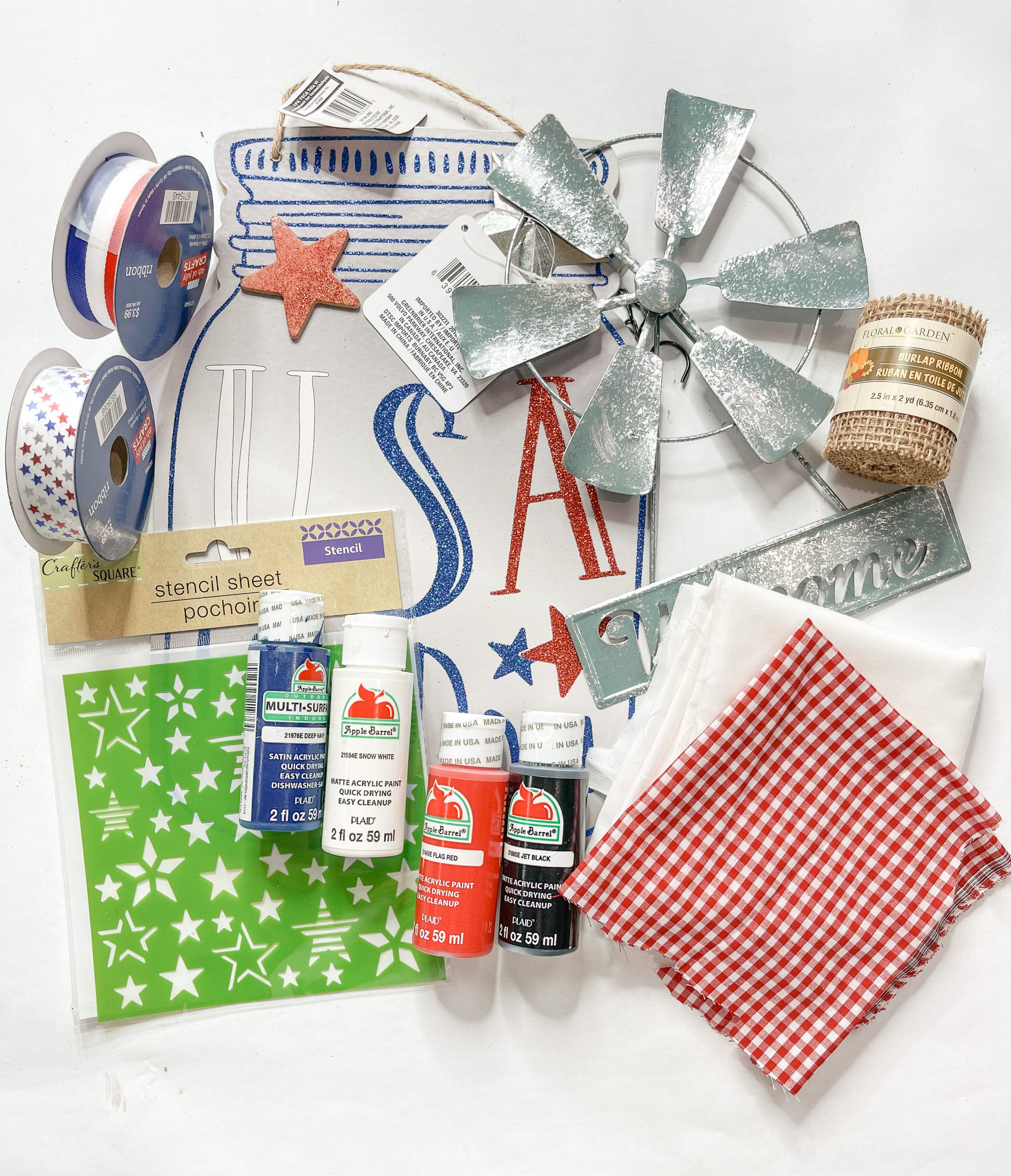 How to Make DIY Patriotic Dollar Tree Mason Jar
Alright, let's get to the good stuff! The Dollar Tree mason jar sign that I used had stars attached to the front of it, so I had to remove them. I just used a putty knife to pry them off.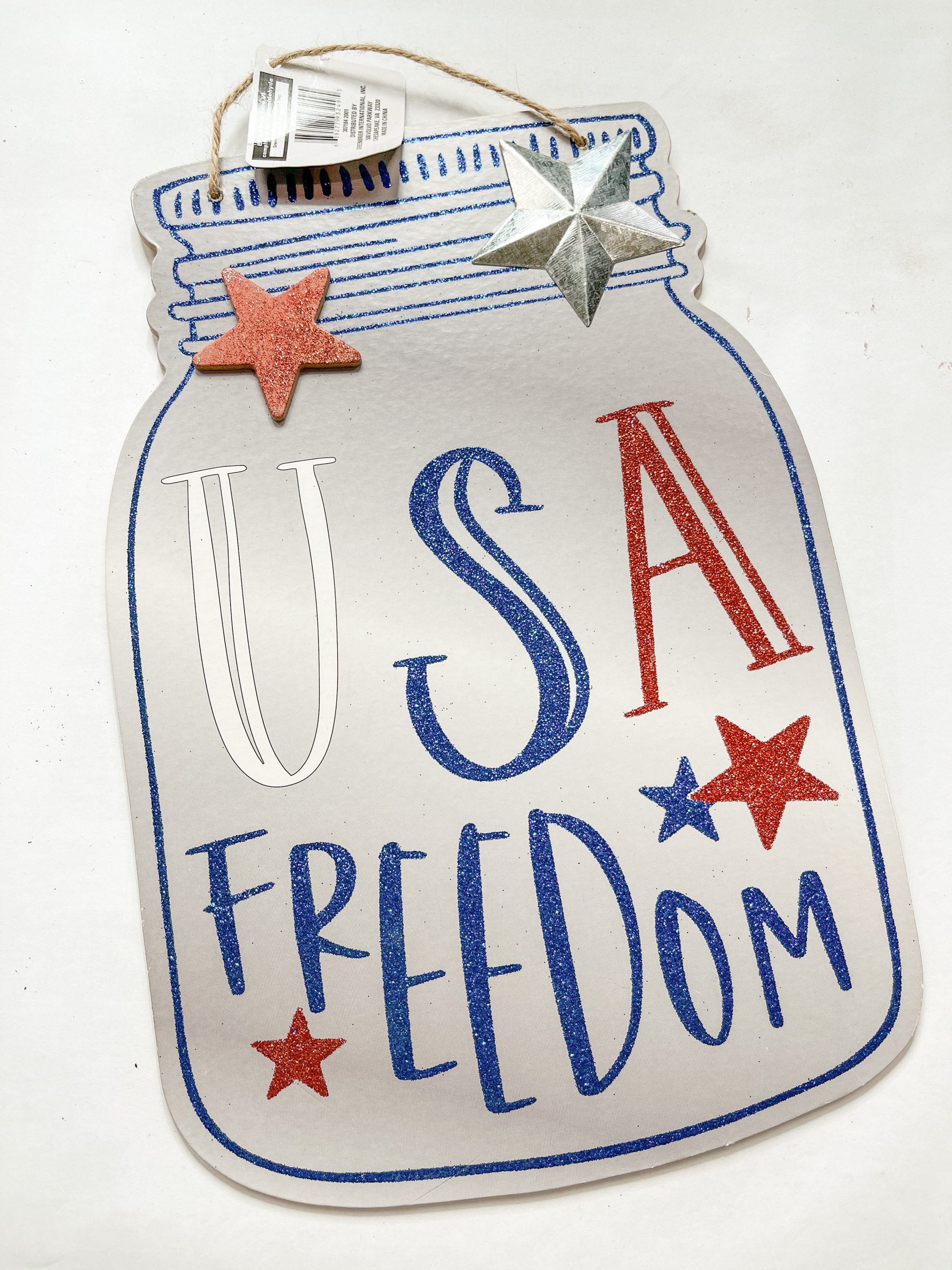 Then, I turned the mason jar sign over and painted the entire back of the sign with white paint. I tried to use Dollar Tree paints, but I would highly recommend using Apple Barrel Snow White Acrylic Paint.
Let the white paint dry, then it is time to paint the blue square. You can use a craft stick to make straight edges on your square. Whether you freehand it or use an edge, paint a blue square at the top left of your mason jar.
Then, get your red paint and a small paintbrush and paint squiggles across the mason jar where you want the stripes to be. You're painting the outlines of your red stripes.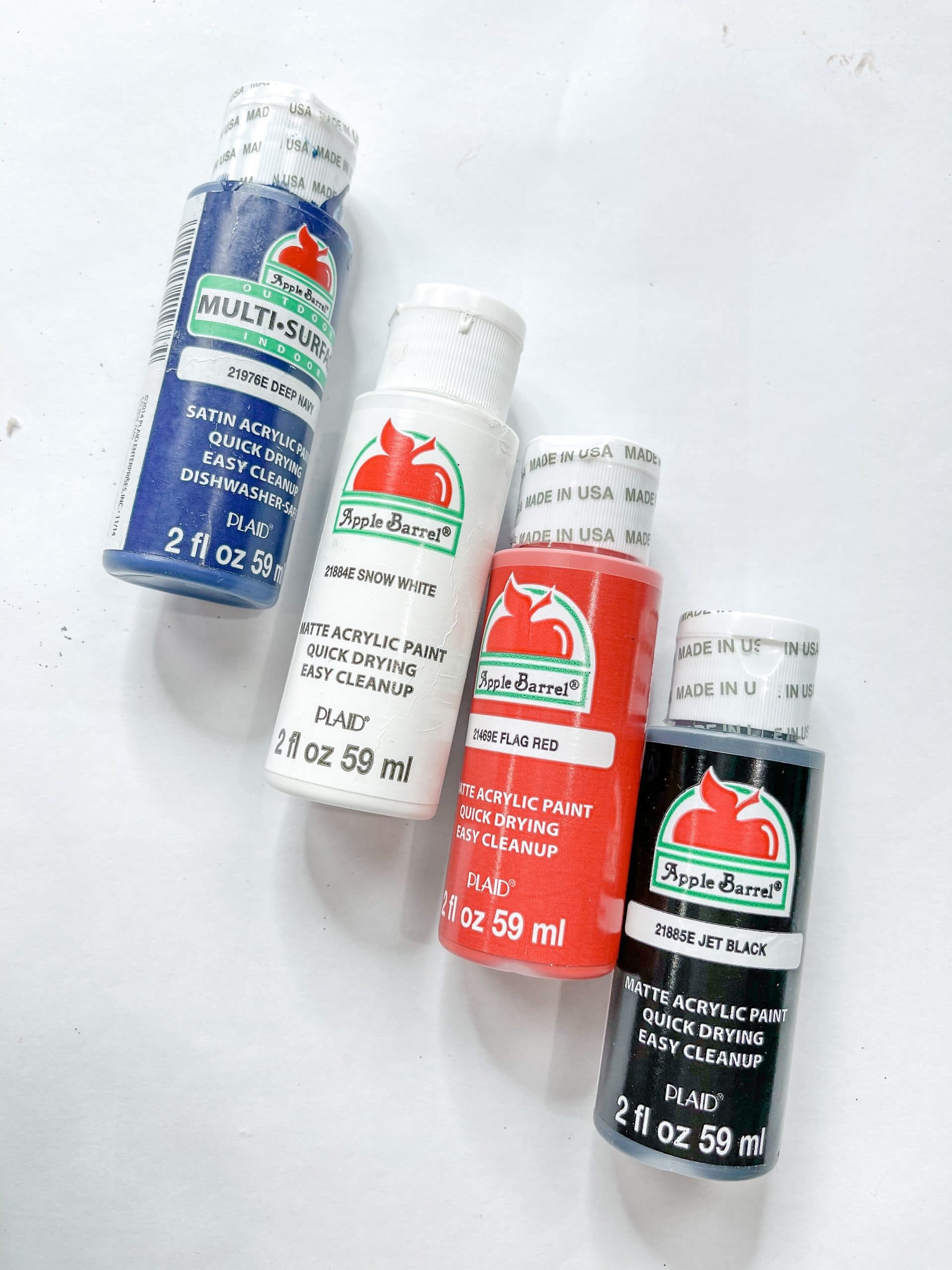 Go back in and fill in your red stripes. If you're not a fan of the squiggle stripes, you can always use a craft stick or something with a straight edge to paint horizontal stripes on your mason jar.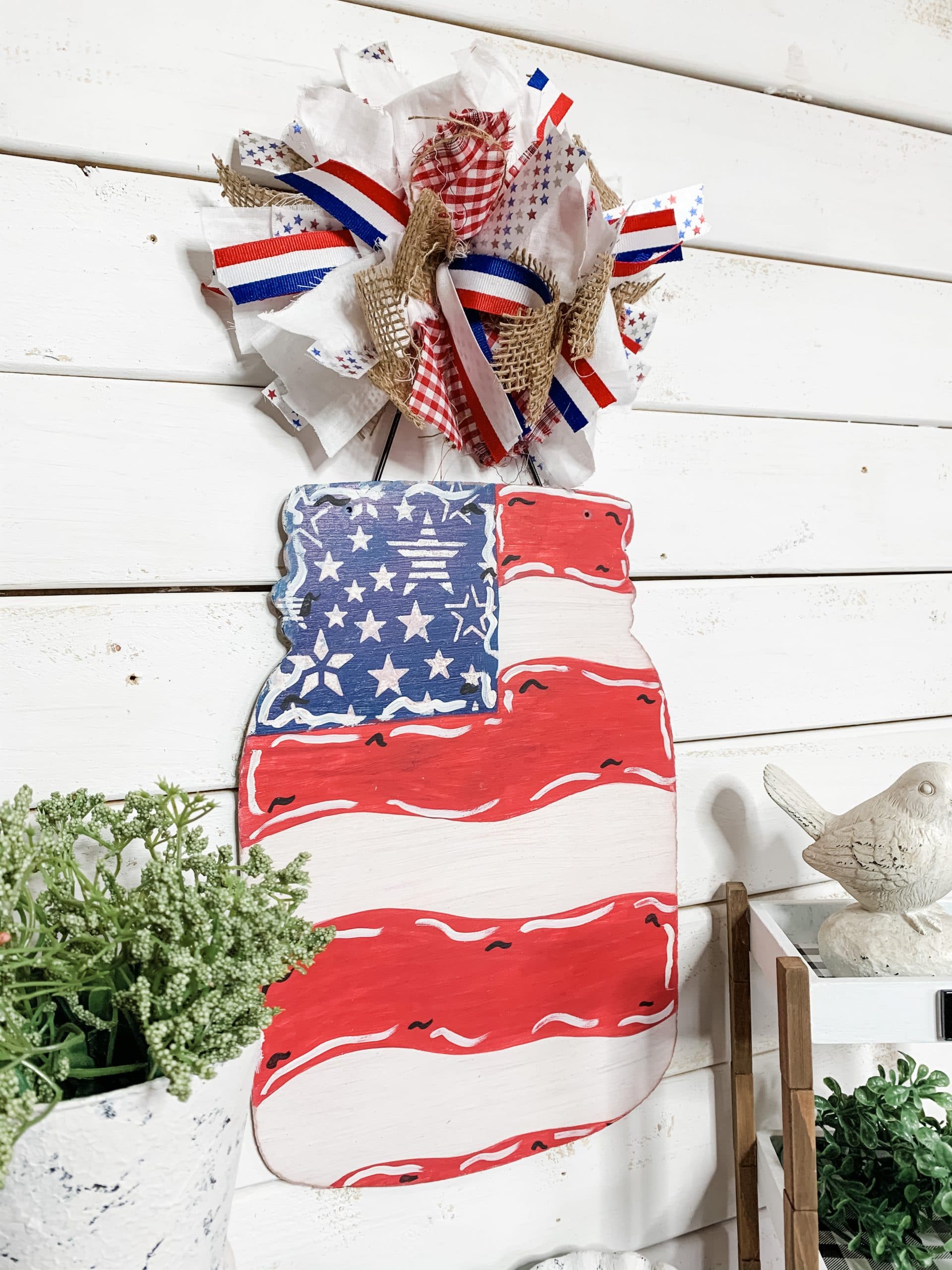 I let the paint completely dry, then lightly went over the surface with a sanding sponge. Next, place your Dollar Tree star stencil over the blue square and paint it with white paint.
Make sure you only paint over the blue square, otherwise you'll have white stars on your red stripes too. Use a clean small paintbrush to outline your red stripes and the blue stenciled square with white paint. Add small black highlights to the edges of your red stripes on the Dollar Tree mason jar.

The finishing touches
I used a kind of unique item for the hanger for my DIY patriotic mason jar. If you don't have this, you can always use popsicle sticks or twine. I used the triangle from the Dollar Tree windmill welcome sign!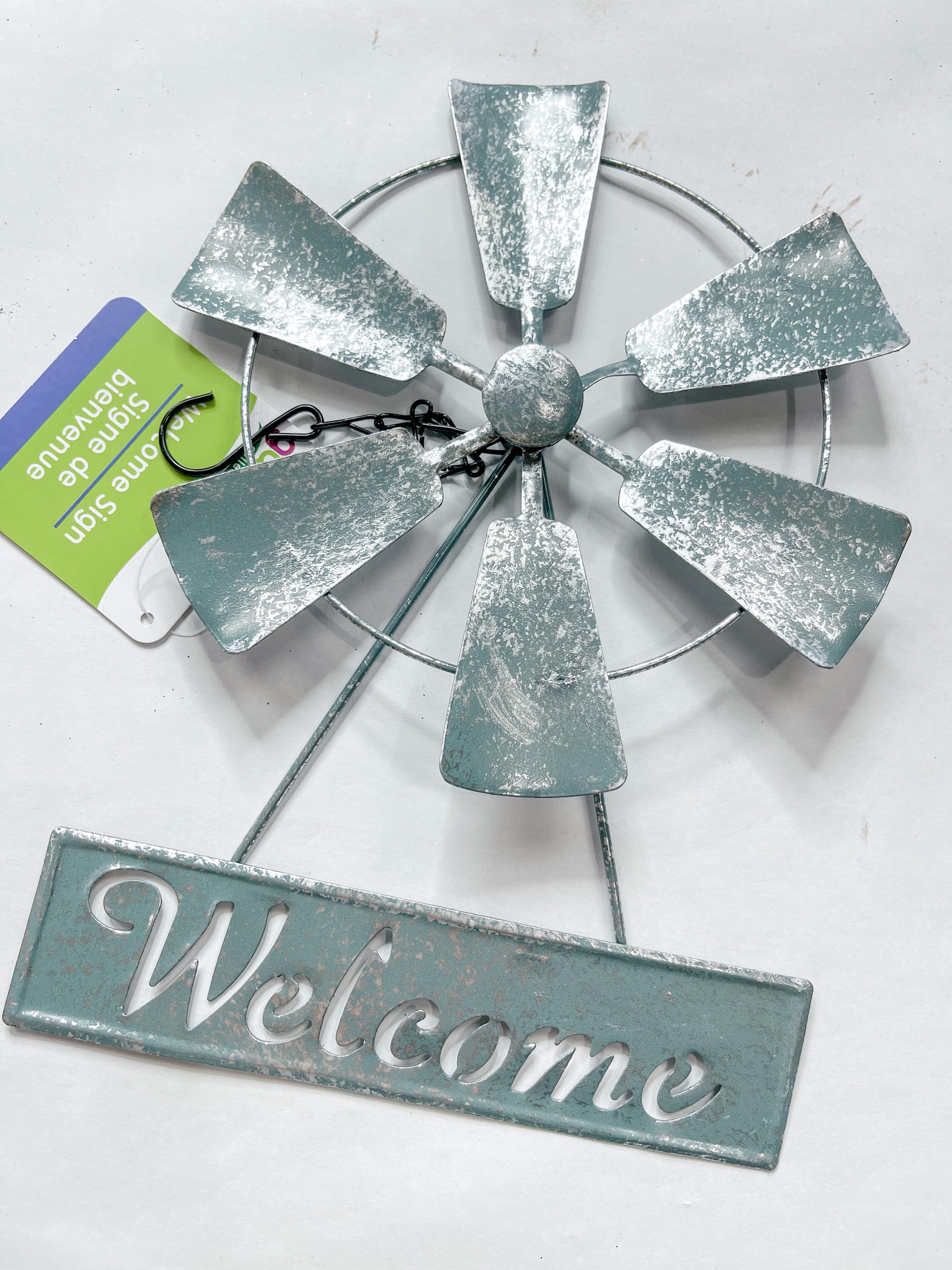 I had previously used the windmill for a different project (see how I created DIY decor with a Dollar Tree windmill) so I still had the leftover pieces. Hot glue the bottom of the triangle to the top back of the mason jar.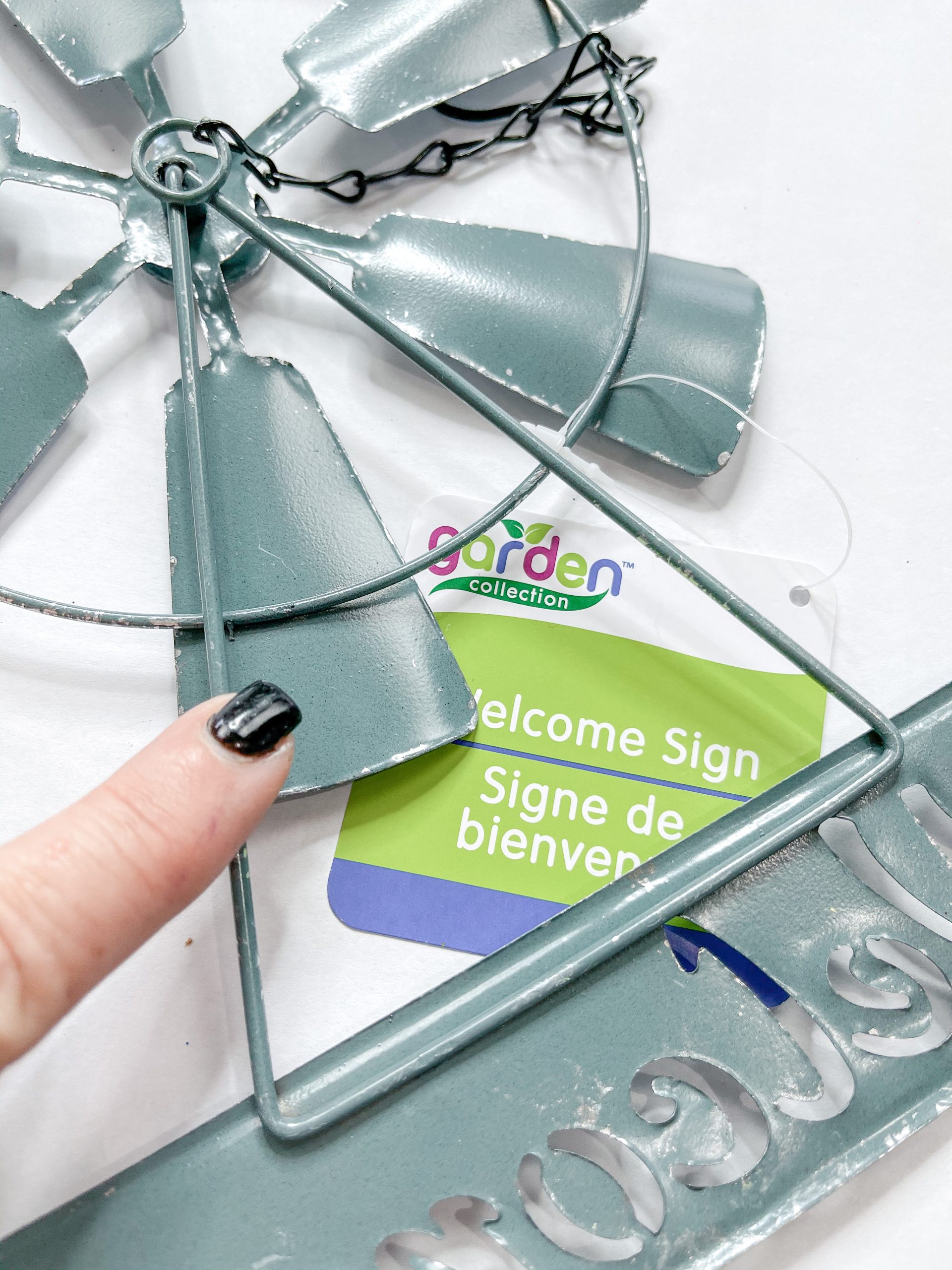 Next, you're going to make the DIY messy bow for the top of the hanger! For mine, I used red buffalo check fabric, white fabric, burlap ribbon, red white, and blue striped ribbon, and white ribbon with red, blue, and silver stars.
Cut several strips of each of your patterns. I tore the fabric to give it frayed edges. Then, layer the strips, alternating patterns as you go, in an x bow pattern.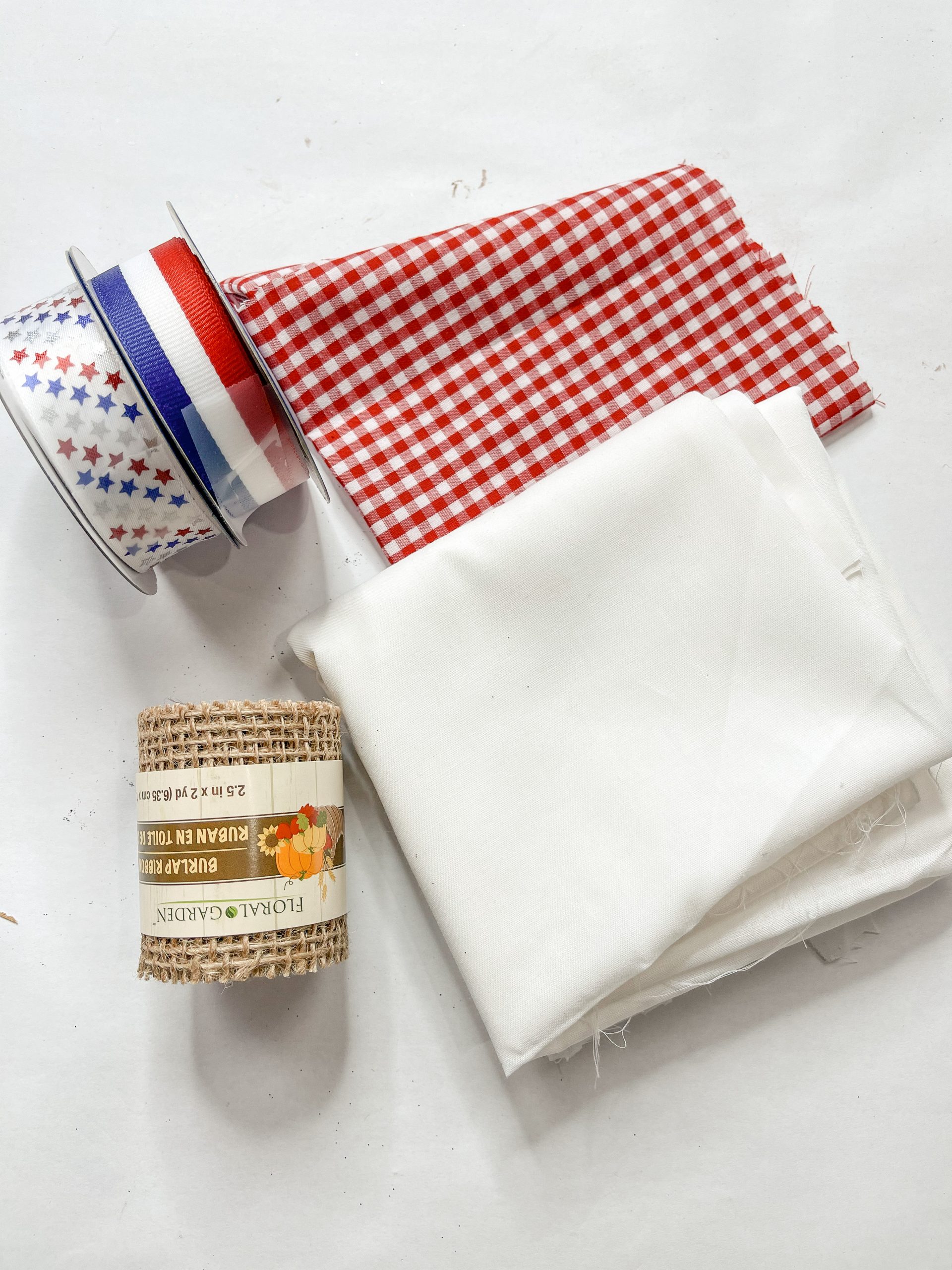 Secure the center of the messy bow with either a piece of twine or a zip tie, then push the strips together like a pompom and trim the ends of everything to make your bow more symmetrical.
Finally, fluff out your bow and secure it to the top of your hanger. I simply hot glued mine to the top of the triangle from the Dollar Tree windmill, but you could use twine to tie it in place if you wanted to.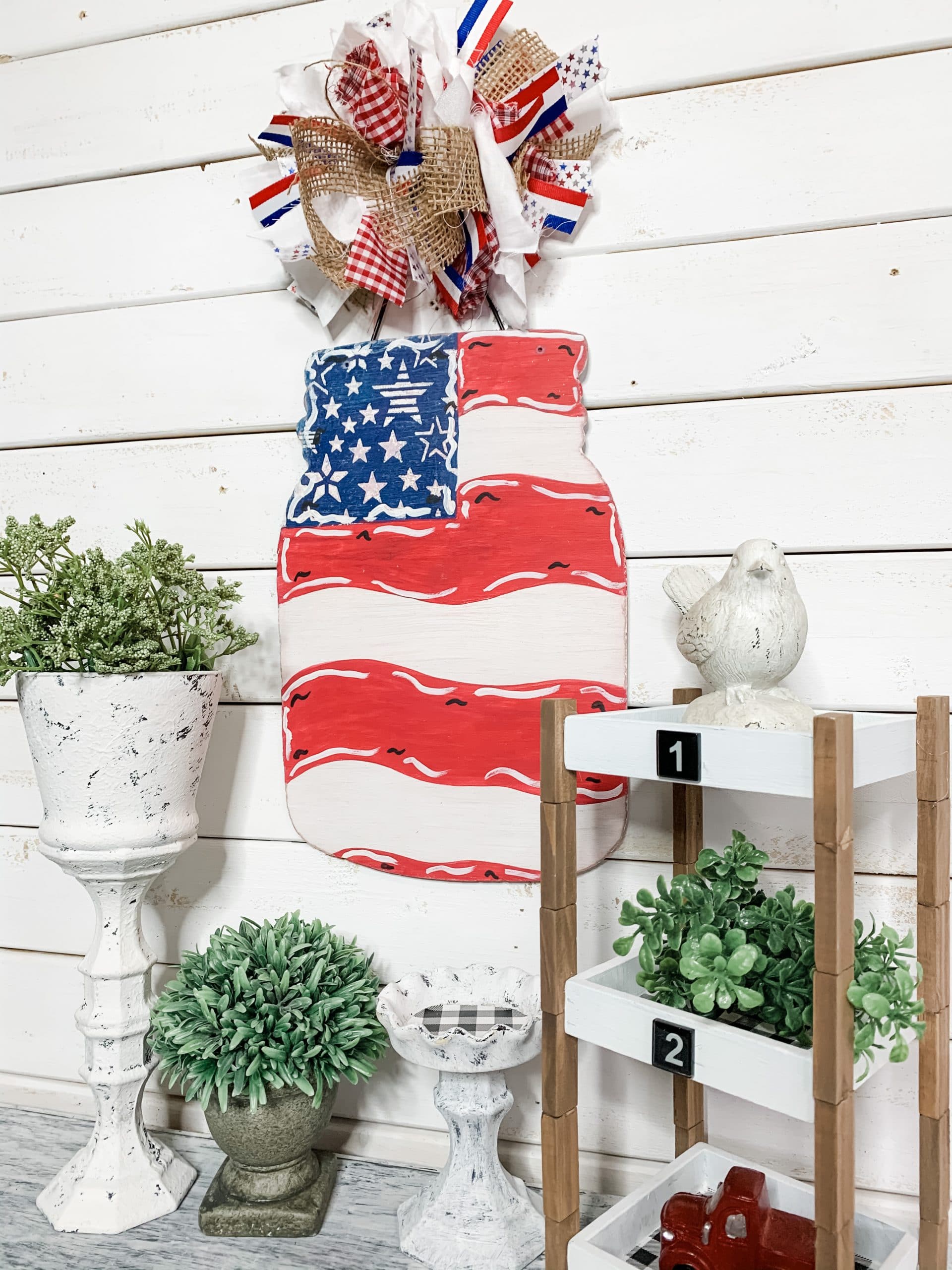 I hope you enjoyed this DIY Patriotic Dollar Tree Mason Jar as I did and decide to make it for yourself! If you do, I would love to see how yours turns out!
You should totally join my FREE Facebook group called On A Budget Crafts! It is a judgment-free community for DIY crafters to show off their projects and ideas.
If you loved this DIY you might also like these patriotic DIYs!
Thanks for stopping by! XOXO Amber
You can also shop my ENTIRE AMAZON Favorites shop just click here! It's packed full of all the things I use and love. Here is the supply list I highly recommend every creative have on hand!!
Would you also pin my blog for later and get on my newsletter alerts? I would love to have you join my #craftycrew.
Inspired? Leave me a comment below! I love hearing from my readers!

Join my free "ON A BUDGET CRAFTS" Facebook group!