I really love the natural colors of this affordable Faux Tile Art Decor! Can you believe this adorable, rustic home decor was made with Dollar Tree supplies, napkins, and hot glue?
I'm always trying to find ways to make affordable home decor that I would actually use in my own home, and this faux tile art decor definitely makes the cut!
Even though I crafted this myself for only a few dollars, I'd be proud to hang it in my home! The greatest thing about crafting my own home decor is how I get to personalize it!
I chose to go with natural colors for this project, but if your home decor style is more colorful, you can use any other colors you want!
At the end of the day, there's no right or wrong way to craft your own home decor. As long as you love the outcome, then it's perfect!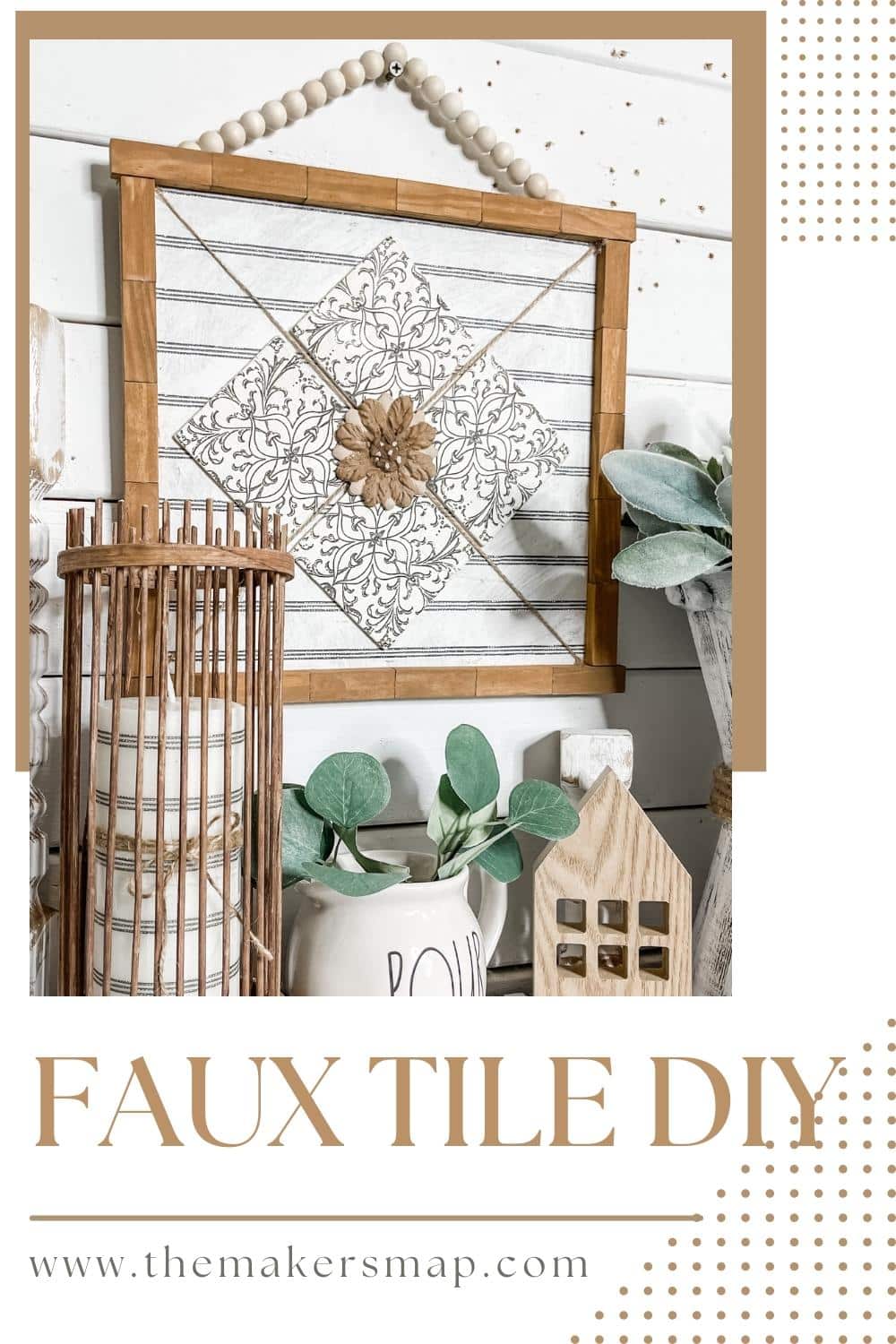 How to make a Faux Tile Art Decor
I started this fun budget decor craft by painting the back of my Dollar Tree square sign with white chalk paint. Once the white paint was dry, I applied a coat of Mod Podge over the paint.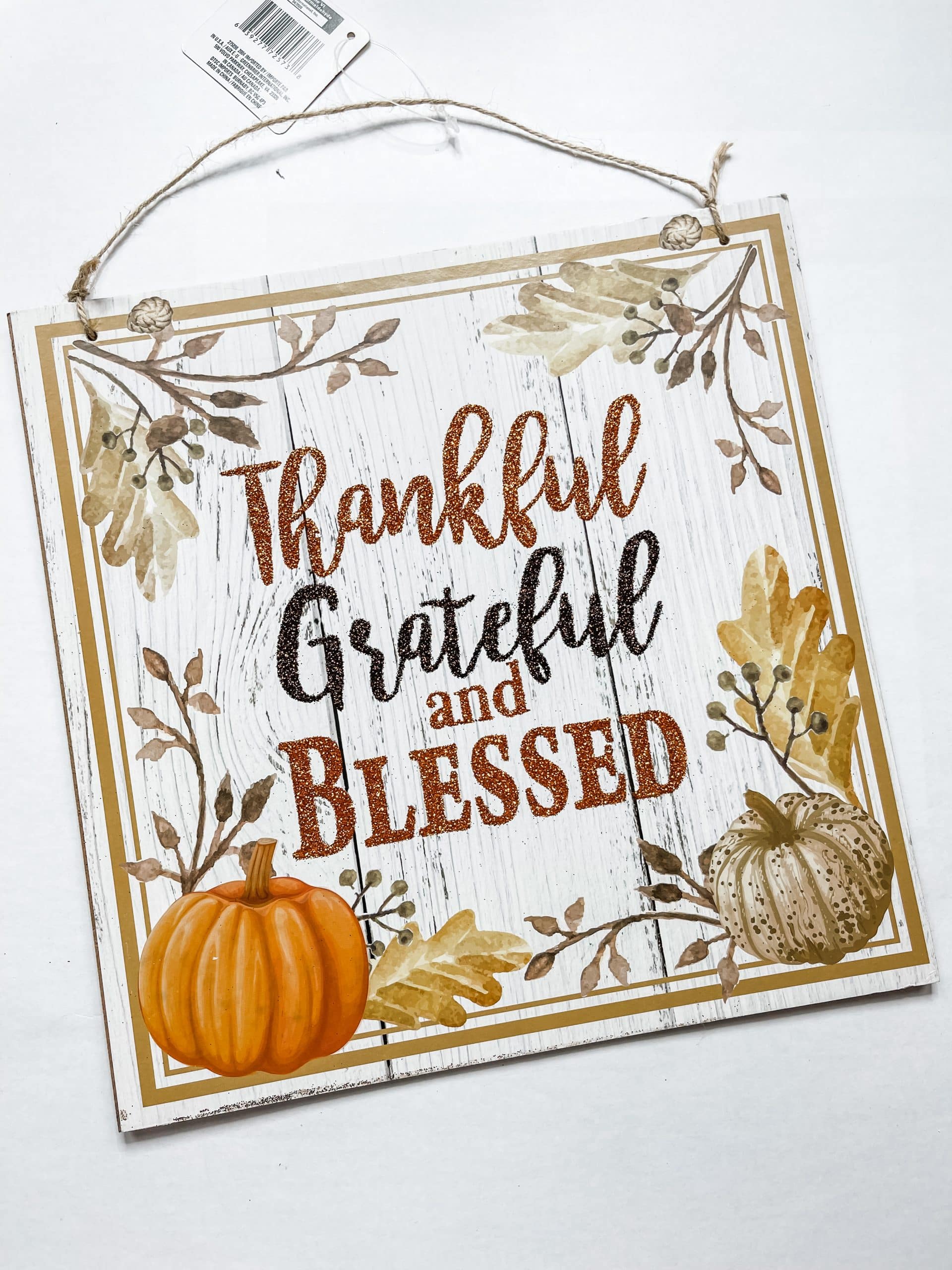 To decoupage your napkin, first separate the plies so you have just the ply with the design/pattern you want to decoupage. Then, press the napkin ply onto the wet Mod Podge.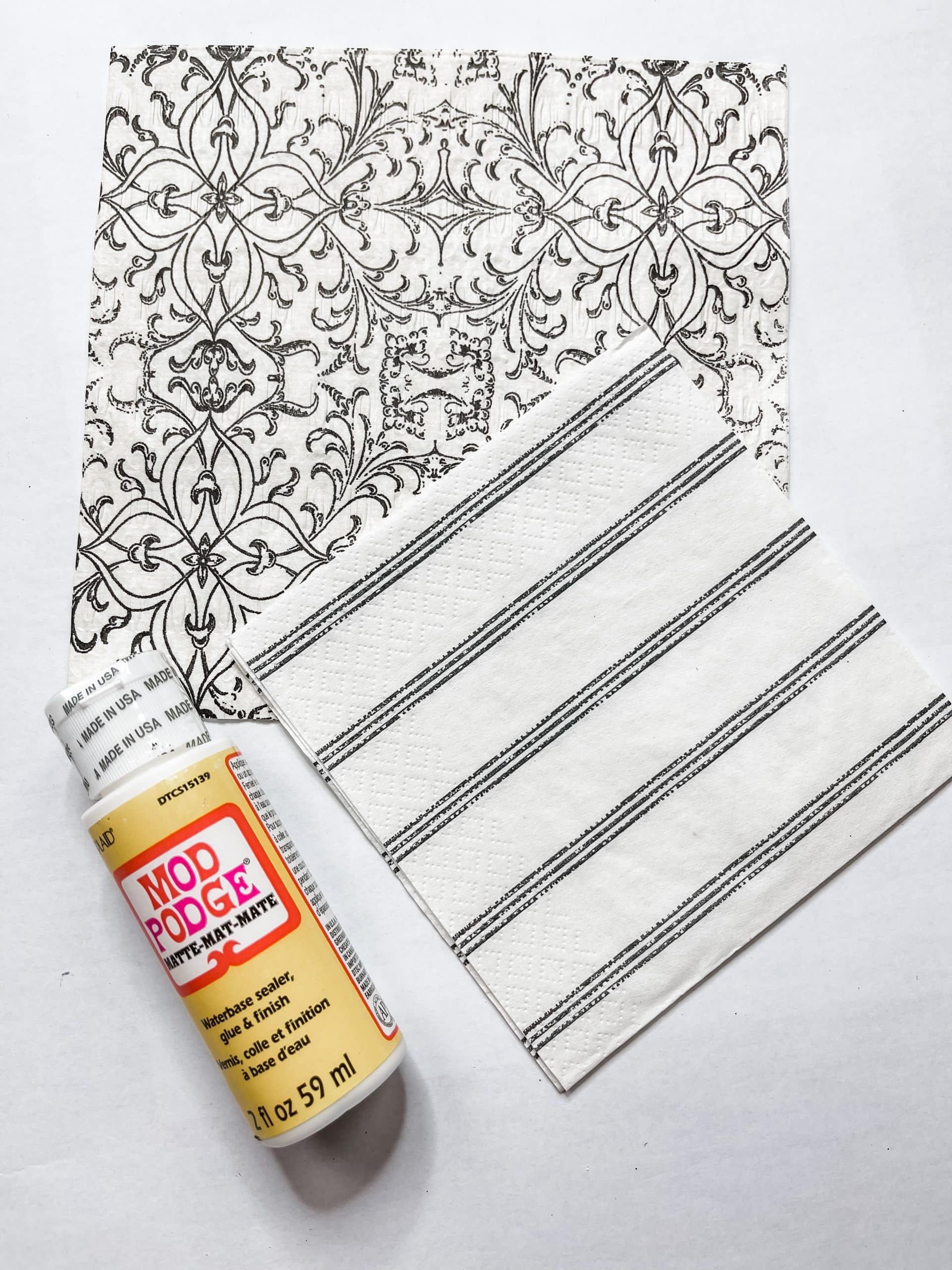 Cover the surface with a piece of plastic saran wrap and use a rolling pin to smooth out any wrinkles or bubbles in the napkin, then allow the Mod Podge to dry.
Next, paint each of the four small wood squares white and decoupage your second napkin pattern onto each of the four squares the same way you did on the large square sign.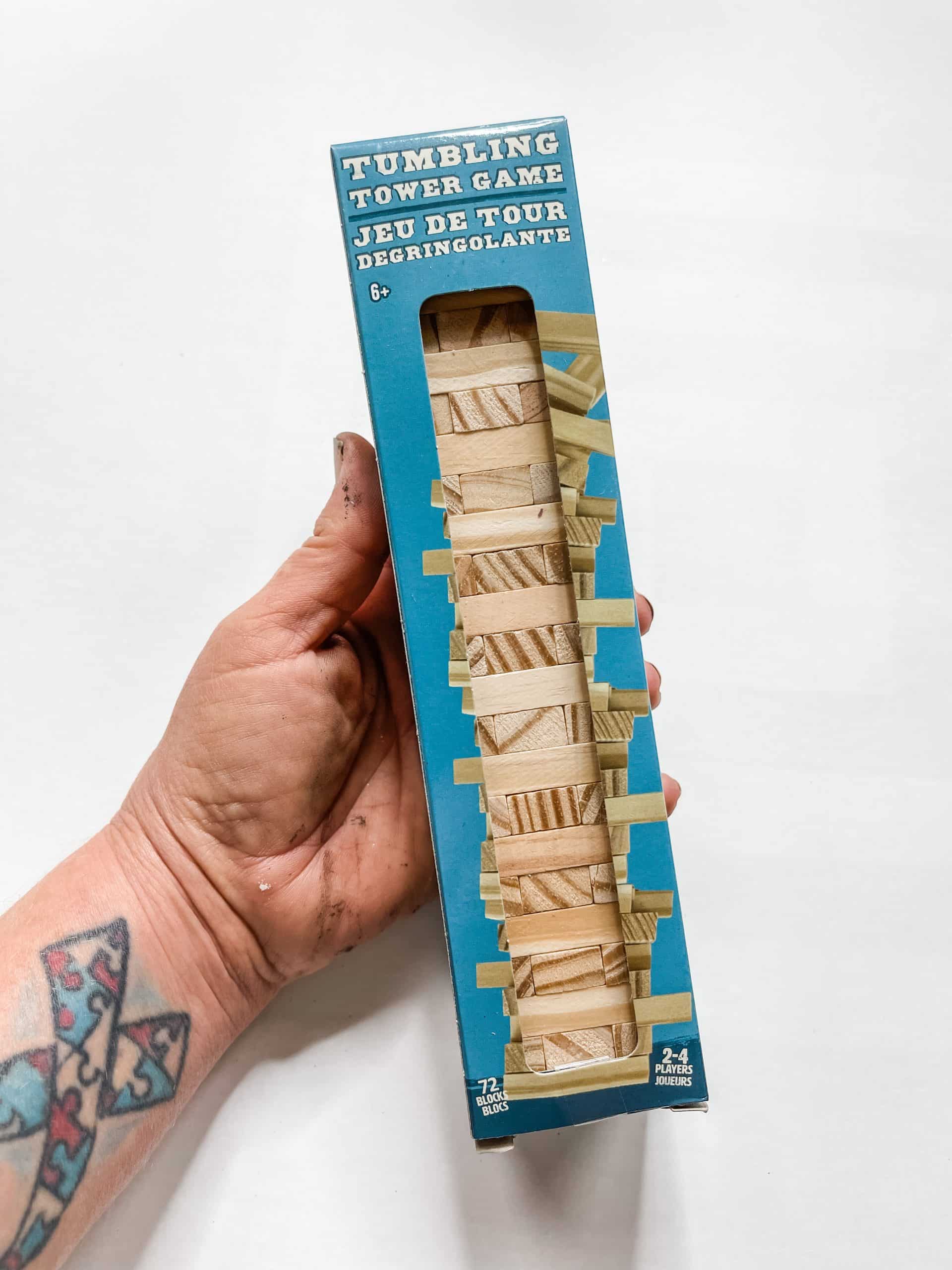 Afterwards, layout how many Tumbling Tower blocks you need to create your frame and mix a bit of melted chocolate and territorial beige paint together.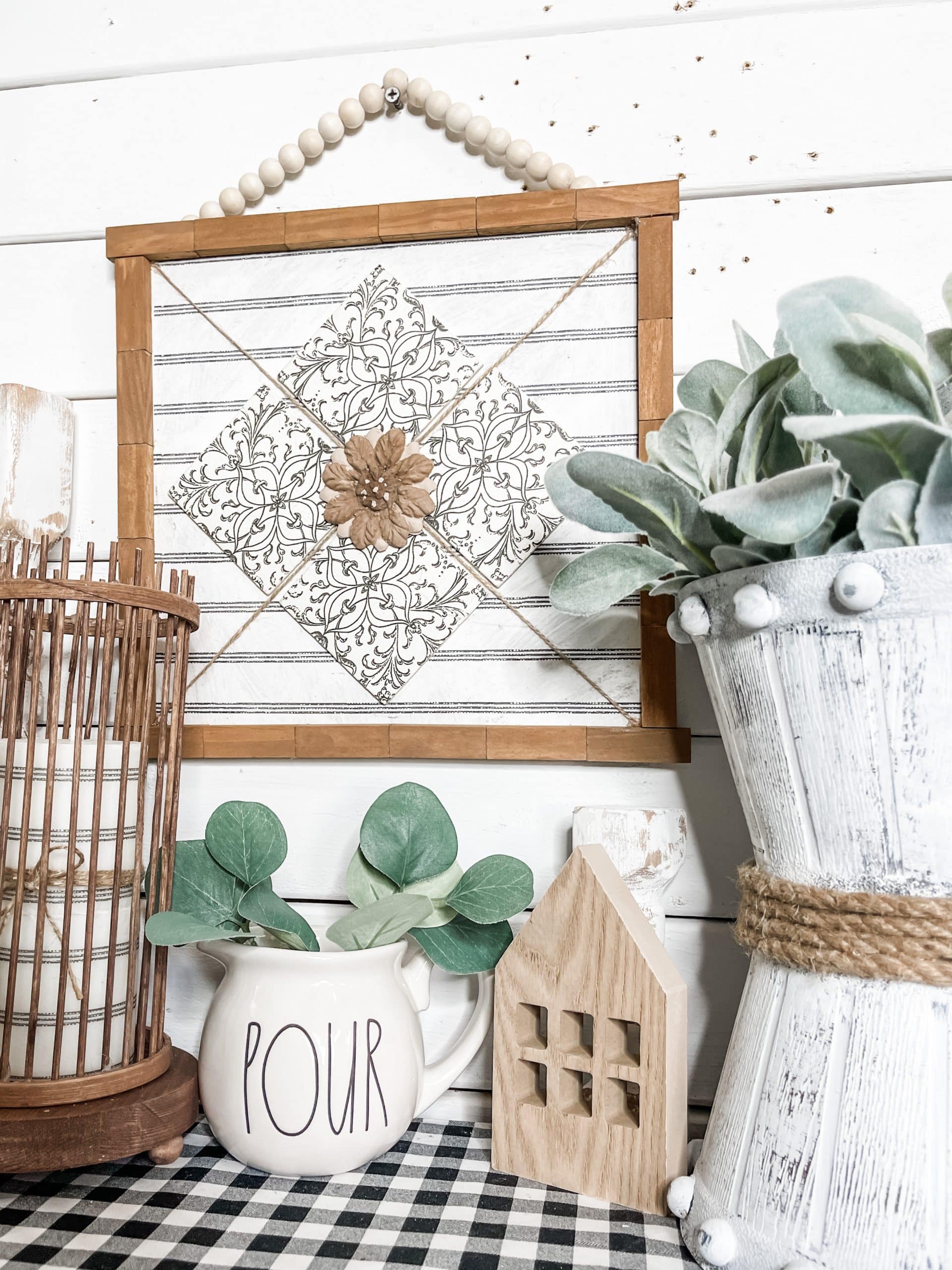 Apply the mixture to each of the blocks, and use a wet wipe to remove any excess paint from the surfaces. Once each block is dry, glue them together to create the sides of the frame.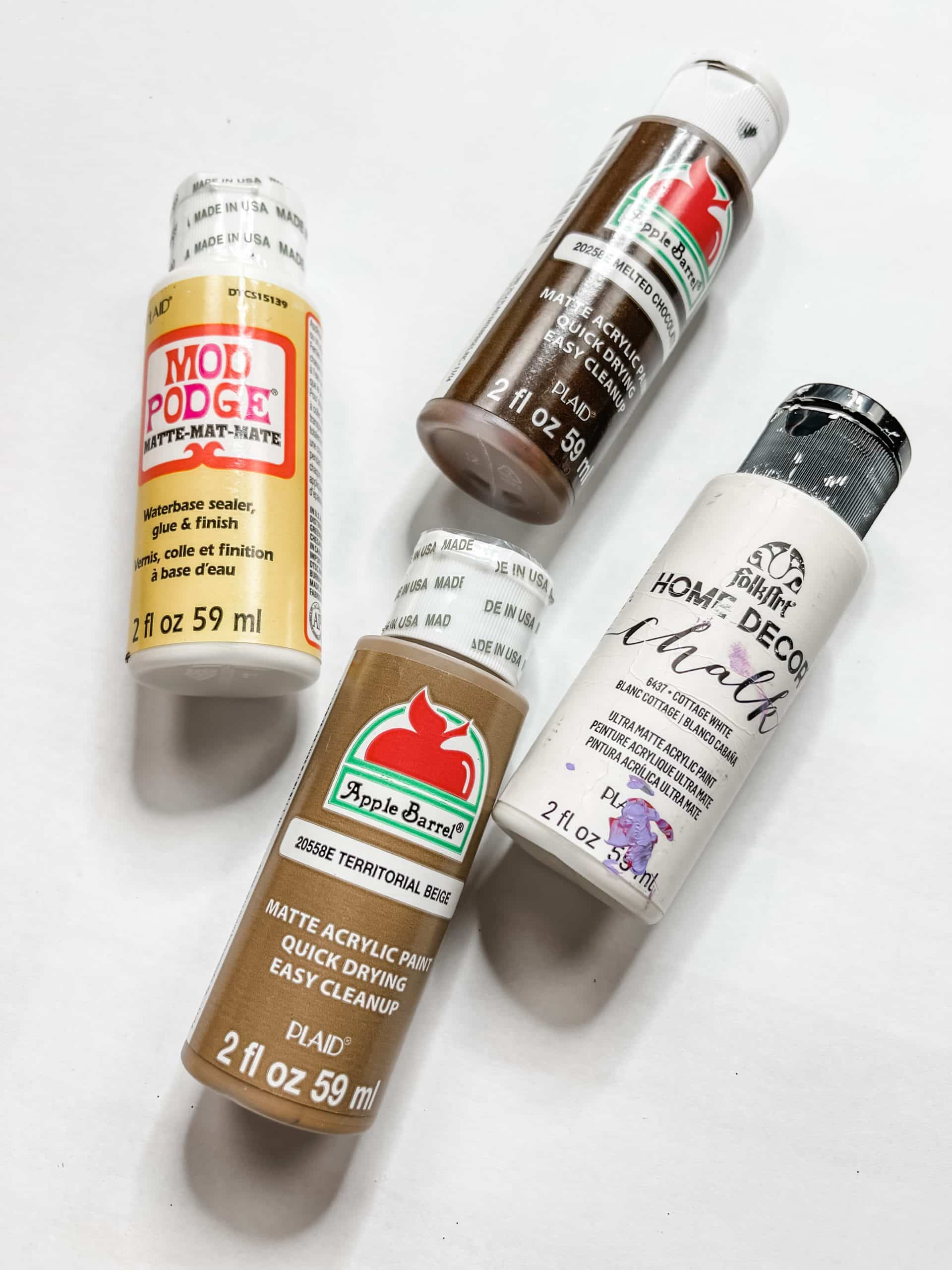 Bring it all together
Now, start putting all your pieces together! I crosse twine from corner to corner to create an X across the center and glued them down.
Then, glue your frame onto the large square sign, and glue the four decoupaged wooden squares around the center where the twine overlaps.
To make the hanger, thread your wood beads onto a piece of twine until you're happy with the length. Tie knots next to the end beads to secure them all on the twine.
Then, glue the ends of the twine to the back of the large square sign. Lastly, I used an IOD mould and hot glue to create a little sunflower to go in the center of my faux tile art decor.
Fill the IOD mould with your hot glue, and allow it to completely harden. Once it's hardened, remove the shape from the mould.
I used a mixture of the territorial beige and melted chocolate along with white paint to make my hot glue sunflower match my faux tile art decor.
Once the paint was dry, I glued the hot glue sunflower to the very center of the sign, where the twine strings overlapped!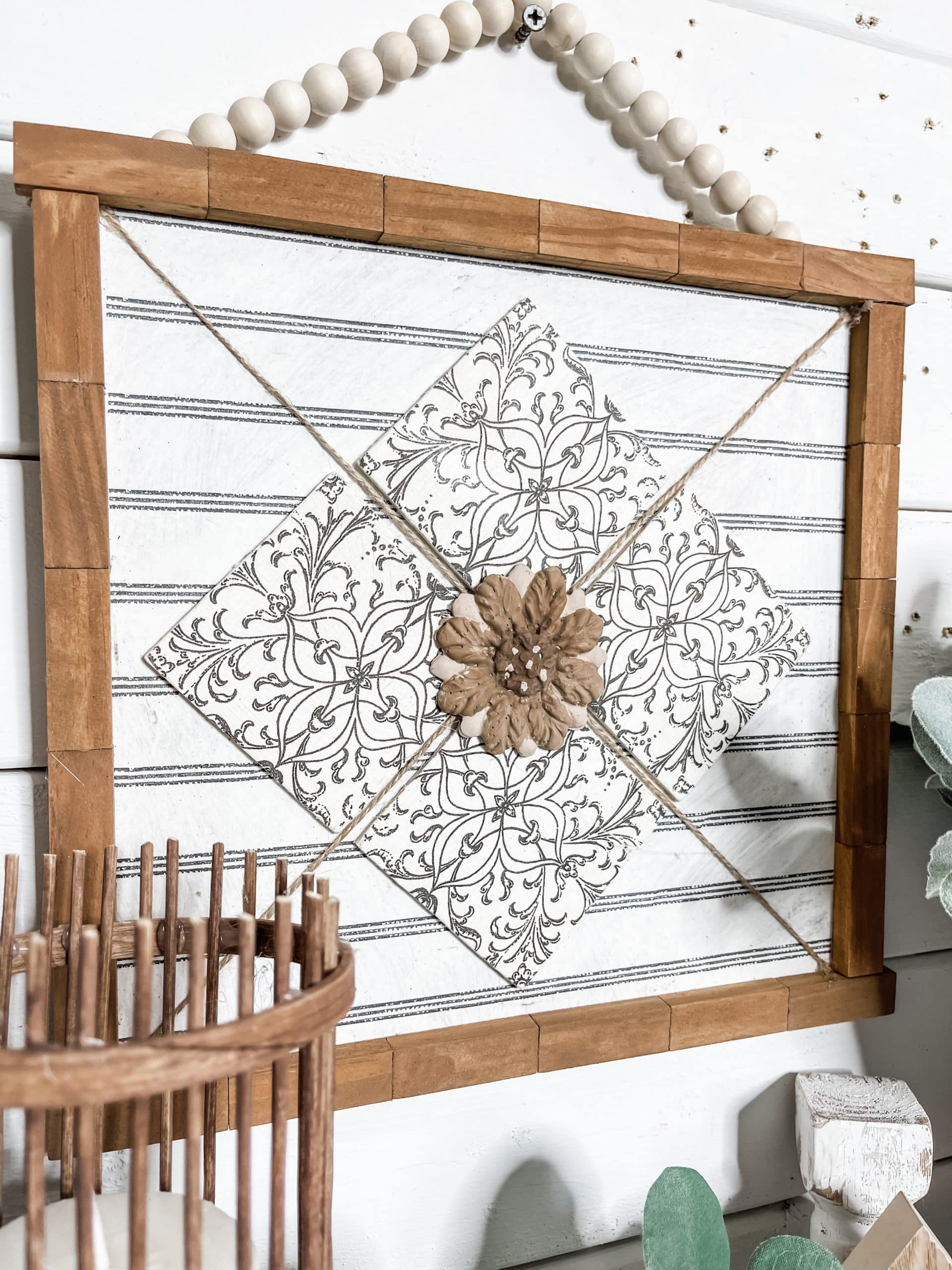 I hope you enjoyed this Faux Tile Art Decor and decide to make it for yourself! I would love to see how yours turns out!
You should totally join my FREE Facebook group called On A Budget Crafts! It is a judgment-free community for DIY crafters to show off their projects and ideas.
I shared how to make this super cute Faux Tile Art Decor during a LIVE video on my Facebook page.
If you want to see the DIY process, craft along, or just join in on the fun conversations you can watch the DIY tutorial replay on Facebook!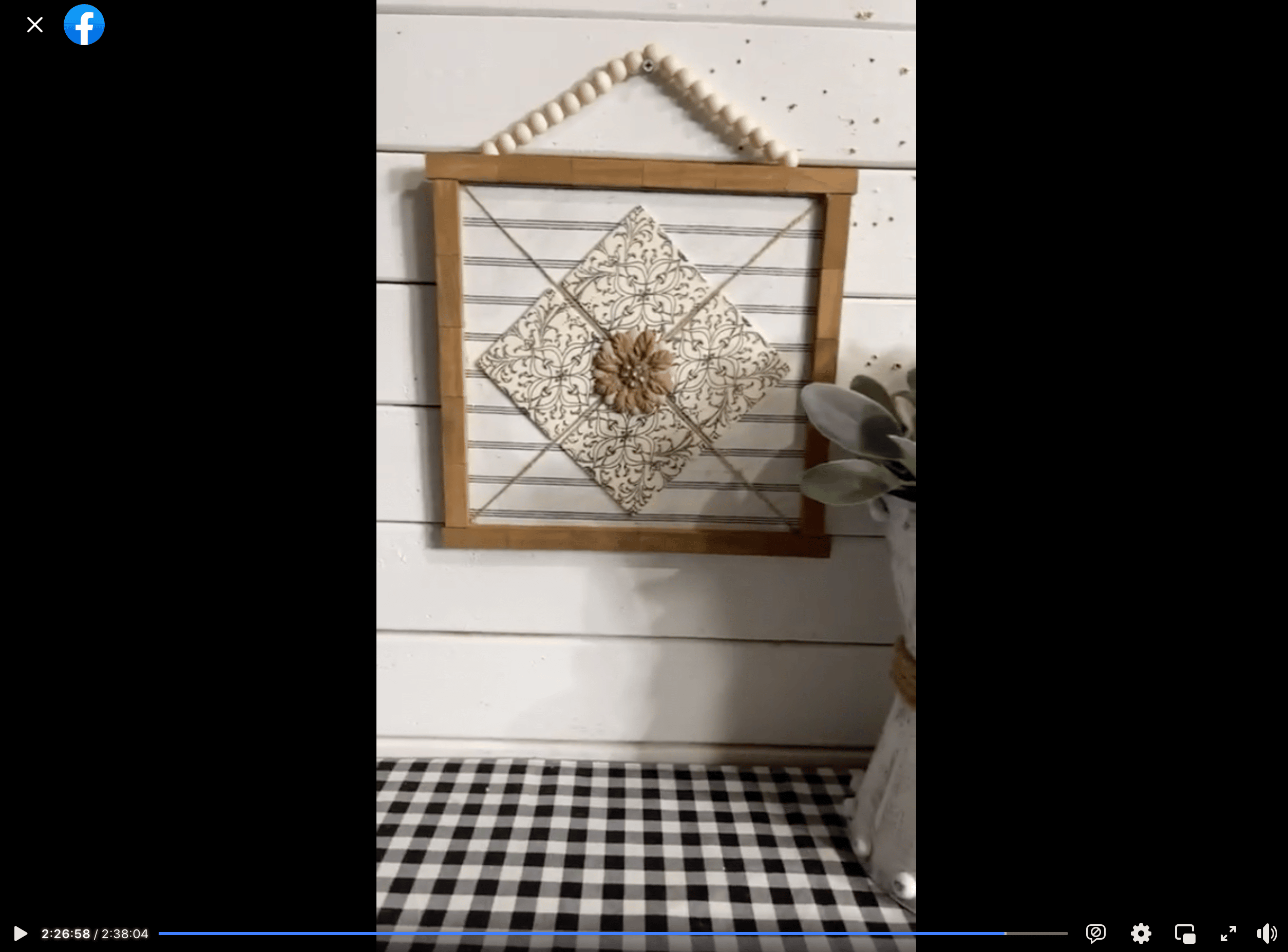 For this project, I will be using these items but you can substitute where you want.
"As an Amazon Associate, I earn from qualifying purchases."
Dollar Tree Square sign
Dollar Tree small wood squares
Napkin of choice(2 different patterns)
Dollar Tree Tumbling Tower blocks
wood beads
Mod Podge
Paint of choice

Folkart White Chalk Paint

Apple Barrel Melted Chocolate Acrylic Paint
Apple Barrel Terracotta Beige Acrylic Paint

Wet wipes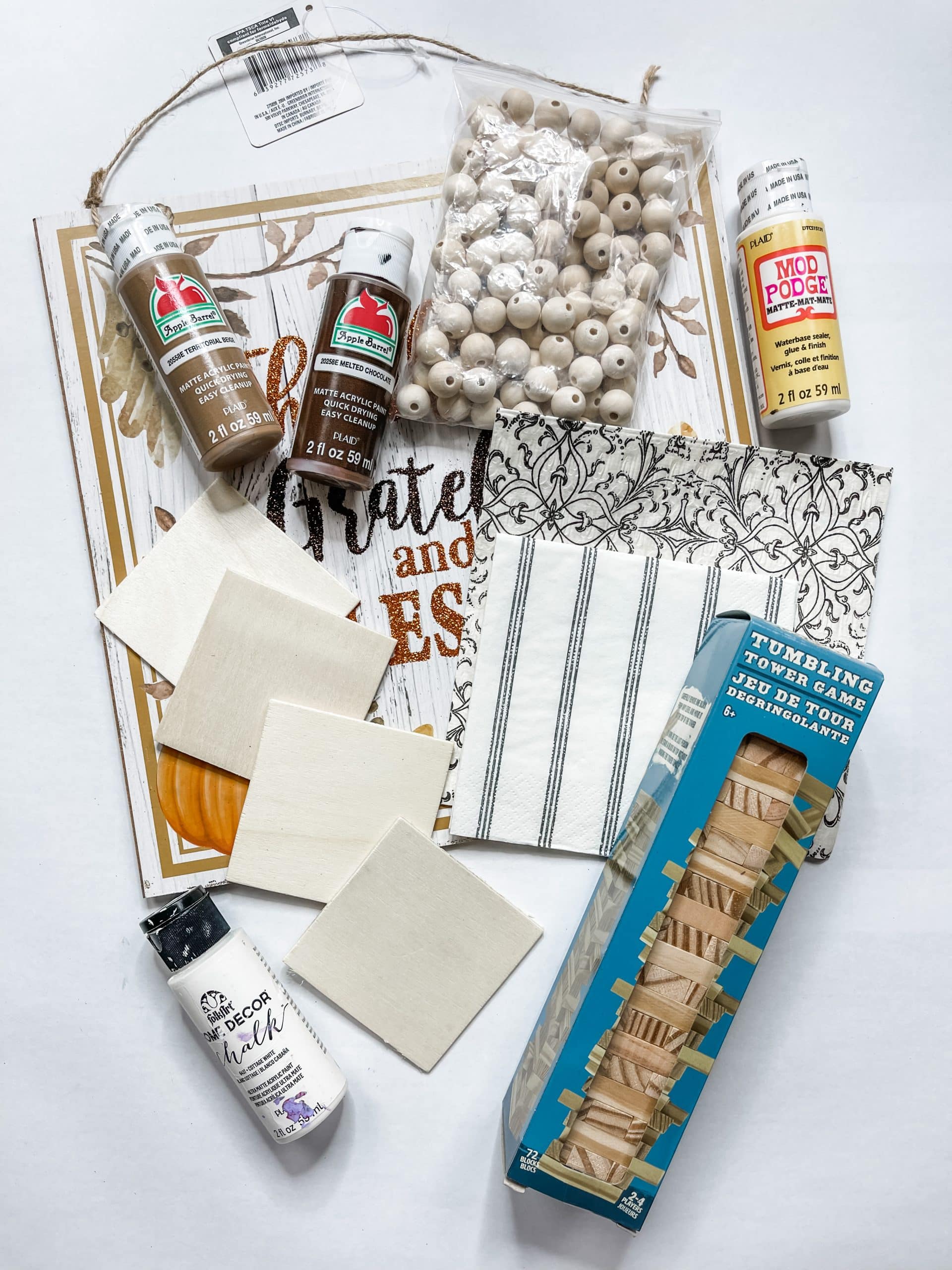 If you loved this Faux Tile Art Decor you might also like this

Chippy Rosette Home Decor

!
Thanks for stopping by! XOXO Amber
You can also shop my ENTIRE AMAZON Favorites shop just click here! It's packed full of all the things I use and love. Here is the supply list I highly recommend every creative have on hand!!
Would you also pin my blog for later and get on my newsletter alerts? I would love to have you join my #craftycrew.
Inspired? Leave me a comment below! I love hearing from my readers!