Dollar Tree DIY Farmhouse Fairy Garden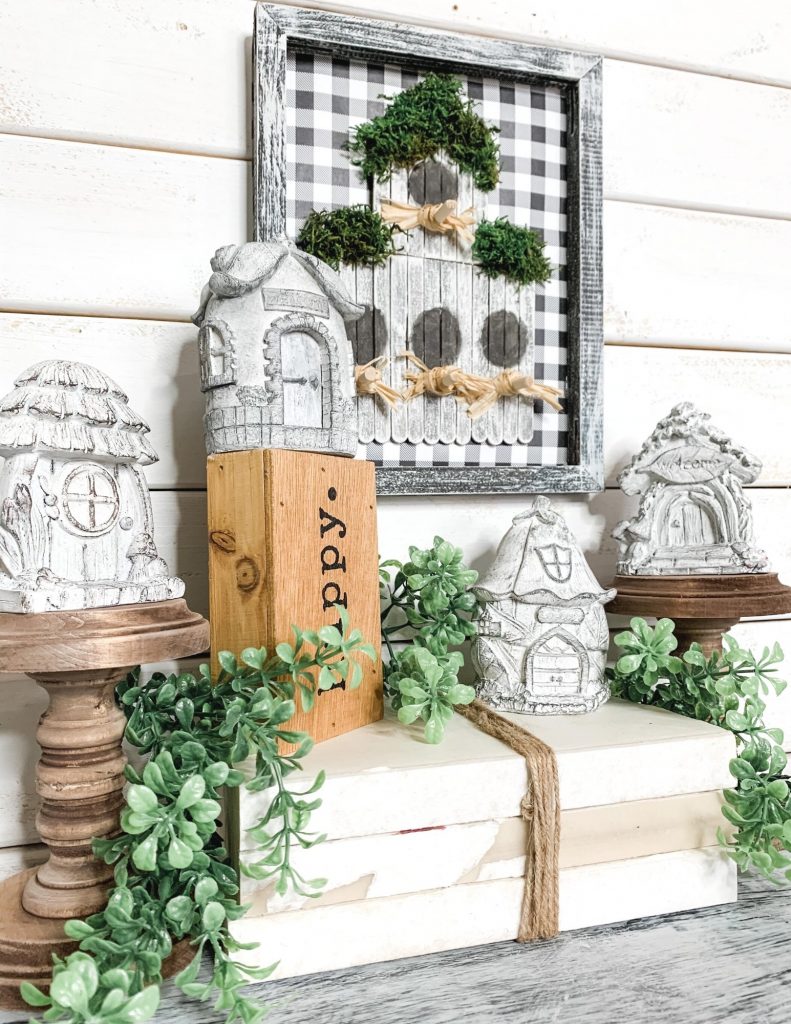 >> Pin this for Later <<
On today's blog, I am sharing a fun DIY! It's my Dollar Tree DIY Farmhouse Fairy Garden project! This girl right here (me) needed some cute but inexpensive shelf sitters for my home.
My idea is that I am going a little farmhouse and a little boho style too! I saw these fairy garden items at my local Dollar Tree and instantly thought the bright colors are cute but not for me. So why not paint them and make them more my style!
I often walk in Dollar Tree and try to keep an open mind! I browse the store thinking to myself, what can I do with this! Anyone else???
There is no way I am the only one who does this! Anyways, I needed some shelf stuff for my home and I am definitely on a budget, considering I have been redoing all my home decor throughout my whole house.
Yeah, I am a girl on a mission! So, today we are going to make Dollar Tree DIY Farmhouse Fairy Garden decor!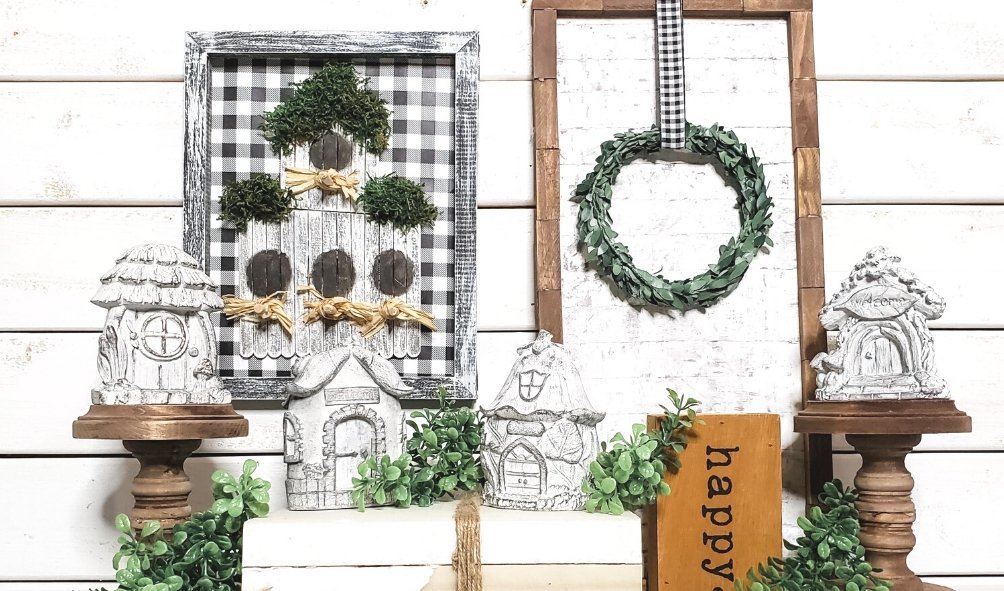 I've been sharing this entire home decor journey on my Facebook page through live video's. Also, I have branched out to Youtube recently and started my very own channel!
You should check it out! No posts to scroll through, I actually like that Youtube has a clean feed to browse on channels and you can easily search stuff too. Facebook makes that hard sometimes to search for stuff.
Seriously, I hope you subscribe to my new Youtube Channel! (I called it DIY with Amber Strong)
Alright, now for today's project!
It is a very easy one. On this project I spent $4 on these Fairy Garden items, with a little paint and technique, I am going to create 4 cute high-end decor look items. The best part is, the step by step video is over on my channel right now!
WATCH THE TUTORIAL Click below!

Furthermore, In case you are still here on the blog, I am going to share with you what items I used for this Dollar Tree DIY Farmhouse Fairy Garden Decor project. Not everything came from Dollar Tree! The Fairy Garden items did!
I would also love to see what you have done with Dollar Tree items, you know I have a free group on Facebook where you can share your creations and get inspired by others too, it is called On a Budget Crafts totally free to join!
Time to make this Dollar Tree DIY Farmhouse Fairy Garden!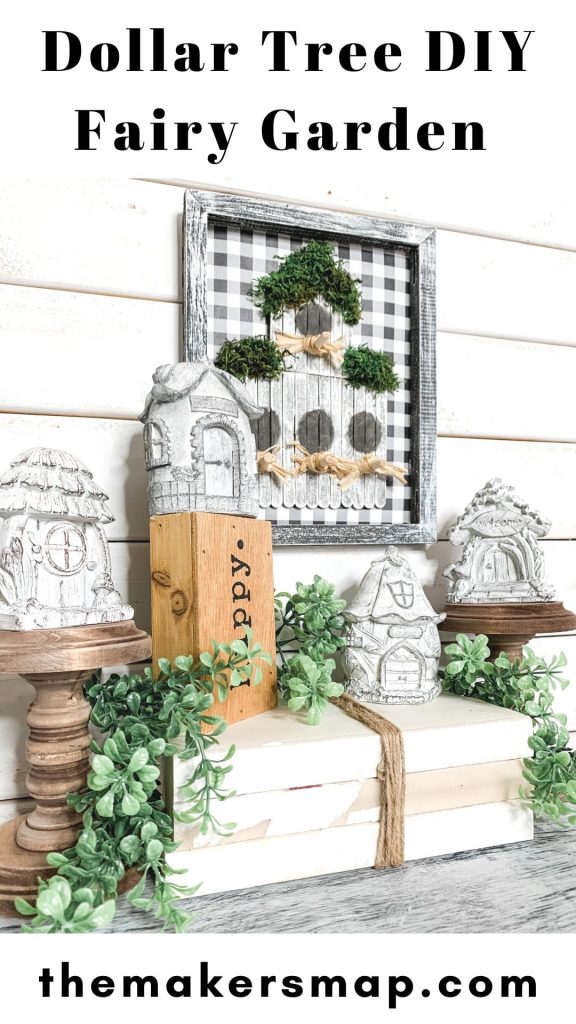 >> Pin This for Later <<
Alright! Let's get right to it! (These are my affiliate links, if a purchase is made through one of my links I may earn a small commission, but that does not cost you any extra.)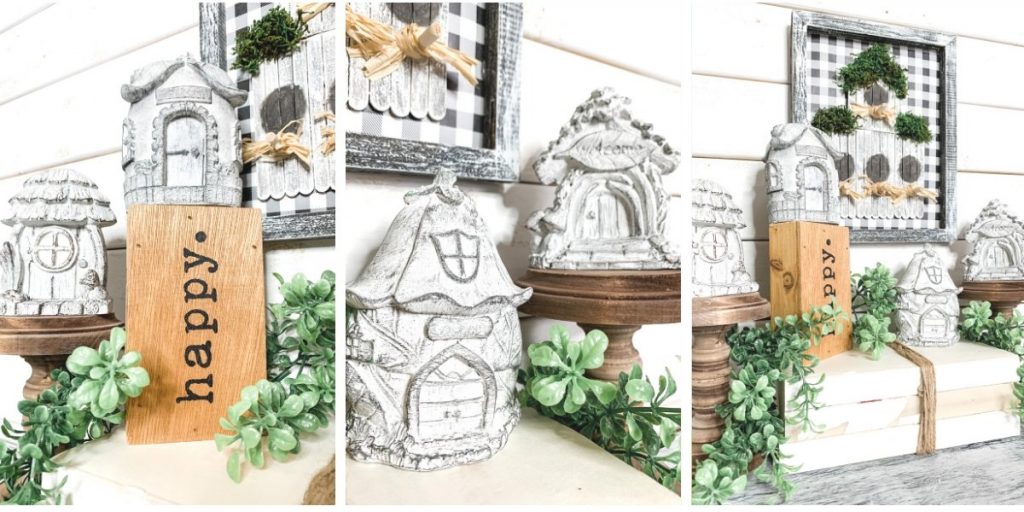 .
The supplies I used:
To make a Dollar Tree DIY Farmhouse Fairy Garden Decor WATCH IT HERE
Secondly, In my Youtube Video, I guide you through step by step to making this simple and easy!
DON'T FORGET TO SUBSCRIBE TO MY YOUTUBE CHANNEL! and watch the HOW-TO VIDEO!
Here is the supply list photo to make this Dollar Tree DIY Farmhouse Fairy Garden Decor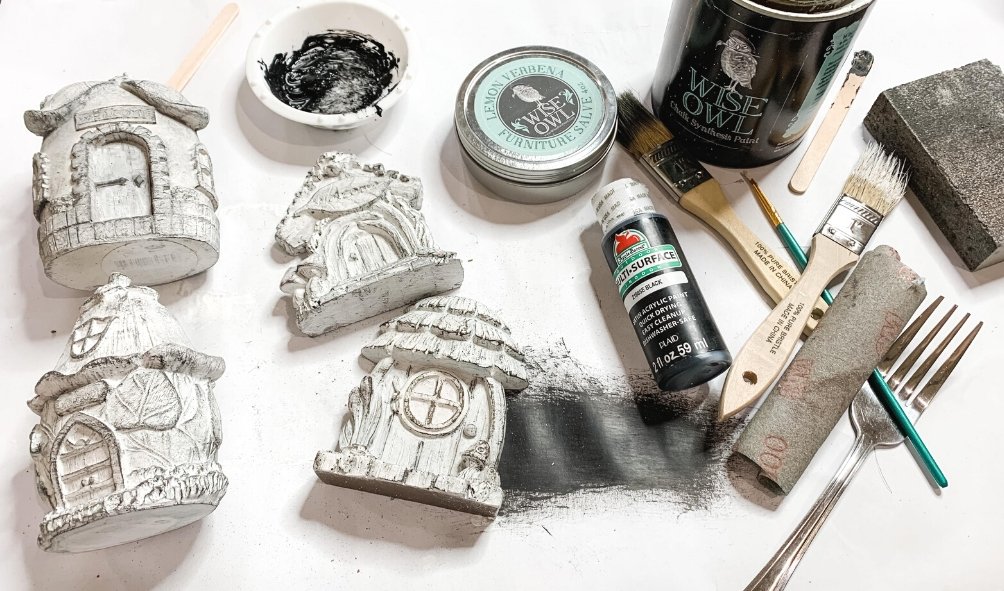 I'd love to hear from you and what you thought of today's DIY! You can leave me a comment here on my blog or on my video!
Before you go, If you love to Craft and DIY and you are looking for a community, you should consider joining my PRIVATE VIP community called The Creative Haven VIP! Guess what, it is open to new members, you can learn more about it right here! (it is a craft along paid group) but there are hundreds of members there who are like one big family, plus I am there too! We would love to have you! In fact that DIY farmhouse shutter shown in today's DIY was made inside the Creative Haven VIP group!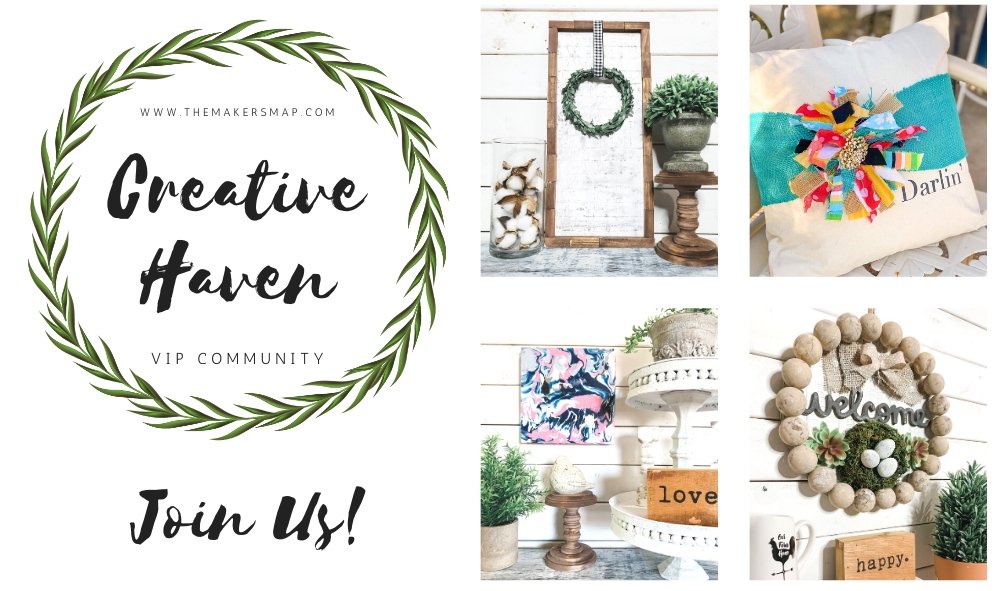 Wonder where I get my supplies?
I get my supplies where ever I can, but I do love Amazon! Remember, You can shop my ENTIRE AMAZON Favorites shop just click here! It's packed full of all the things I use and love. Here is the supply list I highly recommend! I hope you have loved this week's blog post and are inspired! Be sure to pin my blog for later and get on my newsletter alerts! It is easy to sign up here! Not only do I love my entrepreneur friends, I absolutely adore my #CRAFTYCREW too!
If you loved this DIY, you just might like this one too! Check it out!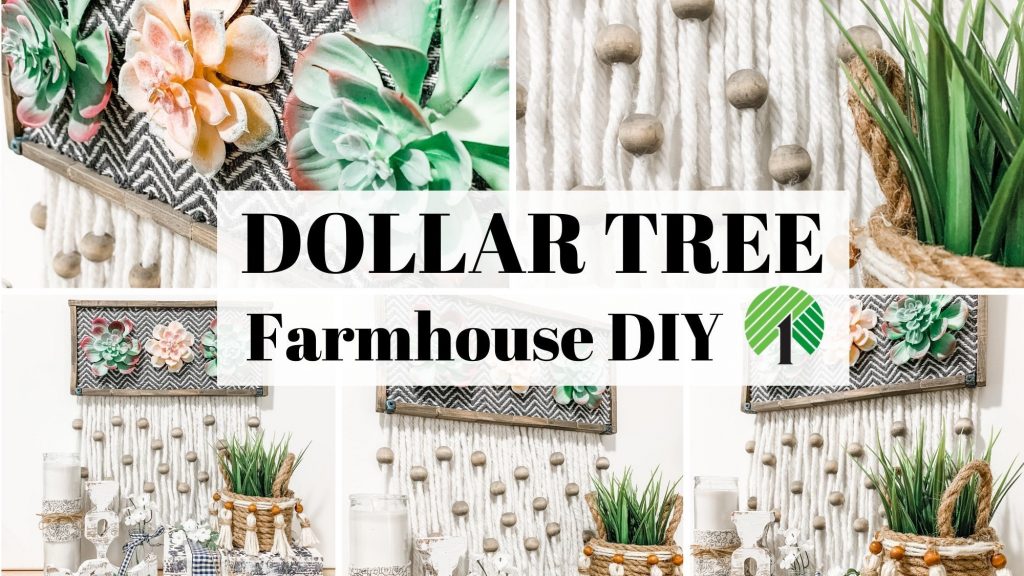 Inspired? Leave me a comment below! I love hearing from my readers and viewers!
Please spread the word about my new youtube channel! Honestly, I am beyond excited! I will keep you updated on a set schedule too! I am just figuring things out! But I hope you loved this project and I hope you have been inspired to get creative! Your home can be beautiful affordably, and you can make it happen!

Stay creative friends! See you on the next blog (be sure to follow me on Facebook, I do live video's all the time)
Join my free "ON A BUDGET CRAFTS" Facebook group!
>> PIN THIS POST FOR LATER! <<