Dollar Tree DIY Farmhouse Terracotta Pots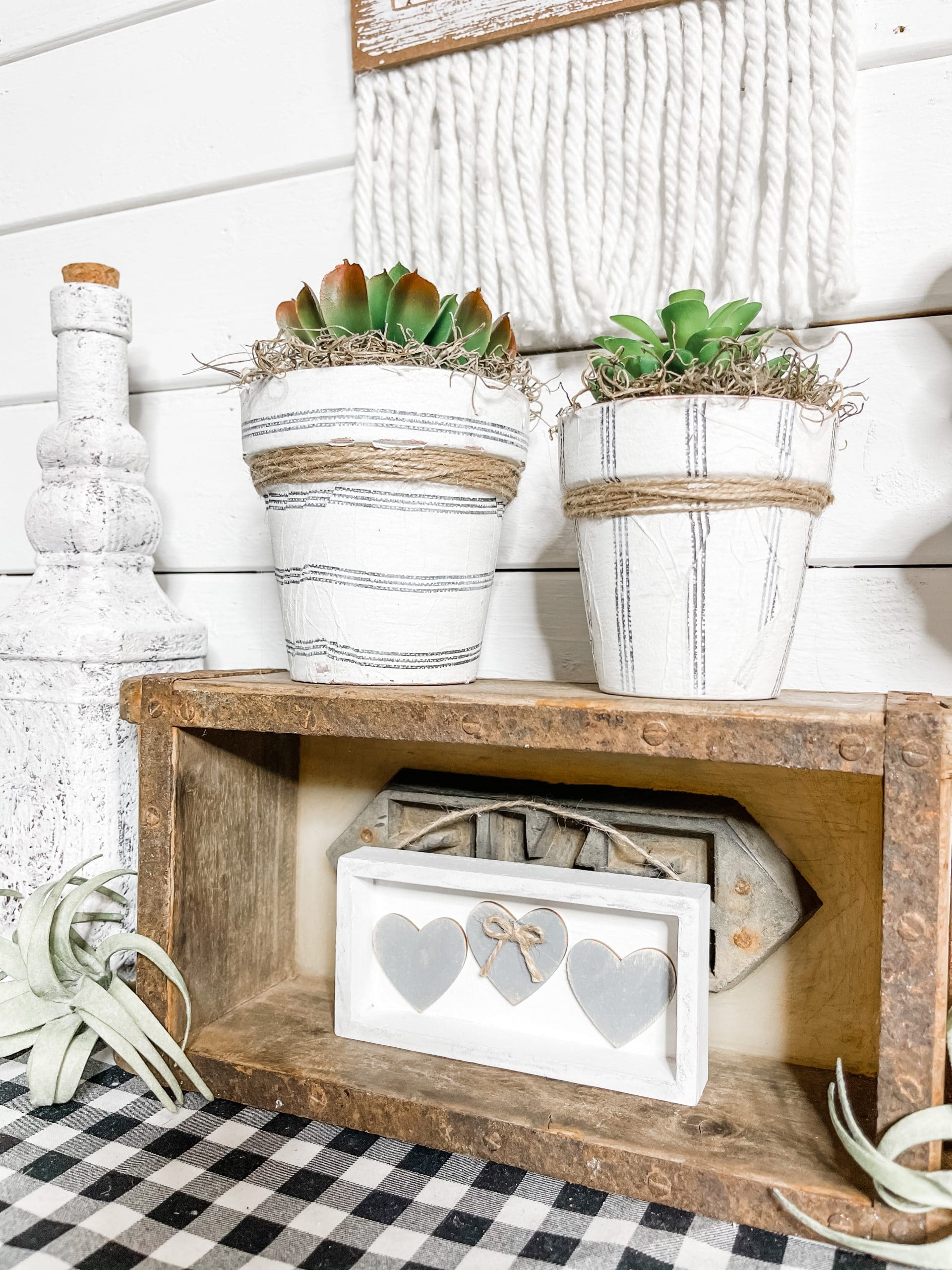 I love the simplicity of these Dollar Tree DIY Farmhouse Terracotta Pots, and I love how you can personalize this and turn it into a more meaningful decor, or even a gift for a loved one!
With Mother's Day coming up, maybe the wonderful mom in your life would enjoy these easy Farmhouse terracotta pots with faux succulents (because who has the time to actually keep plants alive??)!
Watch the replay
I recorded how I made these easy DIY terracotta pots during a LIVE video on my Facebook page! If you want to see the process, craft along, or join in on the fun conversations, you can watch the replay!
For this project, I will be using these items but you can substitute where you want.
"As an Amazon Associate, I earn from qualifying purchases."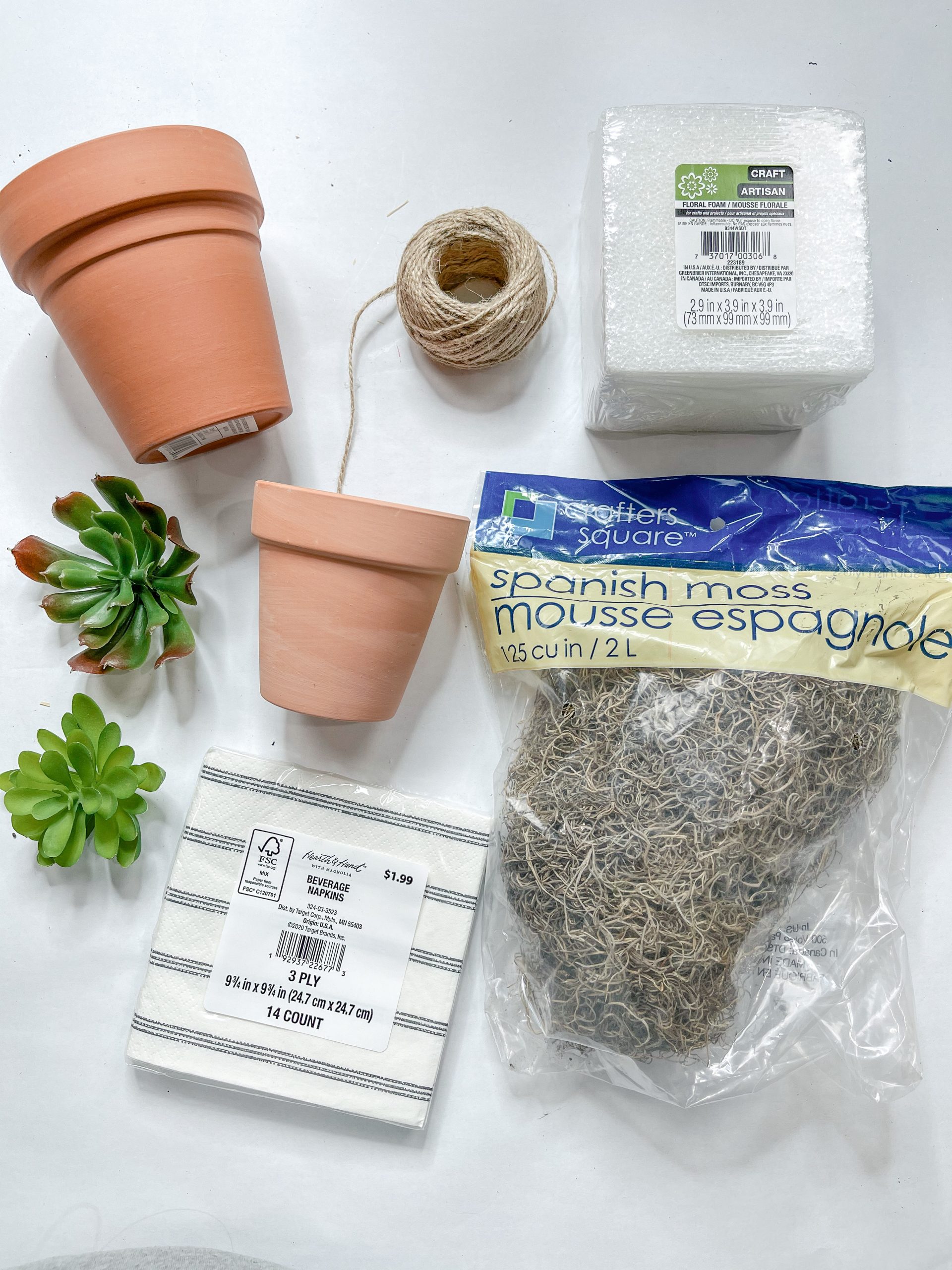 How to Make Dollar Tree DIY Farmhouse Terracotta Pots
Start this easy DIY farmhouse decor by separating the napkin plies. If you don't do this, the top ply (the one with the design on it) might not adhere properly to the terracotta pots and could start to peel up later.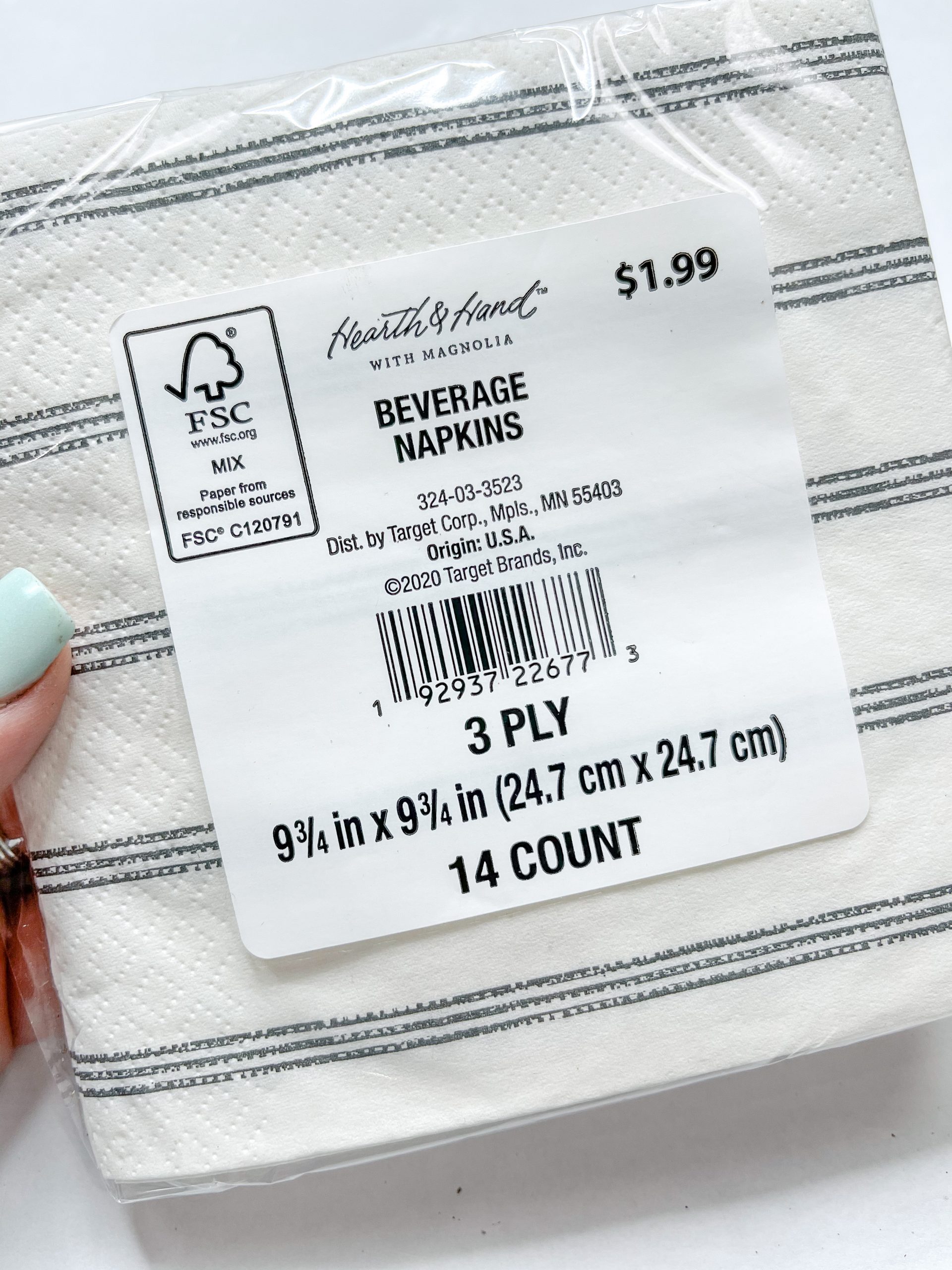 Once you have the plies separated, you need to paint the pots with white paint. I used Apple Barrel White Acrylic Paint because it is affordable and it works perfectly! If you don't paint the pots white, you'll have the orange/brown color peeking through the napkin after you decoupage it.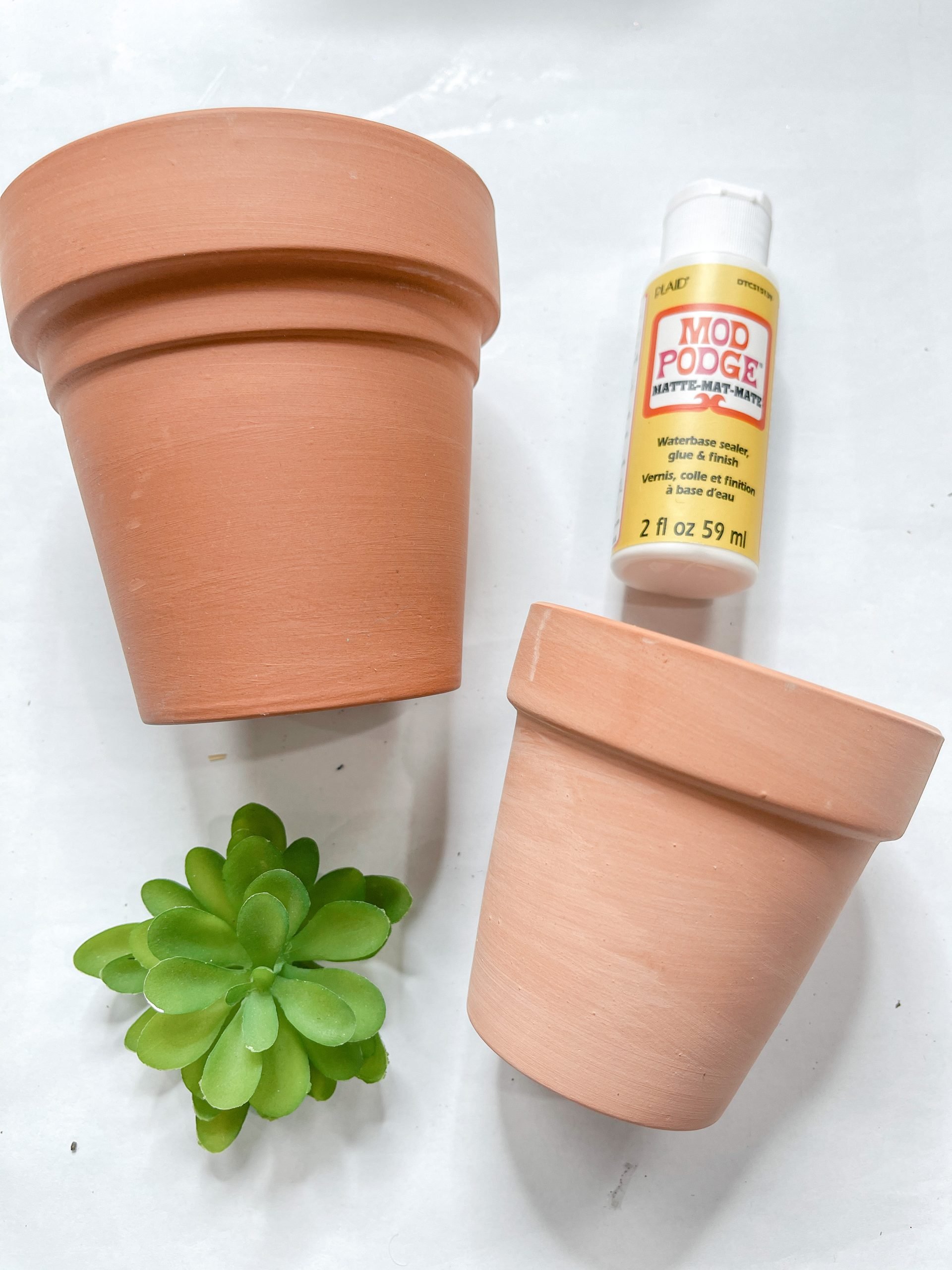 Next, apply a coat of Mod Podge everywhere that you want the napkin to adhere to. Carefully place the napkin onto the terracotta pots. If it wrinkles or creases, don't panic! Usually, I would try and smooth them out, but I think it adds a bit of character to the farmhouse feel of this DIY decor!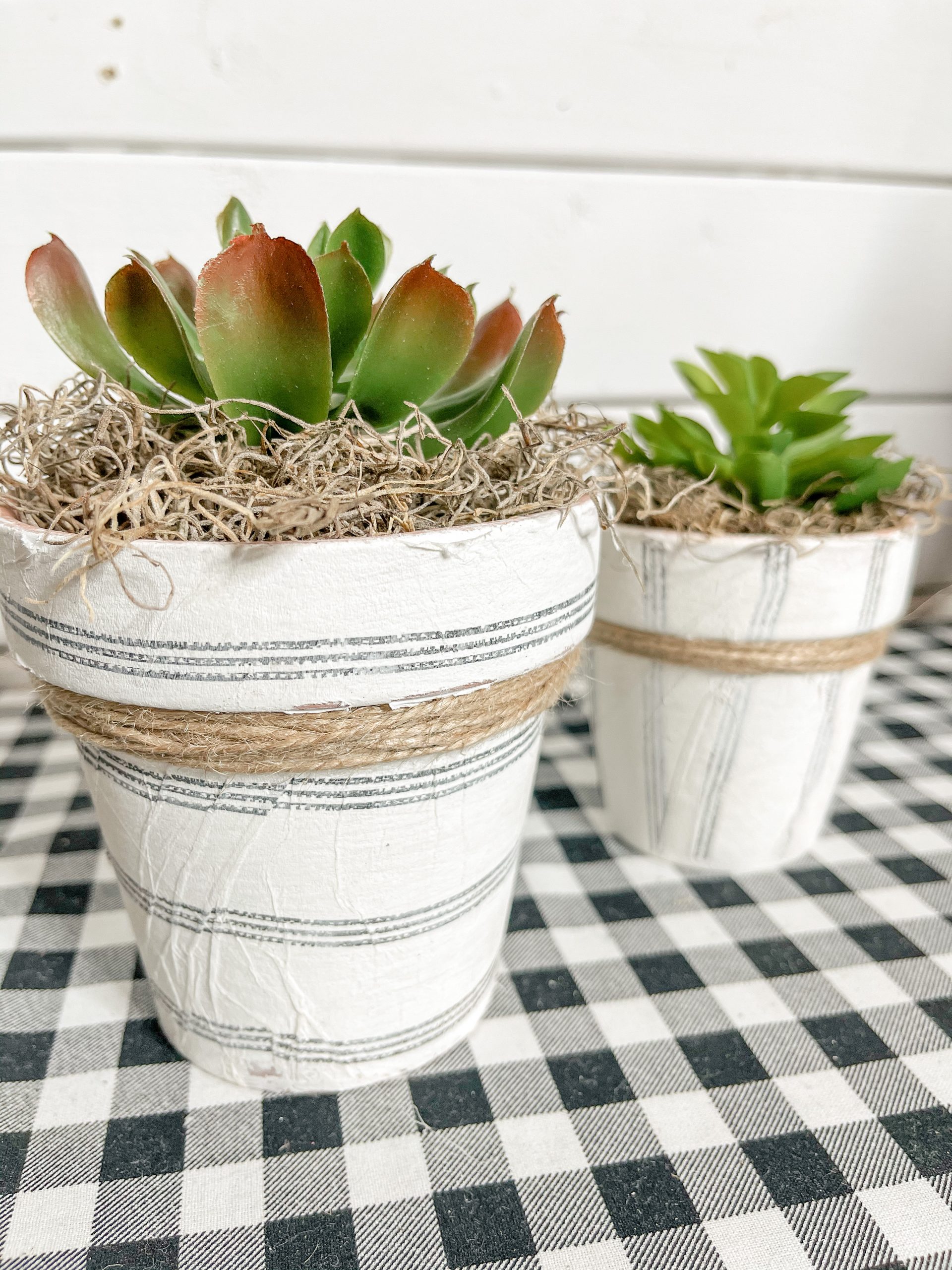 Allow the Mod Podge to dry, then go back over the napkin with more Mod Podge. This helps seal the napkin and also helps it have a more secure bond onto the pots. Let the Mod Podge dry again, then use a sanding sponge to remove the excess napkin.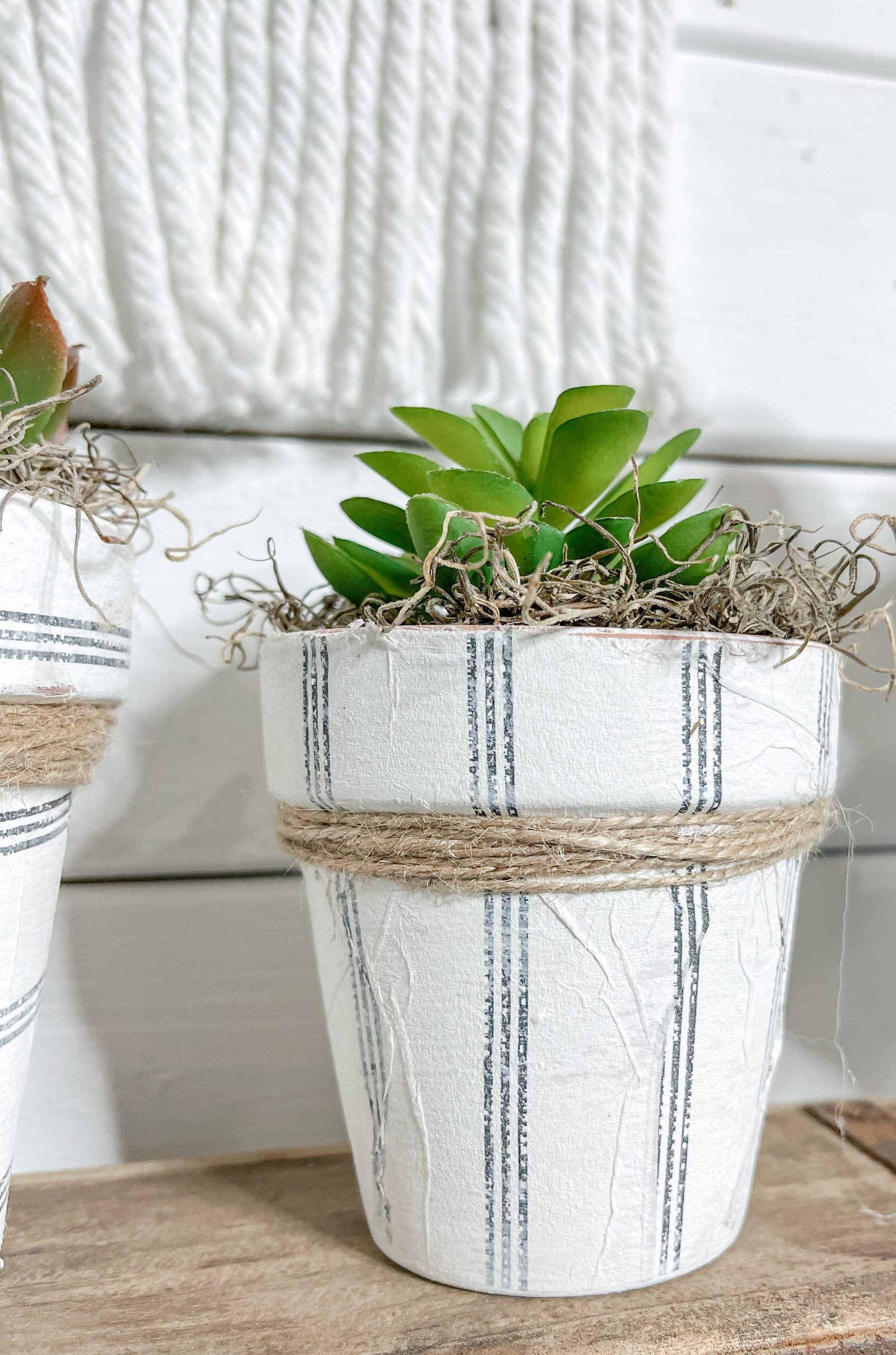 Get your jute twine and wrap it around the terracotta pots near the top. Wrap it around several times and hot glue the twine in place. Now, you need to get the floral foam ready.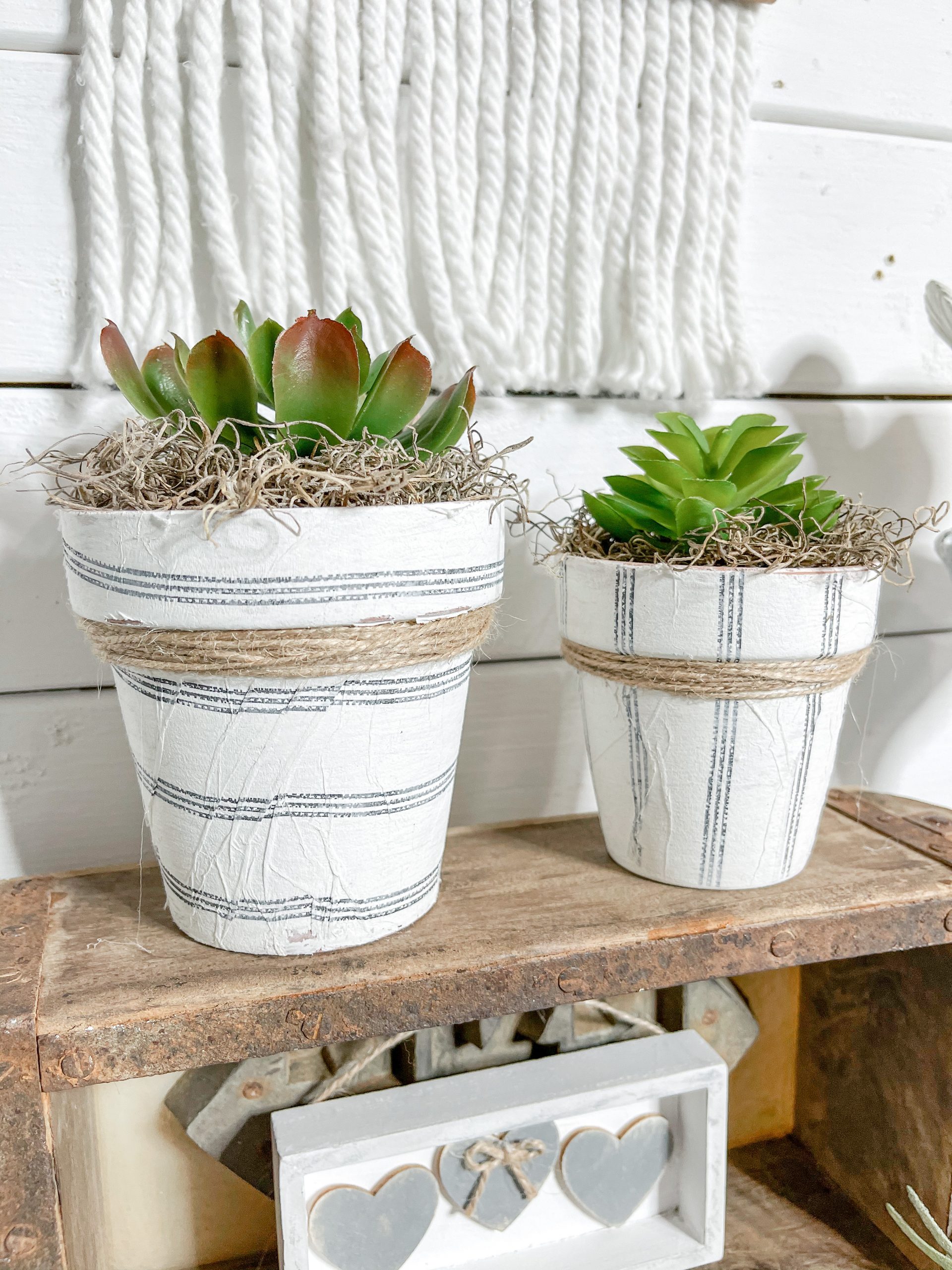 The finishing touches
Cut the foam to fit inside each of the terracotta pots and press them down into the bottom. You can hot glue them in place, but that isn't necessary unless you're planning to put a tall plant or item that might tip the pot over and pull the foam out.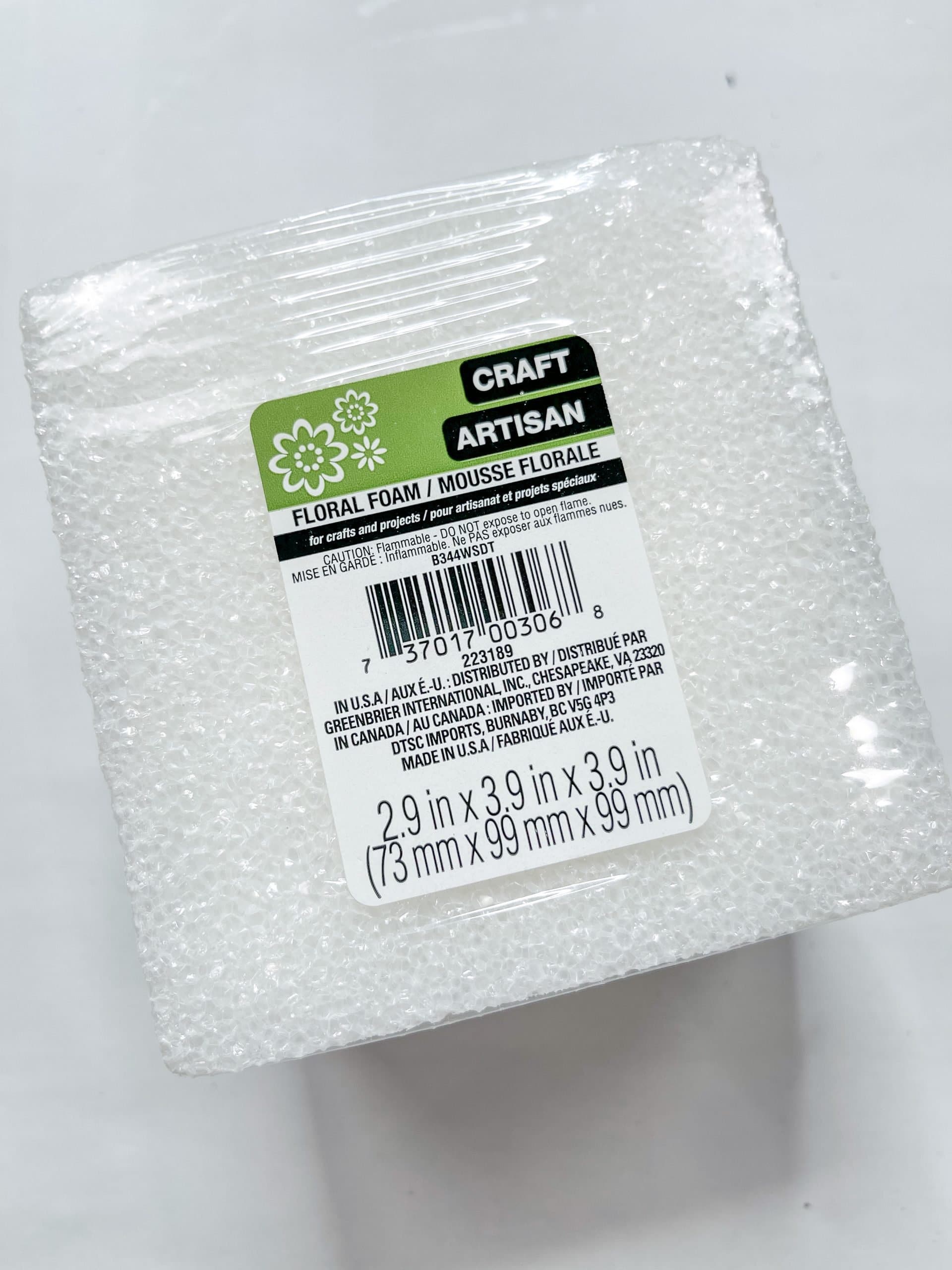 Ball your Spanish moss up and hot glue it on top of the floral foam. Finally, trim the stems of your Dollar Tree faux succulents and hot glue them on top of the Spanish moss!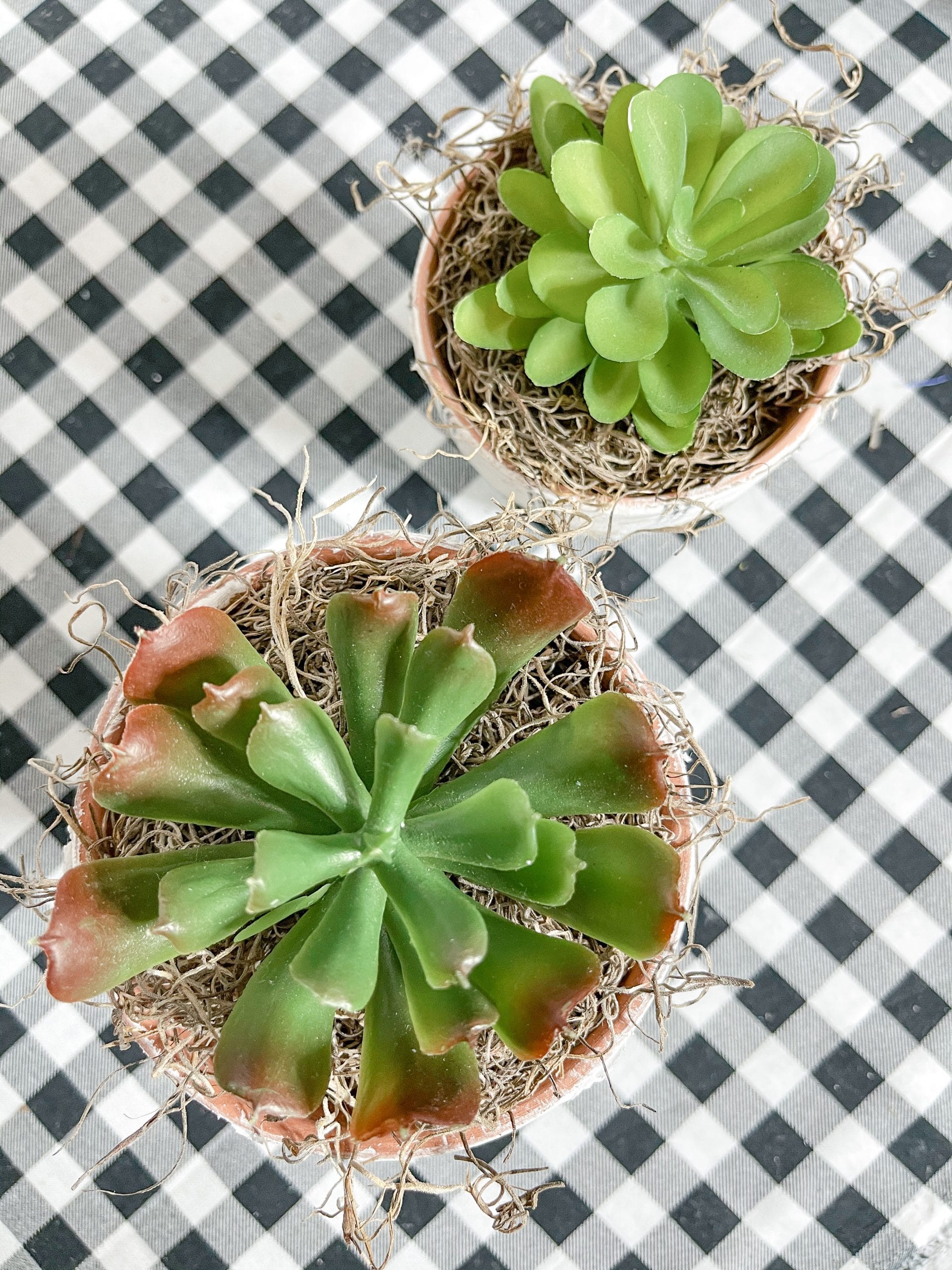 I hope you enjoyed these Dollar Tree DIY Farmhouse Terracotta Pots as much as I did and decide to make them for yourself! I would love to see how yours turn out!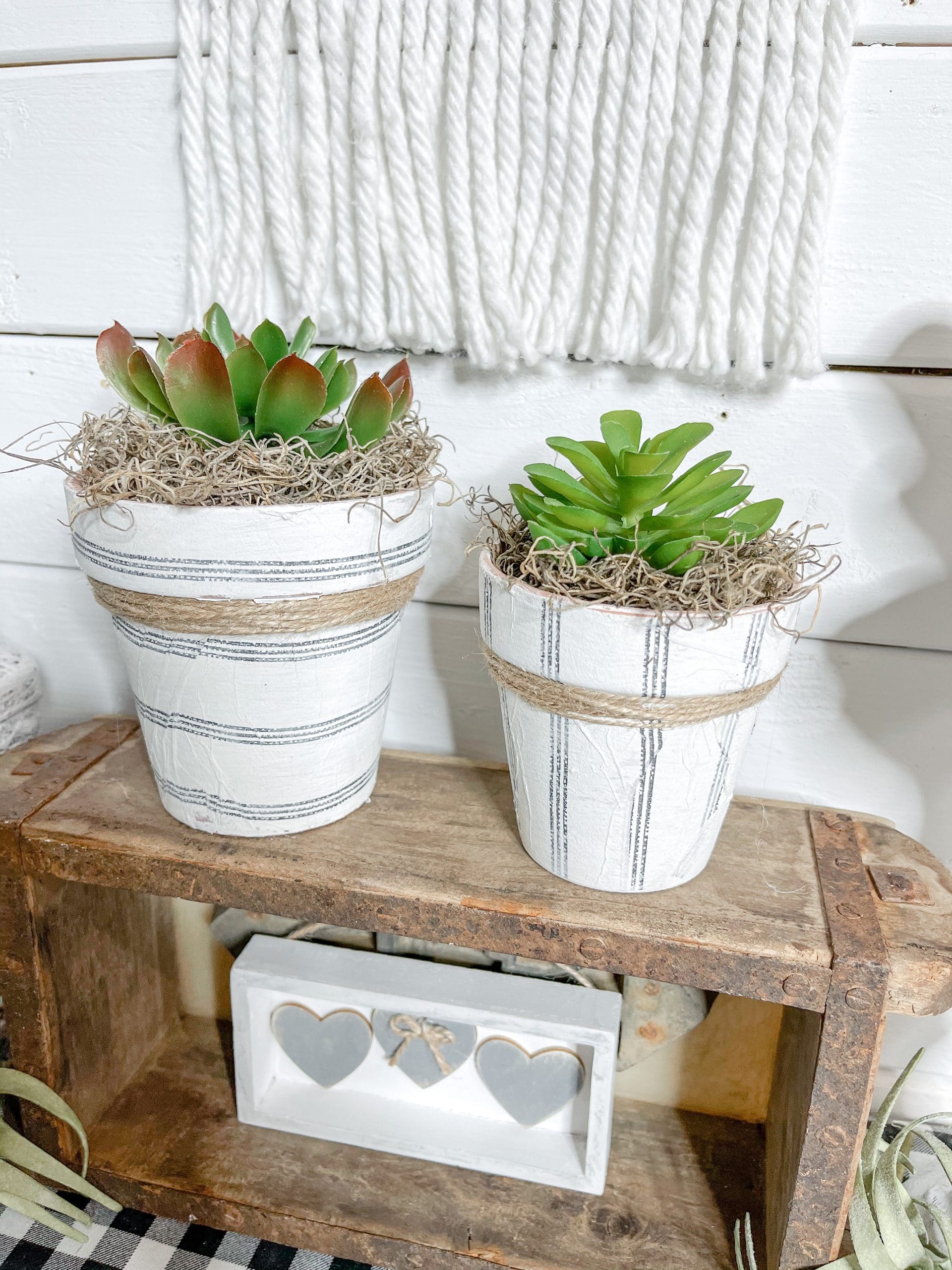 You should totally join my FREE Facebook group called On A Budget Crafts! It is a judgment-free community for DIY crafters to show off their projects and ideas.
Thanks for stopping by! XOXO Amber
You can also shop my ENTIRE AMAZON Favorites shop just click here! It's packed full of all the things I use and love. Here is the supply list I highly recommend every creative have on hand!!
Would you also pin my blog for later and get on my newsletter alerts? I would love to have you join my #craftycrew.
Inspired? Leave me a comment below! I love hearing from my readers!

Join my free "ON A BUDGET CRAFTS" Facebook group!