St Patrick's Day Shamrock DIY Door Decor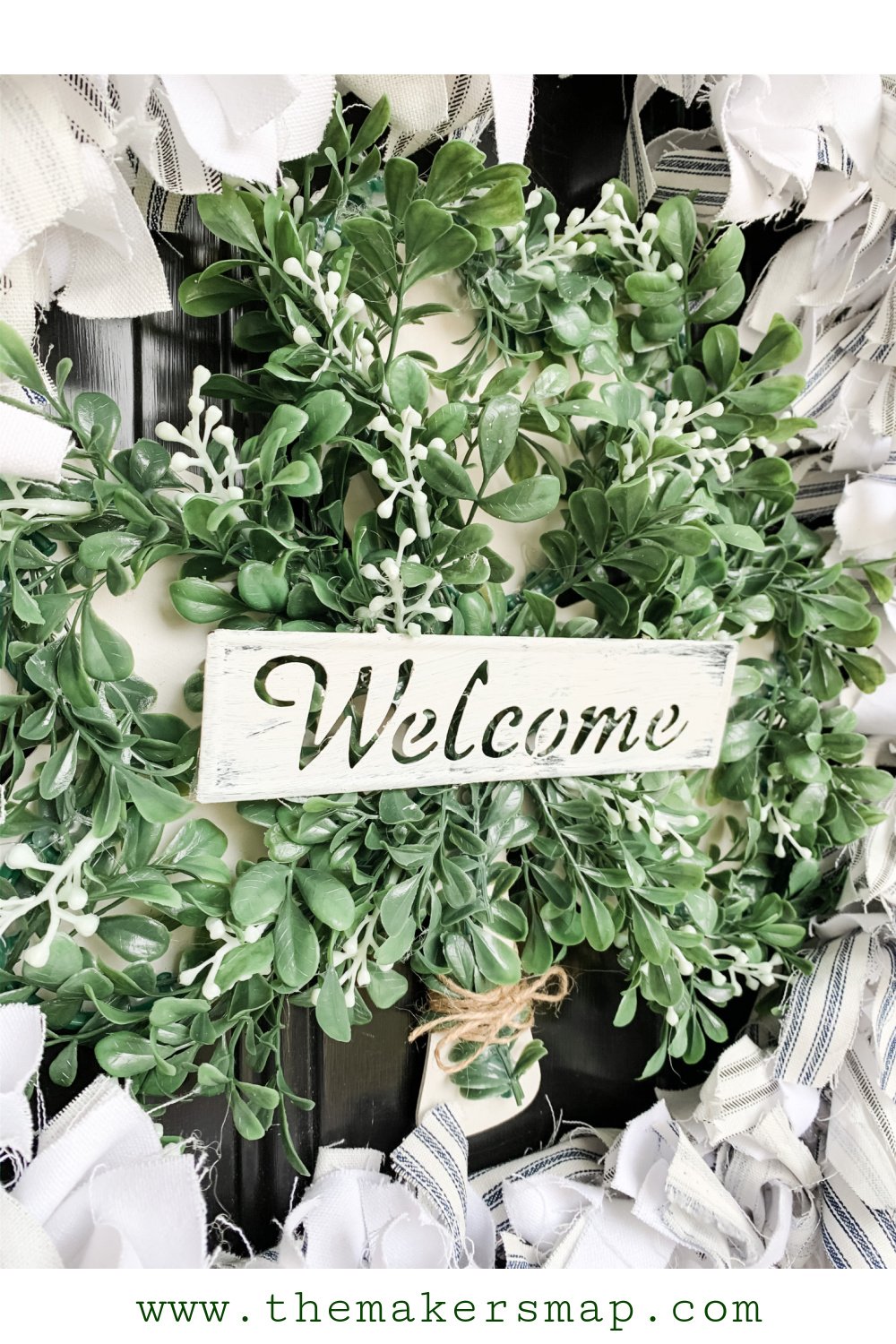 Y'all know me, I keep it real with you. And I'm not going to lie and say that I absolutely love St. Patrick's Day decor. But, I had these Dollar Tree supplies and decided to actually do something with them! That's how I came up with this St Patrick's Day Shamrock DIY Door Decor!
This DIY tutorial will show you how to make the center shamrock. The DIY rag wreath is a different tutorial.
Watch the replay
Want to see exactly how I brought this DIY idea to life? I recorded the how-to steps during a live video on my Facebook page. You can watch the replay to craft along or join in on the fun conversations we always have!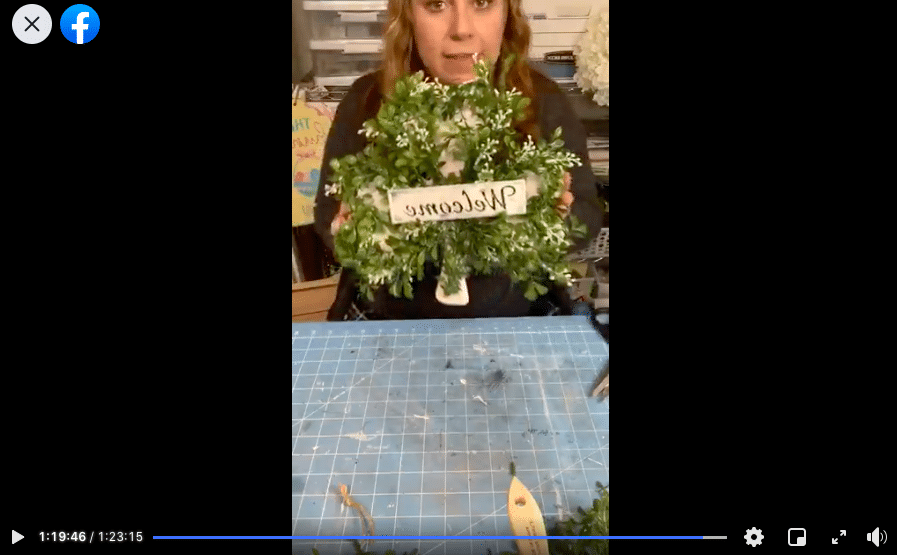 For this project, I will be using these items but you can substitute where you want.
"As an Amazon Associate, I earn from qualifying purchases."
Let's get started
Okay, start by removing the plastic garland from the plastic shamrock. We are going to spruce up the shamrock and make it look a lot less cheap, so that plastic garland has to go!
Just find the end of the plastic garland and start unwrapping it from the shamrock form. If you want to reuse the plastic garland, then be careful not to break it when unwinding it. Otherwise, you can cut it off as you unwind.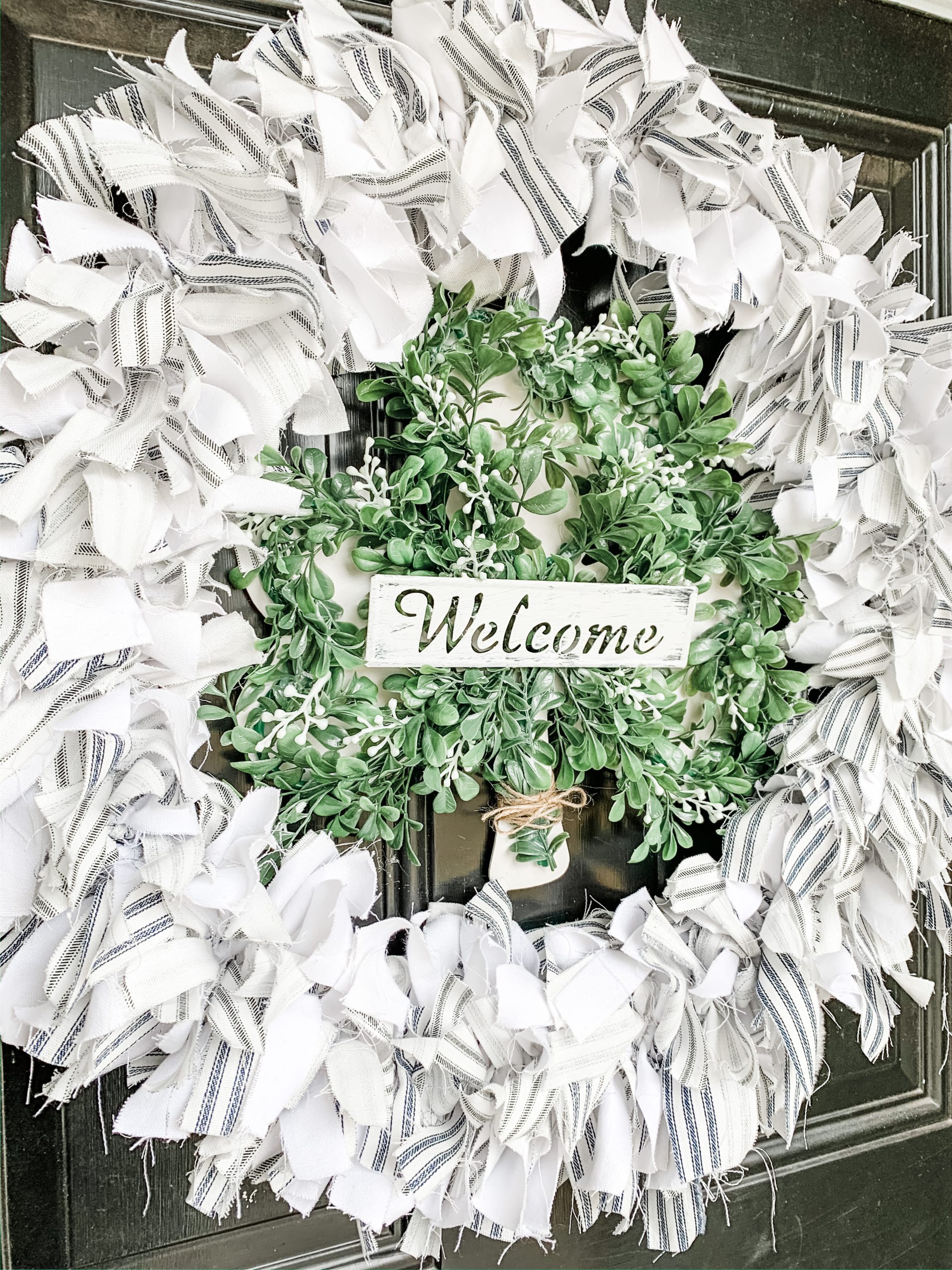 Now, grab the wood shamrock and some white paint, I used Dixie Belle Fluff Chalk Paint. Paint the face of your wood shamrock white. When we add the greenery later, it isn't going to fully cover the wood shamrock, so we don't want the natural wood color to peek through the greenery.
Allow the white paint to dry before moving on. I used my heat gun to speed up this drying process. If you don't have one, you can use a hairdryer on the low cool setting!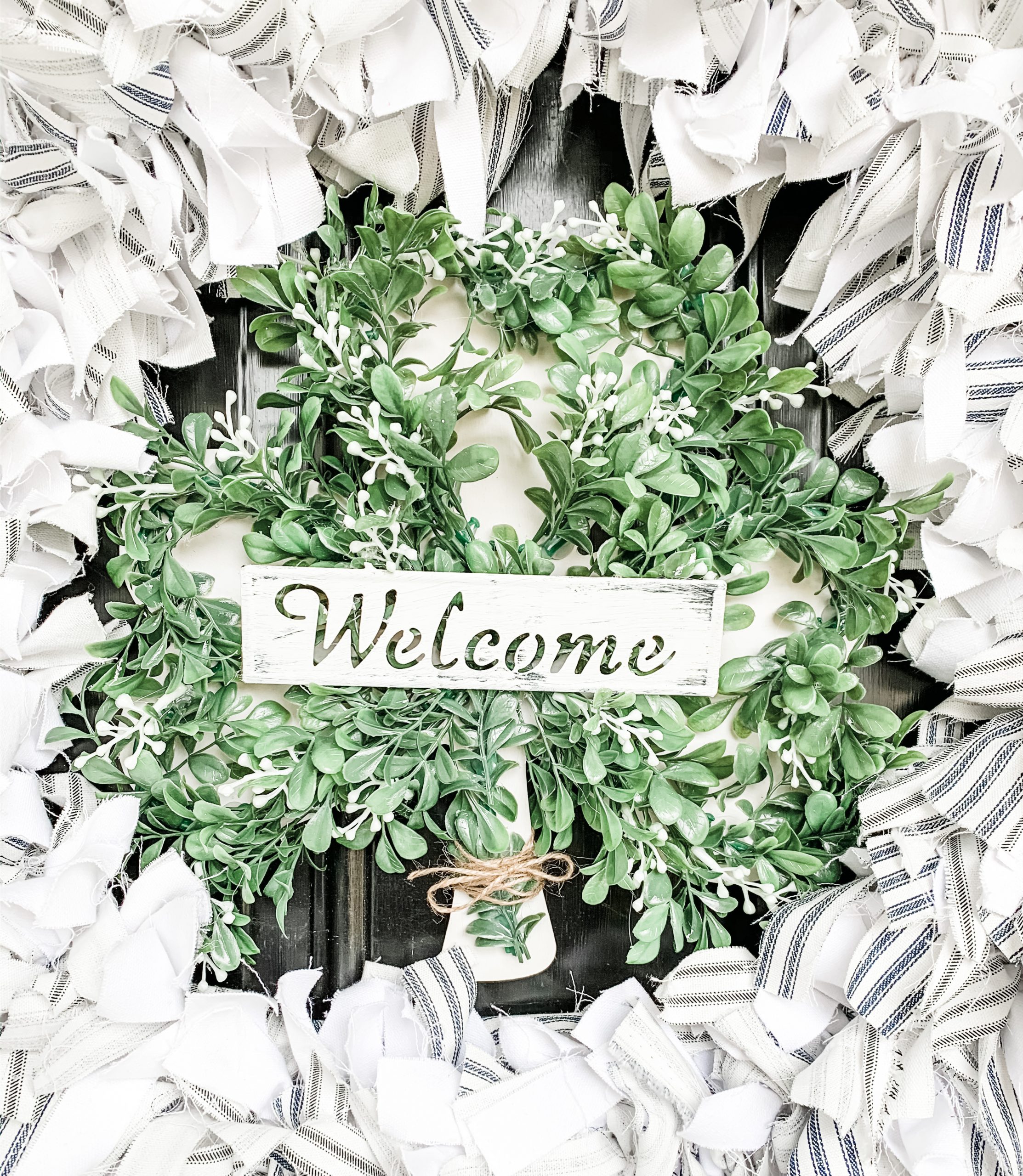 Once the white paint has dried, go ahead and hot glue the plastic shamrock form onto the wooden shamrock. Next, remove pieces of your greenery.
We are going to hot glue them individually to the plastic shamrock form. As you're placing the greenery sprigs, make sure they are pointed outward on the form with the stems pointing toward the center.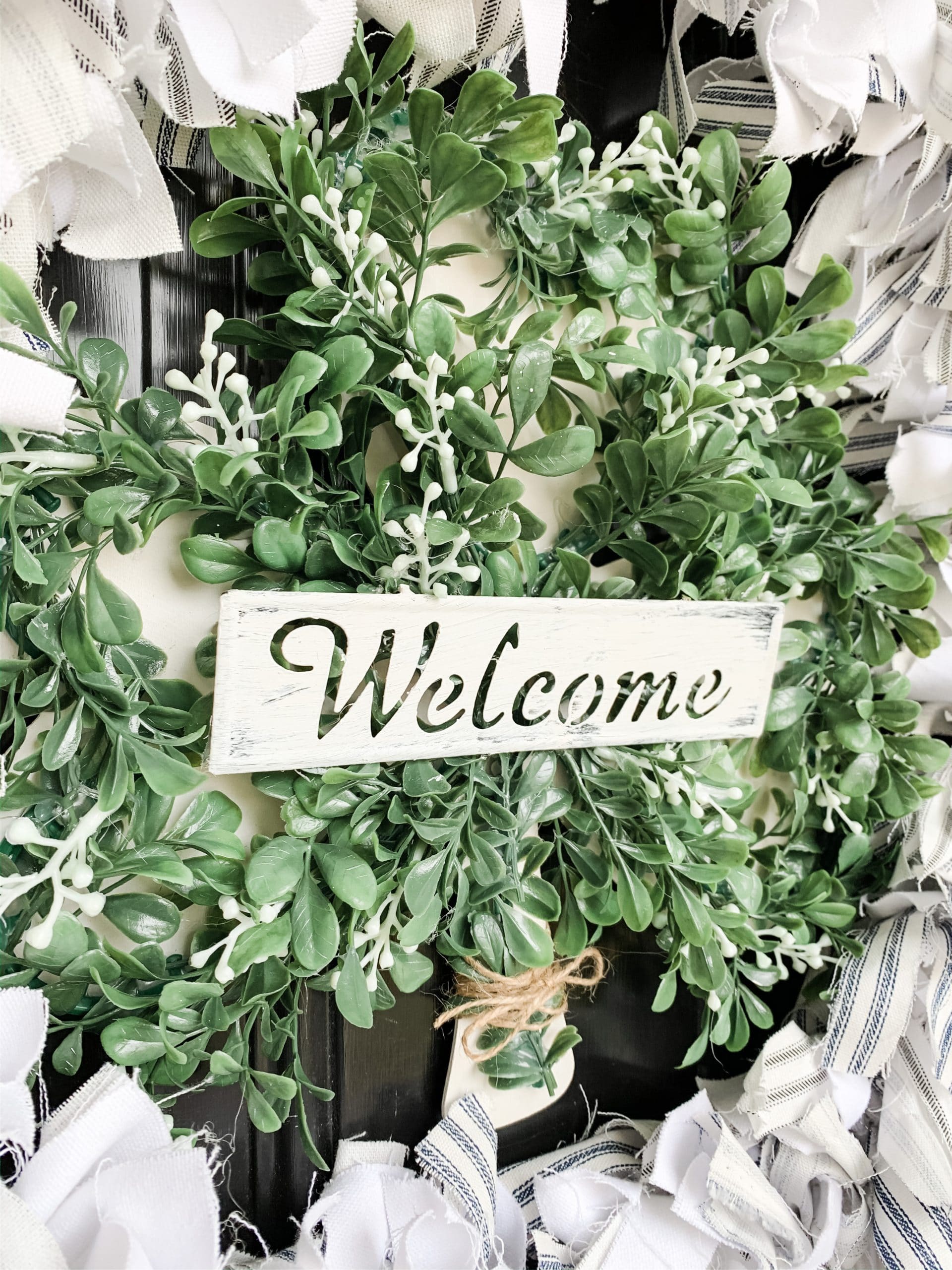 You might want to consider getting finger protectors for this project, otherwise, you will almost definitely get hot glue on your fingertips!
The finishing touches
Once you have the plastic shamrock covered with your greenery sprigs, you can set the shamrock to the side and grab the metal welcome sign.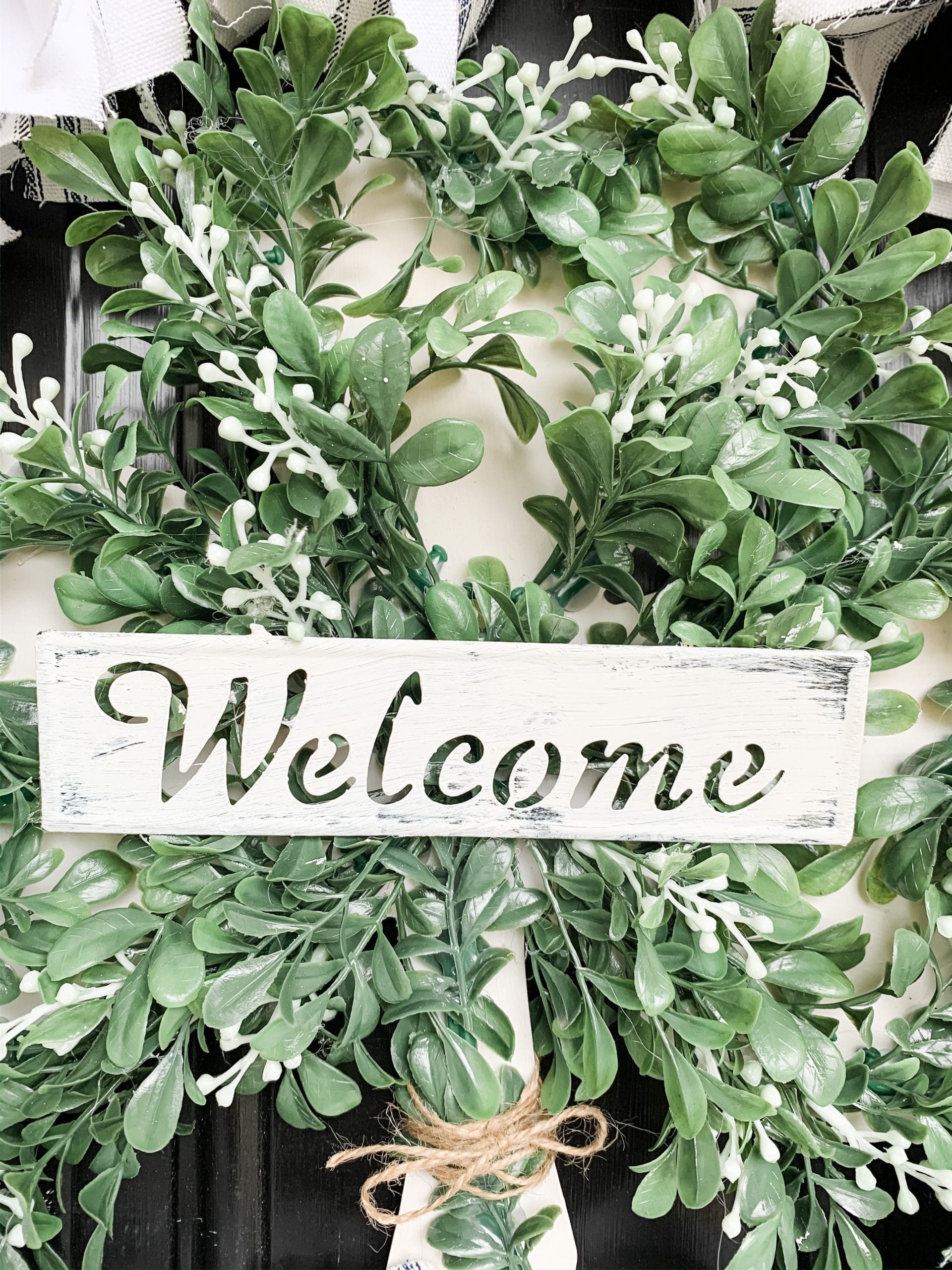 I painted my metal sign white so it would match the wooden shamrock behind the greenery. It also matches the DIY rag wreath I made before this St. Patrick's Day door decor.
Again, allow the white paint to dry first, then hot glue the metal welcome sign onto your shamrock. Try not to press it down too hard on the greenery, because you want it to look like it is sitting on top of the greenery.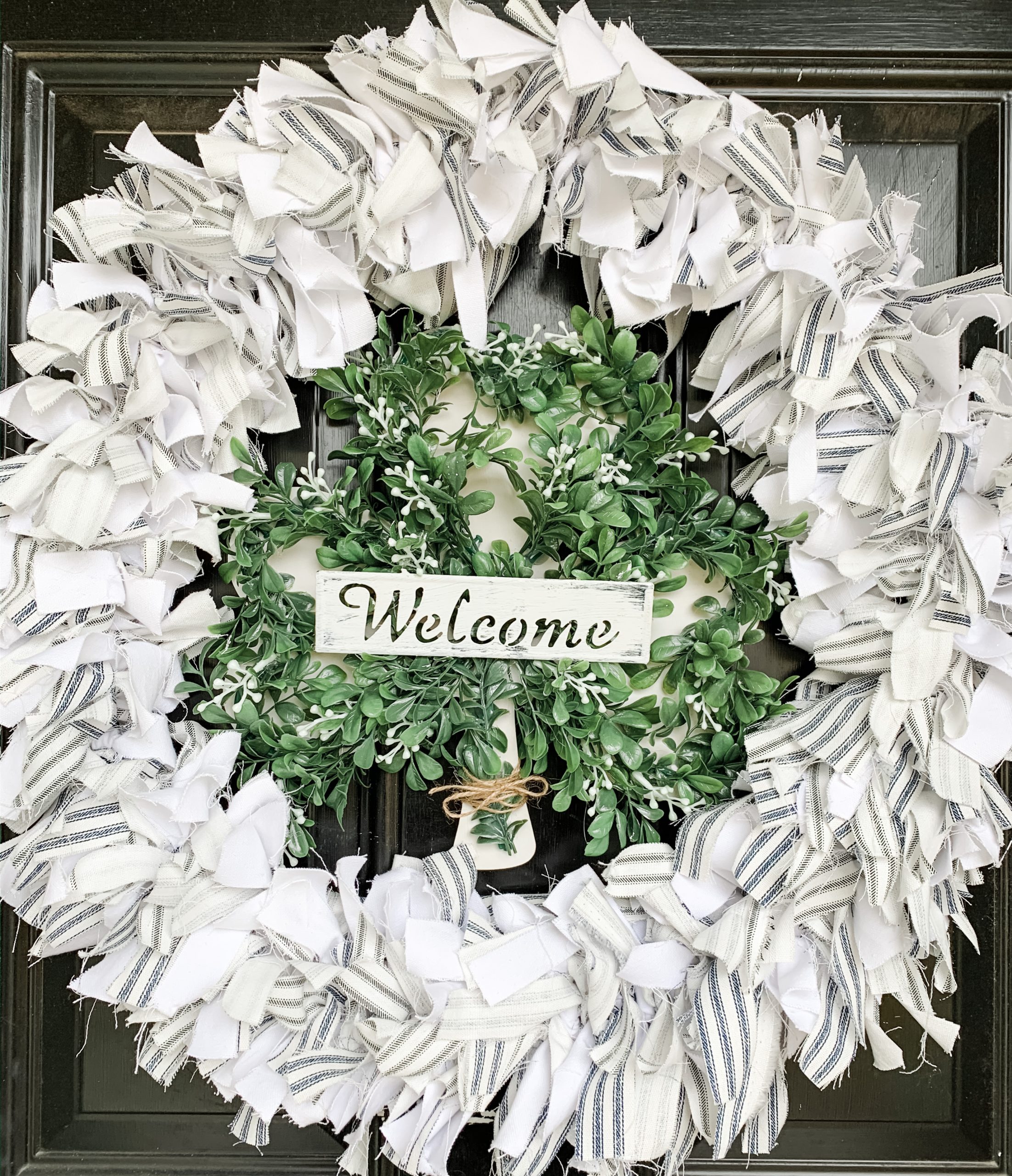 For this DIY shamrock to go on my front door, I had to add some magnets. I used some Dollar Tree magnets and simply hot glued 3 of them to the back of the wooden shamrock.
Finally, I wrapped some jute twine around the stem of the shamrock and tied it in a little bow. How stinking cute did this easy DIY door decor turn out??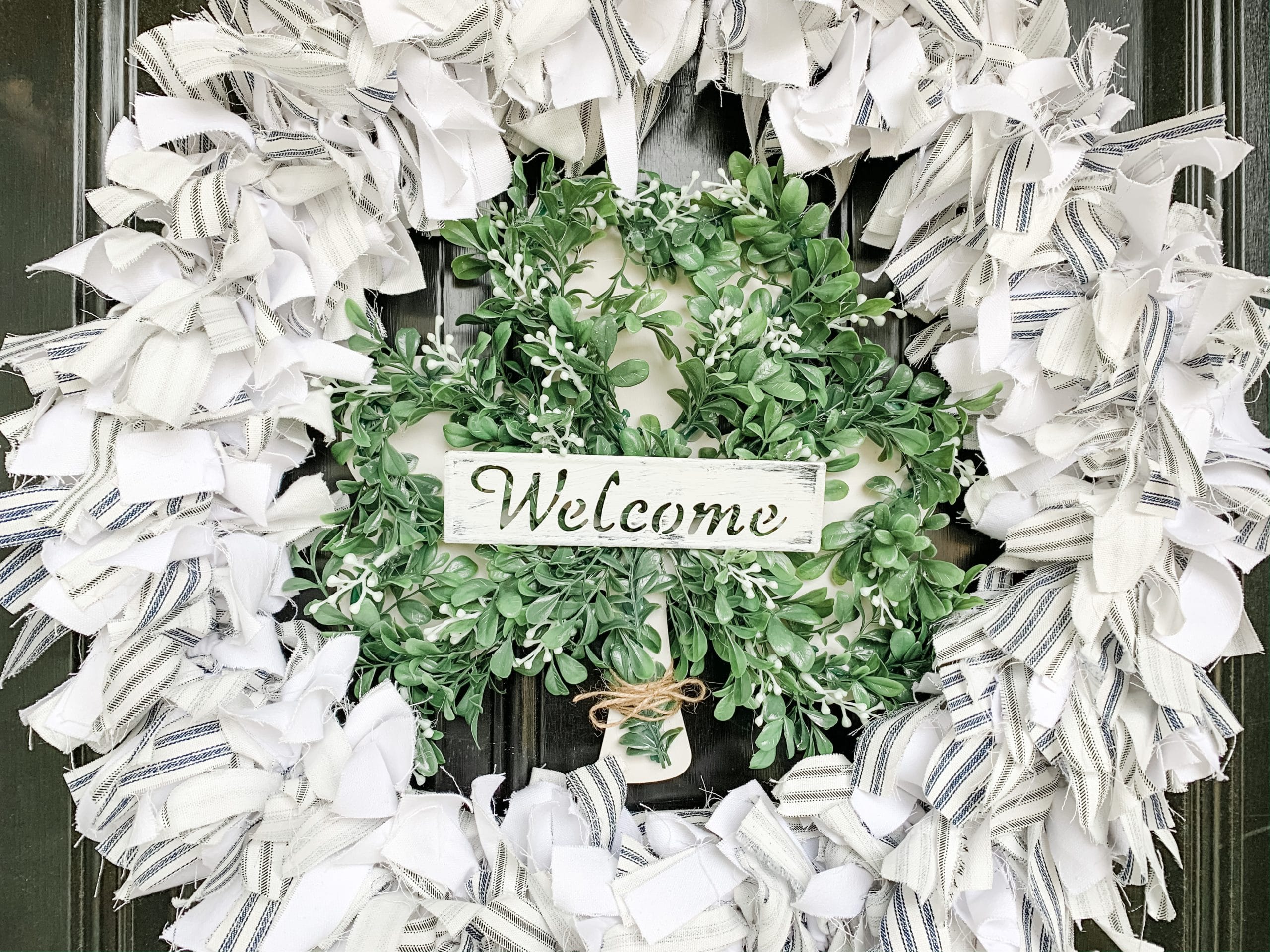 I hope you enjoyed this St Patrick's Day Shamrock DIY Door Decor as much as I did and decide to make one for yourself! I would love to see how yours turns out!
You should totally join my FREE Facebook group called On A Budget Crafts! It is a judgment-free community for DIY crafters to show off their projects and ideas.
Thanks for stopping by! XOXO Amber
You can also shop my ENTIRE AMAZON Favorites shop just click here! It's packed full of all the things I use and love. Here is the supply list I highly recommend every creative have on hand!!
Would you also pin my blog for later and get on my newsletter alerts? I would love to have you join my #craftycrew.
Inspired? Leave me a comment below! I love hearing from my readers!

Join my free "ON A BUDGET CRAFTS" Facebook group!